Posts Tagged 'AirForce Condor'
by Tom Gaylord, a.k.a. B.B. Pelletier

The AirForce Airguns Escape precharged pneumatic air rifle is a powerful new survival rifle in both .22 and .25 calibers.
Last time we looked at the accuracy of the AirForce Escape at 50 yards. I shot the rifle on low pressure and a low power setting on that day to see what it could do. You may remember that at 50 yards, I got a best 5-shot group with JSB Exact King pellets that measured 0.594 inches between centers. That's great for a .25-caliber PCP, but I know it left some of you wondering what the rifle can do at its maximum power. Today, we'll look at that.
The heaviest .25-caliber pellet I have is the Eun Jin pointed pellet, which weighs 43.2 grains. So, it's a little heavier than the standard bullet of a .22 Long Rifle cartridge. We know from testing that this pellet leaves the muzzle at up to 1010 f.p.s., generating 97.88 foot-pounds of energy.
I also had some Eun Jin domed pellets to test. At 35.8 grains, they're lighter than the pointed pellet but might be accurate enough to make a difference. As long as I'm testing, I thought why not test them, too?

These are the 2 pellets used in today's accuracy test. The pointed pellet weighs 43.2 grains, and the dome weighs 35.8 grains.
The wind had just started to pick up at the range. I had finished testing the Benjamin Marauder with synthetic stock and shifted to the Escape because I felt the power of the gun and weight of the pellet wouldn't be affected by this wind nearly as much as a smaller pellet moving at lower speed.
Max power
The first thing I tried was the heavy Eun Jin pellet on max power and with a max power setting on the gun. The first 2 pellets went through the same holes at 50 yards, and I thought I was on to something. Then, shots 3 and 4 moved 2 inches to the right but also landed in a single hole. Shot 5 then landed an inch to the left of the first 2 shots, giving me a 5-shot group that measures 2.478 inches across the widest centers. While that is adequate accuracy for larger animals at 50 yards, it wasn't as good as I'd hoped it would be.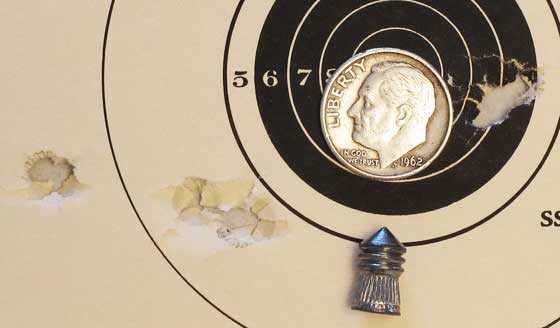 Five Eun Jin pointed pellets on maximum power with a 3,000 psi fill at 50 yards. The group measures 2.478 inches between centers, but look how they landed. The first two are left of the pellet, the next 2 are to the right of the dime (in the same hole) and pellet 5 is all the way over to the left.
I remembered that there are 10 good shots on a fill of the Escape's small 213cc reservoir, so I shot the next 5 pellets at a different target. The scope wasn't adjusted. The reservoir pressure at the start of this string was about 2,600 psi. This time ,all 5 went into 1.622 inches. That's a significant improvement. According to the velocity test data, these shots ranged between about 71 and 82 foot-pounds.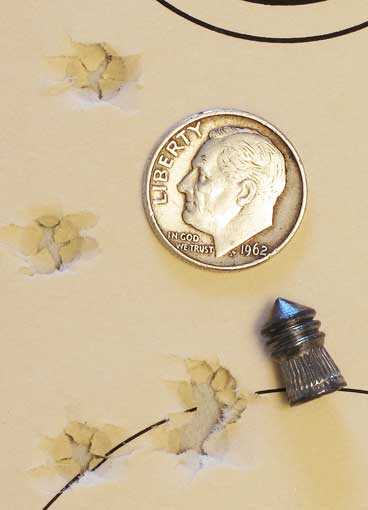 By starting with less reservoir pressure, the group tightened significantly. These 5 shots went into 1.622 inches between centers at 50 yards.
I was satisfied with the results of this heaviest pellet, but I've never gotten the best accuracy with pointed pellets. I felt I might be at the limit of this pellet's performance. Time was passing and the wind was building, so I moved on.
The lighter domed pellet remained to be tested. On max power with a 3,000 psi fill, I got several open 5-shot groups that all hovered around 2 inches. While that's okay, it isn't what I wanted. Then, I shot a couple groups with the power set to max and the starting air pressure set at 2,600 psi. The only reason I did it that way was because of the results of the heavier pointed pellet I'd just tested. And that's where the magic happened!
The first 5-shot group on this setting (power set on max, starting fill pressure at 2,600 psi and shooting the 35.8-grain domed Eun Jin) measures 1.177 inches. Four of those shots are in 0.555 inches! That's fantastic! I don't have the velocity data for this pellet on that setting, but I'll venture a guess it's producing around 60-70 foot-pounds.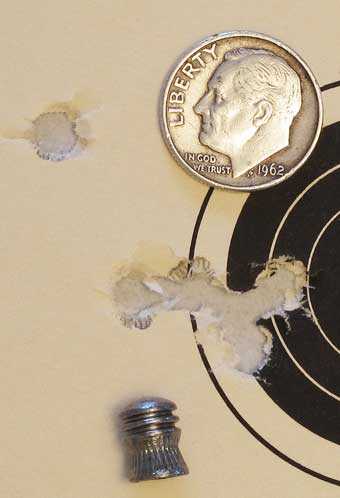 Now, we're cooking! Five Eun Jin domes went into 1.177 inches at 50 yards, with 4 of them making a 0.555-inch group! This is fantastic, but can I do it again?
Like you, I wondered if this single group was just a fluke, so I filled the reservoir to 2,600 psi, again, and shot a second group. This time, I put 5 into 1.089 inches. Three of those pellets are in 0.214 inches. If you overlay those 3 pellets on top of the other group, they all go to the same place!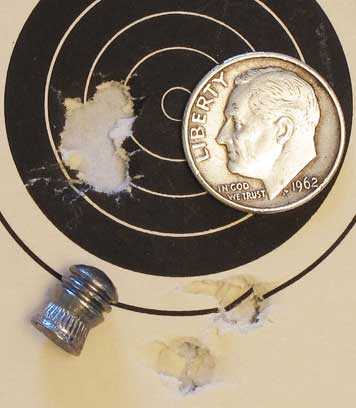 Here's the miracle I was talking about. Same starting air pressure, and 5 pellets went into 1.089 inches. Three of them are in 0.214 inches and in the same place as the 4 pellets from the last group. This is significant!
What I'm saying is that somewhere around this power setting and fill pressure, there's a super sweet spot the Escape loves with this domed pellet. By spending more time refining the fill pressure and by adjusting the sights for this combination, the Escape will become a tackdriver. It doesn't get a lot of shots like this, but remember — this is a survival rifle. You want one shot — one kill. I think this gives that to you!
I could continue to refine my pressure settings with this pellet, but I don't think I have to. I've now shown you 2 different ways the AirForce Escape can make very small groups at 50 yards. If you're looking for a powerful air rifle to do some serious hunting, you should consider this one. I think Ton Jones and John McCaslin both have reason to be proud of their creation.
What's next?
I was prepared to exchange barrels at this point and try the .22-caliber Escape, but I think I'll let that slide for now. If I'm any judge, most buyers are going to get the .25-caliber Escape. Once they see these results, I expect they'll do similar tests. Therefore, I plan to switch over to the EscapeUL next. That's the ultralight rifle that has an 18-inch barrel. I'll give you a combined introduction and velocity/power report, followed by a range test like this.
by Tom Gaylord, a.k.a. B.B. Pelletier
Tarzan! This weekend, a number of readers conducted a discussion of the fictional character Tarzan and the author who created him, Edgar Rice Burroughs. I thought you should all know an interesting connection of Tarzan to airguns. His grandson, J.R. Burroughs, was a big-time airgun importer in the 1990s. In fact, he imported many of the Korean brands that are still coming in today.
When I started writing about airguns in 1994, I got to know J.R. through my writing, and I eventually met him at one of the SHOT Shows. We continued to communicate about airguns and many other things well into the 21st century. I haven't heard from him since I got sick back in 2010, so he may no longer be involved with airguns like he once was, but he was certainly a mover and shaker in the U.S. airgun scene during the time he was active.
A couple points of interest with J.R. He was the man who modified the Shinsung Career 707 adjustment wheel from 3 settings to 17 settings — giving us much greater control over the velocity of our rifles. The factory eventually made the same modification. It was possible to keep a Career shooting at the same velocity for a long time simply by adjusting the power wheel as you shot. I remember testing it over a chronograph and getting 90 shots that were all within 30 f.p.s.
J.R. also created the first adjustable trigger for the Career, and I believe he also created one of the first pellet feed mechanisms that was user-adjustable. Before that, you could only shoot a few types of pellets in the gun; but with his modification, many more types of pellets would work through the magazine.
His brother, Danton manages, the licensing of the Burroughs family literary property. Part of that is a collection of original Tarzan novels that were never sold. There was a fire in the storeroom many years ago and some of these books have smoke damage, but they're all like-new hardcover books from the 1930s. I was gifted with one — Tarzan and the Forbidden City — from this collection, and J.R inscribed it, saying that his father had done the cover art.
Of course, many of you know that the southern California community of Tarzana was created from Edgar Rice Burroughs' Tarzana Ranch in the San Fernando Valley. But how many know that Tarzana was also the name of small hamlet located on the ranch before Burroughs purchased it? And his Tarzan character appeared in print for the first time two years after he bought the ranch.
So, Tarzan does have ties to modern airgunning. I thought you would like to know that. One final thing. Burroughs didn't just write adventure novels. He is also quite famous for his science fiction that bears a remarkable resemblance to his other works, but are set on Mars. Edith and I both enjoy the movie John Carter, in which Burroughs appears as a minor character who turns out to be the author who documents the "real-life" exploits of his uncle, John Carter. I think we enjoy it most because of our fond memories of J.R.
Now, let's take our first serious look at the new AirForce Escape survival rifle. Before I start, I need to make a couple corrections to Part 1. I said the Escape SS (officially named the EscapeSS) has an 18-inch barrel and several readers figured out that wasn't the case. It actually comes with a 12-inch barrel in either .22 or .25 caliber.
I also said the Escape valve is a modified TalonP pistol valve, which isn't true. The TalonP valve is used exactly as it is in the pistol, so pistol owners who add a 24-inch barrel and end cap to their pistols can essentially have the Escape. The pistol's frame is shorter than the Escape frame, but it is just right for the Escape Ultra Light (officially named the EscapeUL) that we'll look at in a later report.

The AirForce Airguns Escape precharged pneumatic air rifle is a powerful new survival rifle in both .22 and .25 calibers.

The TalonP pistol is the base gun used to create the new Escape-series rifles.
The Escape rifle looks like the other AirForce sporting rifles and has many of the same features. The new trigger is there, along with the new safety that can be taken off safe by the trigger finger, alone. The 2-stage trigger on my rifle breaks at a relatively clean 28 oz. While it's not adjustable, I think most serious shooters will find it more than adequate.
The rifle weighs 5.3 lbs. unscoped and measures from 34.5 to 39 inches long, depending on where the extendible buttstock is set. That means the length of pull can also be varied from 9.75 to 14.25 inches.
Like all other AirForce rifles, the Esacpe has long 11mm rails on top and below the receiver. Since this is a survival gun, a bipod and sling swivels might be almost as important as a scope.
I tested this rifle differently than normal. Instead of getting the chronograph figures right away, I decided to shoot it at the range, so 2 days were spent on the range with the rifle in its .25-caliber incarnation. Once I have a good baseline of performance downrange, I'll come back and chrono the best pellets, pressures and power settings. Because these rifles are so infinitely adjustable, it makes sense to figure out what works before you worry about the numbers.
But I'll give you some velocity figures because Ton Jones tested the heck out of the rifle late last year, and AirForce provided me with the data. With .25-caliber JSB Exact King pellets and the rifle set to max power, Ton's first shot was 1145 f.p.s. The first 10 shots on a 3,000 psi fill looked like this:
1–1145
2–1125
3–1106
4–1090
5–1078
6–1061
7–1044
8–1028
9–1017
10–1003
On power setting 8, the same pellet did this on the first 10 shots after a 3,000 psi fill:
1–1100
2–1112
3–1133
4–1106
5–1107
6–1088
7–1075
8–1060
9–1041
10–1022
On power setting 4, the same pellet did this on the first 10 shots after a 3,000 psi fill:
1–1041
2–1036
3–1077
4–1095
5–1080
6–1077
7–1100
8–1077
9–1091
10–1080
At max power and the highest velocity, this JSB pellet generated 73.96 foot pounds of energy at the muzzle.
With the 43.2-grain Eun Jin pointed pellet, the rifle did this on the first 10 shots at max power after a 3,000 psi fill:
1–1010
2–980
3–974
4–955
5–940
6–924
7–907
8–894
9–876
10–860
On 8 power with a 3,000 psi fill, the rifle did this with the Eun Jin:
1–996
2–984
3–964
4–944
5–932
6–906
7–888
8–872
9–856
10–840
On 4 power with a 3,000 psi fill, the rifle did this with the Eun Jin:
1–986
2–975
3–959
4–950
5–937
6–922
7–902
8–889
9–870
10–849
At the max power setting and highest velocity, this pellet generated 97.88 foot-pounds of energy at the muzzle.
I have the data on the Escape's .22-caliber performance, but that will make today's report too large, so let me continue with just the .25-caliber rifle, which is how AirForce set it up for me. I took it to the rifle range on 2 different days. Both were cold but the first one was also very windy, so I'm going to show you the results of day 2 testing, only. The day was 16 degrees F (-9 C) but dead calm. I shot several types of pellets this day and based on those velocity figures you have just seen, I decided to shoot 5-shot groups instead of 10-shot groups.
Ton Jones maintains that a survival situation calls for a single well-placed shot, rather than a number of shots fired rapidly. I agree with him, so I'm not testing the Escape as I normally would. I fired 5 shots and then topped off the air tank. When you're making single shots, that makes sense.
On max power the best groups I shot were with JSB Exact King pellets and Predator Polymag pellets. At 50 yards, 5 JSB Kings went into a group that measured 1.846 inches between centers. That's a large group, but remember that you're shooting at large targets, and 50 yards may be farther than you choose to shoot.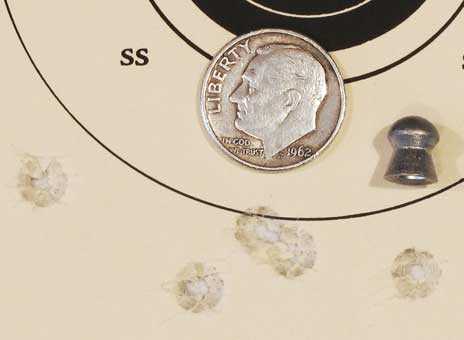 Five JSB Exact Kings went into 1.846 inches at 50 yards on maximum power.
Predator Polymags put five into 1.819 inches at the same 50 yards on max. power. Notice that both pellets spread their shots horizontally.

Five Predator Polymag pellets went into 1.819 inches at 50 yards on maximum power.
Experience takes over
I'm not going to bore you with each and every experiment I did on this day, but I want you to know that I also tried Benjamin domed pellets and Beeman Kodiak pellets. Both gave similar results, with the Kodiaks doing slightly better than the Benjamins.
But I knew that this rifle was more accurate than this. From my experience with other powerful precharged rifles, plus the testing I did with the TalonP pistol, I reckoned the fill pressure had to be lowered and the power adjusted. It soon became obvious this was correct and the JSB Exact King pellet was the one to go with. After several more groups, I settled on a fill of just under 2,000 psi and a power setting of 6. The groups became amazing with this combination, plus they were remarkably uniform from group to group.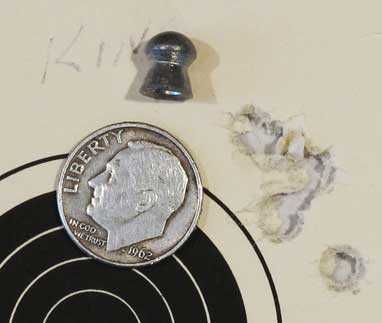 First good group of JSB Kings on power setting 6 with a 1950 psi fill gave me this 0.751-inch, 5-shot group at 50 yards.

After adjusting the scope, I put 5 JSB Kings into 0.694 inches at 50 yards. This was the best group of the day.

Another 5 JSB Kings went into 0.841 inches at 50 yards. This was the worst group of 6 that were fired with this combination of pellet, pressure and power setting.
Now that I know where at least one sweet spot is located, that will be what I'll test through a chronograph. I'll guess that this pellet is producing something in the 30 foot-pound range with the settings I used. Hitting the target with that kind of energy is much more meaningful than missing with three times more.
I also haven't tested the heavy Eun Jin pellet for accuracy. And Ton told me that he lubricated his pellets with Slip 2000, which I've obtained, so I'll be able to replicate what he did.
Summary
How do I summarize anything when I've only just started to test the rifle? There's enough variability here that I could spend the rest of my life just testing the Escape in .25 caliber! What I can tell you is that the rifle performs as advertised, and, yes, you do have to work with it to get these kinds of results. AirForce has always made air rifles for the thinking man, and the new Escape continues that tradition proudly.
by Tom Gaylord, a.k.a. B.B. Pelletier
Today is Day 1 of the 2014 SHOT Show, and it's also the day AirForce Airguns announces 3 new air rifles — the Escape, Escape SS and the Ultra Light. These air rifles, which come in either .22 or .25 caliber, are aimed at the serious survivalist — not just airgunners; so AirForce is envisioning a much larger market. That's serious!
The Escape was the rifle that started the ball rolling, and it's the brainchild of AirForce owner, John McCaslin, and Ton Jones, the star of television's popular series Auction Hunters. John and Ton were on a road trip while hunting in Texas last year when Ton started talking about a survival air rifle. He wanted power, accuracy and light weight. But most of all, he wanted a pneumatic rifle that could exist off the grid — when the dive shops aren't filling scuba tanks any longer.
As they talked, the idea of the TalonP pistol came up. Ton liked the fact that its air reservoir is small. That makes it easier to fill with a good hand pump. But he wanted more power than the 55+ foot-pounds of the TalonP. He wondered what would happen if a 24-inch barrel was installed in place of the 12-inch barrel that comes standard on the pistol.
He said John didn't talk for 10 minutes after hearing his suggestion. He was obviously deep in thought. Then, he smiled and said, "You know — that might work!" Ton said the smile made it all worthwhile.
You know how these things can snowball! By the end of their trip, John was fired up to see what would happen by doubling the barrel length. Obviously, the gun would go from being a large air pistol to a light air rifle, but that was okay with Ton. He just wanted something light and portable. By starting with a TalonP, it looked like he could have it.
Our veteran blog readers already know what doubling the barrel length will do for a powerful PCP because we've already done it here. I took the Talon SS, which generated 25 foot-pounds of muzzle energy, and boosted it to almost 42 foot-pounds just by installing the optional .22-caliber barrel in place of the factory 12-inch barrel. So, guess what you get on a 55 foot-pound TalonP? That's right, sports fans, we are closing in on 100 foot-pounds from a pellet rifle!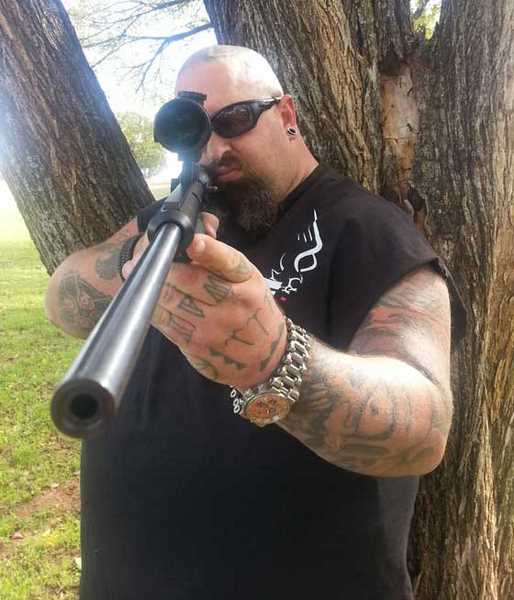 Ton Jones shoulders his new AirForce Escape at the AirForce plant in Ft. Worth.
You might already own one!
A couple weeks ago, I hinted that something big was coming and that some of you might already own one. This is what I was referring to. Those who own TalonP pistols can just add a 24-inch optional barrel in either .22 or .25 caliber and get most of the Escape rifle. It's true, some redesign of the valve was done to make the new rifles even more efficient, but most of the raw power will be there.
In a day when most airgun manufacturers seem to go out of their way to make their new guns incompatible with what has gone before, AirForce turned it around. That's the biggest story in my opinion! They want you to have the flexibility to experience the Escape if you already own a TalonP. All it takes is installing a 24-inch barrel to make the change. And many of you dedicated AirForce owners will own one of those already. Your gun won't have the new Escape valve, but it will be very close.
How does the Escape differ from the Condor?
Here's a good question that's bound to come up. The AirForce Condor is already one powerful precharged pneumatic. Right? We know that it develops 65 foot-pounds easily in .22 caliber, and gets up to 20 full-power shots on a single fill. How is the Escape different?
Well, during development testing, Ton got a .25-caliber Escape up to 97.88 foot-pounds on the first shot! The fifth shot on the same fill produced 84.78 foot-pounds; and on shot 10, it was still putting out 70.96 foot-pounds. All 10 shots produced greater power than a .22 Condor at its highest. [I have to quote the .22 Condor because I don't have the test data for the .25, but you can assume it will be more powerful than the .22.]
The air reservoir on the Escape is small. It's the same size as the TalonP tank. It doesn't hold air for many shots. While that may sound like a drawback, it was exactly what Ton was after because a small air reservoir is much easier to fill with a hand pump than a large one. This is an air reservoir that you can actually fill in the field and not spend all day doing it. During testing, Ton filled a tank from 2,000 psi (the ending pressure after firing 10 shots) to 3,000 psi (the starting operating pressure) in less than 3 minutes.
What does survival really mean?
You've watched the movies and TV shows, so you know what survival means. The comet strikes and bombs civilization back to the Stone Age, or everybody turns into a zombie and it's you against the world. Well, that hasn't happened yet, but every year there are earthquakes, floods, tornados, blizzards and hurricanes that thrust millions of people into real-life survival situations. Survival means you have the ability to hold out (eat, drink, and stay warm and safe) for at least 3 days until the emergency services can get organized. And you know that it can really be longer than 3 days.
In a real survival situation, you aren't going up against lions and tigers and bears (oh, my!), unless you live in a zoo or in places like the Pacific Northwest. But you may have a chance to hunt deer, feral hogs (especially in the south!) and other animals. Hunting licenses won't matter when the bomb drops, and you'll extend the abilities of your weapons to their maximum. In other words, you'll make them do things they aren't normally considered capable of doing. If you're armed with an air rifle, you aren't going to need a repeater, either, because survival is a one-shot, one-kill situation. You need power, accuracy and reliability to get the job done.
A .22 rimfire rifle is ideal in such situations. Given the current ammunition shortages, can you always count on having what you need? You can with this air rifle! The Escape produces about 82 percent of the power of a standard speed .22 long rifle cartridge, and 500 pellets are both affordable and available. Once you have them, they'll last for a good half-century. Air is free and a reliable hand pump gives you all the shots you will need.
The rifles
There are 3 different models of the Escape. The Escape itself is Ton's gun that has his logo on the side. It has a 24-inch barrel in either .22 or .25 caliber; and, of course, the other caliber is always an optional replacement in 5 short minutes. Because of the high volume of air flowing through the valve, no consideration was given to .20 or .177 caliber. For a pure survival rifle, what would be the point?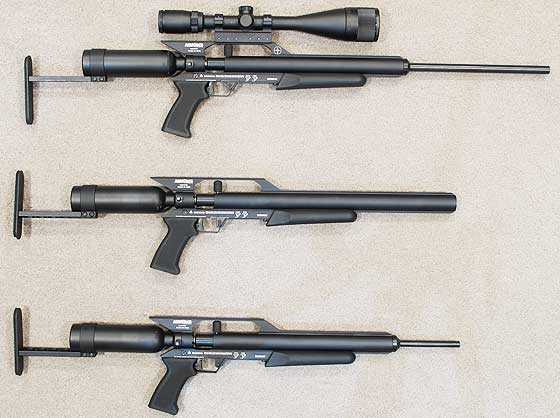 Escape on top, then Escape SS and finally Escape Ultralight on the bottom.

The Escape will have Ton Jones' logo on the side.
Ton has lived in the southern California desert all his life. He was brought up with an appreciation of wildlife that no college can provide. He teaches survival preparation around the U.S., and air rifles are an essential part of his curriculum. He wants a rifle that a small person can handle all day, yet one that has plenty of power. It can't require super-strength to cock, and it has to be accurate. He found a willing ear with AirForce, and these 3 rifles are the result. Until these were created, there was nothing that met all his needs. Let's look at the other 2 rifles for a moment.
Escape Ultralight
The Escape Ultralight is a super-light variation of the rifle that sports an 18-inch barrel with a thinner diameter. Every possible ounce has been shaved from this gun, which weighs less than 5 lbs. unscoped.
Escape SS
The Escape SS also has an 18-inch barrel and has the active sound-reducing technology AirForce is famous for. It gives the shooter a quieter option. The Escape Ultralight and SS give up some sheer power when compared to the Escape, but both are powerful PCPs in their own right. I'll test each of them fully for you, so you know what to expect.
Today's report isn't a test of the Escape. I'm just announcing it today. I'll return and give you all the details you've come to expect from my tests for each of these 3 rifles.
But you can see the scope mounted on the Escape in the photo, so you know I've already begun. I've had this rifle out to the range one time so far, so I know how it shoots. This air rifle is so powerful that you now have some recoil with each shot — just like a big bore! But for that slight inconvenience, I'll show you what you get in return.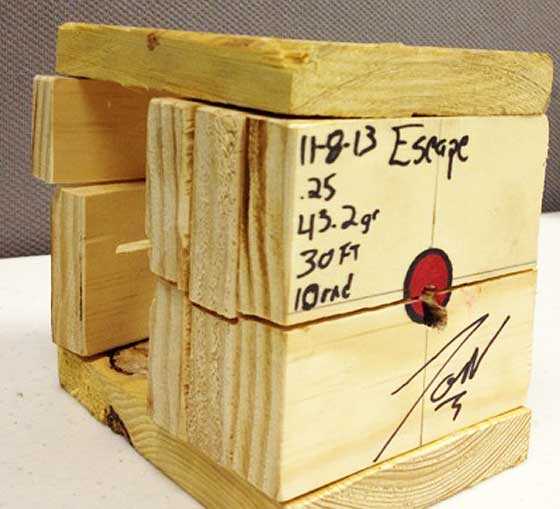 That's 10 shots at a wooden target from 30 feet.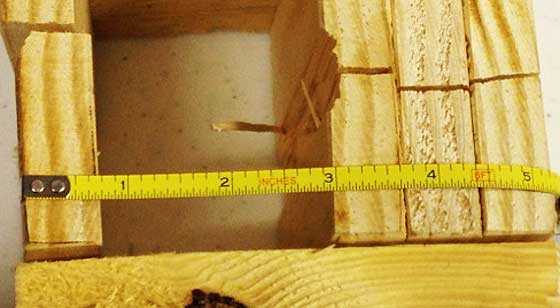 The pellets sailed through about 3 inches of wood!
I'm calling this Part 1 of the Escape report, but I'll give a more detailed description of the gun as the report advances.
by Tom Gaylord, a.k.a. B.B. Pelletier
Today, blog reader John shares his experience getting his AirForce Condor to shoot quieter. I asked him for this report because he's written many comments about it. We all know that John is a pest hunter, so let's look over his shoulder and see what works for him.
If you'd like to write a guest post for this blog, please email us.
Okay, John, the floor is yours.
Noisy gun goes quiet
Before I begin the report, I want to show you a piece of my past. It's a Remington 514 made somewhere between 1948 and 1968. It's a single-shot, bolt action .22 rimfire designed by K. Lowe.
Anyone who knows me knows I have a dislike for old guns. This one is an exception, however, since it's the only thing I have that belonged to my dad. It's fairly primitive, but as accurate as anything I've seen. It puts the shot where I want it…every time.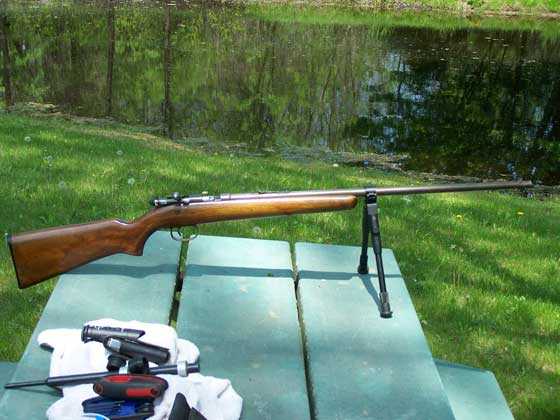 Remington 514 single-shot .22 rimfire.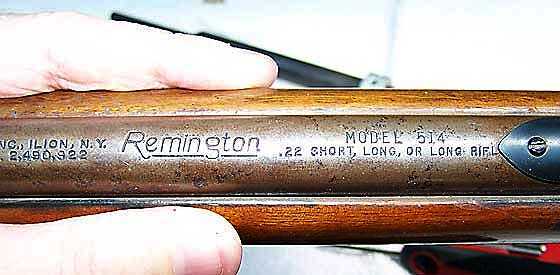 It may not look like much, but it means a lot to me. And it shoots!
Now, on to the report.
I was thinking about how to make a noisy gun become not so noisy since noise tends to alert the pests you hunt, making your day very boring. I like to hunt with my AirForce Condor, which I lovingly call "Marvelous Magnificent Mad Madam Mim," due to the fact that she can change just like that wacky Disney villain.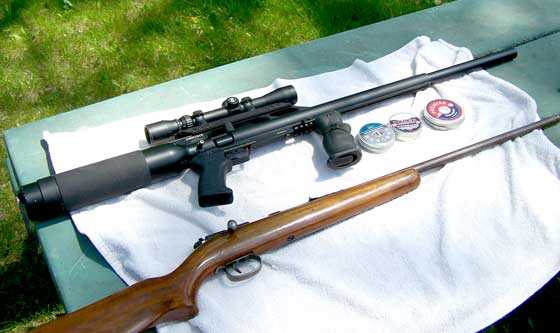 My Condor — Madam Mim — with the 514.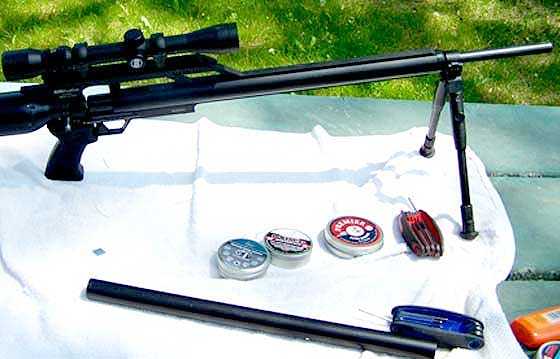 Condor on bipod, with the bloop tube and forearm removed.
I took off the forearm and left it off just to make my work a bit easier today since I was going to be swapping things around. I think I should warn you that this is going to be an unusual report since I'm not using anything fancy like noise meters, showing accuracy targets or running shots through a chrony. All I'm concerned with is taking a loud gun and making it backyard friendly. So, I'm going to be using the tools we all have…ears.
Let's begin
For this test, I'm out on a little private island with a one-room guest cabin on 15 acres of land. It's fairly dense, with trees and brush surrounding my work area. The cabin is about 10 feet to my right, where I normally set up for muskrat. We're located in one of my actual hunting areas.
The first thing I did was test the Condor against my Remington 514 to compare how loud it sounds to me. I found that the Condor set at maximum power, with no barrel shrouds or anything to quiet it down, sounds louder than the Remington 514 shooting a .22 long rifle cartridge. It sounded about like a .30-caliber rifle to me.
I wanted to make it quiet, so I put on a Bullseye Bill frame extender (bloop tube) and tried it at full power with the standard Condor 24-inch .22-caliber barrel. Since the pellet was breaking the sound barrier, it sounded about like the Remington. It was quieter than before, but not quiet enough.
I wondered if stopping more air from escaping the gun would help, so I installed an optional 12-inch .22-caliber barrel and the Bullseye Bill frame extender. Now, the barrel was buried deep inside the frame extender. Since the shorter 12″ barrel wastes air at full power, I dialed down the power setting to about the middle of the scale. I figured that was about the top performance I could get out of the shorter barrel.
The rifle was now definitely quieter, but no quieter than if I'd just used the AirForce end cap on the frame of the gun and left off the frame extender. The report was now about as loud as a loud hand clap. Either way (with the end cap on or with the frame extender installed), it was equally quiet. I still wasn't satisfied with how quiet it was. I knew I could do better and retain much more power than with a 12-inch barrel.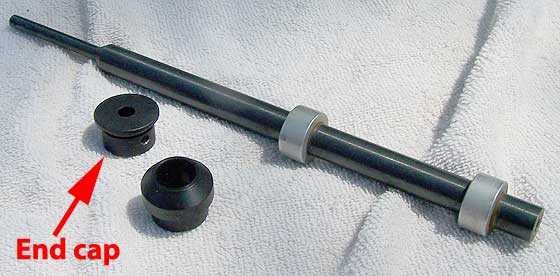 The 12-inch barrel and Talon SS end cap are just as quiet as the rifle with the frame extender installed.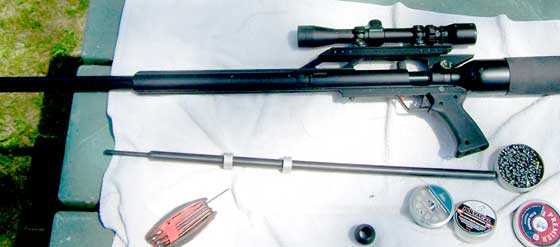 Here's the Condor with the 12-inch barrel and the frame extender installed.
Here comes the band
I heard B.B. talk about how they used to use rubber bands to quiet the sound of the striker, so I figured that was worth a try to quiet down the gun a bit more. Before trying this, I dialed down the gun's power to about level 2 with a 12″ barrel and the end cap. Voila…a Condor became a Talon SS! This definitely made the gun as quiet as it could be. Then, I tried it with the rubber band installed.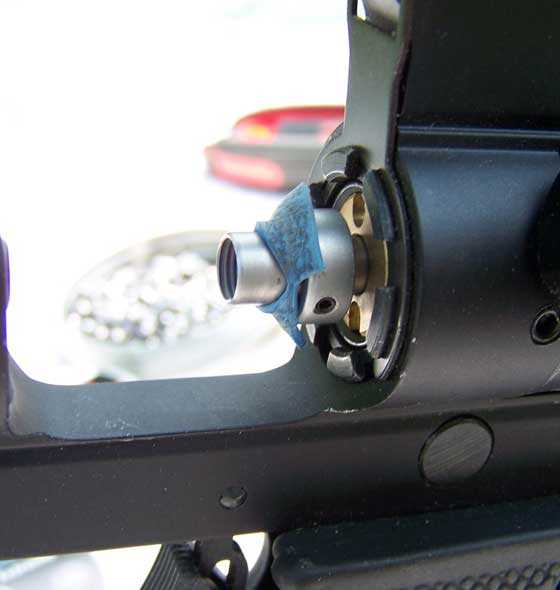 The rubber band prevented the rifle from firing.
No matter what I tried, I couldn't get the gun to fire with a piece of rubber band on the end of the top hat. That rubber band was acting like a shock absorber — not letting the striker hit the top hat hard enough to fire the gun. So, that was a total failure. Let's try something else.
Looking for the best performance
We all know that performance is everything in airguns. You want a hunting gun to hit hard and accurately. I needed to get the most performance out of the gun. So, the 24″ barrel went back in the gun, and the frame extender went back on. If I correctly use that combination, the only sound the gun will make is the clunk of the striker and impact of the pellet. In other words, nobody's going to know I took the shot but me and whatever I was shooting at. Now, it's on to pushing the envelope.
Which of my available ammo types will get me the best performance, while not telling everybody around me what I'm doing? First up is my standard go-to pellet, the Crosman Premier Ultra Magnum hunting pellet. I like these because they're available everywhere, and I get fairly good results with them. So, let's see just where the upper power limit is for these while making as little noise as possible. I'm firing at a target 75 yards out, which is the longest distance I've ever taken a muskrat with this gun. The cabin is just close enough that I should hear any significant echo that a backyard shooter would also have.
I fired shots using the highest setting I thought I could and get just the clunk of the striker and slap of the pellet. Then, I'd inch up until it began to return an echo off the cabin wall. That told me I'd crossed the boundary, so I backed off to the last quiet setting for Premiers. The rifle stayed quiet up to 7.45 on the AirForce power wheel. This is the setting I'd use in the city for backyard target practice without anybody knowing what I was doing…and the setting I want to use if I do not want to alert critters to the fact I'm hunting.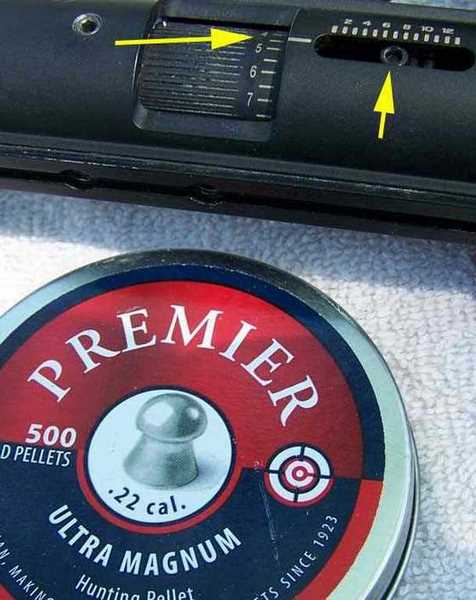 With Crosman Premier Ultra Magnums, the rifle is still quiet when the power wheel is set no higher than 7.45. The major power setting (7) is indicated by the center of the screw head in the oval window on the right. The fractional power setting (.45) is indicated by the power wheel on the left.
Predator Polymag
Next, I dug out some Predator Polymags. I found these would give me slightly better performance, fly a bit faster and hit a bit harder while still not alerting anyone or anything to what I was doing. This is with a 24″ barrel and a frame extender — like a Condor SS on steroids. I got them to hit my 75-yard target with the dial set to a maximum of 7.10 [about 3/4 of the way toward power setting 8] as the outside power without advertising to everything around what I am doing. This gave me the slap of the striker and the thud of a pellet hitting the target 75 yards away.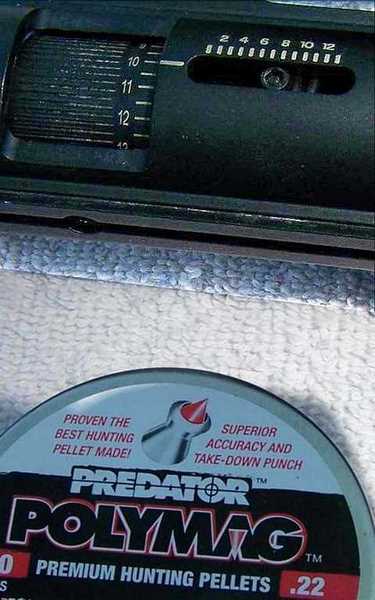 The power wheel can be set slightly higher with Predator Polymag pellets.
Baracuda Hunter Extreme
I like the cross-hatch pattern on the nose of these Baracuda Hunter Extreme pellets for hunting, which is my primary use for air rifles. Surprisingly, with them, the power wheel went up. I thought the Polymags, with their nice sharp point, would cut through the air and give the quietest and most powerful shots of the day. But I was surprised. With these Baracuda Hunter Extreme pellets, the power wheel climbed up to 8.9 before anybody knew what I was doing. Birds kept on doing bird things. The Canadian geese kept swimming, totally unaware that a shot just landed in the target 10 yards to their left. Even the mallard ducks didn't take off. That's what I wanted.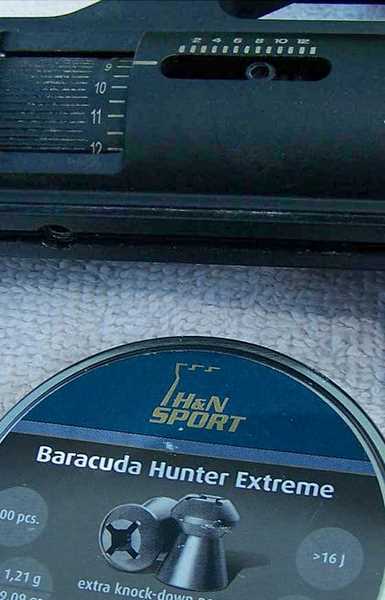 H&N Baracuda Hunter Extreme pellets allowed the highest setting of the power wheel, with the rifle remaining quiet.
This is important since, in the places where I hunt pests, we also have some very shy animals. I have to try my best not to disturb them. It's spring, and the geese and ducks are nesting. I don't want to scare them off their nests. It's all about being a good steward of nature.
Gamo round balls
Last up was the .22-caliber Gamo round ball. I got these as a freebie with a Gamo gun, so I figured I might as well see what a "musket ball" would do. This one was the worst of the bunch. To keep the gun quiet with round balls, I had to dial the power down to 4.7. All the birds in the area took off and hid when I put one of these in the target at 8.9 on the power scale. I don't think I'll be using those again when I'm hunting at a sensitive time of the season.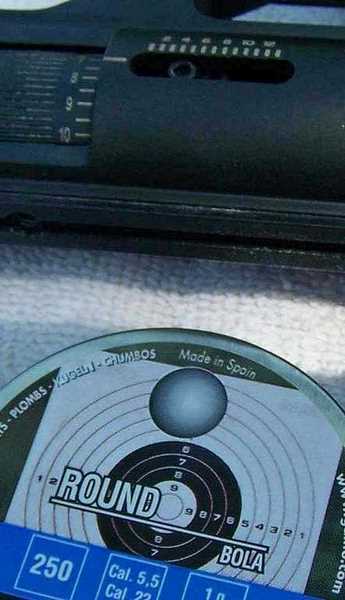 Gamo round balls were not a good projectile for quiet shooting.
What did I learn?
There's plenty to take away from this that has nothing to do with the speed of the pellet. A PCP gun like the Condor can be accurate, powerful and quiet depending on how it is set up and which pellet is used. A shorter barrel robs power, but it also quiets down a gun. However, it can only do so much — even if you give it a massive space in which to allow the air to expand. My best bet was to leave the 24″ barrel on the Condor and put the frame extender on the barrel, leaving the end of the extender about 3 inches past the muzzle. This setup trapped spent air well due to the fact the pellet was blocking the end of the shroud at about the ideal time to minimize the muzzle blast. It's kind of how a car muffler works.
This made my Condor about as quiet as a loud whisper. Just a thud of the striker and the slap of the pellet hitting the target. Very little echo, if any at all. Adjusting the power of the gun had quite a bit to do with this. If you throw too much power behind the pellet, you'll hear something like a .22 rimfire bullet, which is not what you want to hear if you're hunting pests in an environmentally sound-sensitive area or doing some backyard plinking and don't want the police responding to reports of small-to-medium caliber gunfire in your neighborhood.
I tested a Condor only in .22 caliber since that's all I had, and this is my primary pest hunting gun. I also used several pellets that I normally use for target shooting and hunting to compare their results. This is in no way a scientific study with high-tech instruments. Just one man with a good pair of ears. I did what I could to recreate a backyard shooting environment in an actual hunting environment. The intention was to gather some good information to help keep your shooting as quiet as possible so you don't disturb the animals or people around you.
P.S. My day on the range ended on a high note when I took an opposum that was on my list of pest critters. It was a perfect shot with my dad's old Remington 514.
by Tom Gaylord, a.k.a. B.B. Pelletier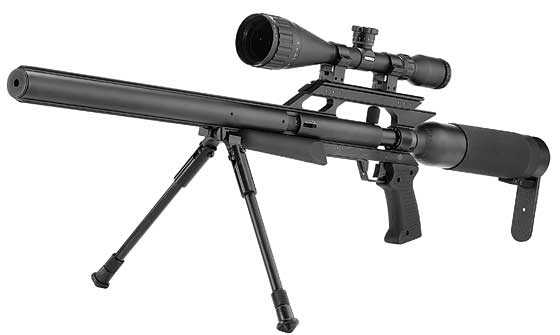 The new AirForce Condor SS has an improved trigger and safety. But the biggest news is that it's quiet!
Oh, boy, do I have a lot to tell you today! You're reading this while Mac and his wife (Elissa), Edith and I are attending the 2013 SHOT Show. I did the testing for this blog back in November of last year. See? I can keep a secret!
There are many new things coming from AirForce, and today they're showcasing them to the industry at the 2013 SHOT Show. Subscribers to Shotgun News got a sneak peak at them last week when the SHOT Show issue hit the newsstands with a full report.
There's a new trigger and safety that will appear on all the sporting rifles. Then, there's the new Condor SS and an updated Talon SS — both of which I will report for you today.
I was actually testing the new AirForce trigger and safety for them, to see if I could break it or make it malfunction. Then, at the end of my test, I visited AirForce for a day and got to see and hear the new Condor SS and Talon SS. And when I say hear, I do so only as in using a common phrase because you can't actually hear the discharge of either rifle!
How much better is the new trigger?
I'll never forget the day blog reader Kevin was visiting me and tried the trigger on my Wilson Combat 1911 CQB Light Rail pistol. He guessed it let off at one pound and simply refused to believe it was really three pounds. I got the trigger-pull gauge, and we tested it right there! Three pounds and an ounce or two, as I remember.
Well, that's what the new AirForce trigger is going to feel like to veteran AirForce owners. The trigger on my vintage Condor breaks at about the same 26 oz. as the trigger on the new gun, but what a difference it is! First of all, the new gun is a brand-new gun. My old Condor has an untold number of shots out the muzzle, all of which helped to smooth up the trigger parts. And I never took it apart, because I used to build these guns and I know they do not tolerate lubricants, dirt or modifications to parts.
The other thing the new trigger does is stop right after it releases. It's like a perfectly adjusted trigger stop, only there's no stop. It comes that way from the factory.
The new trigger cannot be exchanged for the old. The pins are in different places, and the parts are completely different. This was not done to make you buy a new rifle. It's just a fact that the new parts are all different and fit together differently.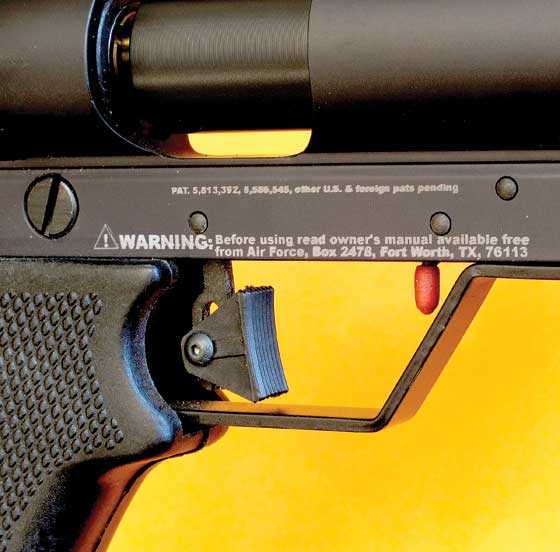 The old trigger and safety. The safety comes on automatically and is pushed forward to release.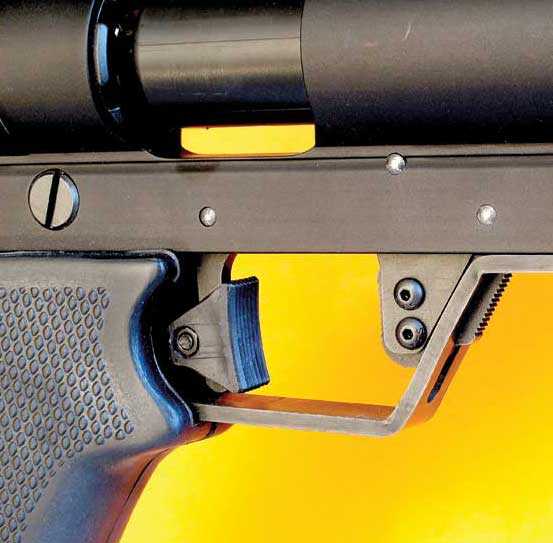 The new trigger doesn't look much different until you notice that the pins are in different places. This safety is a prototype, and the production safety will not have teeth on the end.
This new trigger and safety will become the standard of the AirForce sporting rifle line, so you'll find it on all three rifles — the Talon, Talon SS and Condor. And, of course, the new Condor SS will also have it when it comes to market.
All the new parts were designed on a CAD system that lets the designers play with different configurations without having to cut any metal. Only when they feel the design is right do they make the parts for testing.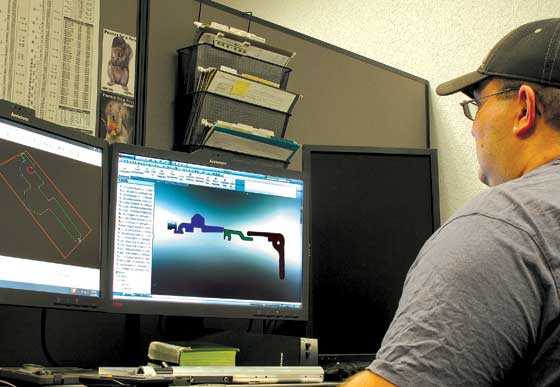 All the new trigger and safety parts were designed on a workstation. This allows incredible control over the final parts the machines make!
The new safety operates differently than the old one. It does not allow the rifle to be uncocked. There's an additional safety built in so the gun will not function until the bolt is almost closed — so no longer can you release the safety, pull the trigger and ride the bolt down slowly to uncock the gun. Once cocked, the trigger must be fired. To avoid exhausting any air, I found that if I unscrewed the air reservoir and held my hand behind the bolt cocking knob to catch it as the striker hit it I could avoid exhausting any air while uncocking the gun. This takes some practice, and you don't want to do it indoors the first time — don't ask!
The proof
Blah, blah, blah! Everyone knows I like AirForce guns, so what can I say about them that you haven't already heard? Those who agree with me don't need convincing, and everyone else believes I've sold out to the Dark Side. But — what if the new gun really shoots? What then?
So, I went to the range and shot it. And I did something that you haven't seen me do before — at least not with an air rifle. You all know what I mean by a "group." I mean 10 shots in succession, one after the other, and let the chips fall where they may. If 3-shot groups are like riding the bumper cars and 5-shot groups are like a drag race on city streets, then 10-shot groups are like Formula One racing.
I already knew the old Condor was an accurate air rifle, and I've shown that to you on several occasions. On this perfect, cold November day, I did something a little different. First, I shot 10 JSB 18.1-grain Jumbo Heavy pellets at 50 yards and got a group that measured 0.508 inches between centers. That's pretty darned good. In fact, that's a screamer in my book. And, in deference to people like my brother-in-law who thinks the shots must be centered in the bull to be good, I also centered them.

Ten JSB 18.1-grain Jumbo Heavies went into 0.506 inches at 50 yards. This group is a screamer!
Normally this is where I would load a different pellet and shoot another 50-yard group, but on this day I didn't do that. Instead, I walked out to the 100-yard berm and put up another target. Then, I shot another series of shots at that target. I'd elevated the scope by what amounted to several inches of elevation above the 50-yard zero, but the shots still fell below the bull. But they fell in a group that measured 1.003 inches between centers. Instead of 10 shots, there were 11 because I was so wrapped up in the shooting that I lost count of my shots.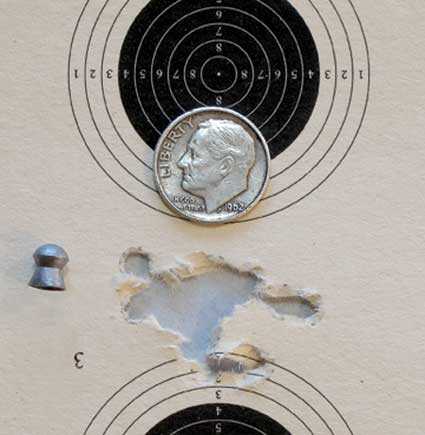 Eleven JSB 18.1-grain Jumbo Heavies went into 1.003 inches at 100 yards. I may never again shoot a group this good with an air rifle.
Did the new rifle shoot that well just because of the new trigger? Of course not. A Condor with the old trigger could shoot just as well. All the new trigger did was make it even easier to shoot that group.
Uniformity is king
What are your chances of getting a trigger just as good straight out of the box? They're excellent because one of the things the design of this new trigger does is make it easier to control dimensions and tolerances during manufacture. Each and every trigger should feel the same straight from the box. Even more important than how good the new trigger feels is the news about the uniformity.
On to the new quiet guns
I went to AirForce for a day to witness the new Condor SS and Talon SS upgrade perform. When I got there, we grabbed a Condor and immediately went outside where a chronograph was waiting. Why a chronograph? Because the new Condor SS is so quiet that it sounds like you're shooting a Diana 27 breakbarrel. No — it's not even that loud. All you hear is the click of the striker hitting the valve — and they're talking about how to make that even quieter!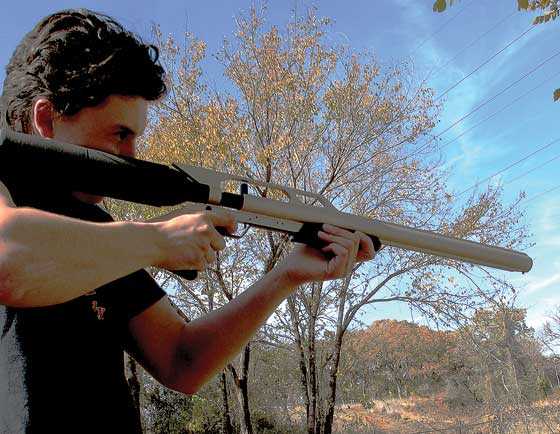 We shot the prototype Condor SS and the new Talon SS upgrade.
The new Condor SS has an 18-inch barrel, compared to the 24-inch barrel of the standard unsilenced Condor. It's a little slower, but not much. They get about 1,200 f.p.s. with .22-caliber 14.3-grain Crosman Premier pellets, where the unsilenced gun gets around 1,250.
Imagine a 55 foot-pound air rifle that's so quiet you have to watch your breathing. As I said about the Benjamin Marauder and thousands of shooters now know: When the rifle fires, it's the sound of a ballpoint pen falling onto a deep-pile carpet.
The technology
Like the current Talon SS, there's space ahead of the Lothar Walther barrel in the Condor SS. However, unlike the current guns, there's now something in that space. There are are 3 Delrin baffles designed to turn around the compressed air and direct it toward the rear of the gun. By the time it finally gets past the end cap, it has lost all its pressure and therefore makes no sound.
I'd love to show you those baffles, but they were still tweaking the design when I was there. All I can say is that the ones I saw looked a lot like large black diabolo pellets seen from the side. And they're separate and individual. There's also a spring that presses them tight so they don't rattle.
Here's some very good news for owners of the current Talon SS. These baffles will be sold separately so you can install them in your gun. Yes, I did get to hear a standard Talon SS with the new baffles, and it's quiet. But since it's impossible to be quieter than nothing, I can't really give you a rating. It sounds just like the new Condor SS.
I asked them to put a standard air tank on the new Condor SS to see what I would do. We saw Crosman Premiers going 970 f.p.s through the traps, which is 100-120 f.p.s. faster than the standard SS. The benefit of that is that, instead of about 20 good shots on one tank, you get up to 40 shots — and the longer barrel gives you performance in the 30-40 foot-pound region. They have no plans to build that gun (standard tank with an 18-inch barrel and new extended Condor SS frame), but any owner can just put a standard tank on a Condor SS and get it for themselves.
This report is just Part 1 of what I hope will be a complete series on the new Condor SS. That'll include the new trigger and safety, but I feel like I've already addressed that completely in this report. The gun will hit the market in 2013, hopefully sooner rather than later. As soon as it does, I'll be on top of it for you.
This report is about a single family of new airguns at the 2013 SHOT Show, but it doesn't really cover the show, so there will be several more SHOT reports coming.
by Tom Gaylord, a.k.a. B.B. Pelletier
Part 1
Part 2
Part 3
Part 4
Part 5
Part 6
Part 7
Part 8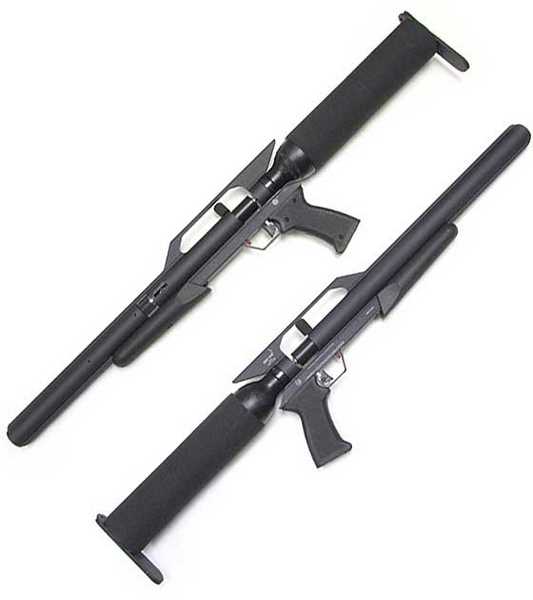 AirForce Talon SS is a whole shooting system.
We last looked at the .22-caliber Talon SS on June 13, when I told you that I had mistakenly shot the rifle with a standard air tank instead of a Micro-Meter tank in the previous test. I retested the rifle with an AirForce Micro-Meter air tank and the standard 12-inch barrel. Today, I want to finish the test with the optional 24-inch barrel.
You'll recall in Part 8 that I shot the rifle 380 times on a single fill of the Micro-Meter tank. Today, we'll see what difference, if any, we get from the 24-inch barrel. The only pellet used in this test was the .22-caliber Crosman Premier pellet.
Let's begin — shots 1 to 10
The tank is filled to 3,000 psi and shooting starts. The power wheel is set as low as it will go. The first three shots go 429, 536 and 667 f.p.s., respectively. Shot four goes 726 f.p.s. and the rifle is stable from that point on. The first three shots were needed to wake up the valve. Discounting the first three shots, the string averaged 727 f.p.s. and ranged from 725 to 732 f.p.s., a spread of 7 f.p.s. The average energy was 16.79 foot-pounds; and yes, I'm aware that a Micro-Meter tank isn't supposed to be that powerful. But we're seeing the effect of doubling the barrel length in a precharged gun, and it's dramatic!
Because of the large number of shots I expect to get from the tank, I then shot 30 shots without a pellet. I'll call these blank shots.
Shots 41 to 50
This string averaged 715 f.p.s. and ranged from 711 to 718 f.p.s, so another 7 foot-second spread. The average energy was 16.24 foot-pounds. Then another 30 blanks were fired.
Shots 81 to 90
I shot this string on the highest power setting the gun has — just to see if there was any difference. There wasn't. The average was 705 f.p.s. and the range went from 702 to 709 f.p.s. Another 7 foot-second spread. The energy was 15.79 foot-pounds. Then another 30 blanks were fired.
Shots 121 to 130
The gun was set back to the lowest power setting and remained there for the rest of this test. The average was 675 f.p.s., and the range went from 668 to 679 f.p.s. the spread was 11 f.p.s. The average energy was 14.47 foot-pounds. Then 30 more blanks were fired.
Shots 161 to 170
The average was 658 f.p.s., and the string ranged from 654 to 662 f.p.s. — a spread of 8 f.p.s. The average energy was 14.17 foot-pounds. Then 30 more blanks were fired.
Shots 201 to 210
The average was 641 f.p.s., and the range was 637 to 653 f.p.s. This string had a 16 foot-second spread. The average energy was 13.05 foot-pounds. Following this, 30 more shots without pellets were fired.
Shots 241 to 250
The average for this string was 618 f.p.s., and the string ranged from 613 to 621 f.p.s. So, a spread of 8 f.p.s. The average energy was 12.13 foot-pounds. Following this, 30 more blanks were fired.
Shots 281 to 290
This string averaged 594 f.p.s. and ranged from 581 to 601. So a 20 f.p.s. spread. The average energy was 11.21 foot-pounds. Then 30 more blank shots were fired.
Shots 321 to 330
The average was 561 and ranged from 553 to 568, and the spread was 15 f.p.s. The average energy was 10 foot-pounds. After this, 30 more shots were fired without pellets.
Shots 361 to 370
The average was 539 f.p.s.,  and the string ranged from 534 to 545. A spread of 12 f.p.s. was observed. The average energy was 9.23 foot-pounds. Another 30 blanks were fired.
Shots 400 to 410
Now we're in uncharted territory. The gun is giving me over 400 good shots on a single fill. Clearly, the 24-inch barrel is a real boon to the performance of the MM tank. This string averaged 519 f.p.s. and ranged from 514 to 527 f.p.s. A spread of 13 f.p.s. The average energy was 8.56 foot-pounds. After this, 30 more blanks were fired.
Shots 441 to 450
The average was 497 f.p.s. and the string ranged from 489 to 504 f.p.s., for a total spread of 15 f.p.s. The average energy was 7.85 foot-pounds.
I'm done
I could have continued to shoot the gun for many more shots, but I stopped at this point for a reason. After 450 shots have been fired, the Talon SS is still launching pellets slightly faster than my Diana model 27 breakbarrel. If that's enough power for me, then this gun certainly gives all that and more. And I can't think of another time when I shot 450 shots, unless it was for a test like this one.
The 24-inch barrel added significant performance
We all know that barrel length is important to a PCP, and this test makes that very clear. The 12-inch barrel gave 380 shots that ended up in the high 300 f.p.s. range. We're still 200 f.p.s. faster than that after 450 shots have been fired! I think that establishes the Micro-Meter air tank as the champion of PCPs with the 24-inch barrel is installed.
What's next?
In this series, we've looked at the Talon SS as it comes from the factory and with various modifications. The one we haven't tried yet is the CO2 adapter, so that's next. I'll leave the 24-inch barrel installed since that's the way I shoot the rifle all the time now, but I'll test both velocity and accuracy with CO2 for you.
by B.B. Pelletier
Part 1
Part 2
Part 3
Part 4
Part 5
Part 6
Part 7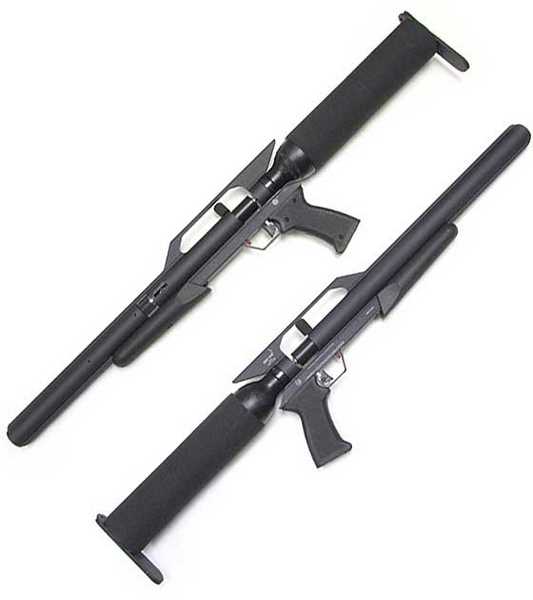 AirForce Talon SS is a whole shooting system.
My mistake
Today is the day I tell you about the horrible blunder I made. Remember the two tests I did with the Talon SS PCP rifle using the AirForce Micro-Meter air tank? Well, that wasn't a Micro-Meter tank! It was a standard tank!
Blog reader twotalon guessed it was wrong, and I ignored him. When John McCaslin, the owner of AirForce Airguns, read my last report of the Micro-Meter tank — the one where I got 340 shots on a fill — he saw that I reached over 800 f.p.s. in .22 caliber and knew a Micro-Meter tank couldn't do that. He called me and walked me through the logic of why it couldn't be a Micro-Meter tank. Sure enough, he was right!
I guess what happened is that when I went to AirForce to pick up the Micro-Meter tank, I grabbed the wrong tank. Then, when I tested it on the optional 24-inch barrel first, I didn't question the numbers because I didn't know what the numbers should be with the longer barrel. As for why I missed seeing it when I tested it with the 12-inch barrel, that was entirely my fault. I simply didn't think it through. Twotalon even asked me if there was a sticker on the Micro-Meter tank, and I told him there wasn't, but I thought that was because AirForce had forgotten to put one on. Or I'd picked up a tank before the sticker was applied.
It doesn't matter. The fact is that I tested the gun with both barrels using a standard tank. I'm going to update those other reports to reflect that, and today we'll see what a Talon SS does when it's using a real Micro-Meter air tank. And now we have the results of a standard tank for comparison.
I'll start today with the standard 12-inch barrel, and then I'll test the real Micro-Meter tank with the 24-inch barrel in the next report. Because I have a good idea of how many shots I'll get from this tank, I modified the test to shoot 30 dry-fire, or blank, shots between the recorded strings — just to burn up air a little faster. In the previous two tests, I fired only 20 dry-fire shots between strings.
I'm still shooting only the .22-caliber Crosman Premier pellet in this test. And I started with a fill to exactly 3,000 psi.
The test
The first string of 10 shots was with the power wheel set at the lowest setting, which I'll call zero. The gun averaged 590 f.p.s. and ranged from a low of 583 to a high of 601 f.p.s. That's an average of 11.06 foot-pounds.
For the next 10, I dialed up the power as high as it would go. The rifle averaged 585 f.p.s. and ranged from a low of 582 to a high of 590 f.p.s. The average energy at the muzzle was 10.87 foot-pounds. Then, I fired 30 blank shots without pellets.
Shots 51-60 were fired on low power and averaged 557 f.p.s. They ranged from 547 to 563 f.p.s. The average energy was 9.85 foot-pounds. I fired 30 more blank shots. From this point on, all shooting was done on the lowest power setting.
Shots 91 to 100 averaged 547 f.p.s. and ranged from a low of 539 to a high of 556 f.p.s. They averaged 9.5 foot-pounds of muzzle energy. Notice how tight the strings are? Even though the velocity is decreasing, the consistency remains good. After this string, I fired 30 more blank shots.
Shots 131 to 140 averaged 525 f.p.s. and ranged from a low of 516 to a high of 533 f.p.s. The average energy was 8.75 foot-pounds. I noticed that the first couple shots at the beginning of each string were always the slowest, so those blank shots had an affect on the numbers. After this string, I fired another 30 blank shots.
Shots 171 to 180 averaged 512 f.p.s. and ranged from 502 to 523 f.p.s. The average energy was 8.33 foot-pounds. After this string, I fired 30 more blank shots.
Shots 211 to 220 averaged 489 f.p.s. and ranged from a low of 475 to a high of 500 f.p.s. The average energy was 7.59 foot-pounds. That puts the gun, after 220 shots have been fired, in the same power range as a .22-caliber Diana model 27. After this string, I fired another 30 blank shots
Shots 251 to 260 averaged 467 f.p.s., with a range from 458 to a high of 474 f.p.s. The average energy was 6.93 foot-pounds. After this string, another 30 blank shots were fired.
Shots 291 to 300 averaged 443 f.p.s. with a spread from 434 to 451 f.p.s. The average energy was 6.23 foot-pounds. The velocity is dropping off steadily, but slowly; and if you were plinking in the backyard, you'd never notice it. After this string, I fired another 30 blank shots.
Shots 331 to 340 averaged 416 f.p.s. and ranged from 410 to 425 f.p.s. The average energy was 5.5 foot-pounds. Another 30 blank shots followed this string.
Shots 371 to 380 averaged 379 f.p.s. and ranged from 370 to 392 f.p.s. The average energy was 4.56 foot-pounds. I stopped after shot 380 because the velocity was getting low and I heard a short hiss of air escaping from the tank. Clearly, the valve was down to its bottom performance point and would not continue to hold air at pressures much lower than this. When I checked the pressure remaining in the tank it was exactly at 1,100 psi. The gun used an incredible 1,900 psi of air over these 380 shots.
What have we learned?
The first thing we learned is that the gun gets even more shots with the Micro-Meter tank than it does with the standard tank. I count 40 more shots, though there were still some shots left in the standard tank when that test ended at 340 shots.
Next, we see there was no increase in velocity, as this tank was used up. Instead, there was a slow and steady decline in velocity from the first shot to the last.
As far as consistency goes, the standard tank was just as consistent as the Micro-Meter tank, but at significantly higher velocities. The Micro-Meter tank will be easier on your backstop. If that isn't a problem, the standard tank still gives you plenty of low-velocity shots.
The last thing I've learned is that I'm still capable of making mistakes. I thought I was done with them several years ago, but apparently it's like riding a bike. Once you learn how….