Posts Tagged 'AirForce Talon SS'
by Tom Gaylord, a.k.a. B.B. Pelletier
Today is Thanksgiving, here in the U.S., as well as the first full day of Hanukkah, which started last evening. I want to wish my Jewish readers a happy Hanukkah and all my U.S. readers a Happy Thanksgiving Day. Today I'd like to take some time to acknowledge those airguns that are worth remembering.
Benjamin 107
It was my first airgun — though I didn't acknowledge it at the time. I was whining at my mom to let me buy a BB gun, when all the while I had a beauty right there in front of me.
The 107 was a front-pump .177 smoothbore pistol that shot BBs, darts and pellets — none very accurately. But compared to a common BB gun, it wasn't too bad. I got it when I turned 10 or 11 after my father died. It had been his. I remember seeing him shoot it once, but that was all.
All the black nickel finish was gone, and the gun was worn to silver nickel in most places, with a hint of brass showing though some of the edges. It was a real bear to pump, and I think I could manage only three strokes when I applied all my weight. After that, I was the one having the stroke!
I could hold about one inch at 20 feet with darts, which was the ammo of choice since I had them and they could be reused. There were some Benjamin pellets that came with the thing, too, but I don't remember them being very accurate.
Once I secured my Daisy No. 25 pump BB gun, I don't think I ever looked at the old Benjamin, again. But that was the first airgun I ever shot, and it started the fascination that's lasted until now.
Diana model 10
Fast-forward 14 years, and I'm married (to my first wife) with a child and living in Germany. In the walled city of Rothenberg ob der Tauber, I find a gun store that sells high-end airguns. They have Walther LGVs and LGRs that I can't afford as a family man. But they also have a Diana model 10 target pistol that the owner claims is stunningly accurate. He's a good salesman, and we decided we could afford it; so I buy it plus 5,000 RWS Meisterkugeln pellets.
I learned how to shoot 10-meter pistol with that airgun — heck, I learned that there WAS such a thing as 10-meter pistol! And I got passably good. Good enough to stand on the line at formal matches while better shooters won. I did that for the next 20 years and got better and better until I was what, in technical terms, is known as a duffer. That's a guy who shows up and shoots without embarrassing himself, while others rule the day.
I also taught my gun-hating father-in-law how to shoot with that air pistol. He got so interested that he shot up a lot of my 5,000 pellets! I finally sold that pistol when I left the Army in 1981.
FWB 124
This is the air rifle I bought after returning from Germany in 1977. I scoped it with a Tasco firearm scope and never had a lick of trouble with it. It had the plastic trigger that the early rifles came with, but I loved it just as it was. It taught me what a precision adult air rifle could be. I had been reading about these rifles for the last 2 years I was in Germany; and, of course, I failed to realize that I lived in Erlangen, the home of the BSF factory! No, I read the Airgun Digest in the last 2 years of my tour and I wanted a 124, so that's what I got.

One of many FWB 124s I've owned over the years. Each one is a classic!
Then the R1 came out and took all the wind out of my sails. My 124 was no longer the baddest airgun on the block — despite the fact that no one on my block owned any air rifles at all. No sir! Dr. Beeman said the R1 was the gun to own, and I wanted one with all my fiber! I had to sell that 124 to pay off debts when I left the Army, but it left a seed deep inside me and I've owned several since that time.
Diana 27
The Diana 27 I'm referring to is not the one you have seen me write about. No, it's a gun I bought for $18 in a pawn shop in Radcliff, Kentucky, in the late 1970s. I didn't even know what it was at the time. It was a Hy Score 807 in .22 caliber and rough as a cob. The rust was deep all over, making the metal surface bumpy. Had it been removed, there would have been deep pits left behind. But the gun still shot very well. I marveled at how light and smooth the powerplant was. It shot slow compared to the 124, but out to 20 yards it held its own. I gave that one to a friend when I left the Army.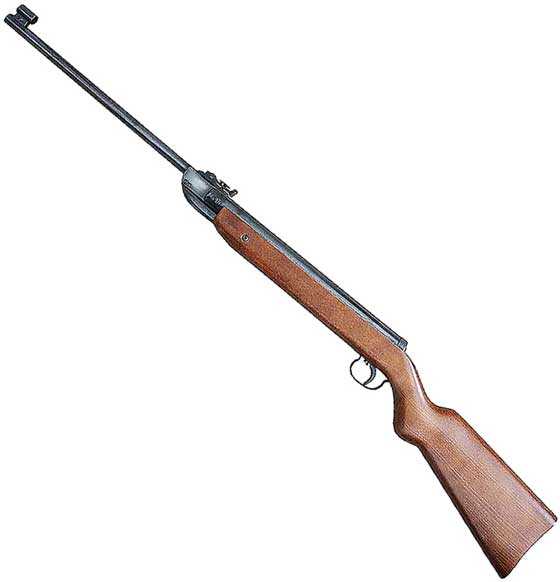 Diana 27 isn't a pretty air rifle, but it shoots like a dream!
Sheridan Blue Streak
This was an air rifle I had coveted since I was a Tenderfoot in the Boy Scouts and read all the ads in Boy's Life. It could shoot through an inch of wood — the ads said so! And it was accurate. But I never had the money to buy one as a kid. In 1978, a year after returning from Germany (and fast becoming a real airgunner), I finally bought one. The price had risen from $19.95 to $39.95 in the time that had passed, but I purchased what is today recognized as the high-water mark of Sheridan production — a 1978 Blue Streak with the rocker safety!

The Blue Streak I bought in 1978, and the rifle on which Edith learned to shoot.
That gun stayed with me after I left the Army. It wasn't worth enough to sell, so I kept it and still have it today. Edith learned to shoot with it and killed 9 rats around our Maryland home — not to mention various mice in the house and snakes in the garden. She put a yellow twist tie around the triggerguard to remind her the pellets were the ones in the yellow plastic box. This was before the days of The Airgun Letter and field target. Edith was still learning about airguns.
Beeman R1
We really didn't have the money at the time, but Edith gifted me with a new Beeman R1 for Christmas in 1991. The Airgun Letter was still 3 years in the future, so the only reason I got this gun was because I told her how long I had desired it. I had purchased a Beeman C1 a couple years before, but it just didn't scratch the itch.
But the real surprise was the used HW 77 carbine that was also under the tree that year. That was Edith at her best — giving me a gift I had no idea I was getting. We even had a scene from A Christmas Story, as a final long box with my name on it appeared after all other gifts had been opened!
The R1 scratched my itch alright; but what I discovered about airguns is that the more you scratch, the more the itch spreads. You think I'm an enabler? Remember, folks, I do everything to myself before I do it to all of you.
Beeman R8
It was the day I returned from the hospital in 2010. I was sitting on the sofa and had just enough strength to sit up for awhile. Edith pulled out a long cardboard box and told me that one of our blog readers had sent me something for when I come home. I couldn't stand or even open the box. She had to do it for me. Inside was a black hard case and inside that was the most beautiful Tyrolean air rifle I've even seen. It was a Beeman R8 with a custom stock and a fresh tune. A personal note told me who had done the work and how nice it shot.

This beautiful Tyrolean Beeman R8 was waiting for me when I returned home from the hospital.
As weak as I was, I had Edith hand me the rifle and I found that I could cock it. Oh boy! Here was a spring rifle I could shoot real soon, even when I couldn't cock most other air rifles. My friend, Mac, was still testing spring guns for me for several months as my strength returned, but that R8 was mine from the moment I first held it.
Edith and I were showered with gifts from the members of this blog when I got out of the hospital, and we were stunned at the outpouring. But that R8 is my favorite spring rifle because of how nice it is, how great it shoots, and most of all what it meant to me at a time when I could barely raise my head off a pillow.
What about the others?
Sure, there have been plenty of other airguns I'm thankful for. My Whiscombe has been a dream test bed for numerous experiments. Both the Benjamin Discovery and the Air Venturi Bronco are guns I personally was involved in developing. So, of course, they meant a lot. The AirForce Talon SS with a 24″ barrel is probably the gun I shoot more than any other…and you all know how I feel about the TX200! I could go on and on, but where do I stop? These guns have all been pivotal in my development as an airgunner.
I'm thankful
Back when I wrote The Airgun Letter, I allowed myself to get sucked into several bad arguments over trivial airgun issues. When we started this blog, I insisted on using a pen name rather than my own. I didn't want to spoil things with old baggage from the past. I also reinvented myself at the same time. I learned to curb my temper and to listen to what others have to say — even when it runs contrary to what I believe.
Some of you suspect this, but now I'll tell you all that Edith is half of Tom Gaylord, the writer. She keeps me on an even keel and lets me vent privately when I have to. She has a much better memory than I do and sometimes she suggests things that I wish I had thought of (and accept credit for when they show up in print). If I didn't have her, the veneer of who I am would quickly peel back and expose the unpleasantness underneath.
The airguns I have written about today were all pivotal in shaping my life as an airgunner. But it is Edith and you readers who have really had the greatest influence. Through thick and thin, you continue to inspire me and make me glad to have this job.
A few weeks ago, blog reader David Enoch asked me to write a report about the airguns that I never warmed to. I tried doing that and quickly found all the bad old stuff leaking out. So, I stopped writing and focused on only the good things that have happened with airguns. There are so many of them; and when I focus on them, I become the person I want to be.
Today's report came as a result of a disaster I had while testing a gun yesterday. Nothing went right, several optical sights failed and I put some new dents in the wall of our bedroom. I then sat on the couch complaining about everything. Knowing that I was losing it, Edith suggested today's topic. I hope this piece does some good for all of you because it has made my day! Happy Thanksgiving!
by Tom Gaylord, a.k.a. B.B. Pelletier
This test was done for blog reader GunFun1, who asked to see what effect barrel length has on velocity. Though it appears simple, this test took 2 days to conduct because of barrel changes and other sundry things. But what was learned far exceeded my hopes, so the effort it took was well worth it.
Conduct
I tested with an AirForce Talon SS, which has the facility to accept interchangable barrels. All testing was done with the rifle in .22 caliber, which means every barrel used was that caliber. I used the factory-installed 12-inch Lothar Walther barrel, an optional 18-inch Lothar Walther barrel and an optional 24-inch Lothar Walther barrel.
I fired 5 shots at each power level with each barrel. I could have shot more; but since I know the stability of the Talon SS powerplant, it really wasn't necessary. And fewer shots made the test go faster. After every power change, I fired one shot before testing to settle the valve at the new level. I know that's necessary for the Talon SS. Other PCPs may have different techniques after making power adjustments — including no warmup shots at all. But the SS requires one shot after every power adjustment. After testing each barrel, I refilled the gun to 3,000 psi. The pressure remaining in the reservoir when I began each fill was about 2,600 psi. So for all shot,s the rifle was running right in the middle of the optimum power curve.
I started each test on the highest power, then dialed back as the test advanced. That meant that when I got back to power settings 6 and zero, the rifle was in the middle of the power curve and was at its most stable condition.
I used only a single type of pellet — the 14.3-grain Crosman Premier. Had I used additional pellets, there would have been different velocities. The relationships we're looking for are revealed in this one pellet as well as if I'd tested greater numbers of pellets. There was no need to waste shots or air.
Because I'm testing with a Talon SS, the air reservoir I'm using is the standard air tank that's found on both the Talon SS rifle and the Talon that is the lowest-priced model of the line.
I filled the air tank to 3,000 psi, then shot 5 rounds on the highest power, then 5 at power setting 10, then another 5 at power setting 6 and finally the last 5 at power setting zero. After every power adjustment, one dry-fire shot was taken to set the valve at the new power setting.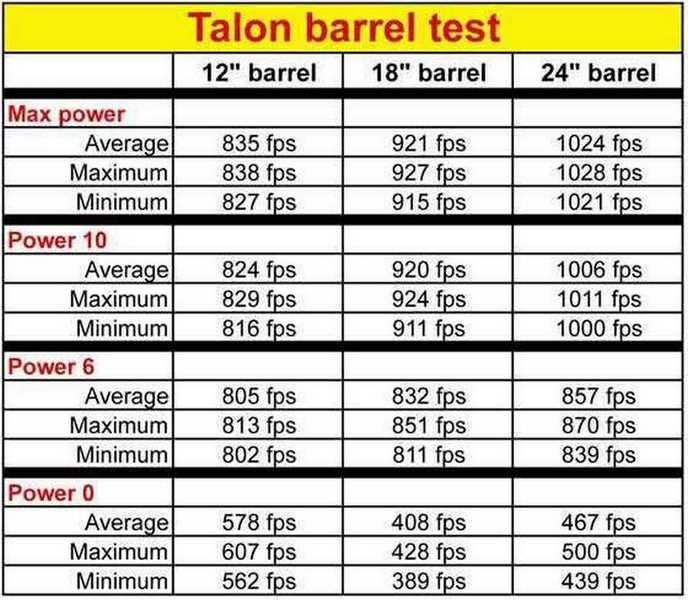 Analysis
First, let's look at what happened with all 3 barrels at the maximum power setting. The 12-inch barrel gave an average 835 f.p.s. The 18-inch barrel averaged 921 f.p.s. and the 24-inch barrel averaged 1024 f.p.s. That's all with the same powerplant, the same amount of air being used with each shot — in fact, everything was the same except for the length of the barrel. This is a clear demonstration of what a longer barrel can do for a precharged gun.
However, there's one thing we need to note. The barrel I used for the 12-inch barrel is not the same 12-inch barrel that was used in the previous test of rifling twist rates. If you look back at that test, you'll see that this same rifle shot a Premier pellet on power setting 10 (854 f.p.s.) faster that it did in this test (827 f.p.s.). The reason is probably due to small differences in the individual barrels — the smoothness and diameters of the bores and how well the backs of the barrels seal against the air valve in the reservoir. So, one 12-inch barrel can be different than another 12-inch barrel — even when they're both produced by the same manufacturer! That's worth noting. I used to see this all the time when I tested guns while I worked for AirForce, and now I'm showing you what I used to see. A lot of shooters don't understand or even believe this can be possible. They think that one barrel must be exactly identical to another barrel of the same specifications made by the same manufacturer.
A second thing to note is the fact that the 12-inch barrel didn't get much more from the maximum power setting than it did on power setting 10 (835 f.p.s. to 824 f.p.s.). In fact, that held true up through the 24-inch barrel, which tells me that power setting 10 is about as high as I need to go to get the most from this particular rifle's powerplant. Other PCPs that have adjustable power will behave differently than this, but they'll all have settings that get the most effective use of their air. Anything more than that is just a waste.
Now, look at power setting 6 across all 3 barrels. The velocity increase as the barrel lengthens is smaller with this power setting than with the higher settings. Also, look at the 12-inch barrel between setting 6 and setting zero. That's where the bulk of the adjustability for this powerplant is when that barrel is installed. But with both the 18-inch and 24-inch barrels, the useful power adjustment range extends all the way up to power setting 10.
Finally, power setting zero had a surprise. The 12-inch barrel was the fastest of the 3. That can be explained by more friction in the other 2 barrels, but it doesn't explain why the 18-inch barrel was slowest and the 24-inch barrel was faster. That's one of those anomalies you sometimes see when you test things like this.
I also want to say that the rifle became quieter with the 18-inch barrel, but got noisier again with the 24-inch barrel. You Talon owners don't have the shrouded barrel the Talon SS owners have, but apparently your barrels are doing a great job of quieting the shots all by themselves.
Summary
Of course, all of this was made possible by the use of a chronograph. No amount of listening to how long it takes the pellet to hit the hickory tree from the back door will give you results like these.
A word from Edith
As many of our readers know, this blog was originally started on the Blogger site/software, and they're listed in the right-hand column as the Historical Archives. Those blog posts are being moved to this site from Blogger so everything's in one place. As originally planned, the comments to the old blog would have been lost. Due to the diligence of several of our blog readers who gave me links to help pages that showed how comments could be transferred along with the posts, we're not losing anything!
The transfer process is almost complete, and the old blogs/comments will soon be available on this site. One caveat: Blogger posts didn't have categories and tags when this blog first started, and we didn't start using them when that feature was added later. So, in my spare time (imagine hysterical laughter at this point), I'll be categorizing the old posts and creating tags that will help you find related items quicker than if you had to do an ordinary word search.
by Tom Gaylord, a.k.a. B.B. Pelletier
Part 1
Part 2
Part 3
Part 4
Part 5
Part 6
Part 7
Part 8
Part 9
Part 10
Part 11
Part 12
This is the summary report in this series. I'll give you my thoughts on how this test went, and I expect you to comment, as well.
The barrels
Three barrels were used in this test. One was the factory barrel that comes with the .22-caliber AirForce Talon SS. It's a 12-inch Lothar Walther barrel that has a choke of about a half-thousandth inch reduction in the bore diameter for the final 2 inches of length. That makes all the pellets of uniform size as they leave the muzzle, and it may potentially stop any in-bore wobble. This barrel has the standard airgun twist rate of 1-turn-in-16-inches of bore travel, written as 1:16″.
The other 2 barrels were made by Dennis Quackenbush. Neither barrel is choked. One is a 1:12″ twist; the other is a 1:22″ twist. They're also about 12-inches long and are held in the gun by AirForce Talon SS barrel bushings. Several comments have suggested that because these barrels are different than the Lothar Walther barrel, this test is somehow not fair. But the results of all the shooting prove otherwise. Sure, there are variations from barrel to barrel, depending on the power used and which pellet was shot. But the results are so close between all 3 barrels that whatever differences there might be are overridden by the similarities. In other words, I'm suggesting that if Lothar Walther had made all 3 barrels, there would be similar differences.


The 3 barrels used in the test. Factory barrel in the middle.
I believe the twist rates are what drive the results. We weren't searching for the most accurate barrel in this test. We were looking for behavior changes as conditions were changed. And we got that.
Velocity
The first thing that was tested was velocity. Both pellets — the 14.3-grain Crosman Premiers and the 15.9-grain JSB Exact Jumbo were shot from all 3 barrels at each of 3 predetermined power settings. These settings were marked on the gun so they were kept constant throughout the test.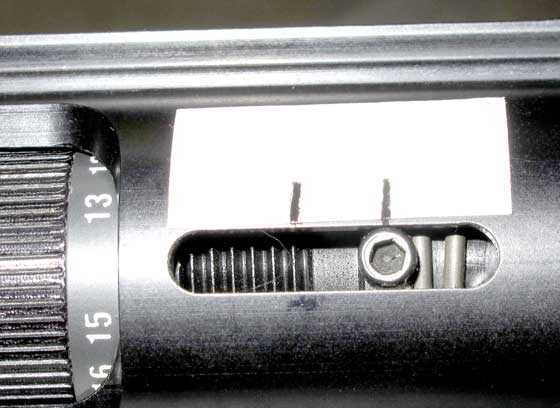 The power settings were the power indicator screw all the way to the left (the lowest setting), and the power screw centered on each mark (settings 6 and 10).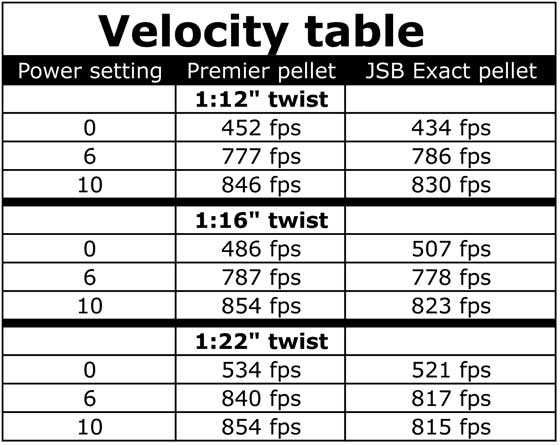 I reviewed the velocity for you in Part 8. Here's a summary of that report.
In all cases, the velocity increased the most between power setting zero and setting 6. The velocity increase from setting 6 to setting 10 was always smaller than the increase from setting zero to setting 6, and that's irrespective of the twist rate or which pellet was shot.
What you're seeing here is the slowing down of the rate of velocity increase as the air flow increases. That'll become clear in a moment when I discuss the rifle's maximum velocity potential.
As the twist rate slowed (1:22″ is slower than 1:12″), the velocity increased at most power settings with most pellets. There was one instance with the 1:22″ barrel when the JSB Exact pellet actually went 2 f.p.s. slower at setting 10 than at setting 6; but with all other barrels and pellets, there was always a velocity increase as the power setting went higher.
Focusing on the 1:22″ barrel for a moment, we see that the velocity increases between setting 6 and setting 10 were not as great as they were in either the factory (1:16″) barrel or the 1:12″ barrel. This suggests what we have suspected all along — that the twist rate of the barrel does slow down the pellet as it gets tighter. And we can see from this test that the phenomenon is most apparent at the lower power settings. At the higher power settings, the differences seem to shrink, indicating that the influence of the power setting is overriding the influence of the twist rate. I believe this is an important finding, and it sets up the next observation, which is that the top velocity of the gun was fairly close for all 3 barrels, regardless of the twist rate. The type of pellet made more difference to the top velocity than the barrel twist rate did.
It should be obvious from these results that the Talon SS powerplant has upper limits that cannot be exceeded by forcing more compressed air through the barrel. This illustrates the relationship between barrel length and velocity in a pneumatic airgun.
A second thing I found interesting is that power setting 6 is very close in performance to power setting 10. In the case of the 1:22″ twist barrel, it's remarkably close…but it's close for all three barrels. A prudent airgunner might consider this when setting the power wheel adjustment on his Talon SS, knowing that a lower setting uses less air, yet gives velocity that isn't that much slower.
A third thing is that the velocity performance of the 1:22″ barrel is so good at power setting 6 that it makes power setting 10 useless. Take that thought just a little farther, and you'll see that all power settings above setting 10 are pretty much a waste of air in a Talon SS with a 12-inch barrel, regardless of which pellet you use.
Accuracy testing
Next, I tested all 3 barrels with both pellets shot at all 3 power levels at 10 meters (11 yards) and 25 yards. Following that, I tested all 3 barrels and both pellets, again, at 50 yards, only I didn't use the zero power setting. This was where my eyes were opened regarding the effects of twist rate.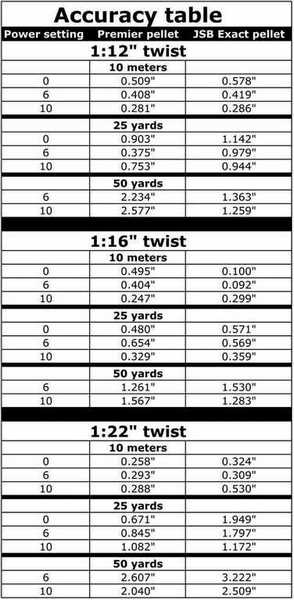 I analyzed the accuracy in 2 different reports. One (Part 9) was the 10-meter and 25-yard accuracy and the other (Part 12) was the 50-yard accuracy, alone. Now, with the table above we can combine these results and analyze all the accuracy data together.
The first observation I'll make is that at 10 meters, I got 10-shot groups that ranged from as small as 0.092 inches to as large as 0.578 inches. The factory barrel gave the best results with the JSB pellet; but with the Premier, it was the 1:22-inch twist that did the best. Curiously, that pellet and twist rate didn't seem to change that much as the power was increased (at 10 meters). With all other barrels and pellets, the group size did change a lot as the power changed.
It's too simple to say the factory barrel with the 1:16-inch twist rate is the best; but of the 3 twist rates in this test, it certainly is the most flexible across the board. However, you'll notice that the 1:12-inch twist barrel did shoot the best single group (with JSB Exact pellets) at 50 yards. That group is so close to the Crosman Premier group shot by the 1:16-inch barrel that I can't call a clear winner — BUT — here is what I CAN say. The Quackenbush 1:12-inch twist barrel is certainly capable of shooting 50-yard groups at least as tight as those shot by the Lother Walther barrel; and in my mind, that puts the barrel-equivalency question to rest.
Another observation is that the 1:22-inch twist barrel was just as good at 10 meters as the other 2 barrels, in general, but look at how the groups opened at 50 yards! That says something very strong about the relationship of the twist rate to accuracy. And it also brings up a second observation.
Premier pellets and JSB pellets performed differently throughout this test. Just look at the 50-yard results for Premiers and JSBs with the 1:12-inch twist barrel, and you'll see what I mean. This is one more bit of evidence that barrels have preferences for certain pellets.
Final observation
This will be my final remark in this series of reports, and it does not come from the data collected in this test but from the 5-part test of the Diana model 25 smoothbore. In that test, we saw that the smoothbore was able to place 10 JSB Exact RS pellets into a group measuring 0.337 inches at 10 meters. However, at 25 yards, the same pellet loaded the same way made a group that measured 3.168 inches. That difference tells us clearly that spin and not aerodynamic drag is the main key to pellet accuracy. I think we now see that twist rates do matter a lot, and the standard rate is the best all-around rate for now.

At 10 meters, 10 JSB Exact RS pellets made this 0.337-inch group.

At 25 yards, the same JWB-Exact-RS pellets, seated to the same depth, made this 3.168-inch group. They are clearly not accurate after 10 meters.
by Tom Gaylord, a.k.a. B.B. Pelletier
Part 1
Part 2
Part 3
Part 4
Part 5
Part 6
Part 7
Part 8
Part 9
Part 10
Part 11
Today, I'll report on the final test in this series. This isn't the final report — just the final test, which is the barrel with the 1:12″ twist, shooting at 50 yards. Get ready to be surprised. I know I was!
I did this test on the same perfect day as the factory barrel that was reported last week in Part 10, and the weather was perfect most of the time. From time to time, there was a very slight breeze that I waited out before shooting. The shooting conditions were as good as they get.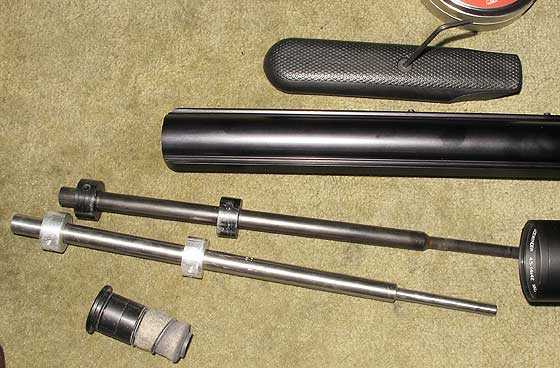 Changing barrels took 5 minutes. The silver barrel has the 1:12″ twist.
I used the same two pellets we've been shooting all along, and they were shot at power settings 6 and 10…just like the other 2 barrels that went before. The gun was shot while resting on a sandbag that's very stable. When the tank was filled or the power was changed, I always shot one shot to settle the valve. Experience tells me that's all that's needed.
The tank was filled to 3,000 psi.
Power setting 10
I first shot both pellets on power setting 10. And 14.3-grain Crosman Premiers were hitting low and to the left. One of them only nicked the target paper, so I photographed the target before taking it off the backer paper, so you could see the complete group.

Here are the two 10-shot groups of Premiers. Notice that they're hitting to the right of the aim point, which is the center of the bull they touch. The group shot on power setting 10 is at the top, and it shows why I like to use backer paper when shooting at 50 yards.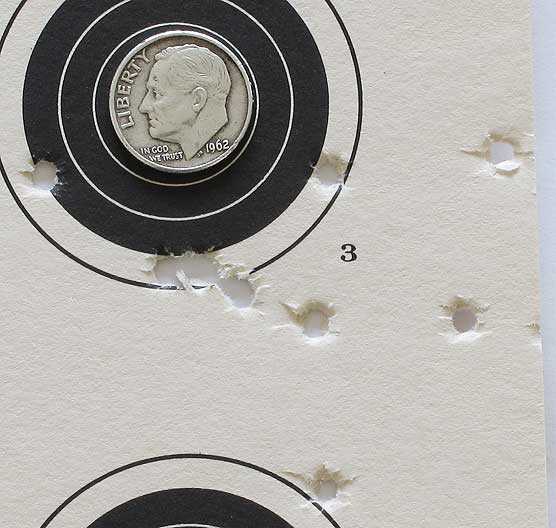 Premiers on power setting 10 gave this 2.577-inch group. See the nick on the right edge of the target paper? I had to guess a little for this measurement, but it isn't too far off.
Then it was time to test the 15.9-grain JSB Exact Jumbo 15.9-grain pellet on power setting 10. This is where the surprise comes! Ten pellets made a 1.259-inch group! If you check back with the results the factory barrel gave, you'll see that this group is very close to the best group made by the factory barrel (1.153″ for 10 shots with the same JSB pellet on power setting 6), and it's equal to the group that was shot on power setting 10 (1.283″). This addresses a question many of have had from the beginning of this test — namely, are the Quackenbush barrels equal to the Lothar Walther barrel?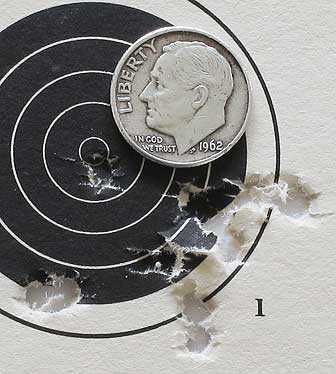 JSB Jumbo 15.9-grain domes on power setting 10 gave this 1.259-inch group. This shows that the 1:12″ barrel can be accurate at 50 yards.
With so little data, it's impossible to say if these two barrels are exactly as good, but what we now can say is that one of the Quackenbush barrels gave some groups that are at least equivalent to those from the factory barrel. The difference is so small that it might be due to the twist rate rather than the quality of the barrels. That was the position I took at the start of the test, and I think this demonstrates it was valid.
Power setting 6
Next, it was time to test the 1:12″ barrel on power setting 6. Ten Premiers went into 2.234 inches, which is only slightly smaller than the same pellet on power setting 10. As before, the pellet stuck the target low and to the right.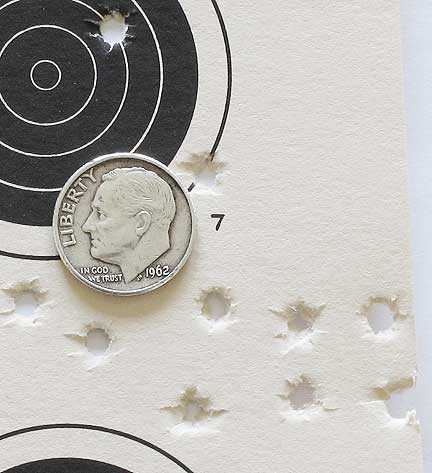 Ten Crosman Premiers on power setting 6 gave this 2.234-inch group. This is similar to the group that was obtained on power setting 10. The difference is too close to call.
It's official — the 1:12″ barrel does not like Crosman Premiers out at 50 yards. But that wasn't the only pellet in this test.
With JSB Exact Jumbo 15.9-grain domes, the barrel did nearly as good on power setting 6 as it did on setting 10. Ten pellets made a 1.363-inch group. Like the Premiers, the JSBs also performed about the same on setting 6 as on setting 10. But that's not the real lesson. The real thing to note is that the 1:12″ twist barrel was not as good at 25 yards as the factory barrel, yet at 50 yards it almost caught up. In other words, the accuracy of the factory barrel degraded faster as the distance increased than the barrel with the faster twist.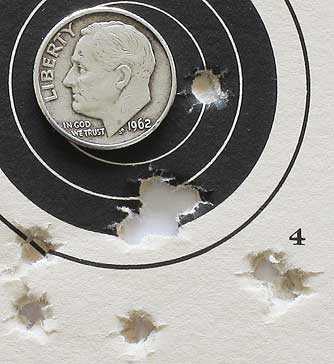 Ten JSB Exact domes on power setting 6 gave this 1.363-inch group. Like the Premiers, this result is also very similar to the group that was obtained with this pellet on power setting 10.
What has been learned?
This is not the final report. I'll add these results to the previous summary report given in Part 9, and we'll be able to see all 3 barrels at all 3 distances with both pellets at all 3 power levels. But if I had to give a quick analysis, I'd say the 1:12″ twist barrel surprised me at 50 yards by being better than I expected. At least it was better with the JSB pellets.
And that fact alone — that a barrel can be so much better with one pellet than with another — is good to know. This test has demonstrated that principle beyond all doubt.
A lot more testing needs to be done to thoroughly see all the relationships, but I'll tell you what I know in the next report, which will be the final report for this series. I think we can advance our knowledge of how pellets perform by quite a bit by combining the results of this lengthy test, the smoothbore test and the pellet velocity versus accuracy test. We've been exploring this theme for nearly 2 full years now, and I think we've learned a lot!
by Tom Gaylord, a.k.a. B.B. Pelletier
Part 1
Part 2
Part 3
Part 4
Part 5
Part 6
Part 7
Part 8
Part 9
Part 10
Continuing our look at the 3 different twist-rates, today I'll shoot the factory Lothar Walther barrel at 50 yards. The factory barrel has a 1:16″ twist rate that has become ubiquitous for airguns and is the very thing this test is designed to examine. Last time we looked at how the 1:22″ twist barrel did at 50 yards, with 2 different pellets fired at power levels 6 and 10. Today, we'll see the same thing with the factory barrel.
This test was performed yesterday, and the range conditions were perfect. There wasn't a breath of air to be felt for most of the shooting session, and only an occasional puff of air later on in the morning after I swapped barrels for the final test. I'll report on that set of results in the next report. Today is devoted to the factory barrel.
The AirForce Talon SS shoots with a fill of 3,000 psi, so before the test I filled the reservoir. Twenty shots would be fired at power setting 10 and another 20 at power setting 6, plus one shot at the start of the test and when the power wheel was changed. I haven't reported that fact until now, but it's my standard practice when shooting at 50 yards with a Talon SS.
Valve needs to be exercised
I have learned that the Talon SS valve needs to be fired one time following power adjustments to get it set at the new power level. The first shot will usually be like the gun was on the previous power setting, but the second shot will be solidly at the new setting; so I always take one shot to set the valve with every fill and at every power change.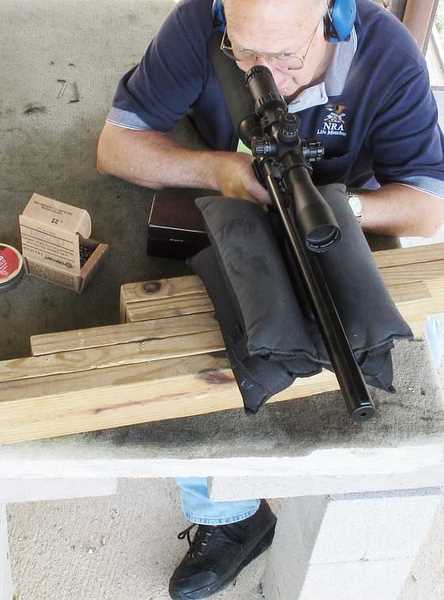 Shooting off the bench at 50 yards on a perfect day with the Talon SS was enjoyable.
Power setting 10
I started with power setting 10; so when it was time to shoot on power setting 6, the reservoir would have less than the full fill pressure. That way, I knew the gun would be right in the middle of the power curve.
Crosman Premiers
The first pellets I tested were 14.3-grain Crosman Premiers. Because the groups had dropped so far below the aim point in the previous test with the 1:22″ barrel, I dialed up the elevation several clicks for this test. I was hoping to hit the bullseye with the new sight setting, but Premiers on power setting 10 still dropped about 3.50 inches at 50 yards. Ten Crosman Premiers went into a group measuring 1.567 inches between centers. While that's on the large side for a Talon SS in my experience, it was still a very round group.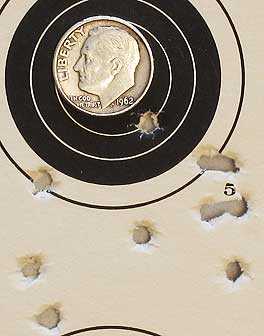 At 50 yards, 10 Crosman Premiers went into this round group, which measures 1.567 inches between centers when the power was set to 10.
JSB Exact Jumbo
Next, I switched pellets to 15.9-grain JSB Exact Jumbo and shot another group of 10. This was also at power setting 10, so the gun's valve did not need to be awakened. These pellets hit about 2.50 inches below the aim point, so they landed higher than Premiers at the same sight setting. This time, the 10 pellets went into 1.283 inches — a much better group than the Premiers, though there was a hint of vertical elongation to this group.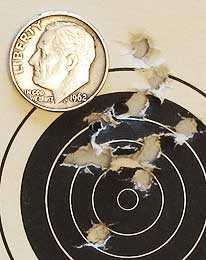 Ten JSB Exact Jumbo pellets made this 1.283-inch group at 50 yards on power setting 10. This group is slightly vertical.
The difference between the Premier group and the JSB group was evident through the scope without walking down to the target. Clearly this barrel likes the JSB pellet better. What did surprise me was that even on this perfect day I did not shoot a group smaller than one inch. I've done that so many times in the past that I sort of expected it — especially on such a perfect day. Well, it just demonstrates the difficulty of shooting such tight 10-shot groups at this distance.
Now, I cranked the power wheel down to 6 and shot both pellets, again. The first shot settled the valve at this new setting, then the groups began in earnest. JSBs went first since I'd just finished shooting them at power setting 10.
This time, 10 JSB pellets went into a group that measured 1.53 inches between centers. It was larger than the same pellets on power setting 10, but smaller than the Premiers on setting 10. The group is fairly round, though most of the shots are clustered on the right side.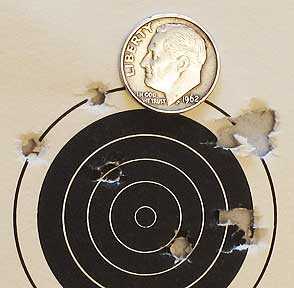 Ten JSB Exact Jumbo pellets made this 1.53-inch group at 50 yards on power setting 6. Notice that 7 of the 10 pellets landed on the right side of the group.
The final group was 10 Premiers fired on power setting 6. They made a group measuring 1.261 inches, which is the best group of the 4 shot with this barrel. It's more open than the best group of JSB pellets, but the overall measurement places it at the top of the ladder.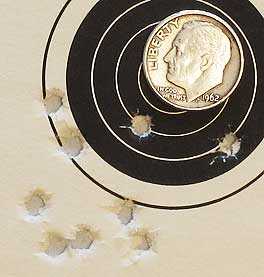 Ten Crosman Premiers on power setting 6 made the best group of the day, measuring 1.261 inches between centers.
Did you notice that the pellets crossed in their performance relative to power, with JSBs doing best on power setting 10, while Premiers did best on power setting 6? I wouldn't make too much of that because we don't have enough data to make any conclusions, but it is interesting. In the macro, it does appear that Premiers prefer lower power while JSBs prefer higher power — at least at 50 yards.
I have to admit that I was surprised not to see even one group that measured less than one inch. I've shot so many small groups with this rifle that I expected it this time, at least with one of the four groups that were produced.
Final note
In the next report, which is the same shooting done with the 1:12″ twist, there will be a surprising result. So, there's still more to come.
by Tom Gaylord, a.k.a. B.B. Pelletier
Part 1
Part 2
Part 3
Part 4
Part 5
Part 6
Part 7
Part 8
Part 9
Today, we'll begin looking at the effects of the rifling twist rate on the accuracy of our test AirForce Talon SS rifle in .22 caliber at 50 yards. If you're prone to jumping to conclusions before all the data is in, I have to caution you that today's test will look bad because I'm testing the custom barrel that has the 1:22″ rifling twist. We know from the earlier tests that this barrel was most accurate at 10 meters on power levels zero and 6. Above that power level and also out at 25 yards, the accuracy of this twist rate broke down. So, it would be reasonable to assume that this barrel will give results that are even worse at 50 yards.
That didn't stop me from trying my hardest to shoot well. I was able to watch each pellet go into the target paper because of the distance, and that was disconcerting when the pellets landed so far from the aim point and from each other. Let's take a look at how the rifle did.
The day was nearly perfect, as it has to be to get good accuracy from pellets at 50 yards. The air was calm, except for some light breezes from time to time. I was able to work around these breezes and get the results I was after.
I decided not to test the rifle on zero power because of the long distance to the target. Any breeze would have so much time to blow the pellets off course that I felt it wouldn't prove anything. So, both pellets were shot on power levels 6 and 10. That's how I'll test all 3 barrels.
You may remember that this barrel produced velocities that were very close to each other at power levels 6 and 10. With 14.3-grain Crosman Premiers, the respective velocities were 840/854 f.p.s.; and with 15.9-grain JSB Exact Jumbos, the velocities were 817/815 f.p.s. We expect the pellets in this test to go to the same place on the target, and I would expect the two groups for each pellet to be pretty similar in size.
Crosman Premiers
I started with Crosman Premiers and the power set to 10. I did not adjust the scope since completing the 25-yard accuracy test and the center of the group landed about 3.9 inches below the aim point. Ten pellets went into a group that measures 2.04 inches between centers.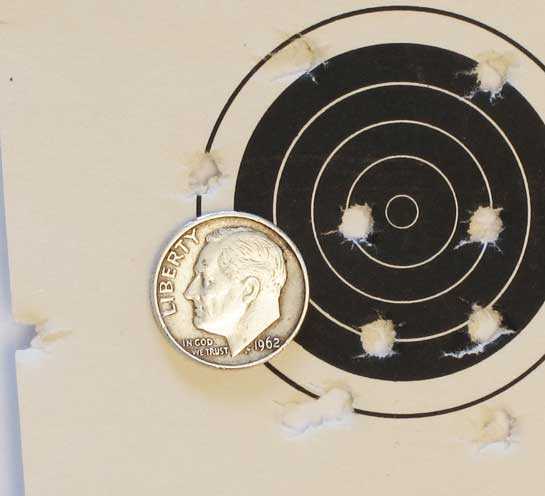 Ten Crosman Premiers went into 2.04 inches at 50 yards on power setting 10. The center of this group was about 3.90 inches below the aim point with the scope set for 25 yards. The pellet at the top center is part of another group — not this one. I did account for the full size of the pellet on the left that just clipped the edge of the target paper.
On power setting 6, the center of the group also struck the target 3.90 inches below the aim point. These measurements of the groups are just approximate since the center of each group was difficult to locate precisely. The 10-shot group size on power setting 6 was 2.607 inches between centers. This is slightly larger than the group shot on power setting 10.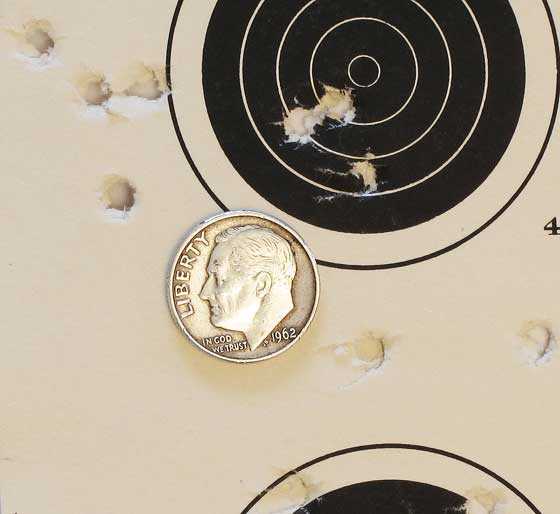 Ten Crosman Premiers went into 2.607 inches at 50 yards on power setting 6. The pellet hole at the lower right is not part of this group.
JSB Exact Jumbo
Next, it was time to test the JSB Exact Jumbo pellet. I started with power setting 10. The center of the group landed about 4.25 inches below the aim point.
Ten pellets shot on power setting 10 went into a group that measures 2.509 inches between centers. The group is much taller than it is wide.

Ten JSB Exact Jumbo pellets went into 2.509 inches at 50 yards on power setting 10. The group is taller than it is wide for reasons unknown.
On power setting 6, the 10-shot group size was 3.222 inches between centers. This group is considerably wider than the group shot on setting 10. Why that is, I have no idea.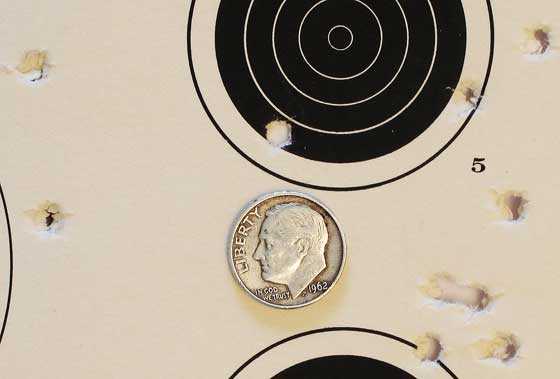 Ten JSB Exact Jumbo pellets went into 3.222 inches at 50 yards on power setting 6. The group is quite a bit wider than the group shot on power setting 10. I have no idea why that is.
Conclusions
As expected, neither pellet did especially well at 50 yards with the 1:22″ twist barrel. They did stay closer together than I expected, however.
The Premiers were more accurate than the JSBs, which parallels what both pellets did at 25 yards.
I don't see any real evidence of tumbling pellets with either pellet on either power setting, so it's too simple to say they're just destabilizing. They're less accurate but still stable at this distance. There's probably something profound in that — something like the pellets still fly point-forward, but erratically. I can't prove anything, yet, but now I have one barrel's results in the can and it's time to look at the factory barrel next. And that one has the twist rate that the manufacturer thinks is best for this airgun.
Final note
When I pitched the idea for this test as a feature article for Shotgun News, the editor told me he has never seen a test like this before. Neither have I. This may, in fact, be the first time anyone has published the results of testing three rifled barrels of different twist rates in the same gun under the same conditions. It probably has applications in the firearms world as well as for airguns. So, you readers may be in on something that's being done for the first time.
We still have to test the factory barrel and the 1:12″ twist barrel at 50 yards. As a final report, I'll summarize the entire test and the lessons I believe it teaches us.