Posts Tagged 'AirForce Talon SS'
by Tom Gaylord, a.k.a. B.B. Pelletier
Tarzan! This weekend, a number of readers conducted a discussion of the fictional character Tarzan and the author who created him, Edgar Rice Burroughs. I thought you should all know an interesting connection of Tarzan to airguns. His grandson, J.R. Burroughs, was a big-time airgun importer in the 1990s. In fact, he imported many of the Korean brands that are still coming in today.
When I started writing about airguns in 1994, I got to know J.R. through my writing, and I eventually met him at one of the SHOT Shows. We continued to communicate about airguns and many other things well into the 21st century. I haven't heard from him since I got sick back in 2010, so he may no longer be involved with airguns like he once was, but he was certainly a mover and shaker in the U.S. airgun scene during the time he was active.
A couple points of interest with J.R. He was the man who modified the Shinsung Career 707 adjustment wheel from 3 settings to 17 settings — giving us much greater control over the velocity of our rifles. The factory eventually made the same modification. It was possible to keep a Career shooting at the same velocity for a long time simply by adjusting the power wheel as you shot. I remember testing it over a chronograph and getting 90 shots that were all within 30 f.p.s.
J.R. also created the first adjustable trigger for the Career, and I believe he also created one of the first pellet feed mechanisms that was user-adjustable. Before that, you could only shoot a few types of pellets in the gun; but with his modification, many more types of pellets would work through the magazine.
His brother, Danton manages, the licensing of the Burroughs family literary property. Part of that is a collection of original Tarzan novels that were never sold. There was a fire in the storeroom many years ago and some of these books have smoke damage, but they're all like-new hardcover books from the 1930s. I was gifted with one — Tarzan and the Forbidden City — from this collection, and J.R inscribed it, saying that his father had done the cover art.
Of course, many of you know that the southern California community of Tarzana was created from Edgar Rice Burroughs' Tarzana Ranch in the San Fernando Valley. But how many know that Tarzana was also the name of small hamlet located on the ranch before Burroughs purchased it? And his Tarzan character appeared in print for the first time two years after he bought the ranch.
So, Tarzan does have ties to modern airgunning. I thought you would like to know that. One final thing. Burroughs didn't just write adventure novels. He is also quite famous for his science fiction that bears a remarkable resemblance to his other works, but are set on Mars. Edith and I both enjoy the movie John Carter, in which Burroughs appears as a minor character who turns out to be the author who documents the "real-life" exploits of his uncle, John Carter. I think we enjoy it most because of our fond memories of J.R.
Now, let's take our first serious look at the new AirForce Escape survival rifle. Before I start, I need to make a couple corrections to Part 1. I said the Escape SS (officially named the EscapeSS) has an 18-inch barrel and several readers figured out that wasn't the case. It actually comes with a 12-inch barrel in either .22 or .25 caliber.
I also said the Escape valve is a modified TalonP pistol valve, which isn't true. The TalonP valve is used exactly as it is in the pistol, so pistol owners who add a 24-inch barrel and end cap to their pistols can essentially have the Escape. The pistol's frame is shorter than the Escape frame, but it is just right for the Escape Ultra Light (officially named the EscapeUL) that we'll look at in a later report.

The AirForce Airguns Escape precharged pneumatic air rifle is a powerful new survival rifle in both .22 and .25 calibers.

The TalonP pistol is the base gun used to create the new Escape-series rifles.
The Escape rifle looks like the other AirForce sporting rifles and has many of the same features. The new trigger is there, along with the new safety that can be taken off safe by the trigger finger, alone. The 2-stage trigger on my rifle breaks at a relatively clean 28 oz. While it's not adjustable, I think most serious shooters will find it more than adequate.
The rifle weighs 5.3 lbs. unscoped and measures from 34.5 to 39 inches long, depending on where the extendible buttstock is set. That means the length of pull can also be varied from 9.75 to 14.25 inches.
Like all other AirForce rifles, the Esacpe has long 11mm rails on top and below the receiver. Since this is a survival gun, a bipod and sling swivels might be almost as important as a scope.
I tested this rifle differently than normal. Instead of getting the chronograph figures right away, I decided to shoot it at the range, so 2 days were spent on the range with the rifle in its .25-caliber incarnation. Once I have a good baseline of performance downrange, I'll come back and chrono the best pellets, pressures and power settings. Because these rifles are so infinitely adjustable, it makes sense to figure out what works before you worry about the numbers.
But I'll give you some velocity figures because Ton Jones tested the heck out of the rifle late last year, and AirForce provided me with the data. With .25-caliber JSB Exact King pellets and the rifle set to max power, Ton's first shot was 1145 f.p.s. The first 10 shots on a 3,000 psi fill looked like this:
1–1145
2–1125
3–1106
4–1090
5–1078
6–1061
7–1044
8–1028
9–1017
10–1003
On power setting 8, the same pellet did this on the first 10 shots after a 3,000 psi fill:
1–1100
2–1112
3–1133
4–1106
5–1107
6–1088
7–1075
8–1060
9–1041
10–1022
On power setting 4, the same pellet did this on the first 10 shots after a 3,000 psi fill:
1–1041
2–1036
3–1077
4–1095
5–1080
6–1077
7–1100
8–1077
9–1091
10–1080
At max power and the highest velocity, this JSB pellet generated 73.96 foot pounds of energy at the muzzle.
With the 43.2-grain Eun Jin pointed pellet, the rifle did this on the first 10 shots at max power after a 3,000 psi fill:
1–1010
2–980
3–974
4–955
5–940
6–924
7–907
8–894
9–876
10–860
On 8 power with a 3,000 psi fill, the rifle did this with the Eun Jin:
1–996
2–984
3–964
4–944
5–932
6–906
7–888
8–872
9–856
10–840
On 4 power with a 3,000 psi fill, the rifle did this with the Eun Jin:
1–986
2–975
3–959
4–950
5–937
6–922
7–902
8–889
9–870
10–849
At the max power setting and highest velocity, this pellet generated 97.88 foot-pounds of energy at the muzzle.
I have the data on the Escape's .22-caliber performance, but that will make today's report too large, so let me continue with just the .25-caliber rifle, which is how AirForce set it up for me. I took it to the rifle range on 2 different days. Both were cold but the first one was also very windy, so I'm going to show you the results of day 2 testing, only. The day was 16 degrees F (-9 C) but dead calm. I shot several types of pellets this day and based on those velocity figures you have just seen, I decided to shoot 5-shot groups instead of 10-shot groups.
Ton Jones maintains that a survival situation calls for a single well-placed shot, rather than a number of shots fired rapidly. I agree with him, so I'm not testing the Escape as I normally would. I fired 5 shots and then topped off the air tank. When you're making single shots, that makes sense.
On max power the best groups I shot were with JSB Exact King pellets and Predator Polymag pellets. At 50 yards, 5 JSB Kings went into a group that measured 1.846 inches between centers. That's a large group, but remember that you're shooting at large targets, and 50 yards may be farther than you choose to shoot.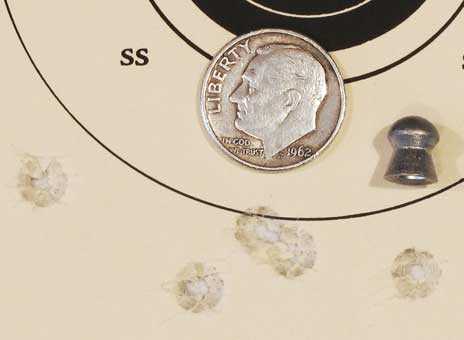 Five JSB Exact Kings went into 1.846 inches at 50 yards on maximum power.
Predator Polymags put five into 1.819 inches at the same 50 yards on max. power. Notice that both pellets spread their shots horizontally.

Five Predator Polymag pellets went into 1.819 inches at 50 yards on maximum power.
Experience takes over
I'm not going to bore you with each and every experiment I did on this day, but I want you to know that I also tried Benjamin domed pellets and Beeman Kodiak pellets. Both gave similar results, with the Kodiaks doing slightly better than the Benjamins.
But I knew that this rifle was more accurate than this. From my experience with other powerful precharged rifles, plus the testing I did with the TalonP pistol, I reckoned the fill pressure had to be lowered and the power adjusted. It soon became obvious this was correct and the JSB Exact King pellet was the one to go with. After several more groups, I settled on a fill of just under 2,000 psi and a power setting of 6. The groups became amazing with this combination, plus they were remarkably uniform from group to group.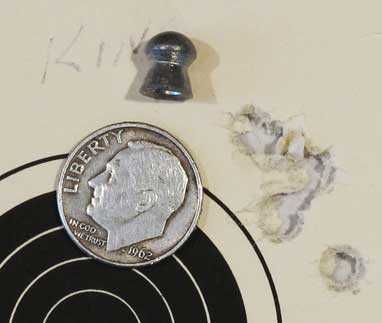 First good group of JSB Kings on power setting 6 with a 1950 psi fill gave me this 0.751-inch, 5-shot group at 50 yards.

After adjusting the scope, I put 5 JSB Kings into 0.694 inches at 50 yards. This was the best group of the day.

Another 5 JSB Kings went into 0.841 inches at 50 yards. This was the worst group of 6 that were fired with this combination of pellet, pressure and power setting.
Now that I know where at least one sweet spot is located, that will be what I'll test through a chronograph. I'll guess that this pellet is producing something in the 30 foot-pound range with the settings I used. Hitting the target with that kind of energy is much more meaningful than missing with three times more.
I also haven't tested the heavy Eun Jin pellet for accuracy. And Ton told me that he lubricated his pellets with Slip 2000, which I've obtained, so I'll be able to replicate what he did.
Summary
How do I summarize anything when I've only just started to test the rifle? There's enough variability here that I could spend the rest of my life just testing the Escape in .25 caliber! What I can tell you is that the rifle performs as advertised, and, yes, you do have to work with it to get these kinds of results. AirForce has always made air rifles for the thinking man, and the new Escape continues that tradition proudly.
by Tom Gaylord, a.k.a. B.B. Pelletier
Today is Day 1 of the 2014 SHOT Show, and it's also the day AirForce Airguns announces 3 new air rifles — the Escape, Escape SS and the Ultra Light. These air rifles, which come in either .22 or .25 caliber, are aimed at the serious survivalist — not just airgunners; so AirForce is envisioning a much larger market. That's serious!
The Escape was the rifle that started the ball rolling, and it's the brainchild of AirForce owner, John McCaslin, and Ton Jones, the star of television's popular series Auction Hunters. John and Ton were on a road trip while hunting in Texas last year when Ton started talking about a survival air rifle. He wanted power, accuracy and light weight. But most of all, he wanted a pneumatic rifle that could exist off the grid — when the dive shops aren't filling scuba tanks any longer.
As they talked, the idea of the TalonP pistol came up. Ton liked the fact that its air reservoir is small. That makes it easier to fill with a good hand pump. But he wanted more power than the 55+ foot-pounds of the TalonP. He wondered what would happen if a 24-inch barrel was installed in place of the 12-inch barrel that comes standard on the pistol.
He said John didn't talk for 10 minutes after hearing his suggestion. He was obviously deep in thought. Then, he smiled and said, "You know — that might work!" Ton said the smile made it all worthwhile.
You know how these things can snowball! By the end of their trip, John was fired up to see what would happen by doubling the barrel length. Obviously, the gun would go from being a large air pistol to a light air rifle, but that was okay with Ton. He just wanted something light and portable. By starting with a TalonP, it looked like he could have it.
Our veteran blog readers already know what doubling the barrel length will do for a powerful PCP because we've already done it here. I took the Talon SS, which generated 25 foot-pounds of muzzle energy, and boosted it to almost 42 foot-pounds just by installing the optional .22-caliber barrel in place of the factory 12-inch barrel. So, guess what you get on a 55 foot-pound TalonP? That's right, sports fans, we are closing in on 100 foot-pounds from a pellet rifle!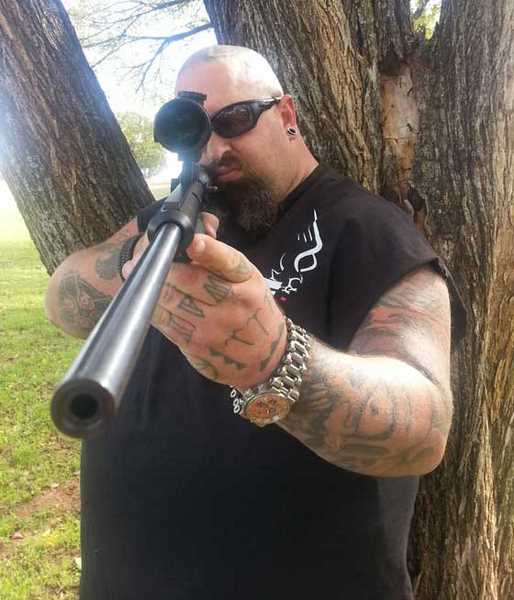 Ton Jones shoulders his new AirForce Escape at the AirForce plant in Ft. Worth.
You might already own one!
A couple weeks ago, I hinted that something big was coming and that some of you might already own one. This is what I was referring to. Those who own TalonP pistols can just add a 24-inch optional barrel in either .22 or .25 caliber and get most of the Escape rifle. It's true, some redesign of the valve was done to make the new rifles even more efficient, but most of the raw power will be there.
In a day when most airgun manufacturers seem to go out of their way to make their new guns incompatible with what has gone before, AirForce turned it around. That's the biggest story in my opinion! They want you to have the flexibility to experience the Escape if you already own a TalonP. All it takes is installing a 24-inch barrel to make the change. And many of you dedicated AirForce owners will own one of those already. Your gun won't have the new Escape valve, but it will be very close.
How does the Escape differ from the Condor?
Here's a good question that's bound to come up. The AirForce Condor is already one powerful precharged pneumatic. Right? We know that it develops 65 foot-pounds easily in .22 caliber, and gets up to 20 full-power shots on a single fill. How is the Escape different?
Well, during development testing, Ton got a .25-caliber Escape up to 97.88 foot-pounds on the first shot! The fifth shot on the same fill produced 84.78 foot-pounds; and on shot 10, it was still putting out 70.96 foot-pounds. All 10 shots produced greater power than a .22 Condor at its highest. [I have to quote the .22 Condor because I don't have the test data for the .25, but you can assume it will be more powerful than the .22.]
The air reservoir on the Escape is small. It's the same size as the TalonP tank. It doesn't hold air for many shots. While that may sound like a drawback, it was exactly what Ton was after because a small air reservoir is much easier to fill with a hand pump than a large one. This is an air reservoir that you can actually fill in the field and not spend all day doing it. During testing, Ton filled a tank from 2,000 psi (the ending pressure after firing 10 shots) to 3,000 psi (the starting operating pressure) in less than 3 minutes.
What does survival really mean?
You've watched the movies and TV shows, so you know what survival means. The comet strikes and bombs civilization back to the Stone Age, or everybody turns into a zombie and it's you against the world. Well, that hasn't happened yet, but every year there are earthquakes, floods, tornados, blizzards and hurricanes that thrust millions of people into real-life survival situations. Survival means you have the ability to hold out (eat, drink, and stay warm and safe) for at least 3 days until the emergency services can get organized. And you know that it can really be longer than 3 days.
In a real survival situation, you aren't going up against lions and tigers and bears (oh, my!), unless you live in a zoo or in places like the Pacific Northwest. But you may have a chance to hunt deer, feral hogs (especially in the south!) and other animals. Hunting licenses won't matter when the bomb drops, and you'll extend the abilities of your weapons to their maximum. In other words, you'll make them do things they aren't normally considered capable of doing. If you're armed with an air rifle, you aren't going to need a repeater, either, because survival is a one-shot, one-kill situation. You need power, accuracy and reliability to get the job done.
A .22 rimfire rifle is ideal in such situations. Given the current ammunition shortages, can you always count on having what you need? You can with this air rifle! The Escape produces about 82 percent of the power of a standard speed .22 long rifle cartridge, and 500 pellets are both affordable and available. Once you have them, they'll last for a good half-century. Air is free and a reliable hand pump gives you all the shots you will need.
The rifles
There are 3 different models of the Escape. The Escape itself is Ton's gun that has his logo on the side. It has a 24-inch barrel in either .22 or .25 caliber; and, of course, the other caliber is always an optional replacement in 5 short minutes. Because of the high volume of air flowing through the valve, no consideration was given to .20 or .177 caliber. For a pure survival rifle, what would be the point?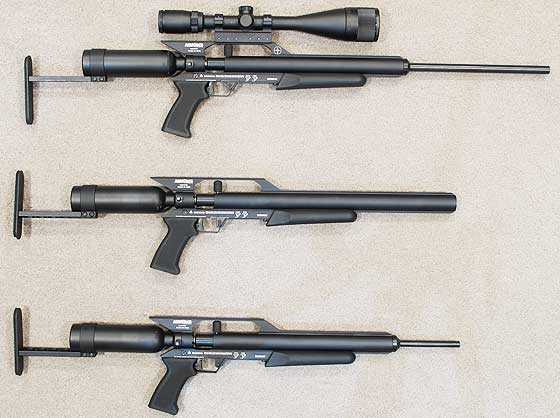 Escape on top, then Escape SS and finally Escape Ultralight on the bottom.

The Escape will have Ton Jones' logo on the side.
Ton has lived in the southern California desert all his life. He was brought up with an appreciation of wildlife that no college can provide. He teaches survival preparation around the U.S., and air rifles are an essential part of his curriculum. He wants a rifle that a small person can handle all day, yet one that has plenty of power. It can't require super-strength to cock, and it has to be accurate. He found a willing ear with AirForce, and these 3 rifles are the result. Until these were created, there was nothing that met all his needs. Let's look at the other 2 rifles for a moment.
Escape Ultralight
The Escape Ultralight is a super-light variation of the rifle that sports an 18-inch barrel with a thinner diameter. Every possible ounce has been shaved from this gun, which weighs less than 5 lbs. unscoped.
Escape SS
The Escape SS also has an 18-inch barrel and has the active sound-reducing technology AirForce is famous for. It gives the shooter a quieter option. The Escape Ultralight and SS give up some sheer power when compared to the Escape, but both are powerful PCPs in their own right. I'll test each of them fully for you, so you know what to expect.
Today's report isn't a test of the Escape. I'm just announcing it today. I'll return and give you all the details you've come to expect from my tests for each of these 3 rifles.
But you can see the scope mounted on the Escape in the photo, so you know I've already begun. I've had this rifle out to the range one time so far, so I know how it shoots. This air rifle is so powerful that you now have some recoil with each shot — just like a big bore! But for that slight inconvenience, I'll show you what you get in return.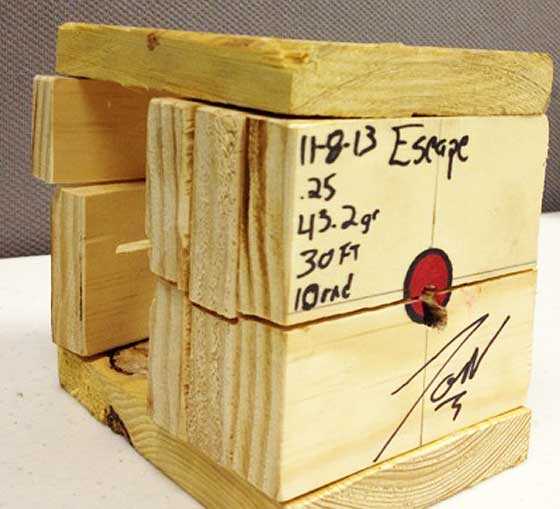 That's 10 shots at a wooden target from 30 feet.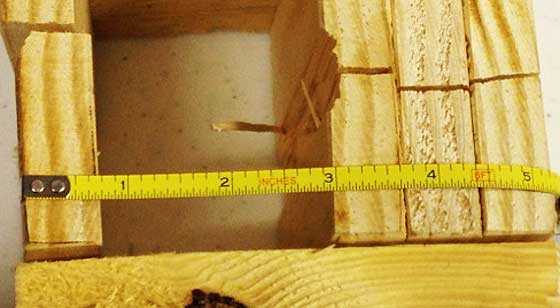 The pellets sailed through about 3 inches of wood!
I'm calling this Part 1 of the Escape report, but I'll give a more detailed description of the gun as the report advances.
by Tom Gaylord, a.k.a. B.B. Pelletier
Today is Thanksgiving, here in the U.S., as well as the first full day of Hanukkah, which started last evening. I want to wish my Jewish readers a happy Hanukkah and all my U.S. readers a Happy Thanksgiving Day. Today I'd like to take some time to acknowledge those airguns that are worth remembering.
Benjamin 107
It was my first airgun — though I didn't acknowledge it at the time. I was whining at my mom to let me buy a BB gun, when all the while I had a beauty right there in front of me.
The 107 was a front-pump .177 smoothbore pistol that shot BBs, darts and pellets — none very accurately. But compared to a common BB gun, it wasn't too bad. I got it when I turned 10 or 11 after my father died. It had been his. I remember seeing him shoot it once, but that was all.
All the black nickel finish was gone, and the gun was worn to silver nickel in most places, with a hint of brass showing though some of the edges. It was a real bear to pump, and I think I could manage only three strokes when I applied all my weight. After that, I was the one having the stroke!
I could hold about one inch at 20 feet with darts, which was the ammo of choice since I had them and they could be reused. There were some Benjamin pellets that came with the thing, too, but I don't remember them being very accurate.
Once I secured my Daisy No. 25 pump BB gun, I don't think I ever looked at the old Benjamin, again. But that was the first airgun I ever shot, and it started the fascination that's lasted until now.
Diana model 10
Fast-forward 14 years, and I'm married (to my first wife) with a child and living in Germany. In the walled city of Rothenberg ob der Tauber, I find a gun store that sells high-end airguns. They have Walther LGVs and LGRs that I can't afford as a family man. But they also have a Diana model 10 target pistol that the owner claims is stunningly accurate. He's a good salesman, and we decided we could afford it; so I buy it plus 5,000 RWS Meisterkugeln pellets.
I learned how to shoot 10-meter pistol with that airgun — heck, I learned that there WAS such a thing as 10-meter pistol! And I got passably good. Good enough to stand on the line at formal matches while better shooters won. I did that for the next 20 years and got better and better until I was what, in technical terms, is known as a duffer. That's a guy who shows up and shoots without embarrassing himself, while others rule the day.
I also taught my gun-hating father-in-law how to shoot with that air pistol. He got so interested that he shot up a lot of my 5,000 pellets! I finally sold that pistol when I left the Army in 1981.
FWB 124
This is the air rifle I bought after returning from Germany in 1977. I scoped it with a Tasco firearm scope and never had a lick of trouble with it. It had the plastic trigger that the early rifles came with, but I loved it just as it was. It taught me what a precision adult air rifle could be. I had been reading about these rifles for the last 2 years I was in Germany; and, of course, I failed to realize that I lived in Erlangen, the home of the BSF factory! No, I read the Airgun Digest in the last 2 years of my tour and I wanted a 124, so that's what I got.

One of many FWB 124s I've owned over the years. Each one is a classic!
Then the R1 came out and took all the wind out of my sails. My 124 was no longer the baddest airgun on the block — despite the fact that no one on my block owned any air rifles at all. No sir! Dr. Beeman said the R1 was the gun to own, and I wanted one with all my fiber! I had to sell that 124 to pay off debts when I left the Army, but it left a seed deep inside me and I've owned several since that time.
Diana 27
The Diana 27 I'm referring to is not the one you have seen me write about. No, it's a gun I bought for $18 in a pawn shop in Radcliff, Kentucky, in the late 1970s. I didn't even know what it was at the time. It was a Hy Score 807 in .22 caliber and rough as a cob. The rust was deep all over, making the metal surface bumpy. Had it been removed, there would have been deep pits left behind. But the gun still shot very well. I marveled at how light and smooth the powerplant was. It shot slow compared to the 124, but out to 20 yards it held its own. I gave that one to a friend when I left the Army.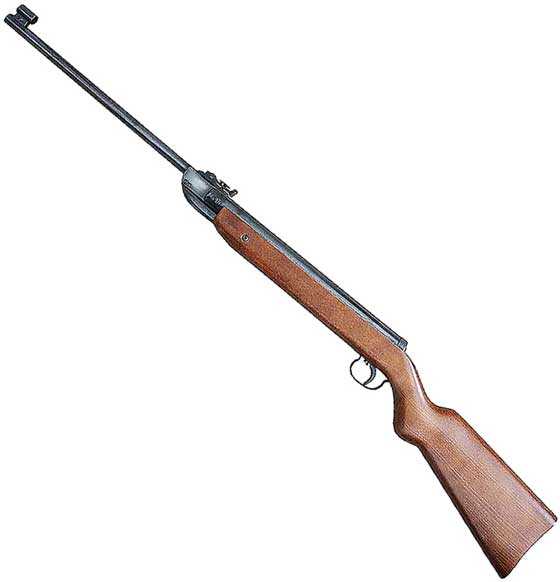 Diana 27 isn't a pretty air rifle, but it shoots like a dream!
Sheridan Blue Streak
This was an air rifle I had coveted since I was a Tenderfoot in the Boy Scouts and read all the ads in Boy's Life. It could shoot through an inch of wood — the ads said so! And it was accurate. But I never had the money to buy one as a kid. In 1978, a year after returning from Germany (and fast becoming a real airgunner), I finally bought one. The price had risen from $19.95 to $39.95 in the time that had passed, but I purchased what is today recognized as the high-water mark of Sheridan production — a 1978 Blue Streak with the rocker safety!

The Blue Streak I bought in 1978, and the rifle on which Edith learned to shoot.
That gun stayed with me after I left the Army. It wasn't worth enough to sell, so I kept it and still have it today. Edith learned to shoot with it and killed 9 rats around our Maryland home — not to mention various mice in the house and snakes in the garden. She put a yellow twist tie around the triggerguard to remind her the pellets were the ones in the yellow plastic box. This was before the days of The Airgun Letter and field target. Edith was still learning about airguns.
Beeman R1
We really didn't have the money at the time, but Edith gifted me with a new Beeman R1 for Christmas in 1991. The Airgun Letter was still 3 years in the future, so the only reason I got this gun was because I told her how long I had desired it. I had purchased a Beeman C1 a couple years before, but it just didn't scratch the itch.
But the real surprise was the used HW 77 carbine that was also under the tree that year. That was Edith at her best — giving me a gift I had no idea I was getting. We even had a scene from A Christmas Story, as a final long box with my name on it appeared after all other gifts had been opened!
The R1 scratched my itch alright; but what I discovered about airguns is that the more you scratch, the more the itch spreads. You think I'm an enabler? Remember, folks, I do everything to myself before I do it to all of you.
Beeman R8
It was the day I returned from the hospital in 2010. I was sitting on the sofa and had just enough strength to sit up for awhile. Edith pulled out a long cardboard box and told me that one of our blog readers had sent me something for when I come home. I couldn't stand or even open the box. She had to do it for me. Inside was a black hard case and inside that was the most beautiful Tyrolean air rifle I've even seen. It was a Beeman R8 with a custom stock and a fresh tune. A personal note told me who had done the work and how nice it shot.

This beautiful Tyrolean Beeman R8 was waiting for me when I returned home from the hospital.
As weak as I was, I had Edith hand me the rifle and I found that I could cock it. Oh boy! Here was a spring rifle I could shoot real soon, even when I couldn't cock most other air rifles. My friend, Mac, was still testing spring guns for me for several months as my strength returned, but that R8 was mine from the moment I first held it.
Edith and I were showered with gifts from the members of this blog when I got out of the hospital, and we were stunned at the outpouring. But that R8 is my favorite spring rifle because of how nice it is, how great it shoots, and most of all what it meant to me at a time when I could barely raise my head off a pillow.
What about the others?
Sure, there have been plenty of other airguns I'm thankful for. My Whiscombe has been a dream test bed for numerous experiments. Both the Benjamin Discovery and the Air Venturi Bronco are guns I personally was involved in developing. So, of course, they meant a lot. The AirForce Talon SS with a 24″ barrel is probably the gun I shoot more than any other…and you all know how I feel about the TX200! I could go on and on, but where do I stop? These guns have all been pivotal in my development as an airgunner.
I'm thankful
Back when I wrote The Airgun Letter, I allowed myself to get sucked into several bad arguments over trivial airgun issues. When we started this blog, I insisted on using a pen name rather than my own. I didn't want to spoil things with old baggage from the past. I also reinvented myself at the same time. I learned to curb my temper and to listen to what others have to say — even when it runs contrary to what I believe.
Some of you suspect this, but now I'll tell you all that Edith is half of Tom Gaylord, the writer. She keeps me on an even keel and lets me vent privately when I have to. She has a much better memory than I do and sometimes she suggests things that I wish I had thought of (and accept credit for when they show up in print). If I didn't have her, the veneer of who I am would quickly peel back and expose the unpleasantness underneath.
The airguns I have written about today were all pivotal in shaping my life as an airgunner. But it is Edith and you readers who have really had the greatest influence. Through thick and thin, you continue to inspire me and make me glad to have this job.
A few weeks ago, blog reader David Enoch asked me to write a report about the airguns that I never warmed to. I tried doing that and quickly found all the bad old stuff leaking out. So, I stopped writing and focused on only the good things that have happened with airguns. There are so many of them; and when I focus on them, I become the person I want to be.
Today's report came as a result of a disaster I had while testing a gun yesterday. Nothing went right, several optical sights failed and I put some new dents in the wall of our bedroom. I then sat on the couch complaining about everything. Knowing that I was losing it, Edith suggested today's topic. I hope this piece does some good for all of you because it has made my day! Happy Thanksgiving!
by Tom Gaylord, a.k.a. B.B. Pelletier
This test was done for blog reader GunFun1, who asked to see what effect barrel length has on velocity. Though it appears simple, this test took 2 days to conduct because of barrel changes and other sundry things. But what was learned far exceeded my hopes, so the effort it took was well worth it.
Conduct
I tested with an AirForce Talon SS, which has the facility to accept interchangable barrels. All testing was done with the rifle in .22 caliber, which means every barrel used was that caliber. I used the factory-installed 12-inch Lothar Walther barrel, an optional 18-inch Lothar Walther barrel and an optional 24-inch Lothar Walther barrel.
I fired 5 shots at each power level with each barrel. I could have shot more; but since I know the stability of the Talon SS powerplant, it really wasn't necessary. And fewer shots made the test go faster. After every power change, I fired one shot before testing to settle the valve at the new level. I know that's necessary for the Talon SS. Other PCPs may have different techniques after making power adjustments — including no warmup shots at all. But the SS requires one shot after every power adjustment. After testing each barrel, I refilled the gun to 3,000 psi. The pressure remaining in the reservoir when I began each fill was about 2,600 psi. So for all shot,s the rifle was running right in the middle of the optimum power curve.
I started each test on the highest power, then dialed back as the test advanced. That meant that when I got back to power settings 6 and zero, the rifle was in the middle of the power curve and was at its most stable condition.
I used only a single type of pellet — the 14.3-grain Crosman Premier. Had I used additional pellets, there would have been different velocities. The relationships we're looking for are revealed in this one pellet as well as if I'd tested greater numbers of pellets. There was no need to waste shots or air.
Because I'm testing with a Talon SS, the air reservoir I'm using is the standard air tank that's found on both the Talon SS rifle and the Talon that is the lowest-priced model of the line.
I filled the air tank to 3,000 psi, then shot 5 rounds on the highest power, then 5 at power setting 10, then another 5 at power setting 6 and finally the last 5 at power setting zero. After every power adjustment, one dry-fire shot was taken to set the valve at the new power setting.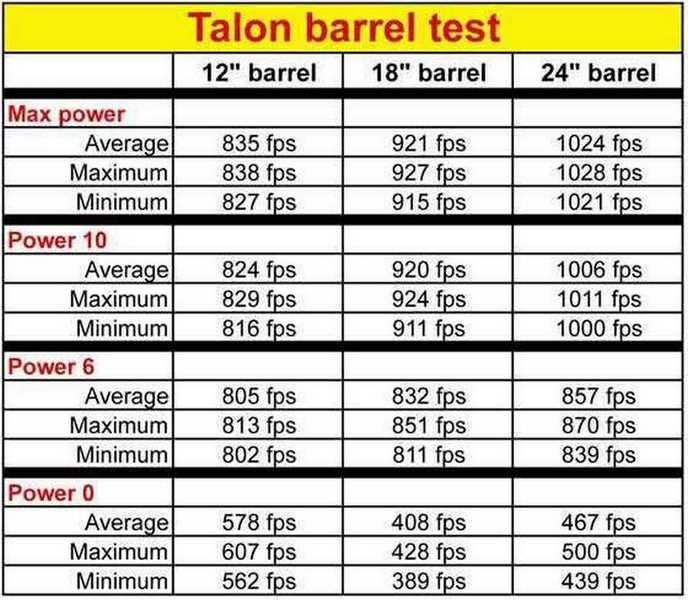 Analysis
First, let's look at what happened with all 3 barrels at the maximum power setting. The 12-inch barrel gave an average 835 f.p.s. The 18-inch barrel averaged 921 f.p.s. and the 24-inch barrel averaged 1024 f.p.s. That's all with the same powerplant, the same amount of air being used with each shot — in fact, everything was the same except for the length of the barrel. This is a clear demonstration of what a longer barrel can do for a precharged gun.
However, there's one thing we need to note. The barrel I used for the 12-inch barrel is not the same 12-inch barrel that was used in the previous test of rifling twist rates. If you look back at that test, you'll see that this same rifle shot a Premier pellet on power setting 10 (854 f.p.s.) faster that it did in this test (827 f.p.s.). The reason is probably due to small differences in the individual barrels — the smoothness and diameters of the bores and how well the backs of the barrels seal against the air valve in the reservoir. So, one 12-inch barrel can be different than another 12-inch barrel — even when they're both produced by the same manufacturer! That's worth noting. I used to see this all the time when I tested guns while I worked for AirForce, and now I'm showing you what I used to see. A lot of shooters don't understand or even believe this can be possible. They think that one barrel must be exactly identical to another barrel of the same specifications made by the same manufacturer.
A second thing to note is the fact that the 12-inch barrel didn't get much more from the maximum power setting than it did on power setting 10 (835 f.p.s. to 824 f.p.s.). In fact, that held true up through the 24-inch barrel, which tells me that power setting 10 is about as high as I need to go to get the most from this particular rifle's powerplant. Other PCPs that have adjustable power will behave differently than this, but they'll all have settings that get the most effective use of their air. Anything more than that is just a waste.
Now, look at power setting 6 across all 3 barrels. The velocity increase as the barrel lengthens is smaller with this power setting than with the higher settings. Also, look at the 12-inch barrel between setting 6 and setting zero. That's where the bulk of the adjustability for this powerplant is when that barrel is installed. But with both the 18-inch and 24-inch barrels, the useful power adjustment range extends all the way up to power setting 10.
Finally, power setting zero had a surprise. The 12-inch barrel was the fastest of the 3. That can be explained by more friction in the other 2 barrels, but it doesn't explain why the 18-inch barrel was slowest and the 24-inch barrel was faster. That's one of those anomalies you sometimes see when you test things like this.
I also want to say that the rifle became quieter with the 18-inch barrel, but got noisier again with the 24-inch barrel. You Talon owners don't have the shrouded barrel the Talon SS owners have, but apparently your barrels are doing a great job of quieting the shots all by themselves.
Summary
Of course, all of this was made possible by the use of a chronograph. No amount of listening to how long it takes the pellet to hit the hickory tree from the back door will give you results like these.
A word from Edith
As many of our readers know, this blog was originally started on the Blogger site/software, and they're listed in the right-hand column as the Historical Archives. Those blog posts are being moved to this site from Blogger so everything's in one place. As originally planned, the comments to the old blog would have been lost. Due to the diligence of several of our blog readers who gave me links to help pages that showed how comments could be transferred along with the posts, we're not losing anything!
The transfer process is almost complete, and the old blogs/comments will soon be available on this site. One caveat: Blogger posts didn't have categories and tags when this blog first started, and we didn't start using them when that feature was added later. So, in my spare time (imagine hysterical laughter at this point), I'll be categorizing the old posts and creating tags that will help you find related items quicker than if you had to do an ordinary word search.
by Tom Gaylord, a.k.a. B.B. Pelletier
Part 1
Part 2
Part 3
Part 4
Part 5
Part 6
Part 7
Part 8
Part 9
Part 10
Part 11
Part 12
This is the summary report in this series. I'll give you my thoughts on how this test went, and I expect you to comment, as well.
The barrels
Three barrels were used in this test. One was the factory barrel that comes with the .22-caliber AirForce Talon SS. It's a 12-inch Lothar Walther barrel that has a choke of about a half-thousandth inch reduction in the bore diameter for the final 2 inches of length. That makes all the pellets of uniform size as they leave the muzzle, and it may potentially stop any in-bore wobble. This barrel has the standard airgun twist rate of 1-turn-in-16-inches of bore travel, written as 1:16″.
The other 2 barrels were made by Dennis Quackenbush. Neither barrel is choked. One is a 1:12″ twist; the other is a 1:22″ twist. They're also about 12-inches long and are held in the gun by AirForce Talon SS barrel bushings. Several comments have suggested that because these barrels are different than the Lothar Walther barrel, this test is somehow not fair. But the results of all the shooting prove otherwise. Sure, there are variations from barrel to barrel, depending on the power used and which pellet was shot. But the results are so close between all 3 barrels that whatever differences there might be are overridden by the similarities. In other words, I'm suggesting that if Lothar Walther had made all 3 barrels, there would be similar differences.


The 3 barrels used in the test. Factory barrel in the middle.
I believe the twist rates are what drive the results. We weren't searching for the most accurate barrel in this test. We were looking for behavior changes as conditions were changed. And we got that.
Velocity
The first thing that was tested was velocity. Both pellets — the 14.3-grain Crosman Premiers and the 15.9-grain JSB Exact Jumbo were shot from all 3 barrels at each of 3 predetermined power settings. These settings were marked on the gun so they were kept constant throughout the test.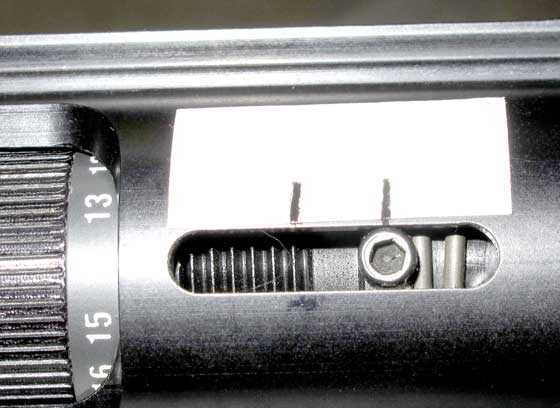 The power settings were the power indicator screw all the way to the left (the lowest setting), and the power screw centered on each mark (settings 6 and 10).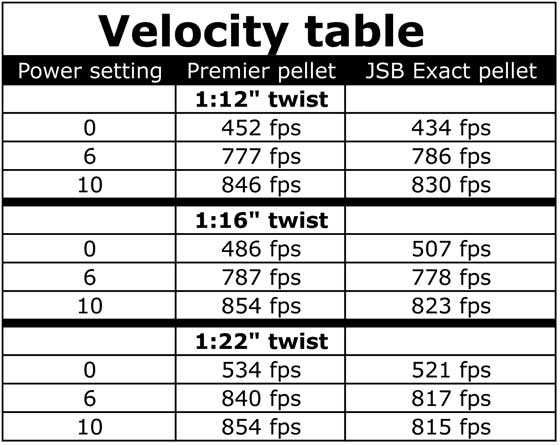 I reviewed the velocity for you in Part 8. Here's a summary of that report.
In all cases, the velocity increased the most between power setting zero and setting 6. The velocity increase from setting 6 to setting 10 was always smaller than the increase from setting zero to setting 6, and that's irrespective of the twist rate or which pellet was shot.
What you're seeing here is the slowing down of the rate of velocity increase as the air flow increases. That'll become clear in a moment when I discuss the rifle's maximum velocity potential.
As the twist rate slowed (1:22″ is slower than 1:12″), the velocity increased at most power settings with most pellets. There was one instance with the 1:22″ barrel when the JSB Exact pellet actually went 2 f.p.s. slower at setting 10 than at setting 6; but with all other barrels and pellets, there was always a velocity increase as the power setting went higher.
Focusing on the 1:22″ barrel for a moment, we see that the velocity increases between setting 6 and setting 10 were not as great as they were in either the factory (1:16″) barrel or the 1:12″ barrel. This suggests what we have suspected all along — that the twist rate of the barrel does slow down the pellet as it gets tighter. And we can see from this test that the phenomenon is most apparent at the lower power settings. At the higher power settings, the differences seem to shrink, indicating that the influence of the power setting is overriding the influence of the twist rate. I believe this is an important finding, and it sets up the next observation, which is that the top velocity of the gun was fairly close for all 3 barrels, regardless of the twist rate. The type of pellet made more difference to the top velocity than the barrel twist rate did.
It should be obvious from these results that the Talon SS powerplant has upper limits that cannot be exceeded by forcing more compressed air through the barrel. This illustrates the relationship between barrel length and velocity in a pneumatic airgun.
A second thing I found interesting is that power setting 6 is very close in performance to power setting 10. In the case of the 1:22″ twist barrel, it's remarkably close…but it's close for all three barrels. A prudent airgunner might consider this when setting the power wheel adjustment on his Talon SS, knowing that a lower setting uses less air, yet gives velocity that isn't that much slower.
A third thing is that the velocity performance of the 1:22″ barrel is so good at power setting 6 that it makes power setting 10 useless. Take that thought just a little farther, and you'll see that all power settings above setting 10 are pretty much a waste of air in a Talon SS with a 12-inch barrel, regardless of which pellet you use.
Accuracy testing
Next, I tested all 3 barrels with both pellets shot at all 3 power levels at 10 meters (11 yards) and 25 yards. Following that, I tested all 3 barrels and both pellets, again, at 50 yards, only I didn't use the zero power setting. This was where my eyes were opened regarding the effects of twist rate.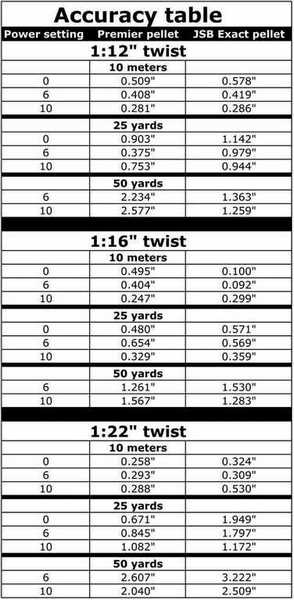 I analyzed the accuracy in 2 different reports. One (Part 9) was the 10-meter and 25-yard accuracy and the other (Part 12) was the 50-yard accuracy, alone. Now, with the table above we can combine these results and analyze all the accuracy data together.
The first observation I'll make is that at 10 meters, I got 10-shot groups that ranged from as small as 0.092 inches to as large as 0.578 inches. The factory barrel gave the best results with the JSB pellet; but with the Premier, it was the 1:22-inch twist that did the best. Curiously, that pellet and twist rate didn't seem to change that much as the power was increased (at 10 meters). With all other barrels and pellets, the group size did change a lot as the power changed.
It's too simple to say the factory barrel with the 1:16-inch twist rate is the best; but of the 3 twist rates in this test, it certainly is the most flexible across the board. However, you'll notice that the 1:12-inch twist barrel did shoot the best single group (with JSB Exact pellets) at 50 yards. That group is so close to the Crosman Premier group shot by the 1:16-inch barrel that I can't call a clear winner — BUT — here is what I CAN say. The Quackenbush 1:12-inch twist barrel is certainly capable of shooting 50-yard groups at least as tight as those shot by the Lother Walther barrel; and in my mind, that puts the barrel-equivalency question to rest.
Another observation is that the 1:22-inch twist barrel was just as good at 10 meters as the other 2 barrels, in general, but look at how the groups opened at 50 yards! That says something very strong about the relationship of the twist rate to accuracy. And it also brings up a second observation.
Premier pellets and JSB pellets performed differently throughout this test. Just look at the 50-yard results for Premiers and JSBs with the 1:12-inch twist barrel, and you'll see what I mean. This is one more bit of evidence that barrels have preferences for certain pellets.
Final observation
This will be my final remark in this series of reports, and it does not come from the data collected in this test but from the 5-part test of the Diana model 25 smoothbore. In that test, we saw that the smoothbore was able to place 10 JSB Exact RS pellets into a group measuring 0.337 inches at 10 meters. However, at 25 yards, the same pellet loaded the same way made a group that measured 3.168 inches. That difference tells us clearly that spin and not aerodynamic drag is the main key to pellet accuracy. I think we now see that twist rates do matter a lot, and the standard rate is the best all-around rate for now.

At 10 meters, 10 JSB Exact RS pellets made this 0.337-inch group.

At 25 yards, the same JWB-Exact-RS pellets, seated to the same depth, made this 3.168-inch group. They are clearly not accurate after 10 meters.
by Tom Gaylord, a.k.a. B.B. Pelletier
Part 1
Part 2
Part 3
Part 4
Part 5
Part 6
Part 7
Part 8
Part 9
Part 10
Part 11
Today, I'll report on the final test in this series. This isn't the final report — just the final test, which is the barrel with the 1:12″ twist, shooting at 50 yards. Get ready to be surprised. I know I was!
I did this test on the same perfect day as the factory barrel that was reported last week in Part 10, and the weather was perfect most of the time. From time to time, there was a very slight breeze that I waited out before shooting. The shooting conditions were as good as they get.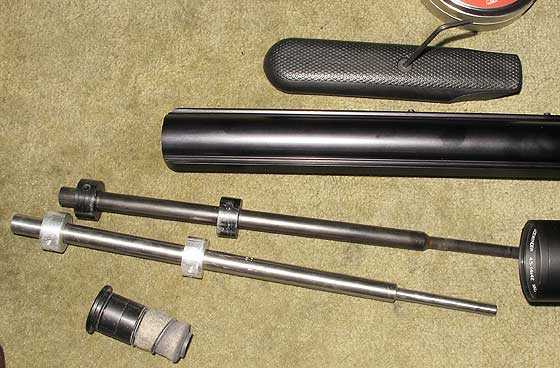 Changing barrels took 5 minutes. The silver barrel has the 1:12″ twist.
I used the same two pellets we've been shooting all along, and they were shot at power settings 6 and 10…just like the other 2 barrels that went before. The gun was shot while resting on a sandbag that's very stable. When the tank was filled or the power was changed, I always shot one shot to settle the valve. Experience tells me that's all that's needed.
The tank was filled to 3,000 psi.
Power setting 10
I first shot both pellets on power setting 10. And 14.3-grain Crosman Premiers were hitting low and to the left. One of them only nicked the target paper, so I photographed the target before taking it off the backer paper, so you could see the complete group.

Here are the two 10-shot groups of Premiers. Notice that they're hitting to the right of the aim point, which is the center of the bull they touch. The group shot on power setting 10 is at the top, and it shows why I like to use backer paper when shooting at 50 yards.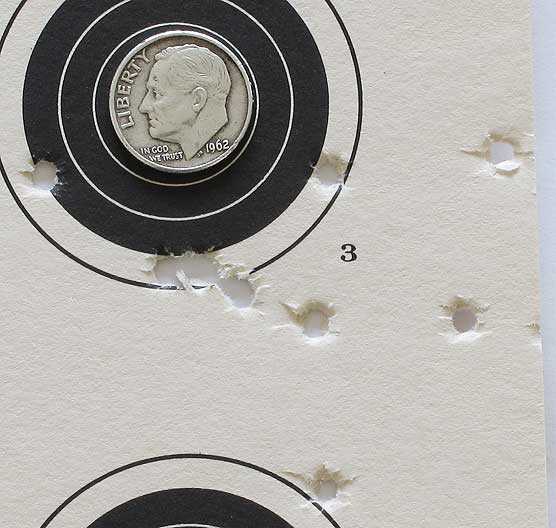 Premiers on power setting 10 gave this 2.577-inch group. See the nick on the right edge of the target paper? I had to guess a little for this measurement, but it isn't too far off.
Then it was time to test the 15.9-grain JSB Exact Jumbo 15.9-grain pellet on power setting 10. This is where the surprise comes! Ten pellets made a 1.259-inch group! If you check back with the results the factory barrel gave, you'll see that this group is very close to the best group made by the factory barrel (1.153″ for 10 shots with the same JSB pellet on power setting 6), and it's equal to the group that was shot on power setting 10 (1.283″). This addresses a question many of have had from the beginning of this test — namely, are the Quackenbush barrels equal to the Lothar Walther barrel?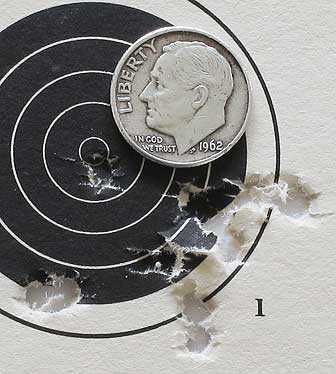 JSB Jumbo 15.9-grain domes on power setting 10 gave this 1.259-inch group. This shows that the 1:12″ barrel can be accurate at 50 yards.
With so little data, it's impossible to say if these two barrels are exactly as good, but what we now can say is that one of the Quackenbush barrels gave some groups that are at least equivalent to those from the factory barrel. The difference is so small that it might be due to the twist rate rather than the quality of the barrels. That was the position I took at the start of the test, and I think this demonstrates it was valid.
Power setting 6
Next, it was time to test the 1:12″ barrel on power setting 6. Ten Premiers went into 2.234 inches, which is only slightly smaller than the same pellet on power setting 10. As before, the pellet stuck the target low and to the right.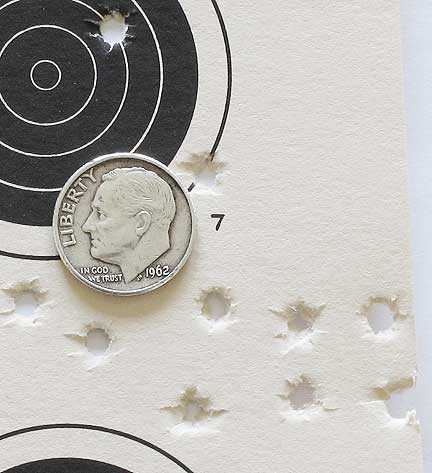 Ten Crosman Premiers on power setting 6 gave this 2.234-inch group. This is similar to the group that was obtained on power setting 10. The difference is too close to call.
It's official — the 1:12″ barrel does not like Crosman Premiers out at 50 yards. But that wasn't the only pellet in this test.
With JSB Exact Jumbo 15.9-grain domes, the barrel did nearly as good on power setting 6 as it did on setting 10. Ten pellets made a 1.363-inch group. Like the Premiers, the JSBs also performed about the same on setting 6 as on setting 10. But that's not the real lesson. The real thing to note is that the 1:12″ twist barrel was not as good at 25 yards as the factory barrel, yet at 50 yards it almost caught up. In other words, the accuracy of the factory barrel degraded faster as the distance increased than the barrel with the faster twist.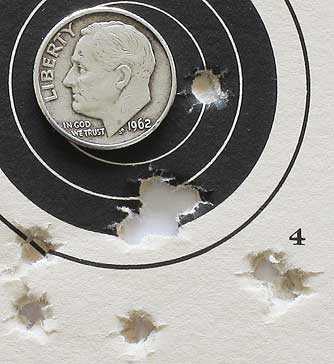 Ten JSB Exact domes on power setting 6 gave this 1.363-inch group. Like the Premiers, this result is also very similar to the group that was obtained with this pellet on power setting 10.
What has been learned?
This is not the final report. I'll add these results to the previous summary report given in Part 9, and we'll be able to see all 3 barrels at all 3 distances with both pellets at all 3 power levels. But if I had to give a quick analysis, I'd say the 1:12″ twist barrel surprised me at 50 yards by being better than I expected. At least it was better with the JSB pellets.
And that fact alone — that a barrel can be so much better with one pellet than with another — is good to know. This test has demonstrated that principle beyond all doubt.
A lot more testing needs to be done to thoroughly see all the relationships, but I'll tell you what I know in the next report, which will be the final report for this series. I think we can advance our knowledge of how pellets perform by quite a bit by combining the results of this lengthy test, the smoothbore test and the pellet velocity versus accuracy test. We've been exploring this theme for nearly 2 full years now, and I think we've learned a lot!