Posts Tagged 'AirForce TalonP air pistol'
by Tom Gaylord, a.k.a. B.B. Pelletier
Tarzan! This weekend, a number of readers conducted a discussion of the fictional character Tarzan and the author who created him, Edgar Rice Burroughs. I thought you should all know an interesting connection of Tarzan to airguns. His grandson, J.R. Burroughs, was a big-time airgun importer in the 1990s. In fact, he imported many of the Korean brands that are still coming in today.
When I started writing about airguns in 1994, I got to know J.R. through my writing, and I eventually met him at one of the SHOT Shows. We continued to communicate about airguns and many other things well into the 21st century. I haven't heard from him since I got sick back in 2010, so he may no longer be involved with airguns like he once was, but he was certainly a mover and shaker in the U.S. airgun scene during the time he was active.
A couple points of interest with J.R. He was the man who modified the Shinsung Career 707 adjustment wheel from 3 settings to 17 settings — giving us much greater control over the velocity of our rifles. The factory eventually made the same modification. It was possible to keep a Career shooting at the same velocity for a long time simply by adjusting the power wheel as you shot. I remember testing it over a chronograph and getting 90 shots that were all within 30 f.p.s.
J.R. also created the first adjustable trigger for the Career, and I believe he also created one of the first pellet feed mechanisms that was user-adjustable. Before that, you could only shoot a few types of pellets in the gun; but with his modification, many more types of pellets would work through the magazine.
His brother, Danton manages, the licensing of the Burroughs family literary property. Part of that is a collection of original Tarzan novels that were never sold. There was a fire in the storeroom many years ago and some of these books have smoke damage, but they're all like-new hardcover books from the 1930s. I was gifted with one — Tarzan and the Forbidden City — from this collection, and J.R inscribed it, saying that his father had done the cover art.
Of course, many of you know that the southern California community of Tarzana was created from Edgar Rice Burroughs' Tarzana Ranch in the San Fernando Valley. But how many know that Tarzana was also the name of small hamlet located on the ranch before Burroughs purchased it? And his Tarzan character appeared in print for the first time two years after he bought the ranch.
So, Tarzan does have ties to modern airgunning. I thought you would like to know that. One final thing. Burroughs didn't just write adventure novels. He is also quite famous for his science fiction that bears a remarkable resemblance to his other works, but are set on Mars. Edith and I both enjoy the movie John Carter, in which Burroughs appears as a minor character who turns out to be the author who documents the "real-life" exploits of his uncle, John Carter. I think we enjoy it most because of our fond memories of J.R.
Now, let's take our first serious look at the new AirForce Escape survival rifle. Before I start, I need to make a couple corrections to Part 1. I said the Escape SS (officially named the EscapeSS) has an 18-inch barrel and several readers figured out that wasn't the case. It actually comes with a 12-inch barrel in either .22 or .25 caliber.
I also said the Escape valve is a modified TalonP pistol valve, which isn't true. The TalonP valve is used exactly as it is in the pistol, so pistol owners who add a 24-inch barrel and end cap to their pistols can essentially have the Escape. The pistol's frame is shorter than the Escape frame, but it is just right for the Escape Ultra Light (officially named the EscapeUL) that we'll look at in a later report.

The AirForce Airguns Escape precharged pneumatic air rifle is a powerful new survival rifle in both .22 and .25 calibers.

The TalonP pistol is the base gun used to create the new Escape-series rifles.
The Escape rifle looks like the other AirForce sporting rifles and has many of the same features. The new trigger is there, along with the new safety that can be taken off safe by the trigger finger, alone. The 2-stage trigger on my rifle breaks at a relatively clean 28 oz. While it's not adjustable, I think most serious shooters will find it more than adequate.
The rifle weighs 5.3 lbs. unscoped and measures from 34.5 to 39 inches long, depending on where the extendible buttstock is set. That means the length of pull can also be varied from 9.75 to 14.25 inches.
Like all other AirForce rifles, the Esacpe has long 11mm rails on top and below the receiver. Since this is a survival gun, a bipod and sling swivels might be almost as important as a scope.
I tested this rifle differently than normal. Instead of getting the chronograph figures right away, I decided to shoot it at the range, so 2 days were spent on the range with the rifle in its .25-caliber incarnation. Once I have a good baseline of performance downrange, I'll come back and chrono the best pellets, pressures and power settings. Because these rifles are so infinitely adjustable, it makes sense to figure out what works before you worry about the numbers.
But I'll give you some velocity figures because Ton Jones tested the heck out of the rifle late last year, and AirForce provided me with the data. With .25-caliber JSB Exact King pellets and the rifle set to max power, Ton's first shot was 1145 f.p.s. The first 10 shots on a 3,000 psi fill looked like this:
1–1145
2–1125
3–1106
4–1090
5–1078
6–1061
7–1044
8–1028
9–1017
10–1003
On power setting 8, the same pellet did this on the first 10 shots after a 3,000 psi fill:
1–1100
2–1112
3–1133
4–1106
5–1107
6–1088
7–1075
8–1060
9–1041
10–1022
On power setting 4, the same pellet did this on the first 10 shots after a 3,000 psi fill:
1–1041
2–1036
3–1077
4–1095
5–1080
6–1077
7–1100
8–1077
9–1091
10–1080
At max power and the highest velocity, this JSB pellet generated 73.96 foot pounds of energy at the muzzle.
With the 43.2-grain Eun Jin pointed pellet, the rifle did this on the first 10 shots at max power after a 3,000 psi fill:
1–1010
2–980
3–974
4–955
5–940
6–924
7–907
8–894
9–876
10–860
On 8 power with a 3,000 psi fill, the rifle did this with the Eun Jin:
1–996
2–984
3–964
4–944
5–932
6–906
7–888
8–872
9–856
10–840
On 4 power with a 3,000 psi fill, the rifle did this with the Eun Jin:
1–986
2–975
3–959
4–950
5–937
6–922
7–902
8–889
9–870
10–849
At the max power setting and highest velocity, this pellet generated 97.88 foot-pounds of energy at the muzzle.
I have the data on the Escape's .22-caliber performance, but that will make today's report too large, so let me continue with just the .25-caliber rifle, which is how AirForce set it up for me. I took it to the rifle range on 2 different days. Both were cold but the first one was also very windy, so I'm going to show you the results of day 2 testing, only. The day was 16 degrees F (-9 C) but dead calm. I shot several types of pellets this day and based on those velocity figures you have just seen, I decided to shoot 5-shot groups instead of 10-shot groups.
Ton Jones maintains that a survival situation calls for a single well-placed shot, rather than a number of shots fired rapidly. I agree with him, so I'm not testing the Escape as I normally would. I fired 5 shots and then topped off the air tank. When you're making single shots, that makes sense.
On max power the best groups I shot were with JSB Exact King pellets and Predator Polymag pellets. At 50 yards, 5 JSB Kings went into a group that measured 1.846 inches between centers. That's a large group, but remember that you're shooting at large targets, and 50 yards may be farther than you choose to shoot.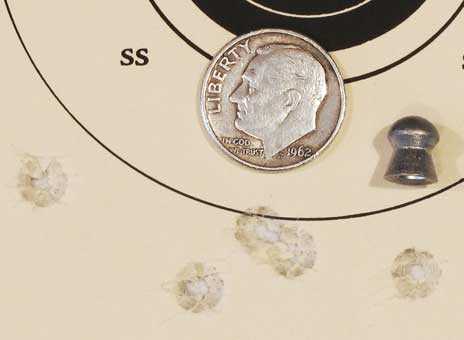 Five JSB Exact Kings went into 1.846 inches at 50 yards on maximum power.
Predator Polymags put five into 1.819 inches at the same 50 yards on max. power. Notice that both pellets spread their shots horizontally.

Five Predator Polymag pellets went into 1.819 inches at 50 yards on maximum power.
Experience takes over
I'm not going to bore you with each and every experiment I did on this day, but I want you to know that I also tried Benjamin domed pellets and Beeman Kodiak pellets. Both gave similar results, with the Kodiaks doing slightly better than the Benjamins.
But I knew that this rifle was more accurate than this. From my experience with other powerful precharged rifles, plus the testing I did with the TalonP pistol, I reckoned the fill pressure had to be lowered and the power adjusted. It soon became obvious this was correct and the JSB Exact King pellet was the one to go with. After several more groups, I settled on a fill of just under 2,000 psi and a power setting of 6. The groups became amazing with this combination, plus they were remarkably uniform from group to group.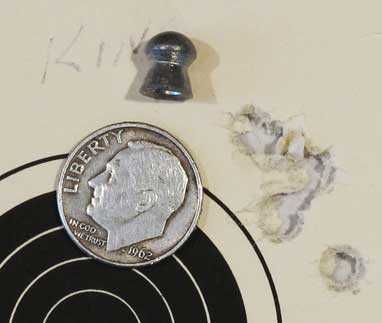 First good group of JSB Kings on power setting 6 with a 1950 psi fill gave me this 0.751-inch, 5-shot group at 50 yards.

After adjusting the scope, I put 5 JSB Kings into 0.694 inches at 50 yards. This was the best group of the day.

Another 5 JSB Kings went into 0.841 inches at 50 yards. This was the worst group of 6 that were fired with this combination of pellet, pressure and power setting.
Now that I know where at least one sweet spot is located, that will be what I'll test through a chronograph. I'll guess that this pellet is producing something in the 30 foot-pound range with the settings I used. Hitting the target with that kind of energy is much more meaningful than missing with three times more.
I also haven't tested the heavy Eun Jin pellet for accuracy. And Ton told me that he lubricated his pellets with Slip 2000, which I've obtained, so I'll be able to replicate what he did.
Summary
How do I summarize anything when I've only just started to test the rifle? There's enough variability here that I could spend the rest of my life just testing the Escape in .25 caliber! What I can tell you is that the rifle performs as advertised, and, yes, you do have to work with it to get these kinds of results. AirForce has always made air rifles for the thinking man, and the new Escape continues that tradition proudly.
by Tom Gaylord, a.k.a. B.B. Pelletier
Today is Day 1 of the 2014 SHOT Show, and it's also the day AirForce Airguns announces 3 new air rifles — the Escape, Escape SS and the Ultra Light. These air rifles, which come in either .22 or .25 caliber, are aimed at the serious survivalist — not just airgunners; so AirForce is envisioning a much larger market. That's serious!
The Escape was the rifle that started the ball rolling, and it's the brainchild of AirForce owner, John McCaslin, and Ton Jones, the star of television's popular series Auction Hunters. John and Ton were on a road trip while hunting in Texas last year when Ton started talking about a survival air rifle. He wanted power, accuracy and light weight. But most of all, he wanted a pneumatic rifle that could exist off the grid — when the dive shops aren't filling scuba tanks any longer.
As they talked, the idea of the TalonP pistol came up. Ton liked the fact that its air reservoir is small. That makes it easier to fill with a good hand pump. But he wanted more power than the 55+ foot-pounds of the TalonP. He wondered what would happen if a 24-inch barrel was installed in place of the 12-inch barrel that comes standard on the pistol.
He said John didn't talk for 10 minutes after hearing his suggestion. He was obviously deep in thought. Then, he smiled and said, "You know — that might work!" Ton said the smile made it all worthwhile.
You know how these things can snowball! By the end of their trip, John was fired up to see what would happen by doubling the barrel length. Obviously, the gun would go from being a large air pistol to a light air rifle, but that was okay with Ton. He just wanted something light and portable. By starting with a TalonP, it looked like he could have it.
Our veteran blog readers already know what doubling the barrel length will do for a powerful PCP because we've already done it here. I took the Talon SS, which generated 25 foot-pounds of muzzle energy, and boosted it to almost 42 foot-pounds just by installing the optional .22-caliber barrel in place of the factory 12-inch barrel. So, guess what you get on a 55 foot-pound TalonP? That's right, sports fans, we are closing in on 100 foot-pounds from a pellet rifle!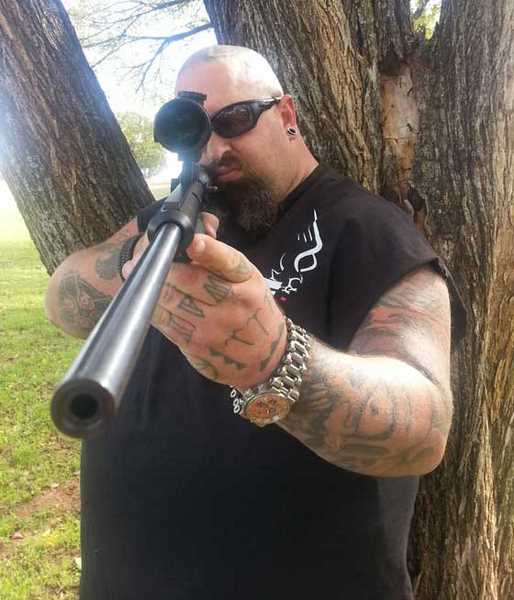 Ton Jones shoulders his new AirForce Escape at the AirForce plant in Ft. Worth.
You might already own one!
A couple weeks ago, I hinted that something big was coming and that some of you might already own one. This is what I was referring to. Those who own TalonP pistols can just add a 24-inch optional barrel in either .22 or .25 caliber and get most of the Escape rifle. It's true, some redesign of the valve was done to make the new rifles even more efficient, but most of the raw power will be there.
In a day when most airgun manufacturers seem to go out of their way to make their new guns incompatible with what has gone before, AirForce turned it around. That's the biggest story in my opinion! They want you to have the flexibility to experience the Escape if you already own a TalonP. All it takes is installing a 24-inch barrel to make the change. And many of you dedicated AirForce owners will own one of those already. Your gun won't have the new Escape valve, but it will be very close.
How does the Escape differ from the Condor?
Here's a good question that's bound to come up. The AirForce Condor is already one powerful precharged pneumatic. Right? We know that it develops 65 foot-pounds easily in .22 caliber, and gets up to 20 full-power shots on a single fill. How is the Escape different?
Well, during development testing, Ton got a .25-caliber Escape up to 97.88 foot-pounds on the first shot! The fifth shot on the same fill produced 84.78 foot-pounds; and on shot 10, it was still putting out 70.96 foot-pounds. All 10 shots produced greater power than a .22 Condor at its highest. [I have to quote the .22 Condor because I don't have the test data for the .25, but you can assume it will be more powerful than the .22.]
The air reservoir on the Escape is small. It's the same size as the TalonP tank. It doesn't hold air for many shots. While that may sound like a drawback, it was exactly what Ton was after because a small air reservoir is much easier to fill with a hand pump than a large one. This is an air reservoir that you can actually fill in the field and not spend all day doing it. During testing, Ton filled a tank from 2,000 psi (the ending pressure after firing 10 shots) to 3,000 psi (the starting operating pressure) in less than 3 minutes.
What does survival really mean?
You've watched the movies and TV shows, so you know what survival means. The comet strikes and bombs civilization back to the Stone Age, or everybody turns into a zombie and it's you against the world. Well, that hasn't happened yet, but every year there are earthquakes, floods, tornados, blizzards and hurricanes that thrust millions of people into real-life survival situations. Survival means you have the ability to hold out (eat, drink, and stay warm and safe) for at least 3 days until the emergency services can get organized. And you know that it can really be longer than 3 days.
In a real survival situation, you aren't going up against lions and tigers and bears (oh, my!), unless you live in a zoo or in places like the Pacific Northwest. But you may have a chance to hunt deer, feral hogs (especially in the south!) and other animals. Hunting licenses won't matter when the bomb drops, and you'll extend the abilities of your weapons to their maximum. In other words, you'll make them do things they aren't normally considered capable of doing. If you're armed with an air rifle, you aren't going to need a repeater, either, because survival is a one-shot, one-kill situation. You need power, accuracy and reliability to get the job done.
A .22 rimfire rifle is ideal in such situations. Given the current ammunition shortages, can you always count on having what you need? You can with this air rifle! The Escape produces about 82 percent of the power of a standard speed .22 long rifle cartridge, and 500 pellets are both affordable and available. Once you have them, they'll last for a good half-century. Air is free and a reliable hand pump gives you all the shots you will need.
The rifles
There are 3 different models of the Escape. The Escape itself is Ton's gun that has his logo on the side. It has a 24-inch barrel in either .22 or .25 caliber; and, of course, the other caliber is always an optional replacement in 5 short minutes. Because of the high volume of air flowing through the valve, no consideration was given to .20 or .177 caliber. For a pure survival rifle, what would be the point?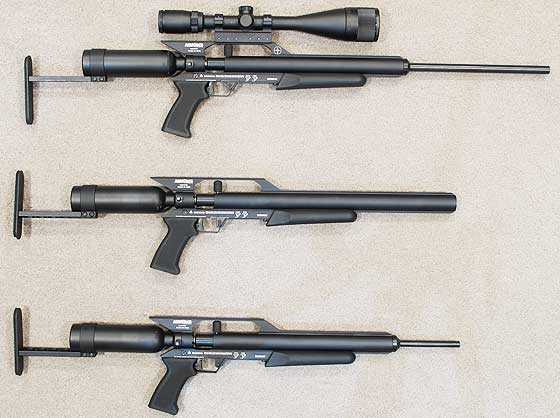 Escape on top, then Escape SS and finally Escape Ultralight on the bottom.

The Escape will have Ton Jones' logo on the side.
Ton has lived in the southern California desert all his life. He was brought up with an appreciation of wildlife that no college can provide. He teaches survival preparation around the U.S., and air rifles are an essential part of his curriculum. He wants a rifle that a small person can handle all day, yet one that has plenty of power. It can't require super-strength to cock, and it has to be accurate. He found a willing ear with AirForce, and these 3 rifles are the result. Until these were created, there was nothing that met all his needs. Let's look at the other 2 rifles for a moment.
Escape Ultralight
The Escape Ultralight is a super-light variation of the rifle that sports an 18-inch barrel with a thinner diameter. Every possible ounce has been shaved from this gun, which weighs less than 5 lbs. unscoped.
Escape SS
The Escape SS also has an 18-inch barrel and has the active sound-reducing technology AirForce is famous for. It gives the shooter a quieter option. The Escape Ultralight and SS give up some sheer power when compared to the Escape, but both are powerful PCPs in their own right. I'll test each of them fully for you, so you know what to expect.
Today's report isn't a test of the Escape. I'm just announcing it today. I'll return and give you all the details you've come to expect from my tests for each of these 3 rifles.
But you can see the scope mounted on the Escape in the photo, so you know I've already begun. I've had this rifle out to the range one time so far, so I know how it shoots. This air rifle is so powerful that you now have some recoil with each shot — just like a big bore! But for that slight inconvenience, I'll show you what you get in return.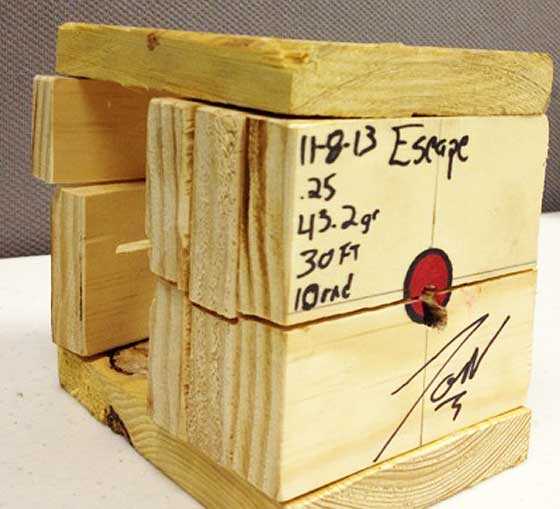 That's 10 shots at a wooden target from 30 feet.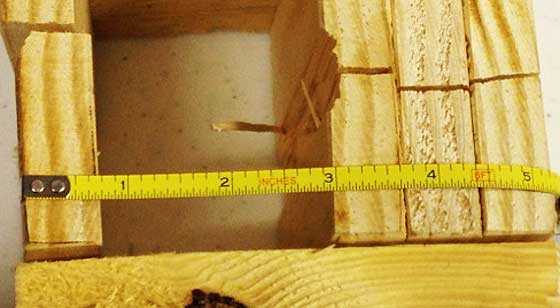 The pellets sailed through about 3 inches of wood!
I'm calling this Part 1 of the Escape report, but I'll give a more detailed description of the gun as the report advances.
by Tom Gaylord, a.k.a. B.B. Pelletier
This topic was received well last week, so I'm doing the second list today. Several readers have reminded me of other gifts I should mention, and some of them will make today's list. If I don't list something you suggested, there's a reason. These are the things I recommend without question.
Stocking stuffers/small, neat gifts
Gifts in this category don't cost a lot but will have great meaning to airgunners. Some of them are things that shooters won't buy for themselves.
Air Venturi Pellet Pen and Seater
Someone suggested the Air Venturi Pellet Pen and Seater, and I have to agree. This is a great gift, and it's one that a lot of shooters won't buy for themselves.
EyePal Peep Sight Master Kit
The EyePal Peep Sight Master Kit is another gift that people may not think about; but when they have one, they'll love it. I chose the Master Kit so you can use it with both rifles and pistols (and bows if you're an archer, too). Even if you don't wear prescription glasses, the EyePal is a great aid for your safety glasses to sharpen your vision and make that front sight clear!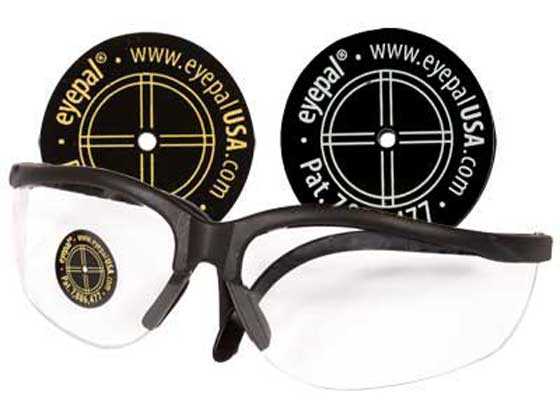 The EyePal makes the front sight appear razor sharp. Use it on prescription glasses and non-prescription safety glasses, alike.
Pellet selection
Here's a gift I'm putting in this section, although it will cost you some money. Pyramyd Air offers 4 tins of pellets for the price of 3. Your favorite airgunner has pellets he or she really likes, but they don't buy them all the time because they may cost too much.
Consider this gift similar to one of those fancy boxes of candies or Christmas smoked meats that are given this time of year. Nearly everybody likes them, but we don't spend money on them for ourselves. So, this is an opportunity to buy something your airgunner wants but will never buy himself. The one problem you have is finding out which pellets to buy. Rather than try and guess what your airgunner wants, I'm going to leave this up to you. You need to do a little investigation, maybe look at the pellets that he has on the shelf, or just talk to him and find out what he really wants but hasn't bought.
Gifts under $50
Crosman 357
For a pistol shooter the Crosman 357W is a great idea. It's a revolver, so you get multiple shots per loading; and for the money, it's an accurate little air pistol.
Walther Multi-Tac tactical knife
If your airgunner is a gadget junkie, you can't do much better than a Walther Multi-Tac tactical knife. It's a tool kit for your pocket. And it has a 440C stainless steel blade to cut whatever you need.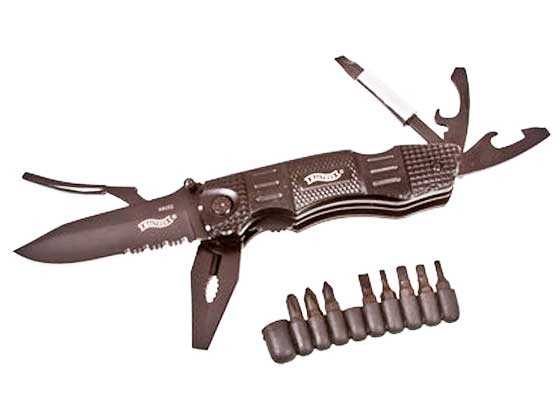 Walther's Multi-Tac knife is a toolkit in your pocket!
Walther Xenon Tactical flashlight
Can't have too many flashlights! Not when you need one! The Walther Xenon Tactical flashlight uses two CR123A batteries to cast a 60-lumen light. That means you get both good battery life and a powerful light.
Gifts under $100
Some of these gifts are just over the $50 mark, so look at them carefully. This category holds some of the most surprising values in airguns.
Legends Makarov
The Makarov from Umarex is a wonderful BB pistol that I just can't stop talking about. I bought one for myself after testing it! It's extremely accurate for a BB pistol, which means you really can use it for target practice. It runs on CO2, so don't forget to get some CO2 cartridges if you give this gun as a gift.
Simply one of the best BB pistols you can buy at the price, the Legends Makarov is accurate, well-made and inexpensive.
Crosman 2240
Another fine CO2 pistol is the single-shot Crosman 2240. It's a .22-caliber, bolt-action pistol that's powerful and accurate, plus it serves as the basis for many aftermarket modifications.
Ruger Mark I
The Ruger Mark I air pistol is powered by a spring-piston. It isn't very powerful, but it's a great companion for the handgun shooter who only wants to poke holes in targets and plink with a pistol that's easy to cock and accurate.
Stoeger X5 air rifle
The Stoeger X5 air rifle is a wonderful, youth-sized, spring-piston rifle that has enough quality to make my list. The trigger is a little stiff, but the accuracy is there. It reminds me of the Hämmerli 490 that is, sadly, no longer available.
Gifts a little over $100
I created this category for those items that are a few dollars over $100 but are still within the realm of economy. Sometimes, the things you want are just over the line — no matter where you arbitrarily draw it.
Shooting Chrony Alpha chronograph.
The Shooting Chrony Alpha chronograph is the instrument I use to document 98 percent of the work I do. I use it because it's small, portable and very reliable. Sure, there are reasons to use my Oehler 35P chrono, sometimes; but most of the time, this is my choice.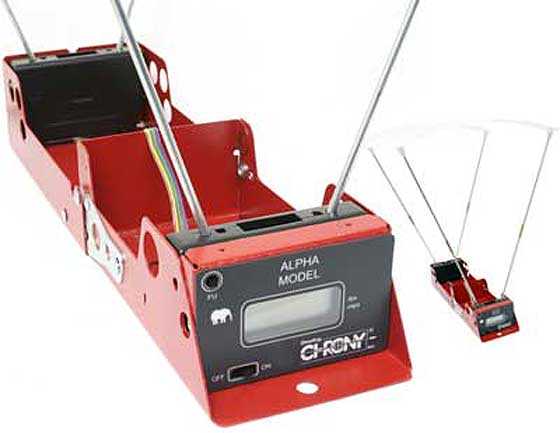 Though it's just $10 over a hundred, the Shooting Chrony Alpha has everything you need!
Daisy Avanti Champion 499 BB gun
I have to recommend the Daisy Avanti Champion 499 BB gun because it is the target shooter's dream. Where other BB guns will put 10 shots into three-quarter of an inch at 16 feet when all is right, this one will put 10 into a quarter-inch at the same distance. This is a shooter's tool, not a hunting gun or bragging-rights gun. Be sure to stock up on the special Avanti Precision Ground Shot if you get this gun because it definitely adds accuracy! And order some special 5-meter BB targets that are sized right for this gun!
IZH 60 air rifle
I am also going to put the IZH 60 air rifle on my list this year. Though the accuracy slipped when the gun's design was changed several years ago, this is still a delightful youth rifle that's easy enough for even smaller kids to cock. It has reasonable accuracy, and the sidelever design means that fingers can't be pinched in the mechanism like they would on guns having sliding compression chambers. I recommend the single-shot over the repeater for reasons of safety.
Daisy 953 TargetPro
I normally don't recommend combo guns, but I'll make an exception for the Daisy 953 TargetPro. It's a pellet rifle with enough accuracy to get you into the game without spending a bundle.
Gifts under $300
Gifts in this category start to take on the aura of personal taste. My recommendations may not be what your airgunner wants, so you need to find out if they are before you buy anything.
Benjamin 392 pump
This one is very personal. You airgunner will either like it or not. So, check first. The Benjamin 392 pump is the best multi-pump rifle going, these days. Its heritage dates back to the late 19th century, so there's a lot of history there. I also chose the .22-caliber 392 for its power; but if your airgunner only wants to shoot at targets, then the 397 is the same rifle and shoots cheaper .177 pellets.
Daisy Avanti 853
The Daisy 853 is right at $300, but its a great buy even at that price. It features a Lothar Walther barrel and has been used by millions of kids for competition in the decades it's been around. The trigger is rough, but there are several websites that tell you how to fix it. To get anything with better accuracy, you're going to need to spend several hundred dollars more.
Diana RWS LP8
Want an air pistol that shoots like a rifle? The Diana RWS LP8 is the one to get. It just may be the best value in a really good air pistol these days. It has plenty of power and is very accurate. The breakbarrel cocking is on the heavy side, but an adult male shouldn't have a problem.

For the price, the Diana RWS LP8 air pistol can't be beat.
Gifts without limit
Now, we can spread our wings a little. This is where many of the better airguns live.
HW 30S
Let's start with the HW 30S. You know this rifle as the Beeman R7 when it's in a different stock, but airgunners know the HW 30S has the same powerplant and the same adjustable Rekord trigger as the R7. If your airgunner likes the styling of the HW 30S, it's less expensive; but if he wants an R7, it's also a wonderful spring-piston air rifle.
Diana RWS 48
If you want a big bruiser spring-piston air rifle, the Diana RWS 48 is one I would recommend. And, I recommend it in .22 caliber, where you get all the power it can develop. The 48 is a sidelever that's surprisingly easy to cock, despite the level of power it delivers. It's also very accurate. One thing, though, the 48 is a big air rifle, so be sure your shooter knows what he's in store for. Definitely for adults, only.


Diana 48 sidelever from RWS is large and in charge!
TalonP air pistol
There's no other smallbore air pistol that can hold a candle to the TalonP air pistol from AirForce Airguns. It comes in .25 caliber and has 10 shots per fill at over 50 foot-pounds of muzzle energy! Many rifles can't equal it! When I tested it for accuracy, I got sub-one-inch groups at 50 yards. It's a hunting air pistol extraordinaire.

The TalonP pistol from AirForce Airguns leads the pack for power and accuracy.
Walther LGV Challenger
If you want a really fine breakbarrel spring rifle, you can't do better than the Walther LGV Challenger. I recommend the .22-caliber gun because it was so smooth when I tested it.
by B.B. Pelletier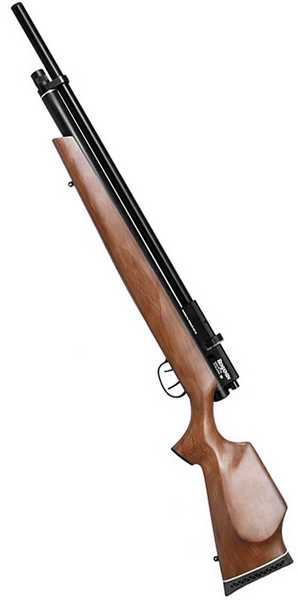 It's powerful. It's accurate. It's quiet, and it performs just like a PCP costing twice the price. The Benjamin Marauder in .25 caliber is an American-made marvel!
You know that dream where you remember at the end of the semester that you signed up for a course that you forgot to attend, and the final exam is today? And you just walked out the front door without your keys and the door locked behind you? And you're in your underwear? And you live on Main Street? Well, something similar really happened to me!
Two years ago, I spent some time in the hospital, and the best-laid plans….Actually, my buddy, Mac, drove out from Maryland and spent a week testing airguns and taking pictures to help Edith and me keep the blog going. When he left, Mac left me with a pile of targets and photos that I continued to use to write blogs for two weeks after I was finally discharged but still not back on my feet.
Mac did test the .25-caliber Benjamin Marauder for accuracy and left me with the test targets, but in the post-hospital confusion I threw them out! Then, when I recovered enough to finish the report and discovered I'd disposed of the targets, I looked for the .25-caliber Marauder so I could finish the test. But couldn't find it. I figured Edith might have returned it while I was out of action.
However, last week I was packaging some guns to return and found the .25-caliber Marauder standing just where Mac had left it. So, today, I am doing the accuracy test of the gun that was last reported nearly two years ago.
Actually, the rifle and you readers do benefit from my mistake, because there are now two great .25-caliber pellets available. When Mac tested it, there was only one — the .25-caliber Benjamin dome that I'm so tempted to call a Premier. It weighs 27.8 grains, and Mac got an average velocity of 797 f.p.s. with a tight spread from 791 to 802 f.p.s. That's an average muzzle energy of 38.94 foot pounds.
The other pellet wasn't available when Mac tested the rifle. But I discovered during the test of the TalonP pistol that the .25-caliber JSB Exact King is another superior .25-caliber pellet. Weighing 25.4 grains, it should be a trifle faster than the Benjamin dome but produce slightly less energy.
Long time, no shoot!
When I set about to test the Marauder for today's report, I was reminded how long it's been since I shot one. There was a guy at the recent LASSO shoot who was shooting a .177 Marauder, and I remember being surprised by how quiet it was. But his rifle was the only one keeping up with my Talon SS on the smallbore range! And he was shooting out to 75 yards! So I admit there was a lot of anticipation at getting to shoot a Benjamin Marauder once again.
So, here's a quick impression of the rifle before we get to the accuracy report. The Marauder is a big gun. I'd forgotten how large the stock feels. It isn't heavy, but it fills your hands. The trigger is one of the best on the market, but the trigger in the rifle I tested has not been adjusted. It's exactly as the factory sent it. The first stage was surprisingly heavy, but stage two was light and very crisp. Once I figured out where stage two was, I found the trigger very crisp and responsive; and of course, it would be no trouble to dial off some of the first-stage pull weight.
The rifle was set to operate on a 3.000 psi fill from the factory. I say that because the Marauder will function with any fill pressure from 2,000 to 3,000 psi — it's adjustable by the owner. But the .25 screams to be set up for the full 3,000 psi. That's because this big .25 is a real thumper that uses a lot of air for each shot. I got three good 8-shot magazines from each fill, but after that the pellets started falling lower on the target. So, 24 shots to a fill.
Scope
I mounted two-piece medium-height rings on the rifle, and that was when I discovered that the receiver of the Marauder is not very high. Usually, the receiver on a precharged rifle is much higher than the barrel, but the Marauder is different. The barrel is shrouded for quiet shooting, which makes it fatter, and the low receiver means mounting a scope takes some thought. You can't just slap on a scope with a 50mm objective lens, because it will hit the shroud. So, I used an old Bushnell 6-18x44AO Trophy that I used to use in field target competition. It provided plenty of magnification and a very clear image.
If I wanted to use a scope with a larger objective, I could have used high mounts, of course. But the medium mounts were much better for natural eye placement.
Accuracy
Okay. What will she do? Quite a lot, actually. This big quarter-inch bore is accurate! At 25 yards, it managed an 8-shot group that measures just 0.287 inches between the centers that are farthest apart. That was with the Benjamin domes. Why 8 shots and not 10? Because that's the magazine's capacity in this caliber. I actually shot a couple such groups, and they were all pretty much the same, much to my surprise. This big Marauder wants to lay them into the same hole, shot after shot.

Eight Benjamin domed pellets made this nice 0.287-inch group at 25 yards.
Next, I tried the JSB Exact King pellet. It's a little lighter than the Benjamin dome, but also has a wider skirt — and I could feel the pellet entering the breech every time the bolt was pushed home. This time, I went to the trouble of loading a partial magazine to get the full 10 rounds in the target.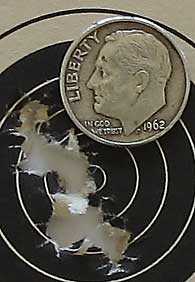 Ten JSB Exact Kings made this 0.751-inch group at 25 yards. It's both larger and also not round, so this pellet may not be right for this rifle.
From just this evidence, I would have to say the JSB pellet isn't right for the Marauder; but because I took such a long break in the report, I'm not going to let it end here. I want to mount a better scope on the rifle and try it again. And I want to adjust the trigger next time. I think the Marauder has more to show us.
One more thing
The pellets for this big .25 cost as much or more than .22 long rifle ammo. That's correct — they run $20 to 25 for 500. So why shoot an air rifle? First, because it's more accurate than the average .22 rimfire shooting budget ammo. Second, because this rifle has a better trigger than all but the more expensive target rimfires. Third, although this air rifle produces pretty close to 40 foot-pounds at the muzzle, it's still shooting diabolo pellets that are safer at distance than a .22 bullet. Fourth, because unless you spend $400 and more, you aren't going to get a .22 rimfire that's this quiet.
Scale is why you shoot a Marauder. You can drop woodchucks at 50 yards and not bother the cattle in the next pasture. Make no mistake, the .177 and to a lesser extent the .22 Marauder are both well-suited to plinking and general shooting. The .25 is not, unless you don't mind the additional cost of the pellets. The .25 is a hunting airgun, plain and simple. But it's a hunting airgun that can hit the target without weighing 12 lbs. or requiring 50 lbs. of effort to cock.
by B.B. Pelletier
Announcement: Mark Barnes is this week's winner of Pyramyd Air's Big Shot of the Week on their facebook page. He'll receive a $50 Pyramyd Air gift card! Congratulations!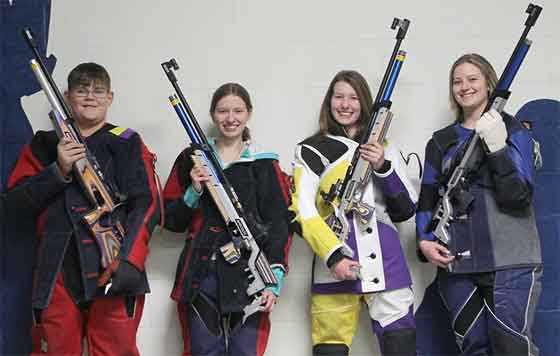 Mark Barnes submitted the winning Big Shot of the Week. This is the varsity air rifle team at Lathrop High School in Fairbanks, Alaska.
Photos by Earl "Mac" McDonald
You all seemed to enjoy hearing about the 2012 SHOT Show, even though I went into some pretty great detail, so today we'll do Part 3. Hopefully, this will keep us busy this weekend!
More on Media Day
The Boulder City gun range, where Media Day was held, is a huge facility with dozens of individual ranges that stretch at least half a mile. Now that I've been there, I recognize the ranges in all the Pawn Stars episodes with shooting.
The thing that most impressed me were the long-range ranges (yes, that's plural) that could easily have gone out for miles if the shooters so desired. As it was, getting distances of a thousand yards was a trivial task. Only on tank gunnery ranges have I seen the equal of this openness.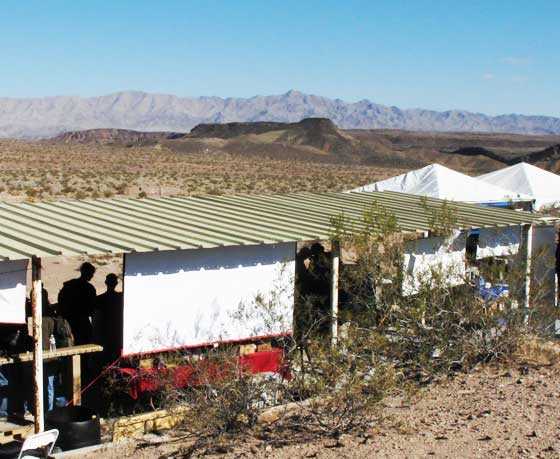 This is a small portion of the long-ramge ranges at the Boulder City gun range. The horizon is miles away, and the targets are out at a thousand yards for big rifles like the .50 BMG and .338 Lapua.
Safety first!
As the media representatives got off the busses and into the registration line, we were each given a range bag that included safety glasses and hearing protection. Mac and I brought our own electronic earmuffs to be able to hear, but the shooting was so continuous (10-50 shots each second the whole time we were there) that the earmuffs were permanently suppressed. We would have been fine with normal earmuffs, as that is how our electronics sounded all the time.
After a couple hours of what sounded like the biggest firefight ever fought, Mac observed that despite thousands of people shooting continuously there wasn't one accident or even an unsafe act that we could see. Of course, each range was monitored by the company running it, and there were plenty of orange-vested range safety officers patrolling the line; but it was the shooters who made the difference. These were people who knew guns and also knew to keep their muzzles pointed downrange and their fingers off the triggers until it was go time. I used to run ranges in the Army; and in all my time at hundreds of ranges, I never saw anything as orderly and disciplined as this!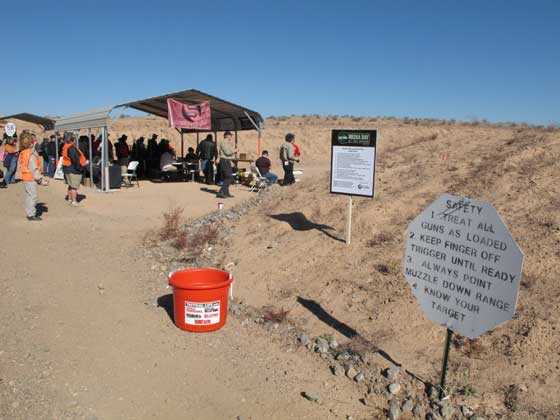 Here is one of dozens of handgun ranges that go out 50-200 yards. Notice the high berms between them. Look at the safety sign and the two range safety officers in orange vests. With thousands of people shooting and hundreds of thousands of rounds fired, there was not one accident or even an unsafe act observed! The red bucket is full of free water bottles packed in ice — provided all day long.
I avoided Media Day in the past when it was a small event; but after attending this one, I'll make it my mandatory first stop at each SHOT Show in the future! Now, let's go back to the show.
Umarex
At the Umarex booth, I was pleased to meet Anna Dalton, who works in the service department. She showed me around the booth and answered every question I had.
Besides the two PCP rifles and the Morph III that you've already seen, there were three interesting new air pistols on display. I'm seeing more and more air pistols these days, so something is definitely up.
The first of the guns is a low-powered breakbarrel modeled after the Browning Buck Mark .22 and called by the same name. The sign says it shoots pellets at 260 f.p.s., which some may scoff at, but I think there's a real need for guns of this power. Just look at how popular airsoft guns can be, and you'll realize that sometimes people just want something for plinking. The Buck Mark appears to be it!

The Browning Buck Mark breakbarrel air pistol appears to be a pellet plinker's dream. Can't wait to test one!
Another new air pistol from Umarex is the Browning Hi Power Mark III. This one is a CO2-powered BB pistol that mimics the firearm prototype exactly. It puts me in mind of the Walther P99 Compact or perhaps the Walther PPK/S.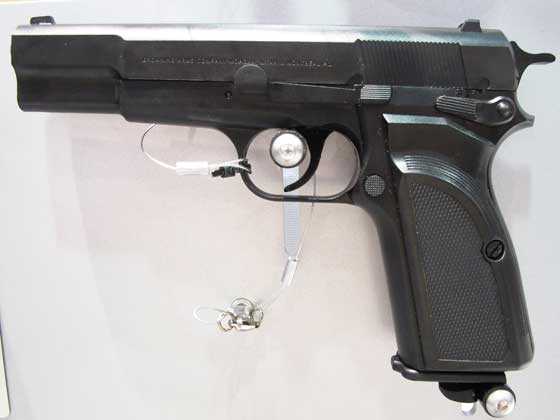 Browning's new Hi Power Mark III BB pistol is a new lookalike from Umarex.
I also met Janet Raab, the Umarex Director of Sales and Marketing for Competitive Shooting. Janet has a long history in competitive shooting and holds the Distinguished Rifleman's badge. I'll be talking to her about the Umarex and Walther competition models in the months to come.
On to Gamo
And here comes the part of the report I bet you weren't expecting. Nor was I, until I walked into the Gamo booth and saw for the first time that they're making a concerted effort to reach out to their customers with something other than velocity. Style is still their strong suit, but it appears they have discovered what the end user really wants and needs to know.
If you recall what I said in Part 2 about some companies were struggling to understand the customer, Gamo was one of them. But this year, I see signs that they're getting it. Four educational displays in the booth impressed me the most.

This demo of the Gamo Smooth Action Trigger allowed me to cock and fire the trigger repeatedly. I don't know if the trigger will feel the same with the full force of a mainspring on it; but if it does, Gamo has finally built a winning trigger!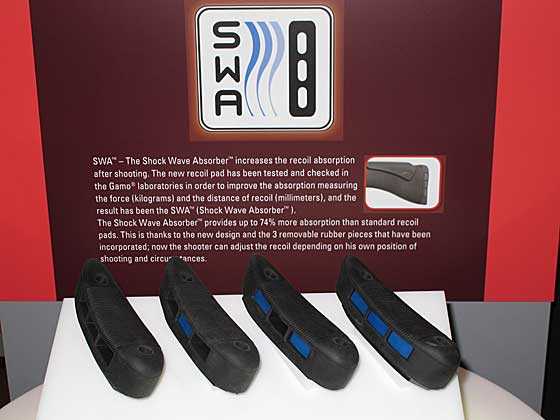 Gamo's Shock Wave Absorber buttpad absorbs the recoil force transmitted by the gun upon firing. Since Gamo sells some pretty powerful springers, this is welcome!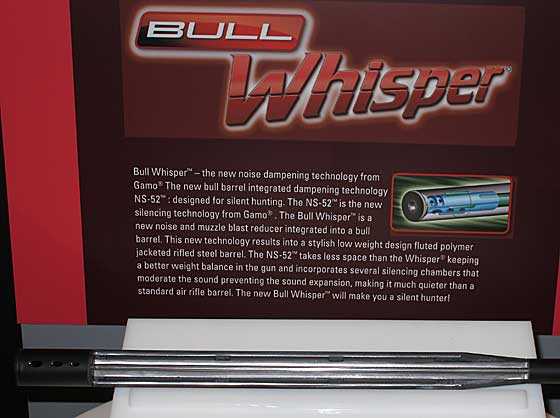 Gamo's new Bull Whisper shroud is a fluted polymer barrel jacket that incorporates a baffled shroud to silence the muzzle report. It's smaller and thinner than the current Whisper muzzlebrake.
Gamo is very dedicated to hunting, of course, so much of their emphasis is directed that way; but it looks like they're now trying to educate their potential buyer as well as impress him with numbers. This is a significant new direction for the company that, if they follow it, will make Gamo a customer-centric business. Seeing the new trigger and the Bull Whisper shroud was exciting, because it means they're talking about the customer in their design meetings.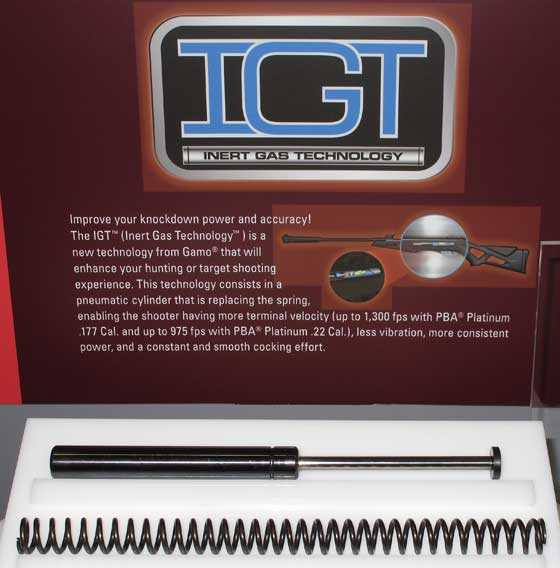 Gamo's Inert Gas Technology gas spring signifies that the company now thinks of their product in the same way that the shooters do. This bodes well for their future.
When Gamo decided to build their own gas springs many, including me, thought they just didn't want others to modify their guns. The new trigger is the same sort of thing. But what I see now is a company that wants their guns to be as nice as they can make them. As far as I'm concerned, Gamo just threw their hat into the ring as a company that can innovate. I hope they'll continue in this direction and build the kind of airguns that put fear into the other manufacturers.
Unfortunately, there weren't any Gamo representatives in the booth to show me their new products this year. So, I took photos of some of the new rifles, and I'll have to wait for the year to unfold.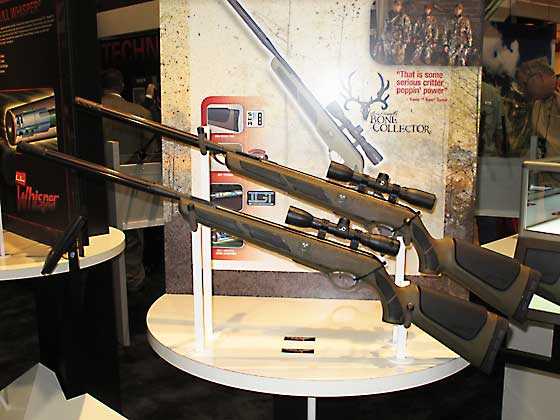 These new breakbarrels were shown under the Bull Whisper name. Whether that is the name of the model or just the silencing technology wasn't clear, but it was obvious there will be some new guns coming from Gamo this year.
Back to Hatsan USA
I went back to Hatsan USA several times during the show just to see more of the new rifles. Like Gamo, they have a new trigger called the Quattro and also a new shock isolation system; but unlike Gamo, they didn't have the interactive educational displays to show them off. I'll have to withhold my judgement on both items until I can test them on a gun.
Mac thought the trigger blade came up too far when it was pulled to the rear; but with the guns in the rack, it was impossible to tell for sure. Hatsan also has a new recoil pad that appears quite similar to the one Gamo is touting. I'll try to get to one of them as soon as possible.
The underlever rifles I showed you back in Part 1 are apparently all from the Hatsan Torpedo line, which — as one reader mentioned — has a unique-looking breech. He likened it to an RWS Diana 46 breech, but I think it's different than that.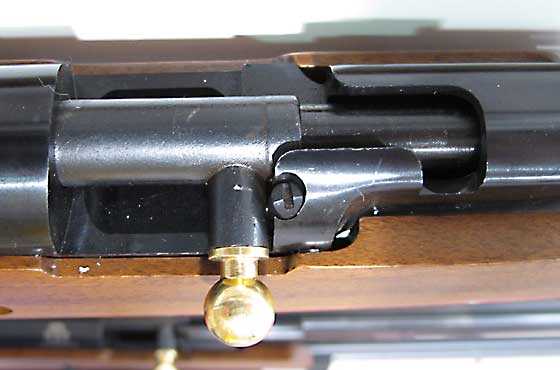 It looks like the bolt goes forward in this Hatsan Torpedo to expose the breech for loading. I want to test one!
AirForce
I don't have any AirForce pictures for you because I've been testing the guns for you all along. There's nothing new gun-wise that you don't already know about. In fact, my TalonP pistol test was in the SHOT Show issue of Shotgun News that was given out free at the show.
This is the last report on the SHOT Show. There is a thousand times more, but I think I got the airguns pretty well.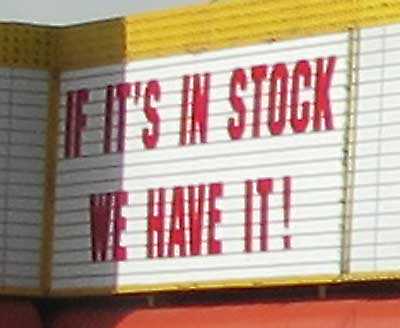 The last photo I took at the SHOT Show sums up business in Las Vegas this year.
by B.B. Pelletier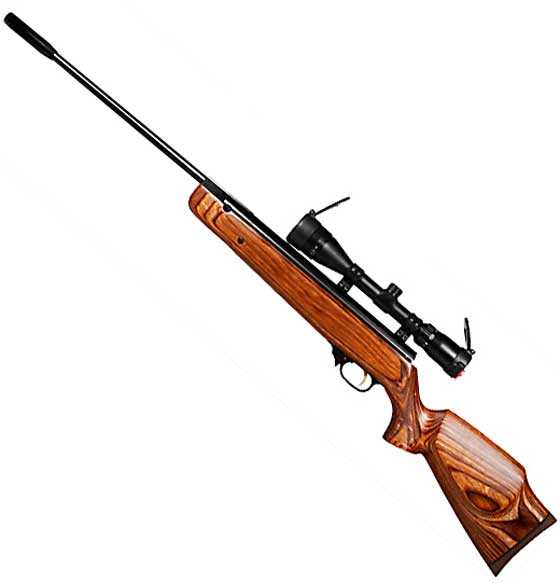 Beeman's RX-2 is a handsome air rifle. The brown laminated stock looks perfect.
Man does not live by bread alone — so today we're having cake! Taking some time away from the BB guns, today we'll begin looking at a Beeman RX-2 Elite Series combo air rifle. This rifle is built by Weihrauch and has a Theoben gas spring instead of a coiled steel mainspring. It's still a spring-piston gun, but the gas spring changes some of the characteristics that I'll address as this report unfolds.
I decided this time to treat all of us to a combo package instead of a basic rifle that I would then have to scope. Pyramyd Air mounted the scope for me and performed their 10-for-$10 test, which means they chronographed the rifle with 10 shots (actually 13) and included the chrono ticket inside the package. That way both Pyramyd Air and the customer know what the rifle can do at the moment of delivery. This service is included in the price of the combo package, so all you have to do is order what I did.
The RX-2 comes in all four smallbore calibers, but if ever there was a case for ordering the larger calibers, this is it. The power this rifle generates is lost on a .177 gun, because the bore is too narrow for all the air to flow freely. I went all the way and ordered a .25 caliber. I now know from testing the TalonP air pistol that there are at least two superlative .25-caliber pellets on the market, and I'll test this rifle with several of the other premium brands just to make sure I've tested the right ones.
A long time coming
I've owned three Theoben gas spring rifles — four if you count the fact that I converted a .25 to .20 to get more accuracy. And I've tested many more Theobens besides those. So, you would think that the RX-2 and I were old friends, but we're not. This will be the first time that I've ever shot this model. Back when it first came out as the Beeman RX in 1990, it was viewed by many U.S. airgunners as a "poor man's Theoben." It was priced at about half what a Beeman Crow Magnum (Theoben Eliminator) was selling for, and in my mind it didn't hold the attraction of the pricier airgun.
But over the years, it evolved through the RX-1 (1992) model and finally into the RX-2 (2001)…and I still didn't test it. I got questions all the time about the trigger, which is not Weihrauch's fabled Rekord. Because the trigger must grab the gas piston at a different place, a Rekord will not work in this gun. So, Weihrauch replaced it with a trigger especially designed to work with the gas spring. I never knew how good it was and will only discover as this report unfolds. My test rifle is serial number 1817631.
There have been several stocks to choose from over the years, and the one on this rifle is a laminate. That adds weight to the gun, which the lighter gas piston counteracts to some degree, but in the end the rifle I am testing is slightly heavy — at 10 lbs., 15 oz. with the scope. I say "slightly heavy" because I'm used to the weight of magnum spring rifles; but if the heaviest rifle you've ever held is a Winchester model 70, this one will feel like an elephant rifle in comparison. At first, the weight seems oppressive, but wait until you've shot the gun a thousand times before wishing it was lighter. That weight adds stability that modern rifles don't have. Sporting (hunting) rifles of a century ago weighed 10-12 lbs. as a rule, rather than as the exception.
Trigger
The trigger is entirely different than the Rekord. It is two-stage, and the triggerguard houses the release button of the automatic safety. The Rekord trigger has the safety release button at the back of the receiver. While the safety comes on automatically, you can take it off any time and put it back on without recocking the barrel, as must be done on all rifles having the Rekord trigger. Simply depress the lever in front of the triggerguard (so THAT'S what that lever is!) until you hear the safety click back on. If the click bothers you, such as while hunting, simply depress the safety button until you have pulled the safety release lever all the way, then slowly release the safety button and the gun will be back on safe without making a sound.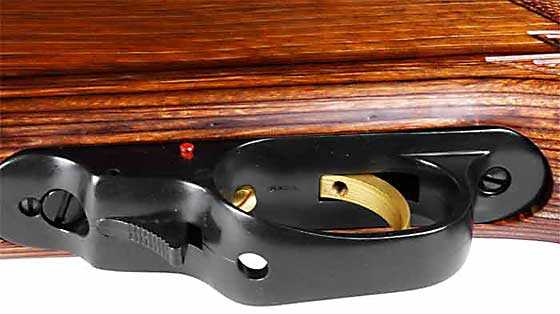 The RX-2 trigger is not a Rekord. However, it has an automatic safety that can be reapplied without recocking the rifle: simply pull back on the lever in front of the triggerguard.
I tried the trigger only a few times for today's report, but that's enough to tell me this is no Rekord. It is creepy in stage two. Whether or not I can adjust that out remains to be seen. The pull is set at several pounds of effort, so we'll see if I can change that, as well.
Lock time
Everybody makes a big deal out of the quick "lock time" of this rifle, but all the reports I've read prove that the authors who say that don't actually know what lock time is. The term lock time comes to us from the days of the flintlock, which has a definite time delay from the moment the powder in the pan explodes until the main charge explodes and sends the bullet out the barrel. If the delay is a long one, the shooter would develop a flinch — anticipating the force of the main charge and wincing in response before the gun fires. The result is a movement of the muzzle before the bullet exits, which throws the shot wide. If the gun was a musket that wasn't expected to hit a man beyond 35 yards, it didn't matter that much; but with the advent of the Kentucky-style rifle that was capable of very precise shooting out to much longer ranges, lock time became important. And the best gun makers soon learned how to make flintlocks that fired almost instantaneously. Hence, the real importance of lock time.
Today, many airgun authors are saying that this rifle has a fast lock time and is therefore more accurate. Hogwash! In a spring-piston rifle, the term lock time refers to how long it takes from the instant the piston is released by the sear until the piston comes to a dead stop. In that sense, the RX-2 does have a very fast lock time because a gas spring drives a piston faster than a coiled-steel counterpart. But it makes no difference to accuracy.
What they fail to appreciate is the fact that the pellet is still in the barrel when the piston comes to a stop. It takes the pellet several more milliseconds to traverse the barrel and leave the muzzle, and that happens after the lock is finished working. So lock time in a spring-piston airgun is meaningless. But follow-through, which is holding the gun on the target after it has fired, is all-important. If you can do that, you can forget about the supposed advantage of lock time. And the artillery hold is what helps you follow through.
Scope
There are no sights on this version of the rifle. The Elite series combo I'm testing comes with a Bushnell Trophy XLT 4-12×40 AO scope mounted in two-piece rings. I'll report more on the scope when we get to the accuracy test.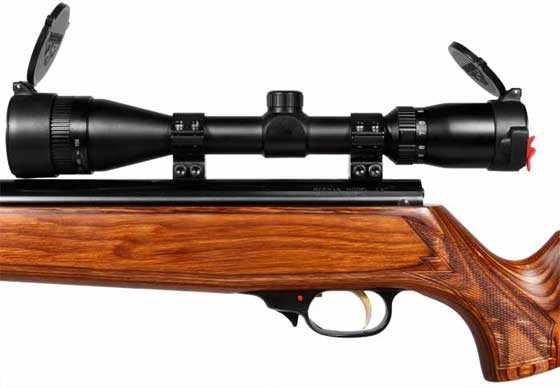 A Bushnell Trophy XLT 4-12x40AO scope comes mounted as part of the combo package.
10-for-$10 certificate
As I mentioned, the test rifle was tested in the 10-for-$10 offer, and it was included in the package. So, I got a certificate telling me the velocity the Pyramyd Air technicians got from this rifle using H&N Field Target Trophy pellets weighing 20.06 grains apiece. The test gun ranged from a low of 618.07 f.p.s. on shot 7 to a high of 634.13 f.p.s. on shot 11. There were 13 shots recorded in all. So, the rifle I have generates about 17.4 foot-pounds as it comes from the box. That'll change with each different pellet I shoot, but it gives you an idea of where we are.
The stock
The laminated stock is stained brown, setting off the black metal parts in an attractive contrast. Though the stock is made for right-handed shooters by virtue of the cheekpiece that's only on the left side of the butt, the rest of the stock is uniform enough that the gun can also be shot by lefties. The pistol grip is cut-checkered on both sides, and the forearm is smooth.
The finish on the wood is transparent, allowing the laminated grain to show. It's most attractive, and the brown color adds to the masculine look of the rifle.
The metal
The rifle is a Weihrauch, and that means that the metal parts are finished smooth with an even black finish. The polish isn't high — just enough to promote pride of ownership, and there's a contrast between the spring tube that's polished higher than the barrel. A solid metal muzzlebrake provides a handy place to grab when cocking. The trigger appears to be gold-plated.
The benefits of a gas spring
Gas springs never take a set. They can continue to work at full power even when compressed most of the time. You know that from your experience with cheaper versions of them in the automotive world. So, this is a spring gun that you can leave cocked for many hours at a time without worrying about any degradation of power.
Gas springs also work well in very cold weather because they do not require the level of lubrication that a steel spring would need. Therefore, there isn't as much grease to stiffen as the temperature drops — leaving the powerplant free to operate at its full potential.
Gas springs do not vibrate nearly as much as steel springs, so having one in a gun is tantamount to having a good tune. They do recoil quite quickly, but that can be offset by holding the rifle as lightly as possible, which is part of the artillery hold anyhow.
The small downside
The greatest fear with a gas spring is that it will develop a leak, leaving the owner high and dry. Where steel springs can be obtained through many commercial channels, gas springs are unitized with the piston and specific to the gun. If one does go bad, it must be repaired or replaced. Theoben gas springs have an enviable track record for reliability in this area, but nothing is perfect. The owner will find gas spring replacement easier than steel spring replacement in most cases; but as I said, he will need to find the right set of parts.
That's all I'm going to look at for today, but I'll return to this rifle soon for the velocity test.
by B.B. Pelletier
Part 1
Part 2
Part 3
Part 4
Part 5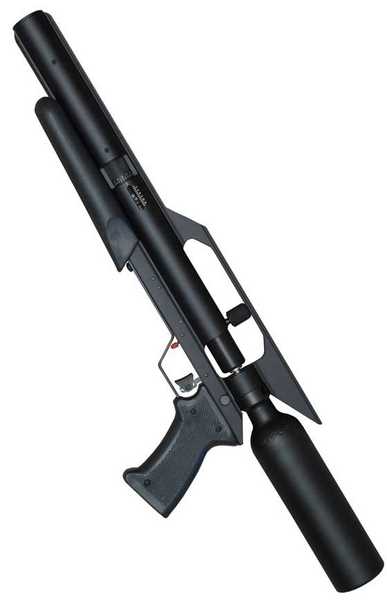 TalonP air pistol from AirForce is a powerful, new .25-caliber pneumatic hunter.
It was another calm day at the range last week when I tested the TalonP air pistol once again. This time, I had a couple special goals. One was to see if the new method of scope mounting recommended by AirForce owner, John McCaslin, would help me hold the gun better, and the other was to test the velocity of the gun with the most accurate pellets on power setting eight.
New scope mounting method
The scope has to be moved forward for increased cheek contact with the reservoir/tank. You know that I'm now using the optional shoulder stock extension that clamps onto the pistol's reservoir. The way it clamps gives you a wide range of pull lengths. I need a longer length of 14.5 to 14.75 inches, so I have the extension way out at the back of the reservoir, but most shooters will slide it in a bit. John recommends that you adjust the stock first then position the scope where it needs to be for your eye. He recommended a BKL cantilever mount that pushes the scope forward. I used their BKL 4-inch one-piece mount with what they refer to as drop compensation, which actually means droop. Because the one I had on hand has one-inch rings, I had to say goodbye to the superb Hawke 4-14x42AO Sidewinder Tactical scope I've been using and substitute a Leapers 5th Gen 6-24x50AO scope. While it was entirely adequate, I have to observe that the Hawke at 14x was clearer than the Leapers at 24x.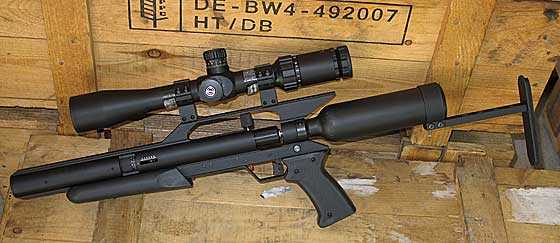 The first time around, the Hawke scope was mounted on two-piece BKL mounts that were slid as far forward as possible. The image was still too close to my eye to resolve to full size, so I needed to move the eyepiece of the scope forward about another half-inch.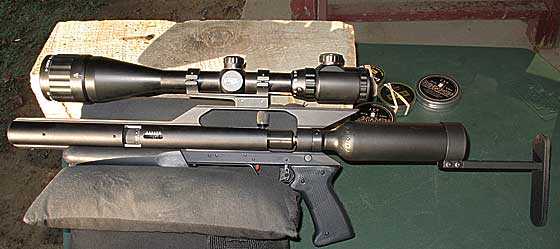 Using the BKL cantilever mount I was easily able to move the scope slightly forward to allow my cheek to rest comfortably on the reservoir when I sighted. As you can see, there's still a lot of room.
With the cantilever mount moving the scope forward, the eyepiece was positioned perfectly for a good cheek weld on the reservoir. The ear protectors are for the firearms that are next to me.
Sight-in took longer because, at this rifle range, I don't have the ability to place a small target at 10 feet. I have to mount all my targets at the 50-yard backstop. So, I mount a two-foot by four-foot silhouette target on the backstop with its plain, light backside facing me. Then, I place the sight-in target in the center of that, and usually I can catch the pellet holes somewhere on that huge piece of paper. You could use cheaper paper for this — just as long as it shows the pellet holes clearly. I've never used a scope collimator, and I don't intend to start now. This is so much easier!
I hadn't changed the power setting from the last test, so the performance went the same as before; this time, I cut off the fill at less than 2,700 psi. That allowed me to start shooting a group in three shots. As I learn this pistol, I'll eventually learn exactly where to stop the fill so shot one is right on the money every time. However, as with most airguns — including springers — you have to "wake" the gun with a couple shots each new time. For hunters who spend hours between shots, this can be daunting; but very few guns will put the first shot in the same place as the others after a long period of rest. It's true of firearms, as well, so I guess it should also apply to airguns.
How did it do?
Nothing really changed from the last time I tested this pistol. Now that I have the air fill down pretty well, I can even do "tricks" with the gun. Let me demonstrate with JSB Exact Kings and Benjamin domes.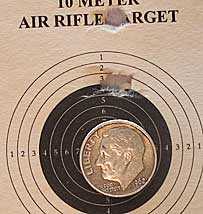 50 yards: Five JSB Exact Kings in the hole below and two above. The five-shot group was 0.246 inches between centers. Add the other two shots, and the group grows to 0.577 inches between centers. Even that is better than most .25-caliber air rifles can do at 50 yards; but the point (trick) is that I knew those last two shots were going to stray, and I didn't have to shoot them.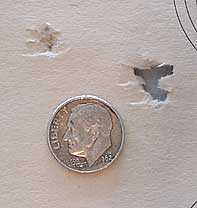 50 yards: Five Benjamin domes in the hole on the right and then I shot a sixth that I guessed would stray. Stray it did, but to the left this time, where in the last test Benjamins moved to the right. Go figure! The tight group measures 0.38 inches. With shot six, it opens to 1.059 inches.
Technique is important!
Lest a new airgunner buy this airgun and splurge on all the support equipment to operate it (basically just a carbon fiber air tank), and then buy the same exact pellets I've used in this test, only to be disappointed that he cannot replicate what I've done, allow me to show you how I'm able to do what I'm doing. It's not a trick, but it does require an advanced shooting technique of which a new shooter is probably not aware. You will remember that I mentioned my intention to mount a scope level on the gun last time. I forgot to do that, but on a printed target there are plenty of references to help me control the amount of cant (the amount the rifle is tilted to one side) for every shot. So, for the two groups I've shown you thus far, I watched the visual cues as precisely as I've been watching the bubble level in the Pellet velocity versus accuracy test. Let me show you what it looks like when I ignore these cues and just shoot when I think the airgun is being held the same every time. I'm trying just as hard to shoot a good group, except I'm ignoring the one variable of cant.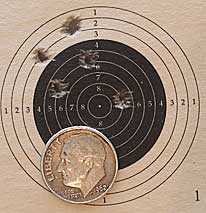 50 yards: This is what you get when you don't pay attention to cant when shooting an accurate pellet at 50 yards. Five JSB Exact King pellets made this 0.747-inch group. That's still a very good group for a .25-caliber airgun at 50 yards, but it looks large in comparison to what I've shown you previously in this report.
Velocity
I tested the velocity of this pistol with several pellets back in Part 2. That was when we confirmed that the TalonP isn't just capable of hitting 50 foot-pounds at the muzzle — it can actually shoot a string of 10 shots above that energy figure.
Today, I'll give you the velocities of the two most accurate pellets. I'm doing this for one reason. The 43.2-grain pointed Eun Jin pellets that are required to achieve that bragging power are not the most accurate pellets in this airgun. The two I'm showing today are, and they're best at power setting eight. This is a real-world look at what the pistol can pump out when it can also keep five pellets inside a wedding ring at 50 yards.
JSB Exact Kings
The gun was filled to 2,700 psi and shot over an Oehler chronograph. The average velocity of JSB Exact Kings for the five best shots was 875 f.p.s., with a low of 860 and a high of 892 f.p.s. At the average velocity, the muzzle energy is 41.66 foot-pounds. So the total spread of velocity for the pellet that would put five under a quarter-inch at 50 yards was 32 f.p.s., but you can see that it doesn't really matter that much.
If I had included the very first shot fired after the fill, the velocity was 844 f.p.s. and the next shot was even slower, at 836 f.p.s. I got a total of 11 shots on a fill, the last of which went 841 f.p.s. I've shown you both last time and today that there are five screaming shots within this larger string that I know for certain will be accurate if I do everything right. Do you want to kill the woodchuck at 60 yards, or do you just want him to envy you?
Benjamin domes
I refilled the gun to 2,700 psi and shot a string of Benjamin domes. They averaged 877 f.p.s. with a low of 840 and a high of 902 f.p.s. That's a 62 f.p.s. spread, yet you can see what they did on target. This pellet generates 47.49 foot-pounds at the average velocity. Looking at the total string, shot one went 783 f.p.s., and shot 11 went 827 f.p.s. Those shots are outside the string that gives the best accuracy, and you'll break your heart by hoping to get them to go into that tiny little group. Take your five great shots, or think about buying a different pellet gun.
You won't find another pellet pistol that will touch this one for power and accuracy at this range, and many pellet rifles will fall behind as well. The TalonP air pistol is not for everyone. It's for the shooter who has the heart of a buffalo hunter. The one who knows exactly what his gun is capable of and is willing to invest the time and care to get it.
Airgun hunter, Eric Henderson, has already taken a prairie dog at 100 yards with the exact same pistol I'm testing for you. I'm not the only one getting these great results.
What I've done is take the time to decode the operation of the gun and find two good pellets for it. I've told you the best fill pressure, which is way less than what the factory recommends. I've given you the power setting, which is under the maximum setting.
The TalonP is a thinking shooter's airgun. If you want the most accurate and most powerful smallbore air pistol in production today, here it is.