Posts Tagged 'airgun shows'
by Tom Gaylord, a.k.a. B.B. Pelletier
Today I'll show you more of the airgun show that was held in Roanoke, Virginia, last Friday and Saturday. I'm going to jump around just like you would if you walked the aisles at the show.
Let's begin at Larry Hannusch's table. Larry has been an airgun writer since the 1970s, and he has a great collection of fine guns. This year, he displayed some of his ball-flask guns, giving show attendees a chance to see airguns that no American museum has.

Not many people have ever seen this many ball reservoir airguns in one place. Larry Hannusch collection.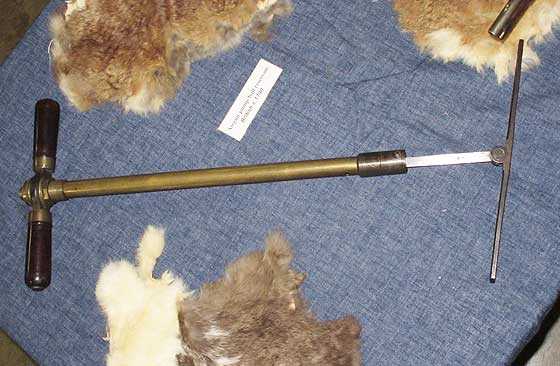 How do they fill those ball reservoirs? With vintage hand pumps like this one. Dennis Quackenbush and I experimented with these pumps and learned they can develop up to 1,000 psi when the right technique is used. And they don't have piston seals — just lapped steel pistons!
Larry also had a sales table with some fine vintage guns that were actually for sale. One was a BSF S54 underlever target rifle with a peep sight the size of a satellite dish. The one thing you can count on with guys like Larry is that they always bring out the rare and wonderful guns that most of us have only seen in books.
Across the aisle from Larry was Lloyd Sikes — the man who invented the electronic valve that went into the Benjamin Rogue. In fact, it was at a Roanoke airgun show years ago where Lloyd shared his idea for that valve with me. And the rest is history.
Lloyd has made quite a name for himself by producing Benjamin Marauder pistols with dual air reservoirs. His company, Airgun Lab, started making the P-Rod Double last year and then moved to the Disco Double — a Benjamin Discovery with 2 reservoir tubes. This year, he's bringing out a Disco Double with 2 aluminum reservoirs that, as far as I can tell, is as light or even lighter than the original Benjamin Discovery rifle on which it is based.
When I picked up the prototype lightweight Disco Double at his table, I was amazed! It can't weigh much more than 5 lbs.!
I'd promised to do a project with Lloyd last year and never got around to it, but this year a wonderful thing happened. A man who had purchased a new Discovery last year from Mac came to my table and wanted to return it. I explained that Mac had passed away, but then I thought that this might make the perfect rifle for a project with Lloyd. It was leaking, but that's not a problem because it will have to be sealed anyway after the conversion. And with the 2 aluminum reservoir tubes, I should get about twice the number of useful shots per fill. And that's a 2,000 psi fill, mind you.
So, I bought the gun and gave it to Lloyd for the conversion. As we talked and refined the details, I decided to also install a Marauder trigger on the rifle, which will give me what I always wanted — a single-shot rifle with lots of shots, a great trigger and superior accuracy. There — that's 1 of the 4 airguns I bought out of the way!


Mac sold this Benjamin Discovery at the show last year, and I bought it back this year. It's one of the early ones with a walnut stock, and it also came with the hand pump.
I was also located next to Ingvar Alm, a collector/dealer from Minnesota who always has wonderful stuff at these shows. He's one of the major contributors to the Blue Book of Airguns. I could spend an entire blog on just the stuff on his table; instead, let me share with you the one gun that really caught my eye. It's a dart gun from 1887!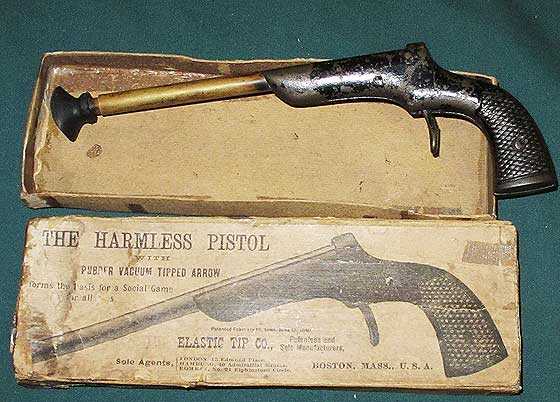 The "Harmless" pistol. Wouldn't you just love to see this at a Congressional hearing on toy safety today? This was on Ingvar Alm's table, and he let me load and cock it for this picture!
Lest you BB-gun collectors feel left out, there were also plenty of desirable guns that you love at this show. I saw at least one model 40 with a bayonet, and I believe there was also a scarce model 140 Defender on the same table.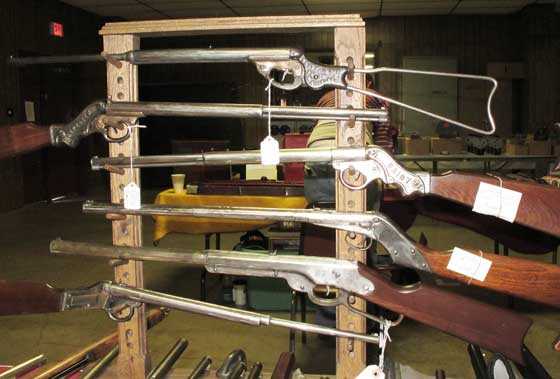 Yes, there were plenty of rare collectible BB guns at Roanoke, too. And the prices were just as reasonable as the rest of the airguns.
What's REALLY rare? How about a 1923 first model Crosman pneumatic with a front pump? There are seldom any at a show, but at this show there were at least 2! One of them had a price tag of $1,250, which is almost half what I've seen them bring in the past.


There were 2 of these 1923 Crosman front-pump pneumatics at the show, and both were for sale. This is something that's seldom seen.
Okay, I guess it was blog reader Bradly who asked if there were any air shotguns at this show. Yes, there were. I saw a Farco air shotgun on one table. That's the 28-gauge shotgun from the Philippines that Davis Schwesinger (the Roanoke show promoter) used to kill a wild pig several decades ago.

Gun on the left is a Farco air shotgun. Gun on the right is a Crosman 102 repeater. Yawn. That's what happens when you're surrounded by riches.
What guns did B.B. buy?
You already know about the Disco, so what other airguns did I get at Roanoke this year? The first one was something I just couldn't pass up. A Diana model 25 for $75! It's the model without the ball-bearing trigger and the cosmetic condition isn't that great, but it's all there and seems to have a powerful mainspring. I felt the gun was undervalued, so I paid a little more than was asked but still got a great bargain.


This Diana 25 was a real bargain! You'll see it in the future.
Before I came to the show, I was thinking about buying a BSA Meteor. I've always heard good things about them but have never pulled the trigger on one. This was the time.
At the show, I saw Meteors from $30 (junky) to $125 (excellent condition), and the average price was around $60. I bought one from Don Raitzer and will test it for you in the future.


This BSA Meteor was my only planned acquisition.
The last gun I bought was a flight of pure fancy. My money was mostly spent; but when I saw this rifle laying on the table I really wanted it — not because of its rarity or value, but just for the neatness factor.
It's a Falke model 70, and it's not much like the model 90 underlever I already have. This one is a breakbarrel that comes with an adjustable trigger and a barrel lock. The stock has been refinished, and the metal is mostly patina. But the rifle looks and feels solid. The dealer, Dave Bingham, said it reminds him of a Diana 27. It looks heavier and more powerful than that  to me, but I suppose we'll find out when I test it. I got it for $100, which I think is a wonderful deal.


This Falke model 70 was on the same table as the model 80. This one is intriguing and I will be testing it for you soon.
Davis Schwesinger, the promoter of the show, had several tables full of vintage airguns. I'm going to show just a few that convey what was there.

Dave Schwesinger's tables just went on and on. Here you see a Hämmerli Cadet, a VZ 47, a pre-war Diana model 30 and a Swedish Excellent. Where do you see airguns like these, except at shows like Roanoke?
Jan Kraner had a table displaying the most beautiful wood-stocked rifles. Most of them were not for sale, but they were a feast for the eyes. Jan uses them to showcase his talent as a stock maker, and believe me — it works!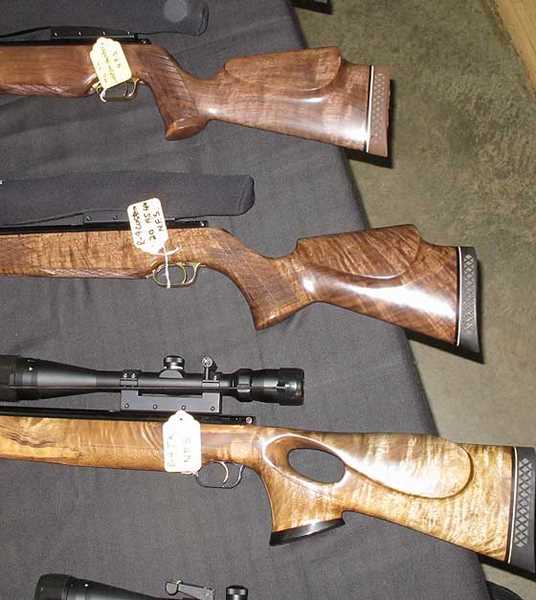 Jan Kraner's stocks stopped people in their tracks.
At last
I saved the best for last. In recent years there haven't been too many Sheridan Supergrade rifles showing up at these events. But this year John Ford had a nice one and the price was just $1,250. That's hundreds under what they have brought in recent years.

A Sheridan Supergrade for sale is a rare thing. And this one was affordable.
The show was over before I knew it, and another year had slipped by. This one was different, as my pal Mac wasn't there to share the excitement. But as I am reminded every time I go to one of these things — nothing is forever. We don't own any of these airguns. We're just their custodians for a time. In the future, these prized possessions of ours will be in someone else's collection. That's how we got them in the first place.
by Tom Gaylord, a.k.a. B.B. Pelletier
Every airgun show has a personality, and this year's Roanoke show was no different. It started slow. Dealers were slow to set up — enjoying talking with each other rather than getting everything ready for the doors to open to the public. That's because we got there at 8 a.m., and the doors weren't opened until noon. So, we knew we had time to converse and to see what everyone had on their tables.
I was seated behind Mike Reames' table. Mike is the man who made the swages I reviewed for you a while back. He always has interesting things on his table, and I took some photos for you to see.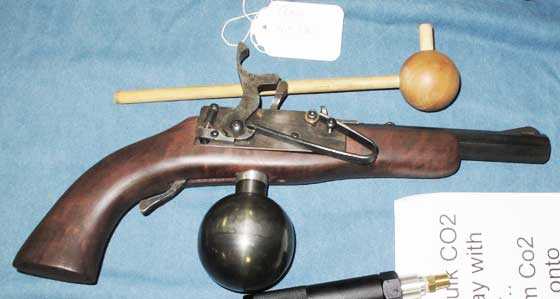 Mike Reames made this outside lock pistol with a ball flask. It's .45 caliber and is charged with CO2.
Each of Mike's creations is unique; and to my knowledge, he's one of only a very few people actively making modern ball flask airguns today. These are not mainstream airguns by any means; but if you want something modern that works and looks like it's 200 years old, he's the man to see.


Reames' ball flask long gun is another unique outside lock airgun that uses CO2.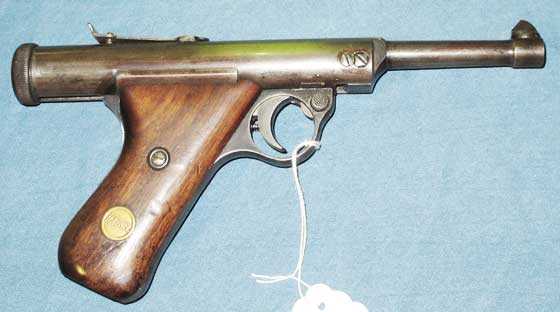 Well-worn Haenel 28 spring pistol was also on Reames' table. These airguns are all-steel and made like firearms. They're built to last forever!
One thing I noticed at this show was a large number of vintage guns had come out of the woodwork. I don't always see many of the older guns at some shows, but this year Roanoke was loaded with them! I'm talking about rare guns from the early part of the 20th century, and some from even earlier.
For instance, there were large numbers of first- and second-model BSA spring guns. BSA invented the model spring air rifle in 1905, and the early ones date from then to 1914. They look old and obsolete until you fire them and discover they perform a lot like the modern guns of today.
There was a special one on Mike Driskill's table. I thought it would be passed over by the crowd (a term I'm using loosely); but on the morning of day 2, our own RidgeRunner came to his senses and bought it. It needs some work, but they're about as complicated as a drinking straw and as rugged as a Harley.


This .177-caliber 1906 BSA underlever may look old, but it can be made to shoot like a modern air rifle. This one dates to one year after BSA first introduced the modern air rifle! Mike Driskill was asking $175! RidgeRunner bought it.
Not everything at this show was vintage, however. Dennis Quackenbush brought several big bore rifles and pistols for customers who had arranged to pick them up at the show, plus he had a couple guns that weren't spoken for. I photographed him unpacking his guns because I knew they wouldn't last long.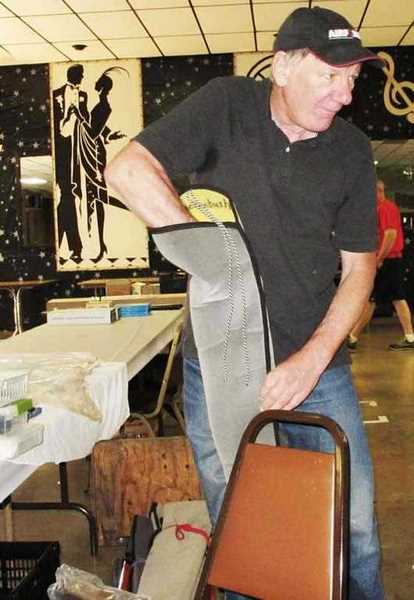 I photographed Dennis Quackenbush unpacking because I knew his guns wouldn't last long on his table.


Quackenbush had a .50-caliber Long Action (top) and a .308 Short Rifle for sale. These were not promised and could be purchased by anyone. They both sold within 2 hours of being unpacked.
Sure enough, when I saw him again a couple hours later, both rifles had been sold, along with 6 big bore pistols that he brought. One guy bought 3!
On day 2, Max, one of our blog readers who hasn't signed in yet, got a .458 Long Action rifle from Dennis. It was a rifle that had been ordered and delivered at the show. Man, was he smiling when the show was over!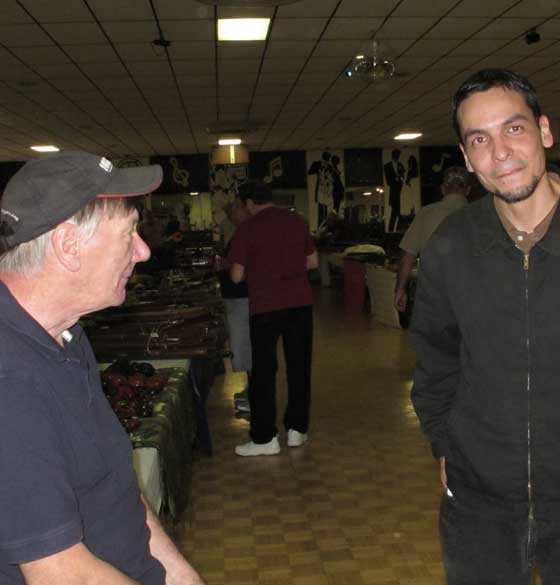 Max and Dennis Quackenbush finalize the deal for a .458 LA rifle.
This show's personality
I figured it out early on the first day. This was the show to attend for killer low prices on fine vintage airguns. Diana 27 rifles? I saw at least 4 of them, ranging from $175 to 250, asking price. But how about a Falke 80 to go with my Falke 90 that I displayed at the show? Dave Bingham had it on his table. Instead of the stock that has a cheekpiece, this one had a plain elm stock. It's believed there are fewer than 300 Falke 80s ever made, and fewer still in existence. Dave had a price of $800 on it, which gives me sort of a ballpark figure to use for mine…although, it's not for sale.


A Falke 80 at the same show as my Falke 90. Notice the absence of a cheekpiece on this one.
But the whole show was like that! How about a Walther LG53 with double-set triggers? The only time I've seen these displayed, they weren't for sale. But here was one for a very reasonable $500. Too many fine airguns — too few ATMs!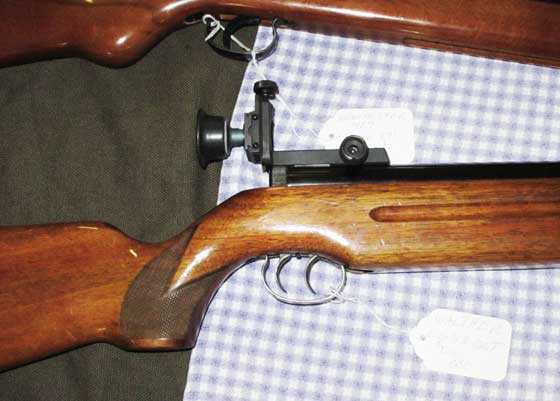 A Walther LG53 with target sights and double-set triggers. It was for sale!
Something new
All you Crosman pistol shooters have a new toy to obsess over. It's an adapter that allows you to connect an adjustable AR buttstock to many of the better Crosman and Benjamin air pistols such as the Marauder. But this device does more than just connect your gun to a stock — it allows you to set the length of pull, the cast-on or cast-off, the height of the butt in relation to the scope line and the cant of the buttpad. In other words, you can now fit the gun to yourself…and, with simple adjustments, fit it to your 9-year-old daughter!
Dave Rensing of www.rarmsinnovations.com invented this all-metal adapter to allow his 8-year-old son to shoot his Marauder pistol, and it works like a charm. The adapter is made of 6061 aircraft aluminum, hard anodized and attaches with no modifications or disassembly of the pistol required. Just attach it to the threaded hole that's already in many of Crosman's top-end air pistols!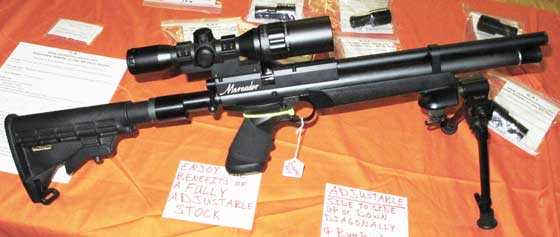 This adapter from R Arms Innovations allows you to connect a collapsible AR stock to several Crosman and Benjamin air pistols. It adjusts for a perfect fit for all sizes of shooters.
More power!
Want to shoot field target with a 150 foot-pound big bore air rifle? A club in Puerto Rico did, so they had Dick Otten of Rhino Targets (formerly After Hours Targets) build them some field targets that can take the abuse.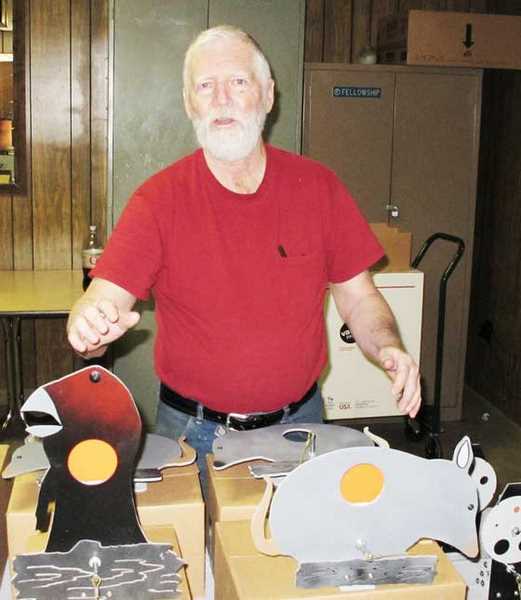 Dick Otten shows several big bore field targets he's made. They can take 150 foot-pounds!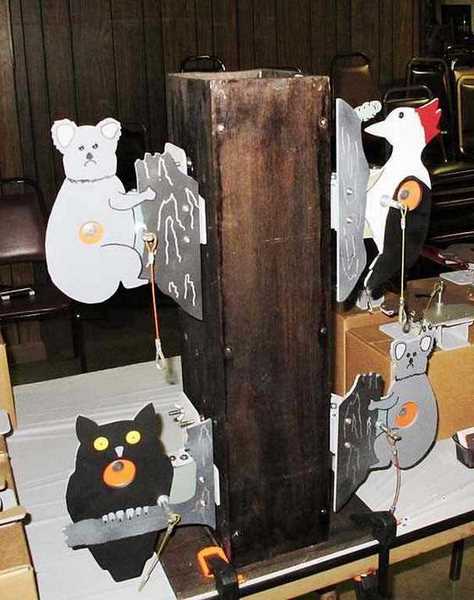 These Rhino Targets are for mounting in trees. They force shooters to shoot up. It's a special challenge.
Otten wasn't at this show last year due to illness. This year, he pulled out all the stops and showed many dozens of different innovative field targets. That crow of mine that you all marveled at a week ago is an Otten creation.
That's all!
No, there's a lot more to report, that's just it for now. The question isn't if there will be a Part 2, but if there will be ONLY 2 parts! This show was that good.
by Tom Gaylord, a.k.a. B.B. Pelletier
Every airgun show has one or more themes. Some shows have piles of new-old-stock airguns that have been recently found. I remember at one show seeing stacks of S&W 78G and 79G target pistols that had never been sold. They were over 30 years old and still new in the box. At another show, there was a pile of Johnson Indoor Target Guns in the same condition, only the boxes were disintegrating after 60 years in storage. And, once, at Little Rock, a guy pulled up to the door and unloaded about thirty LNIB airguns that he'd purchased 20 years earlier. They were all high-grade guns, and he wanted exactly what he'd paid for them. Imagine being able to buy a Beeman R1 at a 1985 price!
At this show, the theme seemed to be entrepreneurial airgunners and what they've done. Paul Watts was the first table I visited. Edith and I remember when Paul Watts was just getting started as an airgun tuner. He had no idea then who he would turn out to be. But his friend brought the first major tuning job he ever did and had it on display at the show. It's an R1 with a special steel base block that allows you to swap barrels!


Paul Watts' first major airgun modification was this Beeman R1. He made it accept barrels of different calibers, plus he stocked it in this beautiful figured walnut stock. A friend found it for sale on Gun Broker.
Another major entrepreneur is Mike Reames, who works in CO2 like nobody else. Where others have been content to reseal and tune guns, Mike's been making his own designs for many years. This year, I was attracted to one of his ball-flask pistol creations on a collector's table. I'm sure the design of the gun will surprise many of you, but that wasn't what caught my eye.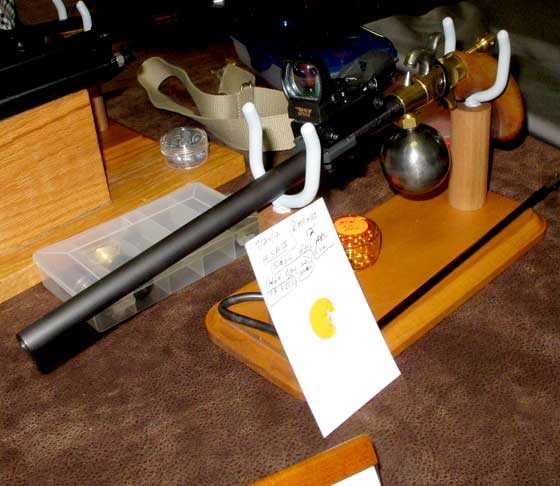 Mike Reames made this CO2-powered ball-flask pistol that has interchangeable barrels.
What really startled me was finding out that Mike was making the swaging dies for the bullets that fit the several interchangeable barrels for the pistol. If he can do that, I wondered (aloud) if he might also make a custom swage for my Nelson Lewis rifle barrel? Mike was enthusiastic about the project, so I now have a source for a die that cannot be obtained anywhere else! Why do I need it? Because the original Nelson Lewis dies don't work very well, and Mike's apparently are very easy to use! You know there will be a full report coming!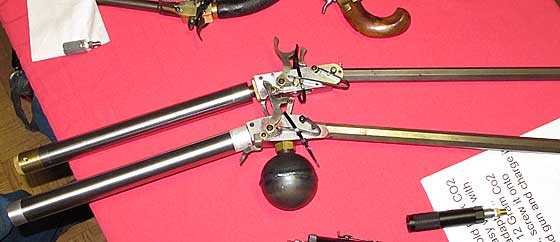 Mike Reames is working on these two outside lock designs. Can you believe things like this are being made today?
Two of our regular readers — Ridgerunner and Fred from the People's Republik of New Jersey — came to the tables Mac and I shared and spent a lot of time with us. Both men brought guns to sell, and both walked out with cash or different guns! Both had been to this show before, and I think they'll agree that it was larger this year than last.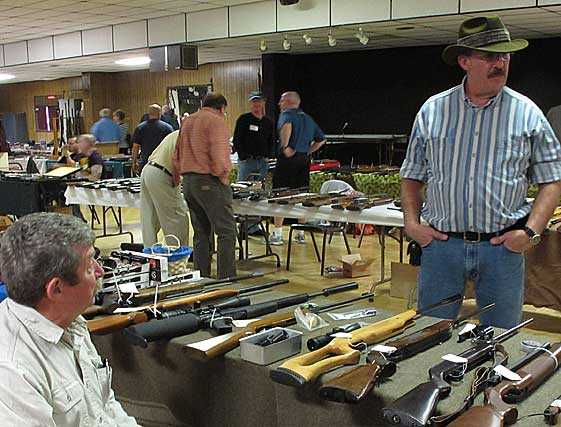 Mac (seated) talks airguns with Ridgerunner. They were about to strike a big deal!
Ridgerunner brought his FWB 601 target rifle, among other things. He was looking to turn it into a Talon SS. Mac was selling a real sweetie that I built for him years ago. It has a special 26-inch, .177-caliber HW barrel and is an extremely good long-range airgun. The two of them did the tarantula dance for a couple hours (really — I'm not kidding!) and then deal was done.
Literally minutes after the deal was closed, Mac put his new gun in the rack (it still had Ridgerunner's pricetag on it), and a young man asked him for the full tour. The gun had everything, and Mac pulled it all out of the box to show him. Then he shrugged, looked at his wife, thanked Mac and walked away. I sat down and started planting the seeds of desire in Mac's mind, telling him of the treasures I would give him for the gun and why he needed to write a guest blog about it. Then, after an hour, the young man and his wife reappeared at our table, and he said he guessed he had to have it! It was bittersweet! I was glad to see Mac score so soon, yet I wanted to be the one who got the gun.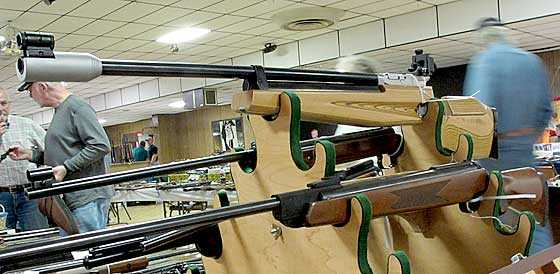 Ridgerunner's FWB 601 and Fred's 350 Magnum.
I once wrote that we're only temporary caretakers of the airguns we have. If you think about it, 30 years before now others enjoyed many of the guns in your safe. I just wanted to be the caretaker of that 601 for a couple years — just to be able to say I had one.
Without a doubt, Friday was the day with the heaviest traffic, as buyers have learned to come early to get the best deals. In fact, I sold two guns on Thursday evening as we were setting up. The sales came both early and often for Mac and me. But not everybody had the same experience. Price was a bigger concern this year than at any time in the past, and our stuff was priced pretty low. As I walked around the show, I saw tables where the other dealers had figured this out, as well, and they seemed to be selling, too. But the tables with higher-priced guns just seemed to have more tire-kickers than usual.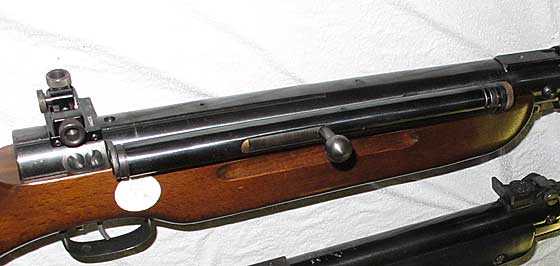 This ether-injected HW Barakuda was priced at only $700! That's about $300-400 off the normal asking price for one.
On Saturday, I bought a beautiful Chinese sidelever springer that I'll show you very soon. I was surprised by the high level of finish the gun has (it's like new in the box). When the dealer put a price of $40 on it, I almost bought it on the spot. The only thing that stopped me was that another dealer was there and saw the gun, too, and he said he had one at his table that he needed to reduce, if that one was going for only $40. But when I went to his table, the price was still higher — so I marched back and bought the first one. Wait until you see it!
There were also guns that were for display only. Crosman collector Tom Slocum showed the only known model 1400 that was ever made in .177 caliber. It has a beautiful walnut stock. Not only does he have the rifle, which is in new condition by the way, but he also has the original bill of sale that proves this is a .177-caliber 1400. And there's a letter from Crosman documenting it as well.


This Crosman 1400 is the only known .177. The stock is walnut.
Another innovator is our own Lloyd Sykes, of Benjamin Rogue fame. Lloyd now runs AirgunLab.com and is best-known for offering the Disco Double — an extra air reservoir tube kit to expand the capacity of your Benjamin Discovery. But there was a .25-caliber, 90 foot-pound rifle on the table, too. So Lloyd is becoming another source for reasonably-priced custom airguns. We talked and agreed that I'll test one of his inventions soon.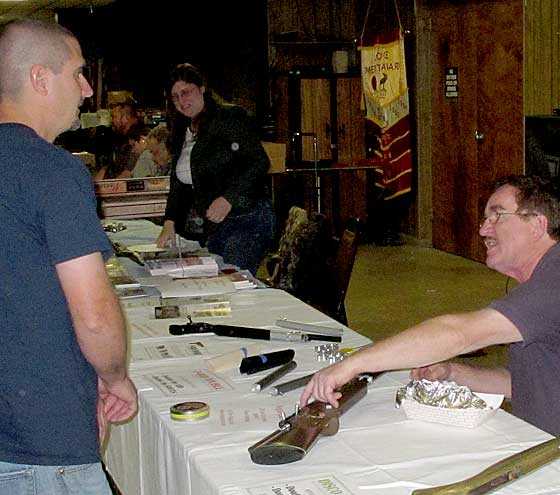 Lloyd Sikes (seated) shows his new 90 foot-pound rifle to a customer.
This year, many readers of this blog stopped by and introduced themselves. A lot of you don't make comments on the blog, but you say that you read it regularly. I want you to know that seeing you at this show was one of the high points for me. It's nice to know there are real folks out there enjoying the same things I do.
Any regrets?
I was very parsimonious at this show. I only bought one gun, though I saw several I liked. One of them was so good it's going to give me regrets, I am afraid. A cased FWB 65 with all the equipment in a factory case was offered for just $250. I had other places for my money to go or I would have broken my hand paying that price!
The other regret is one that unfortunately cannot be avoided. When Dennis Quackenbush read off the names of the airgunners who are no longer with us, a thousand images flooded my mind. Even Dennis got choked up as he read the long list of those who have left the range. And the really sad part is that it was just the list for one year! The older airgunners are starting to leave us in numbers that are too great to bear.
Of course, the show came to a close all too soon. Like old-time settlers in a wagon train, we all broke camp and packed our guns away. As we headed out, each of us was thinking of the next show and what we might see. I hope to see some more of you readers at next year's show.
by B.B.Pelletier
Every airgun show is unique. I've said that many times before, but it's always true — and this one was no different. What I look for when I try to describe an airgun show is how it stood out from all the others. That's what I'll do today.
An airgun show is small, in comparison to0 a regular gun show, but there are more airguns on a single table then you'll see at most big gun shows. And the guns range from inexpensive Daisys and Crosmans to then most exotic airguns imaginable. So go to gun shows for and crowded aisles, but to airgun shows to find airguns.
I didn't get away from my table for the first half of the first day. When I finally did, the show immediately began to reveal itself. It was jam-packed with big bore air rifles! I mean jammed! Dennis Quackenbush and Eric Henderson are always the mainstays of the show; but this time I met Robert Vogel, whose business is Mr. Hollowpoint. Robert casts each bullet by hand from lead as pure as he can make it. His bullets mushroom on game perfectly and rip huge holes in living flesh, making the most humane kills possible. I bought a bag of 68-grain .308-caliber hollowpoints for the Quackenbush .308 test I'm conducting, and he threw in a second bag of .22 pellets for free. These will have a special debut in a smallbore test in the near future.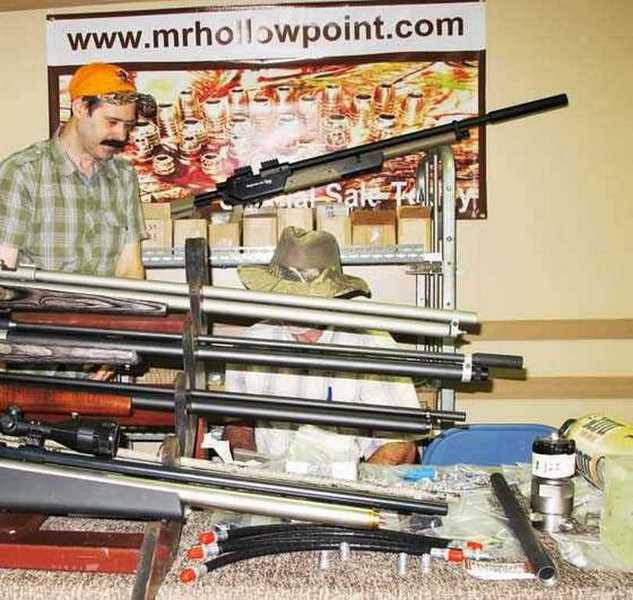 Robert Vogel (standing) is Mr. Hollowpoint. He has thousands of different bullets for big bore shooters to try.
But Mr. Hollowpoint wasn't the only bullet maker at the show. Seth Rowland, the show's host and promoter, also supplies the big bore airgunning community with cast bullets in numerous sizes and shapes. And their customers can hardly appreciate the untold hours they spend at the lead pot, casting and sizing these silver slugs one by one.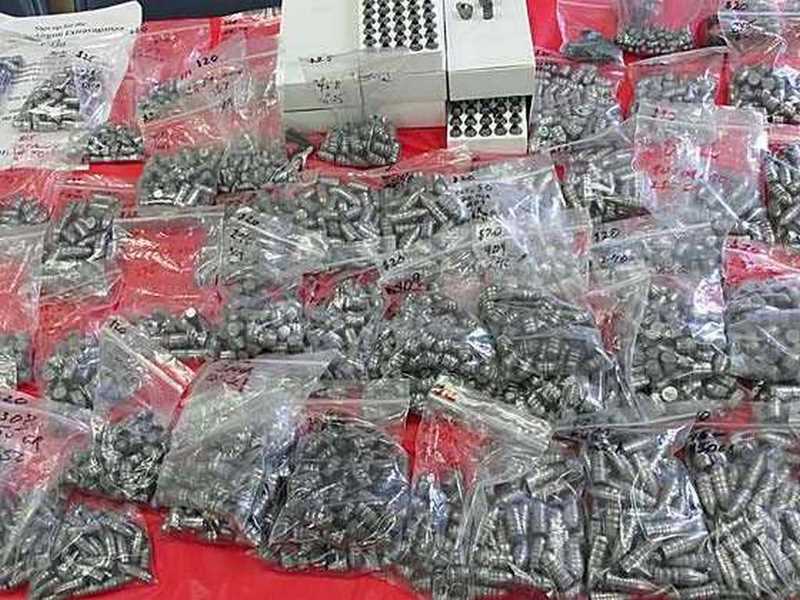 Need bullets? Seth Rowland has them in different sizes, shapes and weights.
10-meter guns
Another theme that's common to all airgun shows is 10-meter target guns. This year's Arkansas show had plenty of them, both from dealers like Scott Pilkington of Pilkington Competition Equipment in Tennessee, as well as numerous private individuals. I mentioned several weeks ago that Mac was bringing some recently overhauled FWB rifles to this show, and on day one an interested buyer sought him out. This man was serious about buying a target rifle, and he had done his research on the internet. But this was the first time he'd seen, felt and shot these rifles.
Mac took him out to the shooting range to try out an FWB 150 and a 300; and from his testing, he decided the 300 was the gun he wanted. Because it lacks the barrel jacket, it's lighter than a standard 300S. He was buying the rifle for his wife to shoot in competition. They made a deal, and he went home with the exact target rifle he wanted — an overhauled ex-club rifle at a price that was several hundred dollars below what he would have paid for a gamble on the internet. For this man, driving all the way to Arkansas made good sense.
I'm sure that same scenario was played out numerous times at this show, because that's what happens at an airgun show that also has a shooting range. You get to try out the guns before you buy — something that's impossible at a regular gun show.
The odd and wonderful
You never know what you're going to see at one of these shows, but there are a few people who always seem to have interesting things. Larry Hannusch, the top airgun writer for the past 30 years, is one person who can always surprise you. This year, our tables were together, giving me the opportunity to look at his guns more closely than normal. He had a Crosman 113 bulk-fill CO2 rifle, which isn't unusual, except the owner of this one had inlet a pellet box into the right side of the stock — much like the patchbox found on certain muzzleloading rifles.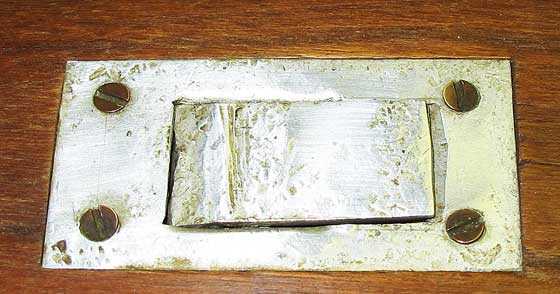 Some owner made this patchbox in the stock of his Crosman 113 bulk-fill rifle.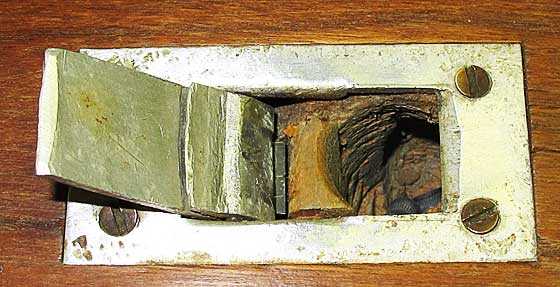 He built the "patchbox" with a built-in spring. There were pellets inside.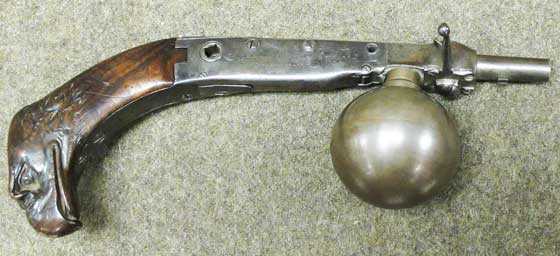 When was the last time you saw one of these? A French ball-flask pistol from the 1700s.
The big find
Often there will be a big find of some certain airgun that shows up at a particular show. I remember one year someone was selling piles of brand-new-in-the-box S&W 78G and 79G pistols. There were at least 50, but as my memory serves there might have been as many as 100 brand-new guns that were at least 20 years old at the time. Another year, it was Scott Pilkington who brought almost 300 club target guns for sale. You could buy an FWB 300 for $150-$200! Of course, it would have been a beater and would have needed to be resealed, but it certainly was the budget way into a 10-meter gun.
Then there was the year that someone had over 20 Johnson Target Guns, the submachinegun-looking plastic catapult BB gun from the late 1940s. They were all new in the box, and the cloth backstop that was in the box to stop the BBs inside the box lid that also served as a backstop had turned to dust. But they were complete. To collectors, they were a wonderful find. I actually saw two of these at this year's Arkansas show; so even after more than 10 years, they're still slowly dissolving into the collector population.

Two brand-new Johnson Target Guns in the box with all the literature and accessories.
When I walked into the second large room in this show and turned the corner, I ran into Randy Mitchell's booth, where he was selling a pile of recently discovered TS45 sidelever air rifles for $20 each! I blogged this rifle several years ago, and Vince also wrote a guest blog about the same rifle. Until now, there were no new guns you could buy. You had to find one by chance and would always be one somebody had owned and possibly modified. Now, Randy Mitchell, who runs his Adventures in Airguns store, has a huge pile of these rifles to sell. They aren't very safe and are the very guns that chopped off thumbs when their anti-beartraps failed; but if you cock them safely and load while restraining the sidelever, they're fun to shoot and are often accurate.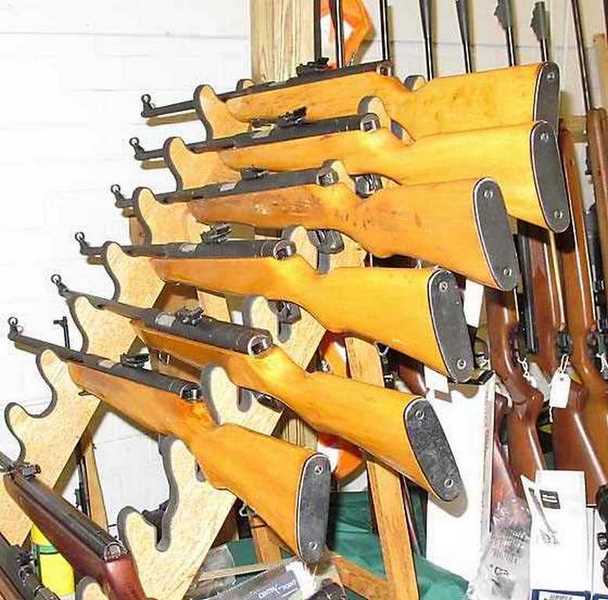 Randy Mitchell found these old/new TS45 sidelevers and brought them to the show. It's stuff like this that keeps me going to every airgun show I can make!
Collectibles
Of course, there are too many modern guns to name here, but know that at any show you'll find almost every modern classic airgun for sale. If you're looking for good TX200s or old R7s, they're usually available — and they were at this show, too. But what you also see are airguns that are so rare and hard to find that some of them won't even be seen in airgun books. This yearm Ingvar Alm had both a Winsel CO2 pistol in the box and a Giffard CO2 pistol from the 1870s on his table. Giffard invented the application of CO2 for gun use, and Winsel made only 50 guns in the early 1950s. Neither gun is represented well in any airgun book I know.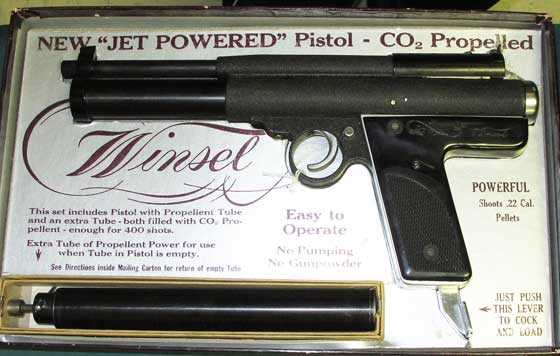 The Winsel pistol was a bulk-filled CO2 pistol that required the owner to mail his tank back to the company to be filled. Yeah, that's going to work! They made 50 and quit. Today, they're a prized collectible.

Giffard pioneered the use of CO2 in guns in the 1870s. His pistols are many times rarer than his rifles. The empty pop bottle is for contrast — like Cindy Crawford's mole.
Big bores
There were more big bores at this show than I see at other shows. Perhaps, that's because the focus of big bore airgunning seems to center around Texas, where the LASSO match is held. Dennis Quackenbush delivered his guns to eager buyers, but the only rifle he had to show was his own .308, which he doesn't want to sell. Eric Henderson and Big Bore Bob Dean were both there with some guns to sell, as well as Robert Vogel. But the one maker with a lot of guns on display was Jack Haley, whose table was a rainbow of laminated stocks.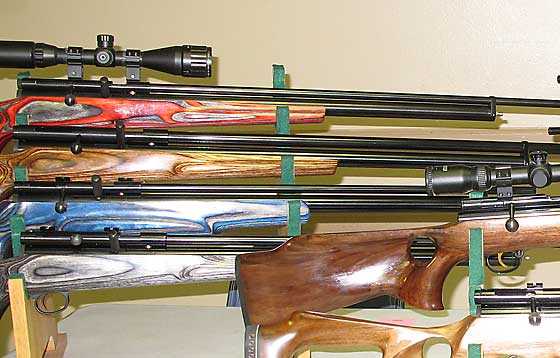 Jack Haley's table was a colorful display of big bore rifles.
Oops!
Then there was the big bore that has been a joke in the airgun community for many years. The gun itself is fine. It was made back in the 1980s by Ben Patron, whose name is clearly on the side of the receiver. Somewhere along the line, some person got ahold of it and displayed it at the Springfield, Missouri, gun show as a "U.S. military .50-caliber sniper air rifle." The label for that display was still inside the guitar box that held the gun, and Dennis Quackenbush remembers seeing it at the Springfield show. After that, it somehow ended up in an Arkansas pawn shop where Big Bore Bob found it and bought it.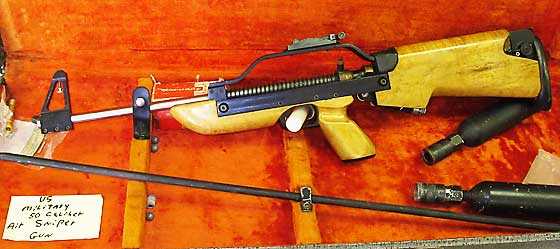 Some previous owner had concocted a colorful background story for the Patron big bore of the 1980s.
The drawing
Many shows have a drawing, but airgun shows are so lightly attended that you actually have a chance of winning! This year, they gave away several very nice prizes at the close of the show, including a scoped TalonP pistol from AirForce! Then came the drawing for the frame-extended silencer for the Talon SS. I knew before the little girl picked my ticket that I would win it. How ironic is that? I'm testing a Talon SS with a bloop tube right now, so of course I'm going to win another one! But the supreme irony came when Randy Mitchell, a big bore hunter, won the .50-caliber Dragon Claw donated by Pyramyd Air.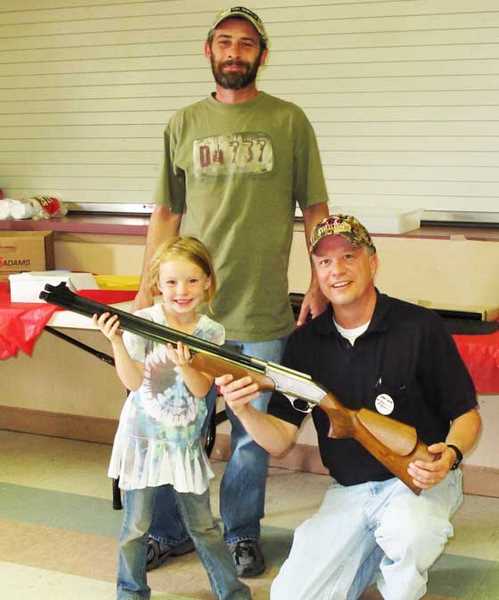 Randy Mitchell (right) won the Dragon Claw. Show host, Seth Rowland, standing, ran the drawing. The young lady added a lot of sparkle and enthusiasm to the show. I see an airgunner in the making!
On the trip home, Mac and I relived the show many times. That's another benefit. I can remember snippets from most past shows, and this one will now be filed away in the library.
by B.B.Pelletier
There I was, at the Roanoke airgun show, and this year was REALLY different! For starters, it wasn't in Roanoke. It was up a small mountain road several miles south of the big city, and I thought that would keep the attendance down. But at the Friday opening, there were hundreds of attendees who came through the doors. And those who struggled to find the place were rewarded with what I have to categorize as the very best airgun show I've been to. Allow me to explain.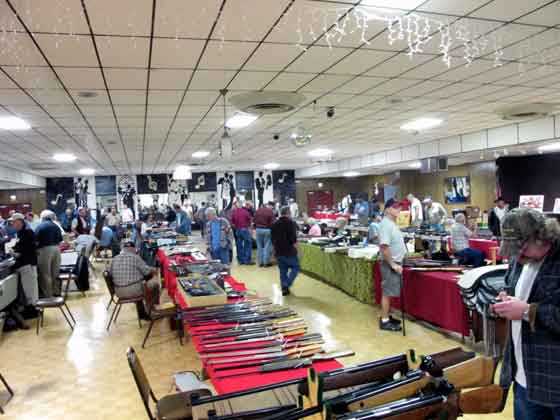 About midway through the first day, and the show was doing a brisk business.
It seems that hard financial times have hit the airgun market, and as a result there were too many great buys to count. Also, something else happened that I guess is like the changing of the guard. It seems that many of the old graybeards were cleaning out their closets and selling most everything they had. Some strange metal surfaced to bait the faithful, as well as the tried and true guns we all love.
One thing I was looking for are readers of this blog. RidgeRunner was first to step up and introduce himself. He was doing his impression of a walking garage sale by lugging a rifle, pistol and a daypack full of pellets around the show. And the last time I saw him, I think he had bought some pellets! Talk about taking coals to Newcastle!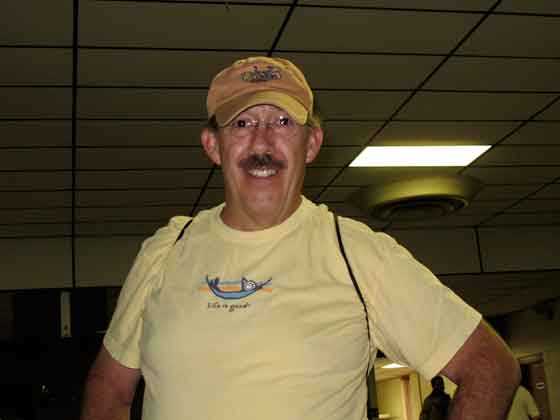 RidgeRunner was happy to be at the show.
Lloyd and his beautiful wife, Mary Ellen, were next to stop by. Mary Ellen was returning home from a business trip, and her plane was diverted to Roanoke; so Lloyd did the manly (and opportunistic) thing by rushing down to pick her up. We gabbed about old times while Mary Ellen looked around her very first airgun show. She said she was impressed, and I think that was an honest appraisal because for some reason this was a classy show.
Usually, a show has some sort of "flavor." By that I mean that there will be one or more memorable things that happen only at that particular show. I remember one where there were new-in-the-box Smith & Wesson 78G and 79G pistols stacked up in piles. At another show, a man was trying to sell a genuine Girardoni military rifle. I was flabbergasted when he sold it for $3,500. Several years afterward, I was even more flabbergasted to see a similar rifle sell for over $50,000!
I look for those "patterns" at every show, and they help me report the show. At this show, I couldn't see any pattern on Friday. Maybe there was a smallish group of 10-meter target rifles for sale and a few nice Benjamin Discovery rifles were out on the tables, but I couldn't see any real patterns.
But what did happen at this show more than at others I've been to was that we had time to actually talk. Several other readers came by and even people I know just from seeing them at every show I attend; but, for once, there was time to really talk. And as a result, I was set straight on a number of technical topics. The beauty of that is that Edith wasn't there to keep me in line, so the task was shared by many people. Of course, they weren't as good at it as Edith is…but, then, she's had many years of practice.
Mac shared a table with me, and he had a super first day! He brought most of his stable of 10-meter rifles, plus many of his finest sporting guns. His first sale was an FWB 124 I tuned about 10 years ago, and it still averages 881 f.p.s. with Premier lites. After that, his guns were flying off the table as I watched enviously from the sidelines. Part of his success is due to his engaging style. He stood in the aisle in front of the table and hooked them as they ventured too close.

Mac discusses the finer point of airgun trivia with a patron who moved too slow.
I'm always on the lookout for different things, and Wayne Fowler had one on his table. It was a .35-caliber single-shot round ball shooter with a ball reservoir that Mike Reames made. Wayne said his pistol is very accurate, so he mounted a red dot sight to the barrel and shot a group with it. The proof is right in the center of the bull.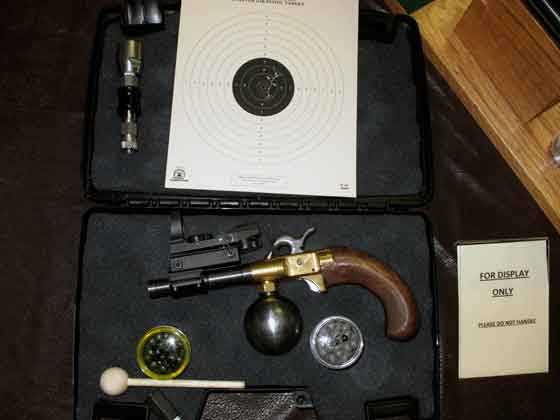 Wayne Fowler's handmade pistol drilled the bull. The 18th century meets the 21st as the red dot sight sits atop a round rifled barrel. Strange but true!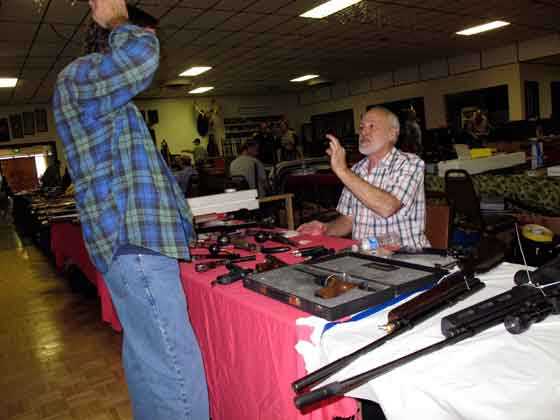 Want a ball reservoir pistol of your own? A customer deals with maker Mike Reames, who has several unsold ball reservoirs on his table.
I vowed I wasn't going to buy anything at this show, and that resolution lasted until almost 12 hours before the doors opened. How could I need anything more, I asked, as I forked over the cash for several impulse purchases made while chatting at the motel the evening before the show opened? You'll be seeing the results of those purchases in upcoming events. But here's one: Edith has been asking for a slingshot with a laser for almost a year, and I found one for her that has a laser and a red dot sight. (Note from Edith: Woohoo! He's right. Ever since I saw some online demo videos, I've been wanting one of these.)
Saturday
The Saturday show was much different than Friday. Saturday is normally when the locals come; and while a few did make it in, it was a very slow day. Mostly dealers trading with dealers.
I did overhear conversations between several dealers saying they'd had as good a show as ever despite the smaller size and change of location. I would estimate was only 75% as large as the Roanoke shows of the past. There's room to grow in the current facility, and show promoter Davis Schwesinger has plans to do just that.
One last comment. Although I mentioned him earlier and even showed a picture of one of his pistols, I must say that Mike Reames, who makes the unusual ball reservoir pistols, is making a name for himself. His work is of good quality, and everybody who gets one seems to enjoy it. I think we'll do more with Mike in the future.
The show ended around 2 P.M. Saturday, but all the dealers I talked to said they were coming back next year. I know that many of the dealers who were not there will make plans to attend. It may take a while, but I think we'll grow this into a fine, large airgun show, again.
by B.B.Pelletier
I attended a gun show this past weekend; and on the first day, I noticed something that I've seen for many years but never appreciated. Most of the people who attend gun shows don't know what airguns are worth. You can benefit from that.
Nobody knows what airguns are worth!
Across the aisle from me, a dealer had a Daisy model 21 double-barreled gun laid out. When I examined it, I noticed that it was really beat-up. It was a 20 percent gun, at best.
The dealer said he wanted a thousand dollars for this gun, because he'd seen one new in the box selling for $3,500 on the internet. He knew his was a junker, but he figured it must be worth that much at least.
He probably saw the asking price for the new-in-the-box gun. There are lots of outrageous prices like that online, and they usually never get a nibbler. But some people use those bogus prices as their starting point, and this dealer was one of them.
I'll be attending the Roanoke Airgun Expo in a couple weeks, and I expect to see half a dozen to twenty model 21 Daisys, ranging from $300 for beaters, like the one I described, up to perhaps $1,400 for one like-new in the box. Yes, the price spectrum is really that broad, but it doesn't continue on up into the stratosphere like many people hope and dream.
So, here's an idea. Get a real cheap model 21 and bring it to a gun show! While you're at it, there are many more airguns you can dispose of in this manner.
Airguns that firearms people like
You can't go wrong with any of the Winchester-marked Diana breakbarrels. At the gun show, they think the name adds value. So your $200 Winchester 427 is now worth $250 or even more.
Older Benjamins and Crosmans always seem to go well. Since I am old myself, let me explain that by old I mean pre-1960. Pre-war is even better. And by pre-war, I mean before World War II.
Older and classic Daisys sell well. Older Daisys command attention wherever they are. But there are classic guns that don't have to be old. The No. 25 is the poster child of all classic BB guns, and guns made in Rogers in the 1970s are very attractive to non-airgun buyers. You can pick them up cheap everywhere and make a nice profit when you sell them to someone who doesn't know how common they are.
Another certain seller is an older, well-made gun like a Webley Senior or a Tell III. However, you have to buy them right, because gun show guys just don't understand $300 pellet guns. Guns like the Weihrauch HW 45 (Beeman P1) are not so good, because you'll usually have to pay too much to get them; or if you do get one right, it'll be too hard to explain it to a non-airgunner.
But whatever you bring has to function, because these guys don't want to collect them. They'll be reliving their childhood with the treasures they buy from you. Spend the money to get them sealed and working before you lay them out, and you'll be surprised at the response you get.
Older, vintage-looking guns
There's a small market for wall-hangers at gun shows. I recently sold several cheap shotguns to guys who just wanted them as accent pieces for the wall. Well, what about older Daisys and Kings that reek of the 1920s? What about a real old Benjamin model D that isn't worth fixing, but has great lines? Just be sure to pay pennies for guns like this, because you'll sell them for pennies, as well.
Safety first
One thing you absolutely cannot do at a gun show is dry-fire an airgun. People do it at airgun shows, and I think some folks believe it's okay. If you do it even one time at a gun show, you'll be ejected from the show and banned from returning.
Become "the airgun guy"
Pick a gun show and attend it regularly. Soon, the dealers and veteran attendees will know you as the airgun guy. Whenever someone brings an airgun to the show, they'll be directed to your table. Whenever someone asks about where the airguns are, they'll be sent to you. You won't have much competition at most of the smaller gun shows, from what I've seen.
The more regularly you attend a show, the more traffic you'll build. These are people who will come to the show just because they know you'll be there. They may have a gun that needs to be fixed or they may have just bought a collection that included airguns. Whatever the connection, if you're the airgun guy, all the business will come to you.
by B.B. Pelletier
I was watching American Pickers last week. That's the show where two men called pickers travel around the country looking for old things to buy and resell at a profit. Pickers have been around for many years. I can remember my grandmother who ran an antique store buying from them back in the 1950s, but these two guys on American Pickers have put the show on television and made it interesting.
Except for one thing. Sometimes they walk right by the major find and act thrilled to find something on which they can make a couple hundred dollars. The show I watched last week was one set in Florida in which they were picking a bar that had closed. They stood in front of two antique BB guns on the wall and talked with awe about finding a risque neon sign. One of the BB guns was a Sentinel, worth perhaps between $1,500 and 2,500, depending on the condition. Okay, it was way in the background, so maybe it was trashed out and only worth $500. They didn't even mention it on the show, despite the fact that BB guns is one of the categories on their buy list.
That got me thinking. Have I ever walked past some airguns worth a lot of money, only to dismiss them for some reason? The answer is YES. I passed on not one but two Sentinels at a local flea market years ago. They were priced at $100 and $110 apiece, and at the time they were probably not worth over $400 each. I passed on them because I didn't know for sure what they might be worth. When I found out, the price was already beyond $1,100 and the two guns were long gone. This was several years before I started writing The Airgun Letter, and no Blue Book of Airguns existed so I may be forgiven my lack of knowledge, except that deep down inside I knew they were valuable. That's why I caught them so quickly when they made a brief appearance on American Pickers.
I'll never forget the Haviland & Gunn BB pistol Edith found at the same flea market for $5 (she won't let me forget it). She sold it to a collector a year later for $500, and today they are worth over a thousand. It was in a case of "smalls" on a guy's table that consisted mostly of Avon decanters. He thought it was an old squirt gun from a carnival game and had marked it $10, but Edith got him down to $5. I bet he never had an offer on that gun before she came along.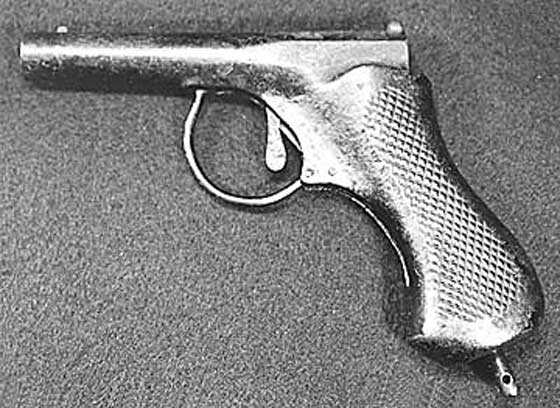 Edith paid $5 for this 1872 Haviland & Gunn BB pistol at a flea market. She sold it a year later for $500.
Decorative art
Most of you know that I'm not a fashionista. To me, style means a mechanical device for counting people as they board the train. I see on television that, besides gout, depression and retirement worries, I'm supposed to have something called a "man cave." Back when I was still able to feed myself and hold my own drool cup, I believe such places were called dens, and every home had one. Today, the trend is toward diamond-plate refrigerators and vintage neon bar signs. Well, vintage airguns go with that decor quite well, I think.
Here's where I'm going with this. You're an airgunner. You can acquire airguns that every other airgunner knows are not worth the powder to … well, you know. But they look cool. So ,you take that old King Model D BB gun that looks like the airgun version of a handlebar moustache and you peddle it to an interior decorator as the perfect accent for some man's wall. You paid $60 for the BB gun (and thought you took a bath), but the decorator pays $250 to acquire this rare and vintage piece that will set off her client's I'm-a-man-and-don't-you-forget-it wall to perfection. It's crystalized testosterone in the eyes of the decorative arts community.

You might not pay very much for this common King model D BB gun, but where else is a decorator going to find one?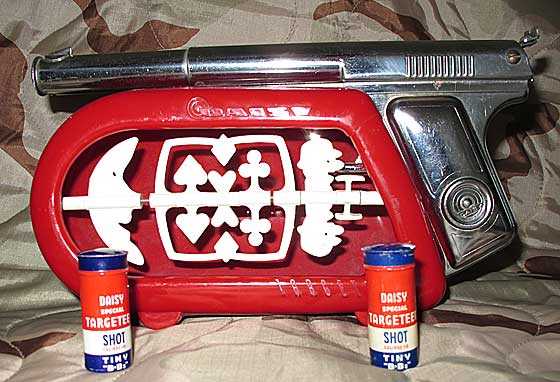 A few years ago, this Daisy Targeteer BB pistol with shooting gallery might have brought $300. Today they bring half that. But they still make great accent pieces.
Or do the same with that old Marksman BB pistol that you can throw faster than it shoots. Or the vintage Daisy Targeteer. Selah.
Do you see where this is headed? You go to an airgun show, buy up as many cheap but decorative airguns as you can find, then resell them for a good profit to an interior decorator. Do it again and again and soon you will have enough leather to make shoes for all your children — to mix a few metaphors.
Oh, but you don't know any interior decorators, do you? Of course not. So you start a website where decorators can come to look and buy your items, knowing they can always count on you to supply those hard-to-find knickknacks for their clients.
But you don't set up a table at the next airgun show. The airgun shows are where you go to buy. You sell elsewhere.
My last big tip
Okay, here's my final tip for those who would like to make money in airguns. Buy the old beater guns, then cut them up and make cutaway guns for display. With some skill, time and a $50 beater spring rifle, I'll bet you could make a display piece worth at least $500. Cutaway guns are always in demand, and cutaway airguns just don't exist. Oh, I'm sure there are a few, but they're very rare. Imagine if someone were to begin offering them as decorations!
There are plenty of other things that can be done with old airguns, I'm sure. The thing is, you know where to buy them, while the average person does not. You have the advantage. What you do with it is up to you.