by Tom Gaylord, a.k.a. B.B. Pelletier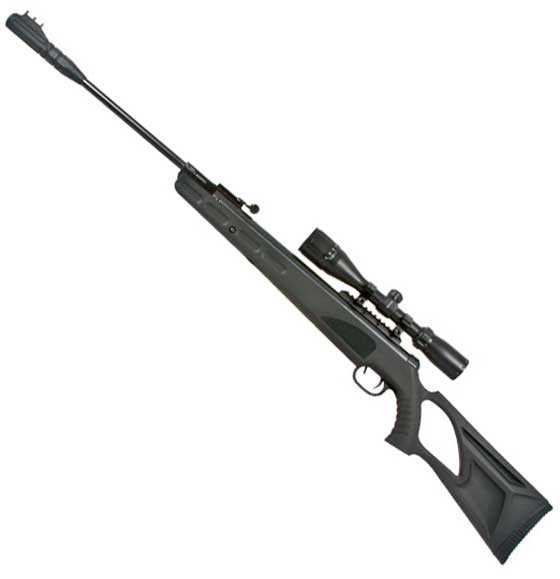 Umarex Octane gas-spring rifle combo.
Today is the start of accuracy testing for the Octane combo air rifle, and I'm going to make some changes. For starters, I'm going to give you the summary now. The Octane is a smooth-shooting, accurate air rifle. It's everything the manufacturer wants it to be, and a couple of things they probably didn't think about, on top of that. The rest of this report will justify and explain my summary.
Another thing, the Octane is different from any gas spring I've ever tested. Gas springs always fire fast, as in instantaneously. When the sear releases, the shot is over, and you usually know it from the sharp crack of sound and the painful slap to your cheek. The Octane fires slowly in comparison. There's a lot of forward recoil and almost no vibration, and the discharge is very quiet, as I noted in part 2. I attribute this behavior to the Reaxis gas-spring design that's reversed from the norm, and to the SilencAir silencer on the muzzle. Both apparently work as advertised.
The test
I decided to just shoot 5 shots per pellet today, and to shoot the rifle with open sights at 10 meters. I wanted to get a good sense of how accurate it is before putting the walls of my house at risk. And what I discovered was that this rifle is fun to shoot! I normally don't have much fun shooting a 20 foot-pound spring rifle, but the Octane is so civilized that it gave me a lot of confidence. By the time I'd fired the first 2 shots at the target, putting them into the same hole, by the way, I knew this day was going to be fun.
I held the rifle with an artillery hold, but the thumbhole stock makes you grip the gun harder than you normally might. So, I would have to call it a modified artillery hold. But the rifle cooperated, and there was noting to worry about. The muzzle heaviness holds the front sight steady on target once you're dialed in.
The sights are fiberoptic, which destroy all attempts at precision, but by lighting the target brightly and sitting in a darker room to shoot, I could defeat the fiberoptic tubes and get a very sharp sight picture. When they don't glow, the Octane's sights offer a nearly ideal sight picture, and that was what made me decide to not mount the scope, yet. I wanted to have the fun of shooting with open sights since the rifle was cooperating.
The trigger is still quite heavy and very creepy, so I envy those who own their rifles and can modify them. If I could drop the release weight to under 4 lbs. and if there was a way to eliminate all the second-stage creep, this trigger would help accuracy greatly.
Beeman Kodiaks
The first target was shot with 5 Beeman Kodiak pellets. This was when I first noticed how slow the Octane's gas piston is. It feels like an airgun equivalent of a 45-70 single-shot. You feel the recoil and the rifle bounces around, but you know the pellet got out of the muzzle before all that started and that accuracy wasn't affected in the slightest.
As I said, the first 2 pellets cut the same hole, though each made a distinctive mark. Then I stopped watching through the spotting scope and just shot the next 3 pellets. In the end, the group is larger than I would have liked for 10 meters, at 0.581 inches, but this is with open sights. Still, it is just 5 shots instead of 10.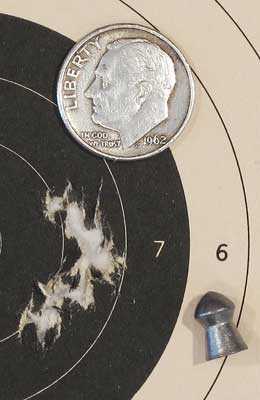 Five Beeman Kodiaks at 10 meters with open sights measure 0.581 inches between centers. It's a good start!
RWS Hobby
Next, I tried the RWS Hobby pellet. It felt good while loading because it fit the breech tight but not overly so. And, though the point of impact shifted up a bit, the Hobby was quite accurate — putting 5 pellets into 0.368 inches! I thought that was remarkable. I couldn't wait to test some more pellets!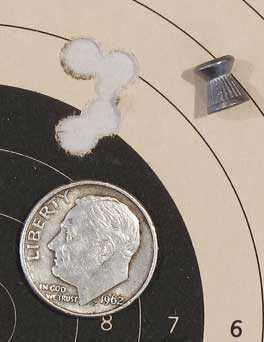 Five RWS Hobbys at 10 meters with open sights measure 0.368 inches between centers. Now, the rifle was giving me confidence.
RWS Superdome
Next, I tried the RWS Superdome. Here's where you're going to see something significant. RWS makes both Hobbys and Superdomes in Germany, and presumably they use the same lead alloy for both. And domed pellets are generally regarded to be the most accurate. Yet look at how the Superdomes did! They grouped horizontally, to exactly 1 inch, while the Hobbys stayed together.
You might try to blame me for getting tired at this point in the test, but there's group coming that will show that I was still shooting my best. That's one benefit of these 5 shot groups. They don't tire me as quickly.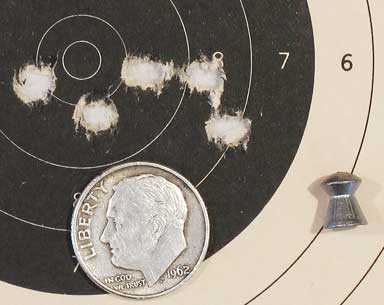 Five RWS Superdomes at 10 meters measure a long 1 inch between centers. When you compare this group to the one made by the Hobbys, you see that Superdomes are not suited for this Octane.
Predators
Now, for those of you who think I might have slipped up on the last group, I shot 5 Predator Polymag pellets next. They're a recognized premium pellet, just like the Superdomes, and I've shown some great groups using them in recent tests. But not this time. Instead of the group stringing sideways, the Predator group were stringing vertically. Five went into 0.982 inches, so we won't be seeing them in any future tests of the Octane.

Five Predator Polymag pellets made this vertical 0.982-inch group.
If you have now decided that I've gotten tired and ho-hum, what's so special about the Octane if this is the best that it can do — hold on! I saved the best for last. Actually, the Octane saved the best for last because the next group is the last one I shot on this day.
Crosman Premier
The 14.3-grain Crosman Premier pellet is sometimes the best pellet you can use in an airgun. And it is in the Octane test! Five Premiers went into a group measuring 0.245 inches between centers. It looks like only 3 pellets have passed through, but I did shoot all 5. This is very clearly and hands-down the most accurate pellet I tested in the Octane.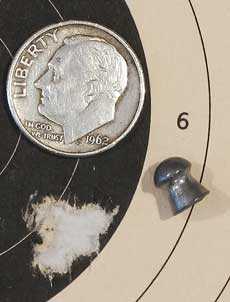 Five Crosman Premiers made this beautiful 0.245-inch group. It was the last group of the test. Who says the groups open up as you go? This is the pellet for this rifle.
Summary
I already gave you the summary in the beginning of this report. Now you see the substantiation of what was said.
Several readers reported higher velocities than I got in the last test, and I was asked to change the breech seal. Well, I might do that, but frankly the rifle is shooting so nice right now that I don't feel any urgency.
The Octane is unlike any gas-spring breakbarrel rifle I've ever tested. I wish the trigger was better, but it's hard to argue with the accuracy or with the rifle's firing behavior.
I will skip testing the rifle at 10 meters with the scope that comes in the package and go straight to 25 yards next time.
by Tom Gaylord, a.k.a. B.B. Pelletier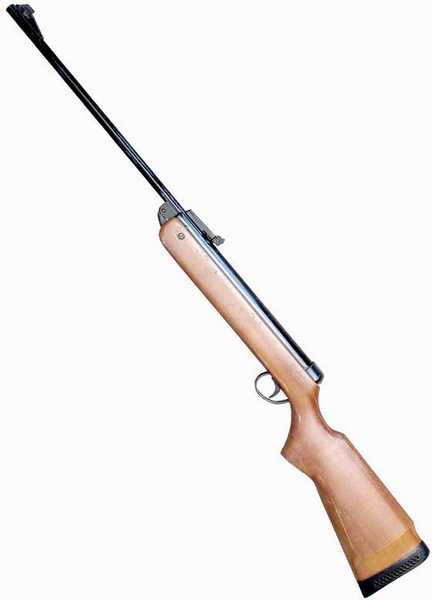 My rifle is actually a BSA Super Meteor.
The last report on this BSA Super Meteor was on October 15. That's how long it's been since we saw this gun in print. But in the background, I've been doing lots of things that I'll share with you today.
The last time we looked at this rifle, I was taking it apart and getting a lesson on how it was built and what was wrong with it. To summarize for you, this BSA Meteor is made from folded metal, in the same way Daisy BB guns are made. And the piston head was attached to the piston by means of an E-type circlip that was incapable of standing up to the stress. I can tell that by the damage that was done when that clip let go — but more because the Brits have invented a much better solution for fixing this gun today, when it does break down — and all of them are going to break!
I sent my order to T.R. Robb in the UK for a replacement piston head, o-rings and spacers. The problem is that when I sent in that order I didn't pay attention to the fact that the same order button also got a piston head for a BSA Scorpion pistol, which is larger than the Meteor head. Well, guess which one Mr. Lysdexic ordered?
That's right, I ordered the Scorpion piston head. And a couple days later, when I realized what I'd done and contacted T.R. Robb, they had already shipped the order. But to their credit, they sent a second piston head — this one was for a Scorpion, too. That's right! They sent me 2 Scorpion piston heads and no Meteor head! But I'll give them credit for trying to help me, for being very generous and refusing my offer to pay for the second head, and for being very prompt in shipping both heads. I had them in less than 10 days.
So, blog reader David Enoch — I now have a spare BSA Scorpion piston head that I believe you said you needed. The price will be right, too. You'll pay what I paid, which was nothing.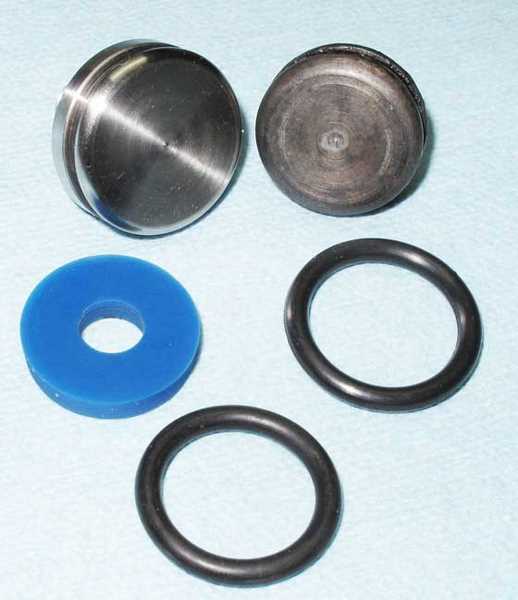 Lots to see here. The replacement piston head is the shiny one on the left, the darker original is on the right. Obviously, the replacement part is larger and has to be cut down to fit. The blue spacer and 2 o-rings are just some of the soft parts that came in the kit. There were a total of 4 o-rings of different sizes and 2 more spacers of varying thicknesses. They allow you to set the power of your airgun, and they also allow for differences in the tolerances of different guns.
When I saw how large the piston head was, I knew it wouldn't fit. I asked my friend Otho to cut it down for me on his lathe. He also had to cut the o-ring channel deeper at the same time.
Silly me — I thought that would solve everything. So, Otho took the head and had it back to me in a week. Then, I assembled it to the end of the piston and tried to insert the piston back into the spring tube. But it wouldn't fit! I'd taken it out several weeks earlier, and now it wouldn't fit back inside! It was like that pair of blue jeans that used to fit, before they suddenly and quite mysteriously shrank. I hate it when that happens — especially to jeans I've worn for years!
I took a more critical look at both the spring tube and the piston. Glory be — they're both made of folded metal like a Red Ryder! Except that Red Ryder spring tubes are generally round, while both of these pieces had variable shapes, with a tendency toward the oval.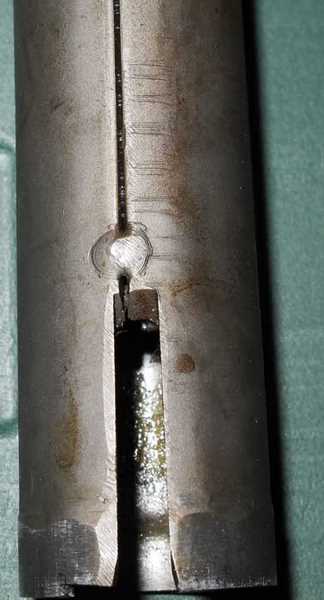 The tail end of the piston. Here you clearly see that it's folded metal, tack-welded at each end.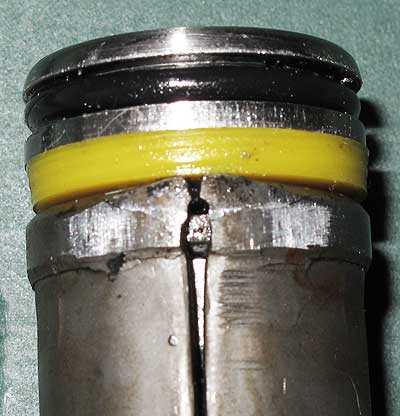 At least that's the theory! Here you see the weld at the piston head end has broken. Wonder why the piston is no longer round?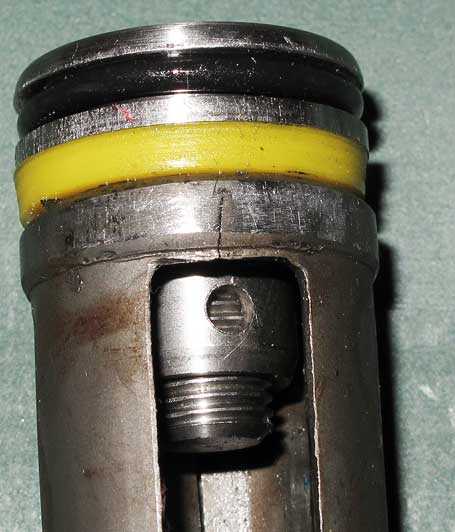 And, on the other side of the piston, opposite the broken weld, the solid metal has also cracked! Here you can see the nut that now holds the piston head to the piston body. It's not about to break off like the circlip did!
Looking at just the condition of the piston gives you an idea of the shape this rifle is in. I don't think the design of the rifle caused all this damage. I think people continued to try to cock and fire it after the piston head separated from the piston, and they hammered it into the mess you see here.
I examined the interior of the spring tube very critically at this point and found a lot of metal galling (shiny areas that indicate the scraping of metal against metal without lubrication). There was also a fair bit of surface rust. I also found that some of the folded metal edges of the spring tube that hold the trigger parts were bent into the interior of the spring tube and were blocking the passage of the piston. I fixed those with a Dremel tool, but the inside of the tube was too deep to reach.
I showed the spring tube and piston to Otho, who agreed with me as to the extent of the damage. He felt he might be able to clean out the tube with a tool that holds strips of abrasive paper and is spun in an electric drill. I don't own that tool, so I was only too happy to let him have a go at it. He also said he could tack-weld and refinish the piston where it was separating.
So, Otho came to the rescue once more. And he was true to his word, because a week later I got back the tube and piston, ready for assembly. But that wasn't the end of the rifle's problems!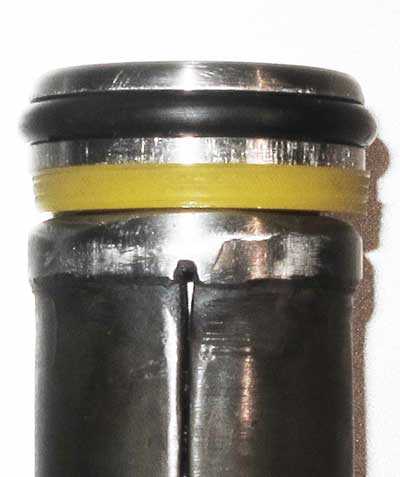 Otho welded the broken piston and dressed it round again.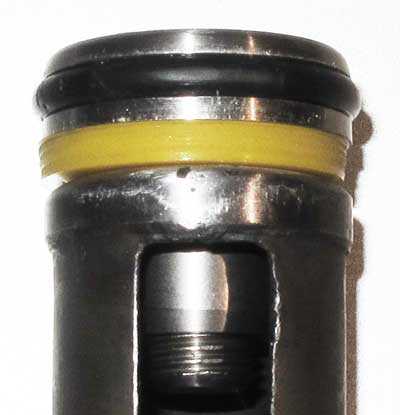 Otho also welded the back side of the piston where it was cracked.
Loose barrel pivot
I had discovered that the barrel wobbled from side to side when I first got the rifle. And a little research online told me this is a common problem with Meteors from the 1970s. Apparently, when the forearm stock screws are tightened, the shape of the stock allows them to pull apart the action forks that hold the barrel breech. It's a design flaw of the rifle, and the solution is to not over-tighten those screws. But how to fix it — since the barrel pivot is a pin, rather than a bolt? Well, this is something I know how to do.
I chucked the forks in the padded jaws of my bench vice and closed the jaws on the forks. When there was some inward tension on them, I hit the outside vice jaw with a 2-lb. ball-peen hammer, which sent a shock wave into the metal of the action forks and realigned their crystalline structure. Or at least that looks cool when I write it. I haven't got a clue what really happens! All I know for sure is that when you do this, the metal takes a set in the new position, and now the action forks are about 5 thousandths of an inch smaller then the breechblock of the barrel that has to fit between them.
Finally, all the faults had been corrected, as far as I knew. The piston now slides into the spring tube with only a little friction, not unlike a Weihrauch piston in a Weihrauch gun. It was time to assemble the rifle!
Otho and I both think whoever designed this Super Meteor Mark IV was a genius at eliminating cost and making one thing do many jobs. The way this air rifle is designed should be a study in an engineering course, but the students would first have to know how others had done the same things with other spring-piston powerplants. At every turn, you can see the embodiment of the Spartan design.
And the parts that need to be hard are hard! I mean glass-hard! There's no wear on any of the trigger parts, or on the piston, where it's held by the sear. The boys at BSA knew what they were doing.
Since there had been so much metal galling in the spring tube, I first lubricated it with Moly Paste before any parts went back in. The molybdenum disulphide particles will bond with the metal surfaces and will not wash out over time. I applied this paste (which is a thick grease) with a swab made from a long thin dowel rod covered with a paper towel on one end.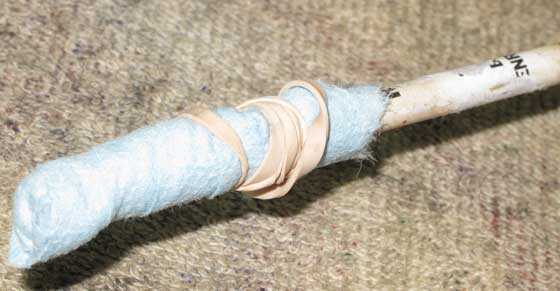 This simple swab can be used to clean the inside of spring tubes/compression chambers, as well as to lubricate them.
After the inside of the spring/compression tube was lubricated, I also lubricated the outside of the piston head and piston tail with the same moly paste. I'd like to say a word about the piston head now. The kit of parts I was sent had 3 spacers of differing thicknesses. Any of them will work, but each gives you a piston head of a different length when it 's fastened to the piston body.
The way the Meteor is designed, adjusting the length of the piston head controls the power of the rifle. A shorter piston head will give a longer piston stroke and therefore greater power. I don't want power. I want a smooth rifle that's easy to cock and is also easy to shoot. So I went with a thicker spacer on the head.
Now, I lubricated both the piston head and the tail with moly. The center of the piston body can be left dry because it's narrower than the ends and will never touch the inside of the spring tube.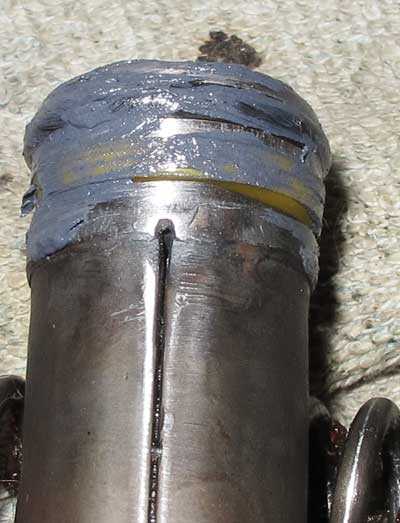 The piston head is lubed with moly paste. No precision is required for this application because this stuff spreads as the gun is cocked and fired. The other end of the piston got the same treatment before it was slid back into the spring tube.
Once the piston was in the tube, I coated the mainspring with Beeman Spring Gel and slid it into place inside the piston. Don't look for that product anywhere — it's obsolete. It was a viscous silicone (Beeman only says it's a synthetic in their catalog; but given where it's going, I'm pretty sure it's silicone) grease that dampened vibration without slowing the gun much, if any. So, pretty much any viscous silicone with the consistency of toothpaste should suffice. Or, you could do it the old-school way and just use a lithium-based grease.
The powerplant went together the same way it came apart; but the barrel, which was the next item, was harder to install because the action forks were now smaller, thanks to my repair. Nevertheless, the barrel did go into the action forks of the spring tube (I "buttoned" it in using the baseblock to spread the forks slightly), with the cocking link locked inside the piston and lots of moly grease on all metal surfaces that touch.
When it came time to close the barrel, I got a small surprise. It seems the spring-loaded chisel detent (the chisel-looking thingie that holds the barrel shut when the gun fires) was sticking out so far that the barrel wouldn't close! Examination revealed that the detent is held in the baseblock by the pivot pin that passes through. How in the heck was I going to do that?
Well, if you think like a redneck cheapskate, which I am trained to do, you insert the pivot pin partway, lever the chisel detent back as far as it will go and then tap the pivot pin home. I could have closed my eyes for this maneuver, it went so smoothly. Obviously, I'd discovered something that the original 28-year-old BSA assembler, Trevor, could do 175 times in an 8-hour shift back in 1978.
From there, the only big task was to get the mainspring back inside the spring tube all the way. It only stuck out the end of the tube less than an inch, but it also had to go another full inch into the tube, where it would be held by a crosspin that's profiled on one side to capture the base of the spring guide. It's easier to just show you.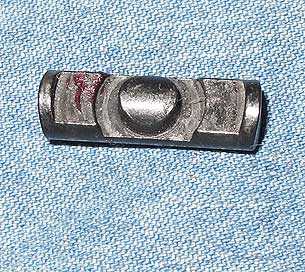 This is the side of the assembly pin that fits inside the base of the mainspring guide and holds it inside the rifle.


This 58-cent tool was made from a 4-inch plastic sprinkler pipe in about 20 minutes. With the action in the mainspring compressor, it pushes the washer at the base of the mainspring, while allowing the crosspin to be inserted through its slot. It isn't beautiful, but it worked both times I used it and looks like it will hold up for dozens more jobs like this.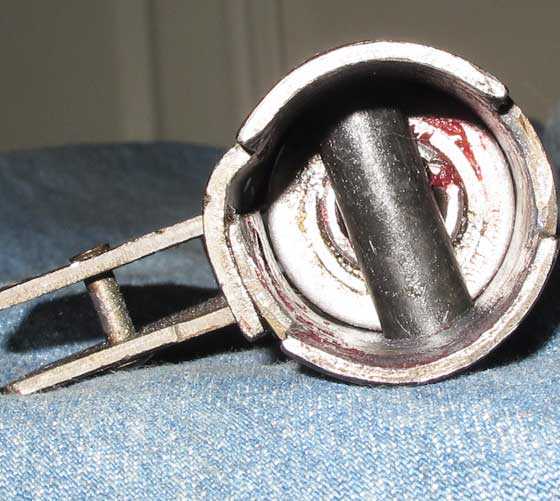 And the pin is back in place. The contours on the other side of the pin have meshed with the base of the spring guide.
I showed you these parts and the trigger parts in the earlier reports, namely in Parts 2 and 3. So I'm covering ground that I've already explained. When I took the rifle apart back in October, I didn't have to use a mainspring compressor; but to get the mainspring back in place and insert the crosspin, I did. And it was easy.
And the remainder of the airgun went together exactly as it should. I have a theory. Whenever something goes together easily, it means I've left out something. I'm in my wetsuit but have forgotten to put on my briefs! I remember learning how to disassemble and assemble the M1 Garand rifle. I thought I could never learn, but a few weeks later I was stripping it like a pro. That's the way BSA spring rifles are, I guess. You'd like them to come apart in 30 seconds without hand tools, but they don't. However, once you've been down the path a few times, I'm sure the job seems simple.
The proof
This is the part I dreaded. Sure the parts were back together, but who was to say they were where they should be? Only cocking and firing the gun would tell me that. So I did. And it did! Hurrah!
The only task left to do is to clean the barrel. I had close to 2 months to do that while it was off the rifle; but to tell the truth, I wasn't sure if I would be able to get the gun back to functioning again. No sense doing a great job on a barrel I'll never use. But now the gun is working, so the next report can be about the velocity.
by Tom Gaylord, a.k.a. B.B. Pelletier
Benjamin Marauder .177 caliber Part 1
Part 2
Secrets of loading the Benjamin Marauder magazine
Part 3
Part 4
Part 5
Part 6
Fixing a Marauder magazine
Part 7
Benjamin Marauder .25 caliber Part 1
Benjamin Marauder .25 caliber Part 2
Part 3
Part 4
Benjamin Marauder .22 repeater with synthetic stock Part 1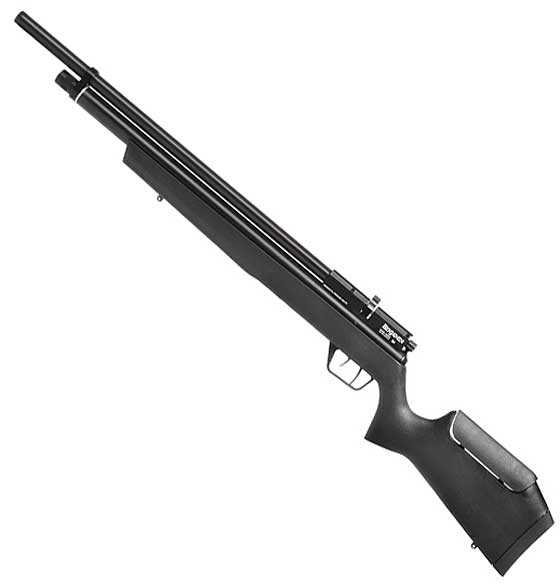 New Benjamin Marauder with synthetic stock has all the features of the classic Marauder in a lighter, trimmer package.
Today is our second look at the .22-caliber Benjamin Marauder with synthetic stock. We have a new log reader who goes by the handle AirrifleRatHunter, and he just bought a synthetic Marauder and it's his first PCP, so I want to help him with his rifle.
Baffled?
ARH said his rifle wasn't as accurate as he thought it should be. We found that he was using substandard pellets and corrected that, but I also mentioned to him that the baffles inside the shroud could be involved. He asked me what baffles are, so I'm now showing them to everyone. The test Marauder has 7 Delrin washers (the baffles) that are shaped to strip away the compressed air behind the pellet once it leaves the rifle's muzzle, which is buried deep within the shroud. I've laid out these parts for you to see how they work. If the pellet were to touch one of these baffles as it passes through, it would destroy accuracy.

Here you see all the baffles that are held inside the shroud under spring tension, so they don't rattle around.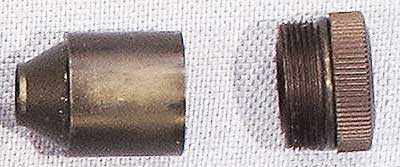 Looking at a single baffle shows that the compressed air that's behind the pellet gets stripped to the sides by the shape of the baffle (on the left) as the pellet passes through its center. This happens 7 times in succession before the pellet leaves the gun. The end cap that pushes the baffles against the coiled spring at the back has an o-ring to keep the air from escaping around its threads.
One other accuracy tip is to ensure that the shroud is not touching the forward barrel band on any side. Mine was touching on one side when I got the rifle, so I loosened the 2 set screws on the bottom of the band and repositioned it.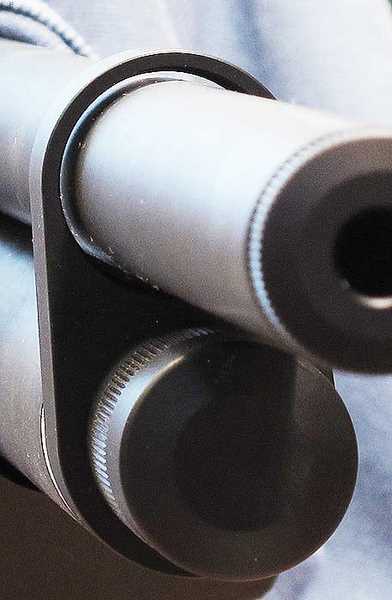 I have repositioned the front barrel band so it clears the barrel shroud around its entire circumference.
Today is setup day, where I will adjust the rifle to suit myself. The first thing I did was select a scope and mounts. Marauders have a low receiver, which means you need to select a higher scope mount if the objective bell of your scope is a large one. I chose a Leapers UTG 4-16X50 scope with illuminated reticle, but mine is an older model than the one I linked to. Nevertheless, it's a big scope with a large objective bell that needs height to clear the barrel shroud.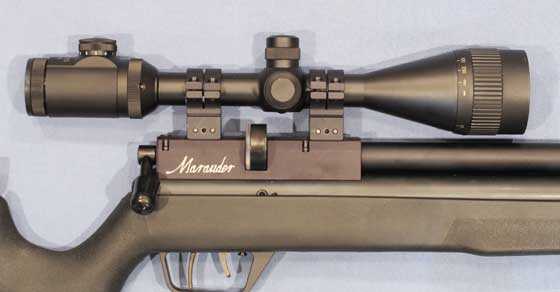 See how close the objective lens comes to the barrel shroud — despite my using high mounts? Also note that the magazine needs clearance, so the scope mount must be 2-piece.
You have to either use a 2-piece mount or a cantilever 1-piece mount that will clear the magazine sticking up above the receiver, so keep that in mind when looking at mounts. I chose BKL one-inch mounts with double straps that are high enough for the gun and scope combination. The double straps mean that you don't need to worry about the torque sequence when you tighten the screws in the scope caps because each strap is independent.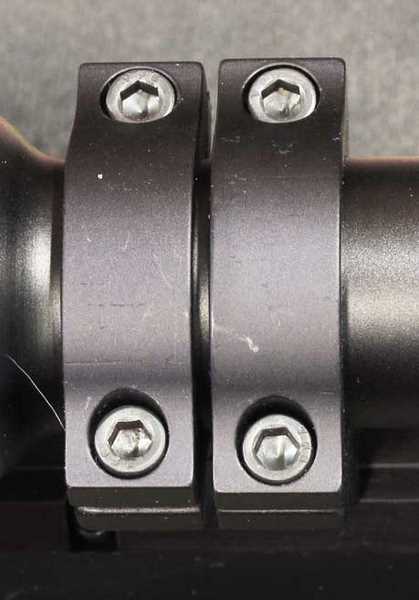 These clever BKL scope caps relieve you of the need to follow a torque procedure when tightening the cap screws.
Adjust the cheekpiece
Usually, I have to just adapt to whatever gun I'm testing because most of them don't have any ergonomic features. But the new Marauder synthetic stock does have an adjustable cheekpiece. I was able to raise it up so my eye in in line with the scope's exit pupil when I shoulder the rifle normally. What a convenience that is!
The new trigger
The Marauder's trigger has been moved back in the receiver by about one-half inch, which brings the blade closer to the pistol grip. The result is a nicer feeling when you hold the rifle because your hand doesn't have to stretch to reach the trigger. I never noticed it until I shouldered the new rifle the first time, but it certainly feels much better now.
Moving the trigger back meant that several internal trigger parts had to be redesigned. In essence, this trigger is the same one that's always been on the Marauder, but there are small differences inside. So, the next thing I did was adjust the trigger.
To properly adjust the trigger, you remove the action from the stock. It's only necessary to remove one stock screw for this, and the action comes right out.
As the rifle came from the box it had a heavy first stage pull of 2 lbs., 6 oz. This can be reduced by adjusting a screw counterclockwise to take tension off the trigger return spring. When I backed the screw out entirely so no spring tension remained, the first-stage pull dropped to just under 11 oz., so there's another spring inside the trigger group that also helps return the trigger blade.


The large round screw at the left adjusts the trigger-pull weight. Behind the trigger blade the two small screws adjust the first- and second-stage pull length. And the screw behind those 2 allows for slight repositioning of the trigger blade.
I put the adjustment screw back in the hole and tightened it just enough to keep it from falling out. That raised the first-stage pull to just over 14 oz., which is fine for a sporting rifle; but I must note that it's heavier than the triggers in the other 2 Marauders I've tested. They both break at 11 oz., and this one has a first-stage pull greater than that.
Next, I adjusted the first-stage pull a little shorter, and the second-stage pull to start sooner. Those were 2 separate adjustments; but each affects the other, so the manual tells you to do them together. The owner's manual also warns you that these screws adjust the amount of sear contact, so go slow and be careful to not get the trigger to the point that it won't hold the sear or will only hold it dangerously close to firing. After making these adjustments, I assembled the action in the stock once more and cocked the rifle. Then, I bumped it hard from several directions, and the sear did not slip off and fire.
Before the adjustment, the rifle fired at 3 lbs., 4 oz. That's pretty good for an air rifle trigger, given the lawyerly influences in companies these days; but a Marauder is not an average air rifle. After adjustment, it fired at 1 lb., 7 oz. but still had a bit of creep in stage 2, so I adjusted the stage-2 screw one last time. This time, I didn't take the action out of the stock. The small Allen wrench used on these 2 screws (a .050-inch wrench is used for both stage-1 and stage-2 screws) is small enough to reach through the triggerguard and fit into the socket of the screw.
The final adjustment took another half-ounce off the pull and eliminated most of the creep. I wouldn't call this trigger glass-crisp…but the way it's adjusted now, it's quite good!
Now the rifle is set up for me. Next, I'll shoot it for velocity and decide whether to leave the fill limit at the factory-set 2,500 psi or increase it for more shots. And I may adjust the velocity, depending on what I find.
by Tom Gaylord, a.k.a. B.B. Pelletier
Part 1
Part 2
Part 3
Part 4
Part 5
Part 6
Part 7
Part 8
Part 9
Part 10
Brand new TX200 Mark III. It's very similar to my TX; but the checkering is different, and the line of the forearm is more scalloped.
Today, we'll look at the accuracy of the Air Arms TX200 Mark III at 50 yards. I can tell you that I learned a lot from this test. But that will all be summarized as we go. Let's get started!
I shot the new TX directly off the same sandbag that was used at 25 yards. As you remember, I showed (after much coaxing from you readers!) that the TX shoots as well or better when rested directly on sandbags as it does with an artillery hold. The bag was crossways to the rifle, so the contact with the stock was minimized.
The day was perfect for the test. Not a breath of wind the entire time I was on the line!
The rifle is mounted with the AirForce 4-16X50 scope, which was selected so I could conduct another test for reader Duskwight after the regular test was completed. This scope is clear and sharp; and at 50 yards, I was able to bisect the small bullseyes with the reticle.
Sight-in
The rifle was still zeroed for 25 yards, so it had to be adjusted for 50 yards before anything else could happen. The first shot landed 3-1/4 inches low and 1-1/2 inches to the left. It then took another 2 shots before I was reasonable on the target. Then, I fired the first group with H&N Baracuda Match pellets. Ten landed in a group measuring 1.562 inches. It's a fairly round group, but not as small as I would like from this rifle. So, I switched pellets.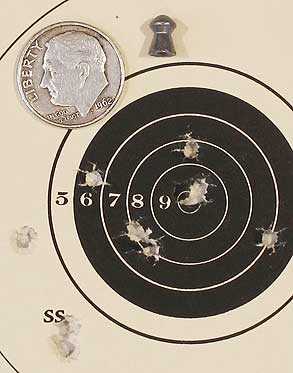 Ten H&N Baracuda Match pellets made this 1.562-inch group. It's a bit large for a TX200.
JSB Exact Monsters
Next I tried some JSB Exact Monsters, which weigh 13.4 grains in .177 caliber. They went all over the place. When I went dowrange to retrieve the target, I saw that they were tumbling or yawing. They must be too heavy for the velocity the TX is able to generate.
Crosman Premier heavy
The third pellet I tried was the Crosman Premier heavy. I meant to bring Crosman Premier lites, but I grabbed the wrong box when loading up for the range. Fortunately, the heavy pellet was wonderful! Ten of them gave me a group that measured 0.658 inches between centers — or about as good as a top-flight PCP can do at the same distance! This is phenomenal accuracy for any air rifle at 50 yards!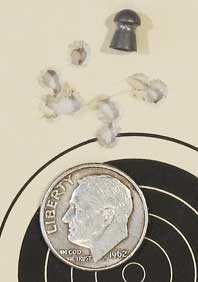 Ten Crosman Premier heavies went into a tight 0.658-inch group at 50 yards. This one is a screamer!
First lesson learned
The new TX200 Mark III is every bit as accurate as my TX that's well broken-in. No accuracy has been lost over the years, and the rifle can shoot this well right out of the box!
With lesson one under my belt, I adjusted the scope to lower the point of impact and moved to the next bull. The first shot landed where the last group was, then the pellets moved to the new sight adjustment.
Second lesson learned
Some scopes have stiction. After adjusting them, it's best to shoot a couple shots to vibrate the reticle to its new location. I knew that, but made the mistake anyway. So, I've included the first shot, along with the group, to show you what it looks like. If this group had been as small as the one before, that first shot would really stand out. But I lost my concentration on this one and wasn't holding the rifle as softly as I might have. This group of 10 measures 1.435 inches between centers, which isn't that far from the first group of H&N Baracudas!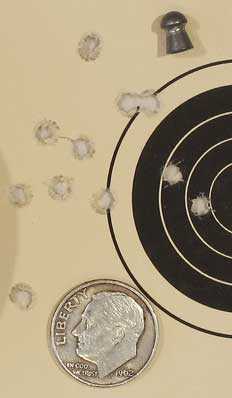 The second group of Premier heavies opened to 1.435 inches. That's more than double the size of the first group! Top hole to the left of the pellet was the first shot, which I disregarded, after the scope was adjusted.
Third lesson learned
While a rifle may be capable of shooting 10-shot 50-yard groups smaller than one inch, it may not do it every time! That small group may represent what the rifle is capable of, but not what it will always do.
Special test
Duskwight, our blog reader from Moscow, asked me to test the difference between a rifle shot with a low-power scope and the same rifle shot with a high-power scope. In other words, does magnification improve a rifle's ability to group?
Well, common sense tells us that it does. Right? I mean, surely, if you're able to parse the target to a finer degree, you must be able to group your shots closer together. Right? That's what this test will determine.
That's why I used a 4-16x scope on this rifle. I'd been shooting with 16x to this point, so now I dialed the power back to 4x and shot another group.
Wow! At 4x, the intersection of the crosshairs almost completely covers the small bullseye at 50 yards. As I shoot, I'm almost certain how this test is going to turn out. And it does. Ten shots on 4x with the same Premier heavy pellets landed in 2.208 inches. Looks like I was right about what low magnification would do.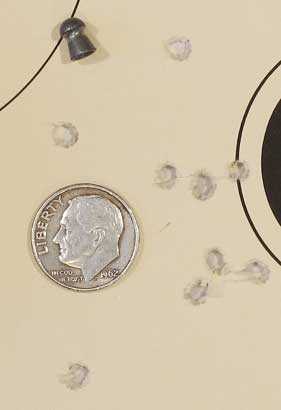 The third group of Premier heavies — shot with the scope set to 4x — was 2.208 inches between centers at 50 yards. That's quite a difference from the previous group, even though that group was already admittedly large.
But something nagged me about this group. I knew in my heart that I'd not given the rifle my best. I knew this group was going to be bigger than the last one while I was shooting it, so I was even sloppier with my hold.
It probably sounds like I need medication to suppress my dual personalities while at the range, but I assure you I'm not talking to myself — at least not loud enough for others to hear. What I'm doing is a little soul searching while I'm still out at the range and have the time to do something about it.
I adjusted the scope back to 16x and shot another 50-yard group. This time, I did everything the way I should have. The hold was completely relaxed. I fully expected to be rewarded with another of those sub-inch groups, but that didn't happen. This time, I shot a 10-shot group measuring 1.935 inches between centers. Oh, well! I was probably tiring out from all the concentration.

Ten shots at 50 yards with the scope set to 16x netted this 1.935-inch group.
Fourth lesson learned
Sometimes, you just can't will the results to happen the way you would like. I put my whole heart into this group, and this is what I got. Maybe that's what it feels like to be 66, dried-out and ready for the old-folks home!
Fifth lesson learned
I called that first great group of Premiers a screamer. Now you see why that is.
Nevertheless, I owed it to Duskwight to try the rifle on low scope magnification one more time, and this time to do my very best. So I did. This time, 10 pellets went into a group that measures 1.481 inches between centers. That's right, it's SMALLER than the group shot on 16 power! I noticed that the bull was just visible behind the crosshairs; and if I really tried, I could hold on the target in exactly the same way every time. Apparently, I did, because this group fired on 4x is smaller than the previous group that was fired on 16x.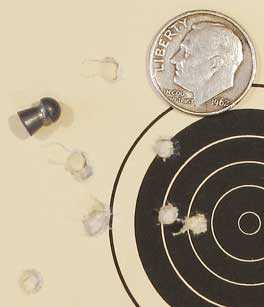 Ten shots at 50 yards with the scope set to 4x made this 1.481-inch group.
Sixth lesson learned
Although it isn't conclusive, it looks like you can shoot just as accurately on low scope magnification as you can on high magnification if you take the time to do things right.
Seventh lesson learned
Looking at both groups fired on 16x and both groups fired on 4x, it sure looks like the point of impact never changed! Some of you have asked about that in the past. The design of the scope determines whether the impact point will move when the scope's power is changed, but these days a lot of variable scopes stay right where they were when the power's adjusted.
Eighth lesson learned
Of the five groups fired with Premier heavy pellets on this day, only one is smaller than one inch. And it's significantly smaller! When you see those great groups in the future, you must ask yourselves what the rest of the groups look like.
Ninth lesson learned
I may be old and dried-out, but I can still shoot — a little. I get tired as the shot count increases, so that needs to be factored in to my tests from now on.
Summary
I'm very pleased with what this new TX200 Mark III has done so far. I think the rumors that the TX quality may have slipped are just that — rumors! Individual guns may have problems; but overall, the TX200 is one fine air rifle. Next, I plan on mounting a red dot sight and testing it for accuracy, again, to see what the differences are.
by Tom Gaylord, a.k.a. B.B. Pelletier
I was getting ready to go to the range yesterday to shoot several airguns for this blog. When I go to the range, I usually try to take a couple of firearms along, just to justify the time and inconvenience of loading the truck and driving all the way out there. The range doesn't cost anything, but the time spent getting there, setting up and getting back home again seems like an expense.
Anyway, I decided to take my Desert Eagle .357 Magnum pistol along this time, to find a good long-range cartridge for it. Up to this point, I've just function-fired the gun for a couple hundred shots or so at shorter distances because I read on the internet that this gun is unreliable with lighter bullets. Well, I've shot only 125-grain bullets that are considered light for a .357 Magnum, and to date the gun has never malfunctioned once. So, that much of what I read turned out not to be true!
Monday morning, I'm was online looking for some good accurate loads, and this is what I found:
"I don't own a Desert Eagle .357, but I have read that they are unreliable boat-anchors. They are way too heavy and they recoil too hard! I don't need that. They also cost three times as much as my Taurus wheelgun. Why would I spend that kind of money, just to have a gun that jams?"
So, you DON'T own a Desert Eagle? Then why are you commenting on its performance? I'm all for open discussions; but when you don't have any experience, why not just say what you've heard and ask whether or not it's true?
I DO own a .357 Magnum Desert Eagle and here are the facts. They DON'T kick very hard. They feel about like a 1911 pistol shooting Plus P ammo when they shoot full-house .357 loads. And they DON'T malfunction! At least mine has never failed to feed — ever! They ARE heavy, but I don't find it debilitating to carry a 5-lb. pistol from my truck to the firing line — a distance of about 20 feet.
Then, I found another website with guy who lists all the factory ammo brands that don't work well in his Desert Eagle. Excuse me, but who said anything about shooting factory ammo? I reload! Why would I care if one brand that does function costs more than another brand that has feeding failures? I'm going to make up loads for my gun that ALL WORK. Who buys an expensive handgun like a Desert Eagle and then shops in discount stores for the cheapest ammo? That's like going to a 5-star restaurant and looking for their dollar menu. If you want to save money so bad, cut a slot in your head and become a bank.
Finally I find the worst one of all. I swear I am not making this up:
"When I shoot targets, I shoot Winchester White Box (a type of commercial ammo) in my DE. It's the cheapest stuff I can find locally. I used to shoot some Lapua imported stuff that was really accurate, but it cost a lot more than the U.S. stuff. I can't tell you how accurate any of this is, but most of the really hot stuff cycles the action fine."
WHAT!!??
Is the last writer shooting his gun just to hear the sound? Is it News Year's Eve and this is his noisemaker? What is he doing? He says he shoots targets, but he can't tell me how accurate any of the ammo is. Is he closing his eyes when he shoots? Does he just shoot at the targets and then never looks to see if he hits them?
Applying this to airguns
I know what this guy is really trying to say, but he can't find the words. He's saying that he uses his Desert Eagle as a bragging-rights gun, and he doesn't care how accurate it is. He doesn't shoot it to hit things — he wants to be seen shooting it and to be able to tell his buddies that he shoots a Desert Eagle.
I've seen enough guys like this at the range to know what I'm talking about. A couple weeks ago, a man at my range was warning everybody on the line that he was about to shoot a .300 Winchester Magnum, and everyone should be careful of the blast! When he shot his rifle, it was anticlimactic because the guy next to me had been shooting a 7mm Remington Magnum for the previous hour that made just as much noise. But Mister Win Mag wanted to be noticed, and he needed to draw attention to the fact that his rifle was a tactical nuclear weapon!
And this is how it applies to airguns. These same folks buy those 1,600 f.p.s. breakbarrel cannons and shoot ultralight lead-free pellets in them. If they do shoot at anything specific, they aren't paper targets — they're probably metal plates. Then, they can determine how much mild steel their pellet gun is able to penetrate, and at what distance.
Everything they do is a weird science experiment. They're the ones who wind up on You Tube with blood pouring out of their ears while their friends laugh maniacally in the background.
That's not airgunning! That's being back in the fourth grade and trying to light…well, you know what I mean. And if you don't, you're probably still doing it. And you aren't reading this blog, either, because people like that don't read much of anything longer than the label on a beer can or a juicy tweet on Twitter.
I shoot airguns to augment my shooting experience. And the point of that experience is to maintain and perhaps improve my shooting skills. Small groups are important to me, but so is standing on my feet and shooting the center of a target offhand — as I have done in front of witnesses several times.
I'm in this game to place my shots where I call them, or to know that I haven't whenever something goes wrong. I'm in this partly to keep my shooting skills sharp and partly to find guns and pellets that can shoot better than I can.
And that's what's behind all my reviews. Sure, I like a nice trigger; but without accuracy, a good trigger is like a rusted-out car that has a deep, resonating tone coming from the tailpipe. HEY — I once owned a VW bug with a stinger exhaust that was just like that! It sounded like an expensive sports car and ran like a model A Ford delivery truck.
So, manufacturers, I am warning you here and now — send me your guns and you can expect me to shoot them for accuracy first, and all other things second. I will use every trick I know to make your guns shoot well…and with luck, they will. But if they don't after I've exhausted all attempts to the best of my ability, you can expect me to tell everyone about how it really performed.
So, send me your mega-magnums. Just make sure they're also accurate. Send me your gilt-edged light sabers, but expect me to turn them on and attempt to use them. I can put up with a lot of things when I shoot, but missing the target because my gun is throwing curveballs isn't one of them.
The lesson of the wise barber
The wise barber said you can cut a man's hair every month, but you can only scalp him once. Marketing departments and airgun manufacturers need to internalize this wisdom because putting a bone-jarring air rifle into a customer's hands may be the ticket to losing him forever. On the other hand, give him a gun so good he'll want more, and you have created a loyal customer. His business won't just be worth the $300 he spends today, but tens of thousands of dollars that he'll spend with you over the next 40 years as he enjoys his hobby.
by Tom Gaylord, a.k.a. B.B. Pelletier
Today, I'm testing the Crosman MTR77NP scoped air rifle for accuracy at 25 yards. This is going to be a very different accuracy report, for I have no targets to show you. Well, there is one target, but it wasn't shot with the test rifle.
What gives?
In the last report, I mentioned that I wanted to mount a different scope on the test rifle and test it at 25 yards. I thought the Bug Buster 3-9x scope would be a good one, and I also shimmed under the rear ring because the rifle was shooting low in the 10-meter test.
I thought the rifle would group about 3 times larger at 25 yards than it had at 10 meters, but I also hoped some pellets might remain tighter than that. What happened, however, was just the reverse. Instead of 3-inch groups I got 5- to 6-inch "patterns." I won't call them groups because not all pellets fired even hit the target trap. And when that happens, I stop shooting that particular pellet immediately.
Crosman Premier lites
First up was the pellet I thought had the best chance to do well — the 7.9-grain Crosman Premier. They had done well at 10 meters with just 2 pellets outside the main group. Had they held to my 3X size increase, they would have grouped into about 2.2 inches; but when the third shot landed 6 inches away from shots 1 and 2, and then shot 4 landed 5 inches from that pellet, I stopped shooting.
I checked the scope mount to see that it was still tight. It was, and I'm pretty sure this scope is a good one because it has done well in other tests on other airguns. So, Premier lites are out.
H&N Baracuda Match
Next, I tried some H&N Baracuda Match pellets. But they were no better. They hit the target lower than the Premiers, and 3 shots landed in about a 5-inch pattern. Then, one pellet missed the target trap altogether. I stopped shooting after that shot, but I wasn't done with this pellet.
I got the Air Venturi Pellet Pen and Seater and deep-seated a couple Premier lites to see what affect that would have. The point of impact changed, but the accuracy didn't improve. And when the third shot missed the trap, I stopped shooting Baracudas.
RWS Hobby
The next pellet I tried was the RWS Hobby, which gave such a nice, round group at 10 meters. Two shots landed together, and I thought we were on the right road; then the next shot hit about 6 inches away from them. The 4th shot missed the trap altogether, and I stopped shooting that pellet.
RWS Superdome
By now, I was in a quandary. Was it me or the gun or the scope? I went back to 12 feet from the target and confirmed that the scope was still shooting to the same point, then I went back to 25 yards and tried an RWS Superdome. I had confirmed at 12 feet that the Superdome would be on paper at 25 yards and the first shot was. It landed high, but in good enough position to keep shooting. The next shot missed the paper altogether and I don't know where it went. That was it for Superdomes.
What to do?
By this point I was really shaken. My confidence was ebbing fast and I needed to end this session on a high note. So I grabbed my Beeman R8 Tyrolean and a tin of Air Arms Falcon pellets and shot a final group of 10 at 25 yards. This one turned out good, as I expected it would. That's where today's target comes from. It isn't the best group I've shot with the R8, but it's a darn sight better than I did with the MTR77NP. Ten shots went into 0.41 inches.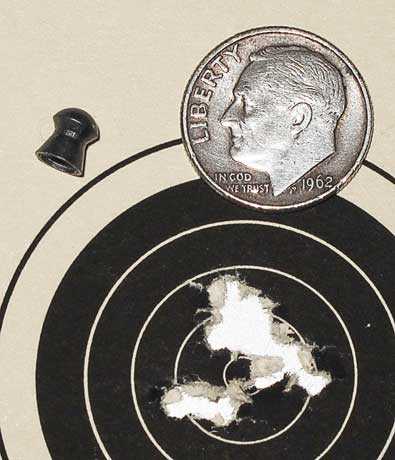 I shot this 10-shot group of Air Arms Falcons with my Beeman R8 Tyrolean, just to confirm that I still knew how to shoot. It measures 0.41 inches between the 2 centers farthest apart.
What's next?
I need some time to think about why this rifle might be performing like it is. If one of you made a report like this to me, I would tell you to check the scope because that sure seems like what it is. But I did check the scope and found no problems. The one thing left to do is to crank the elevation down all the way and all the way to the left and shoot a group. If it tightens up, then it was the scope. If not, it's either the mounts or the rifle.
A little tip
What I did with the R8 today is a handy tip to remember. Sometimes the problem is you — or you wonder if it might be. Shooting a good group with a rifle of known accuracy is the best way to rule that out.
by Tom Gaylord, a.k.a. B.B. Pelletier
Today's report is a guest blog from reader /Dave. It's his first report of a beautiful Walther LG55 he recently acquired.
If you'd like to write a guest post for this blog, please email me.
Over to you, /Dave.
This Walther LG55 is another used gun that I bought from a reputable seller on the Yellow Classifieds. B.B. asked me to share my impressions with you after I received it. For a lot of people here, this well be a repeat of how to evaluate a used gun. Most people here know, or at least have an idea, of what appeals to them before buying a used gun. Some don't like to risk money on a used gun, which I completely understand, having been burned once or twice. For those of you that do take risks, here ya go!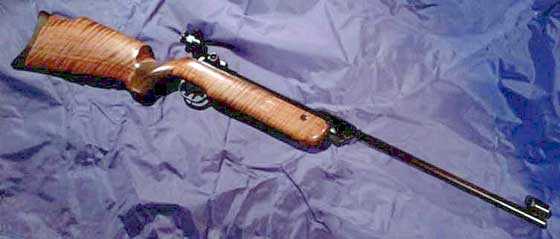 This curly walnut stock caught my eye right away!
After my new gun arrives, I generally give it a once-over, looking for any obvious faults and to find out if I need to do any serious work on it. I was happy to get this rifle after delays by the shipping company. The wait, which is normally pretty hard, was extended by more than another week while the shipper decided where it was really supposed to go. When it finally arrived, I was like a kid at Christmas trying to figure out the fastest way to get my new of gun out of the box and out of the paper, tape and bubble wrap that were quite generously used.
After freeing up the rifle and then unwrapping the rear target site, which had been removed and wrapped separately to prevent damage, I quickly mounted the site and brought it into the bright kitchen light to show off my treasured wood to my wife. She said that it looks alive, like a fish swimming! A great improvement over, "I'm not interested in that stuff"! So, I took off down the stairs with a big grin on my face to my little 9.5-yard range to try it out.


The curl goes all the way through the stock.
Giving the gun a quick once-over to make sure all was in place and not loose, I broke it open and cocked it. Man — this thing is easy to cock! A six-year-old could shoot it if he could hold it up. My old bathroom scale says it takes 18 lbs. to cock, and it weighs about 8 lbs. Even at 8 lbs., it should be an all-day shooter for me!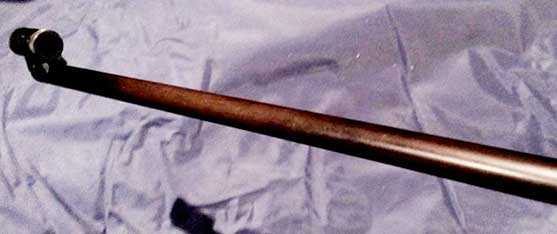 Barrel patina.
I took a couple of shots at about 5 feet and then 15 feet to see if it would stay on the paper and to check function. "Check function"… uh-huh! That's the adult way of saying, "I really can't wait long enough to go over this thing in detail. I gotta shoot it NOW!" Yes, just under the surface, I'm still just a 10-year-old boy!
What you don't see in the pictures is that the stock is scratched up. The barrel and compression tube are about a quarter to a third speckled with surface rust that's not pitted. It's more like the bluing wear from many hands, rather than neglect. Even with these faults, I'm inclined to just treat the whole gun with oil but not refinish it. Most of the scratches in the stock would vanish with a light sanding, but there are a few that would alter the stock's original lines if removed. Since I'm not really a big fan of wood filler and refinishing over scratches doesn't look right, I'll leave it alone. I kind of like this gun the way it looks, anyway. It speaks of a long life of use and enjoyment that would be lost if I dolled it up too much.


One of the worst dents on the bottom edge of the stock. Some of the wood fibers are cut, so I don't think this will steam out cleanly without leaving a hash mark. There are a couple more on the forearm that are as deep.
First results from my Competition Electronics ProChrono Digital chronograph with RWS Hobby pellets weighing 7.0 grains was around 412 f.p.s. Not that encouraging, considering a quick online search finds that LG55 rifles should shoot around 550-575 f.p.s. at sea level. I'm shooting at just over a mile high in elevation, so I don't expect to ever make that 575 f.p.s. mark, but somewhere around 525 f.p.s. would leave me tickled pink! But, the rifle is shooting very consistent within a few f.p.s. around 412, so I added a few drops of heavy silicone dashpot oil to the chamber and let it sit a few minutes.
I checked the breach seal while adding the oil, and it looks like it's in good shape, smooth and standing just a little above the surrounding metal. Tissue paper laid over the breach while firing confirms a good seal. If the tissue doesn't move, there isn't enough air leaking through to matter. No oil spray on the tissue is another good indication the breech is tight.
The oil in the chamber brought the velocity up to around 468 +/- 2 f.p.s. right away with no excessive smoke due to the low power of this target gun. That number goes up more after the gun has set for awhile, then drops back off while shooting. That's still encouraging. Along with the smooth, un-twangy solid thwack when the rifle fires and no grinding with a positive click of the sear falling into place when it's cocked, that tells me the gun probably just needs a new piston seal. The piston seal on this gun is synthetic, so the oil is just a temporary fix/diagnostic tool. It will need to be replaced to regain its velocity potential.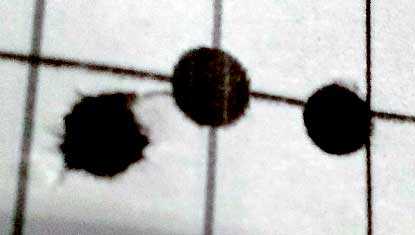 The difference on the target between 500 f.p.s. of the LG55 and 750 f.p.s. from an HW57. A faster pellet cuts cleaner and is much easier to score or measure when your target isn't exactly square to the shooting lane. A slower pellet has more tear-out.
While shooting through the chronograph, I noticed that I'd run out of adjustment on the sight and my groups were still hitting an inch high and to the left. Oh no! Shipping damage? Bent sight? Major tweaking might be needed! Ok, calm down and take a good look at things. First, I sight along the compression tube and barrel under a light to see if it's out of line. Looks pretty straight there. Check the sights. Tight and straight. Front sight is straight and the target insert is correctly seated in its notch, so on to the rear. The click adjustments run full travel on the rear peep sight, and it doesn't appear to be bent. The sight base seems to be clamping the dovetails correctly. Hmmmm. Ok, loosen the knurled knob and take off the sight to examine it closely. All appears good, so I centered the adjustments, and the peep is right in the middle. No problem here. More thinking….
I decided to remount the rear site and noticed that there are markings and grooves on top of the rail. I lined up the front of the sight with one of those marks. Ah-ha! The knurled nut now travels much closer to the base when I tighten it. The nut has a collar that extends into one of those grooves, locking the sight in place! After tightening it up, I decided to take a shot at a new target. Nine ring! Another shot. Another nine, breaking the ten ring! Great, that was the problem!
In my over-anxiousness to shoot, I'd missed seeing the grooves while mounting the sight and it wasn't seated properly on the rail. This is what threw off my point of impact. No barrel tweaking or major work other than a seal replacement is required! I've found a source for the seal and some other parts for this old gun at JG Airguns. I may make a seal mod with some Teflon round stock and a quad-seal o-ring (like I did with my TF99) if I can't get this one soon enough.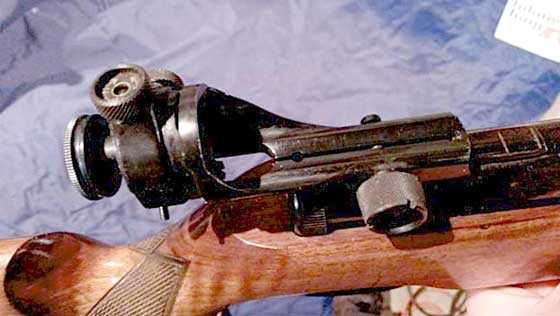 Notice the horizontal lines on top of the compression tube, in between the dovetails. The front of the sight must be aligned with one of these in order for the locking collar (beneath the knurled nut) to slide in and out and secure the sight from sliding.
The trigger has a really long first stage, and there's even a little slop in the trigger blade before it starts. I need to do some more research online for adjustment procedures to see if that can be reduced. If not, I'll leave it as is and just get used to it because it has a light first stage (almost a take-up) followed by a nice, clean, very light and predictable break. It makes the Rekord trigger on my HW57 feel heavy. Definitely not a modern lawyer/liability trigger here!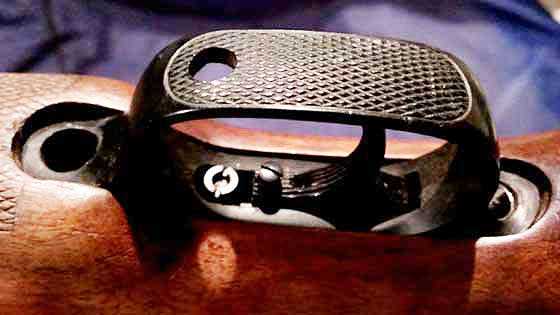 LG55 trigger adjustment screws.
Walther has diagrams of the LG51′s trigger on their website, but I don't think it's the same as the LG55′s trigger. The LG55 trigger is shaped different and has more adjustment screws. I'll need to fiddle around with them to see which one does what, unless someone can point me to the info I need. However, an online search has brought me these drawings that give me a better idea of what's what.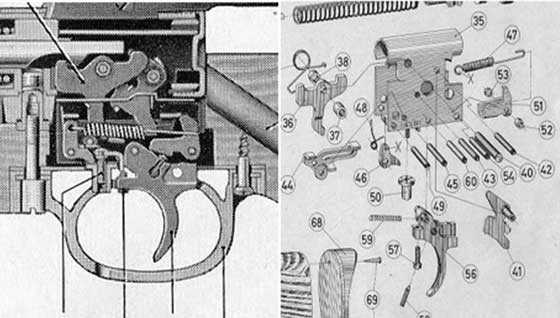 I'm pretty sure I can figure out which screw does what. The only thing that confuses me here is the far left collar (number 50 in the picture on the right), which has click stops when you adjust it…much like a scope turret. Thanks to the kind souls who posted these pictures on the Yellow Forum a while back!
I was curious about when this rifle was made but couldn't find any definitive information from Walther online. From what I could find in the forums from others who've paid Walther for their serial number lookups (and doing a little SWAG), S/N 086xxx tells me this rifle is 50+ years old. So, it was built back in the days when people took a little more time and pride in their work. A time before time studies and efficiency experts set unrealistic bars for production people to meet. But, I digress. I just like old guns!
I would normally run an accuracy test at this point, but I really need to first fix the compression seal to get the velocity back and stabilized. The accuracy and velocity test will be in Part 2. So far, even though I need to do a little work on it, I'm completely happy with this purchase.