Posts Tagged 'B-Square adjustable scope mount'
by Tom Gaylord, a.k.a. B.B. Pelletier
This is an ongoing series about scope questions and issues. Blog reader David Enoch asked for it originally, but many other readers have jumped in since it began. Today, I'll talk about adjustable scope mounts.
First things first
Why do we need adjustable scope mounts? Aren't the scopes, themselves, supposed to adjust? Yes, they are, but 2 things quickly become a problem. First, the scopes don't adjust as far as we need them to; and second, when a scope adjusts toward its upper and right limits, it loses its precision. I will address the second problem because it's really the principal one.
When we look at a scope, we see that it has a range of adjustability and assume that it'll work as it should throughout this range. But that's not the case. Inside each modern scope there is a smaller tube called the erector tube. The erector tube often contains the reticle; and as the tube moves up, down, left and right, so does the reticle. So, moving the erector tube is what moves the reticle.
There is a spring or springs that press against the erector tube, making it press against the adjustment knobs, in turn. That spring has a range of movement it goes through as the tube moves. When the tube is up high or far to the right, then a spring or springs that press it against the adjustment knob or knobs are relaxed and can allow the erector tube to move when the gun vibrates, such as with a shot. This is one of the chief causes for "scope shift." You fire the gun, and the erector tube moves slightly, taking the reticle along with it, of course. On the next shot, the scope will be aiming at a slightly different place. It'll appear that your scope is wildly throwing the shots around.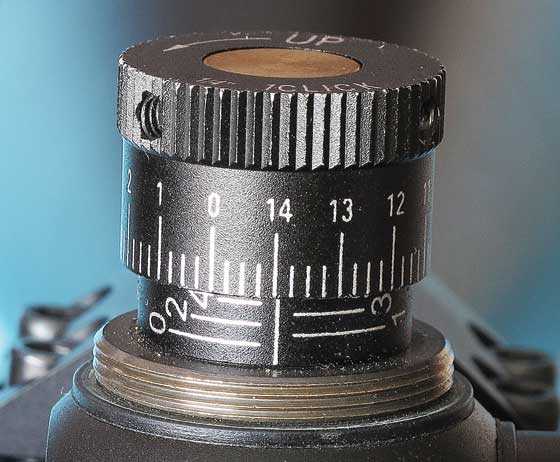 This elevation knob is adjusted up to its maximum limit. I recommend not adjusting it higher than the number 3 line on a scope like this to avoid scope shift.
I tell folks that a good rule of thumb is to not adjust their scopes above the 3/4 mark on the elevation knob or past the 3/4 mark on the right windage adjustment. Some scopes can adjust farther than this without a problem; but the closer you stay toward the middle of the range, the better. If your scope doesn't have knobs like these, you may have to count the actual clicks of adjustment to know where you are.
Is adjusting the scope in the opposite direction (i.e., down or to the left) a problem? No, it isn't. You can adjust all the way until the adjustments run out in the down and left directions. It doesn't hurt the scope, nor does it affect accuracy.
So, the scope that you thought had a huge adjustment range turns out not to have as much as you believed. Yet, your airgun (or firearm) needs more adjustment than you have. How do you compensate for the adjustment you no longer have but may need? With a scope mount that adjusts, of course.
Adjustable scope mounts
The purpose of an adjustable scope mount is to align the axis of the scope in a direction different than the scope base on the gun dictates. If all scope bases were aligned with the axis of the barrel, there wouldn't be a problem, but they aren't. Adjustable scope mounts can compensate for this, leaving the scope's internal adjustments to serve the ballistic requirements of the gun in question.
Up and down, left and right
A barrel can point off from a gun's scope base in any direction, but the most common direction is down. The barrel "looks" down, in relation to where the scope tries to look. The other 3 directions are also possible, with left being the second most common. After that, the other 2 directions happen pretty infrequently.
So, if you're going to need extra adjustments, it will most likely be extra "up" that you need, followed by extra "right." Adjustable scope mounts have to provide extra scope movement in all directions, with up and right being needed most often.
Scope tube integrity
The scope tube is a hollow, rigid tube that must maintain its integrity to keep the lenses in alignment. If the tube were to bend, it could seriously damage or even break the scope. Adjustable scope mounts must either move the scope as a whole without putting any stress on the tube, something that only a 1-piece mount can do; or they must adjust in such a way that when the rear mount moves, the front mount can relieve the stress on the scope tube. Only the B-Square AA adjustable scope mounts were able to do that; and when B-Square sold the company several years ago, the new owner moved the manufacture of the AA adjustable mount to China, where the quality control was soon lost. You cannot buy new AA adjustable scope mounts any more.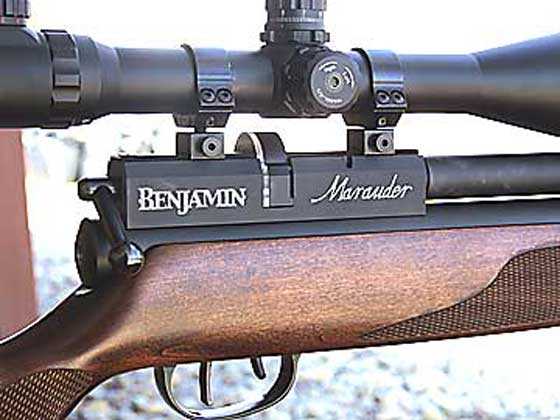 When the rear mount is raised above the front mount, if the front mount doesn't move to compensate, the scope tube will be strained. These B-Square 2-piece AA adjustable mounts have rings that pivot forward to allow the scope tube to remain straight.
Sports Match has 2-piece adjustable mounts on the market; but as far as I can see, they make no provisions for relieving the stress on the scope tube when the rings are adjusted separately for elevation. I guess I need to test them to learn their operational parameters. I don't see how they can avoid stressing the scope tube when the front and rear mount are at different heights, but I'm willing to hold my opinion until I've examined them.
I've tested several 1-piece adjustable scope mounts and found all of them to work well in this regard. Most recently, I tested the BKL adjustable mount and found that it moved well in both directions.
What about precision?
To date, no one has made an adjustable scope mount that adjusts with precision for a modern scope. Such mounts do exist for vintage scopes that have no erector tubes because the entire scope has to be moved by the mount. I have shown you this kind of adjustable scope mount a couple times.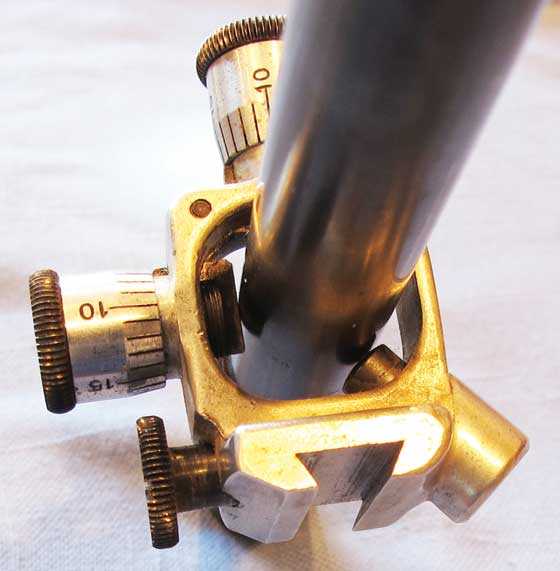 This Unertl scope ring adjusts to move the entire scope. It has the same precision as the adjustments on a modern scope.
Slippage is common with adjustable scope mounts
The most common problem is the adjustable scope mount that does not hold its position. That's why the Chinese-made B-Square adjustable mounts failed. Their screw holes had sloppy threads that tore out under stress, and the mounts couldn't hold in position. So, whatever adjustable mount you get, it must hold its position once it's been adjusted, or it won't work.
And slippage happens soonest on spring guns because of their recoil and vibration. Ironically, spring guns are the very ones that need the adjustable mounts most often. There's nothing that can be done about this, but you must understand that you don't want a scope mount that can't hold its position.
Firearms shooters need adjustable scope mounts more today than ever before. I think that's because modern guns are being assembled faster and with less precision than they were in the past. The thing is that firearms shooters are not as aware of scope problems as airgunners, so they tend to have more of them; and when they do, the problems are harder for them to resolve. I've tried to help people who I knew were having some common problems such as adjusting too high in the scope's range, but they just looked at me like I was crazy. Surely, no scope manufacturer would field a scope whose adjustments were not 100 percent useable?
That's all I have for you today. How about telling me your other unresolved scope issues?
by Tom Gaylord, a.k.a. B.B. Pelletier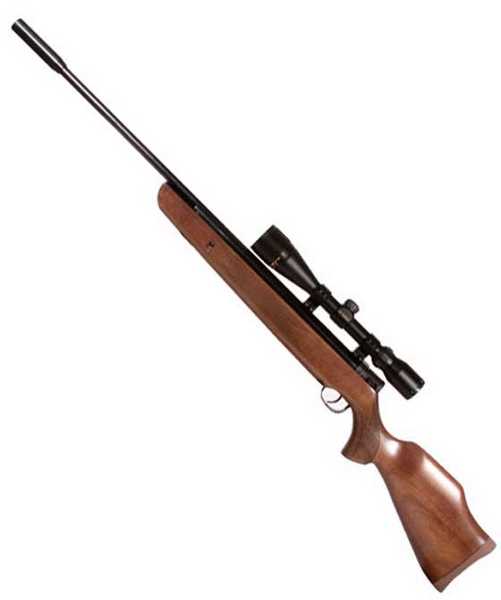 The new Tech Force M12 breakbarrel is a new midrange springer from Air Venturi.
I usually have a handle on the gun by the time Part 4 rolls around. But, today, I'm still stymied by the Tech Force M12 breakbarrel. I'll tell you all I've done to make sure this rifle is on the beam; but when I tell you my results, I think you'll see I'm not there yet.
Big droop!
I discovered in Part 3 that the M12 I'm testing is a big drooper. That means it shoots very low relative to where the scope is looking. For today's test, I installed a B-Square adjustable scope mount that has a huge downward angle to bring the point of impact back up to the aim point. It worked well enough for the test, so I proceeded to shoot several different types of pellets — trying all kinds of hand holds and even resting the rifle directly on the sandbag.
Here's a list of the pellets I tried: (10-shot groups with each)
Beeman Kodiaks
Beeman Kodiak Hollowpoints
RWS Superdomes
Crosman Premier 10.5-grain
Crosman Premier 7.9-grain
JSB Exact RS
JSB Exact 8.4-grain
JSB Exact 10.3-grain
RWS Hobby
Beeman Trophy (an obsolete domed pellet)
Eley Wasp (an obsolete domed pellet)
Best pellet
With most of these pellets, the rifle teased me with several pellets in the same hole — but a 10-shot group that was 1.5 inches and larger. A couple were all over the place and simply would not group at all. The Hobbys were probably the worst.
Only one pellet put 10 shots into 1.038 inches at 25 yards. Those were RWS Superdomes, and the hold was with my off hand back by the triggerguard, leaving the rifle very muzzle-heavy. The rifle was somewhat twitchy but not overly so.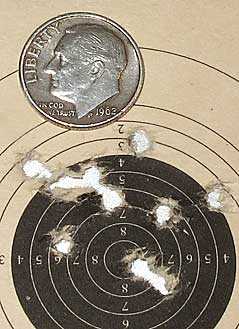 This is the best group I shot in the test from 25 yards. It's 10 RWS Superdomes, and the rifle is rested with my off hand touching the triggerguard.
Encouraging
The encouraging thing about this group is that I didn't have to use a lot of technique to shoot it. I know it isn't as tight as others I've shot at the same distance, and you'll compare it to them, but I compared it to the other groups I was getting with this rifle. In that comparison, this was the best one and it was also relatively easy to shoot.
What all did I do?
For the record, here's a list of all the things I tried to get the M12 to shoot.
Cleaned the barrel
Tightened the stock screws (they were tight)
Installed a drooper mount with a lot of down angle
Tightened the scope mount screws (and they were loose on the B-Square adjustable mount!)
Tried resting the forearm of the rifle:
On my open palm in front of the triggerguard
On my open palm under the cocking slot
Directly on the sandbag
Tried shaking the barrel to test the breech lockup (it is tight)
Tried extra relaxation with the artillery hold — which worked for a few shots, but never more than four
Tried attaching an extra weight to the barrel during each shot (with a large magnet)
So, where are we in this test?
I still think the M12 can shoot because there's evidence of it wanting to stack its pellets. It might be that this is a rifle that needs more than a thousand shots to break in. I've owned a few of those. The Beeman C1 from Webley that I used to own was such a rifle. At first it was a royal beast; but as the shot count passed 2,000, the rifle began smoothing out and transforming into something very delightful to shoot. By 4,000 shots, the trigger was very nice and the gun had no vibration to speak of. It was this very rifle that caused me to give the artillery hold its name, and I wrote the first article I ever wrote about airguns for Dr. Beeman. He didn't respond to my submission, so I saved it and eventually wrote it up in The Airgun Letter.
I wonder if this M12 needs that kind of break-in? That's something I haven't done in a good many years because it takes so much of my time. But it might be interesting to see if the rifle responds to a long-term break-in. I think I've certainly shoot 250-300 shots at this point, because I also tested the gun at 10 meters and one time at 25 yards (it wasn't reported). Maybe I'll rack up some more shots to see how that affects a longer-term break-in.