by Tom Gaylord, a.k.a. B.B. Pelletier
Today's report is a guest blog from reader duskwight. It's about how and why to clean airguns. It's longer than our usual blog posts and filled with lots of info you'll need.
If you'd like to write a guest post for this blog, please email me.
by duskwight
What we put into our airguns — and what it puts into their barrels
Everybody knows we shoot lead. So-called "ballistic alloys" are a poor substitute for it, so let's all pretend that we shoot lead.
Lead is a soft, malleable metal — so malleable that a pellet's skirt blows out when hit by compressed air and presses into rifling. It's also so soft that during the Middle Ages it was used for pencils, as it leaves dark lines on paper or parchment or human hair! Yes, people made lead combs to dye their beards and hair while combing them — they didn't live that long back then, anyway. Remember that, though, and wash your hands thoroughly, especially when you're covered with a lead and oil cocktail, because it's readily absorbed.
So, lead leaves traces of itself on things. Sometimes, it leaves even more than traces — as in whole deposits of lead. Just imagine a lead pencil drawing a line all along the inside of your barrel, and you'll get the picture. Freshly exposed lead is so shiny and bright — it's also quite sticky and shaves off your pellets to form thin (foil-like) deposits inside your barrel. It looks like tiny shavings or scales, pressed and stuck onto the metal.
Of course, that's not all. Some pellet makers use graphite dust to prevent pellets from sticking to each other inside their tins. Some use different types of grease (e.g., tiny amount of petroleum jelly dissolved in a good amount of solvent to form a thin coat after a short wash) to prevent them from oxidizing while being stored. Some use both. There's all sorts of lead dust and tiny shavings of lead coming off pellets. The better the quality of your pellets, the less dirt they bring with them. But they're all dirty. And compressed air, especially in a magnum springer, carries tiny amounts of grease, fat and oil to combust — creating different sorts of tar and carbon for the barrel.
And there's other bad stuff inside, but only for CO2 guys. Carbon dioxide cools as it expands rapidly in the barrel, and it condenses out some tiny amount of water from the air. It can also contain some water of its own. Carbon dioxide plus water is unstable carbonic acid H2CO3 (fizz water anyone?). It is a rather weak acid; however, it's still an acid.
What it means for your rifle or pistol
The rule is simple. You shoot, and you foul your barrel. It's inevitable, just like every breath you take brings some very strong oxidants into your lungs.
Then comes the next rule — dirty barrels tend to make you miss. This is simple, too. Compare it to driving on a highway or autobahn (in case you use German-made barrels) — that's a clean barrel — versus country roads beaten up by tractors and ill repairs — that's a dirty barrel. Deposits in your barrel make your pellet's ride unstable. What's worse is when the deposits collect near or on the crown. They force the pellet to leave your barrel with an unequal force on all sides, making it prone to tumbling, less stable and imprecise. They can also deform or mar the surface of your pellet, affecting aerodynamics and hurting accuracy.
Match-grade barrels with polished grooves collect less lead. Poorly manufactured barrels with "cheese-grater" surfaces scrape off more. Polygonal or segmental rifling tends to catch and hold less lead than classic Ballard rifling because of fewer cutting edges, lower lands and less spaces for lead to stick. The smoother your airgun shoots — the less brute force is applied to the pellet, the less fouling is left. Springer super magnums seem to be the champions of brute force (which makes them lose accuracy soonest). Choked barrels tend to catch more lead in the choke; barrels that are straight cylinders tend to get dirty more uniformly.
The main thing to learn from all this is that there's no certain equation between the number of shots and aforementioned effects. Every barrel and every rifle has its own character and own number of shots to get dirty. For example, my Feinwerkbau C62 Luft needs 2,500 shots to get dirty, while my modified Gamo CFX with Lothar Walther barrel gets 500-520 shots before it needs to be cleaned. My Feinwerkbau 300S likes to be cleaned every 1200 shots (although I suspect that's me being paranoid, not exactly the rifle's barrel). An IZH 60 I have seems to have no limit at all. That's what you get with segmental rifling and low power. However, the same modified Gamo CFX with the same Lothar Walther barrel (except for the wood) I made for my friend wants to be cleaned after every 550-600 shots. And another buddy's FWB C62 wants cleaning after 2,000 shots.
Keep in mind that I use just 4 different types of pellets for my fleet – all of them are .177. Multiply that by the number of rifles — each of them can (and probably will) like its own sort — H&N, JSB, CP, Eun Jin, etc. — and calibers — .177, .20, .22, .25, .30. Don't go crazy doing this. Learn your guns, get intimate with them and know their habits and likes.
Getting dirty
Oh, you'll know when the barrel finally gets dirty! Your perfectly tightened, perfectly tuned and sighted airgun starts to spit like a mad camel! Pellets start to fly chaotically, hitting where you don't want them.
If you're lucky (which means you have a "predictable" barrel), the accuracy fall-off will start sharply — just 5 or 10 shots, and it's shooting horribly. If you're not so lucky, it will drag along for 50 or more shots, with some being better and others worse. Up and down you'll go — getting tighter then trashier groups. Anyway, it will happen. That tells you things got dirty, and it's time to clean.
Some shooters clean after every session. Some clean according to a regular preventive schedule — when the shot count comes to the predetermined number of shots. And others just wait until the inaccuracy gets obvious. I'm somewhere between the second and third type. I don't like to disturb barrels too often.
What we clean
Airgun barrels are made of steel or brass. Steel is tougher, yet it's not the same kind that's used for powder-burners. It's softer and of a simpler composition, not chromed and so on. Brass is even softer and less durable, but it has a lower friction coefficient with lead and tends to collect less lead than a steel barrel.
A good clean airgun barrel looks like mirror — shiny and amplifying light. Dirty barrels look dusty, and their insides look smoky and blackened. Some even drop lead dust when shaken.
What to use for cleaning — and what not to
The rule in this case sounds like that – nothing can enter the barrel that's harder or as hard as the barrel metal. The worst thing that can happen to your barrel is a damaged crown. That's a death sentence for your barrel's accuracy.
So, steel rods and steel brushes go directly to trash for both steel and brass barrels. [Note from B.B.: Some gunsmiths recommend a one-piece polished steel cleaning rod for cleaning steel barrels. They claim it doesn't harm the barrel because it's smooth.]
Steel rods coated with plastic are good. Brass rods are good for steel, but not for brass. Wooden rods — if you can find one in .177 caliber — are ok. Plastic rods are ok too. Different kinds of cloth "snakes" are also ok.
Brushes are usually made of one of three materials — brass, plastic or cotton (they call the cotton ones mops). Brass on brass doesn't play; save it for your steel barrels. The rest are OK.
Patch-holding tip — get a brass one for steel barrels and aluminum alloy for brass barrels.
Felt patches — I use them for quick cleaning or refreshing the barrel on the range. I load 2 dry with 1 wet between them, and a pellet behind all of it to give a springer something to push against and save the optics — or nothing in case of a PCP. But that's not proper cleaning, no matter what the ads say.
Thin cotton cloth — clean old t-shirt is quite ok; special wads are too posh for true tough guys (any dry cotton is OK).
As for oil — I prefer Ballistol. Nothing too special, and it does the job right. I also use WD-40 for CO2 guns — as a preventive to get rid of water.
A word of caution about oils. Make sure they don't get into any place where there's compression, especially when it comes to sprays. In the case of springers, they can cause intense dieseling — or even detonation — and broken seals and springs. In the case of single-strokes or multi-pumps, you can get yourself a very nice tiny working diesel engine — and some purple-black blood-blistered fingers for your troubles.
Do not use silicone oils. Just don't — they're simply not for cleaning metal. [Note from B.B.: Silicone oil is used to seal pistons. It doesn't lubricate, it seals.]
Ah, and one more thing. You need a tiny and very bright single, white LED flashlight to check the barrel's condition. This is a useful amateur gunsmith tool.
Getting things done
Brass barrels are exotic these days. If you have one — use a plastic brush.
Steady your rifle, preferably in the horizontal mode. The less bend you'll give to your rod, the better.
Close all the glass optics with covers. Should I remind you that your rifle must be uncocked, unloaded, de-pressurized and checked twice for maximum safety?
It's best to clean the barrel from breech to muzzle. Well, I think that's a bit of a superstition. With good equipment and steady hands you can clean it in the reverse direction — and you often have to. Especially, since some guns do not give you easy access to the rifle's breech.
Let's say we have a VERY dirty steel barrel on our hands. Don't laugh — it happens! Put a brass brush on your rod. For brass barrels (they're hard to get this dirty), use only plastic brushes. Spray it with Ballistol to wet the brush.
Drag your brass brush along the barrel 5-10 times. Not fast, not slow — just calm and steady. The brass brush will scratch all the big lead deposits off barrel walls and won't hurt your steel barrel.
WATCH OUT FOR RUBBER RINGS AND OTHER DAMAGEABLE STUFF INSIDE THE BARREL AND PAST THE BREECH.
Now, wait for a couple minutes. Then, screw your patch-holding tip onto the rod. Get some cotton onto it or use a patch of cotton cloth. It must sit tight inside the barrel. Spray some Ballistol to make it wet. Run it 5-10 times through the barrel in both directions. Take it out and say, "Eek!" It should be black with some tiny, shiny flakes of lead.
Change the cloth or cotton and repeat 5-10 times. Aaah…now it comes out dark grey. Change patches again. This one comes out light grey. Change and clean until it comes out white. This alone works fine for regular cleaning if your barrel doesn't tend to get extremely dirty.
Congratulations, you just got yourself a nice, clean barrel. However, you must finish the job.
Use a loosely woven dry cloth or cotton on your patch-holding tip or use a cotton brush to dry the barrel. Don't be afraid. One run will not leave the barrel dry, it will leave just the right amount of oil that you need in metal pores and on its surface. You've heard the expression, "A light coat of oil?" That doesn't refer to a wardrobe choice.
Then, if you like — shoot 3-5 pellets into a pellet trap to season the barrel. This will give you a thin film of lead that gives the barrel its standard accuracy and voila! Your barrel is ready to punch hundreds more precise and clean holes in paper.
For polished match barrels that are not very dirty, I use the method of some Olympic airgun shooters. It puts minimal (well, they are prone to overplaying safe) influence on the barrel and makes things extremely right and tender.
Get a fishing line – very good stuff to clean match barrels. I prefer 0.40mm Japanese line. Get 5-6 feet, fold in two, knot, pass through the barrel, loop outside the breech, knot outside the muzzle. Put a narrow strip of cloth into the loop (in my case — 6″ long, 1/5″ wide, 2 loops for .177), soak it with Ballistol, put the rest of the cloth over your fingers (as fishing line DOES cut!) and just pull steadily and slow. This will drag the cloth through the barrel and clean it. Repeat with wet cloths until it comes out white. Finish with one dry patch. Perfectly clean!
There's another kind of problem with CO2 guns that I mentioned before — water and carbon acid. To maximize your CO2 gun's service life (don't consider it to be just a plinker — FWB and Walther made some Olympic CO2 match rifles, and the Hämmerli 850 AirMagnum is a serious piece even by today's standards), depressurize it and apply some WD-40 into the barrel with a cotton brush or patch-holding tip and cotton cloth after every session. This will get the water out of the pores and preserve it from rust. The same goes for shooting PCPs and springers in misty or high-humidity outdoor conditions.
And a finishing touch — gently rub your rifles steel parts with a soft cloth, slightly wet with oil. Congratulations — you're done!
by Tom Gaylord, a.k.a. B.B. Pelletier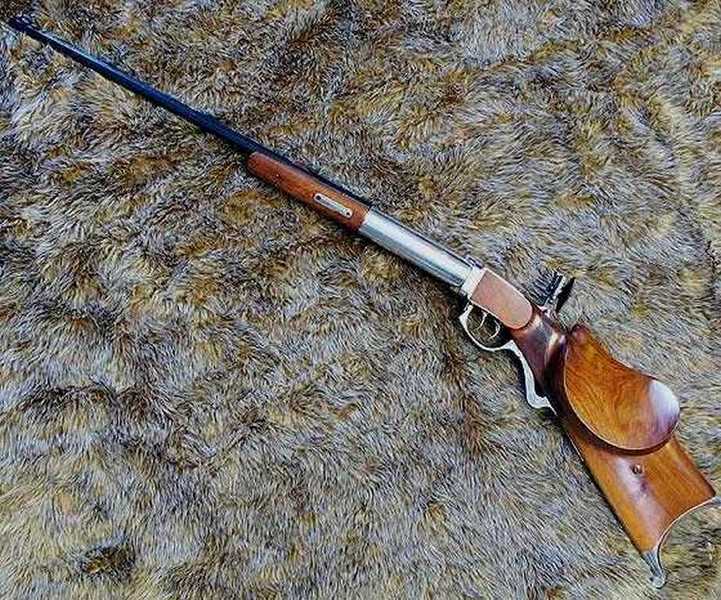 B.B.'s Bugelspanner.
It's been a while since I wrote about this gun, I know. Airgunner Larry Hannusch told me how to disassemble it, and I started…only to stop when I encountered a barrier. I've resolved that barrier, and today I'll show you the inside of my gun to the extent that I've disassembled it.
Larry told me to remove the screws on top and beneath the action that were obvious, then separate the two parts — action and stock. I removed 4 screws, and the action came loose from the stock a little bit. Then, it stopped cold. That was where I stopped working and set the gun aside. Yesterday, I picked it up and began from that point.
A bugelspanner (actually, correctly spelled buegelspanner or bügelspanner since the u has two dots — called an umlaut — over it) translates to a triggerguard-cocker. The triggerguard is pulled down to retract the piston and set the sear for firing.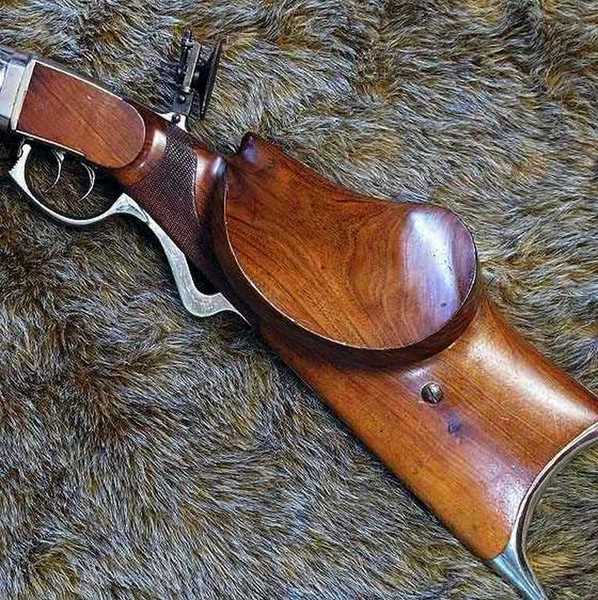 Triggerguard is up in the shooting position.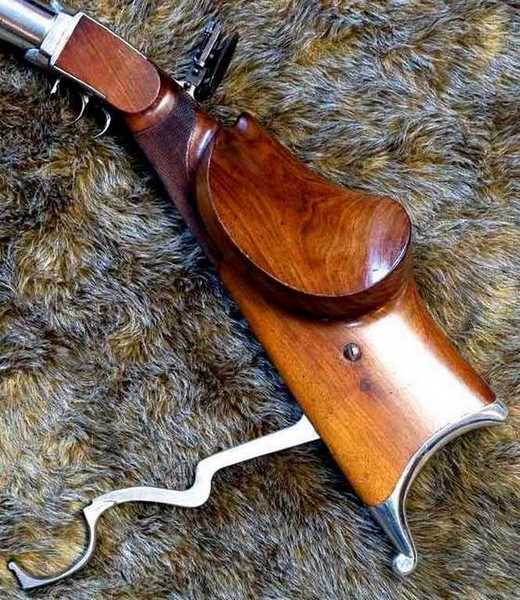 Triggerguard is pulled down to cock the springs.
The triggerguard lever is fastened to a pivoting axle bolt located in the back of the stock. The bolt shows in the photos above. Since this lever is connected to a linkage that's connected to the back of a piston held under tension by powerful mainsprings, it made sense to me that it had to be disconnected from the piston for the stock to separate.
I removed the bolt that screws into a very long bushing inset into the opposite side of the butt. Then that bushing was tapped out the other side of the stock. But the cocking lever wasn't quite free. At the top of the triggerguard lever, the cocking linkage passes through the lever and is prevented from coming free by a small screw that passes through one end of the linkage. I have arranged the two parts and their screw below for you to examine.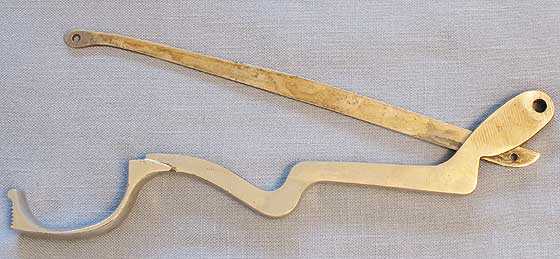 The triggerguard and cocking linkage, arranged as they are in the gun — I think! Until I assemble the gun, again, I won't be sure of the correct orientation of the cocking link.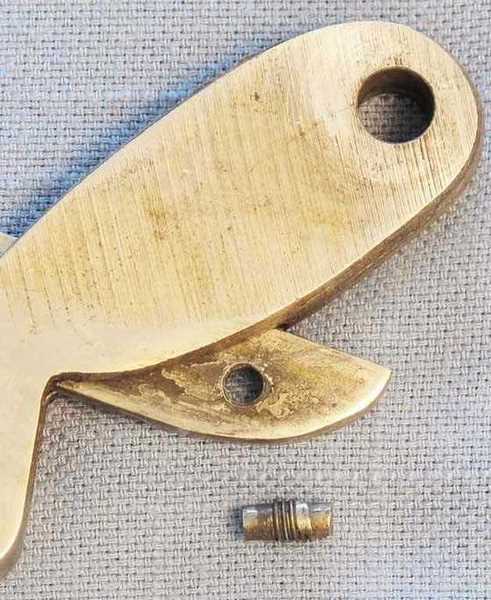 That tiny handmade screw goes through the hole in the cocking link and prevents it from slipping through the triggerguard when the gun is cocked. Notice that it has two smooth bearing surfaces — one on either side. As the gun is cocked, the cocking link moves up and down in the cocking slot that's in back of the triggerguard. It's a moving fulcrum.

This is the triggerguard lever pivot bushing and screw on which the lever pivots when during cocking. Note the smooth band around the base of the bushing. We may assume that's where the pivoting happens.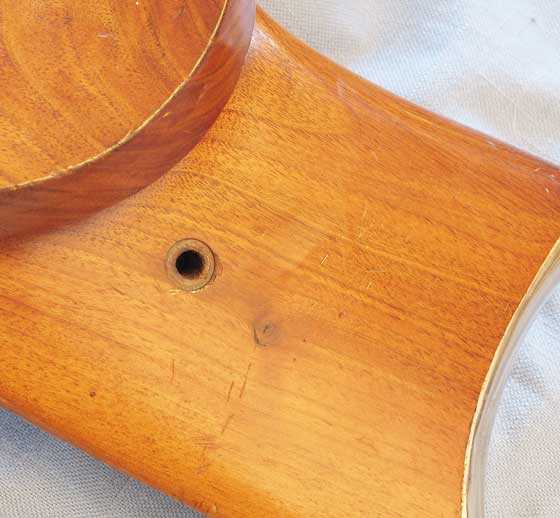 The screw and pivot bushing have been removed from the stock.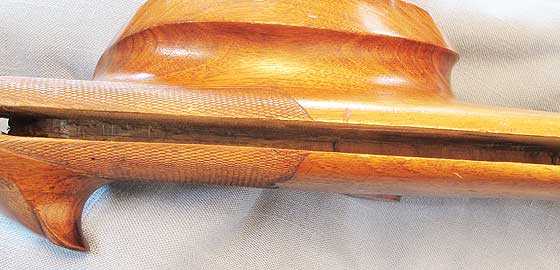 The entire underside of the stock is open, allowing room for the cocking linkage to move.
When I removed the cocking link from the back of the piston rod, I found the screw that attached the link to the piston rod was sheared in two, plus the rest of the screw was very mangled from pressure and work. Clearly, this part is too soft and also overworked.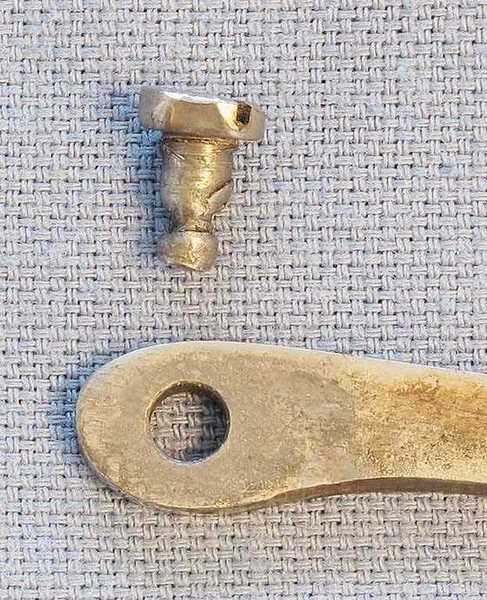 The screw that holds the cocking link to the rear of the piston rod is mangled and galled from too much strain. The threaded portion remains in the back of the piston rod and needs to be removed. This part may need to become a roller bearing.
The first part to come off the gun was actually the top action plate that also holds the rear sight. It is the anchor plate for 2 long screws and one short one that holds the action together. Once they were out, the plate didn't come off without a lot of wiggling and some prying.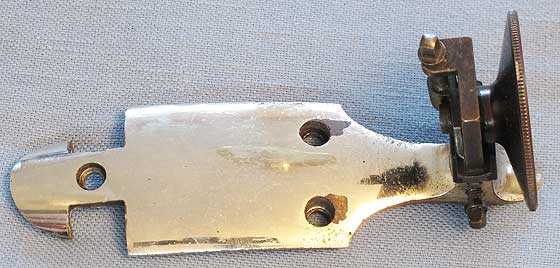 Three screws, and the top plate came off with the rear sight attached.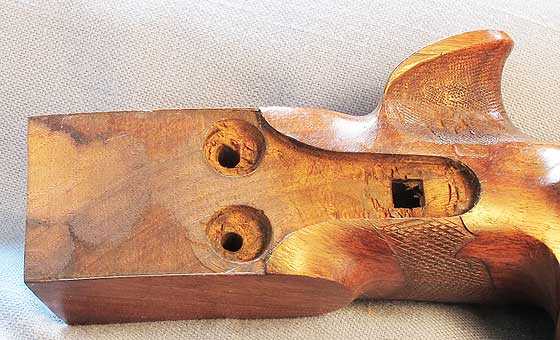 This is where the top plate came from.
The gun is now partially disassembled. The double-set trigger mechanism is exposed and can be disassembled and cleaned, but the piston is still under compression inside the compression chamber that hasn't yet been separated from the barrel. To see the piston and mainsprings, The backplate that the piston rod passes through has to be drifed down out of its dovetail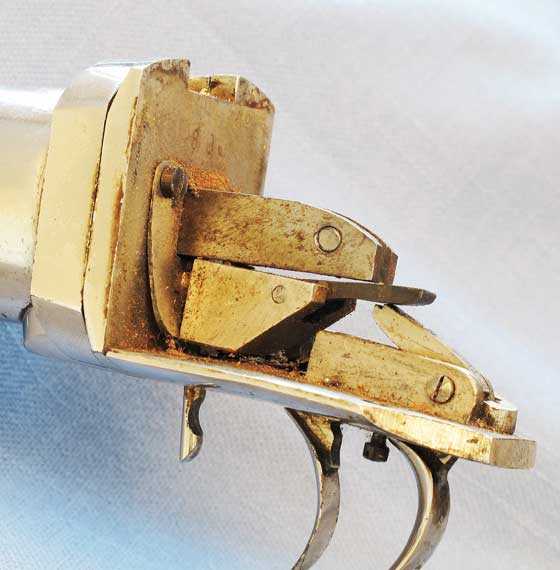 The double set trigger assembly is now exposed for cleaning and possible disassembly. To remove it from the gun, it's tapped down, freeing its front dovetail.


The double-set trigger assembly must now be removed downward from the cylinder dovetail, freeing the trigger plate and back plate from the cylinder and relieving tension on the mainsprings.
I found the number 80 on many of the larger, unique frame parts. I believe that's either a serial number or an assembly number to keep all the parts together because this gun shows a lot of handmade parts and hand-fitting.
When I open the barrel, I see some dark particles that I believe are small chunks of leather that have broken off the piston seal, so it may be deteriorating. And I need to look at the condition of the mainsprings, plus probably lubricate them just a little.
The bottom plate on which the double-set trigger sits is dovetailed into the frame (the rear of the compression/spring tube). It has to be pushed straight down to relieve tension on the mainsprings, and I do this with by tapping with a rubber hammer. The plate comes out of the dovetail easily enough; but the double volute mainsprings are under considerable tension even at rest, and the trigger plate and separate backplate fly off the gun along with the volute springs.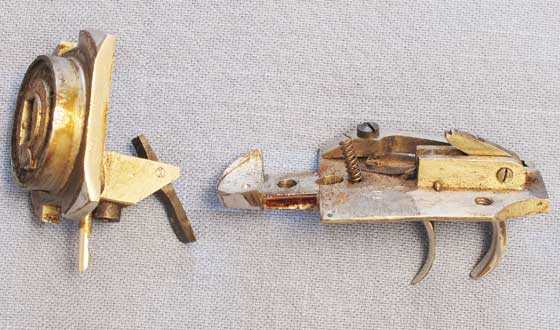 The trigger plate has a dovetail at its front that grabs the rear of the cylinder and holds the powerplant together. The cylinder back plate (left in the photo) is held between the 2 parts. The black part that's flopping down on the back plate is the sear.
The piston can now be withdrawn, and I can see that the leather seal has, indeed, deteriorated. The part that comes in contact with the air transfer port is damaged from repeated impacts. I think I've found the reason the gun fired so roughly.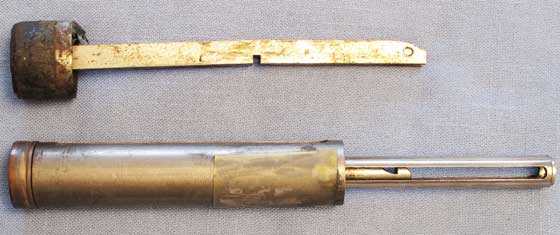 Bugelspanner piston at the top is much fatter than the Beeman R1 gas-spring piston unit below, but the stroke is also shorter. The notch in the bugelspanner piston rod is the cocking notch.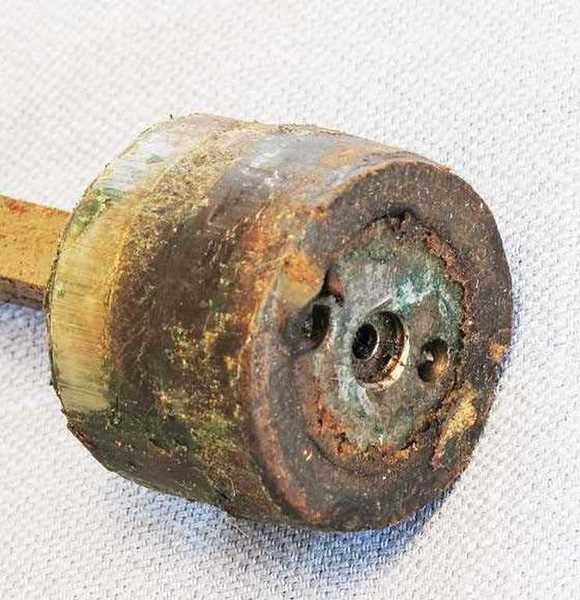 The leather piston seal has deteriorated. It looks okay, but it's crumbling and flaking off. This is why the gun fires so harshly.

Double volute springs attached to a central guide for the mainsprings of the bugelspanner. They're in good condition but very dirty and dry.
The double-set trigger has a weak front trigger leaf spring, which accounts for it not setting well and firing too easily. That will also have to be corrected.
The inside of the compression chamber is filthy, but it doesn't seem to be damaged. A good cleaning is all it needs.
For many of you, looking inside this airgun is probably like looking at the dark side of the moon. So many of the parts appear foreign to your eyes. All that has really changed over the years, though, is how the parts are designed. They work in the conventional way that modern spring-piston parts work, so they must be corrected in the same way that a modern spring-piston powerplant would need to be.
There are numerous major repair jobs that must be undertaken before this airgun will shoot again. There's certainly lots of cleaning, which is followed by careful lubrication of many of the parts.
Some new parts have to be fabricated, as well. That will not be an easy task, but it's worth the effort. I know you were hoping to see a test real soon, but that's not going to happen. I have to feel my way around this gun carefully; because if every job isn't done right, the gun won't work when it goes back together. I'll go about the work methodically and take some pictures as I go, but I probably won't report on the gun again until all the work is completed.
by Tom Gaylord, a.k.a. B.B. Pelletier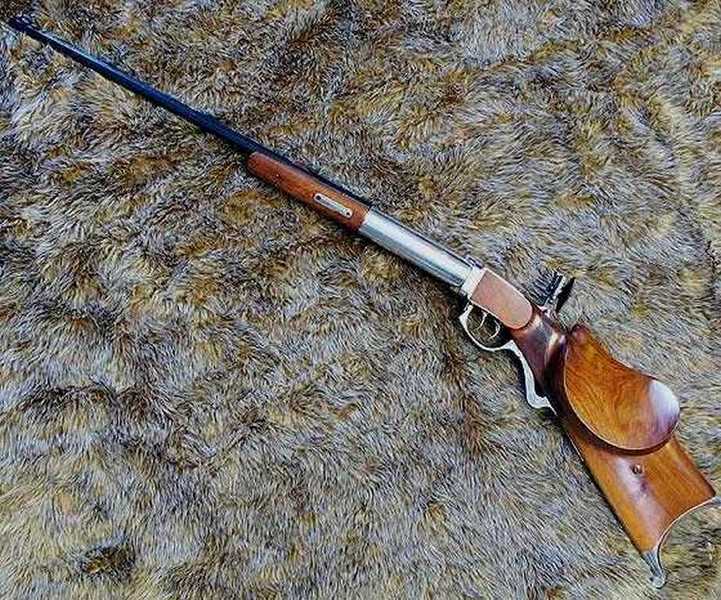 B.B.'s bügelspanner.
Today, I have a story for you. A couple weeks ago, one of our blog readers — a man named Eric — emailed me a link to a local craigslist.com posting. Eric met me at a gun show last year, and I sold him a Winchester model 427 (Diana 27) air rifle. He already knew about fine vintage airguns, and the 27 had been on his wish list for a while, but I don't think he was a blog reader. Well, we fixed that right away! Since then, he's been reading the blog and becoming more familiar with his new rifle and airguns in general
The listing he sent me showed a Tyrolean air rifle with the traditional high-cupped cheekpiece and hooked buttplate. What was even more fascinating were the double-set triggers and the large aperture sight located at the rear of the receiver, as well as the sporting sight mounted on the barrel.
The gun was a bügelspanner, or loosely translated, a triggerguard (lever) cocker. I've owned 2 bügelspanners in the past, but neither was as nice as this one. And the funny thing is that this was posted on craigslist! That's funny because guns are sold on gun websites — not on a general website like craigslist.
But this posting had lasted for a minimum of 2 weeks before I saw it. So, I contacted the seller and, glory be, he still had it! We met last Sunday, did the transaction and this was one of those rare times when the gun was exactly as represented.
The gun is a smoothbore .25-caliber gun. The seller, named Joe, told me he had owned it for the past 34 years and had gotten it at the age of 8 as a gift from his father. The gun is much older — probably dating back to around the 1920s or '30s.
It's a spring-piston gun that has 2 opposed volute springs that compress against each other. They push a leather-covered piston in the same way that a coiled steel mainspring does in a conventional spring-piston gun, so this is just an odd form of spring-piston airgun.

Two volute springs push against each other when compressed.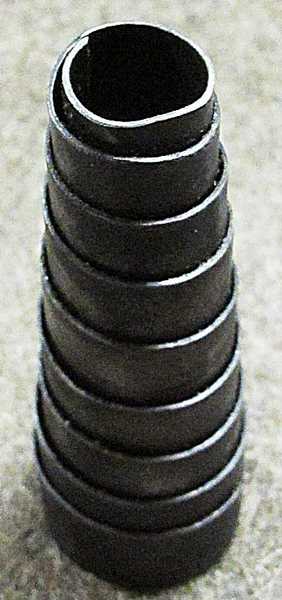 The volute spring is a flat spring that's been coiled and stretched into this shape.
Zimmerstutzen style
I was attracted to this airgun because of a long, abiding interest in zummerstutzens — indoor gallery or parlor guns used for target shooting. I've been fascinated with them since I was a teenager and first read about them in Guns & Ammo back in the early 1960s.
The zimmerstutzen rifle is usually found in the Tyrolean style, but not always. It's nominally 4mm, but there are more than 20 specific calibers for which the guns were bored. They fire either fixed ammunition (a cartridge) or separate ammo with a percussion cap and round lead ball loaded separately. Rather than get into the full description here, I invite you to read my full article about them. I normally don't like giving homework assignments; but if you read that article and look at all the pictures, you'll have a much better understanding of the gun we're examining today.
The subject gun
I was inclined to believe the subject gun is a dart gun, but what little historical documentation there is mentions using pellets as well. I thought it was a dart gun because it's set up for extreme accuracy, and I didn't think that pellets could be that accurate in a smoothbore barrel. But we did do a test of the Diana 25 smoothbore at 10 meters and established that it is, in fact, very accurate at that distance. So, I really don't know if I'm supposed to shoot darts or pellets in this gun. For the present, I only have pellets because .25-caliber darts are not that common. But I could certainly make some.
This type of gun either fits or doesn't fit — there's no in-between. I'm lucky that it fits me pretty well. But that sporting rear sight does get in the way of seeing the front sight. I would have to remove it to use the rear sight.
Why a sporting rear sight? Shooters in the US are not familiar with how European airgunners view target shooting. They use their guns for both precision target shooting and also for sporting use. I guess the best comparison would be to the Hunter Class of field target. Therefore, European target guns often have both a precision rear peep site and a second sporting rear sight located somewhere on the barrel. The subject gun has both.
The front sight is a fine post and bead, which is typical of all zimmerstutzens and, indeed, of many target guns from the 19th century. This sight is very fragile, so it's protected by steel "ears" on both sides.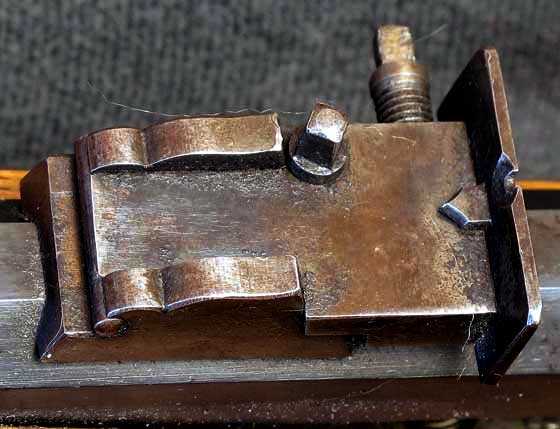 The sporting rear sight is adjusted in both directions by a clock key.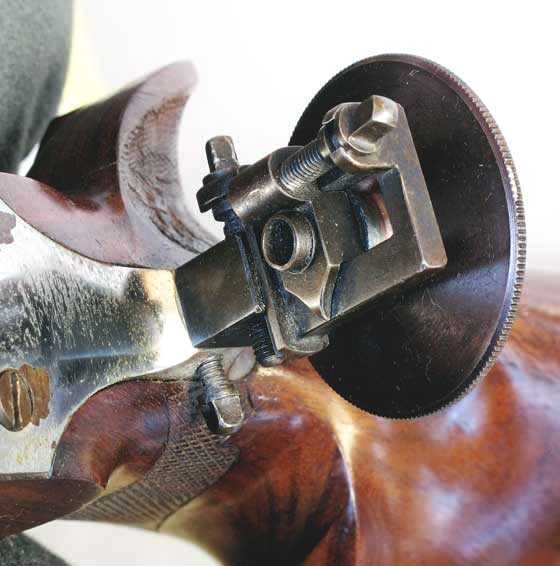 Rear peep sight is also adjust by a clock key and can be removed to use the sporting sight, only.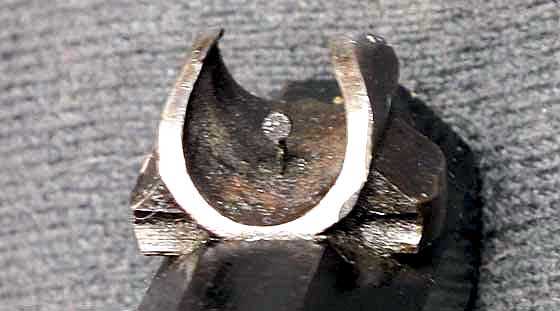 Front post-and-bead sight is delicate, so two steel ears protect it.
The gun has an octagonal barrel, which dates its manufacture to before World War II. It's impossible to get a more precise date than that because these guns were made from the beginning of the 20th century until the early 1950s. The octagonal barrel also suggests a time before 1940. Most likely this gun was made in the 1920s or 30s, but I have no way of proving that.
The name Original is engraved on the barrel. Several sources say that this is a name used by Oskar Will in Zella Mehlis, Germany; but one source says that name, by itself, was used only by his competitors, and all of his guns also have the word Will on them, as in Original Will.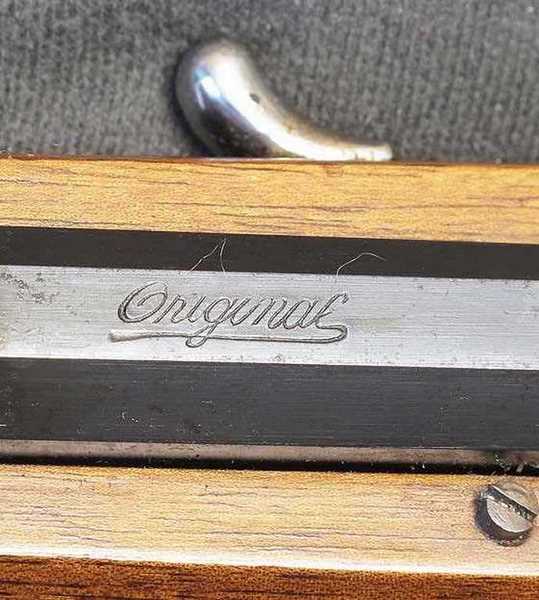 The name Original may mean this gun was made by Oskar Will of Zella Mehlis.
The gun is cocked by pressing down on the triggerguard, which is actually a long lever pivoted near the bottom rear of the butt. You can see the pivot pin sticking through the rear of the buttstock. A linkage pulls the piston back, compressing the two springs. To load the gun, you press a catch forward on the right side of the forearm, and the rear of the barrel can then be tipped up. You could call this a breakbarrel, but the barrel doesn't have anything to do with cocking the springs. In that respect, the gun is like the breakbarrel Whiscombe rifles.
The cocking effort is pretty demanding. It's on the order of 40 lbs., at least. I can't see how a boy of 8 was able to cock this gun, but maybe his father cocked it for him until he grew into it.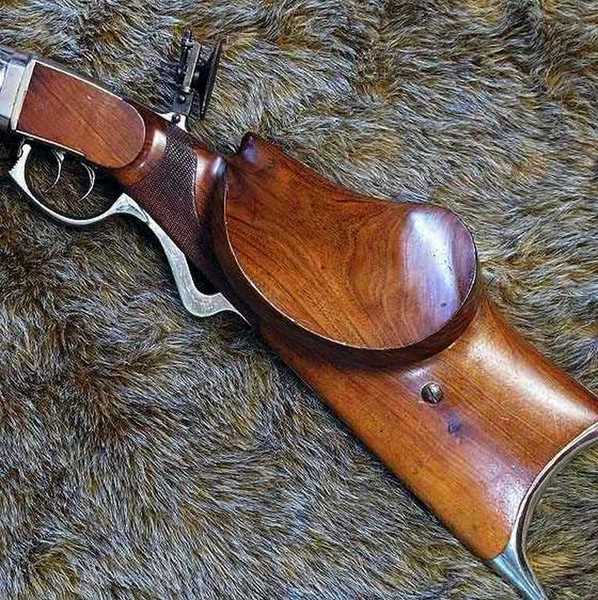 Triggerguard is shown up…in the firing position.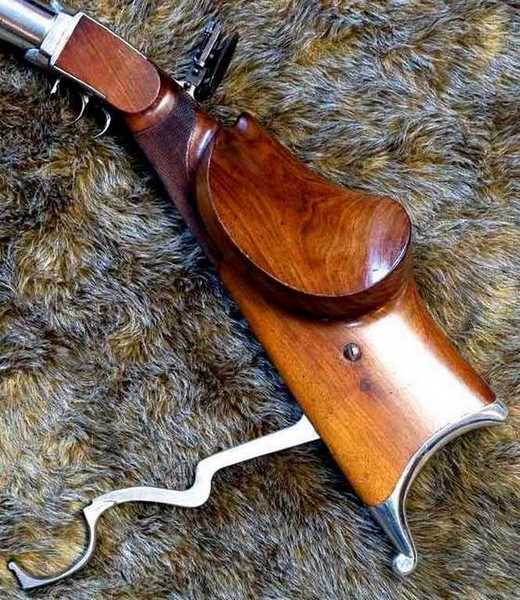 Triggerguard is pulled down to cock the springs.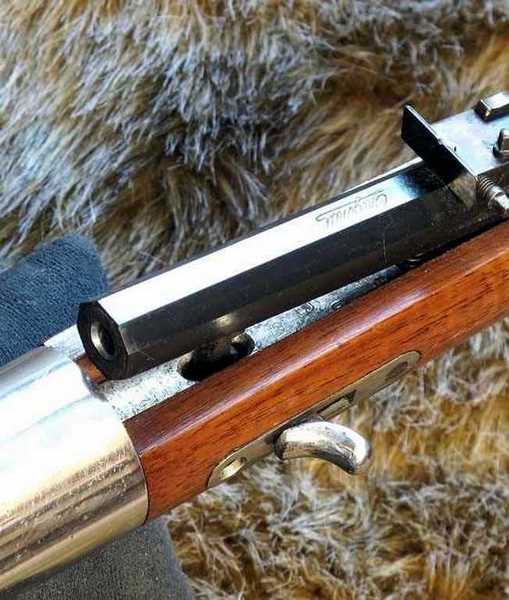 Push the catch forward, and the barrel can be tipped up for loading.
The double-set triggers on this gun are interesting. They work in the normal way — the rear trigger is pulled to set the front trigger and the front trigger fires the gun. However, there's one difference. Many guns with double-set triggers will also fire when the front trigger is pulled without being set. This gun will not. If the trigger is not set, the gun cannot be fired.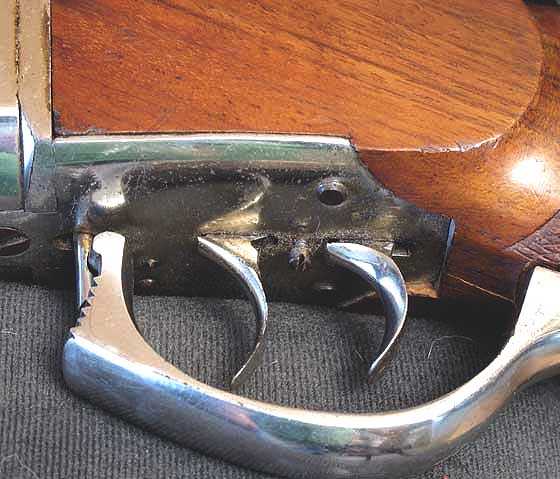 Double-set triggers function normally, except the gun won't fire unless the trigger is set. Many double-set triggers will fire when the front trigger hasn't been set, but not this one.
Joe told me he shot the gun, so I figured it would be okay for me to do, too. First I dumped about 20 drops of 3-In-One oil down the air transfer port and gave it an hour to soak into the leather piston seal. The, I loaded an obsolete 20-grain Diana Magnum pellet and shot it into the trap from just a few feet away. The firing cycle was very harsh, so I won't be doing that, again, until I can examine the condition of the powerplant. I could hear how slow the pellet moved, which leads me to suspect I'm right about this being a dart gun.
The gun is stocked with a light-colored walnut that's checkered on the straight pistol grip. Also typical of the Tyrolean stock is the thumbrest that protrudes from the right side of the grip. That makes this a definite right-hand rifle!

This top view shows how thick the buttstock blank had to be to begin with!
The gun's metal is finished with a combination of heavy nickel plate and hot-tank bluing. I would put the finish at 80-85 percent, which is to say…a lot! There are pepper tracks of rust scattered around the blued barrel, but an application of Ballistol and steel wool has begun to remove them. I'll keep this up for as long as it takes to get down to smooth metal.
The future
This report will not follow the traditional pattern of velocity testing followed by accuracy testing. For starters, I think the gun is too fragile to shoot that much, plus it does fire harshly. I need to find out what's going on inside before I do much of anything.
I made this Part 1 so I could come back to it with a second report, though I have no plans for that right now. But as I learn more about it, there will be enough information to make an interesting Part 2.
by Tom Gaylord, a.k.a. B.B. Pelletier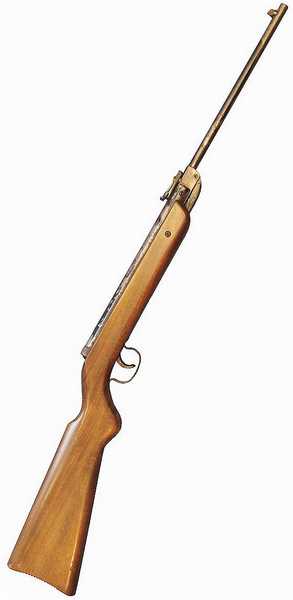 This Diana 23 has led a hard life.
Today, we'll see how accurate the Diana model 23 is. This report was supposed to be published just before the Roanoke airgun show, but so many things popped up at the last minute and got in front of it that I held off on this one til now.
Before we begin, let me give you a little update on the rifle. At Roanoke, Larry Hannush, the owner of all those beautiful ball reservoir airguns, came over to my table and handed me a brand new barrel for the model 23. He had read that I was going to refinish it with Blue Wonder and he thought a new barrel would shorten my time on the project. In fact the barrel of the gun was the only part where rust had done some more serious work. The old barrel would have either had pits in it, or I would have had to draw-file them out. This new barrel solved a problem for me, so thanks, Larry!
I decided to test accuracy at 10 meters because of the small size of the rifle. I selected 3 different pellets for this test, but none of them was the 7.9-grain Crosman Premier pellet. I would like to tell you why. Crosman pellets are made from a lead alloy that's hardened with antimony. As a result, their skirts don't deform as easily as pellet made from pure lead. In a lower-powered rifle like the 23, that means they may not seal all the air behind the pellet.
The second reason I usually don't select Crosman pellets for guns like the 23 is that they're often right at or just under the required dimensions. They work very well in repeaters where their smaller size and harder lead are an advantage. In more powerful guns, their skirts can be blown out into the rifling; but in a single-shot spring-piston air rifle of low power, neither of these things is an advantage. So, I seldom select them for guns like the 23.
Now, let's begin the test. The rifle is rested at 10 meters, and I'm using a classic artillery hold — though as light as the 23 is, it isn't easy to hold this way. I had to grip it more than I would have liked just to control it.
RWS Hobby flush-seated
The first pellet I tried was the venerable RWS Hobby wadcutter. At just 7 grains, it seemed perfect for the power of the 23. I seated these pellets flush, but as I did something in the back of my mind sent up a red flag. After all the testing of deep-seated pellets in air rifles of lower power, I reckoned I had to come back and also try this pellet seated deep.
Ten flush-seated Hobbys went into a 0.792-inch group at 10 meters. The group looks okay, but it's a little on the large side — even for shooting a light rifle with open sights.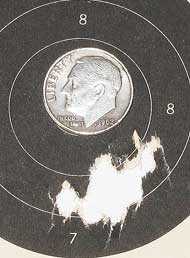 Ten flush-seated RWS Hobby pellets went into 0.792 inches at 10 meters. Not the best group for 10 meters, but a good start.
At this point, I knew I had to try seating these pellets deep in the breech. I was going to give you a link to the one report where I showed that deep-seating improves accuracy with guns of lower power, but some searching turned up about 20+ reports that all show the advantages of deep-seating! That kind of overwhelmed me. I guess I've been doing this for a lot longer than I thought!
The next 10 pellets were seated deep into the breech, using the Air Venturi Pellet Pen and Pellet Seater. Of course, you can also use a ballpoint pen to seat pellets; but this seating tool allows you to adjust the depth to which you seat the pellet, and that can be beneficial.
This time, 10 Hobbys made a group measuring 0.52 inches between centers. Not only was it significantly smaller than the first one, the point of impact shifted up about an inch and the group became very vertical. The gun was definitely shooting this pellet differently, and all that had changed was the seating depth.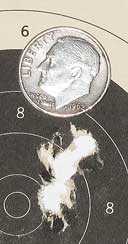 Ten RWS Hobby pellets seated deep into the breech went into 0.52 inches at 10 meters. This is good proof of the need to seat pellets deep in this rifle.
After seeing the results of this test, I decided to seat the rest of the pellets deep. It seems like that's what the 23 wants.
JSB Exact RS
Next, I tried the JSB Exact RS dome. In the velocity test of this rifle, you'll remember that this pellet exceeded both the other pellets in velocity and muzzle energy. I was anxious to see how it did for accuracy. This time, I didn't fool around with flush-seating — I just assumed deep-seating was the way to go. Ten of them went into 0.618 inches.

Ten deep-seated JSB Exact RS domes made this 0.618-inch group. It's not as tight as I'd expected, but it's still pretty good.
Shooting behavior of the Diana 23
Like I said before, the Diana 23 is a light rifle, and holding it with the artillery hold is difficult. On top of that, add a trigger that breaks at almost 7 lbs., and you can see that I was fighting the rifle's physical characteristics for accuracy. When I break down the rifle for refinishing, I think I'll take a look at lightening the trigger. Dropping a few pounds of pull could have a major impact on accuracy.
The rifle does discharge without much vibration. The feel of each shot is very solid and quick.
Beeman Devastator
The last pellet I tried was the Beeman Devastator hollowpoint. I'm aware that Beeman refers to this pellet at a pointed pellet, so I'm showing you an enlarged view here. It sure looks like a hollowpoint to me — and it's designed to perform like one, too.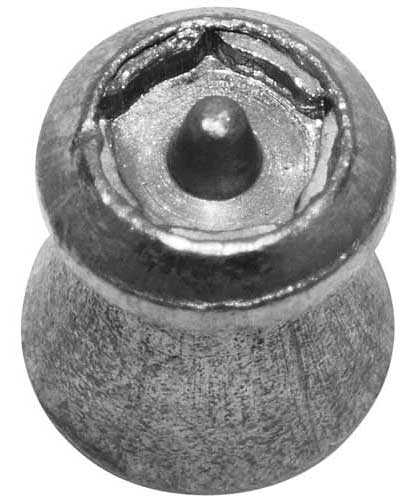 I think the image speaks for itself. The Devastator is a hollowpoint that has a short point in the center. It's not a pointed pellet.
I decided to try Devastators because of how surprising they were in the Pellet velocity versus accuracy test I did back in December of 2011. They proved that vibration and not velocity alone is what destroys accuracy in a pellet. In this test, 10 deep-seated Devastators made a 0.667-inch group, which is on the high side. I don't think this is the right pellet for this rifle.

Ten Beeman Devastators went into 0.667 inches at 10 meters. That's not as good as I would like.
Overall evaluation
I guess I'm surprised by the accuracy potential of this little spring rifle. It looks so small that I thought its performance would also be small. But it wasn't. Of course, I've learned that this one is shooting a bit slow, so maybe there's even more to see. I think this rifle deserves a 25-yard test before I strip it down and begin refinishing.
by Tom Gaylord, a.k.a. B.B. Pelletier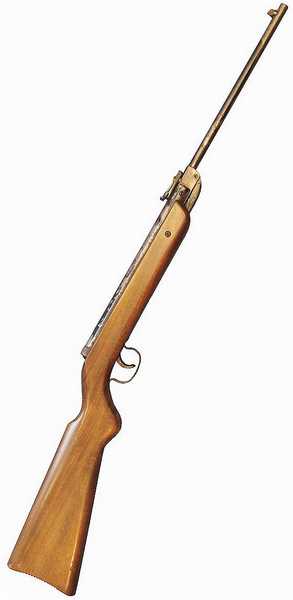 Not as pretty as I would like. This Diana 23 has led a hard life.
Today, I'll test the Diana model 23 for power. I don't know what to expect from this airgun, other than not to expect too much. Certainly, the velocity will be low with a powerplant as small as this one.
Cocking effort
I said last time that the 23 looks like a perfect 3/4 replica of a model 27. Well, that extends to the cocking effort, too. Believe it or not, this rifle cocks with just 10 lbs. of effort, making it the easiest-cocking breakbarrel air rifle I've ever tested. I don't know if the mainspring is in good condition, nor do I know what the piston seal looks like; so, it may be premature to say this rifle is representative of all Diana 23s.
Trigger
The trigger is a direct sear type, with no provisions for adjustment. That's too bad, because even though it's two stage and reasonably crisp, stage 2 breaks at 6 lbs., 14 oz. That's a little high for the best work; and on a rifle this light, it's very high. It will be hard to use the artillery hold as a result of this heavy trigger.
RWS Hobby
The first pellet I tried was the all-lead, 7-grain RWS Hobby. As light as it is, I'd hoped to see the best velocity figures with this one. Hobbys averaged 381 f.p.s. in this 23. The low was 371, and the high was 401 f.p.s. with a spread of 30 f.p.s. I would have thought they'd go about 50 f.p.s. faster, but I'm still getting used to this gun. At the average velocity, Hobbys produced 2.26 foot-pounds of energy at the muzzle. Talk about your pipsqueak air rifle!
Remember that I did oil the piston seal, which transferred oil to the breech seal, as well. This little rifle should be doing all that it can in its present state.
Crosman Premier lite
Next, I tried the 7.9-grain Crosman Premier pellet. I think this one is on the heavy side for such a small air rifle, but we'll see. Premier lites left the muzzle at an average 376 f.p.s. Given what the Hobbys did, I thought that was pretty good. The low was 364 and the high was 389 f.p.s., for a spread of 25 f.p.s. At the average muzzle velocity, the energy was 2.48 foot-pounds.
JSB Exact RS
The last pellet I tried was the 7.3-grain JSB Exact RS dome. What a surprise they were! Looking at the velocity of the Premier lites and Hobbys, I guessed these pellets would be in the same neighborhood, but they weren't. They seemed to fit the bore looser (not loose, but less tight than the other 2 pellets), and the average velocity was 452 f.p.s. That was what I expected from the Hobbys. So, how does a pellet that weighs even more than a Hobby go so much faster? I have to chalk it up to how well they fit the bore.
The low was 449 f.p.s., and the high was 454 f.p.s.; so, the spread was super tight, as well. At the average velocity, this pellet produced 3.31 foot-pounds of muzzle energy — which, while low, is still considerably higher than either of the other 2 pellets. I think this is one pellet I must test in the accuracy report that comes next.
As I mentioned, I've oiled the piston seal and breech seal and also rubbed down the entire rifle with Ballistol. I really don't know the condition of the powerplant, but I suspect that it's not as bad as the outside would make you believe. And the wood soaked up the Ballistol to shine almost like it did when the gun was new.
What I forgot to do
I've already tested this rifle for accuracy, and it turns out we're going to be interested in the velocity of these pellets seated deep — instead of flush — into the breech. We're also going to want to test this little rifle at 25 yards, so there's still time for me to rerun the velocity test.
And then…
After the 25-yard test, I'm thinking of opening up this rifle and seeing the condition of the internal parts. I'm also thinking of stripping all the metal finish and rebluing the gun with Blue Wonder. I think this little rifle will be with us for some time to come.
by Tom Gaylord, a.k.a. B.B. Pelletier
Part 1
Part 2
Secrets of loading the Benjamin Marauder magazine
Part 3
Part 4
Part 5
Part 6
Fixing a Marauder magazine
Part 7
This report is an emotional one for me. The last time I tried to report on the .25-caliber Benjamin Marauder, I became very ill and it took me two years to complete the test. In fact, I never did complete the test myself because I was in the hospital part of the time. My buddy, Mac, drove from his home in Maryland to Texas to test airguns for me so he could bank a lot of data and pictures that allowed me to write my blogs from a hospital bed. Mac is now gone, and I'm starting all over again with this rifle.
I'm revisiting the .25-caliber Marauder because I never really got to test it properly the first time. Also because having tested the .177 Marauder, I felt this big gun needed to be reported at the same time. You see, Marauders are good sellers at Pyramyd Air, and several blog readers asked for this specific report.
There's one more reason for testing this particular Marauder. It's an entirely different rifle than the .177 we've been testing. Yes, all the controls work the same on both rifles and the external dimensions are the same, but a .25-caliber pellet changes the very nature of the rifle in the same way that a one-ton pickup truck differs from a compact truck from the same manufacturer. The .25 Marauder is a BIG air rifle! Big in terms of the magazine and the hole at the end of the barrel. So, this isn't the quiet little sniper rifle we've come to know. This is a hunting air rifle.
I linked to the recent tests of the .177 Marauder simply because I won't be covering all of the same ground here that I already covered there. This report will cover new ground.
The lauan stock
We are fortunate to have a test rifle with the much-maligned lauan wood stock. It may be made from lauan…I don't know, but I've read so many bad remarks about this stock that I was shocked to realize that this test rifle has one. Shocked because it isn't bad at all! It has a nice plain grain. It feels lighter than the beech stock on the earlier .177-caliber Marauder we've been looking at, and it's shaped just as nicely. The checkered areas have grown smaller on the new stock, but the cheekpiece still rolls to both sides of the butt, making this an almost fully ambidextrous rifle. Only the location of the bolt handle, which cannot be changed, favors right-handers over southpaws.
By the way, another name for lauan wood is Philippine mahogany. I've seen this wood used in furniture, and it doesn't receive such a bad rap. It's a hardwood, but it grows fast enough to be a renewable source of wood for many markets, including plywood products. I think the bad reputation comes from the fact that lauan is often used to skin low-quality hollow-core interior doors. People see that these doors can't stand up to outside environments, and they think it's because of the wood used in them. But lauan is not especially weak when used by itself.
I do find this wood to be thirstier than beech when I rubbed the stock down with Ballistol. So far, it's soaking into the pores quite fast, leaving a dry, matte surface behind.
The test rifle has no scope mounted, so I'm taking the opportunity to install a new UTG 6-24X56 AO Accushot SWAT scope that Leapers sent for me to test. I'll give you a separate report on the scope, so I'll just mention it for now. The scope comes with 30mm rings that have Weaver bases, and the Marauder scope rail is for 11mm bases; fortunately, I also have a set of UTG Weaver-to-11mm or 3/8″ dovetail adapters that allow Weaver rings to fit on 11mm rails, so these rings will fit.
Power and setup
I can tell you right now that this Marauder rifle is shooting in the 38-40 foot-pound region, so it's a proper thumper! I know that from the last set of tests Mac ran in 2010. But I plan to run the tests all over, just as if I never tested the gun at all. I probably won't tune the rifle to shoot with less power or at a lower maximum fill pressure because we've already seen how that goes in the test of the .177 Marauder. I do plan to adjust the trigger to be as nice as the one on the .177 rifle, but I doubt I'll say much about that because it's ground we've already covered.
The rifle is set up to work with slightly less than 3,000 psi right now, and I don't see changing that. I'll confirm what the max pressure is, and only if it's several hundred pounds below 3,000 will I make any adjustments.
Accuracy
The accuracy test is where I plan on spending most of my time. There are so few accurate .25-caliber pellets, so I'll do some comparison testing with several pellets at 25 yards. The best pellets from that test will make it to the 50-yard test. I'll modify my 25-yard test to include more pellets than I normally shoot because the world of .25-caliber pellets is so small that we really can't afford to overlook a possible good one.
.22 caliber Marauder
While I test the .25-caliber rifle, I'm awaiting the arrival of the new Marauder with synthetic stock. I hope to get one of those in .22 caliber, which will give me my first chance to test this rifle in that caliber, as well as testing the new configuration stock and the altered trigger.
The rifle
The rifle I'm now testing is 3 years old and was made in .25 caliber from the beginning. The magazine is therefore much thicker than one made for a .22-caliber or .177-caliber rifle. Instead of holding 10 pellets like the 2 smaller calibers, the .25 caliber magazine holds 8.
The rifle's remaining dimensions and specifications are the same as those of the smaller-caliber Marauders. The overall weight will vary with the density of the wood in the stock, but this new wood seems to be less dense than what was used in the past.
When I picked up the test rifle, I noticed that it's still holding a charge of air. The last time it was shot was in April 2012, so how's that for holding a charge?
So, sit back and relax. There's a lot more Marauder coming your way!