by Tom Gaylord, a.k.a. B.B. Pelletier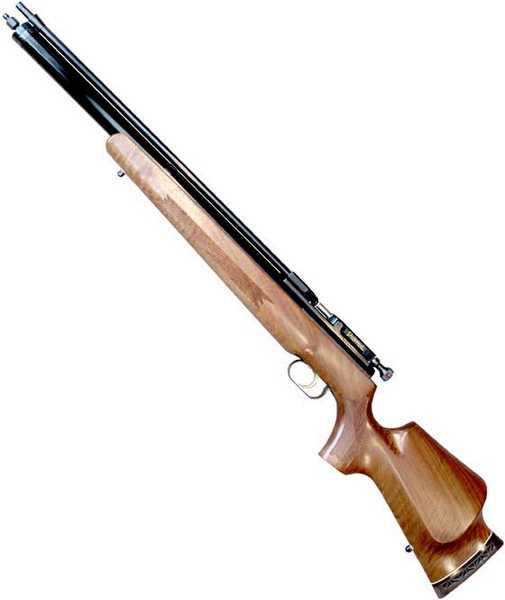 Air Arms Shamal is an attractive PCP. It was Air Arms' first precharged rifle.
This report covers:
• Trigger adjustments.
• Discovering the maximum fill pressure.
• Shot count.
• Velocity with various pellets.
• Discharge noise.
• Loading.
In this report, we'll discover the Shamal's pressure curve, which will be instructional for all who are new to precharged airguns. As I mentioned in the first report, this rifle didn't come with a manual; so when I got it, I had to discover the pressure curve on my own. I did, and it turned out the rifle wanted an initial fill pressure of 2,600 psi. That was on the gauge that was on the fill device that came with the rifle — the device that I no longer have. I need to find out where on the gauge of my carbon fiber tank the needle wants to be when the rifle is full. These small pressure gauges are not that precise, so the number could be off by several hundred psi. Also, the gauge on my carbon fiber tank isn't marked in hundreds of psi. There will need to be some interpolation involved.
More than a decade has passed since this rifle was mine. I'm not sure where it's performing today. So in all respects, this is a brand new air rifle to me. That will benefit you if you want to look over my shoulder while I do what needs to be done.
Trigger adjustments
Before I get into that, however, I first want to address the adjustable trigger. Shamals haven't been around for a long time and there isn't that much written about them. I want this report to serve as an owner's manual for all who get one in the future.
The Shamal came with two different triggers — a standard one that my rifle has and an Olympic trigger that sounds more adjustable, but which I know nothing about. My trigger has 4 adjustment screws. From the back to the front (holding the rifle on your shoulder) they are:
1. The sear engagement (clockwise to reduce).
2. The first-stage travel (clockwise to reduce).
3. The first-stage weight (clockwise to increase).
and in front of the trigger:
4. The second-stage weight (clockwise to increase).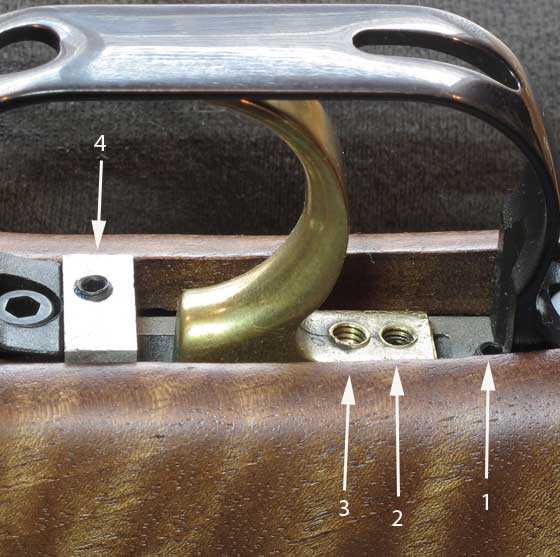 Trigger-adjustment screws: (1) Sear engagement, (2) first-stage travel, (3) first-stage weight and (4) second-stage weight.
When I tested the trigger with my electronic gauge, the firs-stage weighs just under 6 oz., and the let-off was between 12 and 14 oz. The first stage is long, which I like, and the release is as light as I like a trigger to be, so I'm satisfied with this trigger as it stands.
Discovering the max fill pressure
This is something that has to be done whenever a new gauge is used. I had data from previous tests that told me the fill pressure should be 2600 psi, so I filled from my carbon fiber tank to 2750 psi. That gave me the following velocities with the same 14.3-grain Crosman Premiers I used over a decade ago.
Shot Vel.
1     742
2    740
3    748
4    744
5    745
6    746
7    757
8    754
9    748
10   763
11   774
12  775
13   770
14   771
15   —-
16   772
17   —-
18   782
19   782
20   790
21   780
22   801
23   791
24   804
25   806*
26   793
27   800
28   799
29   801
30   —-
31   —-
32   782
33   788
34   778
35   775
36   775
37   769
*Fastest shot
The fill pressure at the end of this string was 1500 psi. This string tells me almost everything I want to know about this rifle. First, the fill pressure I used was way too high. I'll fill the gun again to a much lower pressure and see where that gets me.
Shot count
Next, there are just under 20 good shots on a fill — down from what I thought so many years ago. I like the velocity that runs from 780 to 806 — a spread of 26 f.p.s. Looking at the curve for Premiers, I should start with shot 18, although the shot before that didn't record, so I can't be certain whether it was any good or not.
If I end the string at shot 34, I'll get 17 full-power shots close to my desired range. What should the starting air pressure be? That's solved easily.
I'll guess that 2350 psi is the start point. I filled the rifle to that pressure and got the following results.
Shot Vel.
1     773
2     770
3     774
4     781
Okay, as the pressure inside the gun has decreased with each shot, the velocity has increased. The last shot was 781 fps, which is as low as I want the velocity to go on the power curve I'm willing to accept. The gun's reservoir pressure has now dropped to the maximum pressure that will give me a velocity on my desired power curve (781 fps).
The velocity of 781 is at the bottom of the power curve that I have identified for this rifle. Since my last shot was 781, the rifle is now on the power curve. The pressure in the reservoir is now at the highest it can be and still give me the velocity I want. From this point on, as the rifle's reservoir pressure drops, the velocity will either increase or remain stable. As long as it's at 780 fps or higher, the rifle is on the power curve I'm looking for.
Now I can find the ideal starting fill pressure for my desired velocity range. All I have to do is start to fill the airgun, again. When the needle stops moving fast, indicating the fill hose is full and the gun's intake valve has just opened, I stop the fill by closing the tank's valve and look at the needle. The needle is pointing at the air pressure that is in the gun's reservoir. I can see on the gauge that this rifle likes a starting fill pressure of 2250 psi!
To confirm that I'm right, I fired one more shot with Premiers. It went 781 f.p.s. Bingo! I'm right at the start of the power curve, with at least 16 more good shots in the reservoir.
I also discovered that the rifle performs very much the same as it did long ago. I'm using a different chronograph, yet the velocities from the late 1990s and today are within a few f.p.s. of one another.
The power curve I've accepted gives me an average velocity of 792 f.p.s., which is good for 19.92 foot-pounds of muzzle energy.
Other pellets
I will now test the velocity of other pellets, but I'm not going to shoot long strings and get the averages. I will shoot 2 of each pellet and take the lowest velocity of each pellet as the average for that pellet. While that's not exact, it's far faster than shooting whole strings and averaging. I know I'm on the power band for the next 16 shots; and if I use even fewer than 16 shots (4 pellets x 2 shots each = 8 shots), I can be sure that all of them are on the power band. The power band is the place where the velocity of any pellet will vary the least.
Eun Jin domes
This 28.4-grain Eun Jin dome pellet gave me velocities of 592 and 586 f.p.s. Taking the lower number as the average, I get a muzzle energy of 21.66 foot-pounds.
Beeman Kodiaks
The Beeman Kodiak pellet weighs 21.14 grains and gave me velocities of 683 and 680 f.p.s. That's very close to the "magic" velocity of 671, where the weight of the pellet in grains equals the energy in foot-pounds. Using the low figure of 680 f.p.s., this pellet gave an energy of 21.71 foot pounds at the muzzle.
JSB Exact Jumbo Monsters
Next, I tried JSB Exact Jumbo Monsters — a 25.4-grain pellet. They gave me velocities of 584 and 611 f.p.s. Using the lower number, that's a muzzle energy of 19.24 foot-pounds.
The bottom line is that this Shamal is a 20 foot-pound air rifle as it's operating now. That's what it was when I owned it in the 1990s. So, the rifle hasn't changed, but the gauges have changed and so has my perception of the total number of shots that are available. So, this update was important to the operation.
Discharge noise
I don't know what I was thinking when I reported the Shamal as a quiet air rifle before, but it isn't. It sounds exactly as loud as a .22-caliber Benjamin Discovery running at the same power.
Loading
Someone asked about the loading room at the breech, and on this rifle there's a generous amount. There's no loading trough, so it's easier to get your fingers behind the breech with a pellet. And all pellets load easily because there's no rifling at the breech. Rifling doesn't start until after the air transfer port, which is deep inside the breech. The bolt nose has a long probe that pushes the pellet past the air transfer port and into the rear of the rifling.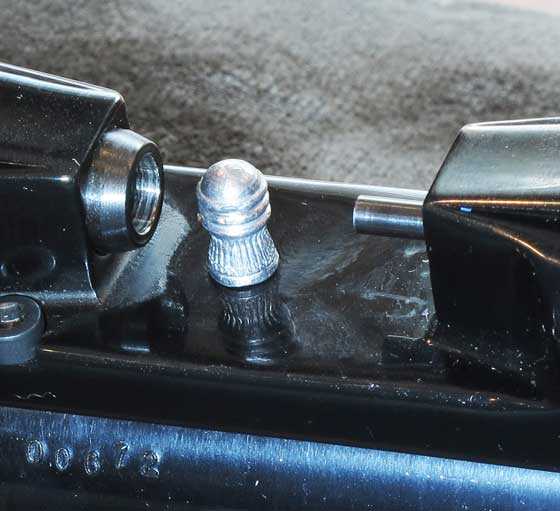 That's a 28-grain Eun Jin standing on the receiver. It's one of the longest .22-caliber pellets around. As you can see, there's plenty of room at the breech.
That's it for this look. Next time I'll scope the rifle and head to the range.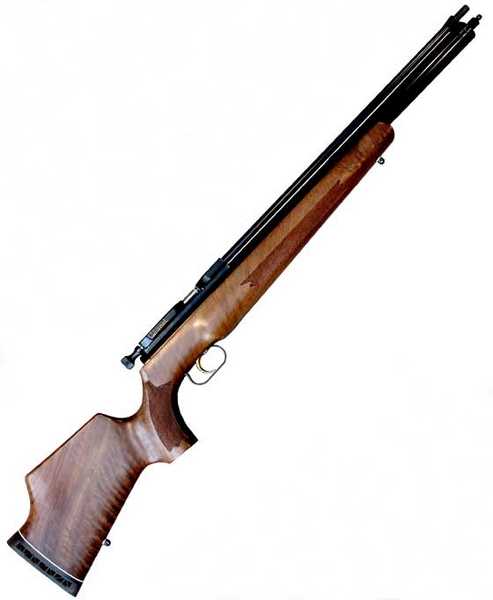 by Tom Gaylord, a.k.a. B.B. Pelletier
Airgun lubrication — spring guns: Part 1
Airgun lubrication — spring guns: Part 2
Airgun lubrication — gas guns
This report addresses:
• What is a pneumatic?
• No. 1 lubrication need.
• A short pneumatic history.
• Which oil to use?
• Other lubrication.
• Wipe down.
This report was written for blog reader Joe, who asked for it specifically; but I know that many of our newer readers also found the information useful. Today, we'll look at pneumatic guns. There are 3 very different types of pneumatic airguns — precharged, single-stroke and multi-pump — but I think they're similar enough to cover all of them in the same report.
What is a pneumatic?
Pneumatic airguns store compressed air for one or more shots. Single-strokes get just one shot per fill and so do most multi-pumps, though there are some that do get multiple shots. Precharged pneumatics (we shorten the name to PCP) get many shots per fill.
Big bores, which are always PCPs, get the fewest number of shots per fill, but the smallbores (.177, .20, .22 and .25) get many. How many depends on the output power of the gun and the amount of compressed air that's available (i.e., the capacity of the air reservoir).
No. 1 lubrication need
The most important reason to lubricate a pneumatic of any kind is to seal the gun. This is similar to gas (CO2) guns; but since pneumatics use air — which is thinner than CO2, their lubrication is extremely important. The seals in the guns are all sized to their jobs. In the case of o-rings, they sit in channels that assist in their sealing role; but without the right lubrication, all would be lost.
A short pneumatic history
Pneumatics are the oldest type of airgun, and their technology has evolved over more than five centuries. The first pneumatic guns used leather seals in all places to seal the reservoir as well as sealing the firing valve.
As time advanced, airgun makers learned how to lap (polish until smooth) valve faces of animal horn that is much better and less porous than leather. These valve faces would be hand-lapped to match the exact surface of the metal (brass or bronze) valve seats to which they were fitted. When the lapping job was finished, these valves would hold air much longer than leather. Leather was still used to seal the junction around the threads of the reservoir, so the guns still leaked down — but the amount of leakage was reduced by a significant amount.
[Note: Airgun designer John Bowkett determined decades ago that precisely machined stainless steel valve faces and valve seats work best of all, providing there's enough lubrication and the machining is correct. The contact surface of this type of valve is extremely fine and narrow; but if it's perfect, this valve will be very controllable. The downside is that valves made this way are still extremely labor intensive.]
Leather seals and horn/brass valves were still being used in big bore PCP airguns up through the 1920s. Smallbore PCPs didn't come into being until 1980, when Daystate converted one of their tranquilizer dart guns into a .22-caliber sporting rifle they called the Huntsman. Daystate was the first company to build a modern PCP; and when they did, synthetic materials were both available and far better suited for pneumatic valves. At the same time, o-rings in properly cut channels provided the remainder of the sealing solution in place of leather — and the modern PCP was born.
Synthetic seals are less porous than animal horn and last far longer. They're not as hard as stainless steel, so the mating surfaces of the valve do not have to be machined as precisely (they have a little give to accommodate slight imperfections in the valve seats). Synthetics make the modern PCP possible. And lubrication is what keeps PCPs sealed almost forever.
Leather seals in other pneumatics
Leather has been used for the peripheral seals in multi-pump pneumatics up to as recently as the 1950s. Just like the leather seals of old, the problem has always been how to keep the leather seals lubricated so they remain soft, pliable and doing their job. Oil was used originally in these airguns in the late 1890s. But times change and today we have better lubricants. Petroleum jelly will stay on the job many times longer than straight oil, so even the leather seals in your vintage multi-pumps can be lubricated for a long time.
Which oil to use?
That brings us to the big question of the day: Which oil to use? In this instance, there isn't just one answer. For PCPs, the right oil needs to have a very high flashpoint so it isn't prone to explode when subjected to high pressure.
I know of two instances in which petroleum-based oil or grease has caused an explosion in a PCP. One was a vintage PCP reservoir that was pressurized to around 800 psi. The interior walls of the reservoir were coated with grease to trap any dirt particles that might get in during filling. This is a common practice with such airguns; but this time the person who greased the reservoir used petroleum grease instead of organic-based (animal) grease. The reservoir blew apart at the soldered seam! Fortunately, no one was hurt.
The other instance was one I got from a news story, and the person involved was, unfortunately, killed when his modern PCP reservoir exploded. The article said he had apparently introduced regular household oil into the reservoir.
On the other hand, I've safely oiled PCP tanks hundreds of times with a couple drops of Silicone Chamber Oil through the air intake port. I put several drops into the fill port before the gun is filled. When the air blows in, the oil is atomized and gets on all the sealing surfaces inside the reservoir and valves.
The oil to use in a PCP is silicone chamber oil. For single-strokes and multi-pumps, the answer is different. For either of these types of pneumatics I use Crosman Pellgunoil. Neither of these types of pneumatics are pressurized nearly as high as a PCP, and Pellgunoil always does the trick.
Can other oils be used instead of Pellgunoil? Certainly. I've used Gamo Air Gun Oil in my single-strokes and multi-pumps for many years. I use it exactly as I do Pellgunoil for single-strokes and multi-pumps, but I do not use it in any PCP guns.
The thing about multi-pumps and single strokes is to keep their pump cups sealed and working well. These are the flexible pump heads that force air into the guns, either one time or several. They tend to get hard over time and lose their ability to seal, but keeping them oiled and in use frequently will prolong their service lives. Not using a pneumatic airgun is what really hurts it.
Other lubrication
For normal lubrication of moving parts, both Pellgunoil and Gamo Air Gun oil work fine. So do most gun oils, like Remoil. What you do not want to use is silicone chamber oil for this purpose because it doesn't have enough surface tension to lubricate properly. Your parts will rub against each other and wear.
Wipe down
As always you can use the lubricating oils to wipe down your gun's metal and wooden parts, but Ballistol neutralizes acidic fingerprints and lasts on the surface of metal far longer than plain oil. So, it gets my recommendation for this job. It also gets the nod for the insides of all airgun barrels.
Summary
Airgun lubrication is important, for the reasons mentioned in this 5-part report. Sealing is the biggest role lubrication performs, in all cases. We've looked at some very specific examples of products that should be used for the reasons stated. If you decide to substitute, you do so at your own risk.
by Tom Gaylord, a.k.a. B.B. Pelletier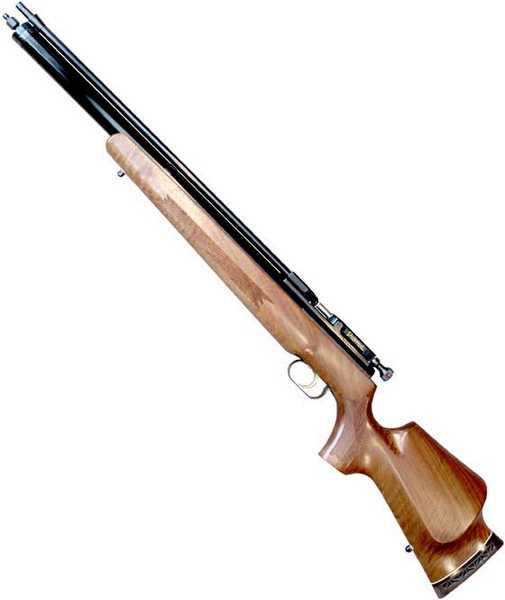 Air Arms Shamal is an attractive PCP. It was Air Arms' first precharged rifle.
This report covers:
• The story of my Shamal.
• Description of the rifle.
• Performance.
• Trigger.
• Old versus new.
"Sadly, my Shamal went away. I know the man who owns it and he still treasures it to this day. If I still had it, I probably would not allow it to get away from me a second time. It was proof that you don't always need a new air rifle to have a good one."
Those were the last words I wrote about my Air Arms Shamal in the April 8, 2009, report I wrote on the old blog. I wrote that report for blog reader Kevin, who is still a reader and one of the most knowledgeable contributors to this blog. He asked what was the quietest .22 PCP I ever heard, and this rifle was my answer.
I did get rid of the Shamal many years ago, along with many other airguns and firearms that I enjoyed. I never thought I would ever see any of them again, but my Beeman R1 and Whiscombe JW 75 came back years ago — and this year the Shamal has returned. The gentleman who sold it back to me charged just what he had paid for it over a decade ago, so it was a good deal on top of a welcome homecoming.
The Shamal wasn't the first PCP I ever owned — I think it was probably the second. I remember receiving it and discovering to my utter surprise that the rifle shot very slow with a fresh 3,000 psi fill. So, I recorded the velocity of each of the first 66 shots and learned that the rifle didn't really come up to its power band until somewhere between shots 29 and 38, depending on how tight I wanted the power curve to be.
That exercise was the first time I used a chronograph as a diagnostic tool. I'd used one to gather data for my book about the Beeman R1, but this time I was evaluating the health and performance of a rifle whose background was entirely unknown to me. Without the chrono, I would have been lost.
The optimum fill pressure of this rifle was 2,600 psi — not the 3,000 psi I'd thought. Years later, I would use that experience when talking with customers who complained that their AirForce Condors were somehow defective because they didn't get their top-rated velocities at 3,000 psi. "What does it matter," I would say, "if your Condor starts out with a 2,700 psi fill? All that matters is that it gets the top power and 20 good shots on a fill?" — which they were getting in every case.
"Yes," they countered, "but I bought a rifle that is supposed to take a 3,000 psi fill. I want to get my money's worth!"
They were getting the best velocity that Condors ever got, and they were getting the advertised number of shots per fill; but because the number on the pressure gauge wasn't what they expected it to be, they were dissatisfied. I wonder what they would say if they knew their car's gas gauge was off…even though they're getting the promised mpg and advertised speed?
That Shamal experience prepared me for a number of future experiences with PCPs. It was a good start for me. More than that, it was a real beauty that I can now share with you.
Description
The Shamal was Air Arms' first attempt at a precharged pneumatic air rifle. It's a sporting design, and the one we are examining today is in .22 caliber. Back in those days, manufacturers used to write the standard working pressure (SWP) on the side of the receiver so you would know what it was even without a manual. Manuals back then were single sheets of paper written on one side, only. This rifle oddly does not have the working pressure marked on it anywhere; so without a chronograph, you're lost.

The aluminum receiver has a high polish and a deep black finish. Nowhere on the rifle is the standard working pressure noted, though that was typical for UK PCPs of this era.
The rifle cocks by turning a knurled bolt knob and pulling it back to cock the hammer spring. The bolt will open a considerable distance before the spring starts to compress, so you have to pull the bolt back quite far to cock the action.
The rifle weighs 8 lbs., 4 oz. without a scope. The stock is thick at every point, so the resulting feeling is that the gun is big and heavy. It measures 40-3/4 inches overall, which is short for a rifle, but the barrel is a full 23 inches, so nothing is lost as far as velocity goes. The airgun falls into the nebulous category of being long for a carbine but short for a rifle.
No doubt you've noticed that the stock is figured walnut. It features an oil finish that improves with a light rubdown of Ballistol. The holographic curl grain runs the entire length of the stock, though it's hard to see in some places. There are 4 checkered panels — 1 on either side of the forearm and 1 on either side of the pistol grip. The pistol grip has a slight palm swell on the right side. When coupled with the high, sculpted cheekpiece, that makes this rifle for right-handed shooters, only. A thick ventilated rubber buttpad adds some length to the overall pull that measures 14-1/2 inches.
[Special note: Pyramyd Air is now stocking Ballistol in 16-oz. and 4-oz. non-aerosol cans. I use these to fill plastic spray bottles that I keep in several places. Buying it in bulk lowers the price. The link I gave takes you to the new cans.]
The metal parts of the rifle are finished commensurate with the wood, but the finish is not even. There are steel parts (barrel, part of the receiver tube, various bands, etc.) that are blued steel with an average bluing, and there are aluminum parts (receiver and reservoir tube) that are highly-polished with a deep black finish. The look is attractive, but not uniform.
The barrel is not free-floated. A forward band connects it tightly to the reservoir. That might cause vertical walking of the pellets as the pressure drops, so that's something I'll watch for.
The gun is filled at the front, under the muzzle. In the days when the Shamal was new, there were no quick-disconnects for any precharged airguns. Each gun had its own proprietary hose with whatever connection thread pattern the makers thought was good. When you bought a gun in those days, it was important to also buy a fill device that you knew for certain would fit. I had such a fill device when I owned the rifle the first time, but the gentleman who sold it back to me asked if he could keep it since it fit another precharged airgun he owns.
He gave me an adapter Dennis Quackenbush made that threads into the rifle's fill port and has a male Foster quick-disconnect coupling on the other end. With this adapter installed, the rifle can easily be filled by a number of fill devices because Foster fittings have become the PCP fittings of choice over the past 10 years. I left the old fill hose and clamp with the previous owner and screwed in the Quackenbush adapter to the fill port. It works perfectly, and I'll leave it on the rifle all the time.
With the adapter installed, it's impossible to put the elaborate Air Arms muzzle cap back on the rifle. While it finishes the look of the gun, it had to be completely removed to attach the old-style fill hose coupling anyway, so I'll just leave it off the gun.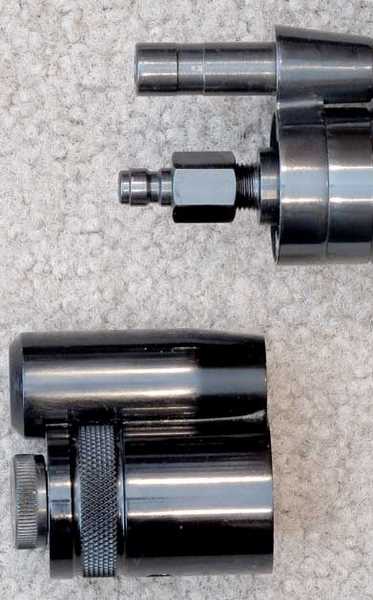 The muzzle cap (bottom) had to be removed every time to attach the original fill hose, but now I just leave the Quackenbush adapter permanently installed.
Back in those days, precharged airguns didn't have pressure gauges built in. You had to keep track of the number of shots fired and know when to fill your gun. I'm used to doing that, and it doesn't bother me.
Performance
Usually, I have the manufacture's literature to go by or I know nothing about the gun at this point in the testing process, but I've owned this rifle before and know what it was doing then. In the 1998 timeframe, this rifle was able to produce about 20 foot-pounds with .22-caliber Crosman Premier pellets. The average velocity it got back then was somewhere in the 790 f.p.s. range, which gives a muzzle energy of 19.82 foot-pounds. A heavier pellet might raise that by a couple foot-pounds, but this is a 20 foot-pound airgun. In those days, that was considered very respectable, but today it seems rather weak. We've seen my Disco Double deliver the same pellet about 50 f.p.s. faster, on average, which translates to a muzzle energy of 22.4 foot-pounds.
Trigger
The trigger is adjustable, though I've never experimented with it to discover how it works. I'll do that for the next report and give you the particulars.
It's set up very nice as it is, and I saw no reason to change it in the past. But it brings up an interesting observation.
The old against the new
Now that the Shamal is back, I'll be comparing it to the Disco Double I recently reviewed for you. The power is about the same, and both rifles are single-shot .22s. The Disco Double has the better trigger, but who can say how the rest of the test will compare?
by Tom Gaylord, a.k.a. B.B. Pelletier
Airgun lubrication — spring guns: Part 1
Airgun lubrication — spring guns: Part 2
This report addresses:
• Molecules versus atoms
• Crosman Pellgunoil
• Can't over-oil with Pellgunoil
• "Fixing" leaking guns with Pellgunoil
• Transmission stop leak oil
• Oiling moving parts
• Ballistol
Let's look at lubricating gas guns — and by "gas," I mean CO2. What I'm about to say will also work on airsoft guns that operate on green and red gas, because both those gasses work similar to CO2; but there are no pellet or steel BB guns that run on any gas except CO2 (excluding air).
CO2 is a molecule — not an atom!
Many folks thought that high school science class was a waste, but in the curriculum there were things that matter to airgunners. How levers work is one of the most important things, and yet I still see youngsters grabbing breakbarrel rifles five inches back from the muzzle — as though the length of a lever has no significance! The fact that CO2 is a compound made of molecules is also important.
Atoms are very small. When they're inside a pressure vessel (air is made of several elements that are atoms), they try to escape through the smallest holes imaginable — sometimes through pinholes in the casting of the metal. Molecules are combinations of atoms that are much larger than atoms, by definition. They also try to escape, but they need larger holes to get through. This fact is what saves the CO2 airgunner, and it's also why CO2 guns can be made with larger tolerances. That makes them cheaper to build.
Crosman Pellgunoil is our friend
When I started seriously shooting airguns in the early 1990s, nobody talked about Crosman Pellgunoil. I didn't even know if it did anything. Then, I met Rick Willnecker, the man who runs Precision Pellet — one of the top repair stations for vintage CO2 and pneumatic airguns. Rick always had a jumbo bottle of Pellgunoil on his workbench, and he applied it liberally to valves, seals and o-rings whenever he assembled a CO2 gun. He told me that I should always put a drop of Pellgunoil on the tip of every new CO2 cartridge before it was pierced.
You cannot over-oil with Pellgunoil
I asked Rick how much oil was too much. He said it is impossible to over-oil a CO2 gun with Pellgunoil. Apply it liberally. What doesn't stay inside the gun gets blown out the muzzle. This was all news to me. I'd grown up with the bottlecap CO2 cartridges of the 1950s that leaked before you even put them in your airgun, and I thought CO2 was a gas that was totally unreliable. Rick's revelation turned this around. I discovered CO2 is a very reliable gas if you use Pellgunoil.

In the 1950s and '60s, Crosman was capping their CO2 Powerlets with bottlecaps that leaked a lot.
But the discoveries didn't stop there. Soon after learning about the benefits of Pellgunoil, I bought a Crosman model 111 target pistol at a flea market for $35. It was in the original box and came with the original 10-oz. CO2 tank that Crosman sold with the gun back in the early 1950s. I bought this gun thinking it would have to be resealed. It's seller told me it had laid in a closet for a minimum of 20 years before she brought it to this flea market, so how in the world could it possibly have any gas left in it?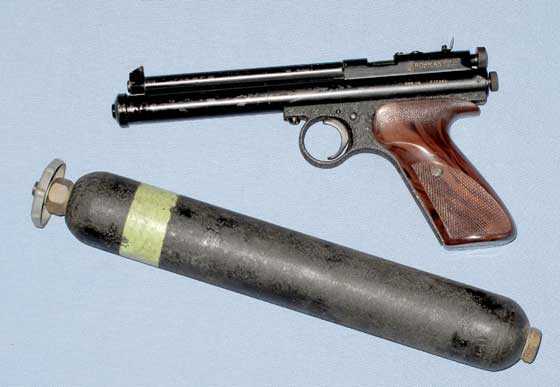 This .22-caliber Crosman 116 bulk-fill CO2 pistol and tank were sold up until the model 150 came out in 1956.
Well, that gun was still charged! What is even more important was the 10-oz. CO2 tank that came with it was also mostly full, so I was able to connect it to the pistol and charge it many times — for another 50 shots each time. Each time I charged the pistol, I applied more Pellgunoil, and that old pistol kept right on functioning for almost 2 years. When the seals finally did need to be renewed, I took the gun to Rick Willnecker, and he got me started in bulk-filling CO2 guns. I bought my first 20-lb. CO2 tank and the adapter to connect it to the 10-oz. Crosman tank, and I was off to the races. Since that time, I have owned five 20-lb. CO2 tanks and have been filling my own bulk tanks at home for more than 15 years. Where a CO2 cartridge costs about 50 cents, I pay about 5 cents for the same amount of gas!
But it didn't end there, either. I discovered on my own that by using copious amounts of Pellgunoil, I could get non-functioning CO2 guns to work again. That's when I started buying up old Crosman gas guns that were leakers and "rejuvenating" them with Pellgunoil. I still own a Crosman 180 rifle that I bought for $20. It has been holding gas for about 20 years so far!
Transmission stop leak oil
Dennis Quackenbush taught me this trick. He said he "fixed" a leaking Crosman 112 bulk-fill pistol with transmission stop leak oil — the stuff you get at the auto parts store. I had a Crosman 116 bulk-fill pistol that was a fast leaker, so I thought I would give it a try. I put several drops of this oil in the fill port connection of the pistol and filled it with CO2. That was about 2-1/2 years ago and that gun is still holding gas today!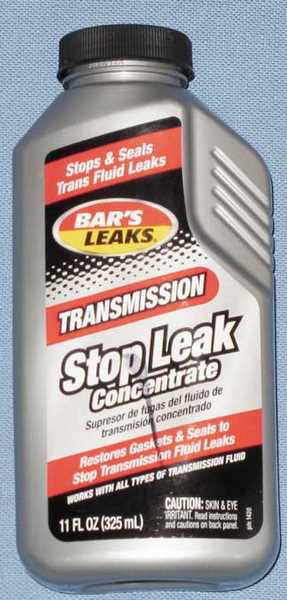 Transmission stop leak oil (this is just one brand…there are several others) will swell and make supple the seals inside an older CO2 gun.
Several people wrote comments telling me that this oil would turn the seals in my airgun to mush and it would be an even bigger leaker than before; but as I said, 30 months have passed and that gun is still holding gas. So is Dennis' gun. This stuff seems to work.
Oiling the moving parts of the gun
You can oil the moving parts of a gas gun with any good brand of gun oil, and I even use household oil (yes, 3-in-One brand) on mine. If you want to buy a good oil from Pyramyd Air, I have used Gamo Air Gun Oil for many years for this purpose. All you're doing is providing simple lubrication, and oil is correct for that.
Ballistol
Finally, you can wipe down the gun — wood, metal and plastic — with Ballistol. Ballistol removes rust, protects against fingerprint acids, lubricates and generally is the single best lubricant for an airgun or firearm.