by Tom Gaylord, a.k.a. B.B. Pelletier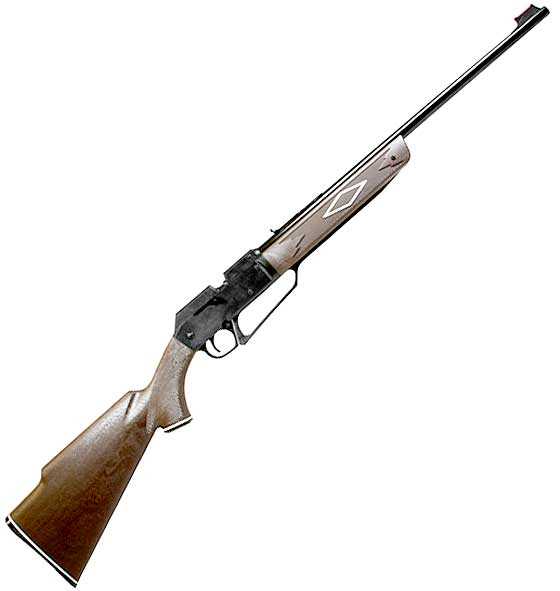 The Daisy 880 multi-pump is a classic.
Blog reader Rob asked for this review. I have reviewed the Daisy 880 before, but that was back in the days when I wrote The Airgun Letter. I doubt many of you will have seen that report. I've reported on the Daisy 22X, as well, but that was long ago and those reports may be difficult to locate. The 22X and 177X are derivatives of the 880 powerplant.
The 880 is a multi-pump pneumatic that has a short pump stroke. As a result, it's relatively easy to pump up to the maximum 10 pump strokes. The useful range of pumps lies between 3 and 10 strokes.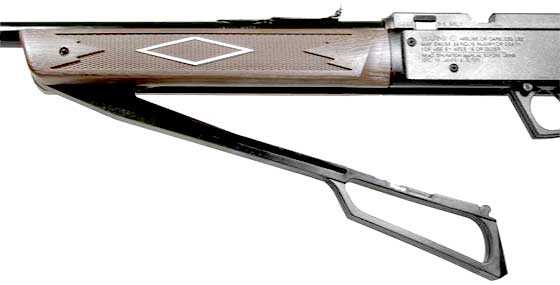 The 880 pump handle is short and also has good leverage to reduce the pump effort as much as possible.
The 880 shoots both steel BBs and lead pellets through its rifled steel barrel. At 10 pumps, Daisy rates the rifle at 715 f.p.s. with lead pellets and 750 f.p.s. with steel BBs. Naturally, I'll test both for you.
The 880 is one of a very few airguns that comes up in conversation whenever airgunners are remembering their favorite guns. It's lightweight, easy to operate and inexpensive, so there are a lot of them out there. But the attraction goes a lot farther than just a rare bargain. There's something about the 880 that inspires fierce owner loyalty.
The rifle I'm testing for you is about 13-14 years old, but it probably has fewer than 500 shots on the clock. After testing it initially, I never really went back and used it much. That's not a comment on the quality — I just never had the time to go back. But I do note that I kept it all these years, and that says something. Every year or so, I get a question about the 880 that makes me drag it out of the closet for a closer look. And this time, I plan to look at it intently, as Rob requested.
My rifle is old, but the specs haven't changed much since it was built. I have the same red fiberoptic front sight that they still put on the gun and a non-fiberoptic rear one. The weight of 3.1 lbs. is still the same. And the basic functions of a single-shot pellet feed (loaded manually into the bolt trough) or a 50-shot BB magazine, with its feed to a magnetic bolt tip when the gun is cocked.
Speaking of cocking the rifle, you must do it to pump the gun. The design is such that if the gun isn't cocked, the pump strokes will not pressurize the reservoir. This means the 880 and all associated models cannot be stored with a pump of air in the reservoir. Theoretically, this can be bad for the seals — exposing them to the dirt in the air — but neither my 880 nor my 22X have ever shown signs of a problem. So, this system works, too.
When you pull the pump handle all the way forward, the pump head is exposed in the slot beneath the forearm. This is where you periodically oil the head to maintain compression. The felt washer behind the pump head evenly spreads the oil around the compression chamber walls.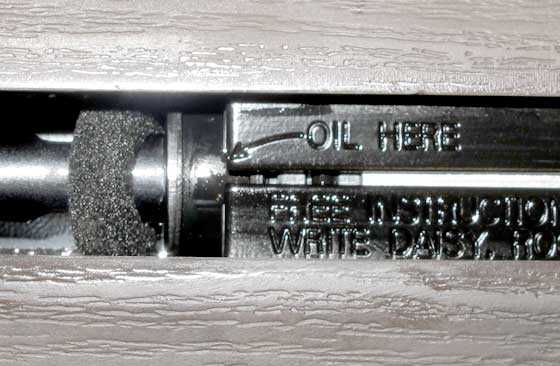 This is where you oil the 880′s pump head. The felt washer to the left keeps the oil spread on the compression chamber walls.
Things people like about the 880
Accuracy is the No. 1 thing owners have to say in praise of the 880. They way most of them talk, I'm expecting something really impressive. The second thing they like is that it also shoots BBs. That's a turn-off for me, but Daisy sells a lot of these rifles, so I'm not the normal customer.
Those who like the BB aspect also like the fact the rifle is a repeater with BBs. So, Daisy listened to their customers when the 880 was designed.
Things people dislike about the 880
A lot of owners criticize the plastic, saying they think that it might break with use. It might break, I suppose; but when you look at customer reviews for the 880, parts breakage isn't one of the big things mentioned. I think this is more a question of perception rather than a real problem. One writer thought the 880 should be made in a higher-quality version for adults; but when Daisy did that (it was called the 22X), it didn't sell well. It's obsolete, while the 880 continues to sell very well. Perception and reality are not the same.
They also criticize the single-stage trigger. Yes, it's heavy and creepy. But no more than the triggers on similar air rifles made with the same level of performance. If you want good triggers, you need to buy the kind of airguns that have them.
Pellets can be difficult to load in the 880. The reason seems to be the hole at the rear of the pellet trough that allows BBs to pass through. It can catch the skirt of a lead pellet and make it hang up.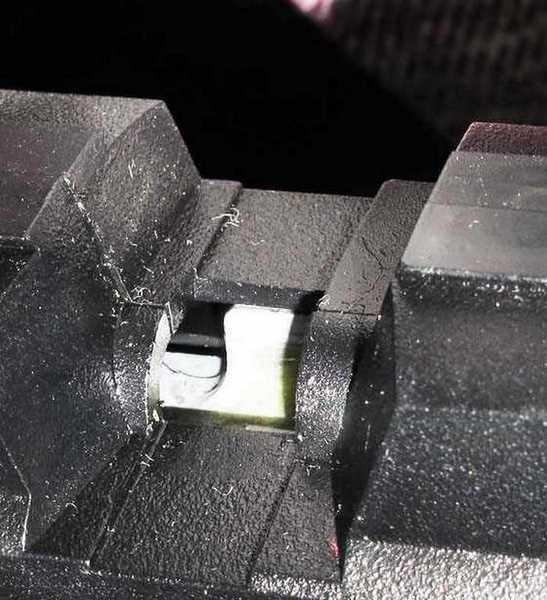 The hole at the rear of the pellet loading trough is where the BBs pass through. It can catch pellet skirts, making them difficult to load.
In general
The rifle is mostly plastic on the outside. That carries through to the inside, as well. To stay in this price range, a lot of economies need to be addressed, and molded plastic parts are one of the solutions. That doesn't mean the plastic is weak or inferior in any way. I'm pretty sure these guns last a long time.
On the other hand, the steel barrel is a very thin tube. It's an insert that's housed inside a plastic sheath that's covered by a thin sheetmetal cover.

Here you can see the sheetmetal jacket over the plastic sheath that houses the actual barrel. The muzzle of the real barrel is the silver crown you see, deep inside the false muzzle shown here.
Overall
We have a real classic pellet rifle to test. There are millions of 880s in circulation, and I expect to hear from a lot of their owners as this report progresses.
by Tom Gaylord, a.k.a. B.B. Pelletier
Today is a special test of the C96, requested by blog reader RidgeRunner and seconded by several others. You want to see if the pistol will be more accurate with Daisy's Avanti Precision Ground Shot, which is made expressly for the Avanti Champion 499 BB gun. More accurate than what? More accurate than the best BB tested in Part 3, which turned out to be the Daisy Premium Grade zinc-plated BBs that shot the tightest groups with this pistol?
Velocity first
We know that the Daisy Premium Grade BB averaged 395 f.p.s. with a total velocity spread of 18 f.p.s. (from 386 f.p.s. to 404 f.p.s.). RidgeRunner suspected the Precision Ground Shot would be faster in this pistol because it's usually slightly larger and also more uniform. So, I first shot it over the chronograph.
Avanti Precision Ground Shot averaged 381 f.p.s. on a fresh CO2 cartridge. The velocity spread was 19 f.p.s., with a low of 371 f.p.s and a high of 390 f.p.s. The spread was 1 f.p.s. larger with this shot than with the Daisy Premium Grade BBs, and the average velocity was 14 f.p.s. slower. So, that part of the theory didn't test out.
On to the accuracy test
I offered to do a blind test, but RidgeRunner trusted me to try my hardest with each BB: and that's good because there's a definite difference in appearance between the Premium Grade BBs and the Precision Ground Shot. The latter are not as shiny and appear more silver than steel in color than the Premium Grade BBs. I would have known which BB I was shooting.
The distance was the same 5 meters that was used for the first test, and I used the back of a chair to steady my hands as I held the pistol, just like I did before. This resulted in a very stable hold for every shot.
Daisy Premium Grade BBs
I shot 2 groups of 10 with each BB. The first group of Daisy Premium Grade BBs measured 1.115 inches between centers. Two BBs landed outside the black bull. The second group measured 0.644 inches between centers. That's almost half the size of the first group, so you can see how much latittude there is with BBs — even at 5 meters.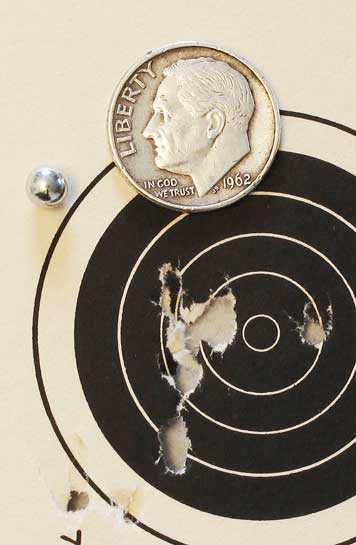 Ten Daisy Premium Grade BBs went into this 1.115-inch group at 5 meters.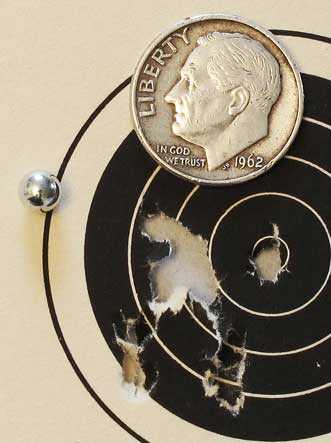 These 10 Daisy Premium Grade BBs went into a tight 0.644-inch group at 5 meters. This is the second-best group in this series.
Avanti Precision Ground Shot
Now, it's time to test the Avanti Precision Ground Shot. This shot is ground to work best in the 499 BB gun, only. But you readers wondered if it would also be more accurate in the C96 BB pistol. To test that theory, I shot another 2 groups of 10 shots each at the same 5 meters. The first group measured 0.954 inches between centers. One BB was outside the black, and 2 more were right on the edge.
The second group I shot with this ammunition measured 0.556 inches between centers. It's the smallest group of this session and would seem to lend credence to the Precision Ground Shot being more accurate than the Daisy Premium Grade BBs. However, the difference in group sizes of the 2 different BBs is not so great as to be overwhelming. Yes, both groups with Precision Ground Shot are tighter than the corresponding 2 groups made with the Daisy Premium Grade BBs, but the differences are not large. I don't think they justify shooting the Precision Ground Shot in the pistol since they cost roughly 2.5 times more.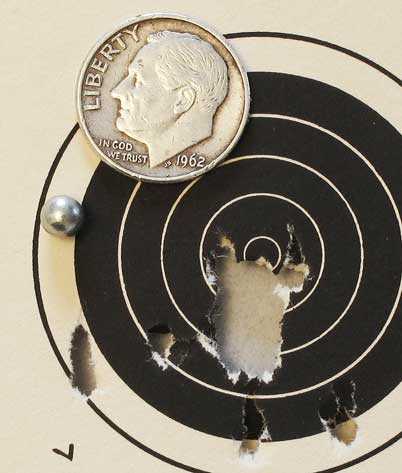 These 10 Daisy Avanti Precision Ground Shot went into a 0.954-inch group at 5 meters.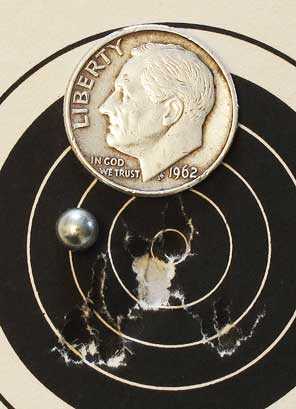 These 10 Avanti Precision Ground Shot went into an ultra-tight 0.556-inch group at 5 meters. This is the best group in this series.
Conclusions
The Avanti shot went slower than the Daisy Premium Grade BBs and also varied more. However, the difference wasn't much in either category.
The Avanti shot also appears to be slightly more accurate than the Daisy Premium Grade BBs. Again, the difference is very small, but it is there.
I'm surprised by these results. I predicted the Avanti shot would be faster because of its slightly larger size, but that it wouldn't be any more accurate. So, I was wrong on both counts. I don't think the difference between the two types of ammunition weighs in favor of using the Avanti shot in this gun, but it's really a call the owner of the gun needs to make.
My thanks to RidgeRunner and others who asked for this test.
by Tom Gaylord, a.k.a. B.B. Pelletier
Today, we'll look at the accuracy of the Legends C96 CO2 BB pistol, and I can sum it up in a single word: Spectacular! Those who like accurate BB pistols will want to put this one on their list.
I shoot all BB guns at 5 meters, which is about 16 feet, 5 inches. While that sounds incredibly close, it is the distance at which the Daisy National BB Gun Championship is shot; and if it's good enough for the champions, it's good enough for me. Besides, testing all BB guns at the same distance gives consistent results that can be compared across many tests.
I shot this test with my forearms rested on the back of a wooden chair, and the gun held in 2 hands. That eliminated as much of me as possible, giving the pistol a fair chance to shoot its best.
I used 50-foot smallbore rifle targets whose black bulls are almost 1.5 inches across. At 5 meters, they make perfect aim points for open sights. The C96 has a tapered post front sight and a V-notch in the rear. When the target is illuminated with 500 watts of halogen light, the sight picture becomes sharp and crisp, and sighting can be precise.
Daisy Premium Grade BBs
The first target was shot with Daisy Premium Grade zinc-plated BBs. The very first shot hit at the extreme bottom of the paper target, and I discovered one of the great features of this pistol. It has a tangent rear sight like the firearm it copies, and it was easy to raise the rear notch up just a bit. By sheer luck I got the elevation almost perfect on the first try, so I left the sights alone after that.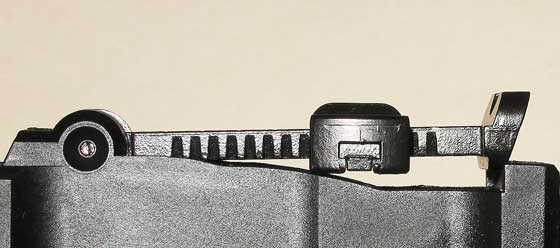 The rear ramp is easy to elevate, just like on the firearm. You can see the sloped surface the sight adjuster rides up as it moves forward.
The next 9 BBs went into a shockingly small group, so I loaded one more BB into the magazine to make up for the first shot that was low. When I fired it, it was the only Daisy BB to hit outside the black after the sight adjustment. The 10-shot group measures 0.852 inches between centers. I think you'll agree this is a very nice group of 10 from any BB pistol!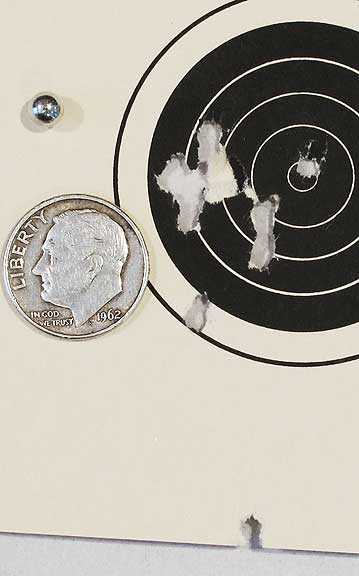 Ten Daisy Premium-Grade BBs made this 0.852-inch group at 5 meters. Notice the first BB that landed very low.
Crosman Copperhead
Next up were Crosman Copperhead BBs. They hit the target in the same place as the Daisys, and the 10-shot group measures 0.937 inches, which isn't much different than what the Daisy BBs did.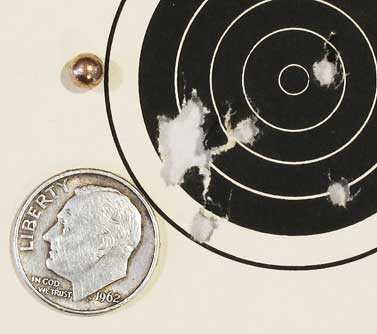 Ten Crosman Copperhead BBs made this 0.937-inch group at 5 meters. As with the Daisys, one BB is outside the black bull.
Umarex Precision Steel BBs
Finally, I tried the Umarex Precision steel BBs. They rival the Daisys in precision and this time that was evident. Ten of them went into 0.863 inches, with nine of them in a much tighter bunch. Like the other 2 BBs, these also threw a single BB into the white.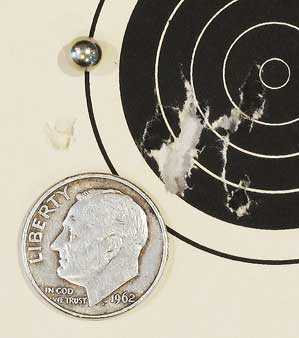 Ten Umarex Precision Steel BBs made this 0.863-inch group at 5 meters. It's only slightly larger than the Daisy group.
Sight adjustment
Like the Mauser firearm it copies, this BB pistol has no provision for windage adjustments. Both the Mauser firearms I owned shot about a foot to the left at 25 yards, so I'm used to this. Some older pistols have sights that can at least be drifted to the side in dovetails, but not the Mauser. With this gun, you soon learn to apply Kentucky windage to lay your shots where you want them.
But let's face it, this isn't a realistic test for a BB pistol. BB gun shooters plink at cans. They don't shoot groups at paper targets — at least not often. This pistol is easily a minute-of-Coke-can handgun out to 20 yards.
Firing behavior
I found 2 things about the trigger pull when conducting this test. The first is that the trigger blade is located too close to the grip. That's a part of the lack of ergonomics that the Broomhandle family of pistols all share, and there's nothing to be done for it. This BB pistol is a faithful copy of the firearm, including a less-than-optimum grip.
The second thing I noticed was how hard the 2-stage trigger seemed to pull. Looking back at Part 2, I see that I did not measure the pull, so I got out the electronic gauge and measured it this time. Stage 1 requires between 2 and 3 lbs. to complete, and stage 2 breaks at an average of 7 lbs., 11 ozs. The range went from 7 lbs., 1 oz. to 8 lbs., 3 oz.; and the slower and more deliberate the pull, the greater the force required.
Even with that, though, the pistol is blisteringly accurate. And the blowback is pleasant. It's nothing like the snapping recoil of a 7.63mm Mauser cartridge. So, there's a benefit of shooting the BB gun over the firearm.
Overall evaluation
Umarex has a winner, here. Their Legends airguns are all remarkable guns, and the C96 takes its place among them proudly. Not only is it realistic-looking, it gets an astounding number of shots per CO2 cartridge; and, as we now see, those shots all go to the same place.
Let's look at the velocity of the Legends C96 CO2 BB pistol. It's advertised at 380 f.p.s., and we know that it has blowback. So, it'll be interesting to see just how powerful this pistol really is, as well as how many shots it gets.
Crosman Copperhead
The first BB I tested was the Crosman Copperhead. They were tested when the CO2 cartridge was fresh, which boosted their average velocity a few f.p.s. They averaged 402 f.p.s, with a spread from 392 to a high of 409 f.p.s. At the average velocity, Copperheads generated 1.83 foot-pounds of muzzle energy.
I found the magazine very easy to load. Pull the follower all the way down and twist the tab into a slot to lock it back, then the BBs are dropped into a trough where an opening dumps them into the single stack slot in the mag. Release the follower, and the gun is loaded. I found the rated capacity of 19 BBs to be spot-on.
Daisy Premium Grade zinc-plated BBs
Next up were Daisy Premium Grade zinc-plated BBs. I though they might be a little faster than the Copperheads, but they weren't. They averaged 395 f.p.s., with a low of 386 and a high of 404 f.p.s. At the average velocity they produced 1.77 foot-pounds of muzzle energy.
All the time I was chronographing the gun I was also counting all the shots. I noticed that when you load a new magazine, the first shot will always be a blank. That's because of how the gun's feed mechanism works. I did count those shots in the total because they used up gas the same as if a BB had been shot.
Umarex Precision steel BBs
The final BBs I tested were the Umarex Precision steel BBs. They averaged 394 f.p.s. with a low of 385 and a high of 404 f.p.s. That parallels the Daisy BBs pretty close. At the average velocity, these BBs produce 1.76 foot-pounds of energy at the muzzle.
During the chronographing session, I was waiting a minimum of 10-15 seconds between shots to allow the gun to recover from the cooling effects of the gas. But after the 3 test strings were finished, I continued shooting Umarex steel BBs to see how many good shots there are on one CO2 cartridge. I went much faster during this shooting, with less than a second between each shot. I think this is closer to the way most shooters will use the gun.
I kept expecting the pistol to run out of gas at any time, and it kept right on shooting and surprising me. Finally, at shot 103, I chronographed an Umarex BB going out at 336 f.p.s. While that is slower than the recorded average, you have to take into account the fact that I was now firing the pistol very fast and allowing it no time to warm up. So, an unexpected finding was that this pistol doesn't suffer as much from the cooling of the gas as most CO2 guns. There normally would be at least a 100 f.p.s. velocity drop when shooting this fast.
Shot count
Finally, after shot 123, the hammer didn't cock for the first time. I cocked it manually and kept on shooting, but it failed to cock again after a few more shots. The gun was now out of gas. Had I wanted to get more shots from it, all I needed to do was slow down my shooting to allow more time for the gun to warm up. I think the shot count could easily be stretched out to 140-150 shots that way.
So, the pistol shoots a little faster than advertised, and it gets a very respectable number of shots from a CO2 cartridge. That's 2 big plusses for the gun.
Next on the schedule is accuracy testing. I'm looking forward to that! I have to tell you that this C96 is a very neat CO2 BB pistol. Of course, it isn't ergonomic, but neither is the C96 firearm it copies. It's not supposed to fit you well — it's supposed to look like the real deal, and I think it does that very well.
by Tom Gaylord, a.k.a. B.B. Pelletier

The PCP built on a Crosman 2100B chassis.
Today is Media Day at the range, and I will be shooting many of the new airguns that will be coming out this year, plus a lot of firearms — I hope. Tomorrow the 2014 SHOT Show starts, and there's a special first-day report all set for you.
Let's look at the performance of the $100 PCP that big bore airgun maker Dennis Quackenbush created on a Crosman 2100B chassis. I read some comments about the gun in Part 1. Before we get started, I need to address one of them. Some of you say you want a PCP that operates on 100 psi, so you can run it on your shop compressor. Gentlemen — such an airgun doesn't exist and cannot exist as you envision it. That is simply not enough pressure to push a pellet to the kind of velocities we want. You can shoot t-shirts into the grandstands with that kind of pressure or perhaps run a pneumatic tube delivery system, but not a pellet gun.
I know that the airguns of old used lower pressure than we use today. They got amazing power from 500 to 800 psi. But they weren't shooting smallbore caliber pellets. They were shooting .40 to .70 caliber round lead balls and they got them up to 450-600 f.p.s. They did that because the area of the projectile is much larger than a .177 pellet, and also because they used very long barrels (30-36 inches).
You can shoot tennis balls with shop air, but not pellets. I did report on a .25-caliber pellet rifle that worked with 800 psi air, but that's a lot different than 125 psi air. You can't pressurize air to 800 psi with a shop compressor. So, we're going to have to confine our research to what is physically possible. I'm not trying to shut you down for thinking outside the box, but this is a very real physical constraint.
On with the test
Today, we're looking at the velocity of this rifle with air for both pellets and BBs. Pellets are our principal concern, but I'll test BBs, as well, since they can be used in this airgun.
Dennis told me what the performance curve looked like, but I'm going to approach this as if I know nothing about this gun. Where do I begin? Well, I may not know much about this particular PCP, but I've used enough other PCPs that I'm not completely in the dark. I filled the reservoir to 800 psi, as indicated on the gauge of my carbon fiber tank and then started loading Crosman Premier lite pellets and firing through the chronograph.
800 psi
1…..539
2…..509
3…..474
4…..441
5…..409
5…..361
Stop
Okay, the velocity dropped with every shot, so the valve is not on the power curve, yet. It wants to see more air pressure.
1,000 psi
1…..654
2…..634
3…..582
4…..556
5…..525
7…..483
8…..453
9…..417
10…384
11…345
Stop
Look at the velocity increase from just an additional 200 psi of pressure! That's an indication that we're quite far from the power curve. It took 5 shots before the rifle was shooting as slow as in the first string, so that extra 200 psi really added shots.
A word about the next part of the test is appropriate. The gauge on my tank doesn't show even divisions of pressure as closely as I would like. Instead of adding another 200 psi, I found myself guessing that I added another 300 psi. If I had a more accurate gauge, I could do this with greater control; but it's all going to turn out in the end. You'll see.
1,300 psi
1…..722
2…..695
3…..659
4…..did not record (DNR)
5…..593
6…..550
7…..516
8…..488
9…..DNR
10…423
11…DNR
12…DNR
13…309
Stop
This was interesting because there wasn't such a big increase over 1,000 psi as there had been when going from 800 to 1000, despite adding 300 psi rather than 200 psi. It took just 3 shots for the velocity to become equal to the 1,000 psi string (compare shot 3 from this string to the first shot of the previous string). The extra air pressure isn't doing as much as it did before.
1,500 psi
1…..791
2…..765
3…..751
4…..DNR
5…..706
6…..677
7…..645
8…..605
9…..570
10…542
11…500
12…466
13…428
14…DNR
15…357
Stop
1,800 psi
1…..808
2…..796
3…..786
4…..763
5…..753
6…..721
7…..699
8…..661
9…..625
10…600
11…566
12…524
13…DNR
14…442
15…405
16…366
Stop
Okay, look at the first 5 shots in this string. See how little velocity they lose compared to the first shots in previous strings? That's significant. It means the valve is beginning to operate more efficiently at this pressure level. Dennis told me that when he reached 1,800 psi, the rifle stabilized for him, as well. What we don't know and cannot know for sure is what pressure either Dennis or I actually used because neither of us has a calibrated pressure gauge. We're just guessing based on the inexpensive small gauges that come with all pressure tanks. But, whatever the exact numbers are, they're pretty much in the same ballpark.
We have a PCP that operates at 1,800 psi — or so. But when I say "operate," it isn't really operating the way we want a PCP to operate. We want to see a nice string of shots that are fairly consistent — some a little higher and some a little lower, but a nice string where the velocity is stable. We don't have that yet. What we have is a rifle that wants to operate at this fill pressure but probably needs a number of tweaks to get where we want it to be.
There's one more thing to do. Dennis and I talked about this, and he said if there's a weakness in this rifle, it's at the threads where the air reservoir is threaded to the brass valve. While the reservoir is way overbuilt, those threads are a place where not too much more strain can be applied. Dennis feels that it will be safe to 2,000 psi but not much higher. I agreed with him on that, so I did one last test at 2,000 psi.
2,000 psi
1…..853
2…..833
3…..823
4…..825
5…..820
6…..809
7…..799
8…..780
9…..762
10…746
11…717
12…687
13…654
14…624
15…588
16…550
17…513
18…472
19…434
20…397
21…DNR
22…298
Stop
Okay, adding 200 extra psi increased velocity significantly, plus it also gave us a greater number of consistent shots. I would call the first 7 shots fairly consistent, and the velocity doesn't really start to plummet until after shot 9. What this tells me is that the valve return spring is way off. It's probably too heavy. And Dennis has already criticized the valve itself. It's a poppet shape (looks like a top hat) instead of a valve with angled sides that mate with an angled valve seat.
Add to that an enlargement of the valve port (through which the air flows) that might help lower the operating pressure, and the new valve would handle the pressure better than this stock one that got pressed into service for which it wasn't designed.
What about BBs?
Okay, I can't end without giving you some BB velocities. Since the rifle works so well at an indicated 2,000 psi, I decided to skip all the early stuff and go straight to the string we're all interested in.
For this test, I used Daisy Premium Grade BBs that I know from measurement are both the largest and also the most consistent steel BBs on the American market. Since steel BBs run 0.171 to 0.173 inches in diameter, they're considerably smaller than .177-caliber lead pellets, no matter what their packages say. BBs are NOT 4.5mm!
2000 psi
1…..910
2…..900
3…..891
4…..871
5…..DNR
6…..856
7…..DNR
8…..DNR
9…..809
10….786
11….763
12….DNR
13….698
14….DNR
15….DNR
16….599
17….577
18….533
19….484
20….441
21….408
22….340
Stop
Like the pellets with a 2,000 psi fill, the first several shots with BBs are close to each other and after, perhaps, shot 6 or 7, the spread opens up. Of course, you have to realize that steel BBs going over 800 f.p.s. are extremely dangerous. Lead pellets start to disintegrate at velocities above 600 f.p.s.; and at 800 f.p.s., they almost vaporize when they hit a hard target such as metal. But BBs not only hold together, they absorb the energy of the impact and bounce back at nearly the same velocity. Believe me — you don't want to be hit by one!
What have we learned?
So far, we know this rifle works but is not a fully functional precharged pneumatic because it does not shoot a string of shots at a steady velocity. However, that doesn't stop us from proceeding with accuracy testing.
What's been proven by this test is that the idea of a $100 precharged pneumatic rifle is completely plausible. The needed changes have been pointed out; but as we proceed further, no doubt, other things will be revealed. That's the way of product development.
Remember this is a testbed — not a production rifle. Also remember the rifle that it was built from. We should expect accuracy to be similar to the Crosman 2100B, which is fully acceptable at this price point. And I'm going to select a string of shots whose velocities are relatively close to each other, so I probably won't be shooting 10-shot groups.
I'll need to do some things to the gun before starting the accuracy test, but I'll tell you about those things in the next report.
by Tom Gaylord, a.k.a. B.B. Pelletier
Let's cut to the chase. The title of this report says Legends C96 CO2 BB pistol, but Americans are going to call this a Broomhandle Mauser because of the shape of the pistol grip. The Legends part comes from the Umarex line of replica air pistols.
Before we continue, I want to express my concern about the Umarex lookalike airguns. I got a CO2 Colt M1911A1 pellet pistol when they first came out, and soon I had 4 different M1911/1911A1 firearms to go with it. Then the PPK/S BB pistol hit the market, and I got one of those. Not long after that, I added a .22 rimfire PPK/S to my firearms collection. Then came the Walther Lever Action rifle. Good, I thought. I'll never buy the Winchester 30/30 1894 that it is patterned after. But I didn't need to, because Edith did.
Then came the Magnum Research Desert Eagle pellet pistol. I knew I would never own the firearm version of that big hand cannon, but 2 years ago I got an IMI .357 Magnum Desert Eagle.
Of course there was the Makarov BB pistol that I used to train Crystal Ackley to shoot on American Airgunner. I say "train" advisedly; because after her first magazine, she was out-shooting me! That pistol spawned the purchase of both a 9mm Bulgarian Makarov, as well as the genuine Makarov firearm that the Russians at IZH turned into a BB pistol.
And just last year, Umarex came out with the Parabellum P08. I had already owned a junker Luger in the early 1970s, and I swore that I would never own another one. Well, my resolve being what it is, this past Christmas, Edith gifted me with a 1917 Erfurt P08 that is definitely not a junker!
And, now, I must confess that in my youth I've owned not 1 but 2 different low-grade Broomhandles. Both were in 7.63mm Mauser caliber, and neither one was particularly accurate. I reloaded for the last one, which might have been a large part of its problem. And here's the Legends C96 Broomhandle! Lordy, I can't afford to keep this up! I just hope they don't bring out a Colt Walker next!
Is it a C96?
Technically, this pistol is not a C96. It is a copy of the M32/712 Schnellfeuer (German for rapid fire) pistol that has a selector switch on the left side of the gun for semi- and full-automatic operation, but it's just a cast detail and is entirely non-functional. It also has a detachable magazine hanging down in front of the triggerguard, just like the 20-shot Schnellfeuer.
The C96 never had the detachable magazine or the selector switch. It has an internal 10-round magazine that's loaded from the top of the gun through the ejection port with 10-round stripper clips. The bottom of the C96 magazine is flush with the bottom of the triggerguard. It's true that the C96 magazine floorplate can be removed and a separate, detachable magazine can be installed, but these were never a popular option for the C96. I suppose only collectors and students of history will know the difference, so I'll call this pistol the C96 from this point on.
The pistol
The Legends C96 is a 19-shot BB pistol powered by CO2. The CO2 cartridge and BB magazine are housed together in a single removable magazine unit that's located in front of the triggerguard. Press a button on the right side of the receiver to release the mag.
There's a lower magazine cover that hides the CO2 screw and the CO2 cartridge. This is something BB gun shooters are very sensitive about, so it was a necessary feature that completes the look of the gun.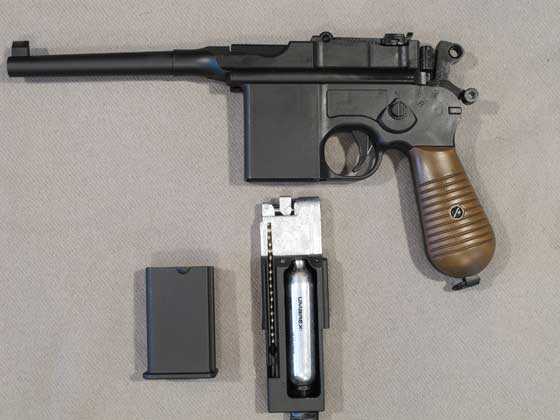 The magazine has been removed, and the lower cover is off. You can see the selector switch in this photo.
When the CO2 cartridge is installed and the magazine is loaded, you might think the pistol would be muzzle-heavy like the firearm, but I don't find that to be the case. This BB pistol is light enough that there's very little muzzle heaviness. And it's light because it's made with a lot of synthetics. But this stuff is dense, strong and difficult to tell from metal. A matte finish makes it even more difficult to identify.
The pistol grip butt is slotted for a shoulder stock, just like the firearm. Those stocks are hollow wooden holsters with steel attachments that lock into the pistol at this point — forming a small carbine. However, since the gun is made of synthetic, I'm guessing a shoulder stock will not be an option since it would invite fractures at this slot.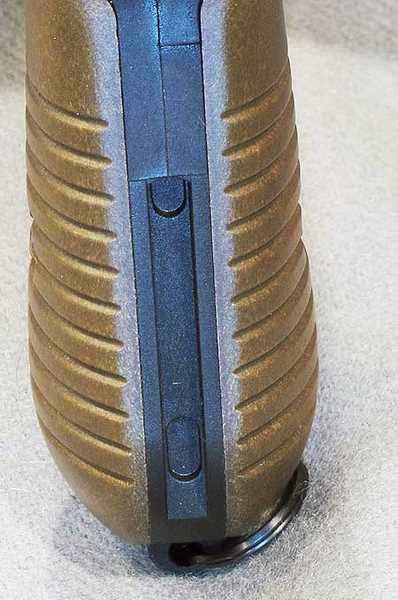 The pistol grip is slotted for a separate shoulder stock.
Not having a shoulder stock is not a great loss, though. I've fired the Broomhandle as a carbine and found it to be very inaccurate. Of course, that could just be the ammo I used, once again. But any pistol/carbine is a compromise, and none of them have a reputation for accuracy or even utility. It would be nice to have an authentic holster in which to carry the pistol, though.
Since the pistol is made to also be a carbine, the rear sight is an adjustable tangent leaf that adjusts up to 1,000 meters. The BB pistol has the same markings on its tangent sight leaf, though no shooter should ever expect to shoot a BB that far unless it's downward from a high platform. But it does give you the option of elevation for close-range shooting. There's no windage adjustment on this BB pistol or on the Mauser firearms.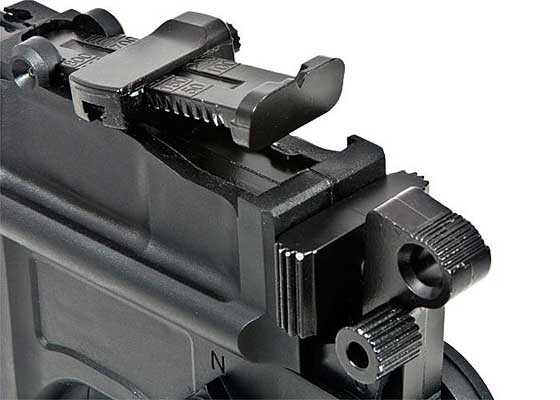 The rear sight adjusts up and down for distance.
Blowback!
This pistol has true blowback! Just like the firearm, the bolt handle comes back with each shot and cocks the hammer, so every shot is single-action. You must cock the hammer for the first shot. Some writers have suggested this is not a blowback pistol, but I think they're not familiar with the C96 Mauser action. It doesn't have a conventional slide like many autoloading pistols. The bolt is what moves to cock the hammer; and on the firearm, it also ejects the spent cartridge and strips a fresh one from the top of the magazine.
So, the Legends C96 is a true semiautomatic CO2 pistol. The trigger-pull is light and crisp. Unfortunately, unlike the firearm, the bolt does not stay open after the last shot's been fired, so it's up to the shooter to know when the last BB has been fired. You can continue to pull the trigger without BBs if you like.
The barrel of the Mauser firearm is dovetailed to the frame and does move when the gun recoils. It's how the designers delayed the opening of the bolt until after the high-pressure gasses were exhausted. It also allows the pistol to tolerate ammunition with a wider range of power. The BB pistol looks the same as the firearm, but that's just the casting details. The barrel does not move.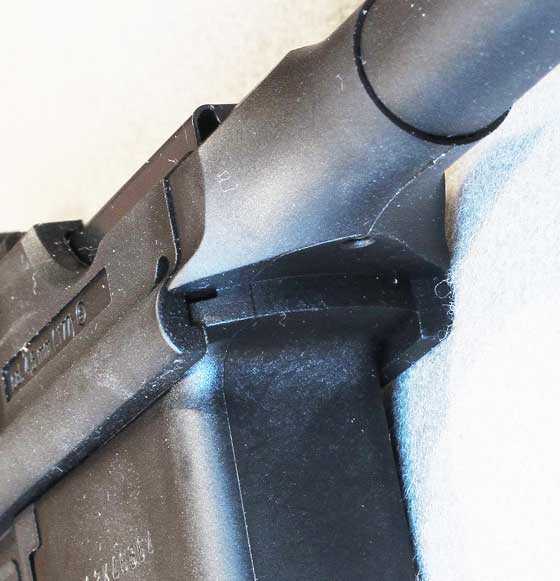 The barrel appears to be dovetailed to the frame, but this is just a casting detail.
Although it has blowback, this BB pistol will not recoil like the firearm. A Broomhandle Mauser really snaps your hand back, despite being chambered for light cartridges like the 7.63 Mauser and the 9mm Luger. That's because the bore is high above the grip, so the recoil has nothing to slow it down. I remember the recoil as one of the bad points of a Broomhandle.
Yes, the blowback of this BB pistol does give the shooter a sense that the gun has fired, but there's no heavy snap to your wrist. Trust me, this is better!
The safety is identical to the Mauser firearm part and works the same way. I found it to be positive and much easier to apply than the firearm safety.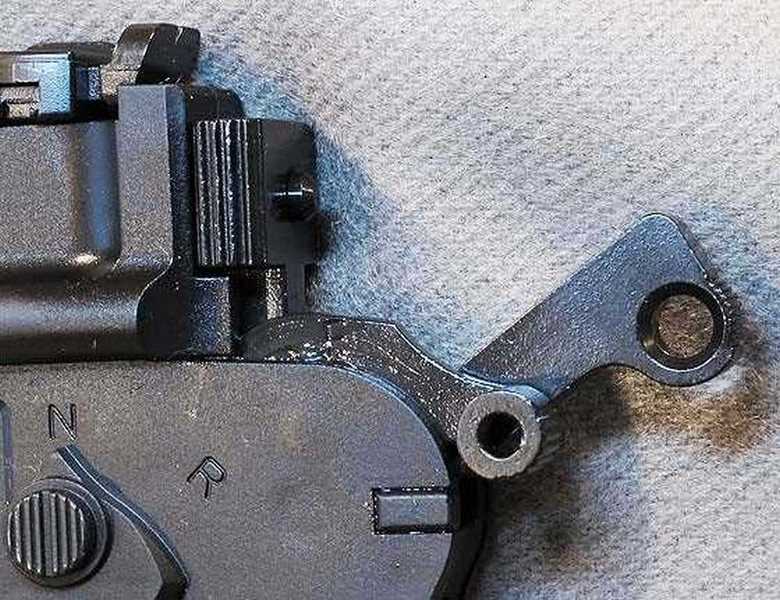 The safety is rotated to the rear and the hammer is cocked, making the pistol ready to fire. You can see the selector switch clearly in this photo.
Summing up
When Herr Wonish of Umarex told me last February this pistol was coming, I told him I was eager to see it. Now it's here, and I intend examining it thoroughly!
by Tom Gaylord, a.k.a. B.B. Pelletier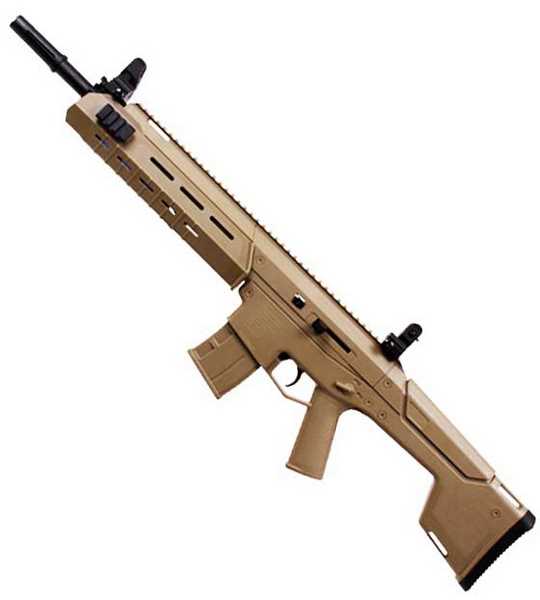 Crosman MK-177 is a multi-pump version of FN's SCAR.
Today, we'll begin testing the accuracy of the Crosman MK-177 multi-pump pneumatic. Because this rifle shoots both pellets and BBs, I'll test both, but not at the same time and not in the same way. Today's test of lead pellets was done at 10 meters, using the iron sights provided with the rifle.
I decided to use 5 pumps per shot for the entire test. That was both easy to do and was also pretty quick. According to the velocity test we did last time, Crosman Premier lites were averaging just over 500 f.p.s. on 5 pumps.
It took five shots to sight in the rifle. The first shot was 3 inches high and 2-1/2 inches to the right. Crosman supplies a sight adjustment tool with the MK-177, and I had to use both ends of it. One end is a flat-bladed screw driver that moved the rear sight to the left. The directions are printed on the sight, so there's no confusion.
The front sight had to be raised because the rifle was shooting too high, so I unscrewed the front sight post several turns. Shot 2 was about three-eighths of an inch too high and three-eighths of an inch too far to the right. The hole was in the black bull, but it wasn't centered. So, I made small adjustments to both the front and rear sights and fired again. This shot cut the 9-ring, which was close enough for me. I fired the other 2 shots, and they landed near the third shot. Sight-in was finished.
Crosman Premier lites
This is a Crosman rifle, so the first pellet I chose to test was the Crosman Premier lite. The first pellet hit the 10-ring of the bull, so I stopped looking through the spotting scope and just shot the gun. After the 10th shot, I looked at the target and saw a disappointing horizontal group that measured 1.173 inches between centers. None of the shots had been called as pulls (meaning the sights were off target when the gun fired), so this group surprised me.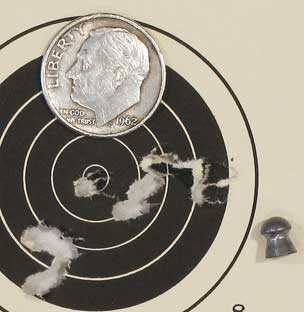 Ten Crosman Premier lites made this 1.173-inch group at 10 meters with the Crosman MK-177 pneumatic. It is surprisingly wide for 10 meters.
Air Arms Falcons
Next to be tried were the Falcons from Air Arms. They're domed pellets made by JSB and weigh 7.33 grains. Once, again, the first shot cut the 10-ring, and I never looked after that. This time, the group was much better, measuring 0.839 inches between centers. It's also much rounder than the Premier lite group, leading me to think the rifle likes this pellet better.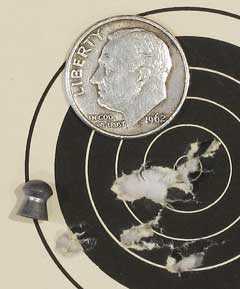 Ten Air Arms Falcons made this 0.839-inch group at 10 meters. This group is rounder than the first, which is a good sign.
The rifle's behavior
At this point, I'll comment on how the rifle performs. Shooting for accuracy I found the left-mounted cocking handle to be less of a problem than it had been when I tested the velocity. My procedure was to cock the bolt, advance the magazine, close the bolt, then pump the gun. This became a routine after a few shots, and it went surprisingly fast.
I rested the rifle on a sandbag for the shooting. Though it's very light, the rifle was dead calm on the bag. The sights did not move one bit. And the MK-177′s trigger is so light and smooth that I found it very easy to shoot this way.
Pump effort identical to the 760
A reader asked me last time how this rifle compares to the 760 Pumpmaster in pumping effort. Silly me! I should have realized that the MK-177 is a 760 in another skin, but I tested my 40th Anniversary 760 just to make sure. The pumping effort is identical; or if there's a small difference, the 760 is slightly harder because the MK-177 pump arm is a little longer.
RWS Hobbys
The next pellet I tried was the RWS Hobby. These fit the clip a little tighter, and I could feel some resistance when the bolt pushed them into the breech. Again, I checked the target after the first shot then never again until I was through. I noted that this pellet moved over to the left side of the bull with no change to the sights. There's a lesson to remember!
Hobbys grouped very close to Falcons, with the difference being due to measuring error more than any real practical difference. Ten Hobbys went into 0.858 inche…again, the group is fairly round.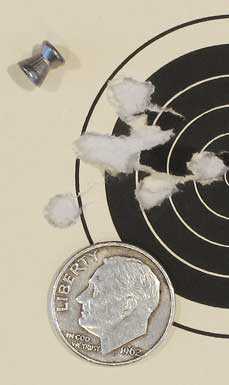 Ten RWS Hobbys made this 0.858-inch group at 10 meters. This is so close to the Falcon group that it's too close to call. Hobbys are wadcutters which cut cleaner holes, and may have lead to their group measuring slightly larger.
H&N Match Pistol
At this point, I was ready to declare the MK-177 to be an accurate multi-pump, but I had one more pellet on the table to test. And that one was the H&N Match Pistol pellet — another wadcutter. I've had remarkable results with H&N Finale Match Pistol pellets in some target rifles, but the straight Match Pistol pellet has never done better than average. Until this test!
Ten pellets went into a group that measures 1.239 inches between centers. No record there! But look at the tiny group that 9 of those 10 pellets made! It measures just 0.399 inches and is very round! Ladies and gentlemen, I think we have a winner!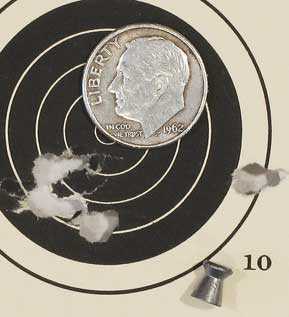 Ten H&N Match Pistol pellets went into a 1.239-inch group, but 9 of them went into 0.399 inches! I think this pellet might be the best one for this rifle.
From the results seen here, I think the MK-177 is a very accurate air rifle. It's worthy of a 25-yard test with an optical sight. I'm thinking the red dot sight I'm using on the TX200 Mark III would be good for that. Before I do that, though, I'll test the rifle with BBs at 25 feet.
So far, the MK-177 is a real winner! I enjoy the ease of use and the accuracy. If I didn't already own a 760 and an M4-177, I would, perhaps, buy this one.