by Tom Gaylord, a.k.a. B.B. Pelletier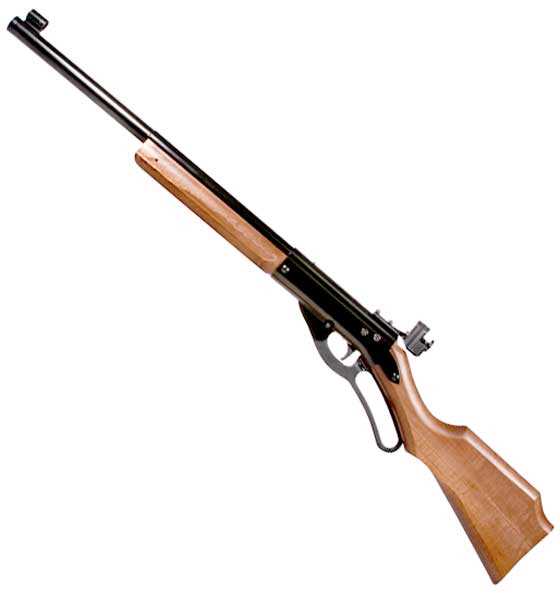 Daisy Avanti Champion 499 is the world's most accurate BB gun.
This test of the Daisy Avanti Champion 499 at 10 meters was requested a couple weeks back by a blog reader, and several of you seconded the request. It was in response to a discussion of the spin rate of projectiles and what benefits it conveys.
After I agreed to write the report, another reader asked me to test not only the Avanti Precision Ground Shot that's made specifically for the 499, but also some more common BBs. So, today, we'll see how the 499 performs at the 5-meter distance for which it was designed, as well as at 10 meters. I think we're in for some interesting ballistics.
The 499
For those who don't know, the Avanti Champion 499 is the world's most accurate BB gun. It's the only BB gun to compete each year in the International BB gun Championships at Bowling Green, Kentucky. Like the wheels and axels on Soap Box Derby racers (the All-American Soap Box Derby is an annual race where children race home-built cars powered by gravity, alone), the 499 is so specialized and ahead of the competition that there's nothing that can touch it. Unlike derby wheels, though, anyone can own a 499 because they're sold through specialized airgun dealers like Pyramyd Air (along with their special ammunition).
Although it may look like a Red Ryder to the casual observer, the 499 is as special among BB guns as a Formula One racer is among automobiles.
The 499 is a single-shot BB gun that has a precision smoothbore barrel. It's loaded through the muzzle by dropping a BB down a funnel-shaped spout, where it enters the true barrel and rolls to the rear to be captured by a magnet. Regular BBs take 0.50 to 1.00- seconds to roll down the barrel, while the Precision Ground Shot can take up to 5 seconds.
The gun was developed by Daisy for their National BB Gun Championship Match. They noticed that coaches were ordering many shot tubes for their teams' model 99 and 299 target BB repeaters that were used in competition at the time. The coaches were looking for the most uniform barrels that would shoot the best. When Daisy recognized that, they simply designed a gun to be accurate from the start. Once the 499 became a reality, all other BB guns were obsolete because nothing else could keep up.
For over a decade, the gun and ammunition was available only directly from Daisy, until I discovered it while writing The Airgun Letter. The guns were hand-built and Daisy didn't really think they could sell them to non-target shooters because of the extra cost; but once the word was out about how accurate they are, everything changed. They're probably still made by hand today, and I'm sure they're not one of Daisy's most popular products; but if you like accuracy, you really should look into getting one of these.
Baselining the gun
Before I shoot at 10 meters, I thought it would be nice to see what the gun can do at the regulation distance of 5 meters. I could have found old images for this because I've done this test many times before, but I always welcome the opportunity to shoot this marvelous little gun. I shot it on NRA 15-foot targets because I don't have any of the slightly larger official 5-meter BB-gun targets on hand. The NRA is out of touch with BB gun competition and is stiill using the 15-foot target, where the rest of the world has backed up another 1.4 feet to 5 meters.
For this test, I selected three types of ammunition — Crosman Copperhead BBs, Daisy Zinc-Plated BBs and Avanti Precision Ground Shot. When I load the gun, I listen to the BB roll down the barrel and strike the magnet at the bottom. Copperheads roll the fastest — taking about a half-second to make the trip.
Crosman Copperhead BBs
I shot 10 shots with each BB at 5 meters. I used the back of a chair as a rest because this was a test of the gun — not me. There were no called fliers, and the 10 Copperheads grouped in 0.574 inches. That measurement is approximate, as BBs do not tear clean holes in target paper.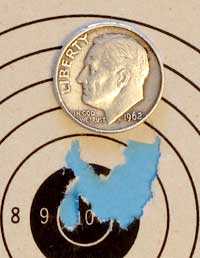 At 5 meters, 10 Crosman Copperhead BBs tore this hole, which measures 0.574 inches between centers.
Daisy Zinc-Plated BBs
Next up were Daisy Zinc-Plated BBs at 5 meters. These are ever-so-slightly larger than Copperheads and take 0.50 to 1.50 seconds to roll down the barrel. They made a 10-shot group that measures 0.361 inches between centers — and keep in mind this is approximate, at best. But you can see in the photo that this group is tighter than the first one.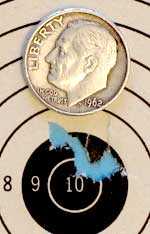 Ten Daisy Zinc-Plated BBs made this 0.361-inch group.
The final group was shot with Daisy Avanti Precision Ground Shot that is specially made for the 499. If anything is going to group well in the gun, this is. Ten shots made a group measuring 0.224 inches between centers. The hole on the target tells all, as it is either a score of 99 or 98 — it's too close to tell.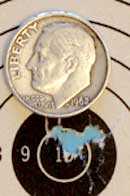 Avanti Precision Ground Shot shows what the 499 can really do. Ten went into this 0.224-inch group at 5 meters. This is almost a perfect score.
On to 10 meters
Now that we know how well the gun can shoot, it's time to back up to 10 meters and test what we all came to see — namely, how well the 499 does at 10 meters. This is the first time I've done this, so I am just as interested in the results as all of you.
Crosman Copperhead BBs
First up were the Copperheads. I didn't change the sight setting, so we'll forgive the placement of the shots in this test. Ten shots landed in a group that measures 1.118 inches between centers. That's actually slighly smaller than double the 5-meter group size (which would be 1.148″); so, allowing for the measurement error, it seems to be right-on.
Notice the two shots that landed below the main group. There were no called fliers, so those BBs are probably not the same size as the others.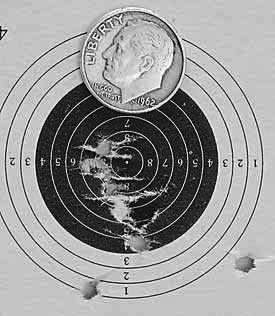 At 10 meters, 1o Crosman Copperhead BBs made a 1.118-inch group. Those two at the bottom were not called as fliers.
Daisy Zinc-Plated BBs
Next up were the Daisy Zinc-Plated BBs that do so well in this gun for normal BBs. Ten of them made a group measuring 0.828 inches. That's larger than double the 5-meter group size, which is what I expected at 10 meters. Again, there were no called fliers, and one stray BB hit below the main group.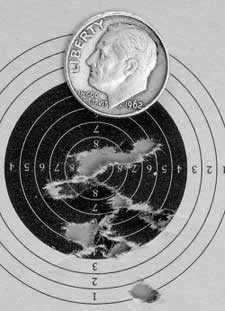 Daisy Zinc-Plated BBs did well at 10 meters. This is a 0.828-inch group. The lone shot at the bottom was not a called flier.
Daisy Avanti Precision Ground Shot
Finally, I shot the Avanti Preciaion Ground Shot at 10 meters. The picture tells the story. Ten shots landed in a group that measures 0.755 inches across. This group is larger than double the 5-meter group with the same BB, which is what we would expect. Let's talk about that next.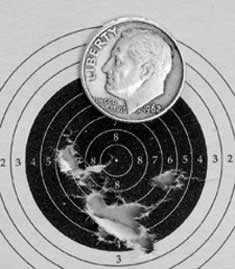 This is where the pedigree of the Avanti Precision Ground Shot shows up. Ten made this 0.755-inch group with no real stragglers.
Why aren't the groups just double the size at 10 meters?
This is a common misconception that I'd like to address. Groups don't open up on a linear scale as distance increases. A 10-meter group should not be twice as large as a 5-meter group. And here we must differentiate between a spin-stabilized conical bullet and a round ball fired from a smoothbore.
A ball that's not spin-stabilized will deviate much faster than a ball that's stabilized by the spin introduced by rifling. A rough comparison can be made to a baseball that is intentionally thrown without spin — the famous knuckleball. It will go straight for a short distance, then suddenly deviate wildly and unpredictably from its ballistic path. The comparison is not perfect because a baseball has seams that affect its movement through the air, but the principle is similar.
Conclusion
Don't run out and buy Avanti Precision Ground Shot for your Red Ryder. That would be like putting premium gasoline into a lawnmower! On the other hand, don't buy a 499 and then try to shoot it with standard BBs. That's false economy going the other way. Back up a few feet and look at what you are paying for ammunition, and then buy what makes the most sense.
The 499 is a special gun that's purpose-built to do one thing — shoot BBs as close to where you aim as possible. I rested the gun for this test, but every year there are children who shoot similar targets offhand in competition.
Thank you!
I would like to thank everyone who requested today's test because it was something I've never done before. Now, we all know what an accurate smoothbore shooting a steel BB can do at 10 meters.
by B.B. Pelletier
This report was requested by blog reader Wulfraed in one of his comments.
For the benefit of those who shoot airsoft guns, the BB I am addressing today is the steel BB that historical BB guns shoot — not the 6mm plastic ball that Asian-made airsoft guns started using in the 1970s.
Brief history
The first BB used in an air rifle was BB-sized lead shot used by shotgunners. In the day when it was popular (the 1880s), shot was sold in bags in hardware stores and came in various numerical and letter sizes, including sizes B, BB and BBB. BB shot was supposed to be 0.180 inches in diameter and weigh more than nine grains.
At the turn of the 20th century, Daisy reduced the size of what they always called air rifle shot to a lead ball 0.175 inches in diameter. That saved them lead and also went faster because it was a lighter ball.
In the 1920s Daisy discovered that some boys in Minneapolis were using steel ball bearings that they were salvaging from a reject pile behind the American Ball Company. They checked the sizes of the balls they wanted to shoot by dropping them through the bores of their shot tubes. If they passed through, they were fired. If they stuck, well, a huge influx of stuck steel balls in shots tubes was what got Daisy's attention in the first place.
Long story short, Daisy bought American Ball and started making their own steel air rifle shot. It was sized 0.171-0.173 inches, nominally. They had to change the size and design of their shot tubes to accommodate the new shot, and some time late in the 1920s BB began rebounding from hard targets with great force — something the soft lead balls had not done. This started the mothers of American warning against shooting your eye out.
Wulfraed's question
So, how do they make a perfectly round sphere of steel? You can't afford to cast steel into balls, nor can you afford to forge or swage the balls — again, because of economy.
So, how is it done? Pretty simply when you understand how it works.
Ever roll a piece of clay into a ball? You hold it between your palms and rotate each hand in the opposite direction. Has anyone not done this as a child?
So, short of being Superman, how do you roll a piece of steel into a ball? Well, it helps to have hands of steel, and that's exactly how they do it.
The first step is to get a piece of steel that's close to the right size, which means the same mass as the ball (BB) you wish to make. An easy way to do this is to take a spool of steel wire and cut it into precise chunks, then feed them between two hardened steel plates that have spiral grooves cut in their mating faces. Each plate is several feel across.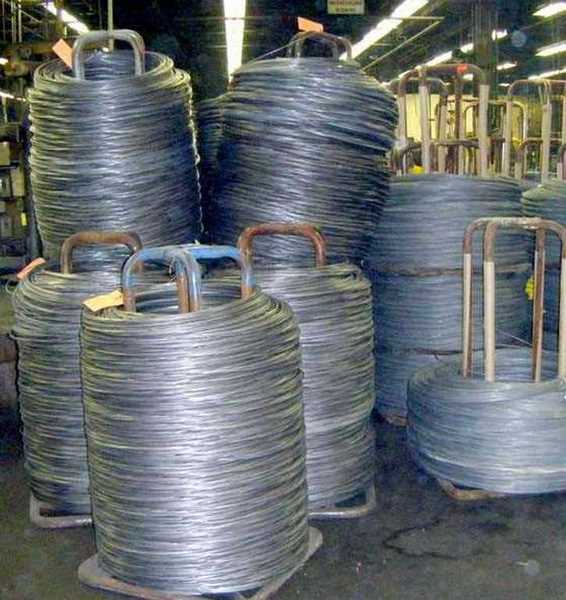 Each large spool of steel wire weighs about a ton (2,000 lbs.). These are fed into a precision wire cutter that slices off exact chunks the right size to make one steel BB. You can see by the amount of wire on hand that they intend making millions!
This wire-slicing process is called heading; and if it isn't done precisely, the finished BB may be spherical, but have one or more small flat spots in its surface. This defect comes from improper heading and is very difficult to sort out during the manufacturing process.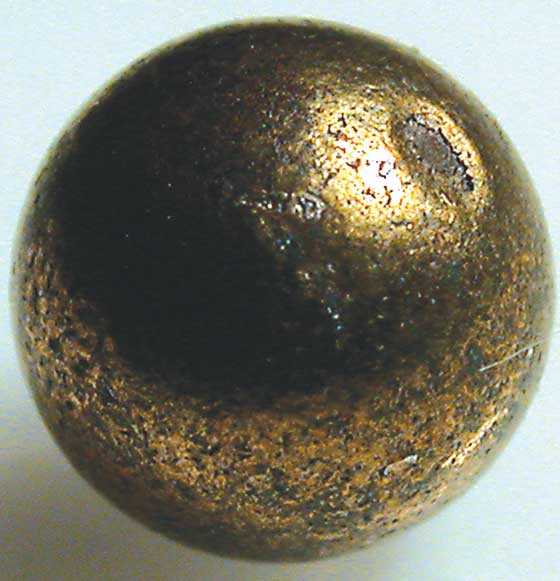 This BB with a flat spot from a header error made it all the way through the manufacturing process. This used to be very common but is seen less often today.


BB on the left with three lead balls of different sizes. Copper-colored lead ball is plated with a thin coating of copper. Ball at right is .22-caliber size.
The plates are smooth on their surfaces, except for the spiral grooves. The chunks fall into the grooves as the two plates rotate in opposite directions — like your hands rolling a piece of clay into a ball. The spiral grooves catch the sharp edges of the cut steel pieces and roll them around as the plates turn. Once the pieces fall into a spiral, they cannot get back out, so they remain in the groove, tumbling and rolling around.
The spirals also become more shallow as they spiral in the plates, so the balls can't stop tumbling and rolling, and they cannot back out. As the steel plates turn, the balls are forced in the same direction, which makes them smaller and rounder as they go. In the end, most of them roll into near-perfect spheres — just like the clay balls you rolled in your hands.
I would like to show you these steel plates; but this part of the BB-making process is considered proprietary, and I was not allowed to photograph it.
These balls are not yet BBs. But back to this rolling process a minute. The manufacturer feeds thousands of chunks of steel each hour into each set of plates they have working, and when the chunks are rolled into near-perfect balls, they then drop out of the plates. Some kinds of imperfect balls will also drop out, but they'll be caught later on.
So, thousands of round balls per hour come from each set of rotating steel plates. The balls that exit each set of plates are carried by conveyor to a metal-plating machine where they receive a very thin coating of rust-inhibiting metal. As raw steel balls, they would start to rust almost immediately; but when uniformly plated with copper or zinc, the steel is sealed from the air and the BBs can last for years without oxidizing.
Once they're plated, they're sorted by several processes. One process rolls them down a spiral channel where the smooth BBs pick up speed and roll up on the sides of the channel from centrifugal force — much like a bobsled going downhill, while those that have some rough spots roll slower and more bumpily, staying in the center of the slide where they eventually drop through holes and are eliminated. What passes this test are finished BBs.
They may be graded by size at this point, by passing over holes of different sizes and then being sent to different places for packaging into different products. If any are too small or too large, or if they have any flashing or other imperfections, they'll usually be caught in this last test.
Start to finish, the process takes some time, measured in hours because of queing and transit time. The actual manufacturing time is much less. Crosman runs three shifts a day and cranks out 4 million finished BBs every 24 hours.
Daisy used to make its BBs this way, or by a process that was very similar, but they have now moved the manufacture of their BBs offshore. They receive 55-gallon drums of finished BBs from their foreign manufacturer, which they then sort before packaging. Their BBs are extremely uniform, so the process works regardless of where the BBs are made.
by B.B. Pelletier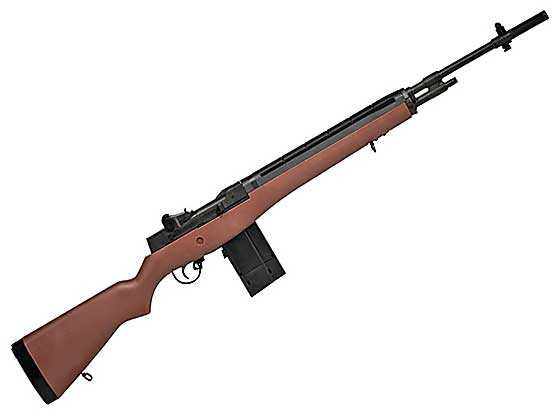 Winchester's new M14 dual-ammo rifle looks very much like the military rifle it copies.
Redemption is a powerful experience, because it comes only after suffering and anguish. Redemption is what I longed for with the Nelson Lewis combination gun and with my Ballard rifle. Today, however, I'm going to talk about another redemption — that of the Winchester M14 dual-ammo rifle.
In Part 1, we learned that this rifle is nearly all plastic — which for many, including me, is a put-off. We also learned that it uses two 12-gram CO2 cartridges instead of one, and that assaulted the the miser in all of us. Accuracy is the only thing that would make it worth the extra cost.
When we looked at the velocity in Part 2, we discovered that the rifle does not begin to achieve the advertised velocity of 700 f.p.s. That's not a bad thing, except it leaves us disappointed from unrealized expectations. The velocity should prove high enough, though, as long as the rifle is accurate — which brings us to today's test. Part 3 — accuracy day.
The Winchester M14 is both a BB gun and a pellet rifle, so I had to test the accuracy of both types of projectiles. BBs get tested at the standard 5 meters (just over 16 feet) distance, while pellets were shot at 10 meters. And each target got 8 shots instead of 10 because of the capacity of the circular clip at either end of the stick magazine. Trying to load just two more of anything in one of these clips is annoying and troublesome at the least.
So, it was BBs first, as they're shot at the closer distance. I shot the rifle using Daisy zinc-plated BBs offhand at 16.5 feet.
I left the sights as they came out of the box. With a 6 o'clock hold, the first BB struck the target at the exact aim point, so I stopped checking and fired 7 more shots. This rifle is super-easy to shoot, as there's nothing to do but pull the trigger. The cocking and advancement of the cylinder are all taken care of by the gun. And as light as the rifle is, it's easy to hold it on target for all 8 shots.
After the clip was empty, I walked up to the target to see the results, which is when the word "redemption" came into my thoughts. The group is very round and measures 0.532 inches between centers! This is a group I might shoot with a Daisy 499 Champion — the world's most accurate BB gun. I've never shot a group this small with any other long BB gun, that I can remember.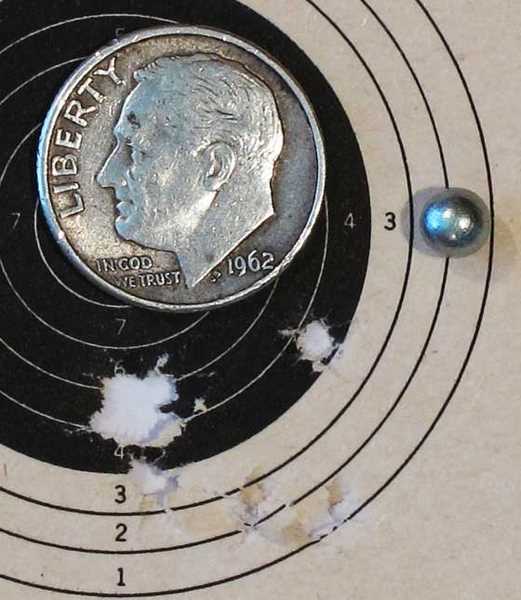 The first group of Daisy BBs made this dime-sized group at 5 meters. It measures 0.532 inches. Pretty encouraging!
What if it was just a fluke? What if the next 8 BBs went into a group twice the size? Only one way to find out. I shot a second group. This time, it was positively fun — as the confidence of an accurate gun poured over me! I adjusted the rear peep up three clicks and shot again.
The second group was easier to shoot because I now knew the gun was accurate. I only hoped I could repeat what had been done before. Alas, that didn't happen, as the second group was smaller than the first. Eight shots went into a group measuring 0.472 inches!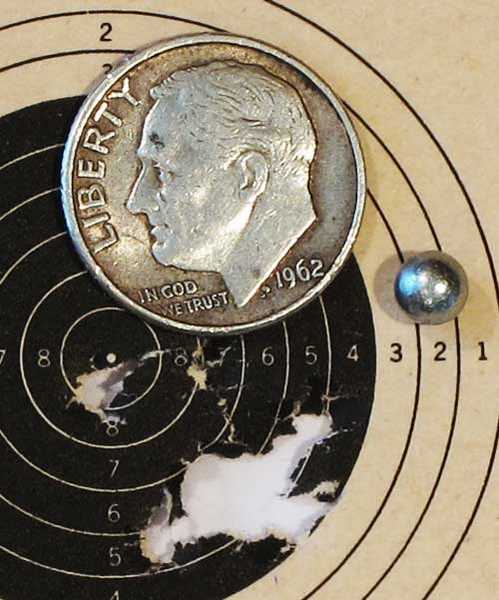 This second group of BBs is even better! It measures 0.472 inches.
What now?
Here's a BB gun that rivals the most accurate BB gun ever made! And this one has M14 sights that encourage target shooting. Look at the center of the second group. It's just a little higher than group one, which is exactly how the sights were adjusted.
Now I moved back to 10 meters where I could shoot pellets from a rest. Again all the groups will have 8 pellets because of the mag capacity. The rifle was rested on a sandbag positioned under the forearm just in front of the magazine that hangs down. Although this rifle is very light, I found it to be very steady in the rested position, and the trigger-pull did not disturb the aim point.
The first pellet I tried was that champion of lower-powered spring guns — the JSB Exact RS that Kevin turned me on to. It struck the target higher than the BBs, but did not group very well. Eight pellets made a group measuring 1.384 inches between centers. That's not good for 10 meters.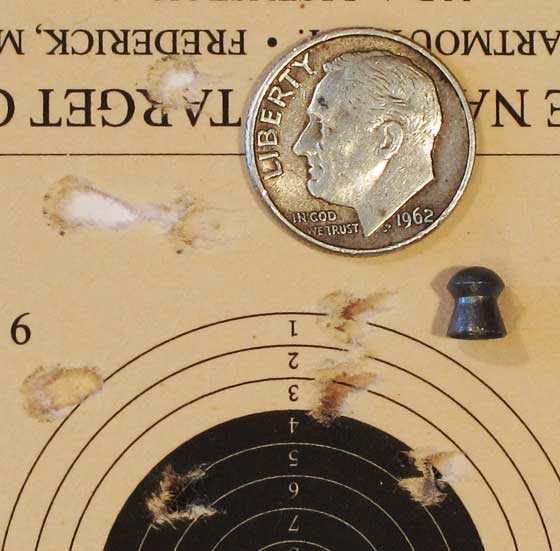 JSB Exact RS pellets blew up at 10 meters! Group measures 1.384 inches between centers.
I followed the JSB pellet with our new friend — the H&N Baracuda Green that we're learning to love. As light as it is, I wondered if it might be suited to the lower power this rifle generates. Apparently it is, because 8 of them went into a tight group that measured 0.739 inches. This is only 10 meters; but if you look at this group, I'm sure you'll see the potential the rifle promises.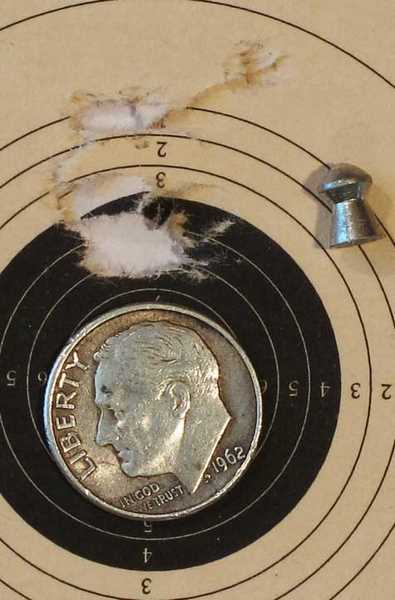 H&N Baracuda Green pellets made this tight 0.739-inch group at 10 meters. You can see how tight it is. This shows real potential.
Next up were some H&N Match Pistol pellets. I chose them for no special reason, other than I am trying to mix up the pellets I usually test with. They printed a group that measures 0.694 inches between centers — so just a little smaller than the Baracuda Greens. The rifle just keeps on doing better!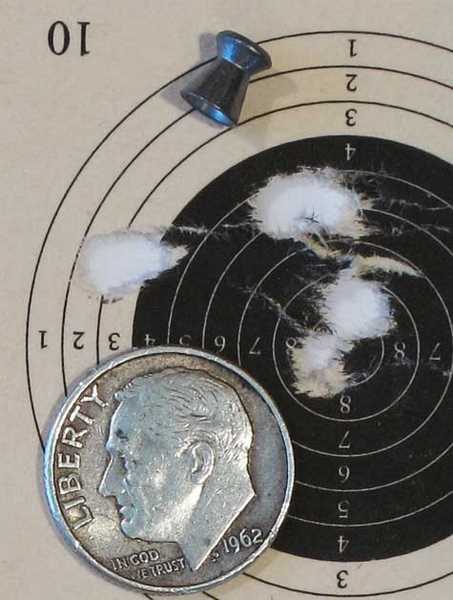 H&N Match Target pellets made the best group of pellets, measuring just 0.684 inches at 10 meters.
The final pellet I tried was an RWS R10 Match Pistol pellet. This pellet is among the best target pellets I have available, and I wanted to see what it could do in this rifle. The 8-shot group measures 0.722 inches across, so it's between the Baracuda Greens and the H&N Match Pistol pellets.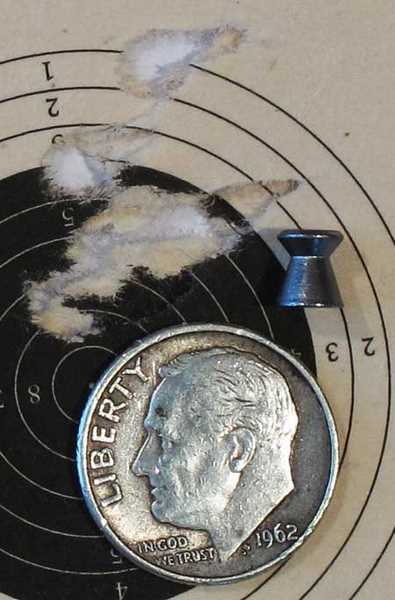 This group of RWS R10 Match Pistol pellets is also very tight — at 0.722-inches.
Evaluation
Do you notice we have three groups that are very similar in size? I think the rifle is capable of this level of accuracy all day long, and perhaps there's another pellet I haven't tried that's even better. The gun shoots easily and very much resembles a fine target rifle when I shoot it. The sights are easy to see, and very crisp, plus they seem to adjust with precision.
As I shot this rifle I thought of blog reader Matt61 and his new Garand. Here's an apartment-sized airgun that he could use to keep his skills sharpened for those days when he can't get out to the range with the large firearm.
I was also reminded of when I was a youngster, shooting the NRA's beginner training course. There's virtually no resemblance between this rifle and the Winchester 52, but the shooting experience seems so similar that it's scary. I understand why all those customer reviews have praised the accuracy so highly, and also why they've forgiven the plastic and light weight for the most part. The Winchester M14 has redeemed itself in my eyes!
The last word
I used the Winchester Airgun Target Cube to stop the BBs and pellets fired in this test. Because this rifle shoots faster than 350 f.p.s., the cube was turned to the side for higher-velocity rounds. As before, the cube caught all BBs and pellets with no mess and nothing got through. I will continue to report on the performance of this cube backstop as I use it in future tests, with an eye to discovering just what it will take.
by B.B. Pelletier

Winchester's new M14 dual-ammo rifle looks very much like the military rifle it copies.
Let's test the velocity of the Winchester M14 dual-ammo rifle. Of course, I'll test it with both BBs and lead pellets. This rifle is a semiautomatic 8-shot repeater powered by 2 CO2 cartridges. Someone made a comment that referred to the rifle having blowback action, but I want to clear that up — it doesn't. Yes, the action operates by CO2 power and really is semiautomatic; but no — there's no sensation of blowback, and nothing moves when the rifle fires.
You do have to pull the "bolt" back to cock the rifle before the first shot. It's not really a bolt — just a plastic cover to hide the metal internal parts of the firing mechanism. But the act of pulling it back is realistic.
The stick mag has an 8-shot rotary clip on each end. After firing 8 shots, you pop it out and reverse it for another 8. Then, you must reload the magazine. I see no reason why you can't carry additional loaded magazines, as long as you take some care to keep them clean. They do have moving parts that affect their function, so these parts have to be able to move or the gun will jam.
BBs first
I tested the rifle with Daisy zinc-plated BBs first, and discovered that the rotary clips have a magnet inside to hold the BBs in place. Because the chambers in the clips are for .177 pellets, they're too large for BBs — which are .173-caliber. But the magnets securely hold the BBs in place.
BBs averaged 560 f.p.s. and ranged from a low of 546 to a high of 580 f.p.s. That's a pretty broad spread for a CO2 gun. It's also 140 f.p.s. slower than the advertised top velocity of 700 f.p.s., which surprised me, because the BBs are very light and are possibly the fastest projectiles this gun can shoot. This BB weighs 5.1 grains and generates 3.55 foot-pounds of muzzle energy, on average.
The stick mag dropped out of position two times during the test, which entailed just over 40 shots. I'll chalk that up to my not seating it correctly for now, but it's something I plan to watch as the test progresses. I note that there's a click deep inside the gun that must be heard to know the magazine is seated correctly.
Now pellets
The first pellet I tried was the JSB Exact RS. As light as this domed pellet is, I felt it would compliment the power of this airgun well.
This 7.33-grain lead pellet averaged 519 f.p.s. and ranged from a low of 507 to a high of 542 f.p.s. At the average velocity, it generated 4.39 foot-pounds of muzzle energy.
Next, I loaded RWS Hobby pellets. At just seven grains, I expected them to be the velocity champs among the pellets, but they turned in a disappointing average of 491 f.p.s. The spread, however, ranged from a low of 443 f.p.s. to a high of 532 f.p.s., indicating the gun was running out of gas. This was after fewer than 30 shots had been fired! Well, it's possible that I shot it more times while writing Part 1 and just didn't remember it.
I installed two new CO2 cartridges; and as the old ones were expelled, they both lost a lot of gas. The rifle was not firing at this point, so a lot of gas was being wasted. I kept track of each shot these new cartridges gave, so I could report the total shot count.
With the new cartridges in place Hobbys gave an average 549 f.p.s. The spread, though, was still very large, extending from a low of 507 to a high of 592. Since the first four shots also expelled a cloud of CO2 vapor, I know they were artificially higher than the average, which was more in the 520 f.p.s. region.
I don't know what to make of these velocity numbers. Clearly, Hobbys were all over the place, depending on how new the CO2 cartridge was. I would guess their average is really closer to 520 f.p.s., which would give them an average muzzle energy of 4.2 foot-pounds.
I must also note that Hobbys were too large to seat in the chambers of the circular clip easily. I had to use the Air Venturi PellSet to get them into each chamber far enough for the clip to rotate freely. Perhaps, that might explain their erratic behavior.
The next pellet I tested was the Crosman Premier 7.9-grain dome. These averaged 472 f.p.s. in the M14, and the velocity spread went from 457 to 482 f.p.s. At the average velocity, this pellet averaged 3.91 foot-pounds of energy at the muzzle.
Trigger pull
I mentioned in Part 1 that I felt the trigger was close to a military pull. Well, it breaks at an average 6 lbs., 5 oz., so it's just a little heavier than the standard 5-lb. military pull. The pull is a little creepy, but it's not bad. I will probably have more to say about it after the accuracy test.
Shots per fill
We're using two CO2 cartridges in this rifle. So how many shots does that give? I disregarded the early cartridge swap and started counting after the new cartridges were installed.
I got a total of 112 shots before feeling it was necessary to change the cartridge. That's a good number for everything else this gun does. Let me tell you how it went.
I used mostly JSB Exact RS pellets for this test, so I could see where the power was at any given time. After the first 40 shots, the gun no longer shot above 500 f.p.s. It stayed around 470 until shot 88; but if several shots were fired quickly in a row without giving the gun time to warm up again, the velocity dipped down to almost 400 f.p.s. Stop shooting a minute, though, and it's back to 470 with the RS pellet.
After shot 88, the rifle dropped below 400 f.p.s. for the first time and started slowing down. If 5 shots were fired rapidly the velocity at the end was only 312 f.p.s. After shot 104, the gun was always in the 300s. I stopped at shot 112 because I felt the gun could jam if I went too much farther. Shot 112 was fired after a minute's pause and went 335 f.p.s.
Impressions so far
This rifle is turning out to be somewhat different than I thought at the beginning. It isn't as consistent as I'd hoped. It suffers too much velocity loss from the cooling effect as the gun shoots. That will be expressed as vertical stringing on any targets. The best accuracy will come by pausing a minute between shots.
Accuracy is next. I am very curious as to what we will see.
by B.B. Pelletier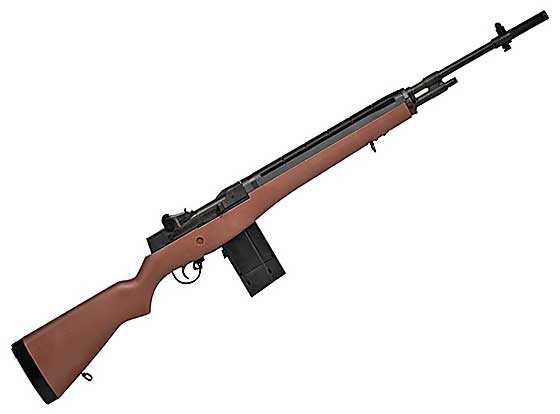 Winchester's new M14 dual-ammo rifle looks very much like the military rifle it copies.
I told you I would review the Winchester M14 dual-ammo rifle as soon as it came in. Well, the package arrived last week and today I'll begin my report.
This M14 is able to fire both BBs and pellets from its 16-shot magazine. The mag is a long stick with an 8-shot rotating clip on either end. After 8 shots have been fired, the magazine has to be removed and inverted to position the next 8 shots.
The rifle is powered by two 12-gram CO2 cartridges that fit in an assembly that also holds the stick magazine. This entire assembly fits into a fixed box "magazine" that extends down from the bottom of the action and cannot be removed. The bottom of the gas assembly matches the fixed box and lengthens the overall magazine look. A hole in the bottom of the assembly allows the stick mag to be removed when it need to be inverted, and a small button in the fixed box releases just the stick mag.

This photo shows the stick mag protruding from the bottom of the gas assembly and the gas assembly coming out of the bottom of the fixed box that's attached to the rifle. To remove the charged gas assembly, both a lever and a second button (located below the primary lever) must be pushed. The gas assembly comes out of the gun under pressure, so don't do this unless it's necessary!
The fact that the rifle uses two CO2 cartridges concerns me because they're costly — more so than the pellets. Given the muzzle velocity of an advertised 700 f.p.s., I would expect to get 45-50 shots from a single cartridge, so I'm hoping to see at least 90 shots from this rifle before it's time to replace the cartridges.
It's a rifle!
I will cover loading the mag and charging the gun in Part 2. Right now, I want to continue to describe the rifle. First of all — it is, indeed, a rifle. It has a rifled steel barrel that can also tolerate steel BBs, so either ammunition can be safely used. When I do accuracy testing, I'll test one type of ammo at a time. I don't want to rush this test because so many readers have indicated an interest.
Lots of plastic
When I first took the rifle from its box, the term "plastic-y" immediately came to mind. Without the gas/magazine assembly installed, the rifle is very lightweight due to a hollow plastic stock and external parts made of mostly plastic. The pull length seems about right, at 13-1/8 inches. And the shape and size of the stock seem the same as the M14 I remember — though I'm remembering something from 43 years ago.
In my opinion, the shape and realism of the airgun trumps the light weight and overly plastic nature. I learned to love the Crosman 1077, once it showed me accuracy that topped many premium European spring rifles. That's what this Winchester has to do, too.
For those readers who are only familiar with the AR-style of rifle, this M14 has a far more conventional feel when you shoulder it. The AR pistol grip that's too close to the trigger for almost every shooter is replaced with a more conventional pistol grip and reach to the trigger blade. And your cheek will find a nice resting spot on the broad buttstock instead of on some spindly tube. This is a feel I personally prefer.
The action and trigger
The box says this is a "semiautomatic." And this time they're right — it really is! Instead of a double-action revolver mechanism in disguise, this M14 really does operate semi-automatically. I don't know how they managed it, but they put a pretty nice military trigger-pull into this rifle, too. Those two things plus the sights will put it over the top if it's accurate.
The safety is exactly like the one on an M14, only almost everyone will be able to work this one with their trigger finger! It's smooth and positive, yet requires very little pressure to move in either direction.
Sights
The sights are very correct, and if you've never experienced a Garand or M14/M1A, this air rifle provides a cheap way of seeing the same thing. And the rear peep sight is adjustable in both directions, exactly the same as military sights, with one exception. The windage knob on my test rifle is very stiff, and sometimes I have to help it by pushing the sight carrier to the right to free it for an adjustment. I think this will wear in. My fear is that it may also wear out, because all I can see and touch is plastic. I sure hope the detents inside the sight are steel.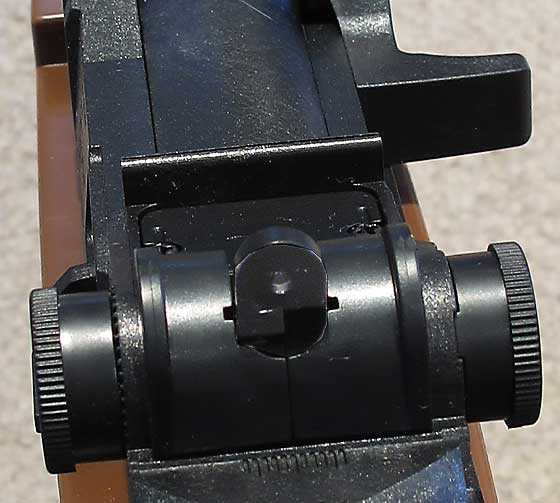 The rear peep sight is close to an M14 rear sight. Garand owners will recognize it, as well. If this air rifle is accurate, this sight will make the package very desirable!
Anyone who has ever owned a Garand will love the ease with which the elevation on this Winchester adjusts. Once the sight is where you want it, though, it stays put.
There's currently no possibility of mounting a scope on this rifle. And don't try to equate it to a genuine M14 or Garand that can be scoped, because those guns have steel receivers to accept scope base screws. This rifle's receiver is plastic, so there's nothing to drill into to mount the base.
Don't let that bother you, however, because this type of sight was one of the reasons the Garand was celebrated as the finest battle rifle of World War II. It's easy to use and very precise. If this rifle is accurate, the sights will do nothing but compliment it.
Sling
The rifle comes with sling swivels, and I am glad that no sling was provided. I say that because the type of sling that would have been selected is a cheap black nylon strap with toy-like thinness. If you want a sling, get a real one! The sling swivels appear to be well-anchored and look like they will even tolerate a hasty sling hold. Former military will know what that means. The rest of you should look it up on the internet.
The bottom line
Many of you reacted to the realistic look of this gun and asked me to review it. I now have one in my hands and I've told you how it feels and looks in person. In spite of the toy-like feel of the gun, the M14 genes carry through strongly, and I can't wait to shoot it. If it proves as accurate as it looks and feels, this will be a rifle that doesn't go back to Pyramyd Air!
by B.B. Pelletier
Announcement: Jedediah Strong Smith is this week's winner of Pyramyd Air's Big Shot of the Week on their facebook page. He'll receive a $50 Pyramyd Air gift card. Congratulations!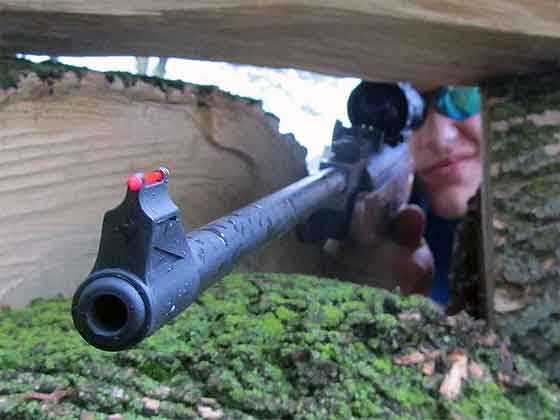 BSOTW winner Jedediah Strong Smith.
Firearms shooters get a new book or two every month or so. But airgunners are lucky to get a new one every year. Today, we're going to look at the latest airgun book from Daisy. It was written by Joe Murfin, Daisy's vice president of marketing and chairman of the board for the Rogers Daisy Airgun Museum.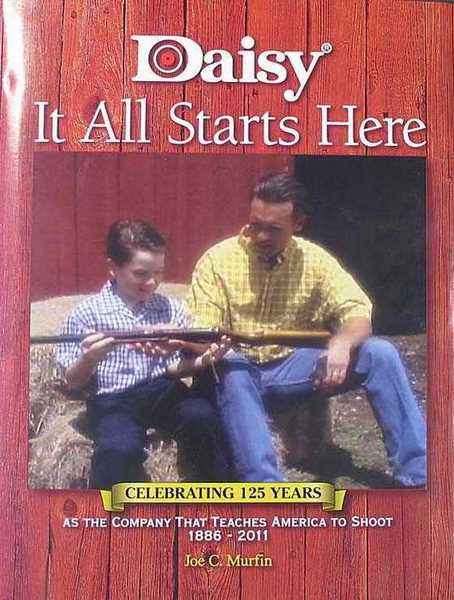 New Daisy book brings the history of the company up to date.
Daisy collectors all know that Cass S. Hough wrote a book called It's A Daisy that documents the beginnings of the company up through the time when he served as its president. Hough was the grandson of one of Daisy's founders and also a test pilot in World War II. He is credited with being one of the first men to fly faster than the speed of sound. It was in a power-dive in a P38 Lightning fighter over England in 1943, while he was testing a problem with the aircraft's control surfaces. Chuck Yeager is better-known for being the first man to break the sound barrier in level flight in 1947, but Hough and perhaps some others broke it much earlier during dives.
The new book, titled, Daisy/It All Starts Here is not exactly a follow-on to Hough's It's A Daisy, but it does fill in the blanks from the time the earlier book left off. The new book begins with a brief history of the company that will be of interest to Daisy fans as well as the general public, because it presents facts, literature and insights not previously published. It even explains why Daisy dates its beginnings to 1886, which collectors realize was several years before the first Daisy guns were made. I won't spoil the story for you — get the book.
The next chapter completes the history to the current period, so this book isn't just a history of the company. But I learned a lot of facts about Daisy that no one other than an employee would know. For example, just ask me how the Marine Corps has Daisy test their M1903 drill rifles. (What?)
How BBs are made
In chapter four, the author looks at the manufacture of BBs — the ubiquitous ammunition that defines the guns and even the entire Daisy company! There have been long articles about BBs in the past. Cass Hough wrote a chapter on them and the late Ladd Fanta did a very nice article many years ago for Gun Digest. I've even written a short report about the steel spheroid in this blog. But, again, Murfin manages to give us facts and data that I've never seen in any other source. With the files of the Daisy Museum at his fingertips, he had wonderful resources to draw upon.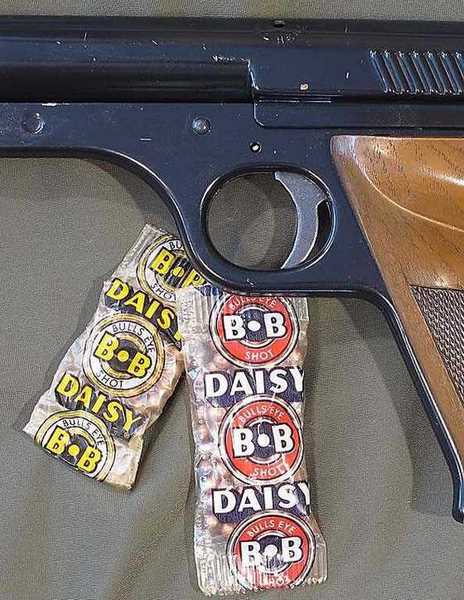 First, they were a penny, then a nickel a pack. Daisy BBs were sold in small plastic packages like these that were wound onto a giant belt. Storekeepers tore off only what the customer wanted.
The author hides nothing from the reader, who gets a fly-on-the-wall view of how BBs are made and distributed today. To say that this particular chapter is an eye-opener is an understatement.
Red Ryder Carbine-Action 200-shot Range Model Air Rifle
Another chapter documents all that's wrong and right about that iconic Christmas movie, A Christmas Story. Jean Shepherd had his main character, little Ralphie Parker, desire a BB gun that never existed. Then, when the movie was made, Daisy cooperated with MGM by building a few of the special guns for the film, and that got spun off into a special Christmas Story Red Ryder gun that never existed before the movie was made. Today, that gun is a major collectible in its own right, and there have been other Christmas Story Red Ryders made at later dates to commemorate the first one! Talk about life imitating art!
Daisy was not about to ignore the vast advertising potential of a movie that often gets shown 24 hours straight during the holiday season, so they also started marketing special tie-in branded items, including a working replica of the famous leg lamp that was made from a cast of Joe Murfin's leg! If the Red Ryder was already the most famous airgun in the world, the movie turned it into an object recognized by millions who aren't even aware that airguns exist!
Happy Daisy Boy
In 2005, Daisy was contacted by Tom Reaume, who said his father had been the Happy Daisy Boy. In his book, Cass Hough had identified George Rockford as the Happy Daisy Boy of 1913-1920′s company advertising, but Tom Reaume stepped forward with a 1913 ad showing his father, Rockford A. Reaume, holding the new Daisy No. 25 slide-action BB gun. That ad has hung in the Reaume family living room for decades.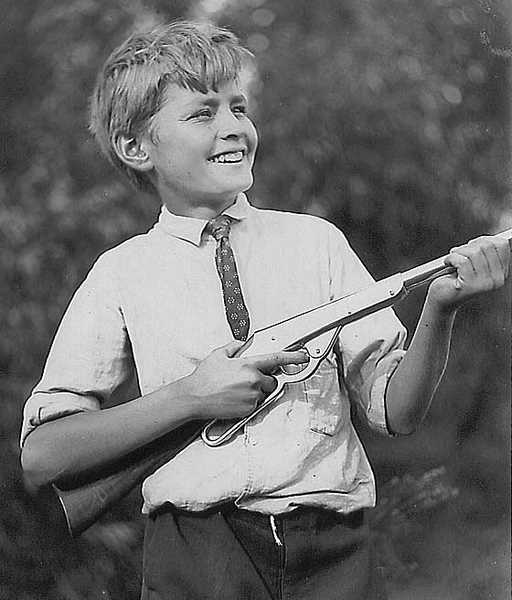 Rockford A. Reaume (a.k.a. George Rockford) was the Happy Daisy Boy from 1913 into the 1920s. His image appeared on a lot of early advertising.
I happened to be visiting Daisy when this took place and was honored that they allowed me to publish the story in Shotgun News, along with about 20 of the vintage photographs. It turned out that Tom Reaume was aware of the one ad, plus he had a small portfolio of photos of his father and several other boys, all posing with Daisy BB guns. But he did not know that his father had been a professional model. He presented copies of all the photos to the Daisy Museum.
Every 120 years
While I was with Murfin in 2005, I asked if he knew that someone had made a small run of the first model of Daisy BB gun several years before. They mounted it in a wooden display frame to hang on a wall. It was incredibly realistic, but non-functional. He was surprised to learn that these non-working copies were fetching $400 from collectors who didn't have the deeper pockets to buy the real thing.
We fantasized about Daisy making a reissue of the old wire stock model as airgun enthusiasts will do, but that was the last I heard of it until late in 2009, when I got wind that Daisy was coming out with a re-issue of the first model. I reported on that gun in this blog in January 2010.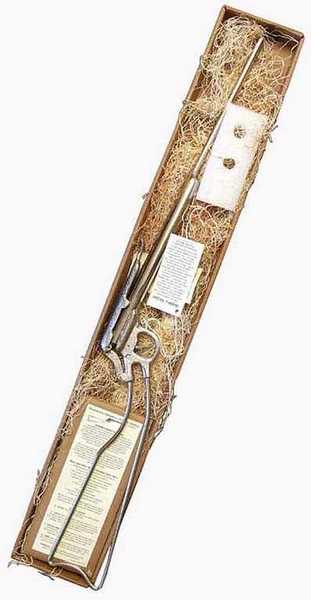 Daisy's wire stock first model was lovingly hand-made at the factory in 2009. In 100 years, will it be as famous as the original that came out a century earlier?
Daisy handmade these BB guns as a labor of love, right in their Rogers Arkansas plant. Everywhere possible, they used original materials — such as a hand-wrapped piston seal made from candlewicking soaked in beeswax! I knew this was a special gun when I got mine, but I had no idea what went into it. This book has opened my eyes to a process of airgun making that many would say is a lost art
Daisy firearms
Some of you know that Daisy made .22-caliber rimfire rifles for a time and also .22 rifles that used caseless cartridges. There's a lot of controversy over these guns because the caseless guns are actually airguns that ignite the gunpowder by means of hot air generated by the piston. It's an airgun that's also a firearm. Only 25,000 were made.
The Legacy bolt-action .22 rimfire is a much more conventional firearm. It came as a single-shot, a bolt-action repeater and as a semiautomatic repeater. But the Daisy name was not known to the firearms world, and these rifles had some non-ferrous parts that soured the buying public's opinion. They pop up at gun shows all the time these days, and the price ranges from $100 to $1,500, because sellers and buyers both still don't know what to make of them.
The book gives insight into what was happening behind the scenes when these guns were being made and sold. And the Wally World connection pops into the discussion. If you want to know the real story, it's all down in black and white, and the author pulls no punches.
The rest of 124-page $30 full-color hardbound book is loaded with more Daisy history from recent times. And the author was there to watch a lot of it as it happened. If you're an airgun collector or just a Daisy fan, you must have this book in your library. It's available only directly from the Daisy Museum in Rogers, AR.
by B.B. Pelletier
Simple enough question, no? Maybe you get confused by certain air-powered tools or perhaps a slang reference to a paint sprayer, but most folks know exactly what you mean when you say airgun.
Think so? Think again.
The term airgun isn't found in most dictionaries, yet. You'll find your spell-checker wants you to write it as two words, but that's not what today's blog is about. I really want to know if you know what's encompassed by the term airgun.
Some of you have already stopped reading to formulate an official-sounding definition that goes something like this: An airgun is any smoothbore or rifled gun that propels a projectile by means of compressed air. As you stand back to admire your work, it suddenly dawns on you that your definition doesn't encompass any of the guns that are powered by CO2. Don't you hate it when that happens?
Airguns, it turns out, can be a great many different things. Air is only one of their defining characteristics.
Carbon dioxide
Before we move on, however, let's deal with the CO2 issue. Clearly carbon dioxide isn't air. If you doubt that, try breathing it for 20 minutes, and then we'll talk. I've had arguments at length with airgun collectors who were stubbornly opposed to labeling CO2 guns as airguns. While that's a fun subject for two people to banter about as they watch the fireflies rise on a warm evening, it doesn't serve a person who is drafting state legislation regarding new hunting laws!
So, are CO2 guns airguns, or not? Well — let's see. They're sold by airgun dealers, they travel under the same restrictions as guns that do operate on air, they use the same ammunition and they perform similarly. And, heck, there are even a few amphibious models such as Benjamin's Discovery that operate on either compressed air or CO2. Wasn't it Robert Kennedy who observed that if something quacks like a duck it probably is a duck? So, yes, guns that use CO2 are also airguns.
Green gas/red gas
Wouldn't it be nice if it ended there? Well, it doesn't. There are other propellant gasses that power guns that must also be considered, now that the door has been opened for CO2. I'm talking about green gas and red gas. The airsoft industry hates to admit it publically, but green gas is actually propane. A tiny bit of silicone oil is added to the gas to lubricate the gun's parts as it functions, and they leave out the odor that's added to commercial propane to identify gas leaks (real propane doesn't smell like onions; it has no smell at all).
The same dealers who tell you green gas is special will even sell you adapters to fill your green gas guns from five-pound propane tanks, all the while backpeddling on admitting that green gas is propane! The Orient, where a lot of airsoft guns are made, is quite good at doublespeak!
Here's where it becomes interesting. Green gas develops a pressure of around 115 PSI at room temperature. That's plenty of push to propel a 3-grain plastic ball (they call them BBs) out the spout at a fairly good clip.
Red gas is more exotic. It has a higher vapor pressure than green gas, so the guns that use it require some modifications. If you read all the warnings, you'll get the idea that red gas is like nuclear fuel, but for one thing. Some airsoft guns also operate on CO2, which has a vapor pressure of 853 PSI at room temperature, which goes way beyond the pressure of red gas. To operate on CO2, airsoft guns have to be modified even more, and this is done by restricting the gas flow through special valving that has very small gas ports. There you are. Guns that run on green gas, red gas and CO2, none of which is air — yet they fall into the airgun category because there's no other category for them.
Airsoft guns do receive special legislation of their own because many are built to simulate firearms (called "real guns" by some folks), and they're used in force-on-force skirmishes, with people shooting at each other. There are legal issues concerning brandishing in public and special markings on the guns that are not as applicable to the kind of pellet guns I generally write about. But airsoft guns are sold by the same dealers and often made by the same companies who make conventional airguns. Again, they quack like ducks.
Catapult guns
We're not finished with the non-air powerplants, yet, Sparky. There are still catapult guns to consider.
Catapult guns propel their projectiles by means of a spring in the form of an elastic band or even a conventional coiled steel spring. If you think CO2 guns cause controversy among the anal airgun collectors, try raising this subject and see what happens!
The most common catapult guns are the Sharpshooter-series guns dating from 1923 and produced as toy novelties in the U.S. through at least the 1980s. These guns all shot .118 lead shot, which is more commonly known as No. 6 birdshot.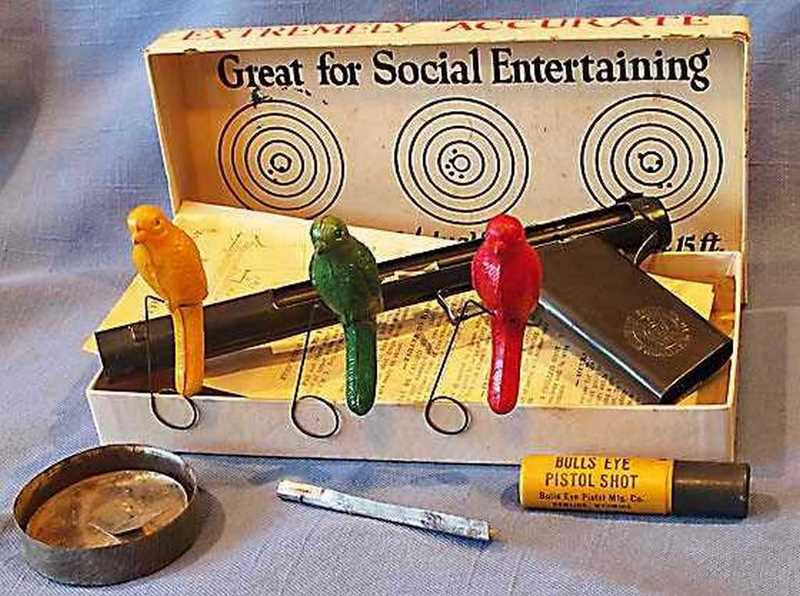 This Bulls Eye pistol was the first of many so-called Sharpshooter pistols powered by rubber bands. It fired No. 6 birdshot up to ~150 f.p.s. when multiple rubber bands were used.
In most airguns, the use of dropped shot (shotgun shot is made by either dropping it from a high tower so that it forms a ball as it solidifies or forced through small holes by centrifugal force) can be a problem, because of inconsistent size. The shot can easily get jammed in barrels when it's oversized, which is why we seldom see real BB-sized shot (shot size BB is nominally 0.180 inches in diameter) used in antique BB guns. It simply isn't regular enough. But catapult guns seldom use barrels. They usually place the shot to be fired in a shaped seat to hold it during acceleration, then release it cleanly at the end of the acceleration phase.
The Johnson Indoor Target Gun shot conventional steel BBs from a submachine gun-looking plastic frame. It used tubular elastic bands much like modern surgical tubing to launch a 5.1-grain BB at 100-150 f.p.s., depending on the strength of the bands.


The Johnson Indoor Target Gun sold for $15 in 1949. It shot steel BBs at 100-150 f.p.s.
But Daisy made a catapult gun that used steel springs. Their model 179 is a Spittin' Image replica of a Colt single-action revolver that I reported in this blog some time back. Instead of just flinging the BB with the force of the spring, the spring in the 179 pushed a paddle that actually hit the BB like a croquet mallet smacks a ball. Instead of just pushing the BB out the barrel (and this is one of the few catapult guns that really does have a smoothbore barrel), it was whacked out like a line drive off a baseball bat.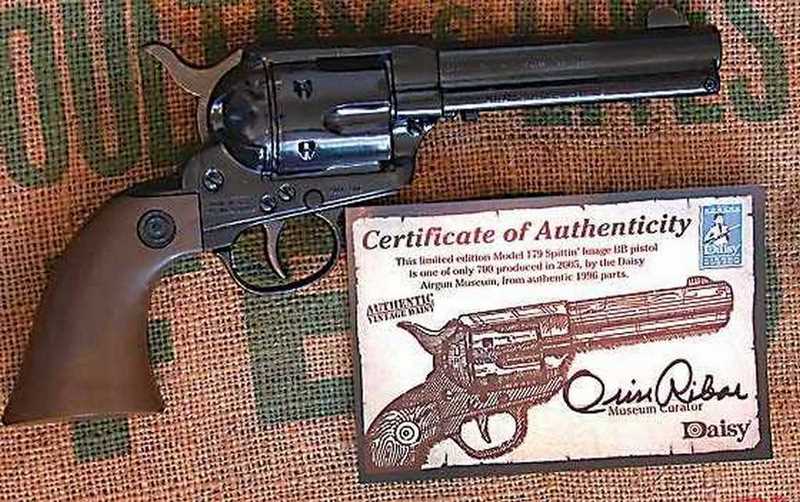 Daisy's 179 was an early Spittin' Image gun. Production began in 1960.
Rigid airgun collectors are really challenged by catapult guns, because of the Daisy connection. They don't want to include them in the body of legitimate airguns; but with Daisy being such a key player, they usually cave.
That sets them up for a huge disappointment when they suddenly learn that in the 1840s there was another catapult gun that launched lead balls of approximately .43 caliber with sufficient force to kill small game. The Hodges catapult gun is a long gun with no barrel but with all the Victorian styling expected of a naval weapon made in the 1840s. The thought among advanced collectors is that it was a foraging gun made for naval vessels. Except for the few parts that absolutely had to be made of iron for durability, the rest of the gun is fashioned from bronze and English walnut!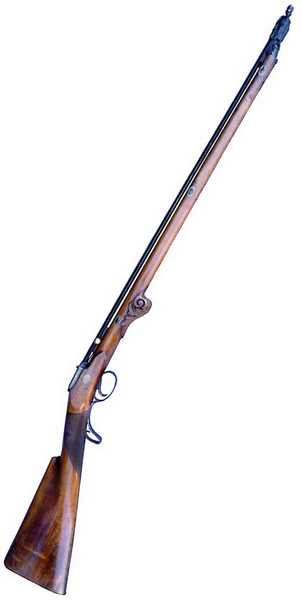 The Hodges catapult gun dates from the 1840s. It was a ship's foraging gun that made little sound, yet could take game of reasonable size without alerting hostile natives. The Roman soldier statues at the front are for anchoring the elastic bands.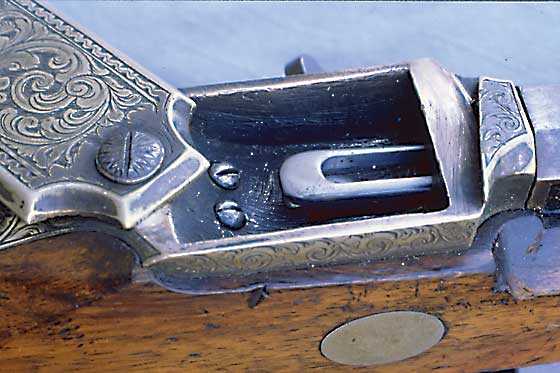 The Hodges ball carrier is pushed back until the sear hooks it. Then the elastic bands are stretched one at a time to increase power. This way, the shooter can build in a lot more power than he can possibly handle when cocking the gun.
The elastic bands were anchored at the forward end by two Roman soldiers cast in detailed bronze relief. I've seen two such guns — the one pictured here is in remarkable preservation and the other one has been restored to working order and shot by its owner, who reports velocities in the mid-400 f.p.s. range with 122-grain swaged lead balls.
Caps!
The next branch on the oddity tree deviates toward those guns that shoot BBs and shot by means of the power of an exploding toy cap. Wamo made a minimum of five different models, and new ones surface every couple years. The most recent I've discovered shoots potato plugs!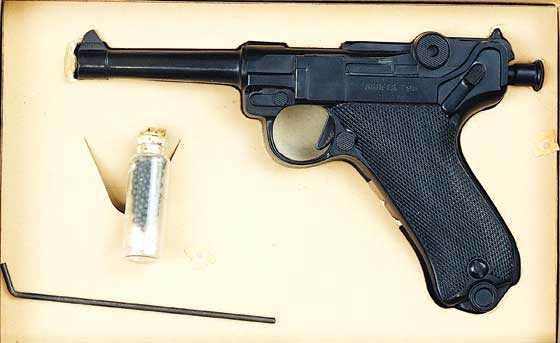 The Kruger '98 was a cap-firing gun that shot No. 6 birdshot. The same gun also shot BBs and was called just Kruger. Wamo (also spelled Wham-o) made them both.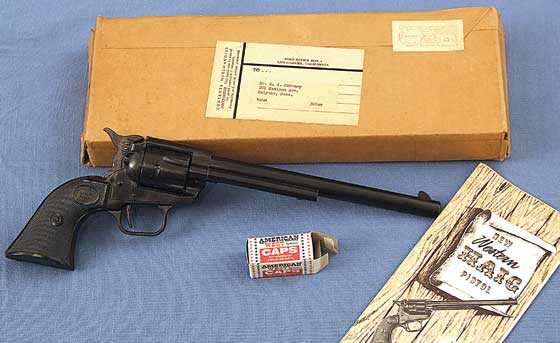 The Western Haig used toy caps to launch No. 6 shot. It sold for $2.98 in the 1960s. Sold by the founders of Wamo under a different company name and only from a P.O. Box.
If a toy cap can launch a BB, what's to prevent it from igniting a small charge of black powder? And who decides what's "a small charge"? There have been .22-caliber, .36-caliber and even .45-caliber rifles made by Rocky Mountain Arms Corporation in modern times that operate by means of exploding caps igniting black powder. If you go back 100 years, there were some made then, as well. They're clearly firearms when they use black powder, but what about those using caps only?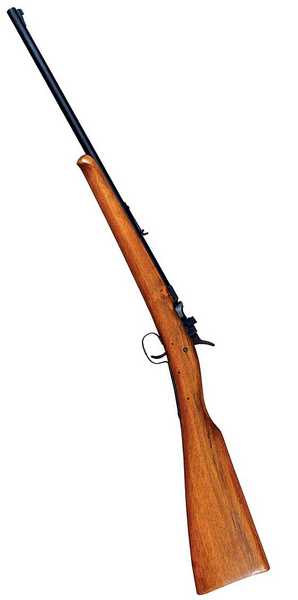 This .22 rifle from Rocky Mountain Arms Corporation uses toy caps to ignite black powder behind a .22-caliber lead ball. They also made this in .36 and .45 calibers!
As long as we're talking about caps, what prevents someone from using percussion caps and even primers to propel pellets and BBs? Apparently nothing, because it's been done. Are these all airguns, as well?
Not the end!
As you now can see, the question of what constitutes an airgun is far from clear. Once you accept any of these deviations, the rest will come streaming through the same loophole. For instance, is a gun that also launches an arrow then considered a bow? And if so, is it legal to use during bow season?
It is for reasons like this that Edith and I are sometimes so rigid and precise in our terminology — because you never know what's waiting in the wings.