by Tom Gaylord, a.k.a. B.B. Pelletier
Part 1
Part 2
Part 3
Part 4
Part 5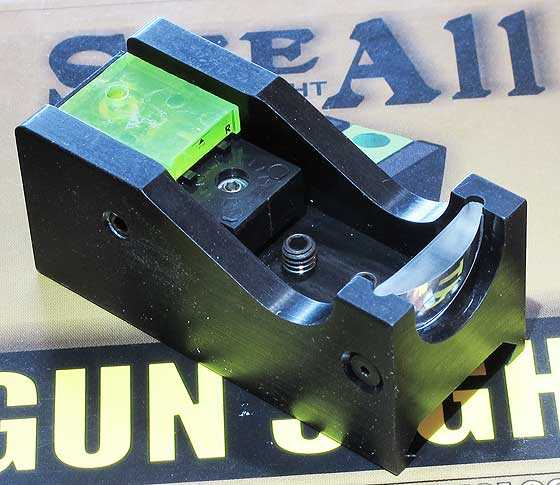 The See All Open Sight is revolutionary!
In the 9 years I've been writing this blog, I don't think this has ever happened before. Last Friday, I wrote about my failure to get the See All Open Sight to work on the Beeman P1 pistol. I tried for 2 straight days to get it sighted in and nothing worked.
That was Friday's report. Well, I went out to the rifle range on Friday, and my shooting buddy Otho met me there. He had one of his SKS rifles that had a scope mounted on it (on a Weaver base), and it was his plan to test the See All sight. Okay, I thought. Couldn't hurt.
It didn't hurt at all! After he shot the scoped rifle at 100 yards for the record, he removed the scope and installed the See All Open Sight. It took several shots to get it on paper at 50 yards, but then he shot a 5-shot group that measures 1.636 inches between centers! You may not be familiar with the accuracy of the SKS, but while it's an extremely reliable rifle that almost never fails to operate, it's only fair as far as accuracy is concerned. It's a good battle rifle — but it's certainly not a target rifle. Some individual rifles are more accurate than others, and this one happens to be Otho's best one; but a sub-2-inch group at 50 yards from an SKS is worth talking about. And he did it with the See All Open Sight!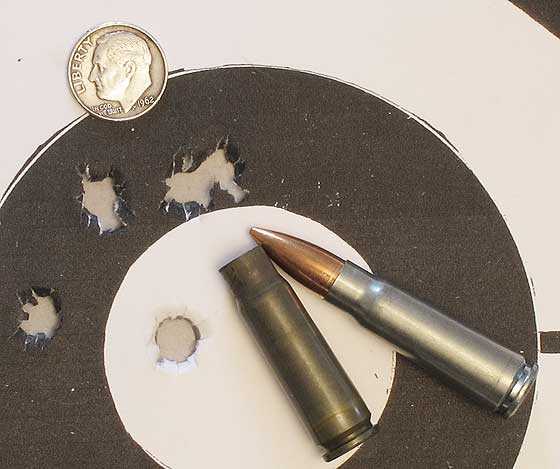 When we saw this 50-yard 5-shot group, we knew the See All sight worked! For an SKS, this is a great group.
When he was finished, we had to walk down to see the target because the cold wind was blowing so hard and our eyes were tearing so much that he couldn't see but one of the shots through his spotting scope. I was looking through binoculars and could see even less. When I saw the target close up, I asked him to shoot 10 more shots for me at 50 yards.
Otho's eyes
The reason I asked Otho to test the See All sight in the first place is because he has been battling failing eyes for several years. He can no longer use open sights like he once did, so scoped guns are about all he can shoot. The See All sight makes up for that and allows him to shoot like he used to 30 years ago. That's what the See All Open Sight is about — a sight that lets shooters mount an open sight on a gun that doesn't have one, or to use an open sight that can be seen with poor eyesight.
Wolf ammo
I guess I should also have told you that he did this with Wolf ammo, which isn't the most accurate by far. Wolf is steel-cased with a mild steel-jacketed bullet. They're reliable and aren't corrosive, but there are several brands that will outshoot it.

Otho was able to see the See All sight reticle clearly enough to shoot just as good as when the SKS was scoped!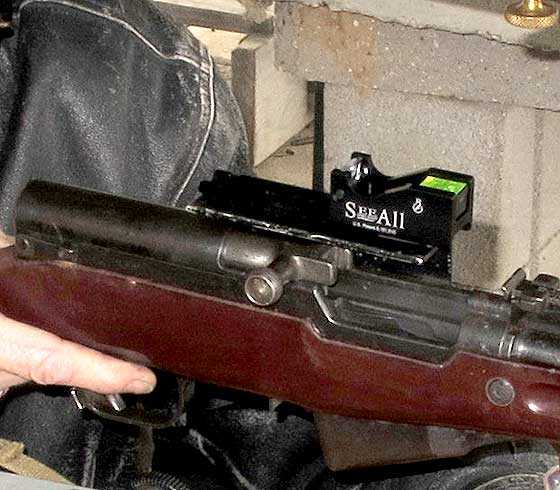 This SKS has a Weaver base attached to the left side of the receiver. The See All sight is clamped to it.
He then shot a 10-shot group at 50 yards with the SKS and the See All sight. This time he put 10 into 3.215 inches. While that's a lot closer to what most SKS rifles normally do at 50 yards, I would like to point out that Otho was able to do it without using a scope. That's significant because he couldn't see the open sights on the rifle on this day.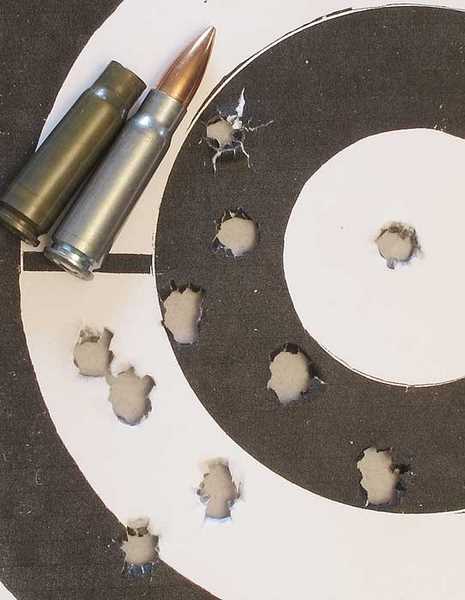 This is a good 10-shot group for an SKS at 50 yards. The rifle was shooting Wolf ammo (the dark empty case), which doesn't group as well as some other brands.
He commented that the See All sight was very fast to acquire. As breezy and cold as the day was, that was significant by itself. I was also shooting an open-sighted rifle that I'll report on in a few days, and I was unable to see my front sight until I put on my glasses to cut the wind.
100 yards
Now, Otho shifted to the 100-yard targets, where a few minutes earlier he'd shot a 10-shot group with the scoped rifle. That netted him 9 shots on paper in a group that measures approximately 5-3/8 inches between centers. The 10th shot wandered off the paper.
With the See All sight, he put 9 shots into approximately 5.50 inches. Three of these shots wandered off the paper, but we found the holes clearly on the backer board, just above the target paper. He measured the 9 shots with his pocket knife, which measures 5.50 inches when open. There was a tenth shot on the paper, but it landed about 3.50 inches below the other 9 shots. We know this 10-shot group really measures 9 inches at 100 yards; but since we don't know where the tenth shot from the scoped rifle landed, there's no way to make a direct comparison. Nine shots to 9 shots is the best comparison we can make.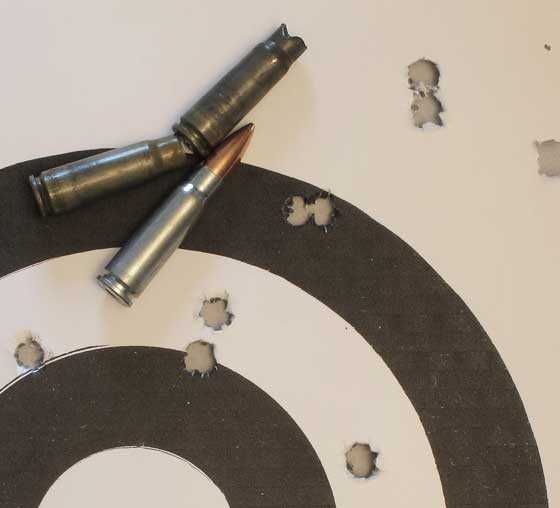 With the scoped rifle, 9 of 10 bullets hit the paper at 100 yards. This group measures 5-3/8 inches between centers.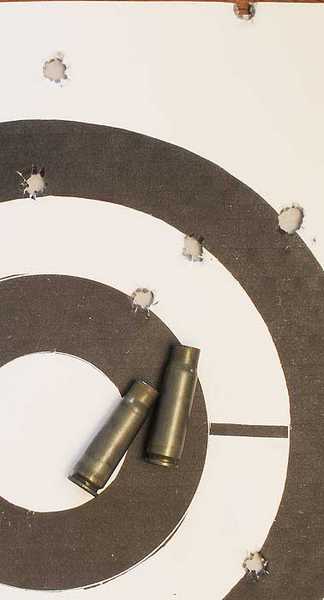 With the See All Open Sight at 100 yards, Otho was able to put 9 shots into 5.50 inches, c-t-c with the SKS. Six of those 9 are on this paper, and the other 3 landed on the backer just above the target. The tenth shot down below does open the group by a lot; but since the tenth shot from the scoped rifle was not found, we can't make a comparison.
Otho's assessment
After seeing the 100-yard group, Otho said he thinks the See All Open Sight is perfect for hunting. While it's not as good for target shooting, it's fast to acquire a target — especially one that's running. He's decided to leave the See All sight on his SKS instead of the scope, and he plans to hunt with it.
My evaluation
I'm so glad this happened because I was beginning to lose confidence. But Otho showed us the sight is good and works as intended.
I have an M1 Carbine that's chambered in 5.7mm Johnson Spitfire, and it currently has a Weaver base with a scope, as well. I also have a Remington 788 with a Weaver base. I think for my next test of the sight, I'll load up some ammo and try one of those 2 rifles with a scope and with the See All at 50 yards. They should work the same as Otho's SKS.
So, don't despair. There's at least one more test of this sight coming. For now, however, I have to say the See All Open Sight does what it's advertised to do.
by Tom Gaylord, a.k.a. B.B. Pelletier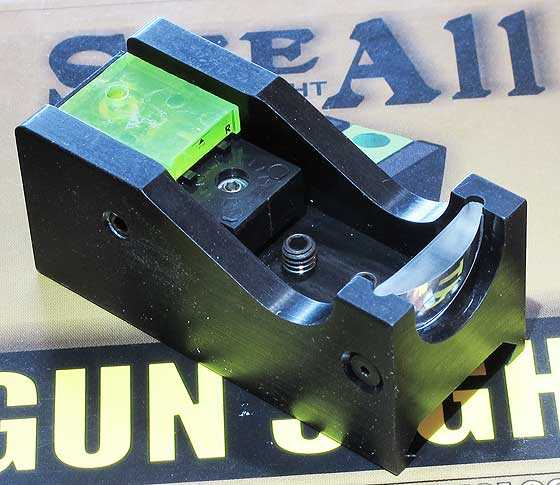 The See All Open Sight is revolutionary!
This will be a different Friday blog — I promise you.
First of all — all talk of machining the See All Open Sight sight is off the table. I spoke with the See All creators and learned that the reticle is actually on film — shrunk to the size where the point of the triangle is 0.0002 inches across. That's two ten-thousandths of an inch, or 0.00508 millimeters! This in in the realm of optics — not mechanical things. So, don't try to modify the sight.
Second, they told me some folks may need to wear their glasses when using this sight. I haven't been doing that, so I wore them for this test.
What I thought might happen today
After the last test in Part 4, I thought the sight might work better if it was held farther from my eyes — like it would be when mounted on a pistol. The magnifying optic enlarges the reticle even more the farther away it is, so this sounded like a possible solution to the reticle being indistinct on target. Also, it's easier to tilt the sight when it's mounted on a handgun. I'd hoped that would make it easier to align the peak on the end of the triangle. This is what I was thinking when I told some readers I had a better idea of how to test it.
What went wrong with this test?
When I first attempted to test the sight on Tuesday, I mounted it on a Beeman P1 pistol using an 11mm-dovetail-to-Picatinny adapter that you cannot buy. I used this base because it has some droop, and I thought I needed that droop to get the shots on paper at 10 meters. What I got, however, was pellets striking the target too low after all the upward adjustment in the sight had been made. The results were so bad that I quit testing the sight and moved to something else. I mentioned that in the introduction to Wednesday's blog.
While I was resting from this first attempt, it occurred to me that maybe this sight works in the reverse of how I was thinking. It has seemed that way every time I attempted to test it. So, for today's initial test, I turned the base around so it's sloping up toward the muzzle. The sight was pointed slightly up in relation to the top of the pistol.
For safety, I began shooting at 12 feet. If the gun was off at that distance, it would still be hitting the pellet trap.
I'd already fired a group of 10 7.9-grain Crosman Premier lite pellets at 10 meters with the P1′s open sights. They landed in 0.598 inches, so that was how well I was shooting the gun on this day. I know from experience that the Crosman Premier lite is one of the best pellets in this pistol.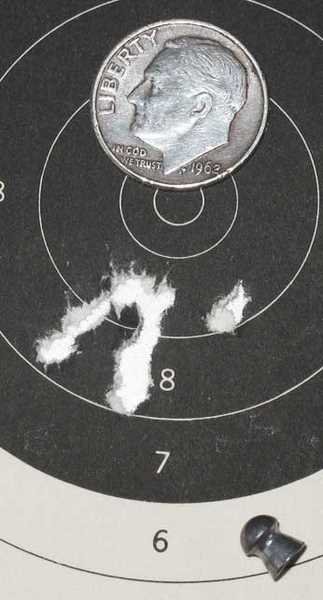 Ten Premier lites went into 0.598 inches at 10 meters with the pistol's open sights. The P1 can shoot.
It seems I can still shoot my P1. Now, how well can I shoot it with the See All Open Sight mounted? Well, I was right about the droop in the first place. Reversing the mount so it sloped up landed the pellet 12 inches below the aim point at 12 feet! I did need a drooper base after all, and one with the most aggressive slope possible. Fortunately, I had just what I needed, so that base was mounted on the gun and the sight was attached to it.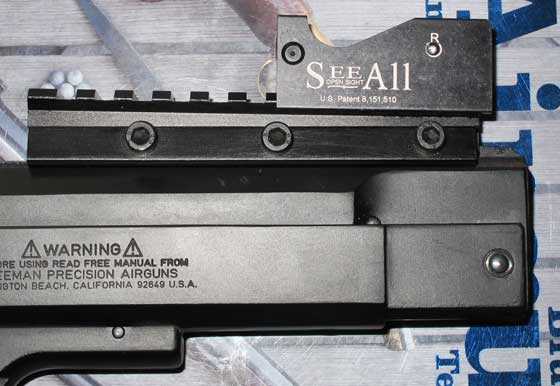 See the steep slop of the base adapter? It still wasn't enough to raise the pellet to the point of aim.
With this new steeper-sloped base, the point of impact did rise; but even with the See All sight adjusted as high as it would go, the pellet still struck about 3 inches below the aim point when shooting from 12 feet. And, yes, I did read the adjustment directions as I was adjusting the sight.
I couldn't get the pellet to strike the point of aim, so on to Plan B. Plan B is where I move the aim point very high and let the pellets impact below. At least that would tell me about the sight's potential. I used a black dot as an aim point and backed up to 10 meters. When the first shot landed 5 inches below the point of aim, however, the test was over. That is so low that it risks not hitting the entire pellet trap, and that's a risk I'm not willing to take. Two more inches and the shot goes off the paper.

A 5-inch drop below the aim point was enough to make me stop the test. This is the end of the P1 test.
This test (on the P1) is over
I have tried for two agonizing days to get the See All Open Sight to work on my Beeman P1, and everything has failed to work. I now have more pellet holes in my house (Edith knows about them), and that's as much damage as I'm willing to do.
I'm not saying the See All Open Sight doesn't work. There are too many reports that it does work — including one from our blog reader GunFun1. But I've done everything in my power to get it to work for me, and you've seen the results. My shooting buddy Otho has done the same. He did get better results than I did, but even he wasn't satisfied with what he got.
I'm going to set the sight aside and just think about it for awhile. If I were testing this item for Pyramyd Air, my recommendation would be "don't buy" right now. That's not saying I won't find a gun it works on; but, for now, I'm pretty burnt out.
by B.B. Pelletier

The Ruger Mark I pellet pistol is a powerful spring-piston gun.
Before I begin, here's a followup to yesterday's blog on the importance of stock length. I discovered, thanks to blog reader Mike, that the No. 4 SMLE has both a long and a short stock. Apparently, when there are complaints that the rifle kicks, the stock is always a short one. I tested that at the range yesterday with a friend of mine. He had a hard-kicking Mark III and, sure enough, it has a short stock. But my No. 4 stock is at least .75 inches longer and feels like a mild 30/30 when shot.
Okay, on to today's blog.
There's a lot of interest in this pellet pistol, and I've learned a lot more while testing it. Before I did this report I read as many reviews of this Ruger Mark I pellet pistol as I could find — both on this site and on others. I discovered something while doing that. There's a sharp difference of opinion about the gun that divides around the age and airgun experience of the person writing the review. Those who are either young or have little experience with airguns say the Ruger is hard to cock and not very accurate, but they all praise the power they think it has. But veteran airgunners who own chronographs have learned that the pistol isn't as powerful as advertised, but it's easy to cock (very easy for the power, if you use the cocking aid) and also relatively accurate. So, come with me today while I show you what the Ruger can do.
I shot the gun for accuracy at 10 meters, because most of the reviews I read talked about shooting at distances from 25 feet to 10 meters. In the end, 10 meters turned out to be exactly the right distance for the gun.
I shot off a bag rest with both hands holding the pistol out just past the bag, so there was no contact between the bag and the gun. My forearms were resting on the bag. The sights are fiberoptic; but when held at arm's length, the front sight just fills the rear notch perfectly. It's possible to get a precise sight picture that can be repeated with every shot.
Trigger and cocking effort
The trigger-pull is very heavy — to the point of being a distraction. Blog reader Victor asked me to report on the trigger-pull and cocking effort after this test; I guess because he wanted to see if there was any change during break-in. After this accuracy test was completed, the gun had a total of about 140 shots on it. The trigger-pull measured 5 lbs., 13 oz., and the cocking effort with the aid installed is 26 lbs. That's a pound higher for cocking, and the trigger is a half-pound heavier than the last time I checked. Both numbers are probably just due to how they were measured and no real change has occurred.
Accuracy
The nice thing about testing a gun with open sights is that it's usually on the paper right out of the box, where a scope can be almost anywhere. This pistol was shooting high and left, but it was on the paper at 10 meters. It took a little elevation reduction and a lot of right adjustment to get the pellet to land in the bull. I sighted-in with RWS Hobbys. Then, I shot the first group of 10.
The first group surprised me, but that was when I realized that many of the reviews had been written by new shooters. I say that because the Ruger Mark I is an accurate air pistol when you use the correct holding technique. You hold the pistol firmly but do not try to prevent it from bouncing around in recoil. It's not as accurate as a Beeman P1 or an RWS LP8, but it's accurate, nonetheless. But only the experienced pistol shooters will know how to get this pistol to perform its best.
Ten RWS Hobbys grouped in a 1.073-inch group at 10 meters for me. The group is open but also nice and round. It was a lot better than I'd expected.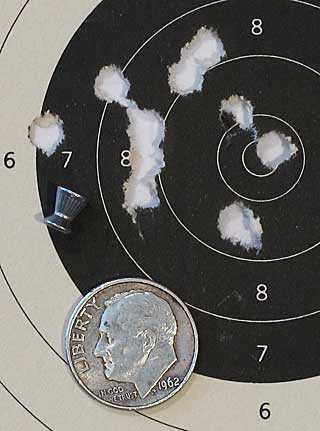 Ten RWS Hobby pellets made this nice round 1.073-inch group at 10 meters.
Following the Hobbys, I was in the right frame of mind for all further shooting. Next up was the JSB Exact RS domed pellet. We know from past experience that this pellet often does well in lower-powered springers, though I don't think I've tried it in a pistol before now.
This time, the RS pellet did very well, indeed. In fact, it was the most accurate pellet of the three I tested. Ten made a group measuring 1.059 inches between centers. Though this group isn't much smaller than the Hobby group, the smaller holes made by the domes make it appear smaller.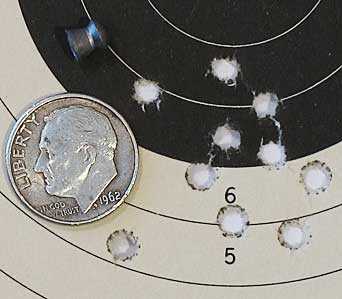 Ten JSB Exact RS domes made the best group of the test. It measures 1.059 inches between centers.
The last pellet I tried was the Gamo Match wadcutter. Sometimes, they surprise me by being the very best pellets in a gun, but this wasn't one of those times. Ten pellets grouped in 1.595 inches between centers — hardly in the running with the first two pellets.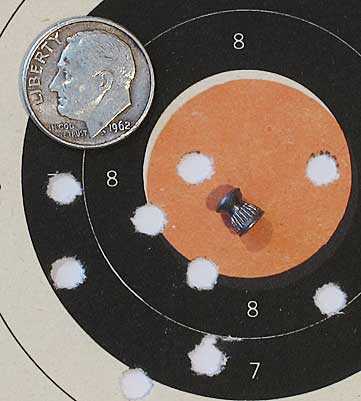 It only looks like nine holes because two pellets went through the same hole next to the number 7 at the bottom of the bull. Gamo Match pellets were not in the running, with this 1.595-inch group.
At this point in the test, my trigger finger was hurting from the weight of the pull, and I was concerned that further shooting would be affected by it. So, I ended the test. It sounds like it shouldn't have hurt, but the pull is so long that it really does hurt.
The bottom line
If you want a powerful spring pistol at a budget price, I don't think you can do any better than the Ruger Mark I. It demands good shooting technique and rewards it with decent accuracy. The power is respectable, and the cocking effort is low for the power generated. The trigger is heavy and the sights aren't perfect, but they do adjust and the pistol does respond to them very well.
Most shooters will like the shape of the grip, which is reminiscent of the Luger. The Ruger Mark I is just about right in the weight and balance department and encourages plinking with its surprising accuracy.
by B.B. Pelletier
It's been half a year since I did Part 1 of this report. I always meant to do today's test, but other things seemed to crop up every time I was ready. I did make an excursion in another direction to test BSA's 2×20 pistol scope using another mount on the Beeman P1 air pistol. Such is the tangled life of the airgun blogger!
New territory!
Today's report takes me into fresh territory with my Slavia 631 breakbarrel rifle. I had earmarked it as a testbed rifle for testing the accuracy of lead-free pellets a long time ago, but the lack of a scope mount caused me to substitute the Whiscombe rifle at the last minute. You see, the Slavia air rifles all share a common problem when it comes to mounting scopes. They have dovetails that are among the very widest on the market. Most 11mm scope mounts will not expand wide enough to fit the 14mm dovetails (they are still called 11mm, which creates a world of confusion among buyers who try to scope their rifles) that are standard on all Slavia breakbarrels. Even for me — with a drawerful of specialized airgun mounts and prototypes — the Slavia remained a gun I could not scope until this new BKL mount hit the market.

Those dovetail grooves may be called 11mm, but they're really 14mm apart. And that makes a huge difference. Almost no scope mounts will open that wide. Those three scalloped notches are for a specific type of scope stop that no longer exists in the U.S.
I've owned this 631 since back in the 1990s when I was still writing The Airgun Letter. I got it from Compasseco (now owned by Pyramyd Air) for a test and liked it so much I decided to keep it. Over the years, I've used it for other tests, such as testing the accuracy and penetration of round lead balls; but these tests were done with open sights. Today, I get to discover for the first time how the rifle shoots when a scope is mounted.
Just fit!
The BKL adjustable mount is a one-piece mount that just fits the length of the scope grooves on the 631. There isn't a millimeter to spare on either end. As for the width, the fit is much easier, though I did have to spread the clamping rails to get it on the gun. For those who are unfamiliar with BKL mounts, they hold onto the airgun by clamping pressure, alone — there are no mechanical scope stops on any BKL mount. It's often necessary to spread the mount base a little to get it onto the dovetails of the rifle. BKL has designed an ingenious way of doing this with the base screws applying reverse pressure to spread the base "jaws" just the right amount. It's easy to do and takes only a minute or two extra. Once the mount is on the gun and the base screws are tightened, you have a scope mount that's not going to move under recoil, no matter how severe.
Droop-compensating!
The second great thing about this new mount is that the rear scope ring elevates to compensate for barrel droop. Newer readers may wonder what droop is, so allow me to explain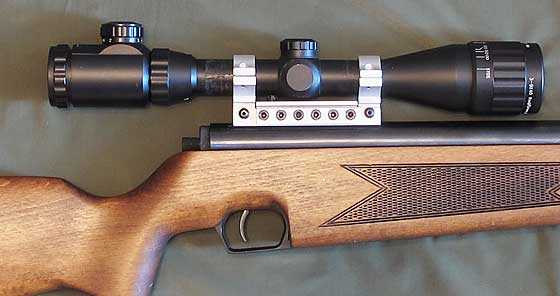 The BKL is mounted on my Slavia 631 rifle. The mount is silver because it's an unfinished preproduction model, not because it's finished that way.
Barrel droop
Breakbarrel springers are notorious for having barrels that are angled downward from the sight plane. Because the manufacturers mount both the front and rear sight on the barrel, they remain in a fixed relationship that masks the droop or downward slant of the barrel. When you install a scope, it goes on the spring tube and the barrel droop becomes painfully obvious. You adjust the scope up as far as it will go to bring the strike of the round back up to the intersection of the crosshairs. Sometimes, you just barely get there, but other times you can't even get that high before running out of adjustment. Either way, when a scope is adjusted all the way up as high as it will go, the internal springs relax and the point of aim starts moving all over the place. New shooters blame this on scope shift, but it's really a different problem that's completely correctable
You want to mount the scope in such a way that its vertical adjustment is about in the middle of the range or even closer to the low end. That's where the droop-compensation scope mount, or "drooper" as it's called, comes into play. With a droop-compensation scope mount you can slant the scope downward so it follows the line of the bore more closely.
And this new BKL is a drooper mount! But until I tried to sight in my Slavia 631, I had no way of knowing that it's a breakbarrel with a droop problem. Once I confirmed that it is, I adjusted the rear of the BKL mount upward and got the scope dead-on at 25 yards! It took only one adjustment, and I had the scope back into the middle of its adjustment range again. Now, it was time to see how this rifle shot.
Twitchy
This is going to be a longer report, so I'm cutting to the chase right away. When I started shooting the 631 at 25 yards, I discovered that this rifle is twitchy. What does that mean? Well, if a breakbarrel is very powerful, it's usually extremely difficult to hold for accuracy. It wants to spray its pellets all over the place — that's what I call twitchy.
But lower-powered breakbarrel springers like this 631 aren't usually twitchy. Usually, they lob all their shots to the same place. They're also very tolerant of different types of pellets. But my Slavia 631 is none of those things. It's twitchy. Allow me to show you what I mean. The first group I tried to shoot was with the Air Arms Falcon pellet.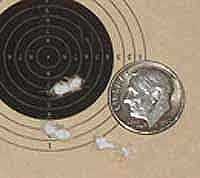 This first target shot with Falcon pellets revealed a lot about the gun. Do you see that two pellets are close together in each of the three groups, but the point of impact moves? That's due to very small changes in the hold. Four of the 10 pellets missed the target altogether!
The first group I attempted told me this rifle is twitchy. But sometimes that's only with a couple pellets, so I pressed on.
Next, I tried shooting RWS Hobby pellets. They did better and were less twitchy but were not really that good.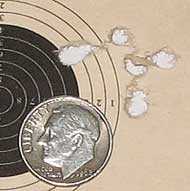 Ten Hobbys went into a real group at 25 yards. It looks like only 6 shots landed because several went through the same holes. This is a better group, measuring 0.73 inches between centers, but it's still not great.
I had to use every bit of technique, short of a scope level, to get that group. The differing points of impact were obviously the result of very subtle changes in the hold. This was obvious to me as I shot, because I was able to feel where the pellets wanted to go. But in spite of that, I did my best to shoot the tightest group I could.
I tried Crosman Premier lites next, but they were all over the place. Then, I tried the JSB Exact RS pellet that often proves best in rifles of this power level. This time, though, they were too hold-sensitive to do well.
Finally, I tried the BSA Wolverine pellet that's also a medium weight JSB but is subtly different from the others of the same weight (8.44 grains). Like the Hobbys, I got a group of 10; but like the others, it's interesting for being more of a cluster of several smaller groups.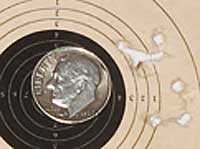 Ten BSA Wolverine pellets gave this group, which measures 0.75 inches across. There's a cluster of 6 in one hole, then 4 others below. The fourth shot lies between the two that are stacked vertically.
Bottom line
The BKL adjustable scope mount works as advertised. It's easy to install and to adjust. And it has jaws that are wide enough for the widest 11mm air rifle dovetails. Just don't try to use it on a Weaver base, because it isn't that wide, nor is it configured for the proprietary shape of a Weaver dovetail. This mount is one elegant solution for a drooper.
The Slavia 631 is a twitchy breakbarrel that shoots at a mild level of power. If I hadn't done this test, I never would have guessed that from the muzzle velocity, alone. That made me think of another report I can write — and probably should: What to do with a twitchy breakbarrel. It would be a collection of the tricks and techniques I would use when I encounter a twitchy breakbarrel. In my role as an airgun tester, I see a lot of them over time, so I've built up a bag of techniques I employ to deal with them when one comes along.
The 631 is also a great potential testbed for an adjustable muzzle weight to be used for tuning the harmonics of a spring gun. I'll look into that.
by B.B.Pelletier
I attended a gun show this past weekend; and on the first day, I noticed something that I've seen for many years but never appreciated. Most of the people who attend gun shows don't know what airguns are worth. You can benefit from that.
Nobody knows what airguns are worth!
Across the aisle from me, a dealer had a Daisy model 21 double-barreled gun laid out. When I examined it, I noticed that it was really beat-up. It was a 20 percent gun, at best.
The dealer said he wanted a thousand dollars for this gun, because he'd seen one new in the box selling for $3,500 on the internet. He knew his was a junker, but he figured it must be worth that much at least.
He probably saw the asking price for the new-in-the-box gun. There are lots of outrageous prices like that online, and they usually never get a nibbler. But some people use those bogus prices as their starting point, and this dealer was one of them.
I'll be attending the Roanoke Airgun Expo in a couple weeks, and I expect to see half a dozen to twenty model 21 Daisys, ranging from $300 for beaters, like the one I described, up to perhaps $1,400 for one like-new in the box. Yes, the price spectrum is really that broad, but it doesn't continue on up into the stratosphere like many people hope and dream.
So, here's an idea. Get a real cheap model 21 and bring it to a gun show! While you're at it, there are many more airguns you can dispose of in this manner.
Airguns that firearms people like
You can't go wrong with any of the Winchester-marked Diana breakbarrels. At the gun show, they think the name adds value. So your $200 Winchester 427 is now worth $250 or even more.
Older Benjamins and Crosmans always seem to go well. Since I am old myself, let me explain that by old I mean pre-1960. Pre-war is even better. And by pre-war, I mean before World War II.
Older and classic Daisys sell well. Older Daisys command attention wherever they are. But there are classic guns that don't have to be old. The No. 25 is the poster child of all classic BB guns, and guns made in Rogers in the 1970s are very attractive to non-airgun buyers. You can pick them up cheap everywhere and make a nice profit when you sell them to someone who doesn't know how common they are.
Another certain seller is an older, well-made gun like a Webley Senior or a Tell III. However, you have to buy them right, because gun show guys just don't understand $300 pellet guns. Guns like the Weihrauch HW 45 (Beeman P1) are not so good, because you'll usually have to pay too much to get them; or if you do get one right, it'll be too hard to explain it to a non-airgunner.
But whatever you bring has to function, because these guys don't want to collect them. They'll be reliving their childhood with the treasures they buy from you. Spend the money to get them sealed and working before you lay them out, and you'll be surprised at the response you get.
Older, vintage-looking guns
There's a small market for wall-hangers at gun shows. I recently sold several cheap shotguns to guys who just wanted them as accent pieces for the wall. Well, what about older Daisys and Kings that reek of the 1920s? What about a real old Benjamin model D that isn't worth fixing, but has great lines? Just be sure to pay pennies for guns like this, because you'll sell them for pennies, as well.
Safety first
One thing you absolutely cannot do at a gun show is dry-fire an airgun. People do it at airgun shows, and I think some folks believe it's okay. If you do it even one time at a gun show, you'll be ejected from the show and banned from returning.
Become "the airgun guy"
Pick a gun show and attend it regularly. Soon, the dealers and veteran attendees will know you as the airgun guy. Whenever someone brings an airgun to the show, they'll be directed to your table. Whenever someone asks about where the airguns are, they'll be sent to you. You won't have much competition at most of the smaller gun shows, from what I've seen.
The more regularly you attend a show, the more traffic you'll build. These are people who will come to the show just because they know you'll be there. They may have a gun that needs to be fixed or they may have just bought a collection that included airguns. Whatever the connection, if you're the airgun guy, all the business will come to you.
by B.B. Pelletier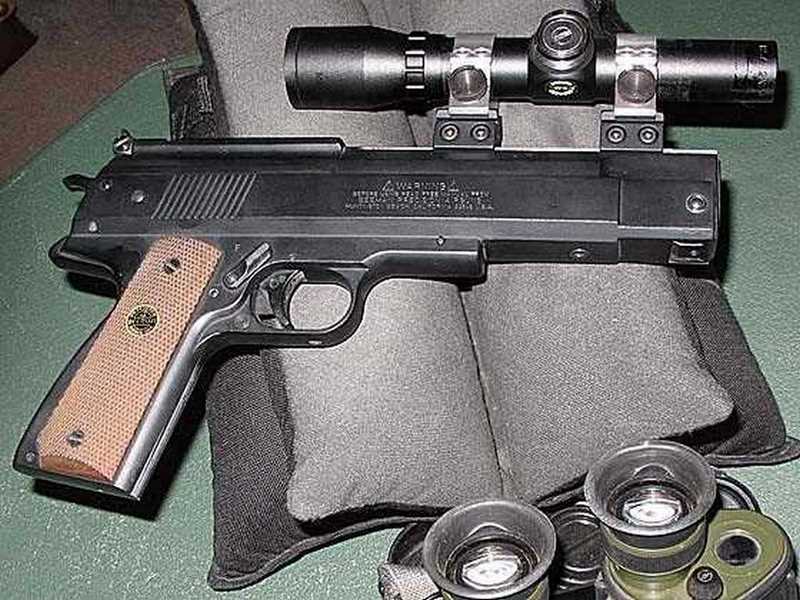 Beeman P1 pistol with a BSA 2×20 pistol scope mounted on BKL risers.
Once again, it's time for me to fasten ice skates to the bottom of a stepladder, then try to skate across bumpy ice while carrying a flask of nitroglycerin. Seriously, that is how it feels to trust in something that all your life you've avoided because you felt it was too imprecise. Pistols and scopes just don't mix in B.B. Pelletier's world. But, today's Part 2 of the test of BSA's 2×20 pistol scope. It's mounted on my Beeman P1 pistol, and I'm using BKL's new 556 riser blocks to clamp to the P1 dovetail. I selected a pair of nondescript Weaver rings to hold the scope. They're matte silver, so they don't even match the finish on the pistol and the scope, but they work perfectly. You could use Hawke Weaver rings and do very well.
Last time, I was at 10 meters and wondering whether I would put a round through the wall behind the target trap. This time, I backed up to 25 yards — three rooms away from the target and wondered what damage I would wreak upon our house. Normally, I shoot handguns at this distance on a range, so this was a first. Even when I've tested other air pistols at long range, I've always shot out the bedroom window, but now I was trusting myself to keep them all on the target paper 75 feet away. Spooky!
No noticeable parallax
One reader asked me about parallax, but I was too busy not shooting the walls in the first test to notice whether or not the crosshairs moved when you move your head.
They don't. Instead the entire image goes black. So, if you can see the image, no amount of head movement will make the crosshairs move on the target. If the image goes black, you're done, anyway. Time to reposition the gun.
Parallax, of course, is the apparent movement of the crosshairs against the target; if your head is not always in exactly the same place, you'll aim at different places on the target. With a rifle, you have a stock into which you press your cheek; but with a pistol, there's no similar cue, so this was a good question. It appears the scope manufacturers have figured it correctly. At least BSA Optics has.
Shooting
I was genuinely afraid that the pellet would not hit the target from 25 yards. After the first shot, I trained binoculars on the target to see where the pellet had gone. Because I was still shooting Crosman Premier lite pellets, I could not see the small ragged hole even through the binoculars, so I walked down and checked the target. Surprise! Even though the crosshairs had been moving all around the bull, there was a neat hole cutting the nine ring at one o'clock.
The next nine pellets also hit the target paper and gave me a group that measures 2.92 inches. I'll be the first to admit this groups does not look that good, but please take into account that it was shot by a handgun at 25 yards. If I did this well with a .45 ACP, I'd be smiling. Of course, the big holes left by the bullets would make the group seem proportionately smaller.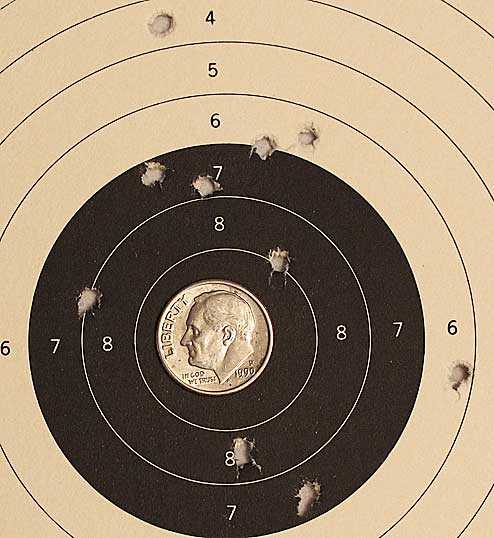 Doesn't look like a good group until you realize that it was shot at 25 yards! I'm just happy all the shots hit the paper.
I wasn't satisfied with that group — other than all shots hit the paper. I modified my hold by holding the butt of the gun just in front of the sandbag rest, where before the gun had been six inches in front of the bag.
Group two was only slightly smaller, at 2.675 inches. If you look at it, eight of the shots made a group measuring just 1.743 inches. That seems a lot better to me.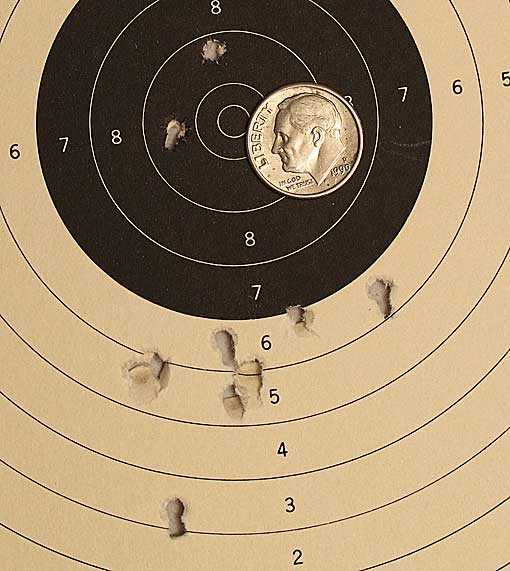 A little better group came from a different hold. But eight of those ten shots are grouped much closer.
Next, I put the actual butt of the pistol on the bag and held it there. The crosshairs grew rock-steady in this hold, and I thought I was on to something. But group three measures 3.467 inches — the largest to this point, and the largest group of the day, as it turned out. Apparently pistols need the artillery hold in the same way rifles do.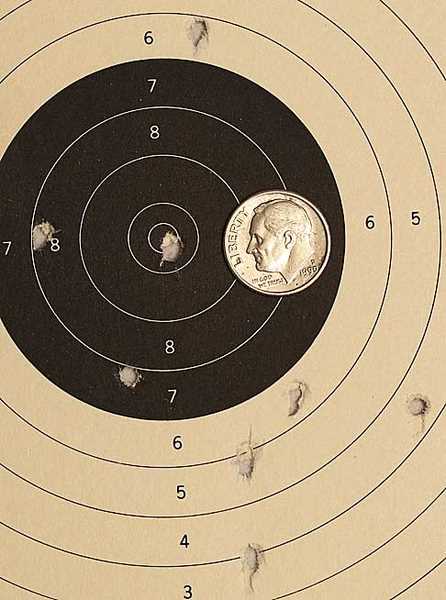 Oops! Can't rest air pistols on sandbags, either.
For the final group, I reverted to the hold in which the butt of the gun was just in front of the bag but not touching it. I was getting tired by this time, but I still managed to shoot a 2.311-inch group to end the session.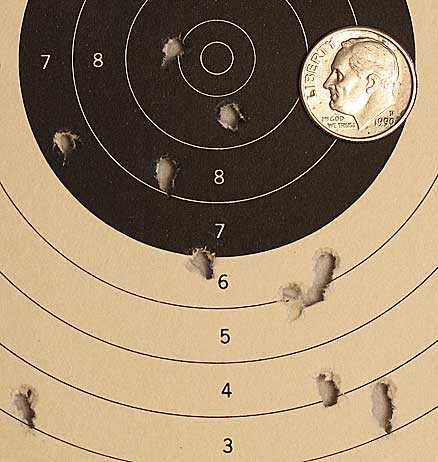 What do you know? I went back to the former hold and it worked, again!
Forty shots and all of them on the paper at 25 yards. I'd call that success.
The scope is actually easy to use once you learn to trust it. I wasn't used to seeing how much my hands shake and the scope really brings that out, so be prepared if you decide to get a pistol scope. I also find it difficult to believe that there's any magnification at all. To me, it just looks like I am peering though a very clear window at the target about 40 feet away
I'm not finished with this test, because I still have to try the pistol with other pellets. I spent extra time trying to discover a good hold, and so far I'm satisfied. I'll continue to experiment. For now, I think I know the best way to hold the gun for good groups. It just seems like those dang crosshairs are jumping all over the place!