Posts Tagged 'Beeman P17 air pistol'
by Tom Gaylord, a.k.a. B.B. Pelletier
Today's report goes out to all those readers who are just getting into airguns, as well as those who have been in airguns awhile but feel there are many things they're either missing or don't fully understand.
We have a new blog reader who goes by the name Essbee. For the past week, he's been asking the kind of specific questions that tell me he doesn't understand something as well as he would like to. Then yesterday, he sent in this set of questions:
Thanks. How does The Benjamin Marauder compare with German guns (RWS & Weihrauch) in terms of quality and durability and ease too. No doubt the Germans are pricey in PCP hence ruled out but their quality is no problem. Could I have a report for or against on the quality of Benjamin Marauder as compared to German technology and craftsmanship.
What are the chances the gas will leak on PCP guns. If it does how will it be fixed and at what cost? In contrast the air springers have no such problem. What do you say on this? What is the record at your end of PCP repairs vs air springers?
Hence I was comparing an RWS 34, RWS 350 Magnum and RWS Air King 54. Considering the cocking effort, weight and velocity it seems RWS 34 stands up very well in .22 with longer barrel. Am I correct? For hunting which is the best?
How do I answer this?
If you read the questions, you'll see they're a combination of technical questions and requests for my subjective opinions. I find it very difficult to answer questions like these because they require more time and space than we have available. So, what I do is try to guess about who's asking the question, then answer from that standpoint as best I can.
New airgunners come from a variety of backgrounds. They can be youngsters who have never really sampled the shooting sports at all. Everything is a mystery to them. Or they can be adults who may know about the shooting sports but have never really participated in them. You might think that would make them the same as the youngsters, but it doesn't. Adults do have some life experience to relate to, so they can understand things that youngsters haven't experienced yet. My answers to adults have to be slightly different than the same answers to youngsters.
The questions can also come from adults with lots of shooting experience but who are just getting into airguns. When that's the case, we have a common basis of shooting upon which to build, but they still won't be familiar with things like the artillery hold or with canting issues at close range.
Some of these adults may have served in the armed forces and may be even more familiar with firearms than most people. That makes my answers even more difficult because there are things about airguns that the military never thought of.
Some of the questions come from law enforcement officers, both retired and active duty. They'll have an even different viewpoint, and my answers will have to be presented differently.
So — how do you get into airguns?
I obviously can't answer everyone in the same way. But I do think there are fundamental things that ALL new airgunners need to think about. So here we go.
1. Start small
Don't buy that super-duper ultra-magnum that you see advertised. Forget the advertising hype, unless all you want is something to brag about. If that's what drives you, go somewhere else because I can't help you. I'm in this for the enjoyment of the hobby — not for posturing, looking good or counting coup.
Get a weak but accurate airgun as your first gun, and then learn to shoot it. Forget scopes unless you're almost legally blind. Learn to shoot with open sights. Learn to follow-through on every shot. Learn to call your shots, which is to state where they went before you look through the spotting scope.
I would tell you to get a Diana model 27, but they don't make them anymore; and many of you would rather purchase a new gun. Okay, get an Air Venturi Bronco. That rifle was created to be the modern equivalent of the Diana 27. Is it? Probably not, because there are too many things that aren't the same. But the Bronco is accurate, it has a good trigger, it's both light and easy to cock, and it comes in .177 caliber so the pellets are cheap. And the rifle, itself, is a great bargain.
Want a different choice? Okay, consider a Stoeger X5. For around $90, you get everything the Bronco has except the great trigger and some of the accuracy. But it's very good and is a wonderful way to break into airgunning. Find something like that.
Want an air pistol? How about a Beeman P17? Oh, you can find bad reports about this pistol if you look, but they number in the dozens, while thousands of pistols have been sold. I have had 2 and both were quite reliable. One was a test gun from Pyramyd Air and I bought the other one after returning the test gun. The one I have now has many shots on the clock, as well as many years on it, and still performs as good as it did when it was new.
Want a spring pistol? Try the Ruger Mark 1 pellet pistol. It's inexpensive, accurate, easy to cock, and the trigger–while heavy–is manageable.
The point
I said to start small with a low-powered pellet gun and learn how to shoot it. That's the best advice I can give anyone who wants to get into this hobby. Yes, the powerful guns are neat and the super-accurate guns are a ball to shoot, but they also require some understanding that only comes with practice. I want you to get as much trigger time as possible, and a lightweight, inexpensive, accurate gun is the way to do that.
2. Buy good pellets
I know that saving money is a good thing, but I don't want you to miss out on the thrill of a lifetime just so you can save a dollar a tin on bargain pellets. Stop kidding yourself that you can buy good pellets at a discount store. That was never the case, and today it's quite far from the truth. You might be able to buy some adequate pellets at a discount store, but where does that leave you? With a Bronco that shoots 1.5-inch groups at 25 yards instead of one that shoots 3/4-inch groups. Is that what you want? You know the best way to save money is to never shoot at all. If you're going to shoot, give yourself a chance of hitting.
3. Stop fighting the trends and start applying yourself
A popular definition of a crazy person is one who keeps doing the same things and hopes for different results. I see shooters who aren't using the artillery hold because they say it's too hard. Well, of course it's hard, but all the best shots do it. Don't you want to see what kind of shot you can be? If you try to buck the trend and avoid things like the artillery hold, you're acting like a NASCAR wannabe who doesn't like cars that are set up for the racetrack. Sure they're hard to drive, but they're also the only kind of cars that win the races!
You want to shoot groups at 100 yards, but you don't want to use a scope level. Great. That's like an ice-skater who wants to be in Hush Puppies all day because the skates hurt his ankles. You can't shoot tight groups at 100 yards without leveling your rifle for every shot. So, if you don't use a scope level, you'll have to find some other way of doing it.
4. Shoot
I know it sounds simple, but just shoot. That's why you decided to get into airgunning in the first place. It's so easy to shoot at home. I fire from 100 to 1,000 rounds each and every week.
The more you shoot, the more chances you have to improve. Not that all people do improve, mind you, but at least you have the chance.
I've found that 20 shots on your own is worth a lot more than 20 conversations about shooting on the internet. Go on and have the conversations — but do the shooting, too.
Summary
This is what I would tell a new airgunner. Too often — always, in fact — they come to me with their eyes sparkling with thoughts of buying this or that mega-magnum rifle, I know they're heading for disaster. I cringe when I see this because I know the conversations we're going to have much later when all they've done finally sinks in and they realize this wasn't the way to go.
Here's a little story to illustrate what I've been saying. I watch certain internet gun sales websites and from time to time certain guns are listed. Let's single out the Smith & Wesson 500 Magnum for this story. When I see the ad, I can guess what it will say. This fine gun is almost new in the box. It's only been fired a few times. Comes with a fresh box of ammunition and only 6 cartridges have been fired. Now, why do you suppose that is?
by Tom Gaylord, a.k.a. B.B. Pelletier
"Have a wonderful summer."
Great words, but not when they're in my high school graduation yearbook. We were all going our separate ways. Some of us were going to southeast Asia and might never come back. Others were going on to colleges to become doctors, lawyers, nuclear physicists and accountants. A couple went to Hollywood and were never heard from again and at least one went on to win several Super Bowls and become a household name — actually two names. I went to high school with Larry Csonka in Stow, Ohio, and Craig Morton in Campbell, California.
So, why didn't they write, "Since I'm never going to see you again, have a nice life."? I'll tell you why — because people don't know how to say goodbye. So now, 48 years later, I have someone wishing me a perpetual good summer of 1965. I was never quite sure about what that meant, either. Was it just the one summer, or were all of them implied?
Know what else people aren't good at? Visualization. Like what to pack for a vacation. Oh, the old swimsuit is easy enough, but what about taking an airgun?
Well, gee, I did just get a .50-caliber Dragon Claw. Wouldn't that be neat to have along at Yellowstone?
Not unless your fantasy is to be the focus of a SWAT team attack! Unless you're vacationing at a rifle range or somewhere very remote, a big bore airgun is not ideal. Nor is anything that requires a large support base such as scuba tanks, hand pumps, CO2 cartridges and ancillary stuff like that.
While you're at it, leave your 4-foot gun bags and hard cases at home with the aquarium and the garden tractor. The last thing you want or need on a vacation is a lot of baggage.
My pick for you is the Beeman P17 single-stroke pistol and as many tins of pellets as you think you'll need. Or, if you don't like Chinese airguns, spend the money and buy the German-made Beeman P3 that it was modeled after. Both guns are quiet, accurate, have adjustable sights, great triggers and are very portable. Sure, they're single-shots, but that's part of their attraction — they slow you down and make you pay attention to what you're doing.
Oh, you don't absolutely have to stick with a single-stroke pistol if you don't want to. A nice pneumatic like the Crosman 1377C or the .22-caliber 1322 would be fine. They're larger pistols, but still self-contained, requiring only pellets for fun.
If you want a springer, might I suggest the Browning Buck Mark? It's reasonably accurate, easy to cock and the price shouldn't break the bank. If it does, you aren't going on a vacation; you're just staying home from work.
What about a rifle?
For an air rifle, I recommend the Diana 27; but since none of you were far-sighted enough to get one back when I was touting them, now you have to live with what's available. Well, that was why the Air Venturi Bronco was created — for all those who should have bought Diana 27s but never got around to it. For a lot less money than a Diana 27 costs, you can get a brand-new Bronco and have the same fun with it. It's a little larger and heavier, but just as accurate, just as easy to cock and quite the little all-day plinker.
I could go on and on with this — recommending multi-pumps and other springers, but that's not the point of today's blog. The point is that when you're on vacation, take along something simple and fun to shoot. It doesn't need to be your most powerful or most accurate airgun — just one that you like to shoot.
And travel light. Vacations are not the time to stress about air supplies or where to buy more CO2. They're times when you want to be free and unencumbered by stuff, so you can have some fun.
And, one more thing. You guys all say that I'm an enabler who spends your discretionary money faster than your wives and girlfriends can account for it. But did you notice that the guns I chose for today were mostly inexpensive? You don't have to spend a lot of money on an airgun to have fun with it. A $40 P17 or a $45 Buck Mark should certainly be affordable. And that was my criterion for selection — good airguns at good prices.
Keep things simple when you're away from home and your support base. If you have to buy pellets from a discount store, even the cheapest ones should shoot okay in the guns I've recommended. In fact — that gives me a great idea for another report. I will test inexpensive pellets like you'd find in a discount store (and Pyramyd Air sells these, too) against the best pellets I can buy.
Yeah! I like that!
Oh, and have a wonderful summer….
by B.B. Pelletier
I was in Wal-Mart the other day and a guy was looking at the airguns, so I struck up a conversation. He was looking at a Crosman M4-177 for eliminating pest birds; and when I tried to steer him toward a more powerful breakbarrel in .22 caliber, he had a fit over the price. Apparently $145 is the Rolls Royce of airguns for him!
So, today I thought I'd reflect a bit on the cost of things — some expensive and some cheap, but all very good. We have a growing contingent of firearms shooters who have found this blog and I'm doing this for them.
The most expensive?
Well, let's be realistic. There's only one air rifle that was carried by Lewis & Clark,  and Dr. Beeman has donated it to the U.S. Army War College museum. It's value is well over a million dollars; but since there's only one, it doesn't really count in today's discussion.
I'm also not talking about the collectible airguns that are available in greater numbers. A complete Plymouth Iron Windmill BB gun, the predecessor to the Daisy line, has commanded as much as $10,000. But second model Daisys are even rarer, because they were so prone to break. I've seen one change hands for $16,000, and that was close to a decade ago. But, for today, I want to talk about guns that are generally available.
Whiscombes
When Edith and I bought our JW75 with four barrels and the Harmonic Optimized Tuning System (HOTS) on each of them, the cost was $2,100. That was in 1996. The cost did increase after that; but when John Whiscombe stopped making his rifle several years ago, the price took off like a rocket. Today, it's hard to find a single-barrel Whiscombe rifle with no frills for under $3,000, and full sets like ours will certainly bring a lot more.

You can't buy a new Whiscombe rifle anymore, so used rifles command top dollar.
So, are Whiscombes the most expensive air rifles? Hardly. There are all sorts of custom airgun makers around the world who offer almost whatever the traffic will bear. I've seen single rifles in Europe priced at over $8,000, and that was five years ago. Who knows where it all ends? The point is, air rifles can cost a bundle if that's what you're looking for.
Back to earth, some of the more expensive production air rifles today are made by the target rifle companies, where top models retail for nearly $3,000. And they're built for a specific purpose — not for general shooting. The FWB 700 Alu, for example, is a very expensive air rifle that cannot be used for most popular airgun pursuits like hunting and plinking. But for punching holes in paper, it's one of the best. The same can be said for top target rifles from Steyr, Walther, Anschütz and a couple others.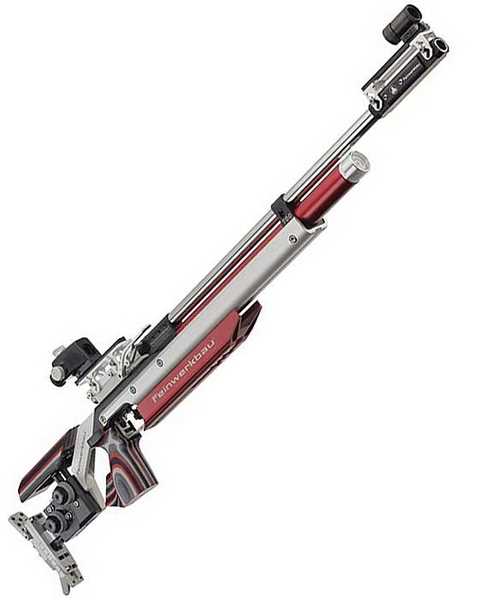 The FWB 700 Alu looks like an expensive air rifle!
For the sport of field target, it's difficult to top the Air Arms EV2 precharged competition rifle. It has won and placed at the world level many times in recent years and is one of those rifles shooters tend to covet.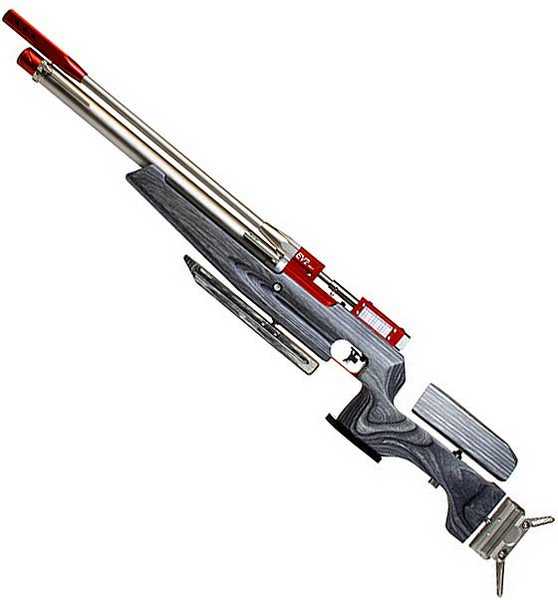 The Air Arms EV2 has won its share of top honors in field target.
In sporting rifles, Daystate and FX Airguns are among the most expensive brands. And now their top models are around $2,000 or less. Fifteen years ago, the number of makers of these rifles was much greater, but many brands have left the market.
Do you have to spend so much?
Of course you don't! There are plenty of fine air rifles that cost considerably less than those mentioned and still deliver a boatload of options and value. But that isn't today's topic. We're looking at the most expensive and the least expensive.
How low can you go?
Speaking of the least expensive, what can you get for very little money? How about a Beeman P17 pistol? For under $50, Pyramyd Air will sell you an air pistol that's so accurate you cannot outshoot it — I don't care who you are. This is a pistol that you can learn on and use to take your handgun shooting to the next level. For the life of me, I cannot fathom why Beeman doesn't triple the price and bring this out as a pseudo-10-meter target pistol! All the foundation is there. Gamo did the same thing with their Compact pistol, and this one costs one-fifth as much! They could easily add target grips and sights and have a wonderful, inexpensive target pistol, but I guess they just don't see the potential.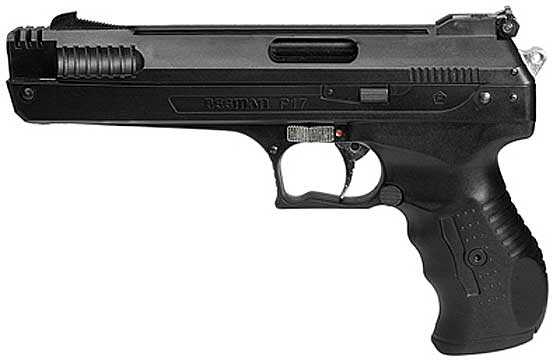 For the money, you can't buy a better air pistol than the Beeman P17.
I wish I had an air rifle to list for under $100. They exist, but none of them are what I would call really exemplary. But the Air Venturi Bronco is the finest low-cost air rifle I know of. It has accuracy equal to or better than a Beeman R7, a great trigger, nice size and is generally a fine rifle for older youth and adults.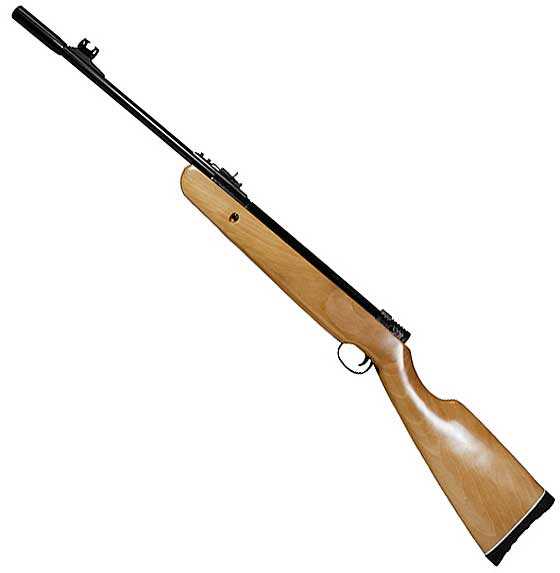 Air Venturi's Bronco is the air rifle to beat on the low end of the price spectrum.
The bottom line
And now you've guessed my agenda with this report. It wasn't just about the most expensive and the least expensive. The guns I listed are also among the best of their types in the world. Sure, I could compare the Benjamin Marauder to some of the expensive PCPs and make a case for it being just as good functionally, but that wasn't what this report was about. It was to define the limits of cost in our hobby for all the new readers who come over from the world of firearms.
by B.B. Pelletier
Blog reader Kevin Lentz asked for this report; but as soon as he posted his request, it was seconded by a couple other readers. The first time I did a report with this title was way back in 2007, and that was a four-parter. This time, I'll hold it to just two parts to save some time, because there are a lot of new models coming out at this time of year. Kevin revised the categories just a little and I went with his suggestions.
Guns under $150: Air rifles
A couple guns that used to be in this category have fallen off the list, in my opinion. They did so due to major changes in product quality. Even at this low level, a gun has to shine to make the list.
Crosman's 1077 is a wonderful 12-shot CO2 repeater. It's accurate, reliable and a lot of fun to shoot. This budget rifle is accurate enough to benefit from a scope.
The Crosman M4-177 multi-pump is another wonderful value for the price. It's accurate, has a tactical look and is very rugged. As a bonus, this is a five-shot repeater!
The Gamo Lady Recon makes the list for its accuracy, ease of operation and the fact that it comes with open sights. The plain Recon doesn't have open sights and misses the list for the lack. This is a lot of youth air rifle for the money, but I suppose only girls will like it because of the pink color.
Stoeger's X5 makes the list for accuracy and build quality. The one drawback with this one is the heavy trigger. But if you get past that, this is a lot of airgun for the money.
Daisy's Powerline 953 TargetPro is a budget version of that company's 853 target rifle. Though it lacks the Lothar Walther barrel, the 953 manages to do quite well with its domestic barrel. It's a great way to get into target shooting without spending a bundle.
Buy the Daisy Avanti Champion 499 only if you like hitting what you shoot at. Billed as the world's most accurate BB gun and the only gun used in the International BB Gun Championships (because nothing else can compete with it), the 499 is every target shooter's dream. Sure, it's a BB gun, but one that will put 10 shots inside Roosevelt's head on a dime offhand at 5 yards.
And the winner among air rifles in this price range is the Air Venturi Bronco. It is, without question, the most accurate pellet rifle under $150, and it has the best trigger of the category as well.
What can I say? I love this air rifle.
Guns under $150: Air pistols
For informal target shooting, you can't do any better than Beeman's P17 single-stroke pistol. It's a Chinese-made copy of the German-made Beeman P3 that costs many times more, yet the P17 holds its own on power and accuracy. A few of them have been known to have reliability issues; but if you oil yours with Pellgunoil, I think you'll get past that. I've owned two, and both were perfect.
There used to be several different models of this next gun to choose from, but the last one standing is the Crosman 357W. A pellet revolver for under $50, this CO2-powered gun has inspired shooters for decades. It has the accuracy you want and ease of operation, plus it's a pellet revolver!
Another super buy is the Crosman 2240 .22-caliber single-shot pistol. This gun is the direct descendant of Crosman pistols dating all the way back to the 1940s. It's accurate, powerful and a wonderful value.
The Crosman 1377C is a classic multi-pump air pistol selling for half the price of most other pump guns. It has the power and accuracy to hold its own against challengers selling at more than twice the price. Plus, it's the basis of many hobby airgunners' projects.
The Makarov BB pistol is the best BB pistol in this or any other price category. It's accurate, reliable and extremely realistic. If you like to hit what you shoot at and want to shoot BBs, this is the gun to buy!
If you want a fun, realistic BB revolver, they don't get any better than the Dan Wesson BB revolver. I've linked to the 8-inch barreled gun, but all the barrel lengths and finishes cost the same and provide the same great service.
Guns $150-250: Air rifles
Not as many guns in this price category, because I hold them to a higher standard. With guns like the Bronco and the Beeman P17 out there, most higher-priced guns can't deliver.
Hatsan recently decided to go it alone in the U.S., but I haven't had a chance to test anything they offer. Back when they were making guns for whatever conglomerate financial organization owned Webley at the time, who knows what craziness they were forced to make? So, they should be given the chance to make and sell good guns on their own. Time will tell, but this year I have no information, so they didn't make the list.
With all the product-cheapening that's been going on, it's been difficult to see that the Diana RWS 34P has progressively morphed into a fine air rifle. The barrel got better, the trigger did the same and the powerplant went from a cheap buzzy nightmare in the 1980s to a dream gun in 2012. Diana avoided the Gamo pitfall of going to more power, and, instead, they concentrated on giving us a great rifle with reasonable power and splendid accuracy. You do need to use the artillery hold to get it, though. This one deserves credit for being a wonderful air rifle. When I list the 34P, I'm actually including all 34 rifles.
Guns $150-250: Air pistols
Same thing goes for air pistols as for rifles. Too much competition from the lower-price category and not enough innovation and quality in this one.
I can't say enough good things about the Smith & Wesson 586 4-inch CO2 revolver. It's a "real" gun! Get one if you like fine double- and single-action triggers, smooth revolver actions plus stunning accuracy. The realism cannot be faulted. Same thing goes for the 6-inch barreled gun.
Some of you may remember my story about telling the then-president of Crosman why airgunners would drop $150 on a handgun he sold for $39.95. Well, he left the company, and the new management decided to build these modified guns themselves! The Crosman 2300S is one such gun. It's based on the 2240 frame, but has a boatload of high-value appointments that are just what most airgunners want. Can't beat it for the price.
I'm going to include the Daisy Avanti 747 Triumph Match, which is somewhat quirky and more than a little clunky, but it's the lowest-cost real target pistol available. The Lothar Walther barrel is what makes it rank above the nearly identical 717. And, Daisy, could you please give this gun a couple more names? I can still pronounce it without taking a breath.
What's this? I put the Beeman P17 on this list for under $150 and I'm also putting the Beeman P3 on the same list? Yep. This one is good, too. Better trigger than the P17 and just as accurate and powerful. Want a better gun? Get a P3.
Well, that's my list. You might ask me what the criteria were to make the list. Simple. These are the airguns I can recommend and not hear anything bad about them. That doesn't mean that everyone likes all of them. It means that the guns, themselves, don't have any bad habits or features that make people mad at me for recommending them. Next time, I'll do a $250-500 list and an unlimited one. You think I was picky today? Just wait.
A note from Edith: This is a G-rated site
Recently, I've noticed some acronyms creeping in that aren't G-rated. If you have a budding young airgunner that you've encouraged to read the blog and the comments, do you want to have to explain to him what those initials mean? Probably not, so it's best if we don't use those colorful words/acronyms in our comments.
Also, when symbols have to replace letters in a word because the word is offensive, please don't use that word…with or without symbols. I appreciate your help in keeping Airgun Academy a G-rated site and a place where airgunners of every age can comfortably ask questions and grow to love the shooting sports.