by Tom Gaylord, a.k.a. B.B. Pelletier
Today is Thanksgiving, here in the U.S., as well as the first full day of Hanukkah, which started last evening. I want to wish my Jewish readers a happy Hanukkah and all my U.S. readers a Happy Thanksgiving Day. Today I'd like to take some time to acknowledge those airguns that are worth remembering.
Benjamin 107
It was my first airgun — though I didn't acknowledge it at the time. I was whining at my mom to let me buy a BB gun, when all the while I had a beauty right there in front of me.
The 107 was a front-pump .177 smoothbore pistol that shot BBs, darts and pellets — none very accurately. But compared to a common BB gun, it wasn't too bad. I got it when I turned 10 or 11 after my father died. It had been his. I remember seeing him shoot it once, but that was all.
All the black nickel finish was gone, and the gun was worn to silver nickel in most places, with a hint of brass showing though some of the edges. It was a real bear to pump, and I think I could manage only three strokes when I applied all my weight. After that, I was the one having the stroke!
I could hold about one inch at 20 feet with darts, which was the ammo of choice since I had them and they could be reused. There were some Benjamin pellets that came with the thing, too, but I don't remember them being very accurate.
Once I secured my Daisy No. 25 pump BB gun, I don't think I ever looked at the old Benjamin, again. But that was the first airgun I ever shot, and it started the fascination that's lasted until now.
Diana model 10
Fast-forward 14 years, and I'm married (to my first wife) with a child and living in Germany. In the walled city of Rothenberg ob der Tauber, I find a gun store that sells high-end airguns. They have Walther LGVs and LGRs that I can't afford as a family man. But they also have a Diana model 10 target pistol that the owner claims is stunningly accurate. He's a good salesman, and we decided we could afford it; so I buy it plus 5,000 RWS Meisterkugeln pellets.
I learned how to shoot 10-meter pistol with that airgun — heck, I learned that there WAS such a thing as 10-meter pistol! And I got passably good. Good enough to stand on the line at formal matches while better shooters won. I did that for the next 20 years and got better and better until I was what, in technical terms, is known as a duffer. That's a guy who shows up and shoots without embarrassing himself, while others rule the day.
I also taught my gun-hating father-in-law how to shoot with that air pistol. He got so interested that he shot up a lot of my 5,000 pellets! I finally sold that pistol when I left the Army in 1981.
FWB 124
This is the air rifle I bought after returning from Germany in 1977. I scoped it with a Tasco firearm scope and never had a lick of trouble with it. It had the plastic trigger that the early rifles came with, but I loved it just as it was. It taught me what a precision adult air rifle could be. I had been reading about these rifles for the last 2 years I was in Germany; and, of course, I failed to realize that I lived in Erlangen, the home of the BSF factory! No, I read the Airgun Digest in the last 2 years of my tour and I wanted a 124, so that's what I got.

One of many FWB 124s I've owned over the years. Each one is a classic!
Then the R1 came out and took all the wind out of my sails. My 124 was no longer the baddest airgun on the block — despite the fact that no one on my block owned any air rifles at all. No sir! Dr. Beeman said the R1 was the gun to own, and I wanted one with all my fiber! I had to sell that 124 to pay off debts when I left the Army, but it left a seed deep inside me and I've owned several since that time.
Diana 27
The Diana 27 I'm referring to is not the one you have seen me write about. No, it's a gun I bought for $18 in a pawn shop in Radcliff, Kentucky, in the late 1970s. I didn't even know what it was at the time. It was a Hy Score 807 in .22 caliber and rough as a cob. The rust was deep all over, making the metal surface bumpy. Had it been removed, there would have been deep pits left behind. But the gun still shot very well. I marveled at how light and smooth the powerplant was. It shot slow compared to the 124, but out to 20 yards it held its own. I gave that one to a friend when I left the Army.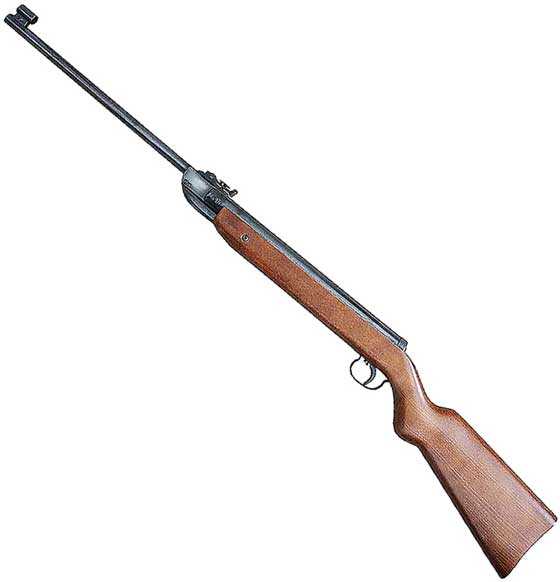 Diana 27 isn't a pretty air rifle, but it shoots like a dream!
Sheridan Blue Streak
This was an air rifle I had coveted since I was a Tenderfoot in the Boy Scouts and read all the ads in Boy's Life. It could shoot through an inch of wood — the ads said so! And it was accurate. But I never had the money to buy one as a kid. In 1978, a year after returning from Germany (and fast becoming a real airgunner), I finally bought one. The price had risen from $19.95 to $39.95 in the time that had passed, but I purchased what is today recognized as the high-water mark of Sheridan production — a 1978 Blue Streak with the rocker safety!

The Blue Streak I bought in 1978, and the rifle on which Edith learned to shoot.
That gun stayed with me after I left the Army. It wasn't worth enough to sell, so I kept it and still have it today. Edith learned to shoot with it and killed 9 rats around our Maryland home — not to mention various mice in the house and snakes in the garden. She put a yellow twist tie around the triggerguard to remind her the pellets were the ones in the yellow plastic box. This was before the days of The Airgun Letter and field target. Edith was still learning about airguns.
Beeman R1
We really didn't have the money at the time, but Edith gifted me with a new Beeman R1 for Christmas in 1991. The Airgun Letter was still 3 years in the future, so the only reason I got this gun was because I told her how long I had desired it. I had purchased a Beeman C1 a couple years before, but it just didn't scratch the itch.
But the real surprise was the used HW 77 carbine that was also under the tree that year. That was Edith at her best — giving me a gift I had no idea I was getting. We even had a scene from A Christmas Story, as a final long box with my name on it appeared after all other gifts had been opened!
The R1 scratched my itch alright; but what I discovered about airguns is that the more you scratch, the more the itch spreads. You think I'm an enabler? Remember, folks, I do everything to myself before I do it to all of you.
Beeman R8
It was the day I returned from the hospital in 2010. I was sitting on the sofa and had just enough strength to sit up for awhile. Edith pulled out a long cardboard box and told me that one of our blog readers had sent me something for when I come home. I couldn't stand or even open the box. She had to do it for me. Inside was a black hard case and inside that was the most beautiful Tyrolean air rifle I've even seen. It was a Beeman R8 with a custom stock and a fresh tune. A personal note told me who had done the work and how nice it shot.

This beautiful Tyrolean Beeman R8 was waiting for me when I returned home from the hospital.
As weak as I was, I had Edith hand me the rifle and I found that I could cock it. Oh boy! Here was a spring rifle I could shoot real soon, even when I couldn't cock most other air rifles. My friend, Mac, was still testing spring guns for me for several months as my strength returned, but that R8 was mine from the moment I first held it.
Edith and I were showered with gifts from the members of this blog when I got out of the hospital, and we were stunned at the outpouring. But that R8 is my favorite spring rifle because of how nice it is, how great it shoots, and most of all what it meant to me at a time when I could barely raise my head off a pillow.
What about the others?
Sure, there have been plenty of other airguns I'm thankful for. My Whiscombe has been a dream test bed for numerous experiments. Both the Benjamin Discovery and the Air Venturi Bronco are guns I personally was involved in developing. So, of course, they meant a lot. The AirForce Talon SS with a 24″ barrel is probably the gun I shoot more than any other…and you all know how I feel about the TX200! I could go on and on, but where do I stop? These guns have all been pivotal in my development as an airgunner.
I'm thankful
Back when I wrote The Airgun Letter, I allowed myself to get sucked into several bad arguments over trivial airgun issues. When we started this blog, I insisted on using a pen name rather than my own. I didn't want to spoil things with old baggage from the past. I also reinvented myself at the same time. I learned to curb my temper and to listen to what others have to say — even when it runs contrary to what I believe.
Some of you suspect this, but now I'll tell you all that Edith is half of Tom Gaylord, the writer. She keeps me on an even keel and lets me vent privately when I have to. She has a much better memory than I do and sometimes she suggests things that I wish I had thought of (and accept credit for when they show up in print). If I didn't have her, the veneer of who I am would quickly peel back and expose the unpleasantness underneath.
The airguns I have written about today were all pivotal in shaping my life as an airgunner. But it is Edith and you readers who have really had the greatest influence. Through thick and thin, you continue to inspire me and make me glad to have this job.
A few weeks ago, blog reader David Enoch asked me to write a report about the airguns that I never warmed to. I tried doing that and quickly found all the bad old stuff leaking out. So, I stopped writing and focused on only the good things that have happened with airguns. There are so many of them; and when I focus on them, I become the person I want to be.
Today's report came as a result of a disaster I had while testing a gun yesterday. Nothing went right, several optical sights failed and I put some new dents in the wall of our bedroom. I then sat on the couch complaining about everything. Knowing that I was losing it, Edith suggested today's topic. I hope this piece does some good for all of you because it has made my day! Happy Thanksgiving!
by Tom Gaylord, a.k.a. B.B. Pelletier
Testing the effect of hold on an accurate spring-piston air rifle: Part 1
Calling the shot and follow-through
Settling into a firing position
I thought this was going to be a one-time report. I would show how the hold affects the accuracy of a spring-piston rifle and that would be it. Well, the best-laid plans…
Blog reader Slinging Lead said he thought that lower-powered breakbarrels shoot just as accurately when rested directly on a bag as they do when shot with the artillery hold. I had to admit that the TX200 does shoot well off a bag, although that rifle is an underlever — not a breakbarrel. And it's certainly not lower-powered. Then, blog reader BG_Farmer entered the conversation and requested this test.
While all this was transpiring, blog reader Kevin Lentz sent me 2 tins of Air Arms Falcon pellets to try in my R8. He said his R8 shot them slightly better than it shot the JSB Exact RS pellets that I normally use in my R8.
Now, we had a multivariate discussion going on! On one hand we wondered which pellets were the most accurate in my R8; and on the other hand, we wondered if the gun was as accurate when rested directly on the bag as it was when held with the artillery hold.
How do you test all that? Do you start by testing one of the 2 pellets, or do you first find the best hold? My approach in situations like this has always been to just start testing and let the methodology work itself out as I progress.
This time, I started by shooting the gun with both pellets. I shot them with the artillery hold the way I always had, then I rested the gun directly on the sandbag and shot both pellets again. The first day's results were not very good, but they did illuminate something that helped me structure the second day's shooting. It turns out that, although the R8 is a very accurate springer, it's still ultra-sensitive to hold. I guess I'd forgotten that, but on the first day's shooting it slapped me in the face. I found that even the slightest variation in hold would throw the pellet sideways with a vengeance, and that held true for both the Falcon pellets and the JSB Exact RS pellets.
Ten-shot groups are the way to go
Once again, I must sing the praises of 10-shot groups over 5-shot groups. When you shoot 10 shots, you allow the gun to do its thing; and that tells you what the real accuracy is. People say they don't shoot 10 shots because something can go wrong — that it's easy to hold the rifle steady for 5 shots, but close to impossible to hold it right 10 times in a row. I say that's just a lie we tell ourselves because 5-shot groups look so much better. Yes, it's hard to hold a gun correctly 10 times in a row; and yes, you'll make mistakes. I make them all the time. But if you get into the habit of shooting 10-shot groups, you'll also KNOW when you make those mistakes; and in time, you'll make fewer of them.
The first results — JSB Exact RS pellets
The rest of this report will be mostly the photos of the groups. I'll start with the JSB Exact RS pellets.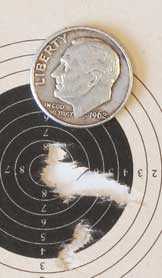 On the first day, this is what my artillery hold did with 10 JSB RS pellets at 25 yards. Group measures 0.647 inches.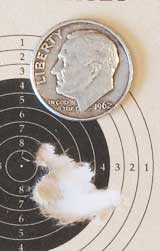 On the second day, my artillery hold was more precise shot-to-shot, and I got groups that were smaller and rounder. Here are 10 JSB RS pellets from the artillery hold at 25 yards. Group measures 0.503 inches.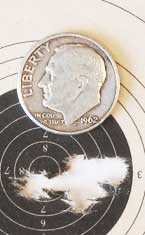 Resting directly on the bag on the first day produced a slightly smaller group than the handheld one. Ten JSB RS pellets rested on a bag went into 0.571 inches between centers at 25 yards.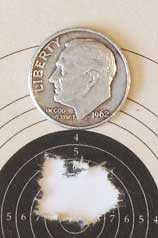 Resting directly on the bag on day 2 also beat the handheld group on that day.Ten JSB RS pellets rested on a bag went into 0.379 inches between centers at 25 yards. This is the smallest group of this test.
Clearly, these results show that the groups of JSB Exact RS pellets fired off the bag are smaller than the handheld groups on both days. The day 1 groups are larger than the day 2 groups, but the relationships of the group sizes between bag-rested and handheld remained constant on both days.
Air Arms Falcon pellets
Now, let's see what happened with the Air Arms Falcon pellets. These were also shot on both days and using both resting methods.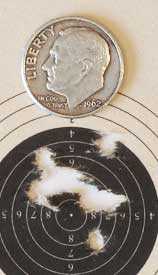 On the first day, this is what my artillery hold did with 10 Air Arms Falcon pellets at 25 yards. Group measures 0.63 inches. It's slightly better than the handheld JSB RS group shot on the same day.

On day ,2 the group shot with my artillery hold and 10 Air Arms Falcon pellets at 25 yards measures 0.466 inches. It's considerably better than the handheld JSB RS group shot on day 1.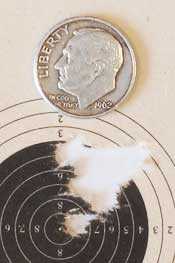 On the first day, 10 Air Arms Falcon pellets at 25 yards shot with the rifle rested directly on the sandbag went into 0.627 inches. It's slightly better than the handheld Falcon group shot on the same day.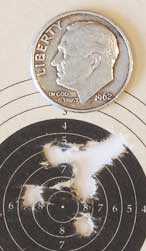 On the second day, 10 Air Arms Falcon pellets at 25 yards shot with the rifle rested directly on the sandbag went into 0.603 inches. It's much worse than the handheld Falcon group shot on the same day. I know this group APPEARS larger than the group above, but I measured it several times and it really is slightly smaller.
Conclusions
I conclude that these 2 pellets perform so close to each other that there's no measurable difference — at least not in my Beeman R8. The group sizes do slightly favor the JSB pellets over the Falcons, but it's too close to call.
But this test does demonstrate one thing very clearly. This rifle is capable of shooting groups just as tight when rested directly on a sandbag as when held with the artillery hold. That's big news, I think. I'll remind you that this test required the utmost in precision holding — whether in the hands or on the bag. There could be absolutely no tension on the rifle, and the gun had to be settled in properly before firing. It, therefore, took nearly as long to get each shot ready on the bag as it did holding the gun.
Don't try to go too far
This is all well and good, but don't sit in judgement of these results. It would be far too easy to get sucked into a destructive discussion of how much better you think this rifle can really shoot.
Many years ago, I worked for an engineering firm that developed specialized telecommunications systems. Our client was always pushing past the edge of technological possibility, so we were, too. That's admirable except it sometimes gets you into problem areas. Let's look at one example. The client wanted a mass storage device that stored a huge amount of data. They also wanted the data to be retrievable within a very short time. You can do one thing or the other; but when you try to do both simultaneously, there are problems.
Our problems can be seen in the movie Patriot Games, when the main character is attempting to do voice recognition in real time from a cell phone intercept. There's a glass wall behind him, and the mass storage device behind the wall is very much like the one we were asked to design. As you watch the film, you'll see robot arms moving fast to retrieve digital storage devices and plug them into readers. The arms move very fast! But they're slow compared to the speed our robots had to move. Our arms had to move faster than the speed of sound, yet stop at precisely the right spot for the storage devices to be inserted into the readers. That is a physical impossibility just due to the physics of the problem. You cannot decelerate a mass from fast to zero without some consequences.
We had a problem that was unsolvable at the time we were attempting to do it. Today, however, it can be done, and the footprint of the system that does it is a fraction the size of what we were working on. Mass storage technology caught up with our technological requirement and then surpassed it.
You run into the same problem when you attempt to test something like the rifle we're looking at today. You can get a spring-piston gun to a remarkable level of precision, and then the technology and physical limitations stop all further progress.
Put another way, you can take a $500 spring gun and invest another $500 to get it shooting 10 times better than before. But after you do, maybe no amount of additional money can get that more accurate airgun to shoot another 10 times better!
I could probably continue to test this rifle and get different results. Some would be better than what is seen here, and others would be worse. I believe this test does show the relationship quite well of the gun to the 2 pellets and 2 different holds.
by Tom Gaylord, a.k.a. B.B. Pelletier
Calling the shot and follow-through
Settling into a firing position
Today's report is one of those serendipitous events that happen when I think I'm investigating something simple and it turns out to be a treasure trove of shooting information. I thought today's test was a demonstration of how settling into a firing position and following through would give a better group from an air rifle of proven accuracy. What I got was that and more!
I chose the .177-caliber Beeman R8 air rifle and JSB Exact RS pellet for this test because, in the past, this has proved to be a great combination. I shot 10-shot groups at 25 yards, which should show any differences if they really exist. Initially, I'd thought to shoot the rifle in a deer-hunter hold (meaning that I grasped the stock and pulled it firmly into my shoulder), an artillery hold without the tension being taken out of my hold (in other words, holding the rifle lightly, but held on target by muscle power and not by relaxing and adjusting the hold) and finally by settling in properly with an artillery hold. However, as I started this test, I thought that I'd also shoot the rifle directly off the sandbag to show how that affected the group size.
As I started the test, I realized that one group would have to be shot last, which would be at the time I was getting tired. I didn't want to bias the results, so I put the neutral hold (the potentially best hold) at the end of the test.
Directly rested on sandbags
The first shot off the bag went through the center of the bull, and shot 2 went through the same hole. At that point, I thought this test was going to prove that I was wrong and that this gun really could be shot directly off a bag. Because of that, I knew that bias could creep in at this point. So, shot 3 was taken with the greatest care; yet, shot 3 went way to the right, and I knew the wisdom of not resting directly on sandbags was holding true.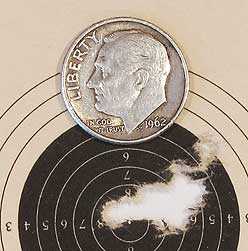 Ten JSB Exact RS pellets went onto 0.593 inches at 25 yards when the rifle was rested directly on the sandbag.
Deer hunter
This hold is one where you grasp the rifle tightly, pulling it into the shoulder the way a hunter might hold a powerful rifle. This was the most difficult hold to execute because the rifle was twitching around from the tight muscles. I didn't have a death grip on it — just a firm hold; but through the scope, the movement was disconcerting.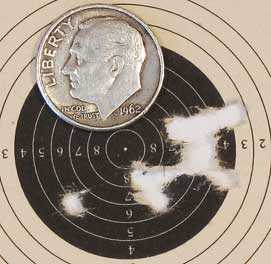 Ten JSB Exact RS pellets went onto 0.949 inches at 25 yards when the rifle was held firmly like a hunting rifle. The horizontal spread is due to tense muscles.
Artillery hold without settling-in
This hold just felt wrong with every shot because I knew I hadn't settled in. Were I to relax before the shot while using this hold, the crosshairs would invariable move to the right. And see what kind of group I got? There's one large hole surrounded by 4 wild shots. This is the kind of group that will drive a shooter nuts because it looks so good in general but still has those few wild shots. You wonder what's wrong and want to blame the rifle, the barrel crown and the pellet. But in actuality, it all came down to the hold.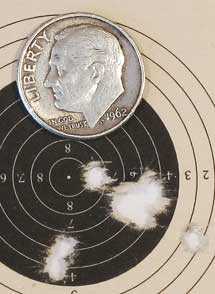 Ten JSB Exact RS pellets went onto 0.728 inches at 25 yards when the rifle was held using the artillery hold but not settling in. The wild shots are caused by tense muscles.
Now comes the big lesson!
Here is where the test turned around and taught me more than I anticipated. By the time I got to this point, I'd already fired 30 good shots without a single called flier. The dispersion you see on the targets above is entirely due to the holds that were used to create them. But taking 30 good shots is very tiring. And it showed on my next attempt to shoot a good 10-shot group.
What happened was I didn't relax as completely as I should have. There was still a bit of tension in my muscles. Part of that is because my R8 has a Tyrolean stock whose high cupped cheekpiece is horrible for shooting off a bench rest because it forces you to put your cheek against the stock. But knowing that these shots were fired with a bit of tension in this case turned out to be a wonderful thing because I got 2 distinct groups!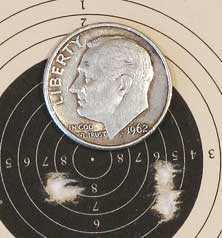 Four JSB Exact RS pellets went onto 2 distinct groups at 25 yards when the rifle was held using the artillery hold, but I still didn't settle in as completely as I should have. The "group" on the left looks like a single shot, but I know for a fact that it contains 2 pellets. The group on the right is very obviously two pellets. The distance between the centers of these 4 shots is 0.574 inches.
Why is this bad target such a good thing? Because it clearly shows a phenomenon that happens to all shooters. A small change in the hold sends the pellets/bullets to 2 distinctly different places. How many times have I seen this on the rifle range and blamed my ammunition or rifle? Here's the proof that it can be caused by just a small change in the hold.
But the learning wasn't over! The next target I shot was with a fully relaxed artillery hold, but it's still larger than I would like. What went wrong? Well, perhaps, where I'd my off-hand was the problem. It was back, touching the triggerguard. Maybe, it needs to be more forward with this rifle.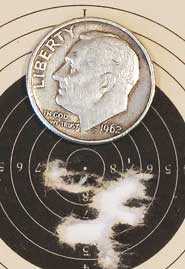 Ten JSB Exact RS pellets went into 0.475 inches at 25 yards when the right artillery hold was combined with the correct settling in. This is the best of the 5 groups fired thus far, but I felt the rifle had more to give.
I slid my hand forward to almost the end of the stock. Then, I shot the final group, which was the best one of the day. Fifty-four shots had been fired before this group was started; yet, when I settled in correctly and used the artillery hold as I was supposed to, this hold produced the best group of the session — 10 shots into 0.405 inches between centers.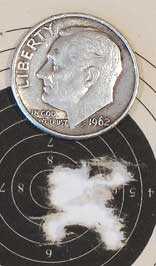 This is what happens when everything is done right. Ten JSB Exact RS pellets went into 0.405 inches at 25 yards.
Summary
This little test turned out to be one of the most important things I've done in months because it demonstrates not just the importance of the right hold and settling in but also what can happen when even one of those things isn't done exactly as it should be.
by Tom Gaylord, a.k.a. B.B. Pelletier
Happy Thanksgiving! This is the day Americans set aside to remember the things we're thankful for as we eat a feast of traditional turkey.
A couple days ago, blog reader Rob asked for my list of most-favorite spring guns and why they're my favorites, so I thought today would be a good day to do that. So, here goes. I'm doing only the springers, because that's what he asked for. What you're about to read is by no means a complete list of airguns that I like.
Diana model 27
I bought my first Diana model 27 air rifle from a pawn shop in Radcliff, Kentucky, when I was stationed at Fort Knox in the 1970s. It was tired-looking and rusty but still shot like every 27 does — smooth and straight. This one was a Hy Score 807. I never tuned it because I didn't know about such things in those days. I just shot it offhand as a plinker. That rifle cocked so easily that shooting it was like eating peanuts — I just couldn't stop! I never did figure out the trigger, though. It wasn't until I read the owner's manual for a Diana 35 about 20 years later that I figured out how to adjust the trigger on this rifle. Today, I own 2 model 27 rifles and a model 25 rifle that I've been testing. And these are some of my favorite airguns.
FWB 300S
Because of my involvement with airguns, I've owned quite a few target air rifles over the years. There have been some real beauties, including FWB 150 rifles, Diana 75 airguns and Anschütz 250 air rifles. Because I'm always buying and selling, there have been several of each. But the FWB 300S, which I got a couple years ago from my good friend Mac, has come to stay. That's because it's the most accurate air rifle I've ever owned. By "most accurate," I'm being extremely critical. I'm talking about the last thousandth of an inch. I have other 10-meter air rifles that are very accurate — and over the years, I've had many more that were also very accurate — but for some reason, this particular rifle is the best one I've come across.
Beeman R8
Okay, here's where I'll have a problem as a writer. I've just said the FWB 300S is the most accurate air rifle I've ever owned, yet this R8 is a phenomenal shooter, as well. You last saw it in the report titled First shot: Yes or no?, where I fired 10 first shots at 25 yards to see how accurate they would be. But I did a three-part report for you back in 2010, where I showed the rifle to you. This rifle was a special gift that came at a particularly rough time in my life, and just the thought that came with it is enough to make it a favorite. But the way this finely-tuned rifle shoots makes it a keeper on its own merits. It cocks easily and puts each pellet exactly where I want it to go. The Tyrolean stock fits me very well, and I just smile every time I pick this one up. I cannot say enough good things about it. I've never even seen a plain Beeman R8 before, so I have no idea if they're worthwhile or not. All I know is that this tuned one is a keeper!
Whiscombe JW75
I bought the Whiscombe air rifle to use as a testbed for airgun articles, and that's how it's been used over the years. You've seen it several times — most recently in the 11-part Pellet velocity versus accuracy test. Unlike my other favorites, I don't shoot the Whiscombe that often. The size and weight of the rifle plus the need to cock the underlever three times per shot makes it less than convenient. But I rely on it a lot and would not like to be without it.
Air Arms TX200 Mark III
One spring rifle I own and love that is still available new is a TX200 Mark III. The Air Arms TX200 is simply the finest spring rifle being made today, in my opinion. It's heavy and can be considered hard to cock; but it has the best trigger on the market, and the rifle is deadly accurate. This is another air rifle I don't shoot a lot anymore, but that's because I'm always testing something else. There is no time left to enjoy the stuff I really like. This is the last spring rifle I used for field target competition; and as far as I know, it's second to none in that capacity. The thing I like best about the TX200 is that I know I can recommend it to someone and they won't be disappointed. Right out of the box, it shoots like a finely tuned air rifle.
Daisy 499B
Daisy has changed the name of this BB gun several times over the years, but the Avanti Champion 499 is the gun I'm talking about. It's a BB gun that can put 10 shots through a quarter-inch hole at the regulation competition distance of five meters — offhand! Like the TX200, the 499 is still available and is one of the best buys in airgundom, in my opinion. Adults can shoot it and have as much fun as the kids for whom it was built.
Air Venturi Bronco
I would be remiss if I didn't include the Air Venturi Bronco on my list. This is a rifle I had a hand in creating, and I did so with the Diana 27 in mind. I wanted a modern rifle that incorporated as many of the 27′s fine features as possible and still held the price low enough to enjoy. The Bronco certainly is that rifle. The two-bladed trigger is especially clever and tells the shooter exactly when the shot is going off. I know some folks don't like the blonde stock or the Western lines, but I personally like both features. There are too many air rifles with muddy brown stocks on the market, and every one of them seems to have a Monte Carlo comb. But not the Bronco. It's an individual air rifle that stands on its own.
The one that got away
There's always at least one, isn't there? This one came and delighted me while I had it. It's the Sterling HR-81 that I got in trade at the Roanoke airgun show. It wasn't working well when I got it, but Vince fixed it for me; and afterward, it was a wonderful shooter. This rifle had sights that were cheap and prone to break, and the ones on my gun were already gone when I got it. But a scope fit well, and the low recoil of the gun made securing it to the rifle an easy task. The trigger is light and (after Vince looked at it) crisp.
The firing behavior is good, though the rifle has a pronounced forward jump. Besides that, the rifle lies dead in the hand when it fires. And the accuracy is quite surprising — fully equal to my Beeman R8. When you cock the underlever, the spring-loaded bolt pops open giving access to the loading trough, making loading very easy and convenient.
What the future holds
I currently have the Falke 90 stock being restored, which will be a blog of its own. If the job turns out well, I can see that rifle becoming a favorite. It started as a gun that was practically forced on me at an airgun show. It was so dog-ugly that despite the extreme rarity (fewer than 200 are believed to have been produced) that even collectors who know very well what it's worth declined to even make an offer on it when I had it for sale at this year's Roanoke show. So I thought, what the heck, I'll have it restored and then we'll see what people think. Blog reader Kevin turned me on to a wonderful stock restorer who has the entire rifle now. There are a huge number of critical faults with the stock, so he's really up against it; but if he can do even half of what I see he's done for other damaged stocks, this project will turn out very well.
What I didn't include
What about the Beeman R1? I wrote a book about it, for gosh sakes. Surely, it has to be one of my favorites! Sorry to disappoint, but no, it isn't. I still like it a lot, but it isn't the gun I pick up when I want to have fun.
What about an HW55? They're so accurate! Why aren't they on the list? Don't know, for sure. They just aren't.
OMG — I overlooked the FWB 124! No, I didn't. I thought about it a lot, and it just didn't make the cut.
Rob asked me for my favorite spring airguns, and I've listed them. Maybe I forgot one, but I don't think so. No, there aren't any spring-piston pistols that I consider to be favorites.
Among my firearms, I have several rifles that are tackdrivers. Then there's my dog-ugly, but nearly-new No. 4 Enfield. It's not super-accurate and certainly no beauty. But for some reason, I can't bear to part with it. So, it remains in my collection, getting shot once a year or so. Something I can't define makes it a favorite, and I guess that will just have to suffice.
I have one last thing to say. Two years ago, I was recovering from a serious illness that brought me pretty close to the brink. I still had a drain in my pancreas, and there was an undiscovered hernia festering in me that wouldn't surface until the night I was due to fly to the 2011 SHOT Show. My eyesight was degraded from dehydration and serious anemia, plus I was suffering from undiagnosed Type 1 diabetes. In short, it was a bad time.
You readers banded together and supported Edith and me for the long months it took to get through this tunnel of horrors. You put up with a lot, and we owe all of you a debt of gratitude that cannot be repaid. For what you all did for us, we are very thankful.
Happy Thanksgiving!
by Tom Gaylord, a.k.a. B.B. Pelletier
I sort of backed into this report several weeks ago when I reported on shooting my .250 Savage with 10 "first" shots. Actually, I waited long enough between each shot that the barrel cooled down to the ambient temperature so the rifle "thought" it was shooting its first shot. The actual first of the 10 shots was a little wide of the rest of the group, probably because the bore had been cleaned and was just a bit oily — but also because it went off before I was ready. I'd forgotten how light the trigger was on that rifle. After that, though, the gun settled down and put the next 8 rounds into a very nice group that was centered on the bull. The last shot was a called pull to the right.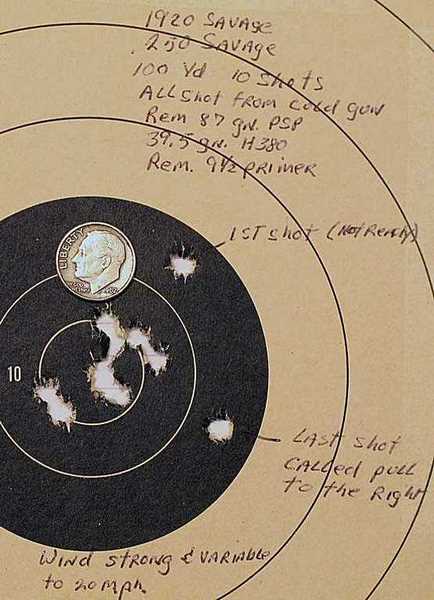 Eight tight first shots out of 10 at 100 yards from my .250 Savage.
That target and experience got me wondering whether an airgun could also put all of its first shots in the same place. So, I devised a test to see what would happen. Today, I'm reporting on the outcome.
Initially, I'd said that to be a true first shot a long time had to pass between each shot. I thought hours would be appropriate, and a full day would be even better. There's no scientific reasoning behind those times — it's just something that I came up with.
I initially put an entire day between each shot, but that proved to be too much of a burden. To shoot, I have to set up a light on the target, set up a shooting bench with sandbag and a chair, and I have to clear the furniture out of the intervening space. So, at shot No. 3, I resolved to shoot two shots per day and leave the shooing bench and light set up all day. There would be about 5 hours between each shot on any given day.
This is hard!
Right off the bat, I discovered that this is the hardest shooting test I've ever done. Because I wasn't shooting but a single shot, I wasn't giving myself time to warm up as a shooter — to heck with the rifle. It took from 2 to 5 minutes to settle in for the shot, and each shot was a first shot, so they were as scary as all first shots are. In that respect, I think this was a true test of both the gun and the shooter. If you've never tried something like this, you owe it to yourself to try it at least one time. I think you'll see how difficult it is if you really try to shoot the very best you can.
My test rifle was my Beeman R8 that I've shown you several times in the past. It's tuned to be very smooth and has always been able to shoot a small group on command, so I thought it might also be good for this kind of test.
The best pellet in this rifle has been the JSB Exact RS that weighs just 7.3 grains in .177 caliber. It's extremely stable in this rifle and seems to forgive many faults on the shooter's part — something I would need for certain.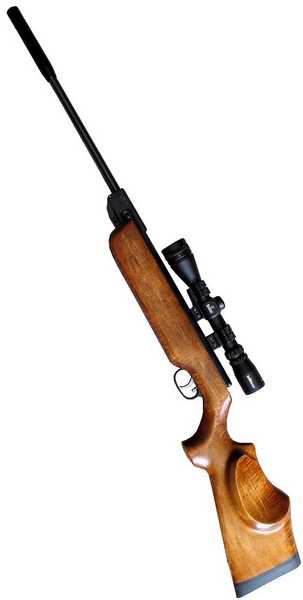 This Beeman R8 is tuned, so it shoots to the point of aim.
What are we testing?
With the .250 Savage, I was testing the ability of the rifle to put the first bullet where I wanted it to go. A centerfire rifle will often throw the first bullet wide of the mark, either because the barrel is cold or, more likely, because it has an oily film which lubricates the bullet differently than all the bullets that follow. An airgun acts differently, because different things are happening. First, since we don't routinely clean our barrels, you don't have the oily film problem. If it's a springer you're shooting, the grease is stiff on the first shot and looser afterwards. If it's a PCP, the valve tends to stick on some guns with the first shot.
But we're also testing the shooter. I usually need a couple shots to get into the groove every time I shoot — and I shoot almost every day of the week. A shooter who shoots less often than me will probably need more shots — just to warm up and remember all his shooting techniques. But you don't get that with a first shot. It's right then or never — no do-overs. And that was what affected the outcome of this test as much as anything, I think.
The results
What follows is a photo record of 10 shots. It starts with two shots and ends with 10. After that, I'll shoot another 10-shot group, after settling in, so we can compare the difference.
Two shots from the R8 at 25 yards. So far, so good.
1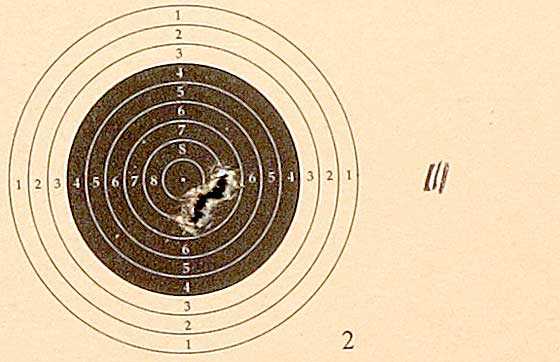 Shot three enlarged the group quite a bit.
After the third shot, I abandoned the need to wait a day between shots and shortened it to not less than 5 hours. I did that for the reasons already mentioned.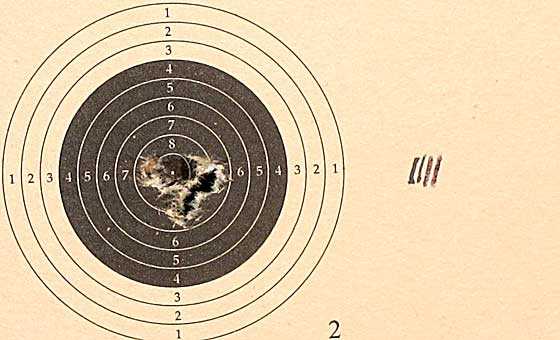 Shot four went on the other side of the aim point, which is the dot at the center of the target. I'm in danger of losing my aim point.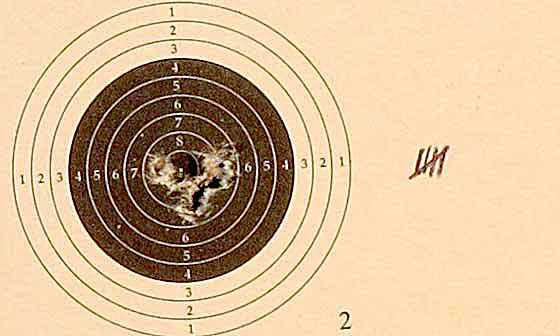 Shot 5 enlarged the right side of the group a little.
About at this point, I observed that this is a very difficult way to shoot targets! Every shot takes settling in, which a first shot doesn't really afford; so you have to spend extra time getting set up. It was taking me 3 to 5 minutes to settle in for every shot, and that's no exaggeration. And, even then, I always wondered if there was any tension left in me that might throw a shot wide of the mark. As you will see, that can happen all too easily.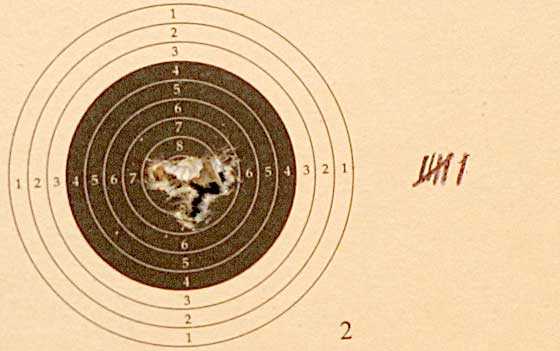 Shot 6 joined the hole to the left with the group on the right, making it look better. It also removed the aim point. It was guesswork from this point on.
At this point in the test, I was feeling that the gun was going to perform as I knew it could. And that was all it took to make me relax my setup for the next shot.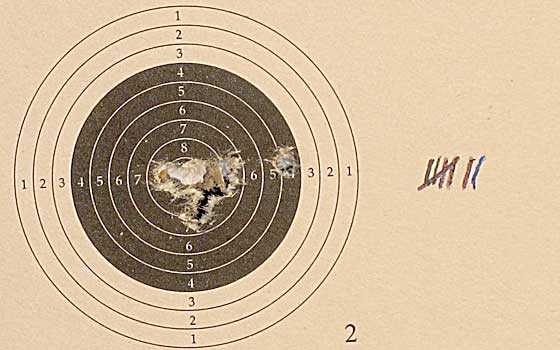 And that is all it takes! By rushing the setup for the 7th shot, I left some sideways tension in my hold. I knew the tension was there, but I thought the rifle would compensate for me and still drill the center.
Let my 7th shot be a lesson to everyone. When shooting for the tightest group, you absolutely cannot leave anything to chance, nor can you take anything for granted! I know that very well, and you can see the results of it in the group at the top of this report. But I got careless this one time and look what it cost me.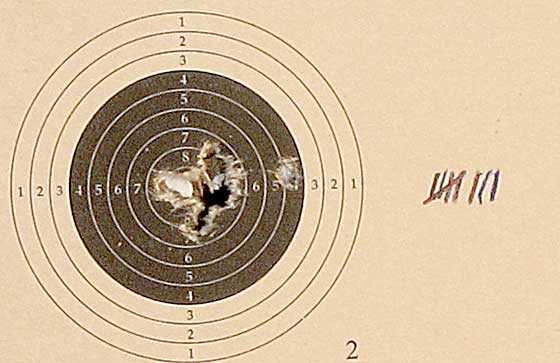 Shot 8 is back in the main group — of course.

You can't tell where shot 9 went, so it's somewhere in the main group.
At this point you know how this is going to turn out. The rifle is accurate, even if I slip up occasionally. And shot 7 is staring me in the face, reminding me to not do that. One more shot to finish the group, and I probably was the most careful with this one.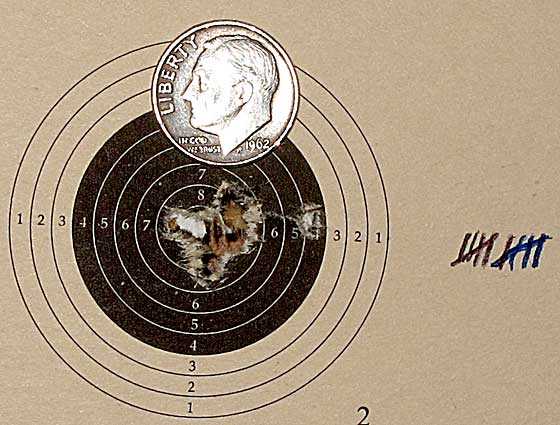 And there you have it. Ten shots — all of them the first shot from a cold gun. Only one "flyer" that we all know is not a flier at all.
Shot 7 now appears to be a "flier" in this group. But we know differently. We know what caused it to go wide was technique — not a bad pellet, scope shift or any other lame excuse. I just shot bad that time.
We also suspect that the R8 is a first-shot rifle. In other words, there's no need to warm it up to get the best results. But I still need to do one more thing to prove that it is. I need to shoot the best group I can — which will be shot all at the same time.
To get ready for the group I shot 5 pellets at another target to get myself into the groove. Once I knew I was there, I shot a final 10-shot group with the same gun and pellet at the same 25 yards.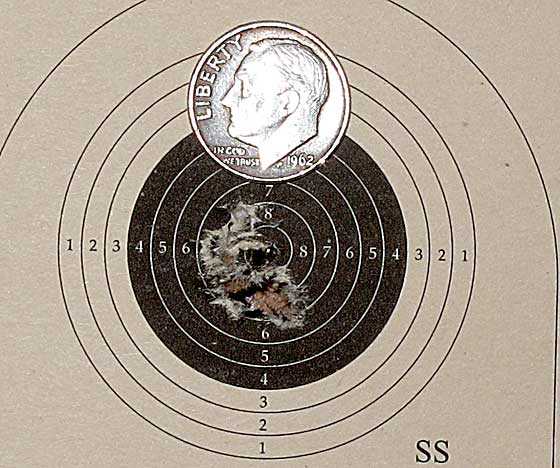 This is what I can do under the same conditions, when I shoot all 10 shots at one time. The rifle isn't more accurate — I just make fewer mistakes.
What have I learned?
For starters, I know that this R8 is a stable gun. It doesn't have to be limbered up to shoot its best. That doesn't translate to other air rifles, though. Each gun will be unique, and some of them will have to be warmed up to shoot where you aim.
I also learned how difficult it is to put the first shot where I want to. Actually, I sort of knew that already — this test just forced me to see it more clearly.
Does this apply to other powerplants, as well?
I think it applies to all guns — air-powered or firearm. But I suppose I need to test it to see for sure.
What's coming
Just as a reminder, I've been writing a number of reports about the basics, or what I call the components of accuracy. Last December, I did one on velocity versus harmonics, and I'm still referring back to that 11-part test to see the lessons.
Dennis Quackenbush has long been intrigued by the same thing: What makes a gun accurate? One of the things he and I have discussed over the past decade is rifling twist rates. And I have learned a lot about twist rates in the past 5 years from my firearms shooting. Most of it was what not to do; but, still, it was stuff I didn't know.
Dennis kindly offered to help me perform a little experiment with twist rates for pellets. We selected the AirForce Talon SS as a testbed because the barrels are so easy to change, and Dennis made two special .22-caliber barrels for the rifle. One has a 1:12 twist rate (that means the pellet rotates one time in 12 inches of barrel), and the other has a 1:22 twist. The standard barrel has a 1:16 twist rate; so by shooting groups with all three barrels, we'll be able to compare the performance.
AirForce helped out by furnishing the exterior barrel dimensions, plus they supplied the barrel bushings for the barrels. I have these barrels now and am set to start testing very soon. Before I do, I'd like the blog readers to give me their thoughts on what I should do to perform this experiment.
by B.B. Pelletier
We have a lot of interest in non-lead or lead-free pellets. I heard from several readers on Part 2, which ran last week. That was when I used the Hatsan model 95 Combo breakbarrel to test both lead and non-lead .22-caliber pellets for accuracy at both 10 meters and 25 yards. I admit that was a scatterbrain test; but after seeing the results, I'm glad I did it. Here's why. If lead-free pellets do not perform in real-world airguns, they have no value. They shouldn't be a science experiment, requiring special guns and conditions. If they're going to succeed, they must work well in the kinds of guns that are used by many shooters.
That said, I'm dialing back my test parameters today and using a spring gun that I know is very accurate — my .177-caliber Beeman R8. It's probably best to start with a known good gun and then, if the green pellets do work, expand the test out into the more basic types of airguns.
This particular R8 works best with JSB Exact RS pellets. And I rediscovered that this rifle also shoots best when laid directly on a sandbag and is not held using the artillery hold. The advantage of shooting directly off a bag is that it gives the rifle a more stable platform.
I was going to shoot several green pellets for this test, but I decided to limit the test to just one pellet. If it was successful, I could always branch out from there. The pellet I selected for today's test is the H&N Baracuda Green, a 6.48-grain domed pellet (which is the same as the Beeman ECO Kodiak pellet). The equivalent pellet in lead weighs anywhere from 10.2-grains to 10.6-grains, depending on which H&N Baracuda you sample.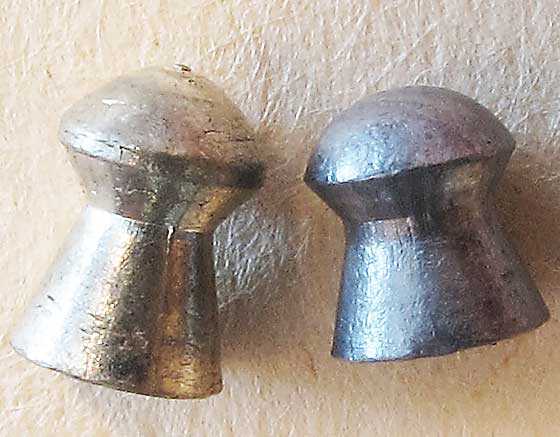 H&N Baracuda Green on the left and JSB Exact RS on the right. Notice how much shorter the heavier lead pellet is.
First, I shot a group of 10 JSB Exact RS domes at 25 yards. This group measures 0.502 inches between the two farthest centers. While it's not the best group this rifle has made at 25 yards, it's a good one, as can be seen in the photo.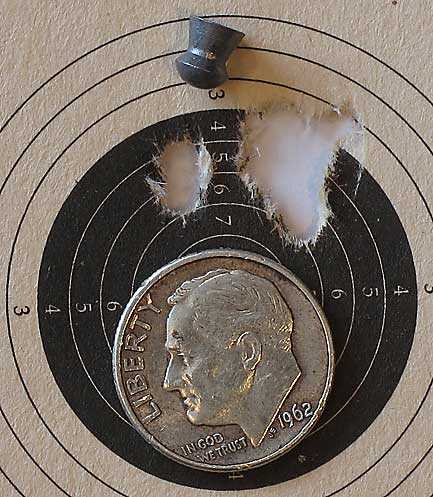 The first group of JSB Exact RS domes made this 0.502-inch group. Eight pellets in the larger hole on the right.
Following that group, I shot the first group of Baracuda Greens. I was prepared to season the bore by shooting as many pellets as necessary for the group to settle down; but as you'll see, there was no need. Ten shots gave a 0.442-inch group. That's right, the H&N Baracuda Green pellets beat the best lead pellet I know of for this rifle. I would have to say that's a positive result!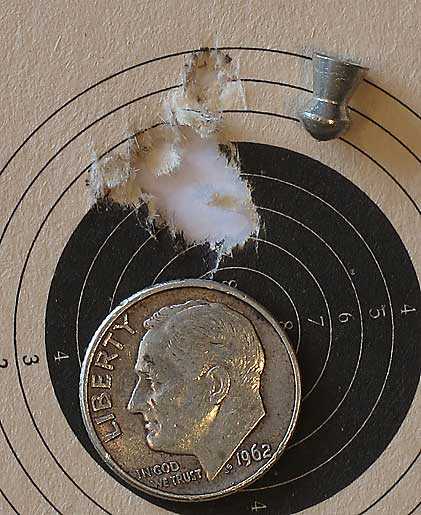 The first group of Baracuda Green pellets was surprisingly small. It measures 0.442 inches between centers.
After shooting this group, I fired a second 10-shot group of the Baracuda Greens to see if the first group was a fluke. Group number two measures 0.543 inches between centers. It's larger than the first group and also larger than the group of lead pellets I shot before that, but it's certainly in the same ballpark.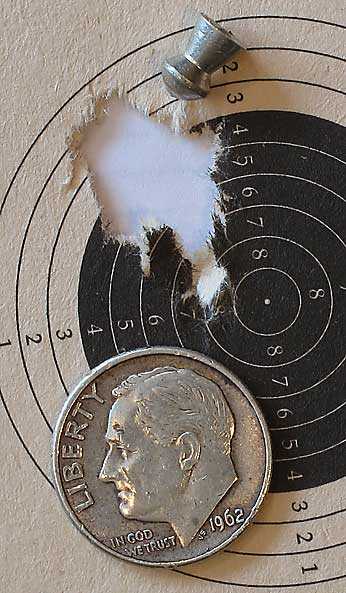 Group two of Baracuda Greens is a little larger, but it's still a fine group. This pellet is accurate in this rifle. Group measures 0.543 inches between centers.
Final group
To end this test, I fired a final group of the JSB Exact RS pellets. This time, the first shot did go to a different place than the following shots, so I guess some seasoning of the bore was required; but after that, the shots all went to the same place.
The second group of JSB Exact RS pellets measures 0.422 inches and is the smallest group of the test. But it's only 0.02 inches smaller than the best Baracuda Green group, and that's well within the margin of measurement error.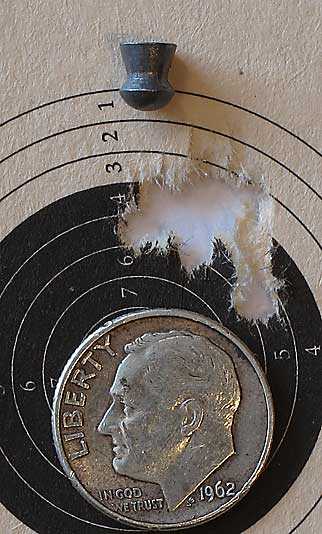 The smallest group of the test is this second group of JSB Exact RS pellets. It measures 0.422 inches between centers.
What can I say?
Obviously, H&N Baracuda Green pellets are very accurate in my Beeman R8. They may be equal to JSB Exact RS pellets, which have been the most accurate pellets for this rifle until now.
We have one good test under our belts. Next, I want to test these pellets in an accurate PCP. I happen to have a Benjamin Marauder in .177 caliber, so that's what I'll use.
The rest of you can help by testing the Baracuda Green pellets in other airguns and reporting the results. I want to stick with Baracuda Greens for a while before I branch out into other non-lead pellets. I'm glad I did today's test, and things are looking good for the greens.
You don't know how good we have it!
If you're a regular reader, you know that I built an AR-15 lower receiver to test the Crosman MAR177 AR-15 upper PCP conversion. After sending the upper back to Crosman, I was left with a lower and nothing to attach to it. So, I thought I'd buy an upper in .223 caliber to complete my rifle.
In my ignorance, I imagined that buying an upper was a simple process. Well, it's not! If you think airgunning has a lot of jargon and is confusing, you've never shopped in the confusing world of the AR! The websites abound with acronyms, slang and references to things I feel I should know but don't. Unless you're extremely careful, you can buy a partial upper and still need to spend a lot more money on parts that aren't necessarily compatible with what you've already purchased.
Ever hear the tale that all AR-15 parts interchange? Well, they don't, and the chat forums are full of complaints about it! Reading the customer reviews about certain products paints a nightmare tale of confusion, customer abandonment and outright lying by some of the major dealers.
What a snake-pit the AR market has become! I can see I will have to become very educated on the subject of the parts of the gun before I buy — or there's one other possibility. I could buy a a "completed" upper that has everything needed to fit on my lower and work. There's just one problem with that. Most (over 80 percent) of the .223-caliber (and yes, I am including those that are chambered for the 5.56mm in this number) complete uppers for sale today have 16-inch barrels, because buyers apparently want the M4 carbine look. But a 16-inch barrel has none of the things I want on my rifle. It's as if there are only gas spring super-magnums breakbarrels for sale, and I want a TX200 that nobody offers!
Then, there's the problem of supply. Buyers in this market are at the mercy of the manufacturers, whose websites are the most confusing places of all. It's a case of, "Place your order and shut up! We will get to you when we are good and ready!" I know they're experiencing a boom market of unparalleled proportions, but that's no excuse for the unhelpful fulfillment language they use on their sites.
When I see complaints about the Pyramyd Air website and then compare them to the trauma wards that sell (I guess?) AR-15 parts and assemblies, I thank my lucky stars I'm an airgunner. And, yes, I do plan to soldier on and see this thing through. Unfortunately, when I do get my upper, I may then be in the class of owners whose "half-minute of angle" upper prints a three-inch, five-shot group at 100 yards! Don't tell me there are good companies I can trust — I've seen complaints about all of them.
The bottom line is that if I wasn't working in airguns, there's a huge market of AR sales that needs a little honesty, education and Pyramyd Air-type retailing. Given the supply difficulties that exist, I'm not sure that a good dealer could make a go of it in this market, but it's obvious there would be no competition.
by B.B. Pelletier

Now that Vince has tuned the Sterling, it's time to see how she shoots.
It's time to see how the Sterling underlever rifle shoots. Benjamin put Lothar Walther barrels on these rifles, so I'm hoping the pedigree will show in today's test. Vince got the velocity back up to a respectable level, as we saw in Part 3 (and Vince showed you what he did to the gun in his guest blog about the Sterling), so there should be nothing to prevent the gun from shooting its best.
When I went to mount a scope, I saw that the Sterling has two vertical holes that can be used for a scope stop. They're located where the front ring needs to be, but with two-piece rings that presents no problem.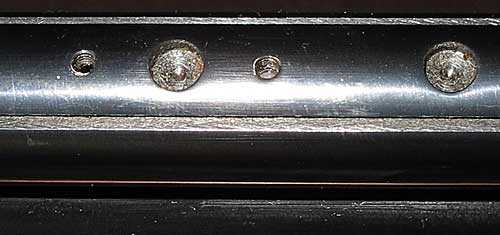 There are two vertical holes for a scope stop on top of the Sterling scope rail. They require the stop to be positioned forward, so I used the front ring of a two-piece ring set.
Since I wanted to give the rifle every chance to shine, I selected the Hawke 4.5-14x42AO Sidewinder Tactical scope for this test. This is the finest of all the scopes I have available for testing, so the Sterling is getting the absolute best of everything.
All shooting was done from a rest at 25 yards. I used my indoor range, so nothing got in the way of the Sterling this day. As usual, all groups contain t10 shots.
H&N Neue Spitzkugel
I thought I would give a pointed pellet a chance this time, as I seldom use them. The H&N Neue Spitzkugel (new pointed bullet) has a very shallow point and looks almost like a wadcutter at first glance. Pointed pellets are most often inaccurate, so I usually don't bother with them, but it's always nice to check from time to time to see if there have been any advances.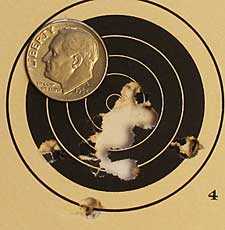 Well, 10 H&N Neue Spitzkugel pellets made only a mediocre group at 25 yards. With some breakbarrels, this would be pretty good, but I expect more than this 1.146-inch group from this Sterling. The shot at the left is a called flyer, resulting from an inconsistent hold — the only one of the test.
While loading, I noticed that the skirts didn't always want to go into the loading trough unless I pressed them in with my thumb. The trough is probably on the small side for larger pellet skirts. This made me watch that the pellets didn't flip backwards before the bolt pushed them into the breech.
Trigger
I also had plenty of time to observe the Sterling's trigger. It seems to be a single-stage, but the pull is short enough. There's some slight creep, but you need a target-shooter's trigger finger to feel it. Overall, it was good enough for very precise shooting without disturbing the aim. If I pull the gauge very slowly, the trigger breaks between 2 lbs., 3 oz. and 2 lbs., 5 oz., which is plenty light enough for good work. I said it was 2 lbs., 8 ozs. in Part 3, but that was when it was pulled more deliberately.  I know Vince had a hand in making it so nice, because Sterling triggers have a reputation for being crude and not so good.
JSB Exact 8.4-grain
Next I tried some 8.4-grain JSB Exact domes. They're at the upper limit of weight of I would choose for a gun of this power, but sometimes that's a plus. Not this time, though, because 10 went into a 0.788-inch group at 25 yards. That's okay for many breakbarrels — but from a fixed-barrel rifle that has a Lothar Walther barrel, I expect more.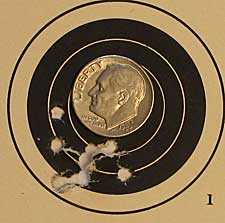 Getting better but this 0.788-inch, 10-shot group is still not as good as expected for the Sterling.
Shot cycle and hold
The Sterling shoots with a very pronounced forward jump — reminiscent of spring guns of the 1970s. It feels like the stroke is long, and the piston is heavy. On the other hand, the rifle lies completely dead in my hand, so applying the artillery hold is easy. My off hand touched the triggerguard, yet I could still feel the cocking slot of the stock on my palm. That means the stock is cut far to the back, which means Vince did a wonderful job of deadening the powerplant to get the rifle as smooth as it is. I just wish airgun makers today would go to the same trouble instead of mounting everything in rubber to deaden the vibration that's still in their guns.
Crosman Premier lites
Next up was the venerable 7.9-grain Crosman Premier lite pellet that often wins the race in these tests. This was the only pellet of the four tested that fit into the loading trough without a push, yet it was also the pellet that gave the most trouble by flipping backwards in the trough.
This time, I got the results I was hoping for, though the group is more open than I would have liked. Look at the group and read the caption, though, because you'll be surprised where most shots went.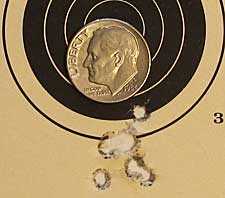 More like it! The group of 10 Crosman Premier lites measures 0.606 inches between centers, but the surprise is in the largest hole in the center of the group. Six shots went through that one hole! Now, we're talking!
Scope not mounted perfectly
By this time, I noticed that I'd mounted the scope a little too far to the rear, and the high mounts I used were not needed. Repositioning the scope in lower mounts would make the rifle easier to shoot — though I don't think it would affect the accuracy. However, if I were to keep a scope on this rifle (and it can't be this wonderful Hawke, as I need it for other tests) I would remount whatever scope I used.
JSB Exact RS
The last pellet I tested was the 7.33-grain JSB Exact RS. You might recall that this pellet is one of Kevin's favorites, and we have seen it do amazing things with some spring guns in the past. The report I did a while back on the Beeman R8 was the most dramatic example of the capability of the RS.
And it didn't disappoint this time, either! Ten RS pellets went into a group measuring just 0.41 inches at 25 yards! That's game, set and match as far as I'm concerned. The Benjamin Sterling has proven itself to be a very accurate underlever spring rifle that warrants special attention from shooters as well as collectors.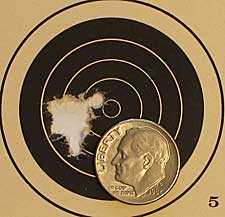 Ten JSB Exact RS pellets went into 0.41 inches at 25 yards, proving beyond a doubt that the Sterling can shoot!
Summary
This test series has been long and rewarding. Thanks to Vince, we now know what a Benjamin Sterling can do under the right conditions. I'm sorry this rifle is no longer available. Except for the lower power and stiffer trigger, it could hold its own with a TX200. When I usually do these reports on vintage airguns, we get to see a lot of warts, but the Sterling doesn't have as many as I was prepared to see. Without a doubt, Vince's work has a lot to do with that.