Posts Tagged 'Benjamin butterfly hand pump'
by Tom Gaylord, a.k.a. B.B. Pelletier
Photos by Earl "Mac" McDonald
The SHOT Show is not a gun show — though that is what many attendees call it, and the mainstream media that doesn't attend also calls it that. Instead, it's a happening — to use a 1960′s term. Or it's a Middle Eastern open market. The big booths house the recognized names like Colt, Winchester and Crosman. Their booths are two stories tall with signs hanging from the ceiling that you could see a mile away if there weren't other signs hanging in front of them.
But the real drama of the show isn't at those booths. People already know what to expect in those places. It's the little out-of-the-way booths hugging the walls that have the surprises. I always set aside some time just to cruise the aisles, looking for some rocks to turn over.
I'll be walking along a narrow aisle and someone will step out to stop me. Then, in a conspiratorial tone, he leans over and says something like, "Don't you just hate it when your ice cubes melt and dilute your drink? Cold Bars have solved that problem forever. These are sanitized stainless steel bars that retain the cold almost as well as water, plus they're reusable forever. Put three of these in your scotch and soda, and it'll be as fresh and strong after 20 minutes as when it was poured. When you finish the drink, just pop them in the freezer for 10 minutes…and they're good to go again. While you wait, you use the second set of three bars in your next drink! Nothing could be easier."
This guy is serious! You look at his spartan booth and realize that he has poured everything into this venture because at some point watery drinks pushed him over his tipping point. When he bounced the idea off his wife and friends, they all agreed it was the next big thing. They had no idea he would mortgage the house and put his life savings into it!
So, here he is, in a narrow aisle of a large trade show, hawking his brains out to people who, for some reason, just don't seem to get it. Who doesn't want cold, undiluted drinks?
Think I'm exaggerating? Attend a trade show and walk the aisles some time.
Why do I plod through these pathways of personal misery? Because next to the stainless steel ice cube booth there 's the G+G Airsoft booth that has the best action target I've seen in a long while. It's a lighted rubber hemisphere that's computer-controlled to react to being hit by an airsoft BB. You can turn the light on or off, depending on how you have programmed it.
They call it the MET Unit, which stands for multifunctional electronic target. It can exist as one single target or they can be strung together in up to 25 targets for a prolonged target array.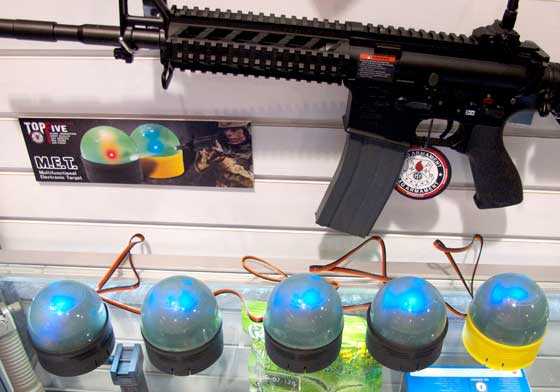 The MET Unit is from 1 to 25 programmable lights that turn off or on when hit by an airsoft BB.
The wires between targets can be up to 50 meters in length, which allows them to be set up in a tactical course and either light up at some random time until hit or stay on for a programmed time and go off after the time is up or when hit. Two competitors can shoot at the same target and change the color of the lights when they hit it, establishing a duelling target.
The individual target will sell for $66 or 5 for $250. It looks like a great way to have fast-action fun with airsoft guns. They can take hits from AEGs shooting 0.20-gram BBs at up to 450 f.p.s. Naturally, they're not robust enough for even the lowest-powered steel BB or pellet guns.
Umarex
Umarex is now branding airguns under their own name. This year, there are three new long guns: the Octane is a breakbarrel with a Reaxis gas spring and SilencAir, which is a baffled silencer; the Surge is an entry-lever springer breakbarrel; and the Fusion is a CO2 pellet rifle, and it also has the SilencAir noise dampener. We've seen the Fusion before, branded as the Ruger LGR, but Umarex tells me the Fusion is a Gen 2 upgrade and quite different. I never got the chance to test the LGR, so I'm looking forward to testing the new Fusion as soon as possible.

The Fusion is a new CO2 single-shot rifle from Umarex that sports a 5-chamber noise dampener.
Leapers
I spent an hour at the Leapers booth this year. The most important thing I wanted to see was the new scope with an internal bubble level. It's a 4-16x in a 30mm tube, and it looks exactly like what the doctor ordered for those long-range targets we love to shoot. They're working hard to get it to market this year, but it won't go out until they're certain of the quality. Putting a bubble level inside scopes on a production line is apparently quite a challenge…but one I'm sure Leapers will do correctly.
The entire line of scopes have been upgraded with finer adjustments — many of them 1/8-minute adjustments — and greater repeatability. They have a broad range of adjustment in both directions, and their production models are even exceeding the maximum limits they established! All leaf springs have been replaced with coil springs to increase adjustment precision and repeatability.
But the WOW factor comes on the stuff you can see. How about a 3-9x scout scope (10-inch eye relief) with a wide field of view? That is the big trick for scout scopes, and I saw a beauty mounted on an M1A — though it would be just as correct on a Mosin Nagant.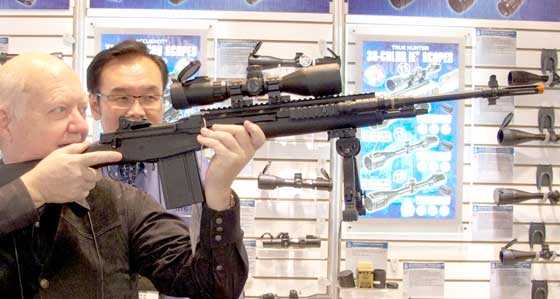 Leapers new scout scope has a full field of vision — something scout scopes are not known for.
Another surprise from the folks in Michigan is the smallest tactical laser I have yet seen. I asked Mac to photograph it next to a quarter for scale.

Leapers new laser is the smallest I have yet seen. That's a quarter next to it.
Crosman
Back to the Crosman booth to show you what the new Benjamin pump looks like when the handle is raised. I didn't expect the huge reception this pump got when I showed it the first time this year. Please note that it has not one but two pump tubes. This is a 3-stage pump — the same as the current pumps, but this one compresses a bit more air with each stroke. I'll have more to say about it when I test it.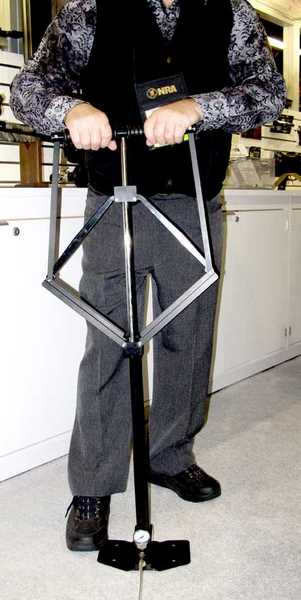 Maybe this view will help you understand how the new Benjamin pump magnifies the force you put into each pump stroke.
Hatsan
I'll close with a last look at the Hatsan booth. They have the AT-P carbine and AT-P1 pistol…and both are precharged pneumatics. They'll come in .177, .22 and .25 calibers that each have hunting levels of power. These are repeaters with circular clips and adjustable Quattro triggers. The sights are fiberoptic, and there are provisions for scopes. The air cylinders remove, and spares will be available as options.
For those who are looking for hunting air pistols, I think these two should be considered. I'll work hard to review them for you as soon as possible.

The Hatsan AT-P2 Tact (left) and the AT-P1 are exciting new PCP airguns.
Leaving the show
As Edith and I left the show we passed by one final booth. The guy is selling Instant Water for survivalists. Just drop one of his pills in a bucket of water and — Presto! — instant water. Why I can't think of things like that?
by Tom Gaylord, a.k.a. B.B. Pelletier

Edith and Tom (left) and Mac and his wife, Elissa, prepare to support Yoda as he carves his way through the jammed SHOT Show aisles.
Today, we have Part 2 of the SHOT Show report; but before we get into it, I want to remind you all that I'm showing you only a select smattering of the guns I saw at this show. This is, hands down, the largest SHOT Show ever for airguns. This year, nearly all companies are innovating in a big way, and the results are proudly displayed in their booths. It'll take some time for the full story to come out.
Also, the SHOT Show is a wholesale show — not a retail show. The products seen there are not necessarily ready for market, yet. Some products get put on the back burner for any number of good reasons, but after they were seen at SHOT, people expect them to be available. In fact, many people don't understand why they're not on sale the day the show closes. Well, it doesn't work that way.
As a writer, my job it to give you the best sense of when a product might become available in the coming year. That can change many times after SHOT closes, so please bear that in mind.
Crosman
I had my official tour of the Crosman products, and a couple of them were holdovers from last year. One was the butterfly hand pump that Crosman engineers have now developed quite thoroughly.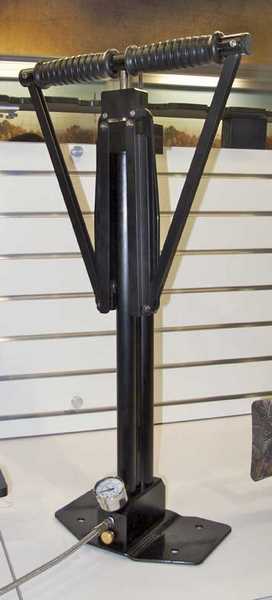 The Benjamin butterfly hand pump is now far along in development. This is a pre-production sample. Look for it this summer.
I also saw several new guns Crosman plans to bring to market. While they look very developed, I spoke to the engineer who was working with the specifications, and these are not just rebranded items.

A new 1911 BB pistol will be available for testing and purchase later this year.
Gamo
I'm going to put Gamo here because their booth was difficult to navigate and understand, as far as I'm concerned. Yes, there are new models, but many of them look to be just reskinned from existing guns and given catchy brands that reflect the TV hunting shows they sponsor. The technology displays (silencer, trigger, gas spring, vibration damper) that were new in 2012 were still displayed as new for 2013, though no changes seem to have been made.
The Little Cat is a new youth model that I'll test as soon as possible. It's very lightweight and does have some plastic in key areas like the breech (it's a breakbarrel); but if it's done right, it could work. I want to see how well-suited it is for younger shooters.


The new Gamo Little Cat is a youth-sized spring rifle. Can't wait to test it!
The other airgun that piqued my interest at Gamo was their new MP-9 — a semiautomatic BB gun that resembles the Ingram submachinegun. It's powered by CO2 and looks very cool. It was displayed in such a way that I could not actually hold it — and there were no Gamo representatives available in the booth both times we visited it. So, we'll just have to wait and see what comes in the box.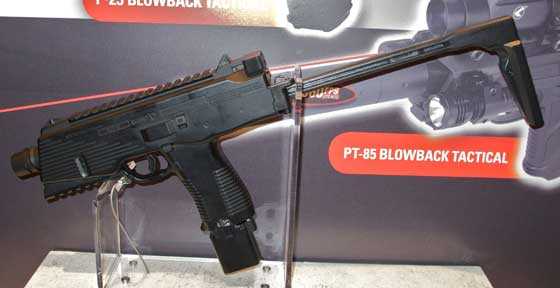 The Gamo MP9 (the sign is confusing — this isn't a PT-85 Blowback Tactical) looks like a cool new BB gun.
Other news
American Airgunner has gained a new host. Rossi Morreale, from television's Belly of the Beast and Junkyard Wars, will take the lead with the airgun show starting its fourth season. I'll be appearing in a few episodes this year, the first of which was filmed at the 2013 SHOT Show. So, I've now come full circle.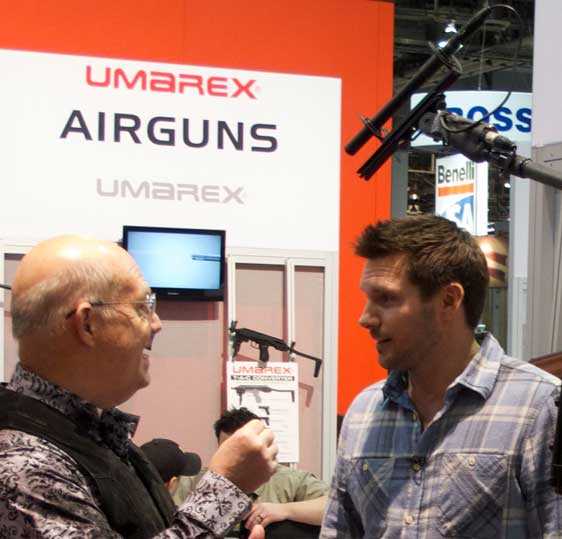 Tom meets Rossi to discuss SHOT on American Airgunner.
There's a lot more to cover, including some great new scopes from Leapers and a dynamite action target for airsoft guns. Next week.