Posts Tagged 'Benjamin Marauder pistol'
by Tom Gaylord, a.k.a. B.B. Pelletier
Today, I'll begin testing the R.A.I. AR adjustable stock adapter from rarmsinnovations.com with the UTG Pro 6-position adjustable stock attached to the Benjamin Marauder pistol.
Length of pull
Before we begin, I want to say a word about the length of pull you get with this adapter. I gave the range of lengths in Part 1 as 14-1/8 inches to 17-1/8 inches, and that turned off many readers. In terms of conventional stocks, that pull range is very long! But Dave Rensing, who invented this adapter, made it for his 8-year-old son and his 7-year-old daughter. The son uses it conventionally, but the daughter collapses the stock past the first detent so it's even shorter. Fully collapsed, the pull length measures exactly 14 inches but feels like 11 inches.
The AR adjustable stock is not very ergonomic. It stretches and contracts okay, but it doesn't move in the other directions. It's a one-size fits none kind of deal — at least from a rifle marksmanship standpoint. While it works very well for fast maneuvering and climbing in and out of tight places, your body has to adapt a lot to make it work.
On the other hand, when the R.A.I. adapter is added to it, the stock becomes almost universal! You can adjust the positions of the comb and the angles of the buttstock through a wide range of attitudes and make it fit almost anyone — young or old. I found when shooting from the bench that even the 15-1/8-inch pull I had initially set up was too short. I had to move the stock back until the pull was 15-7/8-inches before it felt natural again. However, in the offhand position, the 15-1/8-inch pull is the right one. That demonstrates why the adjustable stock works so well on this pistol! You can adjust it to whatever you need in the blink of an eye.
I discovered why this is. The AR adjustable stock has no width. The narrow tube is where your cheek rests, so your eye is closer to the centerline of the pistol than it would be with a conventional stock. The stock also does not drop at the butt, so your head thrusts forward farther than it might with a conventional stock. Instead of sticking up to rest on the cheekpiece, your head tilts forward, along the straight tube. Hence, 14 inches feels more like 11 inches. The Marauder's pistol grip and close trigger enhance this feeling.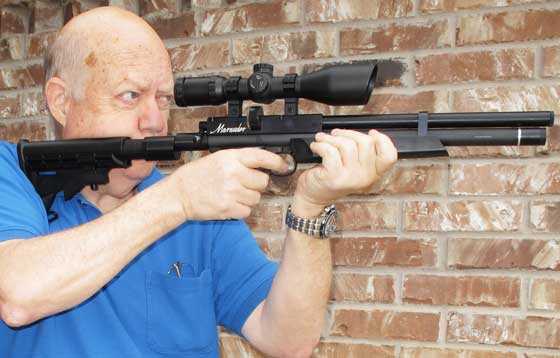 Here I'm holding the carbine offhand. The pull seen here is 15-1/8 inches, and yet the rifle feels perfect. You can see that my head has gone forward on the stock because it's so straight.
Scope and mounts
I wanted to test the pistol with a really good scope; and the last time I tested the Marauder  I used a CenterPoint 3-12X44 compact scope. Leapers was making CenterPoint scopes back then, so this time I attached a UTG 3-12X44 compact scope. My scope is older than the one I linked to, but the optics and overall size are the same. Not only does this scope fit the carbine very well, it gives a crystal clear sight picture that makes aiming so easy.
I needed to get the scope high off the receiver because the Marauder pistol has a circular 8-shot magazine that sticks up above the receiver top. You can see it in the above photo. Also, the stock's straight line puts my head higher than it would normally be. So, high scope rings are in order. I selected a pair of BKL 30mm high rings that have a single-screw top strap. The Marauder pistol doesn't recoil, so these rings can be made thinner and still be strong enough to hold this scope. Once they were mounted, I noted they brought the scope's exit pupil directly to my eye, making them the perfect height.
Testing the Marauder carbine
I tested this Marauder pistol extensively, back in 2010/2011. I already knew the right fill pressure (2,900 psi), the best pellet (.22-caliber Beeman Kodiak) and the effective number of shots per fill (32). Since it has an 8-shot magazine, I shot 8-shot groups instead of 10.
Sight-in went quick, and then I backed up to 25 yards and started shooting. The first group of Kodiaks was the second-best of the session, putting 8 into 0.554 inches. Looking back at the tests I did years ago, I wasn't shooting as well on this day as I did back then. I shot a total of six 8-shot groups, and the largest one was 0.607 inches, while the smallest was 0.504 inches between centers.

The first group was 8 Kodiaks into 0.554 inches at 25 yards.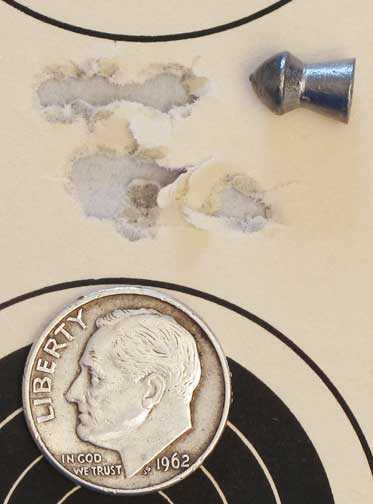 The worst group of the day was 8 Kodiaks in 0.607 inches at 25 yards.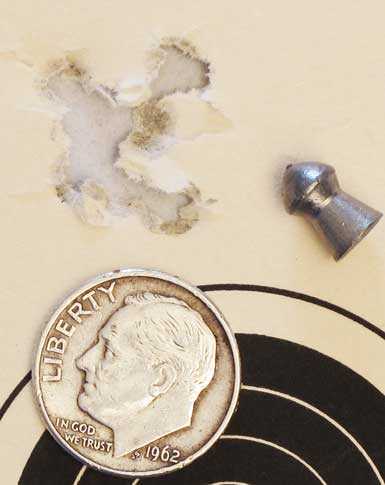 The best group of the day was 0.504-inches for 8 Kodiaks at 25 yards.
While these groups are okay, they aren't as small as the groups I shot previously. I don't think it was me or the gun. In this case, I think it was the pellet. I used a different tin of Kodiaks in 2010, and they grouped much tighter in this pistol than these did. The best group back then was 0.405 inches between centers. Maybe they had larger heads, or maybe they were just different in some unquantifiable way.
Other pellets
I tried a number of different pellets in the Marauder pistol, but none of them did very well. JSBs of various weights, which I thought would do well, sprayed all over the place. I know from testing the gun that it wants a fat pellet, and the Kodiak is a good one for that. It's slow, at an average 584 f.p.s., but even at that it produces about 16 foot-pounds of muzzle energy. That's pretty good for an air pistol! Certainly enough for some hunting and pest elimination.
The rest of the test
I plan to take this pistol to the 50-yard range, so you'll see the results of that. But I don't think that's quite the right way to test the R.A.I. adapter and adjustable stock. We already know how well the pistol performs. Now, we want the focus to be on the adapter and the stock.
Maybe I can put the gun in the hands of some other shooters and see how well it fits them. Perhaps, that's the best way to evaluate this item. I don't know, but I guess we'll see.
by Tom Gaylord, a.k.a. B.B. Pelletier
Wives, I want to warn you — today, I'm going to be The Great Enabler! Last year, I was sent a product to test for Pyramyd Air — an AR stock adapter for certain Crosman pistols by R.A.I. It lets you turn a pistol like the Benjamin Marauder into a carbine by adding an M4 telescoping stock to the back of the gun.
Why?
But why would you want to do that? Well, Dave Rensing, the owner of R. Arms Innovations — rarmsinnovations.com — wanted to do it so his young son could shoot his Marauder pistol. The big pistol is heavy for a youngster, especially when it has a scope mounted; but with an adjustable carbine stock, the youngster can size it to fit and then rest it on any convenient place and shoot it like a rifle. And because the M4 stock adjusts for length of pull, Dave can adjust it for himself in seconds. If 2 or more people can shoot the same airgun, the $400 price tag gets spread around and diluted.
The Marauder pistol does come with a factory shoulder stock that turns it into a carbine, so what does this adapter do that the factory stock doesn't? It all comes down to adjustability. The R.A.I. adapter allows the adjustment of the stock to a wide range of positions that should fit most shooters. Not only is the pull length adjustable because of the M4 extendable stock, you can also raise and lower the stock line (the amount of comb drop), which affects the height of the butt; and you can have a wide range of cast-off and cast-on stock positions (where the stock angles away from you or toward you). And it doesn't end there. You can also rotate the angle of the butt from straight up and down to where the toe is slanted in toward you or out, away from you.
The R.A.I. adapter helps make the Marauder pistol (and some others others I'll mention later) into a small carbine that fits the shooter. And let's not forget that it attaches to a telescoping M4 stock. What that does will differ with each brand; but for this test, I'm mounting a UTG PRO 6-position mil-spec stock assembly that has 6 different lengths of pull. On my test pistol, the length of pull runs from 14-1/8 inches to 17-1/8 inches. This is a rare occasion where I find the length of pull is adjustable to my liking!
The R.A.I adapter
The R.A.I. adapter is made in 3 pieces. Two are machined aluminum, and the third is the bolt that holds everything together, plus attaching it to the gun.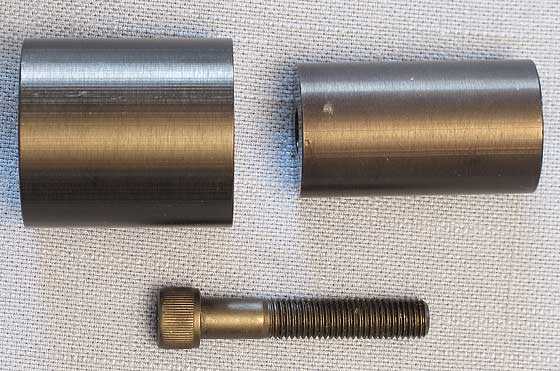 The R.A.I. adapter consists of these 3 parts.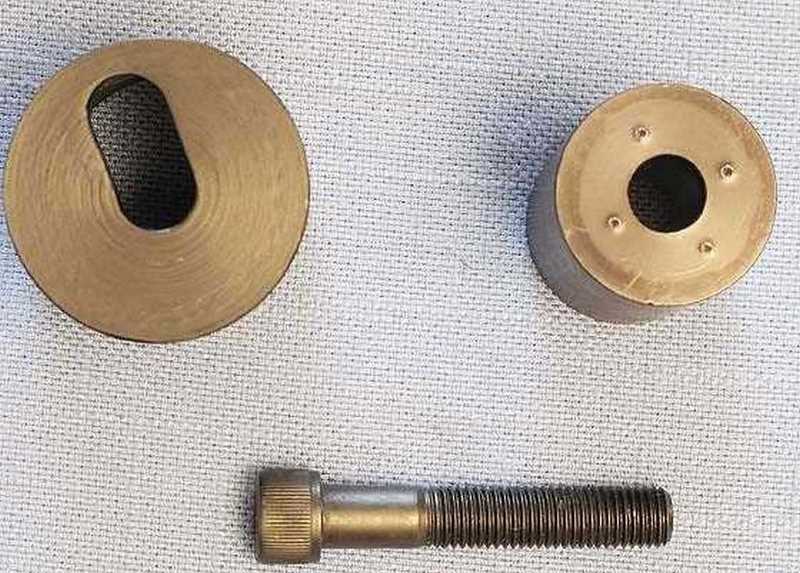 This view reveals the essence of the R.A.I. design. That elongated hole, which can be positioned at any angle around a full circle, allows the smaller piece to slide out to the edge of the larger piece.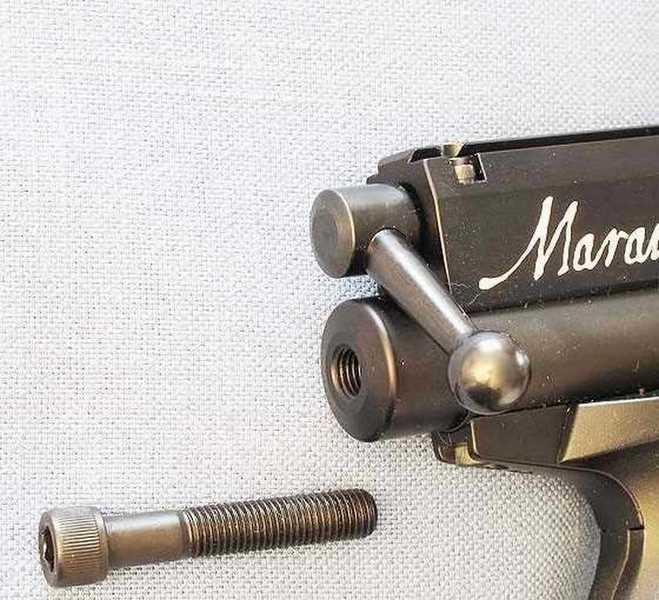 The bolt fits through both machined pieces and threads into the hole at the back of the Marauder.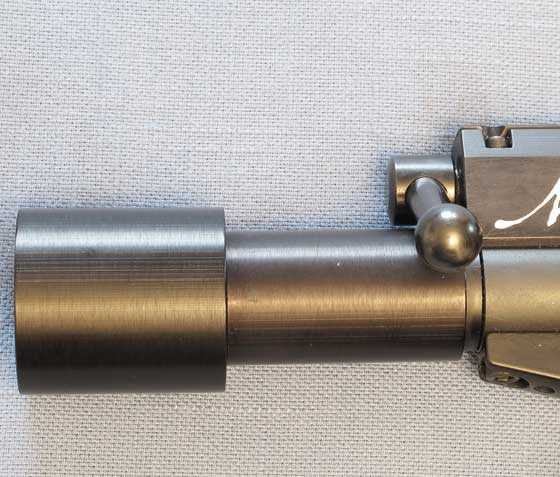 Here, the adapter is installed. The bolt runs through both machined pieces and fastens them to the pistol. The smaller piece fits over the Marauder end cap.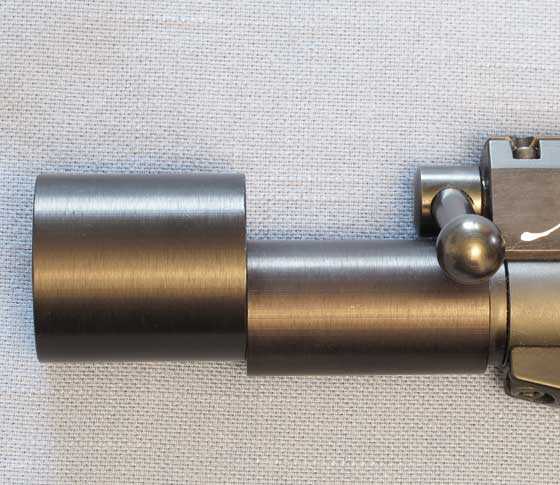 That elongated hole in the large piece allows the adapter to be rotated up.

Here the adapter is shown rotated down. It can be rotated to any position around a full circle!
The stock
Now that you understand how the adapter works, let's look at the stock that attaches to it. I used a UTG PRO mil-spec stock assembly that has 6 positions for length. The mil-spec designation means the stock tube size conforms to military drawings.
This stock comes from Leapers as a complete package that's ready to install. The buffer and buffer spring are shipped inside the stock but are not needed for the airgun application. The flange that locks the stock to the AR receiver to prevent it from rotating on the firearm can also be removed.

The Leapers UTG extendable AR stock comes complete and ready for an AR. The buffer, buffer spring and stock flange can be eliminated for this application.
When the stock is screwed into the adapter, the castellated locknut that tightens the stock can be used to lock it in any orientation you want. Regardless of how the adapter is positioned, the stock can be snugged down. This makes the R.A.I. adapter a very adjustable item!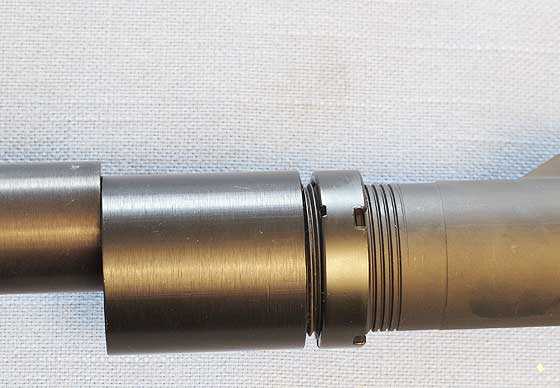 This castellated locknut allows you to lock the stock in any position. The adapter can be rotated however it suits you, and the stock can then be locked to it in any position.
I found this adjustability to be a blessing! As I've mentioned more than once, I usually have to adapt to the rifle I'm testing because not many rifles adjust. Most stocks are too short for me, and most combs are too low. I've learned to put up with just about anything to get the job done, but it's rare that I get to shoot a rifle that actually fits me. This R.A.I. adapter may change that with the Marauder pistol.
I've now adjusted the stock so the gun comes up fast and feels fine against my shoulder. I won't know for sure if I have it adjusted right until I shoot the carbine several times — so guess what's coming?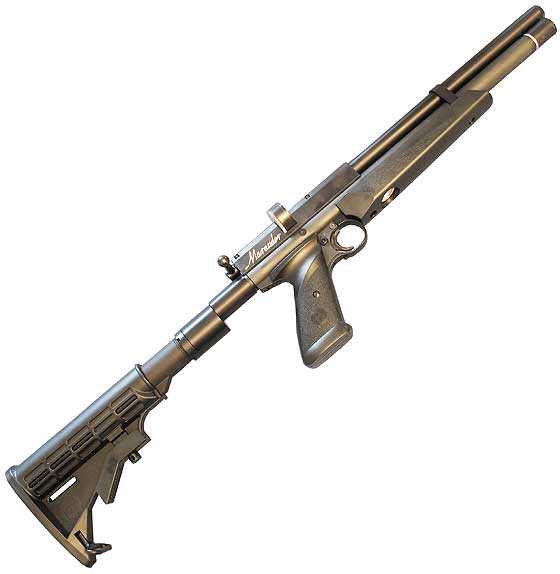 With the stock mounted, I find that I can position it exactly as I like it. This might work!
I was surprised to find that the stock's pull was 15-1/8 inches when I had it adjusted the way I like. I always knew that I liked a longer pull, but this was even longer than I'd suspected.
I also have the comb's drop set at the maximum; but since this is a straight-line stock, it's perfect. The cast is set straight for me. And I have the toe of the butt canted into my collarbone. It will require some shooting to establish if this is the best fit for me, but right now it feels good.
What else will it fit?
Besides the Benjamin Marauder this adapter also fits the Crosman Silhouette pistol, the Crosman 1720T PCP Target air pistol, and the Benjamin Marauder Woods Walker. These PCP pistols are all expensive, so the R.A.I. adapter offers a way to expand the utility of each of them across a wide spectrum of shooters.
Is it worth it?
The R.A.I. adapter costs extra, and so does any extendable AR stock you'll need to purchase with it. The Marauder already comes with a shoulder stock, so is this setup worth the extra expense? It is if you want your carbine to fit a lot of different shooters. If you want to share your carbine with your wife or your children, then this adapter makes that possible, with the gun adjusting to fit everyone. It's also something to consider if the regular stocks don't fit too well. I can't say this one is universal, but it does cover a pretty wide ranges of needs.
What's next?
This accessory is unlike what I usually test. I'll be shooting the Marauder pistol to see if I like how the stock makes it shoot for me. That's a little different than my normal type of test, but I think it should be very interesting and perhaps even informative. Stick around — there's more to come!
by Tom Gaylord, a.k.a. B.B. Pelletier
Today I'll show you more of the airgun show that was held in Roanoke, Virginia, last Friday and Saturday. I'm going to jump around just like you would if you walked the aisles at the show.
Let's begin at Larry Hannusch's table. Larry has been an airgun writer since the 1970s, and he has a great collection of fine guns. This year, he displayed some of his ball-flask guns, giving show attendees a chance to see airguns that no American museum has.

Not many people have ever seen this many ball reservoir airguns in one place. Larry Hannusch collection.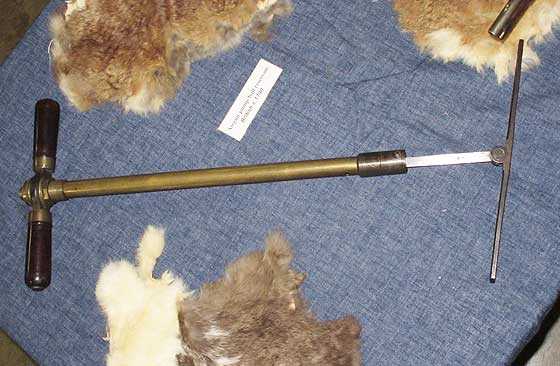 How do they fill those ball reservoirs? With vintage hand pumps like this one. Dennis Quackenbush and I experimented with these pumps and learned they can develop up to 1,000 psi when the right technique is used. And they don't have piston seals — just lapped steel pistons!
Larry also had a sales table with some fine vintage guns that were actually for sale. One was a BSF S54 underlever target rifle with a peep sight the size of a satellite dish. The one thing you can count on with guys like Larry is that they always bring out the rare and wonderful guns that most of us have only seen in books.
Across the aisle from Larry was Lloyd Sikes — the man who invented the electronic valve that went into the Benjamin Rogue. In fact, it was at a Roanoke airgun show years ago where Lloyd shared his idea for that valve with me. And the rest is history.
Lloyd has made quite a name for himself by producing Benjamin Marauder pistols with dual air reservoirs. His company, Airgun Lab, started making the P-Rod Double last year and then moved to the Disco Double — a Benjamin Discovery with 2 reservoir tubes. This year, he's bringing out a Disco Double with 2 aluminum reservoirs that, as far as I can tell, is as light or even lighter than the original Benjamin Discovery rifle on which it is based.
When I picked up the prototype lightweight Disco Double at his table, I was amazed! It can't weigh much more than 5 lbs.!
I'd promised to do a project with Lloyd last year and never got around to it, but this year a wonderful thing happened. A man who had purchased a new Discovery last year from Mac came to my table and wanted to return it. I explained that Mac had passed away, but then I thought that this might make the perfect rifle for a project with Lloyd. It was leaking, but that's not a problem because it will have to be sealed anyway after the conversion. And with the 2 aluminum reservoir tubes, I should get about twice the number of useful shots per fill. And that's a 2,000 psi fill, mind you.
So, I bought the gun and gave it to Lloyd for the conversion. As we talked and refined the details, I decided to also install a Marauder trigger on the rifle, which will give me what I always wanted — a single-shot rifle with lots of shots, a great trigger and superior accuracy. There — that's 1 of the 4 airguns I bought out of the way!


Mac sold this Benjamin Discovery at the show last year, and I bought it back this year. It's one of the early ones with a walnut stock, and it also came with the hand pump.
I was also located next to Ingvar Alm, a collector/dealer from Minnesota who always has wonderful stuff at these shows. He's one of the major contributors to the Blue Book of Airguns. I could spend an entire blog on just the stuff on his table; instead, let me share with you the one gun that really caught my eye. It's a dart gun from 1887!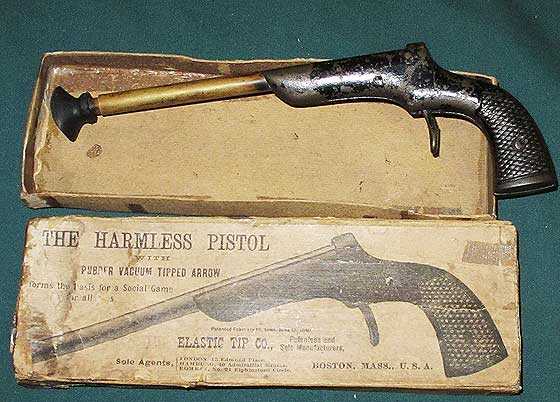 The "Harmless" pistol. Wouldn't you just love to see this at a Congressional hearing on toy safety today? This was on Ingvar Alm's table, and he let me load and cock it for this picture!
Lest you BB-gun collectors feel left out, there were also plenty of desirable guns that you love at this show. I saw at least one model 40 with a bayonet, and I believe there was also a scarce model 140 Defender on the same table.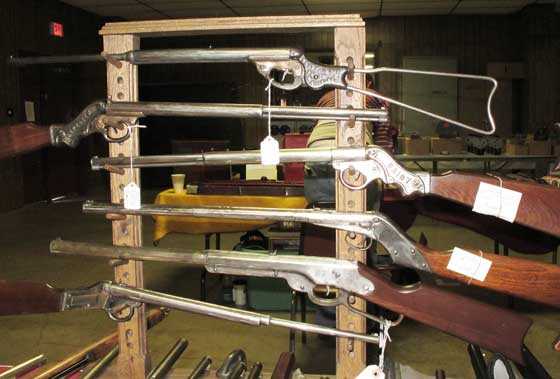 Yes, there were plenty of rare collectible BB guns at Roanoke, too. And the prices were just as reasonable as the rest of the airguns.
What's REALLY rare? How about a 1923 first model Crosman pneumatic with a front pump? There are seldom any at a show, but at this show there were at least 2! One of them had a price tag of $1,250, which is almost half what I've seen them bring in the past.


There were 2 of these 1923 Crosman front-pump pneumatics at the show, and both were for sale. This is something that's seldom seen.
Okay, I guess it was blog reader Bradly who asked if there were any air shotguns at this show. Yes, there were. I saw a Farco air shotgun on one table. That's the 28-gauge shotgun from the Philippines that Davis Schwesinger (the Roanoke show promoter) used to kill a wild pig several decades ago.

Gun on the left is a Farco air shotgun. Gun on the right is a Crosman 102 repeater. Yawn. That's what happens when you're surrounded by riches.
What guns did B.B. buy?
You already know about the Disco, so what other airguns did I get at Roanoke this year? The first one was something I just couldn't pass up. A Diana model 25 for $75! It's the model without the ball-bearing trigger and the cosmetic condition isn't that great, but it's all there and seems to have a powerful mainspring. I felt the gun was undervalued, so I paid a little more than was asked but still got a great bargain.


This Diana 25 was a real bargain! You'll see it in the future.
Before I came to the show, I was thinking about buying a BSA Meteor. I've always heard good things about them but have never pulled the trigger on one. This was the time.
At the show, I saw Meteors from $30 (junky) to $125 (excellent condition), and the average price was around $60. I bought one from Don Raitzer and will test it for you in the future.


This BSA Meteor was my only planned acquisition.
The last gun I bought was a flight of pure fancy. My money was mostly spent; but when I saw this rifle laying on the table I really wanted it — not because of its rarity or value, but just for the neatness factor.
It's a Falke model 70, and it's not much like the model 90 underlever I already have. This one is a breakbarrel that comes with an adjustable trigger and a barrel lock. The stock has been refinished, and the metal is mostly patina. But the rifle looks and feels solid. The dealer, Dave Bingham, said it reminds him of a Diana 27. It looks heavier and more powerful than that  to me, but I suppose we'll find out when I test it. I got it for $100, which I think is a wonderful deal.


This Falke model 70 was on the same table as the model 80. This one is intriguing and I will be testing it for you soon.
Davis Schwesinger, the promoter of the show, had several tables full of vintage airguns. I'm going to show just a few that convey what was there.

Dave Schwesinger's tables just went on and on. Here you see a Hämmerli Cadet, a VZ 47, a pre-war Diana model 30 and a Swedish Excellent. Where do you see airguns like these, except at shows like Roanoke?
Jan Kraner had a table displaying the most beautiful wood-stocked rifles. Most of them were not for sale, but they were a feast for the eyes. Jan uses them to showcase his talent as a stock maker, and believe me — it works!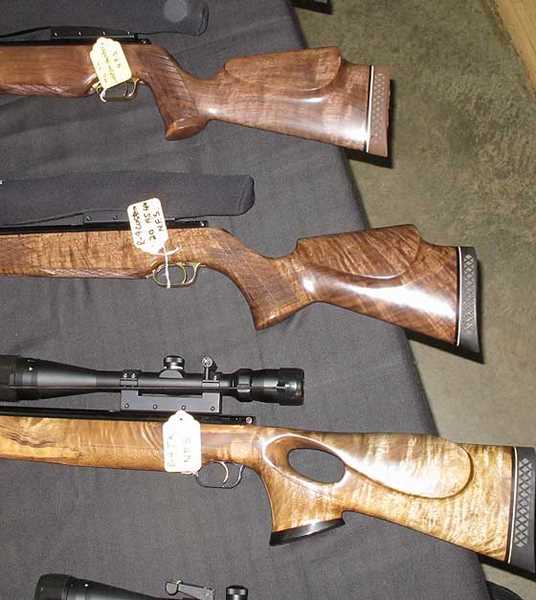 Jan Kraner's stocks stopped people in their tracks.
At last
I saved the best for last. In recent years there haven't been too many Sheridan Supergrade rifles showing up at these events. But this year John Ford had a nice one and the price was just $1,250. That's hundreds under what they have brought in recent years.

A Sheridan Supergrade for sale is a rare thing. And this one was affordable.
The show was over before I knew it, and another year had slipped by. This one was different, as my pal Mac wasn't there to share the excitement. But as I am reminded every time I go to one of these things — nothing is forever. We don't own any of these airguns. We're just their custodians for a time. In the future, these prized possessions of ours will be in someone else's collection. That's how we got them in the first place.
by B.B. Pelletier
Photos by Earl "Mac" McDonald
This is the second of my reports on the 2012 SHOT Show. There will certainly be at least one more after this, and perhaps even more, as there's simply too much new information to pack into a single report.
The state of the airgun industry in 2012
Before I get to some specifics, I want to make a general observation. This year's SHOT Show was different for me in a major way, because I saw for the first time that firearms shooters are beginning to understand airguns as never before. In the past, I always had to start my explanations with the cooling of the earth's crust and then progress through the age of the dinosaurs because each firearms person I talked to thought of airguns as either toys or BB guns. This year, a lot of them were clued-in on what's happening. They weren't surprised by the accuracy we get, and they knew about big bores. A lot of them had some airgun experience and more than a few asked me the same kind of questions that I get from long-time readers of this blog.
That tells me the day of the airgun has finally dawned in the U.S. Instead of 25,000 to 50,000 active shooters (at best!), we will now see an influx from over 5 million active firearm shooters who are ready to augment their shooting experience with airguns. I'm already getting calls and emails from state departments of wildlife resources, asking about the issues of incorporating airguns into their hunting seasons.
It has been a long haul to get to this point, but we're now seeing the start of the harvest of all the work that's been done over the past 40 years — starting with Robert Beeman in the early 1970s. The job is now to manage this growth and provide useful information to the tens of thousands of new airgunners who are flooding in the doors.
Let me reflect on how the industry seems to be reacting to this trend. Some companies have been on board for many years and are poised to ride the new tidal wave of business as far as they can. Other companies are aware that airguns are very hot, but they're foundering, trying to understand them. Let me say right now that it's not as easy as you think!
The readers of this blog are among the most clued-in airgunners in the world. But they're unique, and they do not represent the true market. The demographic of a new airgunner is a man (usually) in his late 20s to late 40s who is most likely a fan of AR-type rifles and Glock-type pistols. He wants repeaters, semiautos and he thinks that a five-shot group is the gold standard of any gun. Velocity impresses him, and he isn't comfortable with the term kinetic energy.
Things like good triggers and good sights are not an issue with this customer until he experiences bad ones. His ARs have decent triggers off the rack, and he can choose from many drop-in triggers that are much better. When he encounters a spring-piston gun with a horrible trigger that cannot be easily modified, he's surprised.
He does not use the artillery hold, and he equates all airguns to be alike in terms of performance. When he learns about precharged guns, he's put off by the additional equipment he must buy. Spring-piston guns seem the best to him for their simple operation, and he doesn't appreciate the fact that they're also the most difficult airguns to shoot well.
That's the customer who's coming to airguns today, so that's the person airgun manufacturers have to deal with. If you have wondered why many of the new airguns are what they are — this new-customer profile is the reason.
Okay, I've talked about those companies that get it and those that are struggling to understand. There's one more type of company out there. I like to call them the "gloom and doom company" or the "zero sum company." They're firmly entrenched in the 1970s and cannot take advantage of this new windfall of business. They either fired their engineers years ago or they let them all retire, and now they couldn't build a new airgun to save their lives. As far as they're concerned, there are only 25,000 airgunners in the United States and it's the NRA's responsibility to identify and train them so these companies can sell them some guns.
They think of marketing in 1950′s terms, when a simple paint job and some sheet metal was enough to create a new product. Their "secret" business plan is to buy guns made by other manufacturers and have their name put on. If you're a collector, better buy up the guns these guys sell because in 10 years their name will be a memory.
That's enough of the big picture. Let's see some more products.
More from Crosman
Many of you saw the list of new Crosman products Kevin posted last week, so the few that I show here are by no means all there is, but they're the highlights. Crosman had about half the new airgun products at the entire SHOT Show.
New tan M4-177 and carry handle
The M4-177 multi-pump that I recently tested for you is going to be very popular this year. Crosman is also offering it as an M4-177 Tactical air rifle with a new carry handle that replaces the rear sight for improved sighting options. I think this gun will be in their lineup for many years to come.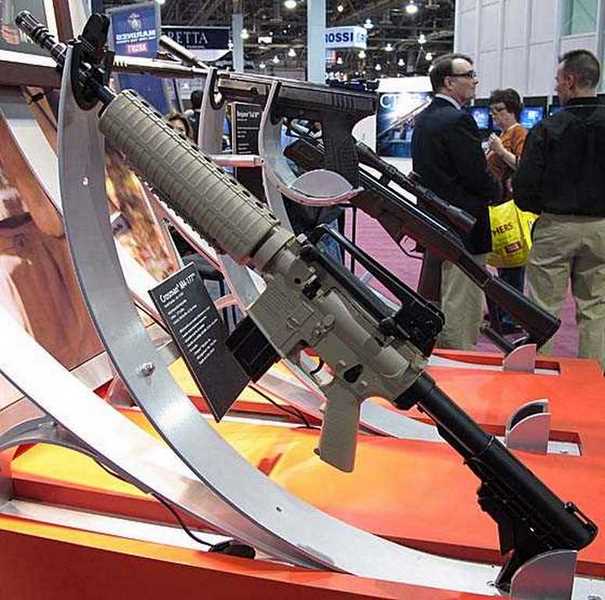 The M4-177 now comes as this tactical model in tan with a carry handle.
I mentioned to Crosman's Ed Schultz that this rifle looks like the A.I.R.-17 of the 1990s, but done better. He said he always wanted to update that design, and that is exactly what this is. So, what he said next came as no great surprise.
I shared my thoughts on a 2260 made as a multi-pump in .25 caliber, and Ed told me that was how the rifle was originally created (not in .25, however). The CO2 version was an afterthought that got put into production, while the multi-pump version languished in the Crosman morgue. I told him that I thought the time was ripe to bring it back as an upscale hunting rifle, and he seemed to agree. We can only hope.
Carbon fiber tank
As Crosman extends their capability into PCP guns, they know shooters are always looking for better options for their air supply. Besides the new butterfly hand pump I showed you last time, they'll also be adding a long summer-sausage black carbon fiber tank with increased capacity over their current tanks. This is a 300-bar tank that has 342 cubic-inch capacity. It comes in a black nylon carrying case with sling for field transport.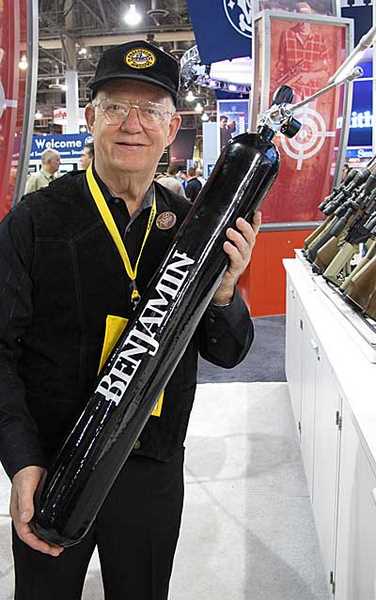 More air for you! New Benjamin carbon fiber tank will help you take your PCPs further afield.
Benjamin Nitro Piston breakbarrel pistol
The Benjamin NP breakbarrel pistol certainly has people talking on the internet. This is the first commercial gas spring application in a pistol, I believe. The most distinctive feature is a cocking aid that can either be detached or left in place while shooting. That reminds us that this pistol is going to be hard to cock, but I'll test one for you so we'll all know just how hard.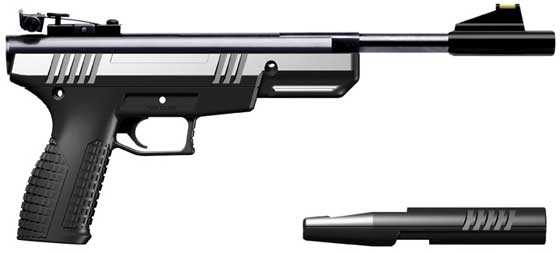 New Benjamin Trail NP pistol is a breakbarrel with a gas spring. The cocking aid can be detached or left in place while shooting.
Crosman 1720T PCP pistol
Everybody was ready to jump down Crosman's throat for creating the 1720T PCP pistol. They wondered with the .22-caliber Marauder pistol and the .177-caliber Silhouette PCP pistol already selling, why was this one needed? As Ed Schultz explained it to me — this one is for field target. It's a .177 (naturally) that produces just under 12 foot-pounds through a shrouded Lother Walther barrel. It can be used for hunting, but field target was its primary purpose. They worried about the shot count with the Silhouette; but with this one, power was the criterion. Look for about 800 f.p.s. with a 7.9-grain Premier. And the trigger is the same as the Marauder, so excellent operation there.


The new Crosman 1720T PCP pistol is meant for field target competition. It will also work well for hunting.
Crosman MAR 177 PCP conversion
The Crosman MAR-177 PCP conversion is another new product that has a lot of people talking. This AR-15 upper converts your .223 semiauto into a .177 PCP repeating target rifle. Because it's on an AR platform, almost everybody expects it to be semiautomatic — including those who should know better. This rifle is a bolt action that cocks and loads via a short pull on the charging handle.
This conversion is an Olympic-grade target rifle for a new official sport that Scott Pilkington and others have been promoting for several years. It will take the U.S. battle rifle back into the ranks of target shooting. However, the look of the gun has many shooters totally confused. I was even asked at the show if I thought Crosman should have come out with an "everyman's" version of the gun first. That would be like asking whether Feinwerkbau missed the boat by not first making their 700 target rifle in a $300 version for casual plinkers.


The MAR-177 PCP conversion is an upper for your target-grade lower. Plan on investing about another $1,000 in a good lower if you hope to compete.
Crosman TT BB pistol
It's all-metal and a good copy of the Tokarev pistol. The weight is good and the gun feels just right. This will be one to test as soon as possible.

Crosman's TT Tokarev BB pistol is realistic and looks like fun.
Benjamin MAV 77 Underlever
The Benjamin MAV 77 underlever rifle is going to force Crosman to recognize spring-piston air rifles instead of just calling them all breakbarrels. This is the TX-200 copy from BAM that was once sold by Pyramyd Air. When the quality dropped off, it was discontinued. Hopefully, Crosman will watch the quality on this one.
They didn't have a firm retail price yet, but hopefully it'll be significantly under the TX. Otherwise, why buy it? I may test one for you, but I already know that BAM can make a great rifle when they want to. I think it all comes down to price.


Benjamin MAV-77 is an underlever spring-piston rifle that looks and, hopefully, performs like an Air Arms TX-200.
TR-77
The Crosman TR-77 is a conventional breakbarrel spring-piston rifle in an unconventional stock. It's different enough that I want to test one for you. It appears to be a lower-powered rifle that probably sells at a bargain price because it's branded under the Crosman banner rather than Benjamin. Mac photographed one in a sand-colored stock for you.


Crosman TR-77 breakbarrel in a sand-colored stock also comes in black.
There was a lot more at Crosman that I could have mentioned, but now let's go over to the Leapers booth.
Leapers
I've watched Leapers grow from a relatively small company back in 1998 to a major player — blasting past older, entrenched companies as they grew. This year, they were playing a video about the company on a continuous loop in their booth. I was impressed to see their plant in Livonia, Michigan, where they build airsoft guns, tactical mounts, accessories and scopes right here in the U.S. The plant is filled with many CNC machining centers and testing facilities to keep close watch over their products during development.
American-made
Leapers owner David Ding told me he wants to get control over the production process so he can assure the quality of all of his products. In keeping with that goal, I was shown the new scope line for 2012 that now offers locking target knobs on all of the upscale models. Many of them feature etched glass reticles that are amazingly crisp and sharp.
Scopes
Mac was impressed by the reticle on the new 3-9x Bug Buster scope. He urged me to look through it; and when I did, I saw that the reticle is now fine and sharp — not the heavy black lines of the past.

David Ding shows me the new 3-9x Bug Buster scope (not out yet), with target knobs and a finer reticle.
But scopes were just the beginning at Leapers. Next, I was shown the whole line of tactical flashlights and lasers, including some mini lasers I will test on my M1911A1 for you. These are all made in the U.S. now and have more rugged internals, adjustments and optics than similar products from the Orient.
UTG 555 Long Range Light
One item I hope Pyramyd Air will consider stocking is a fantastic 500-lumen tactical light for law enforcement. It can be mounted on a rifle, handheld or even mounted on a bike! It comes with rechargeable lithium batteries and a smart charger…and believe me when I tell you it turns night into day!

The UTG Long Range light can go on your rifle, held in the hand or even mounted to your bike! The rechargeable lithium-ion battery pack will keep it shining at 500 lumens for 1.5 hours.
Fast Action Gun bag
Not all Leapers products are for airguns. They also make tactical and law enforcvement gear that rivals spec-built equipment but sells at a fraction the cost. As a result, many of their customers are ordering straight from the front lines of combat and from law enforcement agencies all over the country to get the products that their own supply lines cannot or will not furnish.
One of their latest developments is a Fast Action Gun bag that lets the wearer walk in public with a substantial firearm hidden from view. A quick pull of a strap, and the bag opens to reveal the weapon inside.

Leapers owner Tina Ding models their new Fast Action Gun bag. Here, it's concealed; but she's just pulled it over her shoulder from her back, where it looks like a tennis bag.

And in less than a second, the bag is open, giving instant access to the tactical shotgun or submachine gun inside.
11mm-dovetail-to-Picatinny adapter
Leapers has an entirely new range of quick-disconnect scope mounts coming this year, but there's another innovation that I think you'll find even more impressive. It's an adapter that snaps into a Picatinny scope mount base, turning it into an 11mm dovetail. So, your conventional air rifle will now also accept Leapers Picatinny scope mounts with this adapter.
11mm-dovetail-to-Picatinny adapter is small and doesn't raise the mount at all! This will be one to test!
Leapers is still the company to watch because the owners want to build a lasting corporation here in the U.S. They're poised to move to the next level of quality in their optics, which gives me a lot of hope for the future — they've always been receptive to the needs of airgunners.
Whew! That's a lot of products, and there are still many more to show. As I said in the beginning, there will be at least another report.
by B.B. Pelletier
Happy New year! I thought I'd review the best products I got to test last year. Some will be new, but others have been around a long time — I just got around to testing them.
Benjamin Marauder pistol
Back in January, when I was pouting about missing the SHOT Show, I had the opportunity to test the Benjamin Marauder PCP pistol. Actually, the test began in 2010 and extended into 2011, but it was such a good test that the pistol has to make it into this report.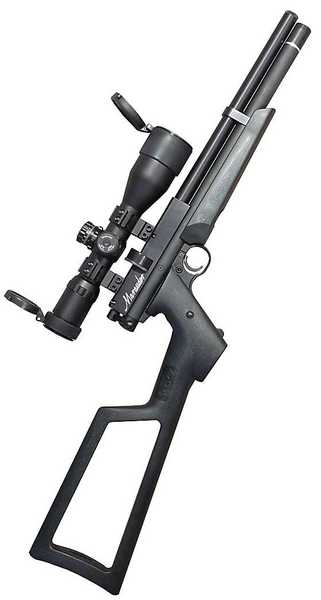 Benjamin's Marauder pistol, known as the "M-rod," is a winner!
I even did an extra accuracy test because for the first one I mounted an old Leapers 6×32 scope that didn't seem to give the pistol a chance to perform up to its capability. When I substituted a CenterPoint 3-12x44AO compact scope in the last test, the pistol showed what it can do.
The Marauder pistol is a .22 caliber with all the accuracy you could hope for. The power is great for this size airgun, and I strongly recommend attaching the standard shoulder stock extension that comes with the gun.
Beretta 92FS
The next great product of 2011 was the Beretta model 92FS air pistol with wood grips. I completed the test on this one in March. I was so impressed that I thought for a long time that Edith and I needed to get the firearm to go with it. In the end, we returned it because you just can't keep them all; but while I had it, I thought it was a wonderful air pistol.
Hawke Sport Optics 4.5-14x42AO Tactical Sidewinder rifle scope
This one is not an airgun, but I would be remiss if I didn't tell you about the finest rifle scope I've ever tested — the Hawke Sport Optics 4.5-14x42AO Tactical Sidewinder rifle scope. I've owned several Leupolds and looked through other premium scopes, but this Hawke has them all beat.
What's so good about this scope? The clarity. It's even clearer than my Unertl 6x that used to be a standard for target shooters. At 14x, it's clearer than other scopes are at 32x. You have to see it to understand how that could be possible, but it is.
It's very costly, though with the clarity it surpasses others of greater price. It's the best I've ever seen.
Crosman Silhouette pistol
The Crosman Silhouette PCP air pistol is another pistol that made my list. I'd tested it the year before, but this one had some improvements, the most notable of which was the trigger.
The power is great, in the high 400s with medium-weight .177 pellets, but the number of shots on a fill reached 75, which is even more phenomenal. Crosman really did their homework on this pistol — refusing to let it alone after the initial offering. The result is that they launched an even better model in 2011 that will have airgunners talking for a long time.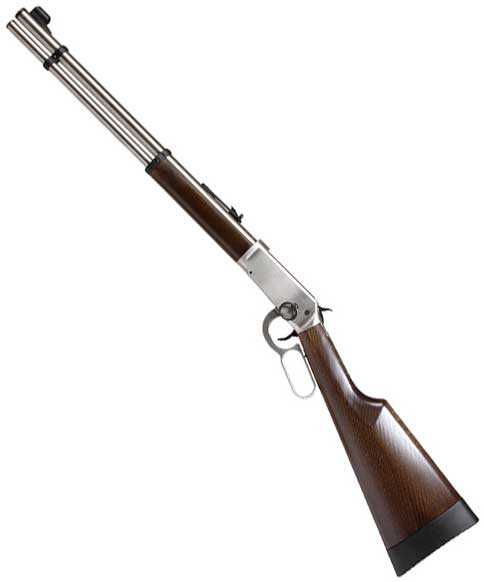 Looking very Western, the Walther Lever Action rifle was one of the best airguns from 2011.
Walther Lever Action rifle
Walther already had a good lever-action air rifle, but last year they modernized it to accept the 88-gram CO2 cartridges, and the new Walther Lever Action Rifle is even better than before! I liked it so much that I did a special 4-part review on the gun and showed you accuracy you didn't expect to see from this kind of airgun.
This rifle is pricy, but you get what you pay for. It's slick, accurate and reliable. If you want a good lever-action pellet rifle it's the only game in town. (My test featured the nickel version, but Pyramyd Air no longer sells it…but the blued version is still available.)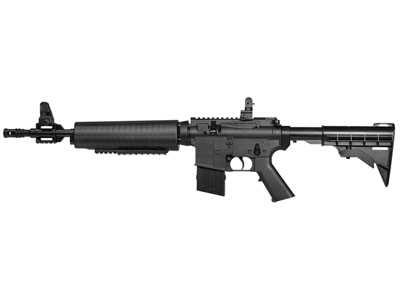 Crosman's new M4-177 multi-pump rocks!
Crosman M4-177 air rifle
I would be remiss if I didn't rave about the new Crosman M4-177 multi-pump air rifle. I liked mine so much I bought it! Does that tell you anything?
The gun is realistic, accurate and well-made. I bought one of the early guns that were mismarked, but Crosman begins shipping guns with the correct marking this month. I don't know if Pyramyd Air has any of the mismarked ones left. However, don't let that stop you — this is an airgun we can all enjoy.
MTM Predator Shooting table and Predator shooting rest
I use both the MTM Predator shooting table and the Predator shooting rest for almost all of my tests, if that tells you anything. But they've just been added to the Pyramyd Air product list and are now available to all of you. So, I included them in the 2011 list, even though I've had mine for several years. Both products let you make a firing line wherever you are, and that's a necessity for someone who shoots a lot. I take mine to the rifle range and use the table in preference to the concrete tables on the range.
Dan Wesson BB revolver
We ended the year on a high note with the Dan Wesson BB revolver. When I reported on this novel new revolver, I said I was impressed by the realism they packed into the design. Twenty years ago, you just couldn't get this level of realism in an airgun.
The one thing I failed to note in my report is the quirky way the safety works. Of course, a safety on a revolver is about as common as a unicorn horn; but if you have one, it ought to work right. This one doesn't. You can put it on when the hammer is down and the action will be locked; but if the hammer is cocked, the safety does nothing at all. That's dangerous, because there are new shooters who haven't been properly trained and will test every safety in an unsafe way. This one will fire if they do.
Still, the gun is powerful, gets lots of shots and is quite accurate for a BB pistol. It's also all metal. I don't know what more you could ask for.
Summary
I reviewed many other airguns in 2011, including a host of vintage models that I won't report in this list. These are the ones that stood out and caught my interest. You may have others, and now it's your turn to comment.
by B.B. Pelletier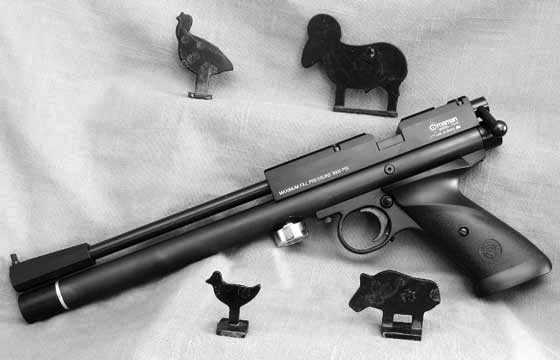 This is the new Crosman Silhouette PCP pistol. It'll send those light little airgun silhouettes into orbit.
I expect to get some negative feedback from this report. It won't come from airgunners, but from airgun manufacturers who think I'm in bed with Crosman, because these days it seems like I'm always praising their work. Well, sorry guys; here comes another one.
In a day when many manufacturers seem to think their No. 1 testing resource is their customer, Crosman turns the tables and actually listens to what people are saying. The pistol I'm reviewing today has been on the market for the past year, yet the model I place before you now is completely new for 2011. How can that be? Well, Crosman learned a few lessons over the past 12 months while selling the earlier release, and they did something about it. They took a well-designed successful air pistol and improved it.
You see, the original Crosman Silhouette PCP pistol was actually introduced at the 2010 SHOT Show. It was touted as an air pistol made on the 2240 frame with an improved trigger, a better barrel and the ability to operate on air instead of CO2.
I was among those who told Crosman that changes were needed to that first Silhouette pistol. In my fourth report, while praising the accuracy of the gun, I was critical of the "improved" trigger. If you take the time to read that report, you'll discover that I shot a quarter-inch five-shot group at 10 meters using an aperture sight! At the same time, I complained about the long, creepy second stage of the trigger.
And Crosman listened — not necessarily to me, but to all of you. The new Silhouette pistol has the same adjustable trigger that's found on the Benjamin Marauder PCP pistol, a trigger that's received a lot of deserved praise from those who've used it. I'm not going to report on that new trigger today, but I've tested it briefly and the praise is warranted.
My year-long illness, which began on March 29, 2010, created a time capsule that allows me to compare the first Silhouette pistol to the one I'm now testing. Because I never finished testing the first pistol before entering the hospital, I now have both of them on hand to examine side by side.
Something old, something new
The visible differences between the new gun and the old are very small. There are some lettering changes, a new muzzlebrake that serves as a base for the front sight and the front sight, itself. The old one was just a round post, while the new one is a square post that can be turned to vary the width. You can vary it, that is, if you plan to use a rear sight, which I don't think many owners will, because this pistol is more like a small rifle when it comes to accuracy. In May, Crosman will bring to market a new CenterPoint scope with multiple reticles that's well-suited to use on both this pistol and the Marauder pistol.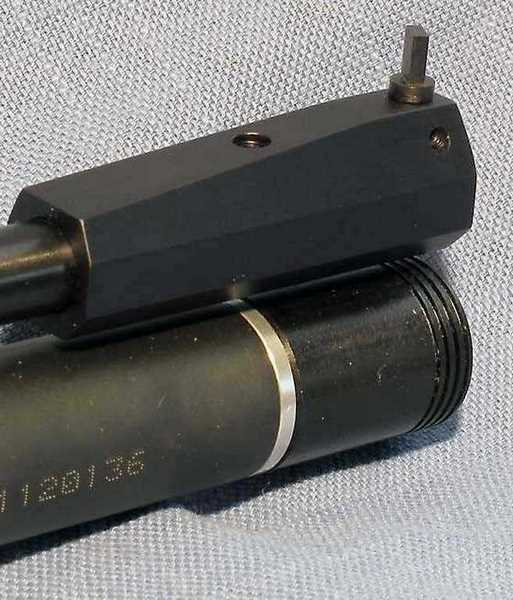 To adjust the width of the front post, loosen the locking screw on the right side of the base and swivel the front post until it's right. Then lock it down.
Just looking at the two guns doesn't tell you much. But shooting does. That's what you'll get from this report. For now, however, let me finish my assessment of the pistol as if you were seeing it for the first time.
General description
The Crosman Silhouette PCP pistol is a single-shot, .177 caliber target pistol based on the venerable 2240 frame. But it's nothing like the 2240, which is a budget .22 caliber CO2 pistol. The Silhouette is a precharged pneumatic that operates on 3,000 psi air (206 bar). While the 2240 has a plastic receiver, the Silhouette receiver is 6.25 inches of machined aluminum, with a scope rail that runs the entire length. It will accept open and peep sights, but it's really made for a scope and I suspect the majority of them will have one.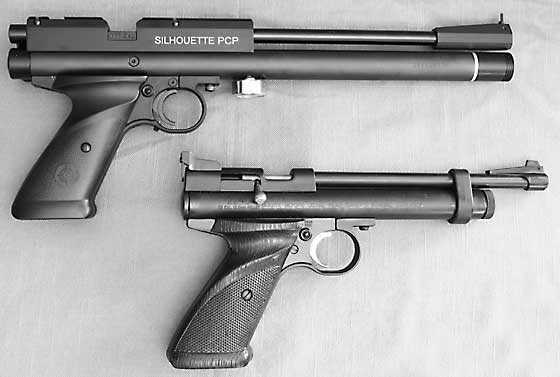 You can see the heritage of the 2240 pistol (lower) in the new Silhouette PCP.
The gun is made of metal and finished in a non-reflective matte black. Steel is used for things like the reservoir, where strength is needed, and aluminum is used where it works best. Plastic is reserved for the reservoir fill port cap and the grips.
This pistol was designed with input from Steve Ware of the International Handgun Metallic Silhouette Association (IHMSA), so it conforms to the rules for silhouette airguns. It has a 10.1-inch Lothar Walther barrel that not only gives great accuracy but also provides a long acceleration time for the pellet. So, the gun doesn't waste air. However, you have to face the fact that this is a pistol built for the sole purpose of silhouette shooting.
They didn't make it a magnum handgun for hunting, and it isn't a good starting point for those who modify, either. They made it powerful enough to send metallic silhouettes into space with a good hit, so it gets a great number of good shots, rather than far fewer high-velocity shots. Crosman advertises it as having 50 good shots on a charge of air, which is incredible when you consider the small size of the reservoir. If you read Part 2 of my report on last year's Silhouette pistol, you'll discover that I got over 60 good shots from it, so I expect to see at least as good from this gun. All of that is at an average of 450 f.p.s., which the first gun delivered, as well.
The pistol comes from the factory with the bolt handle on the left side, which is best for right-handed shooters. However, it can be switched to the other side, if you like. And, the bolt handle is longer than the one on the 2240, so cocking this pistol is smoother and easier.
Adjustable fill pressure
The gun comes from the factory set for a 2,900 psi fill (200 bar). You can adjust it from 2,500 psi to 3,000 psi. With a higher fill pressure, you get more shots per fill, but you also run your scuba tank out of air faster. Since we may see more shots than needed in the velocity test with the gun set at the factory setting (2,900 psi), a higher fill pressure would not make sense to me. A somewhat lower fill pressure might work just as well (give an adequate number of full-power shots per fill) and require less air from the scuba tank. Or, if filling from a hand pump, a lower fill pressure would make the job easier.
Why would you want this air pistol?
You would want this air pistol if you like to shoot silhouette in all kinds of weather and temperatures. The Crosman 2300S and 2300T pistols are both similar single-shot target pistols, but because they also both run on CO2, they're inoperable in cold weather. This pistol won't notice the cold nearly as much.
The trigger is great
I'll have more to say about the trigger in Part 2, but it's a winner. If you can live with about 450 f.p.s. in .177 caliber and great accuracy to boot, this might be the air pistol for you. However, don't get into the modification mindset with this one, because for only a few more dollars you can buy the .22 caliber Benjamin Marauder pistol that's both silenced and a repeater. Think of the Silhouette as a dedicated target pistol, and the Marauder as a do-all hunting pistol.
by B.B. Pelletier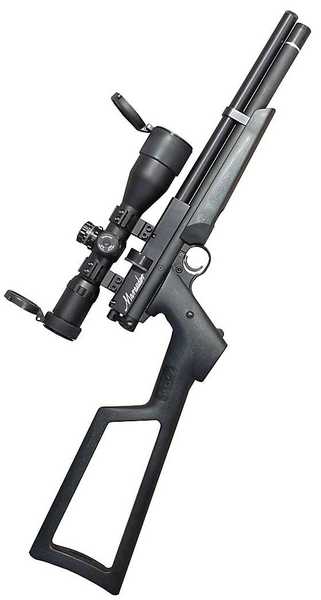 With the 30mm Compact Centerpoint scope mounted, the Benjamin Marauder is set up for hunting small game.
This is the test I promised at the end of Part 3 of the .22-caliber Benjamin Marauder air pistol report back in December. You'll remember that I didn't think the scope I used for accuracy testing in Part 3 was doing all it could for the gun. I said I would try it again with the 30mm Centerpoint scope Crosman had sent with the gun, once I had a set of rings to mount it.
If you're just learning about the Benjamin Marauder pistol for the first time with this report, you need to know that this pistol has taken the airgun world by storm. Just as the Benjamin Marauder rifle holds its own with European PCPs costing two to three times as much, the Marauder pistol does the same when compared to the high-priced PCPs coming from the same European companies. It's a red-hot seller that offers unprecedented power and accuracy at an affordable price.
It has a choked Crosman barrel that stands equal to tubes from Anschütz and Lothar Walther. The reputation hasn't been built yet, but the performance is undeniable. The trigger is very sweet and fully adjustable, and of course the pistol is shrouded. When fired, it sounds like a Daisy Red Ryder instead of the 15 foot-pound hunting airgun that it is.
I wasn't satisfied that I'd seen all the accuracy the pistol had to offer in the last accuracy test, so this additional test was added to give us a second look. What I learned this time was remarkable and worthy of note, but I'll get to that later.
For this test, I mounted Centerpoint's 3-12×44 Power Class scope with mil-dot reticle and sidewheel AO in a set of two-piece Centerpoint 30mm high rings that Crosman provided. The high rings raised the scope up so high that I had to rest my chin on the comb of the detachable shoulder stock to see a clear image. If this were my pistol I would attach about an inch of firm foam padding to the top of the shoulder stock comb to bring my eye comfortably up to the right height.
This scope is sufficiently clear and bright enough that it enhanced the sight picture rather than detracting like the last scope did. Although the reticle lines are not thin, I was able to see the intersection of both the horizontal and vertical lines clearly inside the 10-ring of the bull, so aiming was more precise than it had been during the test in Part 3.
Which pellet to use?
Normally, when testing the accuracy of any airgun, I select four to six different pellets that I think will work, given the power and potential accuracy of the test gun. Then, we'll see how they actually do on the range. Picking pellets for accuracy testing is fairly straightforward and based on the past performance of those pellets in similar guns. But not this time. I tried five different types of .22 caliber pellets, in addition to two other pellets that were used in Part 3 (Beeman Kodiaks were reused in this test because they did so well the first time around). However, nothing I tried wanted to group — except the Kodiaks. Kodiaks grouped so well that the pistol is an undeniable tackdriver. But, I'm getting ahead of myself.
Unfortunately, I didn't pick Kodiaks from the start to sight-in the new scope, therefore I stumbled around with two other pellets for quite a while before realizing what was happening. They were RWS Superdomes and 15.9-grain JSB Exact domes. Both gave mediocre groups of about one inch at 25 yards in the test pistol, which made sighting-in very difficult. Then, I just gave up and defaulted to the Kodiaks that had done so well in the last accuracy test I delivered in Part 3. That's when the gun started to perform.
In fact, the first "group" of Kodiaks was just for kicks to see where 8 pellets would land. Eight instead of 10, because that's how many the magazine holds.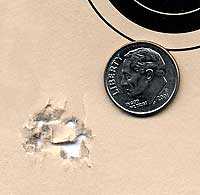 The first group of Kodiaks at 25 yards was this one. Eight pellets went into this 0.405-inch group. Though shot just for fun, it turned out to be the best group of the test.
After that, I shot group after group, and they were all similar. After several tight groups had built up my confidence in the gun, I was reminded of my old Hakim rifle that used to lob them into a similar round group at 10 meters. I would get so mesmerized by how accurate that rifle was that I couldn't stop shooting. The sight of each new tight group when I went downrange to change targets was a turn-on. In the case of the Marauder pistol, I could watch through the scope as shot after shot went into the same ragged hole, only not at 10 meters but 25 yards. Thinking about my old Hakim also reminded me that the most accurate pellet in that rifle was the RWS Superpoint, which is now called the Superpoint Extra.
So, I got a tin of those and tried them in the pistol. Wrong! The groups opened up to almost one inch once more. So I wondered whether the heavy 18.1-grain JSB Exact Jumbos would perform more like the Kodiaks. After all, they are within a couple grains of the Kodiak's weight and they are made by JSB. But I might as well have been shooting a shotgun, for all the good they did. No, this pistol wants to shoot Beeman Kodiaks, and nothing else!

I know this photo looks fishy, like I'm hiding a pellet hole under the coin, but I'm not. It's just difficult to position a dime next to a target on a scanner. This group of eight Kodiaks measures 0.529 inches between centers. The top and bottom holes have closed, making the group appear smaller than it really is. This group is about the average size of all the Kodiak groups I fired.
Then, I had a thought. What about those new copperplated Kodiaks? Would they do just as well as the regular Kodiaks? If I didn't try them, someone would bring it to my attention. I didn't think the copperplated ones would perform the same as pure lead Kodiaks, but the only way to know for sure is to shoot them. I loaded a magazine and gave them a try. Much to my surprise, they did just as good as the all-lead Kodiaks.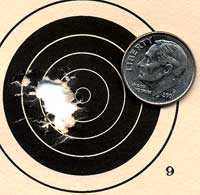 Eight Kodiak copperplated pellets went into this group, which measures 0.458 inches c-t-c. Remarkable performance!
Summary
That's my report on the Marauder pistol. Some will read it and grouse about the pistol not doing well with a wide range of pellets, but the black powder cartridge shooter in me says that as long as there's one bullet or pellet that shines, the gun is alright. Once I find that one best pellet, I never mess with the others anyway. In the test pistol, Beeman Kodiak pellets are the clear winner. I would continue to try other pellets from time to time, but Kodiaks would remain my standard ammo until displaced by something even better.
The Benjamin Marauder pistol is every bit as stunning as the Marauder rifle, by reason of accuracy, power, trigger and quiet operation. As long as you use the shoulder stock that comes with the gun and as long as you mount a good-quality scope, this pistol is a real shooter. If you're looking for a stealthy hunting air pistol, give this one serious consideration.