Posts Tagged 'Birchwood Casey Shoot-N-C targets'
by Tom Gaylord, a.k.a. B.B. Pelletier
Part 1
Part 2
Part 3
Part 4
Part 5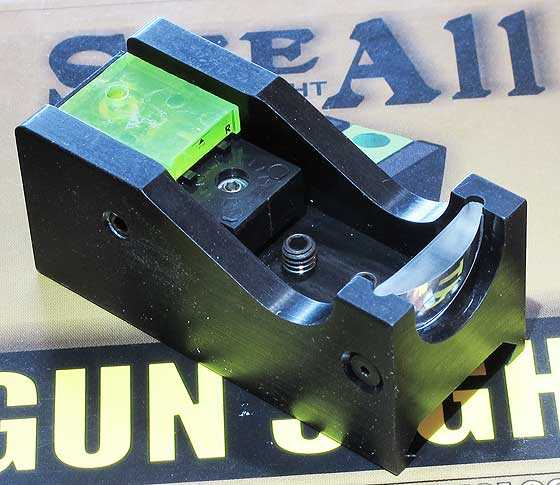 The See All Open Sight is revolutionary!
In the 9 years I've been writing this blog, I don't think this has ever happened before. Last Friday, I wrote about my failure to get the See All Open Sight to work on the Beeman P1 pistol. I tried for 2 straight days to get it sighted in and nothing worked.
That was Friday's report. Well, I went out to the rifle range on Friday, and my shooting buddy Otho met me there. He had one of his SKS rifles that had a scope mounted on it (on a Weaver base), and it was his plan to test the See All sight. Okay, I thought. Couldn't hurt.
It didn't hurt at all! After he shot the scoped rifle at 100 yards for the record, he removed the scope and installed the See All Open Sight. It took several shots to get it on paper at 50 yards, but then he shot a 5-shot group that measures 1.636 inches between centers! You may not be familiar with the accuracy of the SKS, but while it's an extremely reliable rifle that almost never fails to operate, it's only fair as far as accuracy is concerned. It's a good battle rifle — but it's certainly not a target rifle. Some individual rifles are more accurate than others, and this one happens to be Otho's best one; but a sub-2-inch group at 50 yards from an SKS is worth talking about. And he did it with the See All Open Sight!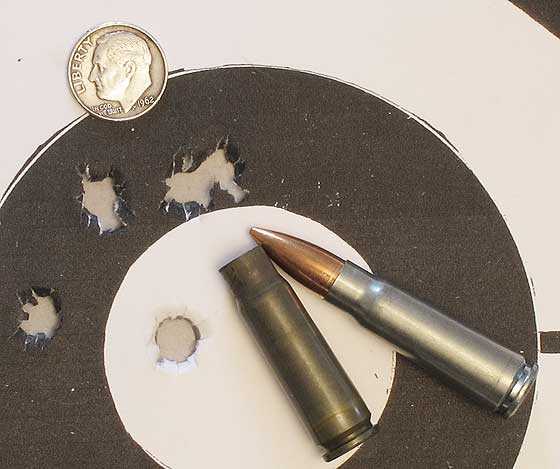 When we saw this 50-yard 5-shot group, we knew the See All sight worked! For an SKS, this is a great group.
When he was finished, we had to walk down to see the target because the cold wind was blowing so hard and our eyes were tearing so much that he couldn't see but one of the shots through his spotting scope. I was looking through binoculars and could see even less. When I saw the target close up, I asked him to shoot 10 more shots for me at 50 yards.
Otho's eyes
The reason I asked Otho to test the See All sight in the first place is because he has been battling failing eyes for several years. He can no longer use open sights like he once did, so scoped guns are about all he can shoot. The See All sight makes up for that and allows him to shoot like he used to 30 years ago. That's what the See All Open Sight is about — a sight that lets shooters mount an open sight on a gun that doesn't have one, or to use an open sight that can be seen with poor eyesight.
Wolf ammo
I guess I should also have told you that he did this with Wolf ammo, which isn't the most accurate by far. Wolf is steel-cased with a mild steel-jacketed bullet. They're reliable and aren't corrosive, but there are several brands that will outshoot it.

Otho was able to see the See All sight reticle clearly enough to shoot just as good as when the SKS was scoped!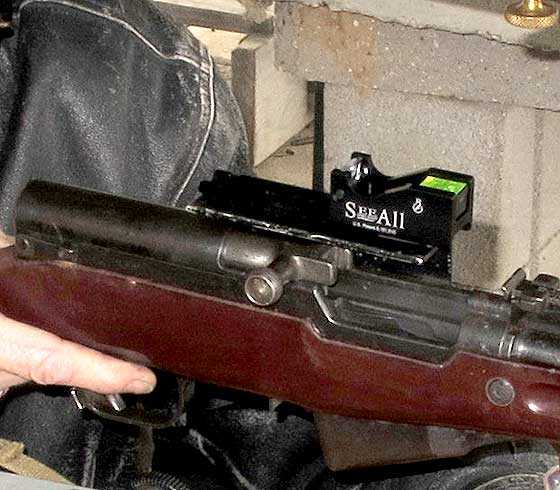 This SKS has a Weaver base attached to the left side of the receiver. The See All sight is clamped to it.
He then shot a 10-shot group at 50 yards with the SKS and the See All sight. This time he put 10 into 3.215 inches. While that's a lot closer to what most SKS rifles normally do at 50 yards, I would like to point out that Otho was able to do it without using a scope. That's significant because he couldn't see the open sights on the rifle on this day.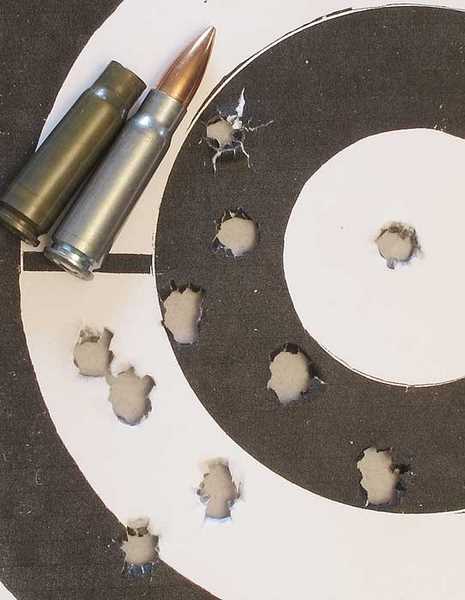 This is a good 10-shot group for an SKS at 50 yards. The rifle was shooting Wolf ammo (the dark empty case), which doesn't group as well as some other brands.
He commented that the See All sight was very fast to acquire. As breezy and cold as the day was, that was significant by itself. I was also shooting an open-sighted rifle that I'll report on in a few days, and I was unable to see my front sight until I put on my glasses to cut the wind.
100 yards
Now, Otho shifted to the 100-yard targets, where a few minutes earlier he'd shot a 10-shot group with the scoped rifle. That netted him 9 shots on paper in a group that measures approximately 5-3/8 inches between centers. The 10th shot wandered off the paper.
With the See All sight, he put 9 shots into approximately 5.50 inches. Three of these shots wandered off the paper, but we found the holes clearly on the backer board, just above the target paper. He measured the 9 shots with his pocket knife, which measures 5.50 inches when open. There was a tenth shot on the paper, but it landed about 3.50 inches below the other 9 shots. We know this 10-shot group really measures 9 inches at 100 yards; but since we don't know where the tenth shot from the scoped rifle landed, there's no way to make a direct comparison. Nine shots to 9 shots is the best comparison we can make.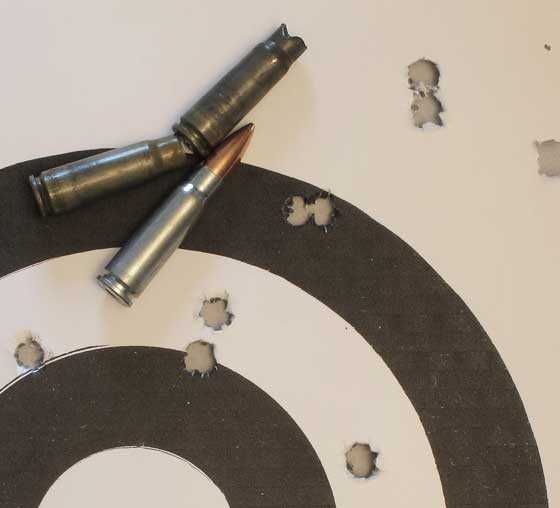 With the scoped rifle, 9 of 10 bullets hit the paper at 100 yards. This group measures 5-3/8 inches between centers.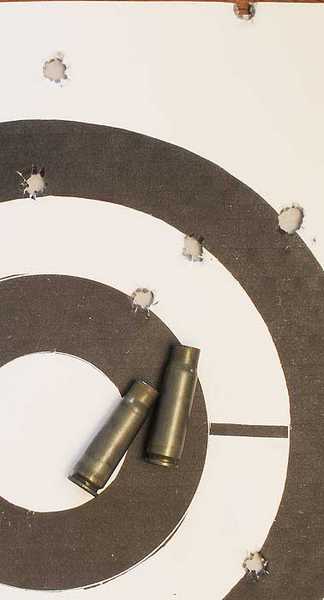 With the See All Open Sight at 100 yards, Otho was able to put 9 shots into 5.50 inches, c-t-c with the SKS. Six of those 9 are on this paper, and the other 3 landed on the backer just above the target. The tenth shot down below does open the group by a lot; but since the tenth shot from the scoped rifle was not found, we can't make a comparison.
Otho's assessment
After seeing the 100-yard group, Otho said he thinks the See All Open Sight is perfect for hunting. While it's not as good for target shooting, it's fast to acquire a target — especially one that's running. He's decided to leave the See All sight on his SKS instead of the scope, and he plans to hunt with it.
My evaluation
I'm so glad this happened because I was beginning to lose confidence. But Otho showed us the sight is good and works as intended.
I have an M1 Carbine that's chambered in 5.7mm Johnson Spitfire, and it currently has a Weaver base with a scope, as well. I also have a Remington 788 with a Weaver base. I think for my next test of the sight, I'll load up some ammo and try one of those 2 rifles with a scope and with the See All at 50 yards. They should work the same as Otho's SKS.
So, don't despair. There's at least one more test of this sight coming. For now, however, I have to say the See All Open Sight does what it's advertised to do.
by Tom Gaylord, a.k.a. B.B. Pelletier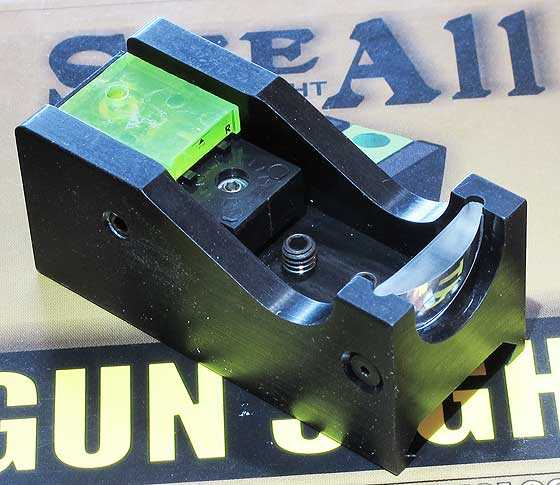 The See All Open Sight is revolutionary!
This will be a different Friday blog — I promise you.
First of all — all talk of machining the See All Open Sight sight is off the table. I spoke with the See All creators and learned that the reticle is actually on film — shrunk to the size where the point of the triangle is 0.0002 inches across. That's two ten-thousandths of an inch, or 0.00508 millimeters! This in in the realm of optics — not mechanical things. So, don't try to modify the sight.
Second, they told me some folks may need to wear their glasses when using this sight. I haven't been doing that, so I wore them for this test.
What I thought might happen today
After the last test in Part 4, I thought the sight might work better if it was held farther from my eyes — like it would be when mounted on a pistol. The magnifying optic enlarges the reticle even more the farther away it is, so this sounded like a possible solution to the reticle being indistinct on target. Also, it's easier to tilt the sight when it's mounted on a handgun. I'd hoped that would make it easier to align the peak on the end of the triangle. This is what I was thinking when I told some readers I had a better idea of how to test it.
What went wrong with this test?
When I first attempted to test the sight on Tuesday, I mounted it on a Beeman P1 pistol using an 11mm-dovetail-to-Picatinny adapter that you cannot buy. I used this base because it has some droop, and I thought I needed that droop to get the shots on paper at 10 meters. What I got, however, was pellets striking the target too low after all the upward adjustment in the sight had been made. The results were so bad that I quit testing the sight and moved to something else. I mentioned that in the introduction to Wednesday's blog.
While I was resting from this first attempt, it occurred to me that maybe this sight works in the reverse of how I was thinking. It has seemed that way every time I attempted to test it. So, for today's initial test, I turned the base around so it's sloping up toward the muzzle. The sight was pointed slightly up in relation to the top of the pistol.
For safety, I began shooting at 12 feet. If the gun was off at that distance, it would still be hitting the pellet trap.
I'd already fired a group of 10 7.9-grain Crosman Premier lite pellets at 10 meters with the P1′s open sights. They landed in 0.598 inches, so that was how well I was shooting the gun on this day. I know from experience that the Crosman Premier lite is one of the best pellets in this pistol.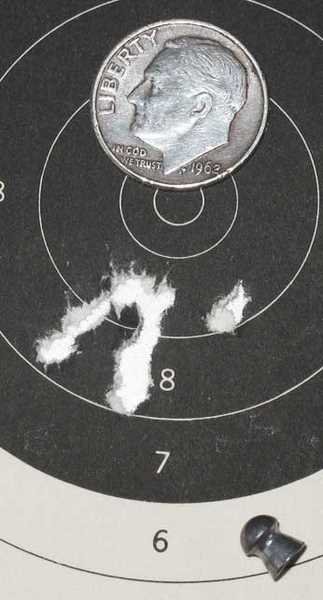 Ten Premier lites went into 0.598 inches at 10 meters with the pistol's open sights. The P1 can shoot.
It seems I can still shoot my P1. Now, how well can I shoot it with the See All Open Sight mounted? Well, I was right about the droop in the first place. Reversing the mount so it sloped up landed the pellet 12 inches below the aim point at 12 feet! I did need a drooper base after all, and one with the most aggressive slope possible. Fortunately, I had just what I needed, so that base was mounted on the gun and the sight was attached to it.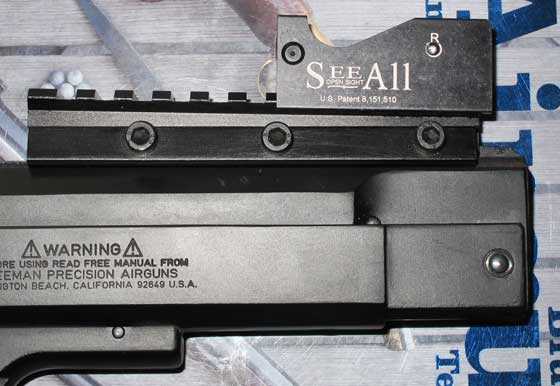 See the steep slop of the base adapter? It still wasn't enough to raise the pellet to the point of aim.
With this new steeper-sloped base, the point of impact did rise; but even with the See All sight adjusted as high as it would go, the pellet still struck about 3 inches below the aim point when shooting from 12 feet. And, yes, I did read the adjustment directions as I was adjusting the sight.
I couldn't get the pellet to strike the point of aim, so on to Plan B. Plan B is where I move the aim point very high and let the pellets impact below. At least that would tell me about the sight's potential. I used a black dot as an aim point and backed up to 10 meters. When the first shot landed 5 inches below the point of aim, however, the test was over. That is so low that it risks not hitting the entire pellet trap, and that's a risk I'm not willing to take. Two more inches and the shot goes off the paper.

A 5-inch drop below the aim point was enough to make me stop the test. This is the end of the P1 test.
This test (on the P1) is over
I have tried for two agonizing days to get the See All Open Sight to work on my Beeman P1, and everything has failed to work. I now have more pellet holes in my house (Edith knows about them), and that's as much damage as I'm willing to do.
I'm not saying the See All Open Sight doesn't work. There are too many reports that it does work — including one from our blog reader GunFun1. But I've done everything in my power to get it to work for me, and you've seen the results. My shooting buddy Otho has done the same. He did get better results than I did, but even he wasn't satisfied with what he got.
I'm going to set the sight aside and just think about it for awhile. If I were testing this item for Pyramyd Air, my recommendation would be "don't buy" right now. That's not saying I won't find a gun it works on; but, for now, I'm pretty burnt out.
by Tom Gaylord, a.k.a. B.B. Pelletier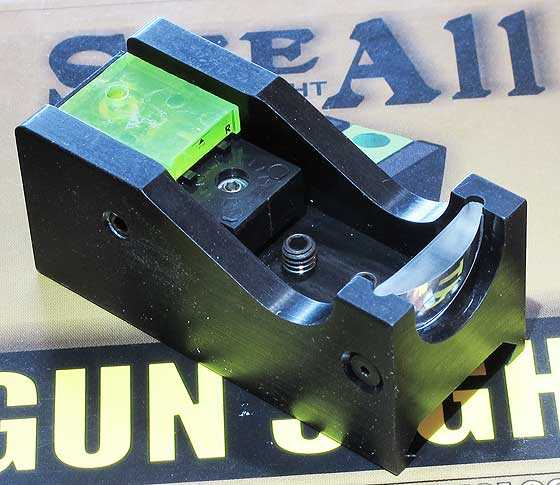 The See All Open Sight is revolutionary!
Today, we'll test the See All Open Sight on a firearm! Last week, my shooting buddy Otho brought his Thompson Center Contender rifle to the range. It's chambered in .17 HM2, a chambering and conversion he did himself.
With a scope mounted, this rifle will shoot about a one-inch group at 50 yards. He mounted the See All on it and proceeded to shoot groups.
At first, he wasn't able to adjust the sight. That was tracked down to the sight being loose. That mounting system they use is really marginal — not just for spring-piston guns but for firearms, as well.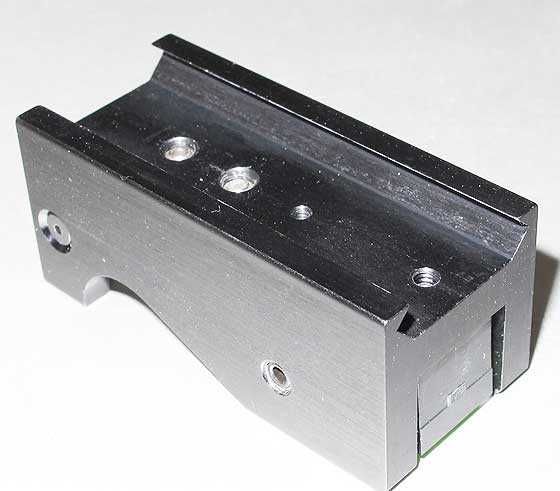 The base clamp of the sight relies on 2 screws that run down to push the jaws of the sight up against the Weaver or Picatinny dovetails. Those screws are seen on the upper left of the base.
But that problem was solved, and the test proceeded. Sight-in went quickly once the sight was stable. Otho discovered, as I did, that it takes only a very little movement of the adjustment screws to move the strike of the round. Despite there being marks on the sight, they aren't helpful when adjusting. You have to just look at the position of the Allen wrench leg and go by that.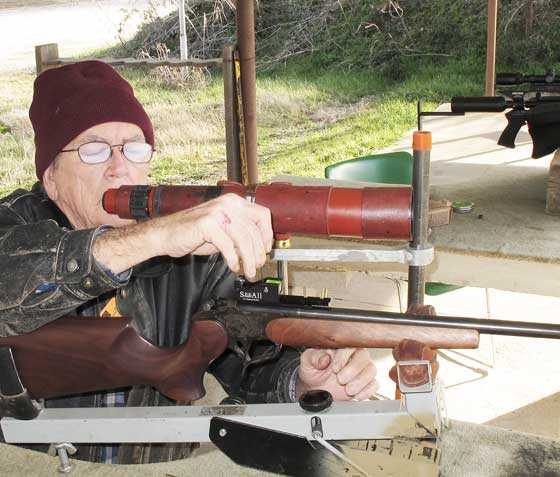 Once the See All sight was tight on the rifle, Otho was able to adjust it pretty quickly.
He shot 2 10-shot groups at 50 yards. While I didn't measure them, the first one may be the best. It appears to be about a 2.50-inch group, with 9 shots in 1.25 to 1.40 inches.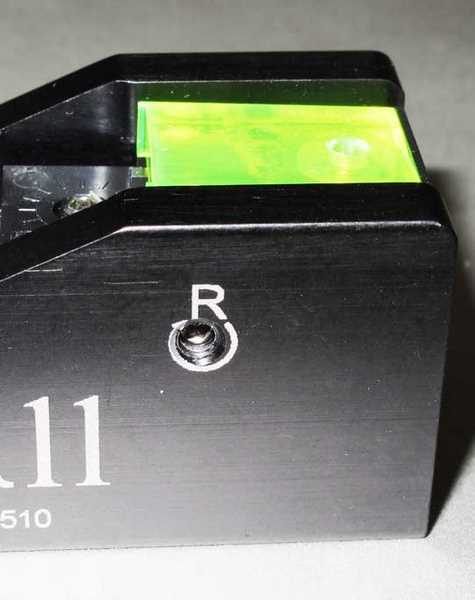 I never saw this horizontal adjustment graphic until I took this picture. This is enlarged and enhanced.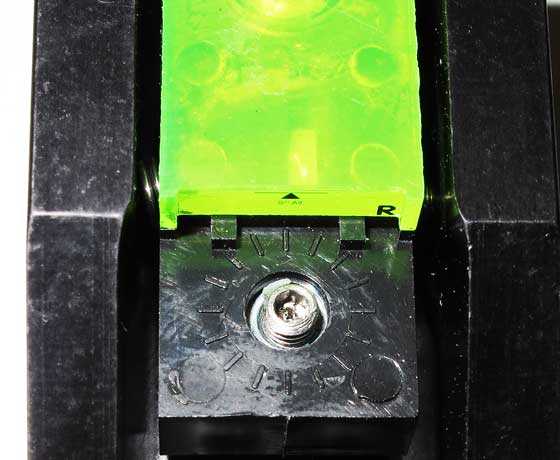 The vertical adjustment marks are still nearly invisible, despite enlargement and sharpening.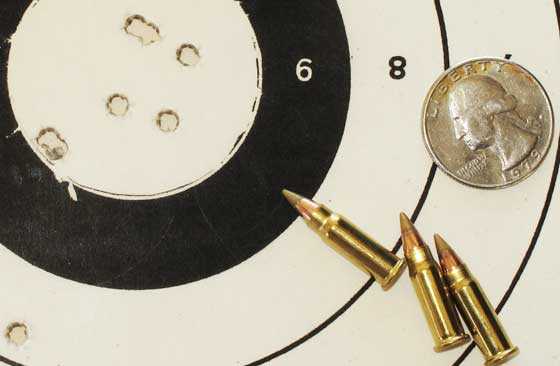 Otho's first group was the best. Ten shots went into about 2.5-inches, with 9 of them going into about half that size. An American quarter is just under one inch in diameter.
Otho complained that he wasn't able to put the point of the triangle on the bottom of the target. The black line and green material above the tip of the triangle made it necessary for him to guess where the tip was located. He would like to see the material removed down to the tip of the triangle for greater precision while aiming.

The material above the point of the triangle, plus the horizontal black line, make it difficult to position the tip of the reticle precisely.
His second group is about the same size as the first, but more scattered. Look at how tight it is from side to side. It's clear there is an aiming problem in the vertical direction but not in the horizontal.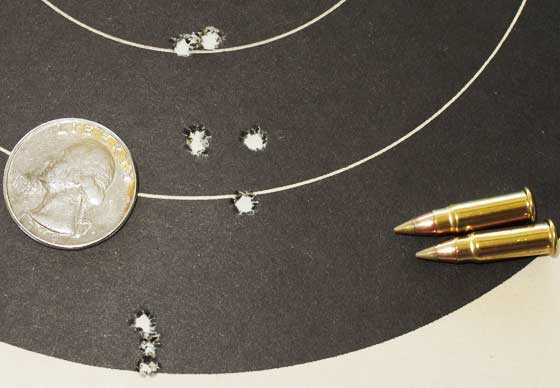 This second group shot by Otho is about the same size as the first, but this one's strung out more vertically. Yes, there are 10 shots here.
By the time he was done with the second 10 shots, he was finished. Guessing where the tip of the reticle was has taxed him. So, he turned over the rifle to me.
This is the first time I'd shot this rifle, so I was unfamiliar with it. But it has a fairly crisp trigger, and I didn't have any problems shooting it.
As you can see, I had even more difficulty than Otho with the vertical component. Seven of my shots landed in 1.427 inches at 50 yards, but the 10-shot group measures 4.433 inches between centers. I had a very hard time seeing where the tip of the triangle's located relative to the target.

My group is very vertical, measuring 4.433 inches between centers. But as you can see, I got 7 of them into 1.427 inches, which isn't bad.
Discussion
Otho brought up the point that the See All sight might not be ideal for shooting targets, but then he figured that the black bullseye was still giving the most exact aiming point possible. If the sight has trouble with vertical placement on a bullseye target, it will be much harder to control against a gray animal.
Please note that Otho is wearing glasses when he shoots. He has to wear them even when shooting with a scope, so the See All did magnify the reticle for him, as we'd hoped. He and I both believe this sight has something very unique to offer.
He wants to try the sight again on animal silhouettes. I have some nice Shoot-N-C animal targets he can try it on. That should give us the information we want.
Otho is also thinking of shaving off the top of the green plastic, to put the tip of the triangle at the top of the reticle. He wants to remove the horizontal black line, which I agree is distracting.
He also finds the green on either side of the triangle difficult to work with. He wishes it wasn't there. I don't have a problem with it myself.
Neither Otho nor I know if modifying the sight is the right move or not. The black line tells the shooter where the tip of the triangle is. But it's so difficult to get the tip on the target where you want it. I think the See All folks must have tried several iterations of this already, and I am not convinced removing the top of the green is a good idea. When you look through the sight without a target to focus, the tip of the triangle is easy to find. It's only when you aim against a specific spot that it becomes more difficult.
I'll be shooting the See All next on my Beeman P1 pistol.
by Tom Gaylord, a.k.a. B.B. Pelletier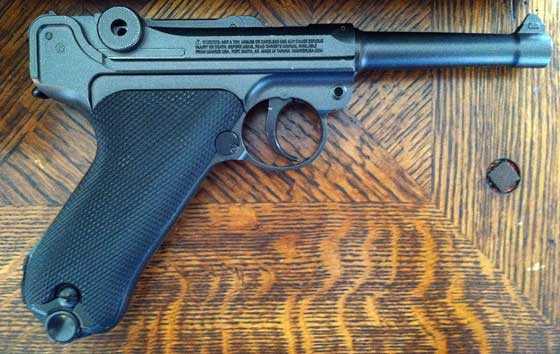 The new Umarex P-08 BB pistol is a stunning copy of the firearm.
Well, today's the day we see how this Umarex P-08 BB pistol shoots. As you know, I think this pistol is a big deal because people have been asking for it for years. And, yes, I'm aware that there are Asian BB pistols in the P-08 style that are supposedly all-metal and have blowback with realistic toggle action. But are YOU aware that sometimes those Asian websites lie about what they have? Some of those guns don't exist, and images are shown to see if there's enough interest to warrant the development cost.
Think about that before you jump on the bandwagon and criticize a real product. You may be comparing it to something that doesn't exist.
Back to the gun at hand — the Umarex P-08 is a double-action-only handgun, and I think you'll understand what that means by now. If you don't, click on the link to Part 2 above and look at the picture of the revolver. Some of you mentioned that the revolver also advances the cylinder with the trigger in addition to cocking the hammer spring…and you're right. That does add some resistance to the total effort required. However, I find that it doesn't add as much as you might think — perhaps 10 percent or so. The majority of the effort to pull the trigger is dedicated to compressing that powerful hammer or striker spring.
I learned in this test that I cannot control the P-08 double-action trigger as well as I thought. Of course, a single-action trigger that just breaks at a few pounds is much easier, but a week ago I shot a 4-inch, 7-shot group at 45 feet with my carry gun, which is a Micro Desert Eagle that's DAO in .380 ACP. That pistol is lightweight and has a relatively snappy recoil, but the double-action trigger-pull is smooth all the way through. So, I can put the sights on target and hold them there through what is perhaps an 11- or 12-lb. pull.
That is what I was expecting to happen with this BB pistol, but it didn't. Not quite. Oh, the trigger-pull does stack at the end, and it isn't as heavy overall as the triggers in my firearms, but the last bit of effort seems to increase or rise a lot more. That rise is what I find difficult to control, and you'll see the results today. The other problem is that the trigger comes very far back when pulled. It releases very close to the back of the triggerguard, and that's the spot where the strength leaves your fingers.
The shoot
This is a BB pistol, so I shot at 15 feet, which is the normal BB gun distance. You may think that's too close for a target pistol, but wait until you see the results of the test. It turns out that 15 feet is a very good distance to shoot, for reasons I will address in a little bit.
I shot at a target pasted to the face of a Winchester Airgun Target Cube. I'm reporting on this target cube in all of the BB gun tests I do instead of writing a special blog about it. The cube now has well over 1,000 shots on it and some of the styrofoam is crumbling off, but it still stops every BB I shoot at it. I consider it an essential part of my shooting equipment; and even though I know it will eventually wear out, I think I'll get a lot more use before that happens.
I tape a stiff cardboard section to the side of the cube where I plan to shoot. The cube now has holes on all four sides where styrofoam has been blasted out of the center, and I can't stick any Shoot-N-C target stickers to the center of the cube's sides. But the cardboard is smooth and takes the stickers perfectly. All I have to do is remove the cardboard after each session, and I think the cube will last a lot longer.
I like using the Shoot-N-C targets with BB guns because of the instant feedback. I'm not going to worry too much about the group size except in relation to my dime, so I don't care that you can't really measure a group on a Shoot-N-C target (because the paint flakes off farther in all directions than just the BB hole). The most important aspect is the immediate feedback I get from seeing where the BB went through the target, or after many shots, the fact that there's no feedback at all. That tells me the BBs are going through the same holes.
This pistol seems to shoot to the exact point of aim at 15 feet, which makes that distance perfect for target shooting. The sights are not adjustable, but they seem to be perfectly centerd and regulated for height in the test gun. However, it does present a problem, as I discovered on the first target.
I use a 6 o'clock hold when target shooting, which means I align the sights with the bottom edge of the bullseye. Many guns are regulated to shoot their BBs up into the center of a small bullseye, but the P-08 places them exactly where you put the sights. So, the group on the first target is low. One shot is in the center, but that was the result of me pulling the trigger to get it to break. In other words, it's a wild shot.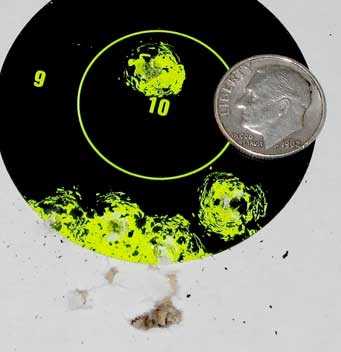 All the shots but 1 are at the point of aim. Notice how wide this group is. I'm having difficulty controlling the double-action trigger.
Please understand — this is an accurate BB gun. But I'm having difficulty controlling the trigger. That's a good thing because it means this pistol can help me learn to better control a double-action trigger.
The one thing that the first target demonstrated was that I needed a smaller target. For the second group, I used a repair paster for the first target. That's just the center of the bullseye and nothing else. I hoped that the group would be smaller with a smaller aim point; instead, it grew in size.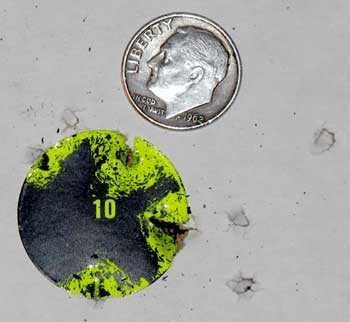 The second group was larger than the first. Clearly, I'm having difficulty controlling the trigger.
Changed the shooting method
If I wasn't able to shoot well one-handed, then I figured I'd try it from a rested position. I positioned a chair backwards and rested my arm on the backrest, where I shot the third and fourth groups. I won't show you group 3, but it was about three inches, and I discovered something while shooting it. If you squeeze the trigger too slow, it gets hung up at the end and will never break. Struggling to break the trigger slowly is why this group was so large.
Next, I tried leaning back, so the pistol was rested against the top of the chair's back. This did improve things, but the trigger was still causing me some problems. As you can see, this group with a rested gun is larger than when I one-handed the pistol.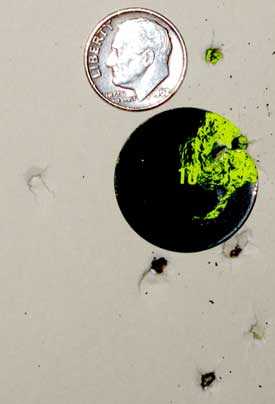 This group is long and narrow — the result of a trigger that's releasing at odd times. Only one shot went wide.
Next I decided what I had to do was use two fingers to pull the trigger. And when I did that, it worked! Now, I could control the trigger as I wanted to; and when I did that, the gun shot to the point of aim every time. Only when I struggled with the trigger release did I throw shots out of the bull.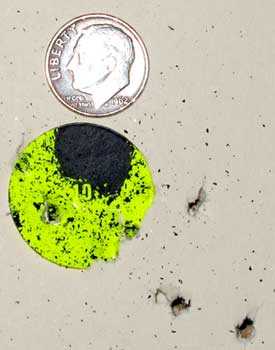 That's more like it! Six shots in the black and 4 in the white off to the lower right. Two are in the same hole. This is what the P-08 can do.
Real-world accuracy
In reality, you're probably going to bounce soda cans around the yard and don't need the pinpoint accuracy this pistol can deliver. It'll do that all day long. You're also going to get a workout for your trigger finger, but that will only improve all your other shooting.
Bottom line
This is the first BB pistol in a P-08 wrapper to make it to our shores. As such, it fills a demand that's decades old. It's all you could want in a gun for this price. It delivers the power that's advertised and can nail the target when you do your part. A welcome addition to the marketplace.
by Tom Gaylord, a.k.a. B.B. Pelletier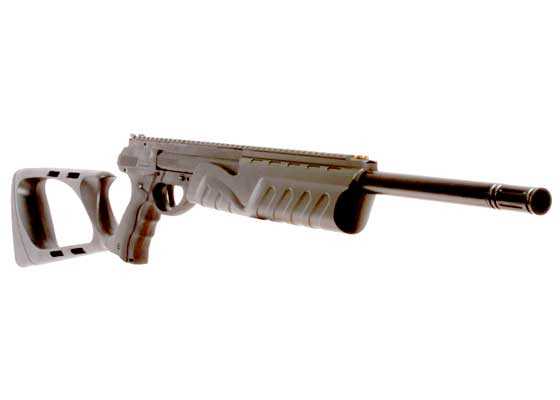 The Umarex MORPH 3X is many airguns in one!
Today, you'll get a twofer — thanks to blog reader Les, who asked about adjusting dot sights and lasers. I said I would test the Umarex MORPH 3X with a dot sight, so I thought I'd combine that test with instructions on how to adjust the sight to hit the point of impact.
I hadn't considered testing a laser on the Morph, but I can certainly describe how to do it. I'll get to that at the end of the report.
The dot sight
What is a dot sight? Well, once you understand what it is, you'll understand that adjusting one is the same as adjusting a scope. Because that is what a dot sight is — a scope without the magnification (usually) or the crosshairs!
HUH?
On scopes, the crosshairs or reticle are lines that you see through to see the target. By adjusting where the lines are, you can adjust where your shot strikes the target. I think most folks understand that.
All a dot sight does is substitute a glowing dot of light for the center of the crosshairs. In other words, the intersection of the crosshairs is replaced by a glowing dot of light. Put that over what you want to hit; and if the sight is adjusted properly, it works the same as a scope. No one other than the shooter can see the dot.
The glowing dot is different than the crosshairs because it isn't a solid object. It's a reflection on the surface of a lens that appears in your line of sight. You can see it because the reflection is physically there, but it isn't anything that can be touched, anymore than you can touch an image in a mirror. But you can adjust where the dot is seen by adjusting the lens that reflects it.
Try this
If you have a dot sight, try looking through it and moving your head around from side to side and up and down. You'll note that the dot moves against the target quite a bit. That's because you're moving your eye, and that changes where the reflection of the dot appears to be. You can do the same thing with the reticle of a scope, but not to the same extent. Where a scope reticle will appear to move just a little against a target, a dot appears to move more. That's the difference between looking at something that is physically there and something that's just reflected off a curved piece of glass.
That should warn you that dot sights have a lot of parallax problems and require consistent eye placement for every shot. The same is true with open sights, but open sights give cues when the alignment isn't right. The front sight moves relative to the rear sight. But a dot sight is just a single point of reference, so you can't see the misalignment as easily. Therefore, the placement of your head is extremely important if you expect to hit the target every time.
What I'm saying about dot sights applies to the older tube-type sights, like the one I'm using in this test. I suspect, like all technologies, dot sights have become more precise in recent years. But my experience is with the older style.
Don't get the idea that dot sights are impossible, though, because they're not. Though they are somewhat dicey to use. It's not as bad as ice skating on stilts.
Dot sight adjustment
Now that you understand what a dot sight is, you should know that it adjusts in the same way as a conventional scope. One knob controls the up and down movement, and the other controls the left and right. Sighting-in a dot sight is no different than sighting-in a scope. You select a point of aim, which you hope will also be the point of impact and hold on it as you shoot. If the pellets strike the target low and to the left, the sight has to be adjusted up and to the right.
Like a scope, it helps to begin sight-in of a dot sight at a close target. I like starting at 10 feet away, and I adjust the sight until the pellet is striking the target on the centerline and as far below the point of aim as the center of the sight is above the center of the bore. Then, I know I can back up to 10 meters, and I'll be on paper. I may need to refine my sight adjustment a little when I shoot at 10 meters, but this is the fastest way I know to sight in an airgun — especially one that cannot be boresighted.
But what if you're at a public range and can't shoot at 10 feet? That's when I put up a 2-foot by 4-foot light-colored paper backer and staple my target in the center of that. Even at 50 yards, there's a good chance my shots will land somewhere on that big piece of paper if I shoot at the center of the target. When even that fails, I enlist the help of a spotter to watch the berm. I shoot at a dirt clod we can both identify and he watches through the binoculars that I always carry to see where my bullet strikes relative to the dirt clod.
Tasco Pro Point
I mounted a Tasco Pro Point dot sight to the rail on top of the Morph and was ready to commence sight-in. The Pro Point is a dated design, but it was good quality 15 years ago and still works well today. The amount of parallax is small for a dot sight, but I still watch my head placement every time.
It was very easy to install the Pro Point on the Morph. The Weaver bases on the Pro Point clamp right to the Morph's rail, and clamping pressure plus the keyed cross-slots hold the sight in place.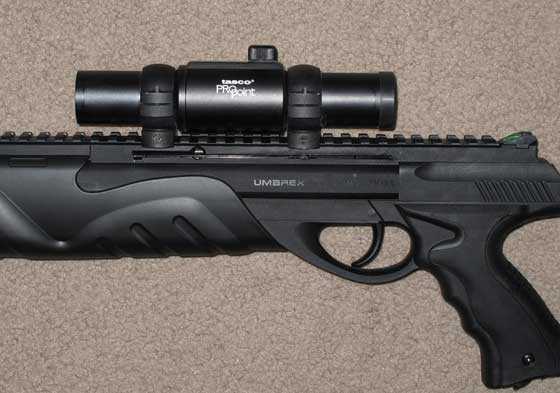 Tasco Pro Pont dot sight fits the Morph quite well.
Target setup
I think it was Victor who asked me how I stop the BBs from bouncing back, so today I thought I'd show you. I photographed my target setup, so you can see the light and the Winchester Airgun Target Cube with the Shoot-N-C target pasted on its front.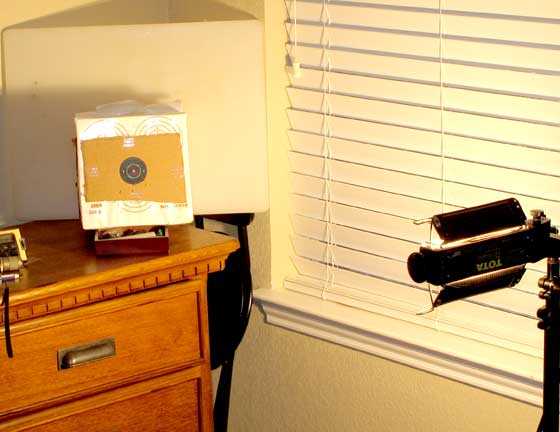 This is my target setup in the bedroom. The target cube is backed by a thick plastic cutting board, so nothing will hit the wall. The light is a 500-watt quartz incandescent camera light.
Absolutely no BBs bounce back using this setup. The target cube is starting to slough off small pieces of styrofoam, now that over a thousand shots have hit it, but nothing gets through it and nothing bounces back.
On to the shooting
At first, I shot the Morph in carbine form offhand at 15 feet (I'm using Umarex Precision steel BBs). I dialed the red dot intensity up to No. 8; because when the Shoot-N-C target turns green, it's so bright that it masks the dot. Even at the 8 setting, I could barely see the dot against the target, once it changed from black to green (or yellow — I can't tell…I'm colorblind.). Of course, when you shoot offhand, the dot seems to move all over the target — even at 15 feet.

Ten shots offhand from 15 feet with the Morph carbine. That's not too bad! Yes, I used flash.
Seeing the accuracy of the carbine made me want to shoot the gun rested. I brought in a kitchen chair, turned it around and used the back as a rest for my next group.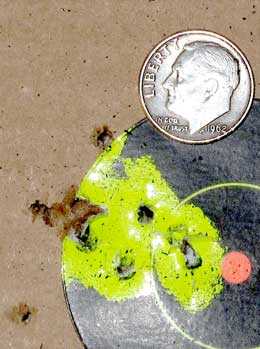 Ten shots rested from 15 feet. Obviously, the gun is shooting to the left — something that shooting offhand did not fully reveal. All the shots in the cardboard are part of this string.
Seeing this result made me want to see just how good the gun could shoot. So I adjusted the dot to the right and shot another 10 rounds.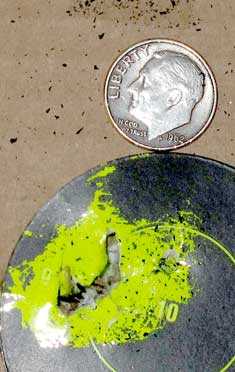 Wow! The sight adjustment didn't go far enough, but look at how small this group of 10 shots is! The Morph can shoot!
Let's back up
Seeing how good the Morph could do at 15 feet prompted me to back up to 25 feet and try again. This was also a rested group of 10 shots. I adjusted the sight a little more to the right for this one.
I was running out of the smaller bulls, but with a dot sight that poses no problem. Since the BB goes where the dot is, the size of the target has no influence over where you hit, as it would with a peep sight or a post and notch using a 6 o'clock hold.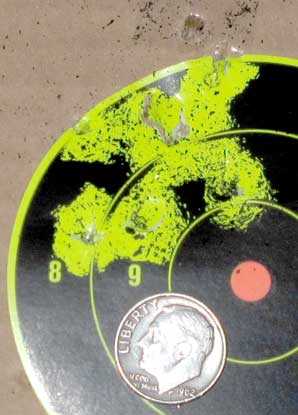 At 25 feet the group opened up a bit, but it's still respectable. There's a single BB above the bull in the cardboard. This is a larger bull; but with a dot sight, that doesn't pose a problem. The sight is still not far enough to the right, and notice that the impact point has climbed just a little. The orange dot in the center of the bull was the aim point.
A laser
I don't have a laser that will fit on the Picatinny rail of the Morph, so I can't mount one, but let's talk about how a laser differs from a dot sight and a scope. A laser actually shines a light on the target. What you see is reflected from the target — not from a lens inside an optical device. The laser dot can be seen by everyone — not just by the shooter — the way a dot sight can. And because the laser dot actually hits the target, there can never be any parallax. What you see is actually there, on the target.
With a laser, there's nothing to look through. Think of a laser as a very powerful flashlight. It isn't actually a sight. It's more of a designator.
A laser is adjusted just like a scope or dot sight, except you're adjusting where the light actually falls. So, the procedure is to use a separate sight to sight-in the gun, then adjust the laser so it's on the target when the other sight is.
Adjusting a laser is usually different than adjusting a scope or a dot sight. There aren't click adjustments, as a rule, but there are screws that push the laser tube in the direction you want it to go. This may be backwards of how a scope's adjustments move, so read the laser's manual before you start adjusting.
Distance is limited
Lasers can't be seen very far on bright days, so they're limited in distance. You can look at them through a scope which increases the distance at which the dot can be seen, but even then the laser is a limited-range sighting aid. A 50-yard shot is very far for a laser. Most shooters set them up for very close shots, like 20-30 feet. They use their other sights for longer distances.
Les — I hope this helps you with the sight-in procedure for dot sights and lasers. Let me know if you have more questions.
Final evaluation
The Morph 3X rifle and pistol is a unique airgun that's accurate and powerful at the same time. The double-action trigger-pull may take getting used to, but it poses no problem as far as accuracy goes.
I find the Morph accurate, conservative of gas and trouble-free to operate. If you want an accurate BB gun that also has power, check this one out.
by Tom Gaylord, a.k.a. B.B. Pelletier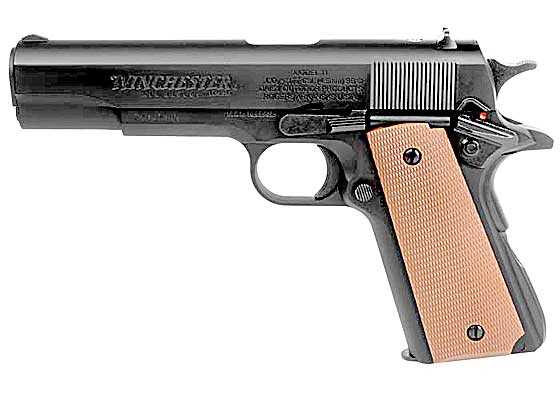 The Winchester semiautomatic BB pistol is an attractive M1911A1-style BB pistol. It's also accurate!
You know how I always say that if a gun is accurate it covers a multitude of sins? It doesn't happen that often, but today we will be looking at a BB gun that is without sin! Sorry to put the conclusion at the beginning of the report, but this test was a real eye-opener for me, and I want to pass along those feelings to you.
I know there are a few of you who are on the lookout for a good BB pistol that can be used for target shooting and firearm handgun familiarity training. I think this Winchester 16-shot semiautomatic BB pistol is one of them!
One more thing about loading
I mentioned in Part 2 that the stick magazine for this pistol is set up for easy loading. What I didn't mention and didn't discover until I shot it for accuracy, is the magazine is built to be loaded while lying flat on a table. The base of the mag is larger than the rest of it, so it rests on an angle. You can just drop BBs into the big loading hole and most of them will roll down to the front (the top of the mag) out of the way. I did have a couple of jams when I tried loading this way, but overall it seems easier than holding the magazine in my hand while loading.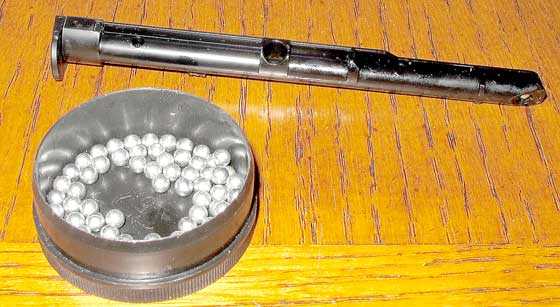 When the magazine is laid flat on a table with the loading hole up (like shown above), it slants toward the top, allowing the BBs to be loaded and roll out of the way.
Shooting
Now, it was time to shoot the gun. I set up the range in my bedroom, where it's warm. Texas has been cold recently and the garage where I would normally shoot is too cold for a CO2 gun. As the gas cools down the gun, it cannot recover. So, the velocity just keeps getting lower with each shot.
I used a 6 o'clock hold at 15 feet from the target. And I used a one-hand hold. As you can see, the BBs went right to the center of the bull when I did my part.
I used the Winchester Airgun Target Cube to hold a Birchwood Casey Shoot-N-C target bullseye that I stuck to a cardboard square taped to the front of the Target Cube. When the group was completed, it took only seconds to rip the old one off and slap a new one down in its place. I like this kind of target because it gives me instant feedback on how I'm doing when the target changes color as the BB passes through. That helped me concentrate on my shooting technique because, with this pistol, all the shots went exactly where I aimed!
First shot
The first shot with any BB pistol is always in doubt because I have no idea where it's going. A rifled gun will usually be more or less on target, but a BB gun can spray them anywhere. That's why I shoot at 15 feet — aside from that being the generally established distance for BB guns. But with this Winchester pistol, I needn't have worried. The first BB went into the 10-ring.
I wish I could tell you that the rest of the magazine went there, too, but it didn't. I still don't have the muscle control I used to have to hold a pistol on target with one hand. Even at 15 feet, my group was larger than it should have been.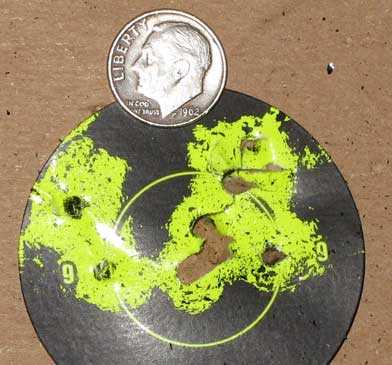 The first group was larger than it should have been, but it wasn't the pistol's fault.
After seeing the results of the first 10 shots, I became very interested in this pistol. The group was centered perfectly and the only thing that kept it from being better was me. That's a good thing because it means this pistol shoots better than I do so I can use it to improve my skills. All of a sudden, I had an air pistol I could use to train with; and it was a repeater that had a light trigger and simulated recoil! That makes it perfect for firearms familiarization training.
I do have other air pistols that can be used to train with, but none of them are repeaters with blowback like this one. This one has a good trigger that has to be managed, and it has the same grip as my 1911 firearms — or close enough that I don't notice the difference. If I want, I can pull the trigger several hundred times each week and possibly recover some of my pistol shooting ability.
I got a little excited on the second target and rushed several of the shots. The target tells the story. The group is somewhat larger and wider than the first one.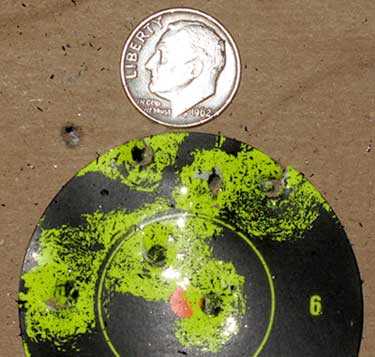 The second group was larger than the first one, and I threw one shot out of the black. But all the bad shots on this target are my fault because I could see where the shot was going to go the moment the gun fired.
By this point in the test, I was really excited. Here was an air pistol that shot to the exact point of aim. If the shot didn't go where it should have, the fault was entirely mine. You can't ask for a better training tool than that! The cost of shooting this BB gun is a fraction of what I have to pay for firearms cartridges — and I cast my own bullets, so I shoot for very little compared to what most folks pay.
It was time for another target and time for me to buckle down and try my best. Of course, this kind of concentration is very tiring; so by this point in the test, I was starting to experience some shaking in my gun hand. Training will fix that,. With this Winchester pistol, it looks like I'll get that training.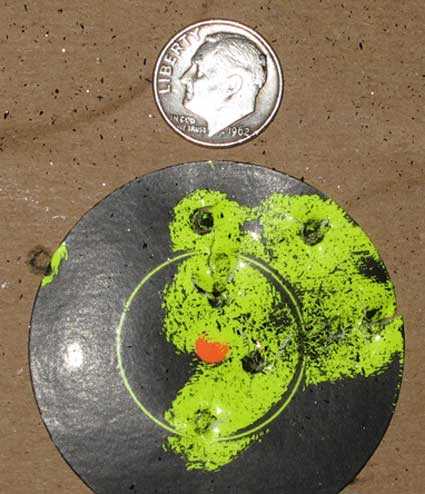 An interesting group. All the shots but one are grouped on the right. That indicates that I was holding the pistol more uniformly and controlling the trigger better, but my feet were not planted correctly. There was tension in my body that caused me to pull each shot to the right. The hole on the left was a wild shot that was my fault.
What do I think of this air pistol?
Up to this point, I've been critical. I didn't like all the words on both sides of the gun, nor was I very keen about the CO2 piercing arrangement because it makes it difficult to get the spent cartridge out of the gun. I also don't like the safety that takes two hands to operate. But all that goes away when I see just how well this pistol shoots. As I've said many times, accuracy makes all the difference!
After my third group, I talked about the gun with Edith. She doesn't get out to the range as much as I do, and she needs this kind of training even more. So, we decided to buy the test pistol from Pyramyd Air!
I've shot other BB pistols in the past, and several of them were quite accurate. That, by itself, is not what makes me like this one so much. I like this one for the trigger that feels a lot like a firearm trigger, and I like the sights that are so realistic. The designers could have put fiberoptics on the gun and ruined it completely, but they didn't. You can aim this one exactly as you would a firearm.
I hope they're all like this; and if you order one, I hope you get one that's as nice as I got. Two thumbs up!
by Tom Gaylord, a.k.a. B.B. Pelletier
At the end of the last part (Part 2), I said that was a wrap for 2012. Then, several folks recommended other things and my wife, Edith, suggested that I do Part 3 to include those things. Furthermore, I learned from Pyramyd Air that a huge number of new people are joining us daily, and many are new to airgunning. So, for them, I want to do some 'splainin'.
This blog
I'm Tom Gaylord, but I write this daily blog under the name B.B. Pelletier. You can address me either way, but I'll probably respond as B.B. here in the blog. The reason is a long one and not that interesting, but I don't want new readers to be confused.
Do I work for Pyramyd Air or don't I? Well, yes, I do get paid for this blog and for some other things I do, so in that sense, yes, I work for them. But I don't pull any punches when it comes to reviewing products. It either tests out or it doesn't, and I try to tell you exactly what happened when I tested it. Pyramyd Air never tells me what to say in the blog, nor do they try to control what I say in any way. So, in that sense I'm independent. I'm a contractor with Pyramyd Air, not an employee. I also write for other publications. I have a monthly column in Shotgun News, and I write five or six feature articles a year for them, as well. I also develop airguns and airgun products for various companies.
Pyramyd Air wants me to educate their customers, which is exactly what I try to do in this blog. When I write, I think about a guy living in Keokuk, Iowa, who will only buy one airgun this year. He'll buy it based on what I say, so I don't want him to be disappointed. I think of this guy as my best friend. He's intelligent, but he doesn't know what I know about an airgun, so I try to tell him. That's why the writing is as informal as it is.
We have many thousands of readers, but most of them don't comment. However, when someone does comment, we strive to welcome them and to listen to what they have to say. There's no flaming or name-calling allowed here. A couple times in the past there have been attempts to hijack the blog, but they were put down swiftly. So, no matter what you do or don't know, you're welcome to talk about it here.
Finally, this blog is the property of Pyramyd Air. We don't allow advertising for competitors. If someone tries to do that, their comments will be deleted.
Off-topic comments are invited on any blog. If you have a question about a topic that I wrote about 3 years ago, you don't have to ask your question on that old blog. Just post it on the current blog because more people will see it and provide answers.
Lastly, there are several ways to read the comments. You can read them by clicking the comments link under each day's blog or by clicking the RSS comment feed in the upper right-hand column or you can email us and request to be added to the emailed comment list. Edith will add your email address to the list, and each comment will come directly to your inbox.
Today's report
This is the third report presenting possible Christmas gifts for airgunners. Parts 1 and 2, which are linked in the beginning of this report (above), have the airguns I recommend. If that's what you're looking for, those would be the reports to read. Today, I'll concentrate on some other things an airgunner might also like. I'll tell you the item and give a link to it, as well as a brief reason for the recommendation. There may also be a few airguns in this report because several I overlooked were pointed out to me.
Plano Pro-Max double-scoped rifle hard case
If you have nice airguns, you want to store them in nice cases. Blog reader Slinging Lead recommended the Plano Pro-Max double-scoped rifle hard case. He puts each rifle into a soft gun sock that he's turned inside-out and sprayed with Ballistol, then turned right-side out and stuck a rifle in it. That then goes into the hard case. As we learned in Part 2, with Ballistol there should never be a problem with rust. I can't speak for the Gamo gun sock because I've never seen one. It looks too short to cover the entire long gun in the photos, but it gives you and idea of what a gun sock looks like.
Crosman 1377 and 1322
Slinging Lead also pointed out that I didn't have the Crosman 1322 or 1377 multi-pump pneumatic pistols on my list. That was an oversight on my part because these two pistols definitely belong there. They're very powerful multi-pump pneumatic pistols that keep alive the heritage of airguns from the 1930s and '40s. They're accurate, inexpensive and either would make a great gift for an airgunner!
Crosman Premier pellets
I wasn't going to put any pellets on the list this year; but in light of the number of brand-new airgunners we have reading this blog, I feel I have to. I'll start with Crosman Premiers. I'm recommending the ones in the brown cardboard boxes; and when you look, you'll find they're the most expensive. They're all taken from the same die lot, and you can count on their uniformity. They're also packed more to the box than to a metal tin. I think the Premiers in the tin are getting better and may be almost as good as the boxed ones, so it is just habit that keeps me recommending the boxes. They come in the following sizes:
Premier lite — 7.9-grain .177 domes
Premier heavy — 10.5-grain .177 domes
.20-caliber Premier — 14.3-grain domes
.22-caliber Premier — 14.3-grain domes
There's no .25-caliber Premier pellet, but there's one that's close, and it's also one of the two best pellets in .25 caliber. It's the Benjamin 27.8-grain domed pellet.
The rest of the pellets
This list is very long, so instead of talking about each one, I'm just going to list what I feel are the best.
.177 caliber
Beeman Kodiak
Beeman Devastator
Beeman ECO Kodiak
H&N Baracuda
JSB Exact RS
JSB Exact 10.3-grain dome
RWS Hobby
RWS Superdome
RWS R-10 Match Pistol
.20 caliber
Besides Crosman Premiers, there are very few .20-caliber pellets I can recommend. Even the Beeman Kodiak in .20 caliber is too lightweight (in lead) and just not that accurate. There are a couple, though.
Benjamin Cylindrical
JSB Exact
.22 caliber
Beeman Kodiak
Beeman ECO Kodiak
H&N Baracuda Green
H&N Baracuda
JSB Exact Jumbo 15.9 grain
JSB Exact Jumbo Heavy
JSB Exact Jumbo Monster
JSB Exact Jumbo RS
RWS Superdome
RWS Hobby
.25 caliber
Historically, .25-caliber pellets have been the worst on the market. The guns that shot them were not accurate enough to warrant good pellets, so the manufacturers just didn't invest the care they do with .177- and .22-caliber pellets. Even the best of them were just mediocre until just a few years ago. Now there are a couple great pellets available. The .25-caliber Benjamin was already mentioned with the Crosman Premiers, above. Here are the rest.
Beeman Kodiak Extra Heavy
H&N Baracuda
JSB Exact King
Final word on pellets
Beeman Kodiaks are actually the same as H&N Baracudas. Kodiak Match and Baracuda Match are essentially the same as Kodiaks and Baracudas. I've shot both and don't see any differences in their performance. I'm telling you that so you know to order the least expensive ones when they're available.
Crosman 1077
The CO2-powered Crosman 1077 is another air rifle that was left off the list and shouldn't have been. The 1077 is a 12-shot repeater with an internal double-action revolver mechanism. It's styled to resemble the Ruger 10/22 rifle, and its one of the best values in a plinking airgun today. Accuracy is well above average, with 10-shot groups the size of a nickel at 10 meters when you are careful.
Daisy Red Ryder
Several readers asked me to include Daisy's Red Ryder BB gun on the list. It is certainly the iconic Christmas BB gun here in North America — made famous first by Daisy and again by the 1980s movie A Christmas Story.
Daisy 880
For inexpensive shooting fun it's hard to do better than the Daisy 880. This multi-pump pneumatic shoots both BBs and pellets, though I recommend only pellets in this gun, because the BBs aren't as accurate.
Crosman 2100B
For a little more money you can get the Crosman 2100B. This multi-pump is very accurate with certain pellets — namely 7.9-grain Crosman Premiers.
Crosman 2240
The Crosman 2240 CO2 pistol is a must-have if you like accurate air pistols. It forms the basis for many higher-end Crosman target guns but is an accurate .22-caqliber pellet pistol in its own right. If you do buy one as a gift, don't forget to throw in a box of CO2 cartridges that it needs as its power source.
RWS Diana 34P
I would be shortchanging you if I overlooked the RWS Diana 34P spring rifle. I chose the 34P over the wood-stocked 34 for its slimmer profile. Either gun is a winner. They're accurate, powerful and the T06 trigger can be adjusted very nice. I don't like the fiberoptic open sights, but if you use a scope they don't matter.
Targets
Blog reader Kevin Lentz recommended that I put paper targets on the list because many airgunners won't spend the money for them. They print out targets on copier paper that tears and isn't satisfactory, where good target paper usually shows clean holes where the pellets passed through. All targets that are on target paper are worthwhile, but I have two I especially want to recommend. The first is the single-bull 10-meter air pistol target from National Target. Don't be put off by the name — you can shoot at it with a rifle, too. In fact, if you have open sights, this target extends your range out to about 25 yards because the bull is so large.
The other target I'm going to recommend is the 12-bull 10-meter rifle target, also made by National Target. I cut these up with scissors and use them in smaller sizes, which multiplies the use I get from each target several times.
Kevin also suggested getting some Shoot-N-C targets that change colors vividly when a pellet passes through. These come in all sorts of packages, but I like a combination of targets like this one. You can use the different-sized bulls for different things, and the black dot pasters that come with the targets will repair any of them. Just peal the target bull off the paper and it will stick to any other paper surface, so changing targets is a breeze.
Tactical flashlight and knife
Two things on this blog that we talk about besides airguns are tactical flashlights and knives. I've devoted a lot of time to both topics, and I know that most of our readers are interested in them, though they may never mention it. I recommend the UTG Tactical Flashlight, because it is identical to one I use all the time, but costs about $20 less. And I must also recommend the Walther Tactical Folding Knife that is the coolest knife I have seen in the price range. I like it so much I take it to airgun shows, just to show people how neat it is. The more you use it the easier it becomes to open, until it gets to the point of opening almost as fast as an automatic (switchblade) knife. It stays sharp and can be sharpened easily, though it does require a special serrated blade sharpening tool.
Wrap-up
That's it! Yes there are a great many more things I like at Pyramyd Air, but you can look around the website for those just as well as me telling you. Remember, this is the third part of a much longer list of potential gifts. The links to Parts 1 and 2 at the top of this report will take you to the rest of the list where there are a great many more gift suggestions waiting.