Posts Tagged 'blackpowder'
by Tom Gaylord, a.k.a. B.B. Pelletier

Nelson Lewis combination gun is both a rifle and a shotgun.
It's been a while since I last wrote about this gun. Blog reader Kevin asked if I was going to write anything more and I answered yes, but what I did not tell him or any of you was that in October of last year I blew up the gun.
Blew it up?
That's not entirely accurate. What happened is the nipple that accepts the percussion cap was blown out of the barrel and right past my face. When it went, it sheared off the hammer lug that connects the exposed hammer to the sear. I never found the nipple, but the hammer was lying on the shooting bench next to the gun. When my shooting buddy, Otho, asked me if I was okay (he was standing behind me, having a premonition that something bad was about to occur), I answered, "NO" for the first time in my life. Usually, guys will say everything is okay right after they've sliced off their thumbs with a circular saw, but this event was so startling that I wasn't really sure what my condition was. "No" just popped out.
What happened?
Okay, get ready to criticize and tell me what I did wrong because I haven't got a clue. Do you remember me telling you that airgunner Mike Reams can make swages to make conical bullets of almost any caliber? I learned that at the 2012 Roanoke airgun show. And do you remember that I wanted him to make a set for the Nelson Lewis gun? Well, what I did this day on the range was called a "proof of concept" test. I loaded a conical bullet in the rifle — partly to confirm the diameter requirements for Mike and partly just to see if the gain twist rifling really would stabilize a conical. But the only conical bullet I had was a 250-grain lead bullet for my 38-55 Ballard, which coincidently has almost the identical size bore as the Nelson Lewis rifle.
I'd been shooting a patched .375-caliber swaged round ball in the rifle up to this point. That ball weighed 80 grains. So, 250 grains would be heavier — about 3 times heavier. What I did was load a proof load into my 160-year-old gun and shoot it. Nothing wrong there, right?
When the gun fired, it recoiled more than usual (no kidding!), but that wasn't what I noticed. I noticed a jet of fire about a foot long coming out of the nipple hole that had been so recently vacated. Then there was the verbal exchange between me and Otho, and then he cautiously walked around to my front and looked at my head — mostly to see if it was all there.
I'd been wearing shooting glasses, which I always do whenever I shoot a black powder arm (and after this event, when I shoot anything else, too), so my eyes were fine; but above my right eye was a large patch of black powder that embedded itself in my skin. I looked like the "murdering coward Tom Chaney" from the movie True Grit, who coincidentally had a black powder Henry rifle blow up on him. The powder had to be picked out of the skin with tweezers over the next few weeks and there is still some of it in there today, more than 4 months later. But I was okay.
My Nelson Lewis gun, on the other hand, was broken. And, as far as I know, Nelson Lewis doesn't work on his guns anymore, having been deceased for the past 135 years or so. What was I going to do?
Otho to the rescue
Now you need to know something about my buddy, Otho. He's a retired Airframe and Powerplant (A&P) mechanic who has worked on turbine engines and airframes since Vietnam. One of his skills (he has skills — and people like me need to know other people with skills) is welding. And I don't mean trailer-hitch welding, either. I mean the ability to — well, let me tell you what he once did. His father stored a Gen-1 Colt Single Action Army revolver improperly, and it rusted badly. Rusted as in deep pits all over one side of the gun. So, over the course of a year, Otho spot-welded each and every pit, then worked it down with a file until it was flush with the rest of the metal. When it was perfect, and by perfect I mean perfect, he had the gun re-case-hardened so that today it looks new. All the factory lettering was preserved so you cannot tell that any work was ever done. Or at least I cannot tell, and I know Gen-1 Colt SAAs.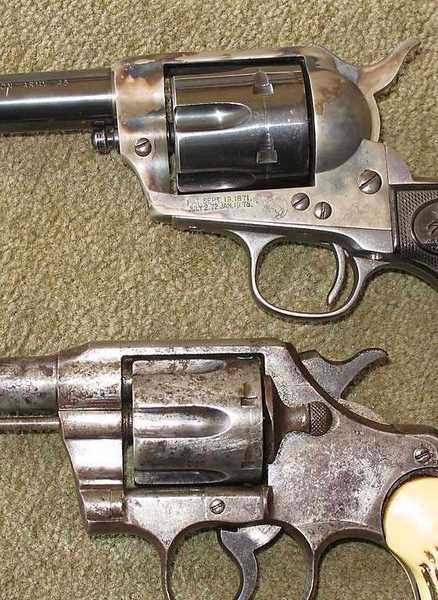 Both these Colt revolvers were stored together and rusted equally. Otho welded every rust pit and refinished the Single Action Army on top. This is a master at work!
So, Otho looked at the sheared hammer lug on the Nelson Lewis gun and says he thinks he can fix it. He thinks he can weld the hammer lug back up and file it to fit the hammer. This news sounds wonderful, coming as it does on the heels of the gun's destruction. Let me show you what is involved.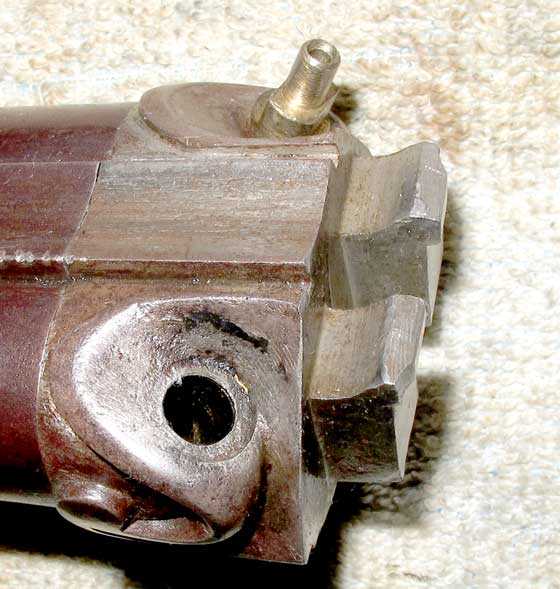 The nipple is gone. All the threads are, too.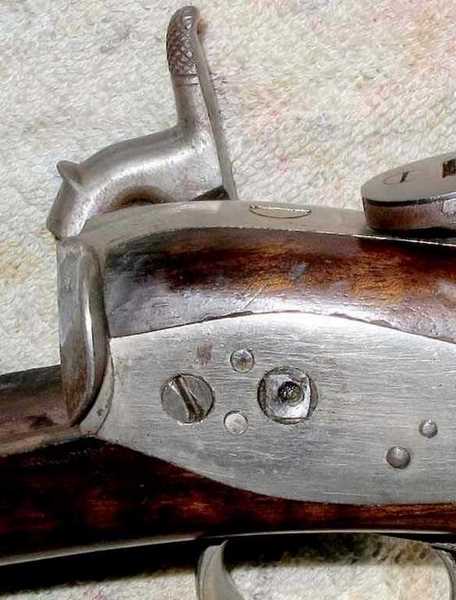 The hammer was sheared off at the lock plate. The other end of that square lug is the rifle's sear.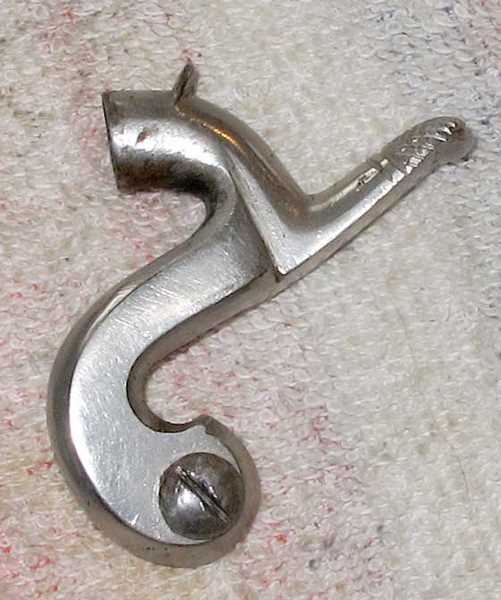 The hammer was sheared off the lock as neatly as if it had been properly removed.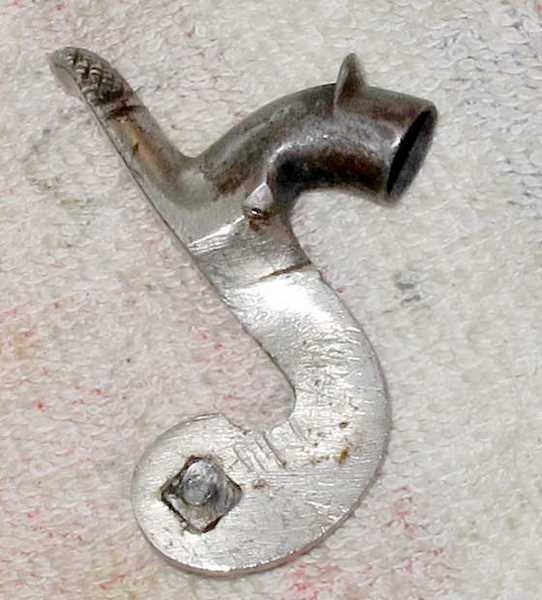 The flip side of the hammer shows the lug that was sheared.


See the part with the leg sticking out? That's the sear. It also has the lug that the hammer used to be connected to — or at least it is supposed to.
I disassembled the lock and looked at the sear carefully. Surely, it was made in two pieces because how did Lewis put a square lug on a complex sear otherwise? You know what? He cast the part in one piece. Out of steel. In 1850! They wouldn't have automobiles for half a century and here was this gunsmith in upstate New York making complex parts from cast steel! I thought Bill Ruger invented the casting of gun parts. (Just kidding. Please don't hit me with comments. I am aware that the lost wax casting process is very ancient.) But seriously, did you know that gunsmiths in 1850 were casting parts from steel? That's not the paradigm I've been given to believe.
And one thing was certain because of how the part was initially produced. It would either have to be welded or made entirely new. Otho's plan now sounded very good.
In November, I gave him the lock pieces and he began to study them. His task wasn't just to weld the lug, but also to maintain the correct orientation so the hammer would fire a percussion cap again. And that brought up the other thing — there was no nipple for the cap. It was blown off the gun and never found. And the threads in the hole where it was were completely stripped. Otho had an idea about that. Use a Heli-Coil. When I balked, he told me that a Heli-Coil is approved by the FAA for threading stripped holes. And the FAA is about as anal as they can be when it comes to parts' integrity and safety. So, I guessed it was okay.
He began welding small amounts at a time. Welding and welding, and then filing when he got close to the right dimensions. Then it was weld and file, weld and file. This went on until January. I think he finished the job while I was at the SHOT Show. Then he told me about his worry. He had been worried that the sear metal might vaporize as he welded, but that hadn't happened. So the steel was good. Now he was concerned that all the heat from welding had taken all the hardness out of the part.
He took the part to a knife-maker friend of ours to have it Rockwell tested. But the part was too odd-shaped and small to fit in this guy's tester. So, he drew a file across it and made a guess what kind of steel it was based on the date of manufacture and how it took the file. Then, he hardened it in his kiln until it was hard as glass. Next, Otho did a complex series of tempering heats that drew the hardness down to approximately Rockwell 38, which the knife-maker guessed was the hardness of the original part. Do you think this is too much guesswork? How do you think Nelson Lewis did it in 1850? He heated it on his forge until it glowed brightly enough, then quenched it in whatever oil he had (possibly sperm whale?), then he drew the temper the same way.

The hammer lug (the square projection standing up in this picture) has been restored to the sear. No, the lug isn't perfectly square. It's shaped exactly like the hole in the hammer. The hole for the hammer screw was even drilled off-center and threaded exactly like the original.
The proof of the pudding
Otho installed the Heli-Coil and a new nipple I gave him, then the both of us reassembled the rifle. He was very concerned about the hammer, so I test-fired just a percussion cap in my garage and everything was fine.
I went to the range to test the rifle with a full charge of powder and a correct bullet. First, I shot off another cap, to clear the path in the nipple. Then, I loaded about 20 grains of powder and tamped just a wad on top. That was fired okay, so now it was time to load the rifle for real.
I loaded the rifle the same way I'd loaded it before — with a patched round ball ahead of about 20 grains of 3F black powder. I tied a 10-foot cord to the trigger and carefully cocked the hammer. I pulled the trigger with the rifle sitting in the rest and it fired without incident.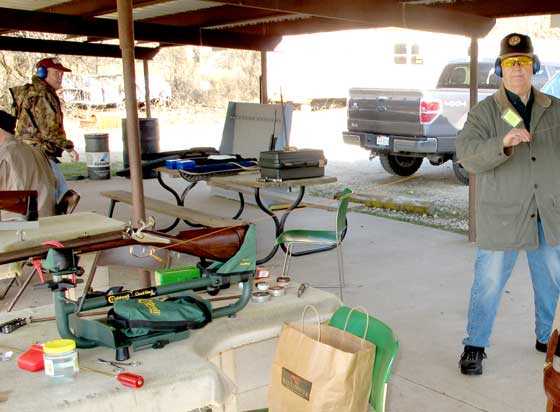 This shot was posed. I was 3 feet farther back when I fired the gun for real.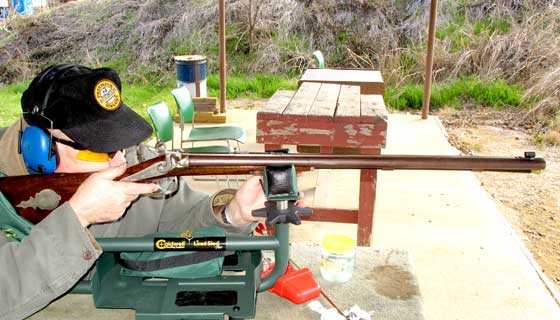 Once I knew the gun was safe, I shot it like I had before the accident.
Once the gun passed the test and I knew it was safe to shoot again, I settled down and shot a quick 5-shot group at 50 yards. It shot to the same point as before the accident and grouped about the same.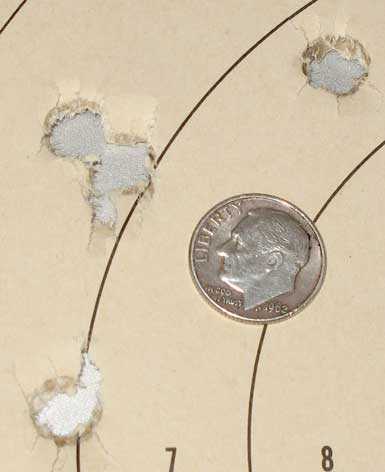 Five shots at 50 yards made this group. It's in the same place and the same size as before.
How does the gun look now?
I'm sure you're curious how the gun looks after this trauma. The fact is, apart from a small dent in the top of the pistol grip where the hammer spur hit the wood, you can't tell anything ever happened. I thank the Lord for my safety, and I thank Otho for being so skilled. I'm so fortunate to have my gun back and whole again.
No moral
There is no moral to this story. And I hope you readers are all smart enough to not need to learn anything from my misfortune.
I will continue to shoot the rifle, but not a lot. I think, given the circumstances, this rifle has done enough for me. It deserves a rest and, except for an occasional day or two, that's what I intend to give it.
by B.B. Pelletier
Announcement: Dave Cole is this week's winner of Pyramyd Air's Big Shot of the Week on their airgun facebook page. He'll receive a $50 Pyramyd Air gift card. Congratulations!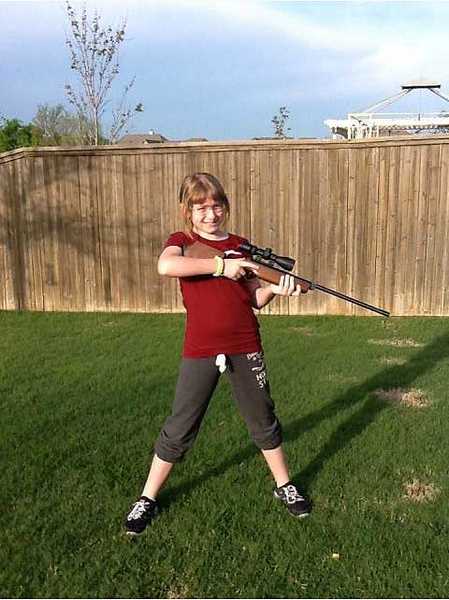 Dave Cole is this week's winner of Pyramyd Air's Big Shot of the Week contest on their airgun facebook page.

Nelson Lewis combination gun, made in Troy, NY, around 1850-1870. Rifle is .38 caliber; shotgun is 14 gauge.
Today, I'll show you the results of the last two outings with this unusual combination gun. Lessons have been learned.
Before we get to today's test report, I'd like to share a little more background on the gun's maker, Nelson Lewis of Troy, New York.
The big match
As readers of the internet, you're all aware that sometimes tempers flare and conversations become heated on the web. Would it surprise you to learn that this is nothing new? One hundred sixty-eight years ago there was a famous confrontation in the internet of that day — the newspaper — between Nelson Lewis and another noted gun maker, Morgan James of Utica, New York. Nelson Lewis had heard rumors that one or more of his fellow gun makers (presumably Morgan James, from the events that followed) had said he had not made the rifle he had used to beat a Mr. Williamson in a rifle match the September before. This was in the Feb. 18, 1854, edition of Spirit of the Times/A Chronicle of the Turf, Field Sports, Aquatics, Agriculture and the Stage, published in New York City. Lewis challenged whoever was spreading these rumors to put up or shut up.
Morgan James accepted the challenge, and the two men began a public correspondence in the newspaper that was not unlike what we see on the chat forums today.
Morgan James was also a famous rifle maker and a contemporary of Nelson Lewis. Like Lewis, he made long-range target rifles that were used by snipers in the Civil War. Many of James' long-range guns were so heavy they could only be shot from a bench rest that was included as part of their equipment. He was justifiably proud of the rifles he made, as well as his own marksmanship (as was Nelson Lewis); so when he read what Lewis accused him of, he attacked with a letter of his own to the editor of the cited publication.
To make a long story short, the two men exchanged challenges in the paper, and they finally agreed to shoot five each of their rifles against each other with each maker and one or more of his friends doing the shooting. One-hundred dollars was put up for each rifle in the contest, so each maker had five hundred dollars at stake.
Morgan James and his shooters won all five matches and Lewis paid him the money (I believe); but in the end, Lewis was a sore looser. He wrote a final letter to the editor, citing the fact that Morgan James' rifles were all heavier than his (15-18 pounds against 10-13 pounds) and of a larger caliber (.43 to .48 caliber compared to .36 to .38 caliber), plus James and his partner shot from a machine rest — but their rifles weren't clamped down, while Lewis and his shooters all shot from common shooting benches. And Morgan James had some sort of elaborate wind gauge on the range that was operated by a separate man who reported the wind to each shooter, so he didn't have to look at the flags. Lewis and his shooters used the common range flags that had always been used, and each shooter watched the one flag for himself.
From his report, Nelson Lewis seems to have been at a disadvantage, but why he didn't pin down the details of the contest beforehand with so much money at stake (approximately $13,500 in 2012 purchasing power) is a mystery. He certainly should have. He claimed he thought the match was to be with hunting rifles that could reasonably be carried afield, but the small calibers he chose are a real puzzle! Morgan James did nothing wrong except to try his best to win.
So things haven't changed, even though a century and a half has passed. Shooters still get hot under the collar and makers will do anything to defend their reputations. This is why I enjoy reading real history — because it shows that people don't change, even though their technology does.
Enough history. Let's go to the range.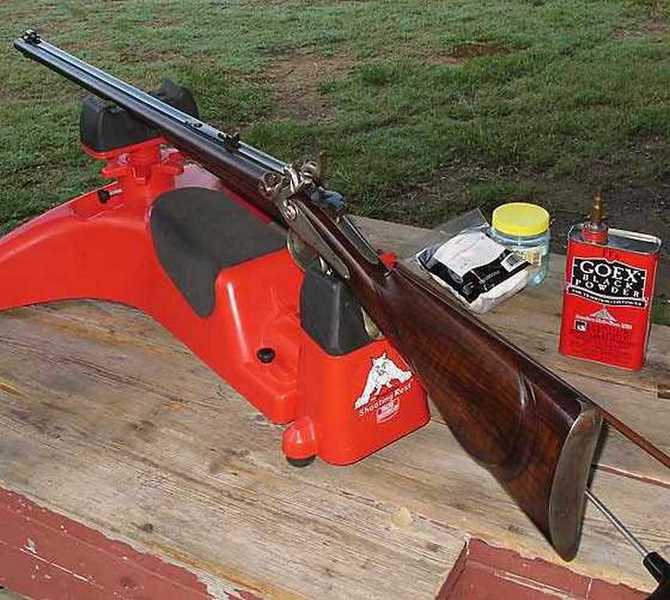 This time, the gun was ready for the range. The loading and cleaning procedures have been worked out.
Patch problem solved
The second time I took the Nelson Lewis gun to the range, I'd solved the patch problem. Instead of the too-thick patch material I had been using the first time out, I discovered that handkerchief linen from Ireland was both the correct thickness and also was tough enough to do the job in this rifle. I cut my patches by placing a nickel over the material and cutting around it. That gives me a patch of just the right size. And when the ball is seated, I can press it into the bore with my thumb — exactly as the old masters reported a century ago.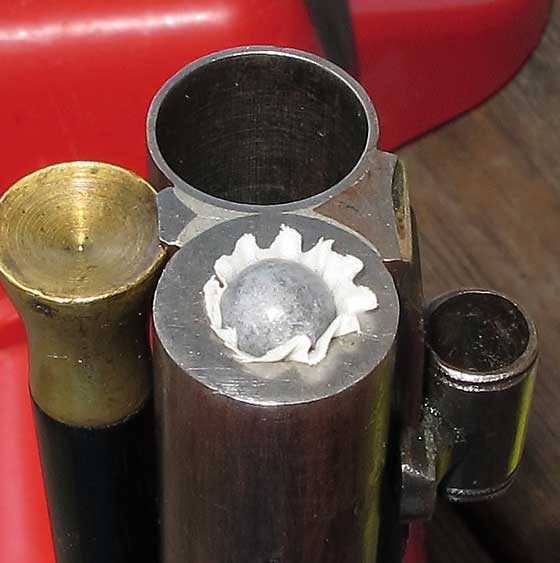 The thinner patches fit the balls perfectly, so they can be pressed into the muzzle with the thumb as the masters of old recommend.
The proof that this material works well is seen in the patches I recovered after shooting. They are textbook examples of what a good patch should look like.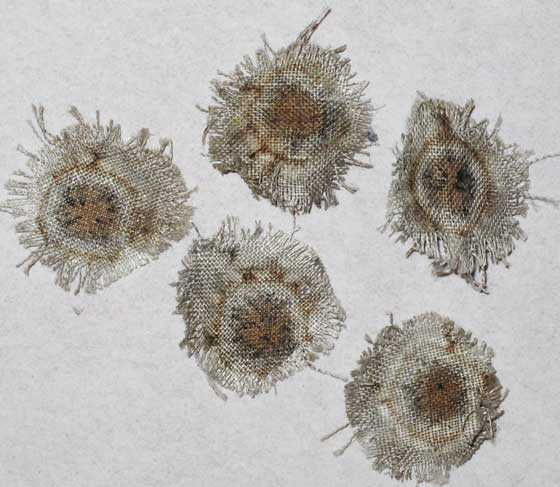 The fired patches look good. Irish handkerchief linen is strong, yet thin.
I also discovered that the powder charge could be increased a little with no detriment to accuracy. Now, the bullet gets downrange faster, which I can tell by listening to the sound of the ball striking the target at 50 yards. That may not be scientific, but it does work!
I also took the advice of Ned Roberts, who says to fill the powder measure to heaping, then wipe a straightedge across the top to level the powder. This gives a consistent amount of powder from shot to shot.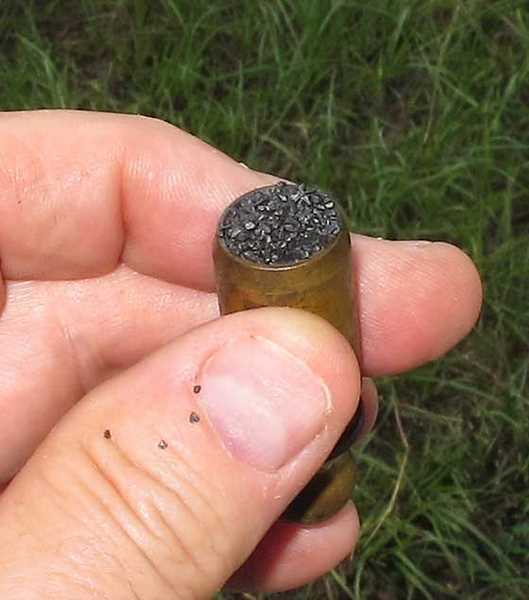 Fill the powder measure to heaping.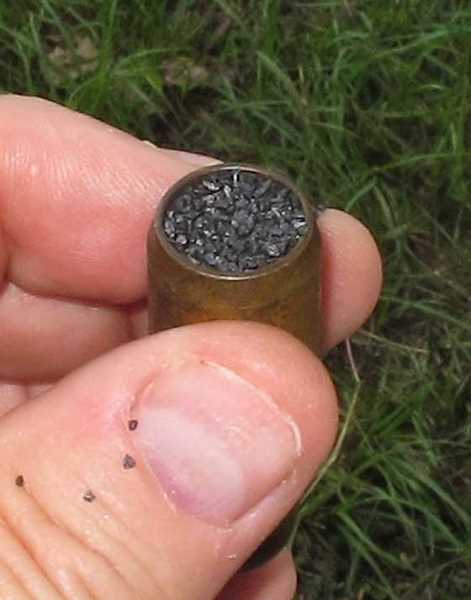 Then wipe a straightedge (like a knife blade) across the top of the measure to level the powder. This is called "stricken measure" in Ned Roberts' book.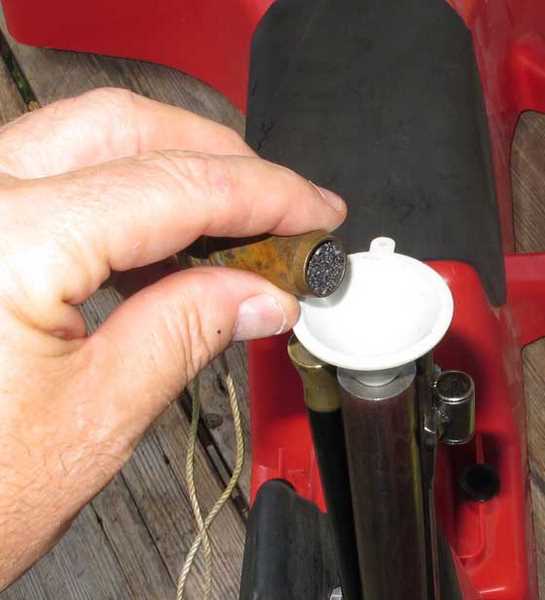 A tiny funnel Mac gave me is perfect for pouring the measured powder into the rifle barrel.
The new cleaning process
I clean the barrel after each shot. I did that the first time out, but I've added a few steps for a more thorough result. First, the bore is swabbed with a wet patch, followed by a brass brush, then another wet patch. These are followed by two dry patches that leave the bore sparkling clean and dry after every shot. It takes about three minutes to clean the bore this way, but that's nothing when you're shooting a muzzleloader.
The final thing I tried was patches lubricated both with grease and saliva. Grease is used for the patches of balls in hunting guns, where the ball will be in the barrel a long time. Saliva is supposed to give a slight edge in accuracy, but it dries out over time and also can promote rust in the bore — two good reasons why saliva is used only for target shooting.
I had high hopes that all these things would give me better groups than the first time out, but they didn't! Something was missing.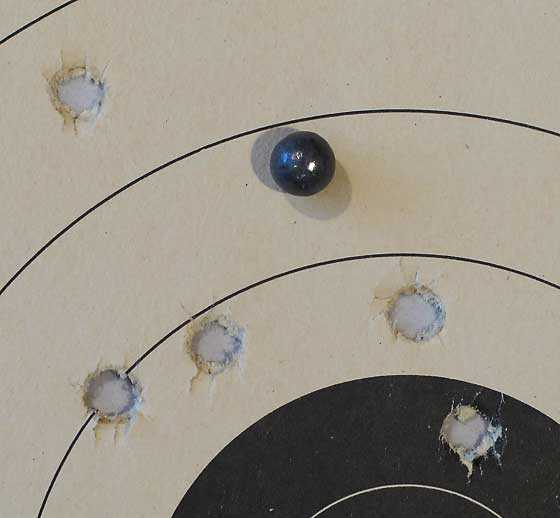 Group fired with greased patches on June 16. Fifty yards.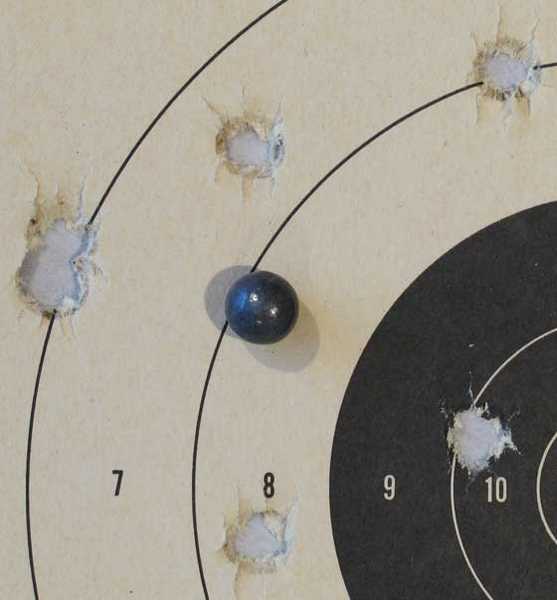 Group fired with saliva-wet patches on Jun 16. Also 50 yards. No improvement.
Mac suggested that since this is a combination gun, perhaps shooting it as often as once every five minutes was letting the rifle barrel heat up enough to warp against the cold shotgun barrel. If this is a meat gun, then shouldn't the first shot from a cold rifle be right on target? It was the best suggestion anyone had given me; so when I went to the range again this week, I did everything the same except that I waited 20-25 minutes between shots to give the gun plenty of time to cool off.
The first 4 shots went into the best group I'd seen to this point, but shot 5 went wild at 9 o'clock, ruining the group. I held as perfectly as I know how for all 5 shots, and I've held 5 shots in three-tenths of an inch with target sights at 50 yards this year with a .22 rimfire — so it's not me!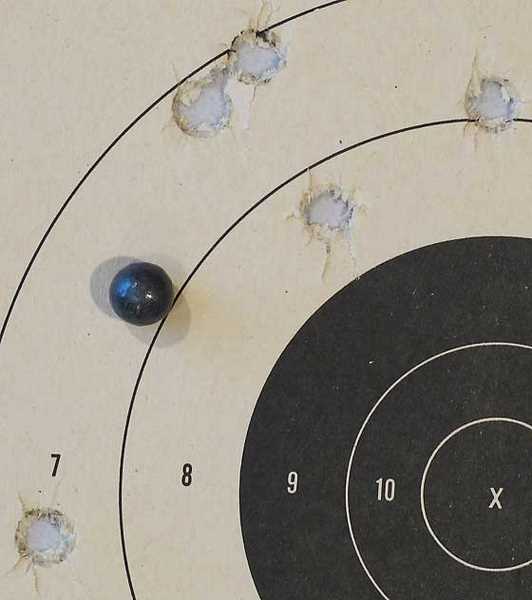 Group fired with saliva-wetted patches and waiting a minimum of 20 minutes between shots. Shot at 50 yards on July 12, 2012. Four close shots, but the fifth shot opened the group to the size of the others. So this is no real improvement.
I'm now thinking that the rifling twist in this gun (remember it has a gain twist) is too fast for round balls, and that the gun wants to shoot conical bullets. A patched picket bullet is what the rifle is supposed to shoot. I've avoided shooting the picket bullet that came with the rifle, because making them in the manual swaging dies is a lot of hard work. But now it seems I have to try something other than round balls. We'll see what happens next time!
Why am I doing this?
If you're a new reader of this blog, you must be wondering if I've lost my mind — reporting on a 150-year-old muzzle loading firearm in an airgun blog. Here's why I do it. Airguns don't hold a lot of secrets from me. I've been around them long enough to have gotten comfortable with them and their ways. I'm not saying that I know everything there is to know, but perhaps I have become too familiar with airguns to remember all those confusing steps that baffled me when I first encountered them.
This antique firearm, on the other hand, is as foreign to me as it is to you. I'm discovering how to shoot this gun successfully and letting you watch me while I do it, so maybe you can relate to the things that stump me. This old black powder gun puts you and me on equal footing as shooters. That's why I report on it — so you can watch me stumble around and get confused by the same things that are perhaps confusing to you.
I could just spout off a bunch of words that I read in some book and let you think I know what I'm talking about, but I prefer to do it this way. I know this approach bothers some people who wish I would just stick to airguns, but to my way of thinking, all shooting is interrelated. The more you know about all shooting subjects, the more you know about any specific subject. People who disregard black powder guns, for instance, lack a firm understanding of how pneumatics work because they're very similar. And a poor crown will harm the accuracy of a .223 as much as it will a .177 pellet rifle.
I try to limit these reports to a minimum, but I will continue to make them from time to time because I have to. They are in me, and they have to come out.
by B.B. Pelletier
Announcement: Adam Crowson is this week's winner of Pyramyd Air's Big Shot of the Week on their facebook page. He'll receive a $50 Pyramyd Air gift card. Congratulations!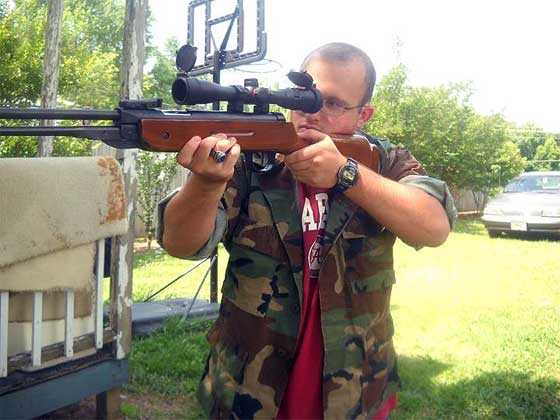 Adam Crowson is Pyramyd Air's Big Shot of the Week.

This Nelson Lewis combination gun was made in the mid-19th century. It's .38 caliber and 14 gauge.
A lot of readers have been waiting patiently for today's report. Although we're airgunners, we're shooters first, and many of us appreciate the similarities between pneumatic guns and those that use black powder. Today's subject gun was made about 150 years ago by a maker of some fame who made sniper rifles for use during the American Civil War. I've lived with this gun for several months now and have held it, admired it, considered it and wondered about it. And on Tuesday of last week, I took it to the range for its first outing.
On every TV show where old guns are shown, you're advised to seek the services of a gunsmith before firing any old gun. They're supposed to check the gun for safety. Last week, I discovered that I was the one performing that service on this piece.
While Mac was still visiting me several weeks ago, we pulled both locks out of the stock and examined them closely. They differ from each other only because one is for the right side and the other is for the left; but, in essence, they're the same lock. The inletting in the stock is so precise that the left lock has to be "buttoned" into position to get it back in! It fits into an undercut section of the stock and cannot be inserted straight into its slot. A bolt passes through the left lock, through the stock and into the right lock. When tightened, it pulls both locks together in a fit so tight that a razor blade cannot be inserted between the stock and either of the two lockplates.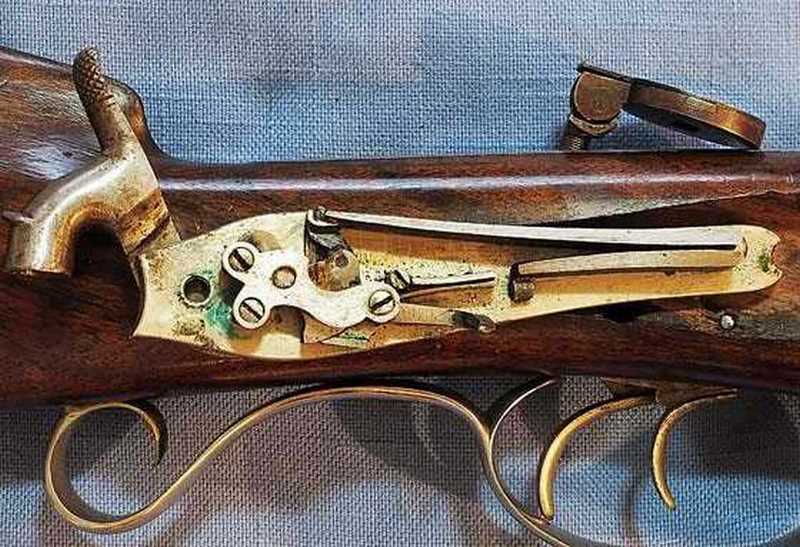 The locks are not complex, but they are made right and tight, which makes all the difference in the world. This is the right-hand shotgun lock.
The locks are back-action (meaning the hammer spring is located behind the tumbler, so the majority of the lock extends backward — rather than forward – from the hammer) and are remarkably simple in construction. Some file marks are still evident from the time each piece was fashioned by Lewis, who made all his own locks, triggers and barrels. For a short time, I was concerned about the gun having been "gunsmithed" because the rifle lock (operated by the rear trigger) fires with about 2 lbs. of pull and is glass-crisp. It feels too light for the gun, considering the hammer requires about 12 lbs. of effort to cock! But close examination under a 10x jeweler's loupe shows no evidence of any work other than Lewis' original job.
The rifle lock is on the left side of the gun, and the hammer on that side was a bit loose when I got it, so one of my gun buddies and I shimmed the square shaft on which the hammer rides with 0.0015″ shim stock. That took up all the play. Now there isn't a hint of movement.
I removed both nipples and was pleased to see what good condition they were in. Both have tiny flash holes at their bottoms, exactly like they're supposed to. Often, these holes will be enlarged from the hot gasses and cause greater pressure to flow back through the nipple and against the bottom of the hammer. They seem to be plated with platinum, which was a common touch on the finer guns of this period. The plating allows them to resist the erosive gasses of the gunpowder many times longer than plain steel. These are either original to the gun or are period replacements, and I would think at least the rifle nipple has to be a replacement.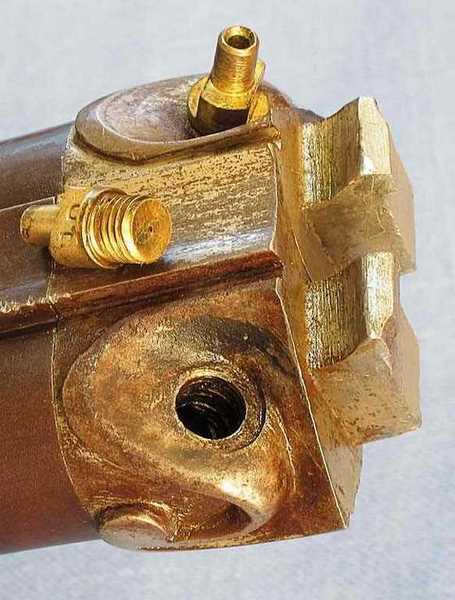 Here you see the bottom of the rifle barrel nipple. It's clearly in great condition despite its age. Notice that the breech plugs have been shaped into water drains, or "snails," as they're termed. They direct any water away from the nipples and also protect the barrel and lockplate from the erosive hot gasses that occur at firing. Much of the original nickel plating has been lost to these gasses.
I shined a powerful tactical flashlight down both nipple holes with the nipples removed to see down the barrels from the muzzle. Both were sparkling clean and shiny. The shotgun barrel, however, is not like any shotgun barrel of today. Instead of a mirror bore, this barrel still has tool marks, both horizontal and vertical, from when it was fashioned. You can see them in the photo of the muzzle in Part 1. I doubt there's any choke — I can't see evidence of one.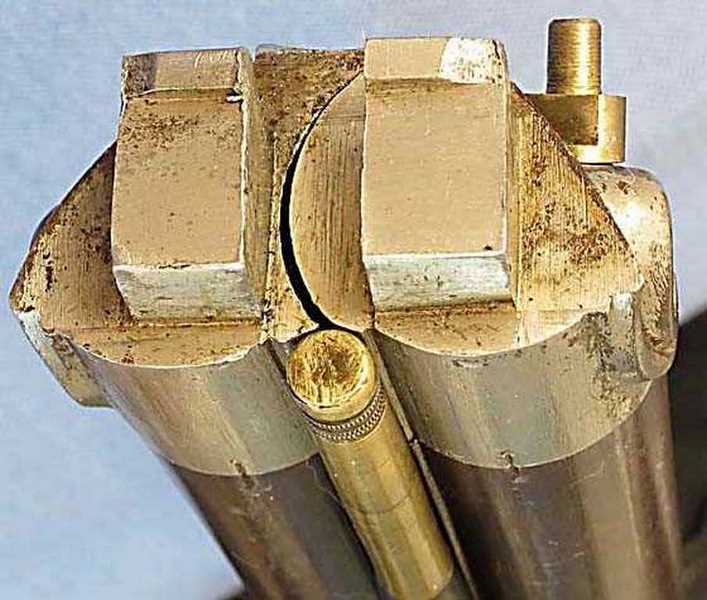 This photo is very revealing! Notice the graduated gap between the left and right breech plug? That's not sloppy work, it's intentional to provide clearance for when the plug shown right in this picture is unscrewed. Both nipples must be removed before the plugs come out. Notice the index marks that align the breech plugs with their barrels. They keep the nipples aligned with the hammers when the plugs are in place.
Then, I did some thinking about when this gun was made and what hunting was like at that time. This gun may have been made before the Civil War. Nelson Lewis made guns from 1843 into the 1880s at one location in Troy, New York. Internet research reveals that the building where he had his gun store and workshop is still standing on the corner of Congress and Church streets. Church Street is just an alley today, but Congress Street still exists, and his workshop has recently housed a small Greek sandwich shop.
It was a very different time
I can't prove exactly when this gun was made; but as a combination gun, it's very different from what we think of today. Let's use the Savage model 24 for comparison. The model 24 is a modern combination gun with a rifle barrel and a shotgun barrel — just like this Lewis gun. The 24 is superposed, where this Lewis gun is side-by-side, or a Cape gun as some would call it. But Nelson Lewis also made combination guns with superposed barrels. A Savage model 24 is a lightweight, handy gun that's useful for hunting all manner of game. The Lewis gun is also useful this way, but it's not light!
As I reported in Part 1, it weighs 9 lbs. It's decidedly muzzle-heavy and would not swing like a modern shotgun. But while thinking about the time period when it was used, it dawned on me that this gun may not have been designed to be used as a "handy" gun in the same terms we would think of today. It was handy because it fired both a single bullet and shot, of course, but I don't think it was made for shooting birds on the wing.
Hunters in America didn't always shoot birds on the wing back in 1850. They often shot them on the roost. In those days, game abounded and sportsmanship wasn't the same as it is today. In both England and the eastern U.S., there were men in small boats called punts, and they were shooting ducks by the hundreds on the water with a small cannon called a punt gun. Nobody thought anything of a lone hunter shooting a few ducks, geese and swans while they were on the ground or the water. Yes, I said swans. Why do you think they called it "swan shot"?
"Shooting flying" is the name given to the sport of wingshooting. The flintlock made it more feasible to shoot a flying bird than anything previous; and the percussion lock, with its instantaneous ignition, coupled with the general improvement in the power of gunpowder at about the same time (1830-1840), made shooting flying gain popularity. But a meat hunter, subsistence hunter or just a plain hunter, wasn't always interested in shooting as a sport. He was out to get food, plain and simple.
This Nelson Lewis combination gun is no more a subsistence gun than a Dodge Viper is a car for a soccer mom. Yes, it can do the job and yes, it seems to have all the necessary qualifications, but subsistence hunters can and do get along with a lot less. This is a fine sporting gun for the man who has the money to spend and wants something special. Just how special I will now discuss.
Nelson Lewis didn't make up many guns (if any) on speculation. They were nearly all made to order, because at the price a person had to pay, which was several months' wages for laborers, customers demanded exactly what they wanted. It's my belief that the customer who ordered this particular gun was reasonably well-to-do, and he was also a man with very specific tastes. I believe the gun, itself, shows us that.
I've now seen six or seven of these Nelson Lewis combination guns in various auctions and on websites, as well as in the book by Ned Roberts, The Muzzleloading Cap Lock Rifle. They're all similar in size, weight and caliber — with one exception. While more than half of the guns I've seen have the lollipop rear peep sight, mine is the only one so far that also has a hooded or globe front sight. That steel hood is there for just one purpose — to protect the thin post-and-bead "pinhead" target front sight — a sight that belongs on a target rifle.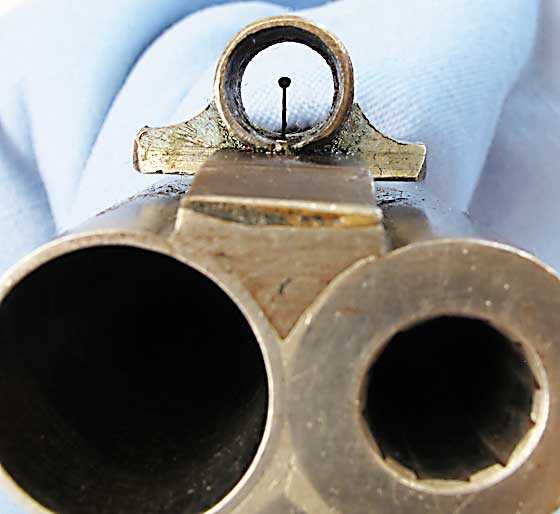 The tiny post-and-bead front sight was meant for the most precise aiming possible with iron sights in the Nelson Lewis combination gun's day. It seems out of place on a combination gun. Notice the beautiful condition of the rifle's bore at the muzzle!
Remember — this is a combination gun. A gun that is both a rifle and a shotgun. It's main purpose is for getting meat of all kinds. It's not a target rifle, because that would have just a single barrel, double-set triggers and probably a false muzzle for more careful loading of the bullet. It's not a shotgun, because that would be at least two pounds lighter and not muzzle-heavy. This is a meat gun — pure and simple.
So, why does it need target sights? Who puts a Lyman Super Targetspot scope on a Savage model 24? Yet, this Nelson Lewis combination gun from the mid-19th century has sights that belong on the finest target rifles of the day. Why? What about the gun requires such a precision sight, when it also has a traditional sporting rear sight mounted forward of the breech, between the barrels (see a picture of that sight in Part 1)?
These are all interesting topics to ponder, but they don't tell us anything about how the gun really works. For that, we've got to get real!
Let's shoot!
When I arrived at the 50-yard range last week, all these thoughts about the gun were rambling around inside my head. Did the owner want a meat gun that was also part target rifle? And, if so, how accurate would it be?
I was about to shoot a gun that was more than a little strange. And this could be the first time it's been fired in decades! So, as a continuance of my careful examination, the first thing I did was fire a cap on the nipple of the rifle barrel. There was a moment of panic when the caps from one manufacturer proved too small for the nipple; fortunately, the Remington No. 11 caps I had fit perfectly. I'd guessed that the No. 10 on the nipple meant the cap size, and it may well have been a size 10 of a century ago, but today a No. 11 cap fits.
After the cap fired successfully, I loaded a charge of powder into the barrel and tamped it down with a cloth wad. There was no bullet for this shot, as I was still testing the gun. That charge fired perfectly. After that, I did something I've never done before. I cleaned the bore with a damp cleaning patch, followed by two dry ones. According to many authors, this is the only way to do fine (accurate) shooting with black powder.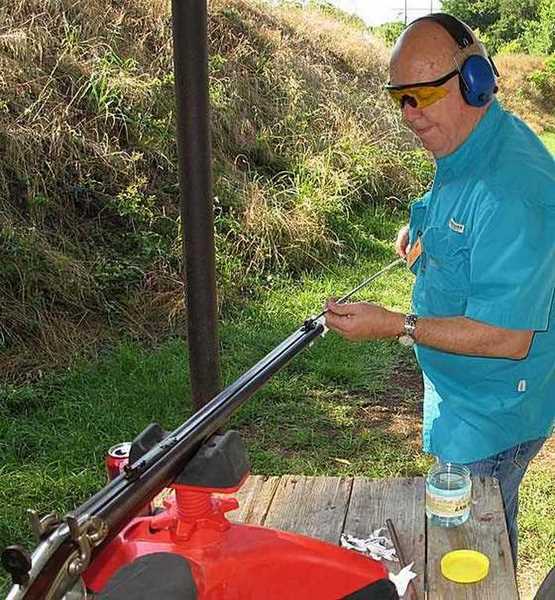 The bore was cleaned and dried after every shot. This practice was universal among target shooters in the 19th century.
Then it was time to load the first ball. For the record, I'm using fresh GOEX FFg powder. You may be wondering how I figured out the correct powder charge for this rifle. It was simple, really. I used an adjustable black powder measure and adjusted it to a little more powder than I use in my .32-caliber Thompson-Center rifle. How did I figure that powder charge? I guessed! Was I right? I seem to have been, because that rifle shot a nice tight 5-shot group at 50 yards its first time at the range.
Black powder works differently than smokeless. You don't have to weigh each charge. You measure black powder by volumeinstead of weight, and I have enough experience with black powder guns that I won't overload the gun. The problem may be that I load it too light, but that gets refined the more I shoot. I fill the powder measure to level full, and that's what goes into the gun. I discovered that I do need a funnel with a really tiny mouth to fit into the muzzle, but I improvised this day with a funnel made from paper.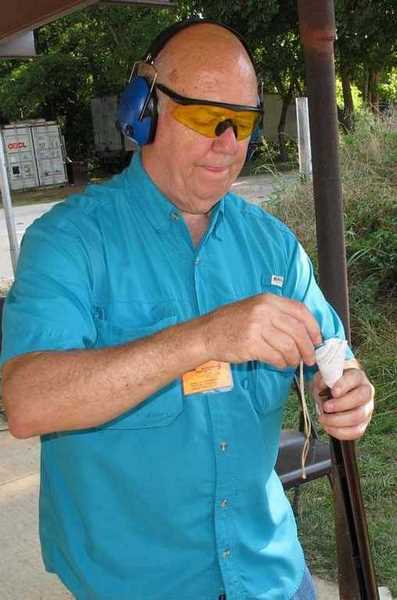 I used a paper funnel to drop the black powder down the bore of the rifle.
The first patch was laid over the muzzle, and a .375 swaged round ball was centered and pressed into the muzzle with my thumb. I could see this patch was going to be too large, and of course it was. When I started the ball down the barrel with the short starter, the patch closed over the top of the ball and then extended a quarter-inch above it as it was rammed down. That's way too much patch!

The ball is pressed into the muzzle in the center of a greased patch. This patch is way too big for this ball.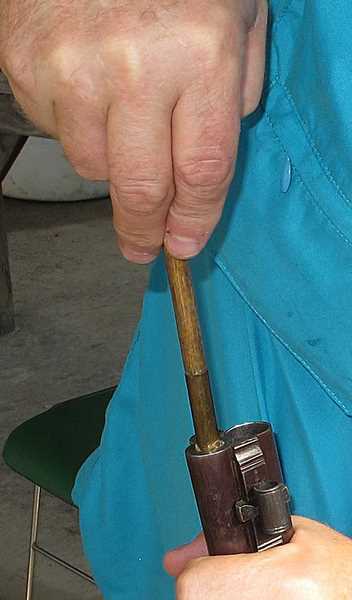 The short starter is used to start the ball down the bore. At this point, the patch material had bunched up around the ball and was fighting the loading effort.
This ball was difficult to ram down until the very end of its travel, at which point I was able to feel the ball settle against the powder charge. It's very important to always seat the ball on the powder with the same force, so this lessening of effort at the end of the ram was a providential thing. The last step in the loading process was to put a fresh percussion cap on the nipple. I then rested the gun in my rifle rest and settled in for the shot. Once I was comfortable, I pulled the hammer back to the full cock position, making the rifle ready to fire.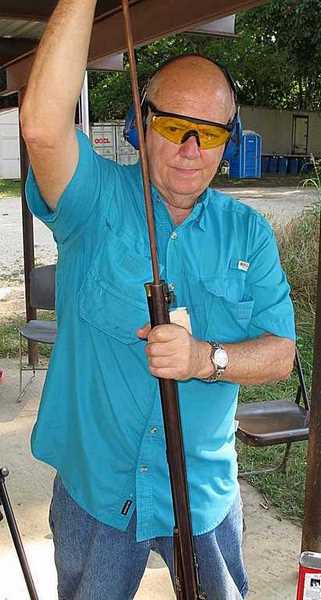 When ramming a ball down the bore it's very important that you purse your lips just right!
The trigger-pull was light and glass-crisp, as noted earlier. That first shot fired with authority. The report sounded sharp, as it should when properly loaded. The recoil was very light and not bothersome to my eye that was very close to the lollipop rear peep. Fortunately, this peep folds forward for storage, so if my shooting glasses contact it during recoil it will simply lay down. I have the same setup with my Ballard rifle that recoils harder, and I always push the rear sight forward a bit with every shot.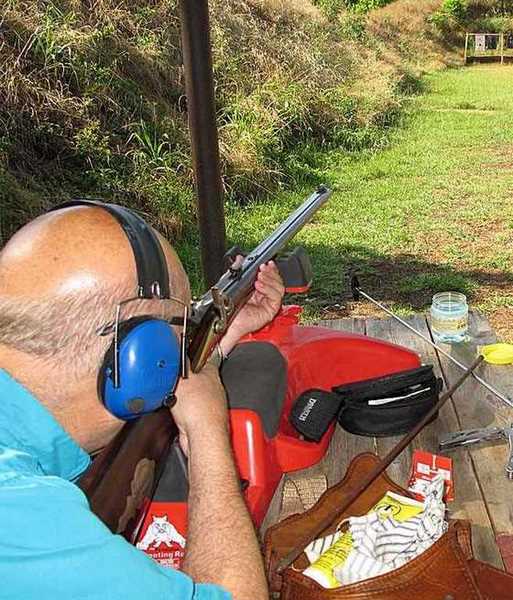 Getting set to touch one off.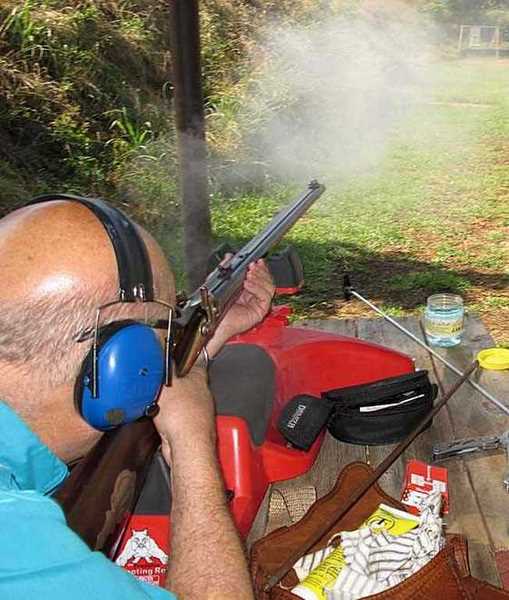 Crack! The shot is off.
I had envisioned the first shot going to the X-ring, but that's not what happened. Instead, the shot went wide at 10 o'clock in the 7 ring. Bummer! My thought was that the oversized patch was the culprit, but only more shooting would tell me for sure. Fortunately, I had a batch of smaller size patches with me as well, so I got them out for the next loading. But before that happened, the barrel needed to be cleaned.
The hammer was pulled back to half-cock, and a damp cleaning patch was run down the bore and back out with a satisfying hydraulic pop. This was followed by two dry cleaning patches, the second of which had very little dirt on it when it came out. Then, the rifle was loaded in exactly the same way as before, with the exception that the new smaller patch was used. This time, the ball started easier and rammed easier, though even this patch was still too large for the rifle. Now, before you point out the obvious and tell me that I could have cut the patches down, let me tell you that occurred to me on the range. But I didn't have any scissors, and a knife makes a poor patch cutter, unless you're cutting the patch right at the muzzle. I usually do cut off my patches at the muzzle with the patch knife that I had on the range this day, but that can leave scratches on the muzzle — which I don't mind on my Thompson-Center rifles but wouldn't think of doing to this vintage gun!
The second shot went to the 10 o'clock position at the edge of the black, cutting the nine ring. That was more like it! I then cleaned and loaded several more times until about the fifth shot. That patch also bunched up from being too large; again, I had a hard time ramming the ball. The shot went out to 7 o'clock in the 6-ring! This demonstrates the importance of a properly patched ball.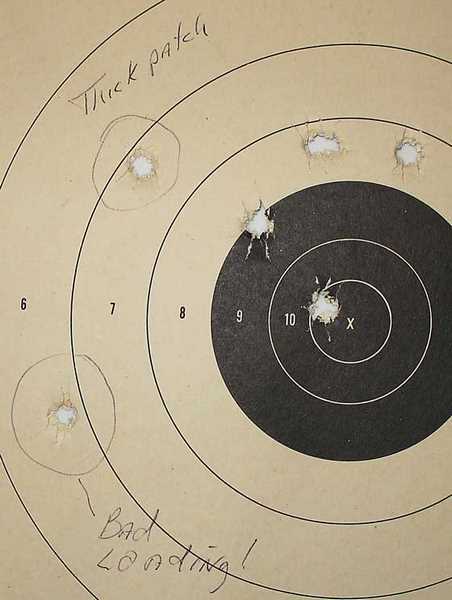 The first shot went high and left. Then I changed patches and they started landing in the center of the target, but high. Shot five was a thin patch that got bunched-up during loading and caused unnecessary pressure to ram it down. That shot went wide to the left and low. There are two balls in the same hole at the top center of the target.
I fired a total of seven shots in all, and two of them were fliers from patches that were too tight. The other five went into a group that measures 1.903 inches between the centers of the two shots farthest apart. Two of those shots are in the same hole and have to be examined closely to see that they're separate shots. Given the difficulties I had with the oversized patches, I think this first session went well. Of course, I'd hoped for better, but this was the first time and there was a lot to be learned.
Seven shots may not sound like a lot, but it took about 45 minutes with the loading, cleaning, picture-taking and lip-pursing. I did notice that I fell into a pattern as time went on; and by the fourth shot, I was loading them pretty much the same every time. Only that one shot (No. five with the patch that got stuck) got in the way of a perfect session.
Cleanup
When I returned home, I cleaned the rifle barrel by removing the barrels from the action and then removing the rifle barrel nipple. I stood the barrels in a shallow tub and poured boiling water down the muzzle of the rifled barrel. The water rushed out of the threaded nipple hole, carrying all the ash and soot with it. The boiling water left the barrels extremely hot, which made any residual water evaporate immediately. When the barrels cooled a bit (but were still very warm to the touch), I ran a clean patch with Ballistol through the bore. The outside of the breech and the nipple were both cleaned with a brass brush and assembled once the bore had been oiled. The barrel exteriors were wiped with a rag soaked in Ballistol.
Getting ready for next time
I ordered some Irish linen handkerchiefs off eBay to use as possible patch material. I thought they probably wouldn't arrive in time, so I cut down the smallest patches I used at the range this time by holding a nickel over them and trimming around the edges with sharp scissors and lightly oiled the patches with Ballistol. They're now roughly the same size as the two patches I found in the patch box when I got the rifle. I think the smaller amount of material will allow these patches to load more smoothly (as they are supposed to).
When the Irish linen handkerchiefs arrived, I have cut a strip of linen into nickel-sized patches that I've left dry (for the moment). I'll moisten them with saliva at the range. According to Ned Roberts (of .257 Roberts fame), that gives the absolute last bit of accuracy with a patched ball. That assumes the patches are of the right thickness, and this material seems very thin. We'll just have to wait and see. At any rate, I now have two different patches to try next time I'm out, and they're both sized correctly for the balls I'm shooting. A saliva-moistened patch is supposed to have a slight edge in accuracy over a greased or oiled patch. Since saliva can rust the barrel, this kind of patch is used only for target practice, where the gun will be fired and cleaned within minutes. For hunting, an oiled patch is better.
I have some specific goals for next time. One is to get a better-fitting patch so the ball doesn't have to be rammed so hard. It's essential for accuracy to always seat the bullet on the powder charge with the same pressure every time. You can do that best when you're pushing the ramrod down instead of ramming it. I now have patches of two different thicknesses to try, so we should see some results the next time out.
A second goal will be to weigh the powder charge I'm throwing and adjust it to what the vintage books say is the right load. Some of you may have noticed that in Part 1, I referred to the rifle as a .39 caliber, while in this report I'm calling it a .38. The ball I'm shooting is a Hornady swaged 0.375-inch round ball, and the patch does take up some space, so the caliber is just larger than .38. For that reason, I think it should more correctly be called a .38 caliber.
According to Roberts, a .38-caliber ball should use about a 35-40 grain charge, with 35 grains being closer to correct. I'll weigh the charge I was using the last time out and adjust the powder measure to throw the "right" charge, if necessary.
Why write about firearms?
I can't do too many of these firearms-only blogs; but since there's so much crossover between black powder and compressed-air guns, I feel that today's report contains several good lessons for all of us. Also, since I'm not that familiar with either this muzzleloading gun or with my Ballard, you get to watch over my shoulder as I try to learn something new. That's useful for any new airgunner who needs to do the same kinds of things I'm doing here to learn about his new airgun.
Have you noticed that I've not subscribed to any forums and asked other shooters what they think about this combination gun? That's because, in my research, I find that most people don't know very much about guns like this, so they make stuff up or they guess. The same holds true for airguns, doesn't it? Whenever I read a question from a new shooter about a gun he's just bought or hopes to buy, asking me what sort of modifications I think he should do to it, I shudder. I'm saying don't do anything at all until you have shot that gun enough to know it well. Then, you won't be tempted to make unnecessary changes that might not be reversible. That's the real lesson in today's report.
And, now, for something completely different…
In 1948, the  Johnson Indoor Target Gun sold for $15. That was a lot of money for an airgun in those days. What kind of powerplant did the Johnson have and what caliber was it? The answer will be in Monday's blog, but please feel free to leave your answer in the comments.
by B.B. Pelletier
Announcement: Chris Moreno is this week's winner of Pyramyd Air's Big Shot of the Week on their facebook page. He'll receive a $50 Pyramyd Air gift card. Congratulations!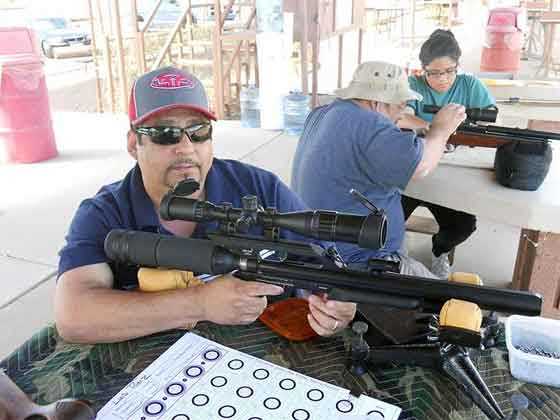 BSOTW winner Chris Moreno is shown with his first PCP.

This Nelson Lewis combination gun was made in the mid-19th century.
A little more than two years ago, I traveled to Maryland to see Mac and to help him drive back to Texas for the Malvern, Arkansas, airgun show. We visited a friend of ours who was loaning me some vintage photos to scan for articles. While there, we were admitted into his gun room, or as Mac and I refer to it — the Holy of Holies! This guy has collected odd and unusual guns all his life and, just like the Pawn Stars TV show, you never know what you're going to find. It was there that I found the airgun pogostick repeater that Vince is attempting to make operational.
But there was another gun in his collection that intrigued me, even though I didn't act on it right away. It was a combination gun made by Nelson Lewis, a well-known gun maker from Troy New York, who made muzzleloading guns from some time in the 1840s until at least the 1880s.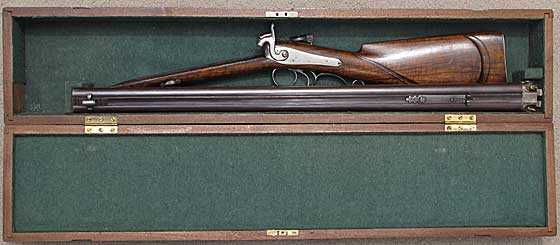 The gun came in its original oak case.
Lewis was a very prolific maker, and his guns still abound today. They're of fine workmanship but not the absolute top tier. As far as accuracy goes, an N. Lewis gun can hold its own at 40 rods (220 yards) with all but the very finest rifles; and as far as I'm concerned, there are only three in the top rung — Schalk, Warner and Pope. Nelson Lewis belongs on the next rung down with makers like Billinghurst, Perry, Brockway and others of equal fame. His guns are never finished as fine as those of Billinghurst, but they're equal in accuracy. They were among the first rifles selected for sniper duty in the American Civil War and made confirmed kills at ranges beyond 1,000 yards — surveyed distance.
The other kind of gun Lewis was noted for was the combination gun — with a rifle barrel on one side and a shotgun barrel on the other. That's the gun I saw in Maryland. What intrigued me wasn't the quality of the arm, though it's very fine, but the condition. This gun is still in its original box after 150+ years and is in NRA Antique fine condition. The patchbox contained two round patches of thin linen material, and Lewis was known for sending a sample of the proper patching material with his guns. I can't prove these patches are original to the gun, but they're appropriate to it.
When it was new a gun like this cost between $50 and 60, with engraving extra if you wanted it. For that you got the gun in a wooden case, a powder measure and a bullet swage. Lewis made this gun without the use of power tools. He had a local machinist make the parts requiring a lathe, and he made the barrels, locks and triggers. His son stocked the gun in finefigured walnut.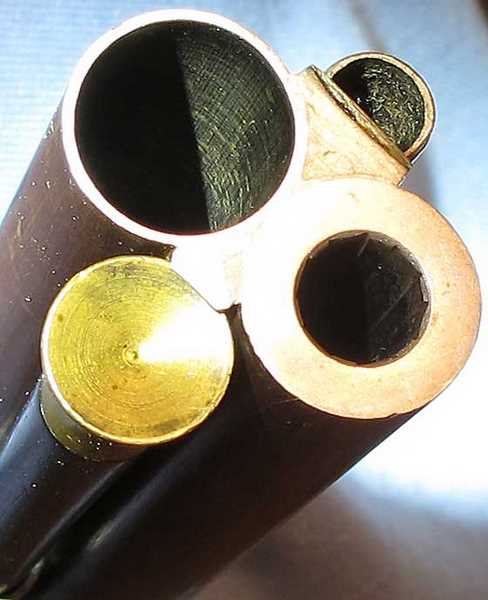 Look at the fine joining of the shotgun and rifle barrels.
Also packed with the gun are the original dies for swaging lead picket bullets for the rifle barrel. And there were two bullets in the box along with everything else.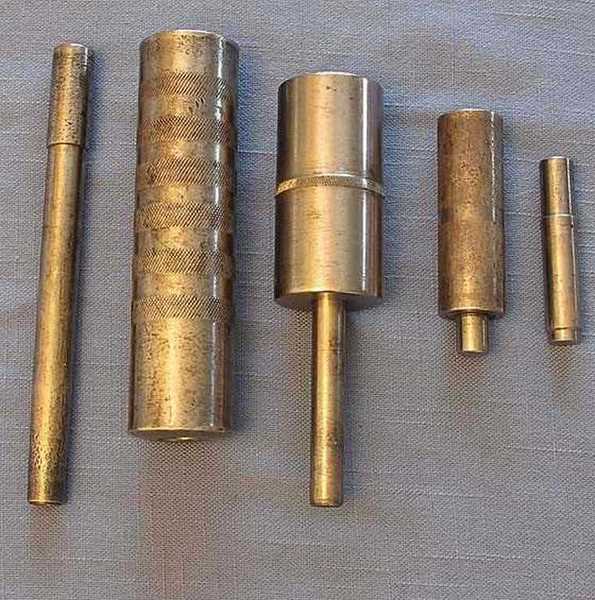 The swaging dies are also handmade by Lewis.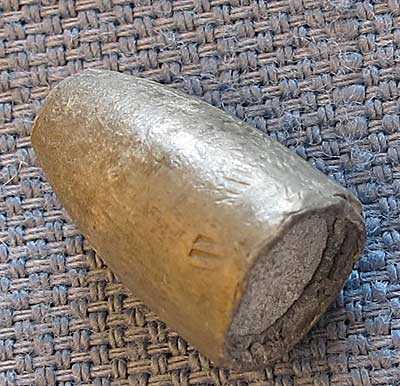 Picket bullet was the first elongated bullet that was popular. It lasted from about 1840 to 1880.
The box isn't a presentation type box. It's entirely functional, as though Mr. Lewis had shipped the gun yesterday and this is how it arrived. It's designed to hold the gun when it's broken down by removing one cross key and lifting the barreled action out of the stock. It has a patent breech with hooks that allow quick disassembly, so the gun can be transported safely to the hunting grounds.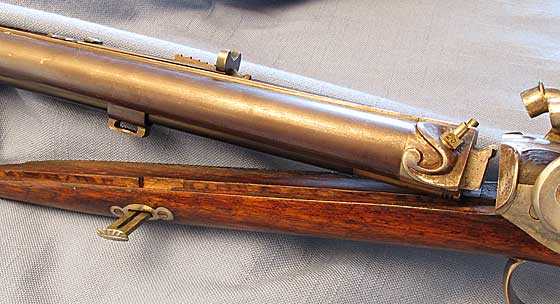 Drift out the one key, and the barreled action can be lifted out of the patent breech. Each barrel has a separate hook that locks into the breechplate.
The ramrod appears to be original to the gun, which is quite rare for two reasons. First, this gun was probably made in the 1860s or '70s. For anything wooden as thin as a hickory ramrod to have survived that long is remarkable. Second — a muzzleloading ramrod undergoes the most strenuous life you can imagine. Modern muzzleloaders almost always have fiberglass ramrods for this reason. Because this ramrod has lasted this long, we can surmise that this gun has been particularly well cared for.
The rifle barrel is .39 caliber and just under 28 inches long. We know that the six-grove rifling is cut with a gain twist because Nelson Lewis refused to cut any other kind of rifling. Because the picket bullet is a conical, it's heavier than a round ball, making the rifle appropriate for deer and even black bear hunting.
The shotgun barrel is 14 gauge and is probably without a choke, as they were not popular when this gun was made. Also, a blackpowder shotgun will throw a tighter pattern just by the nature of how it functions. What we have is a cylinder bore that's probably good out to 30-35 yards, depending on the game and shot size.
Sights
The gun has two different rear sights. On the tang is a lollipop peep sight that elevates by turning the disk on its threaded post. Halfway up the barrel is a sporting-type rear sight that can be used for a faster hunting situation. Sporting was the 19th century term for hunting.
The front sight has to be seen to be believed! The thin post is steel filed into the shape of a tiny post and bead. It's thin but strong, because the post is an I-beam with thickness front to rear. The sight is protected by a small steel globe.


Sporting (hunting) sight is adjustable for elevation. It is a semi-buckhorn.

Folding lollipop rear target sight adjusts for elevation by turning on its stem. Windage adjusts by loosening the screw and sliding the peephole sideways.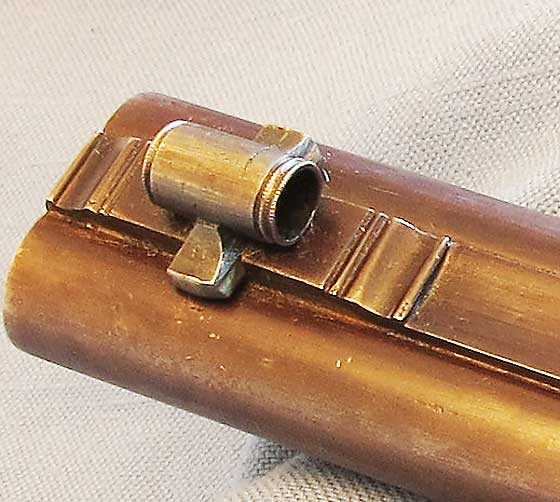 Front sight post and bead is protected by a small globe. Entire sight can be drifted to either side to correct for windage.
General characteristics
The gun is 44 inches long and weighs 9 lbs. Until I received it, I had never seen it together — but it fits together tightly with a cross key and a hooked or patent breech. Once the gun is together, you can't tell that it comes apart — it still fits that tightly.
The left barrel is the rifle barrel, and the right is the shotgun. There are no set triggers, but the rifle trigger (rear one) breaks at about 2 lbs. The rifle hammer is somewhat loose, indicating the rifle was used more than the shotgun.

Gun has a deep, crisp maker's mark, indicating it hasn't been refinished.
I found an oiled patch at the bottom of the shotgun barrel, which was considered the right way to store a gun in the 19th century. It had dried out and could have caused some rust if it had absorbed moisture from the air, so I removed it with the worm screw on the ramrod. The breech plugs are both removable, making both barrels accessible for cleaning. I plan to do that before long.
Both nipples appear new and would certainly have been replaced over a century and a half of use. If they were original, they would both show signs of pitting from the flame of thousands of percussion caps. One of them has the number 10 on it, so I'm guessing that's the correct cap size.
In the patch box on the right side of the butt, I found two cloth patches that appear to be the correct size. It will take a lot of experimentation before I discover the right bullet and load for this gun, to say nothing of the shotgun side; but initially I'll just be examining it for clues to its history!
This is an example of a fine hunting gun in very good condition from the 19th century. It shows lots of use, but the bores are clean and bright, and the action is tight and crisp, except for the hammer that was noted. It's a wonderful window on the past that's been preserved exactly as it was in its heyday.
Over the next few months, I'm going to get more familiar with this gun, in preparation to shooting it.
Ballard update
Some of you may be wondering what has become of my Ballard rifle. Well, my great idea of the special Hudson bullet didn't turn out as well as I'd hoped. Apparently, I spec'ed the bore diameter a thousandth too large for the mold-maker, and the bullets are too difficult to push into the rifling. I have a bullet seater that's supposed to work — and does with my smaller Lyman bullets that only go to 0.381 inches — but they don't fill the bore all the way.
I'm going to try a couple different things to fix this. First, I'm going to shoot the rifle with loaded ammunition, using a 0.379-inch bullet so it'll chamber and loading the cartridge with black powder to obturate the bullet. I'll have to wipe the bore after every shot, but that was the way most shooters did it when this rifle was new.
If I get the accuracy I hope for (10 shots in a half-inch at 100 yards and 10 in two inches at 200 yards), I may invest in another hand-made Hudson bullet mold. But the rifle will really have to shine before I'm going to do that.
I've also found a place that will fit double-set triggers to my gun without modifying the original parts in any way. The current 7-lb. trigger-pull is one aspect that is keeping me from shooting my best.
I should have an update on shooting the Ballard sometime soon.
by B.B. Pelletier
Announcement: William Davis is this week's winner of Pyramyd Air's Big Shot of the Week on their facebook page. He'll receive a $50 Pyramyd Air gift card! Congratulations!
Willliam Davis is this week's Big Shot of the Week. Here he's showing off his Crosman pistol with shoulder stock. He says he gets one-hole groups with it.
It's time to advance through the 20th century and look at open sights as they evolved. We now know that by the beginning of the 20th century almost everything that could be done to increase accuracy with open sights had already been done. There were a few nice touches that were added, but most of the hard work had already been done. But that didn't mean the gun makers were finished. There were always new embellishments that could be added. Yet, some of the sights that were most popular in the 20th century actually got their start in the 19th century.
Buckhorn rear sights
Buckhorn rear sights were actually popularized in the American West in the second half of the 19th century. But they became very trendy around the 1920s, and the trend lasted well into the late 1950s — past the time when they made any real difference to shooting and were more of an adornment that some shooters expected to see. Though they were originally mounted on single-shot muzzleloading rifles, they are perhaps best-known as the sights for Western-style lever guns.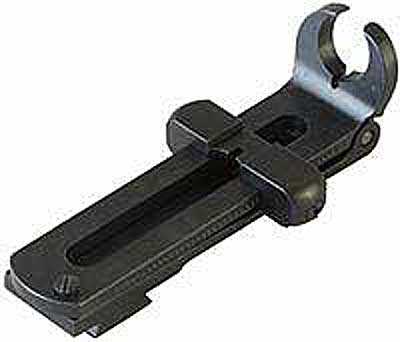 A buckhorn sight is very distinctive.
When you see a full buckhorn rear sight, you instinctively know it was created for some specific purpose, though there's very little literature that actually explains it. I'll now go out on a limb and explain the sight as I understand it.
A buckhorn rear sight is a ranging sight. What that means is that it's a sight that can quickly be "adjusted" to shoot at different ranges without touching the sight. All you do to change the distance is change the sight picture. There are three clear sighting options when you sight through a buckhorn. The sight is nearly always associated with a post-and-bead front sight; and when it isn't, I suspect someone has changed one of the two sights — either front or rear.
The bead can be held in the small notch at the bottom of the buckhorn for close shots. I would tell you that this is the 50-yard sight picture, but that would be misleading. On some guns, it might be exactly that, while on others the distance will be different. Suffice it to say this is the closest range at which the sight can be used without any adjustment.
When the muzzle is elevated until the front bead appears in the center of the hole described by the arms of the buckhorn (sort of like using a large peep sight), you have the middle range. Again, I can't tie this to a specific distance without referring to a specific gun. And when the muzzle is elevated so the bead is between the points of the horns at the top, you have the longest range at which the sight can be used without adjustment.
All three ranges are achieved without moving the rear sight — by simply elevating the front post in relation to the buckhorn. That's the purpose of the buckhorn sight as I understand it. If you have one on a 44/40, the three distances will be different than if you have one on a .22 rimfire. You should bear in mind that when the buckhorn was invented, men typically had just one rifle and they learned it well. It wouldn't take long to become accustomed to the ranges for which their own rifle was sighted.
Now for the bad news. Most riflemen dislike the buckhorn, finding it crude, obstructive and generally not useful. Townsend Whelen was very outspoken against it. And most shooters who own one simply use the lowest notch for sighting, so the extra capability goes to waste. But it looks very Western, hence my remark about it passing into the realm of a fad.
Semi-buckhorn
Worse than the buckhorn is the semi-buckhorn, which is neither fish nor fowl. It was even more common than the buckhornand appeared on most rimfire rifles of the 1940s and '50s because of its supposed popularity. It's not a ranging sight like the buckhorn — just a stylistic form that's supposed to look cool. It was popular at the same time the semi-beavertail forearm was considered necessary. Nobody asked shooters what they preferred. Companies just attached these sights to their guns and that was what you got– not unlike the fiberoptics of today.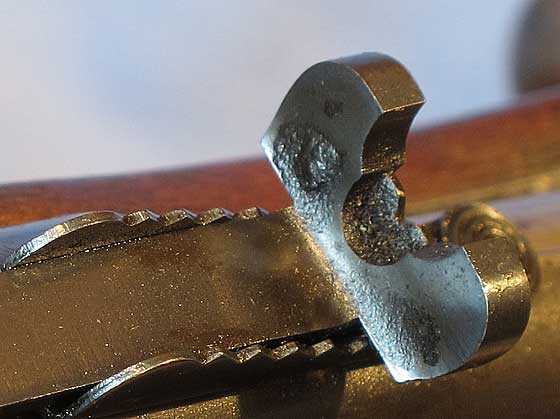 The semi-buckhorn rear sight is just a stylized rear notch with two long arms that add nothing to the functionality.
Fiberoptics
Fiberoptic sights have synthetic or glass tubes that collect light and transmit it to a point at the end of the tubes. The point is oriented toward the shooter's eye so the fiberoptic tube looks like a bright pinpoint of light. The object is to align the two rear sight dots with the front sight dot so the three appear to be in line. The front dot is usually red or orange and the rear dots are usually green.
It all sounds fine but for one thing. Red is the single color that's hardest to see for colorblind people, and approximately 14 percent of all men are colorblind in some way and to some degree. Red-green is the most common type of colorblindness. That doesn't mean these people can't see the colors red and green, but they have problems seeing all shades of those colors, as well as other colors that are similar. Traffic signals compensate for this by putting yellow into the red and blue into the green, but I've seen some fiberoptic tubes that were so dark that I couldn't tell what color they were. They are always red when that happens, by the way.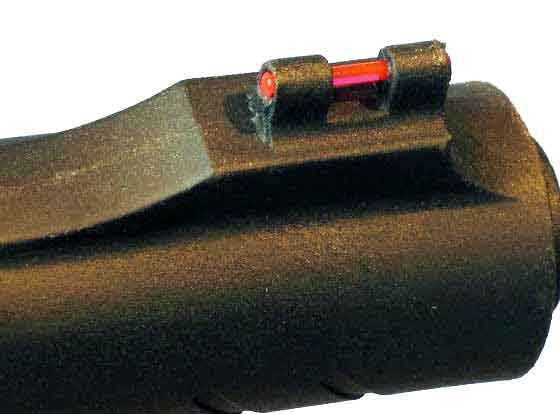 The typical fiberoptic front sight is a single red tube like this one from TruGlo.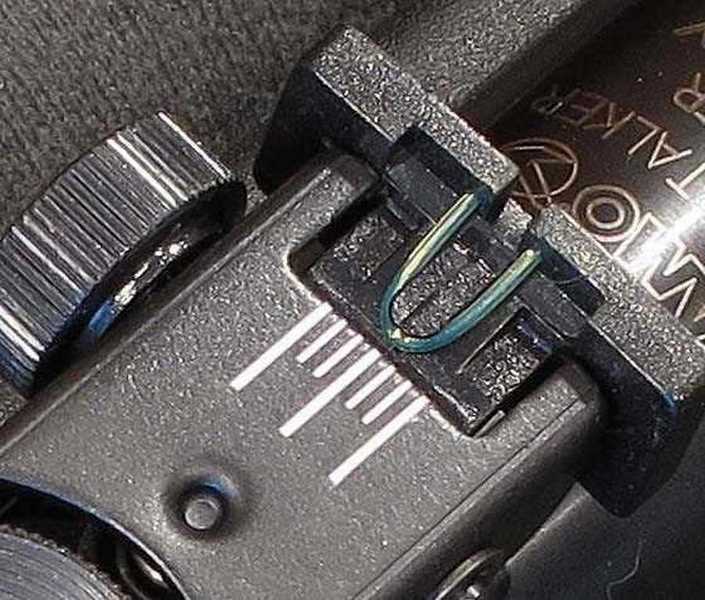 A common arrangement of a fiberoptic rear sight is to bend one tube so it appears to be two green dots like this one.
The other problem with fiberoptics is they're so large that they cover a large part of the target. So, aiming precision is lost when the shooter can't define the aim point any closer than several inches at 50 yards. Good open sights can go down much finer than that, and aperture target sights can go down to tiny fractions of an inch at the same 50 yards.
But many people seem to like fiberoptic sights, and they're now coming standard on everything, including handguns that they have no business being on. We'll either have to put up with them as long as the fad lasts or find alternative solutions.
There are still some sights we haven't looked at yet. One is an optical forerunner of today's battery-powered dot sight. And the ghost-ring sight is another more recent invention that I know very little about. If any readers are familiar with them, I would love to hear about them. I'll research them for the report, but I'm hoping the comments will shed more light on the subject — pun intended.
by B.B. Pelletier
This series began with the earliest sights that were both primitive and simplistic. Then, we looked at the evolution of peep sights, starting back before 1840 and progressing to around 1903.
There's a lot more to be said about both open and peep sights. It was at this point in time that they each began to develop along separate lines. I think I need to concentrate on one type of sight per report to keep things straight. In today's report, I'll look at open sights from around the middle of the 19th century until today.
Open sights evolved rapidly after the American Civil War, which ended in 1865. Not that all the innovation was done in the U.S., mind you, but that was a time when the world of firearms was advancing though technological stages, and the sights kept pace with everything. Other wars around the world at the same time drove the armies of many nations to push the limits of firearms; and we got smokeless gunpowder, fixed cartridges, breechloading arms and eventually repeating firearms from this era.
In 1850, a military firearm was loaded at the muzzle and carried but one shot. Repeaters at this time were novelties and even dangerous experiments because of the volatility of black powder. These single-shot martial arms were accurate to about 400 yards on man-sized targets.
In 1900, there were repeating firearms holding 10 self-contained cartridges filled with smokeless powder and spitzer (pointed) bullets that could shoot accurately to more than one mile distance. Most of the primary designs we use today had been invented.
I stopped discussing open sights when I started my look at peep sights; but even though the advances in open sights were not as great in terms of the improvements they contributed to accuracy, open sights did advance in parallel with peep sights.
Range-driven improvements
The old black powder arms were accurate; but because they shot their bullets so slowly, the trajectories were huge. Bullets dropped by many feet on their way to the target. We all like watching Matthew Quigley shoot his big Sharps rifle at distant targets, but how many people appreciate that his bullets are dropping by 60-80 FEET before they impact the target?
Enough fantasy. Let's get real for a moment. In 1874, the U.S. and Irish rifle teams shot a match at the Creedmoor range on Long Island to decide which nation had the world champion marksmen. They shot at targets at 800, 900 and 1,000 yards. At 1,000 yards, the bullets from the Americans' .45-caliber rifles dropped more than 100 feet. So, they had to set their sights to compensate for this tremendous drop. A 550-grain .45-caliber lead bullet starting out at 1,400 f.p.s. will drop 114.69 feet when it gets to 1,000 yards.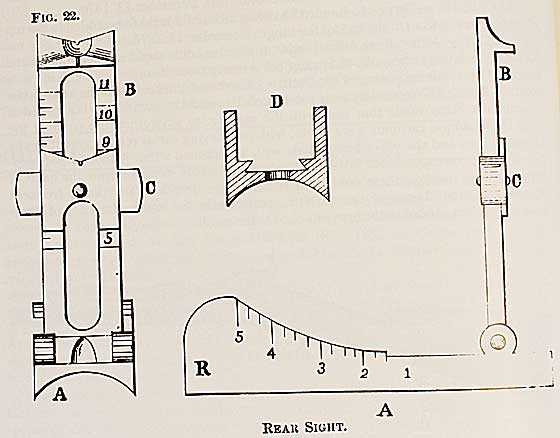 This model 1873 Springfield Trapdoor carbine rear sight (from 1878) is graduated to 500 yards on the ramp and to 1,100 yards on the upright standard. There's another sight at the top of the standard that's sighted even farther — perhaps 1,300 yards. Image copied from Trapdoor Springfield by M.D. (Bud) White and B.D. Ernst, copyright 1980, Beinfeld Publishing, Inc.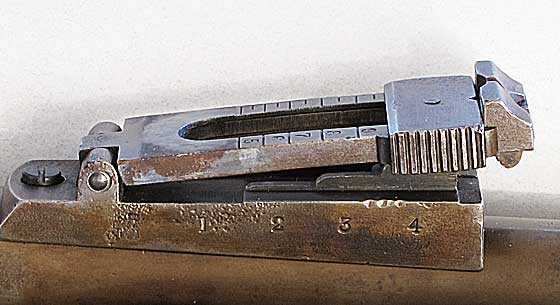 This 1879 Remington rolling block rear sight on an Argentine military rifle chambered for .43 Spanish (11.15 x 58R) is elevated to shoot 400 yards. By flipping the standard straight up, the rifle can shoot out to 900 yards accurately.
I mention this because airgunners everywhere are so willing to condemn the .22-caliber pellet for having a "rainbow trajectory." Folks, they don't know the meaning of that term! And this is the reason that I refuse to give up my fascination for firearms — because I often find remarkable parallels between them and airguns. But some shooters will watch Quigley and then opt for the fastest .177 they can buy, so their pellets don't drop too much at long range! To heck with that! Instead, take the time to learn where the pellets will drop and shoot the more accurate, heavier pellets. That's what Quigley did.
So, the military rear sights of the 1870s were long affairs that had inclined ramps to raise them up for long-range shots. By 1900, this had been taken to the absurd limits of 2,000-yards. Nobody could see that far on the battlefield to shoot accurately; but by this time, military leaders were espousing area fire and talked about "beaten zones" and "cones of fire." They were thinking of rifle bullets in a way similar to artillery shells, except they didn't explode, of course.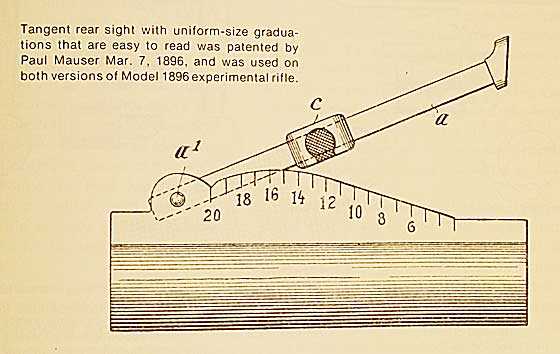 By the turn of the 20th century, military leaders were thinking in terms of 2,000 yards and indirect plunging fire, as this 1896 Mauser rear sight shows. Image copied from Mauser Bolt Rifle, Third Edition by Ludwig Olson, copyright 1976, E. Brownell & Son.
By the time World War I started, the theory of indirect rifle fire was at its height, though it was proven ineffective through actual battlefield experience. Soldiers were also trained to shoot at targets directly, which ended up being the direction that proved the most effective. But the theory did not die. It persisted until the start of World War II, and the weapons that were used continued to have rear sights that adjusted for 2,000-yard fire.
Countries were also experimenting with ammunition at this same time (1898-1915). As each new innovation hit the field, nations scrambled to adapt their weapons to more modern designs that shot farther and flatter. As a result of what they learned, the rear sights also changed to reflect the flatter trajectories.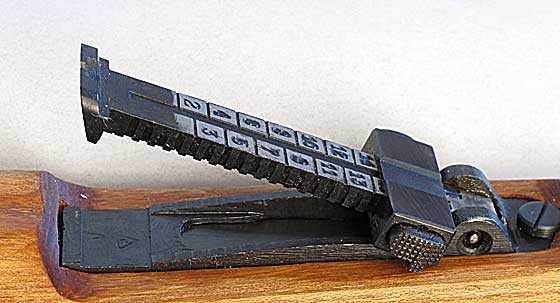 This model 1898 Mauser rear sight has been updated to reflect the more streamlined 8mm ammunition used during World War II. It's shown elevated for 2,000 yards, but looks just a little higher than the rolling block rear sight of 1879 that's set for 400 yards.
Of course, civilian arms kept pace with the military weapons in every way. Once the wars were over, the sights on civilian arms gained the same innovations that served the military so well; because they were sold to individuals instead of governments, they had to be more practical. No shooters wanted sights that were good for 2,000 yards — no matter what their military experience had been. So, the rear sights still elevated, but this time to more reasonable yardages.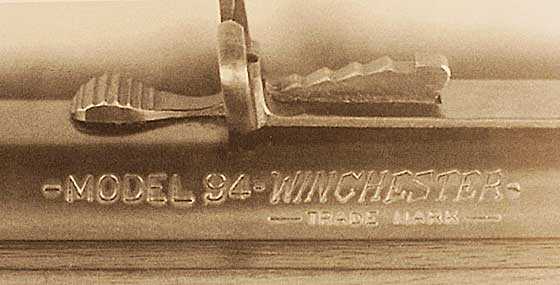 This Winchester model 94 rear sight is probably good out to 200 yards, or so (for the 30-30 round). Photo copied from Winchester Model 94 by Robert C. Renneberg, copyright 2009, Krause Publications, Inc.
And I would be remiss if I didn't mention the express sights that were popularized by African hunters from the 1870s through the 1920s. These are sights that flip up and are regulated for a single cartridge at a single range. The most common that I have seen are those for 100, 200 and 300 yards — but there are many other combinations.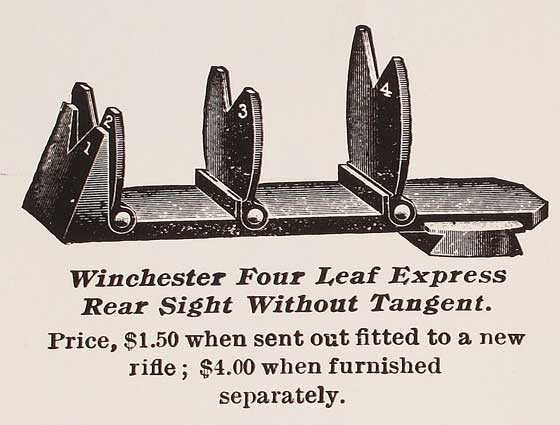 Winchester express rear sight has three flip-up blades for distances to 400 yards. Image copied from Winchester — An American Legend by R.L. Wilson, copyright 1991 by R.L.Wilson. Published in U.S.A. by Random House.
The express sight is a special adaptation of the earlier leaf rear sight that has two distances built in. Those go back as far as the 1850s. I showed you one on my 1867 gallery dart gun.

This rear sight from a gallery dart gun of 1867 could have been the inspiration for the express sights.
Well, that's it for this time. There's much more to say about open sights — mainly on the civilian side. We need to look at them, because airgun sights are directly related.
We'll also look further at peep sights because we haven't exhausted them, either. This series has at least a couple more parts to come.
by B.B. Pelletier
In Part 2, we learned that the peep sight has been around for a very long time. But following the American Civil War, the entire world became intensely interested in shooting for about 60 years, and target shooting was at the top of the list. World-champion target shooters were regarded like NASCAR drivers are today.
Because of all this interest, the common peep sights that were already at least 50 years old, and perhaps as old as a full century, started to change. By 1870, designers were innovating again. One of the most famous innovators, and the man whose designs are still impacting battle rifles 125 years later, was Col. Buffington of the Springfield Armory. In 1884, Springfield selected his sight for the U.S. .45-caliber, single-shot military rifle — the gun we call the Trapdoor.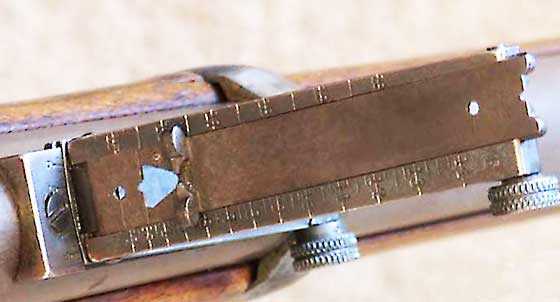 The Buffington rear sight is both a peep and several different open notches. It sits 10-12 inches from the eye, yet is easily used with practice. Adjustable for both windage and elevation, it increases the accuracy potential by sharpening the sight picture.
As far as I know, the Buffington sight is the first use of a peep sight on a rifle that was intended for all combat troops. It worked so well at ranges of 500 yards and beyond that the American Army used it on all versions of the Krag and the M1903 Springfield, as well. Even though the peephole is located 10-12 inches away from your eye, it still works with precision.
The U.S. Army was so satisfied with the peep sight that they put it on the O3A3 Springfield of WWII, the M1 Carbine, the Garand, the M14 and all models of the M16/M4. It's an easier sight to learn and far more precise than an open notch. Only in recent years have our Army and Marine Corps begun to experiment with optical sights, with the declination of the peep sight.
The refinement of the peep sight
But it wasn't the Buffington sight that brought peep sights to their highest level. It was a challenge in 1873 that came from the champion Irish rifle team to any team of riflemen the Americans could put together for the championship of the world. No one, including the Americans, thought the Irish would lose the match; but just shooting against them was such an honor that we put a team together, built a thousand-yard rifle range and two firearms companies — Sharps and Remington — each built long-range target rifles for the team members to shoot.
The Irish shot Rigby muzzleloaders that were considered the most accurate in the world. No one thought a breechloader had a chance against them. And Rigby, himself, was part of the Irish team!
Until the year of the match (1874), there were no peep sights with vernier scales in the U.S. The best anyone could do was adjust their sights by 1/200 of an inch. At close ranges out to a maximum of 300 yards, that's good enough; but when the distance is 800, 900 and 1,000 yards, the sight has to adjust in the thousandths of an inch. The way to do that was to add a vernier scale to the sight. So, both Sharps and Remington did exactly that.
A vernier scale is a scale of numbers that aligns with an index, making it possible for the naked eye to see measurements as small as one ten-thousandth of an inch, even though our eyes cannot actually see things that small. The vernier scale magnifies the final measurement for us through an ingenious scale of lines that are 10 times or 100 times larger than the measurement it's measuring.

This closeup shows the Ballard rear peep sight from 1876. This is a common short-range (up to 300 yards) rear sight that's adjustable to 1/100 of an inch, with care. There's no vernier scale on this sight, so it has to be read directly. There's a lot of interpolation required, and I have to use a jeweler's loupe to read it that close.

This is a vernier scale on a peep sight. The offset index marks on the small scale align with the sight index marks, but only one of them is aligned perfectly. This allows you to "see" measurements as small as 1/1000 of an inch.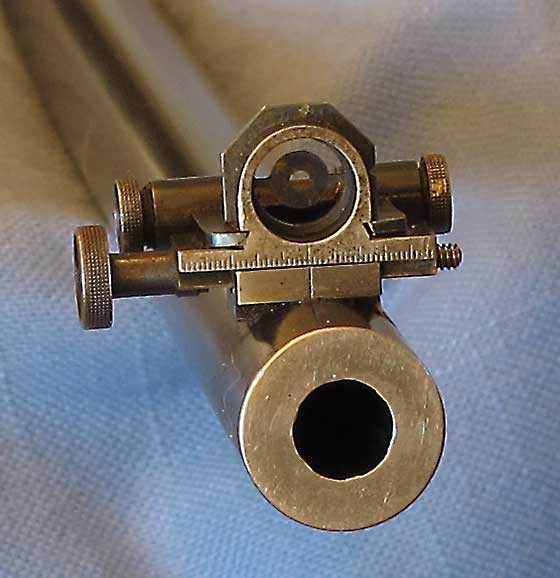 This Ballard front sight from 1876 uses an aperture! It was hand-filed to the correct size for the 20-rod (220 yard) bullseye target. It also works perfectly for a smaller 100-yard bull.
The results of the first international match at Creedmoor was a win for the U.S. team; but the score was extremely close, and the Irish team had fired one shot at the wrong target — losing the score. As far as the world was concerned, the match proved nothing about the superiority of muzzleloaders or breechloaders. However, the next year the U.S. won again in England, and this time the score was more conclusive. The breechloader had finally arrived on the target scene, and peep sights were accepted, though most shooters were using scopes if the rules allowed it. And the day of the precision peep sight with a vernier scale had finally arrived.
The American shooters positioned their rear sights on the heel of the butt, giving them the maximum separation of the front and rear sight, but requiring the shooter to lay down with his feet toward the target and balance the muzzle on his shoes. This odd position was given the name Creedmoor — after the range — and has every since defined that style of prone shooting.
Bottom line
Not every nation adopted the peep sight, and some who were as well-regarded as the Americans (namely the Swiss), shot very well with the older post and notch. They used it right on up through the 1960s. The US, Canada and the UK stayed with the peep sight on their battle rifles because it was quicker to learn, faster to use in battle and more precise.
Notice, also, that target shooters were using front aperture sight elements in the 1870s! Until a few years ago, I thought front apertures were an invention of the 1970s, but they're at least a full century older. They came about because of changes from square targets to round targets around the mid-1870s.