Posts Tagged 'Blue Book of Airguns'
by Tom Gaylord, a.k.a. B.B. Pelletier
Neat fix for bulk-fill CO2 guns
Part 1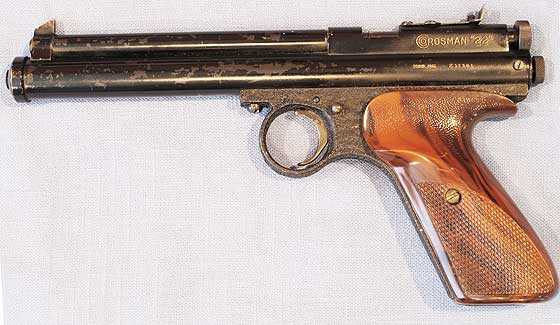 Crosman's 116 bulk-fill pistol is a .22-caliber single-shot pistol.
Today, we'll look at the velocity of the Crosman 116 .22-caliber bulk-fill CO2 pistol. A couple things will complicate this test. First is the fact that the pistol has adjustable power. I'll account for that with several power adjustments, but that isn't all that's going on.
The bulk-fill process is itself somewhat complex; because if the bulk tank doesn't have enough liquid CO2 in it, or if the tank and the gun are both warm, the fill will be less dense and will therefore produce fewer total shots. Let's look at the fill process before we examine the gun.
The bulk-fill process
Filling an airgun from a bulk tank requires that the filling tank has sufficient liquid CO2 inside to transfer the maximum amount possible to the gun. When I say the maximum amount possible, I mean what's maximum under safe operating conditions. It's possible to overfill a CO2 tank or gun and create a dangerous condition.
CO2 pressure is controlled by the ambient temperature rather than by compression. If you make the CO2 storage vessel volume smaller somehow, you don't compress the gas inside. Instead what happens is more of the gas condenses into liquid. It will continue to do so right up to the point that there's 100 percent liquid inside the tank.
While that sounds good, it isn't; because when the liquid inside the tank heats up, it tries to expand into gas again. As long as there's space inside the tank for the liquid to evaporate into gas, you're safe; but when the safety volume is filled, all the liquid CO2 can do is increase in pressure. It does so at an astounding rate, quickly developing over 10,000 pounds per square inch at temperatures that are still well within human tolerance. That's why tanks rated for CO2 storage contain safety burst disks to prevent the tank from becoming a dangerous bomb. It's also why several airgunners have been startled when their tanks' burst disks actually burst while stored in their cars on hot days. Once the burst disk ruptures, all gas is lost and the burst disk must be replaced before the tank can be used again.
These days, most airgunners get their bulk tanks filled at paintball stores; but in my day, they filled them at home. There were even larger bulk tanks of CO2, holding 20 pounds of liquid. They came from the food and beverage industry, or they were large fire extinguishers. I own 2 of these 20-lb. CO2 tanks that I use to fill my bulk CO2 tanks for guns.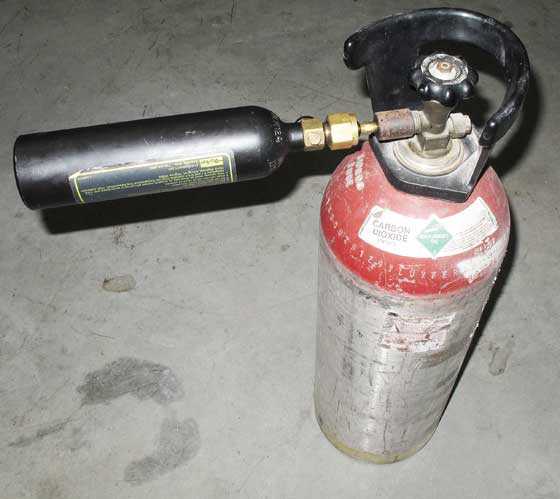 The 12-oz. paintball tank is coupled to the 20-lb. CO2 tank for filling. This big tank has a siphon tube, so only liquid escapes the valve when it's in the upright position. Couplings are custom made for this.
Once the smaller bulk tank has been filled, it's time to fill the gun. Remember, the object is to transfer as much liquid CO2 as possible for a dense fill. That doesn't give more power — it gives more shots. The CO2 controls the pressure, depending on the ambient temperature.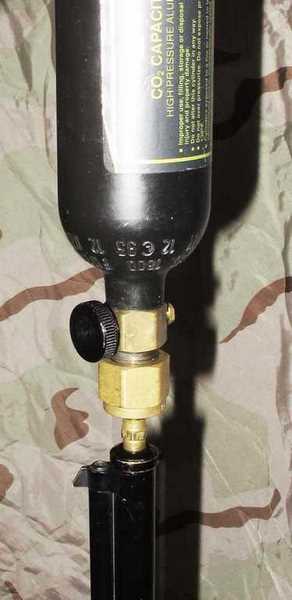 The 12-oz. paintball tank is then coupled to the CO2 gun like this. With the CO2 tank hanging down, the liquid in the tank is just behind the valve, where it will flow readily from the tank into the gun. This paintball tank has a special adapter with a wheel to control the opening of the valve.
Filling the gun takes just a few seconds. It actually makes a sound, and you can tell when it's full because the noise of the transfer stops abruptly. The outside of the gun may become cold and wet with condensation when the new CO2 inside evaporates to gas. As long as you do this transfer at room temperature, everything will be safe, for the liquid CO2 will evaporate and stop the fill before the gun accepts too much liquid. The gun is now full and ready to test.
Shot count
Because the pistol has adjustable power, I tested it on high power first. I found that there were 21 good powerful shots with the gun set on the highest power. Then, I adjusted it to medium power and finally to the lowest power. Medium power was very close to high power in all respects, but on the lowest power the total number of shots per fill increased to 32.
Crosman Premier
This is a Crosman gun, so Crosman Premier pellets sounded like the best place to begin. On high power, they averaged 390 f.p.s. The range went from a low of 384 to a high of 409 f.p.s. At the average velocity, this pellet generates 4.83 foot-pounds at the muzzle.
On medium power, they weren't much slower — averaging 386 f.p.s. But on low power, they averaged 331 f.p.s. for an average 3.48 foot-pounds of energy.
RWS Hobbys
Next, I tried RWS Hobby pellets. In .22 caliber, these weigh 11.9 grains and average 423 f.p.s. in the test pistol. That's a muzzle energy of 4.73 foot-pounds. The low was 413 f.p.s., and the high was 435 f.p.s. On medium power, Hobbys went an average 402 f.p.s.; and on the lowest power, they averaged 369 f.p.s. That's good for a muzzle energy of 3.60 foot-pounds. On low power, the low velocity was 355; and the high was 383 f.p.s.
RWS Superdomes
The last pellet I tried was the RWS Superdome. This pellet weighs 14.5-grains in .22 caliber and is a favorite among many airgunners for all 3 powerplants. On high power, Superdomes averaged 376 f.p.s. The low was 362, and the high was 391 f.p.s. At the average velocity, Superdomes generated 4.55 foot-pounds. On medium power, they averaged 367 f.p.s.; and on low power, they averaged 345 f.p.s. On low power, the low velocity was 341, and the high was 348 f.p.s. At the average velocity, they generated 3.83 foot-pounds of muzzle energy.
Trigger-pull
The trigger-pull on the test pistol measures 4 lbs., 2 oz. That's a little heavy, but it's very crisp, so it's going to be okay for target work. There are no provisions for adjustment on this trigger; so if I want to change the pull, I have to do some gunsmithing.
Odd note
I noted that when the gun was fully charged, the velocity always started lower and climbed into the good range — just like a precharged gun that's overfilled. On the lowest power, the gun sometimes failed to discharge. CO2 guns aren't supposed to do that, so I assume either the valve return-spring has weakened over the past 60 years, or someone has been inside the valve and changed things. Either way, that's a good reason for an overhaul. The transmission sealer worked and now so does the gun; but it doesn't work exactly as it should. That's also probably why the number of shots per fill was lower than expected.
Overall evaluation
To what can I compare this air pistol? How about to a Crosman 2240, which is also a .22-caliber single shot but runs on 12-gram CO2 cartridges, but in many other ways is like the test pistol? The 2240 has a 7.5-inch barrel, so it's a little faster than this 116 with a 6-inch barrel (Premiers averaging 448 f.p.s. to the 116′s 390 f.p.s.). Its sights are fully adjustable. The grip, while a bit larger, feels very much the same. So, if a 116 and bulk-filling aren't in your future, know that there's a good alternative.
I do think the test pistol is shooting a little slow for a 116. Maybe it would be best to get it overhauled to see what one in top condition can do
by Tom Gaylord, a.k.a. B.B. Pelletier
Neat fix for bulk-fill CO2 guns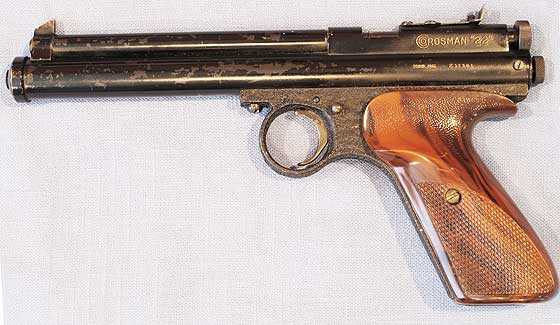 Crosman's 116 bulk-fill pistol is a .22-caliber single-shot pistol with power and accuracy that surpasses many of today's air pistols.
Before we start, a word on the "fix" for CO2 guns that Dennis Quackenbush gave me. Some folks are concerned that this will ruin the guns it's put into. Well, it will soften the seals, and eventually those seals will dissolve into a jelly-like material that won't seal the gun. How fast that happens depends on how much of the automatic transmission sealer you use. But here's my thinking. The gun already doesn't work. If this restores it to operation for a few years, or even for only a few more months, that's more than you have now. In the end, you may need to replace all the seals anyway, but that was what you faced when you decided to do this. No permanent harm has been done. And you got some use from a gun that needed seals.
Don't add the sealant if you don't want to — that's always your decision to make. But some of you are glad to know that there's a quick, cheap way to fix many of these guns right now.
For those who are paying attention, we've actually reported on the 116 in the past. One of these is a blog that I did, and the other is a guest blog by blog reader Paul Hudson. Today's blog is just the beginning of a traditional 3-part report, so we'll be looking at this gun in greater detail.
History of bulk-fill CO2 guns
Carbon dioxide guns descended from pneumatic guns in the 1870s, when Paul Giffard first started building and selling his 4.5mm, 6mm and 8mm gas guns for the public. They were based on the Giffard multi-pump pneumatics that had been around for 20 years, but these new guns offered something the older pneumatics didn't. They could be fired many times from one charged tank of gas. When the tank was finally depleted, it had to be returned to a filling station, which was hopefully located in the same country as the gun! That inconvenience overpowered the novelty of the guns that fired without gunpowder, and they did not last very long.

Giffard gas pistols can be restored to work today — 130+ years after they were made!
Crosman started experimenting with building and selling entire commercial shooting galleries for the public in the early 1930s, and they chose gas guns for these galleries. Each rifle, designated the model 117, was tethered to a large tank of CO2 (that was essentially a fire extinguisher) located inside the gallery, and they must have gotten tens of thousands of shots from one tank.
After World War II, Crosman redesigned the model 117 into a rifle that used a self-contained 12-gram CO2 cartridge, and they designated it the model 118. Perhaps a number of unsold model 117 rifles were rebuilt into model 118 rifles and sold to the public because 117 airguns are extremely rare today. Model 118 air rifles, in contrast, do exist in numbers large enough for many collectors to have them.
But these aren't the guns we're looking at in this report. We're looking at guns like the model 111 (.177 caliber) and 112 (.22 caliber) gas pistols that were filled from 10-oz. tanks of CO2. These started selling as early as 1950 and ended production in 1954, according to the Blue Book of Airguns. The 10-oz. tanks that filled them were designated as the model 110, though not very many people know it. These 2 pistols had 8-inch barrels and got as many as 70 shots per fill of gas. Of course, that depended a lot on the density of the fill, or how much liquid CO2 was put into the gun's reservoir.
Bulk-filling in brief
When you fill a gas gun from a bulk tank, the liquid CO2 inside the tank used for filling is under tremendous pressure from the gaseous CO2. Carbon dioxide has a vapor pressure of 853 psi at 70˚F. When it's forced as a liquid into a reservoir of any size, it evaporates instantly until the pressure inside the reservoir reaches the same pressure as is inside the tank that's doing the filling. This liquid will remain a liquid until the gas pressure in the tank drops, such as when filling another tank or a gun. Then, some of the liquid will flash to gas, boosting the pressure back up to whatever is dictated by the ambient temperature. So, CO2 is a gas that regulates its own pressure. Unfortunately, it's also a world-class refrigerant!
As CO2 liquid flashes to gas and expands, it takes a lot of heat from its surroundings. So much, in fact, that shooters run the risk of instant frostbite when a CO2 cartridge exhausts to the atmosphere. Because of this, CO2 will cool the gun in which it is used. As it cools, its vapor pressure drops. Guns that are fired fast in rapid succession will shed hundreds of feet per second of velocity. Many shooters think this is the CO2 bleeding off and losing pressure, but it's really just a reaction to the rapid change in temperature. Shoot the same gun slower, and the velocity will remain high and consistent much longer. That's true for all CO2 guns, whether powered by cartridges or bulk gas. Just for clarification, fast means as fast as you can pull the trigger, and slower means waiting at least 10 seconds between shots.
The 116
The 115 and 116 models are very similar to the models 111 and 112; except, instead of 8-inch barrels, both these pistols have 6-inch barrels. The Blue Book says they were introduced in 1951 and lasted until 1954, but what I think actually happened was all 4 pistols went away when the first model 150/157 came out. That was the first gun Crosman made that used a 12-gram CO2 cartridge. Their gas reservoirs, which are brass tubes under the barrel, are scaled to fit the shorter barrel, so of course they hold less gas. I've seen a .177 version of this pistol — the model 115 — get as many as 50 powerful shots on a fill, but I think 30 is a more realistic number. We'll test the 116 over a chronograph and figure out the actual performance data for ourselves.
All 4 pistols and the 2 rifles that were their companions (models 113 and 114 in .177 and .22 caliber, respectively) have adjustable power! That's right, they had adjustable power all the way way back in the early 1950s. A screw at the rear of the receiver is turned in to put more tension on the striker and thus give longer valve open time and more power. In that respect, these pistols function very much like modern PCPs.

Turn the lower knob in to increase the power — out to slow down the gun and get more shots per change. The upper knob is where you grab the bolt
The sights are also adjustable. The rear sight is a simple notch and the front sight is a tall squared-off post. The rear sight leaf slides from side to side in an oval slot with a lock screw holding it position. A second smaller headless screw provides a range of elevation.

The rear sight slides from side to side and also adjusts up and down.
If the grips appear similar to what you see today, they are! Crosman got it right the first time and really didn't change it that much over the decades and across the models. These grips come in 2 pieces that wrap around the grip frame, where today they're flatter panels that leave the frame showing through; but the overall shape and angle are very similar.
The finish is paint, which was completely expected and acceptable in the 1950s. The barreled action is painted with a gloss black paint and the grip frame is painted with a crackeled finish. Hobbyists can reproduce these finishes today, so it's not surprising to see an old gun that looks like new.
The barreled action is made mostly of brass tubing and parts, and the grip frame is made of pot metal. Small parts such as the trigger, sights, screws and power adjustment knobs are steel.
The grips are plastic, and the .22 models started out with reddish-brown grips, while the .177 models were sold with whitish grips that sometimes have thin lines of other colors running through them. Of course, you can find any color grips on a gun today because the grip frames are all identical and a lot of swapping has been done in the past 60 years. The grips are ambidextrous and only the crossbolt safety keeps the entire gun from being completely friendly to people favoring either hand.
The pistol has a conventional turnbolt that both cocks the striker and opens the breech to load a pellet. I call it conventional, but it will only seem so to someone who has seen a lot of 1930- to 1950s-era airguns. There's no bolt handle. Instead, you turn a knurled knob counterclockwise; and when it unlocks, pull it straight back until the sear catches the striker. Then, the pellet trough is open to load one pellet. Pushing the bolt back home and twisting it clockwise seats the pellet into the rifling and also aligns the gas transfer port with a hole in the bottom of the hollow bolt.
Trigger
If these pistols can be said to have a weak spot, it's the trigger. It's a thin blade acting on a direct sear that releases the striker. It can be easily gunsmithed to be a light release, as long as you appreciate that it may not always be safe that way. I've owned all 4 models of this pistol, and a 111 that was my first one had a very nice, light trigger. The trigger on this 116 is neither light nor especially crisp. It's better than a lot of modern pistol triggers but is only average for one of these older vintage guns.
Accuracy
I'll never forget the accuracy of my first 111 pistol. I actually thought it was almost as accurate as a 10-meter target pistol. At 10 meters, I had little difficulty keeping 10 shots on a nickel. But since I haven't shot this 116 yet, I have no idea where it'll be. I do know that Crosman called it a target pistol, and it's hard to argue that it isn't. I think you'll be surprised when I test it.
by Tom Gaylord, a.k.a. B.B. Pelletier

This Diana 25 smoothbore was made in World War II.
Today's blog falls under the heading, "It's not always a good idea to try everything." Back when we were exploring the Diana 25 smoothbore airgun, we saw how incredibly accurate it was with certain pellets at 10 meters.

This 10-shot group of JSB Exact RS pellets was shot at 10 meters. The extreme spread measures just 0.337 inches between centers! It made us all wonder just how accurate a smoothbore pellet gun can be.
When I backed up to 25 yards, however, the groups opened up to between 2.5 and 3+ inches for the same pellet. Obviously, the pellet needs to be stabilized by both the high drag of its diabolo shape and by the spin introduced by rifling. Drag, alone, is not enough to stabilize the pellet.
One reader then asked me to try shooting round lead balls in the gun. Today, I'll conduct that test for you.
Beeman Perfect Rounds
I shot Beeman Perfect Rounds, which are H&N Rundkugel but under the Beeman label. They weigh 7.7 grains, which is the weight of a medium-weight diabolo pellet.
The balls fit the Diana's breech quite well, though one was slightly larger than the others. But the rest would not drop into the breech and had to be seated with the thumb — just as a pellet would. They did seat easily, however, and I noticed the gun's powerplant seemed harsher than it is with pellets. I suspect the balls had less resistance than a pellet since they only touched the bore at their circumference, and there's no rifling to engrave them.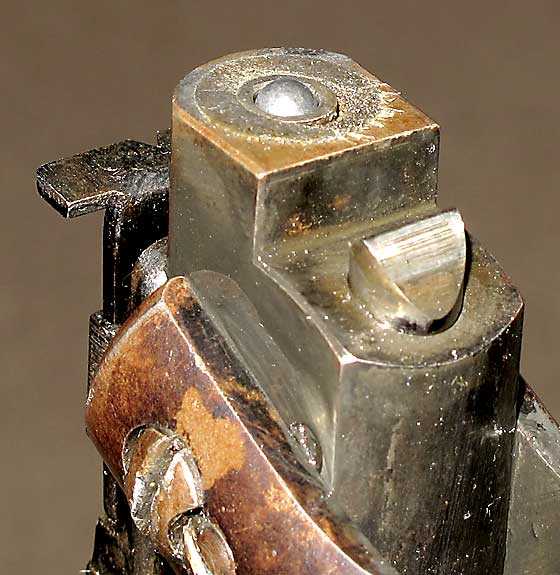 Except for one, each round ball fit the gun's breech very well. Most stopped like this and had to be gently pressed into the bore with the thumb.
Testing at 10 meters
I began the test at 10 meters, thinking the gun was accurate at that distance with diabolos, so it should be accurate with round balls. I'm sure the reader who asked me to test round balls must have thought the same thing. But when I fired the first shot and could not find the hole on the target paper, I stopped shooting. Fortunately there were no new holes in the wall!
I then moved up to 12 feet and shot again — this time standing and using the door jamb as a brace. The shots now went to the bull at which I was aiming. But the group is hardly worth celebrating. Ten shots went into 1.166 inches at this distance. I've shot many BB guns that could do so much better than this that it's embarrassing to consider.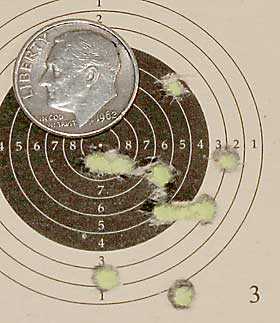 Ten shots from 12 feet did make a group on the target, but that's way too close for a gun like this! Group measures 1.166 inches between centers.
I guess the Diana 25 isn't made to shoot round balls. If there was any doubt before, I hope this clears it up. I didn't shoot any more groups because of how harsh the powerplant seemed to be. I didn't see any reason to strees the mechanism more than I already had.
Darts?
Shooting round balls got me thinking about other types of non-pellet projectiles, and of course darts came to mind. I decided not to try them in this gun,as the powerplant is too powerful for them. It would bury a dart deep in wood, causing its destruction upon extraction. But that did give me another idea.
I was recently asked to conduct a retest of a gun I tested some time ago. Apparently, a blog reader felt my results were not typical of the gun I tested, so he called the manufacturer and they contacted me. That gun in question is a smoothbore, as well, and it's a multi-pump, so the velocity can be controlled. I plan on testing darts when I test that gun for you.
by Tom Gaylord, a.k.a. B.B. Pelletier

This Diana 25 smoothbore was made in World War II.
One thing that I really like about this blog is the fact that it affords me the opportunity to test certain things thoroughly. In fact, it somewhat forces me to test them thoroughly; because as I test and write, I think about you readers and all the questions you'll have for me. So, I test to be able to tell you as much as I can about our mutual interests.
This Diana 25 smoothbore airgun that I'm reporting on today is one such subject. I get to work with a vintage airgun that's very enjoyable, plus I get to test how well diabolo pellets stabilize and how accurate they are when they don't spin. In turn, that reflects on the test of how the rifling twist rate affects accuracy.
I tested this airgun at 25 yards — a serious distance at which any and all airguns will show their true colors. And I used 10-shot groups, another tool in our growing bag of diagnostic accuracy tricks. Just one group can reveal significant findings, instead of five 5-shot groups or, worse yet, I shoot a bunch of 5-shot groups and show only the best one.
I was on the rifle range last week with a young man who was shooting a .257 Weatherby Magnum and trying to get it to group. He obviously knew what accuracy is because he wanted groups that measured under .75 inches at 100 yards. But he was shooting only 3-shot groups! That isn't enough shots to make more than a good guess about a rifle's potential accuracy. When I called him on it, he pointed out that he was pasting his targets to a backer at the same place every time, so all his shots would overlap on the backer as he changed targets. That told me he's afraid of shooting large groups in case he makes a mistake. I've been there and done that, too!
Today's test frankly frightened me, as I wasn't sure the gun was accurate enough to hit the pellet trap all the time. I decided to use the JSB Exact RS pellets that performed so well at 10 meters. I seated each pellet deep in the bore with the Air Venturi Pellet Pen and Pellet Seater because the 10-meter test showed that was the way the gun likes it best. Let's look at the two targets from that test before I continue.

The flush-seated JSB Exact RS pellets made a 10-meter group that measures 1.158 inches between centers.

The same pellets seated deep made this 0.337-inch group at 10 meters. It looks significantly smaller!
The test
The first shot at 25 yards did hit the target paper, but it was high and outside the bull. I checked it with a spotting scope immediately after shooting it. I also checked after the second shot, just to make sure it was also on the paper. It was, so after that I settled down and put 8 more shots into the target. In the end, they were all high and formed a group that measures 3.879 inches between the centers of the two widest shots. So that's what the gun seems to be capable of, but I wanted another 10-shot group, just to confirm it.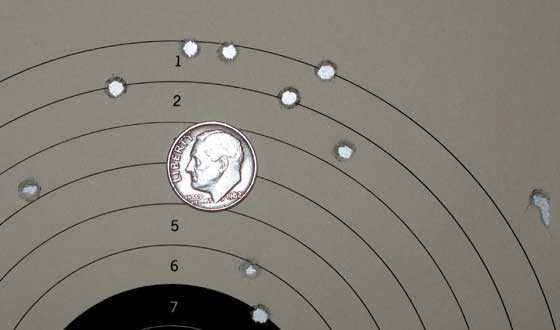 The first 25-yard group of deep-seated JSB Exact RS pellets measures 3.879 inches between centers.
I lowered the simple rear sight elevator for the second group and fired 10 more JSB Exact RS pellets. The first shot hit the target in the black, so I knew I was okay to complete the 10 shots without looking. At the end, I had 10 shots in a 3.168-inch group. As far as I was concerned, those two targets demonstrated the accuracy potential of this smoothbore pellet gun at 25 yards with deep-seated JSB Exact RS pellets. But something nagged at me.

The second group of deep-seated JSB Exact RS pellets measures 3.168 inches between centers. It's better than the first group, but it's in the same general neighborhood.
How much worse would this gun shoot pellets that were only seated flush with the breech — in other words, loaded in the normal way? I had to test it. Once more, I shot 10 shots at 25 yards. This time, I was really scared because it looked from the 10-meter test that these pellets might not all hit the paper. Would this group be over twice as large as the other two — like the 10-meter group was? But the first shot went into the bull and the second one landed very close, so I calmed down and shot the other 8 shots without looking again. In the end, I had a 10-shot group that measures 2.421 inches between centers — the smallest group yet at 25 yards!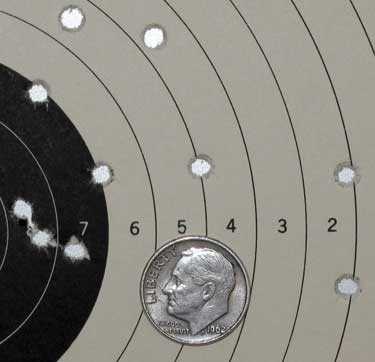 The first group of flush-seated pellets measures 2.421 inches between centers — the best group of the test!
What had happened? The gun was shooting more accurately at 25 yards with pellets seated flush, when it had clearly shot deep-seated pellets best at 10 meters? Not knowing what else to do, I shot a second group with the pellets seated flush. This time the group was larger, but at 2.957 inches it's still the second-best group of the test.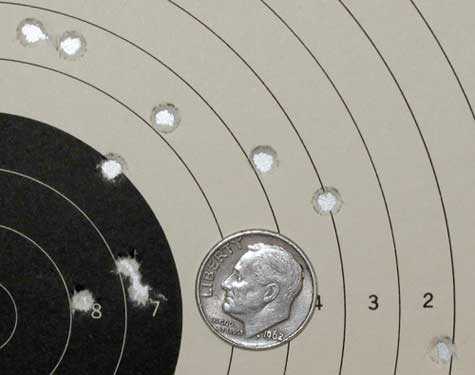 The second group of flush-seated pellets measures 2.957 inches.
What have we learned?
This test demonstrates that diabolo pellets do stabilize from their high drag, alone. They do not require a spin to stabilize them because they all hit the target nose-first. But they're not as accurate as they would be if shot from a rifled barrel. The spin introduced by rifling is important for accuracy, if not for stability.
A second lesson is this: Even though I shoot and record 10-shot groups, a single group may not be enough data. The difference in accuracy at 10 meters and 25 yards between deep-seated pellets and flush-seated pellets would seem to indicate that. Or it could just be that deep-seated pellets are more accurate at 10 meters, but flush-seated pellets are more accurate at 25 yards. If that's the case (and I don't know that it is), I have no idea of why it would be that way.
I think I need to test this gun once more and shoot 3 10-shot groups with each type of seating at each distance before we'll know anything for sure.
by Tom Gaylord, a.k.a. B.B. Pelletier

This Diana 25 smoothbore was made during World War II.
What a topic to follow a twist-rate report — one about a smoothbore! Today, we'll look at the accuracy of the WW II-era Diana 25 smoothbore airgun. This is a play-day for me because this gun is so non-finicky and trouble-free. It's the way I wish all airguns could be. Just load and shoot. No special handling beyond the basic artillery hold, and no need to treat it like it's a vial of nitroglycerin.
Shoot from 10 meters
I decided to shoot from a rest at 10 meters just because this is a smoothbore, and I had no idea of what results we would get. I hoped it would hit the paper with all shots. That would be good enough. But nothing beats shooting, so that's what I did.
JSB Exact RS
The first pellet I tried was the JSB Exact RS, which is a .177-caliber favorite of blog reader Kevin and has become one of mine, too. It seems to work in most airguns, and it's often one of the very best pellets. So, how would it do in a smoothbore?
I shot off a rest with the artillery hold. My off hand was back touching the triggerguard, but the gun is not muzzle-heavy. The first shot landed below the center of the bull — but actually at the point of aim, if a bit off to the right. So, the rear sight elevator was pushed forward to raise the sight. I didn't care if it was hitting the center of the bull or not, but I wanted to keep the shots mostly inside the large black bull of a 10-meter pistol target because I could see the holes when they were in the white and distracted me.
The first 10 shots were fired with the pellet seated flush with the breech face. And the group turned out better than I had expected, though about as good as several readers had indicated they get from their smoothbores. It may not look that good to you, but notice how narrow it is compared to the height? That'll become important in a moment. This group measures 1.158 inches between centers.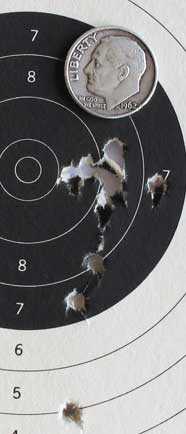 Ten JSB RS pellets in 1.158 inches, center to center, at 10 meters. The lone shot in the white was the first sight-in shot and is not part of the group.
Next, I shot another 10 rounds of RS pellets, but this time I seated each pellet deep in the breech with the Air Venturi Pellet Pen and PellSet. As before, the pellets all landed in the black bull, so it wasn't until I walked down to change the target that I saw the group. Imagine my surprise to see a 10-shot group that could just as easily have been shot with an expensive target rifle! Ten JSB RS pellets went into a group that measured 0.337 inches between centers.

Ten JSB RS pellets seated deep in the breech made this 0.337-inch group at 10 meters. This is amazing for a smoothbore!.
You might shoot 5 shots some time and luck out like that, but 10 shots tell the truth. This airgun is very accurate at 10 meters, even though it's a smoothbore. And it takes deep-seating the pellets to do it — at least with the JSB RS pellet. Now, I was curious. Would the two other test pellets show similar results?
Beeman Devastator
The second pellet I tried is one I don't shoot a lot, but after it did so well in the Velocity versus vibration accuracy test I did a year ago, it has moved into the category of pellets I like to try when the circumstances are unusual. The Beeman Devastator is a hollowpoint that acts like a wadcutter at the same time. And a smoothbore is definitely unusual. The first 10 flush-seated pellets went into a group measuring 1.948 inches between centers. Not very good and more like what I'd been expecting from this airgun.

Ten Beeman Devastators didn't group too well when seated flush with the breech. Group size is 1.948 inches between centers.
Now, it was time to shoot 10 Devastators that were seated deep in the breech. Would they also tighten up?
Well — yes and no. The 10-shot group of deep-seated Devastators measures 1.982 inches between centers, which is a little larger than the group of flush-seated pellets. However, 8 of those pellets did group into 0.691 inches. I would say that the deep-seating method still looks promising at this point.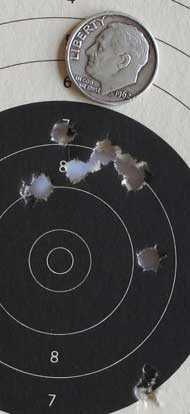 Ten deep-seated Beeman Devastators made a group of 1.982 inches between centers, but 8 of those were in 0.691 inches. Deep-seating still looks good.
RWS Superdome
The final pellet I tried was that universal favorite — the RWS Superdome. The first group of flush-seated pellets was not that large, at 1.156 inches. If the deep-seating method held true for this pellet as well, it might beat the tight RS group when seated deep.

Ten RWS Superdomes went into 1.156 inches at 10 meters. This is the best flush-seated group thus far.
A happy accident
As I was shooting the next group of Superdomes, I forgot to seat the second pellet deep and had to stop shooting the target. But the result on target was so dramatic that I photographed it, so you could see what happened. The deep-seated pellet is the high one and the flush-seated pellet is the low one. That shows more clearly than anything how deep-seating affects the shot.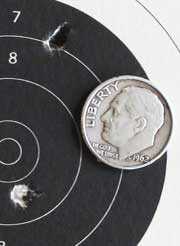 The deep-seated pellet went high and the flush-seated pellet went low. This shows the dramatic difference deep-seating makes.
Deep-seated Superdomes
Then I got serious again and shot 10 rounds of Superdomes seated deep. They made a group sized 1.047 inches. While that's only a little better than the same pellets seated flush, notice that these shots are centered in the bull much better. Not that I'm looking for that, but it's a nice side benefit.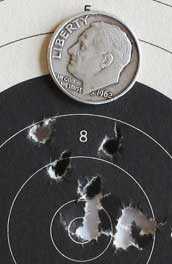 Ten deep-seated RWS Superdomes went into 1.047 inches at 10 meters. It's better than the flush-seated pellets.
What have we learned?
The first thing this test has taught us is that a smoothbore airgun isn't that much of a disadvantage at 10 meters. I think the results of the RS pellets definitely call for another test of this airgun at 25 yards.
The next thing I learned is that deep-seating the pellets seems to improve their accuracy. Some improved more than others, but every pellet seems to have done better with deep-seating.
The last thing is that all of this shooting, all 63 shots, were fired with simple open sights. After some of the trauma you've witnessed me undergo in recent weeks to get some air rifles to group, this little Diana 25 seems to have breezed past all the big-name guns and taken the lead. I think that says a lot about what power levels are best for spring-piston air rifles.
by Tom Gaylord, a.k.a. B.B. Pelletier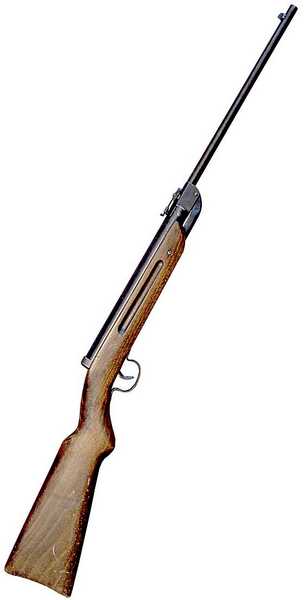 This Diana 25 smoothbore was made during World War II.
Oh, the things we think we know — how they vanish when we test! Today, we're going to look at the Diana model 25 smoothbore that Vince sent me. You may remember in the last report that I was pondering when this airgun might have been made. Well, Kevin told me to look on the bottom of the butt, as the date stamp used to be there. Indeed it was! This airgun was produced in June of 1940, during the first part of World War II.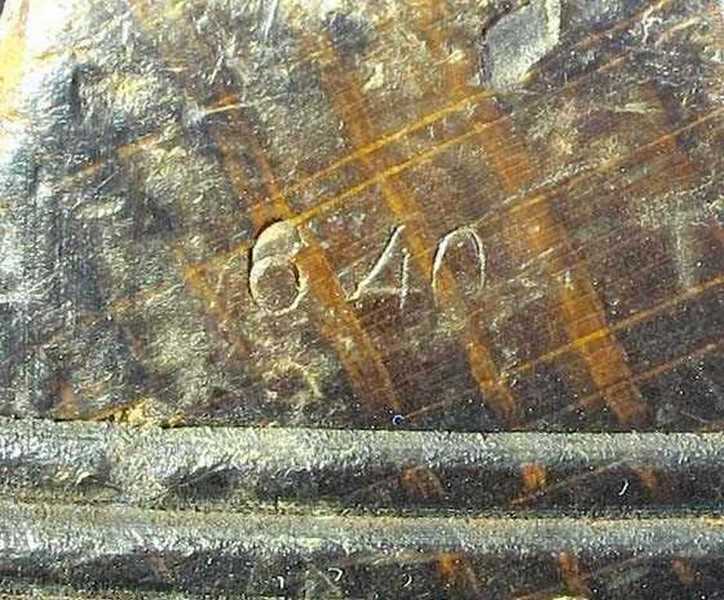 The manufacture date of the gun is stamped in small numbers on the bottom of the wooden butt.
The curiosity of a smoothbore is the extent to which the rifled barrel affects performance of the gun. I should have two identical airguns to test — one rifled and the other a smoothbore, but even then there would be subtle differences in their individual performance. I think it's safe enough just to say what I expect from such a gun and then see what I get.
I would think a Diana 25 in good condition would give a muzzle velocity of around 625-650 with lightweight lead pellets. Remember — this is a .177. The last model 25 I tested was a Winchester 425 that was a rifled .22-caliber gun. That one gave an average velocity of 440 f.p.s. with 11.7-grain Hobbys, which I thought was a little slow. I expected about 525-550 from it with that pellet.
Preparation: Oiling the leather piston seal
To prepare for this test, I oiled the leather piston seal with about 10 drops of 3-IN-ONE oil. I just stood the gun on its butt and dropped the oil down the muzzle. By leaving it standing that way for a couple weeks while I was at the SHOT Show, the oil ran down into the compression chamber and soaked into the leather piston seal. I also oiled the leather breech seal at the same time so it would be pliable for this test. And I note that the gun now smells of burnt oil when it shoots, so everything was successful. We can be sure that the gun is performing up to the limit of its capability.
You may remember that Vince tuned this gun before he sent it. The mainspring inside was one he cut down from another rifle, so it isn't exactly what the Diana had in it from the factory. But he took the spring from the harmonica gun that we suspect used to be a Diana model 27, so the dimensions of the spring are probably pretty close to original. We can guess and conjecture all day long, but a better way is to just shoot the gun and see what it does.
RWS Hobby
For the first pellet, I chose the 7-grain RWS Hobby. It's a lead pellet that's both lightweight and also a bit large, so it fits a lot of airguns very well. Since the gun was so well oiled, I actually shot three strings of 10, rather than my usual single string. The reason for this will soon be obvious.
The first string ranged from a low of 593 to a high of 627 f.p.s. The gun started in the 620s and progressively dropped in velocity as more shots were fired. That tells me it's burning off some lubricant; and from the smell, I knew that it was.
The average for the first string was 609 f.p.s., but I believe that is too high. I think the dieseling caused by the excess oil boosted the velocity a lot. Immediately after the first string, I shot a second one.
I expected the second string to be slower and less variable, and I was right on both accounts. The average velocity for string 2 was 598 f.p.s., and the velocity ranged from 593 to 613 f.p.s. At the average velocity, the Hobbys produced 5.56 foot-pounds of energy at the muzzle. I don't think the gun has settled down completely at this point, and I expect to see the average drop a few more feet per second as the gun continues to shoot. But there was still one more thing I needed to test.
Deep seating
I'd been seating the pellets flush with just my finger to this point. What would happen if I seated them deep with the Air Venturi Pellet Pen and PelSet? This time the average dropped to 594 f.p.s. and the range went from 584 to 621 f.p.s. What I make of that is that the pellet pen and deep-seating has little to no effect on the velocity of this rifle with a Hobby pellet. I think breech seating will be good, but I'm not going to leave it at that. I'll also try shooting a group with the most accurate pellet seated deep, to compare to flush-seating.
Hobbys fit the breech tight and just a little of the skirt stuck out of the barrel. I expected them to increase in velocity with deep seating, but I guess this gun needs the extra resistance to generate all the power. It's right on the cusp because deep-seating produces almost the same velocity, but the variability is greater; so I don't think deep-seating is worth the extra effort.
Beeman Kodiak
The second pellet I tried was the heavyweight Beeman Kodiak. At 10.65 grains, the Kodiak is way too heavy for this gun. But that's why I wanted to try it. I expect I'll also try it for accuracy because who knows what it'll do in this smoothbore?
After a couple shots that obviously dieseled, the Kodiak settled down to shoot in the mid 400s. The average was 461 f.p.s., and the range went from 443 to 470 f.p.s. At the average velocity, the Kodiak produces 5.03 foot-pounds of energy at the muzzle.
Just for fun, I also tried deep-seating Kodiaks that fit the breech very loose. This time the result was more positive. The average velocity dropped to 448 f.p.s., but the range tightened to between 439 and 455 f.p.s. That's just 16 f.p.s., compared to the 27 f.p.s. spread for flush-seated pellets. I guess I'll also try deep-seating Kodiaks in the accuracy test.
JSB Exact RS
The 7.3-grain JSB Exact RS dome was the last pellet I tested in the gun. These fit the breech even looser than the Kodiaks, but they gave an average 517 f.p.s. velocity with the tightest spread of the test. The low was 512 and the high was 525 f.p.s., so only 13 f.p.s. between the top and bottom. At the average velocity, this pellet produces 4.33 foot-pounds of energy at the muzzle.
Naturally, I tried deep-seating the RS pellet, as well. And to my surprise, the consistency grew even tighter as the average velocity decreased. The average was 504 f.p.s., but the spread went from 500 to 511 f.p.s., for an 11 f.p.s. difference. I guess I'll deep-seat all the pellets during the accuracy test, as well.
Cocking effort.
The Diana 25 cocks like many vintage breakbarrel springers. It begins easy, then stacks toward the end. The max effort required is 19 lbs., which makes this a youth airgun in my book.
Trigger pull
The trigger is two-stage, and stage two is reasonably crisp. The first-stage pull is 1 lb., 8 oz., and stage two breaks at 5 lbs., 11 oz. It isn't a target trigger in any respect, but it's crisp enough that I know I can do good work with it.
Impressions so far
I'm finding that this smoothbore is, in fact, very similar to the rifled version of the Diana 25. The size, fit, trigger and feel of the gun give no indication that the bore is smooth. But this gun was made in 1940; and as such, has several differences from the Dianas of the 1970s that I'm used to. For starters, the sights are simpler, and there's no rear base for a peep sight. Then, there's the simpler trigger that cannot be adjusted.
I have to admit I'm very curious about how this gun is going to perform on target. I know it can't be as accurate as a rifle, but I find myself hoping that it's close. We shall see.
by Tom Gaylord, a.k.a. B.B. Pelletier
Announcement: Pyramyd Air has changed their Big Shot of the Week to the Big Shot of the Month, and the reward has been upped from $50 to $100. Guy Roush is this month's winner of Pyramyd Air's Big Shot of the Month on their airgun facebook page. He'll receive a $100 Pyramyd Air gift card. Congratulations!
Guy Roush is the Big Shot of the Month on Pyramyd Air's facebook page.


This Diana model 25 smoothbore is an old airgun!
This report comes to you courtesy of Vince, who sent me this Diana 25 to test for you. While I just recently tested a .22-caliber Diana 25, this one is quite different. It's a .177-caliber smoothbore gun, and I think it'll be the very first smoothbore pellet gun that I've tested since this blog began in 2005. There have been plenty of combination guns that shot both BBs and pellets, but to my recollection, they all had rifled barrels.
How pellets are stabilized
Diabolo pellets are so-named for their wasp waist and flared tail, which is hollow. They're named after a juggling apparatus called a diabolo that a juggler works with a string. The wasp waist and hollow tail create lots of aerodynamic drag that both slows the pellet down and also keeps its weighted nose pointed forward. Because of how much the shape of the pellet affects its stability in flight, the question often arises whether the rifling in the barrel that spins the pellet is necessary.
I often see comments asking how much I think the presence of rifling affects the accuracy of such and such a gun, and I never know what to say. My best guess is that at close range, say 10 meters, a smoothbore is okay; but as the distance to the target increases, the smoothbore quickly falls behind the gun with the rifled barrel. Now, I have the means to actually test that, and we can all see for real!
The origins of this airgun
Vince acquired this gun recently, and I don't think it was represented to him as a smoothbore. I think he even asked me if it was a smoothbore, and I told him to look for the word glatt somewhere on the barrel, as that would be the term they would use. Well, guess what? There are no words on the barrel of this gun, so what do I know? I think the early manufacture of this gun is the reason why things like being unrifled were left off.
In fact, other than the Diana logo and model number on the spring tube, there are no marks of any kind on this gun. There's no serial number, of course, but that's common for guns this old. But this gun goes even farther than most. Not even the caliber is marked, so I guess buyers either had to get that from the hang tag, or perhaps this gun was originally sold in Germany at a time when .22-caliber pellets were not common. I went over the entire barreled action with a tactical flashlight and a magnifying hood looking for other marks. It doesn't even say Made in Germany, which leads me to think it wasn't made for export.
This model is also a much earlier gun than the 1970s-era Winchester 425 (Diana 25) that I tested for you recently. Looking in the Blue Book of Airguns, 10th edition, I would say this is either a model 25 Improved that was produced 1933-1940 and 1950-1985, or it's an even earlier model 25A. If I had to guess, I would put it in the earlier group for the lack of country of origin and caliber markings, plus the strange configuration of the breech (which I'll show in a moment). It's definitely a leather-seal gun with a direct-sear trigger. This will be the first direct-sear model 25 or 27 Diana I've ever tested, so I'm curious how well the trigger works. Naturally, it isn't adjustable.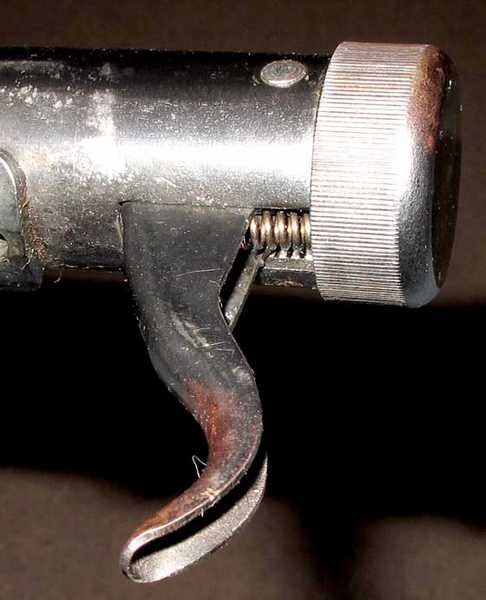 The trigger on this rifle is old-school, with direct-sear contact.
What model is it?
I know it's a Diana model 25, but that can be any of three different airguns. And here is a puzzlement. The overall length of the gun is 38.375 inches. That's close to the 38.5-inch Blue Book-listed length of the earlier model 25A that was made from 1925-1934. The model 25 Improved is supposed to have a length of 39.7 inches, which is too much of a difference from the gun I'm testing. But the earlier gun is supposed to have a walnut stock, according to the Blue Book, and this one definitely has a beech stock. So, I'm thinking this might be an earlier gun and that the Blue Book might have overlooked the beech stock possibility.
Perhaps, the strange shape of the breech is a clue about which model it is. Instead of a conventional straight-cut breech with parallel sides, the action forks have strange-looking scalloped cuts on both sides of the baseblock —  and they really stand out.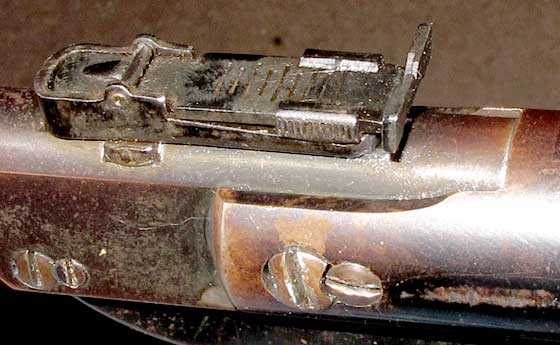 Here you can see the rather strange, scalloped breech shape. The rear sight adjusts for elevation, only.
As little as this gun is, it might look cheap at first glance, but all you have to do is break open the 15.4-inch barrel one time to feel the bank-vault quality that's built into the locking detent. While the price was undoubtedly modest at the time, this is no cheap airgun. The beech stock is very slim, yet the pull is an adult 13.25 inches, making the gun pleasant to shoot for older children and adults, alike.
Vince went through the gun and tuned it before sending it to me, so I can't comment on how the original powerplant might have felt. He installed the mainspring from the harmonica gun I reported on several years ago. A couple coils were cut to make it fit, and now the rifle cocks with great ease.
I've shot the gun several times just to familiarize myself with the operation. It shoots with the same authority that a more recent model 25 has. The buzzing is very low, which I must attribute to Vince, since I can see his work through the cocking slot. I imagine the original gun was probably a little buzzier.
The front sight is a tapered post that's dovetailed to the barrel. The rear sight is leaf-type sight that's adjustable for elevation only. It's also dovetailed to the barrel.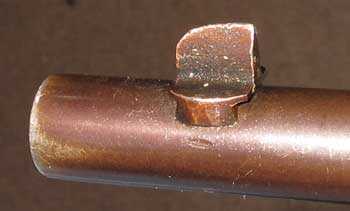 The front sight is a tall, tapered post.
Test plan
My plan is to test this gun exactly like I would test any airgun. I'll check the velocity next, and then the accuracy in Part 3. If I can find an accurate pellet when I test at 10 meters, I might do a fourth test from 25 yards. Everything will be done with iron sights, as there's no convenient way to mount a scope on the gun. But I think I proved with the El Gamo 68 that I can shoot iron sights at 25 yards.
Future plans
Once the gun has been baselined for accuracy, I plan to use it as a testbed for other tests with diabolo pellets. Finally, we'll have a basis for comparison, rather than just guessing what might happen. Between this airgun and the Twist rate test, we should wind up with a pretty good idea of what rifling is doing for diabolo pellets.