Posts Tagged 'cocking effort'
by Tom Gaylord, a.k.a. B.B. Pelletier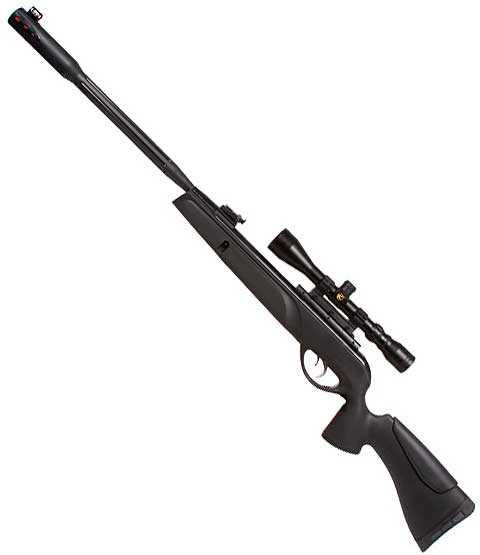 Gamo Whisper Fusion IGT air rifle.
Today will be a very interesting report, in my opinion. The Gamo Whisper Fusion IGT air rifle I'm testing turns out to be a fascinating airgun in many ways. Let's get right to the report.
Today we will look at accuracy at 25 yards with the scoped rifle. The first thing I had to do, therefore, was mount the scope. The rifle came with a scope installed in a one-piece scope mount. Its vertical scope stop pin was already correctly adjusted to fit the stop pin hole in the raised mount on top of the rifle's spring tube. That is rare, in my experience. Normally, the scope will be installed correctly in the mount but has to be taken out of the mount to sufficiently adjust the height of the stop pin.
I'd used this mount for my report on shimming scope rings, so I did remove the scope from the rings after all. Following that report, I left in the one shim that was shown in the report. The mount Gamo included with the test rifle has four screws per cap and seems to be a good one. It's a one-piece design that does limit the positioning of the scope, but I was able to locate it fine for my use.
The adjustable cheekpiece helped a lot. I had it adjusted up to almost the top position, and my eye lined up with the rear of the scope with no unnatural repositioning of my head.
Surprise No. 2 was the scope. I initially sight-in at 12 feet to get the shots safely on paper, and inexpensive scopes are usually very blurry this close to the target — even if they're set on low power. This rifle comes with a very nice Gamo 3-9X40 scope that was quite clear on 3x at 12 feet. Back up to 25 yards and boost the power to 9x, and the glass remains very clear. It's been a long time since I liked a scope that came bundled with a gun as much as this.
The Smooth Action Trigger (SAT)
Next, I must comment on Gamo's new SAT. It's a 2-stage unit that has a light first stage and a second stage that you can feel as you continue to pull. The trigger blade moves through stage 2 smoothly and breaks cleanly, but not with the sudden glass-rod crispness we talk about all the time. Instead, the feel is one of movement that is predictable and can be controlled. It isn't bad — it's just different from other triggers.
I reported in Part 2 that the trigger breaks at 3 lbs., 12 oz. That may sound high if you read about PCP triggers breaking at less than a pound, but it really isn't that bad. The thing to do is experience it for yourself before you judge it. I find it to be manageable and not at all troublesome to the best accuracy.
Light weight
The light weight of the rifle, on the other hand, does present something of a problem. This rifle is so light that even when the off hand touches the triggerguard, the rifle still has neutral balance. It floats in your hand. That makes it difficult to hold on the target because the crosshairs want to dance around. The solution is a very light artillery hold that does benefit the rifle's accuracy, and I'll address that in a moment.
Shooting
Normally, this is where I launch into the accuracy test and start making comments about the groups. This time, I have more to say, and it isn't just about the groups — except how they helped my understand the rifle in a diagnostic way.
JSB Exact RS
The first pellet tested was the JSB Exact RS that did so well in the 10-meter accuracy test with open sights. I knew from that test that these pellets like to be seated flush with the breech for best results.
As I shot these pellets, I saw a strange phenomenon unfold. The first 3 shots were out of the bull at 5 o'clock. Then, I relaxed very consciously and allowed the rifle to float on my off hand. The next several shots went into the black. On shot 8, I didn't relax like I should have, and I threw 1 more shot out of the bull at 5 o'clock with the first 3. How interesting!
It was so interesting, in fact, that I shot a 14-shot group, so that 10 of the shots could be fired with me being very relaxed. When you look at where they landed, you can see that the hold was all-important to where this rifle grouped.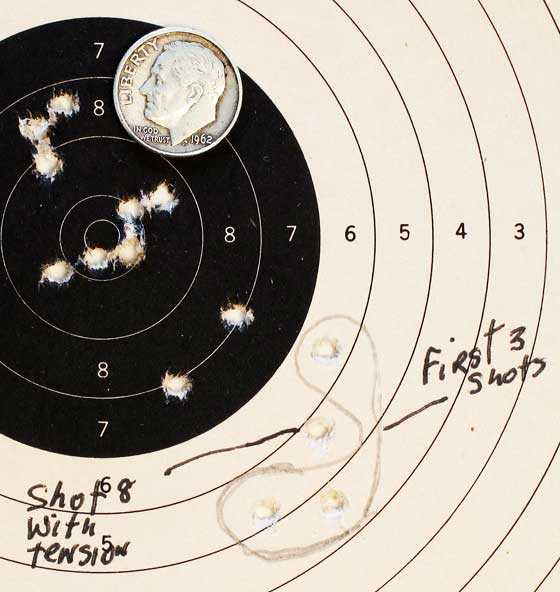 This group is very large — measuring 2.574 inches between centers. But it was a learning experience for me because it demonstrated very clearly that the hold dictates where the pellets will land.
Now that I knew something about how the rifle performed, I figured I could do a lot better. And the very next group confirmed that.
H&N Barcuda Match
Next up were the H&N Baracuda Match pellets that shot second-best in the 10-meter accuracy test. Now that I knew how to hold the rifle, I expected to see a better group. And that's exactly what happened.
I adjusted the scope after finishing the first group, moving it a few clicks to the left. The first Baracuda Match landed at 11 o'clock, just outside the bull. Shot No. 2 hit at 8 o'clock outside the bull. I was obviously holding the rifle too tight, so I made a conscious effort to hold it looser and shots 3 through 7 hit inside the black. Then, I tensed up again, sending shot No. 8 into the same hole as shot 2. The final 2 shots were fired with complete relaxation, and I had a respectable group inside the bull to the left of center.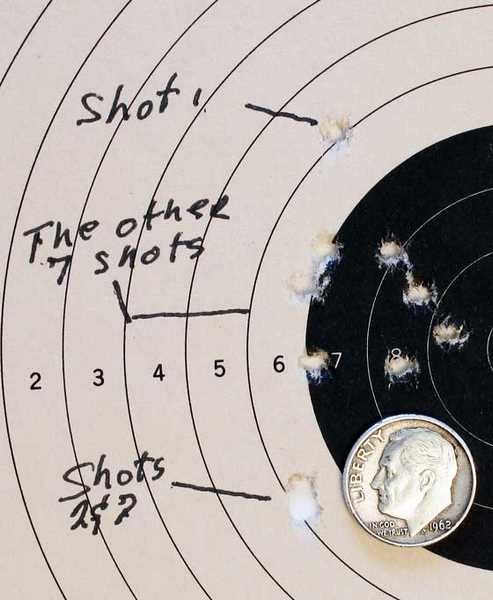 This time, there were only 3 shots that missed the main group, and all of them were fired with some tension in the hold. When I relaxed, I was able to put 7 shots into 0.789 inches. I think this represents the true accuracy potential of the rifle. Total group measures 1.995 inches.
Altering the hold
Now that I understood the rifle better, I decided to move my open palm out farther so I could feel the cocking slot. Sometimes, resting the rifle this far forward is better. It certainly makes it more stable.
This time, however, there was no improvement. The group opened up, and I could see no way of controlling where the shots went. The total group measures 1.754 inches between centers, which is tighter than the previous group overall; but there's no tighter group within this group that tells me the rifle wanted to do any better. Although this is a smaller group, I think the previous group that was shot with the off hand touching the triggerguard shows more promise. So, I went back to the other hold for the next group.

Ten shots went into a more scattered group at 25 yards when the rifle was rested out on the forearm.
Two pellets I didn't try were RWS Superdomes and Gamo Raptor PBA. Both had done so poorly in the 10-meter test that I felt it wasn't worth the time to try them again at 25 yards. That's one of the benefits of 10-meter testing — it eliminates some pellets.
But I wanted to try at least one more pellet, so I selected 7.9-grain Crosman Premier domes, simply because they're often very accurate in spring guns.
I now knew the best hold for the rifle, so all I had to do was hold it as loosely as possible and let the pellets do the rest. Nine of the 10 pellets went into a nice group measuring 0.845 inches between centers. It was the first shot that opened it up to 1.596 inches.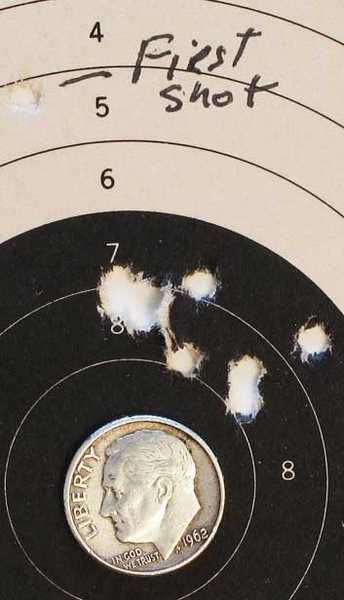 Ten Crosman Premier Lites went into 1.596 inches at 25 yards, but 9 of them made a 0.845-inch group. I think the smaller group is representative of the true accuracy of the rifle with this pellet.
Final results
I find it interesting that the early shots were always thrown wide of the main group. By the time I arrived at the third pellet, I managed to keep the wide shots to 1 in 10. That tells me something. It tells me that the Gamo Whisper Fusion IGT is a rifle that has to be learned. Once you've done so, I believe that your groups will be about the same size as the smaller groups seen here.
I'm going to say something that may surprise some of you. I really like this air rifle a lot. I think it is too light and the trigger takes some getting used to, but in the end this is a great budget air rifle. It really isn't that fussy, once you learn how to hold it the right way.
For some of you, even a used Beeman R9 is too expensive. I think you may want to look at the Whisper Fusion IGT. This is a gas-spring air rifle that has not gone overboard in the power department. It has a usable trigger, and it's reasonably quiet and accurate. No, it isn't as accurate as an R9, nor is the SAT as nice as a Rekord trigger; but for those who want to cap their outlay for an air rifle at $260 with a scope included, I think this is the one.
by Tom Gaylord, a.k.a. B.B. Pelletier

Gamo Whisper Fusion IGT air rifle.
This is the first accuracy report for the .177-caliber Gamo Whisper Fusion IGT air rifle. I shot this test using the open sights at 10 meters from a rest. I did that because I usually don't have much luck with powerful gas-spring air rifles. They tend to spray their pellets all over the place. And getting a scope mounted and stable can also be a problem, so I wanted a track record for the rifle before I got to any of that.
Smooth Action Trigger
I usually wait until the accuracy test to report on how well the trigger, which in this instance is the Smooth Action Trigger (SAT), performs. The pull weight, measured in part 2, releases at 3 lbs., 12 oz. It's a 2-stage trigger with a second stage that needs some explanation. Instead of pausing at stage 2 and then breaking cleanly, the trigger on the test rifle — and I must assume on all SAT — pulls through stage 2. You can feel the trigger move, yet there's no creep. The pull is — well — smooth! And it's predictable. It's a different sort of feel from other triggers but not different in a bad way. I don't think anyone will need to buy an aftermarket trigger when they have a rifle with the SAT installed. Well done, Gamo!
I also thank Gamo for making the safety manual. It does not come on when the rifle is cocked. That makes the shooting progress that much faster and with less for the shooter to do. It's a small thing, but one that I noticed and must comment on it.
Feel of the rifle
This is a very light air rifle, yet the stock is shaped so your off hand goes to a spot immediately in front of the triggerguard. The rifle is so light that this still gives it a neutral balance, but it hangs right in the hands and feels good on the shoulder. The more-vertical pistol grip has something to do with the good feel, as well.
I did find the stock stinging my cheek with each shot, however. It served as a reminder to hold the rifle even lighter than I was, which is a good thing. Once I did that, there was no more stinging.
Sighting-in
I sighted-in the rifle with JSB Exact RS pellets and discovered that the front sight was too high for a 6 o'clock hold on the 10-meter pistol bullseye target I was using. So, I did something I've never before tried. I'll illustrate the sight picture I used.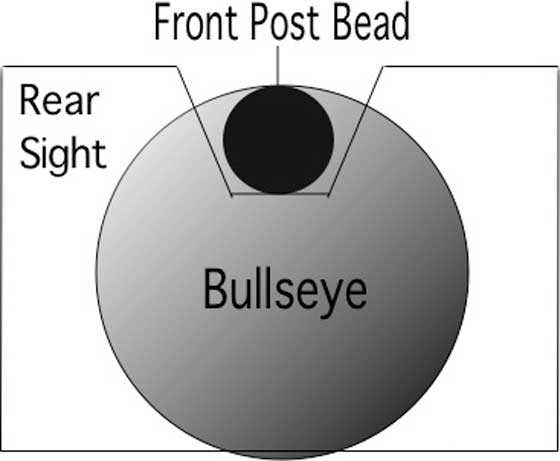 The front sight bead was darker than the well-lit bullseye, so I was able to place it at the top of the bull like this.
As you can see, I placed the front bead at the top inside of the bullseye. The bull was so well lit that the bead showed up as black on gray. Maybe this isn't the best open sight picture, but it seemed to work well enough for this test.
JSB Exact RS
The first pellet I tried was the JSB Exact RS dome. We know it's often a good pellet — especially in lower-powered air rifles, which the Fusion IGT certainly is not. In this gun, the RS develops 14.32 foot-pounds, which puts it into the medium power group. If you're a hunter, that's where you want to be, so long as the rifle is also accurate.
The RS pellet put 10 shots into a nice round group that measured 0.591 inches between centers. While that isn't a spectacular 10-meter group, it's good when you consider the novel sight picture I was using. I'll keep the RS in mind when I back up to 25 yards and mount a scope.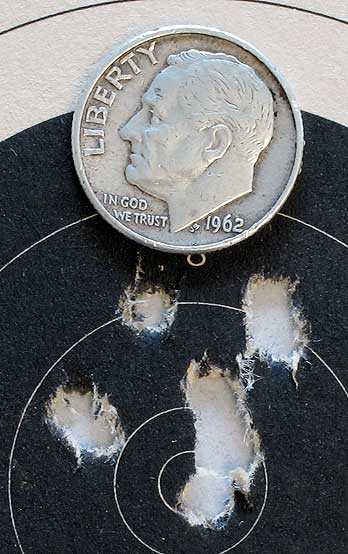 At 10 meters, 10 JSB Exact RS pellets went into this round group that measures 0.591 inches.
RWS Superdome
The next pellet I tried was the RWS Superdome. This pellet generates 15.43 foot-pounds of muzzle energy. Ten shots made a group measuring 1.332 inches. But it's the shape of the group that's really interesting! Five of the pellets landed in a very vertical group, while the other 5 made a beautiful small round group of their own. This target demonstrates why 10-shot groups are better than 5-shot groups because many shooters would just accept those 5 close shots and be done with it. I don't think the Superdomes are right for this rifle based on all 10 shots.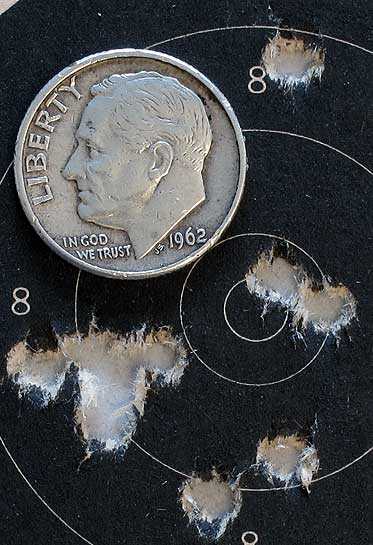 At 10 meters, 10 RWS Superdomes made this large 1.332-inch group. Five pellets landed in a tiny 0.362-inch group on the left that's deceiving. This pellet is out of the running for this rifle.
H&N Baracuda Match
Many shooters think that heavy pellets are bad for spring guns. They're supposed to damage the coiled steel mainspring. I wonder what they do to a gas spring like this IGT? That's my way of saying I don't think pellet weight is that much of a problem in a springer. Baracuda Match pellets average 824 f.p.s., for 16.06 foot-pounds of muzzle energy. Impressive power. If they're also accurate, this will be a good pellet for the rifle.
And, accurate they are! Ten H&N Baracuda Match pellets went into 0.625 inches at 10 meters. That's a pretty impressive group, considering the strange sight picture I'm using. It's only slightly larger than the JSB Exact RS group, and I think these pellets have earned a spot in the 25-yard test, as well. I have no idea of why they're spread out horizontally. When I checked the stock screws, all were tight.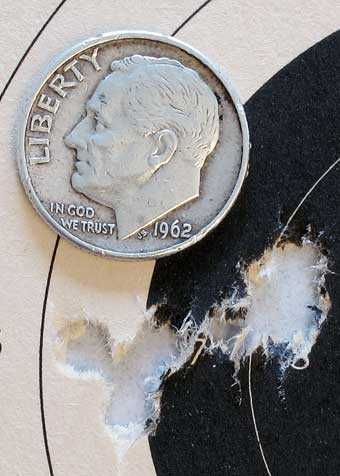 Ten H&N Baracuda Match pellets made this 0.625-inch group at 10 meters. This one looks promising.
Gamo Raptor PBA
The last pellet I tested was the Gamo Raptor PBA that Gamo uses to get the velocity out of this powerplant. Raptors go an average 1,232 f.p.s. and produce 18.2 foot-pounds of muzzle energy. That's the best performance I saw from this rifle…alas, they aren't accurate. Ten made a groups measuring 1.118 inches at 10 meters.
PBA pellets also cracked like .22 long rifle rounds because they broke the sound barrier. The noise, alone, would keep me from shooting them.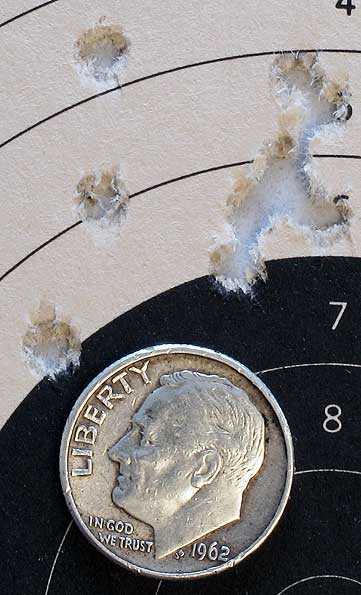 Ten Gamo Raptor PBA pellets made this 1.118-inch group at 10 meters. That's not very good in light of the two pellets that did well.
Evaluation so far
This rifle has plenty of good in its favor. The hold is good, the cocking is light for the power and the trigger is very nice. I'll withhold my final opinion until I see how it does at 25 yards; but if this was any indication, this could be a best buy.
by Tom Gaylord, a.k.a. B.B. Pelletier

Gamo Whisper Fusion IGT air rifle.
Today, we'll look at the velocity and power of the Gamo Whisper Fusion IGT air rifle. This breakbarrel rifle has a gas spring that seems to intrigue many new airgunners, so let's talk about that first. A gas spring is a unit that uses compressed gas rather than a coiled steel mainspring to power the piston. Besides that, it's identical to a conventional spring-piston powerplant.
What's in a name?
There are many names for the gas spring. Some call it a gas strut, others call it a gas ram, but all these names refer to the same thing. We're talking about a mechanical device that contains compressed air or other gas (Crosman uses nitrogen — hence Nitro Piston) to push the piston. When the gun is cocked, the piston unit is pushed backwards — making the compressed gas reservoir shorter. When the gas chamber inside the piston becomes smaller, it causes the internal pressure to rise. When the gun fires, this compressed gas pushes the piston forward, and the piston seal compresses the air in front of it.
None of the gas inside the gas spring mechanism escapes. It remains inside, where it can be used again and again. Gas springs are found on modern cars — holding open the heavy back decks and front hoods that used to be held by coiled steel springs. The gas springs on a car usually last for more than a decade, and it isn't uncommon to find them still working in cars that are 20 years old. Throughout all that time, they've been kept fully compressed 99.9999 percent of the time, yet they can still do the job for which they were designed. This is why we say that an airgun with a gas spring can be left cocked for a long time without loss of power.
The advantages of a gas spring in a spring-piston airgun are:
* Can remain compressed a long time without power loss
* Are lighter than powerplants with coiled steel springs
* Vibrate less
* Move faster than coiled steel springs
* Are less sensitive to temperature changes
The disadvantages of a gas spring are:
* Impart a sharp crack to the discharge
* Require nearly full effort even when the piston is all the way forward, making for harder cocking
* Have a sharp recoil that can hurt if the gun is held too tight
Velocity
Now, it's time to look at the velocity and power of the Whisper Fusion IGT. The first pellet I tried was the JSB Exact RS, a 7.33-grain pellet that's pretty light for this powerplant. RS pellets averaged 938 f.p.s. after I allowed the rifle a few shots to settle down. The low was 919 f.p.s. and the high was 949 f.p.s., so the spread was 30 f.p.s. I think that will tighten with time and more shots on the powerplant.
At the average velocity, this pellet generates 14.32 foot-pounds at the muzzle. I'd expected more power; but once the gun had settled down, it was fairly consistent at that speed. The RS pellets fit the breech somewhat loosely.
RWS Superdomes
Next, I tried the 8.3-grain RWS Superdome pellet. They averaged 915 f.p.s., with a spread from 909 to 921 f.p.s. The gun is already starting to stabilize.
At the average velocity, this pellet generates 15.43 foot-pounds of energy at the muzzle. Superdomes fit the breech snug but not tight.
H&N Baracuda Match
Then, I tried some H&N Baracuda Match pellets. At 10.65 grains, these were the heaviest pellets I tried. The Whisper Fusion IGT belted them out the spout at an average 824 f.p.s., for a muzzle energy of 16.06 foot-pounds. The spread went from a low of 822 f.p.s. to a high of 828 f.p.s., so the gun was extremely stable with these pellets.
Baracuda Match pellets fit the breech tighter than all other pellets. That tells me the rifle needs something to push against, and deep-seating would not be recommended.
Gamo PBA
The final pellet I tried was the lead-free Gamo Raptor PBA, a 5.4-grain domed pellet. They averaged 1,232 f.p.s. in the rifle, with a range from 1,217 f.p.s. to 1,245 f.p.s. Even with this lightweight pellet, the rifle is still very stable. The total spread is just 28 f.p.s.
At the average velocity, the Raptor PBA pellets produced 18.2 foot-pounds, so the energy is definitely up. But these pellets fit the breech the worst of all those I tested. Some were so loose that they fell out when the barrel was closed, while others fit extremely tight. Because of this, I doubt they'll give good accuracy.
Cocking effort
The Whisper Fusion IGT cocks differently than any gas spring rifle I have experienced. The initial part of the cocking stroke rises to about 30 lbs. and stays there until the final few inches of the stroke. It increases to 43 lbs. of effort for the last little bit. Most gas springs are consistent throughout their entire cocking stroke, but not the test rifle. It requires two hands for me to cock it more than a handful of times.
Trigger
The trigger-pull seems light and smooth. Of course, we will find out more about that in the accuracy test, but for now it does seem very nice. This is the new Smooth Action Trigger, and it seems to be lightyears better than Gamo sporting triggers of the recent past. I think it'll be a winner. Stage 1 is short and takes 4 oz., while stage 2 breaks at 3 lbs., 12 oz.
Opinions so far
The rifle has less velocity than the 1,300 f.p.s.  advertised, but in this case that's a good thing. It has exactly what a hunter wants in terms of power. It seems to want to be stable and should not require a lengthy break-in, which is a good thing. Accuracy testing comes next, and we'll see what it can do in the package Gamo provided. I'll shoot it with open sights…first at 10 meters, then scoped at 25 yards.
by Tom Gaylord, a.k.a. B.B. Pelletier
Big and powerful — Hatsan's new model 25 breakbarrel spring-piston air pistol is different. And, it turns out it's quite accurate, as well!
Wonderful news for those who have been following the reports of the Hatsan model 25 Supercharger breakbarrel air pistol. It turns out to be accurate, which is why I reserve my final observations until I test a gun on the range.
This big pistol had a lot of strikes against it up to this point. It's very hard to cock, the trigger-pull is too long and creepy, the gun failed to achieve its rated velocity and the breech is tight. Today, you'll see how it did on the range, and I think most of my concerns are going by the wayside. This kind of turnaround doesn't happen that often, as readers of this blog know only too well. We often get a sense of how well or poorly a gun is going to do in the early stages of testing. And this one looked like it was headed downhill. But after you see the results on paper, I think you'll have to agree with me that the Hatsan Supercharger is an airgun to consider.
Sighting in
Let's get right to it. I elected to shoot at 10 meters because I had no idea what was in store for me, and I didn't want to shoot the furniture (again). There were only three customer reviews of this pistol when I was ready to test, and two of them had no useful information. Only one person commented on accuracy, and he said he could get 2-inch groups shooting offhand at 25 yards. Since he didn't mention how many shots were in those groups, I didn't give his report a lot of credibility, other than to hope that this test would turn out well.
I used a two-hand hold, with my forearms resting on a sandbag and both hands extended in front of the bag. So the hold was very steady. With a powerful pistol like this, the recoil is pretty violent. It can factor into where the pellet goes, so your hold has to be very consistent. If it is, you'll group as tight as the gun can — not unlike an M1911A1 Colt pistol that also bounces a lot when it fires. The secret, if there is one, is to always "bounce" the shot in the same way.
Holding the gun this way gained me two big advantages. First, the fiberoptic sights went black, giving me a precision dark sight picture instead of a vague glowing array of dots. And second, the heavy, creepy trigger didn't matter as much. The hold was so secure that I was able to wait out the very long pull — except for a couple times that I'll note.
JSB Exact 15.9-grain dome
I began with the JSB Exact 15.9-grain dome for no particular reason. The first pellet landed several inches above and to the right of the center of the 10-meter pistol bull, so I put 12 clicks of down elevation and left the windage alone. The next shot hit the upper right edge of the bull, so I shot two more to see whether the gun could group or not. When I saw that it could, I decided to complete the 10-shot group. Seven additional shots completed this first group, and I didn't bother looking until I went downrange to change the target. When I did, two things jumped out at me. First, nine of the 10 shots were in a tight cluster that told me this pistol wants to shoot. And second, I noticed that the amount the group had dropped from the first shot was about what I expected the 12 clicks to do. Perhaps, these sights are very precise and can be trusted? That's what I thought at this point.

This is the first target. Nine of the 10 JSB Exact domed pellets went into a tight group, and I can't explain the lower one. The 9 shots measure 0.663 inches between centers, while the entire group measures 1.411 inches. This looks encouraging!
Seeing how far 12 clicks had dropped the group the first time, I dialed in 6 more clicks of down and 3 clicks of left, hoping to center the next group. I shot the same pellet as before and didn't bother looking through the spotting scope for the entire 10 rounds. My fourth shot was a called flier that I saw land high in the white. When I went down to pull the target I was treated to a very tight group with 3 shots that had strayed. The called flier was the farthest away from the group and 2 lower shots were just from me not holding as well as I should have. This group, coupled with the first one, told me this pistol can shoot.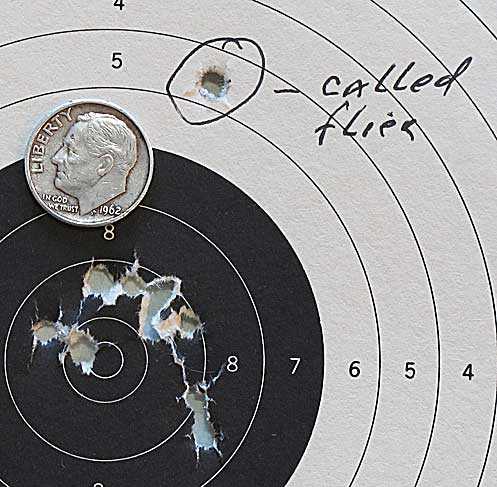 Another encouraging group. This one is larger than the first but not by much. The 9 that are together measure 0.978 inches between centers, while shot 10 opens it to 1.872 inches.
Second pellet
Now that I've established a baseline for the gun, I tried the lighter JSB Exact Jumbo RS pellet. Unlike the first pellet, I could see that this one was scattering all around the bull, even without looking through the spotting scope. And, sure enough, when I went t0o examine the target, the group was much larger. So, there's a clear difference between these two pellets — even though they're both domes and both made by JSB.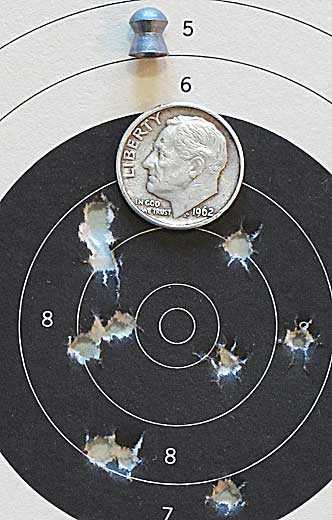 They're all in the bull, but not as good a group as the 15.9-grain domes. This is 10 JSB Exact RS pellets, and they measure 1.607 inches between centers.
After seeing this target, I wondered if this open group was just due to the difference in the pellets or was I wearing out from cocking this pistol so many times? After all, it does take 58 lbs. to cock it, and that, coupled with the general strain of concentration from shooting, can tire you out. One way to find out if it was the pellet or me was to shoot another group with the 15.9-grain Exact dome that had already done so well.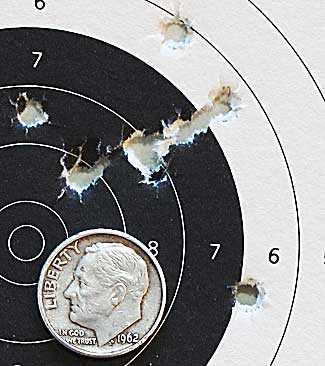 This last group of 15.9-grain domes shows that I'm getting tired, but also that this pellet does group better than the RS. The 2 highest shots in the white were both called fliers. The low right shot was not called.
And this final group does demonstrate that I am getting tired, but also that the 15.9-grain Exact pellet is better in this pistol than the Exact RS. It's so nice to have a decisive result like this because it doesn't leave any doubt. The group measures 1.435 inches, with 9 shots in 1.015 inches.
Final evaluation
If you want a powerful spring-piston air pistol, the Hatsan Supercharger is one I can recommend. In .22 caliber, it delivers over 7 foot-pounds of muzzle energy with an accurate pellet, which puts it right up there in the same power class as the Beeman P1 and the RWS Diana LP8. Don't think that it's anywhere near as refined as those two pistols; but in terms of power and accuracy, it does deliver.
When I started this report, I said that if this pistol could deliver on accuracy it would be a best buy. Even though it doesn't make its advertised power, it's still a powerhouse…and, indeed, it is a best buy at the price. However, if you get it, you're going to have to do your part to get the performance it offers.
by Tom Gaylord, a.k.a. B.B. Pelletier

Big and powerful — Hatsan's new model 25 breakbarrel spring-piston air pistol is different.
Let's take a look at the velocity and power of the new Hatsan model 25 Supercharger breakbarrel air pistol. I'm testing the .22-caliber version that I selected because of the advertised power. Hatsan has not disappointed me with their power claims in the past, so I'm expecting great things from this pistol. In fact, you'll recall that I said I wished they would turn this pistol into a carbine at the same power. Wouldn't that be nice?
Should you use heavy pellets?
I have read a lot about why I shouldn't use heavy pellets in a spring gun. There seem to be several schools of thought on the subject. One of them says heavy pellets do not damage a spring gun in any way. That is my position as well, and it's based on my never having seen evidence of damage done to a gun by using heavy pellets.
Another position is that heavy pellets may damage the mainspring of a gun, but they take a long time to do it. And those who believe this say they don't mind changing mainsprings periodically.
And the final position seems to be that heavy pellets will damage the spring of a spring-piston airgun without question. These folks believe that spring-piston guns should use lightweight and medium-weight pellets but never heavyweight pellets.
I tell you this because I plan to test this air pistol with Beeman Kodiak pellets that weigh 21.1 grains in .22 caliber. I'm doing it because I've found Kodiaks are often very accurate at this power level. I'm not trying to bait the people who think heavy pellets are bad for springers; so if you believe that they are, don't do what I am doing.
Note from Edith: In the 1990s, Tom and I heard that some RWS air rifles broke their mainsprings into 3 pieces at 2,000 shots or so. The spring would break off about 1″ from each end. We contacted Frank Turner, the president of RWS USA in Closter, New Jersey (not the same RWS USA company that now imports Diana airguns). Frank said the springs broke because shooters used pellets that were too light and didn't have enough resistance. He advised Tom on how heavy the pellet had to be. Tom conducted a test using only the heavyweight pellets recommended by Frank. Things looked good for a while, but then the cocking effort of the gun became very light…a sign the spring had broken. He disassembled the gun, and the spring had broken into 3 pieces, as predicted. The gun we tested was an RWS 48, and I believe only one caliber of the 48 had this problem. The No. 1 comment we heard from RWS 48 owners was that the gun was broken in between 1,000 and 2,000 rounds because of the lighter cocking effort. The gun was, in fact, broken…not broken in. Since we no longer hear about this from RWS 48 owners, we assume that the problem has been fixed by the current importer.
I have selected three pellets that I believe will have a good chance for accuracy in this pistol. I plan to initially shoot at 10 meters; and if the gun gives me good confidence in its accuracy, I may back up to 25 yards. But I don't want a gun that sprays its shots all over the place since I'm shooting inside the house. Now, let's look at the velocity.
RWS Hobby
The RWS Hobby pellet loaded very hard, telling me that the breech on this pistol is quite small. At 11.9 grains, the Hobby is among the very lightest of the lead pellets available, so I use it to test the velocity claims. In the test pistol, Hobbys averaged 525 f.p.s., or 75 f.p.s. slower than the claim. That's too much to overlook, so I have to say this claim is ambitious. The range was from 517 to 536 f.p.s., so the spread was 22 f.p.s. At the average velocity, this pellet produced 7.28 foot-pounds of energy at the muzzle. That's respectable for an air pistol and places the model 25 Supercharger among the top spring-piston air pistols for power.
JSB Exact Jumbo RS
The next pellet tested was the JSB Exact Jumbo RS, which in .22 caliber weigh 13.43 grains. They averaged 492 f.p.s. with a spread from 481 to 499 f.p.s. That's 18 f.p.s. between the bottom and top speeds. At the average velocity, this pellet produced 7.22 foot-pounds of muzzle energy. And these also fit the breech very tight!
Crosman Premier and Beeman Kodiak
I'd planned to test both the Crosman Premier and Beeman Kodiak pellets, but neither of them would fit into the breech! I could have made one or both of them fit with some kind of tool; but since I would never do that in the field, I left them both out of the test. So I didn't get to test the heavyweight pellets I'd planned on testing.
JSB Exact 15.9-grain pellet
The JSB Exact 15.9-grain dome pellet was substituted for the Beeman Kodiak. It fit the breech the best of the three pellets tested, but it was still tight. This pellet averaged 449 f.p.s across 10 pellets fired, with a spread from 439 to 456 f.p.s. So, 17 f.p.s. between the slowest and fastest shot. The average velocity produced 7.06 foot-pounds of energy at the muzzle.
Cocking effort
I said in Part 1 that this pistol is hard to cock. Well, in this test I discovered that it has the distinction of being the hardest-cocking air pistol I've ever tested! And that's not a good thing. It takes 58 lbs. of force to cock the gun, and at one point in the stroke the effort bumps up to 60 pounds for an instant. Most adult men will find that very difficult to do, and I have no hope for most women and children. As long as you know that before you buy the gun, then there will no surprises.
Trigger pull
The trigger on the test pistol releases at 5 lbs., 1.5 oz. The pull is smooth, though you can feel the trigger blade moving as the effort increases.
This is an adjustable trigger, so I followed the instructions in the owner's manual. I found the adjustments to be very minimal. The first stage (this is really a two-stage trigger, but was adjusted as a single-stage from the box) is extremely short, despite the adjustment screw being all the way out. And the trigger-pull got no lighter than 4 lbs., 8 oz.
I discovered that there really is no distinct second stage. You just feel the trigger blade moving, and then the gun fires. It's not that bad when you're shooting it for score; but when you try to feel a second stage, it feels very mushy and indistinct.
Observations thus far
The model 25 Supercharger is made for a very specific owner who wants all the performance he can get from a spring pistol, regardless of the consequences. I sure hope it's accurate!
by B.B. Pelletier

The Ruger Mark I pellet pistol is a powerful spring-piston gun.
Before I begin, here's a followup to yesterday's blog on the importance of stock length. I discovered, thanks to blog reader Mike, that the No. 4 SMLE has both a long and a short stock. Apparently, when there are complaints that the rifle kicks, the stock is always a short one. I tested that at the range yesterday with a friend of mine. He had a hard-kicking Mark III and, sure enough, it has a short stock. But my No. 4 stock is at least .75 inches longer and feels like a mild 30/30 when shot.
Okay, on to today's blog.
There's a lot of interest in this pellet pistol, and I've learned a lot more while testing it. Before I did this report I read as many reviews of this Ruger Mark I pellet pistol as I could find — both on this site and on others. I discovered something while doing that. There's a sharp difference of opinion about the gun that divides around the age and airgun experience of the person writing the review. Those who are either young or have little experience with airguns say the Ruger is hard to cock and not very accurate, but they all praise the power they think it has. But veteran airgunners who own chronographs have learned that the pistol isn't as powerful as advertised, but it's easy to cock (very easy for the power, if you use the cocking aid) and also relatively accurate. So, come with me today while I show you what the Ruger can do.
I shot the gun for accuracy at 10 meters, because most of the reviews I read talked about shooting at distances from 25 feet to 10 meters. In the end, 10 meters turned out to be exactly the right distance for the gun.
I shot off a bag rest with both hands holding the pistol out just past the bag, so there was no contact between the bag and the gun. My forearms were resting on the bag. The sights are fiberoptic; but when held at arm's length, the front sight just fills the rear notch perfectly. It's possible to get a precise sight picture that can be repeated with every shot.
Trigger and cocking effort
The trigger-pull is very heavy — to the point of being a distraction. Blog reader Victor asked me to report on the trigger-pull and cocking effort after this test; I guess because he wanted to see if there was any change during break-in. After this accuracy test was completed, the gun had a total of about 140 shots on it. The trigger-pull measured 5 lbs., 13 oz., and the cocking effort with the aid installed is 26 lbs. That's a pound higher for cocking, and the trigger is a half-pound heavier than the last time I checked. Both numbers are probably just due to how they were measured and no real change has occurred.
Accuracy
The nice thing about testing a gun with open sights is that it's usually on the paper right out of the box, where a scope can be almost anywhere. This pistol was shooting high and left, but it was on the paper at 10 meters. It took a little elevation reduction and a lot of right adjustment to get the pellet to land in the bull. I sighted-in with RWS Hobbys. Then, I shot the first group of 10.
The first group surprised me, but that was when I realized that many of the reviews had been written by new shooters. I say that because the Ruger Mark I is an accurate air pistol when you use the correct holding technique. You hold the pistol firmly but do not try to prevent it from bouncing around in recoil. It's not as accurate as a Beeman P1 or an RWS LP8, but it's accurate, nonetheless. But only the experienced pistol shooters will know how to get this pistol to perform its best.
Ten RWS Hobbys grouped in a 1.073-inch group at 10 meters for me. The group is open but also nice and round. It was a lot better than I'd expected.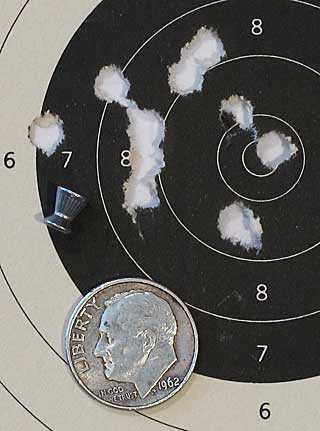 Ten RWS Hobby pellets made this nice round 1.073-inch group at 10 meters.
Following the Hobbys, I was in the right frame of mind for all further shooting. Next up was the JSB Exact RS domed pellet. We know from past experience that this pellet often does well in lower-powered springers, though I don't think I've tried it in a pistol before now.
This time, the RS pellet did very well, indeed. In fact, it was the most accurate pellet of the three I tested. Ten made a group measuring 1.059 inches between centers. Though this group isn't much smaller than the Hobby group, the smaller holes made by the domes make it appear smaller.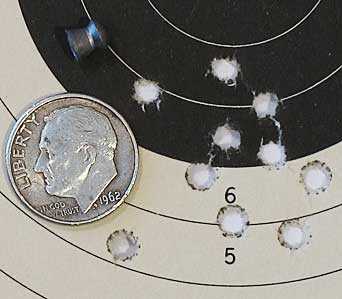 Ten JSB Exact RS domes made the best group of the test. It measures 1.059 inches between centers.
The last pellet I tried was the Gamo Match wadcutter. Sometimes, they surprise me by being the very best pellets in a gun, but this wasn't one of those times. Ten pellets grouped in 1.595 inches between centers — hardly in the running with the first two pellets.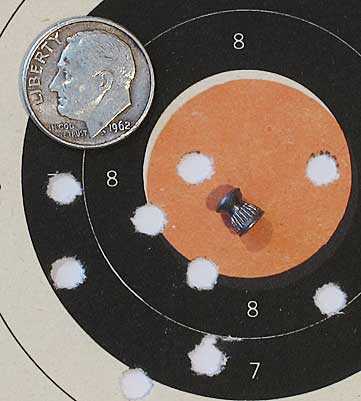 It only looks like nine holes because two pellets went through the same hole next to the number 7 at the bottom of the bull. Gamo Match pellets were not in the running, with this 1.595-inch group.
At this point in the test, my trigger finger was hurting from the weight of the pull, and I was concerned that further shooting would be affected by it. So, I ended the test. It sounds like it shouldn't have hurt, but the pull is so long that it really does hurt.
The bottom line
If you want a powerful spring pistol at a budget price, I don't think you can do any better than the Ruger Mark I. It demands good shooting technique and rewards it with decent accuracy. The power is respectable, and the cocking effort is low for the power generated. The trigger is heavy and the sights aren't perfect, but they do adjust and the pistol does respond to them very well.
Most shooters will like the shape of the grip, which is reminiscent of the Luger. The Ruger Mark I is just about right in the weight and balance department and encourages plinking with its surprising accuracy.
by B.B. Pelletier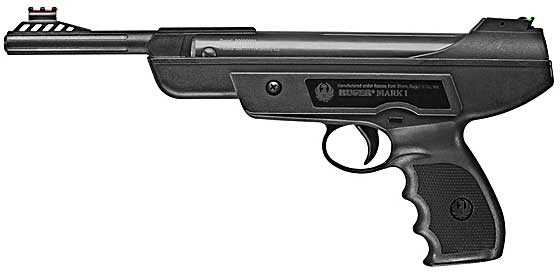 The Ruger Mark I pellet pistol is a powerful spring-piston gun.
Several readers indicated an interest in the Ruger Mark I pellet pistol, and we had one warning to watch the plastic frame for cracks. I'll do that throughout all testing; but I can say that after today's shooting, everything is still sound.
Dieseling
One reader commented that his pistol was the worst-dieseling airgun he had even seen. He may have said dieseling, but I think he really meant detonating, given what I see with the test gun. The test gun detonated several times at the beginning of testing, then settled down to just a diesel with every shot. But because of the type of oil or grease the factory used, there was a lot of smoke with every shot.
In this respect, the test pistol acts identical to the B-3 underlevers I tested back in the 1990s. It's grossly over-lubricated at the factory and will continue to smoke and smell like frying bacon for a long time. As a result of this over-oiling, we have to look at the velocities with a certain skepticism.
Cocking
Once again, I must report that this pistol cocks easily for its power. It's definitely meant to be used by an adult male, but you should be able to cock and shoot it several hundred times in one session without a problem. The cocking effort with the cocking aid installed measures just 25 lbs. — BUT — you can easily get a much higher number when measuring this pistol. It's obvious when cocking that the mainspring isn't lubricated very much, if at all. So, as the gun is cocked the spring crunches and pops as its coils slip into the piston skirt and over the spring guide. When that happens, the scale can go up above 30 lbs. pretty fast. The secret to cocking the gun with the least pressure is to use all the mechanical advantage that's available and to cock the gun quickly and smoothly. Don't hesitate during the cocking stroke, or the mainspring will hang up and the effort required will increase.
A proper lubrication of the powerplant with some spacers to take up what feels like excess space around the mainspring would reduce the cocking effort to exactly 25 lbs. each time. I doubt that it will get any lighter than that, even with extensive break-in, as long as this mainspring remains in the gun.
Trigger
This gun has a heavy two-stage trigger. The trigger is adjustable for the length of the first-stage pull, but the pull weight cannot be adjusted. The advertised pull weight is 5.5 lbs., and my test pistol averaged 6.7 lbs. over 10 pulls. It does feel as though the trigger is breaking in, so that weight may decrease with use.
While this is a heavy trigger, it isn't too heavy for good shooting. You want a heavier trigger on a handgun to help control the gun. That's accomplished when the pistol is drawn into the web of your shooting hand by the force of pulling the trigger. This one goes way beyond what's required for stability, but not so far as to be excessive.
Velocity
I started by testing the gun with Crosman Premier 7.9-grain domed pellets. The first shot went 409 f.p.s., then the next five were all above 500, with one going 596 f.p.s. Then, the gun calmed down, again, and shot this pellet at an average 456 f.p.s. This string ranged from 451 to 462 f.p.s., and the pellet produced an average 3.65 foot-pounds of muzzle energy.
Next, I tried the RWS Hobby pellet. Although the gun was still smoking on every shot, this time it didn't seem to detonate as much. It was just dieseling, which is expected, but not detonating.
Hobbys averaged 473 f.p.s. and ranged from 466 to 486 f.p.s. There were no impossible velocities in this string, so I think the gun has calmed down. At the average velocity, this pellet produces an average 3.48 foot-pounds of energy at the muzzle.
The last pellet I tested was the Beeman Kodiak — a heavy .177 pellet that's out of profile for use in a pistol of this power. Even though it won't be used, it's good to see where the boundaries of the gun lie, and the performance of a heavy pellet is one of the things you have to look at.
Kodiaks averaged 360 f.p.s. and ranged from a low of 348 to a high of 366 f.p.s. Like the other two pellets, they're reasonably consistent. At the average velocity, they averaged 3.05 foot-pounds of muzzle energy.
Umarex advertises this pistol to shoot at two different velocities — 500 f.p.s. shooting lead pellets and 600 f.p.s. shooting high-velocity non-lead pellets. So far, the fastest we've seen from lead is one shot at 486 with Hobbys, so I thought that it was important to also test this gun with the high-velocity, lead-free pellets. Shooting 5.2-grain RWS HyperMAX pellets, the pistol averaged 554 f.p.s. with a spread from 542 to 574 f.p.s. That's an average muzzle energy of 3.54 foot-pounds of muzzle energy.
I wondered whether seating the pellets deep in the breech would affect the outcome, so I shot a second string with the pellets seated deep, using the Air Venturi Pellet Pen and PellSet. These pellets really popped into the breech, so the resistance their skirts provided was significant. Set deep, they averaged 567 f.p.s. with a spread from 562 to 573 f.p.s. That's an average 3.71 foot-pounds of muzzle energy. So, the average speed increased and the spread tightened, even though the maximum velocity did not change.
Power
I read many reviews of this air pistol — both on the Pyramyd Air website as well as other places. Some have compared it to the Beeman P1, the RWS LP8 and the Browning 800 Express. Apparently, they think this pistol is in the same power category as those three, but it isn't.
For what it is, the Ruger Mark I is a consistent spring-piston air pistol that's relatively easy to cock and produces reasonable power. The shot-to-shot consistency is very good. When taken as a whole, we must also consider the heavy trigger and the accuracy that hasn't been tested, yet. It's too soon to make any pronouncement about whether or not this is a good air pistol. It's certainly very smoky to shoot and does need the cocking aid. But none of that will matter unless it can also group.
One final thought. One customer review I read said the shooter was grouping from five meters. I will test the pistol at 10 meters unless there's a compelling reason not to. A pellet pistol with a rifled barrel ought to be able to shoot that far with some level of accuracy if it's to be considered for anything.