Posts Tagged 'Collecting'
by Tom Gaylord, a.k.a. B.B. Pelletier
I thought I would share with you some of my thoughts on buying rare and hard-to-get airguns. In the past, I've written several times about trolling for good buys and how to turn them up in a variety of circumstances. Some of you have shared your own experiences on this topic — from trolling in pawn shops to placing ads in novel locations to ferreting out those unexpected great deals.
I want to take a different direction on the same topic. What do you do when you want something specific? You're going after just one thing — not accepting any good thing that snags in your net. How do you go about getting that thing you want very much?
Make haste slowly
Ben Franklin gave this advice in Poor Richard's Almanac. It means you should be focused on your goal at all times — but don't jump at the first, second or even third opportunity to get what you want. Many years ago, an old friend of mine went about buying used cars this way. He told me he was always looking for a "creampuff," which he described as a very old car (at least 10 years old) that had low mileage and excellent maintenance records. This was back in the 1950s and '60s, when cars had to be maintained a lot more than they do today.
My friend, Harry, even had a method of looking for cars. He cultivated older people, talking to them and helping them out in small ways by watching their houses while they were on vacation, helping with their yard work if they were older and couldn't do it, and just keeping his eyes open as he drove around the neighborhood. He told me once that when he wanted a new (to him) car, he planned on spending 6 months to a year to find just the right deal.
The right deal was a car with less than half the expected mileage for its age, one that had regular oil changes and tuneups and preferably one that was kept inside a garage. We lived in San Jose, California, so the weather was usually quite nice; but Harry reasoned that if the car was garage-kept, it was also loved like a member of the family instead of being treated like a broken down old horse tied up to the hitching post out in the rain.
In 10 years, I watched him buy 4 cars this way, and each one was a winner. He never paid that much, though I also noticed that he didn't have to haggle about the price, either. His sellers were always motivated to sell him their cars at very reasonable prices.
So, making haste slowly means having a plan that has minimum acceptable criteria — price, condition, accessories and so on. Once you determine these criteria, you don't sway from them. You pass up deal after deal until the right deal comes along. When it does, you'll have looked at so many other deals that were almost what you wanted, but not quite, that the right deal will shine like the noonday sun.
Why is it worth that much?
When you're searching for a specific airgun, you have to know what the market is paying for them at the current time. That doesn't mean that you have to pay that much for the same gun, but you at least have to know what they're going for. This helps you in several ways.
The first way knowing what things really cost helps you is by aligning your own thought processes. If you think that Sheridan Supergrades should cost $600 in excellent condition, you're probably never going to find one. The reality is that Supergrades in original excellent condition are now bringing $1,400 to $1,800. If you can't acknowledge that, nothing you do is going to make you happy.
The second thing you need to know is that ANY restoration or fiddling with a potentially collectible Supergrade destroys 90 percent of its collector value. A gun that looks like a new gun but has just been refinished is worth $1,200. The seller may have twice that much into it — that's not your problem. That gun has no real collector value. In fact, the same gun was worth more before it was refinished than it is right now. I get into arguments over this fact repeatedly with people who think that an item's appearance is worth more than its history. To them that may be true; but to the rest of the world that spends real money on things, it isn't.
The truth may be that you're not a collector. If that's the case, the good-looking restored Supergrade may be worth more to you because of its appearance. Just know that when you try to sell it, this fact is going to come back to haunt you.
Condition
The condition of airguns drops off very fast as they accumulate the nicks and dings of ownership. When someone tells me a gun is like new, I expect it to have 100 percent of its finish and no dings or marks on the wood. Don't ever tell me that something is like-new except for a small bit of finish wear at the muzzle! You just described a gun in excellent condition — not like-new.
I'm not lecturing you. What I'm doing is giving you the tools to turn around situations in which people misrepresent the condition of their airguns to you — often without knowing it. A like-new FWB 300S is probably worth $800. An excellent FWB 300S is worth $550. Big money difference for just a few words, but that's how it works.
I own a Falke 90. That model is widely acknowledged to be rarer than a Colt Walker revolver, which brings from $200,000 to over one million dollars when they sell. Of course, the Walker is tied to the Mexican War and the Falke 90 is just a post-WWII airgun without any significant history, but the point is that they're very rare.
Mine, however, has been extensively restored. Where a Falke 90 in original condition with 90 percent of its original finish is probably worth over a thousand dollars, mine is worth whatever someone will pay for it. My rifle looks quite nice, but it's obviously been worked on. Even if you didn't know the whole story of the gun, you'd be foolish to pay even half what an unrestored gun is worth to get something like my gun.
Here is another thought. Back at the end of World War II, it was popular for American soldiers to obtain a Luger pistol. Many of them then had their guns nickel-plated before bringing them back from the war. Today, these guns are popping up everywhere and the stories that accompany them are fantastic! "It was a presentation piece from Hitler to very special people on his staff. This one belonged to Heinrich Himmler!"
Yeah — right! If Heinrich Himmler had owned all the guns attributed to him he could have opened a gun store! And nickel Lugers? Yes, a few of them do exist with legitimate provenance, but the bulk of them were made after the war by Happy Hans the Plating Mann. It was anything for a buck in those days, and many soldiers wanted shiny trinkets to remember their overseas experience.
Here's another one. A factory-engraved Colt Python is worth a premium. But a Colt Python that was engraved outside the Colt factory is only worth what people will pay for it. If the non-factory engraving is well done, it can add value to the gun. If it's poor, it can quickly take away value.
It's all in the details
You want an FWB 127 — the .22-caliber version of the famous FWB 124 (.177 caliber) sporting air rifle. You know that 127s bring almost double what 124s bring because they're so scarce. A nice 124 may sell for $450, while a nice 127 will fetch $700 all day long. But hey — a guy you know has pressed out the barrel of his 124 and replaced it with a .22-caliber barrel from an HW 80. He would have used an FWB barrel; but since the .22-caliber 127s are rare, so are the barrels. Does that make his rifle a 127? No, it makes it a 124 that's been fooled with. It may be exactly what you want from the standpoint of its function, but all the collector value of the gun is now out the window. I'm not saying the gun has no value — just that it no longer has any collector value.
But, it's over 100 years old!
I hear this all the time on the "reality" TV shows that deal with the value of things. Whether it is found inside a storage locker or an old barn, the age of something is not the sole driver of its value. It's just one component. Older firearms are potentially worth more than modern ones (depending on what they are and their condition) — older footwear, maybe not so much. Age is just one thing that drives the price, so don't overrate it.
In your patience possess ye your souls (Luke 21:19)
When I was a consultant for an engineering firm, we had a saying about the software we developed: "You want it bad? It's bad right now!" This applies to acquiring those special airguns you want, as well. Don't be stampeded into a deal just because you have found almost what you want. It has to satisfy all of your criteria or it's not the right deal for you. You don't want to have to talk yourself into the deal after the fact, trying to convince yourself that you did okay. If the quality is there and the specifications are right but the money isn't, walk away. If the money is good but the specs are off (the TX200 Mark III instead of the Hunter Carbine you really want or a .177 instead of a .22), walk away.
Act!
This is the big one that separates the men from the boys, but it also separates the men from their money. When you do find the gun you want and everything else is right, act on it. I've witnessed the following: A man lowballing the seller of a military Girardoni in fine condition and allowing another buyer to whisk it away. Ten years later, the gun was worth no less than 15 times what it sold for that day. I personally put together the deal that got me my Ballard rifle for about half the asking price. Even then, it was still the biggest single gun transaction I've ever been part of. I had to trade 3 high-value guns to get it, but the deal was right and I knew it.
I recently was involved in a transaction in which I offered far less than the seller was asking for his very valuable gun. But I knew he'd been trying to sell it for over a year and there hadn't been much action on it, if any. While my offer was embarrassingly low, it was also a substantial cash offer. True, you could go on the auction websites and see similar guns whose owners were asking twice what I offered, but you could also see they weren't getting any takers. It's one thing to say such-and-such a gun is worth a certain price; but when you want to sell it and someone is standing in front of you with a lot of real money in his hand — even though it is less than the experts believe your gun is worth, there's a strong motivation to take the offer. You see this happening on TV shows like Pawn Stars all the time, but I'm also telling you that it can happen just that way.
If you want that hard-to-find airgun, there are some things you need to do.
1. Educate yourself on the real value of the gun. What are people actually paying for them?
2. Be a stickler for originality and condition. You can buy modified guns and guns that have been refinished if you want to, but make sure the deal reflects that.
3. Know as many of the technical details as possible of the gun you want. Know why it's worth what it's worth, instead of a warm feeling just to be in the presence of one. Never forget that some warm feelings are not pleasant!
4. Be patient to wait for the right deal.
5. Most importantly, act when the deal is right. Don't look back after the deal is done.
by Tom Gaylord, a.k.a. B.B. Pelletier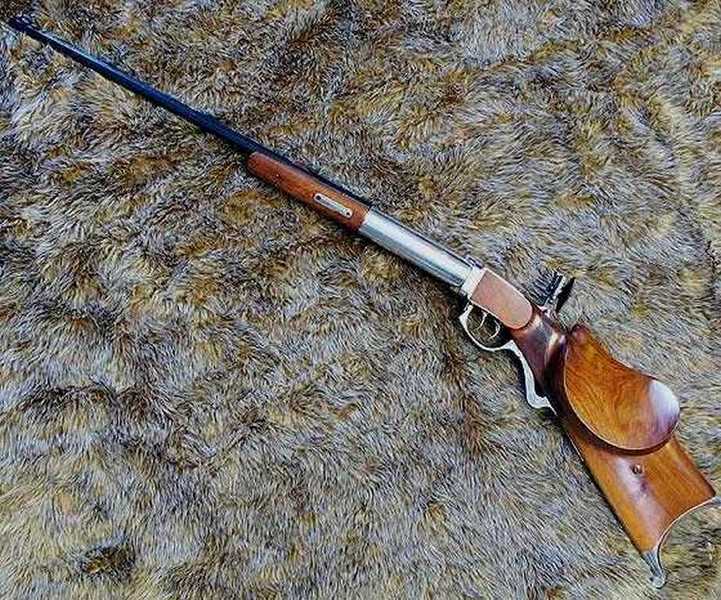 B.B.'s bügelspanner.
Today, I have a story for you. A couple weeks ago, one of our blog readers — a man named Eric — emailed me a link to a local craigslist.com posting. Eric met me at a gun show last year, and I sold him a Winchester model 427 (Diana 27) air rifle. He already knew about fine vintage airguns, and the 27 had been on his wish list for a while, but I don't think he was a blog reader. Well, we fixed that right away! Since then, he's been reading the blog and becoming more familiar with his new rifle and airguns in general
The listing he sent me showed a Tyrolean air rifle with the traditional high-cupped cheekpiece and hooked buttplate. What was even more fascinating were the double-set triggers and the large aperture sight located at the rear of the receiver, as well as the sporting sight mounted on the barrel.
The gun was a bügelspanner, or loosely translated, a triggerguard (lever) cocker. I've owned 2 bügelspanners in the past, but neither was as nice as this one. And the funny thing is that this was posted on craigslist! That's funny because guns are sold on gun websites — not on a general website like craigslist.
But this posting had lasted for a minimum of 2 weeks before I saw it. So, I contacted the seller and, glory be, he still had it! We met last Sunday, did the transaction and this was one of those rare times when the gun was exactly as represented.
The gun is a smoothbore .25-caliber gun. The seller, named Joe, told me he had owned it for the past 34 years and had gotten it at the age of 8 as a gift from his father. The gun is much older — probably dating back to around the 1920s or '30s.
It's a spring-piston gun that has 2 opposed volute springs that compress against each other. They push a leather-covered piston in the same way that a coiled steel mainspring does in a conventional spring-piston gun, so this is just an odd form of spring-piston airgun.

Two volute springs push against each other when compressed.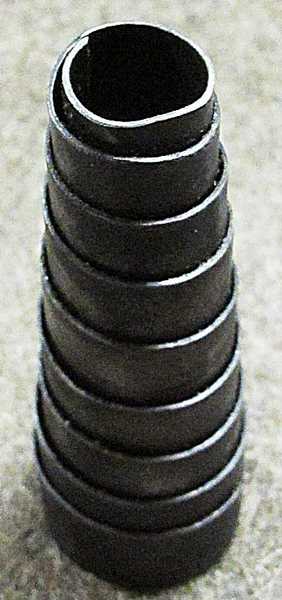 The volute spring is a flat spring that's been coiled and stretched into this shape.
Zimmerstutzen style
I was attracted to this airgun because of a long, abiding interest in zummerstutzens — indoor gallery or parlor guns used for target shooting. I've been fascinated with them since I was a teenager and first read about them in Guns & Ammo back in the early 1960s.
The zimmerstutzen rifle is usually found in the Tyrolean style, but not always. It's nominally 4mm, but there are more than 20 specific calibers for which the guns were bored. They fire either fixed ammunition (a cartridge) or separate ammo with a percussion cap and round lead ball loaded separately. Rather than get into the full description here, I invite you to read my full article about them. I normally don't like giving homework assignments; but if you read that article and look at all the pictures, you'll have a much better understanding of the gun we're examining today.
The subject gun
I was inclined to believe the subject gun is a dart gun, but what little historical documentation there is mentions using pellets as well. I thought it was a dart gun because it's set up for extreme accuracy, and I didn't think that pellets could be that accurate in a smoothbore barrel. But we did do a test of the Diana 25 smoothbore at 10 meters and established that it is, in fact, very accurate at that distance. So, I really don't know if I'm supposed to shoot darts or pellets in this gun. For the present, I only have pellets because .25-caliber darts are not that common. But I could certainly make some.
This type of gun either fits or doesn't fit — there's no in-between. I'm lucky that it fits me pretty well. But that sporting rear sight does get in the way of seeing the front sight. I would have to remove it to use the rear sight.
Why a sporting rear sight? Shooters in the US are not familiar with how European airgunners view target shooting. They use their guns for both precision target shooting and also for sporting use. I guess the best comparison would be to the Hunter Class of field target. Therefore, European target guns often have both a precision rear peep site and a second sporting rear sight located somewhere on the barrel. The subject gun has both.
The front sight is a fine post and bead, which is typical of all zimmerstutzens and, indeed, of many target guns from the 19th century. This sight is very fragile, so it's protected by steel "ears" on both sides.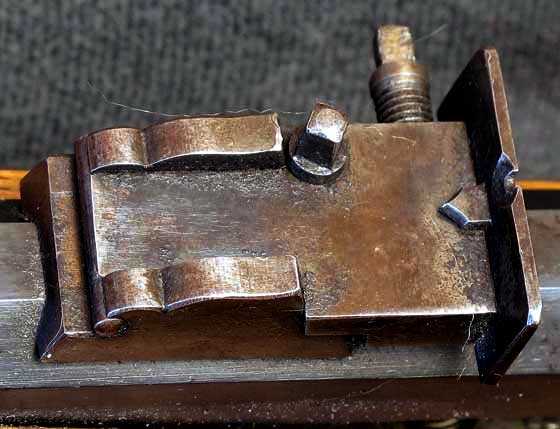 The sporting rear sight is adjusted in both directions by a clock key.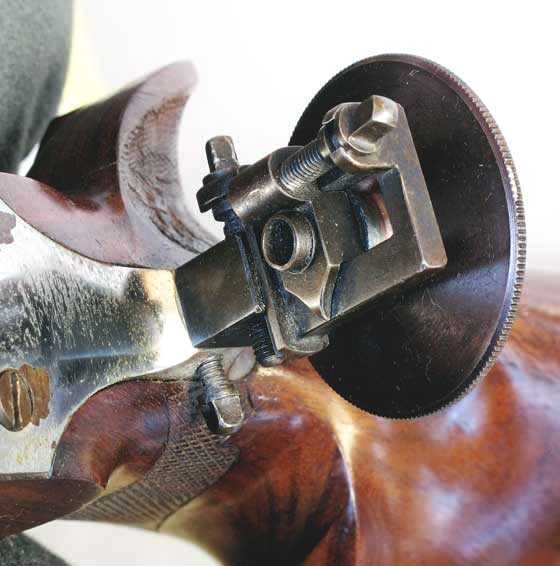 Rear peep sight is also adjust by a clock key and can be removed to use the sporting sight, only.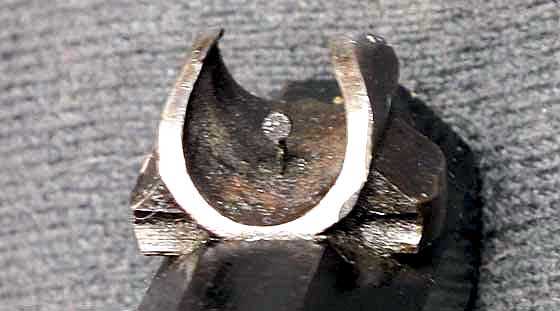 Front post-and-bead sight is delicate, so two steel ears protect it.
The gun has an octagonal barrel, which dates its manufacture to before World War II. It's impossible to get a more precise date than that because these guns were made from the beginning of the 20th century until the early 1950s. The octagonal barrel also suggests a time before 1940. Most likely this gun was made in the 1920s or 30s, but I have no way of proving that.
The name Original is engraved on the barrel. Several sources say that this is a name used by Oskar Will in Zella Mehlis, Germany; but one source says that name, by itself, was used only by his competitors, and all of his guns also have the word Will on them, as in Original Will.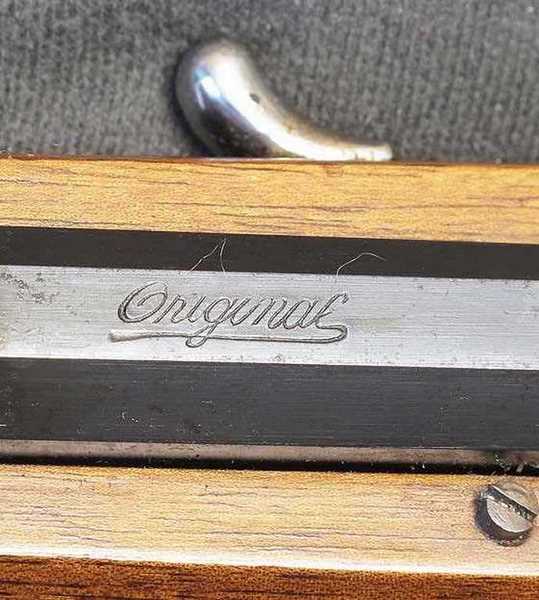 The name Original may mean this gun was made by Oskar Will of Zella Mehlis.
The gun is cocked by pressing down on the triggerguard, which is actually a long lever pivoted near the bottom rear of the butt. You can see the pivot pin sticking through the rear of the buttstock. A linkage pulls the piston back, compressing the two springs. To load the gun, you press a catch forward on the right side of the forearm, and the rear of the barrel can then be tipped up. You could call this a breakbarrel, but the barrel doesn't have anything to do with cocking the springs. In that respect, the gun is like the breakbarrel Whiscombe rifles.
The cocking effort is pretty demanding. It's on the order of 40 lbs., at least. I can't see how a boy of 8 was able to cock this gun, but maybe his father cocked it for him until he grew into it.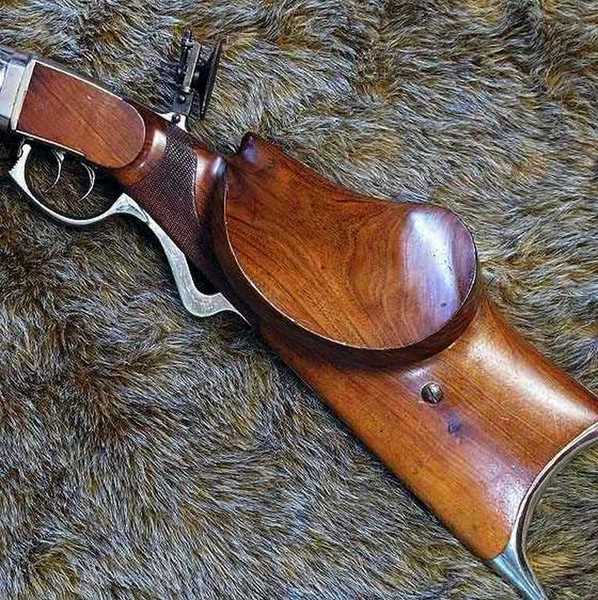 Triggerguard is shown up…in the firing position.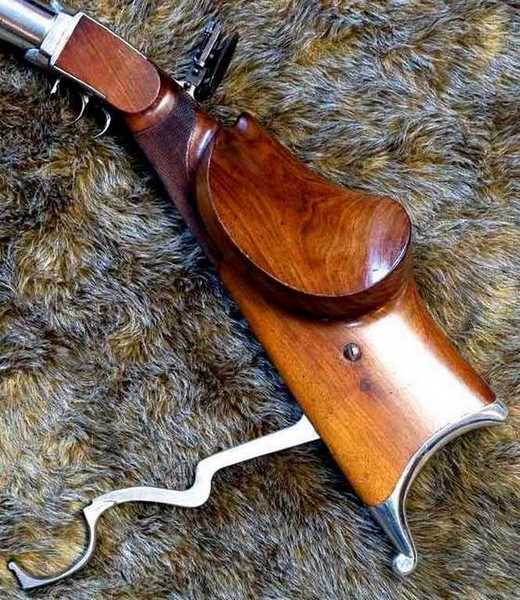 Triggerguard is pulled down to cock the springs.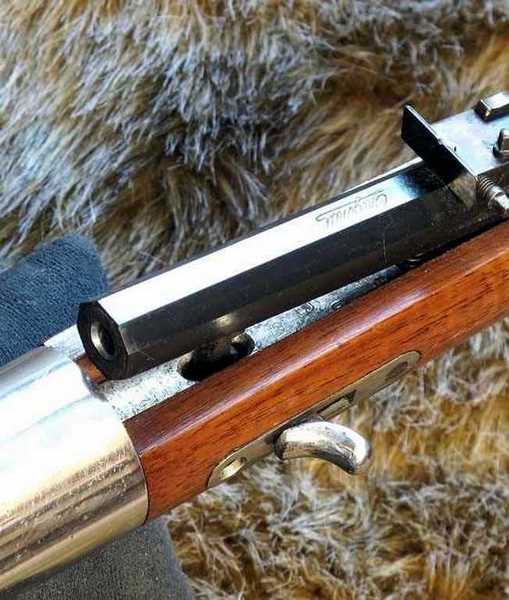 Push the catch forward, and the barrel can be tipped up for loading.
The double-set triggers on this gun are interesting. They work in the normal way — the rear trigger is pulled to set the front trigger and the front trigger fires the gun. However, there's one difference. Many guns with double-set triggers will also fire when the front trigger is pulled without being set. This gun will not. If the trigger is not set, the gun cannot be fired.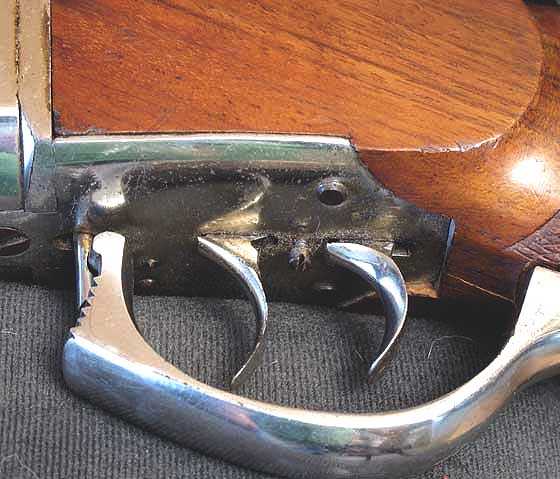 Double-set triggers function normally, except the gun won't fire unless the trigger is set. Many double-set triggers will fire when the front trigger hasn't been set, but not this one.
Joe told me he shot the gun, so I figured it would be okay for me to do, too. First I dumped about 20 drops of 3-In-One oil down the air transfer port and gave it an hour to soak into the leather piston seal. The, I loaded an obsolete 20-grain Diana Magnum pellet and shot it into the trap from just a few feet away. The firing cycle was very harsh, so I won't be doing that, again, until I can examine the condition of the powerplant. I could hear how slow the pellet moved, which leads me to suspect I'm right about this being a dart gun.
The gun is stocked with a light-colored walnut that's checkered on the straight pistol grip. Also typical of the Tyrolean stock is the thumbrest that protrudes from the right side of the grip. That makes this a definite right-hand rifle!

This top view shows how thick the buttstock blank had to be to begin with!
The gun's metal is finished with a combination of heavy nickel plate and hot-tank bluing. I would put the finish at 80-85 percent, which is to say…a lot! There are pepper tracks of rust scattered around the blued barrel, but an application of Ballistol and steel wool has begun to remove them. I'll keep this up for as long as it takes to get down to smooth metal.
The future
This report will not follow the traditional pattern of velocity testing followed by accuracy testing. For starters, I think the gun is too fragile to shoot that much, plus it does fire harshly. I need to find out what's going on inside before I do much of anything.
I made this Part 1 so I could come back to it with a second report, though I have no plans for that right now. But as I learn more about it, there will be enough information to make an interesting Part 2.
by Tom Gaylord, a.k.a. B.B. Pelletier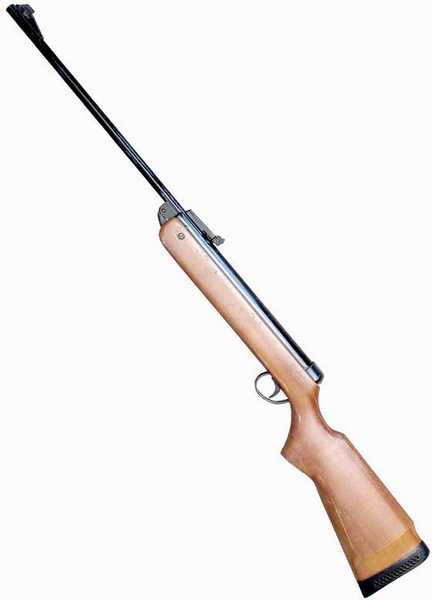 My rifle is actually a BSA Super Meteor.
Today I'll tell you the rest of the story. And, what a story it is! I had no plans for this part of the BSA Meteor report to go as long as it did. Circumstances just led me to this point. All I did was faithfully chronicle what happened.
When we left the Meteor yesterday, I'd removed the piston body, but the piston head was still stuck inside the spring tube in the forward part we call the compression chamber. The best access is through the air transfer port — a hole 0.125 inches in diameter. I had a pin punch that fit the hole, and I hoped it would need only a couple taps to come loose, but it was far tighter than I'd thought. The pin punch went in as far as it would go (about 1.5 inches), and the head was still out of reach from the other end. I needed a longer punch.

The air transfer port provided the best way to get to the stuck piston head. With the barrel removed, it was easy to insert a pin punch through the hole and tap the piston head out of the compression chamber.
I flipped the spring tube straight up, with the transfer port on the lower end, and poured Kroil (penetrating oil) on it to loosen the head. This is similar to freeing a stuck piston in an old tractor, except that this is smaller and a lot easier to work on. I left the Kroil in the spring tube overnight; and by the next morning, none had passed the piston head. The piston was stuck tight!
My shooting partner, Otho, made me a 12-inch pin punch from music wire that was exactly 0.125 inches in diameter. I met him out at the rifle range, where he gave me the new punch. All it took was a couple taps with a ball peen hammer and the head came right out. The Kroil on the walls of the spring tube made removal that much easier once the head got to the place where the oil covered the walls.
What came out of the gun was surprising, as it didn't look like a Meteor piston head was supposed to look. But it did appear to be factory-made. Experience has taught me to, "Make haste slowly," as Benjamin Franklin once said, so I studied the piston head and thought about the project for a day.
Looking on the internet, I found one other person who had the same problem — the head separating from the piston. And his gun was filthy dirty inside, just like this one. When he described his piston head, it turned out to be exactly like the one in my gun and also is not a head that's normally seen in a Meteor. Then a happy thing happened.
New blog reader Dag Evert told me my rifle looks like a blend of different Marks to him. He sees some Mark IV and some Mark V characteristics in my gun, and he told me that he has seen 3 different piston heads in these rifles. For some reason, the guy on the internet thought someone had substituted a BSA Scorpion piston head in his rifle.
The piston head of a normal Mark IV Meteor has a large o-ring near the front of the head that is backed by a buffer washer. The head is either keyed to a slot in the end of the piston or there's the newer (cheaper) kind of piston head that's held on the piston by an E-type circlip. That kind can separate from the piston just like mine did.
My piston head appeared to have leather around the sides. I had to destroy the leather material to find out if I'm right about the composition, but I also don't care for the weak way this head attaches to the piston. According to what I've read, it's actually very weak! I would like to replace it with a new piston that uses a more conventional head that won't separate from the piston while inside the gun.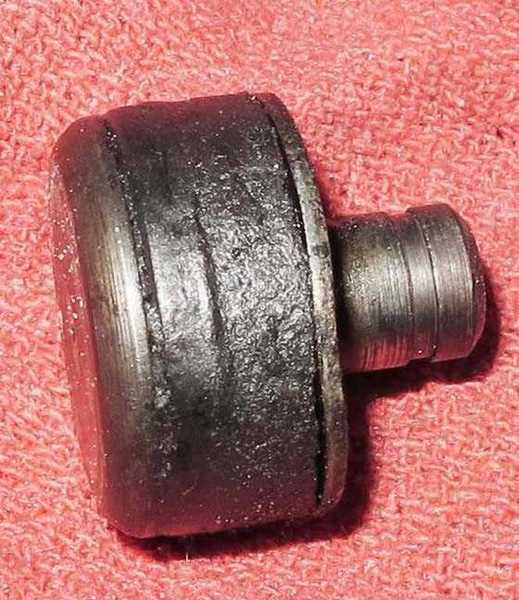 This is what the Meteor piston head looked like when it came from the rifle. This is an enlarged and enhanced photo, so you can see the separation of the o-ring and buffer washer; but when looked at in normal light at normal size, this head looked like the sides were all leather. The shallow groove in the end of the head is for the E-type circlip that holds it fast to the piston.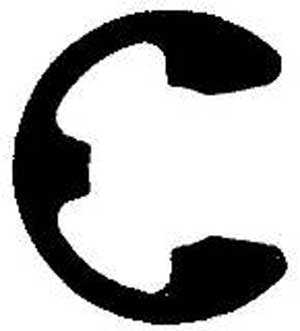 This is an E-type circlip that's used to hold the piston head to the Meteor piston.
John Knibbs in the UK has an entire rebuilt piston with a new head that's ready to go, but the price is 45 British pounds, which is about $72.00. Add shipping to that, and it comes out to around $80 — which is more than the rifle cost. Of course, I have to either fix the rifle or sell it for parts, and I do want to fix it. So, I'm going to have to spend some money. I don't want to make parts for this gun if I can get around it…because most of our readers can't make parts, either.

John Knibbs sells this BSA Meteor piston assembly complete with new piston head. This is everything needed to fix my rifle, but the cost is high.
I kept searching for something that was less expensive. I had a perfectly good piston, so all I needed was a new piston head. Instead of being attached with a circlip, as mine is, I wanted one that had a more positive attachment so it wouldn't separate again.
At this point, I wasn't entirely sure that the head in my gun was the same as what was being offered on the internet. It was time to take my piston head apart, and that probably meant destroying the soft parts. But since this head wasn't going back in the rifle again, I saw it as no loss.
The first step was to remove the rear washer behind the buffer material. It should have been free to come off, and it was.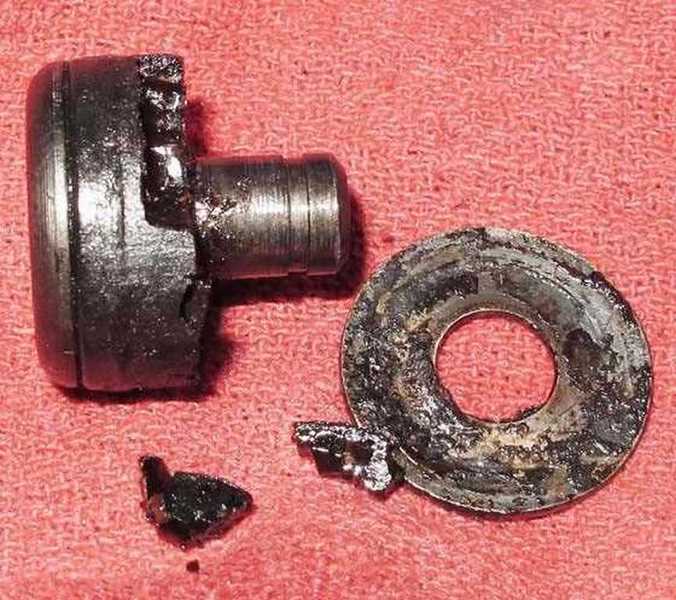 Whatever material the buffer washer was made of, it was completely gone by this time. The simple act of pulling off the metal washer behind it caused the washer to begin to disintegrate. It wasn't the leather I thought it was.
The o-ring was so flattened by years of compression inside the chamber that it looked like something else. I cut it off to show that it is really a conventional o-ring.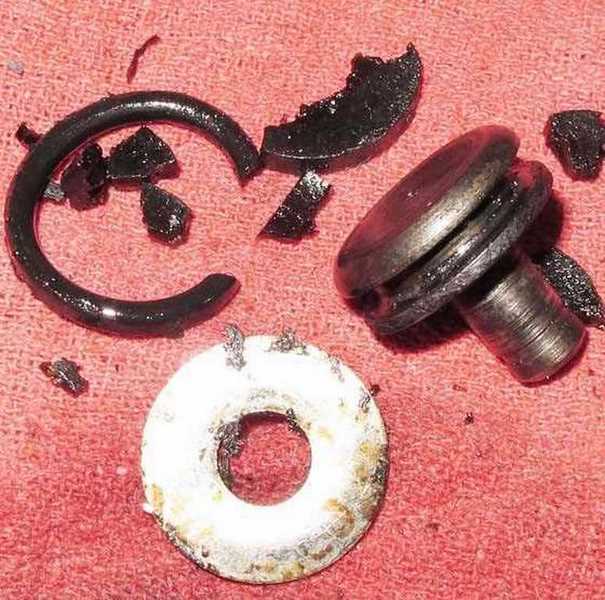 With the o-ring cut off, you can see that this piston head is the usual one found on a Meteor. But the method of attachment to the piston by a single circlip is far too weak for reliable operation.
What I needed was a piston head with all the parts that attached to the piston with something more positive than just a circlip. And with more searching on the internet I found what I needed. On T.R. Robb's website, I found an adjustable piston head for BSA Meteors that comes with the buffer washer, 2 o-rings and a nut to fasten the head to the piston.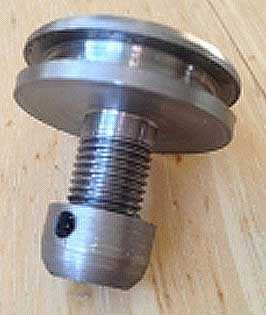 This adjustable piston head comes with everything needed to fix my Meteor piston. Note how the fastening nut is tightened by a rod inserted from the side. The soft parts are included with this item.
Best of all, the cost for this piston head shipped to the U.S. is just 17.25 British pounds, which is only $27.51. That's affordable in my book. I ordered one, and hopefully it's on it's way.
The fact that such a piston head exists tells me that others have had this same problem. That, by itself, is reassuring to know.
Last word
Before I end today's report I want to draw your attention to the old piston head once more. Notice that the top of the head is bare metal. That's the part that rests against the end of the compression chamber. But it doesn't slam against it — or at least it's not supposed to. If it did, it would hammer the gun apart in a relatively short time.
No, the compressed air in front of the piston head cushions the head from striking the top of the compression chamber when the gun is working right. Hopefully, all that's needed to get this rifle working right again is a new piston head with fresh seals and some cleaning and lubrication of the gun's other parts.
by Tom Gaylord, a.k.a. B.B. Pelletier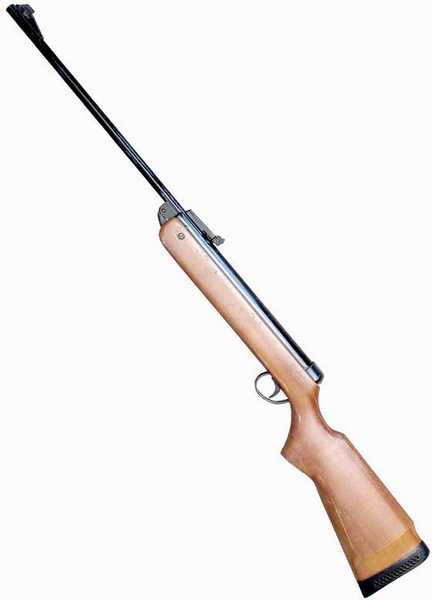 My rifle is actually a BSA Super Meteor.
It would be an understatement to say there was a lot of interest in the BSA Super Meteor I got at the Roanoke airgun show. And in the discussion that followed, I learned a lot about this rifle that is now in its seventh design iteration.
First of all, the experts agree that the Meteors — Marks I and II and possibly the Mark III — are the best ones. Certainly, both I and II are. My Mark IV, on the other hand, is characteristic of BSA's lowest days, when quality went out the window — at least to hear some readers tell it.
I don't have a Mark I or II to compare with, so all my observations have to be based on this one gun. When I tried to fire it for the first time, it sounded horrible — as if it was broken.
Well, it turns out that it was broken! Today, I'll show you the step-by-step process of disassembling this air rifle, and I'll finish the story tomorrow with the damage I found and what I intend doing about it.
I've never liked disassembling BSA and Webley spring rifles because of how they go together. I suppose that if I did it all the time, it would seem simple; but compared to a Weihrauch, Air Arms or even a Diana, these two brands seem to be harder to separate. They seem to be designed for production — not for maintenance. At least, that's my impression.
Having said that, however, I was surprised how easily this rifle did come apart. It was very straightforward and never gave me a bit of trouble. Like I said — I don't have as much experience disassembling BSAs or Webleys.
All my photography today was done with a flash, so please excuse the poor exposures of some of the parts. I've made sure you can see what's important, and I'll direct your attention to it in the text…but these are not as good as my normal photos.
Step 1. Remove the stock
The stock comes off with two screws on the forearm and one on the triggerguard. Once out of the stock, it was easy to see why the forearm screws had pulled apart the action forks. They're screwed directly into them instead of being attached farther back on the spring tube. This is a weakness in the design. Also, each screw was missing a stock spacer that keeps it from pulling on the action forks.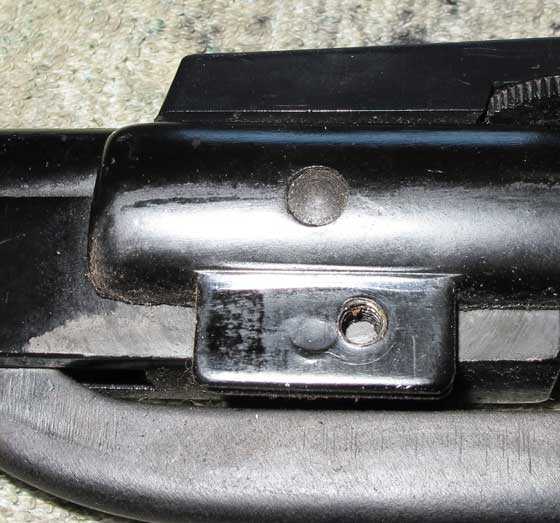 The forearm screws attach directly to the action forks. When they're screwed tight, they tend to pull the forks apart — especially when they're missing their spacers. Note the barrel pivot pin above the flange with the threaded hole.
When I removed the stock, I could finally see the trigger adjustment screw. It obviously adjusts the sear contact area, so be very careful when you adjust it!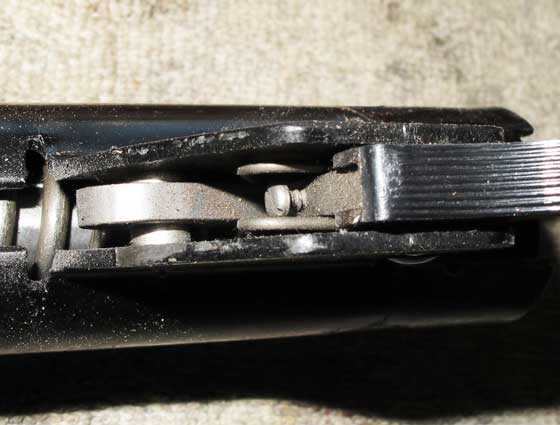 With the action out of the stock, you gain access to the trigger adjustment screw.
Step 2. Remove the trigger parts
In the Meteor, the trigger housing is welded to the spring tube. So, it stays on the rifle, but the trigger parts have to come out to remove the piston, which is held by the sear on its side, rather than with a center rod. The trigger parts are held inside the housing by 2 pins, although it looks like 3 pins at first. One of those pins is a rivet and does not come out of the gun.

Trigger parts are held in by only 2 pins. The small pin above the curved trigger blade is pushed out from left to right, releasing the blade; then, the large silver pin at the top left is pushed out to release the rest of the trigger parts. The rivet at the right side of the housing stays where it is.
Normally, when faced with pins like these, I get a pin punch set, but I found that the trigger blade pin was loose enough to remove with just finger pressure, alone, and the large silver pin came out by pushing on it with a combination of my finger and a ballpoint pen! The large silver pin in my rifle appears to be a captive pin that remains with the trigger housing. The trigger was completely dry, which surprised me because it came apart so easily.
You have to take the trigger parts out because they're being pushed up by the trigger spring to block the piston. The trigger pushes on the sear, which bears on the edge of the piston, so it has to be removed to allow the piston to clear the spring tube.
Once the large silver pin is removed, you can pull the trigger parts out of the housing. They consist of the trigger blade and the sear, plus a bent spring that puts upward pressure on the sear when the parts are pinned inside the trigger housing. The trigger blade contains the adjustment screw plus nylon bearings on both sides to keep it from wobbling when installed. It's more sophisticated than it looks from the outside of the gun. Also, I can tell by the minimal wear patterns that both the trigger blade and the sear are at least surface-hardened. My guess is that they're case-hardened.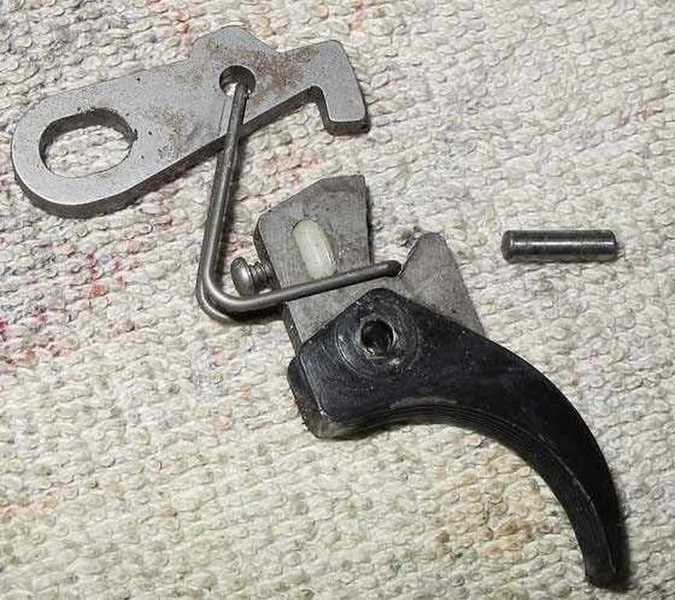 The trigger parts consist of the sear, trigger blade and trigger spring. The pin shown here is the same one that was removed to take the trigger blade from the housing. The white oval on the trigger is a nylon bearing that takes up any side-to-side wobble, plus it helps hold the adjustment screw in place.

Here's the trigger housing with the parts removed. The large silver pin appears to be captive in my rifle. You can also see the rivet that never comes out. Notice how dry the mainspring is!
I noticed how very dry all the parts were. I was beginning to suspect that this gun had never been apart since it left the factory. Of course, without a complete disassembly, it was impossible to tell for sure; but I would have expected to find some lubrication on some parts. At this point, there was no lubrication on anything, and all the of the parts were dry, dusty and lightly corroded.
Step 3. Remove the mainspring retention pin and the mainspring
Step 3 is where you can make a very big mistake. With many airguns, the one or two cross pins on the side of the spring tube hold the mainspring and its guide in the rifle. The Meteor has a single pin, but it isn't held in the rifle in the same way that other cross pins are held. Instead, this single pin is keyed to the spring guide. If you try to drive it out with a pin punch, you'll ruin the pin and probably ruin the spring tube as well.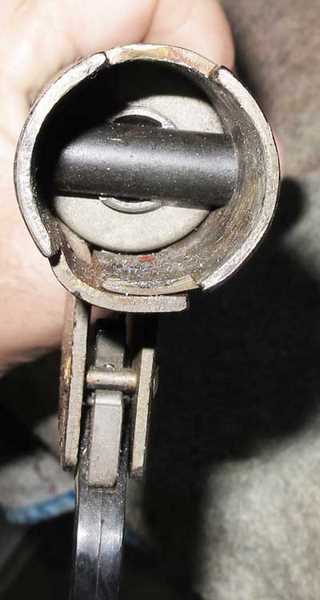 Here you can see the mainspring retention pin. Its function is similar to all retention pins in other spring-piston air rifles, but this one has a secret. It's keyed into the spring guide. Until you take tension off the spring, this pin cannot be taken out of the rifle. If you try to take it out with a pin punch before taking tension off the mainspring, you can damage parts.
To get the pin out, you must take spring tension off it by pressing the mainspring in and away from the pin, then press the pin out of the gun from left to right. It will press out with finger pressure just as easily as the trigger pins did, once the spring tension is taken off. You need to make a special tool to take off the spring tension. I was able to make this tool with a part I bought at a local hardware store for less than 60 cents.
The tool does not have to be strong. It only has to put about 90 to 110 lbs. of force on the spring guide. I had my choice of steel, aluminum or plastic parts to work with, and I chose plastic so it would be easier to work. I bought a 4-inch PVC pipe riser made for a yard sprinkler system. I knew this would be easy to work with a Dremel tool. I brought it home, measured the work to be done and made the cuts on the pipe with an abrasive wheel. The total work time was about 20 minutes. I now had a tool that would span the cross pin and push on the base of the mainspring guide.


In about 20 minutes, I made a tool from a 4-inch sprinkler PVC pipe. It isn't beautiful, but it worked the first time and looks like it'll hold up for dozens more jobs like this.
I'd intended to use the spring compressor with this tool; but after I saw how easily it worked, I decided I could use it outside the compressor. All I did was put the tool around the pin and pressed down on the barreled action, taking all the spring tension off the pin. It was then very easy to press the pin out of the gun with just my finger.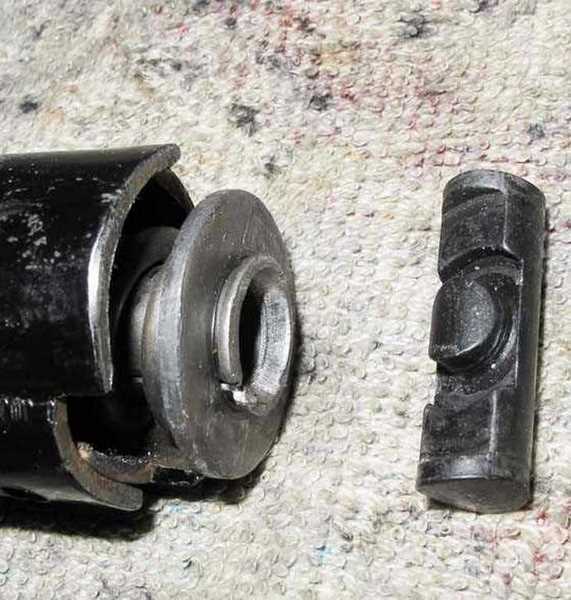 Here you can see how the cross pin is retained by the base of the spring guide. You can also see the small amount of tension that's on the mainspring of this rifle when the pin is installed. It was easy to take the cross pin out and take the tension off the mainspring without a compressor.
Then, I could remove the mainspring and spring guide from the rifle. Once they were out, I saw there was no lubrication on any of these parts, nor was there any on the inside of the rifle. I was pretty certain at this point that the rifle had never been apart; or, if it had, that someone had intentionally dried off every part before assembly.
The mainspring looks pretty good. I rolled it on the table and couldn't see any significant canting. I believe I'll use this mainspring when the rifle's rebuilt.

The mainspring looks pretty good, but it's bone dry.
Step 4. Remove the barrel
It was time to take out the piston. On this gun, the piston is connected to the cocking linkage in such a way that the barrel has to first be removed from the spring tube to disengage the cocking linkage from the side of the piston. The Meteor has a pin (instead of a bolt) as a barrel pivot. Like all the other pins on this rifle, this pin was only tight enough to hold the parts in position. I could move it with my finger. I broke the barrel open to take all tension off the pin (from the detent), then pushed it out from left to the right.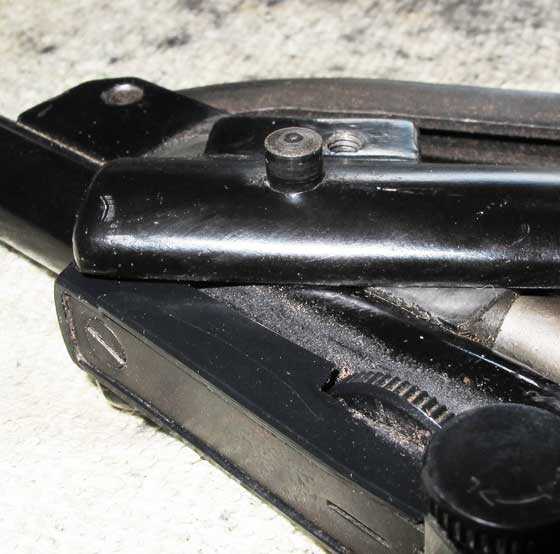 The barrel pivot pin has been started by finger pressure, alone. No pin in this rifle has needed a pin punch for removal. To get the pin all the way out requires a push from a screwdriver.

With the pin out, the barrel pulls away from the spring tube, and the cocking link can be removed from the piston. The piston can now be removed from the rifle.
Step 5. Remove the piston
Once the cocking link is out of the piston, it's time to slide the piston out of the spring tube. Everything was so dry on this rifle that the piston had to be coaxed out of the gun by levering it with screwdrivers through the cocking slot. When it was out of the gun, I discovered that the piston head wasn't attached! It's still inside the tube at this point! No wonder the gun fired so violently!


The piston is missing its head. It passes through the hole on the end of the piston and is held in place by a circlip, which is missing.
The damage
That would normally be all you have to do to strip a Meteor, but I still have to get the piston head out of the gun. I suspect it's going to tell me a lot about why the gun failed like it did.
This is turning into a long report, so I'll finish it tomorrow.
by Tom Gaylord, a.k.a. B.B. Pelletier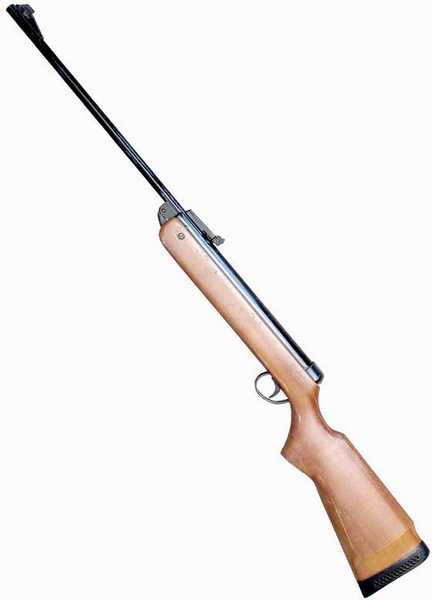 My rifle is actually a BSA Super Meteor.
Of the 3 vintage airguns I acquired at Roanoke, this is the one you readers most wanted to see. And it's one I have been curious about for two decades. I've seen hundreds of them at airgun shows, but every time I picked one up, it screamed "cheap and crappy." Instead of blued steel, the metal parts are painted, which is an immediate turnoff. But it's worse than that. I have never seen one of these Meteors that wasn't loose at the breech, as in wobbling side to side where the barrel breaks. I made a special effort to check each one at Roanoke, and even the newest one in the best condition still wobbled.
On the flip side, I've read numerous glowing reports by owners and former owners who love the gun. Our own blog reader Kevin has more than one Meteor in his collection and thinks a lot of them. There must be something to this gun, regardless of my impressions.
Meteor — Mercury — Comet!
As a practicing dyslexic, I'm the first to confuse the names of things when they sound alike, or share a common thread, and this BSA is an example. I have called it by all 3 names in conversation, while meaning just the Meteor by itself. You see, BSA actually made airguns by all 3 names, but the Meteor is the gun we're looking at.
The Meteor first came to market in 1959 and has matured through 7 Marks, or major design changes. The Mark VII is still being made today. The Blue Book of Airguns lists what they refer to as the "Meteor Super" (it's actually called a Super Meteor) as a separate model that ran from 1967 through 1973; but in truth, the Super designator was applied to Meteors of several Marks for much longer. They weren't separate models. They were rifles that had small upgrades of a few parts, with no real change to the powerplant.
Super Meteor
Actually, my rifle is a Super Meteor Mark IV in .177 caliber. They were made from 1973 through 1978 and are identified by the NG letter prefix of the serial number. What makes the rifle a Super is a stock with a slight Monte Carlo profile (stepped comb), a raised cheekpiece, a ventilated, thick, black rubber buttpad and a hooded front sight — although the hood did not come with the gun I bought. It doesn't say "Super" anywhere on the rifle, and you have to look at the design features to distinguish it from a regular Meteor.

The butt has a slight Monte Carlo profile (stepped comb) and a raised cheekpiece. The ventilated black buttpad is the third clue this is a Super Meteor.


The name on the spring tube says Meteor. The "Super" designation is not written on the gun.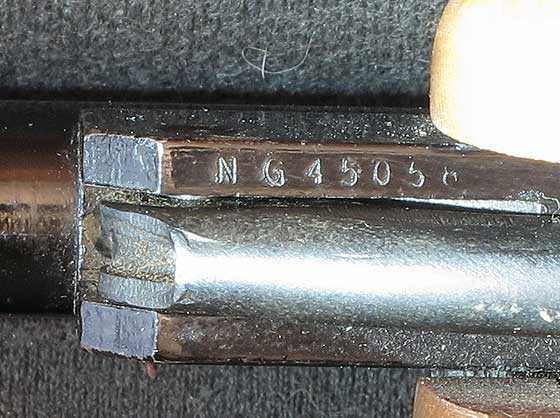 The serial number prefix "NG" designates this as a Mark IV .177 Meteor/ Super Meteor, 1973-1978.
Out of curiosity, I did load one pellet and try the gun while writing this report. The discharge was violent, and the pellet never left the breech; so, the gun needs immediate attention. I'll have to fix it before I can move on to test velocity and accuracy.
Size-wise, this Super Meteor appears and even seems a bit larger than a Diana model 27, though with the overall length of 40-1/4 inches, it's actually one inch shorter than the 27. It's the extra-thick stock that disguises the gun's size. The barrel appears to be 18-1/2 inches long, though it's backbored at the muzzle by 1.10 inches.
The rifle weighs 5 lbs., 14 oz., though that's subject to deviate slightly depending on the weight of the "select Scandinavian beech" stock. Holding it reveals it to be light at the muzzle, which I don't like in a rifle. But it isn't bad and can certainly be tolerated.
Trigger
The trigger is adjustable, surprisingly enough. A screw behind the blade allows for some kind of adjustment on which I'll report later. Right now, it's set up as a single-stage with a crisp let-off of 4 lbs., 11 oz.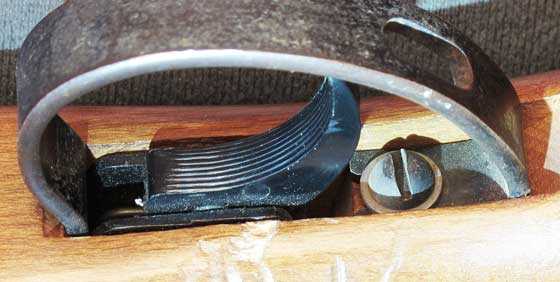 Behind the trigger blade is the single adjustment screw.
There's no safety, so it's possible to fire the gun with the barrel broken open. I did this while restraining the barrel to test the trigger because, as I mentioned, the gun is in no condition to be fired. I really like the absence of a safety.
Barrel
The barrel is rifled, and this one currently looks like 40 miles of rough road. A tactical flashlight reveals lots of dirt and grime. It needs a serious cleaning.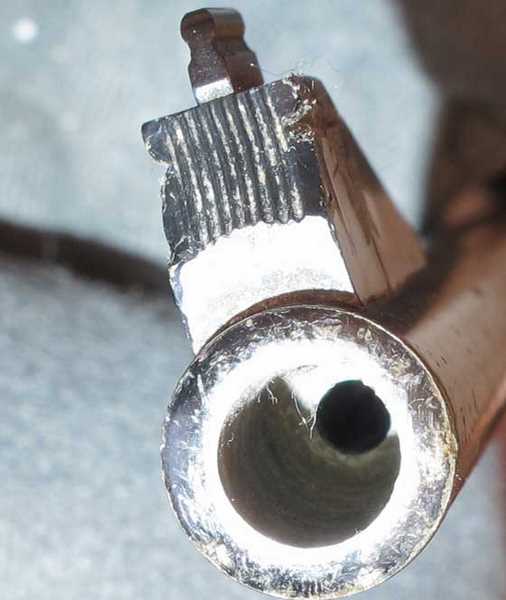 The muzzle is backbored 1.10 inches.
The breech seal appears to be a formed synthetic o-ring. If I can find a replacement, I'll get it. Otherwise, I'll face this one flat and shim it underneath.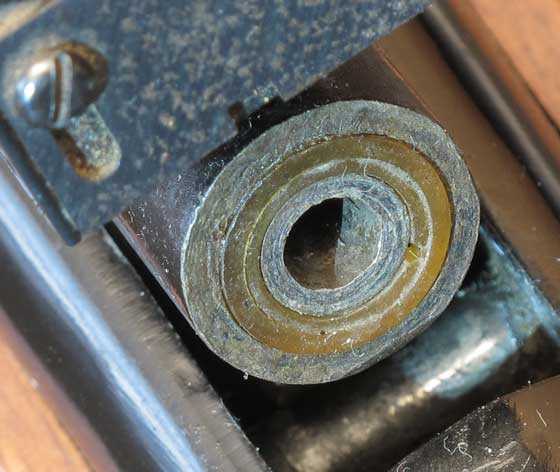 The synthetic breech seal has flattened over time.
Sights
The front sight is a steel blade with a bead at the top, pinned to a plastic ramp. The ramp is held to the barrel by a screw that's under the steel blade. According to John Walter's book, The Airgun Book, third edition, the front blade is reversible and can also be a square post.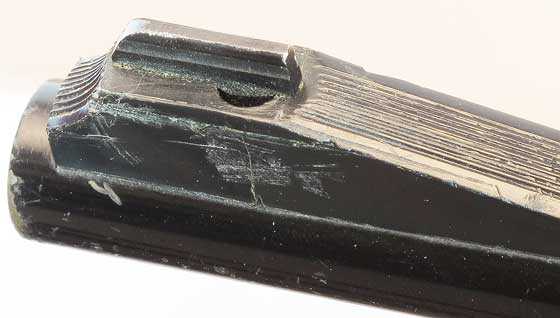 The front sight blade is supposed to flip and a square post will replace this bead.
The rear sight is adjustable in both directions. It appears to have very fine click detents that may be gunked up with crud because they make almost no sound at present. The entire unit needs to be taken off the rifle, disassembled and cleaned.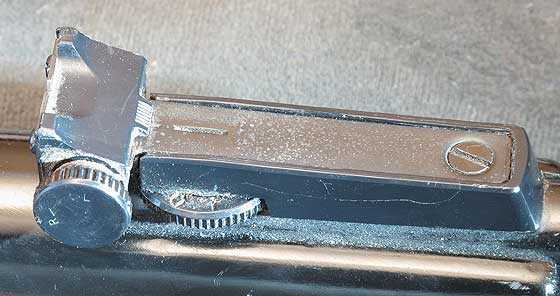 Rear sight is plastic and steel. Adjusts in both directions.
The rear sight is constructed of plastic and steel parts and has a notch that's reversible. Right now, the vee notch is installed; but if I reverse the front sight, I'll also flip the rear to the square notch. I noticed that there's some vertical movement with this notch, as well, and I'll use that if I need to. These older sights were things of ingenuity compared to what's on the market today.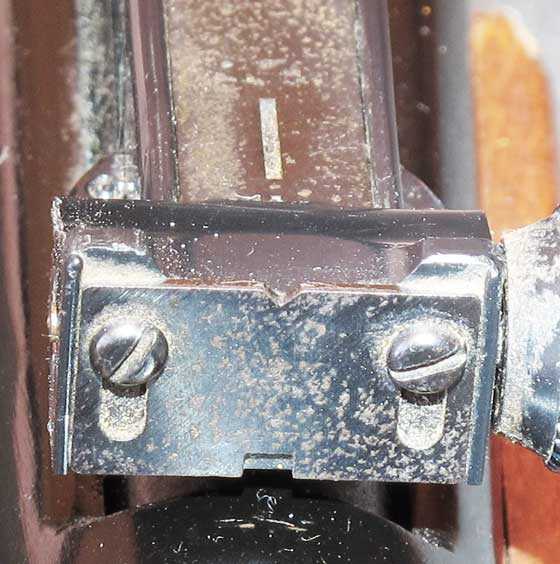 The rear sight has a choice of 2 notches. And the screws allow for a height adjustment.
Overall evaluation
I have to be open-minded about this rifle because so far it's turned out to be the turkey I always believed these to be. Fortunately, Hiller's third edition of Air Rifles has an exploded parts diagram of the Mark IV Super Meteor. Just by looking at it I can see the rifle disassembles in a straightforward way, so that will be the subject of my next report. Hiller also mentions that if the stock screws are over-tightened, they tend to pull the action forks apart, causing looseness at the breech. Apparently, this is a design weakness of the vintage Meteor series.
Once the rifle is apart, we'll get to see what it needs to put it back into operation. Then, I can order the parts and, after an overhaul, we can progress to shooting.
by Tom Gaylord, a.k.a. B.B. Pelletier
Today I'll show you more of the airgun show that was held in Roanoke, Virginia, last Friday and Saturday. I'm going to jump around just like you would if you walked the aisles at the show.
Let's begin at Larry Hannusch's table. Larry has been an airgun writer since the 1970s, and he has a great collection of fine guns. This year, he displayed some of his ball-flask guns, giving show attendees a chance to see airguns that no American museum has.

Not many people have ever seen this many ball reservoir airguns in one place. Larry Hannusch collection.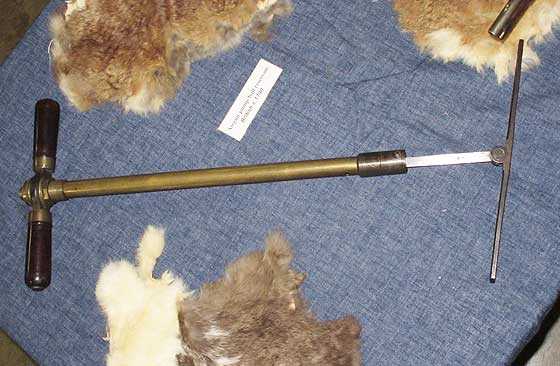 How do they fill those ball reservoirs? With vintage hand pumps like this one. Dennis Quackenbush and I experimented with these pumps and learned they can develop up to 1,000 psi when the right technique is used. And they don't have piston seals — just lapped steel pistons!
Larry also had a sales table with some fine vintage guns that were actually for sale. One was a BSF S54 underlever target rifle with a peep sight the size of a satellite dish. The one thing you can count on with guys like Larry is that they always bring out the rare and wonderful guns that most of us have only seen in books.
Across the aisle from Larry was Lloyd Sikes — the man who invented the electronic valve that went into the Benjamin Rogue. In fact, it was at a Roanoke airgun show years ago where Lloyd shared his idea for that valve with me. And the rest is history.
Lloyd has made quite a name for himself by producing Benjamin Marauder pistols with dual air reservoirs. His company, Airgun Lab, started making the P-Rod Double last year and then moved to the Disco Double — a Benjamin Discovery with 2 reservoir tubes. This year, he's bringing out a Disco Double with 2 aluminum reservoirs that, as far as I can tell, is as light or even lighter than the original Benjamin Discovery rifle on which it is based.
When I picked up the prototype lightweight Disco Double at his table, I was amazed! It can't weigh much more than 5 lbs.!
I'd promised to do a project with Lloyd last year and never got around to it, but this year a wonderful thing happened. A man who had purchased a new Discovery last year from Mac came to my table and wanted to return it. I explained that Mac had passed away, but then I thought that this might make the perfect rifle for a project with Lloyd. It was leaking, but that's not a problem because it will have to be sealed anyway after the conversion. And with the 2 aluminum reservoir tubes, I should get about twice the number of useful shots per fill. And that's a 2,000 psi fill, mind you.
So, I bought the gun and gave it to Lloyd for the conversion. As we talked and refined the details, I decided to also install a Marauder trigger on the rifle, which will give me what I always wanted — a single-shot rifle with lots of shots, a great trigger and superior accuracy. There — that's 1 of the 4 airguns I bought out of the way!


Mac sold this Benjamin Discovery at the show last year, and I bought it back this year. It's one of the early ones with a walnut stock, and it also came with the hand pump.
I was also located next to Ingvar Alm, a collector/dealer from Minnesota who always has wonderful stuff at these shows. He's one of the major contributors to the Blue Book of Airguns. I could spend an entire blog on just the stuff on his table; instead, let me share with you the one gun that really caught my eye. It's a dart gun from 1887!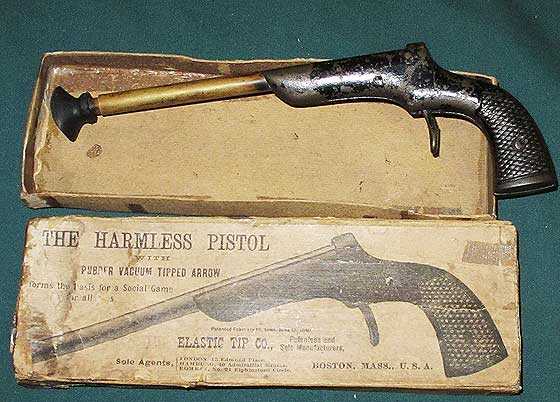 The "Harmless" pistol. Wouldn't you just love to see this at a Congressional hearing on toy safety today? This was on Ingvar Alm's table, and he let me load and cock it for this picture!
Lest you BB-gun collectors feel left out, there were also plenty of desirable guns that you love at this show. I saw at least one model 40 with a bayonet, and I believe there was also a scarce model 140 Defender on the same table.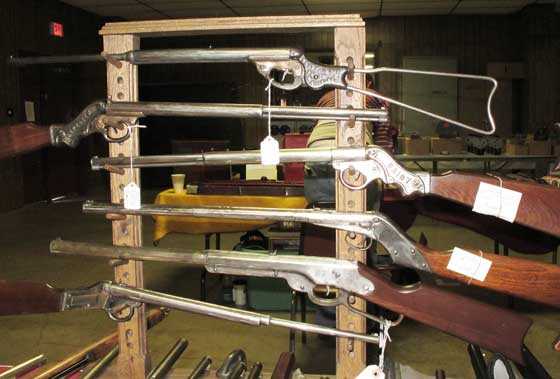 Yes, there were plenty of rare collectible BB guns at Roanoke, too. And the prices were just as reasonable as the rest of the airguns.
What's REALLY rare? How about a 1923 first model Crosman pneumatic with a front pump? There are seldom any at a show, but at this show there were at least 2! One of them had a price tag of $1,250, which is almost half what I've seen them bring in the past.


There were 2 of these 1923 Crosman front-pump pneumatics at the show, and both were for sale. This is something that's seldom seen.
Okay, I guess it was blog reader Bradly who asked if there were any air shotguns at this show. Yes, there were. I saw a Farco air shotgun on one table. That's the 28-gauge shotgun from the Philippines that Davis Schwesinger (the Roanoke show promoter) used to kill a wild pig several decades ago.

Gun on the left is a Farco air shotgun. Gun on the right is a Crosman 102 repeater. Yawn. That's what happens when you're surrounded by riches.
What guns did B.B. buy?
You already know about the Disco, so what other airguns did I get at Roanoke this year? The first one was something I just couldn't pass up. A Diana model 25 for $75! It's the model without the ball-bearing trigger and the cosmetic condition isn't that great, but it's all there and seems to have a powerful mainspring. I felt the gun was undervalued, so I paid a little more than was asked but still got a great bargain.


This Diana 25 was a real bargain! You'll see it in the future.
Before I came to the show, I was thinking about buying a BSA Meteor. I've always heard good things about them but have never pulled the trigger on one. This was the time.
At the show, I saw Meteors from $30 (junky) to $125 (excellent condition), and the average price was around $60. I bought one from Don Raitzer and will test it for you in the future.


This BSA Meteor was my only planned acquisition.
The last gun I bought was a flight of pure fancy. My money was mostly spent; but when I saw this rifle laying on the table I really wanted it — not because of its rarity or value, but just for the neatness factor.
It's a Falke model 70, and it's not much like the model 90 underlever I already have. This one is a breakbarrel that comes with an adjustable trigger and a barrel lock. The stock has been refinished, and the metal is mostly patina. But the rifle looks and feels solid. The dealer, Dave Bingham, said it reminds him of a Diana 27. It looks heavier and more powerful than that  to me, but I suppose we'll find out when I test it. I got it for $100, which I think is a wonderful deal.


This Falke model 70 was on the same table as the model 80. This one is intriguing and I will be testing it for you soon.
Davis Schwesinger, the promoter of the show, had several tables full of vintage airguns. I'm going to show just a few that convey what was there.

Dave Schwesinger's tables just went on and on. Here you see a Hämmerli Cadet, a VZ 47, a pre-war Diana model 30 and a Swedish Excellent. Where do you see airguns like these, except at shows like Roanoke?
Jan Kraner had a table displaying the most beautiful wood-stocked rifles. Most of them were not for sale, but they were a feast for the eyes. Jan uses them to showcase his talent as a stock maker, and believe me — it works!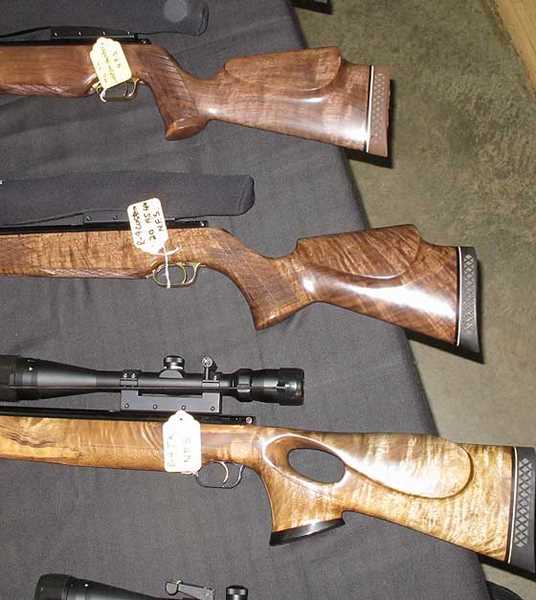 Jan Kraner's stocks stopped people in their tracks.
At last
I saved the best for last. In recent years there haven't been too many Sheridan Supergrade rifles showing up at these events. But this year John Ford had a nice one and the price was just $1,250. That's hundreds under what they have brought in recent years.

A Sheridan Supergrade for sale is a rare thing. And this one was affordable.
The show was over before I knew it, and another year had slipped by. This one was different, as my pal Mac wasn't there to share the excitement. But as I am reminded every time I go to one of these things — nothing is forever. We don't own any of these airguns. We're just their custodians for a time. In the future, these prized possessions of ours will be in someone else's collection. That's how we got them in the first place.
by Tom Gaylord, a.k.a. B.B. Pelletier
Every airgun show has a personality, and this year's Roanoke show was no different. It started slow. Dealers were slow to set up — enjoying talking with each other rather than getting everything ready for the doors to open to the public. That's because we got there at 8 a.m., and the doors weren't opened until noon. So, we knew we had time to converse and to see what everyone had on their tables.
I was seated behind Mike Reames' table. Mike is the man who made the swages I reviewed for you a while back. He always has interesting things on his table, and I took some photos for you to see.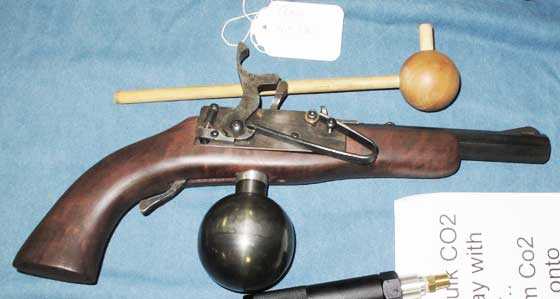 Mike Reames made this outside lock pistol with a ball flask. It's .45 caliber and is charged with CO2.
Each of Mike's creations is unique; and to my knowledge, he's one of only a very few people actively making modern ball flask airguns today. These are not mainstream airguns by any means; but if you want something modern that works and looks like it's 200 years old, he's the man to see.


Reames' ball flask long gun is another unique outside lock airgun that uses CO2.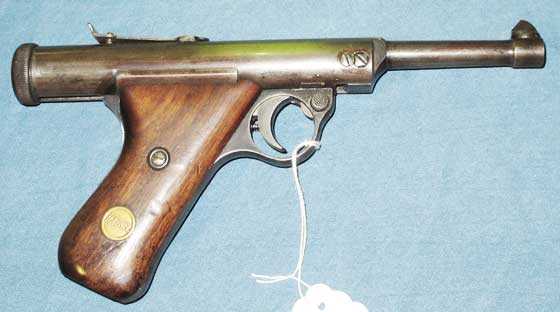 Well-worn Haenel 28 spring pistol was also on Reames' table. These airguns are all-steel and made like firearms. They're built to last forever!
One thing I noticed at this show was a large number of vintage guns had come out of the woodwork. I don't always see many of the older guns at some shows, but this year Roanoke was loaded with them! I'm talking about rare guns from the early part of the 20th century, and some from even earlier.
For instance, there were large numbers of first- and second-model BSA spring guns. BSA invented the model spring air rifle in 1905, and the early ones date from then to 1914. They look old and obsolete until you fire them and discover they perform a lot like the modern guns of today.
There was a special one on Mike Driskill's table. I thought it would be passed over by the crowd (a term I'm using loosely); but on the morning of day 2, our own RidgeRunner came to his senses and bought it. It needs some work, but they're about as complicated as a drinking straw and as rugged as a Harley.


This .177-caliber 1906 BSA underlever may look old, but it can be made to shoot like a modern air rifle. This one dates to one year after BSA first introduced the modern air rifle! Mike Driskill was asking $175! RidgeRunner bought it.
Not everything at this show was vintage, however. Dennis Quackenbush brought several big bore rifles and pistols for customers who had arranged to pick them up at the show, plus he had a couple guns that weren't spoken for. I photographed him unpacking his guns because I knew they wouldn't last long.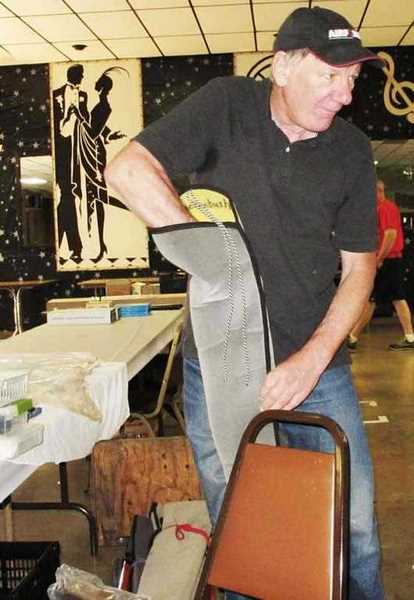 I photographed Dennis Quackenbush unpacking because I knew his guns wouldn't last long on his table.


Quackenbush had a .50-caliber Long Action (top) and a .308 Short Rifle for sale. These were not promised and could be purchased by anyone. They both sold within 2 hours of being unpacked.
Sure enough, when I saw him again a couple hours later, both rifles had been sold, along with 6 big bore pistols that he brought. One guy bought 3!
On day 2, Max, one of our blog readers who hasn't signed in yet, got a .458 Long Action rifle from Dennis. It was a rifle that had been ordered and delivered at the show. Man, was he smiling when the show was over!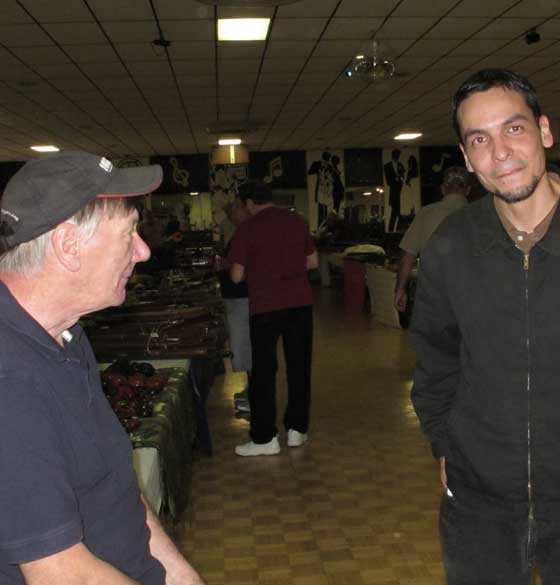 Max and Dennis Quackenbush finalize the deal for a .458 LA rifle.
This show's personality
I figured it out early on the first day. This was the show to attend for killer low prices on fine vintage airguns. Diana 27 rifles? I saw at least 4 of them, ranging from $175 to 250, asking price. But how about a Falke 80 to go with my Falke 90 that I displayed at the show? Dave Bingham had it on his table. Instead of the stock that has a cheekpiece, this one had a plain elm stock. It's believed there are fewer than 300 Falke 80s ever made, and fewer still in existence. Dave had a price of $800 on it, which gives me sort of a ballpark figure to use for mine…although, it's not for sale.


A Falke 80 at the same show as my Falke 90. Notice the absence of a cheekpiece on this one.
But the whole show was like that! How about a Walther LG53 with double-set triggers? The only time I've seen these displayed, they weren't for sale. But here was one for a very reasonable $500. Too many fine airguns — too few ATMs!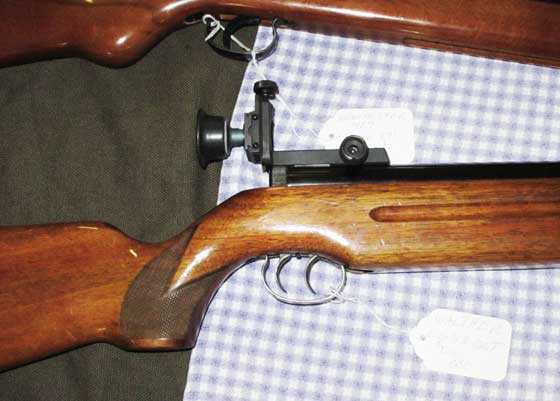 A Walther LG53 with target sights and double-set triggers. It was for sale!
Something new
All you Crosman pistol shooters have a new toy to obsess over. It's an adapter that allows you to connect an adjustable AR buttstock to many of the better Crosman and Benjamin air pistols such as the Marauder. But this device does more than just connect your gun to a stock — it allows you to set the length of pull, the cast-on or cast-off, the height of the butt in relation to the scope line and the cant of the buttpad. In other words, you can now fit the gun to yourself…and, with simple adjustments, fit it to your 9-year-old daughter!
Dave Rensing of www.rarmsinnovations.com invented this all-metal adapter to allow his 8-year-old son to shoot his Marauder pistol, and it works like a charm. The adapter is made of 6061 aircraft aluminum, hard anodized and attaches with no modifications or disassembly of the pistol required. Just attach it to the threaded hole that's already in many of Crosman's top-end air pistols!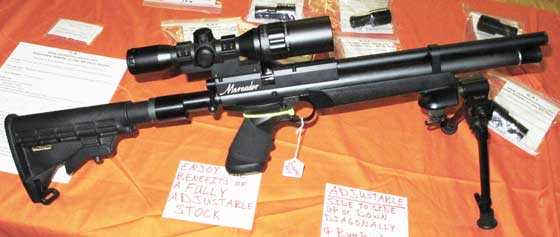 This adapter from R Arms Innovations allows you to connect a collapsible AR stock to several Crosman and Benjamin air pistols. It adjusts for a perfect fit for all sizes of shooters.
More power!
Want to shoot field target with a 150 foot-pound big bore air rifle? A club in Puerto Rico did, so they had Dick Otten of Rhino Targets (formerly After Hours Targets) build them some field targets that can take the abuse.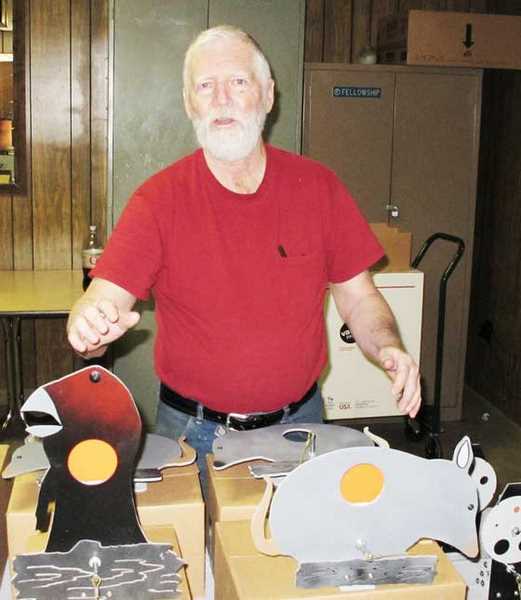 Dick Otten shows several big bore field targets he's made. They can take 150 foot-pounds!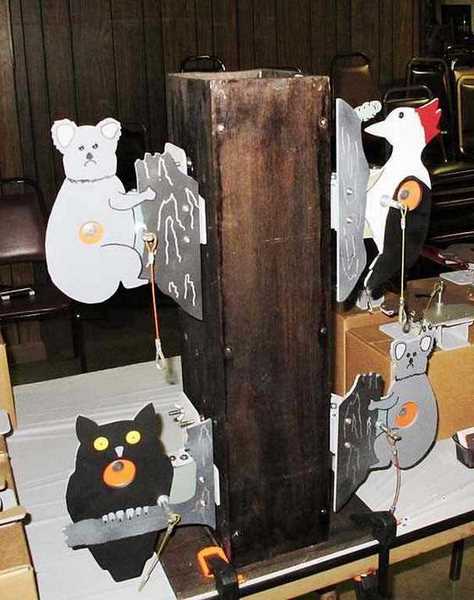 These Rhino Targets are for mounting in trees. They force shooters to shoot up. It's a special challenge.
Otten wasn't at this show last year due to illness. This year, he pulled out all the stops and showed many dozens of different innovative field targets. That crow of mine that you all marveled at a week ago is an Otten creation.
That's all!
No, there's a lot more to report, that's just it for now. The question isn't if there will be a Part 2, but if there will be ONLY 2 parts! This show was that good.