Posts Tagged 'Collecting'
by Tom Gaylord, a.k.a. B.B. Pelletier
Every airgun show has a personality, and this year's Roanoke show was no different. It started slow. Dealers were slow to set up — enjoying talking with each other rather than getting everything ready for the doors to open to the public. That's because we got there at 8 a.m., and the doors weren't opened until noon. So, we knew we had time to converse and to see what everyone had on their tables.
I was seated behind Mike Reames' table. Mike is the man who made the swages I reviewed for you a while back. He always has interesting things on his table, and I took some photos for you to see.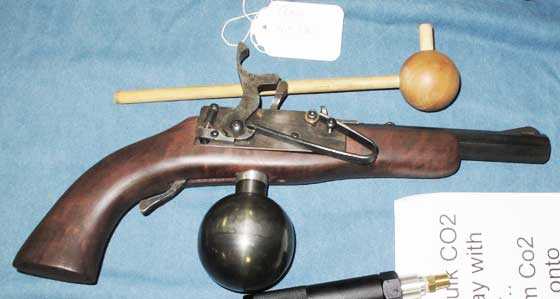 Mike Reames made this outside lock pistol with a ball flask. It's .45 caliber and is charged with CO2.
Each of Mike's creations is unique; and to my knowledge, he's one of only a very few people actively making modern ball flask airguns today. These are not mainstream airguns by any means; but if you want something modern that works and looks like it's 200 years old, he's the man to see.


Reames' ball flask long gun is another unique outside lock airgun that uses CO2.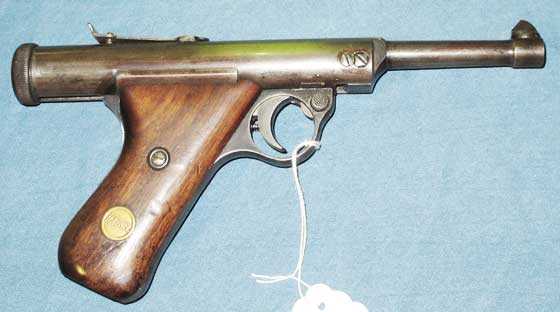 Well-worn Haenel 28 spring pistol was also on Reames' table. These airguns are all-steel and made like firearms. They're built to last forever!
One thing I noticed at this show was a large number of vintage guns had come out of the woodwork. I don't always see many of the older guns at some shows, but this year Roanoke was loaded with them! I'm talking about rare guns from the early part of the 20th century, and some from even earlier.
For instance, there were large numbers of first- and second-model BSA spring guns. BSA invented the model spring air rifle in 1905, and the early ones date from then to 1914. They look old and obsolete until you fire them and discover they perform a lot like the modern guns of today.
There was a special one on Mike Driskill's table. I thought it would be passed over by the crowd (a term I'm using loosely); but on the morning of day 2, our own RidgeRunner came to his senses and bought it. It needs some work, but they're about as complicated as a drinking straw and as rugged as a Harley.


This .177-caliber 1906 BSA underlever may look old, but it can be made to shoot like a modern air rifle. This one dates to one year after BSA first introduced the modern air rifle! Mike Driskill was asking $175! RidgeRunner bought it.
Not everything at this show was vintage, however. Dennis Quackenbush brought several big bore rifles and pistols for customers who had arranged to pick them up at the show, plus he had a couple guns that weren't spoken for. I photographed him unpacking his guns because I knew they wouldn't last long.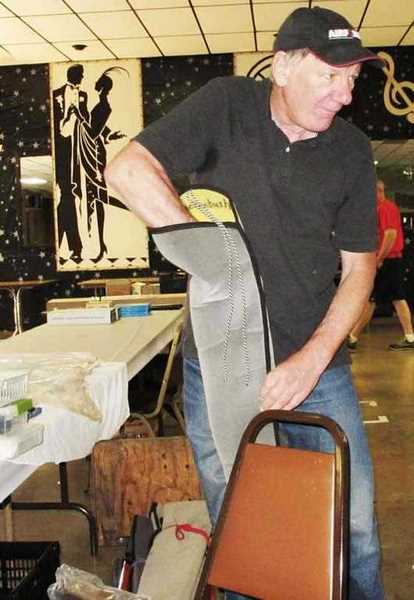 I photographed Dennis Quackenbush unpacking because I knew his guns wouldn't last long on his table.


Quackenbush had a .50-caliber Long Action (top) and a .308 Short Rifle for sale. These were not promised and could be purchased by anyone. They both sold within 2 hours of being unpacked.
Sure enough, when I saw him again a couple hours later, both rifles had been sold, along with 6 big bore pistols that he brought. One guy bought 3!
On day 2, Max, one of our blog readers who hasn't signed in yet, got a .458 Long Action rifle from Dennis. It was a rifle that had been ordered and delivered at the show. Man, was he smiling when the show was over!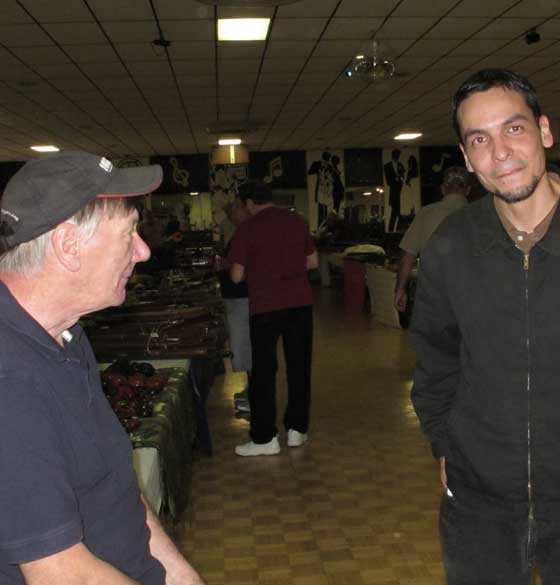 Max and Dennis Quackenbush finalize the deal for a .458 LA rifle.
This show's personality
I figured it out early on the first day. This was the show to attend for killer low prices on fine vintage airguns. Diana 27 rifles? I saw at least 4 of them, ranging from $175 to 250, asking price. But how about a Falke 80 to go with my Falke 90 that I displayed at the show? Dave Bingham had it on his table. Instead of the stock that has a cheekpiece, this one had a plain elm stock. It's believed there are fewer than 300 Falke 80s ever made, and fewer still in existence. Dave had a price of $800 on it, which gives me sort of a ballpark figure to use for mine…although, it's not for sale.


A Falke 80 at the same show as my Falke 90. Notice the absence of a cheekpiece on this one.
But the whole show was like that! How about a Walther LG53 with double-set triggers? The only time I've seen these displayed, they weren't for sale. But here was one for a very reasonable $500. Too many fine airguns — too few ATMs!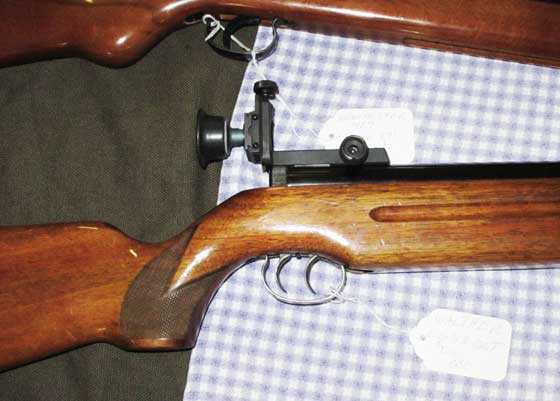 A Walther LG53 with target sights and double-set triggers. It was for sale!
Something new
All you Crosman pistol shooters have a new toy to obsess over. It's an adapter that allows you to connect an adjustable AR buttstock to many of the better Crosman and Benjamin air pistols such as the Marauder. But this device does more than just connect your gun to a stock — it allows you to set the length of pull, the cast-on or cast-off, the height of the butt in relation to the scope line and the cant of the buttpad. In other words, you can now fit the gun to yourself…and, with simple adjustments, fit it to your 9-year-old daughter!
Dave Rensing of www.rarmsinnovations.com invented this all-metal adapter to allow his 8-year-old son to shoot his Marauder pistol, and it works like a charm. The adapter is made of 6061 aircraft aluminum, hard anodized and attaches with no modifications or disassembly of the pistol required. Just attach it to the threaded hole that's already in many of Crosman's top-end air pistols!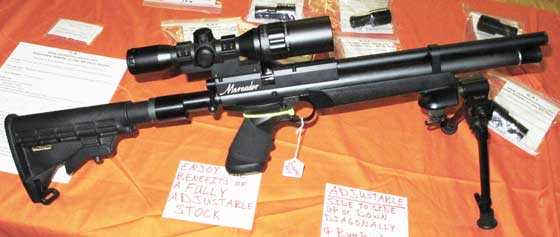 This adapter from R Arms Innovations allows you to connect a collapsible AR stock to several Crosman and Benjamin air pistols. It adjusts for a perfect fit for all sizes of shooters.
More power!
Want to shoot field target with a 150 foot-pound big bore air rifle? A club in Puerto Rico did, so they had Dick Otten of Rhino Targets (formerly After Hours Targets) build them some field targets that can take the abuse.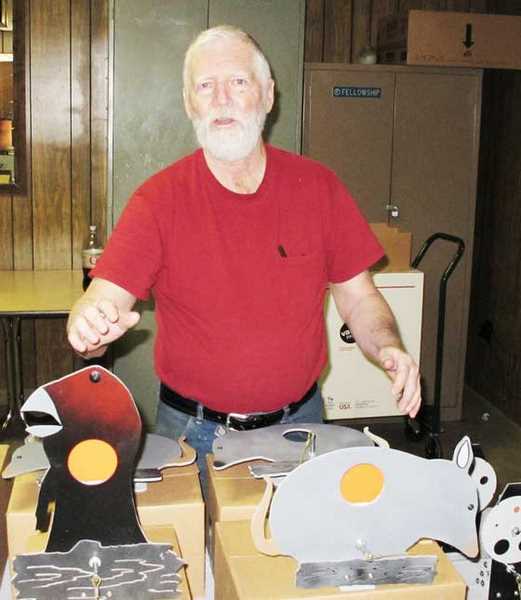 Dick Otten shows several big bore field targets he's made. They can take 150 foot-pounds!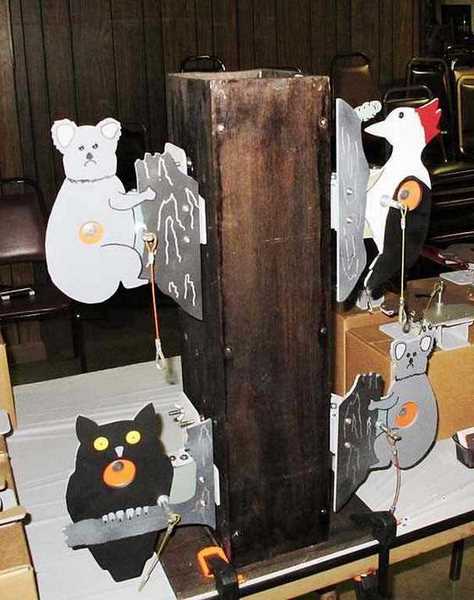 These Rhino Targets are for mounting in trees. They force shooters to shoot up. It's a special challenge.
Otten wasn't at this show last year due to illness. This year, he pulled out all the stops and showed many dozens of different innovative field targets. That crow of mine that you all marveled at a week ago is an Otten creation.
That's all!
No, there's a lot more to report, that's just it for now. The question isn't if there will be a Part 2, but if there will be ONLY 2 parts! This show was that good.
by Tom Gaylord, a.k.a. B.B. Pelletier
Early Sunday afternoon, my wife, Edith, and I were enjoying lunch at On The Border, a Tex-Mex restaurant, and we marveled at the number of comments on last Friday's blog…but not about airguns. Mostly comments about cars. Vintage cars, in fact. Edith is a gear head, and so is her brother, Bob. She volunteered to write today's blog and give you a peek into her life.
If you'd like to write a guest post for this blog, please email me.
by Edith Gaylord
When I was about 12 years old, I built my first model car. I'm not sure which car it was, but I envision the shape as being an Edsel. Not one of the sportier models, but I added flame decals on the sides and hood. I didn't spend a lot of time building model cars, as I was also interested in girlie pastimes.
My brother, on the other hand, continued to build model cars and planes and eventually graduated to real cars. Bob's an oil and gas exploration geologist in Houston and is well-known in his field. A few years ago, I discovered that he was also well-respected. When the Israelis discovered oil, they sent the core samples to London for further research. Bob was one of the experts called to London to review the geology and geophysics.
Bob once told me that oil people are under immense stress and some sort of unrelated diversion is required for relief. So, he'd get junked bodies of pre-Stingray Corvettes and rebuild them. When he was done with a car, he'd drive it around a bit and then sell it. Within no time, another body would find its way to his garage, and the process started all over.
This went on for some time, but then Bob graduated to other car models and those that didn't need to be completely rebuilt. When I visited him in April 2000, I took a ride in his latest acquisition: a 1957 Ford Thunderbird.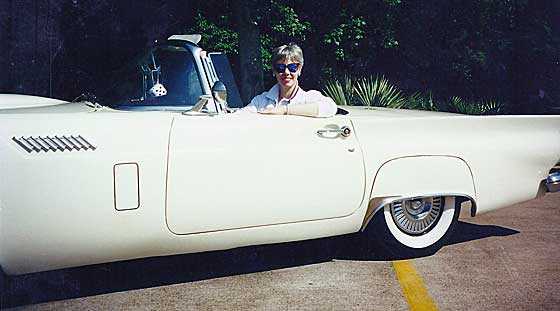 Sitting in my brother's 1957 T-bird.
As we drove around in the car, people waved, screamed, hollered and pointed. It was as if we were in a parade all by ourselves. Bob said he felt like he was driving Sandra Dee's car whenever he drove it.
Bob eventually sold the T-bird and got another, switching to other makes and models. A few years ago, he bought a car off eBay Motors, but the seller had been less than candid. When the car arrived at midnight, he picked it up but the headlights didn't work — and he drove it home in the dark. The next day, the car wouldn't even start. He worked on it off and on for about a year. One day, he backed it out of the garage and smoke started pouring out. It was on fire! He hit the kill switch on the battery, which stopped the fire, but all the wires were fried. That's when he decided that he didn't want a hobby that would burn down his house. Bob called the Salvation Army to donate "Satan" (which is what he named the car), and they picked it up within an hour. And that was the end of the line for Bob's vintage car hobby.
Edith knows best!
I remember when B.B. and I had been married for a short period of time and didn't actually know that much about each other, he was caught off-guard by my car knowledge. We were driving down the highway when an unusual car passed us. He didn't know what kind of car it was and guessed at the make and model. I disagreed and said it was a Jensen Interceptor. I still recall his surprised look. He knew what a Jensen Interceptor was, but how could I know what it was? Even more incredulous, how could I recognize one as it sped past us? He put the pedal to the metal, caught up with the car…and it was, of course, a Jensen Interceptor.
Bob, B.B. and I continue to love older cars. We're avid watchers of car TV shows such as "Wheeler Dealers," "Chasing Classic Cars," "Kounting Cars," the occasional Mecum auction and even attending local vintage car shows.
B.B. and I have talked on and off about buying a vintage car. I have a survivalist mentality and would like a vintage car  as a get-out-of-dodge vehicle, so it can't have any electronics. We've tossed around the idea of a 1950s GM delivery van, a vintage VW bus, and a deuce-and-a-half (since it can run on almost any fuel and can go just about anywhere). We haven't done anything yet…but I think we eventually will.
Well, that's about it. Tomorrow, the blog will return to airguns. On Wednesday, B.B. will be on his way to the Virginia airgun show.
by Tom Gaylord, a.k.a. B.B. Pelletier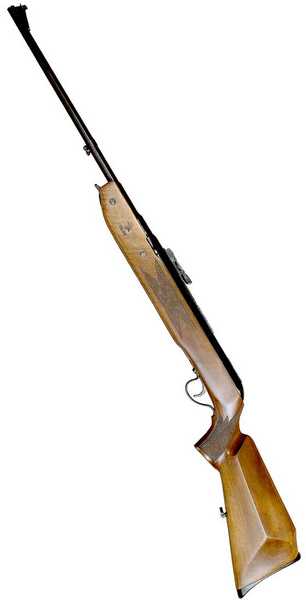 Falke 90 underlever rifle is a German spring-piston gun from the early 1950s.
Cometa Fusion .22 update
Before I begin, I want to update you on the Cometa Fusion Premier Star report that I'm doing. The fifth accuracy test failed because the scope moved — again! Kevin sent me a special base that people on the internet were having success with, but alas, it did not stay put on the rifle I'm testing.
The vertical scope stop pin on this base is 0.137 inches in diameter, and the stop pin hole on the rifle is 0.111 inches; so, the stop pin cannot enter the hole. As I've said many times in the past — no amount of clamping pressure, alone, is enough to hold a scope base from moving, except when BKL mounts of the correct size are used. Unfortunately, I don't have any of them with enough droop to compensate for this rifle.
I do, however, think this mount base will work because it does have the amount of droop that I need for the rifle. When I come home from the SHOT Show, my plan is to grind the base pin thinner so it will fit into the hole. If that doesn't work, I don't know what I can do that I haven't already tried. Remember, I'm doing this because I believe the rifle is accurate and would be a wonderful value if I can just get the scope to stay put.
On to the Falke
I started this report on the Falke 90 because I hadn't really shot it that much since getting it in 2010. Vince fixed it for me, and Mac did the accuracy test. I got the rifle back from Mac, but there wasn't anything to do that hadn't been done. So, this year I had the stock restored, and that was a huge project for Doug Phillips at DAMAGEDWOODSTOCKS. Then, I thought I would test the rifle as though I'd just bought it because, essentially, that's what happened!
I learned in Part 2 that the velocity and stability of the rifle were affected by the depth the pellet was seated into the loading tap. And the Falke's tap is a small one, compared to other taps I've used, so the seating depth is more variable in this rifle with most pellets. Most pellets fall into the tap and stop at different depths, and often they aren't in far enough to close the tap without damaging the pellet. That will become important in this test.
RWS Superpoint
The first pellet I tried is the one that I always shoot in Hakim rifles, which are very similar to this one. It's the 14.5-grain RWS Superpoint. I expected to get the same performance from this rifle as I got from more than a dozen Hakims over the years. Alas, that didn't happen. The tighter loading tap on the Falke meant I had to seat the pellets manually to clear the tap, and the results at 10 meters, rested, were not that good. Ten shots made a group that measures 1.124 inches between centers. As you can see, it's an open group with scattered hits that tend toward the vertical.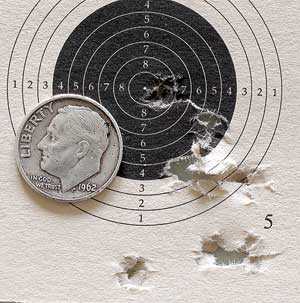 RWS Superpoints did not prove accurate in the Falke 90.
JSB Exact 15.9-grain
I won't even show a target for the JSB Exact 15.9-grain domes because the pellets went all over the place. I didn't even finish the group.
RWS Superdome
Next, I tried RWS Superdomes, but they weren't much better than Superpoints. They did give a smaller group, at 0.861 inches between centers, but that's only good by comparison. I'm looking for better accuracy from this Falke because I think it's there. Oh, yeah, also because Mac got much better accuracy in his test!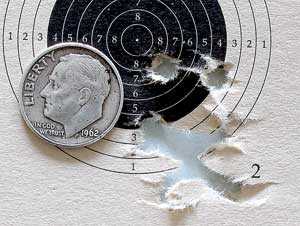 This is better but still not as good as I'm expecting. RWS Superdome pellets.
The iron sights are fighting me
At this point in the test, I had to admit the iron sights on the rifle were working against me. I simply could not adjust them high enough to get the pellets centered in the bull at 10 meters. I remember that Mac used a red dot sight he mounted to the rifle, and I may need to do the same to get the groups I'm looking for. That will have to be another test because this one was already taking a lot of time and I wasn't finished.
What did Mac do?
When Mac tested the rifle he found that the obsolete 5.6mm Eley Wasp pellet shot best. In fact, it wasn't close. He got a group with Superdomes like I did, though he shot from 15 yards rather than 11 (which is 10 meters). So, the next pellet I tried was the Eley Wasp.
Eley Wasps
Eley Wasps are much larger than other .22-caliber pellets, so imagine my surprise when the first one fell deep enough into the tap to not require seating. After that, though, I seated every pellet to the bottom of the tap. Perhaps this is why Mac was telling me to do this! I didn't appreciate it during the velocity test, when deep seating made the velocities more variable; but in the accuracy test, look what happened! Nine of the 10 pellets went into an almost single hole that measures 0.695 inches between centers. And the 10th shot is way low. It opens the group to 1.029 inches. Want to guess that this is the first shot that wasn't seated deeply? I don't know if it is, because I didn't look at the target before I completed it. I only saw this when I went downrange to retrieve the target for photography and measuring…but I think it is.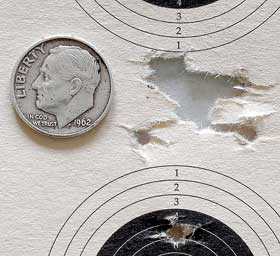 Nine in 0.695 inches, and one below opens it to 1.029 inches. I don't know, but I'm guessing the one I didn't seat deeply was the stray shot.
What have I learned so far?
The Falke is certainly a different air rifle, and it doesn't turn out to be what I thought it would be. I like the feel of Hakim rifles better than this one. They seem to shoot smoother, and their triggers are easier to adjust. Still, I don't think I've completely mastered the Falke 90 yet.
This reminds me very much of a .22-caliber BSF Bavaria S54 taploader I used to own. It had a huge diopter rear sight, yet couldn't hold a candle to a plain old Diana 27 for accuracy. Just because a rifle is a rare and vintage gun is no guarantee that it will also be a smooth and accurate shooter.
I do think that I need to try the Falke again, and this time with a dot sight mounted. And I'll deep-seat Eley Wasps from the start and not worry about whether or not there are other good pellets.
This is a learning experience — that's for sure!
by Tom Gaylord, a.k.a. B.B. Pelletier
Announcement: Brett Latimer is this week's winner of Pyramyd Air's Big Shot of the Week on their airgun facebook page. He'll receive a $50 Pyramyd Air gift card. Congratulations!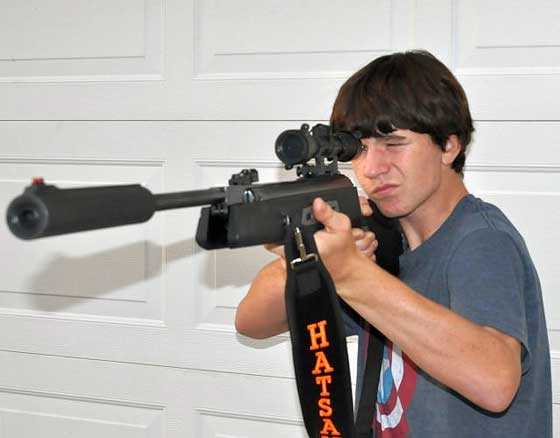 Brett Latimer is the Big Shot of the Week on Pyramyd Air's facebook page.

Today's report was influenced by blog reader Kevin, who suggested that I use some of the old articles I've written in the past. Well, I'm always open to something that makes my life easier, plus I've had access to some of the most unusual airguns in the world over the years. So, today, we'll take a look at one of them.
I wrote this article in 1999, and I'm not changing anything in it — apart from making some corrections to spelling, grammar and punctuation. It was originally published in Airgun Revue 4.
Someone said they wanted to see how Tom wrote in the old days. Well, here we go!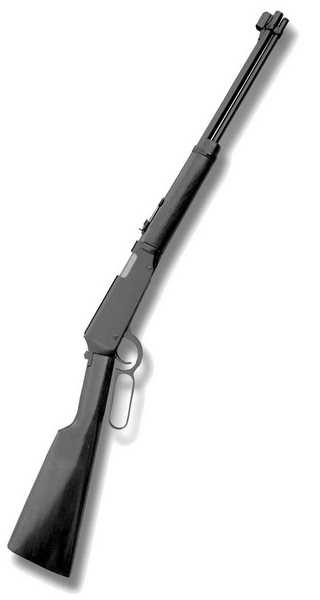 Erma's ELG 10 was a single-shot underlever spring gun, though it looked like a western repeater.
There are never enough models to satisfy the curiosity of collectors of very finely made airguns. They struggle along, first discovering 10-meter guns, then German sporting models and finally coming to rest with the finer British guns like the Webley Mark III or the BSA Improved Model D underlever. And that's where many believe the road ends. Unless they want to branch out into tinplate and cast iron toy guns, they think they've seen it all. But they have not yet turned over all the rocks. Not until they own an Erma ELG 10 will their collections be complete.
To look at it, the Erma is a curiosity. You find yourself looking for the plastic parts or where to put the CO2 powerlet. Your eye tells you the gun is solidly built, but your doubting airgunner's mind tells you it can't be as nice as it seems. It looks too much like a Daisy model 1894. You keep waiting for the rug to be pulled out from under you, and it never is. The ELG 10 is exactly what it looks like — an extremely high-grade spring air rifle built from all wood and metal, in the best Winchester tradition. In fact, the Winchesters of today should be made so well!
The gun came to the United States in the late 1970s through the Beeman company, where they were sold for a short time. Their retail price of over $300 was what killed them, coming as it did at a time when R1 rifles sold for the same money. The ELG 10 is a low-powered plinking rifle, and few people were willing to shell out big bucks to buy something that couldn't even keep up with a Diana model 27. Never mind the fact that they produced the same power as the FWB 300 target rifle, which was selling for twice as much. The Erma simply looked too much like a toy; and until you hold one in your hands and realize what it is, there's no sale.
There was an article in American Airgunner in 1991 about the Erma that spawned some desire for the gun. After that, people were placing ads to buy one in Airgun Ads and elsewhere. I even had the strategy of watching the Gun List ads for Erma firearms, hoping that one would mistakenly pop up. It's a habit I haven't shaken to this day.
My first ELG 10 came from Airgun Ads, and I paid plenty for it — $550, as I recall. It came with a Beeman box and was in pristine cosmetic condition, but the power seemed low. The gun was shooting lightweight Hobby pellets only in the low 400s. Knowing that Erma is not primarily an airgun maker, I reasoned that the gun might well have leather seals; so, I lubricated mine with Beeman's Chamber Oil and saw the velocity jump up to the mid-600s…where it belonged. Despite what the article in American Airgunner said about the gun growing tired over time, all it usually takes to rejuvenate one is a little oil on the seal. I still don't know if the seal is leather or not, but the gun responds to oil as though it is.
As luck would have it, after paying so much for that first one, I stumbled across a SECOND Erma just two weeks later. This one was in a local gun store, where they were asking $175. I bought it, figuring I could average the cost of the two guns and realize two good bargains. It, too, was shooting in the 400s until a shot of chamber oil fixed things.
Although the rifle is short, at just 37.75 inches, it's a handful. It weighs six full pounds, and never does your hand touch anything except wood and metal. It's as accurate at 10 meters as a Diana model 27, which validates the integral scope rails machined into the top of the receiver. Although the iron sights are quite nice, the Erma is the perfect gun on which to mount a small scope, like Beeman's SS3 or SS1.
Firing behavior is a quick forward jump with a small but noticeable spring vibration. It comes at the end of a 6 lb., 12 oz. trigger-pull that's crisp but definitely not light. Part of that extra weight is safety engineering, no doubt, because this rifle is loaded with it.
The gun is cocked by swinging the finger lever all the way forward. Although it looks like a lever-action firearm, the cocking lever is really much longer than just the finger lever because it has to provide some mechanical advantage.


The finger lever is part of a longer underlever that retracts a sliding compression chamber, opening the way for loading the breech.
This is not a gun you hold up to your shoulder and just flick the lever with one hand. No, indeed. You dismount it and work the lever with one hand while restraining the rifle with the other hand and your leg. Not that it is hard to cock, for it isn't. It cocks with about the same 17 lbs. of effort as the FWB 124 breakbarrel rifle, but it's not a job for one hand, alone.
As the gun is cocked, the sliding compression chamber retracts, just like on a TX 200 or HW 77. As it retracts, a clicking ratchet catches the chamber at intervals, so there is little possibility of an accident should your cocking hand slip.
When the chamber is all the way to the rear, there's access to the rear of the barrel for a pellet to be inserted. It's a tight fit, but elevating the muzzle helps you balance the pellet on your thumb until you make contact with the barrel. All the while, the sliding chamber is retained by an anti-beartrap mechanism to keep you from chopping off your digits.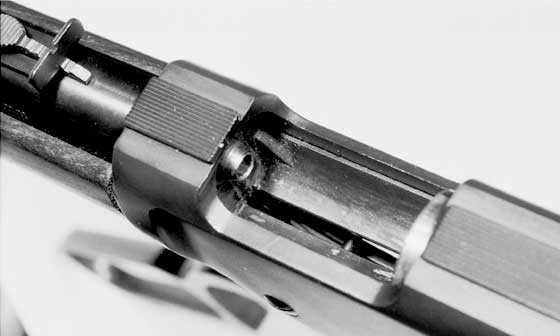 The compression chamber is retracted, leaving lots of room to load the gun. The slot at the bottom is for clearance for the cocking linkage.
The cocking cycle is completed by returning the lever to the starting position. To shoot, upward pressure must be maintained on the finger lever, just like so many lever-action firearms. There's also a safety behind the receiver, profiled to look something like the hammer on a firearm. It's not automatic, but you can put it on at any time. The way it functions is very strange. Instead of blocking or disconnecting the trigger, it simply pushes a steel bar straight down through the bottom tang, where it props the finger lever from being squeezed closed. Thus, they use one safety device to force engagement of a second device. It works fine, which says a lot for the Erma engineers' confidence in their design.
So, the gun is bristling with safeties! That means you cannot decock it. Once cocked, a pellet must be fired. Also, it means that a slot had to be cut in the bottom of the outer receiver to allow for travel of the link that connects the sliding compression chamber to the cocking lever. Unfortunately, the slot looks exactly like the ones in the cheap Chinese sidelevers that were formed from stamped sheet metal stock. Nothing on the ELG is cheap, but this one feature does give that impression.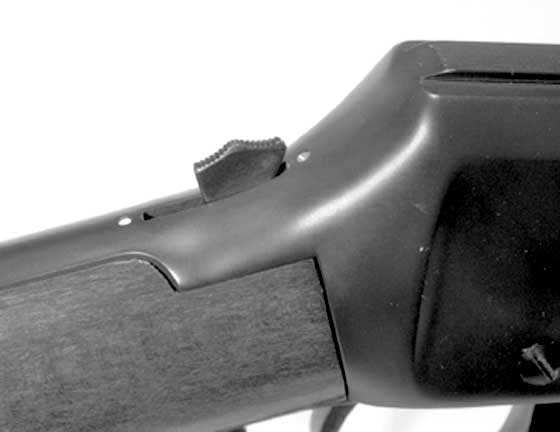 The manual safety looks a little like the hammer. All it does is block the lever from closing completely — so the gun cannot fire.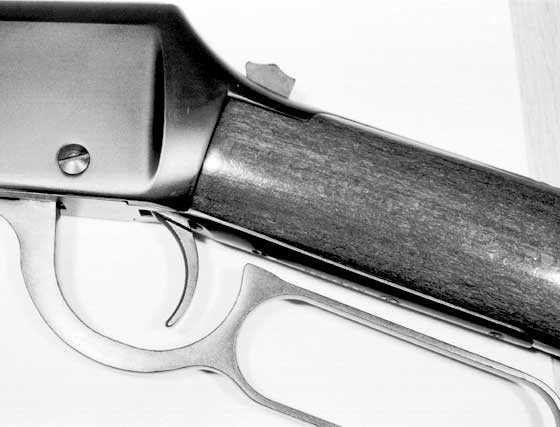 The gun is cocked and the safety is off.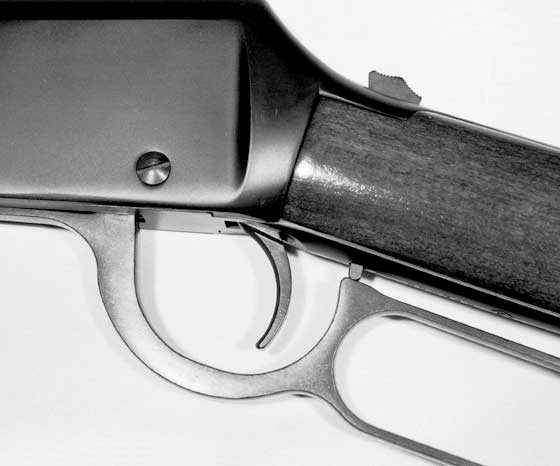 Push down on the safety button and the safety is on.
Another very neat feature of the gun is the full-length cleaning rod that's stored in the "magazine" tube under the barrel. Simply unscrew the cap of the tube, located under the muzzle, and the rod can be dumped out. A cloth mop for the end of the rod serves to wedge it inside the tube without rattling. Of course, there's no need to clean the bore of the gun for any reason, but it is a nice touch just the same.

The cleaning rod lives in the tube under the barrel. The cleaning mop keeps the barrel from rattling.
The iron sights are simple but effective. The rear is a notch with a sliding elevator, and the front is a hooded square post. It's no problem to get on target at the ranges this gun is made for — say 5 to 25 yards. Windage adjustments are possible by drifting the rear sight in its dovetail. As we indicated, most people will probably mount a short scope or just use the sights the way they come from the factory because part of the gun's charm is its fast handling and "plinkability."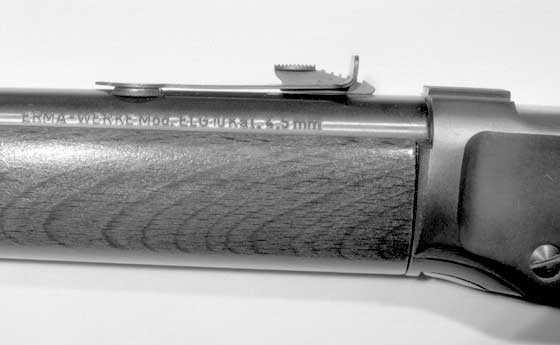 The rear sight is a simple elevator for elevation. Windage comes from drifting the sight in its dovetail.
The butt and forearm are made from beech, stained a dark red on all the guns I've seen. They fit as well as any firearm wood made after WWII. The buttplate is blued metal, reminiscent of Winchesters from decades ago.
Throughout this article, the word metal has been used without further explanation. The gun is not entirely made of steel. That would add at least a pound of weight, if not more, and it isn't necessary. The receiver is made from tough aircraft-spec aluminum, while the functional parts and the barrel are made of high-grade steel. Everything is finished the same, so there is no way of telling what's what unless you go over the whole thing with a magnet.
The Erma ELG 10 is going nowhere but up in price. Even in Europe, where more were sold, it was never a mainstream airgun. So, sitting around waiting for the market to go flat is a hopeless cause. If you want one, better get it now because it will only cost more later.
RETURN TO THE PRESENT
That article was interesting for me, as I hope it was for all of you. I want to thank Kevin for putting me onto this idea. Edith did it when I was sick, but I just never thought it could work in anything except an emergency. But since I don't own an Erma ELG 10 any more, I guess this is as close as I will get to one, so we might as well enjoy it for what it is.
Regarding my prediction on the price continuing to rise in the future, it actually did keep increasing until around 2008. When the economy stalled, the prices for vintage airguns like this one all took a dive. Only in recent years have they shown any signs of increasing again, and I would have to say that the price is pretty well where it was in 1999 — around $550-650, depending on condition and if it has a box.
Resurrecting this old article was fun, and I think we'll do it again as several of you have requested.
by Tom Gaylord, a.k.a. B.B. Pelletier
Part 1
Part 2
Part 3
Part 4
Part 5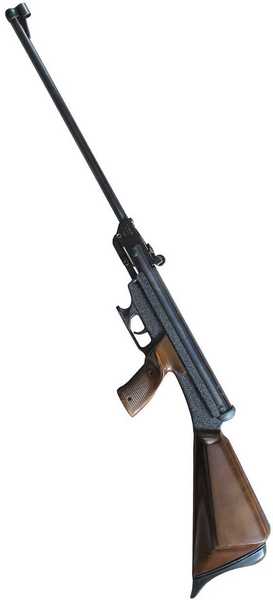 El Gamo 68 is a futuristic breakbarrel from the past.
I last reported on this rifle on August 8 of last year. And that was Part 5! I had just tuned the rifle with a new mainspring and proper lubricants and was wondering what the changes would be. I was ready to report on it several months ago when I discovered that it wouldn't cock. After fiddling with the trigger adjustments awhile with no success, I set it aside and moved on — thinking that the gun would need to be disassembled.
I disassembled it last week and discovered there was nothing wrong! The sear was working properly, or at least it seemed to be when I played with it as the gun was disassembled. I relubricated everything and put it all back together and was going to write Monday's report on it. But the trigger still didn't work! ARRGH!
This time, I remembered that when I got the gun the trigger was also a bit iffy, so I fiddled with the adjustments WAY outside the normal realm and, presto! I got it working again. Oh, it took a couple hours and there were some accidental discharges when the barrel was closed (direct sear!), but I solved all that by giving the sear way more contact than it needs.
Now the trigger releases at about 12 lbs., but at least it's safe. Today, I'll share with you how the tuned gun does at 25 yards — heavy trigger and all.
One other thing I did to the rifle was lubricate the leather piston seal with 10 drops of 3-in-One oil, leaving the rifle standing on its butt for two days afterward. The oil was allowed to slowly soak into the leather, which it did, but to protect the carpet and walls (Edith–Are you listening?) I put a long drop cloth in front of the rifle when I shot it.
Today's test is a deviation from my normal pattern. I've tuned this gun and not yet reported the new velocities, and yet here I am shooting for accuracy. I decided to do it that way; and if I got good results, I would test the velocity next. I'm not changing the usual way of doing things — this is just an exception.
RWS Hobby
The first pellet I tested was the RWS Hobby. I chose it for its light weight and because it's often accurate in lower-powered spring rifles and pistols. Sitting 25 yards from the target, I have to admit that I was wondering if the rifle had enough power to hit that target — let alone shoot a decent group.
Five of the first 10 pellets were detonations from the oiled piston seal. And the smell of burning oil was in the air. The Hobbys landed in a vertical group that was pleasingly tight from side to side. I was prepared to blame the verticality on the dieseling, but the truth is, that wasn't the problem. The gun just doesn't want to shoot Hobbys at 25 yards. That's not too surprising since 25 yards is about the maximum distance for any wadcutter pellets, in my experience.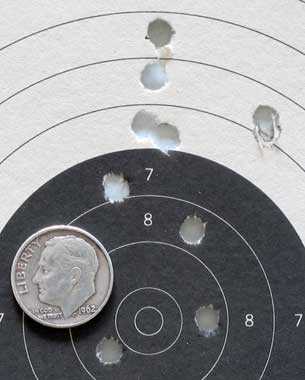 Ten Hobbys made this 2.151-inch group at 25 yards.
Air Arms Falcon
The second pellet I tested was the Air Arms Falcon, a 7.3-grain dome that's often accurate in spring rifles. I used the spotting scope only on the first shot, which was a detonation, to make sure it was on the paper. There were 4 detonations in the 10 shots. I didn't look at the target again until I walked down to change it. Boy, was I surprised by what I saw! To paraphrase Crocodile Dundee, "Now, THAT'S a group!" For open sights at 25 yards and 65-year-old-eyes, it ain't too bad!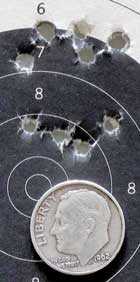 Ten Air Arms Falcons went into 0.898 inches between their two widest centers. This is an acceptable group for this rifle at 25 yards.
Remember, I'm shooting 10 shots — not 5. So this kind of group really proves the rifle can shoot. It also proves this old man can still hit things when the rifle does its part! So much for the problems of the droopers and gas springs! I needed this validation after some of the disappointing tests I've done recently.
The heavy trigger apparently is not causing much of a problem for me. I think that's because the rifle is rested. If I were shooting offhand, I'd want a lighter trigger-pull.
JSB Exact RS
Next, I tried JSB Exact RS pellets. This is another 7.3-grain dome from JSB (JSB also makes Air Arms Pellets) and is very often accurate in many different airguns. And this is one of them. The group is slightly larger than the Falcon group, but the two are so similar that I would call it a tie.

Ten JSB Exact RS domes went into 1.028 inches. Though not quite as small as the Falcon group, I would rate both pellets about equal in this rifle.
RWS Superdome
The last pellet I tried was the RWS Superdome, which often does well in lower-powered spring rifles. This time, however, it didn't. Ten pellets produced a 1.765-inch group. It didn't disappoint me, though, because the Falcon and JSB RS groups looked that much better. It showed that the earlier Hobby group wasn't just a fluke of bad luck — the gun simply likes what it likes.

Ten RWS Superdomes made this 1.765-inch group.
Evaluation
This test was calming for me. It was slower than many of the tests I've run in the past month, and the results were more based on me as a shooter rather than on the equipment. I find that I like that a lot!
The El Gamo 68 XP is operating well right now, except for the heavy trigger that I'll probably keep just as it is for a while. The tuned powerplant is now smoother with less of a jolt. I noticed in this test that each pellet has a firing characteristic of its own. The two JSB pellets were definitely the smoothest of the four tested, and the Hobbys were the roughest.
This is such an odd airgun, with the fat heavy butt and no forearm to hold. Yet, it shoots like a thoroughbred. With the new tune, it cocks smoothly and just feels good to shoot — I don't have any better way of describing it. I wish you could all try one, but since you can't, I will, again, recommend the Air Venturi Bronco, which is the closest thing still being made today.
by Tom Gaylord, a.k.a. B.B. Pelletier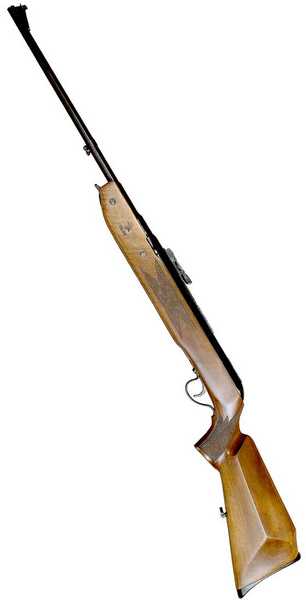 Falke 90 underlever rifle is a German spring-piston gun from the early 1950s.
This report is my test of the .22-caliber Falke 90 underlever air rifle I acquired a few years ago. When I got it, the rifle wasn't working, so blog reader Vince offered to fix it for me. After he finished, he took it to my friend Mac, who tested it. I've owned this rifle for several years and never really tested it myself, and I thought it was about time to do so.
I recently had the stock restored by Doug Phillips, who did a wonderful job. Now, I have a nice-looking underlever spring rifle as well as one that works well, so today we're going to look at its velocity. And we're going to do more than that because Mac told me some things about the gun that have shaped today's test. Why don't I share them with you now?
The Falke 90 is an underlever, which means there is a separate lever to cock the mainspring. In the Falke 90, it's hidden by the stock — very much like the BSA Airsporter and the Hakim, which are both related to the Falke. All three rifles are loaded through a tap that rotates open automatically when the lever is cocked. That provides a place to drop the pellet, nose-first. Then the tap is manually rotated closed, the pellet aligns with the breech (in front) and the air transfer port (behind the pellet). Let's talk about that tap for a bit.
Tap alignment
The tap opens by a mechanical projection on the cocking linkage that pushes the tap as it passes it during cocking. I think the remarkable thing is that it stays in adjustment over hundreds of thousands of shots and scores of years of use. My tap is still aligned perfectly, so I don't have to do anything except drop a pellet nose-first into it and then rotate it closed to align with the barrel.
There can be a problem with a tap, however. The pellet chamber in it can be so exact that pellets don't fall all the way in when they're just dropped in. This is what Mac pointed out to me about this rifle. My taploader experience has been with the Hakim rifle, which has a generous pellet chamber and seldom has a problem — unless the pellet skirt is bent. Then, the pellet won't fall into the tap's pellet chamber as far as it should; and when you rotate the tap closed, you'll catch and bend the pellet's skirt. But the pellet chamber on the Falke 90 tap is very small and may or may not accept the pellet as far as it needs to — to clear the receiver when the tap is rotated closed.
Mac told me to watch for that problem and to make sure each pellet made it into the pellet chamber as far as it needed for clearance. He advised me to use an instrument to push each pellet as far into the tap chamber as it would go — thus clearing the skirt when the tap rotated closed.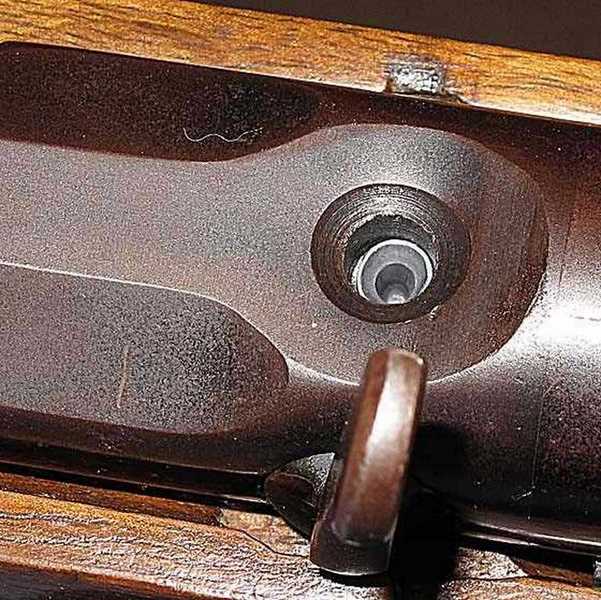 This pellet was dropped into the tap and failed to enter the pellet chamber far enough to clear the end of the pellet skirt when the tap is closed.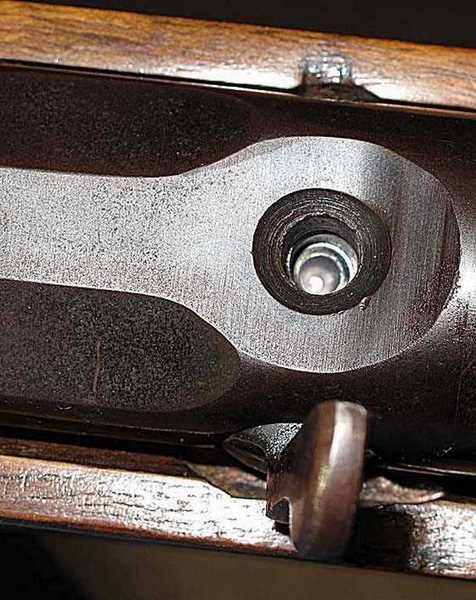 Here the pellet has been pushed into the tap as far as it will go. This pellet will easily clear the gun when the tap is closed.
This tap business got me wondering about the affect on velocity. Would a deep-seated pellet be better (faster and more consistent), or would a pellet that has just been dropped into the tap do better? I'm sure you can come to your conclusions quickly enough, so let's test a couple pellets and see what really happens.
RWS Superpoints
I began shooting RWS Superpoints when I got my first Hakim. They seemed like the perfect pellet for that rifle because they have thin skirts that will flare out from a smaller blast of air and also because they just dropped deeply into the Hakim tap. Other pellets were too small for the Hakim tap and failed to produce adequate velocity because much of the air compressed by the piston slipped past them in the barrel.
In the Falke 90, however, it's a different story. The pellet chamber in the loading tap is very small, and Superpoints do not usually drop in far enough to close the tap. Many of them need to be seated mechanically. So, I tested them two ways. First, as just dropped in but not pushed deep and second as pushed into the tap as deep as they would go.
Very few of the pellets fell into the tap deep enough by themselves to close the tap, so even in the first test there was some pushing that had to take place. Perhaps 6 pellets had to be pushed into the tap a little while 4 fell in deep enough on their own. This string of what I'm calling unseated pellets averaged 476 f.p.s. and ranged from 465 to 484 f.p.s. That is a spread of 19 f.p.s. At the average velocity, this pellet and loading method generated 7.3 foot-pounds of muzzle energy.
Next, I tried pushing the pellets into the tap as deep as they would go. Now, I bet you think they're going to go faster than the unseated pellets. Right? Well, they did one foot-per-second faster! Yes, the average for seated pellets was 477 f.p.s., and the spread went from 461 to 493 f.p.s. So the range was 32 f.p.s. And the average muzzle energy was 7.33 foot-pounds. Not much difference, is there?
JSB Exact RS pellets
The other pellet I tried was the lighter JSB Exact RS pellet, which in .22 caliber weighs 13.4 grains. This is a pure lead pellet, like the Superpoint, and it also has a thin skirt. But the Exact pellet is smaller than the Superpoint. These pellets fell into the tap far enough to close without any damage every time.
On the first test, where the pellet was just dropped in, the Exact RS averaged 453 f.p.s. The range went from 445 to 463, so a spread of 18 f.p.s. At the average velocity, this pellet generated 6.11 foot-pounds. And no mechanical seating was necessary.
On the second test, where the pellet was pushed into the tap as far as it would go, this pellet averaged 457 f.p.s., but the spread was much larger — ranging from a low of 448 to a high of 484 f.p.s. So, the velocity varied by 36 f.p.s. At the average velocity, this pellet produced 6.22 foot-pounds of energy at the muzzle.
What do these numbers tell us about the rifle?
For starters, I hope you realize that this was not a normal velocity test that produced standard numbers. The way the pellet fits the loading tap has a tremendous effect on the outcome. I believe that will probably carry over into the accuracy test, as well, so I wanted to try one more test. What would happen if I flared the skirts of every pellet before loading it into the tap, and then I pushed each pellet to the bottom of the tap? Wouldn't that give me the best sealing of the pellet to the bore? Mac thought it would. But only one way to know for sure. I had to test it. And I decided to test both pellets, as I could see no compelling reason to choose one over the other.
RWS Superpoints flared and deep-seated
Superpoints averaged 474 f.p.s. when their skirts were flared, and they were then seated as deep as they would go into the tap. That puts them in about the same place as the pellets that were just dropped into the tap and those that were intentionally seated deep. But here's where it gets interesting. The range went from a low of 464 f.p.s. to a high of 504 f.p.s. I'm not looking at the 40 foot per second velocity spread as much as I am the four pellets that topped 490 f.p.s. Clearly, flaring the skirts has an effect, but I must not have done it uniformly enough to make a difference.
JSB Exact RS pellets flared and deep-seated
The JSB Exact RS pellets are more flared to begin with. Even though their skirts are not quite as wide as those on the Superpoints, they lend themselves to flaring much better. These pellets averaged 487 f.p.s., which is a 20 f.p.s. increase over just seating the unflared pellets deeply. The range went from a low of 465 f.p.s. to a high of 501 f.p.s. Four pellets were at or above 500 f.p.s. Again, there must have been some inconsistency in the flaring, but the RS pellets did seem to respond better to the process.
Trigger-pull
Normally, I report on the trigger-pull in the velocity report, but I'm not going to do that today. The Falke 90 has an adjustable trigger that works on the sear contact area; and during the test, the trigger-pull went from being very light to not staying cocked. So I adjusted it heavy for safety's sake. A taploader is safe because, until the loading tap is aligned with the bore, the pellet will not move; so when the gun fired on its own several times, there was no problem. But if I were to adjust it to a light pull, I might then close the tap before the gun is on target — and that's dangerous if the gun then fires on its own! So, I'll adopt a procedure with this rifle of not closing the tap until the sights are on target.
I'm also having difficulty with the trigger because the trigger return spring isn't sufficient to push the trigger blade into lockup with the sear. When I cock the rifle, I also have to push the trigger blade forward to engage the safety. That may be because the new wood is a little tight in the trigger region. It's something I need to look at.
The rifle is shooting well thus far, with the exceptions noted. The next report will be accuracy, and for that Mac has set the bar very high.
by Tom Gaylord, a.k.a. B.B. Pelletier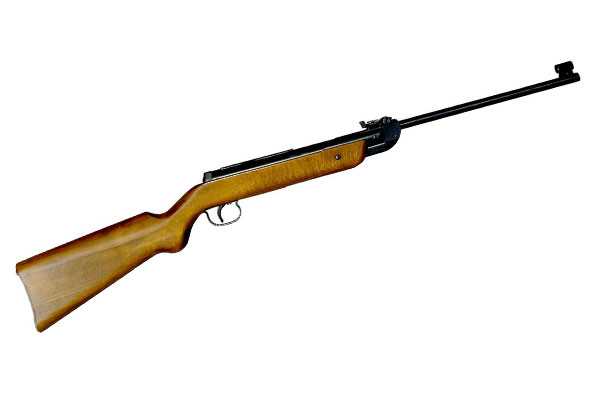 The Diana 25 (this one says Winchester 425) was made for decades. It is at the top of the youth line of air rifles from the '50s through the '70s.
On Friday, I tested the Chinese Fast Deer sidelever rifle at 25 yards, and in doing so I started the juices flowing again for the vintage airguns. One remark I made in the report was that I thought the Fast Deer might be more accurate if I fitted a peep sight in place of the open sights that are on it now. That got me thinking about other low-powered spring guns I've recently tested — including the Winchester 425, which is a Diana 25 by another name.
I tested the 425 at 10 meters because it has open sights and also because of the low power level. It's a .22-caliber spring rifle that shoots in the low- to mid-400s, and long-range accuracy is not its strong suit. But after seeing the Fast Deer perform, I began to wonder how the 425 might do if I tried it with a peep sight. Kevin recommended trying it, and I was happy to take his suggestion. We always talk about how peep sights improve the aiming situation, so a peep sight ought to have some impact on even a rifle like this one.
As it happens, I have a peep sight that attaches to the rear sight base on many vintage Diana air rifles, including this 425, so it was easy to remove the open rear sight and attach the peep. I left the open sight in place until the peep was firmly anchored to the base, then I looked through the peep and adjusted it until the open sight picture looked perfect through the peephole. That told me the peep was looking at the same place as the open sight, so no special sight-in procedure was required.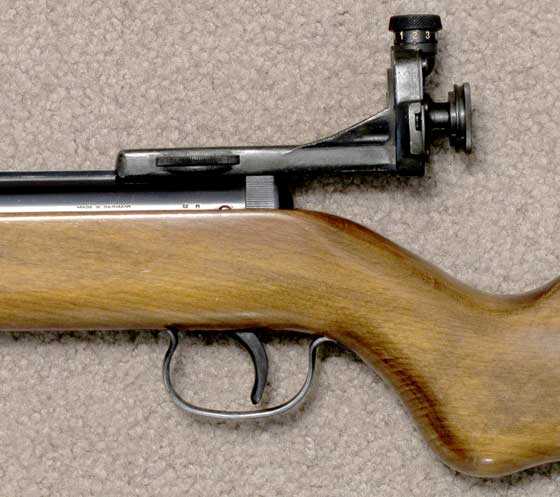 The Diana peep sight fits the model 25 as well as many of the larger models. It looks simple but delivers on target!
The Diana peep sight is vintage and appears less sophisticated than the target peeps we see today; but when you use it, you soon learn that it's as nice as any of them. It has crisp detents with very visible scales for both adjustments plus the directions are also on the adjustment knobs. They're in German, though, so they're the reverse of American adjustments. The sight sits low on the spring tube and is shaped to conform to the contours of all Diana rifles, so there's very little clearance between the sight and the gun. The sight does extend back, which is helpful, but as small as the 425 is, I still found it difficult to get as close to the eyepiece as I would have liked. That's because the stock's pull is a sporting length instead of a target length that would be several inches shorter.
JSB Exact RS
Since JSB Exact RS domes had proved to be very good at 10 meters, they were the first pellet I tried at 25 yards. I trusted that the pellet would go to the point of aim and it did. The first shot was right on target, but there was a small problem because I was trying to use 10-meter rifle targets and the bull is too small for me at 25 yards. So, I replaced the target with a 10-meter pistol target and afterward everything was fine.
The first group of 10 pellets measures 1.059 inches between centers. Now, that sounds like a big group; but if you look at the target, I think you'll see that it really isn't so bad. Seven of the 10 pellets landed in 0.545 inches and that's good.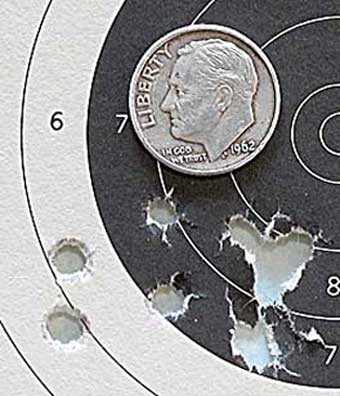 The JSB Exact RS pellet made a large group, but there's a much smaller group within. This shows promise.
RWS Superdomes
Another pellet that did relatively well in the 10-meter test was the RWS Superdome. And this is where the difference between 10 meters (11 yards) and 25 yards really shows! Ten Superdomes went into 1.349 inches, and the group appears scattered left and right. This is not a pellet I'd use in this rifle at this distance.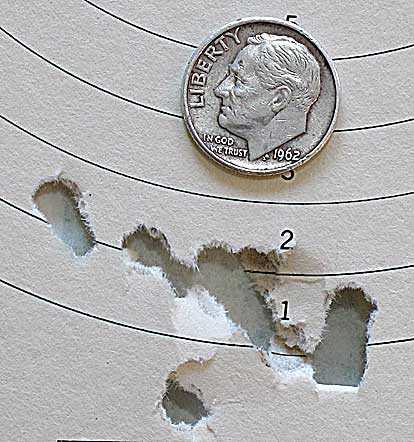 RWS Superdomes were generally scattered left and right. Not a pellet to pursue.
Here is another example of why a 10-shot group is so much more valuable than several 5-shot groups. You could get lucky with several 5-shot groups and never know how well the rifle really shoots, but a single 10-shot group tells the tale very clearly. In the end, it saves time and pellets.
Notice that Superdomes struck the target lower than the JSB RS that preceeded them. So, I adjusted the rear sight to hit higher on the target following this test.
JSB Exact 14.3-grain domes
Next, I tried some JSB Exact Jumbo Express 14.3-grain domes. Since the RS pellets had done so well, I thought these might do well, too, even thought this pellet has disappointed me very often in the past. For some reason, the RS and 15.9-grain pellets shoot rings around this one, and I don't quite know why.
The Diana 25 doesn't like them, either. Though the group is well-rounded, the shots seem scattered within it. The group measures 1.288inches between centers and there is nothing to give much hope of any better performance.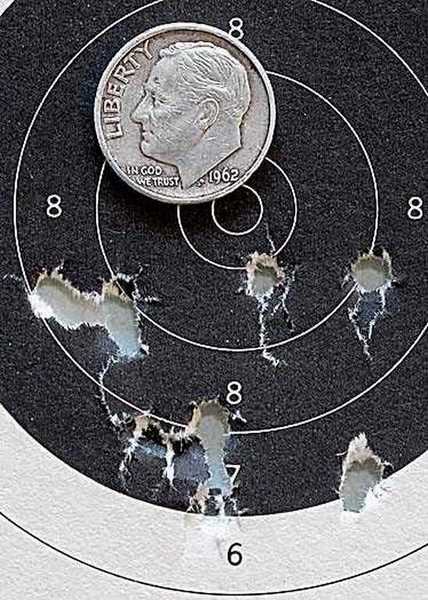 JSB Jumbo Express group is even more scattered than the one made by the Superdomes. Another pellet to remove from the list.
At this point in the test, I was starting to lose confidence in the rifle. True, the RS pellets had shown some promise and deserved another chance, but instead I had a thought. What about Crosman Premiers? I normally don't shoot Premiers in vintage Dianas because I like to use only pure lead pellets, but it sounded like it was worth a try.
The pellets loaded snugly into the breech, but they weren't quite what I would call tight. The firing behavior, though, was quite different from all the other pellets I'd shot in the gun. It was harsh and a bit buzzy, which tells me the powerplant isn't being cushioned sufficiently by this pellet.
Down at the target, though, the story was quite different. Premiers made the second-tightest group of the test and were so good that they looked like they warranted a test all their own. The vertical dispersion was 1.09 inches between centers, which is slightly larger than the group made by the JSB RS pellets. The lateral dispersion was only 0.491 inches! And the group was way below the bull, meaning that this pellet dropped many inches from the impact point of all the others. In fact, I'm not certain that all 10 shots landed on the paper because the ragged hole they tore doesn't tell me how many pellets passed through. It just looks like they all went there.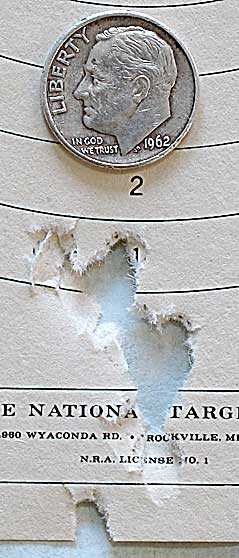 Crosman Premiers also made a large group, but they were tight side-to-side. This is a pellet to consider further! Sideways dispersion is the gun's fault. Vertical error is more of an aiming issue or perhaps a wild velocity variation.
Premiers struck the target much lower than the JSB pellets before them, so the feeling upon firing is also evidenced in the velocity. Remember, I'd already adjusted the rear sight higher to compensate for the Superdomes, so this second adjustment jacked it up a lot from where we started.
Observation thus far
The addition of a peep sight to the Winchester 425 was a great idea. It took an accurate and easy-shooting rifle and stretched the useful range many times. I don't know that a scope would give results that are any better, though it might be fun to try!