by Tom Gaylord
Writing as B.B. Pelletier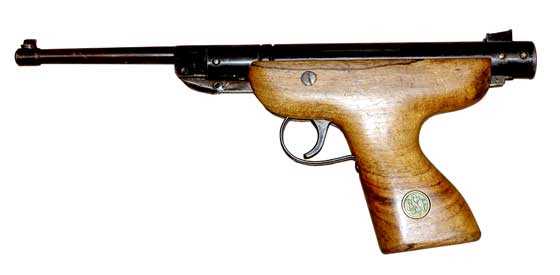 The BSF S20 pistol looks like a rifle that's been cut down to fit into a pistol grip.
This report covers:
Chinese copy?
An HW70 copy?
Velocity test Premier 7.9-grain
RWS Hobbys
Crosman Silver Eagle hollowpoints
Breech seal?
Trigger pull
Cocking effort
What's next?
Today we're going to see what condition my new/old BSF S20 pistol is in. I will compare it to my BSF S20 Custom Match pistol that I tested back in 2008. That pistol is shooting at the rated velocity of 440 f.p.s., for pellets that were never specified in the ARH catalog, so I guess they are Hobbys or something equally light. But before I get into that testing, I have a surprise for you.
Chinese copy?
Reader Richardwales mentioned that he had owned a couple Chinese copies of this pistol in the past. Then reader JimQwerty123 mentioned that he had also considered buying one. I answered that I had allowed $10 in trade on one (a Chinese copy of the S20) at the Findlay airgun show several years ago, and I had always intended testing it for you. Today I'm going to show you that gun and ask both readers if it is the one they were referring to in their comments.