Posts Tagged 'Crosman 1077 CO2 air rifle'
by Tom Gaylord, The Godfather of Airguns™
Writing as B.B. Pelletier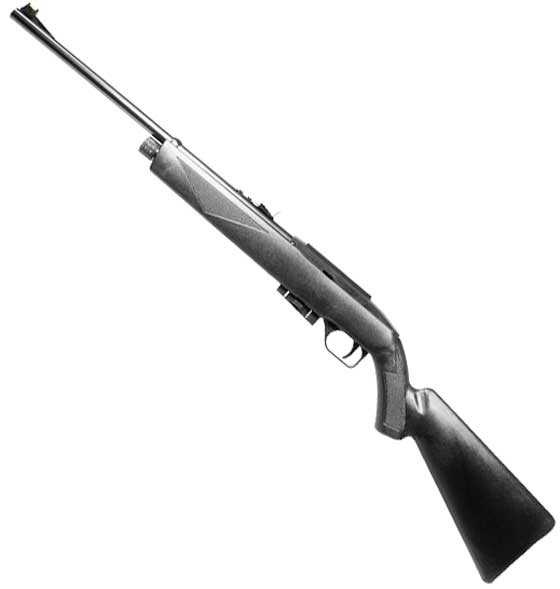 Crosman's 1077 RepeatAir is a classic.
This report covers:
• The 1077 is a lookalike
• Ruger's 10/22 is the most popular .22 rimfire
• Crosman often copied popular firearms
• 1077 debuted in 1994
• 1077 basics
• Magazines & clips (they're not the same!)
• The BIG lesson (miss this & you might mess up)
• CO2 powerplant
• Summary
• Ft Worth airgun show update
I went around and around about the topic for today's report. There are several new airguns I wanted to start reviewing, and several vintage guns I also want to look at. But the bottom line is that I had to go with Crosman's 1077 CO2 rifle. Why, you might ask? Because this rifle is one you need to know about. It's a classic for many reasons. Perhaps, the first one will surprise you.
The 1077 is a lookalike
The 1077 is a lookalike airgun. It's a copy of Ruger's famous 10/22 .22-caliber semiautomatic (rimfire) that's been produced in the millions (6 million by 2012) since it was introduced in 1964. Most airgunners don't think of the 1077 that way — they just like it for what it is: A fine, inexpensive .177-caliber repeating pellet rifle. But the fact is that the 1077 is patterned after and certainly named for the extremely popular 10/22.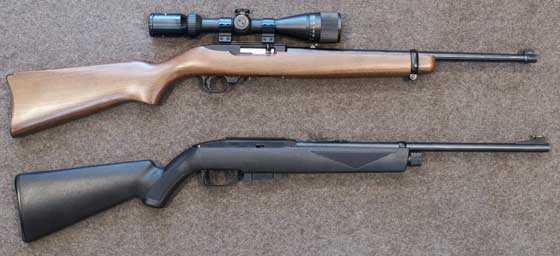 The Crosman 1077 is actually styled after the Ruger 10/22 (top).
Ruger's 10/22 is the most popular .22 rimfire
I'll catch some flack for saying this, but the Ruger 10/22 is today's most popular .22 rimfire. That doesn't mean it's the best or the most accurate or even the one with the most elegant design. There are even some major drawbacks to the 10/22 design, like it's notoriously hard to assemble after cleaning, it has to be modified to be cleaned from the breech, the magazine release is difficult to operate and the bolt doesn't stay open after the last shot is fired. You can even add that the bolt hold-open switch is difficult to work. But all that considered, more people are buying 10/22s today than any other model of rimfire.
The 10/22 is very inexpensive but is built in a modular way that allows the owner to add many times the cost of the rifle in accessories and modifications. It is to rimfires what the 1911 or the AR is to centerfires — a gun the user can customize almost to infinity with aftermarket parts. Like both the 1911 and AR-15, it's even possible to construct a 10/22 entirely from parts not made by Ruger. By making it modular and allowing a huge aftermarket support base to build up, Ruger has assured its 10/22 of a solid future. And it's the perfect rimfire for Crosman to copy.
Crosman often copied popular firearms
Crosman's history with lookalike airguns dates back to the 1950s, when their SA-6 (Single Action 6) revolver was first offered. A Colt lookalike that came to market during the television Western craze, the SA-6 was the start of a long line of airguns that looked like famous firearms. Most of them were CO2, but a couple like the A.I.R. 17 and the M1 Carbine were pneumatics and even spring guns. But CO2 offers opportunities for repeating mechanisms that enhance realism, which is what Crosman was pursuing.
1077 debuted in 1994
The Crosman 1077 RepeatAir rifle came about in 1994. It's a 12-shot repeating rifle that shoots 12 pellets with one loading. Company literature has always referred to the action as semiautomatic; but, in truth, what you have is a rifle with a double-action only revolver action. That's important to know because it means the trigger not only fires the gun but also has to advance the circular clip to the next pellet and cock the striker spring. That means the trigger travel will always be long and even a bit crunchy when the gun is new. And don't even think of modifying it! This trigger should stay as it is and just get better as it breaks in, as all of mine have. I'll measure my trigger for you in Part 2.
Yes, this will be an old-style Part 1 report because there's so much to tell about the 1077. I own 2 of them at present and have owned others over the years. This is an airgun I always have to have because of all that it can do and be. That will come out in the reports, but right now let's look at the gun.
1077 basics
The 1077 is a 12-shot repeating pellet rifle. It's small, at just less than 37 inches long, and light, at just 3.75 lbs. Because the stock is hollow plastic, the impression is that this is a kid's air rifle. But that's misleading! First, the trigger-pull is heavier than most youngsters can operate. Until they mature a little or the rifle breaks in a lot, it'll be difficult for them to operate. Second, the 1077 is more accurate than its price would indicate. We'll see just how accurate in a future test, but all who own the rifle know what a sweet shooter it can be. And third, the 1077 is more powerful than you might think. Crosman advertises the velocity at 625 f.p.s., and we'll soon see how fast my rifle is with different pellets.
The length of pull is 13.25 inches, making the rifle small for adults and just right for older children. It comes with open sights that adjust for both elevation, via a stepped ramp, and windage, using a crude slot with locking screw for the rear sight leaf. The front sight has a green fiberoptic tube, but the rear sight is just a notch with no fiberoptics.
The barrel is a thin rifled steel tube. Like all barrels of this design, it's possible for the barrel to become loose and cause accuracy problems. My experience, based on the 5 rifles I've owned and others I've seen is that it will stay tight if the owner leaves the barrel alone. But the moment you start fiddling with it, it becomes a problem. People fiddle with the barrel because other people on the internet advise them to –so consider this as good advice to leave the barrel alone.
Magazines & clips (they're not the same!)
The magazine and circular clip are the topic that caused this to be a special report. The 1077 has a box-like magazine that contains a separate 12-shot circular pellet clip. The circular clip is loaded with pellets, then placed into the box magazine and locked in place. The box magazine is inserted into the 1077′s action, the same as any other rifle that has a detachable magazine.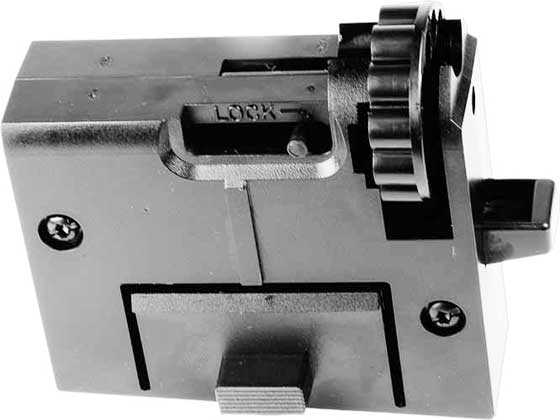 The box magazine with the circular clip installed. The post in the slot is pushed forward to release the circular clip.
This box magazine interfaces with the rifle's action to advance the circular clip. And here's how the 1077 action works. The trigger pulls a hook that pulls back on a stirrup located at the rear of the detachable magazine. That stirrup advances the 12-shot circular clip one pellet chamber, in a clockwise rotation, with each pull of the trigger.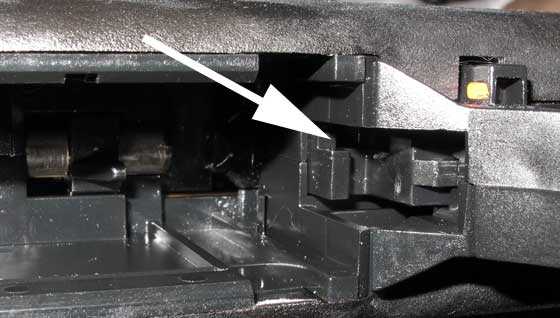 That hook (arrow) pulls out the magazine stirrup when the trigger is pulled.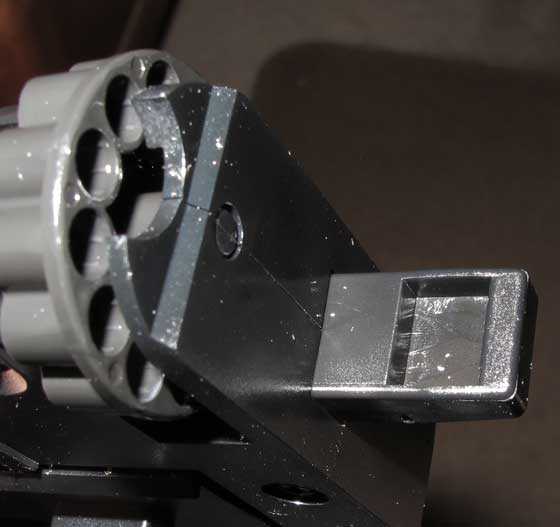 That hook pulls the magazine stirrup out, advancing the clip to the next pellet.
The BIG lesson (miss this & you might mess up)
Pay attention — because this is where you get in trouble if you over-think the 1077. Just as guest blogger Hiveseeker learned with the Winchester MP4: Every time the trigger is pulled, the circular clip advances. The pellet remains in the clip until the gun fires, but you'll skip past pellets if you back off on the trigger and do not follow through and fire the gun.
CO2 powerplant
The 1077 uses a single 12-gram CO2 cartridge, which should please many. Crosman says to expect 50 shots from that cartridge and I would agree, but I'll test it.
Both of my 1077s are converted to bulk operation and do not need to use a cartridge anymore. The gun I'm using for this test is the latest model with fiberoptic front sight, but this is one that has an adapter to use an 88-gram CO2 cartridge. Not only does it get hundreds of shots per cartridge, there's a valve on the unit that allows me to shut off the gas. When I began the test for you, the cartridge that was on the rifle had been there for over 4 years and is still holding gas. Of course, I always use Crosman Pellgunoil, and I advise you to do the same with each new cartridge you install.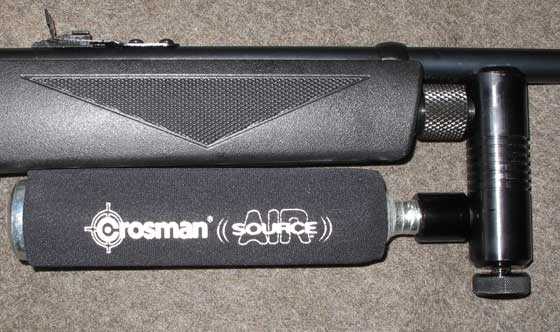 My 1077 has an adapter for an 88-gram CO2 cartridge. The round knob at the bottom shuts off the gas flow.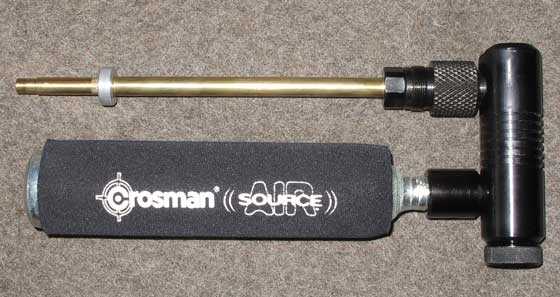 This is what the adapter looks like.
Because I can turn off the gas, I can remove the bulk adapter and convert back to a 12-gram cartridge whenever I want to. So, I'll be able to get a shot count for you from a standard cartridge. Alas, Crosman no longer offers the 1077 with this option, and the adapter sells used for more than a new rifle these days. It was a really cool thing that I would like to see Crosman bring back as an option.
Summary
So that's what's in store for you. This will be a detailed report on the Crosman 1077, including a 25-yard accuracy test that uses a bargain red dot sight that has recently been featured in this blog — the Tech Force TF90.
Ft. Worth airgun show update
Now an update on the show. We're getting reservations every day now, and the hotel is filling up with both dealers and those just attending the show. Some people have made arrangements to fly in and see the show, then have their purchases shipped back so they don't have to carry them on the plane!
I'll be staying at the hotel with the dealers, and we'll have a reception the night before from 7 to 8:30 p.m. It's soft drinks and snacks, plus a chance to meet with the dealers/attendees and perhaps transact early show business. You can come to the reception even if you're not staying at the hotel.
I'll lead a caravan of dealers from the hotel to the show location around 4 p.m. on Friday. That way, there will be many people who know the route on Saturday morning, plus you get to see the grounds the evening before we set up. There's no setup that evening.
Crosman Corporation has donated a Benjamin Trail NP2 rifle for a door prize, so we now have 2 door prize rifles and 3 raffle prize rifles. We plan to begin the drawings early in the show; so if you're going to attend, get there early!
Crosman will also be unveiling two new rifles at this show — a tactical PCP they call the Armada and their new .357-caliber big bore — called the Bulldog. They've asked me for air because they're flying in, so I'm asking those of you who live close by to bring an air tank or two if you can. I'll have a carbon fiber tank and my new electric compressor to charge Crosman's tank that they have to bring in empty. Maybe we can top off a tank or two while the show's running.
They're bringing Jennifer Lambert (VP of marketing), Chip Hunnicutt, a couple of engineers and one or two others so they can man a spot on the range with their new guns plus their table in the hall.
As this last month counts down, the show is coming together fast. Please register for your tables now or risk the chance we'll sell out.
by Tom Gaylord, a.k.a. B.B. Pelletier
At the end of the last part (Part 2), I said that was a wrap for 2012. Then, several folks recommended other things and my wife, Edith, suggested that I do Part 3 to include those things. Furthermore, I learned from Pyramyd Air that a huge number of new people are joining us daily, and many are new to airgunning. So, for them, I want to do some 'splainin'.
This blog
I'm Tom Gaylord, but I write this daily blog under the name B.B. Pelletier. You can address me either way, but I'll probably respond as B.B. here in the blog. The reason is a long one and not that interesting, but I don't want new readers to be confused.
Do I work for Pyramyd Air or don't I? Well, yes, I do get paid for this blog and for some other things I do, so in that sense, yes, I work for them. But I don't pull any punches when it comes to reviewing products. It either tests out or it doesn't, and I try to tell you exactly what happened when I tested it. Pyramyd Air never tells me what to say in the blog, nor do they try to control what I say in any way. So, in that sense I'm independent. I'm a contractor with Pyramyd Air, not an employee. I also write for other publications. I have a monthly column in Shotgun News, and I write five or six feature articles a year for them, as well. I also develop airguns and airgun products for various companies.
Pyramyd Air wants me to educate their customers, which is exactly what I try to do in this blog. When I write, I think about a guy living in Keokuk, Iowa, who will only buy one airgun this year. He'll buy it based on what I say, so I don't want him to be disappointed. I think of this guy as my best friend. He's intelligent, but he doesn't know what I know about an airgun, so I try to tell him. That's why the writing is as informal as it is.
We have many thousands of readers, but most of them don't comment. However, when someone does comment, we strive to welcome them and to listen to what they have to say. There's no flaming or name-calling allowed here. A couple times in the past there have been attempts to hijack the blog, but they were put down swiftly. So, no matter what you do or don't know, you're welcome to talk about it here.
Finally, this blog is the property of Pyramyd Air. We don't allow advertising for competitors. If someone tries to do that, their comments will be deleted.
Off-topic comments are invited on any blog. If you have a question about a topic that I wrote about 3 years ago, you don't have to ask your question on that old blog. Just post it on the current blog because more people will see it and provide answers.
Lastly, there are several ways to read the comments. You can read them by clicking the comments link under each day's blog or by clicking the RSS comment feed in the upper right-hand column or you can email us and request to be added to the emailed comment list. Edith will add your email address to the list, and each comment will come directly to your inbox.
Today's report
This is the third report presenting possible Christmas gifts for airgunners. Parts 1 and 2, which are linked in the beginning of this report (above), have the airguns I recommend. If that's what you're looking for, those would be the reports to read. Today, I'll concentrate on some other things an airgunner might also like. I'll tell you the item and give a link to it, as well as a brief reason for the recommendation. There may also be a few airguns in this report because several I overlooked were pointed out to me.
Plano Pro-Max double-scoped rifle hard case
If you have nice airguns, you want to store them in nice cases. Blog reader Slinging Lead recommended the Plano Pro-Max double-scoped rifle hard case. He puts each rifle into a soft gun sock that he's turned inside-out and sprayed with Ballistol, then turned right-side out and stuck a rifle in it. That then goes into the hard case. As we learned in Part 2, with Ballistol there should never be a problem with rust. I can't speak for the Gamo gun sock because I've never seen one. It looks too short to cover the entire long gun in the photos, but it gives you and idea of what a gun sock looks like.
Crosman 1377 and 1322
Slinging Lead also pointed out that I didn't have the Crosman 1322 or 1377 multi-pump pneumatic pistols on my list. That was an oversight on my part because these two pistols definitely belong there. They're very powerful multi-pump pneumatic pistols that keep alive the heritage of airguns from the 1930s and '40s. They're accurate, inexpensive and either would make a great gift for an airgunner!
Crosman Premier pellets
I wasn't going to put any pellets on the list this year; but in light of the number of brand-new airgunners we have reading this blog, I feel I have to. I'll start with Crosman Premiers. I'm recommending the ones in the brown cardboard boxes; and when you look, you'll find they're the most expensive. They're all taken from the same die lot, and you can count on their uniformity. They're also packed more to the box than to a metal tin. I think the Premiers in the tin are getting better and may be almost as good as the boxed ones, so it is just habit that keeps me recommending the boxes. They come in the following sizes:
Premier lite — 7.9-grain .177 domes
Premier heavy — 10.5-grain .177 domes
.20-caliber Premier — 14.3-grain domes
.22-caliber Premier — 14.3-grain domes
There's no .25-caliber Premier pellet, but there's one that's close, and it's also one of the two best pellets in .25 caliber. It's the Benjamin 27.8-grain domed pellet.
The rest of the pellets
This list is very long, so instead of talking about each one, I'm just going to list what I feel are the best.
.177 caliber
Beeman Kodiak
Beeman Devastator
Beeman ECO Kodiak
H&N Baracuda
JSB Exact RS
JSB Exact 10.3-grain dome
RWS Hobby
RWS Superdome
RWS R-10 Match Pistol
.20 caliber
Besides Crosman Premiers, there are very few .20-caliber pellets I can recommend. Even the Beeman Kodiak in .20 caliber is too lightweight (in lead) and just not that accurate. There are a couple, though.
Benjamin Cylindrical
JSB Exact
.22 caliber
Beeman Kodiak
Beeman ECO Kodiak
H&N Baracuda Green
H&N Baracuda
JSB Exact Jumbo 15.9 grain
JSB Exact Jumbo Heavy
JSB Exact Jumbo Monster
JSB Exact Jumbo RS
RWS Superdome
RWS Hobby
.25 caliber
Historically, .25-caliber pellets have been the worst on the market. The guns that shot them were not accurate enough to warrant good pellets, so the manufacturers just didn't invest the care they do with .177- and .22-caliber pellets. Even the best of them were just mediocre until just a few years ago. Now there are a couple great pellets available. The .25-caliber Benjamin was already mentioned with the Crosman Premiers, above. Here are the rest.
Beeman Kodiak Extra Heavy
H&N Baracuda
JSB Exact King
Final word on pellets
Beeman Kodiaks are actually the same as H&N Baracudas. Kodiak Match and Baracuda Match are essentially the same as Kodiaks and Baracudas. I've shot both and don't see any differences in their performance. I'm telling you that so you know to order the least expensive ones when they're available.
Crosman 1077
The CO2-powered Crosman 1077 is another air rifle that was left off the list and shouldn't have been. The 1077 is a 12-shot repeater with an internal double-action revolver mechanism. It's styled to resemble the Ruger 10/22 rifle, and its one of the best values in a plinking airgun today. Accuracy is well above average, with 10-shot groups the size of a nickel at 10 meters when you are careful.
Daisy Red Ryder
Several readers asked me to include Daisy's Red Ryder BB gun on the list. It is certainly the iconic Christmas BB gun here in North America — made famous first by Daisy and again by the 1980s movie A Christmas Story.
Daisy 880
For inexpensive shooting fun it's hard to do better than the Daisy 880. This multi-pump pneumatic shoots both BBs and pellets, though I recommend only pellets in this gun, because the BBs aren't as accurate.
Crosman 2100B
For a little more money you can get the Crosman 2100B. This multi-pump is very accurate with certain pellets — namely 7.9-grain Crosman Premiers.
Crosman 2240
The Crosman 2240 CO2 pistol is a must-have if you like accurate air pistols. It forms the basis for many higher-end Crosman target guns but is an accurate .22-caqliber pellet pistol in its own right. If you do buy one as a gift, don't forget to throw in a box of CO2 cartridges that it needs as its power source.
RWS Diana 34P
I would be shortchanging you if I overlooked the RWS Diana 34P spring rifle. I chose the 34P over the wood-stocked 34 for its slimmer profile. Either gun is a winner. They're accurate, powerful and the T06 trigger can be adjusted very nice. I don't like the fiberoptic open sights, but if you use a scope they don't matter.
Targets
Blog reader Kevin Lentz recommended that I put paper targets on the list because many airgunners won't spend the money for them. They print out targets on copier paper that tears and isn't satisfactory, where good target paper usually shows clean holes where the pellets passed through. All targets that are on target paper are worthwhile, but I have two I especially want to recommend. The first is the single-bull 10-meter air pistol target from National Target. Don't be put off by the name — you can shoot at it with a rifle, too. In fact, if you have open sights, this target extends your range out to about 25 yards because the bull is so large.
The other target I'm going to recommend is the 12-bull 10-meter rifle target, also made by National Target. I cut these up with scissors and use them in smaller sizes, which multiplies the use I get from each target several times.
Kevin also suggested getting some Shoot-N-C targets that change colors vividly when a pellet passes through. These come in all sorts of packages, but I like a combination of targets like this one. You can use the different-sized bulls for different things, and the black dot pasters that come with the targets will repair any of them. Just peal the target bull off the paper and it will stick to any other paper surface, so changing targets is a breeze.
Tactical flashlight and knife
Two things on this blog that we talk about besides airguns are tactical flashlights and knives. I've devoted a lot of time to both topics, and I know that most of our readers are interested in them, though they may never mention it. I recommend the UTG Tactical Flashlight, because it is identical to one I use all the time, but costs about $20 less. And I must also recommend the Walther Tactical Folding Knife that is the coolest knife I have seen in the price range. I like it so much I take it to airgun shows, just to show people how neat it is. The more you use it the easier it becomes to open, until it gets to the point of opening almost as fast as an automatic (switchblade) knife. It stays sharp and can be sharpened easily, though it does require a special serrated blade sharpening tool.
Wrap-up
That's it! Yes there are a great many more things I like at Pyramyd Air, but you can look around the website for those just as well as me telling you. Remember, this is the third part of a much longer list of potential gifts. The links to Parts 1 and 2 at the top of this report will take you to the rest of the list where there are a great many more gift suggestions waiting.
by B.B. Pelletier
Blog reader Kevin Lentz asked for this report; but as soon as he posted his request, it was seconded by a couple other readers. The first time I did a report with this title was way back in 2007, and that was a four-parter. This time, I'll hold it to just two parts to save some time, because there are a lot of new models coming out at this time of year. Kevin revised the categories just a little and I went with his suggestions.
Guns under $150: Air rifles
A couple guns that used to be in this category have fallen off the list, in my opinion. They did so due to major changes in product quality. Even at this low level, a gun has to shine to make the list.
Crosman's 1077 is a wonderful 12-shot CO2 repeater. It's accurate, reliable and a lot of fun to shoot. This budget rifle is accurate enough to benefit from a scope.
The Crosman M4-177 multi-pump is another wonderful value for the price. It's accurate, has a tactical look and is very rugged. As a bonus, this is a five-shot repeater!
The Gamo Lady Recon makes the list for its accuracy, ease of operation and the fact that it comes with open sights. The plain Recon doesn't have open sights and misses the list for the lack. This is a lot of youth air rifle for the money, but I suppose only girls will like it because of the pink color.
Stoeger's X5 makes the list for accuracy and build quality. The one drawback with this one is the heavy trigger. But if you get past that, this is a lot of airgun for the money.
Daisy's Powerline 953 TargetPro is a budget version of that company's 853 target rifle. Though it lacks the Lothar Walther barrel, the 953 manages to do quite well with its domestic barrel. It's a great way to get into target shooting without spending a bundle.
Buy the Daisy Avanti Champion 499 only if you like hitting what you shoot at. Billed as the world's most accurate BB gun and the only gun used in the International BB Gun Championships (because nothing else can compete with it), the 499 is every target shooter's dream. Sure, it's a BB gun, but one that will put 10 shots inside Roosevelt's head on a dime offhand at 5 yards.
And the winner among air rifles in this price range is the Air Venturi Bronco. It is, without question, the most accurate pellet rifle under $150, and it has the best trigger of the category as well.
What can I say? I love this air rifle.
Guns under $150: Air pistols
For informal target shooting, you can't do any better than Beeman's P17 single-stroke pistol. It's a Chinese-made copy of the German-made Beeman P3 that costs many times more, yet the P17 holds its own on power and accuracy. A few of them have been known to have reliability issues; but if you oil yours with Pellgunoil, I think you'll get past that. I've owned two, and both were perfect.
There used to be several different models of this next gun to choose from, but the last one standing is the Crosman 357W. A pellet revolver for under $50, this CO2-powered gun has inspired shooters for decades. It has the accuracy you want and ease of operation, plus it's a pellet revolver!
Another super buy is the Crosman 2240 .22-caliber single-shot pistol. This gun is the direct descendant of Crosman pistols dating all the way back to the 1940s. It's accurate, powerful and a wonderful value.
The Crosman 1377C is a classic multi-pump air pistol selling for half the price of most other pump guns. It has the power and accuracy to hold its own against challengers selling at more than twice the price. Plus, it's the basis of many hobby airgunners' projects.
The Makarov BB pistol is the best BB pistol in this or any other price category. It's accurate, reliable and extremely realistic. If you like to hit what you shoot at and want to shoot BBs, this is the gun to buy!
If you want a fun, realistic BB revolver, they don't get any better than the Dan Wesson BB revolver. I've linked to the 8-inch barreled gun, but all the barrel lengths and finishes cost the same and provide the same great service.
Guns $150-250: Air rifles
Not as many guns in this price category, because I hold them to a higher standard. With guns like the Bronco and the Beeman P17 out there, most higher-priced guns can't deliver.
Hatsan recently decided to go it alone in the U.S., but I haven't had a chance to test anything they offer. Back when they were making guns for whatever conglomerate financial organization owned Webley at the time, who knows what craziness they were forced to make? So, they should be given the chance to make and sell good guns on their own. Time will tell, but this year I have no information, so they didn't make the list.
With all the product-cheapening that's been going on, it's been difficult to see that the Diana RWS 34P has progressively morphed into a fine air rifle. The barrel got better, the trigger did the same and the powerplant went from a cheap buzzy nightmare in the 1980s to a dream gun in 2012. Diana avoided the Gamo pitfall of going to more power, and, instead, they concentrated on giving us a great rifle with reasonable power and splendid accuracy. You do need to use the artillery hold to get it, though. This one deserves credit for being a wonderful air rifle. When I list the 34P, I'm actually including all 34 rifles.
Guns $150-250: Air pistols
Same thing goes for air pistols as for rifles. Too much competition from the lower-price category and not enough innovation and quality in this one.
I can't say enough good things about the Smith & Wesson 586 4-inch CO2 revolver. It's a "real" gun! Get one if you like fine double- and single-action triggers, smooth revolver actions plus stunning accuracy. The realism cannot be faulted. Same thing goes for the 6-inch barreled gun.
Some of you may remember my story about telling the then-president of Crosman why airgunners would drop $150 on a handgun he sold for $39.95. Well, he left the company, and the new management decided to build these modified guns themselves! The Crosman 2300S is one such gun. It's based on the 2240 frame, but has a boatload of high-value appointments that are just what most airgunners want. Can't beat it for the price.
I'm going to include the Daisy Avanti 747 Triumph Match, which is somewhat quirky and more than a little clunky, but it's the lowest-cost real target pistol available. The Lothar Walther barrel is what makes it rank above the nearly identical 717. And, Daisy, could you please give this gun a couple more names? I can still pronounce it without taking a breath.
What's this? I put the Beeman P17 on this list for under $150 and I'm also putting the Beeman P3 on the same list? Yep. This one is good, too. Better trigger than the P17 and just as accurate and powerful. Want a better gun? Get a P3.
Well, that's my list. You might ask me what the criteria were to make the list. Simple. These are the airguns I can recommend and not hear anything bad about them. That doesn't mean that everyone likes all of them. It means that the guns, themselves, don't have any bad habits or features that make people mad at me for recommending them. Next time, I'll do a $250-500 list and an unlimited one. You think I was picky today? Just wait.
A note from Edith: This is a G-rated site
Recently, I've noticed some acronyms creeping in that aren't G-rated. If you have a budding young airgunner that you've encouraged to read the blog and the comments, do you want to have to explain to him what those initials mean? Probably not, so it's best if we don't use those colorful words/acronyms in our comments.
Also, when symbols have to replace letters in a word because the word is offensive, please don't use that word…with or without symbols. I appreciate your help in keeping Airgun Academy a G-rated site and a place where airgunners of every age can comfortably ask questions and grow to love the shooting sports.