Posts Tagged 'Crosman M4-177 air rifle'
by Tom Gaylord, a.k.a. B.B. Pelletier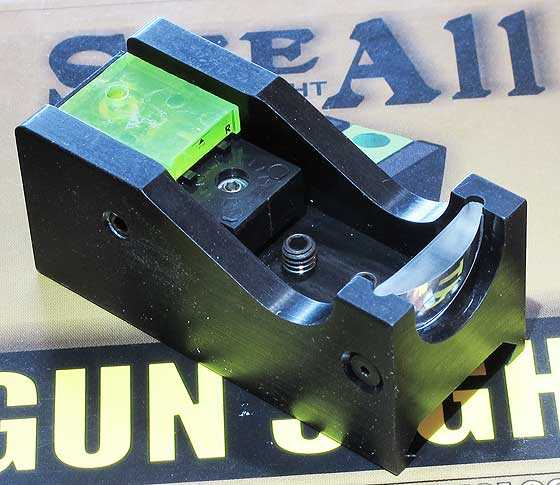 The See All Open Sight is revolutionary!
Today, I'm testing the See All Open Sight on the new TX200 Mark III that I've been testing for you. Because that rifle figures into today's test so much, I felt it was important that you be able to examine the rifle's accuracy in past tests — most importantly, the red dot sight test I just did in Part 13.
Part 1
Part 2
Part 3
Part 4
Part 5
Part 6
Part 7
Part 8
Part 9
Part 10
Part 11
Part 12
Part 13
I also want to mention that See All is aware of the difficulty in mounting their sight on a straight-line rifle like the M4. They even mention it in the frequently asked questions on their website. So, what happened the last time I tested this sight was my fault for not checking all the information.
Mounting the sight
The first step was to mount the See All sight to the TX200. Since the rifle has 11mm dovetails and the See All has Weaver-width dovetail jaws, I used a prototype Leapers base that converts 11mm to Weaver/Picatinny. For this test, I used the same scope stop pin that I showed in the last test with the dot sight. The pin popped out of the hole on the first shot, so the base had to be remounted and the pin locked down again. After that, the base remained tight and solid throughout the test.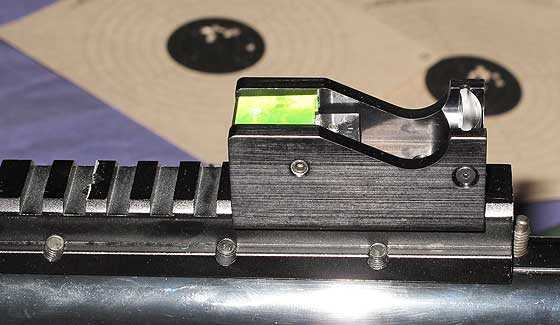 The See All Open Sight is mounted on a prototype Leapers 11mm-to-Picatinny base that has a built-in droop (correction for the barrel pointing downwards).
The base of the See All sight has no locking crosspins like those found on a Weaver or Picatinny sight. It has 2 vertical screws that bear down on the sight base and push the See All up so its jaws grab onto the dovetails of the base. Since the base I used has the crosspin slots for a Picatinny-type sight, I slid the See All until both locking screws were pushing down into the bottom of a slot, instead of on top of a locking ridge. I felt that would give a more secure attachment. But there were still some problems, as we shall see.
Sight-in
I sighted-in with H&N Baracuda Match pellets. They had tested well with the dot sight at 25 yards, and I felt they would be a good pellet for this test. But I had problems getting the pellet to go where I wanted. This is where I discovered that the See All sight behaves like a front sight and not like a rear sight. The sighting reticle must be moved in the direction opposite of where you want the pellet to go. The instructions included with the sight are very clear on this; of course, I wasn't reading them — yet! There's a marking on the right side of the sight that is supposed to tell you how to adjust the sight for windage, but I found it difficult to read.
I thought I'd solved the sighting problem and tried to shoot a first group, but the results were horrible. Pellets went everywhere! But within the first 5-inch, 10-shot group there were four holes together. Since I had seen the first hole through the spotting scope I knew the first 4 shots went to the same place, then the rest scattered everywhere. Pretty obvious what was wrong.
The sight was loose on the base! After tightening it down, I shot the first group for record. Ten Baracuda Match pellets went into 1.085 inches at 25 yards. It's an okay group for open sights and an average spring rifle, but it's horrible for a TX200.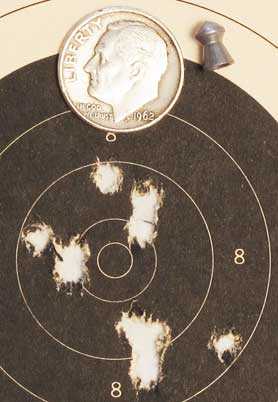 The first group of 10 Baracuda Match pellets isn't much of a group for just 25 yards from a TX200. It measures 1.085 inches between centers. The sight was loose again!
Then, I checked the screws and found the sight had loosened, again, during the ten shots it took to fire the first group! Now I knew what to do. Check the screws after every shot and tighten if necessary.
Crosman Premier heavys
I switched to Crosman Premier heavy pellets for the second group, fully intending to come back to Baracuda Match pellets at the end of the test. But this shooting was proving tiring, and I didn't want to jinx the other pellets by shooting them when I was tired. I checked the sight screws for tightness after each shot on this string.
Ten Premier heavys went into 0.978 inches at 25 yards. You can see a smaller group of 7 within the main group. It measures just 0.451 inches between centers. That tells me the See All Open Sight really works, but I was still getting used to it. The shots outside the main group are from my aiming errors, I believe.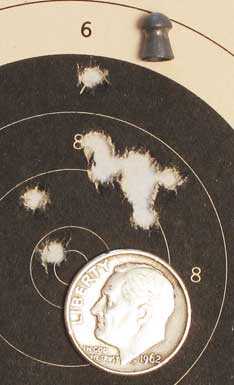 These 10 Premier heavys look a little better. The entire group is 0.978 inches between centers, but 7 of the pellets are bunched up pretty well in 0.451 inches!
I was learning to use the sight as things progressed. The space just above the reticle triangle is difficult to line up with a bullseye target — at least for me. But as things progressed, I discovered that I was aligning it faster and faster. I was learning to judge where the reticle was, even when I couldn't see the tip. That's no doubt what lead to those shots that are not inside the main group, and I think as I learn this sight more I will get better with it.
Crosman Premier lites
Next, I tried the 7.9-grain Crosman Premier lite pellet. By this time, I'd found it necessary to check the See All screws after only every 5 shots, and they were no longer loosening even then. Ten Premier lites went into a nice group that measures 0.686 inches between centers. It's a very round group, which indicates I'm learning the sight picture as I go. But the Premier lite was also very accurate in the test using the red dot sight.

Now we're talking! Ten Premier lite pellets went into 0.686 inches, with 7 of them going into just 0.423 inches.
Baracuda Match
Now, it was time to return to the H&N Baracuda Match pellets and see what I could do. I was still checking the See All screws for tightness after every 5th shot, but they weren't loosening. This time, I managed to put 10 pellets into 1.259 inches; but as you can see, 9 of them went into 0.695 inches. It's clearly my fault the group is as large as it is. The See All Open Sight can make it much smaller, if used correctly.

Ten H&N Baracuda Match pellets made this 1.295-inch group…which is horrible; but 9 pellets went into 0.695 inches, which isn't too bad. Still, this pellet doesn't compare with the Premier lites.
Conclusions so far
The See All sight does work as advertised. But you do need to read the instructions and follow them.
Small adjustments of the sight make very large changes in the impact point. Go very, very slow with your adjustments. And read the instructions to see which way to turn them. The markings for adjustment directions on the body of the sight are not very clear.
Plan on taking some time to get used to the sight. It does work, and I think it works well for people with poor eyesight; but it's unlike anything you've ever used. Although it's analogous to a dot sight, it works nothing like one in application.
I did find that I needed some light on the sight to see the reticle. I had the room lights on where I was shooting, which is something I never do with other open sights or scopes.
I think this sight may be better-suited to PCPs and CO2 guns than springers. But that's just my impression from this first test. I'll know more as the tests continue — which they will. I still think this sight is a significant new device.
My friend, Otho, is also testing a See All sight on some firearms for me. His eyesight is so bad that he hasn't been able to use open sights for several years, so we'll get a different perspective from him.
by Tom Gaylord, a.k.a. B.B. Pelletier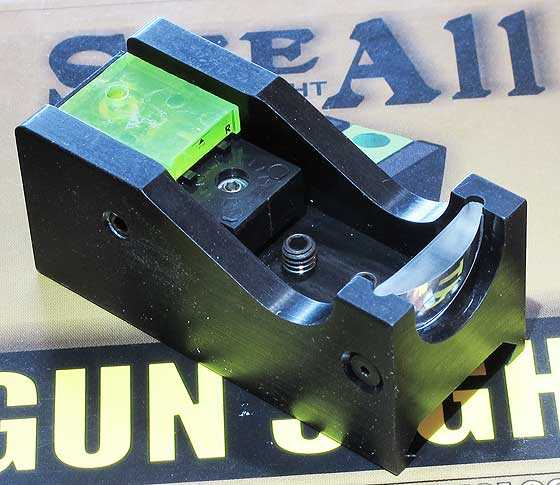 The See All Open Sight is revolutionary!
This is the first test of the See All Open Sight. I chose the Crosman M4 –177 as the first rifle to be tested because the See All comes only with a Weaver base, and the M4-177 has a Picatinny rail that will accommodate it. The choice was based solely on that and little else, except the M4 had been shown to be fairly accurate at 10 meters.
For the test, I decided to fire a 10-shot group using the factory sights, which are a peep in the rear and a post up front. Since the rifle was stored in the box without its sights, they had to be mounted and sighted-in. I started with Crosman Premier Super Match wadcutter pellets but switched to 7.9-grain Crosman Premier lites after seeing the size of the Super Match group.
I was shooting from a sandbag rest at 10 meters. Five pump strokes were used for every shot in this test. The group of 10 Premier lites measured 0.84 inches, so that's what I'll use to compare the results from the See All sight.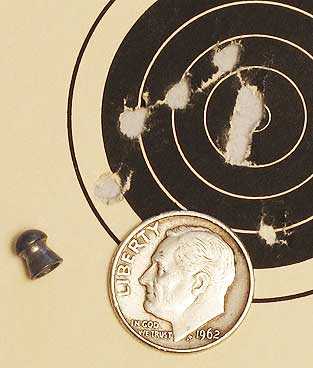 Ten Crosman Premiers went into 0.84 inches at 10 meters when the factory sights were used.
Mounting the See All Open Sight
The sight went on the flattop receiver easily enough, and the 2 screws that hold it in position work well. But after I mounted the sight, I discovered that it was impossible to get my head low enough on the stock to see the reticle. All I could see was the See All name that's beneath the triangle. The sight needed to be adjusted up.
Sighting-in
I adjusted the sight up as far as it would go and got the reticle up to where I could just barely see it if I held my head artificially low on the stock. To sight the rifle on the target, I had to tilt my head far to the right to get my eye low enough to see the full reticle. I used a 6 o'clock hold on the bull for all my shooting with this sight, which is the only way to be precise with a sight that covers the bull.
With this sight picture, I missed the entire paper at 10 meters. So, I walked up to within 10 feet of the target and aimed again. This time the pellet struck the target backer board about 6 inches below the aim point. Something had to be done, and done quick!
I had positioned the See All sight as far forward on the receiver rail as space permitted, so now I moved it back as far as it would go, like the position of a peep sight. This made sighting easier, though I was still tilting my head way over to the right to see the reticle.
With the sight in this position, I put a Shoot-N-C bull at the top of a blank sheet of target paper and shot 4 shots at it from 10 meters. They landed about 7.5 inches low on the paper, as you can see in the photo.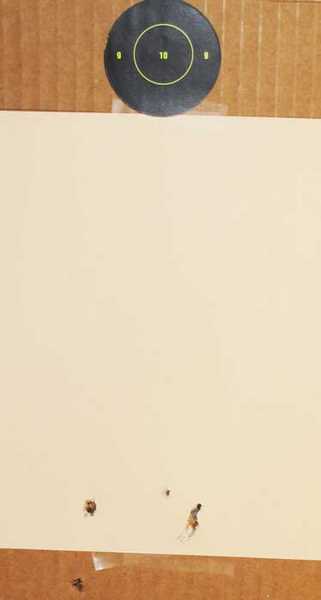 Four Crosman Premiers went about 7.5 inches low at 10 meters. The aim point was the bottom of the bull at the top of the backer board.
This wasn't working! And the reason it wasn't is the straight line of the M4-style rifle. The flattop receiver doesn't permit mounting the See All Open Sight high enough to be seen easily. It's not the sight's fault — it's the rifle's.
I was ready to call it a day when Edith suggested that I mount the sight to the Picatinny rail where the rifle's front sight is supposed to go. It was simple enough to move the sight, so I tried it and found I could see the reticle much easier. A test shot showed that it was hitting the target way too low, however. Because the sight had been moved from the rear to the front, the adjustments had to be reversed to work.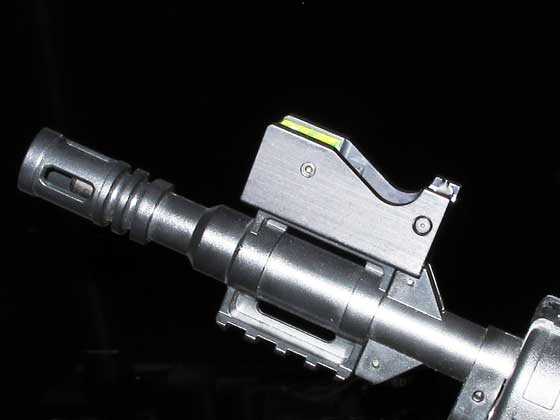 Thanks to Edith, the See All Open Sight was mounted to the front sight base, and the reticle became easier to see.
You move a front sight in the opposite direction you want the strike of the round to go, so  now I had to adjust the sight as low as it would go, to bring the point of impact up as high on the target as possible. The See All sight doesn't have much adjustment up and down — only 45 minutes of angle. When it was down as far as it would go, the pellet was still hitting the target about 2 inches below the aim point, but that was a lot better than it had been before. So, kudos to Edith for this suggestion that kept the test running!
I shot 2 groups with the sight in this position. The first one isn't very good, as I had half the aim point covered by the target paper, and the tip of the triangle was on the center of the bull rather than at 6 o'clock. But I still got a group that is good horizontally. It's just spread out too much vertically.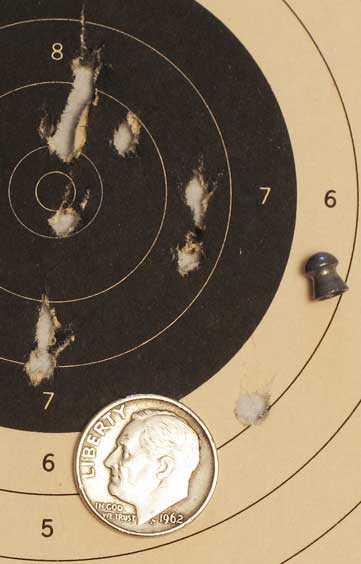 This 10-shot group is tall, at 1.803 inches between centers, but not that wide. The aim point was an estimate of where the center of the top bull was located because the target paper covered half of it.
When I mounted the second target, I fixed the situation. The second group was shot with a 6 o'clock hold on the top bull. The aim point was much more precise in this case, and the group shows it. Although the overall group is the same 1.803 inches as the first group, 9 of the holes are in 1.125 inches. Like the first group, this one is also strung out vertically.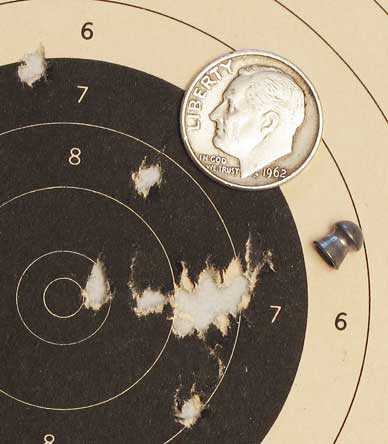 This 10-shot group is identical in size to the first one (1.803 inches), but 9 of the shots are grouped much better at 1.125 inches. Notice that 6 shots went into a single hole!
What's wrong?
It seems that the See All sight isn't made for a rifle with a straight stock line like the M4′s. The eye is too high relative to where the line of sight is. This can be seen when the factory sight is mounted next to the See All.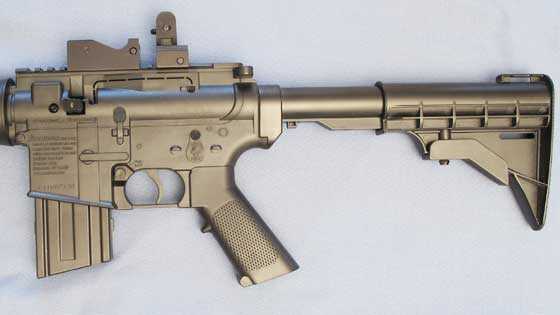 I mounted the factory peep sight and the See All Open Sight together on the flattop rail.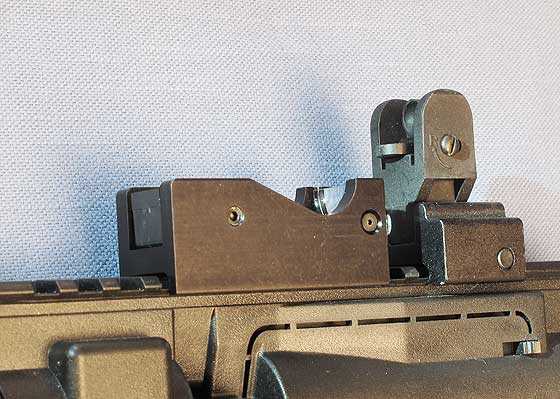 This photo shows how much higher the factory sight line is than the sight line of the See All sight.
Conclusions
The straight lines of the M4 rifle are all wrong for use with the See All Open sight. With a flattop receiver, it's impossible to get the sight mounted high enough to see without holding your head at an odd angle. So, this test was inconclusive. All it proves is that the wrong rifle was used. However, this should serve as a warning to those who might think of using the sight on their other M4-type rifles. Unless you put a high adapter under the sight to raise it up, it won't work.
The vertical adjustment range of the See All sight is not large enough for an air rifle whose barrel is slanted downward, as so many of them are. It'll be necessary to mount the sight on some kind of compensating base for the next test. I've selected a TX200 Mark II as the next test rifle, and we've already done a test of this rifle with a red dot sight. I have a drooper base that Leapers made when we developed the UTG drooper bases for RWS Diana rifles, and this one has no recoil shock shoulder; so, it'll go right on the TX200 without a problem.
I'm encouraged by how easy it was to acquire the sight picture once the See All was mounted in the right position. It was much faster than a peep sight picture; and even though the overall group made with the sight is larger than the group made with the peep sight, I see that many of the pellets went to the same place. That gives me confidence that the See All Open Sight will work well when mounted on the right rifle.
I also see a bright future for this sight on pistols. The farther away from the eye the sight is, the easier it is to see the reticle. Holding it an arm's length from the eye is no problem. I've already confirmed that the Leapers base fits my Beeman P1, so a test of that pistol is in the works, as well.
by B.B. Pelletier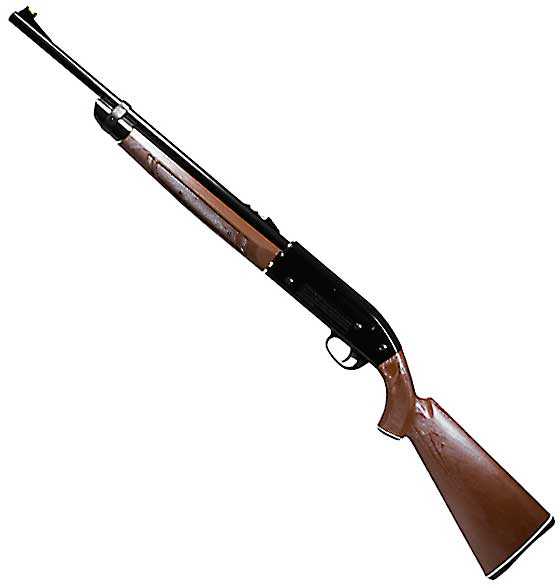 Crosman's 2100B is a full-sized multi-pump that delivers power and accuracy with a few economic concessions.
Yesterday, I told you that today's test was coming; but because I needed to mount a scope for this test, I was prompted to also test the UTG 3/8″ dovetail-to-Weaver/Picatinny rail adapter. There was some interest in this adapter; so I'll continue to test it with other airguns so we get a good look at the performance. Today, I want to do Part 4 on the Crosman 2100B multi-pump that I promised back in March.
I reread Part 3 of this report to see which pellet(s) did well at 10 meters. From what I see, only 7.9-grain Crosman Premiers did well in that test, so I added a couple pellets I had not tried before to today's test.
The scope I used is an Osprey 2.5-10×42 that has its parallax fixed at 100 yards. It's a firearm scope, pure and simple. At full magnification, the target was fuzzy, so I set it to about 5.5x for this test. It has a duplex reticle with mil-dots on the vertical reticle, which is about medium thickness. The optics are very clear, and I think the gun got all the help it needed from this scope.
For the 10-meter test, I pumped the rifle 5 times for every shot. Today, I'll be shooting 25 yards. Now that it has a scope mounted, pumping is more difficult because I cannot hold the gun at the optimum place, which is on top of the receiver. The scope is in the way, and don't you dare try to pump the rifle while holding onto the scope! Your hand has to hold the gun farther back, which winds up being the pistol grip of the stock. That isn't the best leverage to pump the rifle, but fortunately the 2100B has a short, easy pump stroke.
For today's 25-yard test, I pumped the rifle 6 times for every shot. My thought was to shoot the rifle 5 shots with each pellet and see if it was accurate enough with that pellet to warrant the work of shooting the second 5 shots. This would also tell me whether the shots were walking because the bore needed to be seasoned with each new pellet. As it turned out, though, all three pellets were worth the effort to shoot a full 10-shot group, so that's what you'll see.
Crosman Premier lites
The first pellet I tried was the 7.9-grain Crosman Premier dome. The first 5 shots seemed to group okay — about what I expected from the earlier results at 10 meters — so I just kept on shooting and finished the 10-shot group. Ten shots landed in a group measuring 0.809 inches between centers. The group is a little wider than it is tall, but you'll notice that 9 of the 10 shots are actually in a group that is fairly round.

Ten Crosman Premier lites didn't do bad at 25 yards. Nine of them made a nice, round group. Total group measures 0.809 inches between centers.
This was better accuracy than I expected, based on the results of the 10-meter test. The group size there was 10 Premiers in a 0.539-inch group; and, at over twice the distance, the group only opened another three-tenths of an inch. I think that demonstrates how much greater accuracy is provided by a good optical sight.
The pace of shooting is slower
One thing about shooting a multi-pump is that everything slows down. It takes a while to make each shot ready, which is similar in concept to shooting a muzzleloading rifle that has to be loaded separately with powder and ball. That slower pace forces the shooter to concentrate more on what he's doing — or at least that's how it affects me. That's why I like single-shot rifles so much — for what they bring out in me.
RWS Superdomes
The second pellet I tried was the RWS Superdome. This 8.3-grain domed pellet is one I don't try too often — for no particular reason. It's made from pure lead and has a relatively thin skirt that takes the rifling very well. I really didn't know what to expect from it, but it's different enough than a Premier lite that I wanted to see how it might do.
Ten Superdomes made a rather open group that measures exactly the same as the group of Premiers — 0.809 inches between centers. It looks like a larger group, and there's undoubtedly some error in the measurement of both groups, but I cannot discern any difference between them with the dial calipers.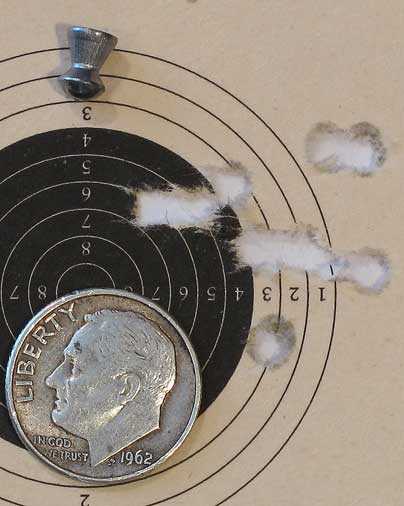 Ten RWS Superdomes made this open group at 25 yards. It seems to measure the same 0.809 inches between centers as the Premier group, above, but there is always measurement error.
H&N Baracuda Greens
The last pellet I tried was an afterthought, based on the success of the other day. H&N Baracuda Greens made such a great initial showing that I thought I would include them in this test, just for fun. Boy, am I glad I did!
I was unable to see the pellets that landed inside the black bulls because of the parallax setting of the scope, so it wasn't until I walked downrange to retrieve the target that I saw what the Baracuda Greens had done. Ten went into a group that measures 0.48 inches between centers! Not only is this the best group of this test, it actually outshot the M4-177 I tested at the end of 2011. That's Crosman's other hot, low-cost multi-pump, so don't get it confused with the MAR177 PCP. That kind of performance says a lot about this air rifle and the accuracy that it offers for very little money.

In light of the first two groups, this 0.48-inch group of 10 H&N Baracuda Greens seems amazing. These non-lead pellets are making a name for themselves!
This will be the last time I look at the 2100B, but it's been an interesting test. After Part 3, I didn't think the gun had much more to show us — but this final accuracy test changes everything.
We've looked at a fine multi-pump air rifle in addition to the UTG scope ring adapters that let you use Weaver rings on an 11mm airgun dovetail. They proved very easy to install and worked exactly as advertised in this test.
And the Baracuda Green gets another pat on the back. This is a pellet worth considering when you search for the best ammo.
All things considered, I would say this was a fine end to the test of a really great and also inexpensive air rifle!
by B.B. Pelletier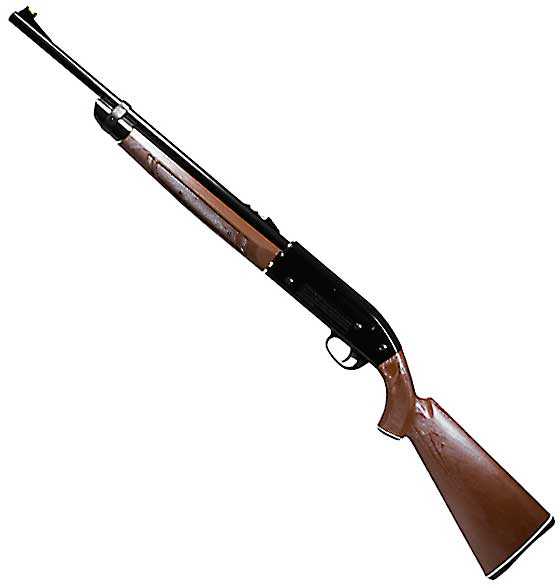 Crosman's 2100B is a full-sized multi-pump that hopefully delivers power and accuracy with a few economic concessions.
Blog reader J was alert and noticed that I had not yet done the accuracy test of the Crosman 2100B multi-pump. I was astonished to find that he was right, so today we're going to look at it. But before we do, I want to show you something I did at the range last week. Some of you who have been reading for a long time will remember that over a year ago I was suffering from eye problems. It turns out that my diabetes had dehydrated me so much that my eyesight was affected. And it took a long time for the situation to correct itself. I wondered if I would ever be able to shoot with open sights again.
This past Thursday, I was out at the range testing several firearms and airguns and a friend of mine happened to bring his Remington RangeMaster model 37 .22 rimfire target rifle for me to try. The model 37 was Remington's equivalent to Winchester's model 52 target rifle until the model 40X was created, and it (the model 37) has the reputation of being incredibly accurate. My friend can no longer use open sights and is scoping all the rifles he intends to keep. But this one is a rifle he has owned for decades but never shot. It still has the factory non-optical target sights.
The Lyman 17A front globe has a post-and-bead like target shooters used back in the 1930s and earlier. You put the post at the 6 o'clock spot on the bull. With good eyes, this kind of sight is considered second only to a properly sized aperture front sight out to 200 yards, and world records have been set with it. But notice I said, "With good eyes."
I shot it at 50 yards with Winchester Super-X high-speed ammo, which is hardly target ammo! When I saw the group made with five shots I was ecstatic, because it proves that I can still see good enough to use open sights. I stopped at only five shots because who wants to ruin a group like that? However, after an involved trade with my friend, I ensured many more years of shooting this 37, and eventually I will shoot 10-shot groups.  That's important for today's report, because the Crosman 2100B has a square post-and-notch sight, and the front has a bright green fiberoptic bead.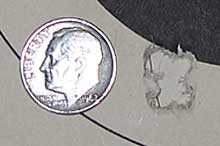 Five shots in 0.30 inches at 50 yards with open sights! The old man can still see! Sorry about the over-exposure.
Next, I tried my custom .17 HM2 that this same friend made for me on a Mossberg 44 US action. This rifle has a Leapers scope, so there's an even better chance of hitting the target. This time, five shots went into 0.266 inches at the same 50 yards. I was on fire! Unfortunately, I haven't yet mounted the scope on the FWB 300S, so I didn't have that to test, but everything I shot that day went where I wanted. Since I couldn't see the group through my scope, I knew it was a small one. And, once again, I chickened out after 5 shots. If I were reporting on the guns and shooting for the record, I would have shot 10 shots with each gun.

Five shots in 0.266 inches at 50 yards with a scope. Not that much better than open sights. It looks better because the .17-caliber bullet is smaller, but the actual size of the group isn't that much less than the first group.
On to today's test
I decided to begin shooting pellets with the 2100 at 10 meters. That way, if the rifle proved somewhat inaccurate, I could still keep them inside the trap. The 2100 has a .177 rifled barrel, so pellets should be more accurate than the steel BBs it also shoots. Since this is a Crosman rifle, what better to begin than with 7.9-grain Crosman Premier 7.9-grain domes?
The first thing I did was oil the pump head with several drops of Crosman Pellgunoil. I did that for the velocity test, as well; but since it's impossible to overdo this step and it does ensure the best compression, I did it again.
I decided on 5 pumps for this test because the velocity test showed that was enough to get all pellets into the 500 f.p.s. range. At 10 meters, that's all you need for good results. So, this test was very easy on me.
A new way of loading
Many owners may already have discovered what I am about to share; but while I was shooting the Premiers, I discovered a foolproof way of loading them. The loading port on the side of the rifle is too small for most adult fingers, and until now I've found it difficult to load the pellet so the head points forward. But during this test, I accidentally discovered that I could drop in a pellet in any attitude and simply elevate the muzzle of the rifle with the receiver rotated to the left so the loading port is angled up. The pellet would then try to right itself at the bottom of the loading channel; and, if it wasn't aligned, all I had to do was push it forward slightly with the cocking handle and then pull the handle back and the pellet would align itself every time. I tried this with the JSB Exact RS pellets, as well, but they got stuck and didn't align as easily as the Premier lites. I can't wait to try this method on my old Crosman 2200.
Sights are okay, but not great
I found the sights easy to acquire and very sharp and crisp, but the method of adjustment leaves a lot to chance. I never did get the group shooting where I wanted it. Also, though I elevated the rear sight nearly all the way, it was still just hitting at the point of aim at 10 meters. Forget about shooting longer distances unless you learn how to hold the front post above the top of the rear notch. But the sights are not important, because this will not be the last test of this rifle. Just like the M4-177 rifle I tested last year, I found the 2100B was far more accurate than the price indicated! In a word, it was phenomenal — which is why I told you about the state of my eyes in the beginning of the report.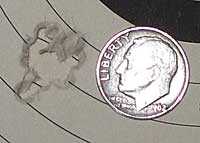 Ten Crosman Premier lites went into this 10-meter group that measures 0.539 inches. This is fantastic accuracy for an inexpensive multi-pump with fiberoptic sights.
Next, I tried the JSB Exact RS pellet. I was expecting to see a similar group, which is why what I got surprised me so much.

Ten JSB Exact RS pellets made this huge 10-meter group that measures 1.05 inches. This is obviously not the pellet for this 2100!
What a difference! Crosman could use this as an ad testimonial for Premiers, if they wanted. We all know that the JSB Exact RS is a premium pellet; but in this rifle, the Premier lite is the clear and obvious choice. I already demonstrated that my eyes are up to the task, so there's nothing to blame in this case but the pellet.
BBs next
After testing two pellet brands, I switched to Crosman Copperhead BBs and fired 10 from a standing supported position at 22 feet. If the group was small, I would then try other brands of BBs, but as you will see that wasn't necessary.

Ten Crosman Copperhead BBs went into this 2.219-inch group at 22 feet. This demonstrated that it wasn't worth pursuing BBs any further. My photo inadvertently cropped off a BB hole on the right of the group. It's on the 5-ring, as it ends on the right margin.
The results
This rifle is deadly accurate with Crosman Premiers and not very good with BBs. I wouldn't even bother with BBs in the 2100 anymore because I have a host of BB pistols that will out-shoot it. But with Premier lives, it's a different story.
The 2100B has earned the right to a special 25-yard test with a scope sight. That will come in Part 4, and I charge blog reader J with making sure I don't forget to do it!
by B.B. Pelletier
I was in Wal-Mart the other day and a guy was looking at the airguns, so I struck up a conversation. He was looking at a Crosman M4-177 for eliminating pest birds; and when I tried to steer him toward a more powerful breakbarrel in .22 caliber, he had a fit over the price. Apparently $145 is the Rolls Royce of airguns for him!
So, today I thought I'd reflect a bit on the cost of things — some expensive and some cheap, but all very good. We have a growing contingent of firearms shooters who have found this blog and I'm doing this for them.
The most expensive?
Well, let's be realistic. There's only one air rifle that was carried by Lewis & Clark,  and Dr. Beeman has donated it to the U.S. Army War College museum. It's value is well over a million dollars; but since there's only one, it doesn't really count in today's discussion.
I'm also not talking about the collectible airguns that are available in greater numbers. A complete Plymouth Iron Windmill BB gun, the predecessor to the Daisy line, has commanded as much as $10,000. But second model Daisys are even rarer, because they were so prone to break. I've seen one change hands for $16,000, and that was close to a decade ago. But, for today, I want to talk about guns that are generally available.
Whiscombes
When Edith and I bought our JW75 with four barrels and the Harmonic Optimized Tuning System (HOTS) on each of them, the cost was $2,100. That was in 1996. The cost did increase after that; but when John Whiscombe stopped making his rifle several years ago, the price took off like a rocket. Today, it's hard to find a single-barrel Whiscombe rifle with no frills for under $3,000, and full sets like ours will certainly bring a lot more.

You can't buy a new Whiscombe rifle anymore, so used rifles command top dollar.
So, are Whiscombes the most expensive air rifles? Hardly. There are all sorts of custom airgun makers around the world who offer almost whatever the traffic will bear. I've seen single rifles in Europe priced at over $8,000, and that was five years ago. Who knows where it all ends? The point is, air rifles can cost a bundle if that's what you're looking for.
Back to earth, some of the more expensive production air rifles today are made by the target rifle companies, where top models retail for nearly $3,000. And they're built for a specific purpose — not for general shooting. The FWB 700 Alu, for example, is a very expensive air rifle that cannot be used for most popular airgun pursuits like hunting and plinking. But for punching holes in paper, it's one of the best. The same can be said for top target rifles from Steyr, Walther, Anschütz and a couple others.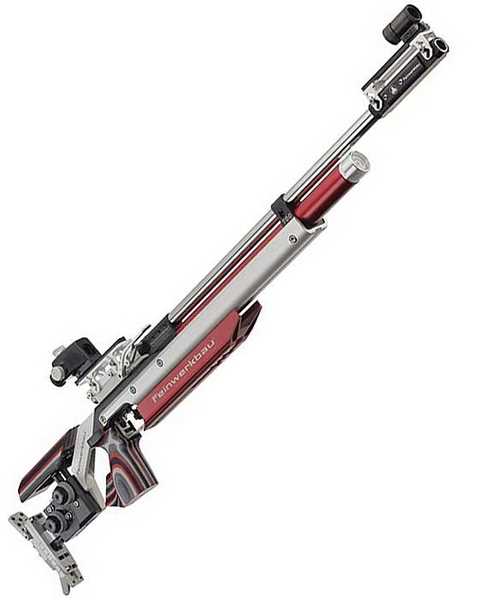 The FWB 700 Alu looks like an expensive air rifle!
For the sport of field target, it's difficult to top the Air Arms EV2 precharged competition rifle. It has won and placed at the world level many times in recent years and is one of those rifles shooters tend to covet.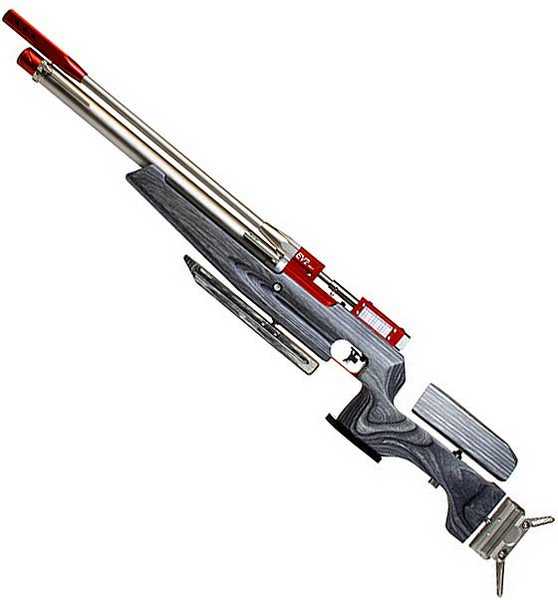 The Air Arms EV2 has won its share of top honors in field target.
In sporting rifles, Daystate and FX Airguns are among the most expensive brands. And now their top models are around $2,000 or less. Fifteen years ago, the number of makers of these rifles was much greater, but many brands have left the market.
Do you have to spend so much?
Of course you don't! There are plenty of fine air rifles that cost considerably less than those mentioned and still deliver a boatload of options and value. But that isn't today's topic. We're looking at the most expensive and the least expensive.
How low can you go?
Speaking of the least expensive, what can you get for very little money? How about a Beeman P17 pistol? For under $50, Pyramyd Air will sell you an air pistol that's so accurate you cannot outshoot it — I don't care who you are. This is a pistol that you can learn on and use to take your handgun shooting to the next level. For the life of me, I cannot fathom why Beeman doesn't triple the price and bring this out as a pseudo-10-meter target pistol! All the foundation is there. Gamo did the same thing with their Compact pistol, and this one costs one-fifth as much! They could easily add target grips and sights and have a wonderful, inexpensive target pistol, but I guess they just don't see the potential.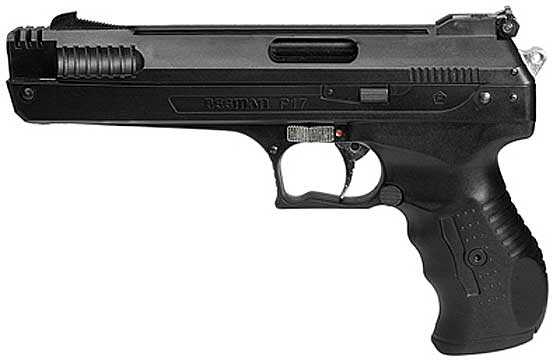 For the money, you can't buy a better air pistol than the Beeman P17.
I wish I had an air rifle to list for under $100. They exist, but none of them are what I would call really exemplary. But the Air Venturi Bronco is the finest low-cost air rifle I know of. It has accuracy equal to or better than a Beeman R7, a great trigger, nice size and is generally a fine rifle for older youth and adults.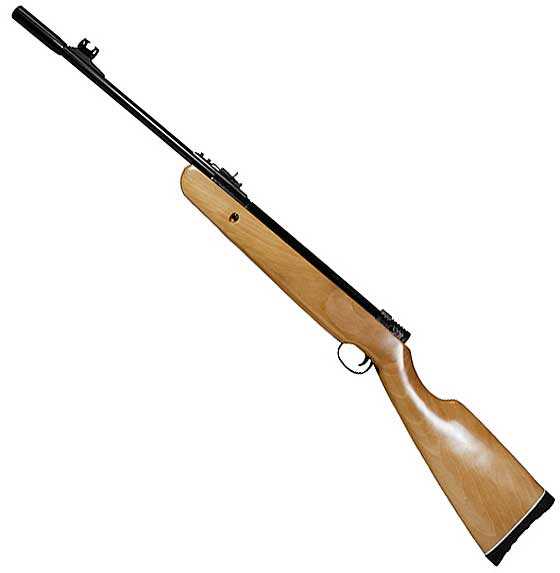 Air Venturi's Bronco is the air rifle to beat on the low end of the price spectrum.
The bottom line
And now you've guessed my agenda with this report. It wasn't just about the most expensive and the least expensive. The guns I listed are also among the best of their types in the world. Sure, I could compare the Benjamin Marauder to some of the expensive PCPs and make a case for it being just as good functionally, but that wasn't what this report was about. It was to define the limits of cost in our hobby for all the new readers who come over from the world of firearms.
by B.B. Pelletier
Photos by Earl "Mac" McDonald
This is the second of my reports on the 2012 SHOT Show. There will certainly be at least one more after this, and perhaps even more, as there's simply too much new information to pack into a single report.
The state of the airgun industry in 2012
Before I get to some specifics, I want to make a general observation. This year's SHOT Show was different for me in a major way, because I saw for the first time that firearms shooters are beginning to understand airguns as never before. In the past, I always had to start my explanations with the cooling of the earth's crust and then progress through the age of the dinosaurs because each firearms person I talked to thought of airguns as either toys or BB guns. This year, a lot of them were clued-in on what's happening. They weren't surprised by the accuracy we get, and they knew about big bores. A lot of them had some airgun experience and more than a few asked me the same kind of questions that I get from long-time readers of this blog.
That tells me the day of the airgun has finally dawned in the U.S. Instead of 25,000 to 50,000 active shooters (at best!), we will now see an influx from over 5 million active firearm shooters who are ready to augment their shooting experience with airguns. I'm already getting calls and emails from state departments of wildlife resources, asking about the issues of incorporating airguns into their hunting seasons.
It has been a long haul to get to this point, but we're now seeing the start of the harvest of all the work that's been done over the past 40 years — starting with Robert Beeman in the early 1970s. The job is now to manage this growth and provide useful information to the tens of thousands of new airgunners who are flooding in the doors.
Let me reflect on how the industry seems to be reacting to this trend. Some companies have been on board for many years and are poised to ride the new tidal wave of business as far as they can. Other companies are aware that airguns are very hot, but they're foundering, trying to understand them. Let me say right now that it's not as easy as you think!
The readers of this blog are among the most clued-in airgunners in the world. But they're unique, and they do not represent the true market. The demographic of a new airgunner is a man (usually) in his late 20s to late 40s who is most likely a fan of AR-type rifles and Glock-type pistols. He wants repeaters, semiautos and he thinks that a five-shot group is the gold standard of any gun. Velocity impresses him, and he isn't comfortable with the term kinetic energy.
Things like good triggers and good sights are not an issue with this customer until he experiences bad ones. His ARs have decent triggers off the rack, and he can choose from many drop-in triggers that are much better. When he encounters a spring-piston gun with a horrible trigger that cannot be easily modified, he's surprised.
He does not use the artillery hold, and he equates all airguns to be alike in terms of performance. When he learns about precharged guns, he's put off by the additional equipment he must buy. Spring-piston guns seem the best to him for their simple operation, and he doesn't appreciate the fact that they're also the most difficult airguns to shoot well.
That's the customer who's coming to airguns today, so that's the person airgun manufacturers have to deal with. If you have wondered why many of the new airguns are what they are — this new-customer profile is the reason.
Okay, I've talked about those companies that get it and those that are struggling to understand. There's one more type of company out there. I like to call them the "gloom and doom company" or the "zero sum company." They're firmly entrenched in the 1970s and cannot take advantage of this new windfall of business. They either fired their engineers years ago or they let them all retire, and now they couldn't build a new airgun to save their lives. As far as they're concerned, there are only 25,000 airgunners in the United States and it's the NRA's responsibility to identify and train them so these companies can sell them some guns.
They think of marketing in 1950′s terms, when a simple paint job and some sheet metal was enough to create a new product. Their "secret" business plan is to buy guns made by other manufacturers and have their name put on. If you're a collector, better buy up the guns these guys sell because in 10 years their name will be a memory.
That's enough of the big picture. Let's see some more products.
More from Crosman
Many of you saw the list of new Crosman products Kevin posted last week, so the few that I show here are by no means all there is, but they're the highlights. Crosman had about half the new airgun products at the entire SHOT Show.
New tan M4-177 and carry handle
The M4-177 multi-pump that I recently tested for you is going to be very popular this year. Crosman is also offering it as an M4-177 Tactical air rifle with a new carry handle that replaces the rear sight for improved sighting options. I think this gun will be in their lineup for many years to come.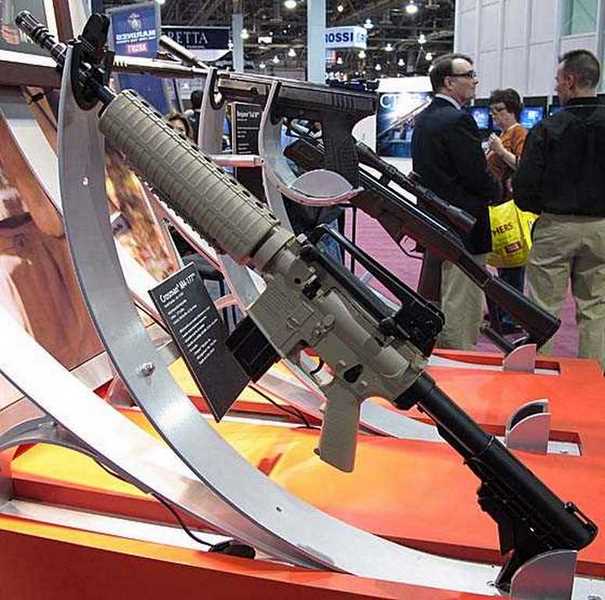 The M4-177 now comes as this tactical model in tan with a carry handle.
I mentioned to Crosman's Ed Schultz that this rifle looks like the A.I.R.-17 of the 1990s, but done better. He said he always wanted to update that design, and that is exactly what this is. So, what he said next came as no great surprise.
I shared my thoughts on a 2260 made as a multi-pump in .25 caliber, and Ed told me that was how the rifle was originally created (not in .25, however). The CO2 version was an afterthought that got put into production, while the multi-pump version languished in the Crosman morgue. I told him that I thought the time was ripe to bring it back as an upscale hunting rifle, and he seemed to agree. We can only hope.
Carbon fiber tank
As Crosman extends their capability into PCP guns, they know shooters are always looking for better options for their air supply. Besides the new butterfly hand pump I showed you last time, they'll also be adding a long summer-sausage black carbon fiber tank with increased capacity over their current tanks. This is a 300-bar tank that has 342 cubic-inch capacity. It comes in a black nylon carrying case with sling for field transport.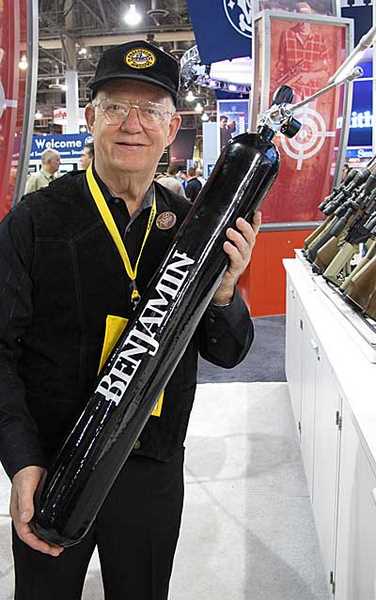 More air for you! New Benjamin carbon fiber tank will help you take your PCPs further afield.
Benjamin Nitro Piston breakbarrel pistol
The Benjamin NP breakbarrel pistol certainly has people talking on the internet. This is the first commercial gas spring application in a pistol, I believe. The most distinctive feature is a cocking aid that can either be detached or left in place while shooting. That reminds us that this pistol is going to be hard to cock, but I'll test one for you so we'll all know just how hard.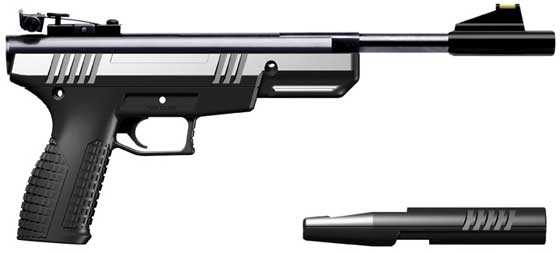 New Benjamin Trail NP pistol is a breakbarrel with a gas spring. The cocking aid can be detached or left in place while shooting.
Crosman 1720T PCP pistol
Everybody was ready to jump down Crosman's throat for creating the 1720T PCP pistol. They wondered with the .22-caliber Marauder pistol and the .177-caliber Silhouette PCP pistol already selling, why was this one needed? As Ed Schultz explained it to me — this one is for field target. It's a .177 (naturally) that produces just under 12 foot-pounds through a shrouded Lother Walther barrel. It can be used for hunting, but field target was its primary purpose. They worried about the shot count with the Silhouette; but with this one, power was the criterion. Look for about 800 f.p.s. with a 7.9-grain Premier. And the trigger is the same as the Marauder, so excellent operation there.


The new Crosman 1720T PCP pistol is meant for field target competition. It will also work well for hunting.
Crosman MAR 177 PCP conversion
The Crosman MAR-177 PCP conversion is another new product that has a lot of people talking. This AR-15 upper converts your .223 semiauto into a .177 PCP repeating target rifle. Because it's on an AR platform, almost everybody expects it to be semiautomatic — including those who should know better. This rifle is a bolt action that cocks and loads via a short pull on the charging handle.
This conversion is an Olympic-grade target rifle for a new official sport that Scott Pilkington and others have been promoting for several years. It will take the U.S. battle rifle back into the ranks of target shooting. However, the look of the gun has many shooters totally confused. I was even asked at the show if I thought Crosman should have come out with an "everyman's" version of the gun first. That would be like asking whether Feinwerkbau missed the boat by not first making their 700 target rifle in a $300 version for casual plinkers.


The MAR-177 PCP conversion is an upper for your target-grade lower. Plan on investing about another $1,000 in a good lower if you hope to compete.
Crosman TT BB pistol
It's all-metal and a good copy of the Tokarev pistol. The weight is good and the gun feels just right. This will be one to test as soon as possible.

Crosman's TT Tokarev BB pistol is realistic and looks like fun.
Benjamin MAV 77 Underlever
The Benjamin MAV 77 underlever rifle is going to force Crosman to recognize spring-piston air rifles instead of just calling them all breakbarrels. This is the TX-200 copy from BAM that was once sold by Pyramyd Air. When the quality dropped off, it was discontinued. Hopefully, Crosman will watch the quality on this one.
They didn't have a firm retail price yet, but hopefully it'll be significantly under the TX. Otherwise, why buy it? I may test one for you, but I already know that BAM can make a great rifle when they want to. I think it all comes down to price.


Benjamin MAV-77 is an underlever spring-piston rifle that looks and, hopefully, performs like an Air Arms TX-200.
TR-77
The Crosman TR-77 is a conventional breakbarrel spring-piston rifle in an unconventional stock. It's different enough that I want to test one for you. It appears to be a lower-powered rifle that probably sells at a bargain price because it's branded under the Crosman banner rather than Benjamin. Mac photographed one in a sand-colored stock for you.


Crosman TR-77 breakbarrel in a sand-colored stock also comes in black.
There was a lot more at Crosman that I could have mentioned, but now let's go over to the Leapers booth.
Leapers
I've watched Leapers grow from a relatively small company back in 1998 to a major player — blasting past older, entrenched companies as they grew. This year, they were playing a video about the company on a continuous loop in their booth. I was impressed to see their plant in Livonia, Michigan, where they build airsoft guns, tactical mounts, accessories and scopes right here in the U.S. The plant is filled with many CNC machining centers and testing facilities to keep close watch over their products during development.
American-made
Leapers owner David Ding told me he wants to get control over the production process so he can assure the quality of all of his products. In keeping with that goal, I was shown the new scope line for 2012 that now offers locking target knobs on all of the upscale models. Many of them feature etched glass reticles that are amazingly crisp and sharp.
Scopes
Mac was impressed by the reticle on the new 3-9x Bug Buster scope. He urged me to look through it; and when I did, I saw that the reticle is now fine and sharp — not the heavy black lines of the past.

David Ding shows me the new 3-9x Bug Buster scope (not out yet), with target knobs and a finer reticle.
But scopes were just the beginning at Leapers. Next, I was shown the whole line of tactical flashlights and lasers, including some mini lasers I will test on my M1911A1 for you. These are all made in the U.S. now and have more rugged internals, adjustments and optics than similar products from the Orient.
UTG 555 Long Range Light
One item I hope Pyramyd Air will consider stocking is a fantastic 500-lumen tactical light for law enforcement. It can be mounted on a rifle, handheld or even mounted on a bike! It comes with rechargeable lithium batteries and a smart charger…and believe me when I tell you it turns night into day!

The UTG Long Range light can go on your rifle, held in the hand or even mounted to your bike! The rechargeable lithium-ion battery pack will keep it shining at 500 lumens for 1.5 hours.
Fast Action Gun bag
Not all Leapers products are for airguns. They also make tactical and law enforcvement gear that rivals spec-built equipment but sells at a fraction the cost. As a result, many of their customers are ordering straight from the front lines of combat and from law enforcement agencies all over the country to get the products that their own supply lines cannot or will not furnish.
One of their latest developments is a Fast Action Gun bag that lets the wearer walk in public with a substantial firearm hidden from view. A quick pull of a strap, and the bag opens to reveal the weapon inside.

Leapers owner Tina Ding models their new Fast Action Gun bag. Here, it's concealed; but she's just pulled it over her shoulder from her back, where it looks like a tennis bag.

And in less than a second, the bag is open, giving instant access to the tactical shotgun or submachine gun inside.
11mm-dovetail-to-Picatinny adapter
Leapers has an entirely new range of quick-disconnect scope mounts coming this year, but there's another innovation that I think you'll find even more impressive. It's an adapter that snaps into a Picatinny scope mount base, turning it into an 11mm dovetail. So, your conventional air rifle will now also accept Leapers Picatinny scope mounts with this adapter.
11mm-dovetail-to-Picatinny adapter is small and doesn't raise the mount at all! This will be one to test!
Leapers is still the company to watch because the owners want to build a lasting corporation here in the U.S. They're poised to move to the next level of quality in their optics, which gives me a lot of hope for the future — they've always been receptive to the needs of airgunners.
Whew! That's a lot of products, and there are still many more to show. As I said in the beginning, there will be at least another report.
by B.B. Pelletier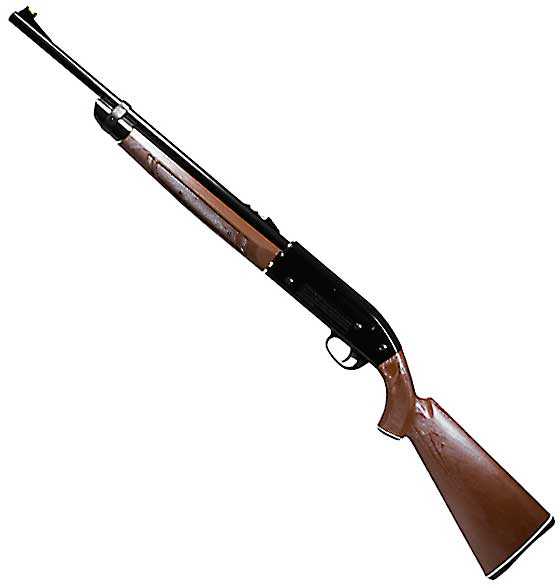 Crosman's 2100B is a full-sized, multi-pump that hopefully delivers power and accuracy with a few economic concessions.
Today, we'll look at the velocity of the Crosman 2100B multi-pump, and a strange thing occurred during the test. Actually it was two strange things — one an amazing coincidence and the other just weird. Both relate to oiling the gun, and both will be informative.
First, the coincidence. As I was writing this blog (last week, because I'm in Las Vegas at the SHOT Show this week), I got a question from a reader whose 2100 wasn't pumping air. I asked him if he had oiled the pump piston head like he was supposed to, and I directed him to the online owner's manual that tells how to do it and to a blog I wrote years ago that tells the same thing. A couple hours later, I get a thank you message that he's oiled the gun and it seems to be holding air.
So, there I am in my office pumping the gun and shooting it for velocity and I ask myself about the state of the pump piston head of the particular gun I'm testing. Sure, it's brand-new, but that doesn't mean that it has enough oil. I look, and the pump head appears to be dry. For those who wonder what I'm talking about, please read the manual.
Then, I recalled that someone had guessed that this rifle would shoot in the low 600s with lead pellets, because someone he knew had tested it. Lo and behold, it was shooting only about 622 f.p.s. on 10 pumps (which is the maximum) with Crosman Premier 7.9-grain pellets. Wow! He was right!
But, wait! The pump head was dry, so I oiled it with some Gamo oil for CO2 guns. The velocity jumped to 658 f.p.s. with the same pellets and 10 pumps. But after about 10 shots the velocity started declining again.
So, I oiled the pump head again — this time with Crosman Pellgunoil. The velocity jumped to 690 f.p.s. before sliding backward to the 620s.
What did I learn?
First, I re-learned for the umpteenth time how important it is to oil a multi-pump gun. That was all it took to fix the reader's rifle! Second, I saw that the test 2100 rifle responds to oiling immediately, but falls off again almost as fast.
So, the published velocity of 725 f.p.s. can probably be achieved with real-world lead pellets for a brief time, but this test gun won't hold that velocity very long. Maybe the material the pump head is made of needs a break-in period? I don't know. What I do know is that I can change the velocity of this gun by 70 f.p.s. simply by oiling it.
It doesn't end there, however. While that story was unfolding I was also experimenting with the speed of my pump strokes. Since the pump head seemed somewhat hard, I figured that faster pump strokes would build more pressure. And they did! I could increase the velocity by 10 f.p.s. at least, just by changing the speed at which I pumped. I've tried the same thing in the past with other multi-pumps, but this one is particularly sensitive.
I think the most representative method of testing this rifle for velocity is to let it sink back to its lowest velocity and stabilize there. That way, the velocity test will also represent the velocity at which the accuracy test is conducted, because I'm certainly not going to oil the pump head after each and every group! Undoubtedly, there's sufficient oil in the gun right now because of the two oilings I mentioned.
Crosman Premiers
The first pellet tested was the 7.9-grain Crosman Premier. Since the 2100 is a multi-pump, I decided to test each pellet and BB at 5 pumps and 10. That gives us a good picture of what the gun can do across the entire range.
On 5 pumps, Premier lites averaged 540 f.p.s. when the gun was pumped fast. They ranged from 537 to 543; and at that velocity, they produced 5.12 foot-pounds On 10 pumps, again with rapid pump strokes, this pellet averaged 630 f.p.s. The range went from 628 to 635 f.p.s., and the average muzzle velocity was 6.96 foot-pounds.
JSB Exact 8.4-grain dome
Next I tried the 8.4-grain JSB Exact dome. On 5 fast pumps they averaged 526 f.p.s., with a spread from 517 to 531 f.p.s. The muzzle energy averaged 5.16 foot-pounds. On 10 pumps, they averaged 608 f.p.s. with a spread from 595 to 611 f.p.s. The average muzzle energy was 6.9 foot-pounds.
JSB Exact RS
For a light pellet, I tested the JSB Exact RS. The name of this pellet includes the word Match, but they're domes, not wadcutters, and cannot be used in formal match shooting. At 7.33 grains, they're very light, yet I've had some good luck with them in other pellet rifles.
In the 2100, 5 pumps gave an average 559 f.p.s. The spread went from 555 to 563 f.p.s. The average energy was 5.09 foot-pounds. On 10 pumps, the average velocity was 646 f.p.s., and the range went from 635 to 654 f.p.s. At the average velocity, the muzzle energy was 6.79 foot-pounds.
So, the reader who said the 2100 wouldn't get to 700 f.p.s. was right. As long as you don't shoot it immediately after oiling with Pellgnoil, it won't shoot that fast. But oil it, and it'll probably top 700 f.p.s. with lighter pellets.
On to BBs
BBs were next, and with them things are much more standard. Though there are subtle differences in BB brands, they don't vary as much as pellets. We'll now see if the advertised velocity of 755 f.p.s is reasonable. Since this is a Crosman gun, I tested it with Crosman Copperhead BBs.
BBs are loaded into the large reservoir, then the gun is shaken and they fall into the smaller spring-loaded magazine. Once the magazine is empty, you can shoot pellets again, even though there BBs are still in the big reservoir; if they aren't in the magazine, they won't load automatically.
On 5 pumps, Copperheads averaged 570 f.p.s. They ranged from 564 to 578 f.p.s. At the average velocity, they generated 3.68 foot-pounds of energy at the muzzle. On 10 pumps, they averaged 678 f.p.s. and ranged from 672 to 682 f.p.s. That's an average muzzle energy of 5.21 foot-pounds.
So the bottom line is that the test gun doesn't meet its advertised spec for velocity. It falls at least 73 f.p.s. short. It does the same with lead pellets, so I'm withdrawing my remark that the gun is suitable for light hunting. Clearly, it's below the safe margin. Yes, it will kill small animals, but I could not recommend it for that task based on these results.
I also note that the barrel is starting to loosen at the breech. It rotates slightly at this point, and I'll keep an eye on it. And the pump lever hits the gun with a loud slap on every pump stroke — there's no cushioning material to deaden the sound.
I hope these results don't disturb owners of this gun, because they in no way condemn it. The accuracy test is still to come, and we might get a big surprise there.