Posts Tagged 'Crosman Nitro Piston 2'
by Tom Gaylord, a.k.a. B.B. Pelletier
Part 1
Part 2
Part 3
Part 4
Part 5
This report covers:
• Rifle was set up
• The hold
• Accuracy
• A hunter's rifle
• Comparison with the first rifle
This is accuracy day with the second Benjamin Trail Nitro Piston 2 rifle — the one Crosman sent especially for this test. We've already seen how this second rifle exceeds the power of the first one, so today we'll see what impact that has on accuracy. As with the first rifle, I'll shoot 14.3-grain Crosman Premier pellets exclusively in this test.
Rifle was set up
When I unboxed the scope, I found the rings already installed in the correct location, meaning I could install them directly on the rifle. That proves this rifle has been tested and set up before I received it. The scope went on quickly, and I found it was very close to being sighted-in; but the inability to focus the target as close as 25 yards was a hinderance to aiming. I estimate my groups were a quarter-inch larger than they needed to be because I couldn't see well enough to put the crosshairs on an exact spot. The scope arrived set at 4X, which indicates the rifle was tested at 10 meters or yards before it was sent. At 25 yards, I wanted to see the bull more clearly, so I adjusted it to 9X. But as I said, the focus was off because the scope is parallax-adjusted for a longer distance.
The hold
I refined the sight setting and proceeded to test the hold I thought would do best — based on results from the first rifle's test. I also tried several other holds and hand placements, establishing one thing for certain. The NP2 wants to be held firmly. Do not use the artillery hold. Instead, I found it best to slide my off hand out to almost the end of the stock and grip the forearm firmly. I can feel the forearm screw holds on the tips of my thumb and fingers, so I know my hand is in the same place every time. Any hold that wasn't firm allowed pellets to rise vertically. I fired probably 30 shots testing just the different holds and pressures.

When I used the classic artillery hold, this is what I got at 25 yards — every time! They're all in line but off vertically. The NP2 wants to be held firmly.
Accuracy
I then shot three 10-shot groups using the factory scope. The best of them measures 1.104 inches between centers, and the worst measures 1.168 inches. I really tried to do well, but the blurriness of the target did cause my aim to be off.

The best 25-yard group using the factory scope and the best hold measures 1.104 inches between centers. No, I didn't get the images mixed up. This group is slightly smaller than the one below.

The worst group with the factory scope isn't much different than the best. Ten Premiers went into 1.168 inches at 25 yards.
I felt the factory scope was hindering my best efforts, so I swapped it for an older CenterPoint 3-9X40 with an adjustable objective. This scope is one CenterPoint no longer carries. It's a simple scope without an illuminated reticle; and other than the larger objective lens and the AO, it's close to the scope that came with the rifle.
I allowed a day to pass between the first shooting session and the second because too much concentration makes me lose my edge. The next day, I shot another four 10-shot groups, plus some more sighters to get the scope shooting where I wanted. On this second day, my groups ranged from 0.895 inches between centers to 1.483 inches. I learned as I went, refining the hold that seems to be critical with the NP2. The worst group, for example, came when I experimented with the firmness of the offhand grip.
By the end of the session, I knew what this rifle wants — a firm hold of the off hand as far out on the forearm as you can comfortably hold and a firm hold of the pistol grip. Pull the butt into your shoulder firmly. This is not a death grip — just a firm hold, and it seems to be what the NP2 wants.

The best group with the second scope measures 0.895 inches between centers at 25 yards. The second-best group was almost the same size as this.

The worst group with the second scope measures 1.483 inches between centers at 25 yards. I was experimenting with the firmness of my grasp during this group.
I'm not through with this rifle, yet. Each one of my second-session groups contains a large cluster of shots that are very close, then some strays that wander off — usually down, but not always. I think I'm close to understanding what this rifle wants, but I'm not there yet. I think it needs a very repeatable offhand grasping pressure. I'll give it one more session and also shoot some different pellets next time — to see if I have been missing anything by shooting Crosman Premiers exclusively.
A hunter's rifle
I have seen rifles like the NP2 before. They take some getting used to, but they reward the shooter with incredible accuracy once their secrets are learned. They're rifles for hunters who use only a single rifle for all their needs. For the price this air rifle costs, I don't think you can get one that's any better.
Comparison with the first rifle
The first NP2 also took getting used to; but when I did, it gave me a best 25-yard group of 0.704 inches at 25 yards. So far, this rifle has given a best of 0.895 inches. Both rifles seem to want to do better, but I haven't discovered quite how, just yet.
by Tom Gaylord, a.k.a. B.B. Pelletier
This report covers:
• Here we go, again
• Out of the box
• Cocking
• Barrel bushings
• Scope base welds
• Pillar bedding!
• Good to go
• Crosman Premiers
• Beeman Kodiaks
• Crosman SSP
• Trigger
• Evaluation thus far
• Reminder from PyramydAir.com
Here we go, again
Today, I'm starting our look at the second Benjamin Trail Nitro Piston 2. This rifle was sent from Crosman to Pyramyd Air especially for me to test, so we know that it's the absolute best that they can do with the NP2 design. I'm not being sarcastic when I say that. I'm telling all the Crosman ankle-biters that I do acknowledge that this rifle has been thoroughly examined by Crosman before sending it to me — just to stop them from saying it. This is the same thing I recently did with the Daisy 880.
The first NP2 I tested came straight from the factory and was completely random. And you saw how well it turned out. You also saw that it needed a little time to break in before the cocking effort dropped to where we thought it should be. You also saw how I had to learn to hold the rifle for best accuracy. That shouldn't happen with this one because I know how to hold it now.
I do plan on installing the scope that comes packed with the rifle for my test. We had one negative reader comment about me switching the scope on the other rifle, and doing it this way should end that complaint.
Out of the box
Several of you asked me to go over the second rifle thoroughly to see how it differs from the first rifle I tested. This rifle is also a .22-caliber model in a wood stock; so from the outside, it appears very much the same. But one curious thing I noted is that this rifle does have a wood screw holding the front of the triggerguard to the stock. You may remember I showed you the other rifle didn't have the screw, even though the triggerguard has a hole for it.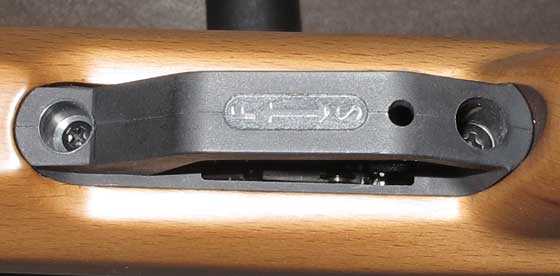 This photo shows both screws in the triggerguard.
I went over the entire rifle, looking for differences, but none came to light. I shined a tactical flashlight down the muzzle and noted that the baffles are not obstructing the muzzle. So, the rifle seems good to go.
Cocking
I cocked it, just to see how that felt, and I was transported back to the SHOT Show! This rifle cocks with between 25-27 lbs. of effort. I found the barrel pivot joint was too loose for the barrel to remain in place after the rifle has been cocked. You normally want it to stay in one place, but I say that advisedly, because this NP2 might teach us a thing of two. Crosman designed this rifle with a pivot bolt instead of just a plain pin, so the pivot joint can be tightened whenever necessary. I took the action out of the stock to do this, and that's when I noticed a number of things.

The NP2 barrel pivot bolt is slotted so it can be tightened. That wasn't necessary on the rifle I'm testing.
Barrel bushings
First, the barrel does indeed have a screw, but it was already tight on this gun. Then, I shined a flashlight through the action forks and the breech joint and noticed that there are probably bearings (what some would call shims) at the pivot joint. So, the barrel can be tight and yet still flop up and down after it's cocked. We need to learn from this; because if this rifle is accurate, Crosman has done something new. Their barrel may be looser than other breakbarrels of the past and yet still be accurate.
Scope base welds
The welds on the scope base are much more visible on this second test rifle. I know that Crosman did take action on this issue right away after the first guns were launched.


The scope base welds are much more visible on this new rifle. They're the bright lines under each foot on the base.
Pillar bedding!
Second, I found a u-shaped piece of steel on the floor after removing the stock. When I examined the stock, I found out what it is — pillar bedding! We've recently discussed this on this blog, and Crosman has apparently gone and done it. The interesting thing is that they didn't mention it in their advertising! How could they have missed announcing an important feature like this? Shooters are paying hundreds of dollars to have their rifles pillar bedded, and Crosman has gone and done it for free and kept it a secret!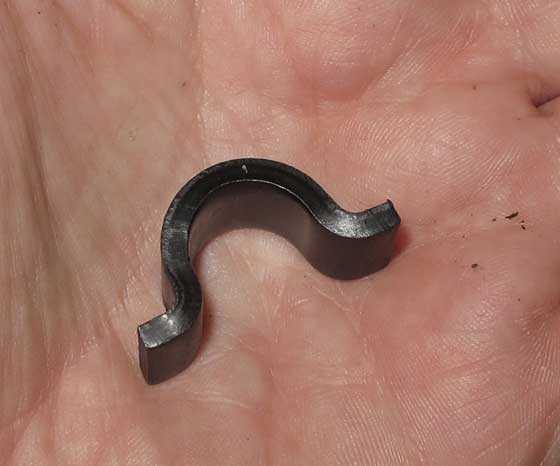 This u-shaped bushing or spacer serves as a pillar to separate the triggerguard screw from the action. This is pillar bedding on an airgun!

When the steel bushing is in the stock, it's impossible to over-tighten the rear stock screw. This is how pillar bedding works. It keeps the wood from being crushed.
The 2 forward stock screw heads bear directly against the wood of the stock, so they'll need washers to spread their load; but the NP2 is bedded better than 80 percent of the top-end spring rifles on the market.
Good to go
I assembled the rifle and found the barrel does not wobble side to side, yet it still flops after it's cocked. This means the barrel pivot joint is adding very little resistance to the cocking effort. Now, it was time to start the velocity test.
Crosman Premiers
The first pellet up was the 14.3-grain Crosman Premier that I believe will be one of the most accurate pellets for this rifle. Ten of them averaged 823 f.p.s. — a whopping 78 f.p.s. gain over the broken-in velocity of the first test rifle. And the cocking effort is still 5-7 lbs. lighter!
Best of all, Premiers varied by only 5 f.p.s. over the 10-shot spread — from 821 to 826 f.p.s. That's phenomenal! It's in PCP territory, and I'm talking about a regulated gun. At the average velocity, this pellet generates 21.51 foot-pounds of energy at the muzzle.
Beeman Kodiaks
Next, I tried 21.1-grain Beeman Kodiaks. As powerful as this rifle is, it should handle them okay. They averaged 646 f.p.s., which means a muzzle energy of 19.46 foot-pounds. The spread for this heavyweight pellet was 12 f.p.s., ranging from 639 to 651 f.p.s.
You might wonder why I didn't test the JSB Exact RS dome in this rifle since I did test it in the first rifle. The reason was the poor performance we saw in that first velocity test. I decided to switch to the Kodiaks rather than test a pellet that might not be suited to this powerplant.
Crosman SSP
The last pellet I tested was the 9.5-grain lead-free Crosman SSP pointed pellet. They averaged 1023 f.p.s. from the NP2, with a 55 f.p.s. spread that ranged from 992 f.p.s. to 1047 f.p.s. This is getting up close to the 1100 f.p.s. velocity that's printed on the outside of the NP2 box. At the average velocity, this pellet generates 22.08 foot-pounds of energy.
Trigger
The trigger on this new test rifle feels very similar to the one I tested on the first rifle. The first stage is long and heavy, measuring 3 lbs., 6 oz. to stage 2. Stage 2 was breaking at over 6 lbs. out of the box, but I adjusted it to 4 lbs., 4 oz., which is exactly the same as the first trigger. This is a very good trigger for a sporting airgun — especially considering the price!
Evaluation thus far
This is more like the rifle I shot back in January. I think anyone would be happy with this one; and if they aren't, then they should reconsider getting a gas-spring air rifle altogether. I sure hope this rifle is at least as accurate as the first one turned out to be.
Reminder from PyramydAir.com
Pyramyd Air's marketing department wants to remind our blog readers that today (Mon. 6/30/14) is the last day you can enter their Son of a Gun Giveaway for the June prize, which is the Benjamin NP Limited rifle!
They've now started their 4th of July countdown of deals! There's a special coupon that lets you combine a discount with their free shipping promotion and you'll get double Bullseye Bucks. Plus, more deals are going to coming via email. If you're not signed up to receive their email promos, go to Pyramyd Air's home page and enter your email address in the space to the left of the word SUBSCRIBE.
by Tom Gaylord, a.k.a. B.B. Pelletier
This report covers:
• Lots of interest
• Mounted the scope
• The scope
• Initial accuracy
• Examine the baffles
• Back to Premiers
• Conventional artillery hold not right
• Found the secret
• Cocking effort
• Trigger
• Firing behavior
• Summary
Today is like one of those pregnant pauses in a movie. You know what you want the hero (that's either me or the Benjamin Trail Nitro Piston 2) to say, but he just won't say it. The poorer the actor, the longer you wait. Not today.
The Benjamin Trail Nitro Piston 2 works!
Oh, there's a lot to tell, and I'm far from finished with my evaluation, but that's how the story will end. I want to tell you about the rough and rocky road it took to get to that point — and we aren't quite there yet.
Mounted the scope
I'm going to start shooting for accuracy, so first I mounted the 3-9X32 CenterPoint scope on the rifle. Mounting was easy, and the scope aligned very well. Then, it was time to sight in the rifle. I always start at 12 feet from the target, so I know I'm on paper. I would start at 10 feet, but I have a door jamb at 12 feet, so there you go. The object is to get the pellet to hit in line with the center of the target and as far below the aim point as the center of the bore is below the center of the scope.
It took 3 shots to adjust the scope to the point that I knew the rifle would be close at 10 meters. Next, I set up a bench at 10 meters and proceeded to shoot several more shots — refining the zero. At 10 meters, I want to hit one inch below the aim point so the pellet will be on target at 20 yards. I'm going to shoot from 25 yards today; but as fast as this rifle shoots, it will be on the aim point between 20 and 30 yards, approximately, if I sight-in this way.
A couple more shots, and I was sighted-in. I went back to 25 yards and started shooting seriously.
The scope
Before we move on, I'll comment on the scope. While it does have clear optics, the parallax isn't adjusted for 25 yards; so, on 9x the bull was out of focus. One reader asked me for my observation and there it is. I think a scope for a rifle like this should have its parallax adjusted for 20-25 yards if the scope is going to have fixed parallax.
Initial accuracy
I began shooting with .22-caliber Crosman Premiers, as those are the pellets I felt might do the best in this rifle. The first couple shots went to my exact aim point, then they started dropping several inches below. I ended up with a nice group of 6 shots about 2 inches below the aim point and 4 more shots that ranged up to the aim point. All in all, not a very good group. I switched pellets.
I tried JSB Exact Jumbos next; but when the first 3 shots went into 1.50 inches, I stopped shooting. Next were Beeman Kodiak pellets. By shot 3, the group was already larger than an inch and a half, so I stopped. Finally, I tried some RWS Superdomes, and this time I stuck it out for 6 shots. They landed in 2-1/4 inches, and that stopped the whole show. Something was wrong!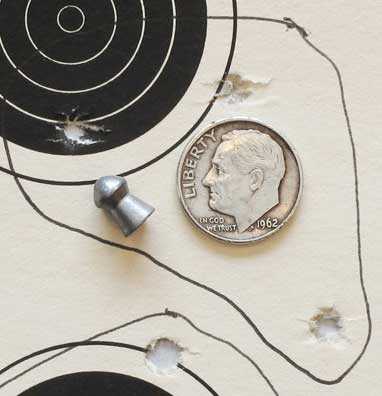 Three Beeman Kodiaks made this group that's larger than 1.50 inches. The shot at the bottom center is from another pellet shot at a different target.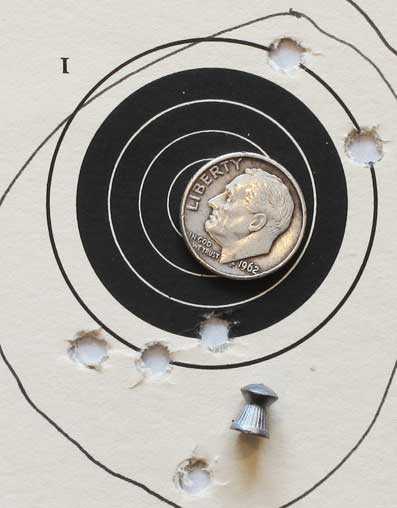 Six RWS Superdomes landed in 2-1/4 inches. Something was wrong!
Examine the baffles
Whenever I get wild or open groups like these from a gun that has baffles, I suspect the pellets are hitting the baffles or the end cap as they leave the gun. So, I shined a strong light down the muzzle and looked around all the baffles — looking for places where a pellet might have ripped off some of the plastic or left a gray streak. On aluminum baffles, a gray streak is what to look for, but these baffles are plastic, so I thought they might have been cut slightly.
But they looked perfect. They were completely round and there were no marks of any kind. I could see all the way down to the true muzzle of the gun, so I looked at the crown, to see if it was rough or out of round. And that's when I saw it. Or, rather, I didn't see it. I was unable to see the whole muzzle! Part of it was obscured by the last baffle! It was not in line with the bore!
The baffles are one cast piece of synthetic, and they're separate from the shroud tube. I showed them to you in Part 1. They have rubber o-rings on each end of the baffle tube to center the baffles inside the shroud tube. But here's the rub. The baffles, and not the shroud tube itself, thread onto the end of the barrel. The baffle tube has an end cap that holds tension against the shroud tube. Once the baffles are tight, everything is tight; but it's still possible for the shroud tube to rotate. If that happens, it's possible for the baffles to be misaligned with the muzzle of the barrel — or at least it is on my test rifle! All I had to do was rotate the shroud tube about 90 degrees, and then I could see the entire muzzle! It was time to shoot another group.
Back to Premiers
I went back to Crosman Premiers now that the muzzle was clear. The inside of the baffle tube looks like it has more than enough room for even a .25-caliber pellet to pass through without touching, so I figured it would be okay. This time, I shot a much better group of 10, with 8 pellets in 0.915 inches. The last 2 pellets opened the group to 1.748 inches, and they just looked wrong as I watched them fly to a different spot through the scope. Something was wrong, but I didn't think it was the pellets.

This first 10-shot group of Crosman Premiers has 8 shots within 0.915 inches, and 2 that open the group to 1.748 inches. Something isn't right.
Conventional artillery hold not right
I switched to H&N Field Target Trophy pellets. This time, they all landed in a nice 1.1357-inch group until the final 2 shots opened it to 1.704 inches. Clearly, something still wasn't right, but I didn't know what it was. However, I was starting to suspect that the conventional artillery hold isn't right for the NP2.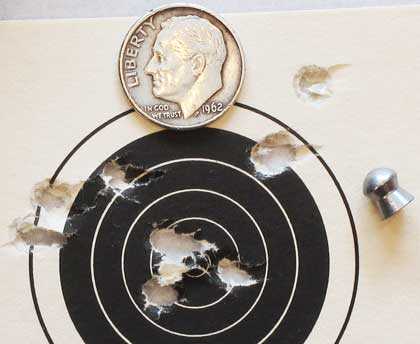 Ten H&N Field Target Trophy pellets went into 1.704 inches, with 8 of them going into a much smaller 1.135 inches. That's still not great, but it's more uniform.
I tried both Kodiaks and Superdomes, again — this time with the rifle rested directly on the sandbag. The results were about what you would expect when resting any breakbarrel springer directly on a bag — 3 shots scattering wide in 2-1/2- to 3-inch groups. Obviously, that's the wrong thing to do!
I found the secret
I shot another 10-shot group of Premiers and experimented with the hold as I shot. When I firmly held the pistol grip, the group tightened up. When I relaxed in a traditional artillery hold, the shots went wild. The group looks bad at 2.508 inches overall, but 7 of those shots are in 1.042 inches and 5 are in 0.802 inches.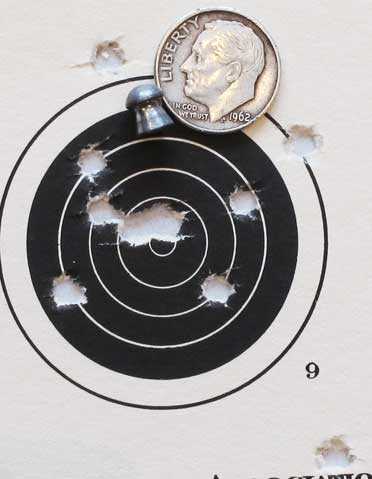 This group taught me what I needed to know. Hold the gun tight, and it groups. Hold it loose, and it scatters pellets everywhere.
Next, I shot another 10-shot group of Premiers, With the pistol grip held tight, 10 shots went into 1.207 inches, with 9 going into 0.835 inches. Eight shots went into 0.514 inches. It's not a smaller group overall, but there are more shots in the main group. I'm learning how to hold the rifle.

Now, we're cooking! 10 shots in 1.207 inches, 9 in 0.835 inches and 8 in 0.514 inches! This shows promise!
That was followed by another 10-shot group of Premiers. This time, 10 went into 1.178 inches, and 8 were in 0.721 inches. I was definitely learning how the NP2 wants to be held.

Ten in 1.178 inches, and 8 in 0.721 inches. I am getting to know the NP2.
Cocking effort
I said in Part 1 that the effort to cock the rifle was heavier than I remembered from the SHOT Show, and in Part 2 I gave the effort as 38 lbs. as measured on my bathroom scale. I also said in Part 2 that the rifle seemed to get easier as I tested the velocity, but testing it on the scale once more didn't bear that out. Well, after today's shooting, which added more than 70 shots to what was already on the gun, the cocking effort has dropped to 32 lbs. The rifle is getting into the area where it's worth taking notice! Do you remember that I said it probably needs to be broken in? I may have proven that in this test, but I need to test the velocity, again, just to show that lighter cocking doesn't also mean a loss of velocity.
After over 70 shots, I found myself tiring from the session, so I stopped; but the rifle didn't seem that hard to cock. This is a surprising and happy revelation.
Trigger
As I was shooting targets today, I found the trigger very heavy. I'll try to adjust it lighter next time. It's still smooth and crisp.
Firing behavior
The gun still shoots dead calm without vibration, but the two-way recoil is very noticeable. I had to tighten the ring caps after the scope slipped 3/8 inch from recoil in the first 15 shots. That was my fault for not tightening the screws enough to begin with.
Summary
These groups are not what I had hoped for, but they do show that there's a right way to hold the gun. I don't think I have that hold perfected, yet, but I'm closer than when I began. I actually believe the NP2 is capable of much better groups than those you see today because there are smaller groups that look wonderful in each of the final groups.
Crosman said they were able to get one-hole groups at 35 yards. I'm not there yet, but I'm certainly able to put 5 out of 10 into a single hole at 25 yards. Next time, I'll shoot only Premiers and will begin the test knowing how to hold the rifle. It should get better from there.
by Tom Gaylord, a.k.a. B.B. Pelletier
This report covers:
• Lots of interest
• Crosman's quality inspection
• Velocity testing
• Cocking effort
• Trigger pull. and adjustment
• Firing behavior
• Quiet
• Evaluation so far
There has been a lot of talk about the new Benjamin Trail Nitro Piston 2 since it showed up three weeks ago. Some of that talk has been critical of certain faults. And some of it has been the pile-on of people who just wait to say bad things about a company.
After the first part of this report went live, I received the following email from Jennifer Lambert — Crosman's vice-president of marketing.
"Tom, I have been reading and appreciating your reviews, the comments, and debate on NP2.  I just wanted to write and clarify some of your comments around the origin of NP2. In your review you imply that the NP2 guns are not made here and that is not accurate.
While it is true that we use a mix of domestically made and imported components in the gun, I can assure you that every gun is built and quality tested right here in the U.S. in our Bloomfield factory. I will snap and send you some photos of the line and would be happy to take you on a tour and personally introduce you to some of the workers on it. And as sales of the Trail ramp up and we bring out more new guns in the NP2 platform, the number of jobs based here will continue to grow
If you have any questions or would like to discuss further please let me know, and keep the analysis coming."


This is the wording that lead me to make my comment in Part 1.
I told Jennifer I would restate my initial report. You can see the wording on the side of the gun. When something is worded like that rather than saying Made in the U.S.A., it draws attention to itself. We know that the parts can be manufactured outside the U.S., then brought in and assembled here. Many airguns are made that way, and I was pointing out that apparently this is one of them. However, after rereading what I said in Part 1, I see that I did go over the line.
I stand by my statement that the phrasing on the rifle means that some of the parts are sourced from outside the U.S. I did not mean to imply that the NP2 was assembled in another country. If I gave that impression, then I want to set the record straight. I do believe that the NP2 rifle is being assembled in the U.S. from parts and assemblies that are sourced from a variety of places — some of which are in this country and others that are not.
Crosman's quality inspection
What Jennifer told me that I did not know was that Crosman does a quality inspection after assembly on each gun in their plant. I remember when they were launching the very successful Benjamin Discovery in 2007, Ed Schultz set up an assembly line in their New York plant that included a 24-hour pressure test for every gun they built. He said he did that until he was certain they were sealing the guns perfectly.
No company can afford to spend that much time on every airgun they make — it would break them. But when you're launching a brand new product that has the potential for huge sales and represents an important step forward for the company, you take such measures.
We did the same thing at AirForce Airguns when we launched the new Condor in 2004. I personally tested and recorded the velocity of the first 100 rifles until we were certain that what we produced would always exceed the performance parameters we advertised for the gun. When you're betting the farm on something, you take extraordinary steps to ensure your bet is a safe one!
Velocity testing
The first pellet I tested in the NP2 was the .22-caliber Crosman Premier, a medium-weight pellet. Ten shots averaged 793 f.p.s. with a spread from 767 to 807 f.p.s. So, a spread of 40 f.p.s. At the average velocity, this pellet produces 19.97 foot-pounds of energy at the muzzle.
The second pellet I tested was the JSB Exact RS dome. Since it weighs 13.43 grains, you'd expect it to go faster than the 14.3-grain Premiers; but these pellets averaged 752 f.p.s. in the NP2. The spread went from 741 to 764 f.p.s., so 23 f.p.s. At the average velocity, these pellets generate 16.87 foot-pounds of muzzle energy.
The third pellet I tested was Crosman's own SSP lead-free alloy pellet. At 9.5 grains weight, these are the pellets you'd expect to go the fastest. Crosman advertises 1100 to 1200 f.p.s. with alloy pellets for this rifle, depending on where you look. [Note: The box states 950 f.p.s. with lead, 1100 f.p.s. with alloy pellets. The Crosman website states 900 f.p.s. with lead, 1200 f.p.s. with alloy pellets.] In the test rifle, they averaged 949 f.p.s. and spread from 939 to 964 f.p.s. A 25 f.p.s. spread. At the average velocity, this pellet produces 19 foot-pounds of energy at the muzzle.
I know there will be a cry of "foul" on these numbers because of the advertised velocity, but in my opinion, this is exactly where I want this rifle to be. If it shoots this fast and is also accurate, the NP2 is definitely worth consideration. I'm on record as saying the same thing about the Walther LGV Challenger when I tested it back in 2013, so at least I'm consistent.
Cocking effort
I measured the cocking effort after publishing Part 1 and found it to be 38 lbs. But during this velocity test, it seemed like I was growing stronger. So I measured the effort again, and it still measures 38 lbs. What's different now is much of the cocking friction has gone from the stroke. It actually does feel lighter now than it did before.
How does that compare to other gas-spring rifles? The powerful ones cock with between 40 and 60 lbs. of force, so the NP2 is definitely on the lighter side. To put it into perspective, it cocks about like a Beeman R1 after break-in.
Trigger-pull
I said in Part 1 that the trigger-pull was creepy. So, I adjusted the single screw located behind the trigger. I unscrewed it about 2 full turns and the trigger became exactly like the one I tested at the SHOT Show. It now has a long first-stage pull that measures 3 lbs., 4 oz., then a crisp second stage that releases at 4 lbs., 4 oz. You can take up the first stage and just wait at stage 2 until you're ready to fire. Then, just one pound more fires the gun. I really like this trigger!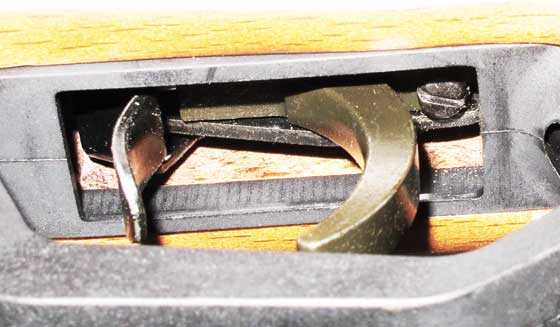 Turn the screw behind the trigger blade counterclockwise, and the first stage gets longer, while stage two becomes crisper.
Firing behavior
Experienced airgunners won't believe how smooth this rifle is. The pulse of the shot is strong (a strong two-way push), but there's no vibration. It's dead smooth! You would pay hundreds of dollars to get a coiled spring gun this smooth.
Quiet!
The test NP2 is very quiet! The shooter hears the noise through the stock against his face, but a bystander hears a much lower discharge sound. During velocity testing, I was also assaulted by the instant hit of the pellet in the trap in front of me. I suspect that when I shoot for accuracy, I'll get a better feeling for the sound.
Evaluation so far
I'm no longer at the SHOT Show. I'm in my office where I can control the testing and the evaluation. People are not telling me things — I'm finding them out on my own. And the Nitro Piston 2 I have is testing very well.
Sure you can make a big deal out of the velocity being lower than advertised. But I never wanted that advertised velocity to begin with. I wanted what this gun has — solid numbers in the 750-800s with practical .22-caliber lead pellets that I'll probably use.
The firing behavior and trigger are exactly as they were at SHOT, which is to say stunning for a gas-spring rifle of this power. Although the cocking effort measures higher than expected, it isn't bad for a spring rifle that shoots this fast.
Yes, there have been some quality problems in the first batch of guns that went out. There were cracks in some plastic parts and some scope bases fell off the guns. If that happened to you, you have every right to be angry; but the rest of the public should know that Crosman is doing something about it. Everyone who experienced a problem with their rifle will be taken care of by Crosman, and you can be sure that they're refining their in-house quality assurance program to correct future shipments. They want the NP2 to succeed because of how important it is to their business.
I want it to succeed for my own reasons. This is a $250 air rifle, and there aren't many of them around that have what this rifle has. We need a good gun in this price range, and I'm hoping the NP2 is it.
What remains to be seen is the accuracy. If this rifle is accurate, I will buy the one I'm testing because this is too important an airgun for me not to own.
by Tom Gaylord, a.k.a. B.B. Pelletier
We learned this weekend that Robert Law, founder of the original Air Rifle Headquarters, has just passed away. For those who are new to airguns, Air Rifle Headquarters was the first informative airgun importer in the U.S., preceding Beeman Precision Airguns. ARH was the rocket that lifted airgunning off the pad, and Beeman boosted it into orbit. If you want to know more about this early history, read a three-part blog I wrote about Air Rifle Headquarters and Beeman Precision Airguns and how they started.
This report covers:
• Time to evaluate the gun
• The rifle
• Where is it made?
• Initial impressions
The day has finally arrived. And it isn't what I'd envisioned. When I left the SHOT Show in January, Crosman and I were on the same page with this new Benjamin Trail Nitro Piston 2. I told them how important I felt this rifle was going to be, and they assured me that I would get one to review for you at exactly the right time. So, when the guns became available, my reports would have just started. They told me that would happen in April, but I assured them I knew things don't always work out as planned.
Well, it's now June and not only is the rifle hitting the market a little late, it appears that Crosman plans pumping them out as fast as they can. Pyramyd Air received a large shipment of rifles just a little over a week ago, and those arrivals have all been spoken for — but more are coming.
Pyramyd Air shipped me a wood-stocked .22-caliber rifle the next day, which is how I came to have the test gun. It's serial No. 414DAO482, but that may not matter because I promised to buy the test rifle if it turns out to shoot like the rifle I tested in Las Vegas.
Time to evaluate the gun
I was pleasantly surprised when I shot the NP2 at the SHOT Show this year. The rifle I fired seemed to do everything Crosman said it would. It cocked easily for a powerful rifle with a gas spring, the trigger was smooth, light and crisp on the release, the shooting sensation was dead calm — and from the spinners I was hitting on the range, the rifle appeared to be quite accurate.
Of course, there were things I couldn't evaluate under those circumstances. I was told the rifle's discharge sound was less than that of a Benjamin Marauder, but there were a thousand other media members on the ranges, all banging away with firearms. It was liken a war out there, and I was unable to evaluate the sound of a quiet air rifle. But I can do that now.
I can also evaluate the accuracy potential much more precisely with paper targets that show the results. And best of all, I can address those nasty doubts that some people are trying to put in the minds of buyers that the NP2 Crosman is shipping is somehow not as nice as the gun that was available for testing in Vegas. The whole point of this rifle is to eliminate all those drawbacks that inexpensive gas-spring breakbarrel rifles have had up to now:
Heavy cocking effort (40-60 lbs.).
Heavy and creepy triggers.
Painful recoil and vibration at discharge.
Mediocre accuracy.
Sharp crack at discharge.
Gas springs have so many potential advantages over coiled steel springs that cleaning up this punch list of flaws makes perfect sense. You see, gas springs:
Can remain cocked without spring power degradation.
Are less sensitive to cold.
Have less vibration (buzzing) on discharge.
Have an even cocking pressure all the way through the stroke.
Are lighter weight.
If the new Benjamin Trail NP2 rifle addresses those faults mentioned above, then it will be a major step forward in spring gun technology, in my opinion. The rifle I tested at the SHOT Show certainly seemed to address as many of them as I was able to evaluate, which is why I said in my 2014 Gaylord Reports chapter in the new Blue Book of Airguns that the NP2 is the standout airgun product for 2014.
I said that because the majority of airgunners still shoot spring-piston guns. If that were not the case, the new NP2 wouldn't be the story that it potentially is because tens of thousands of customers wouldn't be interested in it.
From a technological standpoint, the AirForce Escape rifles are every bit as novel as the NP2, for what they are and what they can do. But the majority of airgunners in the U.S. do not shoot precharged guns, and that is not likely to change anytime soon. So, the NP2 is positioned to have a major impact in how the majority of airgunners view their sport/hobby.
I've explained my thinking so you'll understand that this is not just another product test. It may seem like that; and if you are interested in this gun, you'll get all you came to find. But there's more at stake here than just one air rifle, or even a line of air rifles. This is a potential upgrade to gas-spring technology that has for so long been stalled because of the drawbacks mentioned above. If Crosman has truly solved all or most of these faults in gas-spring technology, then the future of this type of airgun seems very bright.
The rifle
As mentioned, I'm testing a .22-caliber rifle in a wood stock. This is from the first shipment of NP2s to hit the market, but there are 2 other versions of this model coming. One will rest in a black synthetic stock, and the other will be set in a Realtree camo synthetic stock.
The first rifles will be in .22 caliber, which I think is very wise. As powerful as this air rifle potentially is, you'll want the bigger bore and heavier pellet to extract all the power to be had from the Nitro Piston. If you want a different caliber, I believe both .177 and .25 calibers will follow because the accompanying owner's manual lists all 3 calibers.
Speaking of power, there seems to be some confusion about just how much we can expect. When I checked the Crosman website, it said this rifle will get up to 1200 f.p.s. with alloy pellets and up to 900 f.p.s. with lead pellets in .22 caliber. Pyramyd Air's website description faithfully repeated that. But don't memorize those velocities because Crosman has changed them. I expect they need some time for these details to settle down.
On the box the rifle is shipped in, it says to expect up to 1100 f.p.s. with alloy pellets and 950 f.p.s. with lead pellets. And the owner's manual, which is extremely generic, is entirely mute on the subject. There are always slip-ups like this when a new product is launched, so I'll test the rifle with both alloy and lead pellets and tell you what it actually does.
The test rifle has a wood stock. The wood is some unidentifiable Asian hardwood that looks like beech. It has a very straight grain, and the finish soaked into the wood in couple places, leaving dark spots or streaks. The wood is smooth with a matte sheen and has no checkering or stippling.
The stock is an ambidextous thumbhole design with a straight line to the butt that keeps the rifle high against the cheek when you mount it to your shoulder. It's well-suited for mounting a scope. It's a hunting stock that has a rear detachable sling swivel anchor installed and a front sling swivel located under the base block of the barrel. The cheekpiece rolls over to both sides, and the safety is ahead of the trigger, making the rifle completely ambidextrous.
The pistol grip is very vertical, making the trigger fall right where a shooter with medium-sized hands will want it. The feeling is very comfortable, though the styling doesn't appeal to me. I liked the synthetic stocked rifle I tested at SHOT, but this wood stock feels very similar and not a bit heavier.
The stock is thick in places, but slims down where your hands will go. It seems to have been designed by a shooter. The buttpad is dense, black rubber that attaches to the stock with two screws. The fit isn't perfect, but it's close.
The metal parts are finished to a satin black that they call a hunter finish these days. The end cap, triggerguard and a couple parts of the barrel shroud are plastic and the rest of the action is metal. The front steel sling swivel has been thoughtfully covered in soft rubber to protect the gun's finish in the field.
A Weaver scope base is permanently attached to the top rear of the spring tube. This is the best way to anchor scope rings on a recoiling rifle, and I wish other airgun makers would take notice.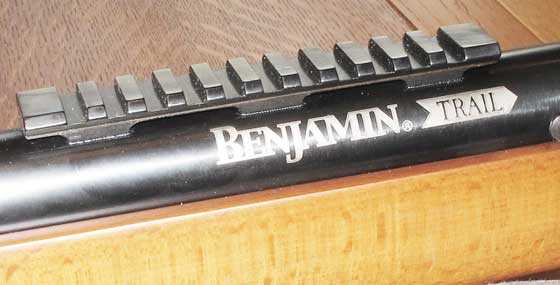 The Weaver scope base that comes on the rifle will stop all scope ring movement issues.
The rifle comes without open sights, but a 3-9X32 Centerpoint scope and rings are included in the box. All you need to do is mount it and start shooting. More on the scope after I mount it. I think Crosman is making a mistake by not at least offering an open sight option on these rifles. I hear a lot of requests for them from shooters.
The weight is given as 8.3 lbs., but that can vary with a wood stock. I weighed the test rifle, and without the scope it came in at 7 lbs., 12 oz. The scope and rings added exactly one more pound.
The barrel is one long shroud, making it look like a bull barrel but without the weight. Crosman mentioned integrated sound suppression and they showed me the guts of the shroud at SHOT. So, yes, there is some technology (baffles) in there.


The NP2 shroud has this technology inside.
Unfortunately, the shroud unscrews from the barrel, and the rear portion of the shroud is made from plastic. People may overtighten their shrouds, causing this plastic to crack.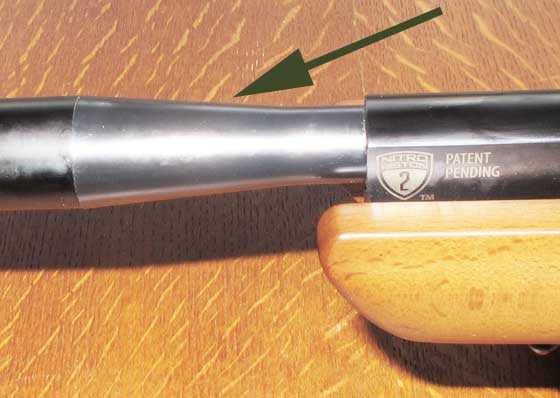 At the rear of the shroud, a plastic piece fits against the baseblock. This could be subject to crack if the shroud is over-tightened.
The overall length of the rifle is 46.25 inches, so it's very large. It will dwarf your Remington 700.
The specs say the rifle should cock with 28 lbs. of effort. This one feels like it's going to top 30 lbs. by quite a lot. I will tell you more about this in the velocity test that will come next.
Inside the box, there's a huge warning paper telling you never to dry-fire the gun (shoot without a pellet). They say it several different ways; and by the size of the paper and the size of the type on it, I would say this is something Crosman wants you to pay attention to.
Where is the NP2 made?
Lettering on the right side of the baseblock tells us the NP2 was "Designed, engineered and assembled in the U.S.A." Is there anyone who doesn't recognize those words as code for not made here? The wood stock is strong evidence of the origin, but these words confirm it. That said, we are going to evaluate this rifle on the basis of its performance — not the country of origin. I only mention this to address the inevitable questions.
Initial impressions
Here's what I see so far. The NP2 is relatively light and powerful. The trigger that Crosman calls the Clean Break Trigger is two-stage with a long, heavy first stage. But stage two is not breaking cleanly on my test rifle out of the box. There's a lot of creep. The trigger is adjustable, so I'll hold off commenting until I adjust it.
The test rifle definitely cocks with more effort than 28 lbs. That's something that differs greatly from the rifle I shot at the SHOT Show. There's little difference in cocking effort between this rifle and any other powerful gas-spring rifle. This one cocks on the light side, but it certainly does not cock with 10 lbs. less effort. Less effort than what is never addressed, but if they mean a powerful gas-spring air rifle, this one doesn't.
I'll check the cocking effort, again, after a hundred shots have been fired, just to ascertain if it's just due to the roughness of a new rifle. In fact, I'll bet that the one NP2 Crosman brought out to the range in Vegas probably had over a thousand shots on it, with everybody in the company trying it out. So, maybe I'll do something similar for you.
I'm pleased to report that the firing behavior feels identical to what I experienced in Las Vegas. It shoots dead calm. Of all the shortcomings of a gas-spring gun, that and accuracy are the two biggies.
As I end this first report, I'll address the discharge noise. I didn't notice it! What I mean is that this rifle is quiet enough that the sound of the pellet hitting the silent pellet trap is louder than the report. When I shot it the third time, Edith noticed that I was shooting in my office and asked if this was the NP2. I said it was, and she said it wasn't very loud. That probably says more than anything.