Posts Tagged 'Crosman Pellgunoil'
by Tom Gaylord, a.k.a. B.B. Pelletier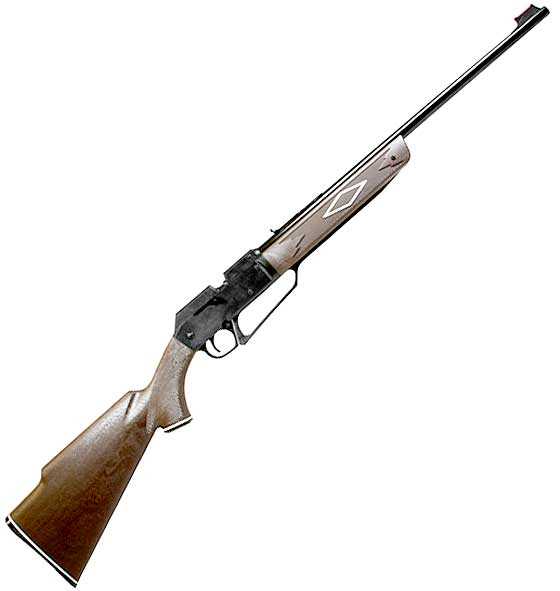 The Daisy 880 multi-pump is a classic.
This report addresses:
• Examining test targets sent from Daisy with this rifle.
• Accuracy with 3 different pellets.
• Accuracy with BBs.
Today, we'll look at the accuracy of the brand-new Daisy 880 that Daisy sent for this test. Before we begin, I'll show the test targets Daisy sent with the rifle. Then, I'll shoot the rifle at 10 meters with 3 different pellets. Finally, I'll move up to 5 meters and shoot steel BBs.
Daisy targets
When Daisy sent me the rifle, they included the results of their testing. So, I have 2 targets for the rifle. They did not indicate which target was shot with BBs; but since they used a 10-meter target for the one test and a 5-meter target for the other, I'll assume the first was shot with pellets and the second with BBs.
The target they shot with BBs was enlarged before they copied it, so it looks larger than its actual size. The black bull is supposed to measure 18.415mm across, but the target they sent measures 25.07mm from side to side. So, it's approximately 137 percent the size it should be. I'm telling you that because I can't put a dime next to that target and make any sense out of it.
They also shot just 5 shots per target, where I normally shoot 10. So, my groups should be 40 percent larger than theirs. They did give me the center-to-center measurements for each group, however, so we'll be able to make some comparisons.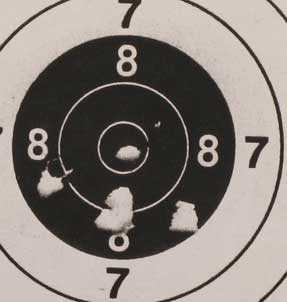 Daisy shot 5 BBs into 0.65 inches at 5 meters with the test 880. Remember, this target appears larger than it really is.
They also sent a 10-meter target they shot with pellets. They didn't indicate which pellets were used for this test, but I would think they would use Daisy Precision Max pellets — that only makes sense. This 5-shot group measures 0.60 inches between centers.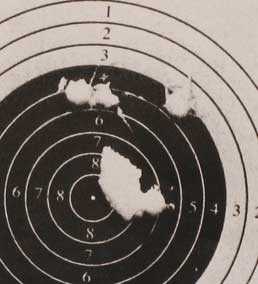 Daisy shot 5 pellets into 0.60 inches at 10 meters with the test 880.
There was no indication of how many pumps were used for either target. I will therefore use my best judgement when I shoot my own groups.
Pellets first
I shot the 880 rested at 10 meters using 3 different pellets. The first was the 7.9-grain Crosman Premier dome that was used for the velocity test. I used 6 pumps for each shot with pellets. The rifle was rested in a sandbag rest.
Sight-in took 2 shots because the rifle was shooting low for a 6 o'clock hold. It was also shooting a little to the right, but I didn't bother correcting that on the first group. Ten Premiers went into 1.037 inches. While not bad, I hope to find another pellet that does better.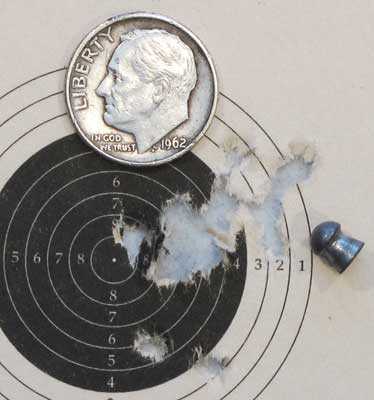 Ten Crosman Premier lite pellets went into 1.037 inches at 10 meters. Not a very great group, but there's the silver dime several of you obsessed over.
Daisy wadcutters
After the first group, I adjusted the rear sight down one notch and over to the left. Next, I tried some old Daisy Superior Match Grade wadcutter pellets. How close they are to the current pellets Daisy sells, I have no idea. Ten of them went into 0.713 inches, which is better than the Premiers and, accounting for my 5 additional shots, also better than what Daisy got.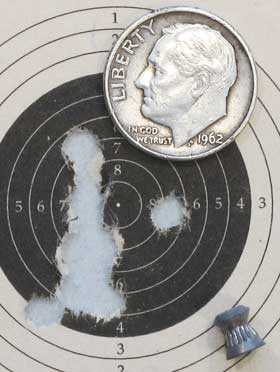 Ten Daisy Superior Match Grade wadcutters made this 0.713-inch group at 10 meters.
RWS Hobby pellets
I felt the rifle had redeemed itself with the Daisy pellets, but I wanted to try just one additional pellet. This next one was an RWS Hobby. When you see what it did, I think you'll agree with me this was a fortunate choice.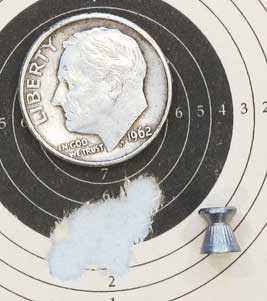 Ten Hobbys made this 0.458-inch group at 10 meters. Now THIS is a group!
So, the 880 I'm testing can definitely shoot. Both Daisy and I got good results from the rifle with pellets. Let's see what it can do with steel BBs.
Daisy with BBs
I moved the shooting table up to 5 meters from the target and started shooting with Daisy Premium Grade BBs. At this distance I used 3 pumps for each shot. They were hitting the target right where the top of the front sight was, so I decided to hold for the center of the bull instead of at 6 o'clock. They did hit a little to the left, but it was nothing to be concerned about. Ten BBs went into 0.624 inches.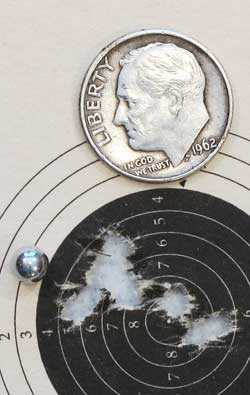 Ten Daisy BBs went into this 0.624-inch group at 5 meters.
If you check my other BB-gun targets (other than those made by the 499), you'll see that this gun really groups tight with BBs. I'm surprised it did so well.
Summary
This Daisy 880 can certainly shoot! Next, I'll mount the scope and back up to 25 yards.
by Tom Gaylord, a.k.a. B.B. Pelletier
Airgun lubrication — spring guns: Part 1
Airgun lubrication — spring guns: Part 2
This report addresses:
• Molecules versus atoms
• Crosman Pellgunoil
• Can't over-oil with Pellgunoil
• "Fixing" leaking guns with Pellgunoil
• Transmission stop leak oil
• Oiling moving parts
• Ballistol
Let's look at lubricating gas guns — and by "gas," I mean CO2. What I'm about to say will also work on airsoft guns that operate on green and red gas, because both those gasses work similar to CO2; but there are no pellet or steel BB guns that run on any gas except CO2 (excluding air).
CO2 is a molecule — not an atom!
Many folks thought that high school science class was a waste, but in the curriculum there were things that matter to airgunners. How levers work is one of the most important things, and yet I still see youngsters grabbing breakbarrel rifles five inches back from the muzzle — as though the length of a lever has no significance! The fact that CO2 is a compound made of molecules is also important.
Atoms are very small. When they're inside a pressure vessel (air is made of several elements that are atoms), they try to escape through the smallest holes imaginable — sometimes through pinholes in the casting of the metal. Molecules are combinations of atoms that are much larger than atoms, by definition. They also try to escape, but they need larger holes to get through. This fact is what saves the CO2 airgunner, and it's also why CO2 guns can be made with larger tolerances. That makes them cheaper to build.
Crosman Pellgunoil is our friend
When I started seriously shooting airguns in the early 1990s, nobody talked about Crosman Pellgunoil. I didn't even know if it did anything. Then, I met Rick Willnecker, the man who runs Precision Pellet — one of the top repair stations for vintage CO2 and pneumatic airguns. Rick always had a jumbo bottle of Pellgunoil on his workbench, and he applied it liberally to valves, seals and o-rings whenever he assembled a CO2 gun. He told me that I should always put a drop of Pellgunoil on the tip of every new CO2 cartridge before it was pierced.
You cannot over-oil with Pellgunoil
I asked Rick how much oil was too much. He said it is impossible to over-oil a CO2 gun with Pellgunoil. Apply it liberally. What doesn't stay inside the gun gets blown out the muzzle. This was all news to me. I'd grown up with the bottlecap CO2 cartridges of the 1950s that leaked before you even put them in your airgun, and I thought CO2 was a gas that was totally unreliable. Rick's revelation turned this around. I discovered CO2 is a very reliable gas if you use Pellgunoil.

In the 1950s and '60s, Crosman was capping their CO2 Powerlets with bottlecaps that leaked a lot.
But the discoveries didn't stop there. Soon after learning about the benefits of Pellgunoil, I bought a Crosman model 111 target pistol at a flea market for $35. It was in the original box and came with the original 10-oz. CO2 tank that Crosman sold with the gun back in the early 1950s. I bought this gun thinking it would have to be resealed. It's seller told me it had laid in a closet for a minimum of 20 years before she brought it to this flea market, so how in the world could it possibly have any gas left in it?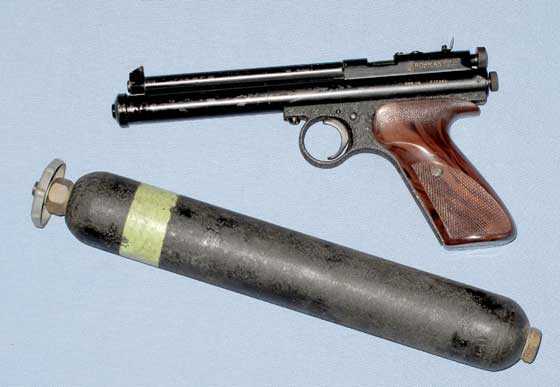 This .22-caliber Crosman 116 bulk-fill CO2 pistol and tank were sold up until the model 150 came out in 1956.
Well, that gun was still charged! What is even more important was the 10-oz. CO2 tank that came with it was also mostly full, so I was able to connect it to the pistol and charge it many times — for another 50 shots each time. Each time I charged the pistol, I applied more Pellgunoil, and that old pistol kept right on functioning for almost 2 years. When the seals finally did need to be renewed, I took the gun to Rick Willnecker, and he got me started in bulk-filling CO2 guns. I bought my first 20-lb. CO2 tank and the adapter to connect it to the 10-oz. Crosman tank, and I was off to the races. Since that time, I have owned five 20-lb. CO2 tanks and have been filling my own bulk tanks at home for more than 15 years. Where a CO2 cartridge costs about 50 cents, I pay about 5 cents for the same amount of gas!
But it didn't end there, either. I discovered on my own that by using copious amounts of Pellgunoil, I could get non-functioning CO2 guns to work again. That's when I started buying up old Crosman gas guns that were leakers and "rejuvenating" them with Pellgunoil. I still own a Crosman 180 rifle that I bought for $20. It has been holding gas for about 20 years so far!
Transmission stop leak oil
Dennis Quackenbush taught me this trick. He said he "fixed" a leaking Crosman 112 bulk-fill pistol with transmission stop leak oil — the stuff you get at the auto parts store. I had a Crosman 116 bulk-fill pistol that was a fast leaker, so I thought I would give it a try. I put several drops of this oil in the fill port connection of the pistol and filled it with CO2. That was about 2-1/2 years ago and that gun is still holding gas today!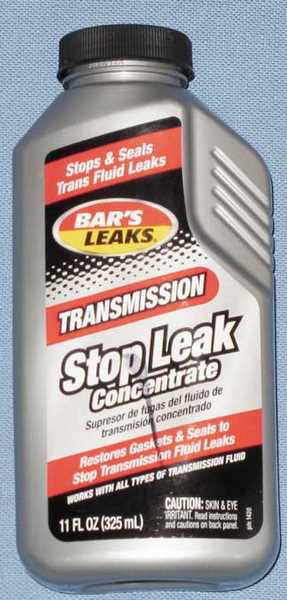 Transmission stop leak oil (this is just one brand…there are several others) will swell and make supple the seals inside an older CO2 gun.
Several people wrote comments telling me that this oil would turn the seals in my airgun to mush and it would be an even bigger leaker than before; but as I said, 30 months have passed and that gun is still holding gas. So is Dennis' gun. This stuff seems to work.
Oiling the moving parts of the gun
You can oil the moving parts of a gas gun with any good brand of gun oil, and I even use household oil (yes, 3-in-One brand) on mine. If you want to buy a good oil from Pyramyd Air, I have used Gamo Air Gun Oil for many years for this purpose. All you're doing is providing simple lubrication, and oil is correct for that.
Ballistol
Finally, you can wipe down the gun — wood, metal and plastic — with Ballistol. Ballistol removes rust, protects against fingerprint acids, lubricates and generally is the single best lubricant for an airgun or firearm.
by Tom Gaylord, a.k.a. B.B. Pelletier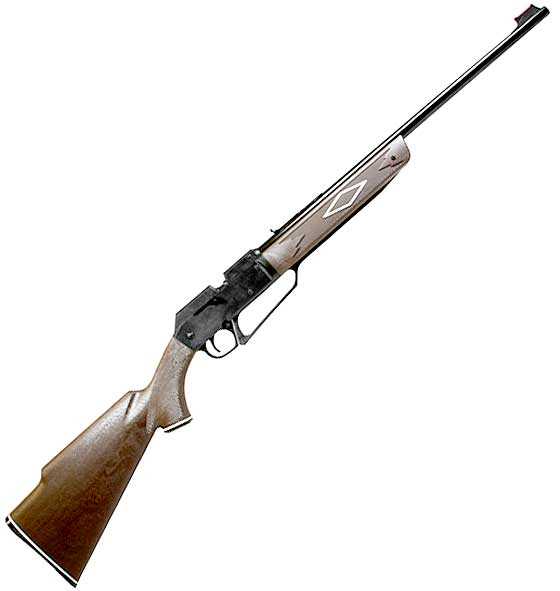 The Daisy 880 multi-pump is a classic.
This report addresses:
• Examining a new Daisy 880S sent from Daisy for this report.
• Examining the test data Daisy sent with the rifle for pellets and BBs.
• Running the same velocity test as I did for the first two 880s tested.
• Testing this new rifle with RWS Hobby pellets.
• Testing the new rifle with BBs.
This test is unprecedented. In Parts 1 and 2, I tested my own Daisy 880; and when it failed to achieve the velocities several readers felt it should, I ordered and tested a second brand-new 880 supplied by Pyramyd Air. That rifle also failed to live up to the velocity claims. When there was a question about whether all 880s are Freimarked (the letter "F" inside a pentagram is marked on the outside of a gun to indicate it develops no more than 7.5 joules of energy at the muzzle) for the German airgun market, I asked Joe Murfin, vice president of marketing at Daisy, to clarify this for us. He assured me that all 880s and their related variants are Freimarked, but that the mid-500 f.p.s. velocities I had gotten from both airguns was on the low side.
Joe had his Quality Assurance Manager inspect an 880 and send it to me for independent testing. This will be the third 880 I've tested in this series. Regardless of the outcome, it will be the last one. I tested both previous rifles with 7.9-grain Crosman Premier pellets, and I'll also test this rifle in the same way. Naturally, Daisy didn't test it with Crosman pellets, but they were kind enough to include a test sheet that unfortunately doesn't specify which pellet they used. I will, therefore, test the rifle with Premiers, so we can compare it to the previous tests. Then, I'll test with lightweight lead pellets. I'll also test it with Daisy Premium Grade BBs, and we can compare my results with the velocities they got with what I must presume are also BBs.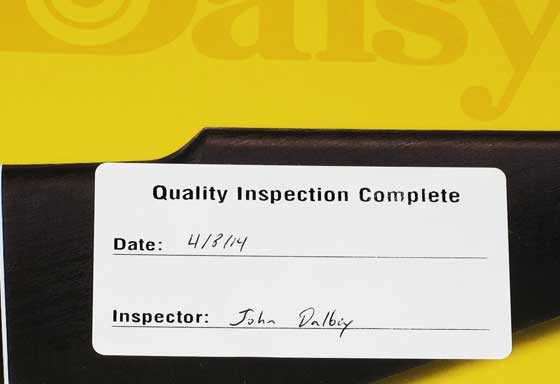 The Daisy 880S I'm testing today came with this inspection sticker on the outside of the box.
The rifle they sent is actually an 880S model that comes with a 4X15 scope. After velocity testing and 10-meter accuracy testing with open sights, I'll mount the scope and finish shooting at 25 yards. They sent test targets that I'll show when we get to accuracy testing.
Test data submitted
Inside the box was a sheet with two velocity test strips. There is no indication of what pellets or BBs were used to create these test numbers, but I'll assume the higher velocities were achieved with Daisy Premium Grade BBs, and the lower velocities were obtained with lightweight lead pellets. I have Daisy BBs, so I can test them in the rifle; but lacking knowledge of exactly which pellet was used, I used an RWS Hobby wadcutter. At 7 grains, it's about as light as lead pellets get.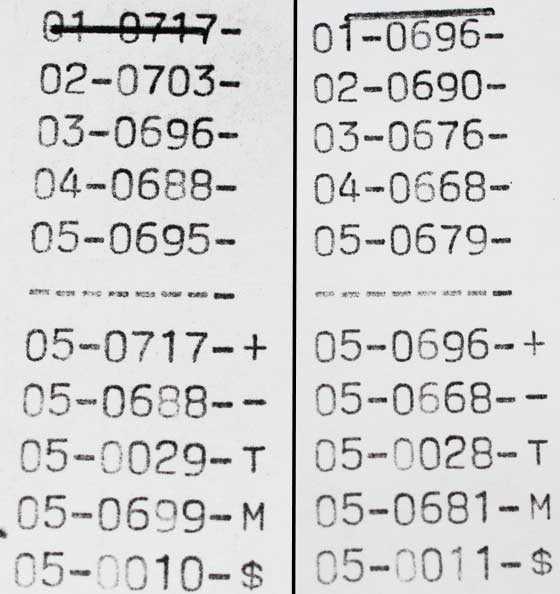 The two tapes Daisy sent with the rifle. On the left is what I presume to be the velocity with BBs and on the right I presume is the velocity with lead pellets.
To put numbers on this, Daisy got an average of 699 f.p.s. with steel BBs (with a 29 f.p.s. spread) and 681 f.p.s. with lead pellets (with a spread of 28 f.p.s.). We will keep that in mind as I test the rifle.
My velocity tests
I tested the 2 other rifles with 7.9-grain Crosman Premier domes, so it seems only reasonable to continue that test with this rifle.
Pumps   Velocity
2            381
3            457
4            510
5            547
6            576
7            603
8            609
9            622
10          656
If you compare this test to the two rifles that went before, you'll see that this rifle is considerably more powerful. Also, there was no tapering off of the velocity as the pump strokes increased, the way there was with the last new rifle I tested. True, the amount of velocity increase wasn't as great as the pump strokes increased, but it always went up.
Next, I tested the rifle with 10 shots on 10 pumps each. In other words — as fast as the rifle could go. Again, this was with Crosman Premier lite pellets. A few early shots went slower; but then the power ramped up, and the rifle gave me what seemed to be its best. The average velocity with the Premier lite pellet was 645 f.p.s. with a spread from 624 to 660 f.p.s. — a total of 36 f.p.s. That works out to 7.3 foot-pounds of muzzle energy.
We can't compare the velocity of this pellet against what Daisy has provided, because we don't know the weight of the pellet they used. So, a second test was needed. This time, I used the RWS Hobby pellet that, at 7 grains, is about as light as .177-caliber lead pellets get. It should give numbers higher than the Premier.
Indeed it did! The average velocity with Hobbys was 680 f.p.s. The spread went from a low of 671 to a high of 686 f.p.s., so just 15 f.p.s. And notice how close my numbers are to the Daisy tape on the right. I'm getting essentially the same results Daisy got.
On to BBs
With what I presume were BBs, Daisy got an average velocity of 699 f.p.s. and a spread of 29 f.p.s. I assume this is also with 10 pumps per shot.
I got an average of 676 f.p.s. with a spread that went from a low of 669 f.p.s. to a high of 680 f.p.s., so the total variation was only 11 f.p.s. The average seemed a bit slow in light of the Daisy numbers, so I oiled the felt washer behind the pump head with Crosman Pellgunoil. After that, I got 3 shots at 712, 710 and 708 f.p.s., respectively. I didn't bother rerunning the test, as it seemed the rifle was performing up to snuff with the oil. That's another reminder of just how important oil is to a multi-pump's operation.
Evaluation thus far
Here we are on Part 4, and it normally takes only 2 parts to finish the velocity test of a gun. This has been an interesting exercise, and I know I've learned from doing it.
Next up will be the accuracy test with both pellets and BBs. I'll test BBs at 15 feet and pellets at 10 meters — both using open sights. Following that, I'll mount the scope that came with this rifle and back up to 25 yards for a final pellet test.
My thanks to Daisy and to Joe Murfin for providing the test rifle for today's report. The results indicate this rifle is representative of the gun many of you have received. And, it represents the rifle everyone can expect to receive when they order a Daisy 880.
by Tom Gaylord, a.k.a. B.B. Pelletier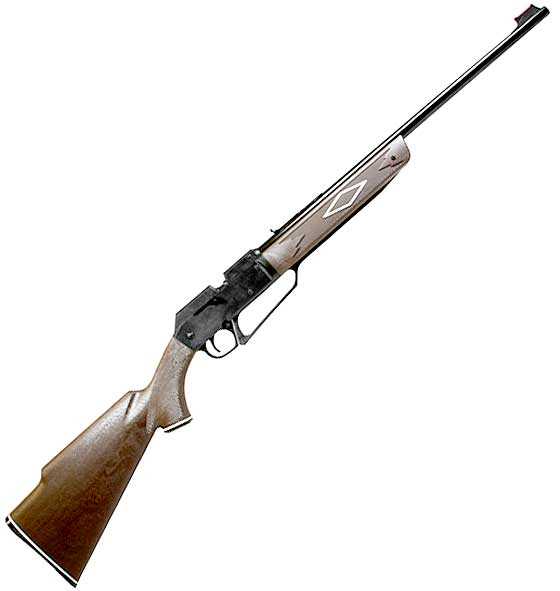 The Daisy 880 multi-pump is a classic.
I was going to shoot my old Daisy 880 at 10 meters with both pellets and BBs, and then again at 25 yards with just pellets, but I figured — what the heck? I have the brand new Daisy 880 on hand, and I've already stated that the accuracy might fall off at 25 yards with my old 880 because of the velocity variance — so why not switch over to the new rifle now?
So, I opened the box and took out the rifle. According to the box, this rifle is made in China, but I can't tell any difference between it and my older rifle, except the lettering on the metal and plastic parts has a slightly different font. Even the front sight is the identical red fiberoptic sight that's on my old 880.
Start the test
This time, I thought I would test the rifle exactly as it came from the box, so I didn't oil it. But I did open the manual and read how Daisy recommends oiling it, when it needs it. Because some of our blog readers have insisted that Daisy only recommends oiling with 30-weight non-detergent oil, I photographed the section in the owner's manual that comes with the new gun. It's shown below.


This is straight out of the manual that came with the new gun. Clearly, Daisy recommends a range of motor oil viscosities.
So, I started shooting without doing anything to the gun. I tested exactly the same way I tested my old 880 before — starting with 7.9-grain Crosman Premier domes.
Pumps Velocity
2           396
3           481
4           538
5           530,   473,   438 —   oil!  –  450,   457,   449
The plan was to shoot the rifle with Premier lites up to 10 pumps. But on pump five, something strange happened. The rifle did not shoot faster — in fact it slowed down. Thinking I'd made a mistake while counting the pump strokes, I did it again, and that shot was even slower than the last. I did it one more time, and once more the gun shot even slower. In fact, it shot slower than it had on just three pumps!
At this point, I assumed the rifle was suffering from a lack of oil on the pump head; and since 20-weight Crosman Pellgunoil is exactly in the middle of Daisy's recommended range of oil viscosities, I used it to oil the pump head. Then, I shot three more shots with five pump strokes each. As you can see, they did increase in velocity; but by the third shot, they were coming back down again.
I decided to start the test all over. The gun was not oiled, again.
Pumps Velocity
2          267
3          351
4          431
5          466
6          474
7          512
8          502,   474,   502
9          529
10        545
This time, the rifle's velocity tapered off at 8 pump strokes. I shot two more shots on 8 pumps and then completed the test so you could see the results. The new rifle was clearly not performing up to snuff.
Next, I decided to try a string of shots on five pump strokes to see what would happen. I got this.
Pumps Velocity
5          428
5          432
5          425
Oiled gun with 30-weight non-detergent oil and retested with 5 pumps:
5          450
5          462
5          475
5          490
5          487
Okay — 30-weight non-detergent oil
When the velocity in the string above was lower than it had been before, I wondered if all the hype about 30-weight oil might have some merit. I stopped in the middle of the test and oiled the gun with 30-weight non-detergent oil. You can see what happened after that.
I decided to rerun the whole test, now that the rifle seemed to be performing better. This is the rifle oiled with 30-weight oil.
Pumps Velocity
2          354
3          427
4          491
5          496
6          488
7          485
8          490
9          512
10        513
Observation
The BRAND NEW Daisy 880 I'm testing is clearly not performing as well as several of our readers have reported. And, just as clearly, it has very little to do with the viscosity of the oil used to lube the pump head. The only slight advantage 30-weight oil seems to have over 20-weight oil (Pellgunoil) in this new test rifle is that it does hold up for a couple additional shots. I think it's obvious that this brand new test gun doesn't live up to the advertised level of performance.
I am returning this rifle to Pyramyd Air. I will think about what I want to do next. I could rebuild my old gun, but I would be doing it with Chinese-made parts that might not work as well as the parts that are in the rifle now. Or I could just continue testing with my old rifle, since it is the best 880 I have.
One thing I AM NOT going to do is to keep chasing after 880s until I get a good one. This evaluation is supposed to resemble what a customer would experience, and I think it may have done just that.
One last comment
I couldn't have done any of this testing without a chronograph. I would have been flying blind if I had no way of timing each of the shots that were taken. And I probably would have enjoyed my new rifle exactly as it was. My point is this: If you can't chronograph the shots, be happy with what you have but stay out of velocity discussions. I think most Daisy 880 owners probably don't chronograph their guns, and they're happier for it.
by Tom Gaylord, a.k.a. B.B. Pelletier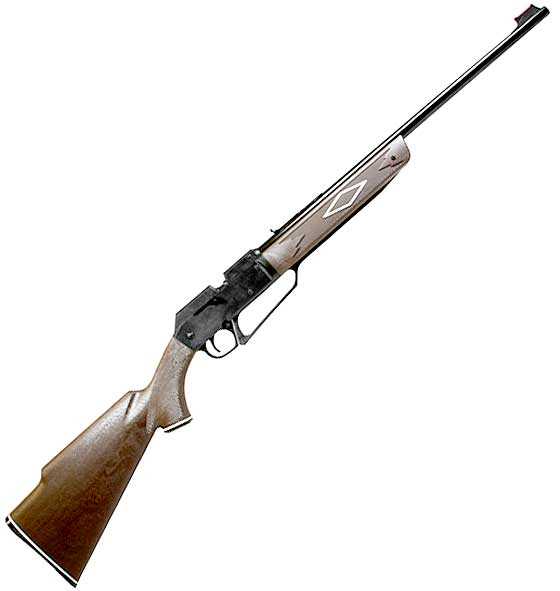 The Daisy 880 multi-pump is a classic.
Today, we'll look at the velocity of the Daisy 880 multi-pump pneumatic. The test didn't go as I expected it to, so stick around and learn something new with me.
Oil the pump head
Before I started the test, I oiled the 880′s pump head with several drops of Crosman Pellgunoil. I do that whenever I want to get the maximum performance from a multi-pump pneumatic, because the oil seals the pump head, allowing it to build more pressure.
First test — velocity per pump stroke
This is a test I recommend to all multi-pump owners. You test the velocity of your gun with differing pump strokes — from the lowest number recommended in the manual, which is 2 in this case, to the highest number, which is 10. [Note: In part 1, I stated that the minimum number of pumps was 3. It's actually 2, and the Pyramyd Air website has been corrected to reflect that.] For this test, I also did 11 and 12 pump strokes to see if the gun had even more velocity.  The results were revealing. I'll discuss them in a moment.
The pellet I used was the 7.9-grain Crosman Premier dome. Any pellet will do, but it helps if you always pick the same one in case you ever want to compare one gun to another.
Stroke    Velocity
2                332
3                448
4                499
5                530
6                562
7                574
8                595
9                601
10*           616
11*            617
12*           607
* No air remaining in the gun after this shot.
For those who may be new to multi-pumps, notice that as the number of pump strokes increases, the amount of the velocity increase grows smaller. If you were pumping the gun, you would have noticed that after the fourth pump stroke (from 5 strokes on) the pump handle jumped out when I pulled it for the next stroke. Compressed air is remains in front of the pump head and does not enter the gun's reservoir. As the pressure inside the reservoir builds, it holds the inlet valve closed a little harder each time; so, more compressed air fails to enter the reservoir. This phenomenon is common to all multi-pumps, and many of the more expensive ones have (or used to have) adjustable pump heads that minimize this; but the 880 doesn't have any adjustment.
Note that there's no air remaining in the gun after a shot was fired on 10 pumps. That means the gun is able to exhaust all the compressed air. From the velocity chart, we learn there's no value in pumping the gun more than 10 times.
Consistency
This is where I learned a couple big lessons about the 880 — or at least about my 880. Normally, a multi-pump is very consistent. The same number of pump strokes will give nearly the same velocity every time, as long as the same pellets are used. I'm used to seeing a velocity variation of about 5-8 f.p.s. over a 10-shot string. But not this time!
The 880 gave an average of 469 f.p.s. for 10 shots with 5 pump strokes. If you look at the string before, however, you'll see that this velocity is well below what I got with 5 pump strokes (530 f.p.s.) and the very same pellet. Even stranger is the fact that, on this test, the velocity spread went from a low of 441 f.p.s. to a high of 502 f.p.s. That's a variation of 61 f.p.s. over 10 shots. And not one of those 10 shots went as fast as the same pellet did on 5 pump strokes in the previous test!
The Daisy 880 varies greatly in velocity from test to test. You may think this is because my 880 is an older one. I can't argue that. If you want to run the same test with a more modern 880 and submit your results, I'd be glad to see them, but please back up any claims you make with chronograph results.
RWS Hobby pellets
Next, I tested the rifle with RWS Hobby pellets fired on 10 pumps. These pellets averaged 600 f.p.s.; but, once again, the spread was very large. The low was 559 f.p.s. while the high was 643 f.p.s. That's a variation of 86 f.p.s.
How fast will it shoot?
I tried a string of Crosman Super Sonic pellets on 10 pumps. They averaged 690 f.p.s. Again, the spread was very large — from 648 to 722 f.p.s. That's 74 f.p.s. I only did this to see how fast the gun could shoot. The owner's manual online says the maximum is 715 f.p.s with pellets, and we saw just a little more. So, that claim is right on.
Daisy BBs
Finally, I tried the rifle with Daisy Premium Grade BBs. On 5 pumps, they averaged 578 f.p.s. with a low of 565 and a high of 586 f.p.s. On 10 pumps, they averaged 644 f.p.s., with a low of 632 and a high of 657 f.p.s. So the gun is much slower than advertised (750 f.p.s.) with BBs, but the velocity spread is a lot less than it is with pellets.
Impressions
I was surprised by the large velocity variation I saw with the 880. This is not just the largest variation I've ever seen with a multi-pump, it's many times larger than the next largest variation. Multi-pumps are very consistent, in my experience.
Will this large variation have any affect on accuracy? Probably not at 10 meters, but it almost certainly will at 25 yards. I plan to shoot the rifle at both distances, so we shall see.
by Tom Gaylord, a.k.a. B.B. Pelletier
It's accuracy day for the Beretta model 84 FS BB pistol, and some of you have been eagerly awaiting this day! I decided to shoot 3 different BBs in the gun just to give you a general idea of how well it groups.
Because this is a BB gun, the shooting distance was 5 meters, which is 16 feet, 5 inches. I sat backwards on a chair, resting my forearms over the back, so the pistol was fairly steady. I selected a 10-meter rifle target for this session because the smaller bull seemed appropriate for the shorter distance.
I forgot!
After installing the CO2 cartridge and loading the first 10 BBs, I tried to shoot the target and the gun wouldn't fire! What was wring? I knew this was a double-action-only trigger, and it should have worked. Right?
Wrong! This trigger is not DAO. It only feels like one! It's really a single-action trigger that requires the hammer to be cocked before it'll work. You can squeeze the trigger all day and nothing will happen until the hammer is cocked. So, with this little problem out of the way, the test could begin.
Crosman Copperhead BBs
First up were 10 Crosman Copperhead BBs. As I shot, I noted that the pistol was very steady in my rested hands. And the target shows that…I think. Ten Copperheads went into 1.521 inches at 5 meters. But note the 2 holes that are apart from the main group. Eight of those BBs made a group measuring 0.78 inches.
The farthest of the 2 holes that are apart from the main group — the one to the extreme right — was a called flier. My hand twitched to the left as the shot fired. The other one, though, was held just like all the rest.

Ten shots in 1.521 inches, though the one at the right was a called flier. But look at the 8 that landed on the bull. They measure 0.78 inches between centers.
Daisy Premium Grade BBs
Next I tried 10 Daisy Premium Grade BBs. Like I mentioned in Part 1, they're top-grade BBs that always deliver the goods. This time, 10 of them went into 1.114 inches. There were no called fliers, and the group is fairly well centered on the bull.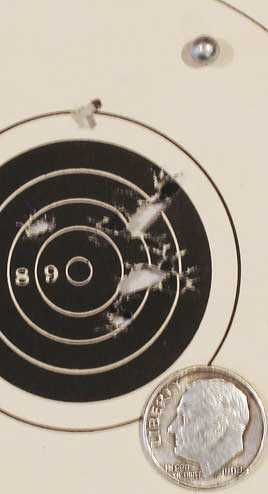 Ten Daisy Premium Grade BBs went into 1.114 inches at 5 meters. No fliers were called.
Umarex BBs
The last BB I tried was the Umarex precision BB — another top-grade BB. Ten of them grouped in 1.28 inches, with 9 going into 0.998 inches. There were no called fliers in this group, either.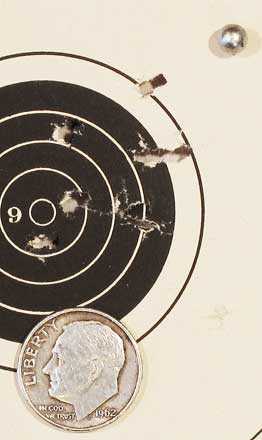 Ten Umarex BBs went into 1.114 inches at 5 meters. No fliers were called.
Overall impressions
As I told you in Part 2, the trigger-pull on this pistol feels very much like a double-action pull. That's one where the trigger first cocks the hammer before releasing it to fire the gun. It "stacks" or increases in effort significantly toward the end of the pull, like a vintage Colt double-action revolver. Once you learn how to use that, it helps with accuracy. The pistol is actually stabilized before firing.
This little Beretta is a fun BB gun, make no mistake. I found it trouble-free and easy to use. The sights are right on, and there are no quirks in the operation. If you like BB repeaters, this would be one to consider!
by Tom Gaylord, a.k.a. B.B. Pelletier
Part 1
Today, we'll look at the velocity of the Beretta model 84 FS BB pistol. We'll also look at the trigger and the shot count.
Of course, the first step to shoot a CO2 BB pistol like this one is to install a fresh CO2 cartridge. And when you do, never forget to put a drop of Crosman Pellgunoil on the tip before piercing. The oil will be blown through the gun, coating every seal on the inside and sealing it tight for a long time. I found the cartridge sealed immediately after it pierced, so this pistol is conventional in that respect. Remember — once the cartridge is pierced and the gas stops hissing, you don't want to tighten the screw any more or you'll soon tear the face seal that the cartridge butts against, creating a leak.
The BB magazine holds 17 BBs comfortably, and 18 can be forced in. I loaded them one at a time, but in this mag, they load easily.
Umarex Precision BBs
Thye first BB I tested was the Umarex Precision BB. In past tests I have found this BB to be one of the 2 top BBs on the market for precision and size uniformity. They tend to be larger in diameter, which means they give the best velocity.
These BBs averaged 368 f.p.s. for 10 shots, but I did notice the gun is very susceptible to velocity dropoff if the shots are fired fast. When I waited at least 10 seconds between shots, the velocity held steady; but if I fired 2 shots quickly, the second one was always much slower. In one test, the first shot went 372 f.p.s. and the next shot…fired a second later…went 358 f.p.s.
The fastest shot in the string went 385 f.p.s. and the slowest went 356 f.p.s., so the spread was 29 f.p.s. However, the first 3 shots on a new cartridge always go much faster than the average. If we eliminate those 3 shots from this string, the average drops to 363 f.p.s., which seems like a more reasonable average.
Daisy Premium Grade BB
Next I tried the Daisy Premium Grade BB that's the other top BB on the market. These BBs are also very uniform and very consistently sized. Ten of them averaged 357 f.p.s., with a spread from 350 to 373 f.p.s. That's a 23 foot-second spread.
The Daisy Premium Grade BB is as good as BBs get, unless you opt to buy the special Avanti Precision Ground Shot that are the finest BBs available today. But they only show their advantage when used in the equally superior Daisy Avanti Champion 499 BB gun. If you shoot them in anything else, you're wasting money as sure as someone who loads target rimfire ammo into a semiauto sporter.
Crosman Copperhead BB
The final BB I tried was the Crosman Copperhead BB. This BB is not as consistent as the other 2 because the diameter varies, causing velocity variations. You probably won't find any flat spots on these BBs, but the diameter inconsistency puts it into the second rank for both velocity and accuracy.
In the 84 FS, Copperheads averaged 348 f.p.s., but the spread is very revealing. The low was 314 f.p.s., and the high was 375 f.p.s. That makes the spread 61 f.p.s.
After shooting 64 BBs (there were many that didn't register on the chronograph, plus I filled the magazine with each type of BB and then shot the rest of them without recording the velocity), the next few Daisy BBs went 317, 306, 301 and 294 f.p.s., respectively. So, the liquid CO2 was exhausted at this point, and the gas pressure was dropping.
Shot count for a CO2 cartridge
I continued to shoot the pistol until the blowback no longer worked. That happened at shot 78, so that's the number of shots you can get from the gun. By that time, the gun is shooting the Daisy BBs in the mid-200s, meaning that about 100 f.p.s. have been lost since the cartridge was fresh.
Blowback
The blowback on this pistol is faster than the blowback on most air pistols, because the slide doesn't come back as far. When the CO2 cartridge is fresh, you just feel an impulse when the gun fires, but I wouldn't call it realistic recoil. But as the gas pressure lowers, the slide starts cycling slower and you do feel the recoil.
Trigger
Remember that I told you in Part 1 that the trigger felt strange? I said it felt like a double-action-only trigger instead of the single-action trigger that it is. Well, this time I tested it and proved that's how it feels. Despite the slide cocking the hammer for each shot, the trigger is still very long and heavy.
The first-stage pull runs about 4 lbs., and stage 2 breaks at 9 lbs., 9 oz. every time. Pull the trigger slowly, though, and stage 1 becomes creepy, plus stage 2 increases by a full pound. This will be an interesting handgun to shoot for accuracy!
Evaluation thus far
I like how the 84 FS holds. It's small, but not tiny. It fills the hand with its wide grip frame. But that trigger will be something to contend with. The trigger on my Micro Desert Eagle .380 firearm pistol is also DAO and also challenges me when I shoot farther than 20 feet; but it's smoother near the end of the pull. This trigger stacks up a lot at the end of the pull. We'll see!