Posts Tagged 'Crosman Premier lite pellets'
by Tom Gaylord, The Godfather of Airguns™
Writing as B.B. Pelletier
Part 1
Part 2
Part 3
Part 4
Part 5
Part 6
Part 7
Part 8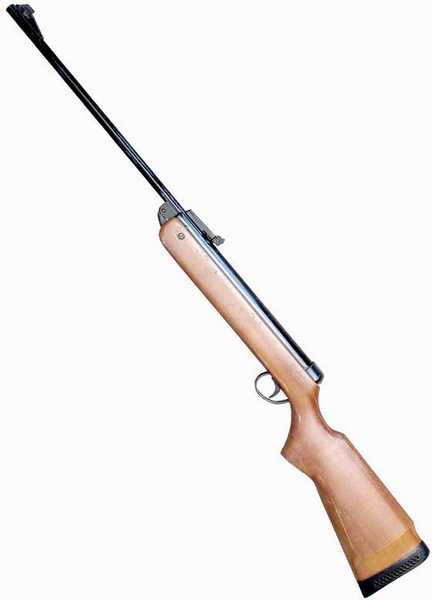 My rifle is actually a BSA Super Meteor.
This report covers:
• What we've learned so far
• Mounting the Tasco Pro-Point dot sight
• 10-meter accuracy RWS Hobby pellets
• JSB Match Diabolo pellets
• H&N Finale Match Pistol pellets
• RWS R 10 Pistol pellets
• The Meteor is good
What we've learned so far
I began the review of the BSA Super Meteor in October 2013 — almost a year ago. I acquired the rifle at the Roanoke airgun show (and, no, I don't know whether or not it will be held again this year) from Don Raitzer, because I'd always wanted to review the rifle. I commented that Meteors had always looked like cheap airguns to me; but after researching them, I discovered they went through the transition period when BSA went from being a world leader in airguns, through several attempts to make their guns less expensive to build and eventually to the point where the company was bought by Gamo.
So, Meteors exist in numerous variations, with Marks I and II being considered the best, and the cheapening started with the Mark III. My Super Meteor is a Mark IV and well down the road from the top quality they enjoyed at their height. But it still does show a lot of innovation in the design. I showed you all of that in the early parts of this report, as I rebuilt the powerplant and crowned the muzzle.
I got the velocity back up to standards, but for some reason the accuracy was never there. I lamented over this in the last few reviews, but it wasn't until the final part — Part 8 – that I discovered what might have been the problem. And then I guess I must have burned out, because I didn't return to the rifle until today.
It was Monday's look at the BSA Scorpion that caused me to look back at the reviews of the Meteor. That was where I discovered that I'd intended to try the rifle with a scope or dot sight but never did. Until today.
What I discovered is that the Meteor's rear sight is loose and tends to move when the rifle's shot. I wondered if an optical sight that stayed put might correct any sighting problems and let the rifle reach its true potential. Today, you'll see what that is, and you can use the links to the earlier parts, above, to see the contrast between the accuracy with open sights and the dot sight I chose for today's test.
Mounting the Tasco Pro Point dot sight
I mounted a 30mm Tasco Pro Point red dot sight that I've used in other tests. Mine is vintage and not at all like today's Tasco Pro Point. I would have used the Tech Force 90 dot sight, but that one's being used on another rifle we'll get to very soon.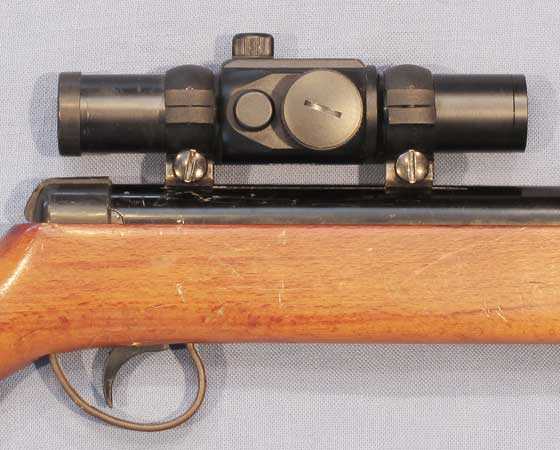 I mounted a vintage Tasco Pro Point dot sight on the BSA Meteor.
Once mounted, the dot sight was very easy to sight-in for 10 meters. I saw tighter groupings at my 12-foot sight-in distance and began to hope I'd solved the problem. Let's now see how well the rifle did.
10-meter accuracy RWS Hobby pellets
The first pellet I tried was the RWS Hobby that had done best in the previous tests with open sights. Right away, there was a dramatic difference. Ten Hobbys now went into 1.033 inches, where they'd only previously made a best group that measured 1.361 inches with open sights. But inside the big group, 8 shots were in a tight cluster measuring 0.437 inches! This is what I was expecting from the Meteor all along!

Maybe not the tightest 10-meter group, but 8 of these Hobbys went into 0.437 inches, giving me hope for the rifle.
JSB Match Diabolo pellets
Because no other pellet had done as well as Hobbys in previous testing, I decided to change my choices and concentrate on several target pellets. Next up was JSB Match Diabolo wadcutters. Ten of them went into 0.681 inches — with no fliers. Now we're getting some results!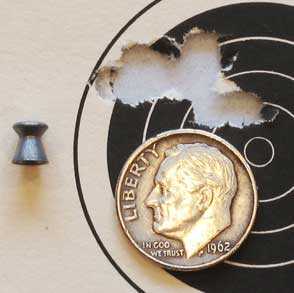 Now we're talking! Ten JSB Match pellets made this 0.618-inch group at 10 meters.
H&N Finale Match Pistol pellets
The next pellet I tried was the H&N Finale Match Pistol pellet. This one proved to be the most accurate of this test. Ten went into a 10-meter group that measures 0.456 inches between centers.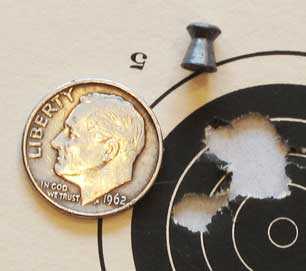 Ten H&N Finale Match Pistol pellets made this best group of the day. It measures 0.456 inches between centers.
RWS R 10 Pistol pellets
The last pellet I tested was the RWS R 10 Pistol pellet. This is another lightweight wadcutter that's often the most accurate in some airguns. Before shooting this pellet, I adjusted the dot sight 5 clicks to the right and 5 clicks down. Unlike scopes, dot sights don't seem to have the same problem with stiction (the reticle not moving after adjustment until the gun is fired several times). The dot moves with the adjustments and doesn't have to be bumped or vibrated into its new position by firing the gun. (If you'd like to read more about stiction, go to this blog on scope basics and scroll down to the Stiction subhead.)
Ten R 10s then went into 0.588 inches at 10 meters. This is the second-best group of this test, and it underscores the Meteor's accuracy potential very well.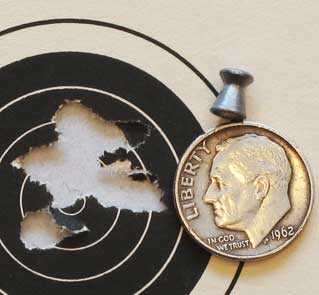 Ten RWS R 10 Pistol pellets went into 0.588 inches at 10-meters. The second-best group of the day.
The Meteor is good
When I began this series, I'd hoped to discover why so many shooters have a love affair with the Meteor. For many years I had thought it was a cheap-looking little rifle, but that was before I found out about all the changes over the years of production. Apparently, there are Meteors — and then there are Meteors; and it really makes a difference which variation you have. Also, in this instance, I started with what was essentially a junker.
It was an uphill battle because I had to rebuild my rifle, which included several major repairs like spot-welding the piston body and crowning the recessed muzzle (see Part 4). I have to thank my buddy Otho for the hard work he put into this project. He's the one who spot-welded the piston body and made the tool bit I used to crown the recessed muzzle (Part 8).
The action forks that were very loose when I got the rifle, and I had to tighten. This involved putting the forks into a vise and tightening the jaws to squeeze the forks together (Part 4). Assembly after this operation was a chore, but I got it done. This is where a pivot bolt comes in very handy, but the Meteor doesn't have one — just a plain pin.
I'd hoped the Meteor might perform like a Diana 27, but it doesn't. The Meteor is its own air rifle — very abrupt during the firing cycle — while the Diana is smooth. And the trigger, while adjustable, can never be as light and crisp as the Diana's ball-bearing sear. But don't hold that against the rifle. The Meteor is its own airgun, not a copy of anything else.
And it can shoot — as today's test demonstrates. I thought I might have to choke the barrel to get accuracy from the rifle, but it turned out the sights were the problem all along.
Doing this series has been educational and exasperating at times, but I learned a lot and got inspiration for many more blogs about vintage airguns.
by Tom Gaylord, The Godfather of Airguns™
Writing as B.B. Pelletier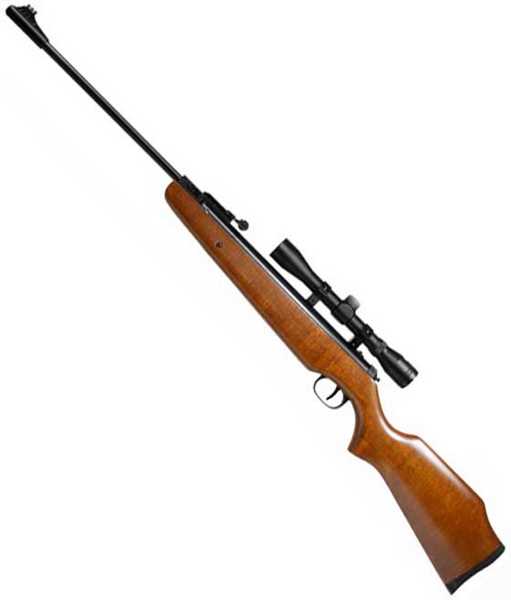 Ruger Air Hawk combo is very popular.
This report covers:
• Doing something different
• Tightened the barrel joint
• Sight-in and the first group with Hobby pellets
• Air Arms Falcon pellets
• RWS Superdome pellets
• H&N Baracuda Match pellets
• JSB Exact Express pellets
• Crosman Premier 7.9-grain pellets
• Alternate hold
• Conclusions
I started this test in July but have laid off for several weeks. Thanks for bearing with me. Today, we'll look at the accuracy of the Ruger Airhawk combo at 10 meters.
I'm looking at this combo because a number of readers say they really like the rifle. Of course, it's been compared to an RWS Diana 34, but I wouldn't go that far. Yes, there are similarities between the two rifles, but they're not identical. And each has its own unique firing characteristics – and we'll all learn a lot about those as I fire the rifle for accuracy using the open sights.
If this rifle proves to be accurate, it'll be a best buy, given the price of just $130. I know my test rifle is shooting slower than the advertised velocity, but I plan on testing the velocity, again, after the accuracy test, so don't give up just yet.
Doing something different
I'm changing the way I test air rifles in an attempt to make some progress faster than in the past. I'll shoot just 5 shots at 10 meters off a rest with each pellet and then look at the group. If the group shows promise, I will come back to the pellet. If not, I'll move on. That way, I'll be able to test more pellets in the same time.
I'll also test at least 2 different variations of the artillery hold — the 2 that have proven the most successful over the years. If one seems better than the other, I'll continue to use that hold for all the other tests.
Tightened the barrel joint
I noticed last time that the barrel joint wasn't tight. This barrel has a bolt that can be tightened, so I removed the action from the stock and tightened the barrel pivot bolt. When I was doing that, I noticed that all of them were loose. The inletting of the action in the stock was very tight — fully the equal of anything made in Europe. That gives me hope this rifle will be accurate.
Sight-in and the first group with Hobby pellets
I sighted-in the gun and shot the first group with RWS Hobby pellets. Sight-in amounted to just one shot that told me the rifle was on target from the factory.
I'm showing the sight-in shot along with the first group for two reasons. First, it shows how low the first shot was, yet I knew I'd be okay because I was shooting from just 12 feet. I knew the group would hit the paper higher. Second, it shows how much the shots climbed on target when I shot from 10 meters. This lesson demonstrates that you cannot sight-in a gun for anything under 10 yards and expect it to be on at any other distance. Even 10 meters is too close to sight-in a rifle if you expect to ever hit things at 15 yards and beyond. The sights are too close to the target, and the angular separation from the bore is too great when you're this close.
I held the rifle on the flat of my off hand with the triggerguard touching the heel of that hand. The group of 5 Hobbys measures 0.678 inches between centers. This is too large for a 10-meter group, so Hobbys are out of consideration.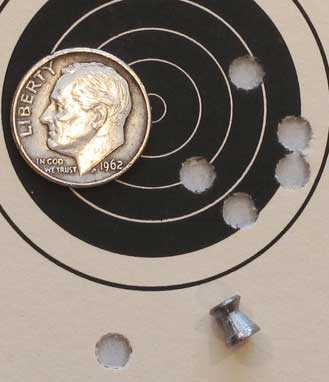 The sight-in shot hit below the bull, telling me the rifle was sighted-in. Five RWS Hobbys made a 0.678-inch group at 10 meters. Not good enough!
After this group, I adjusted the rear sight 7 clicks to the left but didn't touch the elevation. The sight remained in that setting for the rest of this test.
Air Arms Falcon pellets
Next, I tried Air Arms Falcon pellets. Falcons hit the target well-centered but much lower than the Hobbys. Five pellets went into a group that measures 0.493 inches between centers. While that isn't as good as I'd like to see at 10 meters, it does show some promise. I'll probably shoot Falcons from 25 yards, as well.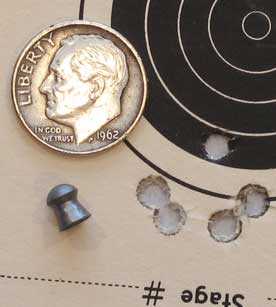 Five Air Arms Falcon pellets went into 0.493 inches at 10 meters. This is interesting.
RWS Superdome pellets
Next, I tried RWS Superdomes. They gave me a puzzling result. Four of the 5 pellets went into 0.506 inches, but the final shot opened the group to 0.906 inches. That might have been an aiming error; but at 10 meters, I usually don't make mistakes that large. I might try these again, but not if I find 2 other pellets that are better.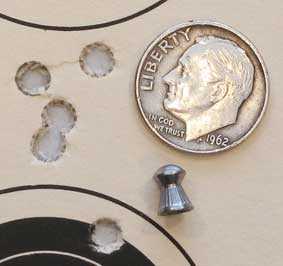 Five RWS Superdome pellets went into 0.906 inches, but 4 of them are in 0.506 inches. Interesting, but not good enough.
H&N Baracuda Match pellets
Next, I shot 5 H&N Baracuda Match pellets. Sometimes these pellets that seem too heavy for a gun will surprise you with their accuracy, although I have to say that happens more with heavy .22-caliber pellets than with .177s. It certainly didn't happen this time. Five Baracuda Match went into 1.372 inches. Although 3 pellets are close, I don't think this pellet is right for this rifle.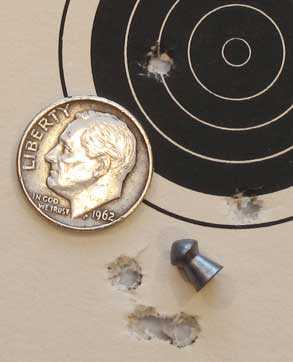 Five Baracuda Match pellets in 1.372 inches at 10 meters. Not the pellet for this rifle.
JSB Exact Express pellets
Five JSB Exact Express pellets were next. I have to confess that, while I like JSB pellets a lot, I've never had any luck with the Express pellet in either caliber. Today was no different. Five went into a 1.466-inch group that proved to be the largest of the test. Definitely out of the running for this rifle!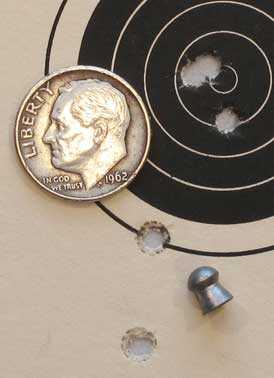 JSB Exact Express pellets made the largerst group of the test — 5 in 1.466 inches at 10 meters.
Crosman Premier 7.9-grain pellets
I felt I had to try the 7.9-grain Crosman Premier pellet that's often the best in some rifles. And I got an interesting result. The first pellet hit the target high and near the center of the bull. Then the next 4 dropped over one inch and grouped in 0.411 inches.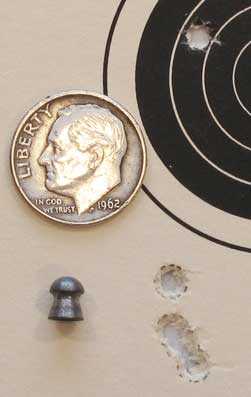 As a 5-shot group, Premier lites were not impressive, but only the first shot is apart from the group. Four went into 0.411 inches at 10 meters. This is a pellet worth testing further.
This group is small enough to interest me, so I shot a second group of 10 pellets. They landed in 0.746 inches, which is okay, but not the best. However, if you look at the group, you can see that 6 of the 10 pellets went into a much tighter group that's a single hole measuring 0.357 inches between centers. I know that aiming errors can put me off by as much as these 4 outlying pellets at 10 meters, so this group gives me confidence that the Airhawk can really shoot.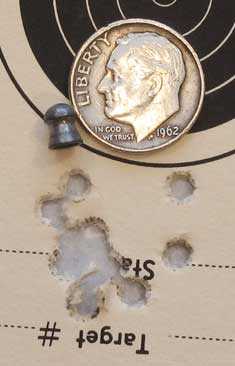 Ten Premier lites went into 0.746 inches at 10 meters, but 6 of them went into just 0.357 inches. That looks promising!
Alternate hold
I then tried the same Premier lite pellets with my off hand slid forward so I could feel the beginning of the cocking slot against my palm. Now that I know this is a good pellet, I can try different things like this. Five pellets went into 0.852 inches, which isn't good — but look where 3 of them went! That hole is a group measuring 0.069 inches! I don't think that was due to the different hold, but I do think it tells me this rifle can really shoot and that the Premier lite pellet is right for this gun.

Using an alternate artillery hold, 5 Premier lites went into 0.852 inches. While that isn't so good, 3 of those pellets went into 0.069 inches. I think the rifle can shoot, and this pellet is the right one – but the first hold is best.
Conclusions
Edith spotted the fact that I may have skewed the test results by not seasoning the barrel for each pellet. I guess that's the down side of shooting so many 5-shot groups. It does bring up a good point. I think that when I move back to 25 yards, I'll season the barrel with 20 shots per pellet before shooting the first 10-shot group.
She also suggested that I do a seasoned barrel vs. unseasoned barrel accuracy test. There are enough of you who believe in the seasoning process, so that makes such a test worth the effort.
by Tom Gaylord, a.k.a. B.B. Pelletier

El Gamo 300 was a low-priced quality breakbarrel from the 1960s and '70s.
Before I begin, blog reader HiveSeeker has asked me for some photography tips. Not that I'm a great picture-taker, but I do have some tips on how to photograph airguns. For starters, he wondered about photographing dark guns like his Winchester MP4. In the past, I've done several reports on airgun photography, but we may have enough new readers that it would be of interest, again. What do you think?
Okay, let's get started. Today, we're looking at the accuracy of the El Gamo 300.
This report covers:
• Poor man's R7
• Trigger
• Firing behavior
• Accuracy
• First pellet
• Summary
A poor man's R7
The El Gamo 300 was supposed to be my "poor man's Beeman R7." It was supposed to have the power and accuracy of the R7 (which is a modified HW 30S) at a cost that was far less. At the time, when the 300 was selling (the late 1970s), the R7 was sold with open sights, so the two airguns were comparable. The HW 30S still does has open sights today; so in that respect, the comparison can still be made.
As it turned out, the 300 is about 100 f.p.s. slower than an R7. The cocking is easier, but this rifle isn't in the same power class, so any comparison suffers.
Adjustable trigger
Alas, the 300′s trigger is much simpler and only minimally adjustable, while the R7/30S both have the famous Rekord, which is one of the finest sporting airgun triggers of all time. I did try to adjust it, but the biggest thing that seemed to change was the length of the first-stage travel. The pull did drop, but only by a little. When the first-stage travel was shortened it did increase the length and creep of stage two; so I guess you could say it does adjust the pull to that extent, but the results were not very encouraging. It's an acceptable trigger for an inexpensive spring rifle, but far below the Rekord for performance and adjustability.
One reason I wanted to get a 300 is because I believed it had the same action and trigger of the El Gamo 68 XP. That rifle's trigger is very adjustable; and, while it gets unreliable when you take it down too light, it's very crisp and positive when adjusted to a normal sporting level (3-5 lb. pull weight). The 300 trigger can be adjusted even lighter with safety, but it still retains some creep in stage two.
Firing behavior
The 300 is a buzzy gun. I could no doubt fix it with a little tuning, but right now the buzz is its most annoying feature. When this gun was new in the 1970s, nearly every air rifle felt the same and there was no basis for comparison. However, in the past 20 years, both airgun design and tuning tricks have improved so much that the vintage guns now suffer in comparison.
Accuracy
For today's test, I shot this rifle at 10 meters from a rested position. I used the traditional artillery hold with the rifle rested on my off hand, back by the triggerguard. As you'll recall from my earlier reports, I felt the rear sight notch was too narrow for the front blade. Well, when the target was illuminated by a 500-watt lamp, it was easy to see the whole front sight and some light on either side. That made aiming precise when I didn't believe it could be.
The rifle cocked easily; and when the barrel closed, the detent locked it tight. One of our readers mentioned that breakbarrels with opposing chisels at the breech seem to lock up tighter and with more authority than do those whose chisel detent rides over a round pin. I have to mention that the 300 has the double chisel arrangement and the reader is right. When this barrel closes, it sounds like a bank vault.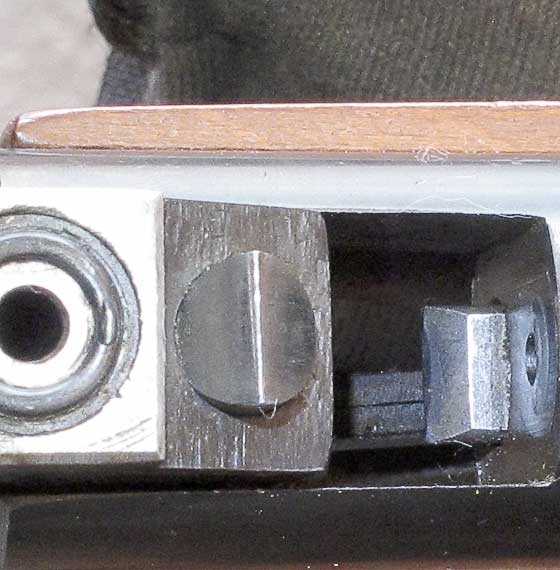 Looking down at the open breech, we see the chisel lock (right) that engages the spring-loaded chisel detent on the baseblock. This arrangement makes the breech lock up more positively than if the chisel detent had to go over a round crosspin. That hole above the chisel lock is the air transfer port.
First pellet
The first pellet I tried was the RWS Hobby wadcutter. I used a 6 o'clock hold and squeezed off the first shot, which surprised me when I saw the pellet had hit the 10-ring almost in the center. After that, I just shot the next 9 rounds without looking again. When I looked after all 10 shots had been fired, I saw a nice round 0.588-inch group in the center of the bull. That was a good start!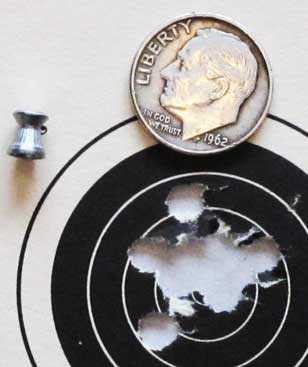 Not only is this 0.588-inch group of 10 Hobbys nice and round, it's also centered in the bull. That makes it appear even better than it is. This is the best group the El Gamo 300 shot at 10 meters.
Next, I shot 10 Air Arms Falcons. The first shot hit the 9 ring, and I didn't have to look again until it was all over. Ten shots landed in 0.629 inches, but 9 of them were in 0.41 inches. While this group is slightly larger than the Hobbys, I would say the Falcons are probably more accurate, just based on those 9 tight shots.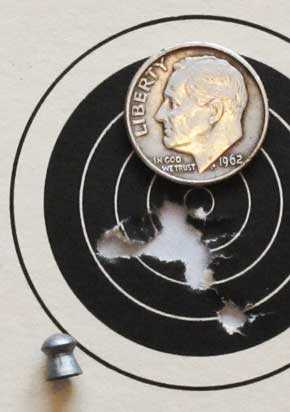 This group of 10 Air Arms Falcon pellets looks amazing, though at 0.629 inches between centers it's larger than the Hobby group. Without that one pellet at the bottom, there are 9 in 0.41 inches.
The last pellet I tested was the 7.9-grain Crosman Premier lite. I saw the first shot go into the 8-ring so I stopped looking until it was over. This time, though, the pellets spread out more, and the group measures 0.771 inches between centers. From the open appearance of this group, I can tell that Premier lites are not the best pellet for the El Gamo 300.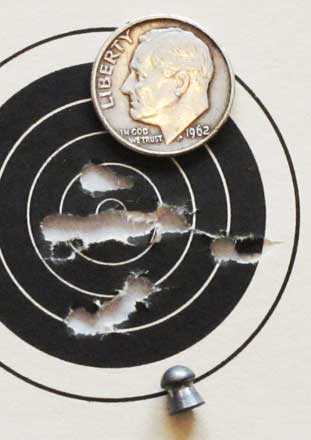 Crosman Premier lites scattered more than the other two pellets. Ten made this 0.771-inch group. The group looks larger than it really is because the pellet on the right tore the target wider than where it penetrated.
Summary
The El Gamo 300 is not a poor man's R7. It is what it is — a nice, inexpensive spring rifle that offers a lot of value for the price. Even today, when the used guns sell for $50-100, they're still a bargain. But they're not in the same class as a CZ Slavia 630/631, which really is a poor man's R7.
I've been fortunate to be able to test several air rifles in this same vintage class over the past few years. Some of them, like the Diana 25 with the ball-bearing sear, are superlative airguns that withstand the test of time. Their very design makes them perform at a higher level than most guns. Others, such as the Falke model 70, promise the moon but fail to deliver. This El Gamo 300 is closer to the latter guns, although its low price does make it an ideal candidate for home gunsmithing for the careful hobbyist.
No doubt the 300 can be modified and tuned to be a wonderful air rifle; and when it is, it'll have the accuracy needed to carry it off. But there are other airguns that are inherently nice just as they come from the factory. A 300 is probably the cheaper way to go, but expect to spend some time and sweat equity to turn it into what you really want.
by Tom Gaylord, a.k.a. B.B. Pelletier

El Gamo 300 was a low-priced, quality breakbarrel from the 1960s and '70s.
I'm out of the office for the next couple days. Will the veteran readers please help the newer readers with their answers while I'm gone? As always, I'll see the blog early in the morning and, again, late at night. Thanks! On to today's report.
This report covers:
• A little more history of the 68-XP
• Velocity testing
• Breech seal
• Retesting velocity
• Cocking effort
• Trigger-pull
• How my life has changed
Today, I'll test the El Gamo 300 velocity. I see that many of you were surprised to learn these were made in both Spain and Brazil. Furthermore, a number of newer readers had missed the 6-part report on the El Gamo 68-XP and were surprised to see it referenced in Part 1 of this report. Here's a little more on that subject.
There was a repeating version of the 68-XP that had the same mechanism as the El Gamo Expomatic. It was a tube above the gun that fed pellets into the breech one at a time as the barrel was broken during cocking. It didn't work too well, and Air Rifle Headquarters refused to carry either repeater. They tested them and found that they jammed too easily. I've tested other air rifles that have a similar repeating system, and that was my experience, as well. That must mean that the repeating version of the 68-XP is very rare because few were ever sold.
Back to the 300. According to the ARH catalog, a broken-in 300 should shoot about 665 f.p.s., and one that's been accurized gets up to 680 f.p.s. They don't mention what pellet was used in testing to obtain these numbers; but given that it was the 1970s, we know it had to be a lead pellet. Lead-free pellets were not on the market at that time.
Velocity testing
The first pellet I tested was the 7.9-grain Crosman Premier. They averaged 503 f.p.s. for 10 shots. The velocity ranged from 490 f.p.s. to 511 f.p.s., so a 21 f.p.s. spread.
I thought that was low, so I tried 10 more that were deep-seated with the Air Venturi Pellet Pen and Seater. This time, the average rose to 506 f.p.s., which is hardly worth the effort. The spread went from 496 f.p.s. to 519 f.p.s., so the spread opened to 23 f.p.s. Deep-seating doesn't seem to be worth the time and effort with this rifle.
The next pellet I tested was the 7-grain RWS Hobby. These averaged 539 f.p.s. The Hobby was the lightweight lead speed demon of its day, so this rifle is not performing to spec. And yes, I did oil the leather piston seal before testing. The spread for Hobbys was from 524 to 547 f.p.s., so 23 f.p.s.
The final pellet I tested was the 7.33-grain Air Arms Falcon. They averaged 519 f.p.s. with a spread from 510 to 523 f.p.s. So the spread was only 13 f.p.s. Falcons fit the breech loosely, where the other two pellets fit snugly.
Breech seal
That puts today's test into perspective. I don't think my test rifle has been shot very much, if at all, because it doesn't have the bluing wear that's usually found on guns that have been used, and the bluing is original. I looked at the breech seal, which looked okay, but it's very difficult to tell by just looking. There was no puff of air to be felt at the breech, but sometimes that isn't conclusive, either.
While the seal looks like an o-ring, it's really a tall synthetic seal that's proprietary. When I removed it, I could see that nothing I could make would work as well, so I made a spacer to fit under it, raising it for a tighter fit.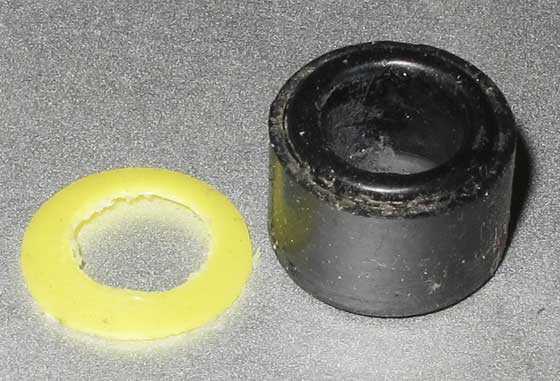 The breech seal (right) and the plastic shim I made to fit under it to raise it higher at the breech.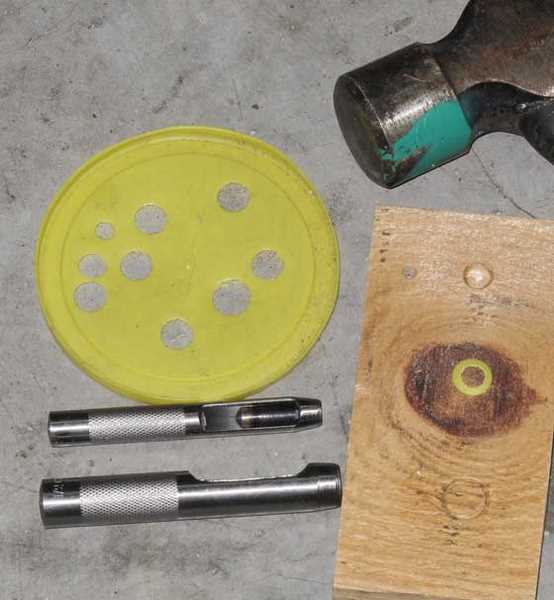 I made the breech seal spacer from a coffee can lid by using hole punches.
Re-testing velocity
The spacer did increase velocity a little. Premiers went from an average of 503 to an average 522 f.p.s., and the spread that had been 21 f.p.s. dropped to 15 f.p.s. Hobbys went from 539 to 568 f.p.s., and the spread went from 23 f.p.s down to 15 f.p.s. Falcons jumped from an average 519 f.p.s. to 553, and the spread that had been 13 f.p.s. dropped to 6 f.p.s.
While these are all improvements, I don't think they're large enough to warrant the work that was done. I would leave the rifle where it is; but now that the spacer is in place, I won't remove it.
Cocking effort
I measured the cocking effort on my bathroom scale. It topped out at 19 lbs., making the 300 a youth rifle by my criteria of a cocking effort of 20 lbs. or less. But the large size of the rifle means that it is for older kids or adults.
Trigger-pull
The trigger was releasing at 3 lbs., 2 oz., with the second stage being very creepy. I adjusted the one screw behind the trigger in both directions. Turned all the way in (clockwise), the first stage is removed entirely, and the pull remained where it was. Turned out as far as it will go, the first stage becomes light and stops positively at stage two. Stage two releases at 2 lbs., 14 oz., so a 4-oz. decrease from where it was.
The rifle is now ready for 10-meter accuracy testing. I may do something about the narrow rear sight notch so I can see some light around either side of the front post. If I do, I'll tell you and show you what I do.
How the blog changed my life
I initially published this section on the May 30, 2014, blog. I'm going to repeat it at least once a week during June and July so it doesn't get lost or forgotten.
From the comments many of you make, I believe the blog may have positively impacted your lives. I invite you to send me an email telling me about that impact.
Were you a firearms shooter who accidentally discovered airguns through this blog? If so, tell me how this blog has helped your understanding of airguns.
Were you already an airgunner, but you thought what you saw in the big box stores was all there was? If so, how has this blog helped you understand more about airguns?
I've gotten quite a few responses already, but I want to make sure you know that I'm not looking for "attaboys," pats on the back or personal recognition. I'm looking for real feedback on what you've learned so I can target my blogs to what you feel is important, what you'd like to know and what you're still unsure of. This blog is written for its readers, and I want to share your stories with others who may be where you were before you found this blog.
Pyramyd Air has created a special temporary email address for this. I'll be the only person to get these emails, and we're not going to generate any lists from the addresses.
My plan is to publish one or more blog reports with the more interesting comments. If you want, I will use your real name or blog handle; but you can be anonymous, too. I won't use your name or handle unless you give me written permission to do so.
This email address will be live for only a few weeks. We have tens of thousands of readers worldwide. Even if you've never commented on the blog, you can email me your message if you like. If you're reading this blog after July 2014, email submissions will no longer be forwarded to me, and you may get an auto-reply email stating that or your email might bounce back to you.
by Tom Gaylord, a.k.a. B.B. Pelletier
Part 1
Part 2
Part 3
Part 4
Part 5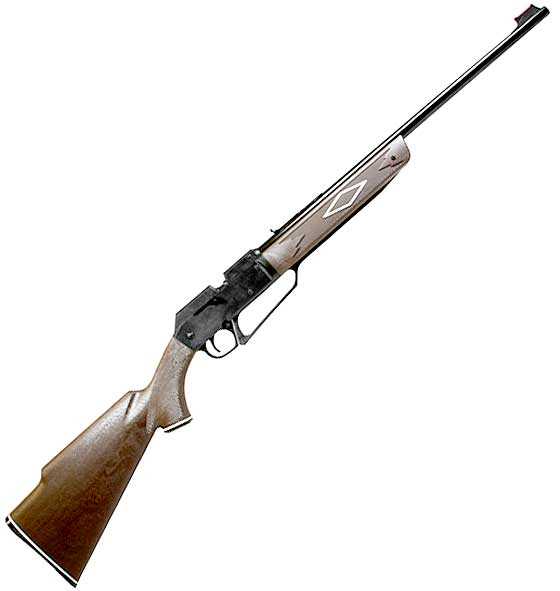 The Daisy 880 multi-pump is a classic.
This report addresses:
• Mounting the scope.
• Sighting in.
• Accuracy testing.
• Loading problems.
• Summary.
Today, we'll look at the accuracy of the Daisy 880S at 25 yards. As you may recall, Daisy sent this rifle to me to test after I had problems with the velocity of my old Daisy 880, and also with a brand-new one that Pyramyd Air supplied. We tested the velocity of this rifle in Part 4, and it was right where it should be, so we moved on to accuracy 10 meters. That was in Part 5. I showed you the targets Daisy sent, and then targets I shot. I managed to do a little better than Daisy, but on the whole my best targets were comparable to what they sent.
The rifle they sent is an 880S that has a 4X15 scope and rings included. I thought it was identical to the 880, but a sharp reader pointed out the 880S rifle doesn't have fiberoptic sights. If you want plain sights, this is the model to get. And the first step for today's test was to mount the scope.
Mounting the scope
I've had other scopes that were difficult to mount, but this one ranks right there with the worst of them! The small, thin clamping jaws gave me fits when I tried to attach them to the scope rail. It took me 15 minutes of repeated tries to get the scope to clamp to the rifle, and even then the scope was pointed off to the right. I remounted it and had the same problem. Up to this point the scope, was still clamped tight in the rings, which may have been the problem.
I loosened the scope tube in the rings and found that it really helped with positioning. Finally, after about 25 minutes, I managed to get the scope mounted reasonably straight. Loosening the rings was the key. However, even at its best, the scope was still pointed to the right.
Sight-in
I looked back at the velocity data for this rifle from Part 4 and decided that 6 pumps per shot would be best. That's a compromise between velocity and the time it takes to pump the rifle. When you shoot 10-shot groups, each group takes 60 pumps to complete. I was going to be shooting pellets that were mostly lighter than those used in the velocity test, so the rifle would probably be shooting just over 600 f.p.s.
Beeman H&N Match
I sighted-in with Beeman H&N Match pellets. No particular reason for this. From the 10-meter test, I knew that only RWS Hobbys were accurate enough (of those pellets that were used in the 10-meter test) for shooting at 25 yards, and they would be included — but I was almost out of them.
As most of you know, I sight in most airguns at close range, then back up to the target distance I want to shoot when I'm on paper. The first shot from 12 feet landed low and about 3 inches to the left. That's how far to the right the scope was pointed. If it was off that far at 12 feet, it would be several feet off the target at 75 feet (25 yards). I cranked in a lot of right adjustment; and by the third shot, the pellet hit below the bull at 6 o'clock.
Then, I cranked in a bunch of up elevation. The scope that comes with the rifle doesn't have click detents, so it was several turns of the adjustment screw. I knew I should now be on target, so I backed up to 25 yards before shooting again. Time to shoot the first target.
The first shot hit the target in the bull but very high up. That was okay, though, because in an accuracy test we don't care about hitting the center of the target — only in how close the pellets group. When the second shot went to the same place, I stopped checking the target with the spotting scope and just finished the first 10-shot group.
The first 10 shots landed in a group that measures 1.958 inches between centers. That's not what I was hoping for. I tried my hardest to shoot well; I shot off a rest and with a scope. This was the best I could do with this pellet.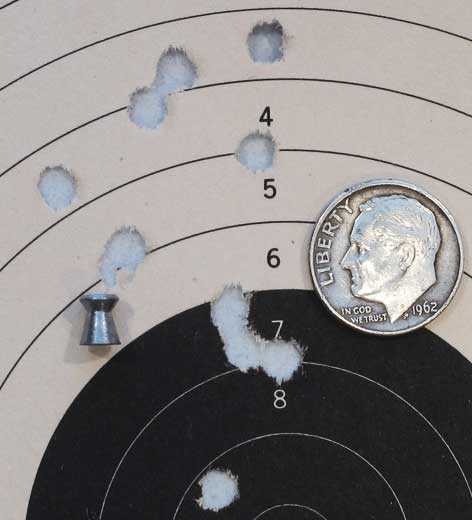 Ten Beeman H&N Match pellets went into 1.958 inches between centers at 25 yards.
RWS Hobby
Next up were the RWS Hobbys. These were by far the most accurate pellets at 10 meters, so they earned a spot in this test. Nine of them went into 1.154 inches at 25 yards, but the tenth shot opened the group up to 2.216 inches. It certainly wasn't a called flier; but given where the other 9 landed, I think Hobbys showed fair accuracy, overall.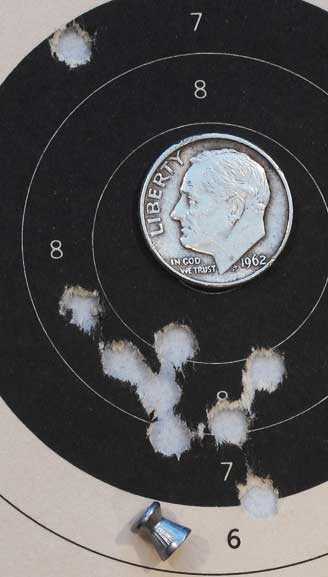 Ten RWS Hobbys made this 2.216-inch group at 25 yards, but 9 of them went into 1.154 inches, which is fairly good.
So far, the groups were only average or worse. Since I was pumping 6 times for each shot, this test wasn't going to continue much longer, but I felt the rifle deserved at least one more chance. This time it would be with a domed pellet of known quality — the Falcon from Air Arms.
Air Arms Falcons
The Falcon pellet has shown real promise in some airguns I've tested. I hoped that it would also shine in the 880. Since it was the only domed pellet I tried, and since 25 yards is about the maximum distance at which accuracy can be expected with wadcutter pellets, I hoped to see a real star.
Ten Falcons went into 1.482 inches at 25 yards. The group is reasonably round with no fliers, which tells me the Falcon is very stable in the 880. The group is actually the best of this test, though not as good as I'd hoped based on what people had said about their 880 rifles. But, I was shooting 10-shot groups, and they really point out the accuracy potential of an airgun in a way that 5-shot groups often can't.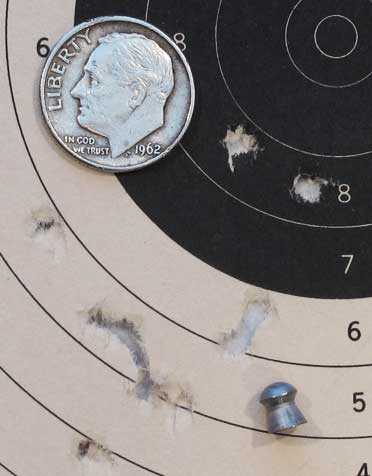 The Falcon group was the smallest of the session at 1.482 inches between centers. Of course, the holes are harder to see because this is a domed pellet.
Loading problems
I had two loading accidents with the Falcons that didn't occur with any other pellets. Two pellets fell back through the BB loading port and disappeared. They didn't tie up the gun, but it was disconcerting. Daisy warns about this possibility in the manual, and it happened to me twice in a row. If it happened just once, I'd say, "Shame on me." But two times in a row is the rifle's fault.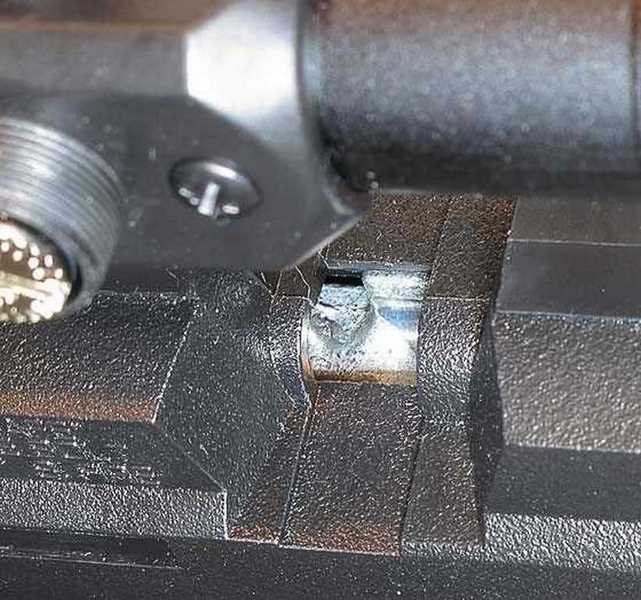 The BB feed hole at the back of the 880′s breech is so large that it swallowed 2 Falcon pellets.
Summary
No one can say this rifle didn't get a fair test! It turns out to be an okay plinker that's easy to pump and reasonably accurate at close range. I would not choose the scoped model, nor would I mount a scope on any 880 unless my eyes demanded it. A dot sight might be best for those who can't use the open sights.
The loading of pellets is a real problem area. It isn't easy under any circumstances, and it's all too easy to lose a pellet in the action because of the large BB feeding hole. Perhaps the 880 is a better BB gun than a pellet rifle for this shortcoming.
Given all the problems I had, I would have to put the 880 lower on the list of inexpensive multi-pumps than some other brands and models. I think it's a fine gun for those who appreciate it for what it is, but it's not a diamond in the rough. Taken for what it is, the 880 will satisfy a purpose and will be a good plinker and informal target rifle.
by Tom Gaylord, a.k.a. B.B. Pelletier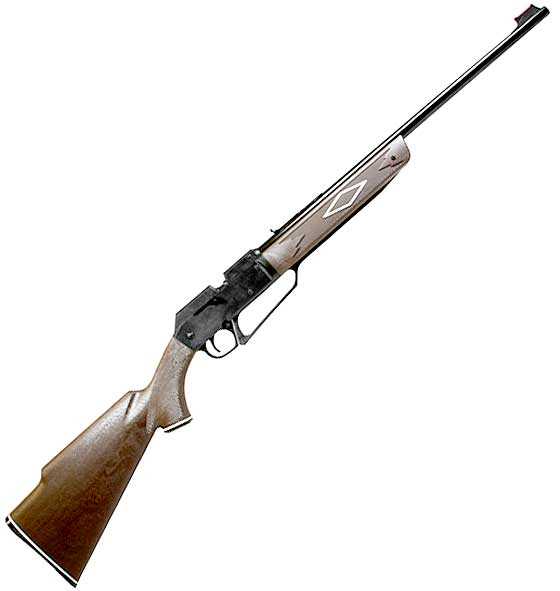 The Daisy 880 multi-pump is a classic.
This report addresses:
• Examining test targets sent from Daisy with this rifle.
• Accuracy with 3 different pellets.
• Accuracy with BBs.
Today, we'll look at the accuracy of the brand-new Daisy 880 that Daisy sent for this test. Before we begin, I'll show the test targets Daisy sent with the rifle. Then, I'll shoot the rifle at 10 meters with 3 different pellets. Finally, I'll move up to 5 meters and shoot steel BBs.
Daisy targets
When Daisy sent me the rifle, they included the results of their testing. So, I have 2 targets for the rifle. They did not indicate which target was shot with BBs; but since they used a 10-meter target for the one test and a 5-meter target for the other, I'll assume the first was shot with pellets and the second with BBs.
The target they shot with BBs was enlarged before they copied it, so it looks larger than its actual size. The black bull is supposed to measure 18.415mm across, but the target they sent measures 25.07mm from side to side. So, it's approximately 137 percent the size it should be. I'm telling you that because I can't put a dime next to that target and make any sense out of it.
They also shot just 5 shots per target, where I normally shoot 10. So, my groups should be 40 percent larger than theirs. They did give me the center-to-center measurements for each group, however, so we'll be able to make some comparisons.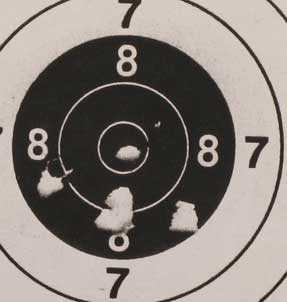 Daisy shot 5 BBs into 0.65 inches at 5 meters with the test 880. Remember, this target appears larger than it really is.
They also sent a 10-meter target they shot with pellets. They didn't indicate which pellets were used for this test, but I would think they would use Daisy Precision Max pellets — that only makes sense. This 5-shot group measures 0.60 inches between centers.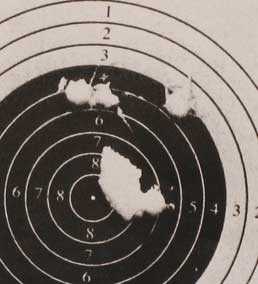 Daisy shot 5 pellets into 0.60 inches at 10 meters with the test 880.
There was no indication of how many pumps were used for either target. I will therefore use my best judgement when I shoot my own groups.
Pellets first
I shot the 880 rested at 10 meters using 3 different pellets. The first was the 7.9-grain Crosman Premier dome that was used for the velocity test. I used 6 pumps for each shot with pellets. The rifle was rested in a sandbag rest.
Sight-in took 2 shots because the rifle was shooting low for a 6 o'clock hold. It was also shooting a little to the right, but I didn't bother correcting that on the first group. Ten Premiers went into 1.037 inches. While not bad, I hope to find another pellet that does better.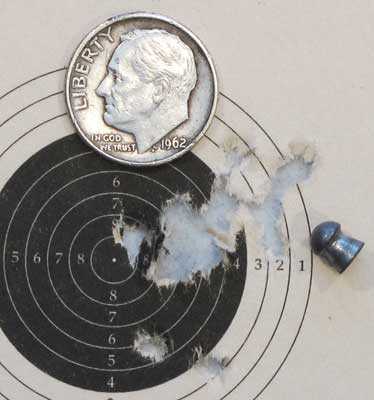 Ten Crosman Premier lite pellets went into 1.037 inches at 10 meters. Not a very great group, but there's the silver dime several of you obsessed over.
Daisy wadcutters
After the first group, I adjusted the rear sight down one notch and over to the left. Next, I tried some old Daisy Superior Match Grade wadcutter pellets. How close they are to the current pellets Daisy sells, I have no idea. Ten of them went into 0.713 inches, which is better than the Premiers and, accounting for my 5 additional shots, also better than what Daisy got.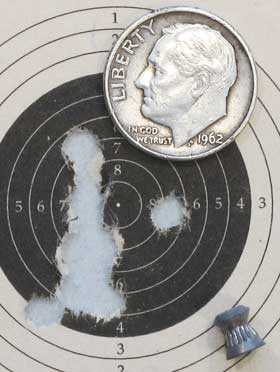 Ten Daisy Superior Match Grade wadcutters made this 0.713-inch group at 10 meters.
RWS Hobby pellets
I felt the rifle had redeemed itself with the Daisy pellets, but I wanted to try just one additional pellet. This next one was an RWS Hobby. When you see what it did, I think you'll agree with me this was a fortunate choice.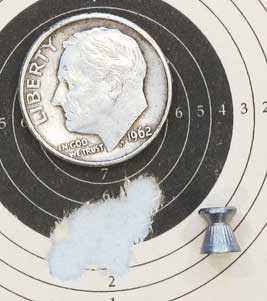 Ten Hobbys made this 0.458-inch group at 10 meters. Now THIS is a group!
So, the 880 I'm testing can definitely shoot. Both Daisy and I got good results from the rifle with pellets. Let's see what it can do with steel BBs.
Daisy with BBs
I moved the shooting table up to 5 meters from the target and started shooting with Daisy Premium Grade BBs. At this distance I used 3 pumps for each shot. They were hitting the target right where the top of the front sight was, so I decided to hold for the center of the bull instead of at 6 o'clock. They did hit a little to the left, but it was nothing to be concerned about. Ten BBs went into 0.624 inches.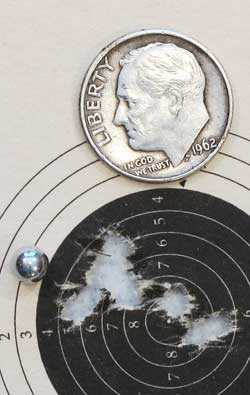 Ten Daisy BBs went into this 0.624-inch group at 5 meters.
If you check my other BB-gun targets (other than those made by the 499), you'll see that this gun really groups tight with BBs. I'm surprised it did so well.
Summary
This Daisy 880 can certainly shoot! Next, I'll mount the scope and back up to 25 yards.
by Tom Gaylord, a.k.a. B.B. Pelletier
Part 1
Part 2
Part 3
Part 4
Part 5

The PCP is built on a Crosman 2100B chassis.
This report addresses:
• Mounting a scope on the rifle
• Shooting Air Arms Falcon pellets at 25 yards
• Grouping in smaller pressure bands
• Shooting Crosman Premier lites
• Marketing the $100 PCP
This will probably be the final report on the $100 PCP. It's been an interesting project, and today I'm capping it off with a test at 25 yards with the rifle scoped. I selected a UTG 3-9X40 scope with illuminated reticle and a one-inch tube. This is a wonderful scope for just under $100. It's smaller size suits the test rifle perfectly.

The $100 PCP looks good with the UTG 3-9X40 scope.
Falcon pellets
In the previous report, I shot at 25 yards with open sights, and the best group of 10 I got measured 1.144 inches between centers with RWS Hobby pellets. For some reason, I overlooked Hobbys in today's test and began with Falcons, which gave a previous group of 1.912 inches.
It took just 2 shots to get on target, and the next 8 went into 0.992 inches. I was filling to 2000 psi and shooting 10 shots between each fill.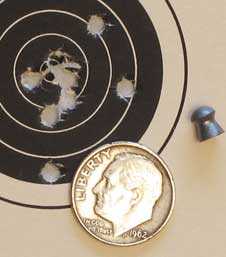 The first 8 Falcon pellets went into 0.992 inches at 25 yards.
Next, I refilled the rifle and shot 10 more Falcons. This time, the group was 1.72 inches between centers. That's better than the group with open sights, but nothing special.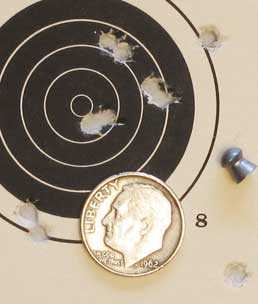 The first 10-shot group with a 2000 psi fill made this 1.72-inch group.
As I shot this group, I thought the last 5 shots went closer than the first 5, so I decided to fill the rifle to 1500 psi and shoot 5 more shots — then repeat, for a 10-shot group. These 10 shots went into 1.373 inches, which is a significant improvement.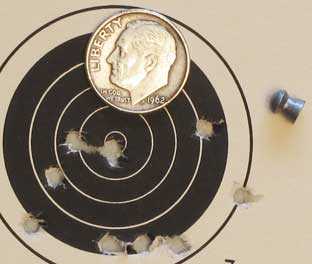 On this group, I filled the rifle twice to 1500 psi and shot 5 shots per fill. The group measures 1.373 inches, so it's a little better than the last one.
But I thought this time that the shots were scattering more than before. So I decided to boost the fill pressure to 1800 psi and shoot just 5, then refill and do it again. This gave me 10 shots in 1.577 inches, which is not an improvement.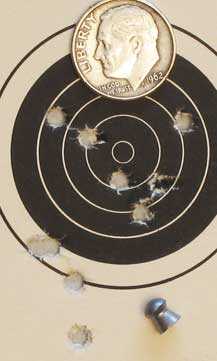 This time, I twice filled the gun to 1800 psi and shot 5 rounds with each fill. The group measures 1.577 inches between centers.
Last try
At this point, I remembered that this is just a proof-of-concept gun. We aren't trying to make the final article here — just prove that it works good enough to be worth the effort. I hadn't yet tried Crosman Premier lites in the scoped rifle, so that was my final group. This time, I filled to 2000 psi.
Ten Premier lites went into 1.607 inches; but the strange thing was that the first 5 went into 0.629 inches, and the second 5 went into 1.098 inches. And the 2 groups are centered in 2 separate places! Clearly, there are tuning issues that have to be addressed with this rifle. But I don't care about that. As far as I'm concerned, the $100 PCP concept has been proven.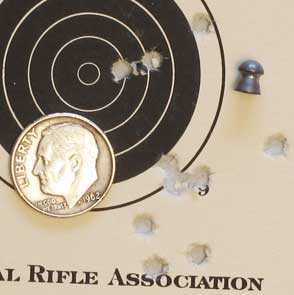 The bottom 5 pellet holes are the first 5 shots fired with Premier lites. Though the group measures 1.607 inches in all, the bottom 5 measure 0.629 inches between centers!
The groups I got aren't as small as the ones you're used to seeing from a PCP at 25 yards, but this one will sell for under $100. So, the accuracy is not expected to be world class. And this rifle's barrel is held in place by Gorilla Tape and a shim of cardboard. Certainly, there's more to be done to finish the rifle!
The last comment I'll make is that this rifle is noisy. A barrel shroud would be welcome.
Marketing the $100 PCP
From the responses we've gotten and the things I've heard while attending airgun events, I know the $100 PCP is worth trying. I realize there's a marketing plan to be constructed, so I'd like to start the ball rolling with this:
• Keep the velocity with Premier lites to no more than 800 f.p.s.
• Make the reservoir larger and balance the valve to get 20 good shots (730-800 f.p.s.).
• In every way possible, retain the features of the 2100B.
• If the fill pressure can be made even lower, say 1800 psi, that's better.
• Consider shrouding the barrel.
• Come out with a hand pump that will retail for under $100, but use a Foster fitting on the rifle so any of the current pumps can also be used.