by Tom Gaylord
Writing as B.B. Pelletier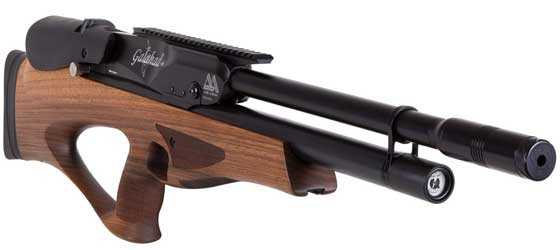 Air Arms Galahad PCP in walnut is a striking looking air rifle!
This report covers:
It's a wrap
Constraining the possibilities
Filling the rifle
Test 1 — JSB Exact Jumbo Heavy 18.13 grains
Test 2 — H&N Baracuda Match pellets 21.14 grains at medium power
Test 3 — H&N Baracuda Match pellets 21.14 grains at high power
Test 4 — Dae Sung pellets 28.6 grains
Test 5 — JSB Exact Jumbo Heavy on power setting 3
Conclusion
It's a wrap
I'll wrap up the velocity testing of the Air Arms Galahad PCP today. This is when we find out how well it handles longer pellets. That's always a concern when a rotary magazine is involved.
Heavier pellets are usually longer pellets, and weight is what generates energy in a pneumatic. PCPs are most effective with heavy pellets. To get the most power from this airgun you'll want to shoot the heaviest pellet you can — as long as it is also accurate.
Tyler Patner from Pyramyd Air also told me that the Galahad does well with JSB pellets. I wanted to try them anyway because I felt they would be very accurate, but Tyler added that the 18.13-grain JSB Exact Jumbo Heavy dome is also very consistent. He said his testing revealed a maximum spread of 15 f.p.s. over 60 shots for this pellet when the rifle was set on power level 3 — if he remembered correctly.