Posts Tagged 'Daisy model 8'
by Tom Gaylord, a.k.a. B.B. Pelletier
I'm in Ft. Smith, Arkansas, today filming the 2014 episodes of American Airgunner. Because I am on the road, I'll ask my veteran readers to help answer the questions we get from the new guys. After a day's filming, I have to return to the hotel, answer my email then write the next day's blog. The blogs are going to be pretty short this week because I was so busy last week that I didn't have a lot of time to bank any of them.
Today's report is about 2 rimfire rifles that were made by airgun manufacturers — Daisy and Falke. I introduced both rifles in Part 1 and gave you my opinions and observations about their quality. In today's report, I'll take these 2 rifles to the range and shoot some targets at 50 yards.
I also introduced a Crickett .22 rimfire in Part 1. That rifle was made by a firearms manufacturer and served as my control during this test.
There were a lot of comments on the first part of this report. A number of readers expressed interest in these small single-shot rifles, and more than a few people said this was the first time they had heard of one or all of them.
Daisy model 8
The first report was mostly descriptive. I talked about the relative quality, or the lack of quality, that I see in each of the subject rifles. I came down on the Daisy model 8 the hardest, and in retrospect, everything I said was deserved. The rifle is made on a zinc diecast receiver — the weakest possible type of construction. Yet, it does work.
What doesn't work on the Daisy is its reliability. It fails to fire almost half the time. Either the mainspring is weak or the headspace is too great or the firing pin isn't long enough — something is wrong. But in spite of that, the rifle shoots well.
I said in the first report that the Daisy was inaccurate, but in this test I discovered that it is plenty accurate. I shot it at 50 yards outdoors on a very cold and windy day, and the rifle grouped like a much more expensive firearm.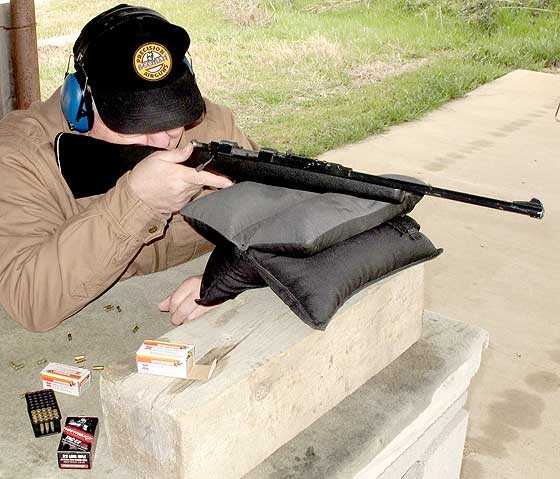 The day was cold and blustery, but the little Daisy model 8 shot very well.
When I went down to inspect the first target, I couldn't believe what I saw. I recalled that the Daisy model 8 was inaccurate, but 7 shots in 2.045 inches in the black were proving me wrong. I know this isn't the best group in the world. I've done much better at this distance, but I never thought the little Daisy could even keep all its shots on the paper at 50 yards.

This first 7-shot, 2.045-inch group showed me that the Daisy can shoot.
I put up another target and shot another 10 Aguila standard speed rounds at it. This time the spread between centers was 2.393 inches, which is larger — but not by much. And the shots are still nicely centered. Only one round missed the black bull.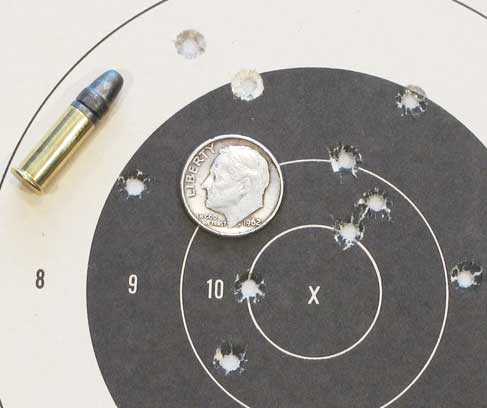 The Daisy put 10 shots into 2.393 inches at 50 yards. While that's not great, it's better than I expected!
Falke rifle
The Falke single-shot is the most deceptive of the 3 rifles being tested. Overall, it looks fine; and in a 21st century context, it even looks like a premium gun! But by understanding what was happening in Germany right after World War II, we can understand why that's so. All hand work was cheap at that time because labor was plentiful and inexpensive. The hand-checkered pistol grip and the high polish on the metal parts are to be expected. But the design of the rifle is crude. That shows up best in the flat spring that powers both the sear and trigger.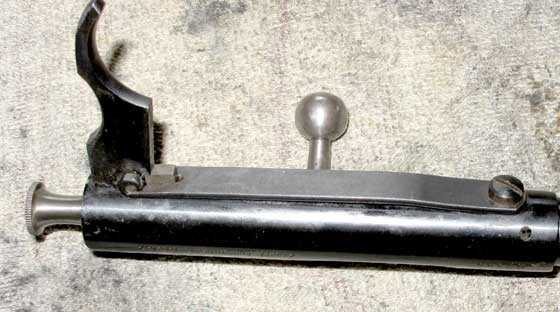 The Falke trigger/sear spring looks like it was taken from a half-ton pickup truck!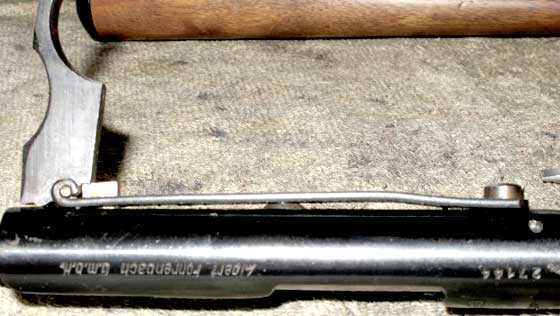 This shot shows how Falke made the large flat spring work as both the sear spring and the trigger return spring. It saves money but isn't very elegant.
That spring was making the Falke cock very hard because the sear didn't want to get out of the way when the bolt was withdrawn. I lubricated it heavily with moly grease and reduced the effort by at least two-thirds. The trigger-pull also dropped from about 18 lbs. down to about 8 lbs.
No joy
Alas, all my work was for naught, for the Falke rifle was not the equal of the Daisy at 50 yards. Ten bullets went into 2.91 inches at 50 yards. Of course, I may not have used the best cartridge for the Falke, and it may have been the best one for the model 8 — but that'll take a lot more testing to discover. The point is just this: A rifle that looks much better and is more expensive than the Daisy model 8 may not be any more accurate. That's all I'm saying.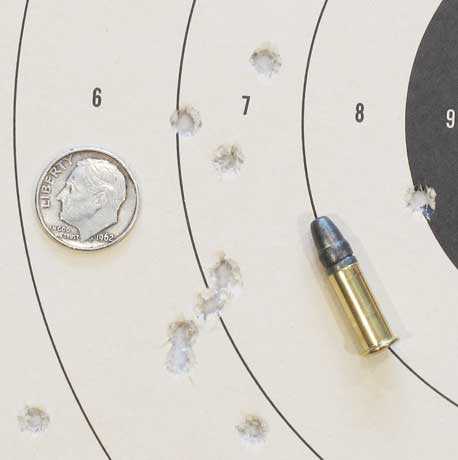 The Falke rifle grouped larger than the Daisy and also out of the bull. The sights need some adjustment. Ten shots in 2.91 inches between centers.
Crickett
The Crickett rifle was supposed to be the control in this little comparison. While both the Daisy and Falke rifles were made by airgun manufacturers, Crickett makes only firearms. I already noted that the Crickett has a much better appearance and feel. Despite the cheap synthetic stock with its pink panels, a lot of real thought went into this rifle. It may be small, but it looks right.
But at 50 yards the Crickett put 10 rounds into 2.564 inches. They were at the top of the target paper and one was a quarter-inch off the paper, so there are just 9 holes visible. The rear peep sight has enough adjustment to get the shots back into the bull at this distance, but it will take a different cartridge to shoot better than the little Daisy.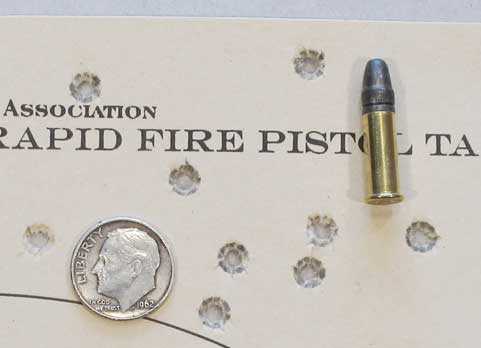 The Crickett sights are way off! Ten shots went into 2.564 inches, but one of those shots landed a quarter-inch above the highest shot in this picture.
On the other hand, the Crickett is 100 percent reliable. And the trigger is light. Those things do live up to its gun-making heritage.
Interesting!
This test was interesting. On one hand, ugly (the Daisy model 8) triumphed over beauty (the Falke); and on the other, enthusiasm (Daisy, again) beat out experience (the Crickett). That's not how I thought this would turn out! Given the circumstances and from what I saw, I thought it would have been the Falke first, followed closely by the Crickett, with the Daisy bringing up the rear…and very far behind the others.
Conclusions
The Daisy model 8 may be a cheaply made single shot rifle, but that doesn't mean it can't shoot. It still needs some work on the firing reliability, but I would say the accuracy is where it needs to be. We still have no idea about which rifle is most accurate. To learn that, a lot more shooting is required. I'm glad to do it, but I'm just saying that we don't want to dismiss either of the other 2 rifles.
Is there a point to all of this? I think there is. That point would be that you don't want to judge a gun (or anything) by appearances, alone. Furthermore, inexpensive materials and cheap construction don't always mean something is no good. Only by testing can we determine if a gun is up to snuff.
One more thing. Some readers have noticed that I sometimes spend a lot of time on an airgun that has seemingly very little to recommend it — like the BSA Meteor. This Daisy might fall into that same category. If I can get it to shoot reliably, what a wonderful little rifle it will turn out to be!
by Tom Gaylord, a.k.a. B.B. Pelletier
Got a lot to cover today, so let's get to it.
First up is the Daisy Manufacturing Company, now called Daisy Outdoor Products. Daisy is best-known for the BB guns they make, but did you know they also made firearms? That's correct. In fact, Daisy made 3 different lines of .22 rimfire rifles — though one of them is only a rimfire by common categorization. That would be the Daisy V/L. V/L stands for Van Langenhoven, the last name of the man who invented the caseless cartridge technology Daisy used to make this gun. I've covered this before when I wrote about the new Daisy book published in 2012.
Although it's commonly classified with .22 rimfire rifles, the caseless round does not even have a rim. There's no priming compound in this cartridge. This caseless cartridge was made from a material that combusts when heated rapidly by the compressed air of a spring-piston air rifle. So, the Daisy V/L is, in fact, an underlever spring-piston air rifle that just happens to shoot caseless .22 rounds. Daisy made their V/L rifle in the late 1960s (1968 & '69).
Daisy also made a line of bolt-action rifles called the Legacy line in the 1980s and '90s. These rifles have weird diecast and steel receivers mounted in both plastic and wood stocks. But they're not the guns I want to discuss today.
I have handled both the Legacy and V/L rifles, but I don't know much about them. What I do know something about is a Daisy rimfire that is even less well-known than either of these.
I also wrote about airgun makers who made firearms in 2006.
Daisy model 8
In 1988 and '89, Daisy produced an economical .22 rimfire single-shot rifle for Wal-Mart. They were supposed to have built 30,000 rifles, but the contract was either terminated or somehow not completed; and the actual number of rifles made is something less. The Blue Book of Gun Values says they made 30,000 of them, but Joe Murfin of Daisy told me about the problem with Wal-Mart and said they didn't make that many. Something on the left side of the barrel has been machined off. This is on every model 8 I've seen.

All the Daisy model 8 rifles I've seen (about 10) have had this area of the barrel machined off. Something was stamped there.
This rifle is small. If you know what a Crickett rifle is, this one is just slightly larger. If you don't know what a Crickett is, the Daisy rifle has an overall length of just 32-1/4 inches and a weight of 3 lbs., 1 oz. In other words, it's tiny!
It has a painted action and barrel in a hollow plastic stock. The overall impression is — this gun is cheap.

Daisy rear sight looks a lot like an airgun sight. It adjusts for windage and elevation.
Do you think that airgun companies are loaded with engineers wearing white lab coats? The Daisy model 8 looks more like something that was designed in high school shop class when the teacher was out on his smoke break. The designer is someone you all know — the kid without the eyebrows. The one who couldn't hear out of his left ear. Later on in life, he was known as Stumpy; and before he turned 25, he disappeared completely.
What I'm saying is that this is a bolt-action rifle that's designed with screen-door-latch technology. It began as an exercise to see how cheaply we could make it, and that was followed by two rounds of cost-cutting before corporate council pulled the plug for liability reasons.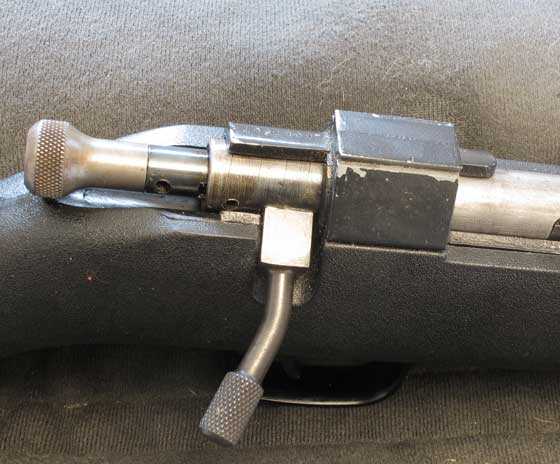 Model 8 bolt handle looks like common hardware! The receiver is a diecast part with a steel tube pressed in for strength.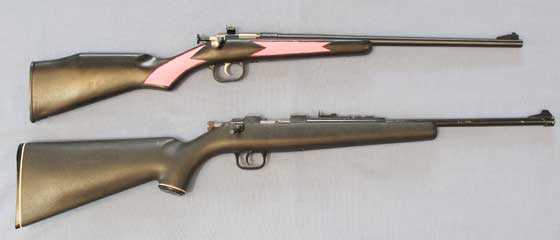 Daisy model 8 (below) is just a little larger than a Crickett.
And I have one! Are they rare? I don't know. Are they scarce? Most assuredly! Have some of them been lost over time? Almost a given! Are they worth anything? Not very much. This is not an heirloom gun — it's a hair-brained gun!
I bought one just because of what it is. I also bought the Crickett to serve a basis for comparison. Both are small, but one (the Crickett) is designed by gunmakers, while the other (the Daisy model 8) looks like it was designed by McGuyver while he was in the throws of an acid flashback.
Yes, I have shot this rifle. No, it doesn't shoot very well. In fact, it misfires about 25 percent of the time, which I attribute to a weak firing pin spring. Accuracy is on the order of 3-4 inches at 25 yards — so far. Maybe I haven't found the right ammo, yet — ha, ha.
The Crickett
I said I bought the Crickett for comparison. I'm just throwing it in here because many more shooters are familiar with it than with the Daisy. Much of its design is similar to the Daisy model 8; but at every turn, you can see where its design exceeds the Daisy. I guess I would say the Crickett is just a small firearm, while the Daisy is more of a small example of what not to do.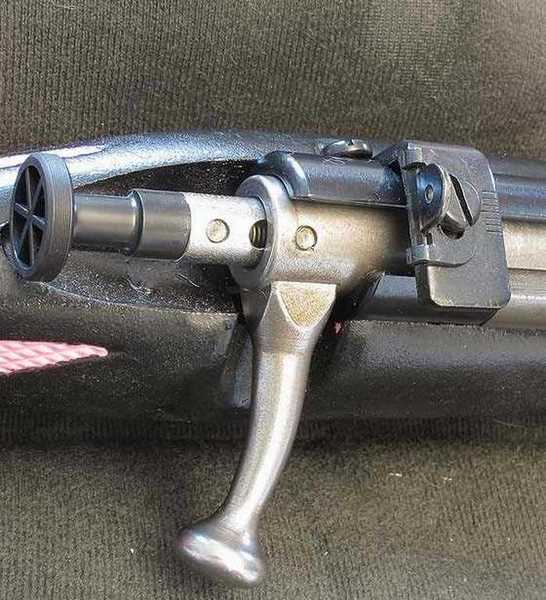 In sharp contrast to the Daisy, the Crickett bolt looks like a firearm bolt and the receiver is all steel. They even put a peep sight at the rear! Didn't cost that much, but this is what designers can do.
I've also shot the Crickett, and it's 100 percent reliable. While it's no tackdriver, it will put its shots into 1.5 inches at 25 yards — and sometimes the groups are even smaller. In my estimation, the Crickett is a small, inexpensive firearm, while the Daisy model 8 is a cheap rimfire wannabe. Having said all that — who have I insulted? I sure hope your favorite .22 is not a Daisy model 8!
So what?
The point of this look is to see what an airgun manufacturer will turn out when they make a firearm. But maybe this Daisy model isn't a fair representation because Daisy built this for their customer. Let's look at another rimfire rifle that was made by a different airgun manufacturer, and this time they made it for themselves.
The Falke single-shot
Yes — that Falke. The same people who made the super-rare and interesting Falke model 80 and 90 underlevers and also the Falke models 10, 20, 30, 40, 50, 60, and 70 breakbarrel spring rifles. We looked at a Falke model 70.

Compared to the Daisy model 8 (top), the Falke single-shot is a full-sized rifle.
This rifle is a confusing firearm. On the one hand, the walnut stock is shaped nicely and hand checkered, the metal polish and bluing is even and deep, and the action is cheap and stiff to operate. What should be the simplest of all actions — a single-shot — is machined very well, yet it functions like it's been rusting in the corner for decades.
Falke was one of those "anything for a buck" companies that arose in Germany after the war. I'm sure they would have disagreed with that assessment, but the fact is they had no plan of succession; and when the founder got sick in the late '50s, the company folded.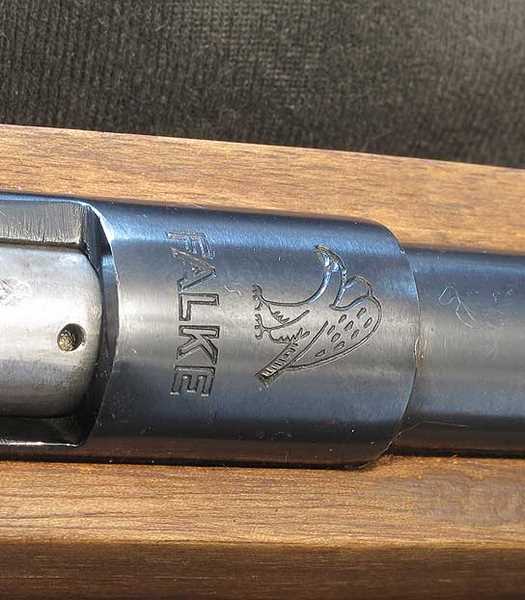 Where have we seen this logo before?
They made at least 2 firearms. This bolt-action rifle is one, and I've also seen a stylized Remington double derringer in .22 rimfire.
I bought this rifle because it's a Falke and because it looked so nice on the internet. When I received it, I found it to be even nicer than the photos portrayed. But the action is stiff and clunky! I never would have bought it if I'd tried it first. However, I believe I can correct most of this with some careful gunsmithing.
The rifle is full-sized at 40-3/4 inches overall, with a 23-inch barrel. The pull length is 13-1/2 inches. The barrel is nicely rifled, and the gun appears to be in 90 percent condition. The wood has been sanded, which is the only detractor from the overall appearance.
The front sight is a common post with a bead, but the rear sight has the same quirky elevation adjustment that we saw on the Falke model 70 air rifle! With luck, this rifle will shoot.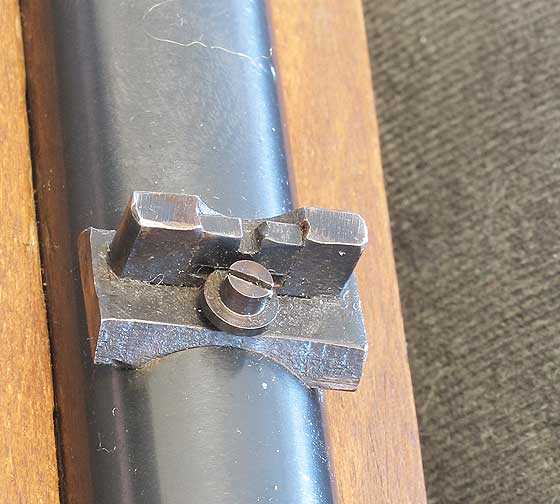 We saw a rear sight just like this on the Falke model 70 air rifle.
This is a bolt-action single-shot. It has a separate cocking piece that will cock the rifle by itself (without the bolt being operated), but right now the sear is under too much tension and the cocking piece cannot be pulled back all the way. The bolt cocks the action on closing.
Again — so what?
I've shown you 2 firearms that were made by 2 different airgun makers. My plan is to shoot both of them and come back to you with the results in the next report. I'll do that as the rifles stand right now, but the Daisy really does need a stronger firing pin spring, and the Falke needs its action smoothed a lot.
Why am I doing this? Perhaps, to show the contrast of firearms and airguns made by the same maker. I think we have that in both these cases.
I know several of you readers probably own Daisy Legacy rimfire rifles, and I would like to hear what you think of them. If any of you own a Daisy model 8, you have both my apologies and my sympathy. And if anyone ownes a Falke firearm, I sure would like to hear about it!