Posts Tagged 'Daisy Red Ryder'
by Tom Gaylord, a.k.a. B.B. Pelletier
At the end of the last part (Part 2), I said that was a wrap for 2012. Then, several folks recommended other things and my wife, Edith, suggested that I do Part 3 to include those things. Furthermore, I learned from Pyramyd Air that a huge number of new people are joining us daily, and many are new to airgunning. So, for them, I want to do some 'splainin'.
This blog
I'm Tom Gaylord, but I write this daily blog under the name B.B. Pelletier. You can address me either way, but I'll probably respond as B.B. here in the blog. The reason is a long one and not that interesting, but I don't want new readers to be confused.
Do I work for Pyramyd Air or don't I? Well, yes, I do get paid for this blog and for some other things I do, so in that sense, yes, I work for them. But I don't pull any punches when it comes to reviewing products. It either tests out or it doesn't, and I try to tell you exactly what happened when I tested it. Pyramyd Air never tells me what to say in the blog, nor do they try to control what I say in any way. So, in that sense I'm independent. I'm a contractor with Pyramyd Air, not an employee. I also write for other publications. I have a monthly column in Shotgun News, and I write five or six feature articles a year for them, as well. I also develop airguns and airgun products for various companies.
Pyramyd Air wants me to educate their customers, which is exactly what I try to do in this blog. When I write, I think about a guy living in Keokuk, Iowa, who will only buy one airgun this year. He'll buy it based on what I say, so I don't want him to be disappointed. I think of this guy as my best friend. He's intelligent, but he doesn't know what I know about an airgun, so I try to tell him. That's why the writing is as informal as it is.
We have many thousands of readers, but most of them don't comment. However, when someone does comment, we strive to welcome them and to listen to what they have to say. There's no flaming or name-calling allowed here. A couple times in the past there have been attempts to hijack the blog, but they were put down swiftly. So, no matter what you do or don't know, you're welcome to talk about it here.
Finally, this blog is the property of Pyramyd Air. We don't allow advertising for competitors. If someone tries to do that, their comments will be deleted.
Off-topic comments are invited on any blog. If you have a question about a topic that I wrote about 3 years ago, you don't have to ask your question on that old blog. Just post it on the current blog because more people will see it and provide answers.
Lastly, there are several ways to read the comments. You can read them by clicking the comments link under each day's blog or by clicking the RSS comment feed in the upper right-hand column or you can email us and request to be added to the emailed comment list. Edith will add your email address to the list, and each comment will come directly to your inbox.
Today's report
This is the third report presenting possible Christmas gifts for airgunners. Parts 1 and 2, which are linked in the beginning of this report (above), have the airguns I recommend. If that's what you're looking for, those would be the reports to read. Today, I'll concentrate on some other things an airgunner might also like. I'll tell you the item and give a link to it, as well as a brief reason for the recommendation. There may also be a few airguns in this report because several I overlooked were pointed out to me.
Plano Pro-Max double-scoped rifle hard case
If you have nice airguns, you want to store them in nice cases. Blog reader Slinging Lead recommended the Plano Pro-Max double-scoped rifle hard case. He puts each rifle into a soft gun sock that he's turned inside-out and sprayed with Ballistol, then turned right-side out and stuck a rifle in it. That then goes into the hard case. As we learned in Part 2, with Ballistol there should never be a problem with rust. I can't speak for the Gamo gun sock because I've never seen one. It looks too short to cover the entire long gun in the photos, but it gives you and idea of what a gun sock looks like.
Crosman 1377 and 1322
Slinging Lead also pointed out that I didn't have the Crosman 1322 or 1377 multi-pump pneumatic pistols on my list. That was an oversight on my part because these two pistols definitely belong there. They're very powerful multi-pump pneumatic pistols that keep alive the heritage of airguns from the 1930s and '40s. They're accurate, inexpensive and either would make a great gift for an airgunner!
Crosman Premier pellets
I wasn't going to put any pellets on the list this year; but in light of the number of brand-new airgunners we have reading this blog, I feel I have to. I'll start with Crosman Premiers. I'm recommending the ones in the brown cardboard boxes; and when you look, you'll find they're the most expensive. They're all taken from the same die lot, and you can count on their uniformity. They're also packed more to the box than to a metal tin. I think the Premiers in the tin are getting better and may be almost as good as the boxed ones, so it is just habit that keeps me recommending the boxes. They come in the following sizes:
Premier lite — 7.9-grain .177 domes
Premier heavy — 10.5-grain .177 domes
.20-caliber Premier — 14.3-grain domes
.22-caliber Premier — 14.3-grain domes
There's no .25-caliber Premier pellet, but there's one that's close, and it's also one of the two best pellets in .25 caliber. It's the Benjamin 27.8-grain domed pellet.
The rest of the pellets
This list is very long, so instead of talking about each one, I'm just going to list what I feel are the best.
.177 caliber
Beeman Kodiak
Beeman Devastator
Beeman ECO Kodiak
H&N Baracuda
JSB Exact RS
JSB Exact 10.3-grain dome
RWS Hobby
RWS Superdome
RWS R-10 Match Pistol
.20 caliber
Besides Crosman Premiers, there are very few .20-caliber pellets I can recommend. Even the Beeman Kodiak in .20 caliber is too lightweight (in lead) and just not that accurate. There are a couple, though.
Benjamin Cylindrical
JSB Exact
.22 caliber
Beeman Kodiak
Beeman ECO Kodiak
H&N Baracuda Green
H&N Baracuda
JSB Exact Jumbo 15.9 grain
JSB Exact Jumbo Heavy
JSB Exact Jumbo Monster
JSB Exact Jumbo RS
RWS Superdome
RWS Hobby
.25 caliber
Historically, .25-caliber pellets have been the worst on the market. The guns that shot them were not accurate enough to warrant good pellets, so the manufacturers just didn't invest the care they do with .177- and .22-caliber pellets. Even the best of them were just mediocre until just a few years ago. Now there are a couple great pellets available. The .25-caliber Benjamin was already mentioned with the Crosman Premiers, above. Here are the rest.
Beeman Kodiak Extra Heavy
H&N Baracuda
JSB Exact King
Final word on pellets
Beeman Kodiaks are actually the same as H&N Baracudas. Kodiak Match and Baracuda Match are essentially the same as Kodiaks and Baracudas. I've shot both and don't see any differences in their performance. I'm telling you that so you know to order the least expensive ones when they're available.
Crosman 1077
The CO2-powered Crosman 1077 is another air rifle that was left off the list and shouldn't have been. The 1077 is a 12-shot repeater with an internal double-action revolver mechanism. It's styled to resemble the Ruger 10/22 rifle, and its one of the best values in a plinking airgun today. Accuracy is well above average, with 10-shot groups the size of a nickel at 10 meters when you are careful.
Daisy Red Ryder
Several readers asked me to include Daisy's Red Ryder BB gun on the list. It is certainly the iconic Christmas BB gun here in North America — made famous first by Daisy and again by the 1980s movie A Christmas Story.
Daisy 880
For inexpensive shooting fun it's hard to do better than the Daisy 880. This multi-pump pneumatic shoots both BBs and pellets, though I recommend only pellets in this gun, because the BBs aren't as accurate.
Crosman 2100B
For a little more money you can get the Crosman 2100B. This multi-pump is very accurate with certain pellets — namely 7.9-grain Crosman Premiers.
Crosman 2240
The Crosman 2240 CO2 pistol is a must-have if you like accurate air pistols. It forms the basis for many higher-end Crosman target guns but is an accurate .22-caqliber pellet pistol in its own right. If you do buy one as a gift, don't forget to throw in a box of CO2 cartridges that it needs as its power source.
RWS Diana 34P
I would be shortchanging you if I overlooked the RWS Diana 34P spring rifle. I chose the 34P over the wood-stocked 34 for its slimmer profile. Either gun is a winner. They're accurate, powerful and the T06 trigger can be adjusted very nice. I don't like the fiberoptic open sights, but if you use a scope they don't matter.
Targets
Blog reader Kevin Lentz recommended that I put paper targets on the list because many airgunners won't spend the money for them. They print out targets on copier paper that tears and isn't satisfactory, where good target paper usually shows clean holes where the pellets passed through. All targets that are on target paper are worthwhile, but I have two I especially want to recommend. The first is the single-bull 10-meter air pistol target from National Target. Don't be put off by the name — you can shoot at it with a rifle, too. In fact, if you have open sights, this target extends your range out to about 25 yards because the bull is so large.
The other target I'm going to recommend is the 12-bull 10-meter rifle target, also made by National Target. I cut these up with scissors and use them in smaller sizes, which multiplies the use I get from each target several times.
Kevin also suggested getting some Shoot-N-C targets that change colors vividly when a pellet passes through. These come in all sorts of packages, but I like a combination of targets like this one. You can use the different-sized bulls for different things, and the black dot pasters that come with the targets will repair any of them. Just peal the target bull off the paper and it will stick to any other paper surface, so changing targets is a breeze.
Tactical flashlight and knife
Two things on this blog that we talk about besides airguns are tactical flashlights and knives. I've devoted a lot of time to both topics, and I know that most of our readers are interested in them, though they may never mention it. I recommend the UTG Tactical Flashlight, because it is identical to one I use all the time, but costs about $20 less. And I must also recommend the Walther Tactical Folding Knife that is the coolest knife I have seen in the price range. I like it so much I take it to airgun shows, just to show people how neat it is. The more you use it the easier it becomes to open, until it gets to the point of opening almost as fast as an automatic (switchblade) knife. It stays sharp and can be sharpened easily, though it does require a special serrated blade sharpening tool.
Wrap-up
That's it! Yes there are a great many more things I like at Pyramyd Air, but you can look around the website for those just as well as me telling you. Remember, this is the third part of a much longer list of potential gifts. The links to Parts 1 and 2 at the top of this report will take you to the rest of the list where there are a great many more gift suggestions waiting.
by B.B. Pelletier
Announcement: Jedediah Strong Smith is this week's winner of Pyramyd Air's Big Shot of the Week on their facebook page. He'll receive a $50 Pyramyd Air gift card. Congratulations!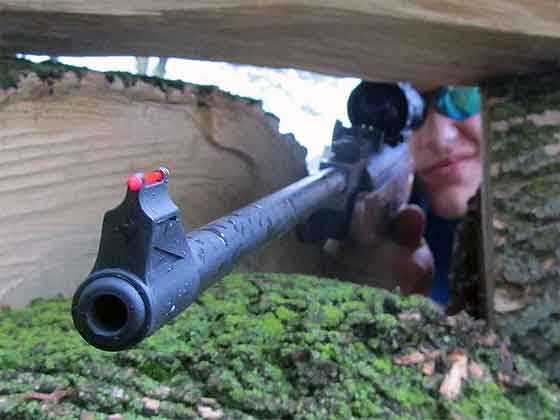 BSOTW winner Jedediah Strong Smith.
Firearms shooters get a new book or two every month or so. But airgunners are lucky to get a new one every year. Today, we're going to look at the latest airgun book from Daisy. It was written by Joe Murfin, Daisy's vice president of marketing and chairman of the board for the Rogers Daisy Airgun Museum.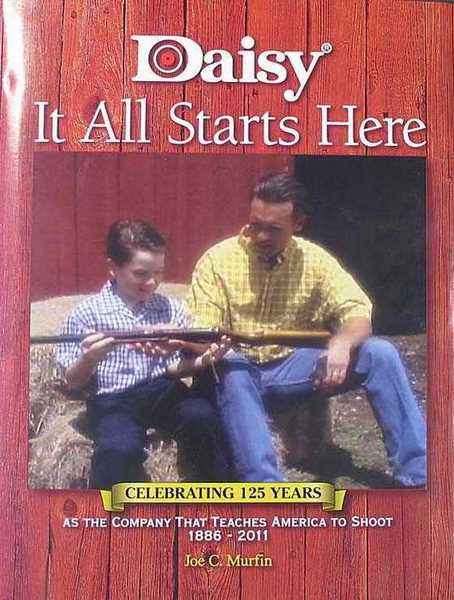 New Daisy book brings the history of the company up to date.
Daisy collectors all know that Cass S. Hough wrote a book called It's A Daisy that documents the beginnings of the company up through the time when he served as its president. Hough was the grandson of one of Daisy's founders and also a test pilot in World War II. He is credited with being one of the first men to fly faster than the speed of sound. It was in a power-dive in a P38 Lightning fighter over England in 1943, while he was testing a problem with the aircraft's control surfaces. Chuck Yeager is better-known for being the first man to break the sound barrier in level flight in 1947, but Hough and perhaps some others broke it much earlier during dives.
The new book, titled, Daisy/It All Starts Here is not exactly a follow-on to Hough's It's A Daisy, but it does fill in the blanks from the time the earlier book left off. The new book begins with a brief history of the company that will be of interest to Daisy fans as well as the general public, because it presents facts, literature and insights not previously published. It even explains why Daisy dates its beginnings to 1886, which collectors realize was several years before the first Daisy guns were made. I won't spoil the story for you — get the book.
The next chapter completes the history to the current period, so this book isn't just a history of the company. But I learned a lot of facts about Daisy that no one other than an employee would know. For example, just ask me how the Marine Corps has Daisy test their M1903 drill rifles. (What?)
How BBs are made
In chapter four, the author looks at the manufacture of BBs — the ubiquitous ammunition that defines the guns and even the entire Daisy company! There have been long articles about BBs in the past. Cass Hough wrote a chapter on them and the late Ladd Fanta did a very nice article many years ago for Gun Digest. I've even written a short report about the steel spheroid in this blog. But, again, Murfin manages to give us facts and data that I've never seen in any other source. With the files of the Daisy Museum at his fingertips, he had wonderful resources to draw upon.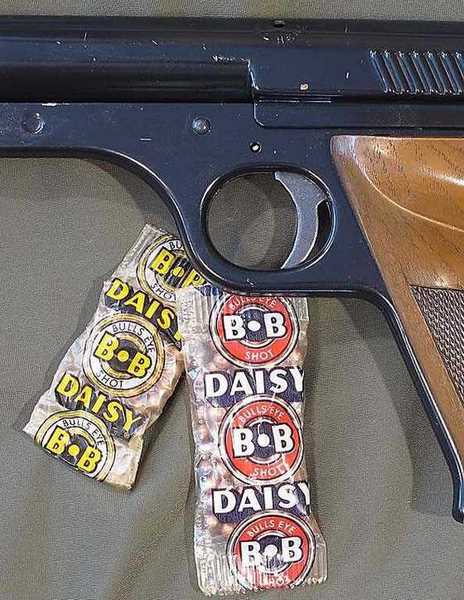 First, they were a penny, then a nickel a pack. Daisy BBs were sold in small plastic packages like these that were wound onto a giant belt. Storekeepers tore off only what the customer wanted.
The author hides nothing from the reader, who gets a fly-on-the-wall view of how BBs are made and distributed today. To say that this particular chapter is an eye-opener is an understatement.
Red Ryder Carbine-Action 200-shot Range Model Air Rifle
Another chapter documents all that's wrong and right about that iconic Christmas movie, A Christmas Story. Jean Shepherd had his main character, little Ralphie Parker, desire a BB gun that never existed. Then, when the movie was made, Daisy cooperated with MGM by building a few of the special guns for the film, and that got spun off into a special Christmas Story Red Ryder gun that never existed before the movie was made. Today, that gun is a major collectible in its own right, and there have been other Christmas Story Red Ryders made at later dates to commemorate the first one! Talk about life imitating art!
Daisy was not about to ignore the vast advertising potential of a movie that often gets shown 24 hours straight during the holiday season, so they also started marketing special tie-in branded items, including a working replica of the famous leg lamp that was made from a cast of Joe Murfin's leg! If the Red Ryder was already the most famous airgun in the world, the movie turned it into an object recognized by millions who aren't even aware that airguns exist!
Happy Daisy Boy
In 2005, Daisy was contacted by Tom Reaume, who said his father had been the Happy Daisy Boy. In his book, Cass Hough had identified George Rockford as the Happy Daisy Boy of 1913-1920′s company advertising, but Tom Reaume stepped forward with a 1913 ad showing his father, Rockford A. Reaume, holding the new Daisy No. 25 slide-action BB gun. That ad has hung in the Reaume family living room for decades.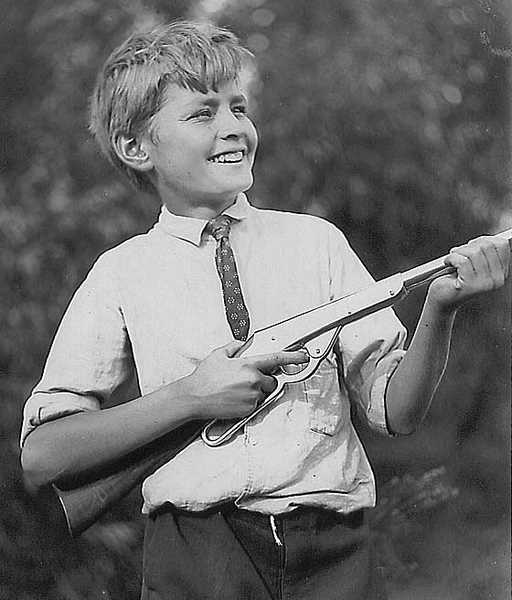 Rockford A. Reaume (a.k.a. George Rockford) was the Happy Daisy Boy from 1913 into the 1920s. His image appeared on a lot of early advertising.
I happened to be visiting Daisy when this took place and was honored that they allowed me to publish the story in Shotgun News, along with about 20 of the vintage photographs. It turned out that Tom Reaume was aware of the one ad, plus he had a small portfolio of photos of his father and several other boys, all posing with Daisy BB guns. But he did not know that his father had been a professional model. He presented copies of all the photos to the Daisy Museum.
Every 120 years
While I was with Murfin in 2005, I asked if he knew that someone had made a small run of the first model of Daisy BB gun several years before. They mounted it in a wooden display frame to hang on a wall. It was incredibly realistic, but non-functional. He was surprised to learn that these non-working copies were fetching $400 from collectors who didn't have the deeper pockets to buy the real thing.
We fantasized about Daisy making a reissue of the old wire stock model as airgun enthusiasts will do, but that was the last I heard of it until late in 2009, when I got wind that Daisy was coming out with a re-issue of the first model. I reported on that gun in this blog in January 2010.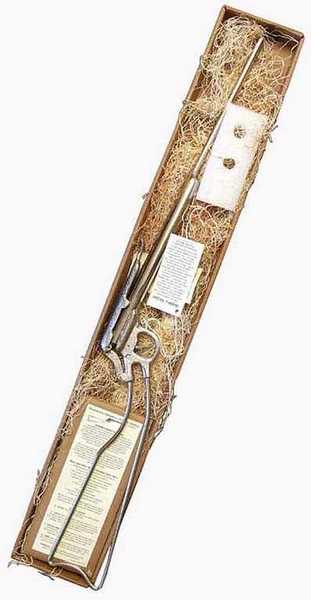 Daisy's wire stock first model was lovingly hand-made at the factory in 2009. In 100 years, will it be as famous as the original that came out a century earlier?
Daisy handmade these BB guns as a labor of love, right in their Rogers Arkansas plant. Everywhere possible, they used original materials — such as a hand-wrapped piston seal made from candlewicking soaked in beeswax! I knew this was a special gun when I got mine, but I had no idea what went into it. This book has opened my eyes to a process of airgun making that many would say is a lost art
Daisy firearms
Some of you know that Daisy made .22-caliber rimfire rifles for a time and also .22 rifles that used caseless cartridges. There's a lot of controversy over these guns because the caseless guns are actually airguns that ignite the gunpowder by means of hot air generated by the piston. It's an airgun that's also a firearm. Only 25,000 were made.
The Legacy bolt-action .22 rimfire is a much more conventional firearm. It came as a single-shot, a bolt-action repeater and as a semiautomatic repeater. But the Daisy name was not known to the firearms world, and these rifles had some non-ferrous parts that soured the buying public's opinion. They pop up at gun shows all the time these days, and the price ranges from $100 to $1,500, because sellers and buyers both still don't know what to make of them.
The book gives insight into what was happening behind the scenes when these guns were being made and sold. And the Wally World connection pops into the discussion. If you want to know the real story, it's all down in black and white, and the author pulls no punches.
The rest of 124-page $30 full-color hardbound book is loaded with more Daisy history from recent times. And the author was there to watch a lot of it as it happened. If you're an airgun collector or just a Daisy fan, you must have this book in your library. It's available only directly from the Daisy Museum in Rogers, AR.
by B.B. Pelletier
Many of us shoot our airguns inside the house, garage or barn and need to stop our projectiles from damaging what's behind the target. Today, I want to talk about what works, what doesn't and why. My sermon today is in the form of a repentant sinner, because I've made most of the mistakes I'm telling you to avoid.
The difference between a trap and a backstop
A bullet trap is designed to stop whatever is shot into it. Targets are hung in front of the trap, and it's expected to stop all bullets/pellets/BBs that enter.
A backstop is often set behind the trap to stop the bullets that miss the trap. If there's a trap, the backstop is only called upon occasionally; but sometimes there's no trap — just the backstop, in which case the backstop, alone, has to stop everything.
Starting with BB guns
When I was a boy, the most popular trap for BB guns was a trash can or wastepaper basket filled with crushed newspapers. It worked, but not for very long, so let's talk about that. Crushed newspapers are great padding for packages. The newspapers have enough resiliency to keep the contents of the package firmly in place — unless those contents are very heavy. And the same crushed newspapers will stop BBs from low-powered BB guns — like Red Ryders — for a short time.
But — and this is important — even a Red Ryder will eventually shoot through the crushed newspapers when one BB after another impacts in the same spot. And, if the BB gun is more powerful, it doesn't take as long to tear through. Red Ryders shoot at around 300-350 f.p.s. But some powerful BB guns like the Remington AirMaster 77 top 700 f.p.s. They'll rip through crushed newspapers in one-tenth the time it takes a Red Ryder to get through. When you're making a BB trap, consider both the length of time you'll be shooting at the trap as well as the potential velocity of the gun doing the shooting.
A better way to stop BBs is to provide a backstop that has some give — like a piece of wall-to-wall carpet. When the backstop moves, it robs the projectile of a lot of velocity, which prevents bounceback — the bane of the BB gun. And wall-to-wall carpet has a very tough base that seems impervious to steel BBs at Red Ryder velocities. I know of clubs that have made BB gun ranges with large sections of wall-to-wall carpet that not only stop the BBs but which hang to the floor and are folded into a trough at the bottom to funnel all the BBs into a container, simplifying cleanup. A backstop like that and a large powerful magnet makes cleanup an easy chore.
Of course, you can buy a commercial BB trap that will do all I've described. Crosman's model 850/852 trap is perfect for low-velocity BB guns and works for low-velocity pellets, as well. The only problem is that Crosman has them made in China, and sometimes they're out of stock for a very long time. The UTG pellet & BB trap is very similar and will do the same things. It costs a few dollars more, but the supply is more regular. Both of these traps have "ballistic curtains" that absorb the energy of BBs at low velocity. A thin steel backplate ultimately stops the projectile. Of course, you'll want to put a larger backstop behind this trap for those few projectiles that miss the trap altogether.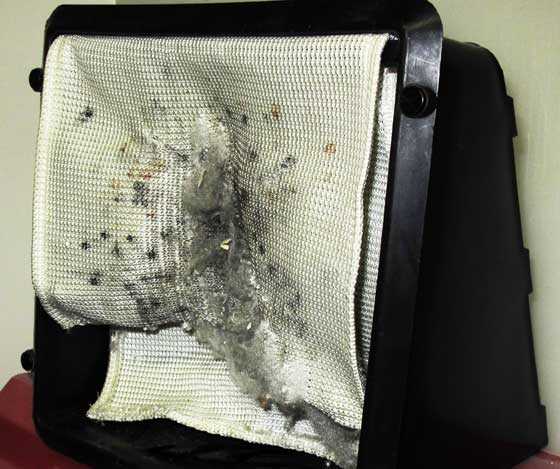 This Crosman 850 BB trap has stopped thousands of BBs and pellets. Notice how the ballistic curtains have been torn up from all the shots.
For the more powerful BB guns — those with muzzle velocities over 400 f.p.s. — I don't like carpet. Like crushed newspaper, it's possible to shoot through it if you keep hitting in the same spot. For those guns, I prefer an actual trap filled with duct seal and use the carpet as a backstop behind the trap. The few BBs that hit the carpet won't hit in the same place, and it should work fine. If the range is to be more permanent, however, put some plywood behind the carpet and keep an eye on the carpet and replace it as needed.
On to pellets
Pellets are made of lead, mostly, though there's a movement to use other metals that are less toxic. Lead absorbs energy when it deforms against a hard target. Up to 600 f.p.s., lead continues to flatten out until a spent pellet has become a flat round disk with just a trace of the skirt still visible. At velocities above 600 f.p.s., lead starts to break apart upon impact. First, it breaks off in large chunks traveling at low velocity. As the impact velocity continues to rise, the lead fragments get smaller and travel faster. Above 700 f.p.s., they're traveling fast enough to break lights up to 15 feet away from the trap.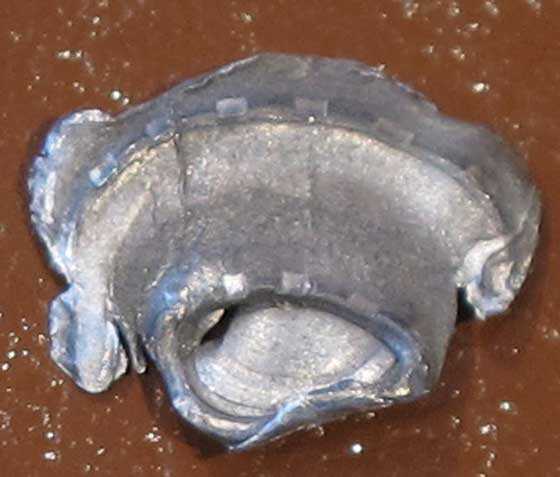 This pellet was flattened at 600 f.p.s. or less, You can still see the pellet's skirt, including the rifling that's engraved into both it and the head that is flattened.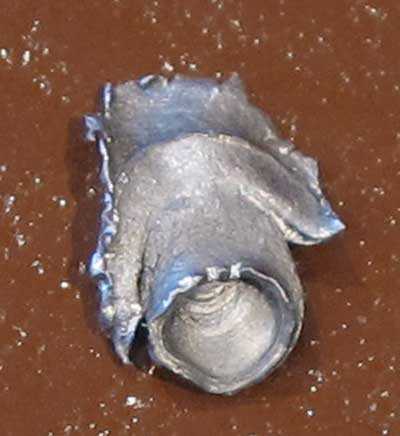 This pellet was moving faster than 600 f.p.s. when it hit and has started to break apart. It's a smaller caliber than the first pellet, but the breakup happens in the same way regardless of size.
You don't want to use a lightweight pellet trap for pellets that move at higher velocities! They'll even punch through steel plates if they're thin enough. For pellet guns, some thought must be given to what kind of trap you use.
I use three traps in my work. One is the BB trap already mentioned. Regular readers of this blog know that I shoot several hundred rounds each week. Often one test involves from 100 to 200 shots. So, my traps (I'm not talking about backstops yet) have to be up to the task.
Heavy Duty Bullet trap
For all my most powerful airguns, I use a Heavy Duty bullet trap designed to stop a .22 long rifle bullet. I bought mine about 20 years ago and I thought $45 was a lot to pay. Today, you'll pay over $75 for the same thing, but it's the last bullet trap (of that type) you'll ever buy. My trap has seen hundreds of thousands of pellets and bullets over the years — and except for the paint, it's still as good as new today.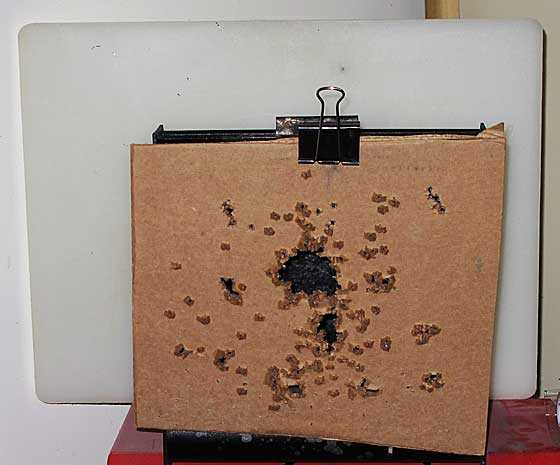 My workhorse heavy-duty pellet trap hides behind the cardboard facer. The white backer board behind is half an inch thick and will stop pellets with up to 50 foot-pounds of energy.
This is the trap I use when I shoot 25 yards inside the house, and over the years I've missed this trap a couple dozen times, so I learned long ago to back it with something strong. I use a board of white synthetic material that Edith gave me years ago. It's supposed to be a special board she bought over 15 years ago for kneading bread dough, but it warped just enough that it twirls and moves freely on the countertop during use, so now it's mine. Since I started using this backer board with the steel trap, nothing has slipped past.
The final trap I use is the one that blog reader Jim Contos gave me. I wrote a special blog describing how to build one for yourself. Jim gave me this trap after I reported shooting through my homemade silent pellet trap that I'd used for many years. After cleaning the trap and replacing all the duct seal, I was testing a Beeman HW100 S FSB, which is a 26 foot-pound PCP rifle. Within just a few shots I shot clean through the duct seal and the steel plate behind it! I've used this trap for a very long time and with some powerful airguns. What was different this time was the lack of a wadded mass of lead pellets to help slow the pellets that were shot. So they sailed right through the trap!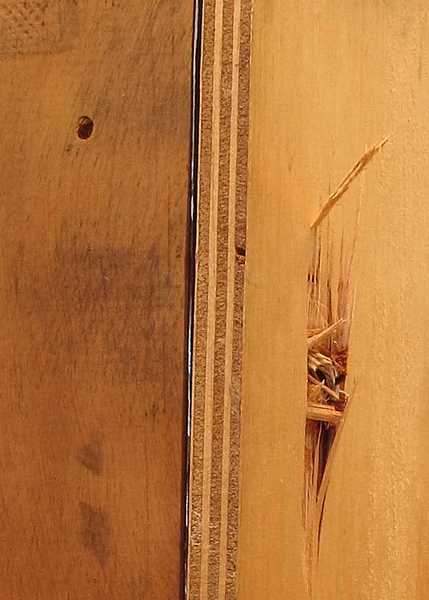 This is what happens when a 26 foot-pound pellet rifle hits two-inches of duct seal in the same place repeatedly. There's a thin steel plate between that plywood back and the duct seal, and the pellets zipped through it!
I don't back this trap with anything. because I use it only for chronograph testing, where the muzzle is a foot from the trap. I haven't come close to missing the trap in over 25,000 shots!
How large should the backer be?
Make the backer large enough to positively stop all rounds that are shot in the direction of the target. If you're the only shooter, maybe the backer can be smaller; but if your range will ever host other shooters of varying abilities, make it bigger. When we lived in Maryland, I often let others shoot on my basement range. I used a 3/4-inch plywood backer that was 4 feet square. Even then it was just enough to stop all the wild shots. Not everyone waits to sight the gun before their finger moves to the trigger!
Let's review
So, you always want to stop your projectile positively. Sometimes that's done with just a target backer, like a piece of wall-to-wall carpet. Other times, you use a trap to stop the projectile and put the backer behind it in case you miss the trap.
Shooting safe is imperative, because there's no room for error here. How you stop your projectiles makes all the difference between a safe home range and a serious accident or injury. This is one area where you always want to err on the safe side!
by B.B. Pelletier
Announcement: Kyle Ioffrida is this week's winner of Pyramyd Air's Big Shot of the Week on their facebook page. He'll receive a $50 Pyramyd Air gift card. Congratulations!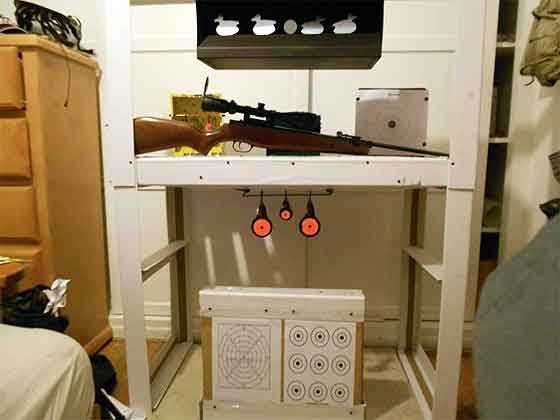 BSOTW winner Kyle Ioffrida shows off his home shootin' range…much of it built with recycled materials.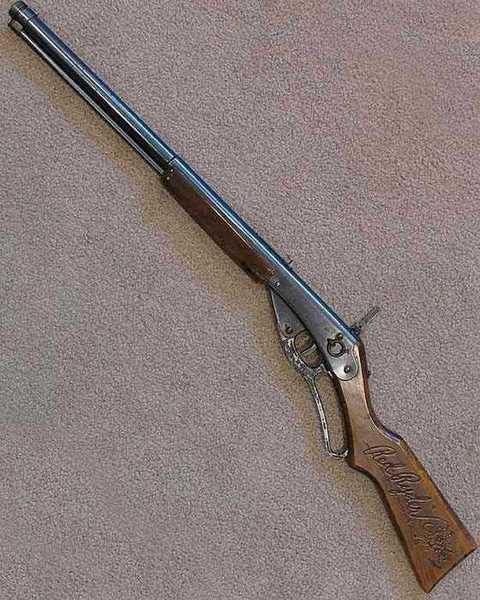 Daisy's Red Ryder is the best-known airgun of all time. This one is from the 1940s.
I must love you guys — I really must. Otherwise how could you explain me going to the trouble of mounting a Daisy model 300 telescope on my Red Ryder just for this test? I can't explain it any other way.
Was it hard?
No — adjusting the valves on a V-12 Ferrari is hard. This went beyond hard.
Okay, I'm exaggerating, but it wasn't easy switching over the scope from my 1936-model Daisy No. 25 pump gun to the Red Ryder. After I did, though, I realized that the mount on the No. 25 has always been wrong. It was really a Red Ryder mount — based on there being two screw holes in the mount base instead of just one. The No. 25 doesn't have a screw hole at the top of the receiver like the Red Ryder.
But crying time is over.  What have we got with the 300 telescope? Well, for starters, I think we need to consider the history of the scope. When the model 300 was first brought to market, rifle scopes looked a lot different than they do today. And the 300 attempts to follow the lines of the day, being long and slender, as well as having its adjustments built into the mounts rather than the scope.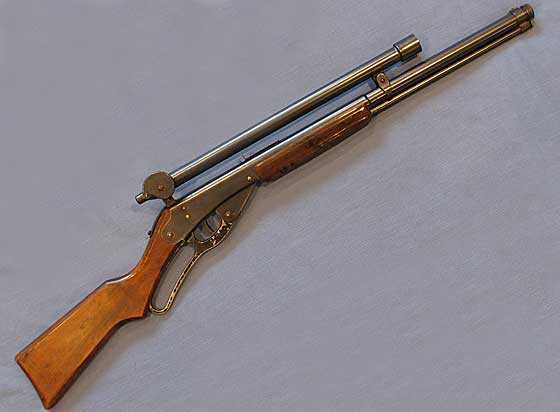 The gun looks sophisticated with the scope mounted. How can you miss with something like this?
It clamps tight to the "barrel" (the sheetmetal outer tube of the gun) in front, and has the facility of angling both up and down on a trunnion contained in the front mount. That is needed because the rear mount is a cam that adjusts the scope's elevation. No windage adjustment is possible, though the whole scope can be shifted slightly right or left on the gun, then clamped down again.

The front mount clamps to the outer tube of the BB gun and has a trunnion built in, so the scope is free to pivot up and down without straining the tube.
It's not a scope!
Technically, the model 300 is a tube sight rather than a scope, but I'm sure Daisy didn't intend little boys to think of it that way. It has only one plastic "lens" in front, where the objective bell is, and nothing at the eyepiece. There's no magnification, but inside the tube is a post for sighting. You sight in so the BB strikes the point where the top of the post rests on the target. As long as the scope is on left and right, you should do at least as well as with the open sights. Having used a thin post front sight recently with great success, I have high hopes for this one.
I have owned two others of this model scope, and on one of them I had a reproduction of the original rubber eyepiece that really makes the scope look right. Someone reproduced a couple hundred of those rubber eyepieces a few decades ago, and they're now valuable additions to the scopes that have them. But it's still easy to use the scope without the eyepiece.
The scope is 18 inches long and has a tube diameter of 0.984 inches, so call it one inch. The tube is made of folded sheet steel — the same as the gun, and it's blued in the same way. It adjusts only for elevation, using a clever captive cam arrangement on the rear mount that raises and lowers the rear of the scope. As mentioned previously, the front mount has a trunnion, so moving the scope up and down doesn't put a strain on the tube.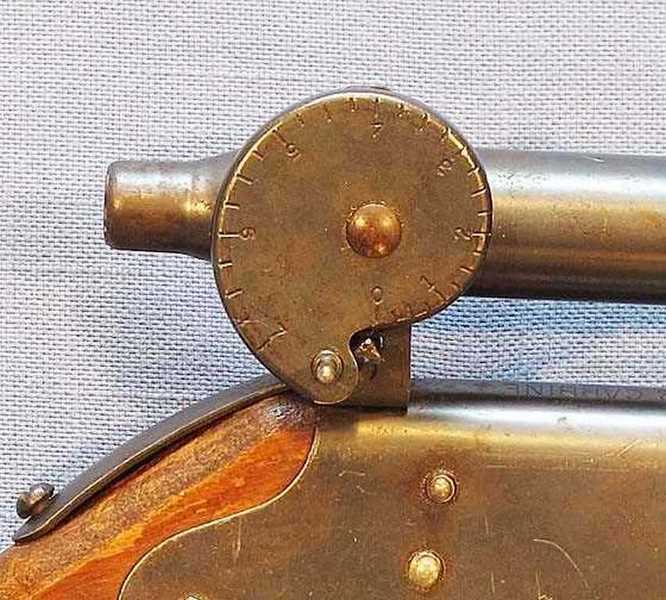 In this view, the scope is adjusted down as low as it goes.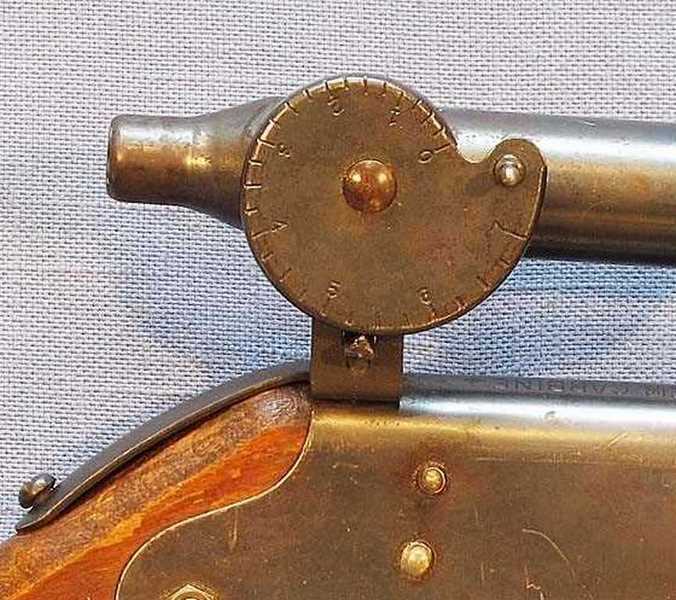 The scope has been adjust up about halfway by rotating the cam. This is a very subtle and precise way to adjust a scope. I see from the photo that the rear base screw needs to be tightened some more.
And how does it work?
I shot the same course as the first time, but using the scope instead of the open sights. It looked like I was getting more precision this way, but the results on the target don't bear that out. Out of five 10-shot targets, the best I was able to do at 15 feet was 10 into a group measuring 1.163 inches between centers. That was offhand.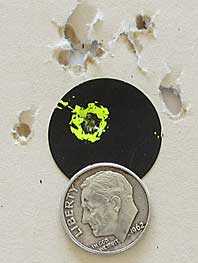 The best target I shot with the Red Ryder is this one that measures 1.163 inches between centers. This is offhand at 15 feet.
The average group was closer to 1.30 inches this time. That would make the scope about equal to the open sights. The only advantage I can see is a clearer sight picture.
Sanity check
I wondered how well I was shooting this day, so I brought out my Daisy Avanti 499 Champion to use as a check against the Red Ryder. But I used the same Daisy zinc-plated BBs instead of the Avanti Precision Ground shot that's made especially for the 499. So both BB guns were on an equal footing.
The 499′s trigger is very long and creepy, but it's much lighter than the Red Ryder trigger, and the gun felt easier to shoot, as a result. This time, 10 BBs went into 0.429 inches, which will easily fit inside a dime.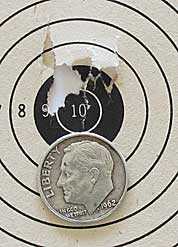 The only target I shot with the Daisy 499 to check myself was this one that measures 0.429 inches between centers. Also shot with Daisy zinc-plated BBs at 15 feet.
Summary
Daisy's Red Ryder is certainly an iconic BB gun. It has been in existence since 1939 and is still Daisy's strongest seller. It's not a target gun by any means, but a shooter can bond with it like few other airguns.
by B.B. Pelletier
Announcement: Chris LeGate is this week's winner of Pyramyd Air's Big Shot of the Week on their facebook page. He'll receive a $50 Pyramyd Air gift card. Congratulations!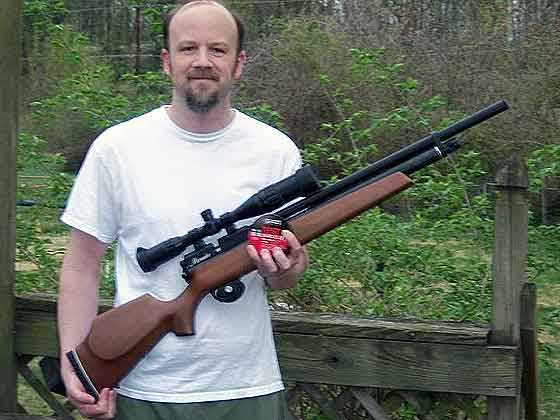 BSOTW winner Chris LeGate holding his .22-cal. Benjamin Marauder mounted with a Leapers 3-9x40AO scope with illuminated reticle. He also got a tin of JSB TEST Sampler pellets and an Air Venturi hand pump.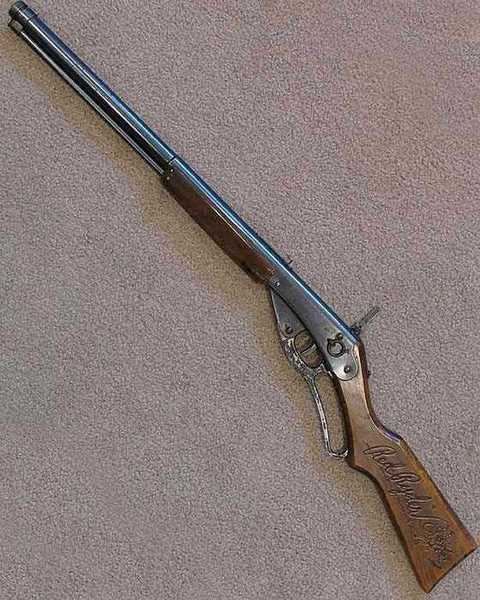 Daisy's Red Ryder is the best-known airgun of all time. This one is from the 1940s.
I'm going to combine velocity and accuracy testing for the Daisy Red Ryder, because I want to do a third report with the Daisy model 300 scope mounted. After examining the mount on my 1936 No. 25 that has that scope, I see it has the same base as the Red Ryder. So, the switch should be easy.
My Red Ryder hasn't been shot in a great many months — perhaps over a year, so I expected to find the leather piston seal dry. But it wasn't. I got that telltale wisp of smoke that told me the seal is still full of oil. However, I wanted to test the gun both before and after oiling, so that's what I did.
I used the pellet/BB trap that was given to me by Jim Contos at last year's Malverne airgun show (don't forget, it's coming up next month on April 27 and 28). It's full of duct seal; but because I would be shooting BBs at low velocity and didn't want any to bounce back off the lead already in the trap, I put a half-pound smear of fresh duct seal over what was already in the trap. I've now got between 5,000 and 10,000 shots on this trap, and it's holding up fine. For those who need to build an inexpensive yet rugged trap for both BBs and pellets, click here for instructions on how to make one.
Before oiling
I shot Daisy zinc-plated BBs for all tests you'll read today. Before the gun was oiled, it gave an average of 302 f.p.s. The spread went from a low of 290 to a high of 306 f.p.s. At the average velocity, the 5.1-grain BBs produced 1.03 foot-pounds at the muzzle.
I removed the shot tube and dumped out all the BBs. Newer BB guns have a hole on the side of the barrel jacket for oil, but older ones like this one don't. You must remove the shot tube and drop the oil straight down the open end of the barrel jacket, where it can soak into the leather piston seal.
I used 3-in-One oil for this job. At the low velocity the Red Ryder generates, common household oil is fine for oiling the piston seal. There's no danger of a detonation, and you can use enough oil to really soak that seal. I used 12 drops just to see what would happen.
After oiling
After the gun was oiled, the velocity was no higher than before. The average now was just 300 f.p.s., but the total velocity spread tightened just a bit, from 16 f.p.s. before oiling to 11 f.p.s. after. The spread went from 293 to 304 f.p.s.
So oiling made little difference. As I noted, the presence of a wisp of smoke after every shot alerted me to the fact that the gun had all the oil it required.
Accuracy
I set up a 15-foot range, because that's the standard distance for guns like this Red Ryder. The aim point was a Shoot-N-C black paster, peeled off a 3-inch bullseye card. It's ever-so-slightly larger than a U.S. nickel coin, and I wanted to follow Mel Gibson's advice from the movie The Patriot, "Aim small. Miss small."
I shot offhand, and the first group is larger than it should be because I didn't apply myself on every shot. I didn't expect much accuracy from this BB gun, so I let a couple shots wander more than they should. The resulting 10-shot group measures 1.597 inches between centers. But within that group, there's a cluster of five holes that measures 0.453 inches between centers. That encouraged me to knuckle down and give it my best effort on a second try.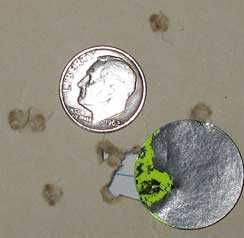 The first group measures 1.597 inches across for 10 shots at 15 feet, but look at where five of those shots went. That hole measures 0.453 inches across.
The second group measures 1.483 inches between centers, so not a lot better than the first. It looks better because the shots seem to all be in a big cluster, but the measurements tell a different story.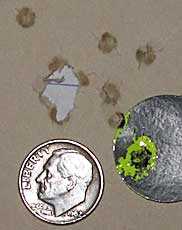 Target two looks better than the first, but it isn't by much. Ten shots went into this group measuring 1.483 inches between centers. Four of those shots made a much smaller 0.371-inch group.
Notice, though, that the BBs seem to go to the same place in both groups. This gun wants to shoot slightly above and to the left of the aim point with the 6 o'clock hold I'm using. Remember these sights are not adjustable, but I can use Kentucky windage to move the point of impact around a little. I think this gun is the kind that a little boy would soon learn to shoot, and before long he would be doing impossible things with it at close range.
Summary
This test turned out differently than expected. I thought the Red Ryder might get up as fast as 350 f.p.s. after a good oiling, but that didn't happen. And I thought the accuracy would be a lot worse than what you see here.
We're not done yet, because in the next installment I'll mount the Daisy model 300 scope and shoot some more groups for you. I'll also give you photos of this unique scope and mount that seems to copy the old buffalo hunter scopes of the 19th century. Til then!
by B.B. Pelletier
Announcement: Adrian Cataldo Beltrán is this week's winner of Pyramyd Air's Big Shot of the Week on their facebook page. He'll receive a $50 Pyramyd Air gift card. Congratulations!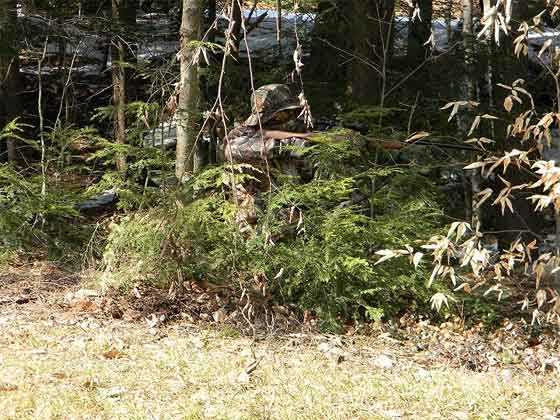 BSOTW winner Adrian Cataldo Beltrán shoots his .22-caliber Benjamin in his backyard.
"Between the dark and the daylight,
As the night is beginning to lower,
Comes a pause in the day's occupations,
That is known as the children's hour."
— Henry Wadsworth Longfellow
Sit back and enjoy your hot cocoa, kiddies, because this is it! This is the airgun that probably started it all for many of you, and darned near all of you ought to know it by name — I don't care where you're from. Coke, Levis and the Daisy Red Ryder are the DNA of America.
We're older and sadder now — having matured through some of the same flaws and foibles that older societies had to endure. But the name Red Ryder still rings a happy bell in the backs of our minds. It reminds us of the poem that promises "…somewhere the sun is shining."
What is a Red Ryder?
Asking what a Red Ryder is, is like asking which Elvis you liked best — skinny or fat. The truth is, there wasn't just one Red Ryder — there were many. The first gun (and it's a gun for certain, because it isn't rifled) was Daisy's No. 111, Model 40 — first made in 1939. It had a copper-plated "golden" band around the front of the wooden forearm and the barrel, a saddle ring on the left side with a genuine leather thong tied through it and a Red Ryder brand burned into the left side of the stock. There are numerous variations of this early model, and the very first one also had a cast-iron cocking lever.
If you're an old guy like me, you can still remember that those early Red Ryders were very difficult to cock, because they still used the heavy wire mainsprings from the earlier guns. Over the years, the gauge of the wire was thinned to help kids cock their guns and also to slow down those steel BBs that really could put your eye out. So, if the cocking on your gun seems stiff, it's an early one.
World War II
Daisy played a large and patriotic part in World War II, including the grandson of the founder becoming one of the first pilots to break the speed of sound during a test flight of a P38 Lightning over England (in a steep dive). So, production of the Red Ryder halted in 1942 and resumed again in 1946.
My Red Ryder is a variation from 1947. It has a blued steel finish and a plastic forearm, with a wooden buttstock that carries the Red Ryder brand. The cocking lever is cast aluminum and painted black. Within a few more years, Daisy would start electrostatically painting the entire gun, so I feel fortunate to have the model I do. I know my gun is from 1947 because it came in the Model 311 Red Ryder set, which also included a scope, a cork tube and a steel target holder — all packed in a large brown cardboard box. There's a later gun that has all the same features as this one; but since the set stopped being produced in 1950 and the later gun didn't begin production until 1952, I know I have what the Blue Book of Airguns calls Variant 5.
The sights are fixed. Even though the No. 25 slide-action (pump) gun had adjustable front and rear sights in 1913, the Red Ryder lasted for more than a decade before it got them. You just had to learn where to hold to hit your target.
Next!
In 1955, Daisy introduced an interim Red Ryder based on the Model 94. It was a painted gun with plastic stock and forearm and painted logos on the frame. Of course, the plastic stock couldn't be branded with a hot die (branding iron), so the logo was cut into the mold and the resulting lines were painted gold on the stock. It had a leather buttpad called a boot that was removable, and I believe this is the only leather buttpad on any Red Ryder. This model was short-lived and died out in 1962. As far as I can tell, the No. 111 Model 40 was produced right alongside this one; so for a time, Daisy actually had two Red Ryders in their lineup.
In 1972, the Red Ryder model changed to the Model 1938. It was very similar to the earlier gun, but there were manufacturing changes made to speed up production and adaptations to new ways of building BB guns. Plastic buttstocks that had been on the guns since the 1950s were applied interchangeably with wood stocks and even walnut stocks from time to time.
The Lightning Loader ends
The Lightning Loader is the separate tube under what looks like the barrel. It's where the BBs are loaded. If you don't know what I'm talking about, watch Ralphie load his new Red Ryder on Christmas morning in the classic movie A Christmas Story. But in the movie, Ralphie has to "cheat" the loading scene, because his Red Ryder is really a model 1938B, which doesn't have a real Lightning Loader. Instead, it has a plastic door that's opened to dump BBs into the outer tube — what looks like the barrel to most folks. The tube under the barrel is entirely cosmetic.
The 1938B is the Red Ryder of today, and the look has changed a little. We're back to a wood stock and forearm, and the Red Ryder brand is back on the stock. It's easy to burn in a brand when the stock is wood, and wood is what the customers want, so Daisy's accommodating them. Blued steel comes back from time to time, but I don't think we'll see it on anything more than a special commemorative gun in the future. The electrostatic paint Daisy uses is far more durable than chemical bluing anyway. If you take care of the gun, the finish will outlast the original owner.
The gun
The BB gun I'll be testing for you is my 1947 model — not the current gun. If you're interested in the current model, we have an excellent two-part review by our own BG_Farmer for you to read. He compared a 1938 model with today's 1938B, so this look at a No. 111 Model 40 is actually a test of a different airgun.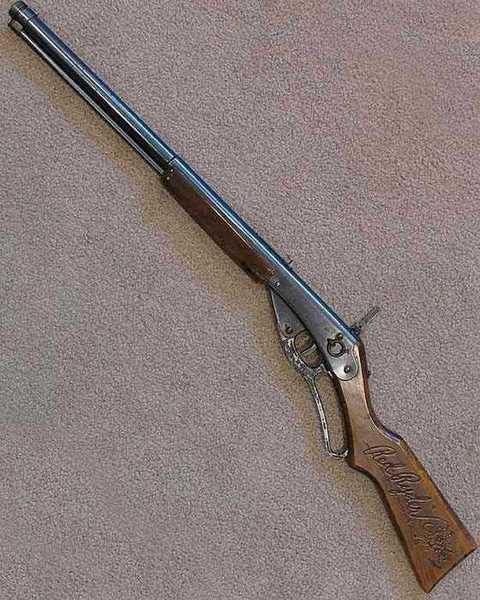 Daisy's Red Ryder is the best-known airgun of all time.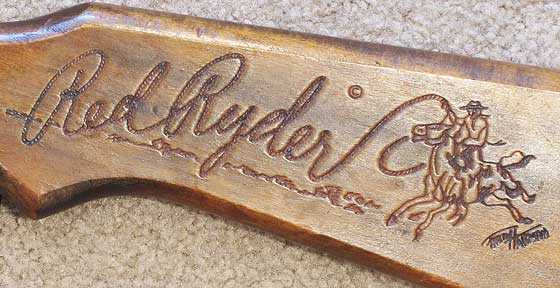 The brand was on the left side of the stock. Today, it's on the right.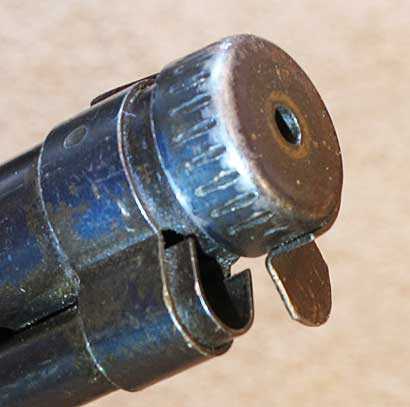 Turn the muzzle to open the Lightning Loader. Though it looks like a tube running the length of the barrel, it's just a ramp to dump BBs into the hollow outer barrel jacket.


Yes, they had plastic in 1947. It wasn't as good as it is today, and many of these old pieces such as this forearm have warped over time. This one is still good, but it looks incongruous with the wood butt.
In fact, the gun I'm showing here is really different from any other Red Ryder, because this one was made specially for the model 311 Red Ryder set mentioned earlier. What sets this gun apart from all others is the presence of the permanent rear mount for the long Daisy Model 300 telescopic sight. That mount attaches with two wood screws. If I remove it from the gun, I have a hole in the comb of the stock where the back of the tang was and the forward screw doesn't run all the way down to the receiver. In other words, this gun was made this way at the factory. Like it or not, that rear scope mount has to remain in place or I have to seriously bubba the gun to eliminate its presence. Doing that would be like converting the gullwing doors on a Mercedes 300 SL to open to the side! So, this Red Ryder will always look different than the others.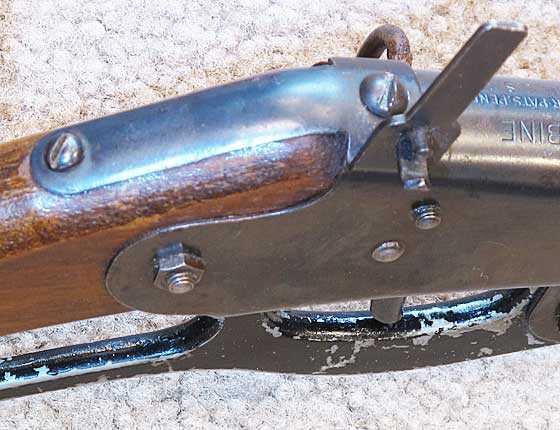 The rear scope mount is built into the BB gun and can't be removed without making the gun look incomplete. Other Red Ryders don't have the backstrap seen here, and removing this mount leaves a deep hole in the wood. This is a rare gun since the set it came in was made for only a few years.
One final comment before I end this report. While photographing the BB gun, I noticed that the finish really does look blue — not the black oxide color seen on today's firearms. It's well-polished and looks very classy after seeing nothing but modern airguns for a long time. I can see why kids were so outraged when Daisy stopped bluing their BB guns and went to electrostatic paining.
Next time, I'll check velocity, accuracy and cover a maintenance tip or two.
by B.B. Pelletier
Announcement: Rick Ruth is this week's winner of Pyramyd Air's Big Shot of the Week on their facebook page. He'll receive a $50 Pyramyd Air gift card! Congratulations!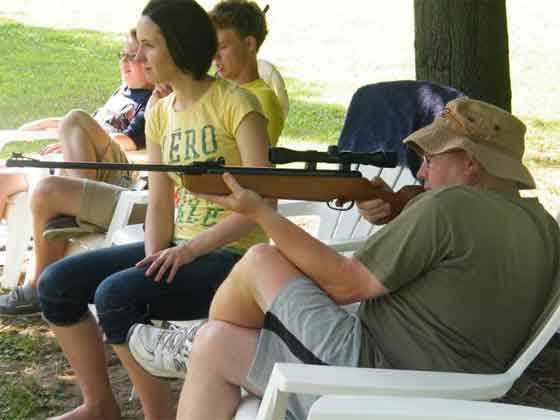 Rick's shooting his Crosman Quest spring-piston breakbarrel rifle. Since this photo was taken, Rick says he's replaced it with an RWS 34 springer and says it's a much better gun.
Today, Vince takes us through a test between a vintage Daisy No. 25 pump-action BB gun and its modern equivalent. In his usual distinctive way, Vince shows us how much has changed through the years, as well as what's remained the same.
If you'd like to write a guest post for this blog, please email us.
Now, take it away, Vince!
The Daisy 25 pump BB gun, despite the endeavors of the popular-but-technically-flawed movie, A Christmas Story, remains in many ways the iconic Daisy. In my mind, it's forever thus enshrined. I can still remember one sitting in my uncle's basement gun cabinet — and that somehow, in comparison, my cousin's Red Ryder and my own Daisy model 1894 looked distinctly toy-ish. Maybe it was the wooden pump handle and way the really long cocking arm blended into the front of the triggerguard. Perhaps it was the duck hunting scene pictured on the action. WOW — you could hunt DUCKS with that thing!
I never got to try out that particular gun, and it wasn't until about 5 years ago that I finally got my hands on a used No. 25 from Gunbroker — which was promptly returned to the seller. "Good working order" is not an accurate description when the shot tube is missing.
The NEXT one I got was a plastic-stocked gun from the mid-50s, I think, and I FINALLY got to shoot one. It was all over the place. And I mean ALL OVER THE PLACE. Accuracy was poor, even by BB gun standards. Off it went to its next appreciative owner.
A short time later, I was meandering through a local sporting goods store and saw — GASP! — a brand new No. 25 on the shelf. The price was under $40, so I bit.
I got it home, and even though the gun followed the design of the No. 25 rather faithfully, somehow it didn't quite seem right. Don't know if was the Chinese paint, the Chinese metalwork, the Chinese wood or the Chinese plastic trigger with safety or just the fact that it said "MADE IN CHINA" on the gun. But it didn't seem to be a real No. 25; and, even though it didn't shoot badly, it never seemed much different than a contemporary Red Ryder.
So this latest version of the venerable No. 25 went quickly back to sitting on a shelf. A while later, however, ANOTHER No. 25 came into my hands. This one was a very early one, this — an Alpha to compliment the Omega I already had. Well, not QUITE the Alpha, but darned close – manufacturing details seem to place this gun between 1916 and 1924.
Gee. Now I've got a pair of No. 25 BB guns at the extreme ends of the manufacturing spectrum, their births being separated by something like 90 years and 12,000 miles. It sure sounds like a comparison test has been decreed by the Fates, and far be it from me to oppose those irresistible cosmic forces.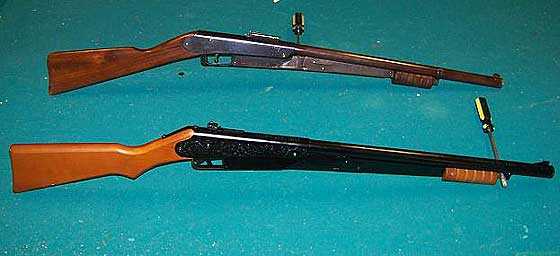 Two Daisy No. 25 BB guns. The new one in front looks longer because of the camera's perspective. They're the same length.
What is it with the Chinese and that orange-colored wood? They're virtually identical in length at 37 inches. Oddly enough, the newer one is heaviest at 3.50 lbs., with the old one coming in 7 oz. lighter. That extra length in the cocking arm has something to do with it. The old one is blued, while the newer one is painted.
Given their disparity in origin there are going to be some detail differences. A couple show up in the top rear view of the actions.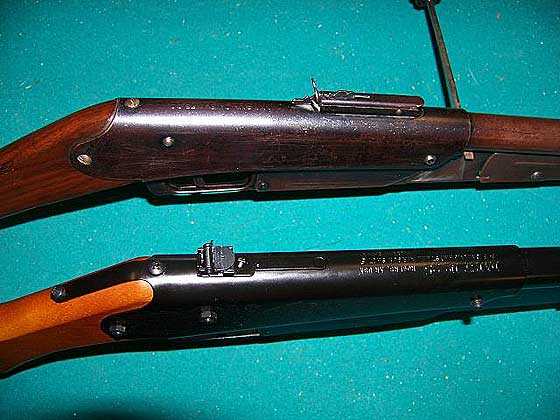 Top view of both actions shows the differences in the sights and their placement. The newer gun (bottom) also has a backstrap that the vintage gun lacks.
The old one has a ramp-adjutable rear sight that sits a bit further away from the shooter's eye, which makes it easier to focus. The new one is screw-adjustable, and it flips to present either a notch or a peep sight to the shooter. Another obvious addition is the additional strap extanding from the rear of the action to the top of the stock's pistol grip. I imagine Daisy had some cracking issues to handle. [Editor's note: This strap was added to the 1930 version of the gun that was just prior to the engraved 1936 version. Once added, Daisy never removed the strap again, despite there being 20 years before plastic stocks replaced wooden ones.]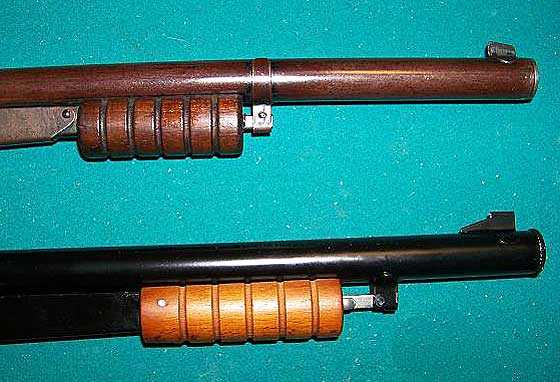 The pump handle on top is on the original short-throw pump linkage that's held to the barrel by a steel clamp. The linkage on the new model is anchored by a spot-weld.
Speaking of handles
The handle on the newer gun is further forward. This was done when they lengthened the cocking arm (in the 1920s, I believe) to reduce cocking effort. On our examples, there doesn't seem to be much of a difference. Other detail differences include the mounting of the front pump handle guide and the shape of the fixed front sight.
Although I'm not planning to do a teardown as part of this writeup, I can show you the shot tubes, since they're regularly removed anyway. The shot tubes are the true barrels of the No. 25. They screw into the outer sheetmetal housing that most people refer to as the barrel.


The shot tubes look somewhat different, but actually can be interchanged.
They load the same and work the same, but obviously are made a bit differently and certainly don't look interchangeable — there's a cast metal breech base on the newer one.
Finally, we can see what the plain actions looked like before Daisy started decorating them. Details in the triggerguard and trigger construction are pretty obvious, especially the addition of that ungainly safety on the newer one.

The right side of the two actions shows an interesting comparison. The newer trigger (bottom) is certainly the feature that stands out the most.
Let's start shooting
OK, tour's over. If I'm gonna shoot these things, I need to shoot something through them — and they do have different appetites. The old one is strictly for lead shot only. If I load it, steel shot will probably come out the other end — but the feed and holding mechanism relies on the softness of the lead, and using steel shot will likely booger things up. Specifically, this rifle was made for the old .175″ air rifle shot that Daisy used to market.
Key phrase being "used to." Daisy doesn't make it anymore, and it was suggested to me that the closest thing we have today seems to be Beeman Perfect Rounds, which just happen to measure .0.175″ across. Picking food for the modern one is easy — it's a Daisy, so it gets Daisy zinc-plated BBs. Tom has found them to be the better ones these days, and I'm generally finding the same thing myself.
I'm using the normal 15 foot BB-gun distance, and firing three groups of 5 shots each: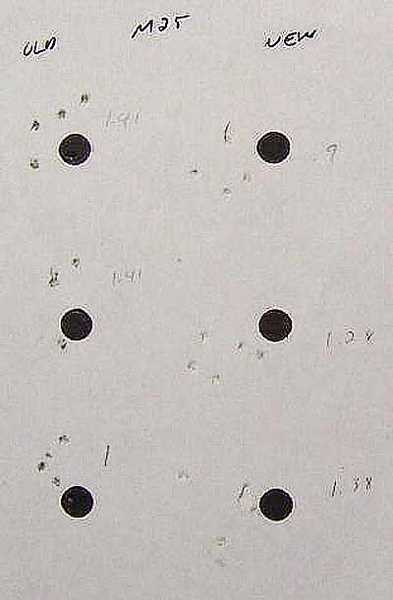 Two sets of groups — the vintage 25 on the left and the new gun on the right. Vintage gun groups measure 1.41 inches, 1.41 inches and 1 inch. New gun groups measure 0.70 inches, 1.28 inches and 1.38 inches.
Not too much difference, really, other than the lead BB's are easier to score. In fact, it's the newer gun that averages slightly better. That's a bit of a surprise, as the older gun certainly shows a nicer sight picture to my eye because the rear leaf is further away — and I really think that the Beeman Perfect Rounds are more uniform than Daisy BBs. For these reasons, I would have expected more consistent grouping from grandpa.
One nice thing about the newer Daisy is the way the rear sight flips from a leaf to a peep. Will that tighten the groups?


Shooting the new gun with the peep sight instead of the rear notch didn't improve the groups. They measure 1.05 inches, 1.60 inches and 1.45 inches.
The peep sight doesn't really make things better. In fact, they're slightly worse than the groups shot with the rear notch sight. The notch is the best to use for me.
Now, let's skip back to those lead BBs in the older gun. As I said, I was expecting them to be more accurate. Heck, they sure oughta be, given their price. And how much more expensive are they? I have no idea, because they seem to be discontinued. They ARE available direct from H&N, however — but they're $16 per 500. Crazy indeed, because you can still buy .22LR ammo for that price. [Editor's note: Gamo .177-caliber round lead balls are still available for a lot less than the H&N balls.]
This leaves me with one more thing I gotta try. Let's say you have a vintage 25 just like I have, and you want to shoot it with some sort of frequency. Or you let your grandson try it, who then lets the can of round lead balls slip out of his hand and empties your 3-cents-a-shot ammo into the grass. There's no doubt about it — if you're gonna use a BB gun the way BB guns were intended to be used, you're gonna go broke unless you have stock in the lead forming industry. So, why not just use steel BB's?
As Tom explained it, the old shot tubes have a "pinch" in the tube near the breech that would keep the shot from rolling out when the muzzle is pointed down. If we switched to steel ammo, it would probably work for a while, but eventually we'd run the risk of that pinch being worn down. Do we REALLY want to risk an irreplaceable part on an antique BB gun, just so we can temporarily save a few bucks on BBs?
But there's another solution, because neither Daisy nor the Chinese really have a vested interest in altering things just for the heck of it. Obviously, the shot tube assemblies from each gun LOOKS different, and some construction details have changed. But what happens when you actually try to screw the tube from the newest gun into the old one?

It may look odd, but using the new shot tube on the vintage No. 25 allows you to use cheap steel BBs.
You get what's called "a perfect fit." Yup…100 years apart in design, and not even the 7/16″ National Coarse thread at the bottom of the tube has changed. Time to see how this works.

Three groups with the vintage gun using the new shot tube and steel BBs. Groups are sized 1.55 inches, 0.90 inches and 1.20 inches.
As you can see, it's slightly worse than the newer gun with this same tube, but so close as to be virtually identical. And it's still slightly better than the original tube with Beeman ammo. Best of all, the gun fed and fired flawlessly.
I did a chrony comparison of these guns and found that that the early model seems to have lost some of its zing. Shooting it with the lead balls gave me the following numbers:
Shot..Vel.
…1….219
…2….216
…3….219
…4….216
…5….212
…6….214
…7….212
…8….210
…9….206
…10..200
The new one (shooting much lighter steel BBs) is better, but still under the advertised velocity of 350 fps:
Shot..Vel.
…1….319
…2….301
…3….319
…4….315
…5….318
…6….311
…7….310
…8….314
…9….320
…10..317
So, exageration is hardly unique to air rifle manufacturers! Lastly I tried the old gun with the new shot tube:
Shot Vel.
…1….304
…2….301
…3….302
…4….294
…5….304
…6….302
…7….297
…8….299
…9….299
…10..294
In both strings with the old gun, we see a very definite downward curve in velocity the more it's shot. Not sure why that is; and given the gun's age, I'm not entirely surprised. Could be the seal or the spring — but it matters little, as it won't be seeing too much use.
So, there you have it. The old gun, firing precision ammunition a gazillion times more expensive than cheap BBs is no more accurate than a new one. The old gun, with an old spring and an old seal, might not have the power of the new one. The old gun can be updated with new parts to shoot cheap BBs, but it won't shoot much different from a new one when you do that.
From all this, you can draw your own conclusions. It'd be easy to say "Wow! Home run for Daisy!" and pat them on the back for bringing this model back to life. And, from a cursory glance at the innards, it's obvious that this really IS a genuine Model 25, with an internal design substantially unchanged in almost a century. If shootin' fun is what you're after, this one gives away nothing to the vintage model.
But is there more to it than that? For me, I can say that it's pretty obvious that the new gun has certainly succumbed to some serious homogenization. Compared to, say, a contemporary Red Ryder, there's just no personality to differentiate it…not even a cosmetic one, really. The metalwork, the cheesy wood finish (cheddar, specifically) and price are all in the same ballpark. Couldn't they stain the wood a nice, dark brown? Or up the power a bit? Or SOMETHING? I know there has to be a lot of commonality among products like this, but come on — whatever happened to the virtues of "diversity"?
But this is getting a bit off-topic. The new Model 25 is a decent BB gun, and functionally gives away nothing to the old one. If you can get past the compromises that seem to be imposed by the current manufacturing climate, there's no reason not to enjoy it.
[Editor's note: One thing strikes me about the velocities Vince got. The vintage Daisy No. 25 seems to be performing like it's lacking oil. Or at least that's how an old gun behaves when it needs to be oiled. No doubt, it's a bit tired after all those years, but Vince: Did you oil the gun before testing?]