by Tom Gaylord
Writing as B.B. Pelletier
This report covers:
The test
ASG Blaster BBs
Air Venturi Copper-Plated Steel BBs
H&N Smart Shot lead BBs
Center aim
What to make of all of this?
Evaluation
Today is accuracy day for the Schofield Number 3 BB revolver. Lots of interest in this one, so let's get started.
The test
I shot from 5 meters. I was seated and the revolver was resting on the UTG monopod. I used a 6 o'clock hold for most of the targets and I shot 6 shots at each target.
ASG Blaster BBs
First up were ASG Blaster BBs. Six of them made a vertical group that measures 1.579-inches between centers. It's a lot larger than I thought it would be.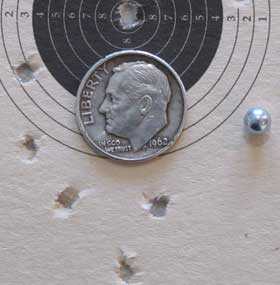 Six ASG Blaster BBs made this 1.579-inch group at 5 meters.
Air Venturi Copper-Plated Steel BBs
Next I loaded 6 Air Venturi Copper-Plated steel BBs into the cartridge noses and shot them. Again, the hold was 6 o'clock on the bull. These BBs went low and a little to the left, making a 1.488-inch group.