Posts Tagged 'Diana Magnum pellets'
by Tom Gaylord, a.k.a. B.B. Pelletier
Benjamin Marauder .177 caliber: Part 1
Benjamin Marauder .177 caliber: Part 2
Secrets of loading the Benjamin Marauder magazine
Benjamin Marauder .177 caliber: Part 3
Benjamin Marauder .177 caliber: Part 4
Benjamin Marauder .177 caliber: Part 5
Benjamin Marauder .177 caliber: Part 6
Fixing a Marauder magazine
Benjamin Marauder .177 caliber: Part 7
Benjamin Marauder .25 caliber: Part 1
Benjamin Marauder .25 caliber: Part 2
Benjamin Marauder .25 caliber: Part 3
Wow! More than one month has passed since the last part of this report. I've been to the Roanoke airgun show and also out to the rifle range at least 3 times trying to get the data for today's report, but what a quest it has been! It all boiled down to false confidence in my ability to get the job done. I'm used to certain rifles cooperating with me every step of the way, and this time I got called by the fates who expose pride for what it is.
I'm not going to bore you with all the details, but I will point out the most recent example of my stupidity because it's a lesson for us all. When I went to the range last week, I thought I was ready to complete my 50-yard test of the .25-caliber Benjamin Marauder. I'd swapped the scope mounts from a previous test because they were too high. The new mounts were lower, and I didn't have to hold my head as high on the comb. I knew this would help with the accuracy. But then I went to the Roanoke airgun show, and forgot that I'd made this change.
What's most important about the change, though, are that the new mounts were vintage B-Square adjustable mounts. And the rear ring was jacked up higher than the front. I always liked that setup because it gets the drooper problem taken care of on the first shot — even if there isn't one! But not if you forget that you did it!
And that's why this report didn't happen last week. I had the Marauder at the range with the TX200 Mark III, on which I reported last weekWhen I shot the Marauder, there wasn't a pellet hole on the paper. And I'm not just talking about the target paper, either. I mean the 2-foot x 4-foot backer paper that I use whenever I have a rifle that's not known to be sighted-in.
Naturally, I was disappointed. This was a Marauder after all, and I expected it to go right to the point of aim. After shooting just two 8-round magazines, I took the rifle off the line and put it away. I needed to look into the situation deeper and figure out what was wrong.
What was wrong, was that I had forgotten about the new scope mounts. When I looked at the scope back in my office, I immediately saw that the rear was higher than the front. Then I vaguely remembered something about changing the mounts before going to the Roanoke airgun show, so I reread the last report and discovered what had happened. The gun had not been sighted-in with the new mounts. It was obvious that the scope was set up for a rifle with severe barrel droop, and this rifle doesn't have that.
I even went back to the rifle range last Friday and looked at the backer board where my target and backer paper had been stapled. Sure enough, above where the top of the paper had been there was a hole in the backer board. It had the appearance of a nice rifle group. And some of the holes in the group appeared to be .25 caliber.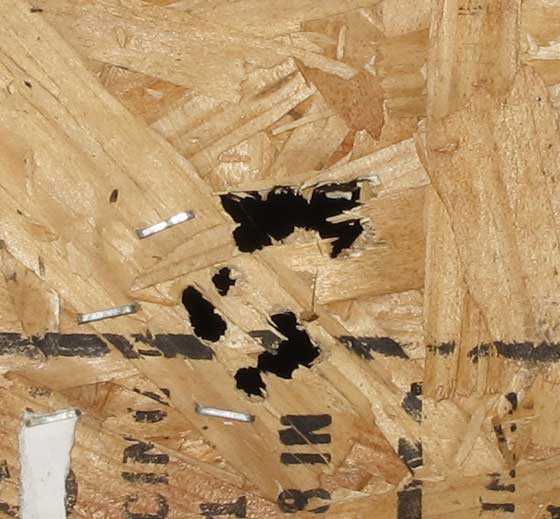 This group in the backer board is just above where my target paper was stapled. I believe it's the impact point of the 25-caliber Marauder from last week's test!
Suspecting what happened, I started shooting at an aim point much lower than my anticipated target. Sure enough, my pellet was hitting the paper about 16 inches high and 6 inches to the left. That's a problem I can deal with! All I had to do was adjust the scope down and to the right, and I was on target. It took me less than 10 minutes to get my groups landing where I wanted at 50 yards. Now, it was time to test the rifle.
The first group was shot with H&N Baracuda pellets. In the past, these were the most accurate .25-caliber pellets on the market, but they have since been replaced by several others, including one huge surprise that emerged in this test! The group measured 1.021 inches between centers. It's a good group for any rifle at 50 yards, but I did think the Marauder might be capable of better.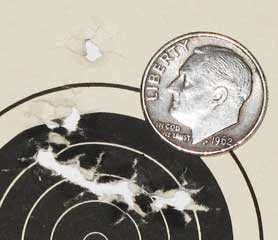 Eight H&N Baracuda pellets went into a 1.021-inch group at 50 yards.
I should mention that I was firing two magazines of eight shots each in this test. So the groups that you see have 8 pellets and not 10 in them. I recharged the rifle with air after every 16 shots because the reservoir pressure had dropped to around 2,100 psi by that point. That was as low as I felt it could go and still be accurate.
JSB Exact King
The next pellet I tried was the JSB Exact King, a .25-caliber pellet that's shown a lot of promise in recent testing. The first group I shot measured 1.447 inches between centers. That's not very good for a PCP rifle at 50 yards. Interestingly, however, 7 of those 8 shots went onto 0.719 inches, and that is good. I hoped that the one flyer was an anomaly, and that a retest of the same pellet would do better.

Eight JSB Exact Kings went into 1.447 inches. That's not very good, but 7 of the pellets went into 0.719 inches, which is promising.
The second group of JSP Exact Kings when into 1.094 inches. That's a lot better, but it still wasn't what I'd hoped for, so I left the Kings to try other pellets.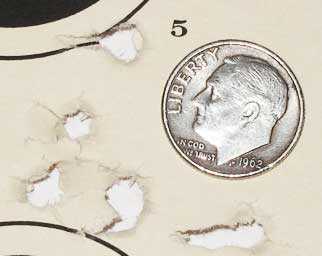 Eight JSB Exact Kings went into 1.094 inches. It's better than the first group, but still not thrilling. At this point, the .25 Marauder looks like a 1-inch rifle at 50 yards.
Benjamin domes
Another stunning pellet in .25 caliber is the Benjamin dome. It has no model name, but you could think of it as a Premier pellet because it looks similar to the other pellets in the Premier line. The first group of 8 pellets measured 1.226 inches between centers, which was again larger than I was looking for.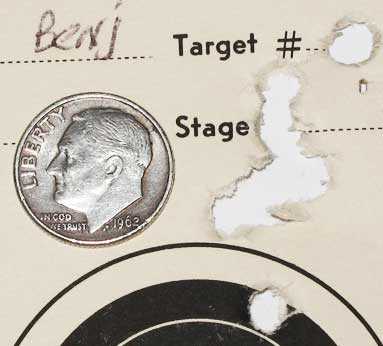 Eight Benjamin domes went into 1.226 inches at 50 yards. It's larger than I would like.
The second group of Benjamin domes measures 1.06 inches. While that's better, I still thought the rifle could do more.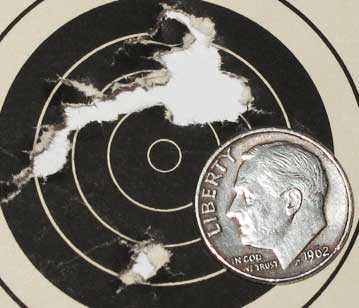 The second group of Benjamin domes was better, with 8 in 1.06 inches. It's good, but somehow not good enough.
Predator Polymag
The last pellet I tried was the .25 caliber Predator Polymag. It showed well in the 25-yard test and earned its place in this test. There really aren't a lot of options when it comes to accurate .25-caliber pellets, and I think we've included all of them in this test. Yes, there are other brands out there, but do they perform? In my experience, they don't.
The Predator is a hollowpoint pellet that has a red plastic tip in the center of the nose. Normally, hollowpoints fall off in accuracy at around 25 yards, but this pellet doesn't. That tip seems to do its job.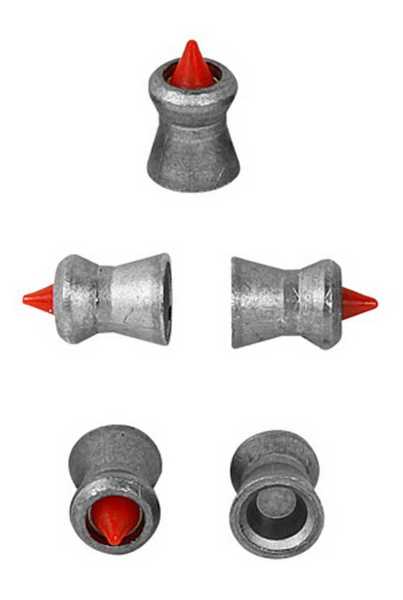 The Predator Polymag pellet is a hollowpoint with a plastic tip in the center, and it really works at long range!
The first group of Predators measures 1.121 inches between centers. Once again, that's okay for 50 yards, but it's nothing to scream about. But the second group measures 0.808 inches between centers. That's what I was looking for! While the Marauder can't be expected to shoot that well every time, this group proves that it has the potential. And it does it with a pellet that is acknowledged to be a great hunting pellet!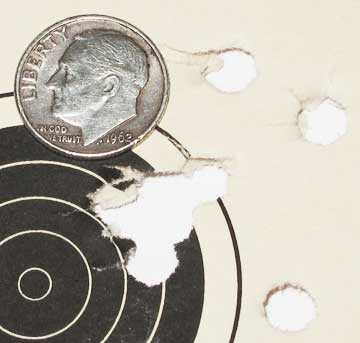 The first 8 Predator Polymags went into 1.121 inches at 50 yards. That's not bad, but not what I was hoping for.

Now, that's a group! The second group of 8 Predators measures 0.808 inches. This is the accuracy I was looking for from the Marauder.
Observations
No .25-caliber airgun has ever been as accurate as the best .22 or .177 guns. What we see from this test is a range of results that represents what the .25-caliber Benjamin Marauder can do at 50 yards. I think these groups show what this gun can do very well. Sure, if you shoot more there will be some smaller groups. But there will also be many more groups that are larger than those shown here. I think we can safely say the Marauder in .25 caliber is capable of putting 8 shots into one inch at 50 yards when you do your part.
The .25-caliber rifle uses a lot of air! I was getting just 16 good shots in this test on a 3,000 psi fill. Compare that to the 32 good shots I got in the test of the .177-caliber rifle filled to the same pressure.
From a handling standpoint, there isn't a nickel's worth of difference between the .177- and .25-caliber rifles. The trigger can be adjusted to operate virtually the same, and the stocks feel the same. The one small difference is the .25-caliber gun does move back slightly with each shot. I didn't feel that with the .177, but I definitely felt it in this test.
If you want a .25-caliber hunting air rifle, I think the Marauder is a good candidate for your short list. It's powerful, accurate, quiet and reliable. How much more can you ask?
by Tom Gaylord, a.k.a. B.B. Pelletier
Benjamin Marauder .177 caliber: Part 1
Part 2
Secrets of loading the Benjamin Marauder magazine
Part 3
Part 4
Part 5
Part 6
Fixing a Marauder magazine
Part 7
Benjamin Marauder .25 caliber: Part 1
Benjamin Marauder .25 caliber: Part 2
I told you this report was going to be a different kind of test, and today I'll prove it. I shot the .25-caliber Benjamin Marauder off a rest at 25 yards, but the purpose was not to learn if the rifle is accurate — I already knew it is. And 25 yards is hardly long enough to show the accuracy potential of this powerful PCP.
No, I told you that I would be searching for the most accurate pellets in this rifle. You see, unlike .177- and .22-caliber guns, the big .25 doesn't have that many accurate pellets. Going into this test, I only knew of 3 — the H&N Baracuda (also branded as the Beeman Kodiak), the Benjamin dome and the JSB Exact King. Other .25-caliber pellets I've tested were not accurate enough to be considered. Today's test is to establish that the 3 good pellets are still good in this test rifle and to see if there's another good pellet or 2 out there.
The rifle is now scoped with the UTG 6-24X56 AO scope with illuminated reticle, which I'm also testing for you. I won't get into that evaluation in this report, but I will use this test to report on that scope. This scope has high rings that come packaged with it.
Testing pellets rapidly
Time is a commodity in short supply around here. It takes a long time to test something, then pictures have to be taken and it takes even more time to write it up. Normally, I shoot 10-shot groups for accuracy, but I told you I was going to do things differently today, and this is where it starts. Instead of shooting 10-shot groups (or 8-shot groups because the .25 Marauder circular magazine only holds 8 pellets), I decided to shoot 4-shot groups. The results of those groups would tell me which pellets were worth testing more closely. But testing more closely won't be at 25 yards. It will be out at 50 yards.
H&N Baracuda
Since I'd just mounted the scope, I had to sight-in the rifle, and for that I loaded a full magazine with 8 H&N Baracudas. Sight-in took just 2 shots, so the first group for the record was 6 shots instead of 4. As predicted, it was a tight 0.376 inches at 25 yards. Of course, some of that is due to the lesser number of shots, so bear that in mind. Also, bear in mind that a group of .25-caliber pellets will look much larger than the same size group of .177-caliber pellets.

Six H&N Baracudas went into 0.376 inches at 25 yards. This pellet is on the list for 50 yards.
JSB Exact King and Benjamin dome
Next, I shot 4 each of the JSB Exact Kings and Benjamin domes. Both performed exactly as expected. The 4 Benjamin domes went into 0.196 inches. Of course, I would expect this group size to double with 10 pellets, but it's still the kind of accuracy I was looking for.

Four Benjamin domes went into 0.196 inches at 25 yards. They made the list, as well.
I shot the first 3 JSB Exact Kings into a very tight 0.11-inch group, but the fourth shot was a called pull to the left. It opened the group to 0.383 inches; but since I know that I pulled the shot, it doesn't phase me. This pellet also made the cut for more testing.

Three JSB Exact Kings went into 0.11 inches at 25 yards. That's the larger hole on the right. A pulled fourth shot that was called opened the group to 0.383 inches, but that doesn't bother me. This one is a keeper, as well.
Predator Polymags
The only other pellet that showed promise in this test was the Predator Polymag. Four of them went into 0.274 inches at 25 yards. That's good enough to earn a chance to shoot at 50 yards in my book.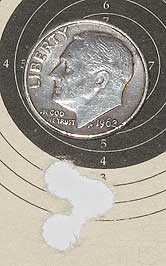 Four Predator Polymag pellets went into 0.274 inches at 25 yards. That was enough to make the cut.
The other pellets
As I said before, the .25-caliber pellet is not as uniformly accurate as the .177 and .22. Until this test, only the first 3 pellets I shot had shown any promise. Now, we have a fourth. To show you what some other pellets look like in comparison, here are 3 more that didn't make the cut.
RWS Superdome
The results of 4 RWS Superdome pellets tell the story of the .25 caliber very well. Four went into a group that measured 1.378 inches between centers. You can clearly see there's no need to shoot 10 pellets, when just 4 make a showing like this.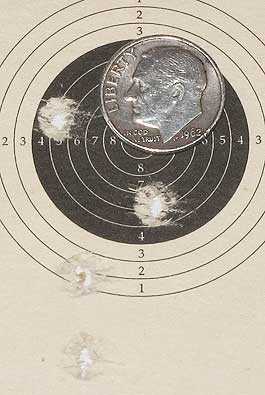 Four RWS Superdomes made this 1.378-inch group at 25 yards. It was the largest group of the test.
Diana Magnum
Next, I tried the pellet that was the best .25-caliber pellet for many years in the 1990s. Until the H&N Baracuda came out in .25 caliber, the 20-grain Diana Magnum was the pellet people chose for accuracy. Certain individual guns may have done better with other pellets, but the Diana Magnum was considered the best all-around .25-caliber pellet of its day.
Not surprisingly, Diana Magnums turned in the smallest group of the three pellets that were not selected to go on to longer-range testing. Four went into 0.588 inches at 25 yards.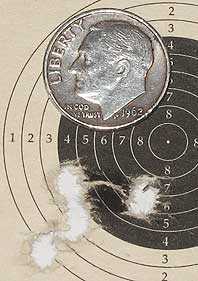 Four Diana Magnums made this 0.588-inch group at 25 yards. Fifteen years ago, this was the best pellet we had in .25 caliber.
Beeman Ram Jet
Another pellet that has left the stage is the .25-caliber Beeman Ram Jet. It was supposed to be a domed pellet that also performed like a wadcutter, but accuracy was never this pellet's strong suit. Four of them made a 0.769-inch group at 25 yards.

Four Beeman Ram Jets made a 0.769-inch group at 25 yards. This pellet was also never in the running.
Summary
I hope from these results that it's clear why I went with 4-shot groups instead of 10-shot groups. I never planned on testing the .25-caliber Marauder at 25 yards, except to prepare for the 50-yard test, which will be next. I think you can see the clear differences between the pellets that were selected and those that missed the cut. More than any other caliber, the big .25 is an all-or-nothing caliber. And there aren't that many pellets to choose from.
Trigger
One more thing I want to report today is how the trigger now performs. I adjusted it before this test and got it exactly where I want it. I won't say that it's better than the trigger on my .177 Marauder, but it's just as good. The Marauder trigger is something Crosman can be proud of, for it surpasses most PCP adjustable triggers I've tested. This one now has a positive stop at stage 2, followed by a very light, crisp break. It allowed me to hold very precisely and know when I pulled my shots, which only happened once during this session. This trigger will certainly do!
Next, I plan to shoot the rifle at 50 yards with these 4 pellets. That should give us a good idea of the long-range capability of the rifle. If the results suggest it's capable, I may attempt a 100-yard test, as well. I need for the shooting conditions to be perfect to do it; but if they are, we may see the real potential of the big Marauder.