Posts Tagged 'field target'
by Tom Gaylord, a.k.a. B.B. Pelletier
Several years ago, a big bore airgun manufacturer was heard to say that his hunting rifles were accurate enough to hit an Oreo cookie at 30 yards. He argued that it would be very hard for a deer to hide behind an Oreo cookie. So, the question is: Were his rifles accurate? He obviously thought they were, but most of the public disagreed. He had to improve the accuracy until his rifles could hit that Oreo at 100 yards. He managed to do that, and the sales were very good from that point on. True story.
Was this an issue of perception, or was the manufacturer right — that no deer can hide behind an Oreo? Well, here's the deal. If he doesn't sell any guns, nothing else really matters because he goes out of business, making his opinion as a manufacturer moot! Today, I'd like to talk about what drives practical airgun accuracy.
You might think it's the World Cup and the Olympics that drive accuracy for airguns, but that would be incorrect. The World Cup matches certainly have had a huge impact on the accuracy and ergonomics of target airguns at close range. They've gone from being capable of making very small groups in the late 1950s to almost being able to stack all their pellets on top of each other. But that took place back in the late 1960s and early 1970s timeframe. Since then, there hasn't been much advancement in accuracy because there wasn't much room to improve. So, the target airgun designers turned their attentions to improving the sights and the ergonomics of their airguns, and that's still going on today.
In this same time period, the pellet makers have advanced their art, as well. There's still room for some improvement of lead-free target ammunition, but things in the lead pellet realm are slowing down. Once again, we've gone about as far as it's possible to go.
But all of this progress has been in the world of close-range target guns. Longer-range airguns had a lot more room for improvement, and that was accomplished by different means.
History of field target and accuracy
When the sport of field target began in the UK in the 1970s, the first targets were just silhouettes of animals. The were hinged at their base so a hit anywhere on the silhouette knocked the animal over. These were simple targets to build, but not that challenging. It was argued that hitting a squirrel in the tail was hardly tantamount to dispatching it. If this sport was going to grow, it had to become more interesting.
Field target was not created to be a hunting simulation; but once it began, the connection to hunting was too obvious to ignore. Something had to be done to make the targets more realistic. The kill zone was the answer.
The kill zone works is a hole in the "face" of the target, which is the silhouette of the animal. The pellet must pass through the hole and hit a trigger (called a paddle) behind the target face. When the paddle moves, depending on how the target is built, the face will either fall over flat or at least fall partway.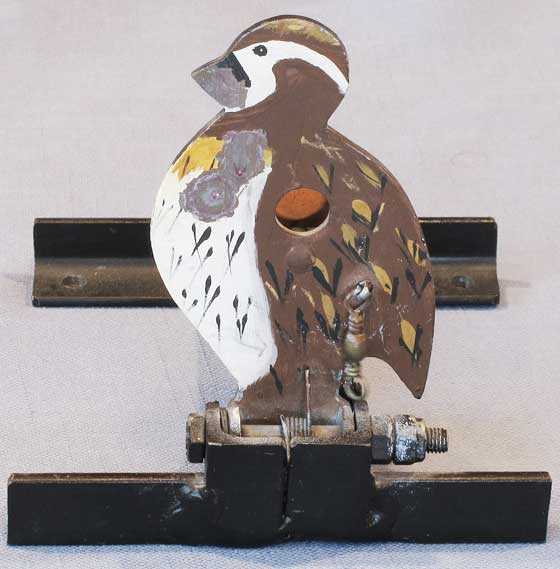 This field target was made by Ulysses Payne years ago. It has a kill zone that's backed by a movable paddle. The paddle is sensitive and  falls when hit square or locks when the pellet is split on the edge of the kill zone.

This side view of the target shows the link that connects the paddle to the face. When the paddle goes back, it pulls the face after it.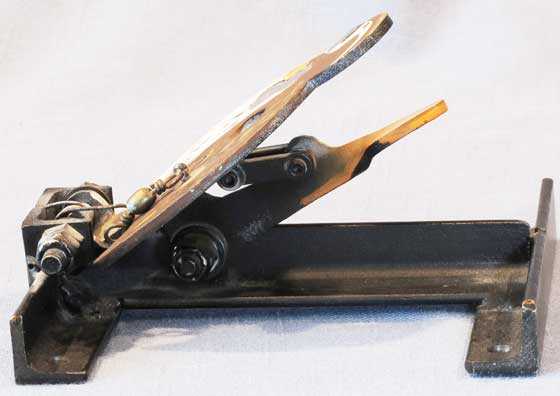 This target doesn't fall completely flat because of the linkage connecting the paddle to the face of the target.
The kill zone changed the sport of field target, though it took some time to realize. What people discovered was that if you hit both the target face at the edge of the kill zone hole and a piece of your pellet splits off and goes through to hit the paddle (called a split in the sport), the face would be pushed backwards so hard that the paddle might not fall. At first, this was a chance discovery; but after a while, target makers started making their targets more sensitive to splits. The goal was that a split would not allow the target to fall, thus preventing a point from being awarded.
After that, the kill zones got smaller and smaller to challenge good shooters even more. By the end of the last century, it was obvious what this had done to the sport. Accuracy had taken on a new meaning. People were no longer satisfied with hitting tin cans. Now, they wanted to bust aspirins. And not at close distances! But that's not all.
The evolution of scopes
Targets weren't the only thing to improve because of field target. Scopes changed dramatically. Back in the early 1990s, you really had to search for a scope that would correct for parallax down to 10 yards. Today, that kind of adjustability is even showing up on firearms scopes! The tiny little sport of field target is what has driven this change.
But that's just the beginning! Know those sidewheel parallax adjustment knobs on scopes? Where do you think they came from? Leupold didn't wake up one morning and say, "We think the snipers of the world deserve a sidewheel parallax adjustment scope that sells for about $1,400." No, sirree! The dozens of airgun scope manufacturers decided it for them — 10 years before Leupold got around to building their first one. And field target pushed them.
That little sport pushed the scope manufacturers until they were making scopes that could only have been dreamed of 2 decades earlier. When I got into the sport, the Leupold 6.5-20x Vari-X III was all the rage. Today, it would be considered a second-tier scope. Good…but no longer a championship scope.
And coming soon will be the bubble level inside a scope that Leapers is perfecting. Yes, other scopes with bubble levels already exist, but their optics aren't suited to precision shooting. This one will be.
Ammo
Pellets advanced at the same time. Back when I started in field target, a Diana Magnum was a good domed pellet. Then, Crosman Premiers hit the market and buried virtually all other brands. Next, JSB Exacts replaced Premiers as the best. Today, what would have been a world-class pellet in 1998 is now just considered average.

Pellet precision has evolved greatly in the last 20 years.
In short, this one sport of field target, in which only a handful of shooters actually compete, changed the face of airgunning forever. It defined accuracy for a generation and set the performance bar very high, indeed.
Big bores are staring to improve
The same thing has started to happen in big bore shooting. In the 1998 timeframe, a big bore that grouped inside 3 inches at 50 yards was seen as accurate. Now, that's down to an inch. But there are even fewer big bore airgun shooters than field target competitors, so the advancements are going to take longer.
The future
Nothing stands still. What we need today is a hunting pellet that's also very accurate. There are already a couple of contenders like the Beeman Devastator and the Crosman Premier hollowpoint. But the market is far from saturated. There's lots of room for accurate hunting pellets in all 4 smallbore calibers.
And the world of lead-free pellets is still in its infancy. The lead-free pellets of today are lightyears more advanced than they were even 5 years ago; but compared to target pellets and general purpose domed pellets, they're still very crude.
Summary
To prove the truth of what I'm saying, look at the groups we celebrate on this blog. The only thing that we don't yet do is shoot those tight 10-shot groups at 100 yards. But I'm convinced that day is coming.
So, if you compare where we are today with where we were even as recently as 1995, you'll see how far airgun accuracy has come. The guns are better, the pellets are better and even the scopes are better. The future is bright, and I can hardly wait to see the new inventions that will take us to the next level.
by B.B. Pelletier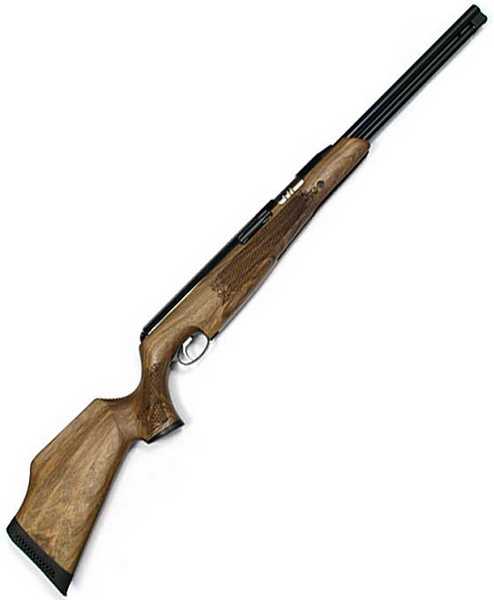 Air Arms TX200 Mark III air rifle is impressive in its optional walnut stock.
Today, we begin our look at the accuracy of the legendary TX200 Mark III. Since the rifle has no sights, I mounted a Hawke 4.5-14×42 Sidewinder Tactical scope in two-piece UTG Accushot 30mm medium rings. These rings are tall for a medium-height ring, but the TX200 cheekpiece is so high that many higher rings will be just right and fit the shooter perfectly. I know they come very close to a perfect fit for me, and the 42mm objective bell still clears the spring tube by a lot.
I'm showing a photo of the rifle with the scope mounted because you'll see that the end of the scope hangs over the back of the loading port. In a TX200, that isn't a problem unless you have summer sausages for fingers, because the loading port is very large — but on other underlevers and some sidelevers it may be. The Hawke is not a long scope, so this clearance is something a new TX owner needs to consider.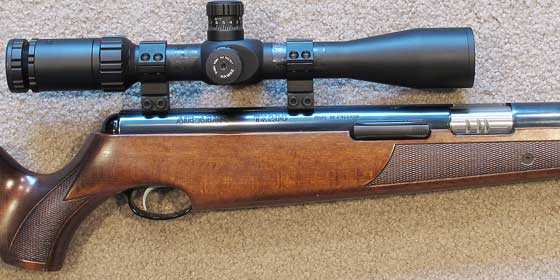 The Hawke scope hangs over the loading port just a little, but was not in the way during loading. See how much clearance the 42mm objective tube has above the spring tube?
What pellets to shoot?
This question is the one every shooter asks whenever they get a new gun — air or firearm. I have a lot of history with this rifle, but in the time since I last shot it many good pellets have come to the forefront. The JSB Exact RS is just one example. I know that Crosman Premier 7.9-grain domed pellets are averaging 958 f.p.s. in my rifle, and that means the lighter 7.3-grain JSB Exact RS will probably top 1,000 f.p.s. Six months ago, that might have turned me off; but after the exciting 11-part "Pellet velocity versus accuracy test" proved that harmonics and not velocity is what causes inaccuracy, I see no reason not to try a faster pellet.
I sighted in with Beeman Kodiaks, just because I used to shoot them in my other TX for field target, and they always worked well. But in reviewing my past reports, I see that this will be the first time I've shot 10-shot groups for a report. What a difference that makes!
Naturally, group one was with the Kodiaks. I had hoped to shoot around my aim point, but as you'll see, that didn't happen. The group may be a trifle larger than it should be, because for the last four shots I was guessing where to put the crosshairs.

Ten Beeman Kodiaks went into this group that measures 0.584 inches between centers at 25 yards.
Notice how round the group is? Actually only the first shot went low and right — the rest made that small hole you see. And that was exactly where the aim point was, so after six pellets there was nothing to guide on. Nine of the ten pellets went into a group measuring 0.302 inches!
Next, I tried 10.34-grain JSB Exact Heavies. Often, I get the best results with this pellet in an accurate .177 rifle. Ten shots in the TX made a group that measures 0.523 inches. Let's see what that looks like.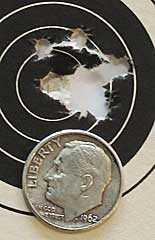 Ten JSB Exact Heavies made this group that measures 0.523 inches between centers at 25 yards. It looks more open than the Kodiak group, but it doesn't have the one straggler the Kodiak group does.
Next, I tried the light JSB Exact RS pellet. The point of impact shifted up about an inch, and the group opened to 0.687 inches. It's still fairly round, but more open than the first two by a lot. The RS probably isn't the pellet for this TX.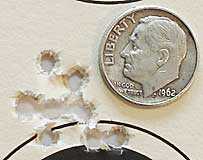 Ten JSB RS pellets went into 0.687 inches between centers at 25 yards. The shots are less-tightly grouped than those made by the first two pellets.
Then, I tried 10 Crosman Premier lites, just to see what they would do. They made a pleasing group that measures 0.559 inches between centers.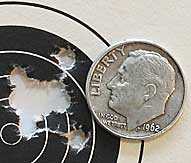 Ten 7.9-grain Crosman Premier pellets made this 0.559-inch group at 25 yards.
By this time, I was remembering everything I liked about a TX200. For one thing, it's not at all sensitive to the hold. In fact, this is one of the very few spring-piston air rifles that can be shot while rested directly on a sandbag. To demonstrate that, I shot 10 more Premier lites with the rifle rested on the bag. I had run out of targets on this sheet, so I used a single pellet hole for my aim point. Ten shots went into a group measuring 0.414 inches between centers — the smallest group of the entire session!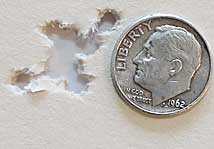 Ten 7.9-grain Crosman Premier pellets made this 0.414-inch group at 25 yards when the rifle was rested directly on a sandbag. The hole at the 7 o'clock position and outside the group was the aim point and is not a part of this group.
The bottom line
I hope this test demonstrates the accuracy potential of the TX200. Also, I hope you appreciate how important it is that the rifle isn't sensitive to hold. It will make a better shooter of almost anyone! Of course, I used the very best scope I have for this test; but besides that, nothing special was done. I didn't even use a scope level.
Have you noticed how similar in size all the groups seem to be? The rifle seems to like a lot of different pellets. That's another plus, and a good reason why this rifle is worth the price.
I love this rifle because it doesn't fight me. I can relax almost as though I was shooting an accurate PCP. And I've adjusted the trigger to such a fine point that it doesn't disturb the finest aim when it's pulled. No wonder I compare other spring rifles to this one!
We now have a baseline for the TX200; so when the Benjamin MAV 77 becomes available, we can compare it.
by B.B. Pelletier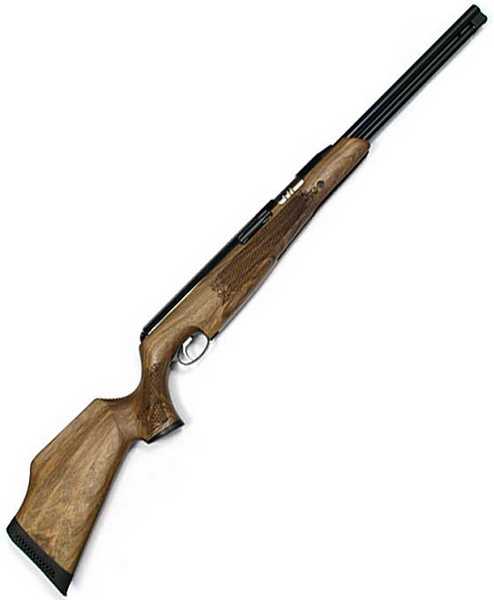 Air Arms TX200 Mark III air rifle is impressive in its optional walnut stock.
Let's look at the velocity of my .177-caliber TX200 Mark III. My gun is more than a decade old, and it didn't always perform like it does today. When it was new, it was 60-70 f.p.s. slower than what you'll see today; but as I shot it over time, the rifle broke in and became faster. This gun is still in its original factory tune. It hasn't been shot that much — perhaps 2,000 shots or so since new. I was no longer competing with a spring-piston rifle in field target when I got this one, so it sat around a lot. In fact, I think most of its life has been spent in tests like this one.
In the description in Part 1, I forgot to mention that the pistol grip of the stock is shaped for either right or left hands. You must buy the specific stock you need. It has a swell that fills your palm as you hold the rifle, and Air Arms made the grip fit well for most shooters. The grip is very vertical, which is perfect for a target-type trigger because it allows the best control over the trigger-pull.
I also didn't mention the latch that holds the underlever. I have seen everything from a complicated spring-loaded catch that has to be pulled back or pushed forward to release the lever, to a friction fit that can wear out and drop the lever at the wrong time. The TX200 has a spring-loaded ball bearing that holds the underlever tight, yet releases it easily when you pinch between the barrel and lever with your fingers. It is the best underlever latch I've seen. The only thing better is using over-center geometry to eliminate the need for the latch altogether.
Cocking effort
My TX200 cocks with 34 lbs. of effort. Cocking is smooth, and the three detents that hold the sliding compression chamber don't start catching until the last part of the cocking arc. The rifle is agreeably quiet when cocked, yet also reasonably safe from a beartrap accident, where the sear slips and the compression chamber slams forward on fingers that are loading pellets.
Trigger-pull
Another thing I've been adamant about is the superb trigger on the TX. In Part, 1 I showed a schematic of the trigger and the adjustment screws. I have mine set for a long first stage (which I like), and a second stage that releases at 9 OUNCES! I believe Paul Watts is able to tune a Rekord trigger this light, but not too many other people are. And all I did with this one was adjust the stage one and stage two trigger screws! It was nothing special.
There's also a trigger-pull weight adjustment screw located behind the trigger blade. You can lower or increase the trigger-pull weight with this screw, though the limits on both ends are finite. However, look again at what I have been able to achieve and see if that isn't what you want.
Jerry, how about taking a stab at adjusting your trigger and telling us what you discover?
Velocity
The first pellet I tried was the Beeman Kodiak that weighs 10.2 grains. They average 842 f.p.s. with a 10 f.p.s. spread from 837 to 847. At the average velocity, they generate 16.06 foot-pounds. I felt a slight buzzing at the end of the shot cycle, which is very unusual for this rifle, so I think these may be a bit too heavy for the powerplant. They're very accurate, however.
Next, I tested the time-honored Crosman Premier 7.9-grain domed pellet. They averaged 958 f.p.s., with a spread from 952 to 967 f.p.s. The shot cycle smoothed out with these, and they felt great! At the average velocity, they generate 16.1 foot-pounds of muzzle energy.
The final pellet I tried was the 8.4-grain JSB Exact. They fit the breech loosely and also varied a lot in size (from the feel at loading). They averaged 918 f.p.s., but the spread went from 897 to 929 f.p.s. Compared to the other two pellets, that's large. At the average velocity, this pellet generates 15.72 foot-pounds at the muzzle.
My rifle is stronger!
This is hard to believe, but my rifle is even stronger than it was the last time I tested it in 2006. Then, it shot Premier Lites at an average 933 f.p.s., with a 19 f.p.s. spread and delivering 15.27 foot-pounds. It's increased 0.80 foot-pounds over the past six years — mostly while lying dormant in my closet! But it's not going to be dormant for long, because we're going to see at least one accuracy test — and maybe two — from this air rifle.
Jerry's rifle
As I mentioned in Part 1, one of our new readers — Jerry — recently bought a TX200 MK III. I saw it at the LASSO big bore shoot, and Jerry let me shoot it. The rifle is gorgeous, and today Jerry has been kind enough to submit a couple pictures to show us what he received. He bought the walnut stock on the advice of many, both for the looks and for the lighter weight. Here, now, is Jerry's new rifle.


Jerry's TX200 Mk III is stocked in walnut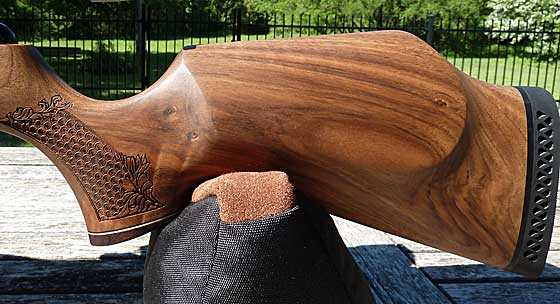 This closeup shows the beautiful wood grain. This is considered a standard walnut stock. And look at that checkering!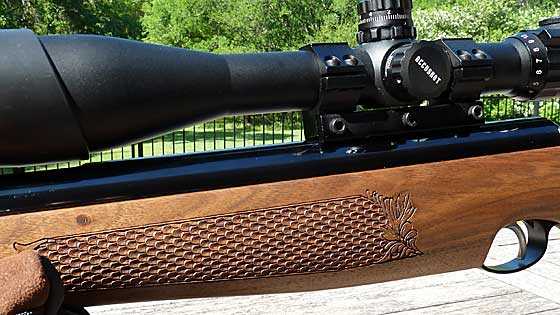 The forearm allows another look at the unusual checkering.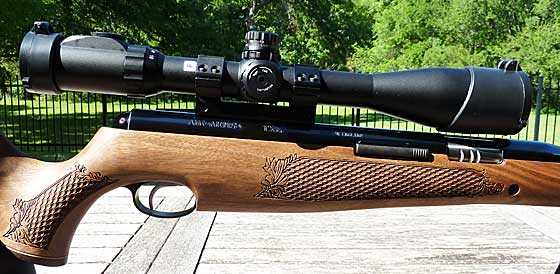 Leapers 4-16x scope looks just right on Jerry's TX. Even though it extends over the loading port, there's still plenty of room for loading because of the shape of the loading port.
I said in Part 1 that the barrel is nine inches long. That was a mistake. It's just over 13 inches — a fact I confirmed by measuring mine. The TX200 Hunter Carbine has the shorter barrel. I tested one of those and didn't care for the extra effort it takes to cock because the underlever is shorter than the one on the standard TX200. But the Hunter Carbine develops the same power as the larger rifle.
I'm going to mount my best scope on the rifle for the next test. Hoo-boy!
by B.B. Pelletier

Air Arms TX200 Mark III air rifle is impressive in its optional walnut stock.
I've reviewed this rifle before, but it's been a long time and many of you are asking about it again, plus I'm going to look at the Benjamin MAV 77 later this year, and I promised a comparison with this rifle. So, for those reasons, I decided that it's time to look at the Air Arms TX200 Mark III, again.
Some of you may know that Bill Sanders, the managing director of Air Arms, passed away recently. Bill was very uncharacteristically enthusiastic about all the guns he made. I say that because most principals in this industry are not shooters, nor do they own the guns they make. But Bill did, and he also knew how to use them. Maybe that's why, in the more than 20 years the TX has been around, the quality has only gone up.
History
The TX200 came about in the late 1980s as an improvement on the design of the HW77, which was considered the best spring rifle around at the time. The first model was simply called the TX200. But after several years, Air Arms added a ratcheting catch to hold the sliding compression chamber from slamming closed during loading. That rifle was called the Mark II. I bought one and competed with it in field target for a couple of years, until I switched over to a PCP. My rifle was tuned first by Jim Maccari and then by Ken Reeves so I could write about each of the tunes. In truth, the TX was pretty smooth right out of the box, but the Reeves tune did make it just a bit smoother.
When the TX200 Mark III came out, I bought one to test for The Airgun Letter. I found that rifle to be just as smooth as the Reeves-tuned Mark II, plus it had a shrouded 9-inch barrel, which made it very quiet, to boot. I didn't need two perfect guns, and the Mark II was sold. I still have the Mark III, which is the gun I'm testing for you here.
I recently had the opportunity to shoot a brand-new Mark III, and I see that the performance and looks of the gun are unchanged, except for better checkering on the new model. Instead of diamonds, they now have a fish-scale pattern that usually comes only on very costly guns.
Hump-backed look for high-tech design
When Beeman Precision Airguns started selling TX200 air rifles in the U.S., the first thing I noticed was that the rifle had a definite hump-backed profile. Why? Remember I said the barrel is 9 inches long? Guess what? All the science you have been reading about on this blog really works. And Air Arms applied it to its maximum in the TX200.
They put the center of the barrel in the center of the compression chamber, so the air transfer port aligns with the bore. That gives the most efficient airflow, but it also means the barrel, which is a smaller diameter than the spring tube, has to be mounted lower than the top of the spring tube. Hence, the hump-backed profile. Study the first photo, and you'll see what I mean. Look at the place where the barrel connects to the spring tube. On most other guns, they're level.
A 9-inch barrel prevents friction from slowing the pellet after it's accelerated to maximum velocity. A spring-piston gun develops maximum velocity in the first 6-9 inches of barrel. After that, the pellet is just coasting. The baffled shroud that houses the short barrel is much longer and gives the appearance of a bull barrel, hence the barrel length is often listed as longer than it really is.
Air Arms has used everything that's known about spring-piston guns to wring the maximum performance from a relatively short stroke and small piston bore. They do it without fanfare, but anyone who works on spring guns knows what they've done.
The rifle
The TX200 Mark III is an underlever spring-piston rifle that has a sliding compression chamber. The chamber slides back, giving access to the rear of the barrel for loading. Then it slides forward again, once the anti-beartrap latch is held down. The old Mark II has many stops in the ratchet, causing it to click loudly when cocked. Shooters objected to that noise. The Mark III has just three notches and is much quieter.
All metal parts, except the trigger and safety button, are highly polished and deeply blued, resulting in one of the finest finishes in the airgun world. The standard stock is beech, but the wood is shaped very sharply for either a right- or left-handed shooters. No compromise here. Fish-scale checkering roughens both grip panels and the forearm. The optional walnut stock is a good choice because it subtracts weight from the gun as well as adding interest. Blog reader Jerry got a walnut stock on his TX, and it looks very similar to the rifle pictured above.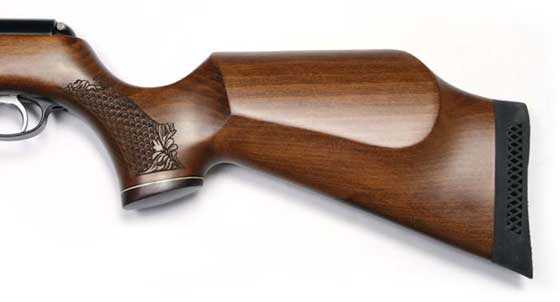 The stock is sharply profiled with crisp edges and a classic shape. The standard beech stock is shown.


The long lever, located behind the silver sliding compression chamber, is the beartrap release. After cocking, this lever is held down to close the sliding chamber, as the cocking lever returns to the stored position.
The trigger
The TX trigger is not just an improved Rekord, it's a new design that offers greater flexibility when adjusting, so you can get the pull weight and release down to a finer, lighter value than with a standard Rekord.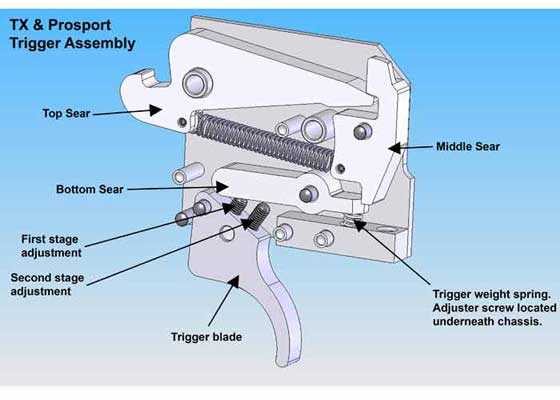 The TX trigger closely resembles the Rekord, but it's simpler and more adjustable. The larger parts are machined.
Years ago when Ivan Hancock was still building airguns, I bought one of his Mach II trigger, which are handmade copies of the TX trigger to replace the Rekord unit in my Beeman R1. That trigger cost half as much as the entire rifle, but it was very finely adjustable. The current trigger in my TX200 is the standard one that comes with the rifle, yet it's just as fine. When I report on its performance, I think you'll be surprised.
Several "truths" negated
The success of the TX200 reminds me of a friend who built engines for Formula Vee racing. Those cars look like Formula 1 racers, but they're much slower. However, this builder's engines were always in demand because they out-performed the others. Everybody was always looking for his "secret." The secret, of course, was that there was no secret! What he did was pay scrupulous attention to detail when building his engines. All parts were balanced to the last gram, and all tolerances and torque specifications were followed. The engines were what racers refer to as blueprinted, and that, alone, gave them their edge.
Well, you may think of a TX200 as an air rifle that's been blueprinted. The piston isn't wide and the stroke isn't long, yet the rifle develops remarkable velocity. The trigger appears dirt-simple, yet it can out-perform so-called "target" triggers in much more expensive guns. The mainspring isn't under much pre-tension, yet the rifle doesn't buzz when it shoots. Everything is just right.
Rolls Royce is the standard by which all cars are compared, and the TX200 is the standard for spring-piston air rifles. Even when the Whiscombe was being made, I used to say that the TX200 was its equal for accuracy.
It's heavy!
Yes, this air rifle is heavy. Especially the model with the beech stock. But for its purpose, which is field target first and hunting second, the weight is ideal because it promotes stability.
It's hard to cock!
It will seem hard to cock a TX if you're used to a smaller rifle like a Diana 27. But compared to the current magnums, the TX cocks easily. How it feels depends on your experience. I'll publish the cocking effort of mine in Part 2.
Accuracy
It has been several years since I shot my TX, so this is a chance to get behind the trigger, again. I expect to find a pellet that will give around 1/4- to 1/3-inch 10-shot groups at 25 yards. That's a tall order for any spring gun, but we shall see!
by B.B. Pelletier
I was in Wal-Mart the other day and a guy was looking at the airguns, so I struck up a conversation. He was looking at a Crosman M4-177 for eliminating pest birds; and when I tried to steer him toward a more powerful breakbarrel in .22 caliber, he had a fit over the price. Apparently $145 is the Rolls Royce of airguns for him!
So, today I thought I'd reflect a bit on the cost of things — some expensive and some cheap, but all very good. We have a growing contingent of firearms shooters who have found this blog and I'm doing this for them.
The most expensive?
Well, let's be realistic. There's only one air rifle that was carried by Lewis & Clark,  and Dr. Beeman has donated it to the U.S. Army War College museum. It's value is well over a million dollars; but since there's only one, it doesn't really count in today's discussion.
I'm also not talking about the collectible airguns that are available in greater numbers. A complete Plymouth Iron Windmill BB gun, the predecessor to the Daisy line, has commanded as much as $10,000. But second model Daisys are even rarer, because they were so prone to break. I've seen one change hands for $16,000, and that was close to a decade ago. But, for today, I want to talk about guns that are generally available.
Whiscombes
When Edith and I bought our JW75 with four barrels and the Harmonic Optimized Tuning System (HOTS) on each of them, the cost was $2,100. That was in 1996. The cost did increase after that; but when John Whiscombe stopped making his rifle several years ago, the price took off like a rocket. Today, it's hard to find a single-barrel Whiscombe rifle with no frills for under $3,000, and full sets like ours will certainly bring a lot more.

You can't buy a new Whiscombe rifle anymore, so used rifles command top dollar.
So, are Whiscombes the most expensive air rifles? Hardly. There are all sorts of custom airgun makers around the world who offer almost whatever the traffic will bear. I've seen single rifles in Europe priced at over $8,000, and that was five years ago. Who knows where it all ends? The point is, air rifles can cost a bundle if that's what you're looking for.
Back to earth, some of the more expensive production air rifles today are made by the target rifle companies, where top models retail for nearly $3,000. And they're built for a specific purpose — not for general shooting. The FWB 700 Alu, for example, is a very expensive air rifle that cannot be used for most popular airgun pursuits like hunting and plinking. But for punching holes in paper, it's one of the best. The same can be said for top target rifles from Steyr, Walther, Anschütz and a couple others.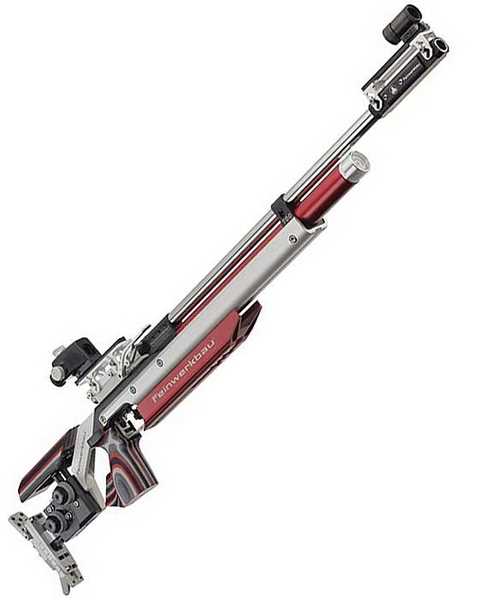 The FWB 700 Alu looks like an expensive air rifle!
For the sport of field target, it's difficult to top the Air Arms EV2 precharged competition rifle. It has won and placed at the world level many times in recent years and is one of those rifles shooters tend to covet.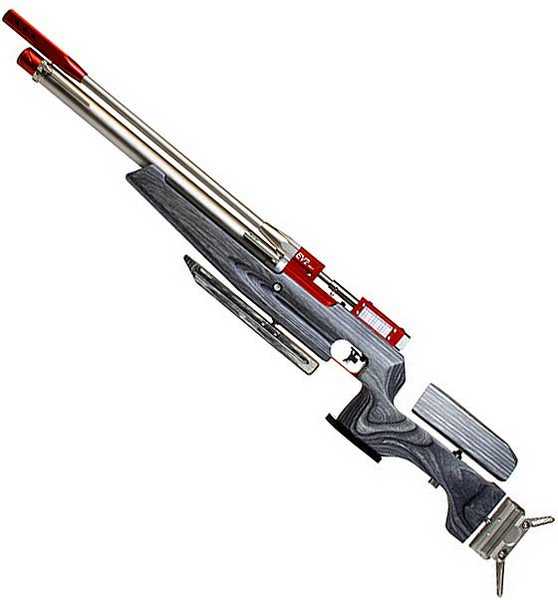 The Air Arms EV2 has won its share of top honors in field target.
In sporting rifles, Daystate and FX Airguns are among the most expensive brands. And now their top models are around $2,000 or less. Fifteen years ago, the number of makers of these rifles was much greater, but many brands have left the market.
Do you have to spend so much?
Of course you don't! There are plenty of fine air rifles that cost considerably less than those mentioned and still deliver a boatload of options and value. But that isn't today's topic. We're looking at the most expensive and the least expensive.
How low can you go?
Speaking of the least expensive, what can you get for very little money? How about a Beeman P17 pistol? For under $50, Pyramyd Air will sell you an air pistol that's so accurate you cannot outshoot it — I don't care who you are. This is a pistol that you can learn on and use to take your handgun shooting to the next level. For the life of me, I cannot fathom why Beeman doesn't triple the price and bring this out as a pseudo-10-meter target pistol! All the foundation is there. Gamo did the same thing with their Compact pistol, and this one costs one-fifth as much! They could easily add target grips and sights and have a wonderful, inexpensive target pistol, but I guess they just don't see the potential.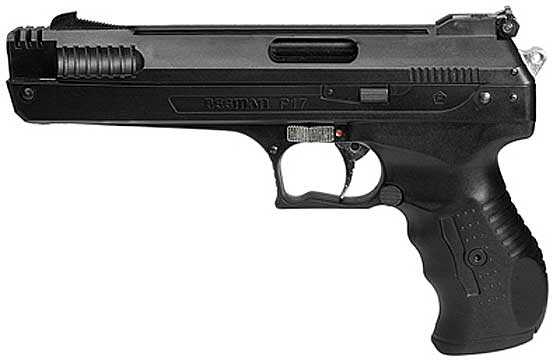 For the money, you can't buy a better air pistol than the Beeman P17.
I wish I had an air rifle to list for under $100. They exist, but none of them are what I would call really exemplary. But the Air Venturi Bronco is the finest low-cost air rifle I know of. It has accuracy equal to or better than a Beeman R7, a great trigger, nice size and is generally a fine rifle for older youth and adults.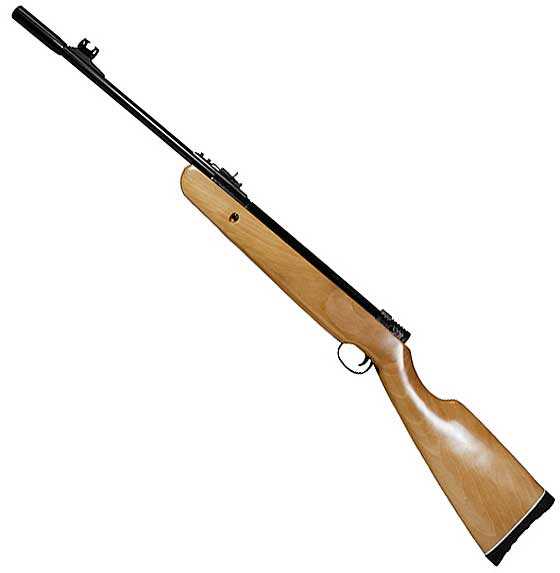 Air Venturi's Bronco is the air rifle to beat on the low end of the price spectrum.
The bottom line
And now you've guessed my agenda with this report. It wasn't just about the most expensive and the least expensive. The guns I listed are also among the best of their types in the world. Sure, I could compare the Benjamin Marauder to some of the expensive PCPs and make a case for it being just as good functionally, but that wasn't what this report was about. It was to define the limits of cost in our hobby for all the new readers who come over from the world of firearms.
by B.B. Pelletier
This is one of the most popular reports I've done in a long time. That may be because scopes can be very cantankerous to deal with — hard to mount, difficult to zero, always seem to shift their zero, etc. Today, I'll address some of the problems you can have and some ways to minimize them.
Scopes should work — no?
To the non-shooter, the telescopic sight seems like a guarantee of accuracy. We've all seen the movies. Put the crosshairs on the target, squeeze the trigger and you can't miss.
Then, you try it for the first time, and you notice that you can't keep the scope's reticle (crosshairs) steady. As long as you hold the rifle, no matter what you do, the crosshairs move. Each beat of your heart makes them jump a little. Each breath you take in can move the scope or at least tilt it. You can minimize these movements through training, but nobody can eliminate them entirely. That's why I shoot from a rest so often. But sometimes that doesn't work — especially with spring-piston airguns. You have to learn the artillery hold; and since that technique goes well beyond what many people think, I'll explain it more fully here.
Relax for a neutral hold
The artillery hold is really just a way to get you to follow through, but there's more to it. An important part of the hold is how you are at the instant the gun fires. You have to be completely relaxed, so the gun doesn't recoil back and encounter an off-center obstruction that shifts the muzzle in a certain direction.
Here's how to achieve this relaxed state. After putting the crosshairs on your target, take a breath and expel most of it. Try to relax as you do this. The crosshairs will usually move off the target in a certain direction. If you had fired before relaxing, the pellet would have gone off target in the same direction the crosshairs just did. Maybe it wouldn't have gone quite as far as the crosshairs seemed to, but it would have moved in the same direction. The result is a larger group.
Let's try again. This time, after you relax, move the crosshairs back on target by shifting the gun or your hands slightly. It doesn't take much.
Once you're back on target, take a deep breath, close your eyes, let out most of the air and relax again. Now, open your eyes and see where the crosshairs are. They probably moved again, only this time they didn't move so far. Shift things to get back on target again and repeat this procedure.
You may have to repeat this procedure several times before the crosshairs are still on target when you open your eyes. When they are, you can take the shot — making sure that you allow the gun to recoil and move as much as it wants to. This time, the shot should feel very different than it normally does. It should feel neutral — as though you're no longer connected to the gun. That's the feeling of a perfectly neutral shot and one that will group as tightly as the gun is capable of — if you can repeat the process several times.
What does this have to do with scopes? Everything! This is the only way to shoot a recoiling airgun with any accuracy; and until you can do that, you'll never have much success with a scope.
With most firearms, except .22 rimfires, the hold isn't nearly as important for accuracy because the bullet is out of the gun before all the movement takes place. But with airguns, and especially spring-piston airguns, the pellet hasn't started to move before the gun does. Only a .22 rimfire is similar, and even they're much more forgiving than most airguns.
However, you do need to know that all firearms are affected by hold, as well. Even centerfires that shoot in excess of 3,000 f.p.s. will benefit from the hold I've described here, but the amount of accuracy increase is so small that it's only of interest to target shooters and long-range varmint hunters. The average shooter won't normally notice the difference between a 1-inch group and a 1.25-inch group at 100 yards. Or if they do, they won't care. I've heard that from so many shooters at my rifle range over the years that I know it's true.
Now you're ready
If you can learn how to neutralize your rested hold using the process I just described, you'll see an immediate increase in accuracy from your scoped guns. Then, you're ready to discuss scope fundamentals!
Temperature is critical
We don't appreciate how sensitive a modern telescopic sight can be. I don't mean fragile, either — I mean sensitive. Every change in temperature changes the point of impact of your scope a little. No scope is immune to this phenomenon, yet most shooters act as if once the scope is zeroed it stays zeroed.
Field target shooters know different. I've seen a field target scope with three different sets of click values on the elevation knob, each color-coded to a 20-degree temperature range. The shooter who owned that scope took the time to not only figure out all the elevation click values for every yard between 10 and 55 — he did it three separate times when the temperature was in three different ranges! That's something Hollywood will never show you.
The optical elements inside a scope are refracting light to the millionths of an inch. When they move in relation to one another — because the metal tubes that hold them expand and contract from changes in temperature, the light beams do move. The movement is very slight, but it can and sometimes does change where the images appear. The point of aim changes.
There are many other reasons for a shift in the point of aim, but temperature is a constant one that must always be taken into account. If you're looking for the way to prevent such changes, I'm sorry to disappoint you. There's no solution to cancel the effect of temperature changes on a telescopic sight. But if you know it will happen you can at least anticipate it and adjust your scope when the time comes.
Reticles
There are so many different kinds of scope reticles that it would take a book to cover them all. And most of the highly specialized ones are for specific purposes, such as the ballistics of a single military round, so they have no place in a general discussion. I'll address hree general types of reticles found on most scopes. If I miss something, you can bring it up in the comments.
The oldest type of reticle is the plain "crosshair," which is two straight lines — one vertical and the other horizontal. In some scopes, these lines actually appear to move as the scope is adjusted, but that's getting pretty rare today. More often, the crosshairs remain in place in the center of the image and the adjustments move the whole image, so you don't notice anything.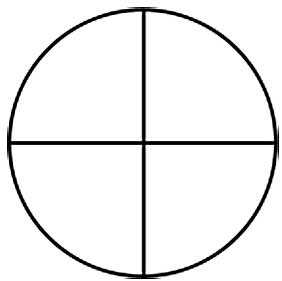 The plain crosshair is the oldest type of reticle. This image shows thick reticle lines, but they can be much thinner for greater aiming precision.
Often a very thin reticle can be difficult to see against a background, so there will be a small dot at the center of the crosshairs that makes them stand out. This dot will be small, perhaps one or two minutes of angle (a minute of angle covers about one inch at 100 yards), but it doesn't take much to be noticeable against anything but a dark woods background.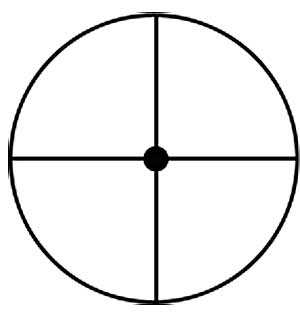 This dot looks large on the heavy reticle lines. But in many scopes, both the dot and reticle lines are very small and fine. This is just for illustration.
Plain crosshairs are best in open country and are therefore favored by long-range shooters. They're fine for plinking, as long as the reticle lines aren't too thin. They're less useful in deep forests, where the reticle lines don't stand out. For that terrain, probably nothing beats the duplex reticle.
The duplex reticle is a plain crosshair that has thicker lines near the edges of the field of view and thinner lines in the center. When I shot field target, I used a scope with a duplex reticle for two reasons. First, it was much easier to see in the deep woods where many matches are shot; and second, the duplex offers four additional aimpoints.
The duplex reticle uses crosshairs of two different sizes. The ends of the thick posts provide four additional aim points that can be used for things…like greater or lesser distance and wind.
Duplex reticles are the favorite of hunters, because they work well in deep foliage yet they permit precise aiming at the same time. Like plain crosshairs, duplex reticles come in different thicknesses.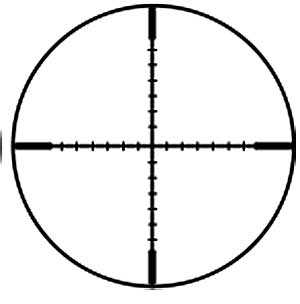 In the mil-dot scope, the dots are an exact size (measured in mils) and are spaced apart an exact distance. On variable scopes, they must be used at one power setting to work as designed. Read the information that comes with the scope to discover how this works.
Mil-dot reticles are a more recent invention. They feature dots of a controlled size spaced along one or both reticles at regular spaces. Mil is short for milliradian, a measure of angle that, unfortunately, has never been standardized. Or perhaps it's more correct to say that it has been standardized dozens of times — each with a different measurement. When I was a mortar platoon leader, our fire direction center and mortar sights used the old French measurement of 6,400 mils to a circle, but there are many other measurements that differ — some slightly and others in a more significant way.
One common use for the mil is rangefinding. Though it isn't exact, we say that one mil subtends (covers) one meter at 1,000 meters. At 100 meters one mil subtends one-tenth of a meter or 3.9 inches. That's so close to 4 inches that we round it up.
A whitetail deer is about 12 inches from the top of the shoulder to the bottom of the chest. A two-mil dot will just about cover the deer's chest at 150 meters.
Is that too much for you? It is for many hunters who still use the mil-dot scope for aimoff when there's wind. Or they use the vertical dots for aim points at distances other than the range for which the scope is sighted.
Focusing the reticle
The first thing a shooter must do with a scope is focus the reticle. The eyepiece should adjust to allow you to do this, and it does on all but the cheapest scopes. Focus by looking through the scope at the sky or a light-colored wall and turn the eyepiece until the reticle appears in sharp focus. I've read that this is supposed to be done incrementally; because if you stare at the reticle very long, your eyes will naturally focus on it. So do it in stages.
After you focus the reticle, some scopes have a locking ring to hold that focus. Others don't have the locking feature, but the focus rings should be stiff enough to hold your focus without it.
Focusing the reticle is very important for scopes with adjustable objectives, because the scope's designers assume the scope is in sharp focus when the objective ring or sidewheel is turned. Only when the reticle is in focus will the scope come close to the distances marked off on the parallax ring or knob, which is the adjustable objective we are discussing. And, of course, that will also depend on the temperature when the scope is used.
On the other hand, on lower-powered scopes that have a fixed parallax setting you can use the focus to bring close targets into better focus. This isn't what the adjustment is for and it will blur the reticle somewhat, but sometimes it's the best way to use a low-priced, fixed-focus scope at closer distances than it's intended.
by B.B. Pelletier
I've noticed that a lot of you are responding positively to the fundamentals that have come out in some of the recent reports, so I thought I would do a few more important ones for you, starting with scopes. This will be a series of bite-sized reports.
My experience shooting the Conquest with a 4x scope at 50 yards last week and getting great groups prompts me to want to share a number of scope evaluation tips with you. And, as always, I expect the comments from our readers are going to be even more interesting than the reports.
What magnification (power) to choose?
Starting with the Conquest accuracy test, it's obvious that you don't need a lot of magnification to shoot well. I normally use more than just 4x for a gun as accurate as the Conquest, but not on all rifles. As a scope increases in power, it also gets longer and heavier, so a compromise between power and size is usually best.
I have some 3-9x scopes that have unusually clear optics and thin reticles that I enjoy using. Of all of them, the one I like the best is not marked in any way. I think it's a Leapers, but there are no identifying marks that reveal who the manufacturer is. The optics are clear and the crosshair is thin and sharp. This is often my go-to scope to use for a quick test.
My favorite power combination is probably a 4-16x. I find it packs the most power into a convenient package without the scope becoming too long and heavy. Given today's optics, a good 4-16x isn't much longer than a 3-9x from a decade ago.
But you don't need even 16x to shoot accurately. That is what the new airgunner must understand. I have a .250 Savage centerfire rifle that shoots 10-shot groups smaller than one inch at 100 yards nearly every time. The scope on that rifle is a vintage all-steel Weaver V9 W, which means it is a 3-9x variable that has a wide field of view. The objective lens is only 32mm, so it isn't as bright as some modern scopes, but it has a super-fine reticle with a tiny dot at the intersection of the crosshairs. If I ever find another scope like this at a gun show, I am prepared to buy it because the combination of power, optical clarity and crosshair size is ideal for this rifle. I use this rifle for prairie dog-sized targets out to 300 yards. That's good enough for me.
Another rifle that shoots small groups is a custom No. 5 SMLE that I've converted to .219 Donaldson Wasp. The scope on this one is another one that's vintage and all-steel — a Redfield 2-7x variable with what appears to be a 28mm or 30mm objective. The crosshairs are even finer than those of the vintage Weaver, and the dot at the intersection is also smaller. This rifle should be good for prairie dogs out to 300 yards, as well, but I feel the power of the scope limits the range to 250 yards for targets so small. Coyotes to 300 yards are possible because they're much larger. So, I'm saying that a 7x scope works well at 250 to 300 yards, but the maximum effective distance depends on the target — at least for me.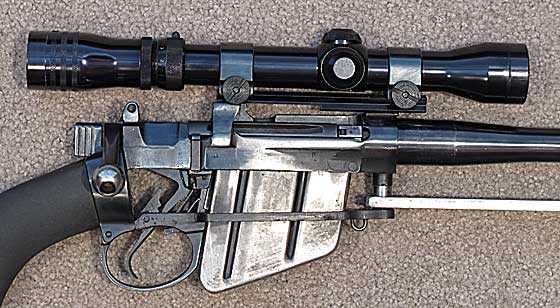 It might be an ugly rifle, but this .219 Donaldson Wasp can shoot. It has a custom Shaw barrel of my own design with a faster twist. And the little Redfield scope is plenty good for what I want to do.
Going the other way, I absolutely love Leapers' line of long eye relief scopes that produce 1.5-4x. These scopes may not make the target appear large, but they can't be beat for clarity. For value, I don't think the Leapers 1.25-4×24 long eye relief scope with the one-inch tube has any equal. It's currently priced at only $85, which is very little for such a great sight. It would be ideal on big bore airguns of all kinds, as well as powerful springers that won't be shot past 50 yards — rifles like the Beeman R1 in .22 caliber, for example. Yes, the parallax is set at 100 yards, but I have found that when the magnification is this low, it doesn't matter where the parallax is set. This scope would be ideal on a New England Firearms (NEF) single-shot rifle in .45 Colt or .44 Magnum or on any small carbine in a pistol caliber.
What about more powerful scopes?
There are a FEW applications for the scopes with power up to 32x and more. Field target competition is one such game — not because of the additional aiming precision, but because that extra power helps you resolve small objects out at 55 yards, so you can determine ranges with the parallax adjustment more precisely. When you can focus on very small objects at long distances, the scope helps to determine the range to them. And long-range target shooting is another time when a higher-powered scope is needed. When you're going for the absolute best group that can be fired from a gun, the scope must be powerful enough to reduce the aiming error to the smallest fraction of an inch.


Talk all you want about big scopes. Try carrying around one like this for a couple hours! A Daystate Harrier is dwarfed by this monster Tasco Custom Shop 8-40×56.
HOWEVER — and this is the whole point of this discussion — it doesn't take the Hubble Space Telescope to shoot good groups at 50 yards. As you clearly saw in my report on the Conquest, I did it with only 4x. Consider that when thinking of your next scope. You can have a handy package that carries easily and handles rapidly or you can mount the biggest bragging-rights scope money can buy on your air rifle and then suffer for it.
Clarity
Clarity goes hand-in-hand with accuracy when using a scope. In fact, I think clarity is the single most important attribute a scope sight can have. There are technical means of determining relative clarity in scopes. The most common one is determining how many line pairs the scope can resolve in a standard test. Clarity is actually a statement of the scope's ability to resolve an image. When we say clarity, we mean resolution.
I am not an optical engineer, nor am I qualified to discuss how scopes are tested. And the subject is so technical that even if I could discuss it, not everyone would understand what I was saying. I'm going to reduce the resolution/clarity question to something we can all understand.
I have a simple test I use to subjectively determine the relative clarity of a scope. All I do is point the scope at the roof of my neighbor's house about 25 yards distant and look at the shingles. If the shingles appear sharp, with the vertical joints well-defined and the abrasive particles standing out clearly, I know the scope is clear. If any of the image is muddy, even after the scope is adjusted for that range, I know the scope is not as clear as I would like it to be.
I developed this test a couple years back when I pitted a Hawke scope against a Leapers scope of the same power and specifications. Until that test I thought nothing affordable could ever beat a Leapers scope; but in that test, the Hawke scope emerged as the clearer sight. It was also more expensive, but it didn't cost twice what the Leapers did, as I remember. The shingle test is a good one for any scope you intend using for target shooting or hunting, as nothing in the field will exceed the fineness of the image the shingles can give.
If you don't have access to shingles, anything with a fine grain will work just as well. Old wooden fences are another way of testing the resolution of your scope. Just be sure to always test every scope at the same distance and using the same object, and your test will soon become very refined.
When you buy a scope, you usually can't perform the test I just described. You have to take someone's word on the clarity. But I have a couple tips about that.
1. Multi-coated optics on inexpensive scopes are usually not as clear as single-coated lenses. Leapers has used a single coating of emerald for as long as I've known them, which is why they're as clear as they are at such a low price. You might give up something else with single-coated optics, such as five minutes hunting time in the morning and evening, but that depends on what kind of coating it is.
This deserves an explanation. While multi-coatings can be applied to make optics perform their best, the hype of multi-coating is too powerful to be overlooked by the marketing departments of many manufacturers. Therefore, the cheap scopes are multi-coated without regard to light transmission or any other enhancements. As a result, these multi-coated optics are much like airguns that shoot over 1,000 fps — lots of hype but you're giving up accuracy. On the other hand, expensive multi-coated optics deliver superior performance.
2. The objective size doesn't matter as much as you think. You don't always need the 56mm objective to see clearly. The quality of the lens material and the optical coating(s) matter more than the objective size.
3. A 30mm scope tube will be noticeably clearer than a one-inch tube, if all else is equal.
4. You can live with a lower-power scope if it's also clear, but a high-power scope that doesn't focus or is unclear is the worst headache imaginable.
The bottom line
Considering just these two subjects — power and clarity — shop for a lower-power scope with a 30mm scope tube and a single lens coating. From what I saw in the Leapers booth at this year's SHOT Show, there will soon be a flood of very clear scopes at good prices (but not cheap!) hitting the market this year.
Price
Stop shopping for scopes by price, alone, and then condemning your rifles, pellets and the entire hobby of airgunning when things don't work out! Most cheap scopes are cheap for a good reason. I understand trying to buy the best scope you can afford, but stop focusing on the price so much.
Cheap scopes aren't usually that much worse than more expensive scopes. I say "usually" because I've seen a couple brands that can be counted on to be bad. But cheap scopes don't pass through the quality controls that most of the more expensive scopes do. You're far more likely to end up with a lemon if you buy the rock-bottom scope.
And this final tip is worth the price of this entire blog: Most combos (rifle and scope for one price) that are put together by manufacturers are put together by their marketing departments to get rid of the cheap scopes nobody will buy! However, when a combo is put together by a dealer, that usually isn't the case. Pyramyd Air has put some very decent scopes on some of their combos because they realize their customers really care which scope comes with the gun. The more the combo costs, the better the scope will probably be.
But watch out for those manufacturer combos!