Posts Tagged 'Gamo Match pellets'
by Tom Gaylord, a.k.a. B.B. Pelletier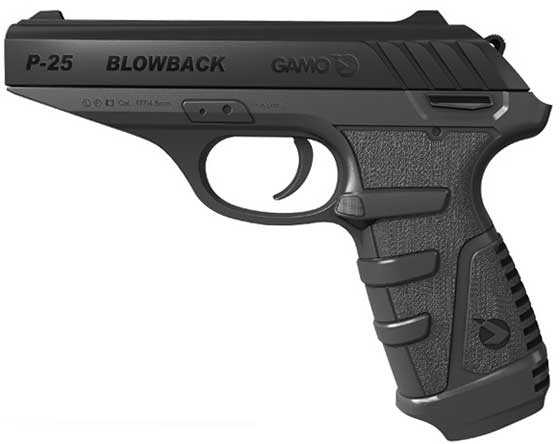 Gamo P-25 is a 16-shot blowback pellet pistol.
Today is accuracy day with the Gamo P-25 air pistol. I inserted a fresh CO2 cartridge into the gun, loaded both of its 8-shot rotary clips and then slid the magazine into the grip.
I shot the pistol at 10 meters, which seems appropriate for a gun of this type. I shot it rested with a two-hand hold and my arms resting on the sandbag but the pistol free to move.
The pistol has open sights that are not adjustable. They have white dots, both front and rear, but that was cancelled by lighting the target brightly and shooting from a dimly lit place. I used a 6 o'clock hold, and the sights were very sharp and easy to align.
Because each rotary clip holds 8 pellets, I shot 8-shot groups instead of the usual 10. I don't think it makes a big difference; and when you see the targets, I think you'll agree.
The P-25 has blowback, so every shot except the first is single-action. I therefore cocked the hammer for that first shot, so all shots were single-action. It's the most accurate way to shoot any handgun.
RWS Hobby pellets
The first pellets I shot were RWS Hobbys. Because they're wadcutters, they left good holes in the target paper that were visible from the firing line. The pistol shot Hobbys to the left, as you can see, but the elevation was pretty good. The pistol's sights are not adjustable, so to move the shots means you have to either aim off or use some Kentucky windage.
The group isn't very impressive — 8 shots in 2.169 inches at 10 meters. Perhaps one of the other pellets will do better.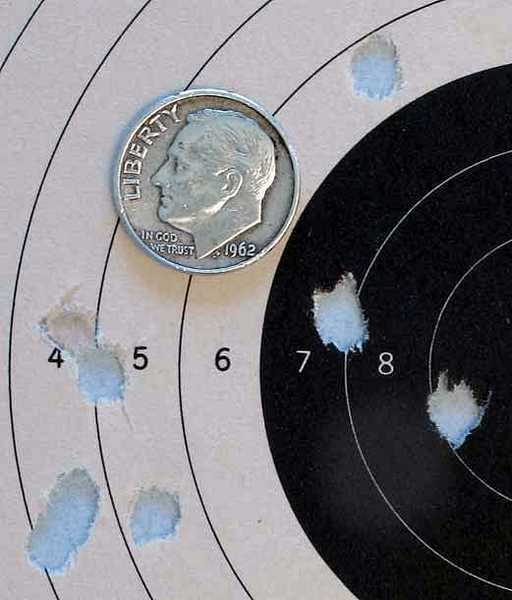 Eight RWS Hobby pellets went into 2.169 inches at 10 meters.
Gamo Match pellets
The next 8 pellets I shot were Gamo Match wadcutters. These pellets will sometimes be very accurate in a particular gun, but the P-25 I'm testing isn't one of them. Eight shots went into 2.894 inches, though 7 of them are in 1.846 inches. Still, neither group size is especially good. They did go to approximately the same point of impact as the RWS Hobbys, however.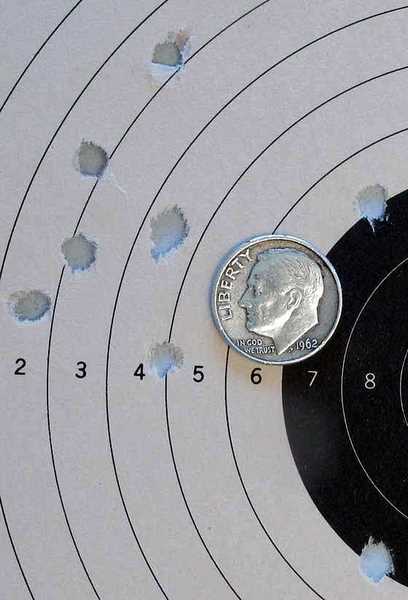 Eight Gamo Match pellets went into 2.894 inches at 10 meters.
Crosman Premier lites
Next, it was time to try some 7.9-grain Crosman Premier lites. These domed pellets are sometimes the very best in certain airguns. And this was one of those times. Eight of them went into 1.624 inches, though they also went way over to the left.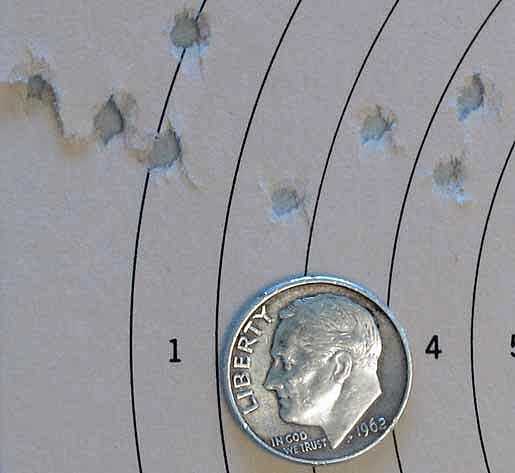 Eight Crosman Premier lites went into 1.624 inches at 10 meters. This was the best group of this test.
Gamo Raptor PBA
The last pellet I tried was the lead-free Gamo Raptor PBA. We know from the velocity test that these pellets go the fastest in the P-25, but now we'll see how accurate they are.
And the answer is — not very. Eight PBA pellets made a shotgun-like pattern that measures 4.036 inches between centers. Interestingly, they did tend to group in the center of the target — the only pellet of the 4 tested to do so.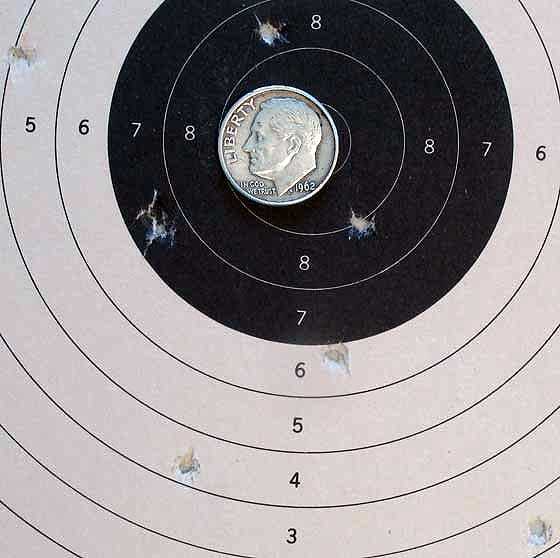 Eight Gamo Raptor PBAs went all over the place, making this 4.036-inch group. I had to reduce the size of the photo to get all the holes into it.
Shooting behavior
This was one time I found myself hoping for greater accuracy from the test gun because it was so much fun to shoot. The blowback action is quick, crisp and comes as close to the recoil of a .22 rimfire pistol as I think I've experienced in an air pistol. Although the trigger is long and full of stops and starts, it's also light and can become predictable after you learn its quirks.
Bottom line
The lack of adjustable sights means you have to find a pellet that shoots to center and is also accurate. Good luck with that. If Premier lites had shot to the center, they would have made this test end on a higher note. Because it shoots lead pellets from a rifled barrel, I'd hoped for better accuracy than this. Had I seen it, I would have rated this Gamo P-25 a best buy.
by Tom Gaylord, a.k.a. B.B. Pelletier
Let's begin testing the effects of oiling pellets. There are numerous ways to approach this issue, and I have to pick one at a time and limit the test to just that. But I think as long as I'm testing one aspect, I ought to test it thoroughly so someone can't come back and second-guess me later in the report.
So, today I'll test with one rifle, and the next time I'll test with another. What I won't do is test with each different brand of airgun, just to see what will happen. If a powerful gas spring rifle performs in a certain way, I'll assume that all powerful gas spring rifles are going to do the same. If the difference between dry pellets and oiled pellets is close, I may do additional testing; but if there's clear separation, I'll accept that as the way it works.
What am I testing?
The question that started this experiment was, "How much faster will oiled pellets shoot than those that are not oiled?" One reader has asked me to also test this downrange because he wonders if a thin coat of oil changes the laminar flow of air around a pellet. I may get to that at some point, but for the present I'm just concerned with muzzle velocity because all pellets slow down after they exit the muzzle — oiled or not.
I suppose this needs to be tested in all three powerplant types, but today I'm testing it in a spring-piston powerplant. Today's gun is a weak powerplant, so next time I'll test it in a more powerful gun.
I'm using an HW55 SF target rifle to test three pellets. This rifle is a variation of the old HW50 rifle, so it shoots in the 600-650 f.p.s. region with lead pellets.
Since oiled pellets will leave a film in the bore, I tested all pellets dry first, and then tested the oiled pellets afterwards. Before the first test shot with oiled pellets, I fired two pellets to condition the bore. That turned out not to be enough, but I'll come to that later.
Pellet shapes
I'll test the three major pellet shapes in this test. They're the wadcutter, dome and pointed head. There are other shapes, like hollowpoints, but they're based on one of these three main shapes, so this is all I'm testing.
How I oil pellets
I oil pellets in the following manner. A foam liner is placed in the bottom of a pellet tin, and 20 drops of Whiscombe Honey are dropped onto the foam. Then, a single layer of pellets is spread on the foam, and the tin is rolled around. I shake the tin lightly to move the pellets around…but not enough to damage them. Whatever oil transfers to the pellet is all the oil it gets. I've been doing this for many years and it works well.

Twenty drops of oil on the foam is what I use. Then, a single layer of pellets.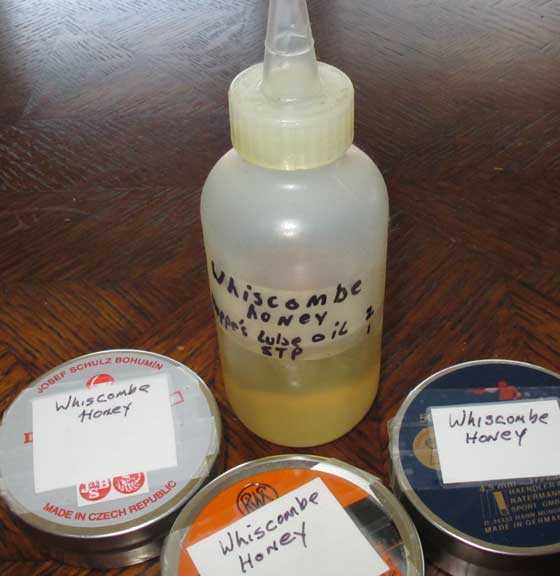 One tin for each type of pellet used in the test.
The pellets end up with a very light and uniform coat of oil. When I handle them the tips of my fingers become oily, but I can't see any oil on the pellets. Other people use more oil than I do, but this is what I am testing.
Whiscombe Honey is a mixture of two-thirds Hoppes Gun Oil (not Number 9 bore cleaner!) and one-third STP Engine Treatment, by volume. Shake the mixture until is takes on a light yellow color. It will look like thin honey, hence the name. This mixture should not detonate easily in a spring gun.
Test one — dry pellets
Crosman Premiers
Crosman Premier 7.9-grain pellets were the domes I tested. The average velocity for dry Premiers was 606 f.p.s., with a low of 577 and a high of 616. So, the spread was 39 f.p.s. The average muzzle energy was 6.44 foot-pounds.
Gamo Match
For wadcutters, I tested Gamo Match pellets. The average for dry pellets was 652 f.p.s., with a low of 640 and a high of 663 f.p.s. The spread was 17 f.p.s. The average energy was 7.14 foot-pounds.
H&N Neue Spitzkugel
The pointed pellet I selected was the H&N Neue Spitzgugel. When shot dry, they averaged 601 f.p.s., with a low of 585 and a high of 620 f.p.s. The spread was 34 f.p.s. The average muzzle energy was 6.81 foot-pounds at the muzzle.
Oiled pellets
Now, I shot two oiled pellets through the bore to condition it and began the test.
Oiled Crosman Premiers
Oiled 7.9-grain Premiers averaged 591 f.p.s., but the spread went from a low of 545 to a high of 612 f.p.s. That's a spread of 67 .p.s. The average energy for oiled pellets was 6.13 foot-pounds. I did notice the pellets were going faster at the end of the shot string, so I thought I might come back to them after testing the other pellets.
Oiled Gamo Match pellets
The oiled wadcutters averaged 658 f.p.s. — a slight gain over the dry pellets. But the real news was the spread, which went from a low of 651 to a high of 663 f.p.s. Instead of a 17 f.p.s. for the dry pellets, the oiled pellets gave a spread of just 12 f.p.s. That's too close to draw any conclusions, but it's interesting. The average energy with the oiled pellets was 7.27 foot-pounds. So, with the oiled pellets, the velocity went up — along with the energy — and the shot-to-shot variance went down.
Oiled H&N Neue Spitzkugel
Oiled Spitzkugels averaged 609 f.p.s. — which was a small increase over the same pellet when dry. The average energy was 6.99 foot-pounds. The spread went from 585 to 620 f.p.s, which was identical for the same pellet dry. Velocity and energy were both up slightly from dry pellets, and the shot-to-shot variance remained the same.
By now, it's obvious that the bore needed more than two shots to condition it, so I retested the oiled Crosman Premiers. The second time the oiled pellets averaged 604 f.p.s., which is just 2 f.p.s. slower than the same pellets dry. But the spread that was 67 f.p.s. on the first test of oiled pellets and 39 f.p.s. with dry Premiers now went from a low of 594 to a high of 613 f.p.s. — a much tighter 19 f.p.s. total. The average energy was 6.40 foot-pounds.
Observations
From this test, I observed that these three pellets either remained at the same velocity or increased very slightly from the light oiling I gave them. In two of the three cases, the velocity spread got tighter when the pellets were oiled.
I further observed that it's necessary to condition a bore with oiled pellets before doing any testing. As a minimum, I would say that 20 oiled pellets should be fired before testing.
These are very small differences from oiling; and although I can't draw any conclusions yet, I would think that such a small change is not enough to matter. It hardly seems worth doing at this point. However, there's still a test to be done in a powerful airgun. Until we see those results, I think it's too soon to say anything for sure.
Although the question that drove this test was how much faster oiling pellets makes them shoot, I think we still have to take accuracy into account before forming any opinions.
And now for something completely different
Pyramyd Air is looking for a manager for their tech department. If you're interested in the position, below is the job info and where to send your resume.
Directs and coordinates activities of the department in providing customers technical services and support; directly supervises employees. Responsibilities include but are not limited to:
Coordinates technical support services between management, tech support staff, sales department, and customers.
Establishes and documents department procedures and objectives.
Accomplishes department objectives by selecting, orienting, training, assigning, coaching, counseling, and disciplining employees; communicating job expectations; and monitoring performance.
Maintains and improves support operations by monitoring staff and system performance, identifying and resolving problems, and preparing and completing action plans
Provides technical assistance to customers and labor quotes. Handles escalated calls or provides assistance requiring more complex issues.
Installs common accessories and kits in accordance with customer orders.
Performs tests on guns to determine advertised performance specifications.
Required experience, skills and background:
Bachelor's degree and 3 years managerial experience, or an equivalent combination of education and experience required. Previous industry experience required.
Must be detail-oriented with good mechanical aptitude.
Ability to prioritize and multi-task.
Good communication and customer service skills.
Good computer skills.
Hours: Monday through Friday, 9am until 5:30pm; longer hours and some Saturdays are expected, especially during our busy peak periods.
Preferred experience, skills and background:
Previous experience in airgun repair or troubleshooting desired.
Send your resume to resumes@pyramydair.com
by B.B. Pelletier

The Ruger Mark I pellet pistol is a powerful spring-piston gun.
Before I begin, here's a followup to yesterday's blog on the importance of stock length. I discovered, thanks to blog reader Mike, that the No. 4 SMLE has both a long and a short stock. Apparently, when there are complaints that the rifle kicks, the stock is always a short one. I tested that at the range yesterday with a friend of mine. He had a hard-kicking Mark III and, sure enough, it has a short stock. But my No. 4 stock is at least .75 inches longer and feels like a mild 30/30 when shot.
Okay, on to today's blog.
There's a lot of interest in this pellet pistol, and I've learned a lot more while testing it. Before I did this report I read as many reviews of this Ruger Mark I pellet pistol as I could find — both on this site and on others. I discovered something while doing that. There's a sharp difference of opinion about the gun that divides around the age and airgun experience of the person writing the review. Those who are either young or have little experience with airguns say the Ruger is hard to cock and not very accurate, but they all praise the power they think it has. But veteran airgunners who own chronographs have learned that the pistol isn't as powerful as advertised, but it's easy to cock (very easy for the power, if you use the cocking aid) and also relatively accurate. So, come with me today while I show you what the Ruger can do.
I shot the gun for accuracy at 10 meters, because most of the reviews I read talked about shooting at distances from 25 feet to 10 meters. In the end, 10 meters turned out to be exactly the right distance for the gun.
I shot off a bag rest with both hands holding the pistol out just past the bag, so there was no contact between the bag and the gun. My forearms were resting on the bag. The sights are fiberoptic; but when held at arm's length, the front sight just fills the rear notch perfectly. It's possible to get a precise sight picture that can be repeated with every shot.
Trigger and cocking effort
The trigger-pull is very heavy — to the point of being a distraction. Blog reader Victor asked me to report on the trigger-pull and cocking effort after this test; I guess because he wanted to see if there was any change during break-in. After this accuracy test was completed, the gun had a total of about 140 shots on it. The trigger-pull measured 5 lbs., 13 oz., and the cocking effort with the aid installed is 26 lbs. That's a pound higher for cocking, and the trigger is a half-pound heavier than the last time I checked. Both numbers are probably just due to how they were measured and no real change has occurred.
Accuracy
The nice thing about testing a gun with open sights is that it's usually on the paper right out of the box, where a scope can be almost anywhere. This pistol was shooting high and left, but it was on the paper at 10 meters. It took a little elevation reduction and a lot of right adjustment to get the pellet to land in the bull. I sighted-in with RWS Hobbys. Then, I shot the first group of 10.
The first group surprised me, but that was when I realized that many of the reviews had been written by new shooters. I say that because the Ruger Mark I is an accurate air pistol when you use the correct holding technique. You hold the pistol firmly but do not try to prevent it from bouncing around in recoil. It's not as accurate as a Beeman P1 or an RWS LP8, but it's accurate, nonetheless. But only the experienced pistol shooters will know how to get this pistol to perform its best.
Ten RWS Hobbys grouped in a 1.073-inch group at 10 meters for me. The group is open but also nice and round. It was a lot better than I'd expected.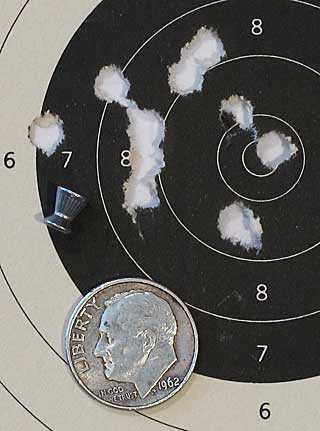 Ten RWS Hobby pellets made this nice round 1.073-inch group at 10 meters.
Following the Hobbys, I was in the right frame of mind for all further shooting. Next up was the JSB Exact RS domed pellet. We know from past experience that this pellet often does well in lower-powered springers, though I don't think I've tried it in a pistol before now.
This time, the RS pellet did very well, indeed. In fact, it was the most accurate pellet of the three I tested. Ten made a group measuring 1.059 inches between centers. Though this group isn't much smaller than the Hobby group, the smaller holes made by the domes make it appear smaller.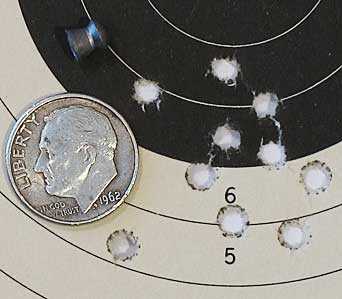 Ten JSB Exact RS domes made the best group of the test. It measures 1.059 inches between centers.
The last pellet I tried was the Gamo Match wadcutter. Sometimes, they surprise me by being the very best pellets in a gun, but this wasn't one of those times. Ten pellets grouped in 1.595 inches between centers — hardly in the running with the first two pellets.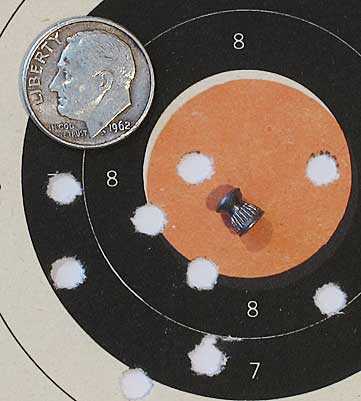 It only looks like nine holes because two pellets went through the same hole next to the number 7 at the bottom of the bull. Gamo Match pellets were not in the running, with this 1.595-inch group.
At this point in the test, my trigger finger was hurting from the weight of the pull, and I was concerned that further shooting would be affected by it. So, I ended the test. It sounds like it shouldn't have hurt, but the pull is so long that it really does hurt.
The bottom line
If you want a powerful spring pistol at a budget price, I don't think you can do any better than the Ruger Mark I. It demands good shooting technique and rewards it with decent accuracy. The power is respectable, and the cocking effort is low for the power generated. The trigger is heavy and the sights aren't perfect, but they do adjust and the pistol does respond to them very well.
Most shooters will like the shape of the grip, which is reminiscent of the Luger. The Ruger Mark I is just about right in the weight and balance department and encourages plinking with its surprising accuracy.
by B.B. Pelletier

This TS-45 rifle is probably at least 30 years old, yet also brand new.
I've anticipated this day with great hopes, because this TS-45 rifle has the tightest bore I've ever seen on a vintage Chinese air rifle. I've owned a couple older Chinese air rifles, and they always had huge bores that every pellet wallowed in. The only one that was ever accurate was another TS-45 that I modified by changing the barrel for a Lothar Walther from Dennis Quackenbush. That one also had the benefit of an overhaul and was really a nice little plinker after all the work was done. But it didn't have the original oversized barrel.
Through the years, I've heard from many owners of Chinese springers who said they had accurate guns. And always their barrels were considerably tighter than any I'd seen. Well, Lady Luck finally smiled on me, because this time it was my turn to get a tight barrel. So, I anticipated the possibility of accuracy.
Loose stock screws
Before testing I tried to tighten the stock screws. The rear triggerguard screw and the rear sling swivel anchor screw are what hold the action in the stock. Both were loose and needed tightening.
For fun, I removed the barreled action from the stock. From what I see, this would be an easy action to work on, so I may have a go at it at some future date. No promises, but if I can collect another dozen "round tuits," I'll have what I need to smooth out this action.
Firing behavior
I have to compare the firing of this rifle to that of the El Gamo 68 I recently tested. Both have heavy triggers and quick shot cycles with very little vibration afterward. The firing pulse is heavy and disagreeable, but I think that with the fitting of a few parts it could be made smoother.
The trigger looks simple enough and is obviously has a case-hardened sear. I can tell that by the shape of the part and its thickness. If I were to rebuild the gun, I might have a go at smoothing the sear contact area a little.
Accuracy
I had a gut feeling this rifle wanted to shoot, and it didn't disappoint me. The first pellet I tried was a 7.9-grain Crosman Premier dome. I shot at a 10-meter pistol target at a distance of 10 meters (33 feet). The pistol target has a larger bull than the 10-meter rifle target, and I find it easier to see when I use open sights like the ones on this rifle.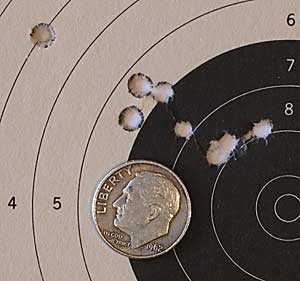 Ten Crosman Premier lites made this 1.657-inch group at 10 meters. Nine went into 0.891 inches. This is a very horizontal group.
Speaking of the sights, I find the sights on this TS-45 to be among the sharpest and easiest open sights I've ever seen on an air rifle! I wish the makers of modern air rifles would put sights this good on their guns! The rear sight has a U-shaped notch that's positioned at just the right distance from my sighting eye, so the top of the notch appears clear. And the front post is very sharp and easy to focus on. I had no trouble holding a 6 o'clock hold on the target.
Trigger
The trigger, on the other hand, is appalling! It's too heavy to measure on my trigger-pull scale, but I am guessing that it breaks at something approaching 14-15 lbs. of effort! It's so heavy that my wrist started hurting from pulling it during the test. I'm not sure the final group I shot was as good as it could have been because my wrist hurt so much from squeezing this horrible trigger.
The first group wasn't as nice as I had hoped, spreading out to the left as the shots increased, but it was much better than a typical old Chinese airgun would do for me. One pellet went way out to the left; but as far as I could tell, the sight picture was perfect for that shot, as well as for all the others. I used an artillery hold with the back of my off hand touching the front of the triggerguard. The rifle sits well in the hand for this hold and is light enough to feel good. Later in the series, I flipped my off hand over and rested the rifle on the backs of two fingers. That seemed to have less movement on target as the trigger was pulled.
The second pellet I tried was the RWS Hobby. I'll usually default to this pellet in a lower-powered spring gun because, for some reason, many of them seem to like it very much. This pellet fit the bore very tight and gave the best group of the day.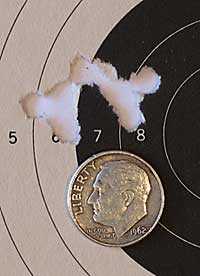 RWS Hobbys made the best group of the test. Ten went into this group measuring 0.835 inches between centers.
The Hobby group was very encouraging. I started believing this rifle was going to shoot like a target rifle. The next pellet was shot with the Gamo Match, and here's where I started to notice the heavy trigger-pull taking its toll. I can't say for certain, but I think some of the size of this group was due to fatigue.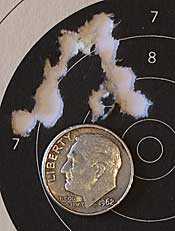 Ten Gamo Match pellets made this 0.845-inch group. Almost as small as the Hobby group, this one may have suffered from the fatigue of my trigger finger.
The final pellet I tested was the H&N Finale Match Pistol, but by this time there was no mistaking my fatigue. The only other time I remember feeling like this while shooting a gun was when I tested one of those $2,500 Airrow airguns made by Swivel Machine Corp. They had a trigger pull over 25 lbs. and were horrible to shoot. You can see the results of my fatigue in the vertically scattered shots, where the other three groups were good in the vertical plane.

This vertical dispersion is definitely due to the fatigue caused by the heavy trigger. Ten H&N Finale Match Pistol pellets made this 1.376-inch group at 10 meters.
What now?
As I indicated earlier, I'll set this rifle aside for now. But it looks like a simple action to work on, and I may eventually return, just to see what I can do about that heavy trigger and violent pulse at firing.
I was never one to praise these old Chinese airguns; but if I'd encountered one like this one back in the days when I tested them, things might have turned out differently. I certainly would have cut them more slack if I'd known they could shoot so well.
by B.B. Pelletier
Part 1
Part 2
Part 3
Part 4
Part 5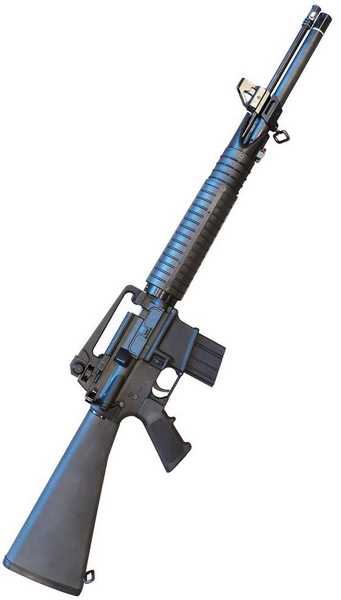 Crosman's new MAR177 upper is big news!
Today's test is shooting the Crosman MAR177 at 25 yards, both with and without the magazine. We'll also shoot it with the best wadcutter target pellets and the best domed pellets to see what differences there are.
Rather than shoot the rifle myself, I let Mac shoot it this time. He is the better rifle shot between us, and I just wanted to see what the rifle would be like in his hands. He shot it off a bag rest at 25 yards indoors. Ten pellets were shot from the magazine, then another 10 of the same pellet were shot using the single-shot tray. Mac tested both domed and wadcutter pellets, so we get to compare the relative accuracy of both today. And the results did not turn out as I expected.
Magazine
I'd noted in an earlier report that the particular 10-shot magazine I've been using has two chambers with tight entrances. Mac found the same thing without being prompted by me. I had him use the same magazine as I did so I could compare his results with all other variables remaining the same.
You'll recall that I mentioned not liking magazine guns because of how they handle the pellets. So, today was also a test between the magazine and loading each pellet as you shoot. I'm not saying that all pellets have feeding problems, but that some magazines may have a problem. But when you load each pellet singly, you have less chance of damaging the pellet.
Single-load tray
That said, the MAR177 has a gap at the front of the single-load tray that can catch the nose of certain pellets and make it very difficult to load. The H&N Field Target pellets that were the most accurate in an earlier test had this problem and had to be exchanged for a different domed pellet. The H&Ns have a semi-wadcutter rim around the head that just catches in the gap on the tray and causes the pellets to flip up and possibly get damaged on loading. I substituted 7.3-grain Air Arms Falcon pellets that fed perfectly through the tray.
On to the shooting
Let's get right to today's test. First, Mac tested the domed pellets at 25 yards.

Through the 10-shot magazine, 10 Falcon pellets made this 0.667-inch group at 25 yards. This is very good!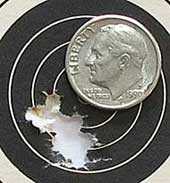 When the single-shot tray was used, 10 Falcon pellets made this 0.429-inch group at 25 yards. This is clearly better than the group made using magazine-fed pellets.
Mac tried the H&N Field Target pellets first, and they were very accurate, but a couple of them refused to feed through the magazine. But the Falcon pellets fed flawlessly, so we changed the test to use them as the domed pellet of choice. Once again, I want to say that in another magazine this pellet might have fed better, but this is a quirk you get with mags that you don't get when loading singly.
Clearly the single-loaded pellets are more accurate than those loaded by the magazine. That may not hold from magazine to magazine; but for this one mag, you're better off loading the pellets one at a time. Let's see how the rifle does with wadcutters at 25 yards.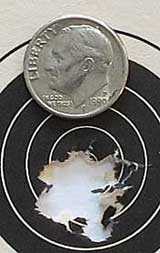 Using the magazine, 10 RWS R10 7.7-grain pellets (an obsolete weight for the R10) grouped in 0.484 inches at 25 yards. That's great performance.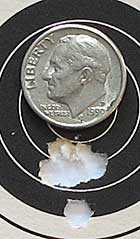 When each pellet was loaded singly, the R10s grouped 10 in 0.402 inches. This was the best group of the test!
The trend continued with the wadcutter pellets. The R10s grouped even tighter than the Falcons at 25 yards, and those that were loaded singly did much better than those that fed through the magazine.
What have we learned?
First, we've learned that some magazines do influence the accuracy of the gun with all ammunition — or at least with the pellet types used in this test. A different magazine might well give different results, but one thing it will never do is outshoot loading the pellets by hand, one at a time. As a 10-meter shooter, I knew this going into the test. But it was nice that we were able to demonstrate it so clearly.
Next, we see that wadcutters were more accurate than the domes in this test. Even though both pellets were very accurate, the wadcutters had the edge. That was the part that surprised me. I'd expected the domes to take over at 25 yards.
The bottom line
The Crosman MAR177 is a valuable addition to an AR and a wonderful target rifle in its own right. It was held back in this test by the use of an AR National Match trigger, which is by no means as good as a target trigger on an air rifle. Even so, we see accuracy that any 10-meter precision rifle would be proud of.
I think Crosman has made a winning rifle in the MAR177. And when they bring out more powerful versions of it in the future, it'll be all the greater justification for owning an AR! My thanks to Crosman for the loan of this MAR177 for both this test and for the feature article I am writing for Shotgun News!
by B.B. Pelletier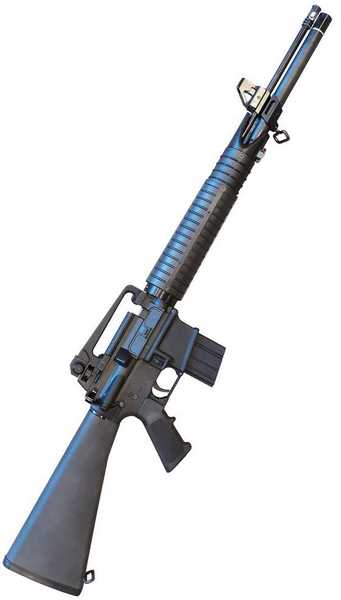 Crosman's new MAR177 upper is big news!
Today, we'll look at the Crosman MAR177 upper shooting domed pellets at 25 yards. I'll be using the 10-shot magazine, so we'll get to see that in action, as well. I'll tell you right now that today was a learning day that spawned another report that's still to come. Read on to learn what it is.
As you know, the Crosman upper receiver is attached to a lower receiver that I built on a Rock River Arms lower receiver shell. I used Rock River parts, and the trigger is an upgraded two-stage National Match trigger, also from Rock River.
National Match?
To the uninitiated, the term National Match sounds like the finest possible precision. Well, it isn't! A National Match trigger in an AR is about like a John Deere tractor — strong and effective, but as far from real precision as it is possible to get and still have a good trigger. My trigger has a light first stage and a crisp release in stage two, but it's not what any target shooter would call precision. The break point is right at 5 lbs. My Trapdoor Springfield, which was made in 1875, has a trigger just as nice. My 1879 Argentine rolling block's trigger is lighter and crisper, now that I have replaced the heavy service-grade trigger return spring. So understand that National Match does not mean the same as precision. You owners of Rekord triggers don't know how good you have it.
The National Match AR trigger is quite a bit better than the single-stage trigger that comes standard on a military or civilian AR, but it isn't a target trigger by any stretch. I tell you that so you'll understand what I had to deal with in this test.
10-shot magazine
The MAR's magazine is the same one that a .177 Benjamin Marauder uses. It's wound under spring tension as it's loaded and advances by spring power as the bolt is worked for each shot. Remember that on the MAR, the bolt is retracted by pulling back on the charging handle — the same as all other ARs.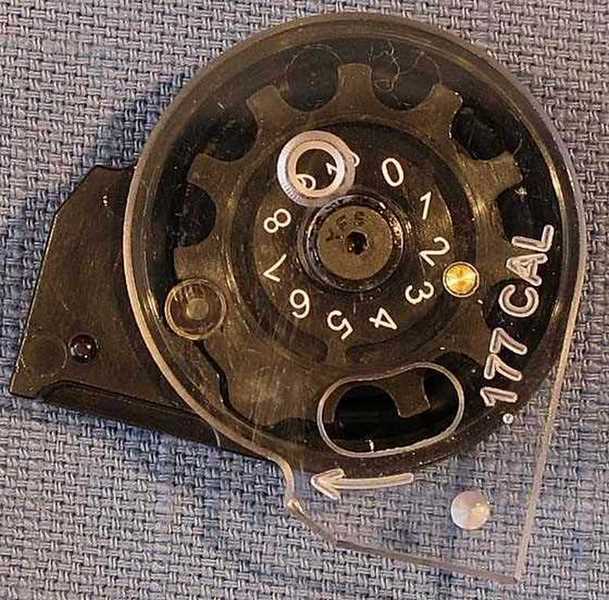 The 10-shot magazine comes from the Benjamin Marauder and is completely reliable, as well as quick and easy to load. Here the last shot is in the magazine, holding it in place. The clear plastic cover is rotated to drop in the other 9 pellets.

To cock the MAR the charging handle is pulled back.
The mag loads easy once you know the right procedure. A couple of the chambers were tight, so I used a mechanical pencil to push in the pellets. Once they cleared the lips of the tight chambers, they dropped into place easily. There were no feeding problems throughout the test, which entailed about 90 pellets, give or take.
The scope
I mounted a Leapers 4×32 mini scope on the rifle. It's not a scope that Pyramyd Air stocks, but it would be similar to this Leapers scope. You may criticize my choice for some lack of aiming precision; but when you see how good the little scope looks on the rifle, I think you'll understand why I went with it. It allowed me to use medium scope rings and still clear the magazine that stands proud of the receiver top. If I were hunting feral hogs with a 300 AAC Blackout or a .50 Beowulf cartridge, this is the scope I would use. No, it doesn't magnify as much as a good 3-9x scope, so we may have to take that into consideration when we look at these groups.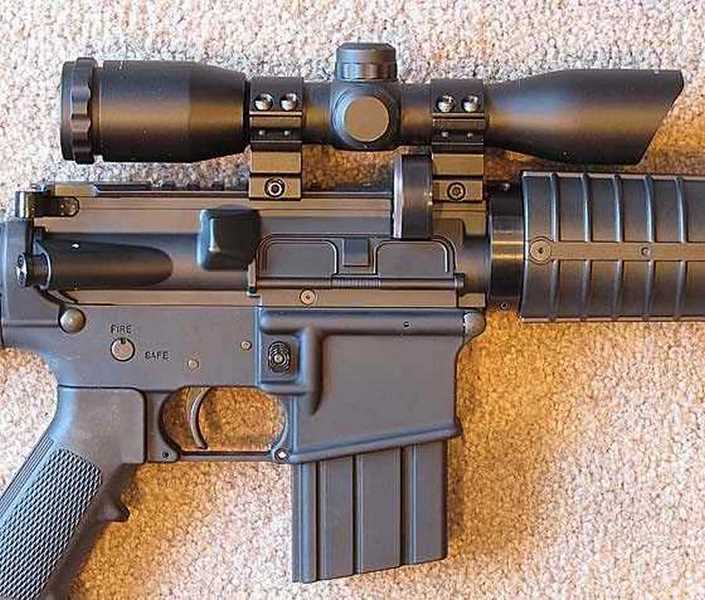 This mini-Leapers scope looks perfect on the MAR. The two-piece rings have to be close to each other because the scope tube is short.
Sight-in
I sighted-in at 12 feet, using my 10-minute sight-in procedure. If you haven't tried this yet, you need to. It took just three rounds to get on target; and although a bit of luck was involved, this sight-in procedure always cuts time from the front-end of my scope tests.
Air Arms Falcon
I used the 7.3-grain Air Arms Falcon pellet to sight in. The scope seemed right on for elevation, but off to the right. I dialed in some left correction and shot again. Almost there, but not quite. One more adjustment put me at 6 o'clock, as far below the aim point as the center of the scope was above the bore axis (approximately). I knew I was safe to back up to 25 yards and start shooting.
The next 7 shots made a group measuring 0.422 inches between the centers of the holes farthest apart. It was an auspicious beginning for the test!

Three shots to get on target, then a great 25-yard, 7-shot group of Air Arms Falcons.
It was also the best group I shot with the Falcons. The other two opened up to over three-quarters on an inch, so although they made a good first impression, Falcons were not the best domed pellet in the rifle I'm testing.
JSB Exact 8.4-grains
I also tried JSB Exact 8.4-grain domes. They put 9 pellets into 0.495 inches, but threw the tenth shot low and right, opening the group to 1.047 inches. I detected no reason for this wild shot, so I'll have to chalk it up to the pellets — maybe.
BSA Wolverine
Next I tried some BSA Wolverines. This is yet another JSB dome that sometimes out-performs anything else. But in the MAR, they were just satisfactory, putting 10 into 0.642 inches.
JSB Exact RS
Another tantalizing group was made by JSB Exact RS pellets. We've learned over many tests that the RS is one of the best pellets for low- to medium-powered springers, and the MAR177 shoots at the same velocity, so I wondered how well it would do. Nine shots went into 0.474 inches, but the tenth shot opened that to 0.874 inches. It was a second instance in which 9 shots were tight and the tenth was a flier. I cannot say where in the string the wild shots occurred, though, because the scope couldn't see the pellet holes as they were made.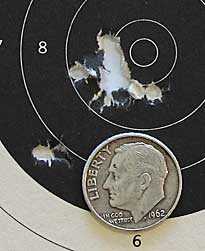 Nine were tight, then a tenth opened the group. JSB Exact RS pellets
H&N Field Target
Next, I tried H&N Field Target domes. A reader recently asked me why I don't try these, as he had good success with them. I responded that I had, and had not experienced the same success; but when I checked my pellets, I discovered that I'd been shooting H&N Field Target Trophy pellets. The Field Target pellet tin was unopened. See what confusion a small name change can make?

Best group of the day was shot with 10 H&N Field Target pellets. It measures just 0.441 inches across.
These 8.5-grain domes gave me the best 10-shot group of the test — a stunning 0.441 inches between centers! This is a pellet I will work into future tests, you can be sure. This also serves to demonstrate that although the scope only magnifies four times, that's good enough.
I was starting to tire from all the concentration, so this was the place to stop. I would say that the MAR177 made a good showing, but also raised some questions.
What comes next?
The performance of the rifle in this test was so intriguing that I want to reshoot the same test, only using the single-shot tray next time. Then I will know for sure whether or not the magazine has any influence over the group size. I've always had reservations about magazines in any rifle, and I really want to see if there's any discernible difference. If there is, I may have to do a lengthy test of magazines vs single-shot operations in PCPs.
The next test that will also offer an opportunity to pit wadcutter target pellets against the best domes at 25 yards. I've always maintained that 25 yards is about the maximum distance at which wadcutter pellets are accurate, and we even shot a segment on the American Airgunner TV show in which we put that to the test. The domes were clearly superior to wadcutters at 35 yards, so this test will be at a closer distance and indoors. It should prove interesting.
by B.B. Pelletier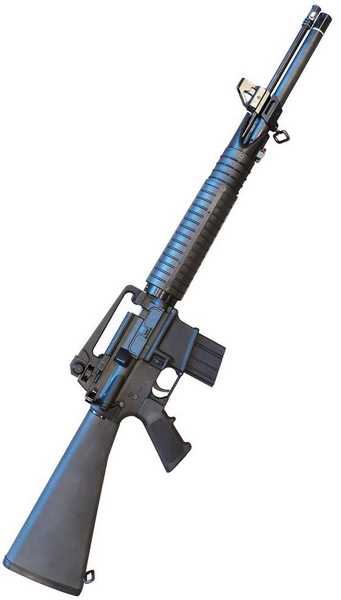 Crosman's new MAR177 upper is big news! This view shows the front sight properly oriented.
Today is the first accuracy test day for the Crosman MAR177 upper, so let's see how this baby shoots. Blog reader Darth Cossack pointed out that I had mounted the front sight backwards in the last report, so I fixed that for today's photo. It wouldn't have mattered from a shooting standpoint, but we do want the gun to look right.
On this AR-15, both the front sight and the rear sight adjust for elevation, while the rear sight also adjusts for windage. The front sight requires a sight adjustment tool that I don't have and didn't see packed with the upper. You can also use the point of a 5.56mm military round, which I have an abundance of, but doing it that way is very laborious. I'm hoping the rear sight adjustments will take care of everything that's needed.
And one more time for those who didn't read it — the MAR177 is purpose-built for the new sport of National Match Air Rifle (NMAR). NMAR can be shot with traditional 10-meter rifles (using the CMP classifications of Precision and Sporter) and the course is three positions — standing, kneeling and prone. You can continue to use your shooting glove, sling and shooting jacket for this sport, as well. Shooting trousers are not permitted.
The benefit of the AR-15 type rifle that the MAR177 is a part of is that it helps shooters transition over to National Match highpower shooting, because the lower that includes the trigger can be the same for both rifles. And from a competitive standpoint, the MAR177 is very affordable. The only other AR-type air rifle that's suitable for this sport is made by Anschütz and sells for $1,850.
It cost me $450 to build my lower receiver, and half of that was the National Match trigger. If I wanted to build a lower on a budget, I could do it for under $200 by careful shopping. And I just saw a complete lower advertised in a local sale for $250. But the trigger would then be single-stage and heavier, though there are ways to gunsmith the pull weight down to the legal range of 4.5-5.0 lbs. And when I say the legal range, I refer to high-power competition, only. An air rifle has no trigger-pull limit, because Precision-class target rifles, which are the Olympic target air rifles, are permitted to compete in NMAR.
Why did Crosman make the MAR177 upper for a firearm lower?
This question is being asked by many airgunners. Why would Crosman knowingly make their upper to fit a lower that then classifies the whole rifle as a firearm under federal law? The answer lies in the tens of millions of AR rifles now in the hands of shooters and the extreme popularity of the model. Crosman is building for a market that is more than a hundred times larger than the current active airgun market in the U.S. Even if only a few percent of those owners decide to buy a MAR177, they represent more than all the active airgunners in the United States at this time.
But Crosman isn't blind to the potential for sales of an MAR that's not classified as a firearm. I have no doubt they're working hard on a lower that will accept a modified MAR upper that will not be classified as a firearm. But these things take time. I would expect such a project to be on the fast track right now, but how long it might take before we see it is unclear.
The difficulties are enormous!
You probably think the MAR was easy to develop. After all — every AR is the same (they're all held to certain specs), so don't they just have to develop a gun for one lower that will automatically work on all the rest? Actually, no. When your upper has to interface with all the lowers on the market and all possible combinations of triggers in those lowers, there are bound to be some problems. Crosman did their due diligence in designing a universal upper, but there are bound to be some combinations of lower receivers and triggers that experience temporary problems. That would be true for any company designing any new AR-15 upper from scratch.
As I mentioned in Part 2, my Rock River lower and National Match trigger worked fine from the first moment I assembled the rifle, so every new owner can expect success, but there are bound to be some hiccups. There are synthetic lower receivers on the market that are being sold on a price basis that are known to have interchangeability issues with firearm uppers, and this is going to carry over to the MAR177 as well.
I'm not going to list those brands here, but if you do a search for AR-15 lower receiver problems, you'll come up with a good list of what to avoid. The problems are both the lower receivers, themselves, and the separate parts kits to complete them. People are buying these receivers and parts based on price, alone, and they're running into problems when one brand of lower won't accept another company's parts kit and then work with those three other uppers.
Somebody asked me why I chose a Rock River lower receiver and a Rock River parts kit, and I'm telling you why. There are other brands that are just as good, and a few that are even perhaps better, such as the Giessele National Match trigger that one of our readers mentioned, but you have to be aware of the fact that not all AR-15 uppers fit all AR-15 lowers.
What I'm testing
One final comment I want to make. Building a gun like this is full of decisions. You are free to choose whatever appeals to you; but once you choose, your path is determined by the decisions you make. As I said before, there's no trigger-pull weight restriction in the NMAR class for air rifle shooting, but if I were to want to use the same lower in a match with a firearm, I would be restricted to a weight range for the trigger release and also the style of pistol grip. While I'll probably never compete in a high-power military-style match, I wanted to shoot a gun that would qualify. It was a choice I made, and one that you do not have to follow. But that choice led me to a certain level of performance in the rifle I am now about to test.
I'm also shooting the military-style post front sight. An aperture front would allow more aiming precision; but if you want to use the MAR as a training tool for your high-power competition rifle, you'll stick with the sights that come on the upper.
The test
I shot 5 shots per group off a rest at 10 meters with each pellet I tested. Since there's going to be more testing with this gun, I didn't try to test all the pellets I have, but I did try eight different ones.
Sighting in was done with the Crosman Premier Super Match target pellets that Crosman packed with my test gun. And they were astonishingly good! The group fired for record measured 0.144 inches between centers. That's in the range for CMP (Civilian Marksmanship Program) and NRA Sporter class 10-meter rifles that have much lighter triggers and aperture front sights. I was impressed.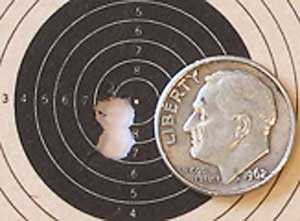 Crosman Premier Super Match pellets are great in the MAR177. Five shots went into a 0.144-inch group between centers at 10 meters.
Loading is not perfect
I used the single-shot tray for all this testing. This is the same tray that the Benjamin Marauder uses, and there's a small gap just before the breech of the barrel. If you try to load the pellet tentatively, the head drops into the gap and binds. If you slam the bolt home too fast, the pellet jumps up in front and also jams. It takes a while to get the right closing speed so the pellet feeds smoothly. Not all pellets jam this way, but a couple are particularly bad. You'll have to try it for yourself if you use the tray. I was able to get the feed right for every pellet I shot, so it's not a problem — you just have to spend some time to learn the peculiarities of the gun with the ammo you choose.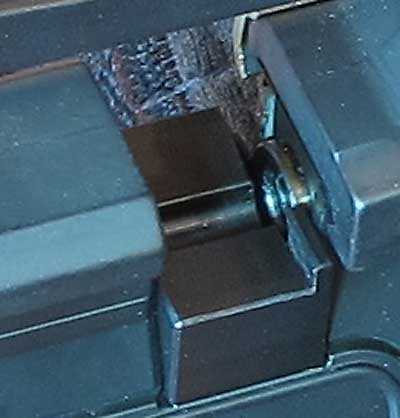 You can see the gap at the front of the single-shot loading tray. You have to learn how fast to load pellets to get wadcutters past that gap.
Number two
The second-best pellet in the test was the Gamo Match. While the group they made looks large, it's so round that it doesn't take up that much room. In reality, this probably means they're not really second best, but I may have made a small aiming error with one of the other pellets. However, it's surprising that such an inexpensive pellet is also this capable.

Five Gamo Match pellets made this 0.136-inch group. Second best of the test, though it appears open.
Best group
RWS R10 7.7-grain pellets that are no longer available gave the best results, with a group size of just 0.106 inches between centers. I shot them early in the test and was probably more rested than I was later, so my eyes were working at their best.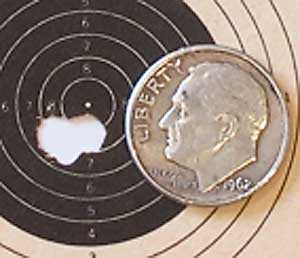 RWS R10 7.7-grain pellets made this five-shot group measuring 0.106 inches. It was the best of this test.
The other pellets
Besides these three, I tried five other target pellets. They were all very equal to the Crosman Super Match, and the largest group fired during the test was 0.162 inches with RWS Hobbys.
JSB S100 Match
Conclusions
One test like this is not enough to determine the most accurate pellet. If I were to do the same test again, the results would no doubt change. Lots more testing is needed to find that one best pellet for this competition air rifle. However, one test was sufficient to prove that the MAR177 has everything going for it. It's accurate, easy to use and conserves air like a free diver. It mates to an AR lower perfectly to become the best possible training system for AR shooters.
I have more plans for this rifle. Next, I plan to mount a scope and test the rifle with accurate domed pellets at 25 yards. I believe the MAR177 has more to show us.