Posts Tagged 'H&N Baracuda Match pellets'
by Tom Gaylord, The Godfather of Airguns™
Writing as B.B. Pelletier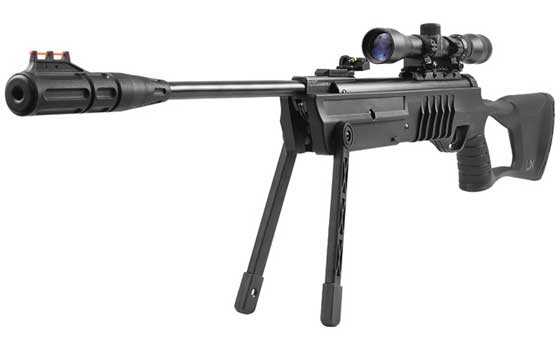 That's right! The Umarex Fuel carries its own bipod legs tucked against the forearm until you deploy them.
This report covers:
• I couldn't believe it is a gas spring!
• Cocking effort
• Velocity test — H&N Meisterkugeln pellets
• RWS Hobby pellets
• RWS HyperMAX pellets
• H&N Baracuda Match pellets
• Firing behavior and report
• Trigger-pull
• Overall evaluation
Today we look at the velocity of the Umarex Fuel air rifle, and folks — I think we have a winner, here! I'll tell you why I say that as the report unfolds.
I couldn't believe it's a gas spring!
As I shot the Fuel, I was surprised by how easy it is to cock — especially given the power you'll see. Unlike other gas springs that fight you from the starting point of the cocking stroke, the Fuel seems to start out easy and gets hard only when the mechanical advantage of the cocking linkage is in the right place. It's as if whoever designed this air rifle had actually cocked one before!
Cocking effort
The Fuel requires 32 lbs. of force to cock — far less than other gas-spring rifles of similar power. And the effort does build rather than be all at once from the starting point. That linkage is certainly well thought out!
Unfortunately, I had an accident while measuring the cocking effort. In an attempt to avoid damaging the plastic fiberoptic front sight, I made the cocking effort more of a sideways movement across the scale, rather than a direct downward pressure. The muzzle slipped off the scale and slammed against my bare leg, breaking off the SilencAir muzzlebrake and front sight of the rifle. That wasn't the Fuel's fault — it was clearly all mine.
For the rest of the test, I will be shooting the rifle without the muzzle brake that on this rifle actually has baffles to silence the report. And I won't be able to test the rifle using the open sights, so I'll install a dot sight to cover the first part of the accuracy test. Remember — I want to test this rifle using both the bipod legs that are permanently affixed to the stock, as well as a conventional artillery hold.
Velocity test — RWS Meisterkugeln pellets
Umarex U.S.A., who sent me the rifle to test, also sent a tin of RWS Meisterkugeln 8.2-grain pellets. So, they were the first pellets I tested. The first three shots were 999, 974, and 977 f.p.s., respectively. The fourth shot went 966 f.p.s., and that started a string of 10 that had a low of 956 and a high of 966 f.p.s. So the break-in lasted exactly 3 shots! That's a record.
The average with 8.2-grain Meisterkugeln pellets was 960 f.p.s. That produced an average muzzle energy of 16.78 foot-pounds.
RWS Hobby pellets
Next up were RWS Hobby pellets. At just 7 grains in .177 caliber, these should be screamers in this rifle. They averaged 1045 f.p.s. — with a low of 1031, a high of 1052 f.p.s. and a spread of 19 f.p.s. The average muzzle energy was 16.98 foot-pounds.
If you've been a reader of this blog for a while, you know that we expect spring-piston guns to produce more power with lighter pellets — just the opposite of what pneumatics do. Sometimes, there are anomalies due to the weight of the piston, but generally things work out that way.
RWS HyperMAX pellets
I wanted to see just how fast the Fuel is, so next up were the lead-free 5.2-grain RWS HyperMAX pellets. They averaged 1215 f.p.s. — with a spread from 1200 f.p.s. to 1223 f.p.s. and a total velocity spread of 23 f.p.s., which is pretty consistent for such a light pellet in a powerful piston gun. At the average velocity, they produced 17.05 foot-pounds of energy at the muzzle.
H&N Baracuda Match pellets
The Fuel obviously has enough power for a heavier pellet, so I selected an H&N Baracuda Match pellet as the final test pellet. This one averaged 838 f.p.s. in the Fuel — with a low of 830 f.p.s., a high of 845 f.p.s. and a total spread of just 15 f.p.s. At the average muzzle velocity, this pellet produced 16.61 foot-pounds. Now, that's an interesting number. From the lowest power to the highest seen in this test, the rifle varied by less than half a foot-pound. Even though the pellets doubled in weight, the energy difference was small, meaning that the Fuel outputs similar energy with most pellets. That's very uncommon for a spring-piston airgun.
Firing behavior and report
The Fuel is very quiet when it discharges. Even after the SilencAir broke off, the rifle was still quiet. And the discharge felt smooth and solid — no vibration after the shot. This rifle shoots like a tuned spring rifle that costs a lot more. If it's also accurate, we're looking at the best buy of 2014.
Trigger-pull
The two-stage trigger is adjustable for the length of the first stage, only. Stage one weighs exactly 1 lb., and stage two breaks cleanly at 4 lbs., 11 oz. I'll be able to shoot well with this trigger.
Overall evaluation
I'm impressed by the Fuel so far. It cocks easily, yet is spot-on for velocity. The trigger is nice, and the firing behavior is smooth and solid. I have a good feeling about this rifle.
by Tom Gaylord, The Godfather of Airguns™
Writing as B.B. Pelletier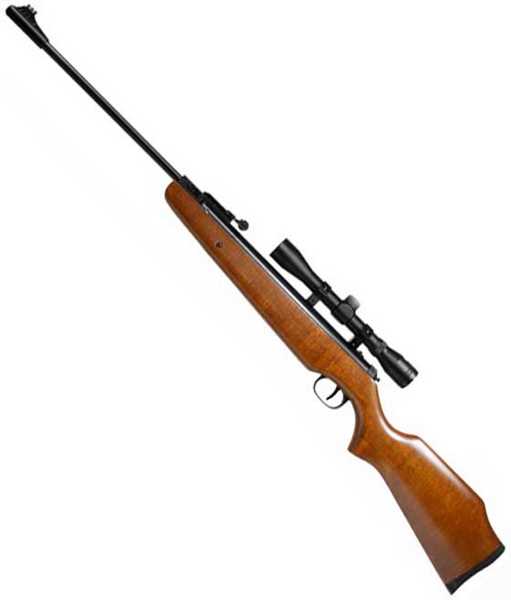 Ruger Air Hawk combo is very popular.
This report covers:
• Doing something different
• Tightened the barrel joint
• Sight-in and the first group with Hobby pellets
• Air Arms Falcon pellets
• RWS Superdome pellets
• H&N Baracuda Match pellets
• JSB Exact Express pellets
• Crosman Premier 7.9-grain pellets
• Alternate hold
• Conclusions
I started this test in July but have laid off for several weeks. Thanks for bearing with me. Today, we'll look at the accuracy of the Ruger Airhawk combo at 10 meters.
I'm looking at this combo because a number of readers say they really like the rifle. Of course, it's been compared to an RWS Diana 34, but I wouldn't go that far. Yes, there are similarities between the two rifles, but they're not identical. And each has its own unique firing characteristics – and we'll all learn a lot about those as I fire the rifle for accuracy using the open sights.
If this rifle proves to be accurate, it'll be a best buy, given the price of just $130. I know my test rifle is shooting slower than the advertised velocity, but I plan on testing the velocity, again, after the accuracy test, so don't give up just yet.
Doing something different
I'm changing the way I test air rifles in an attempt to make some progress faster than in the past. I'll shoot just 5 shots at 10 meters off a rest with each pellet and then look at the group. If the group shows promise, I will come back to the pellet. If not, I'll move on. That way, I'll be able to test more pellets in the same time.
I'll also test at least 2 different variations of the artillery hold — the 2 that have proven the most successful over the years. If one seems better than the other, I'll continue to use that hold for all the other tests.
Tightened the barrel joint
I noticed last time that the barrel joint wasn't tight. This barrel has a bolt that can be tightened, so I removed the action from the stock and tightened the barrel pivot bolt. When I was doing that, I noticed that all of them were loose. The inletting of the action in the stock was very tight — fully the equal of anything made in Europe. That gives me hope this rifle will be accurate.
Sight-in and the first group with Hobby pellets
I sighted-in the gun and shot the first group with RWS Hobby pellets. Sight-in amounted to just one shot that told me the rifle was on target from the factory.
I'm showing the sight-in shot along with the first group for two reasons. First, it shows how low the first shot was, yet I knew I'd be okay because I was shooting from just 12 feet. I knew the group would hit the paper higher. Second, it shows how much the shots climbed on target when I shot from 10 meters. This lesson demonstrates that you cannot sight-in a gun for anything under 10 yards and expect it to be on at any other distance. Even 10 meters is too close to sight-in a rifle if you expect to ever hit things at 15 yards and beyond. The sights are too close to the target, and the angular separation from the bore is too great when you're this close.
I held the rifle on the flat of my off hand with the triggerguard touching the heel of that hand. The group of 5 Hobbys measures 0.678 inches between centers. This is too large for a 10-meter group, so Hobbys are out of consideration.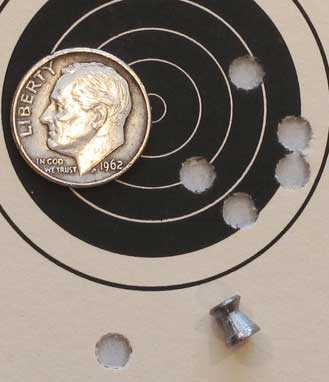 The sight-in shot hit below the bull, telling me the rifle was sighted-in. Five RWS Hobbys made a 0.678-inch group at 10 meters. Not good enough!
After this group, I adjusted the rear sight 7 clicks to the left but didn't touch the elevation. The sight remained in that setting for the rest of this test.
Air Arms Falcon pellets
Next, I tried Air Arms Falcon pellets. Falcons hit the target well-centered but much lower than the Hobbys. Five pellets went into a group that measures 0.493 inches between centers. While that isn't as good as I'd like to see at 10 meters, it does show some promise. I'll probably shoot Falcons from 25 yards, as well.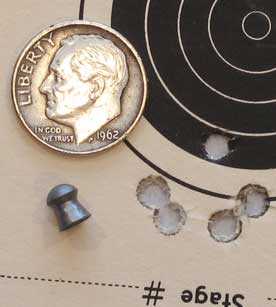 Five Air Arms Falcon pellets went into 0.493 inches at 10 meters. This is interesting.
RWS Superdome pellets
Next, I tried RWS Superdomes. They gave me a puzzling result. Four of the 5 pellets went into 0.506 inches, but the final shot opened the group to 0.906 inches. That might have been an aiming error; but at 10 meters, I usually don't make mistakes that large. I might try these again, but not if I find 2 other pellets that are better.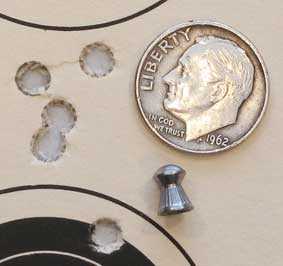 Five RWS Superdome pellets went into 0.906 inches, but 4 of them are in 0.506 inches. Interesting, but not good enough.
H&N Baracuda Match pellets
Next, I shot 5 H&N Baracuda Match pellets. Sometimes these pellets that seem too heavy for a gun will surprise you with their accuracy, although I have to say that happens more with heavy .22-caliber pellets than with .177s. It certainly didn't happen this time. Five Baracuda Match went into 1.372 inches. Although 3 pellets are close, I don't think this pellet is right for this rifle.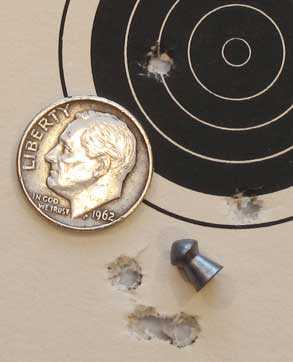 Five Baracuda Match pellets in 1.372 inches at 10 meters. Not the pellet for this rifle.
JSB Exact Express pellets
Five JSB Exact Express pellets were next. I have to confess that, while I like JSB pellets a lot, I've never had any luck with the Express pellet in either caliber. Today was no different. Five went into a 1.466-inch group that proved to be the largest of the test. Definitely out of the running for this rifle!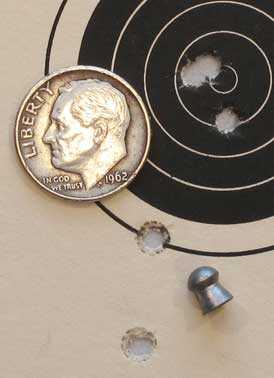 JSB Exact Express pellets made the largerst group of the test — 5 in 1.466 inches at 10 meters.
Crosman Premier 7.9-grain pellets
I felt I had to try the 7.9-grain Crosman Premier pellet that's often the best in some rifles. And I got an interesting result. The first pellet hit the target high and near the center of the bull. Then the next 4 dropped over one inch and grouped in 0.411 inches.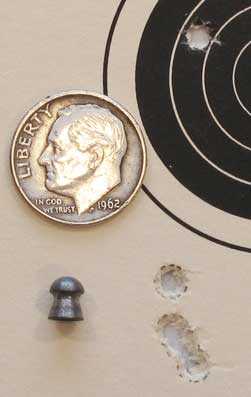 As a 5-shot group, Premier lites were not impressive, but only the first shot is apart from the group. Four went into 0.411 inches at 10 meters. This is a pellet worth testing further.
This group is small enough to interest me, so I shot a second group of 10 pellets. They landed in 0.746 inches, which is okay, but not the best. However, if you look at the group, you can see that 6 of the 10 pellets went into a much tighter group that's a single hole measuring 0.357 inches between centers. I know that aiming errors can put me off by as much as these 4 outlying pellets at 10 meters, so this group gives me confidence that the Airhawk can really shoot.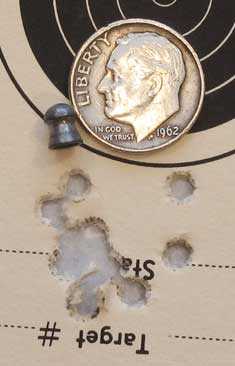 Ten Premier lites went into 0.746 inches at 10 meters, but 6 of them went into just 0.357 inches. That looks promising!
Alternate hold
I then tried the same Premier lite pellets with my off hand slid forward so I could feel the beginning of the cocking slot against my palm. Now that I know this is a good pellet, I can try different things like this. Five pellets went into 0.852 inches, which isn't good — but look where 3 of them went! That hole is a group measuring 0.069 inches! I don't think that was due to the different hold, but I do think it tells me this rifle can really shoot and that the Premier lite pellet is right for this gun.

Using an alternate artillery hold, 5 Premier lites went into 0.852 inches. While that isn't so good, 3 of those pellets went into 0.069 inches. I think the rifle can shoot, and this pellet is the right one – but the first hold is best.
Conclusions
Edith spotted the fact that I may have skewed the test results by not seasoning the barrel for each pellet. I guess that's the down side of shooting so many 5-shot groups. It does bring up a good point. I think that when I move back to 25 yards, I'll season the barrel with 20 shots per pellet before shooting the first 10-shot group.
She also suggested that I do a seasoned barrel vs. unseasoned barrel accuracy test. There are enough of you who believe in the seasoning process, so that makes such a test worth the effort.
by Tom Gaylord, a.k.a. B.B. Pelletier

The PCP is built on a Crosman 2100B chassis.
I bet that when some people heard about this experiment, they laughed it off. Perhaps that will change now that we have looked at this novel idea 5 different times. I'm learning so much from this series that it's going to affect my writing for years to come.
I was surprised — again!
Somebody — I don't remember who — asked me to test the $100 PCP with round lead balls — I guess because the steel BB test turned out so well. So I did. I shot it at 10 meters with .177-caliber Gamo round lead balls. Since I shot with open sights, I didn't get to see the group after confirming that the first shot hit the paper. Imagine my surprise to see all 10 shots clustered tightly in 0.561 inches!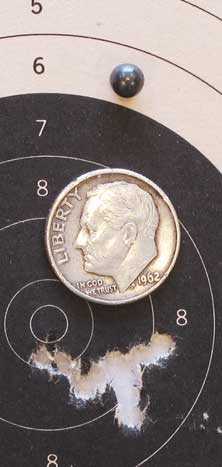 This tight group really surprised me! Ten .177 Gamo lead balls went into 0.561 inches at 10 meters.
That got me thinking — a lot! I've been doing this experiment so slow that I forget what I've done before.
What I thought I would do today was complete this report with a test of the rifle scoped at 25 yards. However, when I mounted the scope, it was very far off line, as in angled to the barrel. Either the grooves on the receiver are off or the scope mount I chose wasn't grabbing the base correctly.
After missing the target twice at 25 yards, I pulled the scope off the rifle and decided to shoot another test with open sights. I used different pellets than I used in Part 4 so we get to see some different results.
Crosman Premier heavy
The first pellet I tried was the 10.5-grain Crosman Premier heavy. In .177, Premiers come in both lite and heavy, and this is the first time I've tested this rifle with the heavy. I would love to tell you these pellets went into a small group, but the truth is that they scattered in a 2.352-inch pattern.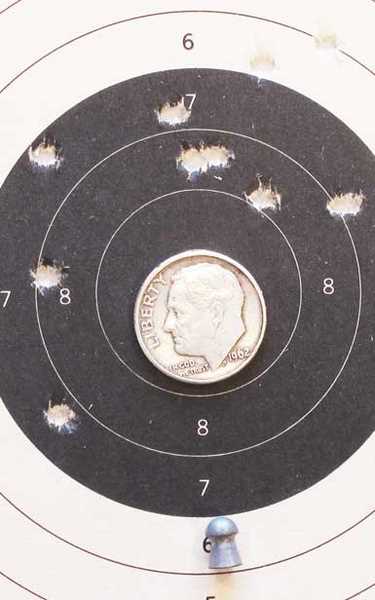 Not particularly encouraging, 10 Premier heavies made this 2.352-inch group at 25 yards.
H&N Baracuda Match
Next, I tried 10 H&N Baracuda Match pellets. They made a better group than the Premier heavies, but it still wasn't worth talking about. Ten pellets went into 2.051 inches at 25 yards.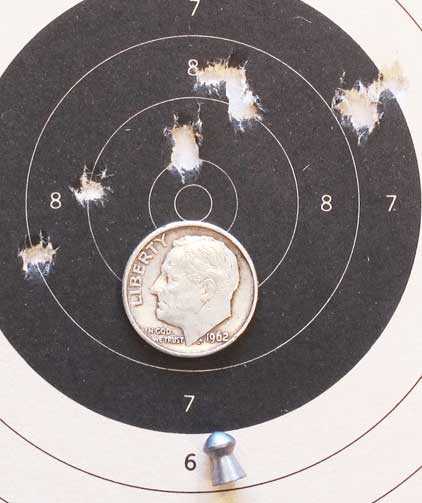 Ten H&N Baracuda Match pellets went into 2.051-inches at 25 yards. Still no cigar.
After looking at the second group, I noticed that it looked like the first group, only a little smaller. Because I always look through the spotting scope after the first shot of every group to make sure I'm on paper, I knew that the first shots of both groups were high and right. It seemed to me that the shots might be spreading out to the left as the pressure in the reservoir dropped; so on group 3, I took a photo after the first 5 shots had been fired.
RWS Superdome
Finally I tried RWS Superdomes. Including the lead balls I shot at 10 meters, this was the fourth projectile in this test and the seventh diabolo pellet tested at 25 yards in this rifle. The other 3 pellets were documented in part 4.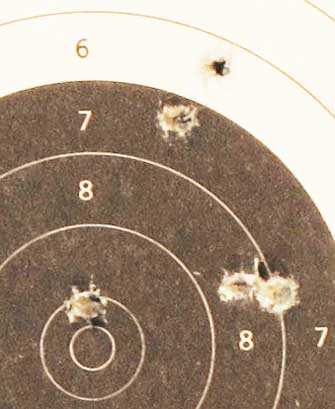 Five RWS Superdomes made this 5-shot group at 25 yards. Would the next 5 shots spread to the left?
Ten Superdomes went into 1.528 inches at 25 yards. That was the best group in this test with pellets, but only the third best pellet of the seven that were tested at 25 yards.
As it turned out, the next 5 shots didn't open the group that much more. So, another theory bit the dust.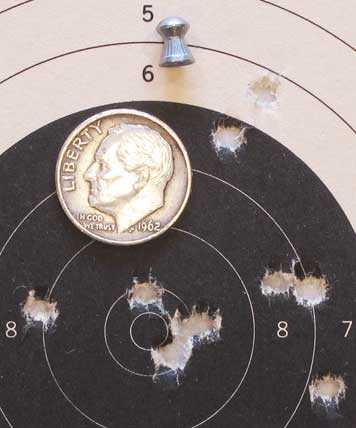 Ten RWS Superdomes made this 1.528-inch group at 25 yards. It's only a little larger than the first 5 shots, shown above.
Evaluation
The $100 PCP is very accurate at close range, but not as good as the distance increases. Of course, you must remember that the barrel is taped to the reservoir with Gorilla tape, so there's a lack of precision in the build.
It would still be interesting to see how this rifle behaves when scoped, but I'll have to find mounts that permit mounting a scope to the integral rail. At this point, I think the $100 PCP is a proven concept. I would really like to see this rifle in production.
by Tom Gaylord, a.k.a. B.B. Pelletier
Part 1
Part 2
Part 3
Part 4
Part 5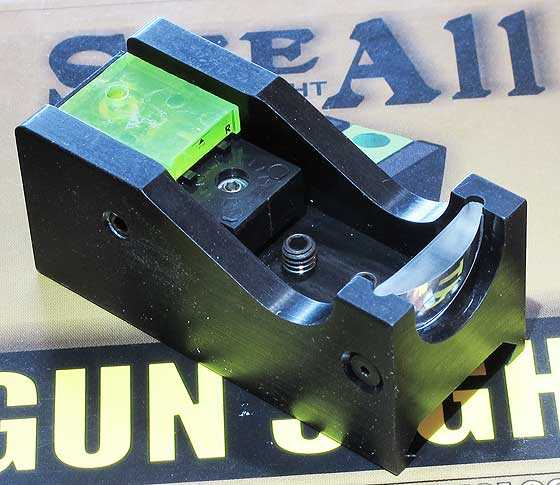 The See All Open Sight is revolutionary!
In the 9 years I've been writing this blog, I don't think this has ever happened before. Last Friday, I wrote about my failure to get the See All Open Sight to work on the Beeman P1 pistol. I tried for 2 straight days to get it sighted in and nothing worked.
That was Friday's report. Well, I went out to the rifle range on Friday, and my shooting buddy Otho met me there. He had one of his SKS rifles that had a scope mounted on it (on a Weaver base), and it was his plan to test the See All sight. Okay, I thought. Couldn't hurt.
It didn't hurt at all! After he shot the scoped rifle at 100 yards for the record, he removed the scope and installed the See All Open Sight. It took several shots to get it on paper at 50 yards, but then he shot a 5-shot group that measures 1.636 inches between centers! You may not be familiar with the accuracy of the SKS, but while it's an extremely reliable rifle that almost never fails to operate, it's only fair as far as accuracy is concerned. It's a good battle rifle — but it's certainly not a target rifle. Some individual rifles are more accurate than others, and this one happens to be Otho's best one; but a sub-2-inch group at 50 yards from an SKS is worth talking about. And he did it with the See All Open Sight!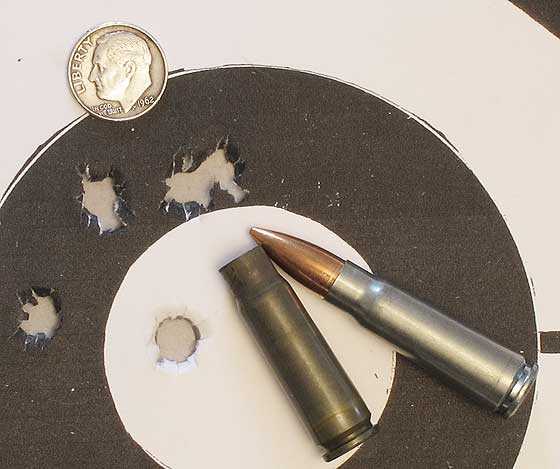 When we saw this 50-yard 5-shot group, we knew the See All sight worked! For an SKS, this is a great group.
When he was finished, we had to walk down to see the target because the cold wind was blowing so hard and our eyes were tearing so much that he couldn't see but one of the shots through his spotting scope. I was looking through binoculars and could see even less. When I saw the target close up, I asked him to shoot 10 more shots for me at 50 yards.
Otho's eyes
The reason I asked Otho to test the See All sight in the first place is because he has been battling failing eyes for several years. He can no longer use open sights like he once did, so scoped guns are about all he can shoot. The See All sight makes up for that and allows him to shoot like he used to 30 years ago. That's what the See All Open Sight is about — a sight that lets shooters mount an open sight on a gun that doesn't have one, or to use an open sight that can be seen with poor eyesight.
Wolf ammo
I guess I should also have told you that he did this with Wolf ammo, which isn't the most accurate by far. Wolf is steel-cased with a mild steel-jacketed bullet. They're reliable and aren't corrosive, but there are several brands that will outshoot it.

Otho was able to see the See All sight reticle clearly enough to shoot just as good as when the SKS was scoped!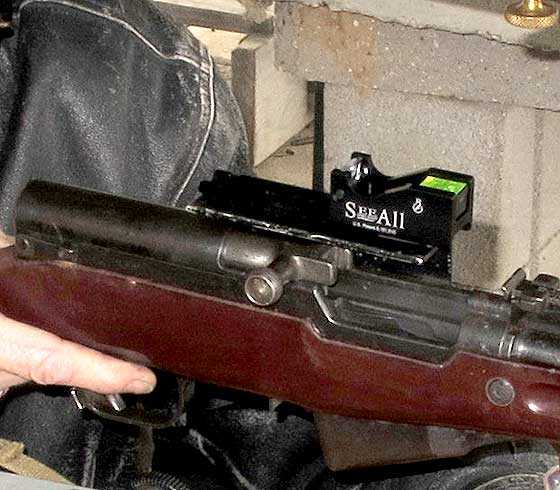 This SKS has a Weaver base attached to the left side of the receiver. The See All sight is clamped to it.
He then shot a 10-shot group at 50 yards with the SKS and the See All sight. This time he put 10 into 3.215 inches. While that's a lot closer to what most SKS rifles normally do at 50 yards, I would like to point out that Otho was able to do it without using a scope. That's significant because he couldn't see the open sights on the rifle on this day.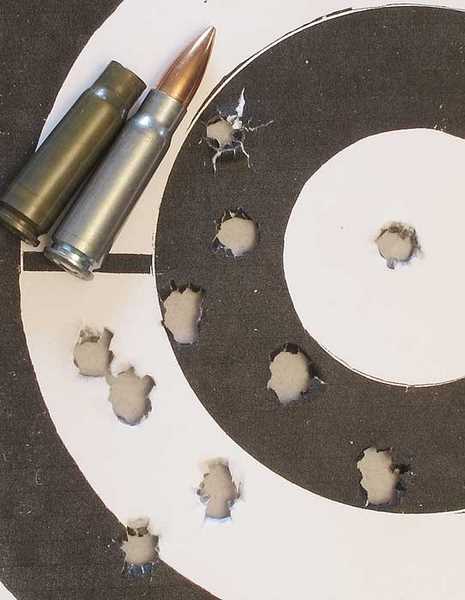 This is a good 10-shot group for an SKS at 50 yards. The rifle was shooting Wolf ammo (the dark empty case), which doesn't group as well as some other brands.
He commented that the See All sight was very fast to acquire. As breezy and cold as the day was, that was significant by itself. I was also shooting an open-sighted rifle that I'll report on in a few days, and I was unable to see my front sight until I put on my glasses to cut the wind.
100 yards
Now, Otho shifted to the 100-yard targets, where a few minutes earlier he'd shot a 10-shot group with the scoped rifle. That netted him 9 shots on paper in a group that measures approximately 5-3/8 inches between centers. The 10th shot wandered off the paper.
With the See All sight, he put 9 shots into approximately 5.50 inches. Three of these shots wandered off the paper, but we found the holes clearly on the backer board, just above the target paper. He measured the 9 shots with his pocket knife, which measures 5.50 inches when open. There was a tenth shot on the paper, but it landed about 3.50 inches below the other 9 shots. We know this 10-shot group really measures 9 inches at 100 yards; but since we don't know where the tenth shot from the scoped rifle landed, there's no way to make a direct comparison. Nine shots to 9 shots is the best comparison we can make.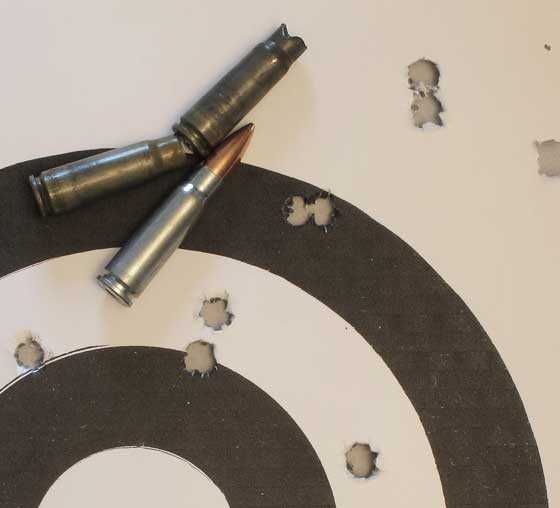 With the scoped rifle, 9 of 10 bullets hit the paper at 100 yards. This group measures 5-3/8 inches between centers.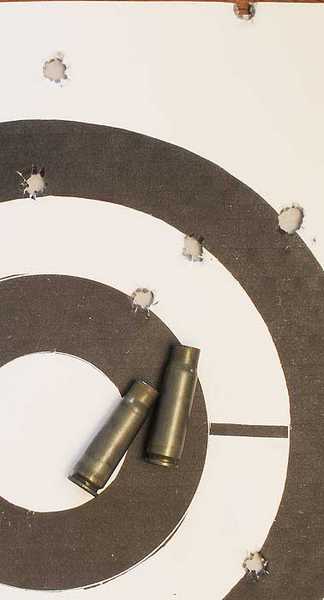 With the See All Open Sight at 100 yards, Otho was able to put 9 shots into 5.50 inches, c-t-c with the SKS. Six of those 9 are on this paper, and the other 3 landed on the backer just above the target. The tenth shot down below does open the group by a lot; but since the tenth shot from the scoped rifle was not found, we can't make a comparison.
Otho's assessment
After seeing the 100-yard group, Otho said he thinks the See All Open Sight is perfect for hunting. While it's not as good for target shooting, it's fast to acquire a target — especially one that's running. He's decided to leave the See All sight on his SKS instead of the scope, and he plans to hunt with it.
My evaluation
I'm so glad this happened because I was beginning to lose confidence. But Otho showed us the sight is good and works as intended.
I have an M1 Carbine that's chambered in 5.7mm Johnson Spitfire, and it currently has a Weaver base with a scope, as well. I also have a Remington 788 with a Weaver base. I think for my next test of the sight, I'll load up some ammo and try one of those 2 rifles with a scope and with the See All at 50 yards. They should work the same as Otho's SKS.
So, don't despair. There's at least one more test of this sight coming. For now, however, I have to say the See All Open Sight does what it's advertised to do.
by Tom Gaylord, a.k.a. B.B. Pelletier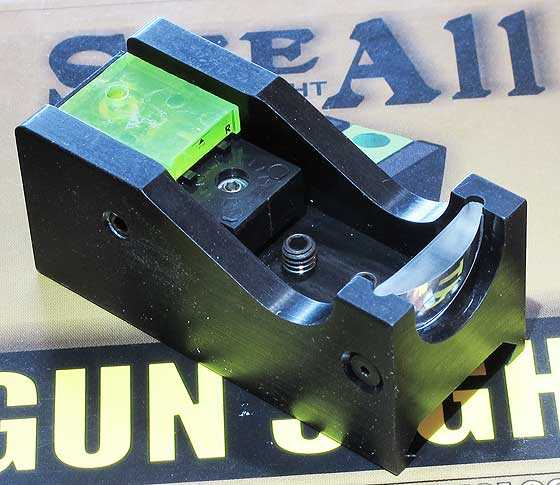 The See All Open Sight is revolutionary!
This will be a different Friday blog — I promise you.
First of all — all talk of machining the See All Open Sight sight is off the table. I spoke with the See All creators and learned that the reticle is actually on film — shrunk to the size where the point of the triangle is 0.0002 inches across. That's two ten-thousandths of an inch, or 0.00508 millimeters! This in in the realm of optics — not mechanical things. So, don't try to modify the sight.
Second, they told me some folks may need to wear their glasses when using this sight. I haven't been doing that, so I wore them for this test.
What I thought might happen today
After the last test in Part 4, I thought the sight might work better if it was held farther from my eyes — like it would be when mounted on a pistol. The magnifying optic enlarges the reticle even more the farther away it is, so this sounded like a possible solution to the reticle being indistinct on target. Also, it's easier to tilt the sight when it's mounted on a handgun. I'd hoped that would make it easier to align the peak on the end of the triangle. This is what I was thinking when I told some readers I had a better idea of how to test it.
What went wrong with this test?
When I first attempted to test the sight on Tuesday, I mounted it on a Beeman P1 pistol using an 11mm-dovetail-to-Picatinny adapter that you cannot buy. I used this base because it has some droop, and I thought I needed that droop to get the shots on paper at 10 meters. What I got, however, was pellets striking the target too low after all the upward adjustment in the sight had been made. The results were so bad that I quit testing the sight and moved to something else. I mentioned that in the introduction to Wednesday's blog.
While I was resting from this first attempt, it occurred to me that maybe this sight works in the reverse of how I was thinking. It has seemed that way every time I attempted to test it. So, for today's initial test, I turned the base around so it's sloping up toward the muzzle. The sight was pointed slightly up in relation to the top of the pistol.
For safety, I began shooting at 12 feet. If the gun was off at that distance, it would still be hitting the pellet trap.
I'd already fired a group of 10 7.9-grain Crosman Premier lite pellets at 10 meters with the P1′s open sights. They landed in 0.598 inches, so that was how well I was shooting the gun on this day. I know from experience that the Crosman Premier lite is one of the best pellets in this pistol.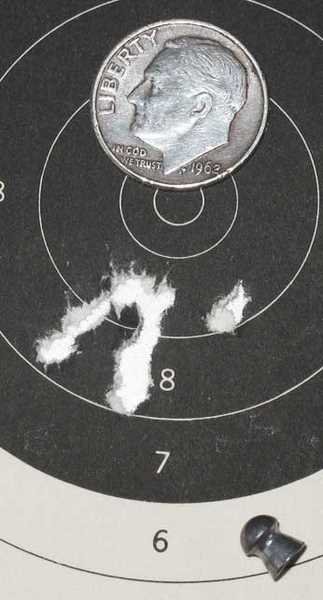 Ten Premier lites went into 0.598 inches at 10 meters with the pistol's open sights. The P1 can shoot.
It seems I can still shoot my P1. Now, how well can I shoot it with the See All Open Sight mounted? Well, I was right about the droop in the first place. Reversing the mount so it sloped up landed the pellet 12 inches below the aim point at 12 feet! I did need a drooper base after all, and one with the most aggressive slope possible. Fortunately, I had just what I needed, so that base was mounted on the gun and the sight was attached to it.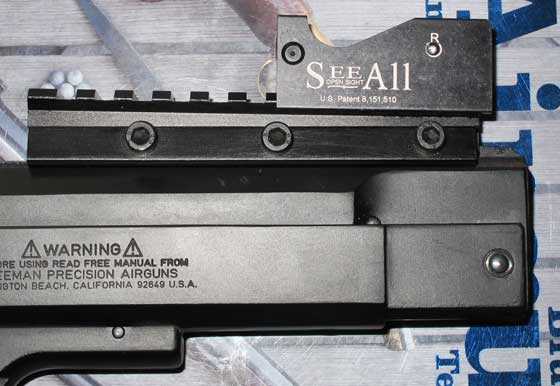 See the steep slop of the base adapter? It still wasn't enough to raise the pellet to the point of aim.
With this new steeper-sloped base, the point of impact did rise; but even with the See All sight adjusted as high as it would go, the pellet still struck about 3 inches below the aim point when shooting from 12 feet. And, yes, I did read the adjustment directions as I was adjusting the sight.
I couldn't get the pellet to strike the point of aim, so on to Plan B. Plan B is where I move the aim point very high and let the pellets impact below. At least that would tell me about the sight's potential. I used a black dot as an aim point and backed up to 10 meters. When the first shot landed 5 inches below the point of aim, however, the test was over. That is so low that it risks not hitting the entire pellet trap, and that's a risk I'm not willing to take. Two more inches and the shot goes off the paper.

A 5-inch drop below the aim point was enough to make me stop the test. This is the end of the P1 test.
This test (on the P1) is over
I have tried for two agonizing days to get the See All Open Sight to work on my Beeman P1, and everything has failed to work. I now have more pellet holes in my house (Edith knows about them), and that's as much damage as I'm willing to do.
I'm not saying the See All Open Sight doesn't work. There are too many reports that it does work — including one from our blog reader GunFun1. But I've done everything in my power to get it to work for me, and you've seen the results. My shooting buddy Otho has done the same. He did get better results than I did, but even he wasn't satisfied with what he got.
I'm going to set the sight aside and just think about it for awhile. If I were testing this item for Pyramyd Air, my recommendation would be "don't buy" right now. That's not saying I won't find a gun it works on; but, for now, I'm pretty burnt out.
by Tom Gaylord, a.k.a. B.B. Pelletier

The $100 PCP is built on a Crosman 2100B chassis.
This test was very interesting! It began last week at my outdoor rifle range. Blog reader GunFun1 asked me to try shooting steel BBs in this gun because it was originally built to handle them (when it was in its Crosman 2100B form). I didn't want to do it because this rifle launches the first couple shots at over 900 f.p.s., and steel BBs rebound like crazy (You'll shoot your eye out), but I did relent. Last week, I took this rifle to my outdoor range and stuck a 12-inch Shoot-N-C target on the plywood target backer. I then paced off 10 meters and fired 10 BBs at this target.
I thought the BBs would probably miss the target altogether. I said as much to GunFun1 in my comments a few weeks ago. But they didn't!
I was wrong about this. Shooting offhand with open sights, I put 10 Daisy Premium Grade steel BBs into 1.56 inches. It was actually 11 BBs. I must have miscounted during shooting. I was astounded! This isn't just good — it's great! You don't shoot BB guns at 10 meters when you're shooting groups!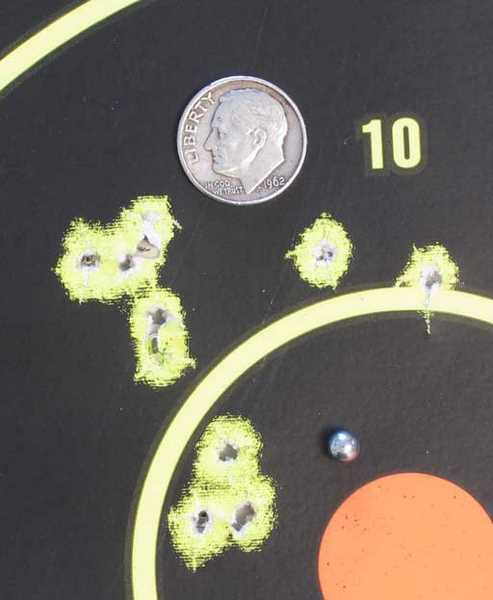 There are actually 11 Daisy BBs in this 1.56-inch group. Shot offhand with open sights at 10 meters.
Incidentally, all 10 BBs apparently went through the plywood target backer. Of course, there are other bullet holes there, so the wood isn't always present or at its thickest; still, it shows those BBs are moving!
That got me wondering just how accurate this rifle could be. I decided to shoot from 25 yards with open sights, only. I'll come back and shoot with an optical sight of some kind, but this test is just open sights.
I filled the gun to 2,000 psi for every 10 shots, including for the BBs shown above. After 10 shots, the gun's pressure has dropped to 1,000 psi.
Crosman Premier lite
The first group of 10 shots was shot with Crosman Premier lites. Based on the 10-meter results for the last test, and also from where the BBs went, I adjusted the rear sight to the right just a little. After the first shot, I looked through the spotting scope to affirm it hit the target. It did, was high above the bullseye and fairly well-centered left and right. So, I left the sights where they were and fired a second shot. When I looked through the spotting scope, I saw it had gone through the same hole as the first! Wow! That was starting out well!
The first 4 shots all went into the same hole. Then shot 5 went higher for some reason.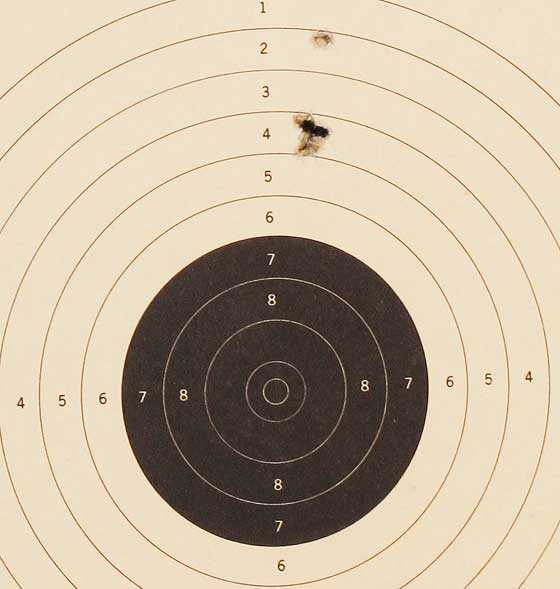 The first 4 shots are in 0.179 inches. Shot 5 opened it up to 0.838 inches.
After taking the picture of the first 5 shots, I shot the remaining 5 shots. That was informative because all the shots spread out to the left. Having the first 5 shots on record allowed me to see that the second 5 were the ones that actually spread out. The 10-shot group measures 1.358 inches between centers.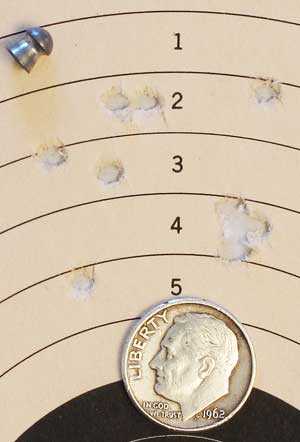 Ten Crosman Premier lites went into 1.358 inches at 25 yards. That's rested and using open sights. See how the last 5 went to the left and opened up?
RWS Hobbys
Next up were RWS Hobby pellets. They did quite well at 10 meters, but 25 yards is about the maximum distance at which wadcutter pellets hold their accuracy.
I adjusted the rear sight down one notch before shooting this group. Once more, I photographed the target after 5 shots.

The first 5 RWS Hobbys looked pretty good. Shot 1 was a 10!

So Hobbys held together fairly well at 25 yards. Ten went into a group measuring 1.144 inches between centers.
Air Arms Falcons
The last pellet I tested was the Air Arms Falcon pellet. This time, the first 5 pellets didn't seem to do that well. And when we see the final 10-shot group, it isn't that much larger.

The first 5 Falcon pellets didn't do so well.

This is one of those rare instances where 10 shots are not much larger than 5. Ten Air Arms Falcons went into 1.912 inches.
Conclusions so far
This experiment is turning out much better than I had hoped. Not only have we demonstrated that it's possible to make a precharged pneumatic rifle that can retail for under $100, we're now showing that it can really perform! Of course, the production gun will get many more shots on a fill than the 10 I'm getting, but I do think the maximum fill pressure should be held to 2,000 psi. That will make it easier to build an affordable hand pump, which Dennis Quackenbush is thinking about right now.
The discharge noise of this rifle is quite loud. I was going to recommend not putting a shroud on the gun, but I'm going to change my mind on that point. The customers for this gun will be suburban shooters who need a quieter air rifle, so some sound dampening is necessary.
The trigger on the rifle is heavy, and I would leave it the way it is. I would also leave the bolt-action exactly the way it is on the 2100B. The same goes for the sights. These are refinements people can pay for on higher-priced PCPs. We want to hold the cost of this gun to less than $100 retail.
I do plan on returning to test this rifle at least one more time with an optical sight. That will show the maximum accuracy potential, although I believe we've already seen a good indication of it in this test.
The $100 PCP will never replace the higher-priced PCPs that are already selling. It isn't supposed to. It's supposed to provide that entry-level step for those who are curious about precharged airguns and don't want to spend a fortune to find out. I think it's a very feasible goal and, quite possibly, a profitable one, as well.
by Tom Gaylord, a.k.a. B.B. Pelletier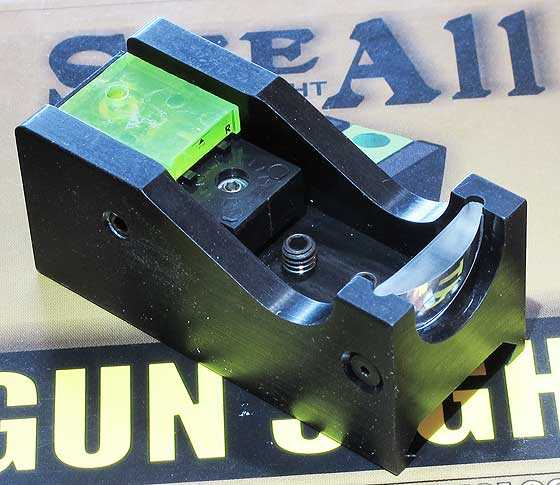 The See All Open Sight is revolutionary!
Today, we'll test the See All Open Sight on a firearm! Last week, my shooting buddy Otho brought his Thompson Center Contender rifle to the range. It's chambered in .17 HM2, a chambering and conversion he did himself.
With a scope mounted, this rifle will shoot about a one-inch group at 50 yards. He mounted the See All on it and proceeded to shoot groups.
At first, he wasn't able to adjust the sight. That was tracked down to the sight being loose. That mounting system they use is really marginal — not just for spring-piston guns but for firearms, as well.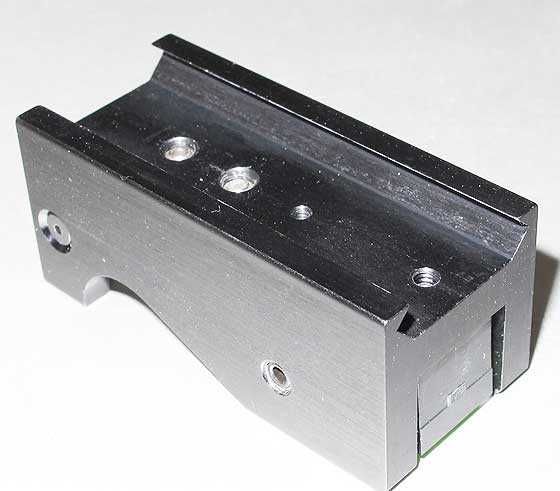 The base clamp of the sight relies on 2 screws that run down to push the jaws of the sight up against the Weaver or Picatinny dovetails. Those screws are seen on the upper left of the base.
But that problem was solved, and the test proceeded. Sight-in went quickly once the sight was stable. Otho discovered, as I did, that it takes only a very little movement of the adjustment screws to move the strike of the round. Despite there being marks on the sight, they aren't helpful when adjusting. You have to just look at the position of the Allen wrench leg and go by that.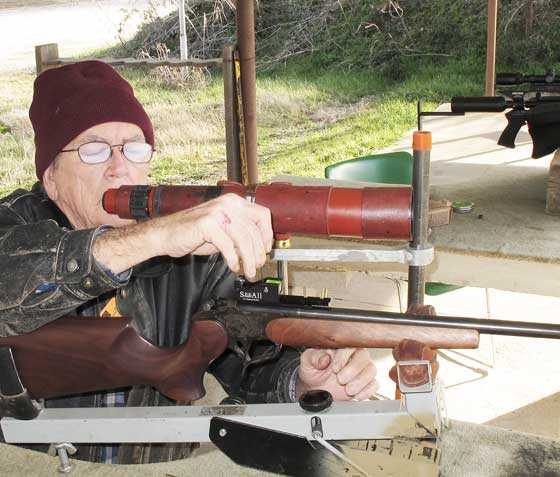 Once the See All sight was tight on the rifle, Otho was able to adjust it pretty quickly.
He shot 2 10-shot groups at 50 yards. While I didn't measure them, the first one may be the best. It appears to be about a 2.50-inch group, with 9 shots in 1.25 to 1.40 inches.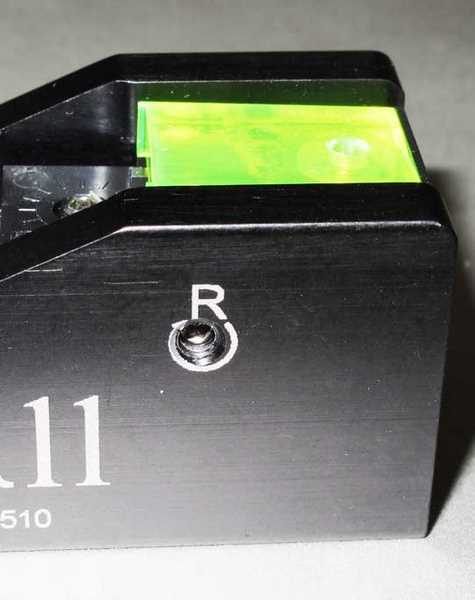 I never saw this horizontal adjustment graphic until I took this picture. This is enlarged and enhanced.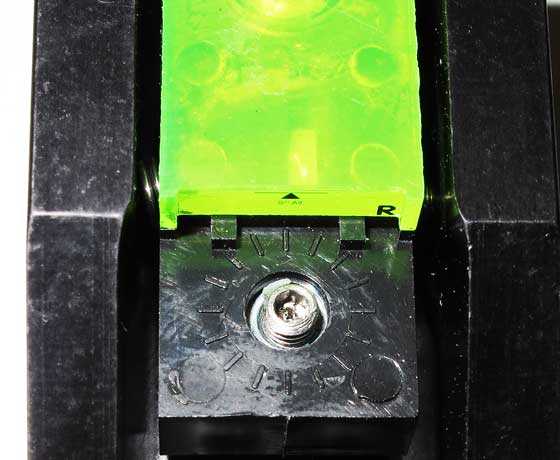 The vertical adjustment marks are still nearly invisible, despite enlargement and sharpening.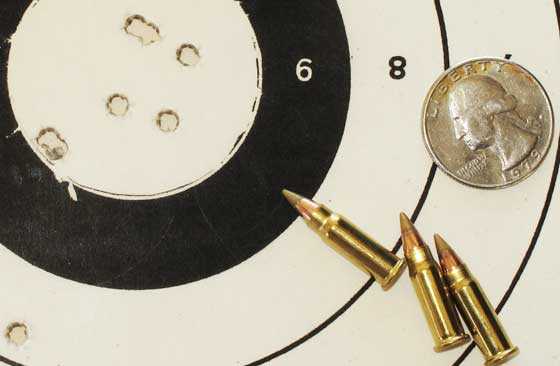 Otho's first group was the best. Ten shots went into about 2.5-inches, with 9 of them going into about half that size. An American quarter is just under one inch in diameter.
Otho complained that he wasn't able to put the point of the triangle on the bottom of the target. The black line and green material above the tip of the triangle made it necessary for him to guess where the tip was located. He would like to see the material removed down to the tip of the triangle for greater precision while aiming.

The material above the point of the triangle, plus the horizontal black line, make it difficult to position the tip of the reticle precisely.
His second group is about the same size as the first, but more scattered. Look at how tight it is from side to side. It's clear there is an aiming problem in the vertical direction but not in the horizontal.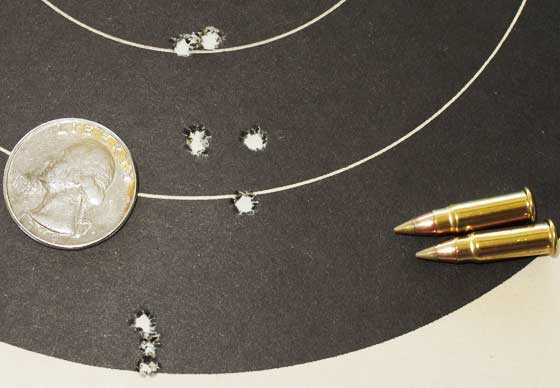 This second group shot by Otho is about the same size as the first, but this one's strung out more vertically. Yes, there are 10 shots here.
By the time he was done with the second 10 shots, he was finished. Guessing where the tip of the reticle was has taxed him. So, he turned over the rifle to me.
This is the first time I'd shot this rifle, so I was unfamiliar with it. But it has a fairly crisp trigger, and I didn't have any problems shooting it.
As you can see, I had even more difficulty than Otho with the vertical component. Seven of my shots landed in 1.427 inches at 50 yards, but the 10-shot group measures 4.433 inches between centers. I had a very hard time seeing where the tip of the triangle's located relative to the target.

My group is very vertical, measuring 4.433 inches between centers. But as you can see, I got 7 of them into 1.427 inches, which isn't bad.
Discussion
Otho brought up the point that the See All sight might not be ideal for shooting targets, but then he figured that the black bullseye was still giving the most exact aiming point possible. If the sight has trouble with vertical placement on a bullseye target, it will be much harder to control against a gray animal.
Please note that Otho is wearing glasses when he shoots. He has to wear them even when shooting with a scope, so the See All did magnify the reticle for him, as we'd hoped. He and I both believe this sight has something very unique to offer.
He wants to try the sight again on animal silhouettes. I have some nice Shoot-N-C animal targets he can try it on. That should give us the information we want.
Otho is also thinking of shaving off the top of the green plastic, to put the tip of the triangle at the top of the reticle. He wants to remove the horizontal black line, which I agree is distracting.
He also finds the green on either side of the triangle difficult to work with. He wishes it wasn't there. I don't have a problem with it myself.
Neither Otho nor I know if modifying the sight is the right move or not. The black line tells the shooter where the tip of the triangle is. But it's so difficult to get the tip on the target where you want it. I think the See All folks must have tried several iterations of this already, and I am not convinced removing the top of the green is a good idea. When you look through the sight without a target to focus, the tip of the triangle is easy to find. It's only when you aim against a specific spot that it becomes more difficult.
I'll be shooting the See All next on my Beeman P1 pistol.