Posts Tagged 'H&N Baracuda pellets'
by Tom Gaylord, a.k.a. B.B. Pelletier
Benjamin Marauder .177 caliber: Part 1
Benjamin Marauder .177 caliber: Part 2
Secrets of loading the Benjamin Marauder magazine
Benjamin Marauder .177 caliber: Part 3
Benjamin Marauder .177 caliber: Part 4
Benjamin Marauder .177 caliber: Part 5
Benjamin Marauder .177 caliber: Part 6
Fixing a Marauder magazine
Benjamin Marauder .177 caliber: Part 7
Benjamin Marauder .25 caliber: Part 1
Benjamin Marauder .25 caliber: Part 2
Benjamin Marauder .25 caliber: Part 3
Wow! More than one month has passed since the last part of this report. I've been to the Roanoke airgun show and also out to the rifle range at least 3 times trying to get the data for today's report, but what a quest it has been! It all boiled down to false confidence in my ability to get the job done. I'm used to certain rifles cooperating with me every step of the way, and this time I got called by the fates who expose pride for what it is.
I'm not going to bore you with all the details, but I will point out the most recent example of my stupidity because it's a lesson for us all. When I went to the range last week, I thought I was ready to complete my 50-yard test of the .25-caliber Benjamin Marauder. I'd swapped the scope mounts from a previous test because they were too high. The new mounts were lower, and I didn't have to hold my head as high on the comb. I knew this would help with the accuracy. But then I went to the Roanoke airgun show, and forgot that I'd made this change.
What's most important about the change, though, are that the new mounts were vintage B-Square adjustable mounts. And the rear ring was jacked up higher than the front. I always liked that setup because it gets the drooper problem taken care of on the first shot — even if there isn't one! But not if you forget that you did it!
And that's why this report didn't happen last week. I had the Marauder at the range with the TX200 Mark III, on which I reported last weekWhen I shot the Marauder, there wasn't a pellet hole on the paper. And I'm not just talking about the target paper, either. I mean the 2-foot x 4-foot backer paper that I use whenever I have a rifle that's not known to be sighted-in.
Naturally, I was disappointed. This was a Marauder after all, and I expected it to go right to the point of aim. After shooting just two 8-round magazines, I took the rifle off the line and put it away. I needed to look into the situation deeper and figure out what was wrong.
What was wrong, was that I had forgotten about the new scope mounts. When I looked at the scope back in my office, I immediately saw that the rear was higher than the front. Then I vaguely remembered something about changing the mounts before going to the Roanoke airgun show, so I reread the last report and discovered what had happened. The gun had not been sighted-in with the new mounts. It was obvious that the scope was set up for a rifle with severe barrel droop, and this rifle doesn't have that.
I even went back to the rifle range last Friday and looked at the backer board where my target and backer paper had been stapled. Sure enough, above where the top of the paper had been there was a hole in the backer board. It had the appearance of a nice rifle group. And some of the holes in the group appeared to be .25 caliber.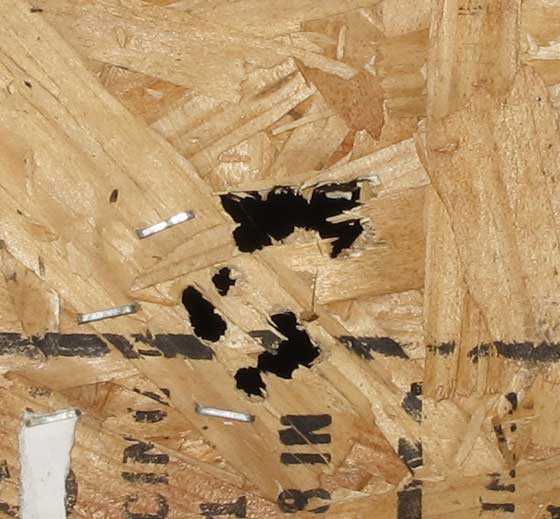 This group in the backer board is just above where my target paper was stapled. I believe it's the impact point of the 25-caliber Marauder from last week's test!
Suspecting what happened, I started shooting at an aim point much lower than my anticipated target. Sure enough, my pellet was hitting the paper about 16 inches high and 6 inches to the left. That's a problem I can deal with! All I had to do was adjust the scope down and to the right, and I was on target. It took me less than 10 minutes to get my groups landing where I wanted at 50 yards. Now, it was time to test the rifle.
The first group was shot with H&N Baracuda pellets. In the past, these were the most accurate .25-caliber pellets on the market, but they have since been replaced by several others, including one huge surprise that emerged in this test! The group measured 1.021 inches between centers. It's a good group for any rifle at 50 yards, but I did think the Marauder might be capable of better.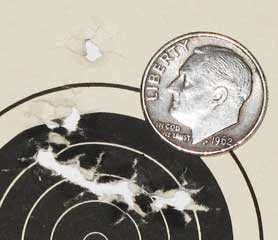 Eight H&N Baracuda pellets went into a 1.021-inch group at 50 yards.
I should mention that I was firing two magazines of eight shots each in this test. So the groups that you see have 8 pellets and not 10 in them. I recharged the rifle with air after every 16 shots because the reservoir pressure had dropped to around 2,100 psi by that point. That was as low as I felt it could go and still be accurate.
JSB Exact King
The next pellet I tried was the JSB Exact King, a .25-caliber pellet that's shown a lot of promise in recent testing. The first group I shot measured 1.447 inches between centers. That's not very good for a PCP rifle at 50 yards. Interestingly, however, 7 of those 8 shots went onto 0.719 inches, and that is good. I hoped that the one flyer was an anomaly, and that a retest of the same pellet would do better.

Eight JSB Exact Kings went into 1.447 inches. That's not very good, but 7 of the pellets went into 0.719 inches, which is promising.
The second group of JSP Exact Kings when into 1.094 inches. That's a lot better, but it still wasn't what I'd hoped for, so I left the Kings to try other pellets.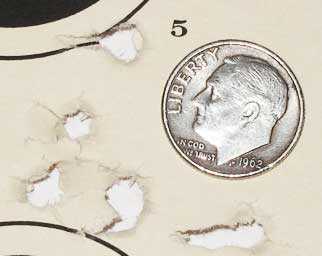 Eight JSB Exact Kings went into 1.094 inches. It's better than the first group, but still not thrilling. At this point, the .25 Marauder looks like a 1-inch rifle at 50 yards.
Benjamin domes
Another stunning pellet in .25 caliber is the Benjamin dome. It has no model name, but you could think of it as a Premier pellet because it looks similar to the other pellets in the Premier line. The first group of 8 pellets measured 1.226 inches between centers, which was again larger than I was looking for.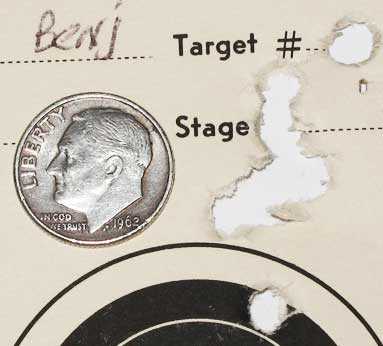 Eight Benjamin domes went into 1.226 inches at 50 yards. It's larger than I would like.
The second group of Benjamin domes measures 1.06 inches. While that's better, I still thought the rifle could do more.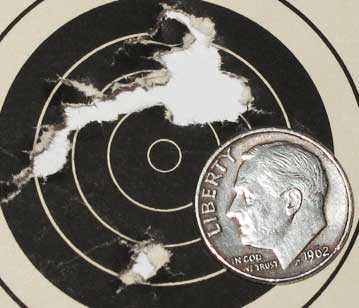 The second group of Benjamin domes was better, with 8 in 1.06 inches. It's good, but somehow not good enough.
Predator Polymag
The last pellet I tried was the .25 caliber Predator Polymag. It showed well in the 25-yard test and earned its place in this test. There really aren't a lot of options when it comes to accurate .25-caliber pellets, and I think we've included all of them in this test. Yes, there are other brands out there, but do they perform? In my experience, they don't.
The Predator is a hollowpoint pellet that has a red plastic tip in the center of the nose. Normally, hollowpoints fall off in accuracy at around 25 yards, but this pellet doesn't. That tip seems to do its job.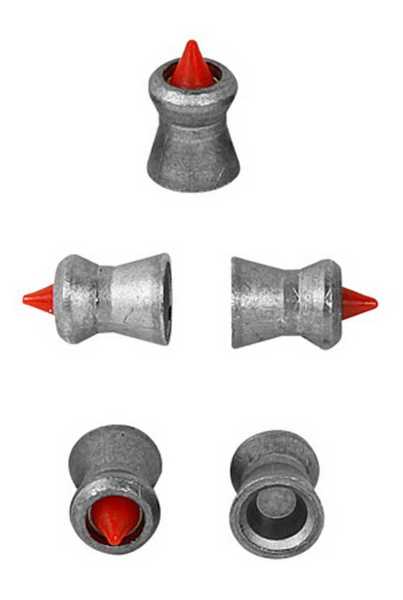 The Predator Polymag pellet is a hollowpoint with a plastic tip in the center, and it really works at long range!
The first group of Predators measures 1.121 inches between centers. Once again, that's okay for 50 yards, but it's nothing to scream about. But the second group measures 0.808 inches between centers. That's what I was looking for! While the Marauder can't be expected to shoot that well every time, this group proves that it has the potential. And it does it with a pellet that is acknowledged to be a great hunting pellet!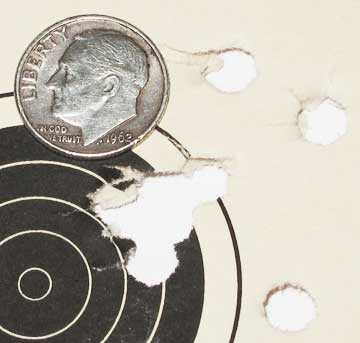 The first 8 Predator Polymags went into 1.121 inches at 50 yards. That's not bad, but not what I was hoping for.

Now, that's a group! The second group of 8 Predators measures 0.808 inches. This is the accuracy I was looking for from the Marauder.
Observations
No .25-caliber airgun has ever been as accurate as the best .22 or .177 guns. What we see from this test is a range of results that represents what the .25-caliber Benjamin Marauder can do at 50 yards. I think these groups show what this gun can do very well. Sure, if you shoot more there will be some smaller groups. But there will also be many more groups that are larger than those shown here. I think we can safely say the Marauder in .25 caliber is capable of putting 8 shots into one inch at 50 yards when you do your part.
The .25-caliber rifle uses a lot of air! I was getting just 16 good shots in this test on a 3,000 psi fill. Compare that to the 32 good shots I got in the test of the .177-caliber rifle filled to the same pressure.
From a handling standpoint, there isn't a nickel's worth of difference between the .177- and .25-caliber rifles. The trigger can be adjusted to operate virtually the same, and the stocks feel the same. The one small difference is the .25-caliber gun does move back slightly with each shot. I didn't feel that with the .177, but I definitely felt it in this test.
If you want a .25-caliber hunting air rifle, I think the Marauder is a good candidate for your short list. It's powerful, accurate, quiet and reliable. How much more can you ask?
by Tom Gaylord, a.k.a. B.B. Pelletier
Benjamin Marauder .177 caliber: Part 1
Part 2
Secrets of loading the Benjamin Marauder magazine
Part 3
Part 4
Part 5
Part 6
Fixing a Marauder magazine
Part 7
Benjamin Marauder .25 caliber: Part 1
Benjamin Marauder .25 caliber: Part 2
I told you this report was going to be a different kind of test, and today I'll prove it. I shot the .25-caliber Benjamin Marauder off a rest at 25 yards, but the purpose was not to learn if the rifle is accurate — I already knew it is. And 25 yards is hardly long enough to show the accuracy potential of this powerful PCP.
No, I told you that I would be searching for the most accurate pellets in this rifle. You see, unlike .177- and .22-caliber guns, the big .25 doesn't have that many accurate pellets. Going into this test, I only knew of 3 — the H&N Baracuda (also branded as the Beeman Kodiak), the Benjamin dome and the JSB Exact King. Other .25-caliber pellets I've tested were not accurate enough to be considered. Today's test is to establish that the 3 good pellets are still good in this test rifle and to see if there's another good pellet or 2 out there.
The rifle is now scoped with the UTG 6-24X56 AO scope with illuminated reticle, which I'm also testing for you. I won't get into that evaluation in this report, but I will use this test to report on that scope. This scope has high rings that come packaged with it.
Testing pellets rapidly
Time is a commodity in short supply around here. It takes a long time to test something, then pictures have to be taken and it takes even more time to write it up. Normally, I shoot 10-shot groups for accuracy, but I told you I was going to do things differently today, and this is where it starts. Instead of shooting 10-shot groups (or 8-shot groups because the .25 Marauder circular magazine only holds 8 pellets), I decided to shoot 4-shot groups. The results of those groups would tell me which pellets were worth testing more closely. But testing more closely won't be at 25 yards. It will be out at 50 yards.
H&N Baracuda
Since I'd just mounted the scope, I had to sight-in the rifle, and for that I loaded a full magazine with 8 H&N Baracudas. Sight-in took just 2 shots, so the first group for the record was 6 shots instead of 4. As predicted, it was a tight 0.376 inches at 25 yards. Of course, some of that is due to the lesser number of shots, so bear that in mind. Also, bear in mind that a group of .25-caliber pellets will look much larger than the same size group of .177-caliber pellets.

Six H&N Baracudas went into 0.376 inches at 25 yards. This pellet is on the list for 50 yards.
JSB Exact King and Benjamin dome
Next, I shot 4 each of the JSB Exact Kings and Benjamin domes. Both performed exactly as expected. The 4 Benjamin domes went into 0.196 inches. Of course, I would expect this group size to double with 10 pellets, but it's still the kind of accuracy I was looking for.

Four Benjamin domes went into 0.196 inches at 25 yards. They made the list, as well.
I shot the first 3 JSB Exact Kings into a very tight 0.11-inch group, but the fourth shot was a called pull to the left. It opened the group to 0.383 inches; but since I know that I pulled the shot, it doesn't phase me. This pellet also made the cut for more testing.

Three JSB Exact Kings went into 0.11 inches at 25 yards. That's the larger hole on the right. A pulled fourth shot that was called opened the group to 0.383 inches, but that doesn't bother me. This one is a keeper, as well.
Predator Polymags
The only other pellet that showed promise in this test was the Predator Polymag. Four of them went into 0.274 inches at 25 yards. That's good enough to earn a chance to shoot at 50 yards in my book.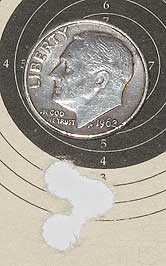 Four Predator Polymag pellets went into 0.274 inches at 25 yards. That was enough to make the cut.
The other pellets
As I said before, the .25-caliber pellet is not as uniformly accurate as the .177 and .22. Until this test, only the first 3 pellets I shot had shown any promise. Now, we have a fourth. To show you what some other pellets look like in comparison, here are 3 more that didn't make the cut.
RWS Superdome
The results of 4 RWS Superdome pellets tell the story of the .25 caliber very well. Four went into a group that measured 1.378 inches between centers. You can clearly see there's no need to shoot 10 pellets, when just 4 make a showing like this.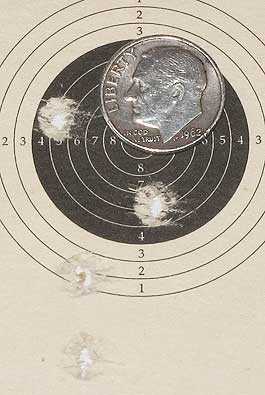 Four RWS Superdomes made this 1.378-inch group at 25 yards. It was the largest group of the test.
Diana Magnum
Next, I tried the pellet that was the best .25-caliber pellet for many years in the 1990s. Until the H&N Baracuda came out in .25 caliber, the 20-grain Diana Magnum was the pellet people chose for accuracy. Certain individual guns may have done better with other pellets, but the Diana Magnum was considered the best all-around .25-caliber pellet of its day.
Not surprisingly, Diana Magnums turned in the smallest group of the three pellets that were not selected to go on to longer-range testing. Four went into 0.588 inches at 25 yards.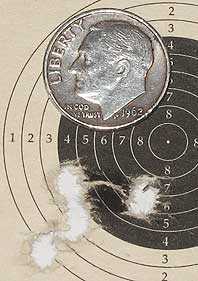 Four Diana Magnums made this 0.588-inch group at 25 yards. Fifteen years ago, this was the best pellet we had in .25 caliber.
Beeman Ram Jet
Another pellet that has left the stage is the .25-caliber Beeman Ram Jet. It was supposed to be a domed pellet that also performed like a wadcutter, but accuracy was never this pellet's strong suit. Four of them made a 0.769-inch group at 25 yards.

Four Beeman Ram Jets made a 0.769-inch group at 25 yards. This pellet was also never in the running.
Summary
I hope from these results that it's clear why I went with 4-shot groups instead of 10-shot groups. I never planned on testing the .25-caliber Marauder at 25 yards, except to prepare for the 50-yard test, which will be next. I think you can see the clear differences between the pellets that were selected and those that missed the cut. More than any other caliber, the big .25 is an all-or-nothing caliber. And there aren't that many pellets to choose from.
Trigger
One more thing I want to report today is how the trigger now performs. I adjusted it before this test and got it exactly where I want it. I won't say that it's better than the trigger on my .177 Marauder, but it's just as good. The Marauder trigger is something Crosman can be proud of, for it surpasses most PCP adjustable triggers I've tested. This one now has a positive stop at stage 2, followed by a very light, crisp break. It allowed me to hold very precisely and know when I pulled my shots, which only happened once during this session. This trigger will certainly do!
Next, I plan to shoot the rifle at 50 yards with these 4 pellets. That should give us a good idea of the long-range capability of the rifle. If the results suggest it's capable, I may attempt a 100-yard test, as well. I need for the shooting conditions to be perfect to do it; but if they are, we may see the real potential of the big Marauder.
by Tom Gaylord, a.k.a. B.B. Pelletier
Benjamin Marauder .177 caliber: Part 1
Part 2
Secrets of loading the Benjamin Marauder magazine
Part 3
Part 4
Part 5
Part 6
Fixing a Marauder magazine
Part 7
Benjamin Marauder .25 caliber: Part 1
Today, I'll test the .25-caliber Benjamin Marauder for velocity and also get the shot count. From past tests done by my friend Mac, we know this rifle should be in the 38-40 foot-pound region, but today is the day the rifle gets documented by me. No tuning has been done to this rifle to the best of my knowledge; so, although it's 3 years old, it's also straight from the box.
H&N Baracuda
The rifle was filled to 3,000 psi and the first pellet tried was the .25 caliber H&N Baracuda. This domed pellet weighs 31 grains; and in the test rifle, it averages 778 f.p.s. That's good for an average 41.68 foot pounds of energy at the muzzle. The total velocity variation in an 8-shot string was 774 to 782 f.p.s. That's just 8 f.p.s.
Benjamin domes
The next pellet I tested was the 27.8-grain Benjamin dome. This pellet averaged 805 f.p.s. with a low of 802 and a high of 808 f.p.s. That's just 6 f.p.s. for the total spread. The average muzzle energy for this pellet was 40.01 foot-pounds. The Benjamin dome has been one of the most accurate .25-caliber pellets around since it first came out, so it'll be interesting to see what it can do in the test rifle. I always think of this pellet as the .25-caliber Crosman Premier, though the company doesn't brand it that way.
JSB Exact King
Next, I tested the 25.4-grain JSB Exact King. This is another fine domed pellet that has been one of the most accurate .25-caliber pellets since it was introduced a few years ago. It's also light enough to travel faster than most of them.
These pellets averaged 831 f.p.s. in the test rifle, for an average muzzle energy of 38.96 foot-pounds. The spread went from a low of 829 to a high of 835 f.p.s. That's another one that's just 6 f.p.s.!
Predator Polymag
The last pellet I tested was the 26-grain Predator Polymag — a high-tech hollowpoint pellet that has a cone-shaped plastic nose for improved aerodynamics. This pellet averaged 814 f.p.s. in the test rifle and delivered an average 38.26 foot-pounds of energy at the muzzle. We'll see how accurate it is in the next test. I have no experience with the Predator in .25 caliber. The spread went from 808 f.0.s. to 820 f.p.s., for a total of 12 f.p.s.
Shot count
I got just two 8-shot magazines from a charge before the velocity started dropping. By dropping, I mean the velocity was falling straight off with each shot. I could stretch the total to 3 mags, which is 24 shots, if I wasn't trying to shoot groups at 50 yards. The velocity spread would triple with the final 8 shots, which would take 6 f.p.s to 18 f.p.s. and 12 f.p.s. to 36 f.p.s. As long as you keep your range to 35 yards or less, those final 8 shots should work fine.
Discharge sound
Here's the part of the report many of you have been waiting to read. The test .25-caliber rifle is noticeably louder than the .177 Marauder, but it's still not loud. I tested them side by side. The .177 Marauder is just so quiet that everything else sounds louder in comparison. And now that I've dialed back its velocity to 965 f.p.s., it's probably quieter than it was when it was pushing out pellets at over 1,000 f.p.s. The .25 has more of a crack to its discharge, but the sound it makes is still quieter than all magnum spring rifles I've tested. So, it's quiet too — just not as quiet as the .177.
Trigger
I said I wasn't going to mention the trigger again; but when I compared the trigger on the .177 Marauder to the one on the .25, the difference was noticeable. The .25 has a first stage that's too short and a stage 2 that's too long. There's some creep in the second stage, so I do need to address that. I may not mention it again, but I'm doing so now to let you know there's a difference between a factory trigger, which the .25 has, and one that has been adjusted.
My personal feelings
I don't often mention how I feel about airguns, but I think I have to here. I do not care for .25-caliber airguns. I've found them inaccurate; wasteful of air; requiring expensive pellets; and, in general, I find they're not able to keep up with a good .22. The TalonP pistol was an exception to that except for the cost of the pellets, but it was the exception that proved the rule.
I'm rooting for this .25 Marauder, though, because I know many readers prefer .25 caliber for hunting. I have to note that during chronograph testing the pellet trap was rocking the table it sits on because the impact of the pellets was so great. So, if this Marauder turns out to be a tack-driver, it may change my opinion of the quarter-inch bore just a little.
by Tom Gaylord, a.k.a. B.B. Pelletier
Part 1
Part 2
Secrets of loading the Benjamin Marauder magazine
Today, I'll begin a look at accuracy for the Benjamin Marauder precharged pneumatic air rifle. If the Marauder was a normal PCP, this would be one quick report, but it isn't. The owner has the ability to change not only the rifle's power, but also the fill pressure the reservoir will accept. That makes testing a Marauder potentially complex if you want to try everything, and we certainly do want to do that here. So, today will just be a first look at potential accuracy, after which I'll determine the shot count the rifle now gets with the best pellet, and then tune it to a preselected optimum range and test it again to see if the shot count increases. Neat, huh?
I know I'm going to shoot this rifle a lot, so I selected one of the best scopes I have — a CenterPoint 8-32x with parallax adjustment. The scope I chose is an old one from the time when Centerpoint was having Leapers make all their scopes. It's no longer available, but a close equivalent would be this UTG scope.
Where to begin the test
Oh, boy, where do I start? I thought it would be good to test a number of premium pellets and try to find 1 or 2 that stand out for accuracy. Then, I'll concentrate on those pellets, which will help me focus on what has to be done.
I shot at 25 yards indoors because that's the distance at which things start to happen. If a pellet is going to be accurate, 25 yards is usually far enough for it to stand out.
This is one time where 5-shot groups come in handy. I decided to shoot all the pellets I'd selected in 5-shot groups and see if 1 or more of them stood out as exceptionally accurate. Five-shot groups save time, pellets and air; and when you're faced with testing 8 different pellets, as I was, it makes a big difference.
If there was no favorite pellet, I would just have to pick a couple pellets and proceed to work with them. But as it turned out, this rifle does have a favorite. When I show you how much better it is than the others, you will probably say what my wife, Edith said when she saw the groups. She couldn't believe that 1 pellet was so much better than all the rest, and exclaimed, "Woohoo," involuntarily.
Marauder's noise level
But before I get to that, when I walked into her office to show her the groups, Edith asked me what airgun I was testing because she couldn't hear it. She thought it was some low-powered air pistol. And our female cat, who normally runs around the house complaining whenever I shoot, slept through the whole session. As it stands right now, the Marauder I'm testing is about as loud as a politician volunteering to do something proactive in a non-election year.
Pellets tested
I selected the following pellets to test:
Crosman Premier 10.5-grain
Crosman Premier 7.9-grain
JSB Exact Heavy (10.34 grain)
JSB Exact RS
RWS Superdome
Beeman Kodiak
JSB Exact Monster
JSB Exact Express
I did sight-in the rifle, but not so it would hit the center of the target because that would destroy the aim point. Nevertheless, a couple pellets did do just that. Fortunately, it was at the end of the 5 shots and no harm was done.
Average groups
The Marauder is accurate no matter what pellets it shoots. It's better with some pellets than others. Take a look at some of the 5-shot groups.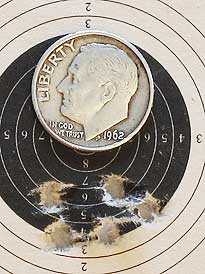 Five RWS Superdomes made this 0.528-inch group at 25 yards.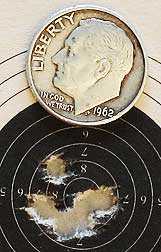 Five 10.3-grain JSB Exact Heavys made this 0.376-inch group at 25 yards. It's better than the Superdomes, but still not great.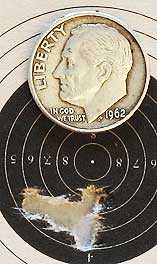 Five JSB Exact Monsters made this 0.316-inch group at 25 yards. It's the second-best 5-shot group of the test.
Okay, I could live with the JSB Monster group, and there were a couple other pellets worthy of further examination if that was the best the Marauder was going to do. But it wasn't. When I shot 5 Crosman Premier lites, the whole test changed.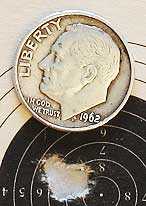 Five Crosman Premier lites made this 0.139-inch group at 25 yards. It is hands-down the best 5-shot group of the test.
It should be obvious that Crosman Premier lites are the best pellet of those tested. On the basis of the 5-shot group, they're twice as accurate as the next best pellet. Now, it was time to shoot a 10-shot group with them and see where that took us.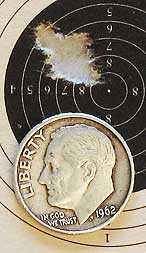 Ten Crosman Premier lites made this 0.285-inch group at 25 yards. This is exactly what I was looking for.
Obviously the 5-shot group was no fluke. This rifle really likes this pellet.
What's next?
Where do we go from here? First, I'm going to fill the rifle again to 3,000 psi and shoot nothing but Premier lites to determine the total shot count with the gun as it's currently tuned. You may remember that we found this rifle was tuned to the max when we did the velocity test in Part 2. While that high speed obviously doesn't hurt the accuracy of the Premier lite pellet, wouldn't it be nice to get several extra shots from a fill and keep the same accuracy? The rifle currently shoots Premier lites at an average 1,015 f.p.s., and I think an average 900 f.p.s. will be just as good. That's where I'll be adjusting the rifle. Several of you have asked how the power is adjusted on the Marauder, so this will give me the opportunity to show how it's done.
Then, I'll count the total number of shots at that new velocity, and we'll see what reducing the velocity gains, if anything. I'll also test the accuracy at the new lower velocity to see if the rifle is still just as accurate.
After that, I plan to adjust the maximum fill pressure of the rifle. I'll experiment with the rifle operating at a lower fill pressure while still getting the same velocity. This will be at the new velocity of around 900 f.p.s. We'll see what benefits there are to having a lower fill pressure.
I do plan on shooting the Marauder at 50 yards, too, but that will come after all the adjustments have been made and evaluated. By then, we should know the test rifle very well and be able to tune it for the best performance. There's a lot more in store for this rifle!
by Tom Gaylord, a.k.a. B.B. Pelletier
This is a look back at an air rifle that has become iconic throughout the world — the Benjamin Marauder. The last time I looked at this rifle, I did it in my conventional way. This time I'm doing it different because I know more about the rifle.
My goal this time is to tune the Marauder exactly as I want it to shoot. I think there will be a great benefit for those who want to learn about PCPs to watch this as it develops. Today, I'll test the rifle for velocity in the conventional way, except I won't do a shot count — not today.
In the next report, I'll test the rifle for accuracy at 25 yards, only I'll stack the deck by selecting the pellets that I believe will be the most accurate. The accuracy test will tell me which one(s) to select. After that, I'll test that one pellet for velocity and for the total shot count I can get.
Then, I'll decide what I want that pellet to do. If it's a heavyweight, I'll try for moderate velocity in the 850 f.p.s. range and then try to get the greatest number of shots from it. If it's a medium or lightweight pellet, I'll probably dial the velocity back to about 900 f.p.s. and try for the best shot count.
I'll also be interested in the fill pressure. If I can get 25 good shots with 2,500 psi air, I won't care that 3,000 psi air gives me 31 good shots with the same pellet. But if 3,000 psi gives me 38 good shots compared to 25 good shots with 2,500 psi, then, yes, I'm going to set the gun up to fill to 3,000 psi.
As I do all of this experimentation, I'm going to document it so those who have questions about the Marauder can see how it works. You tell people today that an air rifle has adjustable velocity, and they expect to see a rheostat on the side of the stock; but the Marauder isn't like that. It's a thinking man's airgun. You set it and forget it. You don't keep fiddling with the controls until it's a jumbled mess. We're going to spend the time to learn how to do it right.
But wait…there's more! Not only does the Marauder allow you to adjust the velocity of the pellet, it also lets you adjust the maximum fill pressure of the air reservoir. When you hear that, you probably wonder why anyone would bother with a fill pressure other than the maximum — which in the case of the Marauder is 3,000 psi. Here's why they do it. Some owners may use hand pumps that they find difficult to use above 2,500 psi. Other owners may use scuba tanks, but they live 40 miles from the dive shop and want to be able to use their rifle for a longer time than conventional wisdom permits. For these owners, adjusting the maximum fill pressure to 2,500 psi makes perfect sense. They understand that they'll get fewer shots at maximum velocity when the fill pressure is lower — just as you understand that you can't go as far on a gallon of gas as you can when the tank is full, but you can go just as fast.
When you're adjusting the velocity and the maximum fill pressure, you have to find a balance point between the two. That's what's confused many people. The Marauder is the first air rifle in the world to allow both the fill pressure and the velocity to be adjusted. It's like they've given you your very own NASCAR engine, and it's up to you to tune it for the race track you're going to drive on.
One pellet is all I want
I don't care to discover 27 different pellets for this rifle. I only want the single best one. I don't care how much it costs — only how accurate it is and how effective (power and shot count) I can make it. So, that'll take some time to locate and some more time to set up the gun to use that single pellet most effectively.
That's what I intend doing. The first step is to test the rifle for velocity now. I plan to test the following pellets:
Crosman Premier 10.5-grain (Premier heavy)
Crosman Premier 7.9-grain (Premier lite)
JSB Exact Heavy (10.34 grain)
JSB Exact RS
RWS Superdome
Beeman Kodiak
I may not have included your favorite .177 pellet on my list, but allow me to explain my thinking. First, all of these pellets are domes. I know the domed pellet to be the most accurate pellet shape on the market. And each of the pellets I selected to test are known by me to be very accurate.
I selected the Beeman Kodiak, but I've found that the Beeman Kodiak Match, H&N Barauda and H&N Baracuda Match are all the same pellet, as far as performance goes. I use them interchangeably, so I only have to test one to know how all four perform.
There may be other pellets that are better in the Marauder; but starting from zero, these pellets are the ones I would choose. Let's see how they do.
Crosman Premier heavy
Crosman Premier heavies averaged 943 f.p.s. with a spread that went from 941 to 945 f.p.s. That's right — only 4 f.p.s. separated the fastest and slowest shots! At the average velocity, this pellet makes 20.74 foot-pounds of energy at the muzzle.
Crosman Premier lite
Crosman Premier lites averaged 1,015 f.p.s. The low was 1,012 f.p.s. The high was 1,018 f.p.s., so 7 f.p.s. was the total velocity spread. At the average velocity, this pellet produces 18.08 foot-pounds of energy at the muzzle.
JSB Exact Heavy
JSB Exact Heavy pellets averaged 936 f.p.s. The low was 932 f.p.s. and the high was 940 f.p.s. The total spread is 8 f.p.s. At the average velocity, this pellet produces 20.12 foot-pounds of muzzle energy.
JSB Exact RS
JSB Exact RS pellets averaged 1,032 f.p.s. The spread went from a low of 1025 f.p.s. to a high of 1039, so a total spread of 14 f.p.s. At the average velocity, this pellet makes 17.34 foot-pounds of energy at the muzzle.
RWS Superdome
Of all the pellets tested, RWS Superdomes were the most difficult to load into the magazine. I had to use a pusher to get almost every pellet into the mag. They averaged 1,014 f.p.s. and went from a low of 1,008 f.p.s. to a high of 1017 f.p.s. Total spread was 9 f.p.s. At the average velocity, this pellet produced 18.95 foot-pounds of energy at the muzzle.
Beeman Kodiak
Beeman Kodiaks averaged 957 f.p.s. in the Marauder. The high was 960 f.p.s and the low was 955 f.p.s., so the spread was 5 f.p.s. Kodiaks produced an average 21.66 foot-pounds of muzzle energy.
Where are we?
I just dumped that data on you so I could get to this discussion. What do these numbers tell us? They tell me my rifle is set up extra-hot. I have no need for all that speed; so after I find the right pellet, I plan to dial back the power to between 850 and 900 f.p.s. If the best pellet is light, I'll let it go toward the 900 f.p.s. side of that range. If it's a heavy one, I will try to get it down to around 850 f.p.s.
Why would I do that? To get additional shots per fill. The way the rifle is now set up, I'm wasting air. Not that too much air blows out with every shot, but I just don't need these pellets to go so fast, to do what I want them to.
Did you notice?
I was impressed by how tight the shot strings were. Remember, the Marauder doesn't have a regulator. It's doing all this with just a well-balanced valve. We'll want to keep that in mind when it comes time to make adjustments.
The magazine is superior!
There have been a lot of negative comments on the Marauder's spring-loaded magazine. I can shed some light on that. I've watched some new owners who were befuddled by how this magazine works, and they ruined it by forcing it when it didn't do what they expected it to. My magazines are several years old and with hundreds of shots run through each of them. I've never had a single problem. But force them even one time to do what they weren't designed to do, and you'll ruin them. This mag is a copy of a successful UK PCP magazine, and that one had the same learning curve problems.
Silent operation
My test Marauder is very quiet! Even operating at the high power level it's at right now, it's extremely quiet. I don't know if it'll get even quieter when I cut the power, but I do plan on observing and reporting.
More about the stock
The Marauder stock is not as clunky as people say. In fact, the pistol grip is thinner and narrower than most UK PCP stocks. The forearm is wide, but only enough to contain the large reservoir.
The trigger
I'm ambivalent about adjusting the trigger because the one on my rifle is so sweet that I don't want it to change. It's exactly where I want it to be. Theoretically, I can always adjust it back, but I've seen too many instances where the theory didn't pan out.
The 2-stage trigger breaks at less than 11 oz. The first stage is 9 of those ounces, so the release is very light and glass-rod crisp. Only the addition of an overtravel stop would make it better.
So far
I knew what the Marauder was like before this test began. That's why I'm testing it the way I am. I get to learn something new, and people who are interested in the Marauder get to see it in a way they probably haven't seen anywhere else. I think the Marauder is a classic for all time, but you have to decide that for yourselves.
by Tom Gaylord, a.k.a. B.B. Pelletier
This comment came in last week from our new blog reader Jim H, and I wanted to address it right away. It's a good question for a new airgunner to ask, and it deserves a good answer.
"I'm new to the airgun side of things, so I have a lot of questions but here's one that is really bugging me. I have read all of the reviews here by Tom and also the blogs over at that "other airgun retailer" written by Jack Elliot. One message that has come through loud and clear is that each gun will tend to like specific pellets and only experience will tell the shooter which one is best. What is the best approach for testing various pellets? Do you pick a velocity that you want to shoot at and then try all the pellets that will get you to that velocity range or do you simply have favorite pellet brands and types that you've come to love over the years and that's what you go with? With the hundreds of pellets available out there, what is the 'short list' of pellets that a newbie needs to start with?"
Several of you started to answer Jim in the comments section, so my answer comes a little late; but from what I've read, I'm telling him things that are pretty different from what all of you told him. He actually asked 2 different questions: 1. What is the best way to test a pellet? and 2. What is a short list of pellets to choose to test airguns? I took my direction for this report from his request for a "short list" for a newbie.
This will not be a very technical report. I'm not going to discuss pellet head sizes or skirt thicknesses, except where it affects the pellets I name. I have a short list for most of the airguns I shoot, and it's not rigid. But it's caliber-specific, and there's also a small powerplant component to it.
Money is no object
I used to focus on the cost of pellets, but that was before discovering that hitting the target is far more important than saving money. If saving money is your principal goal, get a piggybank. I shoot for fun, and hitting the target is where the fun is. It costs no more to be accurate than it does to experiment by chasing the illusion of economy.
I must also say that I have more experience with pellets for rifles than for pistols. So, today we're just looking at pellets for rifles. Let's take a look at them.
.177-caliber rifles
For .177 rifles my short list is the following pellets:
Crosman Premier lites (brown box) springers and CO2
Crosman Premier heavies (brown box) pneumatics and CO2
JSB Exact RS (up to 12 foot-pounds)
JSB Exact Heavy 10.3-grains
H&N Baracuda and Baracuda Match
Beeman Kodiak and Kodiak Match
RWS Superdome
RWS Hobby
That is my short list. There are other pellets that are very accurate, but I find them to be more specific to certain guns. Please remember that this is not a popularity contest. If your favorite pellet didn't make my list, don't fret. I try other pellets all the time — these are just the ones I count on.
If you ask me why these pellets are on the list, it's because they're the ones that are the most reliably accurate. That's my only criteria because if you can't hit the target, nothing else matters.
.20-caliber rifles
The .20-caliber list is very short because there aren't as many reliable pellets made in that caliber. The most reliable one is the Crosman Premier.
Other than that, I would try anything JSB makes, and that's about it.
.22-caliber rifles
Crosman Premier
JSB Exact Jumbo 15.9-grain
JSB Exact Jumbo Heavy 18.1 grain (good in powerful PCPs)
RWS Superdome
RWS Hobby
H&N Baracuda and Baracuda Match
Beeman Kodiak
.25-caliber rifles
The quarter-inch caliber is another one with few good pellets. The two on my list have demonstrated they will deliver in all cases.
Benjamin domed (these have no name, but they are essentially a .25 caliber Premier)
JSB Exact King
Pellet shapes
I prefer domed pellets to all other shapes. They're more accurate at long range and penetrate well. Wadcutters are good for distances under 25 yards but not for farther than that.
Pointed pellets, hollowpoints and lead balls
I have no use for pointed pellets of any kind. I've never found them to be accurate, and the slight advantage they have in penetration isn't good if they can't hit the target. Hollowpoints are a subject that need a blog report of their own. Lead balls are specialized for certain airguns and are not for most air rifles.
Pellets and power
As power goes up, the pellets should generally get heavier. And PCPs tend to do best with heavier pellets. CO2 guns are a lot like PCPs when it comes to pellets, so I consider them to be the same.
Other selection criteria
There are other selection criteria, of course. I've found certain pellets to sometimes be surprisingly accurate in certain guns, and that's enough to keep me trying them in other guns — searching for more miracles. But the lists above are the tried-and-true performers that almost never let me down. That's why they made my list.
The second question
The other question Jim asked was how to test pellets. I do it by choosing the most accurate rifle I have and shooting 10-shot groups with each pellet in which I'm interested. Do it that way, and pellet testing is easy.
I usually don't express my opinions this strongly; but when it comes to picking a good pellet, I think it's too important to let it slide.
by Tom Gaylord, a.k.a. B.B. Pelletier
Announcement: Gary Lee is this week's winner of Pyramyd Air's Big Shot of the Week on their airgun facebook page. He'll receive a $50 Pyramyd Air gift card. Congratulations!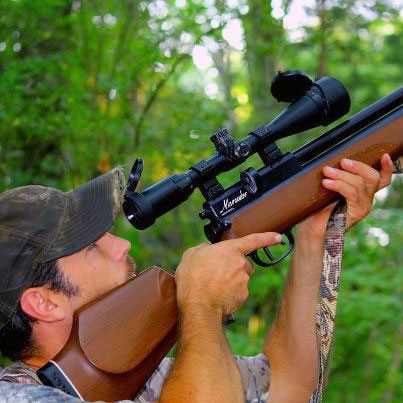 Gary Lee submitted this week's winning photo for BSOTW.


The IZH 60 now comes with target sights.
It's accuracy day for the IZH 60 Target Pro and this is the big test that everyone has been waiting for. And there are a couple of things that have to be cleared up, too. So let's get started.
Cosmoline in the bore
Blog reader chasblock mentioned finding Cosmoline in the bore of his rifle and asked if I would take a look at the test gun's bore. I don't think he really meant Cosmoline, which is a range of military long-term metal storage lubricants. He probably just meant excess grease or oil. At any rate, I ran a patch through the bore, and it came out dry. There was some anti-oxidant compound on it, but no oil or grease. So, that's one down.
Front sight element not centered
Then, we had a discussion about the front sight element not being centered in the globe and wondered if that wouldn't that throw you off. Or at least wouldn't it be annoying? Well, I shot 82 shots in this test and the front sight position was a non-issue for me. Once I had the black 10-meter bull centered in the front aperture, I forgot about everything else. But I'm posting a photo of a Winchester model 94 front sight so you can see that this is a very common phenomenon, and it isn't troublesome in the slightest.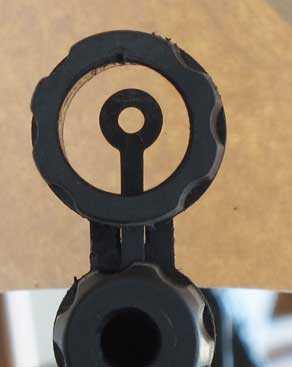 The IZH 60 front sight element is a little higher than the center of the globe. When you're sighting, it's not a distraction.

This Winchester 94 front sight is even higher in its globe and people hunt with it. Many open-sighted rifles with globes are like this.
Rear sight doesn't adjust low enough
Another issue that was raised is that the rear sight doesn't adjust low enough to get on target at 10 meters. I didn't find this to be a problem, as you will see. I also found the rear sight to adjust very positively in all directions without any backlash. So, that's now laid to rest.
Accuracy
I was told by the folks at Pyramyd Air that the IZH 60 Target Pro can put 10 pellets into a quarter-inch at 10 meters. The gun they sent to me to test had a 5-shot group of H&N Baracudas with it. It was fired into a Shoot-N-C paster, so measuring is difficult, but as near as I can tell, it measures 0.268 inches between centers, so even these 5 shots grouped larger than a quarter-inch, though not by much. But we expect a 10-shot group to be 40 percent larger when the same pellet is used.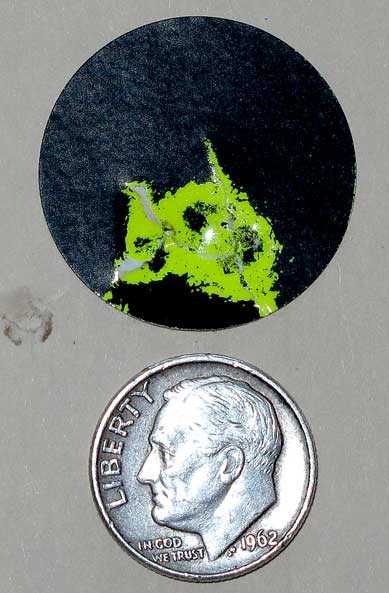 The 5-shot test group measures 0.268 inches between centers, as close as I can measure it. It was shot with H&N Baracudas. The shot outside the black is a sighter and not part of the group.
The rifle was shot from a rested position at 10 meters. The targets were standard 10-meter rifle targets, and they fit well inside the front aperture. It was very easy to hold on target with this rifle. I laid the stock on the back of my hand that was resting on a sandbag.
The trigger-pull is single-stage and vague as to the let-off point, but it's light enough to work very well in this rested position. The rifle is very light, but it didn't seem to move around as much as I'd feared it would.
H&N Baracudas
The first target I shot was with the H&N Baracudas. It took me several shots to get on target because the sight adjustments work backwards of U.S. adjustments. Turn the windage knob in (to the left) to move the pellet to the right, and so on.
The first group of 10 Baracudas measures 0.546 inches between centers. It was larger than expected, but not too bad for the first group.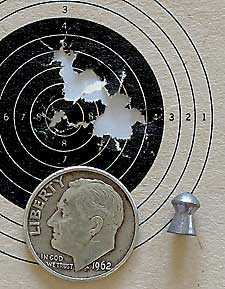 Ten H&N Baracudas made this 0.546-inch group.
As you can see from the pellets I had chosen to use, I expected to shoot a lot in this test, so I thought I would speed things up by firing 5 shots and then seeing if it was worth firing 5 more. The next pellet up was the RWS Hobby that sometimes surprises us with great accuracy. This wasn't one of those times, however, because the first 5 pellets made a group that measures 0.482 inches between centers. No sense finishing that one!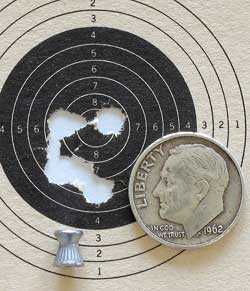 Five RWS Hobbys made this 0.482-inch group. No sense finishing it.
Next, I tried the RWS R10 Match Pistol pellet that I thought might be the most accurate in this rifle. It wasn't, as 5 made a group measuring 0.452 inches. Once more, no sense going on. So I stopped at 5 and moved on.
Five RWS R10 Match Pistol pellets made this 0.452-inch group. No sense finishing it, either.
Then, I tried the H&N Match Pistol pellet. Something was different with this pellet, because the rifle recoiled noticeably less. It was easy to feel, and I could follow-through much better because the sights remained on target after the shot. The feeling was so good that I didn't check the target after 5, but went all the way to 10 shots before looking. The 10-shot group measures 0.391 inches between centers and was the tightest group (10 shots!) to this point in the test! It's not a quarter-inch, but it's a very good group, nonetheless.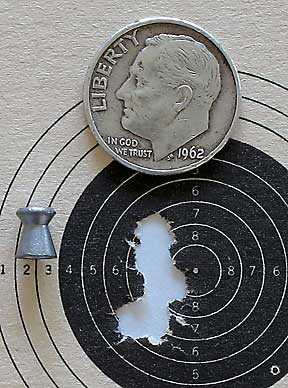 Ten H&N Pistol Match pellets made this 0.391-inch group. This pellet felt like it made the rifle recoil a lot less, so I finished the group without checking.
Next, I tried the JSB Exact RS pellet that often surprises us. This is a domed pellet, so it can't be used in a formal match (impossible to score), but most shooters won't care about that. Ten pellets made a group measuring 0.284 inches between centers. It's a nice, round group, and it's the best 10-shot group the test rifle shot all day!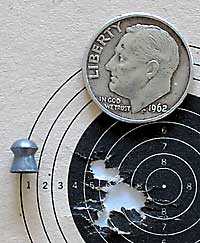 Ten JSB Exact RS pellets made this 0.284-inch group. This pellet also felt like it made the rifle recoil a lot less, so once again I finished the group without checking. This is the best 10-shot group of the test.
This pellet shoots so well that I shot a second group with it. That one didn't turn out as good, at 0.502 inches between centers. Perhaps I was tiring out?

Another 10 Exact RS pellets were not so good, at 0.502 inches between centers.
I then turned to H&N Finale Match pistol pellets, which I thought would be better than the Match Pistol pellets. Alas, that wasn't the case. Ten of them made a huge 0.675 inch group, which turned out to be the second largest of the entire test..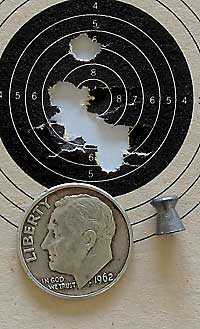 Ten H&N Finale Match Pistol pellets made the second worst group of the test, a whopping 0.675 inches between centers.
Then I tried five RWS Superdomes, but when I looked at the group they made I stopped. It measures 0.646 inches between centers, so no point in continuing.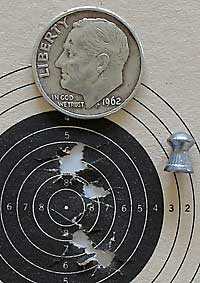 Five RWS Superdome pellets made this 0.646-inch group.
By this point in the test, I knew how the rifle shot. I was also very accustomed to the trigger. So, I thought I'd try another group of Baracudas — just to see if I could improve things from the first time. Ten went into a group measuring 0.702 inches, which was larger than the first group.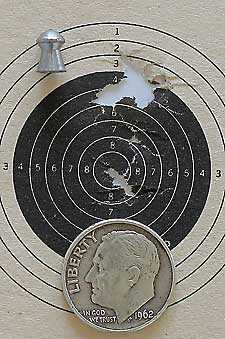 Ten H&N Baracudas made this final 0.702-inch group — the largest in the test.
By this point I knew I was tired. But was that the cause of the group sizes? Was I no longer able to lay them all in the same hole? To see, I grabbed my FWB 300S, which is the most accurate 10-meter rifle I own. I put 10 RWS R10 pistol pellets into a last group that measured 0.135 inches. That's for 10 shots. So it wasn't me!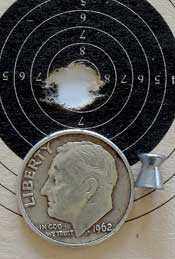 Yeah — it's not me! Ten RWS R10s went into 0.135 inches.
Final impression
The IZH 60 shot about as well as I remembered. It certainly cannot group 10 shots in a quarter-inch at 10 meters in anything other than a chance encounter. So, there's a hat to be eaten!
On the other hand, for what it costs, the rifle is reasonably accurate and the target sights make it even easier to shoot well. I don't think it can out-shoot a Bronco, but it's certainly worth considering for informal target shooting.