Posts Tagged 'H&N Finale Match Pistol pellets'
by Tom Gaylord, a.k.a. B.B. Pelletier
This blog post was mistakenly published a day early, and we got some comments to it before we discovered that. So, for those of you who try to be the first to make a comment, it looks like you've missed your turn!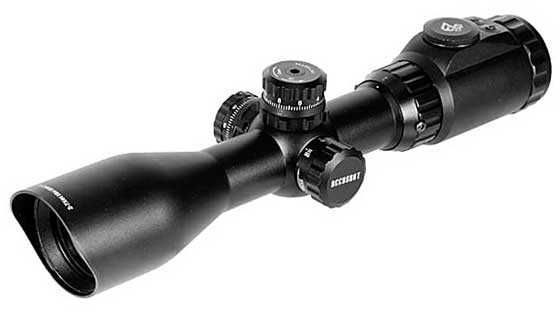 Leapers UTG Accushot 2-7X44 Scout scope is a remarkable sight!
This report covers:
• Scout scope on centerfire rifle
• My Mosin Nagant
• A powerful round
• What today's test is all about
• What about the scope?
• The mount
• Overall evaluation
Scout scope on centerfire rifle
This is a special report I promised several readers who are interested in this UTG 2-7X44 Scout SWAT scope. When I tested it on an airgun, I used the Crosman MK-177 Tactical multi-pump pneumatic because it allowed me to mount the scope out away from the eye. That was a good test, but it was also a forced one because I could have mounted any scope on that airgun. Scout scopes are made for those troublesome arms that don't allow the mounting of scopes in the conventional way. I asked Leapers to send me a mount for my Mosin Nagant 91/30 rifle — a centerfire rifle that needs a scout scope because of its straight bolt handle. While the bolt handle can be bent down to clear the scope, the scout scope is a non-gunsmithing solution that allows you to preserve the rifle in its original condition. Not that any Mosin Nagant in existence today is still in its original condition!
My Mosin Nagant
My 91/30 is built on an early action with a hex-shaped receiver. It didn't start out as a 91/30 but was converted by an arsenal at some point in its existence. The markings on the metal parts tell a story of numerous overhauls and refurbishments over the past century. Some early marks have been removed by grinding and polishing, while others are new and fresh. The action was very possibly made in the 19th century, yet the barrel is like new, as are many of the metal parts and the wood. The Soviet Union made good use of these rifles and refurbished them as necessary after each conflict, not unlike many countries. As a design, the Mosin Nagant has been in continuous service longer than any other military firearm.
A powerful round
This rifle is chambered for the Russian 7.62X54 rimmed cartridge made for what the Russians refer to as the "Three-line rifle" — with a Russian "line" being equivalent to one-tenth inch. It refers to the bore diameter of the bullet. It was adopted as standard in 1891 and is still in limited service today.
The cartridge is roughly the ballistic equivalent of our .30-06 Winchester cartridge. It's shorter — though much larger at the base. It is a rimmed cartridge, which means the action has to be made to handle the cartridge case without feeding problems. Rimmed cartridges give repeating actions feeding problems, which is why the majority of cartridges made for repeaters are rimless. But the Mosin Nagant action handles this cartridge reliably.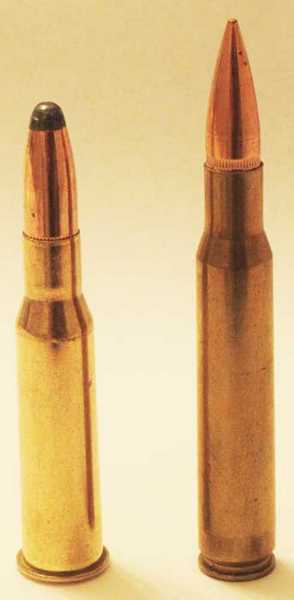 Mosin Nagant 7.62X54R on left, .30-06 cartridge on right. Both deliver similar ballistics in military loadings.
This Mosin cartridge exists in numerous different loads. The current sniper round has a 152-grain bullet leaving the bore at 2700 f.p.s. The standard for accuracy at 300 meters is all rounds inside an 80mm (3.1-inch) circle. Of course, the standard military battle ammunition is less accurate — keeping 50 percent of its shots inside a 90mm (3.5-inch) circle at the same 300 meters.
What today's test is all about
With such power must also come recoil, and that is what today's test was for. I wanted to see that this scout scope could stand up to the punishment of a heavier recoil. I fired 20 factory rounds and 20 reloads through the rifle, which is not a very big test. But if there are any major weaknesses, they should show up. And they didn't. After zeroing at 50 yards with the factory loads, I shot a 3-inch 10-shot group at 100 yards, and then rang the 6-inch gong at 200 yards with the remaining few rounds.
My reloads didn't do as well as I'd hoped. The bores on these rifles can vary in diameter from 0.309 inches to 0.313 inches, so you really need to slug the bore to know what diameter bullet your rifle likes. I haven't done that yet and was hoping to squeak by with some 170-grain lead bullets sized 0.312 inches, but it was not to be. I did manage to ring the 200-yard gong once out of 5 shots, but that's not what I'd hoped for.
What about the scope?
You can see in the photo where the scope is mounted relative to my eye. My head looks very erect on the stock, which it has to be to see the scope, but the image fills the eyepiece. The target is sharp and clear, even at the top magnification of 7X. The reticle is thick enough to pick out quickly, even against the deep woods; and, of course, it's illuminated, which is a blessing on a scout scope.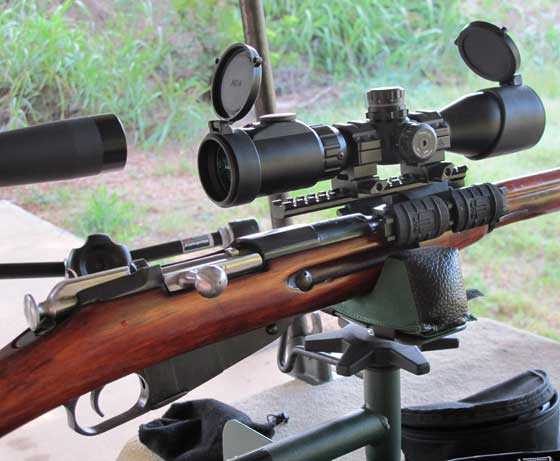 The UTG Mosin scout scope mount clears the action for loading and ejection. The straight Mosin bolt handle can be rotated up without interference.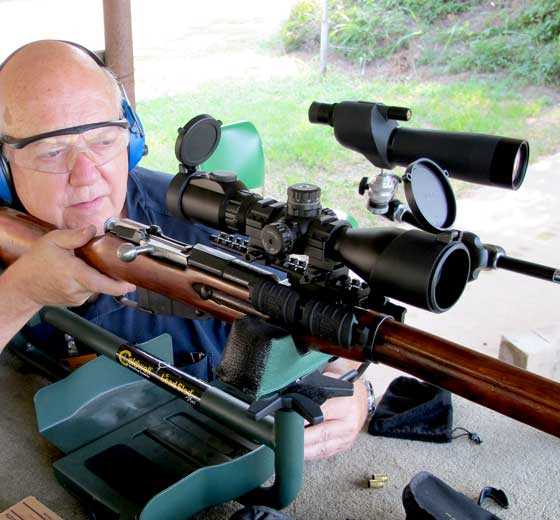 As you can see, my head has to be high on the stock to see the scope. This is due to the Mosin's stock, which drops away, but the scout scope is also mounted very high.
The adjustments worked as they are supposed to, and I got on target very quickly at 50 yards. I used the old standard of removing the bolt and sighting through the barrel to align the scope. The first shot was about 4 inches from the aim point, which is excellent for this kind of rough sight-in.
The mount
I haven't told you about the Mosin Nagant mount that Leapers makes. It replaces the rear sight blade and leaf, using the rear base to secure a Picatinny rail with 2 side rails. Rubber pads slip over the mount's side rails to keep them from cutting your hands when you handle the rifle.
Removing the rear sight leaf and attaching this mount was very easy. It took about 20 minutes total to finish the job, which included removing the sight parts first. The instructions are clear and concise, even though they address two different sight base kits for rifles and carbines. Once on the rifle and snugged down, the mount is rock-solid. It remained solid throughout this test.
The base is a tri-rail system with Picatinny rails on both sides, along with the main scope rail on top. These can be used for anything like lasers and tactical flashlights, though on a Mosin Nagant bolt-action rifle such accessories seem out of place. Perhaps hog hunters would like a light, though.
Overall evaluation
I've now used this scope on two different rifles — both with success. The first was an air rifle, and the second was this powerful centerfire. This is the first scout scope I've ever tested or used, so I don't have experience with the type – but I do know this one works as advertised.
I wondered if the image would be clear and easy to see, since the eyepiece is 10-11 inches from the eye. No worries there. The image is very large and bright, though your sighting eye can see things other than the target, if you want. Once you focus on the target and reticle, though, nothing else seems to matter.
If you need a scout scope, I can certainly recommend this one from the standpoint of functionality. The size and weight, though, are a different matter. This is a large scope that sits high above the barrel, so you need to give that some thought when making your decision. Most scout scopes are either fixed power or low-powered variables. I believe this one has the highest magnification on the market. If that's important to you, this may be the best scope out there.
by Tom Gaylord, a.k.a. B.B. Pelletier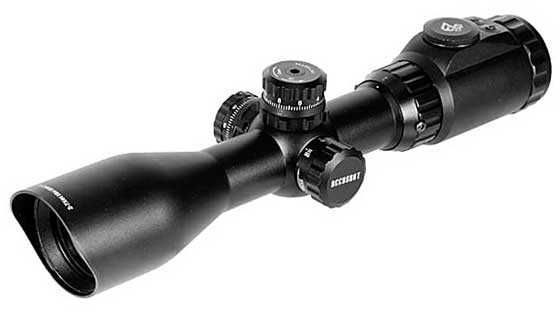 Leapers UTG Accushot 2-7X44 Scout Scope is a remarkable sight!
This report covers:
• What is a scout scope?
• Magnification
• Bright!
• The test
It's been a long time since we looked at this UTG 2-7X44 Scout SWAT scope, and I want you to know that it isn't because the scope isn't interesting. It's very interesting. But other questions and products always seemed to get in the way of this third report. Today that ends, as we'll take another look at this great scout scope.
What is a scout scope?
Scout scopes are scopes that have very long eye relief. Where a normal long eye relief scope might allow you to position the eyepiece 4-5 inches from your eye, a scout scope lets you get back 9-11 inches. This scope we're looking at today has an eye relief of 9.5 to 11 inches, so it spans almost the entire length that all scout scopes provide.
You use scout scopes when there's a reason. Either the rifle's action has parts that get in the way of a scope being mounted in the normal place — such as the Mosin Nagant bolt-action rifle family whose straight bolt handles rise 90 degrees when the bolt is opened, or there needs to be some clearance for cartridge ejection — such as with the M1 Garand and Winchester model 94 rifles. While there are other ways of mounting scopes on these guns, with the left side mounts being the most popular, a scout scope allows you to look straight ahead, so there will never be a problem adjusting the side angle of the scope's optical axis to coincide with the bore.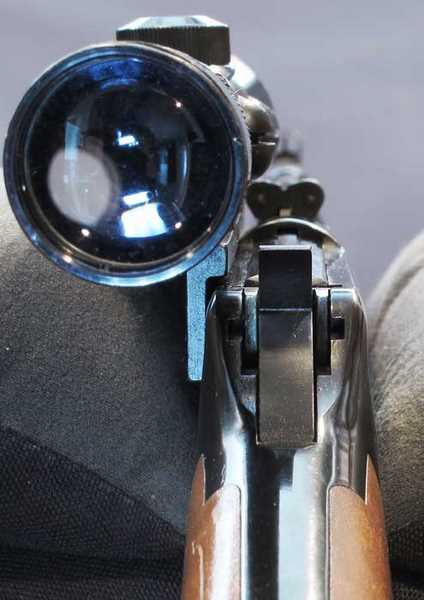 If the scope can't be mounted above the receiver, such as on this Winchester model 94 lever-action rifle that ejects straight up, a side-mounted scope has been the traditional solution. The scout scope puts the scope above and in line with the bore, making alignment issues less critical.
Magnification
Scout scopes typically don't have much magnification. That's their weak spot. I guess it's technically difficult to provide such a long eye relief and also magnify the target image, or perhaps they don't do it because of how much the field of view diminishes as the scope goes out farther from the eye. What I do know is that Leapers gives us 2-7 magnifications with this UTG scope, which puts it at the top end of today's scout scopes.
Bright!
A second big plus with this scope is its brightness. I was able to see the target clearly and make fine aiming adjustments at 7-power. That comes in very handy when you're putting the thin mil-dot reticle on the target. This Leapers scope has reticle lines fine enough to shave with.
On top of that, this reticle is illuminated; so if the black lines are hidden by the target, they can be lit. All things considered, this is one fine hunting scope. I'll say more about that in a bit, but let's now test it at 25 yards.
The test
The scope is mounted on a Crosman MK-177 Tactical multi-pump pneumatic rifle. While that rifle doesn't need a scout scope, it's one of the few airguns that has a Picatinny rail long enough to mount such a scope at the correct distance from the eye.
I learned in the last test at 10 meters that this rifle does well with Air Arms Falcon pellets, so I used them exclusively in this test. Since I was shooting from 25 yards, I decided to begin with 6 pumps per shot. That should give a muzzle velocity of about 600 f.p.s. With multi-pumps, I've found that 5 or 6 pumps are sufficient for good accuracy at 25 yards indoors.
The first group was shot with the scope as it was left adjusted after the 10-meter test in April. The pellets landed high and to the right, with the group's center being 2 inches high and .75 inches to the right. The first 10 pellets went into a group that measures 0.837 inches between centers. While that isn't a wonderful group for most air rifles, it's pretty good for an inexpensive multi-pump like the MK-177.
The first group of 10 Falcons went into 0.837 inches at 25 yards.
Following this group, I adjusted the scope 6 clicks to the left 6 and 14 clicks down for the second group. This was also shot with 6 pump strokes per shot. Ten pellets went into 1.063 inches. Again, not the best group but still pretty good for one of these rifles. Note that the pellets did hit lower on the target following the adjustment.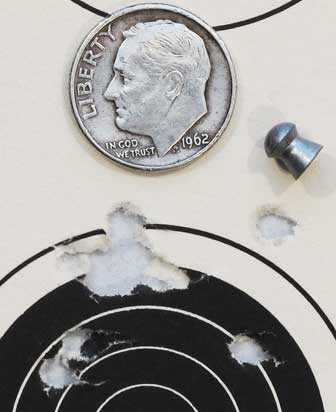 Following a scope adjustment, group 2 put 10 Falcon pellets into 1.063 inches at 25 yards.
I adjusted the scope down 6 more clicks and shot the next and final group. This time, I decided to pump the rifle 8 times for each shot — just to see what difference it might make, if any. Ten more shots went into 0.958 inches. The group was lower but also moved to the left. I must not have the scope leveled on the rifle. And that also makes me wonder if a scope level would help decrease the size of the groups. Several times, I found myself wondering if the gun was canted. The MK-177 doesn't have the clues that a conventional rifle stock would have. It's like holding a plank in your arms.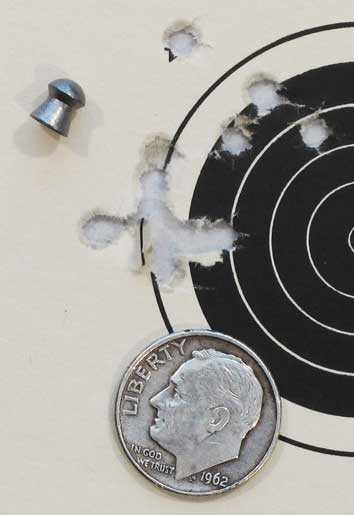 For the third group, I adjusted the scope again and also pumped the rifle 8 times for each shot. It put 10 into 0.958 inches at 25 yards.
Okay, that's today's test. Remember, I was really testing the scope and not the rifle. I found it to be clear, sharp and very easy to use. The adjustments moved the reticle positively every time. Maybe a scope level could help accuracy, but that remains to be seen. I don't think I've done this wonderful scope justice, yet.
I will now look into mounting this same scope on one of my firearms, so we can continue to look at it. This scope can take some of the budget-priced firearms like the Mosins and SKS/AKs and turn them into useful hunting arms for a fraction of the cost of a new rifle. If you're in the market for a good scout scope, I think you better look at this one!
by Tom Gaylord, a.k.a. B.B. Pelletier
Today's report is a continuation of the guest blog from HiveSeeker. Today, he tells us about accuracy
If you'd like to write a guest post for this blog, please email me.
Over to you, HiveSeeker.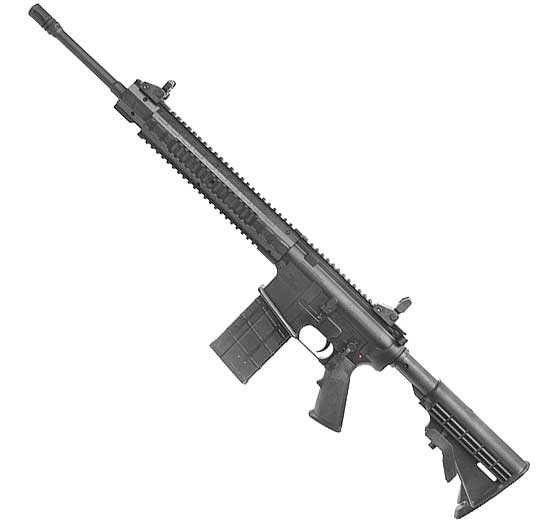 Winchester MP4 is a realistic and fun-to-shoot military replica pellet rifle.
This report covers:
• Shots per fill
• Heavy trigger
• Best results
• The normal grouping
• Bug Buster
• Summary
• The Dallas Field Target Club inaugural shoot
• How the blog changed my life
Shots per fill
While testing pellet accuracy, I shot at 6 bullseye targets (60 shots), swapping CO2 cartridges after each set, and did not notice any decline in performance at 10 yards. I also did a lot of enjoyable spinner silhouette shooting and started noting an increase in misses only as I approached the 80-shot mark (you go through pellets fast with this semiauto!). In conclusion, shooters can expect at least 60 accurate shots before swapping CO2 cylinders, depending on temperature.
It doesn't matter how good the Winchester MP4 CO2 rifle looks with that bipod or red dot scope on it while you're reconnoitering the backyard. How well does it shoot? A gun is only fun if you can hit what you're aiming it at, and the Winchester MP4 does reasonably well in the accuracy department.
Heavy trigger
My rifle does not appear to be suffering from the reported loose barrel problem (which can ostensibly be remedied by removing the 6 screws holding the Picatinny forearm and hand-tightening the barrel). However, the trigger-pull on this rifle is a conspicuously heavy 7.6 lbs. according to my hand scale. My wife and brother-in-law, who is former military (both ends of the spectrum, and both experienced shooters), singled this out as a major complaint. This is no youth rifle. I agree that accuracy would be better without having to exert so much pressure to get a pellet off. However, after some limited travel, the trigger — heavy as it is — breaks clean and crisp.
I shot outdoors at 10 yards from a benchrest using the aforementioned Bug Buster scope and a Leapers Golden Image 30mm red dot sight. All pellets tested grouped right around 1″ — give or take a little. Results were slightly better using the BugBuster. This rifle is not a tackdriver but is certainly a solid performer as long as you keep the range at 10 yards.
Best results
The following pellets gave the smallest 10-shot groups. At least one out of three measures 7/8″:
Crosman Destroyer
Crosman Destroyer EX (the slightly different version sold only in discount stores)
Crosman Premier Hollowpoint
H&N Finale Match Pistol
Air Arms Falcon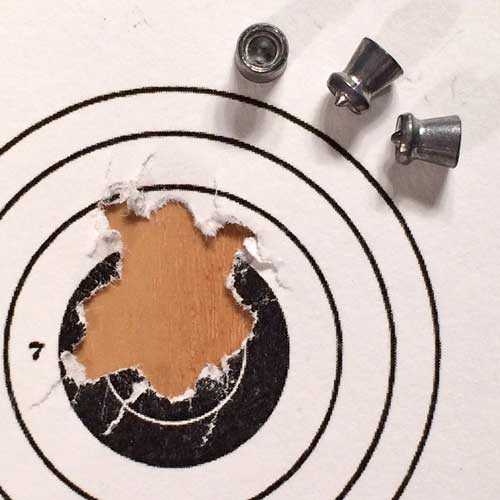 Ten Crosman Destroyer EX pellets (a slightly different version of the Destroyer pellet sold at discount stores) went into 7/8″ at 10 yards.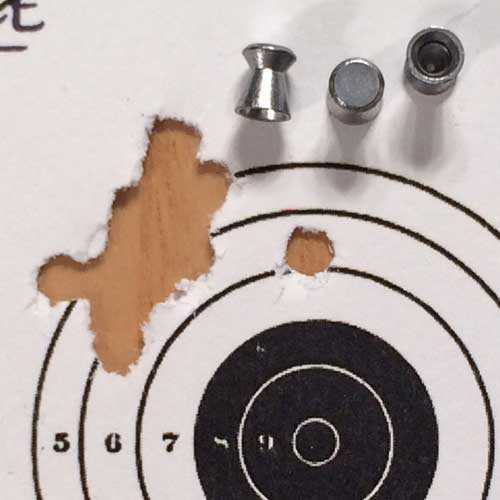 Ten H&N Finale Match Pistol pellets made this 7/8″ group at 10 yards.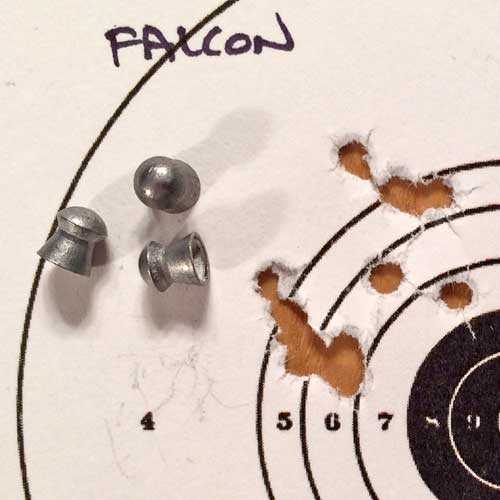 These Air Arms Falcons also grouped in 7/8″ at 10 yards.
These three pellets gave at least one 10-shot group out of three as small as one inch between centers:
Crosman Competition Wadcutter
Crosman Premier Super Match
Gamo Tomahawk
The worst pellet tested was the JSB Match Diabolo Light Weight. They gave a best group that measured 1-1/8″ between centers.
The normal grouping
Most groups were erratic and inconsistent, with more pellet scattering than clustering. Nevertheless, the largest groups I got were still a reasonable 1-1/2″ (for the Crosman Destroyer EX and Gamo Tomahawk). Since each group was 10 shots, I filled one drum of the magazine completely (8 pellets) and then put only 2 pellets in the drum on the other side of the mag.
One interesting and frustrating observation was that my final 2 shots, after flipping the magazine around, almost always opened up the group, in some cases by a full half-inch or so. At least part of the time, though, this gun is capable of significantly tighter groups than I'm reporting here.

On the left is the only really tight group I got — 7/8″ for the Crosman Destroyer EX. Nearly every other group looked a lot more like the Crosman Premier Hollowpoint group on the right, with hardly 2 pellets in the same hole anywhere.
Bug Buster
I mentioned that I shot this gun with a Leapers UTG 3-9×32 Bug Buster scope. When I first started sighting in at 10 yards, my initial POI was a very low 5″ under the bullseye. I had to do a lot of clicking to get the POI near the bullseye; and by the time I was finished, I noticed a fair amount of blurring in the bottom quarter of the scope's field of view. I suspect I'm approaching the limit of adjustment on this sight. The amount of blurring worsens at higher magnifications. I own another Leapers UTG 4-16×40 scope that I just love, but field of view and eye relief on the compact Bug Buster are not nearly as forgiving or comfortable. Both my wife and brother-in-law (again, each an experienced shooter) complained about how difficult it is to sight through this scope. Although the Bug Buster has performed reliably and adds to the military look of this gun, I'm going to try a 40mm or larger compact scope on it at a later date.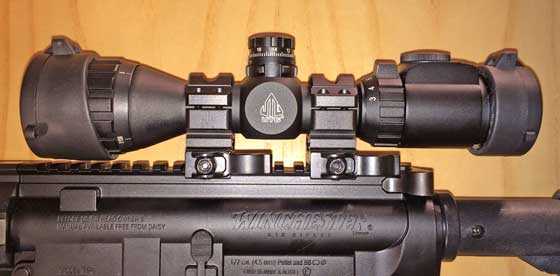 The Leapers UTG 3-9×32 Bug Buster was much better to look at than to look through. The scope showcased the drawbacks of a small-objective compact.
A couple minor notes before wrapping up: Although Pyramyd Air rates this rifle a 4 out of 5 for loudness, I didn't find it to be especially noisy outdoors. On my screened porch, the report was definitely loud, but that depends on how the sound is bouncing off the walls. Shooting noise from inside a bedroom was only average, which is how I would rate this gun for sound.
Also, the manual states that you should store this gun uncocked. Every time you fire, the bolt is re-engaged by CO2 pressure for the next shot. After you've finished shooting and have removed the CO2 clip, remember to point the rifle in a safe direction and squeeze the trigger one last time before casing it.
Summary
In conclusion, the Winchester MP4 is an authentic- looking and handling military replica with some known issues but enough accuracy to make it quite enjoyable for casual shooting. For plinking around the yard while looking like a commando, this rifle fills the bill — and does so nicely.
The Dallas Field Target Club inaugural shoot
Bob Dye submitted the following report and photos of the first Dallas Field Target Club shoot.
Twenty-six shooters appeared on a beautiful June 14 day for the event, some traveling from as far as Oklahoma and Louisiana.

The first Dallas Field Target Club match was well-attended.
Everyone had fun with friendly competition in all the usual AAFTA competition classes. Among them were 6-7 new shooters. Some chose to participate in one of the regular AAFTA classes, while four others participated in a Fun Rifle category, where basically anything goes concerning shooting style and equipment choices.
Great scoring latitude was offered, scoring one point for simply hitting the animal faceplate and two for a knockdown. This appeared to be a great way to let the novice shooters have fun scoring points plinking lead against steel, along with the extra satisfaction when the target falls over. It also served as a fun change of pace among the experienced shooters.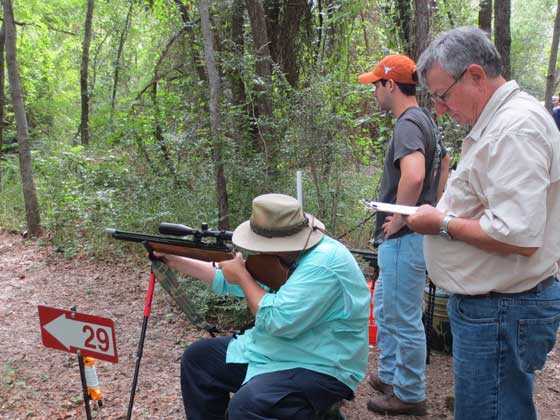 Shooters enjoyed the relaxed pace of the day.
While the facilities have lanes long enough to create a challenging Troyer difficulty of 36 or more, this first, 50-shot match was built on 9 lanes to a 23 Troyer, again to put some smiles on faces the first time out. [Editor's note: Brad Troyer devised a way to rate the difficulty of a field target course based on the size of the kill zones; the distances at which they're placed; and the difficulty of the shot based on placement, light and shooting position.]
Accordingly, two of the seasoned veterans rose to the challenge to ace the course. David Alsup shot a perfect 100/100 in Open PCP. And, while I told him I thought he was a shoo-in to do this, David asked to keep his score card, indicating it was a special day for him, too. Great shooting, David!
Likewise, perennial Hunter Class leader Ron Robinson also shot 100/100 with his brand new TM1000 rifle. I haven't seen such a big grin on Ron's face is some time. Or at least since last weekend in Pulaski. Ask him how he likes his new rig and be prepared for 5 minutes of superlatives. Excellent match with a new rifle, Ron!
Altogether, 17 of the 26 competed in one of the two Hunter Classes, including two in Hunter Piston. Four people posted scores in Open PCP — rather unusual in these parts.
The mostly sunny weather cooperated for a mid-June day, with a high of only 85 degrees F during the match, which made the humidity bearable. The turnout was superlative for this first ever club match.
Thanks to members Kevin Enzian, Jeff Latimer and Jerry Cupples for helping me set up the course the afternoon before. I couldn't have done it by myself.
Next match is in August. Stay tuned. Visit the Dallas Field Target Club website.
How the blog changed my life
I initially published this section on the May 30, 2014, blog. I'm going to repeat it at least once a week during June and July so it doesn't get lost or forgotten.
From the comments many of you make, I believe the blog may have positively impacted your lives. I invite you to send me an email telling me about that impact.
Were you a firearms shooter who accidentally discovered airguns through this blog? If so, tell me how this blog has helped your understanding of airguns.
Were you already an airgunner, but you thought what you saw in the big box stores was all there was? If so, how has this blog helped you understand more about airguns?
I've gotten quite a few responses already, but I want to make sure you know that I'm not looking for "attaboys," pats on the back or personal recognition. I'm looking for real feedback on what you've learned so I can target my blogs to what you feel is important, what you'd like to know and what you're still unsure of. This blog is written for its readers, and I want to share your stories with others who may be where you were before you found this blog.
Pyramyd Air has created a special temporary email address for this. I'll be the only person to get these emails, and we're not going to generate any lists from the addresses.
My plan is to publish one or more blog reports with the more interesting comments. If you want, I will use your real name or blog handle; but you can be anonymous, too. I won't use your name or handle unless you give me written permission to do so.
This email address will be live for only a few weeks. We have tens of thousands of readers worldwide. Even if you've never commented on the blog, you can email me your message if you like. If you're reading this blog after July 2014, email submissions will no longer be forwarded to me, and you may get an auto-reply email stating that or your email might bounce back to you.
by Tom Gaylord, a.k.a. B.B. Pelletier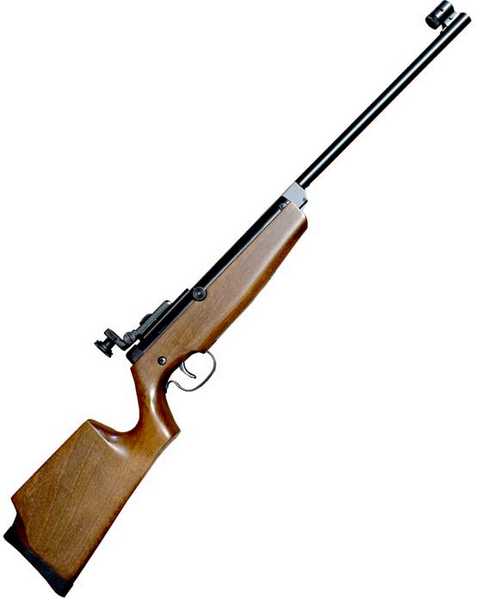 Diana 72 is a youth target rifle from the late 20th century.
This report addresses:
• More on the trigger.
• Accuracy with various pellets.
• Why 5 shots?
• Accuracy with deep-seated pellets.
• Summary.
Today is accuracy day for the Diana model 72 target rifle. We had one extra report in this series, and that was on adjusting the trigger. I want to tell you some more of what I have learned about this trigger.
More on the trigger
During the accuracy test, the trigger failed to work two times. The first time I made a small adjustment and got it running again in a matter of a minute. The second time, however, I worked on it for 15 minutes without success. I finally read Part 3 of this report, to see where the two adjustment screws had been positioned when the trigger was working. The camera angle of that photo isn't the best, so there was still some guesswork involved; but even then I couldn't get the rifle to fire.
Then, I thought of something. I know this rifle has a very protective anti-beartrap mechanism, and I wonderd if it was a little too over-protective. So, I cocked the gun, again (it was still cocked and loaded from when the trigger had failed). I've had other spring-piston air rifles — most notably Weihrauchs and a few Dianas — that would seem to cock but wouldn't quite go all the way. How many people have I talked through cocking their RWS Diana sidelevers because they had not pulled the lever all the way back, and the gun was stuck? Even my Whiscombe has done this often enough that I'm used to it.
When it happens to the 72, the rifle is cocked from the standpoint that the piston is back and the mainspring is compressed, but it also isn't fully cocked in that the trigger isn't in the right position to fire the gun. It's a sort of limbo state that some spring rifles can get into. Think of it as a disagreement between the trigger and the anti-beartrap device, and the designers have allowed the anti-beartrap device to trump the trigger for safety reasons.
All you need to do when this happens is cock the rifle a second time, making sure that the cocking linkage goes all the way back. When I did this, the 72′s trigger began working immediately. So, if you ever get one of these rifles, keep this in mind.
Accuracy
I began this test not knowing where the sights were set. After all, this rifle had been through a complete rebuild, so those sights presumably came off. And the action has been out of the stock several times over the past 2 years. So, the gun needed to be sighted-in.
As a side note, the manufacturing date on the left rear of the spring tube is November 1989. That puts it near the end of the production cycle (1979-1993, according to the Blue Book of Airguns).
Sighting-in with H&N Finale Match Pistol
I started sighting-in with H&N Finale Match Pistol pellets. The first shot was lined up with the center of the bull, but it was too low. It landed at 6 o'clock. Since the sights are target apertures front and rear, I was not using a 6 o'clock hold, but centering the bull in the front aperture.
The first sight-in shot was interesting, but the second was even more so, for it would tell me if this was an accurate rifle or not. It hit above the first shot, in the same line but the 2 holes didn't quite touch. That was good but not what I had hoped for. I had hoped to see a single hole that had barely enlarged with the second round.
Shot 3, however, went into the same hole as shot 2, and shot 4 joined them. So, the rifle was probably accurate, after all. I clicked the elevation up two clicks and proceeded to the first record target.
Shooting for the record
The first 5 shots went into a group that measures 0.221 inches between centers. It's a group you would love to see out of most sporting rifles but not impressive coming from a 10-meter rifle. Just to make sure it wasn't me, I shot a second group with this same Finale Match Pistol pellet. As I shot, I could hear the voices of the newer readers, asking why I only shot 5 shots. So, on just this one target, I put 10 into the next group, which measures 0.269 inches. That's encouragingly close to what just 5 shots did, so it renewed my enthusiasm.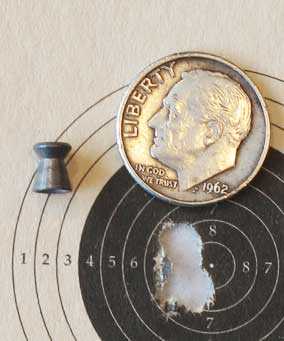 Five H&N Finale Match pellets went into 0.221 inches at 10 meters.

Ten H&N Match Targets made this 0.269-inch group. This is not that much larger than the 5-shot group.
RWS R10 Match Pistol pellet
Next up was the RWS R10 Match Pistol pellet. Five of those made a group that measures 0.244 inches. It's in the same range as the H&N Finale Match pellet, so no cigar.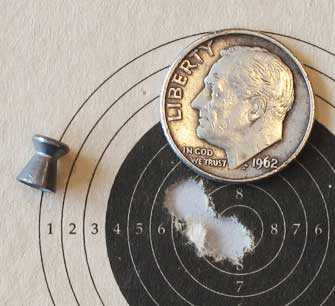 Five RWS R10 Match Pistol pellets went into 0.244 inches.
RWS Hobby
After that, I decided to give the RWS Hobby wadcutter pellet a try. Who knows what they might do? Well, that was a good decision this time, because 5 of them went into 0.194 inches between centers — the smallest group so far.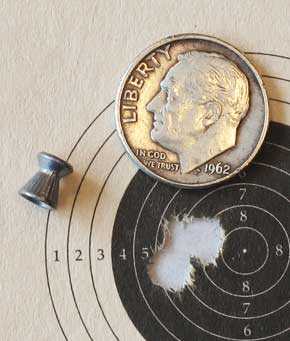 Five RWS Hobby pellets went into 0.194 inches at 10 meters. This is a good group.
At this point, I'd noticed that all the groups were landing off to the left. There's no scope involved, so I can hit the center of the target and not destroy the aim point. I dialed in 3 clicks of right adjustment into the rear sight and continued the test.
JSB Match
Next, I tried JSB Match pellets. Five went into 0.264 inches. That was the second-largest group in this test, so no joy there.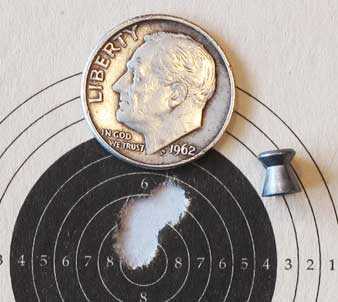 Five JSB Match pellets made this 0.264-inch group. Not that good.
Why 5 shots?
Before someone asks why I shot 5-shot groups, I'll tell you. Accuracy is the reason. Ten-meter guns are generally so accurate that there isn't that much difference between 5 and 10 shots. You only have to look at the first 2 targets to see the truth of that.
H&N Match Pistol
Next, I shot 5 H&N Match Pistol pellets. They're a lower-cost pellet than the Finale Match Pistol, and sometimes they produce good results. This was to be one of those times. Five pellets made a round group that measures 0.166 inches between centers. That's the smallest group of the test; and because it was noticeably smaller, I shot a second group to see if the first was a fluke.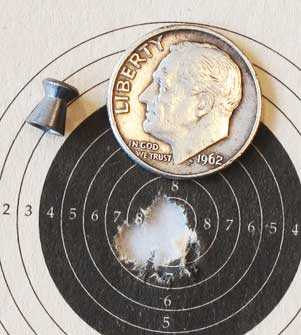 Now, this is a group! Five H&N Match Pistol pellets went into 0.166 inches.
It wasn't a fluke at all, as you can see. The second group was a little larger, at 0.196 inches, but still one of the smaller groups fired in this test.

This second group of H&N Match Pistol pellets was shot to confirm the first one. It measures 0.196 inches, which is larger but still one of the smaller groups of this session.
Seating the pellets deep
Now that I'd tested 4 different wadcutter pellets, three of them being designated as target pellets, I thought I would take the best 2 and test them by seating them deeply in the breech to see if there was any difference. For this, I used the Air Venturi Pellet Pen and Pellet Seater that was also used in the velocity test. We learned then that the 72 doesn't like pellets to be seated deeply where velocity is concerned. Let's see what it does for accuracy.
The first pellet I tested this way was the H&N Match Pistol that proved to be the most accurate in the entire test. When seated deeply, they gave a 5-shot group that measures 0.23 inches between centers. While that isn't bad, it's larger than either of the two groups that were seated flush. They measured 0.166 inches and 0.196 inches, respectively.

When they were seated deeply, 5 H&N Match Pistol pellets went into 0.23 inches. It's larger than either of the 2 groups made with the same pellet seated flush.
And the last pellet I tested was the RWS Hobby. When seated deeply, Hobbys group in 0.252 inches. Again, this was not as small as the one group of flush-seated Hobbys that went into 0.194 inches. That leads me to believe that this rifle likes its pellet seated flush much better.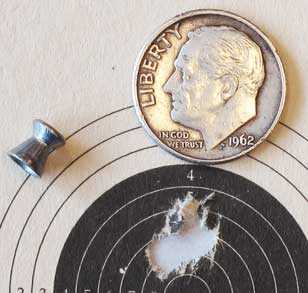 Five deep-seated RWS Hobby pellets went into 0.252 inches. This group appears smaller than it really is because some of the target paper has closed around the holes.
Summary
The RWS model 72 target rifle is a fine example of the quality and ingenuity that Diana can put out. They took a great informal target pistol — the model 6 — and turned it into a youth target rifle. They didn't pour a lot of money into this airgun, with the rear target sight being a conventional, adjustable sight fitted with an aperture, but they did everything right. This is a youth target rifle to covet!
If you want one of these, you'd better start looking right away. There aren't that many of them, and owners tend to hang on to them longer than they do most airguns.
This was a test of the recoilless model 72, but don't forget there's also a model 70 that's based on the model 5 pistol that recoils. There are more of them to be found, and their recoil doesn't amount to much since they were originally an air pistol. Either model is a great airgun that you should certainly look for if this sort of gun interests you.
by Tom Gaylord, a.k.a. B.B. Pelletier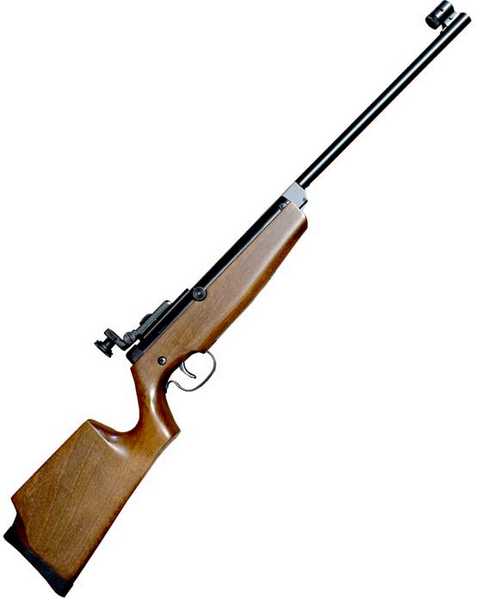 Diana 72 is a youth target rifle from the late 20th century.
This report addresses:
• Cocking effort
• Velocity
• Velocity and consistency comparisons, depending on how the pellet is loaded
• Firing behavior and cocking behavior after oiling
• Trigger-pull
• Impressions so far
Some topics resonate with more readers than others, and this is one of them. I heard from many Diana model 70 and 72 owners when Part 1 was published, and I hope to hear from more with this installment. New blog reader Harryholic from the UK had just received a new-old-stock model 72 when Part 1 was published. Searching for information on his new rifle, he stumbled across our blog.
His new rifle is one that hadn't ever been fired, apparently. It was still in the original Diana packaging based the pictures he published online. Unfortunately, that means it has the old Diana piston seals that dry rot with age. His new gun heeded a resealing before he could even fire the first shot. While he's arranging to have that done, I'll test our 72 that was resealed last year. It should have pretty close to new-gun performance.
Cocking effort
This rifle is a converted air pistol — we learned that in the last report. I recall my Diana model 10 target pistol needing about 35 lbs. of force to cock. The old Air Rifle Headquarters reported the velocity of a broken-in model 10 as close to 500 f,.p.s. with lighter lead pellets. I will presume they mean something like RWS Hobbys.
A model 10 has the same poweplant as the model 6 pistol that on which this rifle is based, so I'll use the cocking effort and velocity for the model 6, as well. I believe a model 6 in good shape should launch a Hobby pellet around 475 f.p.s. That would also be my guess for the model 72 rifle. We shall see.
As for the cocking effort, we learned last time that the 72 has a longer barrel shroud (13-3/4 inches, compared to the 7-inch barrel on the pistol) that extends the lever used to cock the rifle, so I expected the cocking effort to drop off to about 20 lbs. When I measured it on my bathroom scale, it was more like 16 lbs., though some stiffness in the cocking linkage did make the needle spike up to 20 at times. I think this will smooth out as the rifle wears in.
Velocity
I think I learn as much when I chronograph an airgun as I do when shooting it for accuracy. The things I learn aren't always what I expect, though, and today's test demonstrates that.
RWS Hobby
I started the test shooting the 7-grain RWS Hobby wadcutter pellet. I like using Hobbys because not only are they very light and give high velocity numbers, but they're also well-made and often quite accurate.
On the first string, I noticed something remarkable. I'm going to print the string here, so you can see what I saw:
Shot Vel
1     438
2    406
3    391
4    387
5    377
6    366
7    362
8    349
After shot 8, I stopped to evaluate the gun's performance. Each shot was going slower than the last. The 72 is a spring-piston rifle, and it honked a bit when cocked. So, I deduced the piston seal was dry. I oiled the seal with a few drops of RWS Chamber Lube and then returned to the string.
9    414
10    399
The average for this string is 389 f.p.s., but a lot of the reason for that is because of the velocity loss. This rifle was just rebuilt. It came back to my friend Mac just a few weeks before he passed away, so he never shot it. Therefore, I'm the first person to shoot it since it was rebuilt. I'm breaking it in.
After the first string, I oiled the chamber, again, with about twice as much oil as I used before. This time, I shot 10 Hobbys at an average 427 f.p.s. The spread was from 399 to 449, so 50 f.p.s. Obviously, the rifle needed to be oiled. And notice that my original estimate of the expected velocity was too high.
Next, I tried deep-seating the pellets with the Air Venturi Pellet Pen and Pellet Seater. This gave an average velocity of 424 f.p.s. The spread went from 401 to 461, so a total of 60 f.p.s. From this, I have to deduce that deep-seating Hobby pellets does not accomplish anything.
H&N Finale Match Pistol
Next, I tested the rifle with H&N Finale Match Pistol pellets. Seated deep, these averaged 393 f.p.s. The spread went from 376 to 405, so 29 f.p.s. That's a lot tighter than the Hobbys.
I tried these same pellets seated flush. This time they averaged 456 f.p.s. The spread went from 450 to 462, so just 12 f.p.s. They're both faster and more consistent when seated flush with the breech (not pushed into the barrel by a pellet seater).
RWS R10 Match Pistol
The last pellet I tried was the RWS R10 Match Pistol pellets. These weigh 7 grains, just like the Hobbys. Seated deep, they averaged 395 f.p.s., with a spread from 365 to 414. A max spread of 49 f.p.s. Seated flush, they averaged 429 f.p.s., and the spread went from 404 to 446. That's a total of 42 f.p.s. Again, the pellet went faster and the spread was tighter when it was seated flush with the breech.
Note the velocities
A couple days ago, someone asked me if I ever experienced a heavier pellet going faster and with more consistency than a lighter pellet in the same gun. This test demonstrates that phenomenon. The 7-grain Hobbys went an average 424-427 f.p.s., while the 7.56-grain H&N Finale Match Pistol pellets averaged 393-456 f.p.s. When seated flush, these were the fastest pellets in this test, as well as the heaviest pellets.
Firing behavior and cocking effort revisited
I told you the rifle squeaked when cocked. At the end of the test, it still squeaked — but less than before. Also, the cocking effort seems to have smoothed out a bit. I measured it, again, and this time the needle deflected from 16 lbs. up to between 18 and 19 lbs., but it was so close I can't tell if there has been a real reduction or not.
The rifle fires dead-calm regardless of which pellet is loaded or how it's loaded. But flush seating seems to be best, so that's what I'll do.
Trigger-pull
The 72 trigger is 2-stage, but not as crisp as I remember the trigger of my model 10 pistol. Stage 1 stops at stage 2, but then stage 2 has movement that can be felt. The net feeling is a trigger that has no second stage, though I know this one does and can feel it if I really try. The trigger breaks at 33 oz. consistently.
There's a good reason for this trigger to be mushy. The linkage is very long because this is a pistol in a rifle stock. I looked for trigger adjustment instructions on the internet and couldn't find any, so in the next report I'll show you the trigger and describe how to adjust it in detail.
Impressions so far
I like the little rifle — not quite as much as I thought I would, but perhaps I'm objecting to the stiffness of the rebuild that just needs to be broken in. Once I get the trigger where I want it — if that's possible, I may warm to it some more.
by Tom Gaylord, a.k.a. B.B. Pelletier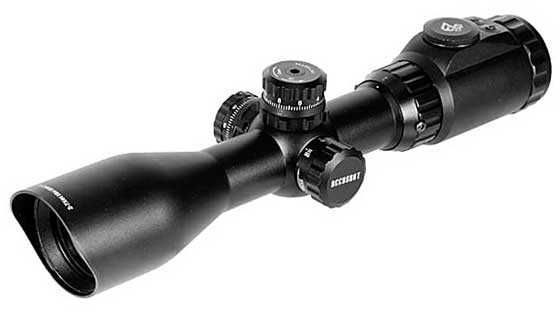 Leapers UTG Accushot 2-7X44 Scout Scope is a remarkable sight!
I'm on the road today to Ohio to Pyramyd Air and the Flag City Toys That Shoot airgun show this coming Saturday. If you plan to be there, please stop by my table and introduce yourself.
And while I'm gone on this huge road trip (there's more driving ahead before I return home), I would ask the veteran readers to help answer the questions posed by the newer readers. I will only have about 3 hours each evening to exercise, answer emails and write the next blog — and I usually get 150-200 emails a day.
Today, I'm testing the UTG 2-7X44 Scout SWAT scope for accuracy. It's mounted on the Crosman MK-177 multi-pump pneumatic that I tested for you awhile back. So, I have the data on that rifle using open sights.
I selected the 3 best pellets from that first test for today's test. The distance was 10 meters because the groups I got before were not that small. Had they been small enough, I might have tested the rifle at 25 yards.
RWS Hobbys
The first pellet I tried was the RWS Hobby wadcutter. In the previous test at 10 meters with open sights, 10 Hobbys gave me a group that measured 0.858 inches. With the scope mounted, I got a group that measured 0.928 inches at the same 10 meters. So, no improvement.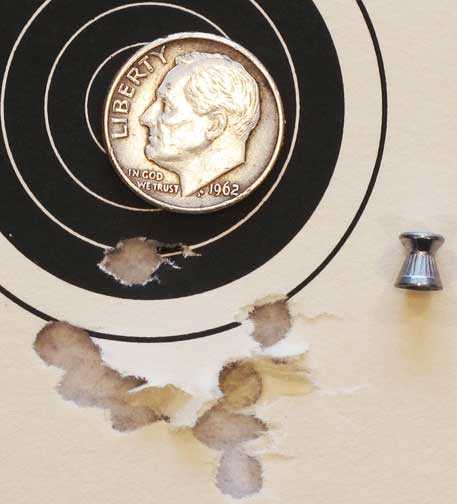 Ten Hobbys fared no better with a scope than with open sights at 10 meters. In fact, at 0.928 inches between centers, this group is larger than the one shot with open sights. But, the scope was much easier to use.
I found the scope's thin reticle quite easy to pick up and hold on target. The optics seem clear and bright, although my test conditions were perfect. I would like to test this scope in the field under variable lighting.
H&N Finale Match Pistol
Next, I tested 10 H&N Finale Match Pistol pellets. In the last test, they gave me a 1.299-inch 10-shot group, but 9 of those went into just 0.399 inches. I suspected at the time that the one pellet was somehow off, so I decided to try this pellet again.
This time, using the scope, 10 pellets went into 0.548 inches. That's better than the last group and not much larger than the 9 pellets that grouped so well on the other test. Up to this point in the test, the scope hasn't improved my results — but it has been much easier to use! My shooting went much faster because I wasn't guessing where the top of the front sight was.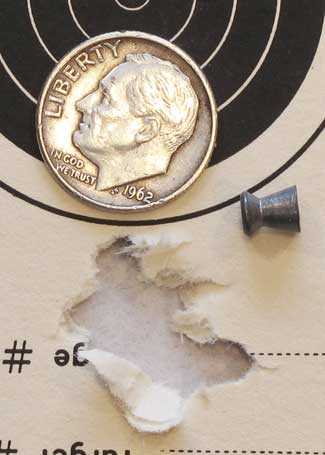 Yes, these 10 H&N Finale Match pistol pellets are in a smaller group than before, at just 0.548 inches. But I feel the one stray shot in the open-sight test may have been a damaged pellet.
After this group, I adjusted the scope to center the group in the bullseye. It's easy enough to do, and the locking ring means there's no fear of anyone messing up the settings.
Air Arms Falcons
The final pellet I tried was the Air Arms Falcon dome — a lightweight dome that has proven very accurate in a number of different airguns. This time, the results were better. Ten Falcons went into 0.839 inches in the first test with open sights and just 0.425 inches in this test. Nine of the 10 pellets went into just 0.154 inches — rivaling a 10-meter rifle!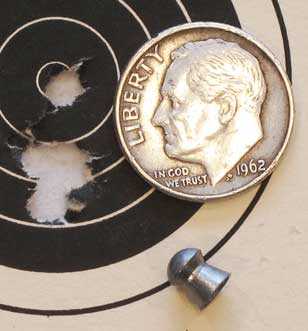 Believe it or not, there are 9 Falcon pellets in the larger hole! The one pellet strayed up a little (shot 7), opened this group to 0.425 inches.
Impressions of the scope thus far
I'm thoroughly impressed with this scout scope. It's clear, sharp and easy to use. I want to test it on something else — maybe a firearm. This is a scope I can recommend if you're looking for a good scope.
The benefit isn't better groups, but a clearer picture of the target. On a rifle with real precision, that can mean something!
I do plan on another test with this rifle ay 25 yards. The Falcon pellets have earned their way into that test, and perhaps some similar premium pellets, as well.
by Tom Gaylord, a.k.a. B.B. Pelletier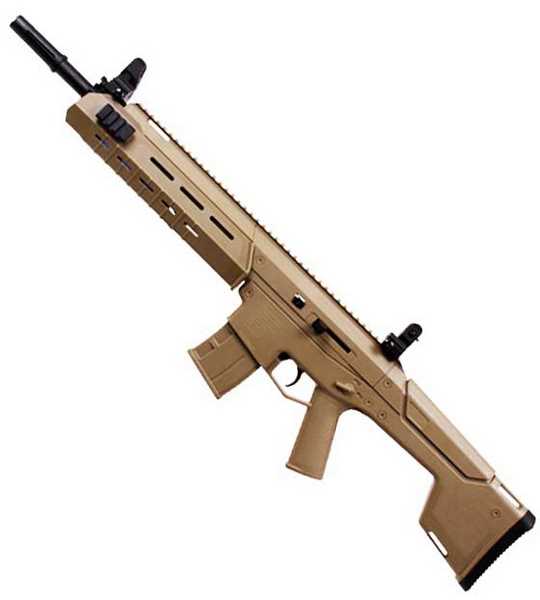 Crosman MK-177 is a multi-pump version of FN's SCAR.
Today, we'll begin testing the accuracy of the Crosman MK-177 multi-pump pneumatic. Because this rifle shoots both pellets and BBs, I'll test both, but not at the same time and not in the same way. Today's test of lead pellets was done at 10 meters, using the iron sights provided with the rifle.
I decided to use 5 pumps per shot for the entire test. That was both easy to do and was also pretty quick. According to the velocity test we did last time, Crosman Premier lites were averaging just over 500 f.p.s. on 5 pumps.
It took five shots to sight in the rifle. The first shot was 3 inches high and 2-1/2 inches to the right. Crosman supplies a sight adjustment tool with the MK-177, and I had to use both ends of it. One end is a flat-bladed screw driver that moved the rear sight to the left. The directions are printed on the sight, so there's no confusion.
The front sight had to be raised because the rifle was shooting too high, so I unscrewed the front sight post several turns. Shot 2 was about three-eighths of an inch too high and three-eighths of an inch too far to the right. The hole was in the black bull, but it wasn't centered. So, I made small adjustments to both the front and rear sights and fired again. This shot cut the 9-ring, which was close enough for me. I fired the other 2 shots, and they landed near the third shot. Sight-in was finished.
Crosman Premier lites
This is a Crosman rifle, so the first pellet I chose to test was the Crosman Premier lite. The first pellet hit the 10-ring of the bull, so I stopped looking through the spotting scope and just shot the gun. After the 10th shot, I looked at the target and saw a disappointing horizontal group that measured 1.173 inches between centers. None of the shots had been called as pulls (meaning the sights were off target when the gun fired), so this group surprised me.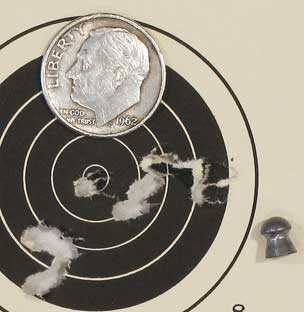 Ten Crosman Premier lites made this 1.173-inch group at 10 meters with the Crosman MK-177 pneumatic. It is surprisingly wide for 10 meters.
Air Arms Falcons
Next to be tried were the Falcons from Air Arms. They're domed pellets made by JSB and weigh 7.33 grains. Once, again, the first shot cut the 10-ring, and I never looked after that. This time, the group was much better, measuring 0.839 inches between centers. It's also much rounder than the Premier lite group, leading me to think the rifle likes this pellet better.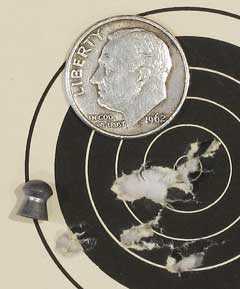 Ten Air Arms Falcons made this 0.839-inch group at 10 meters. This group is rounder than the first, which is a good sign.
The rifle's behavior
At this point, I'll comment on how the rifle performs. Shooting for accuracy I found the left-mounted cocking handle to be less of a problem than it had been when I tested the velocity. My procedure was to cock the bolt, advance the magazine, close the bolt, then pump the gun. This became a routine after a few shots, and it went surprisingly fast.
I rested the rifle on a sandbag for the shooting. Though it's very light, the rifle was dead calm on the bag. The sights did not move one bit. And the MK-177′s trigger is so light and smooth that I found it very easy to shoot this way.
Pump effort identical to the 760
A reader asked me last time how this rifle compares to the 760 Pumpmaster in pumping effort. Silly me! I should have realized that the MK-177 is a 760 in another skin, but I tested my 40th Anniversary 760 just to make sure. The pumping effort is identical; or if there's a small difference, the 760 is slightly harder because the MK-177 pump arm is a little longer.
RWS Hobbys
The next pellet I tried was the RWS Hobby. These fit the clip a little tighter, and I could feel some resistance when the bolt pushed them into the breech. Again, I checked the target after the first shot then never again until I was through. I noted that this pellet moved over to the left side of the bull with no change to the sights. There's a lesson to remember!
Hobbys grouped very close to Falcons, with the difference being due to measuring error more than any real practical difference. Ten Hobbys went into 0.858 inche…again, the group is fairly round.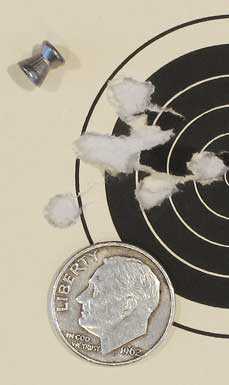 Ten RWS Hobbys made this 0.858-inch group at 10 meters. This is so close to the Falcon group that it's too close to call. Hobbys are wadcutters which cut cleaner holes, and may have lead to their group measuring slightly larger.
H&N Match Pistol
At this point, I was ready to declare the MK-177 to be an accurate multi-pump, but I had one more pellet on the table to test. And that one was the H&N Match Pistol pellet — another wadcutter. I've had remarkable results with H&N Finale Match Pistol pellets in some target rifles, but the straight Match Pistol pellet has never done better than average. Until this test!
Ten pellets went into a group that measures 1.239 inches between centers. No record there! But look at the tiny group that 9 of those 10 pellets made! It measures just 0.399 inches and is very round! Ladies and gentlemen, I think we have a winner!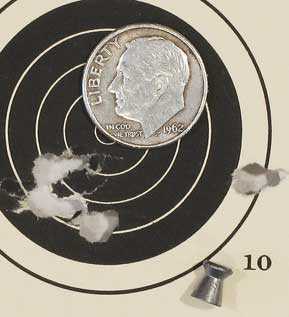 Ten H&N Match Pistol pellets went into a 1.239-inch group, but 9 of them went into 0.399 inches! I think this pellet might be the best one for this rifle.
From the results seen here, I think the MK-177 is a very accurate air rifle. It's worthy of a 25-yard test with an optical sight. I'm thinking the red dot sight I'm using on the TX200 Mark III would be good for that. Before I do that, though, I'll test the rifle with BBs at 25 feet.
So far, the MK-177 is a real winner! I enjoy the ease of use and the accuracy. If I didn't already own a 760 and an M4-177, I would, perhaps, buy this one.