by B.B. Pelletier
As I write this report, Edith is sitting on the couch, reading and approving customer reviews of airguns. It's a lazy Sunday morning, and we generally try to work on things that are easy on such days. She just made this remark to me while reading another customer review, "People want powerful hunting air rifles that cock with 20 lbs. of effort or less. Isn't that called a precharged pneumatic?"
That was what came to my mind the minute she announced what people want. But experience tells us that it isn't what's on the new airgunner's mind. They want a spring rifle, because they want nothing to do with all the extra stuff that's needed to keep a PCP running. They just want to cock the gun, load a pellet and shoot. And many of them wonder why this springer can't be a repeater, as well.
The question that's often asked
Surely "they" could make a powerful spring-piston air rifle if they wanted to. All they have to do is make one that will go at least 900 f.p.s. [or whatever number seems best to them] in .22 caliber with real-world lead pellets and cocks with 20 lbs. or less. If they would make a rifle like that, I would be first in line to buy one.
Don't you think "they" have been busily trying to do just that for the past 100 years? From the first moment someone cocked a spring-piston rifle (or pistol) that was a couple of pounds too heavy for them, they started thinking about designing exactly the rifle our hypothetical new airgunner has requested. And they haven't done it, yet!
But there have been several good attempts. John Whiscombe, for example, broke the cocking sequence down to two or even three pulls of the underlever to cock his dual-opposed piston rifles. Owners of his rifles have not one but two coiled mainsprings to cock; and their efforts, while not quite doubled, have to be increased significantly. Which is why Whiscombe broke the cocking effort into two and even three strokes of the lever. The gun cannot be cocked with fewer strokes. If you try, it will remain in a limbo of a partially compressed set of mainsprings that cannot be relaxed, because they're held in check by the safety mechanisms. So, a Whiscombe owner can't cock his JW80 just two strokes for reduced power. It's three strokes or nothing.
Rutten of Belgium used a small, high-torque electric motor to cock their spring-piston rifle with just the push of a button. Wonderful, you say, except now you're tethered to the power grid, because the rifle cannot be cocked any other way than by its motor. And when you do push the button, prepare for the sound of an impact wrench for a couple seconds, because that little motor raises quite a ruckus! That rifle sold under the Browning name several years ago, and the reception, once people saw how it actually worked, was chilly at best. So much so that there are still a considerable number of Browning-trademarked new-old-stock rifles that float to the surface every so often, as yet another person wonders, "Why not?"
One approach that did work well is employed by Weihrauch in their HW45 air pistol that also sells under the name Beeman P1. The way it works is that you cock the barrel to the first detent (sear catch) for low power and to the second detent for high power. The cocking force remains approximately the same for both power levels. All that's different is the length of the piston stroke. It works very well, and I wonder why manufactures are not using it on a rifle today. What's apparently lost to many airgun manufacturers is that the power of the mainspring contributes very little to the power of the gun. What matters most is the piston stroke. Many springs do stack (increase) in force the farther they're compressed, but that's not a universal rule. It's possible to make a spring that provides a near-uniform force throughout its compression, as Weihrauch has done in the HW45.
Back to the question
We're discussing why nobody makes a powerful spring-piston air rifle that also has a very light cocking effort. This is a question that many new airgunners ask, not realizing that physics stand in the way. A pellet fired from a spring-piston gun produces only a fraction of the power generated by the mainspring, so that's the limiting factor. Making the mainspring more powerful is the brute-force way of making a gun more powerful, and it's the practice that's in vogue today.
What about a gas spring?
One question that often follows the main one is why wouldn't a gas spring (gas strut, gas ram) work? To understand why it wouldn't, you have to shoot a gun that has one. Gas springs exert their full potential from the instant you start cocking them. So, instead of a gun that requires 34 lbs. of cocking effort but starts out at 15 lbs. at the beginning of the cocking arc where the leverage is poorest and you'll need all the help you can get, the gas spring has 34 lbs. of effort right from the start. Gas springs are never easier to cock than coiled steel mainsprings — they're always harder, or at least they're perceived as harder because of how they work.
Where does that leave us?
If you want real power from a pellet rifle and you also want the rifle to be lightweight and easy to cock, the precharged pneumatic is the only way to go. No spring gun ever made can keep up with a PCP in the weight and ease of cocking departments. A Benjamin Discovery weighs just over 5 lbs., yet in .22 caliber it puts out the same power as an RWS Diana 48 that weighs 3.5 lbs. more and cocks with 10 times the effort. If you're a regular reader of this blog, you already know about the AirForce air rifles, some of which will produce as much muzzle energy as a .22 short, with long-range accuracy that not even a $3,000 Olympic target rifle can match.
My message to new airgunners
The question that you have asked is the same one that's been asked by airgunners for decades. It's not that airgun manufacturers have overlooked anything or that they're holding back, like the inventors of the 100-mile-per-gallon carburetor did in the 1960s. They're stuck on the physics of the problem. You can't get more work (foot-pounds of energy) from a shot than the force that's put into the shot. With a spring-piston airgun powerplant, you'll get significantly less energy out than you put in.
Can things be done to reduce the cocking effort? Maybe. Has everything been tried? Perhaps not. But if you want to get the greatest power from a light air rifle that cocks easily, you definitely want a PCP — not a springer!
by B.B. Pelletier
It's been half a year since I did Part 1 of this report. I always meant to do today's test, but other things seemed to crop up every time I was ready. I did make an excursion in another direction to test BSA's 2×20 pistol scope using another mount on the Beeman P1 air pistol. Such is the tangled life of the airgun blogger!
New territory!
Today's report takes me into fresh territory with my Slavia 631 breakbarrel rifle. I had earmarked it as a testbed rifle for testing the accuracy of lead-free pellets a long time ago, but the lack of a scope mount caused me to substitute the Whiscombe rifle at the last minute. You see, the Slavia air rifles all share a common problem when it comes to mounting scopes. They have dovetails that are among the very widest on the market. Most 11mm scope mounts will not expand wide enough to fit the 14mm dovetails (they are still called 11mm, which creates a world of confusion among buyers who try to scope their rifles) that are standard on all Slavia breakbarrels. Even for me — with a drawerful of specialized airgun mounts and prototypes — the Slavia remained a gun I could not scope until this new BKL mount hit the market.

Those dovetail grooves may be called 11mm, but they're really 14mm apart. And that makes a huge difference. Almost no scope mounts will open that wide. Those three scalloped notches are for a specific type of scope stop that no longer exists in the U.S.
I've owned this 631 since back in the 1990s when I was still writing The Airgun Letter. I got it from Compasseco (now owned by Pyramyd Air) for a test and liked it so much I decided to keep it. Over the years, I've used it for other tests, such as testing the accuracy and penetration of round lead balls; but these tests were done with open sights. Today, I get to discover for the first time how the rifle shoots when a scope is mounted.
Just fit!
The BKL adjustable mount is a one-piece mount that just fits the length of the scope grooves on the 631. There isn't a millimeter to spare on either end. As for the width, the fit is much easier, though I did have to spread the clamping rails to get it on the gun. For those who are unfamiliar with BKL mounts, they hold onto the airgun by clamping pressure, alone — there are no mechanical scope stops on any BKL mount. It's often necessary to spread the mount base a little to get it onto the dovetails of the rifle. BKL has designed an ingenious way of doing this with the base screws applying reverse pressure to spread the base "jaws" just the right amount. It's easy to do and takes only a minute or two extra. Once the mount is on the gun and the base screws are tightened, you have a scope mount that's not going to move under recoil, no matter how severe.
Droop-compensating!
The second great thing about this new mount is that the rear scope ring elevates to compensate for barrel droop. Newer readers may wonder what droop is, so allow me to explain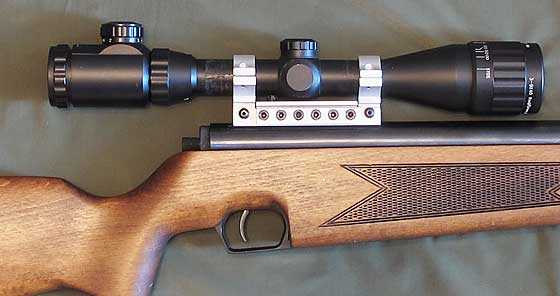 The BKL is mounted on my Slavia 631 rifle. The mount is silver because it's an unfinished preproduction model, not because it's finished that way.
Barrel droop
Breakbarrel springers are notorious for having barrels that are angled downward from the sight plane. Because the manufacturers mount both the front and rear sight on the barrel, they remain in a fixed relationship that masks the droop or downward slant of the barrel. When you install a scope, it goes on the spring tube and the barrel droop becomes painfully obvious. You adjust the scope up as far as it will go to bring the strike of the round back up to the intersection of the crosshairs. Sometimes, you just barely get there, but other times you can't even get that high before running out of adjustment. Either way, when a scope is adjusted all the way up as high as it will go, the internal springs relax and the point of aim starts moving all over the place. New shooters blame this on scope shift, but it's really a different problem that's completely correctable
You want to mount the scope in such a way that its vertical adjustment is about in the middle of the range or even closer to the low end. That's where the droop-compensation scope mount, or "drooper" as it's called, comes into play. With a droop-compensation scope mount you can slant the scope downward so it follows the line of the bore more closely.
And this new BKL is a drooper mount! But until I tried to sight in my Slavia 631, I had no way of knowing that it's a breakbarrel with a droop problem. Once I confirmed that it is, I adjusted the rear of the BKL mount upward and got the scope dead-on at 25 yards! It took only one adjustment, and I had the scope back into the middle of its adjustment range again. Now, it was time to see how this rifle shot.
Twitchy
This is going to be a longer report, so I'm cutting to the chase right away. When I started shooting the 631 at 25 yards, I discovered that this rifle is twitchy. What does that mean? Well, if a breakbarrel is very powerful, it's usually extremely difficult to hold for accuracy. It wants to spray its pellets all over the place — that's what I call twitchy.
But lower-powered breakbarrel springers like this 631 aren't usually twitchy. Usually, they lob all their shots to the same place. They're also very tolerant of different types of pellets. But my Slavia 631 is none of those things. It's twitchy. Allow me to show you what I mean. The first group I tried to shoot was with the Air Arms Falcon pellet.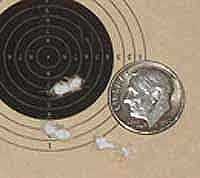 This first target shot with Falcon pellets revealed a lot about the gun. Do you see that two pellets are close together in each of the three groups, but the point of impact moves? That's due to very small changes in the hold. Four of the 10 pellets missed the target altogether!
The first group I attempted told me this rifle is twitchy. But sometimes that's only with a couple pellets, so I pressed on.
Next, I tried shooting RWS Hobby pellets. They did better and were less twitchy but were not really that good.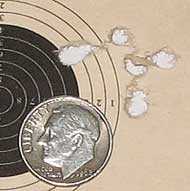 Ten Hobbys went into a real group at 25 yards. It looks like only 6 shots landed because several went through the same holes. This is a better group, measuring 0.73 inches between centers, but it's still not great.
I had to use every bit of technique, short of a scope level, to get that group. The differing points of impact were obviously the result of very subtle changes in the hold. This was obvious to me as I shot, because I was able to feel where the pellets wanted to go. But in spite of that, I did my best to shoot the tightest group I could.
I tried Crosman Premier lites next, but they were all over the place. Then, I tried the JSB Exact RS pellet that often proves best in rifles of this power level. This time, though, they were too hold-sensitive to do well.
Finally, I tried the BSA Wolverine pellet that's also a medium weight JSB but is subtly different from the others of the same weight (8.44 grains). Like the Hobbys, I got a group of 10; but like the others, it's interesting for being more of a cluster of several smaller groups.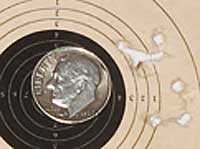 Ten BSA Wolverine pellets gave this group, which measures 0.75 inches across. There's a cluster of 6 in one hole, then 4 others below. The fourth shot lies between the two that are stacked vertically.
Bottom line
The BKL adjustable scope mount works as advertised. It's easy to install and to adjust. And it has jaws that are wide enough for the widest 11mm air rifle dovetails. Just don't try to use it on a Weaver base, because it isn't that wide, nor is it configured for the proprietary shape of a Weaver dovetail. This mount is one elegant solution for a drooper.
The Slavia 631 is a twitchy breakbarrel that shoots at a mild level of power. If I hadn't done this test, I never would have guessed that from the muzzle velocity, alone. That made me think of another report I can write — and probably should: What to do with a twitchy breakbarrel. It would be a collection of the tricks and techniques I would use when I encounter a twitchy breakbarrel. In my role as an airgun tester, I see a lot of them over time, so I've built up a bag of techniques I employ to deal with them when one comes along.
The 631 is also a great potential testbed for an adjustable muzzle weight to be used for tuning the harmonics of a spring gun. I'll look into that.
by B.B.Pelletier
I attended a gun show this past weekend; and on the first day, I noticed something that I've seen for many years but never appreciated. Most of the people who attend gun shows don't know what airguns are worth. You can benefit from that.
Nobody knows what airguns are worth!
Across the aisle from me, a dealer had a Daisy model 21 double-barreled gun laid out. When I examined it, I noticed that it was really beat-up. It was a 20 percent gun, at best.
The dealer said he wanted a thousand dollars for this gun, because he'd seen one new in the box selling for $3,500 on the internet. He knew his was a junker, but he figured it must be worth that much at least.
He probably saw the asking price for the new-in-the-box gun. There are lots of outrageous prices like that online, and they usually never get a nibbler. But some people use those bogus prices as their starting point, and this dealer was one of them.
I'll be attending the Roanoke Airgun Expo in a couple weeks, and I expect to see half a dozen to twenty model 21 Daisys, ranging from $300 for beaters, like the one I described, up to perhaps $1,400 for one like-new in the box. Yes, the price spectrum is really that broad, but it doesn't continue on up into the stratosphere like many people hope and dream.
So, here's an idea. Get a real cheap model 21 and bring it to a gun show! While you're at it, there are many more airguns you can dispose of in this manner.
Airguns that firearms people like
You can't go wrong with any of the Winchester-marked Diana breakbarrels. At the gun show, they think the name adds value. So your $200 Winchester 427 is now worth $250 or even more.
Older Benjamins and Crosmans always seem to go well. Since I am old myself, let me explain that by old I mean pre-1960. Pre-war is even better. And by pre-war, I mean before World War II.
Older and classic Daisys sell well. Older Daisys command attention wherever they are. But there are classic guns that don't have to be old. The No. 25 is the poster child of all classic BB guns, and guns made in Rogers in the 1970s are very attractive to non-airgun buyers. You can pick them up cheap everywhere and make a nice profit when you sell them to someone who doesn't know how common they are.
Another certain seller is an older, well-made gun like a Webley Senior or a Tell III. However, you have to buy them right, because gun show guys just don't understand $300 pellet guns. Guns like the Weihrauch HW 45 (Beeman P1) are not so good, because you'll usually have to pay too much to get them; or if you do get one right, it'll be too hard to explain it to a non-airgunner.
But whatever you bring has to function, because these guys don't want to collect them. They'll be reliving their childhood with the treasures they buy from you. Spend the money to get them sealed and working before you lay them out, and you'll be surprised at the response you get.
Older, vintage-looking guns
There's a small market for wall-hangers at gun shows. I recently sold several cheap shotguns to guys who just wanted them as accent pieces for the wall. Well, what about older Daisys and Kings that reek of the 1920s? What about a real old Benjamin model D that isn't worth fixing, but has great lines? Just be sure to pay pennies for guns like this, because you'll sell them for pennies, as well.
Safety first
One thing you absolutely cannot do at a gun show is dry-fire an airgun. People do it at airgun shows, and I think some folks believe it's okay. If you do it even one time at a gun show, you'll be ejected from the show and banned from returning.
Become "the airgun guy"
Pick a gun show and attend it regularly. Soon, the dealers and veteran attendees will know you as the airgun guy. Whenever someone brings an airgun to the show, they'll be directed to your table. Whenever someone asks about where the airguns are, they'll be sent to you. You won't have much competition at most of the smaller gun shows, from what I've seen.
The more regularly you attend a show, the more traffic you'll build. These are people who will come to the show just because they know you'll be there. They may have a gun that needs to be fixed or they may have just bought a collection that included airguns. Whatever the connection, if you're the airgun guy, all the business will come to you.
by B.B. Pelletier
Announcement: Due to a mix-up, the most recent Big Shot of the Week winner wasn't announced last Friday. Jeffrey Aaron Demers is this week's winner of Pyramyd Air's Big Shot of the Week on their facebook page. He'll receive a $50 Pyramyd Air gift card.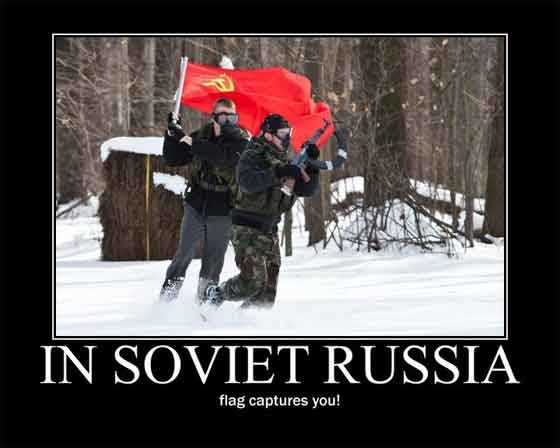 Jeffrey Aaron Demers is this week's Big Shot of the Week. Congratulations!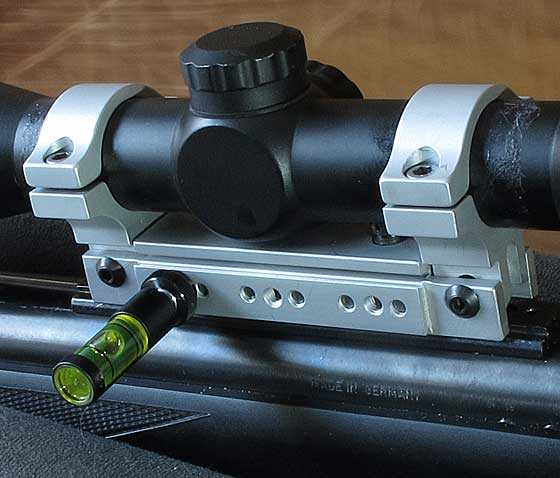 The optional BKL bubble level is mounted on the left side of the new BKL adjustable scope mount. This view shows the rear of the mount raised up to compensate for this rifle's barrel droop.
Today, I'm going to show you the new BKL adjustable scope mount that will soon be available. I mentioned this mount in the Part 3 test of the new RWS Diana T06 trigger last week, which is where the first picture comes from. I'll show all the nuances of the new mount and discuss how it works.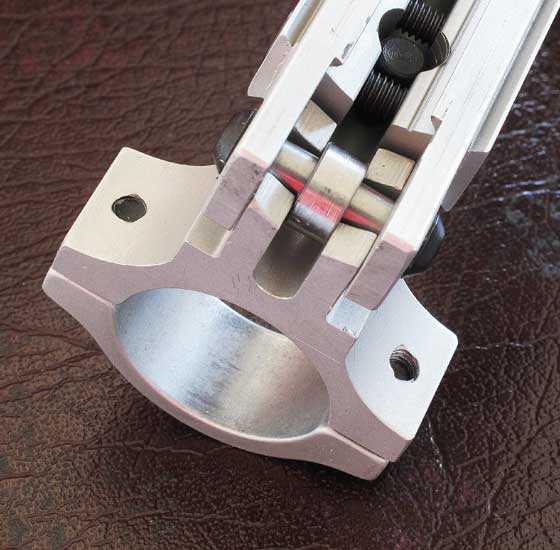 Looking up from the underside of the mount's rear ring, we see the two legs that slide up and down for elevation compensation. Note that the ring has two cap screws.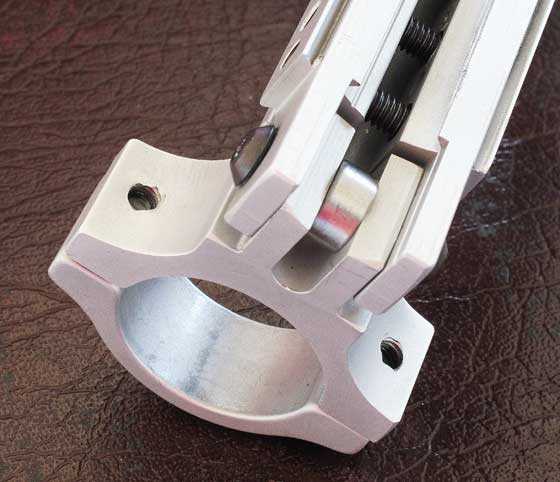 The front ring is captured, so all it can do is rotate as the rear ring goes up or down. This prevents stress on the scope tube.
These first two detail shots show how the mount works. The rear ring moves up and down on forked legs that are open on the bottom. Two screws on the sides of the legs jam the ring tight in position when the right elevation is achieved.
The front ring is captive and is only able to rotate when the rear ring moves up and down. This prevents stress on the scope tube.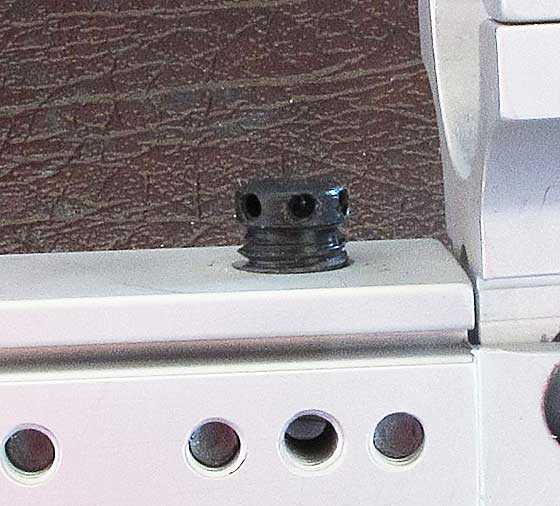 The black elevation pad is a Delrin screw that the scope tube rests on. It's located just ahead of the rear ring.
Another key feature of this mount is the elevation pad, located back by the rear ring. The scope tube rests on this pad, which is used to make very small adjustments to the elevation of the scope. A small Allen wrench inserted into one of the holes in the periphery of the elevation pad lets you turn it up or down like a capstan, providing tight control over the elevation changes made. When the scope rests on the pad, it provides additional support against random movement once the scope ring screws are properly locked down.
Does it work?
I tested this mount on an RWS Diana 34P that I've retained for tests just like this. The rifle in question has 21 inches of droop at 20 yards (the only sight-in distance I use, since the pellet strikes the same place as the 30-yard point of intersection when it crosses the line of sight for the second time), making it a severe case of barrel droop. When I developed the UTG droop-compensated scope bases for RWS Diana spring rifles, this rifle was the worst test case, against which the base for the RWS Diana 34 base was designed. If the BKL mount can fix the droop on this rifle, it can fix anything you're ever likely to encounter.
And fix it, it did! With the mount adjusted about as far up as it could go and still be locked in position, the scope was sighted-in dead-on at 25 yards, which is in the center of the 20-30 yard sight-in distance. And, the scope was in the center of its click-adjustment range. This was an acid test that the BKL mount passed with flying colors.
Another factor I was watching was the BKL mount's ability to hold its position on a heavy-recoilling spring rifle. When the mount was given to me for testing, it had already withstood the jackhammer recoil of a Hatsan 125, which is even harder on scopes and mounts than the UK-produced Webley Patriot. Indeed, the scope that had been in that test was destroyed, but this mount held fast.
On the RWS Diana 34P, the mount also held fast under two different scopes, the intial one that finally gave up the ghost during my test and the replacement scope. Hundreds of test shots were fired without a hint of scope mount movement or scope movement in the rings. Despite there being just two screws per scope cap, both scopes remained in place throughout the test.
Additional features
This mount also offers 11mm dovetails on both sides of its base. If you want to attach a laser, tactical flashlight or rangefinder, your base for them is built right into the scope mount. Because BKL recesses the Allen screw heads into the base, both sides of the scope base have this feature and can be used in this way.

Here you can see one of the two 11mm dovetails in the base of the BKL mount. There's another one on the other side, and recessed screw heads make it accessible for this purpose, as well.
The final feature this scope mount offers is the facility to mount a bubble level to the base of the new mount. It attaches to one of the three spreader holes in the base, though I think you'll choose the hole that's farthest from your eye so you can focus on the bubble. I used this level in the test of the RWS Diana 34P, and it worked well.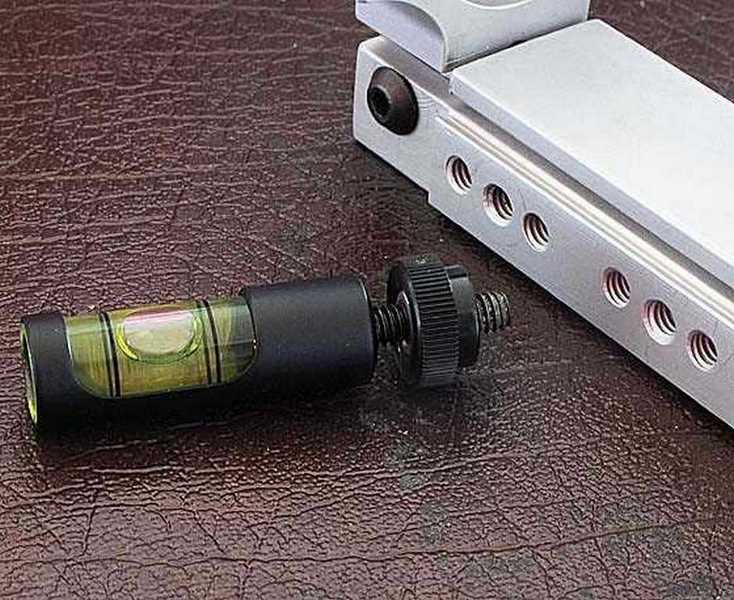 An optional BKL scope level can be screwed into one of the three spreader holes (the center hole in each group of three) on the base of the new BKL scope mount.
Mounting
If you need to spread the base of the mount to get it on a gun, the ring screws also have to be loosened. Then, the base can be spread evenly by the three spreader screws.
The best part
I've saved the best for last. When this mount was shown to me at the BKL factory, I was told that the motivation for making it the way they did wasn't an air rifle, but a popular air pistol! The cuts on the mount are specific to clear the front sight on the Beeman P1/HW 45 spring air pistol.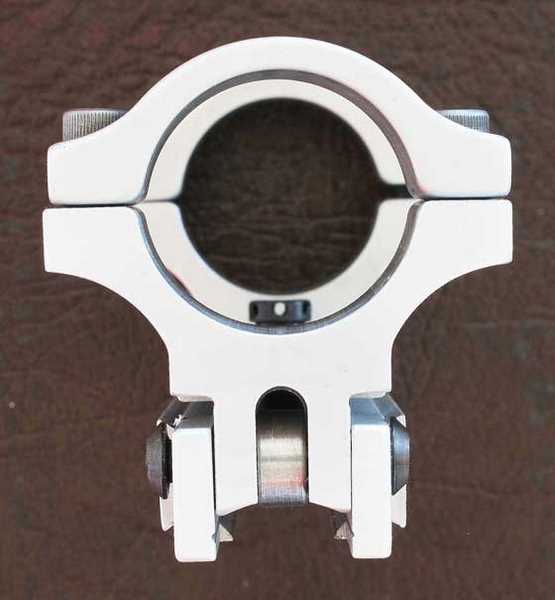 The profile of the new BKL adjustable rings was made to accommodate (to clear) the front sight of the Beeman P1 pistol.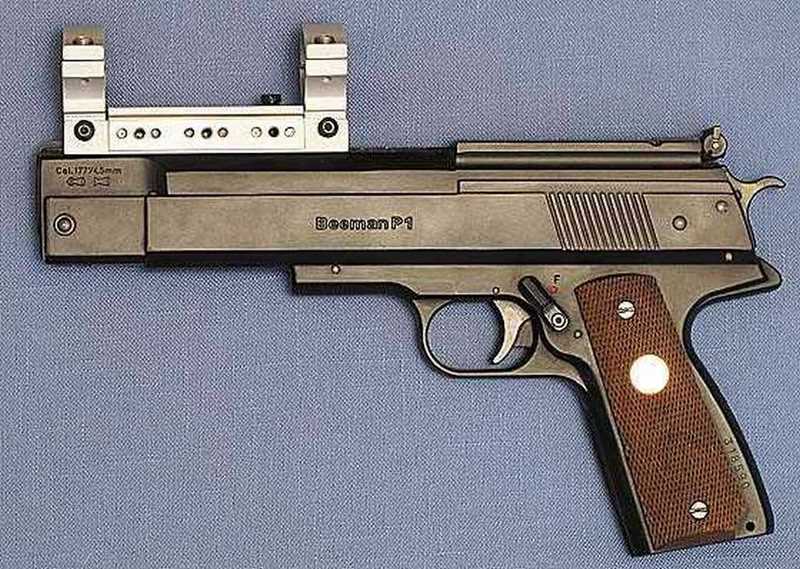 The Beeman P1 was the inspiration for the new BKL adjustable scope mount.
Because this is the first mount I've seen that was made for the P1, I think I'll order a BSA pistol scope and give it a test. Whatever scope you select has to fit into the two rings that measure 4.0625 inches apart on the outside. Because this is a one-piece scope mount, those rings cannot be moved, so pick your scopes accordingly.
by B.B. Pelletier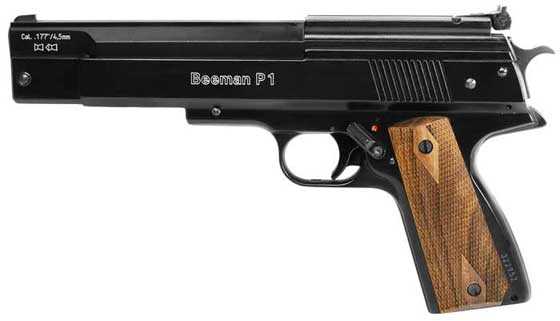 The Beeman P1 sits in the top tier of air pistols for power and quality.
Today is accuracy day; before we begin, I'd like to share a Beeman P1 anecdote with you. I interviewed Robert Beeman for the podcast that will go live in the near future. After we were finished, he told me some stories about the old days, when Beeman Precision Airguns was getting started. This one relates to the P1 and the gun that was never designed.
After the success of the R1, Robert and his wife, Toshiko, embarked immediately on the design of the P1 pistol. They wanted a powerful spring-piston pistol made with the handling characteristics of the M1911A1 pistol. They also wanted dual power levels. They had sketches drawn and took their ideas to Hans Weihrauch for implementation.
Several months passed, and the Weihrauchs called the Beemans to Europe to see the new gun. When they arrived, they were ushered into a conference room where both Hans and his wife, Christa, were waiting along with both their sons. Everybody was hopeful that the design would blow away the Beemans.
When they showed the gun to Robert, he said, "What is this?" This is a single-stroke pneumatic. We wanted a powerful spring-piston pistol with dual power."
"But you left the firing mechanism blank on the sketch!" was the reply.
"Yes. Because we aren't airgun designers. We figured you would know what to put in that space to make the gun we wanted."
"We thought you left it blank to indicate an air reservoir!"
Needless to say, the meeting did not go the way the Weihrauchs had hoped, but they asked for a few more months and would deliver the Beemans exactly what they wanted.
When the Beemans returned home, they had an artist sculpt a chalk model of the pistol to better guide the effort. It was darkened with finish and sent to Germany. A couple months later, they flew back to view what we now know as the P1.
A year after that, Hans Weihrauch caught Robert and said, "Herr Beeman, would you like to see the pistol you designed?"
Beeman knew he hadn't designed any other air pistol, but he said yes out of curiosity. The Weihrauchs brought him the single-stroke pistol we now know as the P2. It was nearly an exact copy of the P1, but of course it operated entirely different. Beeman was so impressed that he added it to his growing line of airguns.
Pyramyd Air no longer imports the Beeman P2 pistol, but they still carry the Weihrauch HW 75, which is the same gun.
Accuracy test
I'm still not strong enough to hold the pistol properly, so I shot off a rest with my shooting arm rested on a sandbag and the pistol extended out in front of the bag. I held the gun as I described in the last report, and it made a huge difference. The distance was 10 meters.
My eyesight has improved to the point that I was able to shoot with my prescription shooting glasses. With a 500-watt light on the target, the bull was very sharp, and with concentration I could bring the front sight blade into sharp focus, too.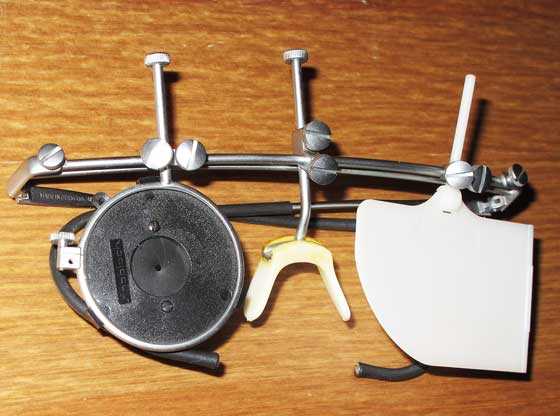 These shooting glasses have my prescription lens in the sighting eye. I used them when I competed in 10-meter pistol, and they still do the job.
Not surprisingly, the gun shot to a different point of aim, so it had to be resighted for this rested hold. I used a conventional 6 o'clock hold on the target.
I shot 5-shot groups instead of 10-shot groups, for reasons you will soon see. In a match, a competitor only shoots one pellet per bull because of the difficulty of scoring multiple hits stacked so close to each other.
RWS R 10 Match Pistol pellets
The first pellet I tried was the RWS R 10 Match Pistol pellet. It's always been good in this P1.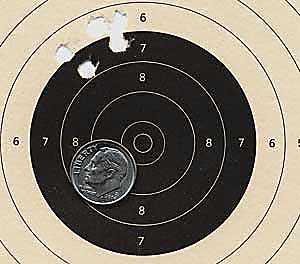 The sight-in target was five RWS R 10 pellets. It showed promise, but the sights needed adjustment.
The sights needed to come down and to the right, which was easy to do since the P1 sights are so adjustable. All it takes is a thin-bladed screwdriver. It took several more targets to get the sights dead on, but that was good practice for this unconventional hold I was using.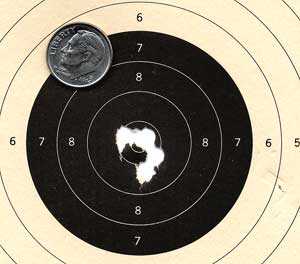 Five R 10 pellets score a perfect 50. This is why I don't shoot 10 pellets at the same target. When they clump together like this, it's difficult to see the individual holes. Back when I was competing, I could sometimes do this with my target pistol in a conventional one-hand hold, though I don't think I ever did it with a P1.
The best target really is a great one. Ask any 10-meter pistol shooter how hard it is to shoot five 10s in a row like that. Of course, my arm was resting on a bag in this test, so this wasn't that difficult.
H&N Match Pistol pellets
Next, I tried some H&N Match Pistol pellets. They do well in P1s, though in the past I've used the Finale Match Pistol pellets that are a little more expensive.

Five H&N Match Pistol pellets also produced a good target, though not quite as tight as the R 10s.
The bottom line
The Beeman P1 is an exceptional air pistol. If you don't believe me, just read all the comments from other owners who have had the same experience.
The one thing I wish I hadn't done was lighten the trigger-pull, because now the pistol is too sensitive. Air pistols need triggers that have at least 1 lb. of resistance, and this one now breaks at just 11 oz., making it too sensitive. You can control that in a rifle, but not in a pistol.
I've tried this gun with both red dot sights and scopes. It works fine with both, but being a veteran handgunner, I do not care for optical sights. As long as my eyes can still see the front sight, I'm not going to use them.
The power of this pistol is legendary. And I've shown you in this report that the power doesn't diminish over time. The lube tune I did was probably unnecessary and cost me some velocity, so I would just start shooting a P1 as it comes from the box and leave it alone. Remember to dry-fire the gun two times on high power if it ever starts detonating.
Dr. Beeman said this is one of the four airguns he would rather not do without, and I can see why. It's an heirloom airgun that will perform well throughout the years for both you and those to whom you pass it when you are through.
by B.B. Pelletier
Announcement: Here's this week's winner of Pyramyd Air's Big Shot of the Week on their facebook page. He'll receive a $50 gift card.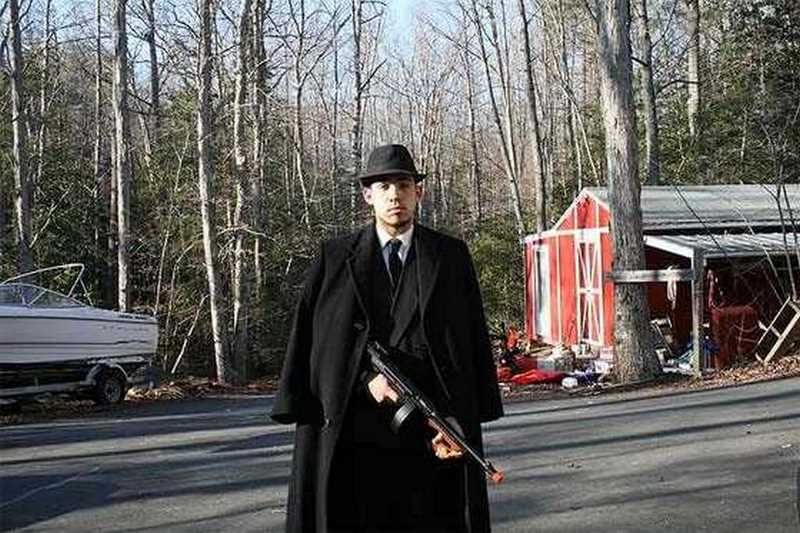 A departure from the usual camo-wearing players we see in airsoft skirmishes, Joey Demonti is wearing a suit and overcoat. I don't know which scenario he's playing out, but the Thompson should take care of it. Wonder where he put his violin case?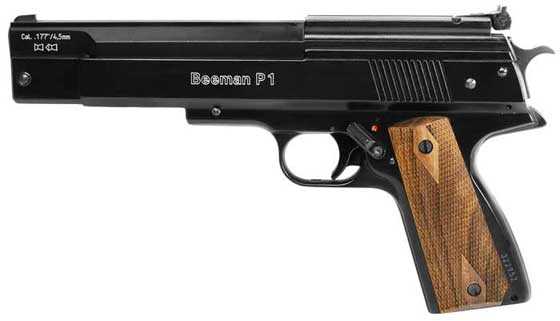 The Beeman P1 sits in the top tier of air pistols for power and quality.
Today's report is a special one, requested by several readers who want to learn how to hold their Beeman P1s for best accuracy. I wrote about this originally in the January 1996 issue of The Airgun Letter.
It started with the 1911
Like most of you, I grew up thinking the Colt 1911 semiautomatic pistol (and its many variants) was a hard-kicking, inaccurate sidearm. I was very familiar with wheelguns in the early 1970s, but not so much with pistols. I even owned two 1911s by the time I went into the Army as a second lieutenant in 1970, but neither of them had changed my opinion of the gun or the cartridge. The funny thing was that I was reloading and shooting Colt Single Action Army revolvers with the much harder-recoilling .45 Colt cartridge that I loaded to Elmer Keith's specifications, so I wasn't recoil-shy. But something about the old slabsided pistol turned me off.
As a young officer in the 3rd Armored Cavalry Regiment, it fell to me quite often to run firing ranges for annual qualification and familiarization. In the cavalry, we had more weapons than typical soldiers, so not only did we have to qualify with the M-16 and the .45 if we carried them (which I did), but we also had to shoot a plethora of machine guns and the M3A1 submachine gun. Cavalry units don't have just one kind of machine gun. We had four — five if you count the 20mm automatic cannon we had on the M114A1E1 scout vehicle. And there are 40mm grenade ranges, demolition ranges, mortar ranges, etc. In short, it was the best of times for a gun-lover like me.
One day I was running the squadron qualification range for the 1911A1 pistol. Out of a thousand men, perhaps 400 were armed with the pistol and had to qualify, so it was a long two days on the range for me and my non-commissioned officers (NCOs) who are all sergeants of one level or another. We had shooters lined up 20-25 at one time with one safety NCO to every four shooters and then several other safety personnel behind them, all the way back to me and my bullhorn.
Hour after hour, I watched men shoot the pistol, sometimes kicking up dirt 10 feet in front of them as they flinched in anticipation of the discharge. The safety and operations personnel could never relax because all one shooter had to do was turn around with a cocked and loaded pistol in his hand and there was trouble. To say all of us were focused is an understatement.
Then, the brand new Squadron Commander, Lieutenant Colonel Edward Bonsall, arrived at the range in his jeep. I had never seen a lieutenant colonel at a small arms range before. I'm sure they went, just never when I was running the range. The colonel introduced himself, because I hadn't met him yet –he was that new. Then, he asked to qualify. Well, sure he could qualify. It was his range, when you got down to it!
I directed him to a table upon which we had about 50 pistols waiting for the next shooters. You're supposed to qualify with your own weapon, but to keep the range moving we had 50 pistols that the entire squadron used. That way there weren't a lot of malfunctions. After weeding out the bad magazines in the first few relays, we had the range running smoothly. It was also much easier to clean only 50 pistols instead of 400.
Colonel Bonsall selected a weapon and took his place on the line with another 24 shooters. The shooting commenced and that's when I lost track of him until my chief NCO came up and discretely asked me if I had noticed the colonel's target. We were shooting at man-sized silhouettes at 25 yards. Each man got a fresh target when his relay began and the course of fire was 50 shots at the silhouette. We called it qualification but it was really more like annual refresher training. Most of the silhouettes looked as though they had been peppered by a shotgun firing huge balls. But the colonel's target had a small hole right where the heart should be. He had fired about 30 rounds through a one-inch hole when I caught up with him, and the rest of his shots didn't stray far from it.
The upshot of that day at the range was that our new commander wore the Army Distinguished Pistol Shot badge, a qualification badge so rare that not only had I never seen one, I had never even heard of it! And I was a gun buff serving in the Army! As of 2006, there were 1,689 Distinguished Pistol Shot badges awarded since its inception in 1903, making the badge rarer than the Army Medal of Honor that has been awarded over 2,000 times, though admittedly over a 40-year longer span of time.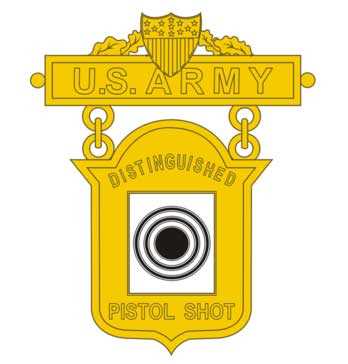 The U.S. Army Distinguished Pistol Shot badge is a rare shooting distinction.
After we cleared the colonel off the range, I examined the pistol the he'd used for his demonstration. It was a typical loose-as-a-goose arms room M1911A1 with green phosphate finish and brown plastic grips. It had probably been made around or just before World War II, and the only special care we gave it was to bring it to the range in the bed of a 2-1/2-ton truck inside a wooden footlocker with 49 others just like it. When it wasn't being shot, it laid on a table in the hot sun while dust blew over it and through it all day long. By the time the colonel got his hands on it, it had probably already been fired several hundred times without cleaning or lubrication. The parts inside were just good enough to avoid condemnation during a major inspection.
That was the day when Elmer Keith's last printed lie turned out to be true — you really CAN hit a man at 100 yards with a 1911 pistol. Repeatedly! But you have to know what you're doing. Anyway, the colonel got my attention. Being a kindred gun buff, he taught me how to shoot the pistol. Now, I'll pass on to you what I learned from him.
It's all in the hold and the trigger action
How you hold the 1911 or the 1911A1 determines how tight it will shoot. Yes, the gun can be gunsmithed to shoot even tighter, but even a tired old clacker will surprise you if you hold it right. The Beeman P1 has the same grip frame and responds to the same hold in the same way.
You must always grip the pistol the same way every time you hold it. Hold the palm of your shooting hand flat with the thumb extended and place the pistol into the web of your hand. The three fingers that aren't the trigger finger should be wrapped around the grips, and the thumb comes in on the other side of the grip, Now — and this is the key — you squeeze the pistol straight back into the web of your hand with the middle finger, which is the highest of the three fingers wrapped around the grip. The other two fingers apply absolutely no pressure on the gun. They're just along for the ride. The thumb also puts no pressure on the gun. Only that middle finger squeezing straight back.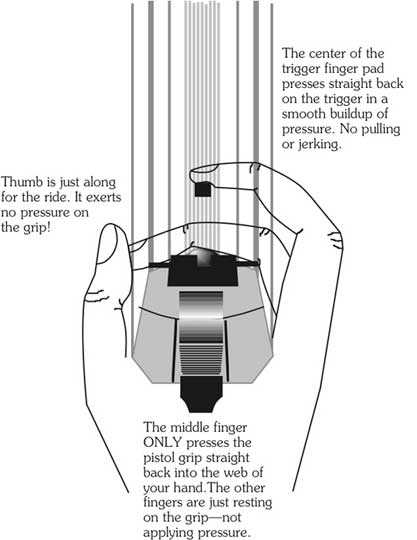 This graphic is copied directly from the January 1996 edition of "The Airgun Letter." It illustrates the correct hold.
The other aspect of this hold is that the trigger finger presses straight back until the gun fires. Use the pad on the end of the finger for this, not the crease under the knuckle or any other part of the trigger finger. The object is to exert as little sideways influence as possible, so the gun always recoils in exactly the same way. Once you learn to shoot like this you will always be able to outshoot those who use a two-hand hold. They can move the gun faster from one target to another, but you have precision on your side.
Recoil
A lot has been written about the P1′s recoil simulating that of a firearm. In my opinion, it doesn't do that at all. The P1′s recoil is quicker than that of a .22 rimfire, and it's nothing like the recoil of the .45 ACP. It does move when it fires, though, and that's what this special grip is designed to counteract. Think of it as the artillery hold for pistols.
One last update
I took out my 1996 newsletter for this report and I read what I had said back then. Everything is still true today. I didn't bother mentioning in the newsletter where I'd learned how to shoot this way, but I thought it was appropriate to do so here because I know you guys better than I knew my newsletter subscribers. You know my weaknesses and have come to understand that I'm not a special shot. What I do well, I do because others who were far better taught me how.
In reading that article, I saw that after a 500-shot break-in period, the pistol was shooting RWS Hobby pellets at an average of 593 f.p.s. As I'd mentioned in Part 2 of this report, my lube tune did slow down the gun quite a bit.
by B.B. Pelletier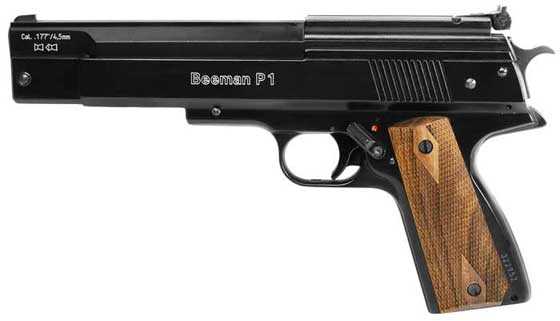 A large and impressive spring-piston air pistol, the Beeman P1 sits in the top tier of air pistols for power and quality.
In Part 1, we received so many comments and questions about the Beeman P1 that it's now certain that this report will have more than three parts. I've been asked to show you how to hold the handgun for best results, and while I'd hoped to get to that today, something has come up in today's testing that caused me to postpone that until the next report. I want to spend some time explaining a spring-gun phenomenon that I've read about but, until this test, have never seen.
However, first things first. I promised the links to the older reviews of the P1/HW 45. The first link goes to a report I wrote back in 2007, which was supposed to be an update on this pistol: Beeman P1/HW 45 air pistol.
That report was supposed to update the report I did back in 2005: Beeman P1/HW 45: A shoulder stock, red dot sight and more!
After reading both of the older reports, I see that a lot was left out. I hadn't started using the current report format yet, so I wrote things pretty much as they came to me and as the readers asked for them. Today, I'll try to hit all the important points in every report. The later report does explain how to fit the piston seal to the compression chamber by dry-firing the gun, though. That's a factory procedure, so don't worry about it.
Back to today's report
Today, I'm going to report on the velocity I get from my P1, which is now 15 years old. As I mentioned in the first report of this series, I lubricated my gun when it was new, and that was the last time I was inside the powerplant. I also made a trigger modification, but that has no bearing on the powerplant.
What you see today is the performance of a Beeman P1 after 15 years of relatively light use. I estimate fewer than 5,000 shots have been fired in all that time. Many airgunners have speculated that since the wire used in the pistol's mainspring is thin, it will degrade over time, causing the pistol to lose power. Let's see how much truth there is to that. The spring wire has to be thin to fit inside the small compression/spring cylinder that's hidden inside the top of the pistol. There's only so much room for things inside the small package that I showed you in Part 1.
Cocking effort
I measured the cocking effort by placing the topstrap on a bathroom scale and pressing down to open the pistol and cock the spring. It took exactly 12 lbs. of force for this, though I would have estimated the number at 20 lbs. if the scale wasn't available. I guess the closeness of the two levers (the topstrap and the rest of the gun) when cocking makes the effort seem greater.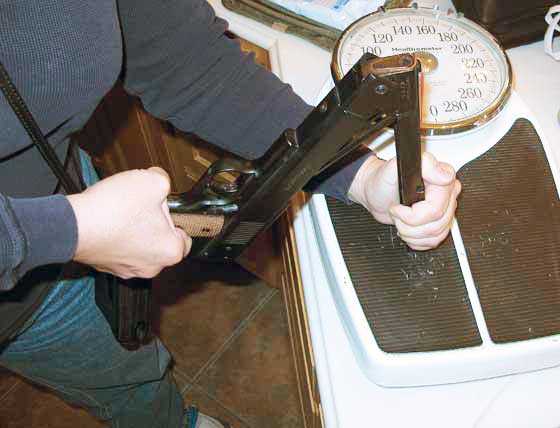 This is how you test the cocking effort of the P1. Just keep pulling apart the action and bearing down on the scale as you do.
It seems to take no more effort to continue to cock the gun to the second sear stop, but you do have to apply the same force over a longer arc, so arguably it really does take more effort. However, practically speaking, once the lever is moving, it's just as easy to go all the way as to stop halfway, which is why I never use the low-power setting.
Velocity
The first pellet I tested was the venerable Crosman Premier 7.9-grain domed pellet in the brown cardboard box. I noticed that some of our newer readers don't understand that when I link to a certain pellet in the Pyramyd Air website, that's the pellet I use. I don't normally use any Premiers unless they come in the brown cardboard box. I'm telling you this because a couple of readers were speculating about whether to use the Premiers in the tin can or in the box. As a veteran who has used Premiers since they first hit the market, I find it difficult to think of anything that's not in a box as a Premier. It's an old habit that has a lot less significance now that die-lots mean so much less than they used to.
Premiers on low power
On low power, Crosman Premier lites averaged 416 f.p.s., with a spread from 407 to 424 f.p.s. That works out to a muzzle energy of 3.04 foot-pounds.
Premiers on high power
On high power, Premier lites went 98 f.p.s. faster, on average. At 514 f.p.s., they generated 4.64 foot-pounds. The spread on high power went from 508 f.p.s. to 517. So, on high power, the total spread was 9 f.p.s., while on low power it was 17 f.p.s.
RWS Hobbys on low power
The next pellet I tried was the RWS Hobby, which is one of the lightest pure lead pellets around. On low power, they averaged 445 f.p.s., for a muzzle energy of 3.08 foot-pounds. The spread went from 439 to 449 f.p.s., so only 10 f.p.s.
RWS Hobbys on high power
On high power, Hobbys averaged 553 f.p.s. That's a muzzle energy of 4.75 foot-pounds. The spread was from 545 to 557 f.p.s., so a total of 12 f.p.s.
These pellets are extremely uniform in this P1, as evidenced by their tight velocity spread at both power levels. In Part 1 and also in one of the older reports, I told you that this pistol averaged 559 f.p.s. with Hobbys. So, the difference of just 6 f.p.s., between the old and current velocity readings is almost too small to have any impact. The gun is virtually shooting as it did four years ago and even as it did 15 years ago. That should answer the question of whether or not the mainspring breaks down over time. Clearly, it doesn't.
And now for the special event
I wasn't expecting what I am about to show you, but I've never shot super-lightweight pellets in my P1 before. I knew they would be faster. They would have to be, because they're so much lighter. But they also did something that I didn't expect.
Crosman High Velocity Super Sonic pellets on low power
When I began shooting Crosman High Velocity Super Sonic Pellets they registered 530, 524 and 541 f.p.s. on the Shooting Chrony Alpha model chronograph I was using. Imagine my surprise when shot four registered 597 f.p.s. Was it just a fluke? No, it wasn't, because the next four shots after that all registered between 580 and 598 f.p.s.
I wondered if I had somehow "awakened" the gun with these lightweight pellets. But just as I was thinking that, shot nine registered 533 f.p.s, followed by shot ten at 532 f.p.s. The velocity had dropped back to exactly where it had been before the sharp increase. What was happening?
Cardew was right!
I thought for a bit and then remembered that one of the Cardews who wrote the book The Airgun, From Trigger to Target had written that all spring guns exist at one of four possible phases of function. They're either a blowpipe, a popgun, a combustion gun or a detonation gun. Most of the time, the guns we deal with in this blog are in the combustion phase, in that they diesel with each and every shot. By diesel I mean that they burn some of the lubricant that makes its way into the compression chamber by igniting it through the heat of compression.
Most of the time, we deal with only a single phase in one gun. What I believe has happened in this test is that the P1 converted from being a popgun to a combustion gun for five shots in the shot string, then reverted back to being a popgun for the last two shots. When it was launching pellets at 530 f.p.s., it was doing so by the pressure of compressed air, alone. When it began to push them out at above 580 f.p.s., it was burning some of the fuel (oil droplets) that were in the compression chamber. Bear in mind that this gun was tuned with Beeman M-2-M moly (now sold as Air Venturi Moly Metal-to-Metal Paste), alone, and that was done 15 years ago. Even that small amount of "fuel" is apparently enough to raise the muzzle velocity significantly, as can be seen in this one test.
The "average" velocity for this test was 562 f.p.s., but no one pellet in the shots string went close to that speed. What we actually have here is a bimodal distribution in which the test samples are not all coming from the same source. Some are when the gun is functioning as a popgun and others when it's functioning as a combustion gun. There are actually two separate distributions of velocities for this pellet when fired on low power, and the only explanation I can think of is the one I've given. At the "average" velocity, the muzzle energy is 2.81 foot-pounds.
As I said at the beginning of this report, I felt this was such an important event as to warrant some extra explanation. Let's look at what happened when I shot the same pellet on high power.
Crosman High Velocity Super Sonic pellets on high power
The average velocity on high power was 677 f.p.s., but, again, no pellet within the shot string went close to that speed. I got another bimodal distribution, with the slower pellets down in the 653-666 f.p.s. region, while the faster pellets were all over 700 f.p.s. (up to the maximum of 704 f.p.s.). I didn't expect that at all. I thought that at high power the pellets would come out at one consistent velocity, but that's not what happened. By the way, at the average velocity, the muzzle energy was 4.07 foot-pounds.
Well, I never expected a physics lesson from testing this pistol. Still, it's nice to know the old gal still has what it takes to get the job done. And, the cocking effort is so much less than I would have imagined!
Next time, I'll show you how to hold the pistol for the best accuracy, plus I may have another tidbit for you.