by Tom Gaylord, a.k.a. B.B. Pelletier
Part 1
Part 2
Part 3
Part 4
Part 5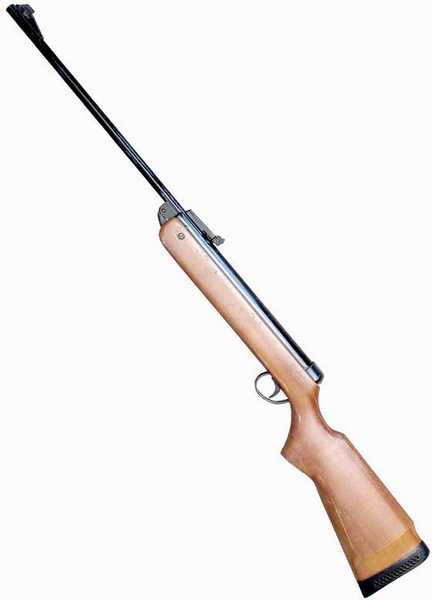 My rifle is actually a BSA Super Meteor.
Today, we'll find out if a new breech seal fixes the low-velocity problem I had with my Meteor in the last test. You'll remember that I tested the rifle for velocity and noted that the breech seal was pretty bad in the last report. I removed it and made a quick leather seal just to test the gun. I got initial velocities in the low 500s with light lead pellets, but they quickly dropped to the 300s to 400s. I felt the breech seal was the problem, and since T.R. Robb had treated me so well on the piston head and seals, I ordered some new breech seals from them. They were 5 pounds each, and shipping to the U.S. added 2 pounds, 50 pence for a total of 17 pounds, 50 pence, shipped ($28.82). They arrived last Friday, and I quickly installed one in the gun.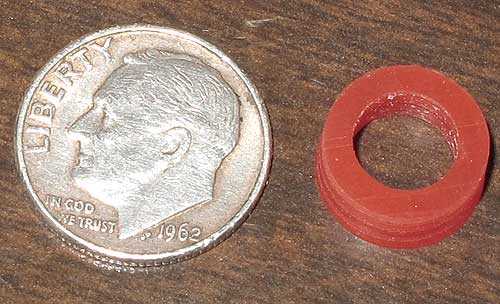 The new breech seal is small in diameter, but tall to fit the groove in the breech.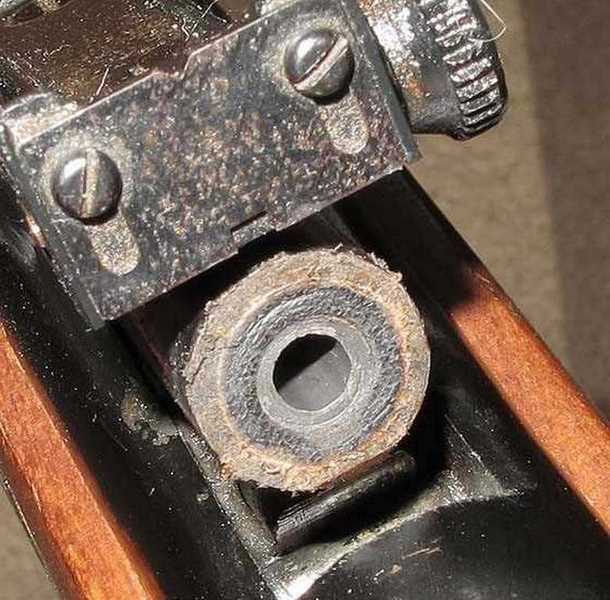 The temporary leather seal had flattened out across the entire rear of the barrel. The darker circle is where the actual seal is supposed to be.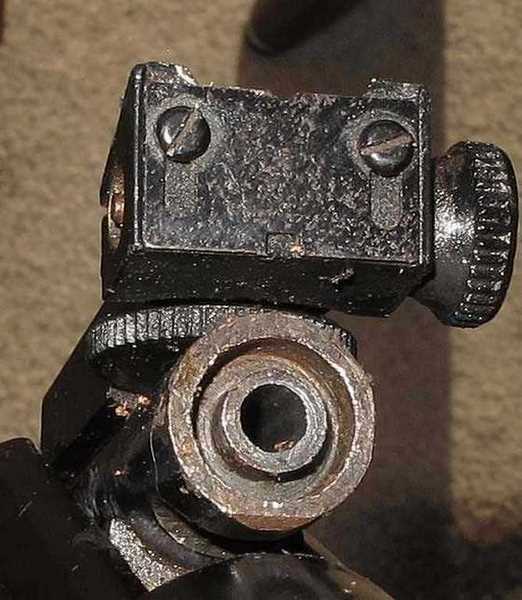 This is the groove where the breech seal fits.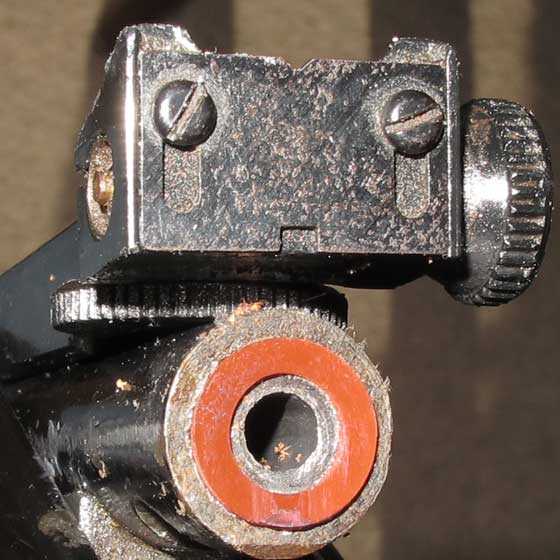 And here's the new synthetic breech seal standing proud of the breech, as it should.
The rifle is already well-lubed from the rebuild I just finished. After the new seal was pressed into place, all that remained was to test it. You would do well to at least scan Part 5 to see the last velocities. RWS Hobbys were running around 360 f.p.s.
RWS Hobby
I'd seated the pellets deep for the previous test, so that's how this test began. RWS Hobby pellets averaged 648 f.p.s. with a spread from 633 to 663 f.p.s. It was obvious that some dieseling was happening, as I could smell it as I shot. I think these velocities are slightly elevated from where the gun will settle after a break-in of a few hundred shots. At the average velocity, this pellet is producing 6.53 foot-pounds of muzzle energy. That's not a lot, but it's much more than it was doing before the breech seal.
Next, I tried seating Hobbys flush with the breech with finger pressure, alone. These averaged 652 f.p.s., with a spread from 638 to 665 f.p.s. The muzzle energy raised slightly to 6.61 foot-pounds — not really a significant difference. The velocity spread tightened by 3 f.p.s., too, but that's also insignificant. I'm of the opinion that at this point, deep-seating isn't doing much — at least for this pellet.
JSB Exact RS
Next, I tried the 7.33-grain JSB Exact RS pellet. This one shot faster when the gun had the leather breech seal — an average of 460 f.p.s., but that number was also declining fast as the seal flattened out. The difference in velocity between these and the Hobbys might just have been the order in which they were tested.
When seated deep, the RS pellets averaged 611 f.p.s. for 5 shots, but I got the impression that the velocity was starting to drop — as if the excess lubricant had been burned off. Seated flush, the same RS pellet averaged 592 f.p.s., but the string was an almost linear velocity drop from the first shot at 611 f.p.s. to the last, at 577 f.p.s. At the average velocity, this pellet produces 5.71 foot-pounds.
The gun seems to be breaking in and the velocity is declining slightly. I think it will settle down soon, so the gun will still show a marked increase from the new breech seal. To test that, I'll do a special velocity retest after the accuracy tests are complete. They'll give the gun more time to break in.
Trigger-pull
I've mentioned more than once how much I like the way this rifle fires. The trigger, though single-stage only, is crisp enough for me. It breaks at 4 lbs., 14 oz., which may seem like a lot; but on a handy plinking rifle, it really isn't bad. If I'd been trying to shoot groups at 50 yards, maybe I could complain; but for what I want this gun to do, the trigger's fine.
Cocking effort
The rifle cocks with just 19 lbs. of effort! Though it's an adult-sized airgun, it cocks like a youth model — a feature I really enjoy. And the cocking is so precise. Pull the barrel down until you hear the sear click into position…and you're done. There's no overtravel and no long cocking stroke that takes you outside the range where you have the best mechanical advantage.
There's also no buzzing or vibration that's noticeable. I'm sure there must be some, but the gun feels very solid when it fires. It's difficult to explain until you feel it in another air rifle, but it's a feeling you'll really enjoy.
I literally cannot wait to shoot this rifle for accuracy! I'll first try it at 10 meters. If it does well, I'll also try it at 25 yards. I'm looking forward to the opportunity to test this rifle a lot, now that it performs so well.
Posted in
airgun design
,
Articles
,
Collecting
,
Do-it-yourself project
,
Pellets
,
Reviews
,
Spring-piston rifles
| Tags:
air rifles
,
Air Venturi
,
Air Venturi Pellet Pen and PellSet
,
airguns
,
breakbarrels
,
BSA Meteor air rifle
,
BSA Super Meteor air rifle
,
Collecting
,
disassembly
,
J-B Bore Paste
,
J-B Non-Embedding Bore Cleaning Compound
,
JSB Match Diabolo Exact RS pellets
,
moly grease
,
RWS Hobby pellets
,
Spring-piston rifles
,
trigger-pull
,
vintage airguns
|
37 Comments »
Benjamin Marauder: Save up to $150!

Got a hankering for the new Marauder air rifle? Save up to $150 when you get one of our super-duper special bundles. Besides saving a wad of money, look at all the improvements: Adjustable comb, factory-installed depinger, more shots/per fill, superior trigger placement, reversible bolt and a stabler breech design for larger scopes. You need it, you want it, you MUST have it. We've done everything to help you get the gun without bustin' your budget. Go for it!
Stay proficient for pennies a shot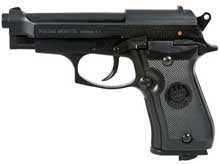 Can't get to the range? Can't find firearm ammo? Don't shoot enough to be accurate? Get an airgun lookalike, like this Beretta M84FS CO2 BB pistol. You can shoot it on a range in your home or backyard, no annoying BATF paperwork, plentiful/inexpensive ammo, uses a 12-gram CO2 cartridge, 17rd mag and realistic recoil. Under $100.