Posts Tagged 'Johnson Indoor Target Gun'
by B.B.Pelletier
Every airgun show is unique. I've said that many times before, but it's always true — and this one was no different. What I look for when I try to describe an airgun show is how it stood out from all the others. That's what I'll do today.
An airgun show is small, in comparison to0 a regular gun show, but there are more airguns on a single table then you'll see at most big gun shows. And the guns range from inexpensive Daisys and Crosmans to then most exotic airguns imaginable. So go to gun shows for and crowded aisles, but to airgun shows to find airguns.
I didn't get away from my table for the first half of the first day. When I finally did, the show immediately began to reveal itself. It was jam-packed with big bore air rifles! I mean jammed! Dennis Quackenbush and Eric Henderson are always the mainstays of the show; but this time I met Robert Vogel, whose business is Mr. Hollowpoint. Robert casts each bullet by hand from lead as pure as he can make it. His bullets mushroom on game perfectly and rip huge holes in living flesh, making the most humane kills possible. I bought a bag of 68-grain .308-caliber hollowpoints for the Quackenbush .308 test I'm conducting, and he threw in a second bag of .22 pellets for free. These will have a special debut in a smallbore test in the near future.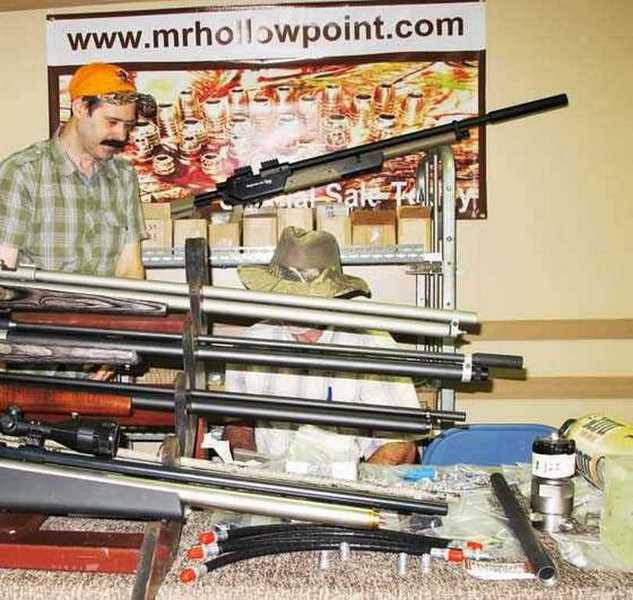 Robert Vogel (standing) is Mr. Hollowpoint. He has thousands of different bullets for big bore shooters to try.
But Mr. Hollowpoint wasn't the only bullet maker at the show. Seth Rowland, the show's host and promoter, also supplies the big bore airgunning community with cast bullets in numerous sizes and shapes. And their customers can hardly appreciate the untold hours they spend at the lead pot, casting and sizing these silver slugs one by one.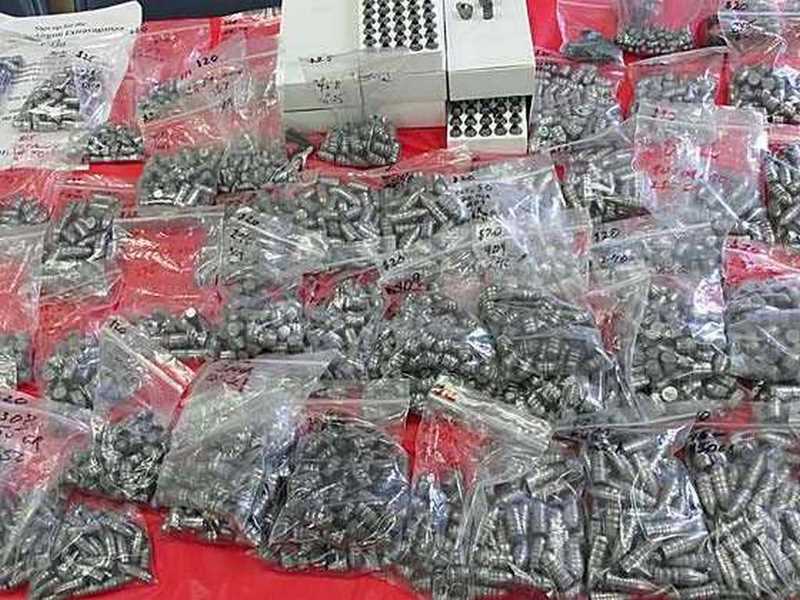 Need bullets? Seth Rowland has them in different sizes, shapes and weights.
10-meter guns
Another theme that's common to all airgun shows is 10-meter target guns. This year's Arkansas show had plenty of them, both from dealers like Scott Pilkington of Pilkington Competition Equipment in Tennessee, as well as numerous private individuals. I mentioned several weeks ago that Mac was bringing some recently overhauled FWB rifles to this show, and on day one an interested buyer sought him out. This man was serious about buying a target rifle, and he had done his research on the internet. But this was the first time he'd seen, felt and shot these rifles.
Mac took him out to the shooting range to try out an FWB 150 and a 300; and from his testing, he decided the 300 was the gun he wanted. Because it lacks the barrel jacket, it's lighter than a standard 300S. He was buying the rifle for his wife to shoot in competition. They made a deal, and he went home with the exact target rifle he wanted — an overhauled ex-club rifle at a price that was several hundred dollars below what he would have paid for a gamble on the internet. For this man, driving all the way to Arkansas made good sense.
I'm sure that same scenario was played out numerous times at this show, because that's what happens at an airgun show that also has a shooting range. You get to try out the guns before you buy — something that's impossible at a regular gun show.
The odd and wonderful
You never know what you're going to see at one of these shows, but there are a few people who always seem to have interesting things. Larry Hannusch, the top airgun writer for the past 30 years, is one person who can always surprise you. This year, our tables were together, giving me the opportunity to look at his guns more closely than normal. He had a Crosman 113 bulk-fill CO2 rifle, which isn't unusual, except the owner of this one had inlet a pellet box into the right side of the stock — much like the patchbox found on certain muzzleloading rifles.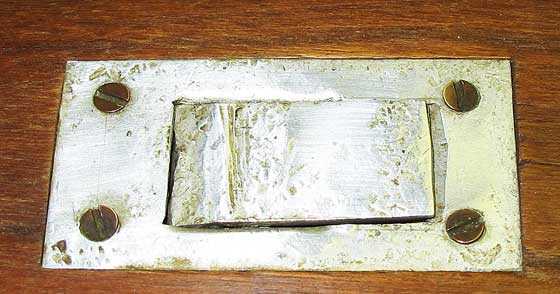 Some owner made this patchbox in the stock of his Crosman 113 bulk-fill rifle.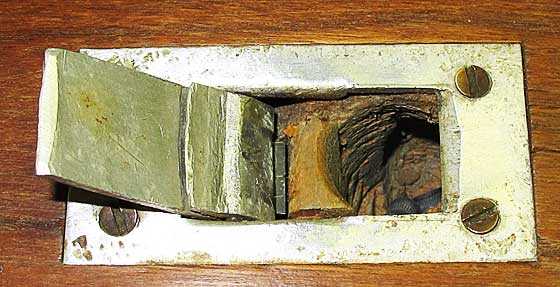 He built the "patchbox" with a built-in spring. There were pellets inside.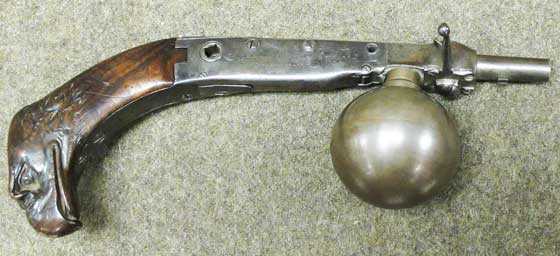 When was the last time you saw one of these? A French ball-flask pistol from the 1700s.
The big find
Often there will be a big find of some certain airgun that shows up at a particular show. I remember one year someone was selling piles of brand-new-in-the-box S&W 78G and 79G pistols. There were at least 50, but as my memory serves there might have been as many as 100 brand-new guns that were at least 20 years old at the time. Another year, it was Scott Pilkington who brought almost 300 club target guns for sale. You could buy an FWB 300 for $150-$200! Of course, it would have been a beater and would have needed to be resealed, but it certainly was the budget way into a 10-meter gun.
Then there was the year that someone had over 20 Johnson Target Guns, the submachinegun-looking plastic catapult BB gun from the late 1940s. They were all new in the box, and the cloth backstop that was in the box to stop the BBs inside the box lid that also served as a backstop had turned to dust. But they were complete. To collectors, they were a wonderful find. I actually saw two of these at this year's Arkansas show; so even after more than 10 years, they're still slowly dissolving into the collector population.

Two brand-new Johnson Target Guns in the box with all the literature and accessories.
When I walked into the second large room in this show and turned the corner, I ran into Randy Mitchell's booth, where he was selling a pile of recently discovered TS45 sidelever air rifles for $20 each! I blogged this rifle several years ago, and Vince also wrote a guest blog about the same rifle. Until now, there were no new guns you could buy. You had to find one by chance and would always be one somebody had owned and possibly modified. Now, Randy Mitchell, who runs his Adventures in Airguns store, has a huge pile of these rifles to sell. They aren't very safe and are the very guns that chopped off thumbs when their anti-beartraps failed; but if you cock them safely and load while restraining the sidelever, they're fun to shoot and are often accurate.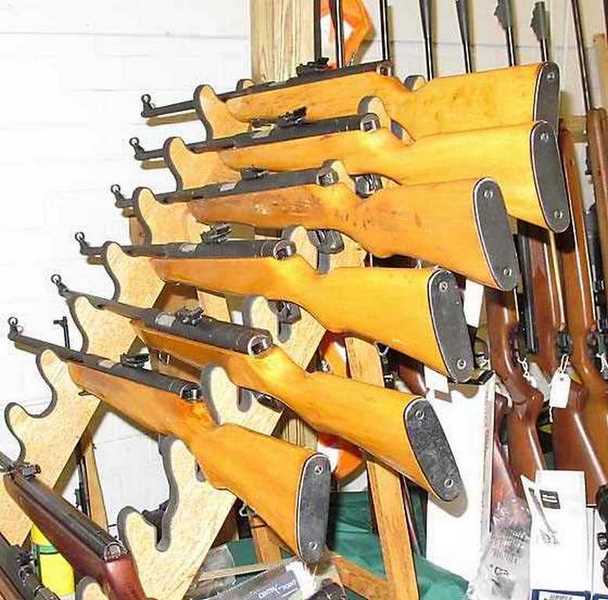 Randy Mitchell found these old/new TS45 sidelevers and brought them to the show. It's stuff like this that keeps me going to every airgun show I can make!
Collectibles
Of course, there are too many modern guns to name here, but know that at any show you'll find almost every modern classic airgun for sale. If you're looking for good TX200s or old R7s, they're usually available — and they were at this show, too. But what you also see are airguns that are so rare and hard to find that some of them won't even be seen in airgun books. This yearm Ingvar Alm had both a Winsel CO2 pistol in the box and a Giffard CO2 pistol from the 1870s on his table. Giffard invented the application of CO2 for gun use, and Winsel made only 50 guns in the early 1950s. Neither gun is represented well in any airgun book I know.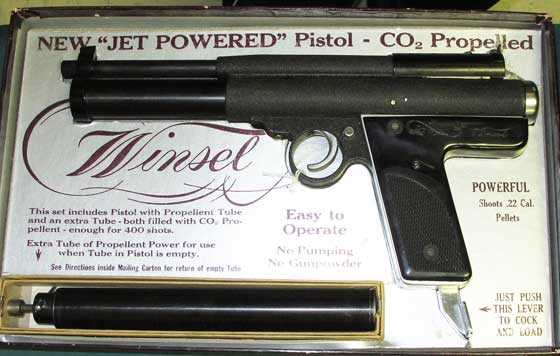 The Winsel pistol was a bulk-filled CO2 pistol that required the owner to mail his tank back to the company to be filled. Yeah, that's going to work! They made 50 and quit. Today, they're a prized collectible.

Giffard pioneered the use of CO2 in guns in the 1870s. His pistols are many times rarer than his rifles. The empty pop bottle is for contrast — like Cindy Crawford's mole.
Big bores
There were more big bores at this show than I see at other shows. Perhaps, that's because the focus of big bore airgunning seems to center around Texas, where the LASSO match is held. Dennis Quackenbush delivered his guns to eager buyers, but the only rifle he had to show was his own .308, which he doesn't want to sell. Eric Henderson and Big Bore Bob Dean were both there with some guns to sell, as well as Robert Vogel. But the one maker with a lot of guns on display was Jack Haley, whose table was a rainbow of laminated stocks.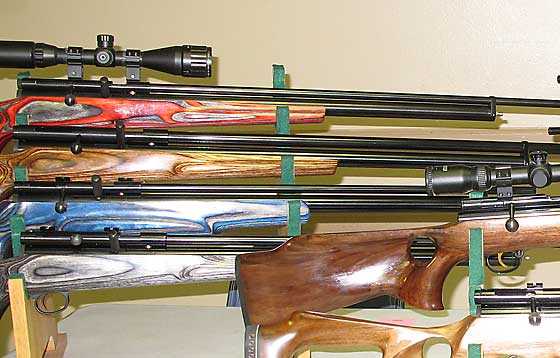 Jack Haley's table was a colorful display of big bore rifles.
Oops!
Then there was the big bore that has been a joke in the airgun community for many years. The gun itself is fine. It was made back in the 1980s by Ben Patron, whose name is clearly on the side of the receiver. Somewhere along the line, some person got ahold of it and displayed it at the Springfield, Missouri, gun show as a "U.S. military .50-caliber sniper air rifle." The label for that display was still inside the guitar box that held the gun, and Dennis Quackenbush remembers seeing it at the Springfield show. After that, it somehow ended up in an Arkansas pawn shop where Big Bore Bob found it and bought it.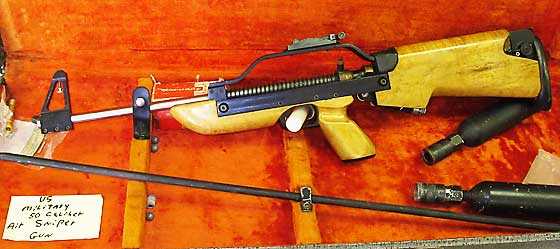 Some previous owner had concocted a colorful background story for the Patron big bore of the 1980s.
The drawing
Many shows have a drawing, but airgun shows are so lightly attended that you actually have a chance of winning! This year, they gave away several very nice prizes at the close of the show, including a scoped TalonP pistol from AirForce! Then came the drawing for the frame-extended silencer for the Talon SS. I knew before the little girl picked my ticket that I would win it. How ironic is that? I'm testing a Talon SS with a bloop tube right now, so of course I'm going to win another one! But the supreme irony came when Randy Mitchell, a big bore hunter, won the .50-caliber Dragon Claw donated by Pyramyd Air.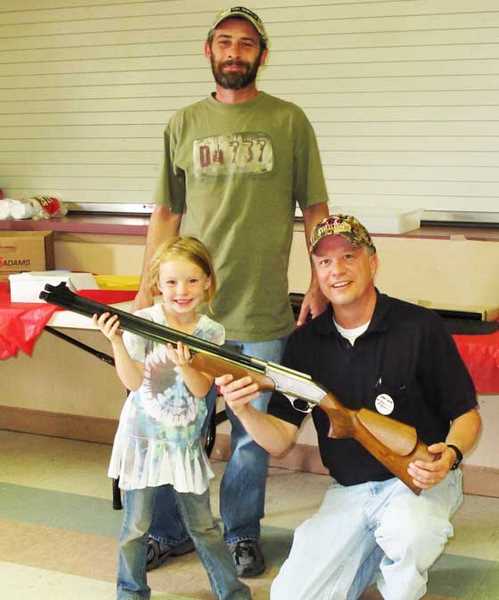 Randy Mitchell (right) won the Dragon Claw. Show host, Seth Rowland, standing, ran the drawing. The young lady added a lot of sparkle and enthusiasm to the show. I see an airgunner in the making!
On the trip home, Mac and I relived the show many times. That's another benefit. I can remember snippets from most past shows, and this one will now be filed away in the library.
by B.B. Pelletier
Simple enough question, no? Maybe you get confused by certain air-powered tools or perhaps a slang reference to a paint sprayer, but most folks know exactly what you mean when you say airgun.
Think so? Think again.
The term airgun isn't found in most dictionaries, yet. You'll find your spell-checker wants you to write it as two words, but that's not what today's blog is about. I really want to know if you know what's encompassed by the term airgun.
Some of you have already stopped reading to formulate an official-sounding definition that goes something like this: An airgun is any smoothbore or rifled gun that propels a projectile by means of compressed air. As you stand back to admire your work, it suddenly dawns on you that your definition doesn't encompass any of the guns that are powered by CO2. Don't you hate it when that happens?
Airguns, it turns out, can be a great many different things. Air is only one of their defining characteristics.
Carbon dioxide
Before we move on, however, let's deal with the CO2 issue. Clearly carbon dioxide isn't air. If you doubt that, try breathing it for 20 minutes, and then we'll talk. I've had arguments at length with airgun collectors who were stubbornly opposed to labeling CO2 guns as airguns. While that's a fun subject for two people to banter about as they watch the fireflies rise on a warm evening, it doesn't serve a person who is drafting state legislation regarding new hunting laws!
So, are CO2 guns airguns, or not? Well — let's see. They're sold by airgun dealers, they travel under the same restrictions as guns that do operate on air, they use the same ammunition and they perform similarly. And, heck, there are even a few amphibious models such as Benjamin's Discovery that operate on either compressed air or CO2. Wasn't it Robert Kennedy who observed that if something quacks like a duck it probably is a duck? So, yes, guns that use CO2 are also airguns.
Green gas/red gas
Wouldn't it be nice if it ended there? Well, it doesn't. There are other propellant gasses that power guns that must also be considered, now that the door has been opened for CO2. I'm talking about green gas and red gas. The airsoft industry hates to admit it publically, but green gas is actually propane. A tiny bit of silicone oil is added to the gas to lubricate the gun's parts as it functions, and they leave out the odor that's added to commercial propane to identify gas leaks (real propane doesn't smell like onions; it has no smell at all).
The same dealers who tell you green gas is special will even sell you adapters to fill your green gas guns from five-pound propane tanks, all the while backpeddling on admitting that green gas is propane! The Orient, where a lot of airsoft guns are made, is quite good at doublespeak!
Here's where it becomes interesting. Green gas develops a pressure of around 115 PSI at room temperature. That's plenty of push to propel a 3-grain plastic ball (they call them BBs) out the spout at a fairly good clip.
Red gas is more exotic. It has a higher vapor pressure than green gas, so the guns that use it require some modifications. If you read all the warnings, you'll get the idea that red gas is like nuclear fuel, but for one thing. Some airsoft guns also operate on CO2, which has a vapor pressure of 853 PSI at room temperature, which goes way beyond the pressure of red gas. To operate on CO2, airsoft guns have to be modified even more, and this is done by restricting the gas flow through special valving that has very small gas ports. There you are. Guns that run on green gas, red gas and CO2, none of which is air — yet they fall into the airgun category because there's no other category for them.
Airsoft guns do receive special legislation of their own because many are built to simulate firearms (called "real guns" by some folks), and they're used in force-on-force skirmishes, with people shooting at each other. There are legal issues concerning brandishing in public and special markings on the guns that are not as applicable to the kind of pellet guns I generally write about. But airsoft guns are sold by the same dealers and often made by the same companies who make conventional airguns. Again, they quack like ducks.
Catapult guns
We're not finished with the non-air powerplants, yet, Sparky. There are still catapult guns to consider.
Catapult guns propel their projectiles by means of a spring in the form of an elastic band or even a conventional coiled steel spring. If you think CO2 guns cause controversy among the anal airgun collectors, try raising this subject and see what happens!
The most common catapult guns are the Sharpshooter-series guns dating from 1923 and produced as toy novelties in the U.S. through at least the 1980s. These guns all shot .118 lead shot, which is more commonly known as No. 6 birdshot.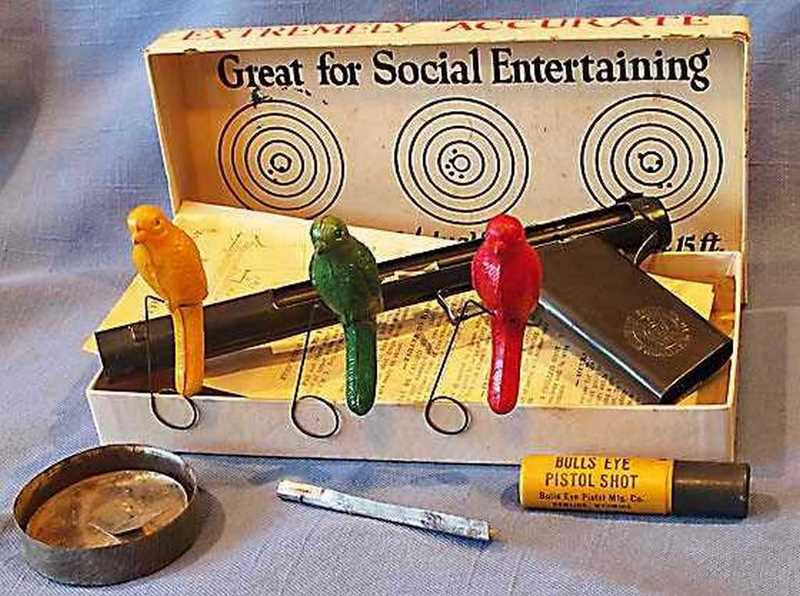 This Bulls Eye pistol was the first of many so-called Sharpshooter pistols powered by rubber bands. It fired No. 6 birdshot up to ~150 f.p.s. when multiple rubber bands were used.
In most airguns, the use of dropped shot (shotgun shot is made by either dropping it from a high tower so that it forms a ball as it solidifies or forced through small holes by centrifugal force) can be a problem, because of inconsistent size. The shot can easily get jammed in barrels when it's oversized, which is why we seldom see real BB-sized shot (shot size BB is nominally 0.180 inches in diameter) used in antique BB guns. It simply isn't regular enough. But catapult guns seldom use barrels. They usually place the shot to be fired in a shaped seat to hold it during acceleration, then release it cleanly at the end of the acceleration phase.
The Johnson Indoor Target Gun shot conventional steel BBs from a submachine gun-looking plastic frame. It used tubular elastic bands much like modern surgical tubing to launch a 5.1-grain BB at 100-150 f.p.s., depending on the strength of the bands.


The Johnson Indoor Target Gun sold for $15 in 1949. It shot steel BBs at 100-150 f.p.s.
But Daisy made a catapult gun that used steel springs. Their model 179 is a Spittin' Image replica of a Colt single-action revolver that I reported in this blog some time back. Instead of just flinging the BB with the force of the spring, the spring in the 179 pushed a paddle that actually hit the BB like a croquet mallet smacks a ball. Instead of just pushing the BB out the barrel (and this is one of the few catapult guns that really does have a smoothbore barrel), it was whacked out like a line drive off a baseball bat.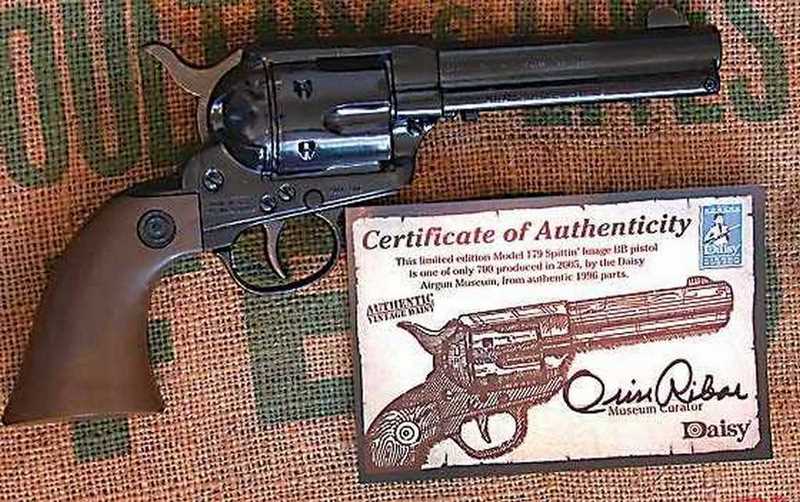 Daisy's 179 was an early Spittin' Image gun. Production began in 1960.
Rigid airgun collectors are really challenged by catapult guns, because of the Daisy connection. They don't want to include them in the body of legitimate airguns; but with Daisy being such a key player, they usually cave.
That sets them up for a huge disappointment when they suddenly learn that in the 1840s there was another catapult gun that launched lead balls of approximately .43 caliber with sufficient force to kill small game. The Hodges catapult gun is a long gun with no barrel but with all the Victorian styling expected of a naval weapon made in the 1840s. The thought among advanced collectors is that it was a foraging gun made for naval vessels. Except for the few parts that absolutely had to be made of iron for durability, the rest of the gun is fashioned from bronze and English walnut!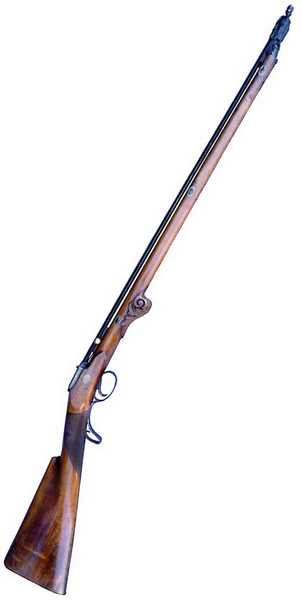 The Hodges catapult gun dates from the 1840s. It was a ship's foraging gun that made little sound, yet could take game of reasonable size without alerting hostile natives. The Roman soldier statues at the front are for anchoring the elastic bands.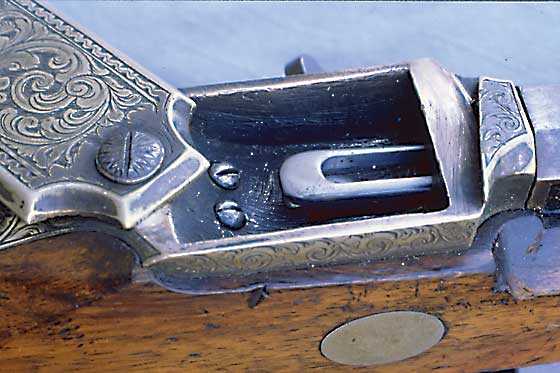 The Hodges ball carrier is pushed back until the sear hooks it. Then the elastic bands are stretched one at a time to increase power. This way, the shooter can build in a lot more power than he can possibly handle when cocking the gun.
The elastic bands were anchored at the forward end by two Roman soldiers cast in detailed bronze relief. I've seen two such guns — the one pictured here is in remarkable preservation and the other one has been restored to working order and shot by its owner, who reports velocities in the mid-400 f.p.s. range with 122-grain swaged lead balls.
Caps!
The next branch on the oddity tree deviates toward those guns that shoot BBs and shot by means of the power of an exploding toy cap. Wamo made a minimum of five different models, and new ones surface every couple years. The most recent I've discovered shoots potato plugs!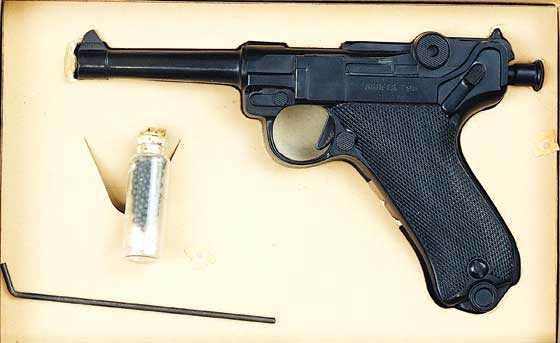 The Kruger '98 was a cap-firing gun that shot No. 6 birdshot. The same gun also shot BBs and was called just Kruger. Wamo (also spelled Wham-o) made them both.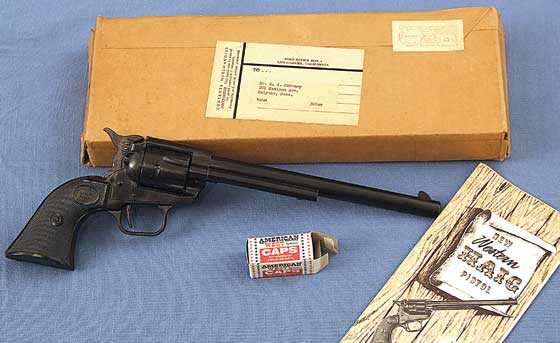 The Western Haig used toy caps to launch No. 6 shot. It sold for $2.98 in the 1960s. Sold by the founders of Wamo under a different company name and only from a P.O. Box.
If a toy cap can launch a BB, what's to prevent it from igniting a small charge of black powder? And who decides what's "a small charge"? There have been .22-caliber, .36-caliber and even .45-caliber rifles made by Rocky Mountain Arms Corporation in modern times that operate by means of exploding caps igniting black powder. If you go back 100 years, there were some made then, as well. They're clearly firearms when they use black powder, but what about those using caps only?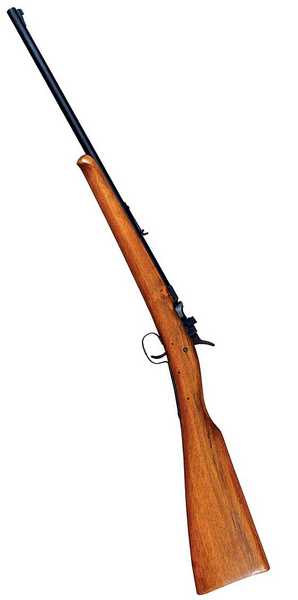 This .22 rifle from Rocky Mountain Arms Corporation uses toy caps to ignite black powder behind a .22-caliber lead ball. They also made this in .36 and .45 calibers!
As long as we're talking about caps, what prevents someone from using percussion caps and even primers to propel pellets and BBs? Apparently nothing, because it's been done. Are these all airguns, as well?
Not the end!
As you now can see, the question of what constitutes an airgun is far from clear. Once you accept any of these deviations, the rest will come streaming through the same loophole. For instance, is a gun that also launches an arrow then considered a bow? And if so, is it legal to use during bow season?
It is for reasons like this that Edith and I are sometimes so rigid and precise in our terminology — because you never know what's waiting in the wings.