Posts Tagged 'JSB Diabolo Exact Jumbo pellets'
by Tom Gaylord, a.k.a. B.B. Pelletier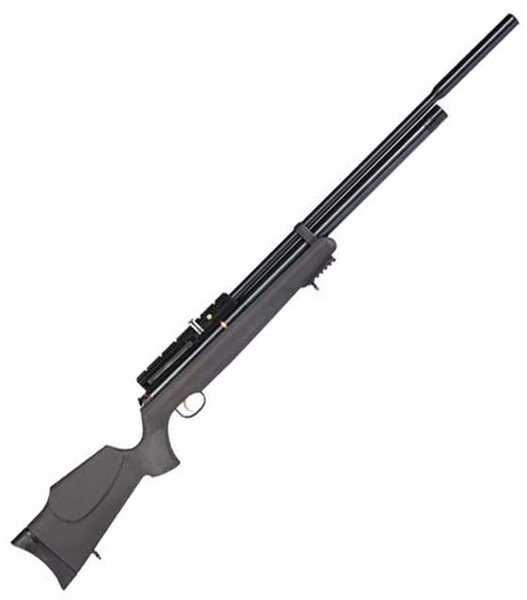 Hatsan's AT44S-10 Long QE is packed with features for airgun hunters.
This report covers:
• Inconsistent shots?
• Most accurate pellet?
• 100 yards means scope adjustments
• JSB Exact Jumbo heavy pellets
• Crosman Premier pellets
• H&N Baracuda Green pellets
• Gamo Hunter pellets
• Call it a day
• Conclusions
• Pyramyd Air sale
Today is a test of the Hatsan AT44-10 Long QE at 100 yards. I don't do this very often for many reasons; but when I find a PCP that's exceptionally accurate at 50 yards, I feel it's worth testing at the greater distance. It takes a perfect day for this test because any wind will push the pellet around. We don't get many windless days here in Texas, but this past Wednesday was one of them. It was so calm that dandelion fuzz would fall straight down.
You also know from reading this blog that groups do not always open in linear fashion as the distance increases. A rifle that shoots a half-inch group at 50 yards will not automatically shoot one-inch groups at 100 yards — even though the day is perfect.
Inconsistent shots?
While testing this rifle, I'd seen that the first 10 shots could be less accurate than the second 10. They sometimes contained fliers that didn't seem to exist in the second group. Yesterday, blog reader Jerry in Texas asked me why one shot out of 10 from his Benjamin Marauder was dropping in velocity by over 250 f.p.s. I told him I thought some PCP guns do that in certain places in the power curve. I saw evidence of that on the 50-yard range and again at 100 yards, as I'll show you.
Most accurate pellet?
I also hedged my bets by taking several pellets to the range that hadn't been tested in this rifle before. I was getting such great performance at 50 yards from one pellet in particular — the 18.1-grain JSB Exact Jumbo Heavy — that I sort of stopped testing other pellets. That's not very scientific of me, though it's very much in keeping with being a gun crank. So, I took some other pellets along and gave them a try at 100 yards — even though they'd not been tried by me before in this rifle.
100 yards means scope adjustments
I knew the pellet would drop a lot going from 50 yards to where the rifle was sighted to 100 yards. I guesstimated the drop would be at least 12 inches, which would be 48 clicks on the quarter-minute elevation knob to bring things back up. But when I adjusted the scope, I stopped at 40 clicks because you never know if the clicks are exactly quarter-minute or if that's just an approximation. As it turned out, both my guesstimate and the adjustments were close to correct, and I had to adjust the scope another 16 clicks up to get close to the point of aim.
JSB Exact Jumbo Heavy pellets
The first pellet up was the 18.1-grain JSB Exact Jubo Heavy that had given me a group of 10 in 0.522 inches at 50 yards. If any pellet was going to excel in this rifle at 100 yards, I felt this one had the best chance. Alas — the best-laid plans….
The best I was able to do with this pellet was 10 in about 3 inches. I shot the same pellet in both the first 10 shots and the second 10 shots per fill with pretty much similar results, except there was a flier in the first group. I'm not going to show you those groups because they don't help the report and also because the first group fell below the target paper and hit the 2×4 backer paper I always use when I'm not sure where the pellets are going.
At this point, I decided to punt — as in testing something I hadn't tried before. One reader had recommended trying the 15.89-grain JSB Exact Jumbo pellets, and I thought it was a good choice. It happens to be one of my favorite .22-caliber pellets, and I normally would have tested it at 50 yards; but when the heavier JSB did so well, I decided to just shoot it to the exclusion of all others.
I refilled the rifle with air and loaded 10 JSB Exact Jumbos into the circular clip. The first group was very telling. Nine out of 10 pellets landed in a 1.668-inch group, but the first shot hit about 4 inches above the top of this main group. Remember what I said about inconsistencies in the first 10 shots after a fill?

Nine of the 10 JSB Exact pellets landed in this 1.688-inch group at 100 yards. The first shot was 4 inches higher. This is a very good group for any pellet rifle at 100 yards.
After that group, I refilled the clip and shot a second group with the same pellet. This time, all 10 went into 2.385 inches. I know that doesn't sound very good, but I ask you to reserve your comments until you have shot some 10-shot groups of pellets at 100 yards. It isn't easy! And guns that group in a half-inch at 50 yards do not necessarily group in one inch at 100 yards.
Look at the shapes of these holes. Many are oval in shape, which indicates they didn't go through the paper straight-on.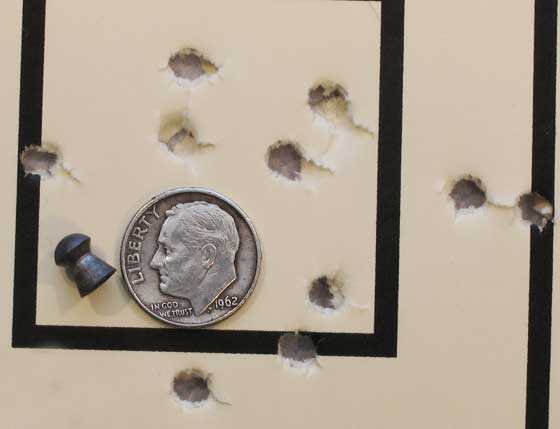 Here are 10 of the same JSB pellets in a 2.358-inch group. These oval holes show some evidence of a tilt on axis.
Crosman Premier pellets
One of the most accurate .22-caliber pellets is the domed Crosman Premier that comes in the brown cardboard box. Sometimes, they're the most accurate, and other times they're among the top 3. But in PCPs they don't do as well — especially when the PCP is more powerful such as this Hatsan. And this was no exception to that rule, as Premiers couldn't stay inside 6 inches at 100 yards. I didn't even complete a group with them after seeing the first few shots land so far apart.
I'd planned on trying Eun Jin pellets, as well; but when I started loading them, I discovered that the tin I picked up were .25-caliber pellets.
H&N Baracuda Green pellets
The next pellet I tested was the H&N Baracuda Green. While lead-free pellets are not that accurate as a general rule, Baracuda Greens are an exception. In the Hatsan, they managed to put 10 shots into 5.25 inches, with 9 of those shots in 2.988 inches. That's pretty good for lead-free pellets; and, yes, this was the first group of 10 after a fill.
Gamo Hunter pellets
The last pellet I tried was the Gamo Hunter. While I have very little experience with this pellet, I do recall it working well in one spring rifle years ago. But it was not suited to the Hatsan AT44. I didn't see where the first Hunter struck the target; but I saw the second pellet's flight through the scope, and it was a wild spiral curve to the right that landed a foot off the target! Clearly this rifle is not suited to shoot Gamo Hunters.
Call it a day
After this last attempt, I decided to call it a day. The shooting had worn me out by this time. I think it's clear that of the pellets I've tested so far, the JSB Exact 15.89-grain Jumbo is the best. Out to 50 yards it may do no better than the heavier 18.1-grain JSB Jumbo Heavy, but something about this lighter pellet carries it to 100 yards in better form.
Conclusions
I believe the Hatsan AT44-10 Long QE is one of the finest PCP rifles on the market at any price. It has power, accuracy, a great trigger and very quiet operation –all for a wonderful price. If you're in the market for a good PCP, I would put this one on your short list.
Pyramyd Air sale
Pyramyd Air is having a "Christmas in July" sale. If you're planning to make a purchase, click here to visit their sale pages.
by Tom Gaylord, a.k.a. B.B. Pelletier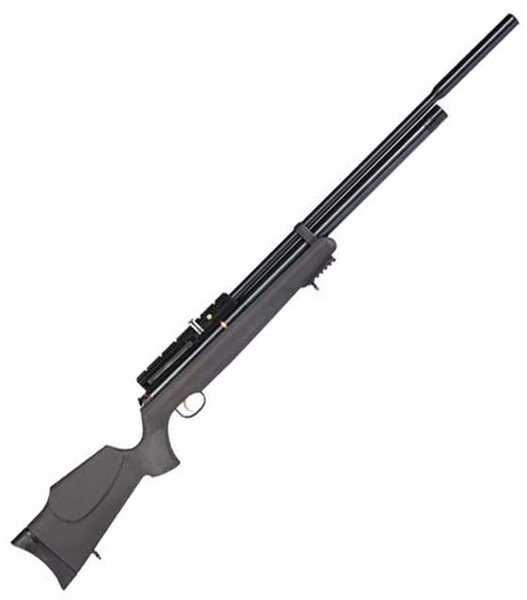 Hatsan's AT44S-10 Long QE is packed with features for airgun hunters.
This report covers:
• Fast becoming a favorite
• Accuracy test
• Stunning first group!
• Tried RWS Superdomes
• Finish with JSB pellets
• Overall evaluation
• 100-yard test
Fast becoming a favorite
Today, we're back at the 50-yard outdoor range with the Hatsan AT44S-10 Long QE rifle — an air rifle that's fast becoming a favorite of mine. I think you'll see why in this report.
Last time, I showed you some excellent 10-shot groups from this rifle at 50 yards. That day was perfectly calm, and by chance the second pellet I tried turned out to be the one to shoot. The 16-grain Air Arms Diabolo Field pellet delivered some great groups, including one 10-shot screamer that was just 0.624 inches between centers. I resolved to return to the range another day to see if this was just a one-time thing or if the rifle could deliver such stunning accuracy all the time.
Accuracy test
This day was not perfect. There was a little breeze sometimes, but in the beginning it could be waited out. It was only 1-3 m.p.h. when I began shooting. Last time, I learned that the first 10 shots on a fresh fill weren't as accurate as the second 10, so I filled the rifle to 200 bar and loaded ten 18.13-grain JSB Exact Jumbo Heavy pellets, thinking that I would save the sure-thing Air Arms pellets for the second 10.
Stunning first group!
But my first group was stunning! Nine of the 10 pellets went into 0.552 inches and only shot 8 strayed from the main group. It enlarged the group to 0.916 inches, which is still commendable for 10 shots.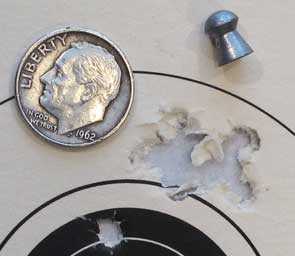 Nine JSBs in 0.552 inches! Shot 8 opened the group to 0.916 inches, which is still excellent.
Now that the first 10 were shot, I thought the rifle was going to give me a wonderful second group with the Air Arms pellets — but for some reason, it didn't. Ten went into 1.434 inches, with 5 of them clustered in 0.212 inches. How do I make sense out of that?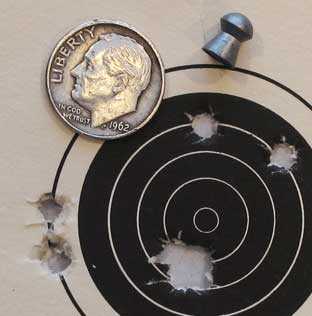 Five shots in that tiny (0.212 inches) hole, but the other 5 went everywhere else (1.434 inches)!
The Hatsan is short of breath, and there are only 20 good shots per fill if you're shooting groups at 50 yards. I filled the rifle, again, and once more I shot the first group of 10 with the JSB Exact Jumbo Heavys. This time, they were a little more open than the first time, but they still managed to all be within 0.676 inches. That's actually smaller than the first group was, and it's close to the size of the best group from the previous session (0.624 inches).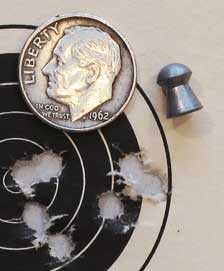 The best group of this session! Ten pellets went into this 0.676-inch group.
The second group I shot was 10 Air Arms pellets, and this time they really opened up. Ten went into 1.334 inches, with 8 of them in 0.824 inches. Apparently, Air Arms pellets were not going to do as well on this day as they had during the previous session!

For some reason, the Air Arms pellets didn't want to group together on this day. Ten in 1.334 inches with 8 in 0.824 inches.
Tried RWS Superdomes
I brought some RWS Superdomes along — just to try one more pellet. But the first shot was 14 inches from the aim point (!!!) and the next shot was 6 inches from that! I ejected the clip and removed all the pellets. That's just wasting air.
Finish with JSB pellets
I filled the rifle once more and this time decided to just shoot the JSB pellets since they seemed to want to do better. The first group of 10 went into a whopping 1.71 inches, which was surprising. The second group of 10 was 1.351 inches apart, and I was now having to fight a growing breeze. I can't say how much the wind affected the last 2 groups, but it probably had some impact.

This time the JSBs didn't stay together too well. Ten went into 1.71 inches. This just shows that sometimes the bear eats you!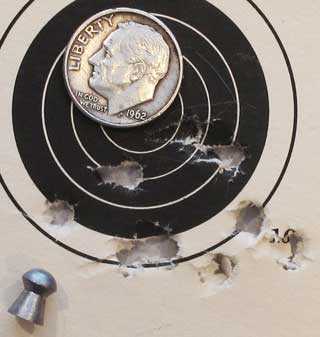 The second group on this charge is a little better — at 1.351 inches. It isn't always sweetness and light!
Overall evaluation
Based on the results of these two days at the range, I have to say the Hatsan AT44-10 Long QE is one of the most accurate precharged pellet rifles I've ever shot. It may not be the most accurate, but it has to be in the top 5!
It's amazing that an air rifle this powerful is also quiet. It sounds about as loud as my vintage Diana model 27 spring rifle, yet I know it's producing 35-47 foot-pounds of muzzle energy. And the trigger, while not the absolute finest I've ever tested, it still right up there in the top 10.
Hatsan has hit the ball out of the park with this rifle! They're pricing it to compete with the Benjamin Marauder, and it absolutely kills the more expensive European PCPs in all categories except appearance. But I'm the kind of shooter who wants to hit the target. I don't care that much what my rifle looks like — as long as it can deliver the mail.
100-yard test
The last time I had a PCP that was this accurate was when I tested the AirForce Airguns Condor SS, and that rifle put 10 pellets into one inch (1.003 inches) at 100 yards. This Hatsan isn't quite as powerful as the Condor SS, but I'm willing to give it a try at that distance. So, there will be a Part 5 to this series!
by Tom Gaylord, a.k.a. B.B. Pelletier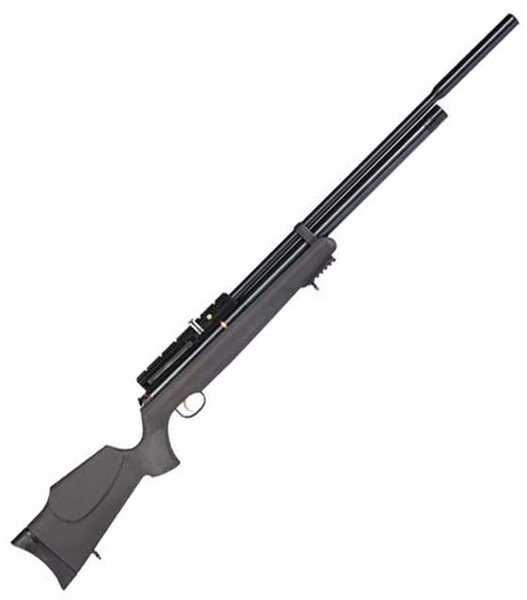 Hatsan's AT44S-10 Long QE is packed with features for airgun hunters and long-range shooters.
This report covers:
• Most accurate test ever conducted!
• Scope and mounts
• Scope base design
• On to the range
• Airgunners…just like golfers!
• What happens next?
You waited for this report. I told you it was going to be a good one. I even advised a couple people to just buy this rifle if they wanted a quiet and powerful PCP that was also accurate. Today, you're going to see why I said that.
Best test ever conducted!
To cut to the chase, this was the best test of an air rifle I've ever conducted at 50 yards. I won't go so far as to say that the Hatsan AT44S-10 Long QE is the most accurate air rifle I've ever fired, because you've seen in recent days that I seem somewhat variable. I refer to yesterday's good test of the Air Arms Shamal after a pervious mediocre test.
However, if I can repeat today's results at some future date, then I'll conclude that this rifle is the most accurate air rifle I've ever tested at 50 yards. But I'm getting way ahead of myself. Let's see what happened.
If you're a regular blog reader, you already know that I was having a good day because the Shamal had just turned in several great groups — including one stunner that measured 0.818 inches for 10 shots at 50 yards. Now, it was the Hatsan's turn on the bench, and the weather was still perfect.
Scope and mounts
I had mounted an AirForce 4-16X50 scope on the rifle using UTG 2-piece Max Strength high Weaver rings for a 1-inch scope. One of our readers heard that the Hatsan scope base that allows both Weaver and 11mm scope rings to be mounted has problems with Weaver rings, so he asked me specifically to use rings that have a Weaver dovetail on their base. I did, and the UTG mounts fit well, though I will say that the Hatsan base is at the wide end of acceptable width.
But I think I see what the reader has heard about, and I want to share it with you. There are some shooters who feel that all mounts must look attractive and squared away or they don't fit right. What these people don't understand is that mount makers use base jaws that will fit as many different configurations of dovetail cuts as possible — because gun manufacturers do not use many standards when making their cuts.
Scope base design
I'm going to explain something here, and I want you to try to understand it because it will make all the difference if you do. Weaver bases are a standard that specifies the width and height of the dovetail, and the width of the cross groove that accepts the locking bar on the mount. But the angle of the cuts that shape the dovetail grooves are not as certain. No doubt, Weaver specifies them, but mount makers don't always conform to that spec. They use dovetail cutters with varying angles. To deal with this inconsistency, many mount makers, including Leapers, cut the jaws of their ring base clamps with rounded points, so they'll grip most dovetails, regardless of the angle of the cut.
If there was only one rounded point on the clamp base, the ring would sit cockeyed on the rifle; but when the other end of the same clamp also has a rounded point that engages a special cut in the scope ring and the two cockeyed points cancel each other. The result is a scope ring clamp jaw that looks cockeyed, yet the ring sits squarely on the gun.
In the 1990s, B-Square owner Dan Bechtel and I did a project to determine the standard width of 11mm airgun dovetails. This is where we discovered that those dovetails vary between 9.5mm and almost 14mm in width. The angles of cuts ranged from 45 degrees to 60 degrees. The Weaver base is more standardized, but the cut angles still vary and have to be addressed.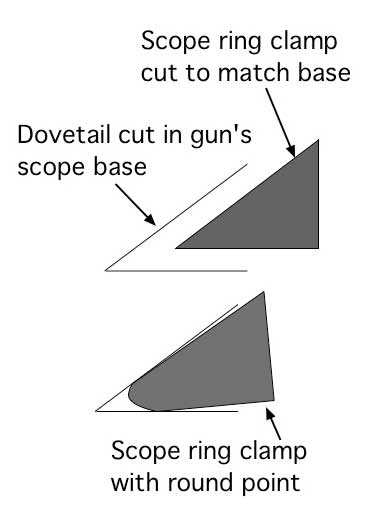 Here you see how the rounded point of the scope ring clamp jaw allows it to fit into a wide variety of rifle dovetail base cuts. Having a rounded point on the other end of the same clamp will cancel this odd angle and allow the scope ring to sit squarely on the rifle.
The genius of this clamp design is lost on many people who see the cockeyed part as a flaw or mistake. Actually, it's a compensating part that assures an exact fit on a variety of different gun bases. The picture shows this clearly.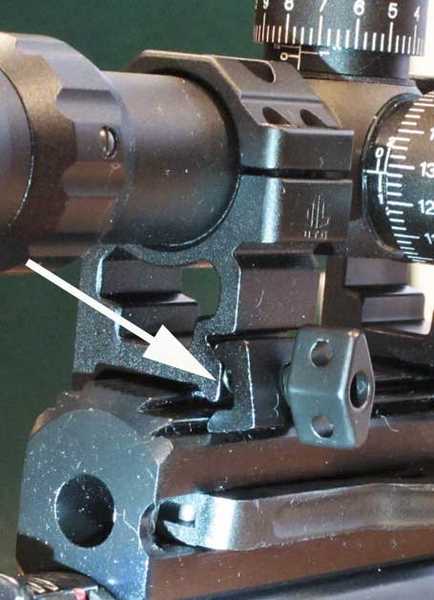 This photo shows how the compensating clamp jaw works. The jaw sits at an off angle, but the scope ring is perfectly level.
For that reason, my answer to the reader who asked whether the Hatsan bases will accept a Weaver ring is — yes. Many ring manufacturers make their ring base jaws this way. If you can tolerate the odd appearance, this solution works perfectly.
On to the range
I was at the range on a perfect day, so this test would be conclusive if a good pellet was found. In the past, you've seen me work through a list of pellets, looking for the best one. Well, on this day I happened to find that pellet on the second try. At least, I think that's the case because that pellet did so well that I didn't bother trying any others.
I filled the rifle to the manufacturer's recommended 200 bar (2900 psi) and loaded the 10-shot magazine. The first pellet I shot was the 14.3-grain Crosman Premier dome. I put 10 into 1.463 inches, but I'm not going to bother showing you that group because of what happened next. I knew from the velocity test we did in Part 2 that this rifle probably gets at least 20 good shots per fill when shooting at 50 yards. The velocity does decline with every shot; but as you'll soon see, that doesn't seem to matter much.
The second pellet I tried was the 16-grain Air Arms Diabolo Field pellet. It's a dome that sits comfortably in the middle of the .22-caliber pellet weight range. Although it resembles the 15.9-grain JSB Exact Jumbo and although JSB does produce this pellet for Air Arms, they do so on proprietary dies owned by Air Arms; so, the two pellets are not the same and should not be confused with each other. On other tests, I've seen different results from these two pellets.
These 10 pellets were fired on the same fill as the Premiers, so the rifle's internal pressure was down around 2500 psi when I started shooting. Every pellet went to the same place on the target. It was like they were being guided, or something. The result was 10 shots into a group that measures 0.681 inches between the two centers that are most distant. I was stunned when the group was finished! I've probably shot a couple other groups that small with airguns before — certainly with my Talon SS and probably also with a Benjamin Marauder — but this still ranks as one of the best groups I've ever shot at 50 yards with an air rifle. And the day was just beginning!

Ten Air Arms 16-grain domes made this 0.681-inch group at 50 yards. This is a screamer.
Following that, I refilled the rifle, for 20 shots had now been fired. The pressure had dropped to below 2000 psi, and I think to as low as 1750. I filled it back to 2900 psi and went back to the bench.
The next 10 shots were with the same Air Arms pellets, only this time we started at a full fill instead of only a partial. Ten pellets went into 0.992 inches this time — a little larger, but still in good territory.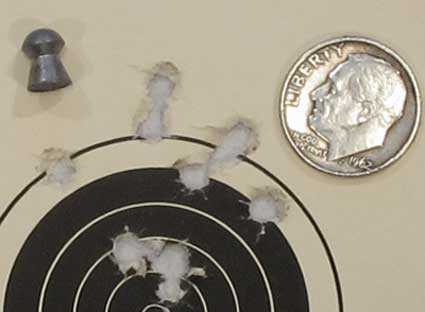 Ten more Air Arms 16-grain domes made this 0.992-inch group at 50 yards when the rifle was filled to the maximum. This isn't a screamer; but coming on the heels of the previous group, it's pretty good!
Now the rifle was back down to where it had been for the first great group. So, I loaded 10 more Air Arms pellets into the rotary clip and settled down to shoot another group. This time, all 10 went into 0.624 inches. A definite screamer; and with the first group, pretty good proof that the Hatsan AT44-10 Long QE I'm testing is a shooter.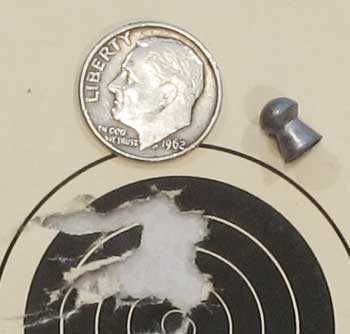 Ten more Air Arms domes made this 0.624-inch group at 50 yards when the rifle was fired on a partial fill. This is the best group of the session and also one of the best 50-yard 10-shot groups I've ever shot with an air rifle.
Airgunners…just like golfers!
Like a golfer who shot a sub-par game in which he also got a hole-in-one, I decided that my good luck had probably run its course this day. Besides the 40 shots fired with this rifle, I had also tested the Shamal and shot an additional 40 shots there because there were some adjustments to the scope that had to be made. In all, I'd shot 80 precision shots this day. That's tiring.
What happens next?
I've never had an air rifle that would shoot this many consistently small groups in succession. Either I was having the best shooting day of my life, or this Hatsan rifle can really shoot. I want to return to the range under similar shooting conditions and see if I can repeat this. And I'll continue to shoot the Air Arms pellets.
I just want to make sure this test was a valid one. It isn't every day that you shoot the most accurate air rifle you've ever seen. I told several readers not to worry but to just buy the rifle if that was what they wanted. Now you see why.
After seeing what can be done with the Air Arms pellet, I want to explore some other pellets in this Hatsan. Hopefully, it'll do well with several brands so there's a choice.
After that, who knows? Maybe I'll try this one at 100 yards. You may remember that I shot a one-inch group of 10 at 100 yards with a CondorSS last year. I wonder if this rifle can do as well?
by Tom Gaylord, a.k.a. B.B. Pelletier
Benjamin Marauder PCP .177-caliber air rifle: Part 1
Part 2
Secrets of loading the Benjamin Marauder magazine
Part 3
Part 4
Part 5
Part 6
Fixing a Marauder magazine
Part 7
Benjamin Marauder .25 caliber: Part 1
Benjamin Marauder .25 caliber: Part 2
Part 3
Part 4
Benjamin Marauder .22 repeater with synthetic stock: Part 1
Benjamin Marauder .22 repeater with synthetic stock: Part 2
Benjamin Marauder .22 repeater with synthetic stock: Part 3
Benjamin Marauder .177 caliber 50-yard test: Special part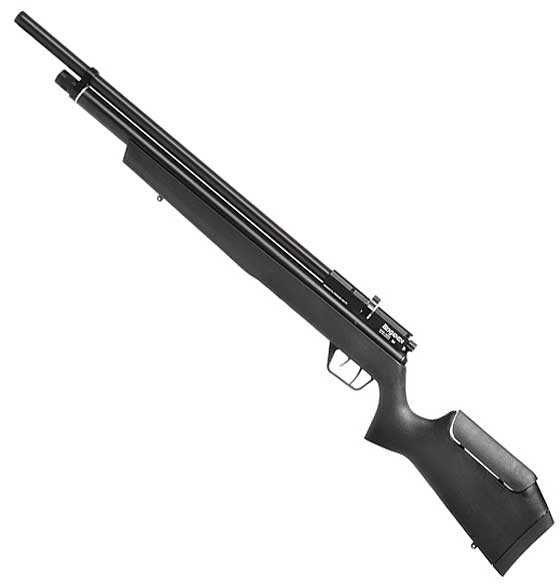 New Benjamin Marauder with synthetic stock has all the features of the classic Marauder in a lighter, trimmer package.
Well, it's certainly been a long time between reports on this rifle, hasn't it? Today, we'll begin looking at the accuracy of the .22-caliber Benjamin Marauder with the synthetic stock. Some of you have already asked me if I plan to also test the new wood-stocked Marauder that has the same new action as this one. I have no plans to test it because I feel this test encompasses everything on the rifle, except for the stock material.
I was particularly keen on testing this rifle because we had a couple new readers who had purchased this gun and were having accuracy problems with it. I wanted to pay closer attention to accuracy than normal. After all, this is a new action, even if the changes have been relatively minor. Also, this is the first .22-caliber Marauder I've tested. Since Crosman makes both the .177- and .22-caliber barrels and buys the .25-caliber barrels from Green Mountain, I feel it's worthwhile to examine this rifle more closely.
Sight-in
I filled the rifle to 3,000 psi because we learned in Part 3 that it's on the power curve with a 3,000 psi fill. Then, I fired a single shot from 12 feet to see if I was on paper. Following that, I backed up to 25 yards and refined my sight picture. Only the 14.3-grain Crosman Premiers went everywhere! I got them on target, but sometimes a pellet landed an inch away from the aim point.
What was happening?
This is what a couple readers had described, so I did what I advised them to do. I removed all the baffles (see Part 2 of the Synthetic Stock review for this) to see if the pellets were touching any of them. Since they're just plastic, it would be obvious if a pellet nicked one; but there was no sign of this on close inspection. So, I assembled the baffles and closed the shroud again.
And the next 10 shots with Premiers were remarkable! They went into a group that measures 0.246 inches between centers. Right away I guessed what might be happening is that the rifle was smoothing out as the air pressure dropped. So, even though the power curve seems to support a 3,000 psi fill, the targets do not show the same thing.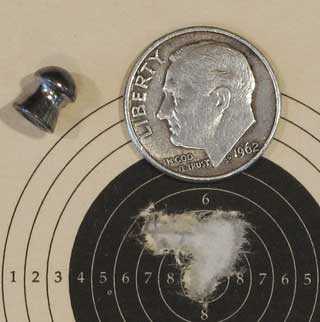 Ten Crosman Premiers in 0.246 inches is pretty conclusive! The new synthetic-stocked Marauder can shoot!
You can't tell everything from just a single group — even a tight one like this. More testing was needed, but now I would be careful about the pressure level at which the groups were shot.
I tried many more pellets, but I'm not going to show all the groups. In all, I fired a total of ten 10-shot groups, making this test more exhaustive than my usual 25-yard accuracy test. I wanted to pin down this pressure-versus-accuracy correlation to see if it was real or imagined.
JSB Exact Jumbo
The 15.89-grain JSB Exact Jumbo pellet gave a very clear example of how the pressure affects the groups. The first group was fired from a fresh 3,000 psi fill and 10 pellets went into 1.131 inches. You can tell at a glance that the pellets are scattered around.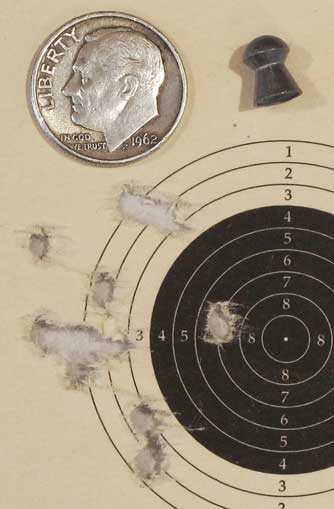 On a fresh 3,000 psi fill, 10 JSB Exact Jumbos are scattered around in a 1.131-inch group.
The second group of the same JSB pellets was fired after the first group. By this point, the rifle's internal pressure has dropped to the mid-2,000 psi point (2500 to 2600 psi). This group still isn't a good one, but you can see that it's tightening up. It measures 0.872 inches between centers.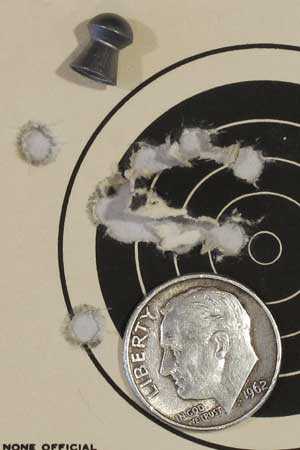 The second 10 JSB Exact Jumbos on the fill tightened up to 0.872 inches. Still not a good group, but better than the first.
On the third group of 10 shots (still on the same fill), the group really tightened up. These 10 went into 0.592 inches. That's a good group, but maybe I don't want to use this pellet in this rifle because it seems too fussy.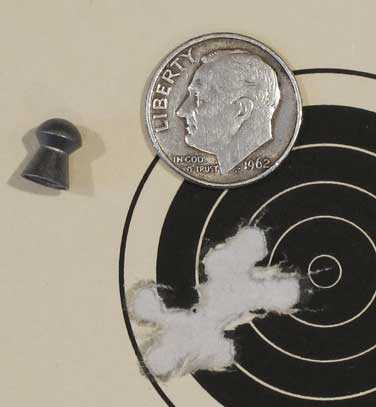 The third 10 JSB Exact Jumbos on the fill tightened up to 0.592 inches. This is an acceptable 10-shot group for 25 yards.
No Predators, no Newboys!
I tried both Predator Polymag and Skenco Newboy Seniors, but both were too long to fit in the Marauder's rotary magazine. If you want to use these pellets, you'll need to use a single-shot tray; and since Crosman no longer makes them in .22, good luck finding one. Of course, you can load pellets without the tray, but it's more difficult to align them with the breech.
I wondered how Premiers might do on the third batch of 10 shots after the fill. Ten pellets went into 0.496 inches. Not as tight as the second 10 after the fill, but still very good!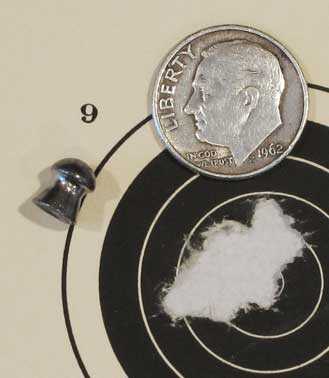 The third batch of 10 Premiers after the fill went into 0.496 inches. This is a good 10-shot group for 25 yards.
JSB Exact Jumbo Heavy
The 18.1-grain JSB Exact Jumbo Heavy pellets behaved much the same as the regular Jumbos, except the groups were tighter. The first 10 went into 0.653 inches; the second 10 went into 0.657 inches, and the third batch went into 0.591. All 3 groups are pretty close to one another; but in light of the Premiers and the Kodiaks we have yet to see, I don't think they're the best in this particular rifle.
Beeman Kodiaks
I was burned out when I got to the Beeman Kodiak pellets — 100+ shots is too much for a single session when every shot requires concentration. I didn't mention shooting RWS Superdomes yet. I did shoot 1 group with them, and it was a bust at 0.83 inches. When I got to the Kodiaks, I wasn't concentrating as well as I would have liked. And I shot this single group on a fresh 3,000 psi fill. I felt I could get away with that because of the weight of the 21-grain Kodiak pellet.
And I was right. Even though I was fading, 10 pellets still went into a tight round hole that measurtes 0.378 inches between centers! It's the second-best group of the test and earns the Kodiak a spot in the 50-yard test, for sure!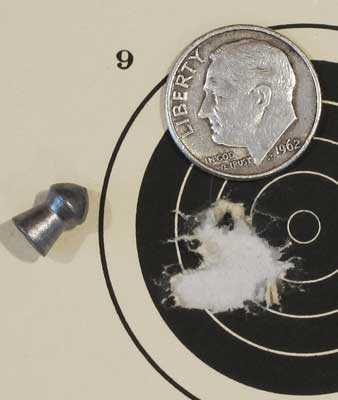 Ten Beeman Kodiaks made this very round 0.378-inch group at 25 yards. What a nice finish to today's shooting!
What I've learned
The first thing I learned from today's test is that this particular rifle doesn't seem to shoot as well on a fresh fill as it does on the second and third magazine of pellets. So, if you stop filling at 2,600 psi, you'll get 20 good shots from the rifle and not waste any air. I also learned that Crosman Premiers are the miracle pellet in this rifle, just like they've always been.
That last group of Beeman Kodiaks has me thinking that Premiers and Kodiaks will battle it out at 50 yards for the overall accuracy championship. I know Premiers are aerodynamically excellent, but the Kodiaks look like a real challenger in this air rifle.
I need to comment on the noise, or lack of noise. This .22 caliber Marauder is extremely quiet. It's more like a .177 than it is like a .25 in that respect.
I expected to have problems with accuracy when I encountered those wild shots during sight-in. But by hanging in there and shooting both the second 10 and the third 10, I learned that this rifle likes to push its pellet slower than most. I would have to live with the gun for a long time to learn all of its secrets, but the test rifle is a very accurate PCP that's worthy of the Benjamin Marauder reputation.
I like the synthetic-stocked rifle, but in my opinion it is no better than the older model in the wood stock. I never minded the thickness of the old wood stock, so I'm just going on the performance of the gun at this point.
by Tom Gaylord, a.k.a. B.B. Pelletier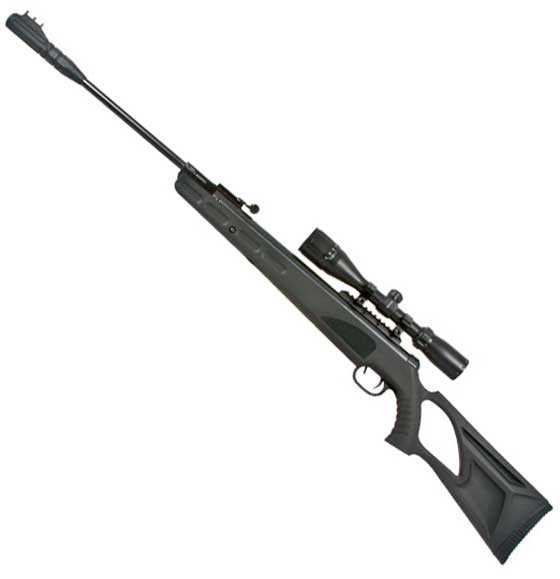 Umarex Octane gas spring rifle combo.
Today's report is both interesting and a little different. I shot the .22-caliber Octane combo from Umarex at 25 yards and used the Umarex 3-9X40 scope that came in the package. I'll talk about the scope and mounts first.
The scope is a variable with parallax adjustment from 10 yards to infinity. It features a duplex reticle and comes with 2-piece Weaver rings that have 4 screws per cap. The top of the rifle has a Picatinny adapter clamped on the 11mm dovetails that are cut directly into the spring tube, so the scope rings mounted quickly.
I found the scope to be clear and sharp, and the parallax adjustment to be close to the actual distance once the eyepiece was adjusted correctly. This is one of the nicest scopes I have seen bundled with a combo airgun. I don't think you need to buy anything other than pellets — lots of pellets.
Sight-in
I sighted-in the gun at 12 feet with one shot, then backed up to 25 yards to refine the sight picture. Veteran readers know I'm purposely trying not to hit the center of the bull, as that erases the aim point.
I was finished sighting-in after 4 more shots and ready to start shooting for the record. The first pellet I selected was the .22 caliber 14.3-grain Crosman Premier that had done so well in the 10-meter test with open sights.
After the first 5 shots, I thought I had a slam-dunk accurate rifle, but I guess I got a little sloppy. Shot 6 went into the same hole, but shots 7 through 10 moved over to the left of the main group. Six consecutive shots went into 0.449 inches; but after 10 shots, the group measured 1.067 inches.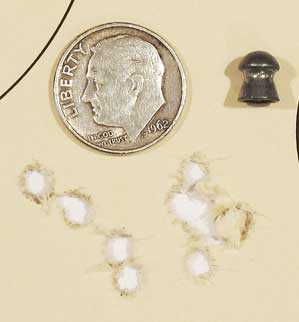 The first 6 Crosman Premiers went into a tight 0.449 inches, but the remaining 4 shots opened the group to 1.067 inches at 25 yards.
After this group was finished I discovered the scope base screws were both loose. That made the scope loose, as well. I tightened them and checked them frequently throughout the remainder of the test.
The second group of Premiers opened to 1.382 inches. This one is very horizontal, but within it is a tight group of 4 shots that came early in the string. That group measures 0.188 inches between centers.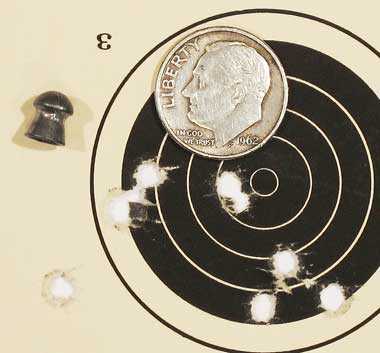 These 10 Premiers are not very impressive for 25 yards, at 1.382 inches between centers; but at the 9 o'clock position on the bull, 4 pellets went into a tight 0.188 inches!
Following this group, I noticed that both forearm screws had come loose. So they were tightened — a lot! And for the rest of the test, I monitored their tightness closely.
What's happening?
The Octane recoils a lot, and you have to watch all the screws. Once they're tight, they probably won't back out for a long time; but the first time you use the gun, they probably need to be tightened just a bit more than normal. At least, watch for them to loosen.
This is nothing new. We have always been told to watch the screws on spring guns that recoil heavily. I just forgot it this time until it became obvious downrange.
JSB Exact Jumbo
Next I tried JSB Exact Jumbo pellets. They did very well for the first 6, then the last 4 wandered over to the right. And when I say "wandered," I mean they really went places! The group measures 2.822 inches between centers, with 6 of those shots in 0.763 inches.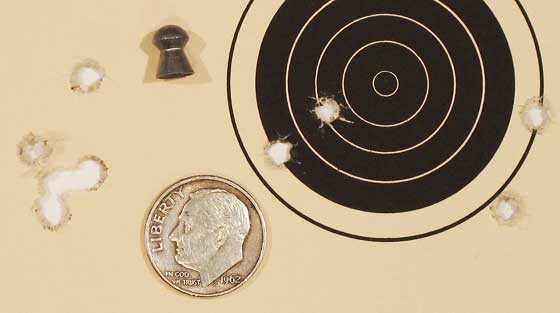 Interesting group! Six shots in a tight 0.763 inches, then the last 4 stretched it out to 2.822 inches. Go figure!
After this group, I played around with holding my off hand at different places under the forearm, and then some non-standard holds that included resting the rifle directly on the bag 2 different ways. By the time I was finished, I'd fired over 60 shots from a rifle that takes 39 lbs. of force to cock. I never reported that effort in Part 2, like I normally would, so now you know that the Octane is hard to cock — like all powerful gas spring airguns.
I suspected that I was tiring at this point. The term used in competition is I was "blowing up"! The Octane wanted to put them in the same place, but something prevented it. I shot one final group of Premiers — just to see if I could see what it was doing. But that group wasn't worth reporting. I had clearly pushed past the point of fatigue, so the session was over.
Here's what's at stake. Priced at just $200 with a very good scope, the Octane is poised to take its place beside legendary air rifles like the RWS Diana 34 Striker Pro combo. It's actually $100 less than the 34, yet offers the same power. If it also gives the same accuracy, the Octane suddenly becomes an important air rifle; and if the horribly heavy trigger has a workable solution that the average owner can follow, then folks, we have a winner. So, I want to give this air rifle every chance to compete. It seems to want to do well, so I need to find out what needs to be done.
by Tom Gaylord, a.k.a. B.B. Pelletier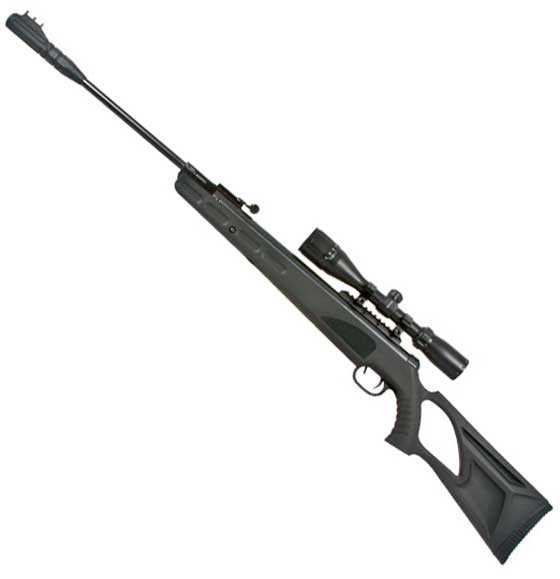 Umarex Octane gas-spring rifle combo.
Today is the start of accuracy testing for the Octane combo air rifle, and I'm going to make some changes. For starters, I'm going to give you the summary now. The Octane is a smooth-shooting, accurate air rifle. It's everything the manufacturer wants it to be, and a couple of things they probably didn't think about, on top of that. The rest of this report will justify and explain my summary.
Another thing, the Octane is different from any gas spring I've ever tested. Gas springs always fire fast, as in instantaneously. When the sear releases, the shot is over, and you usually know it from the sharp crack of sound and the painful slap to your cheek. The Octane fires slowly in comparison. There's a lot of forward recoil and almost no vibration, and the discharge is very quiet, as I noted in part 2. I attribute this behavior to the Reaxis gas-spring design that's reversed from the norm, and to the SilencAir silencer on the muzzle. Both apparently work as advertised.
The test
I decided to just shoot 5 shots per pellet today, and to shoot the rifle with open sights at 10 meters. I wanted to get a good sense of how accurate it is before putting the walls of my house at risk. And what I discovered was that this rifle is fun to shoot! I normally don't have much fun shooting a 20 foot-pound spring rifle, but the Octane is so civilized that it gave me a lot of confidence. By the time I'd fired the first 2 shots at the target, putting them into the same hole, by the way, I knew this day was going to be fun.
I held the rifle with an artillery hold, but the thumbhole stock makes you grip the gun harder than you normally might. So, I would have to call it a modified artillery hold. But the rifle cooperated, and there was noting to worry about. The muzzle heaviness holds the front sight steady on target once you're dialed in.
The sights are fiberoptic, which destroy all attempts at precision, but by lighting the target brightly and sitting in a darker room to shoot, I could defeat the fiberoptic tubes and get a very sharp sight picture. When they don't glow, the Octane's sights offer a nearly ideal sight picture, and that was what made me decide to not mount the scope, yet. I wanted to have the fun of shooting with open sights since the rifle was cooperating.
The trigger is still quite heavy and very creepy, so I envy those who own their rifles and can modify them. If I could drop the release weight to under 4 lbs. and if there was a way to eliminate all the second-stage creep, this trigger would help accuracy greatly.
Beeman Kodiaks
The first target was shot with 5 Beeman Kodiak pellets. This was when I first noticed how slow the Octane's gas piston is. It feels like an airgun equivalent of a 45-70 single-shot. You feel the recoil and the rifle bounces around, but you know the pellet got out of the muzzle before all that started and that accuracy wasn't affected in the slightest.
As I said, the first 2 pellets cut the same hole, though each made a distinctive mark. Then I stopped watching through the spotting scope and just shot the next 3 pellets. In the end, the group is larger than I would have liked for 10 meters, at 0.581 inches, but this is with open sights. Still, it is just 5 shots instead of 10.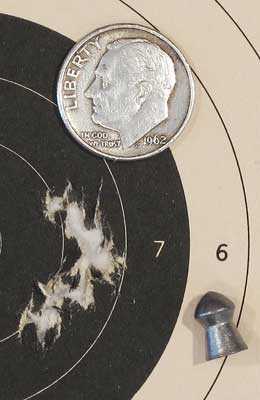 Five Beeman Kodiaks at 10 meters with open sights measure 0.581 inches between centers. It's a good start!
RWS Hobby
Next, I tried the RWS Hobby pellet. It felt good while loading because it fit the breech tight but not overly so. And, though the point of impact shifted up a bit, the Hobby was quite accurate — putting 5 pellets into 0.368 inches! I thought that was remarkable. I couldn't wait to test some more pellets!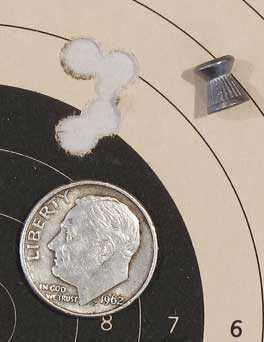 Five RWS Hobbys at 10 meters with open sights measure 0.368 inches between centers. Now, the rifle was giving me confidence.
RWS Superdome
Next, I tried the RWS Superdome. Here's where you're going to see something significant. RWS makes both Hobbys and Superdomes in Germany, and presumably they use the same lead alloy for both. And domed pellets are generally regarded to be the most accurate. Yet look at how the Superdomes did! They grouped horizontally, to exactly 1 inch, while the Hobbys stayed together.
You might try to blame me for getting tired at this point in the test, but there's group coming that will show that I was still shooting my best. That's one benefit of these 5 shot groups. They don't tire me as quickly.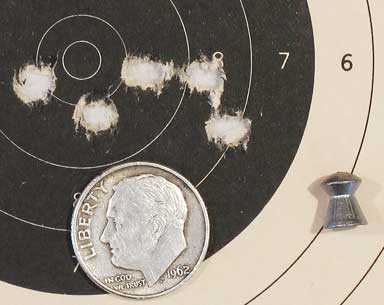 Five RWS Superdomes at 10 meters measure a long 1 inch between centers. When you compare this group to the one made by the Hobbys, you see that Superdomes are not suited for this Octane.
Predators
Now, for those of you who think I might have slipped up on the last group, I shot 5 Predator Polymag pellets next. They're a recognized premium pellet, just like the Superdomes, and I've shown some great groups using them in recent tests. But not this time. Instead of the group stringing sideways, the Predator group were stringing vertically. Five went into 0.982 inches, so we won't be seeing them in any future tests of the Octane.

Five Predator Polymag pellets made this vertical 0.982-inch group.
If you have now decided that I've gotten tired and ho-hum, what's so special about the Octane if this is the best that it can do — hold on! I saved the best for last. Actually, the Octane saved the best for last because the next group is the last one I shot on this day.
Crosman Premier
The 14.3-grain Crosman Premier pellet is sometimes the best pellet you can use in an airgun. And it is in the Octane test! Five Premiers went into a group measuring 0.245 inches between centers. It looks like only 3 pellets have passed through, but I did shoot all 5. This is very clearly and hands-down the most accurate pellet I tested in the Octane.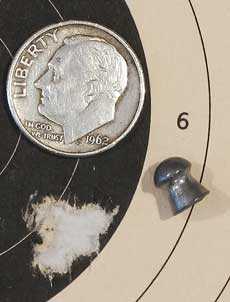 Five Crosman Premiers made this beautiful 0.245-inch group. It was the last group of the test. Who says the groups open up as you go? This is the pellet for this rifle.
Summary
I already gave you the summary in the beginning of this report. Now you see the substantiation of what was said.
Several readers reported higher velocities than I got in the last test, and I was asked to change the breech seal. Well, I might do that, but frankly the rifle is shooting so nice right now that I don't feel any urgency.
The Octane is unlike any gas-spring breakbarrel rifle I've ever tested. I wish the trigger was better, but it's hard to argue with the accuracy or with the rifle's firing behavior.
I will skip testing the rifle at 10 meters with the scope that comes in the package and go straight to 25 yards next time.
by Tom Gaylord, a.k.a. B.B. Pelletier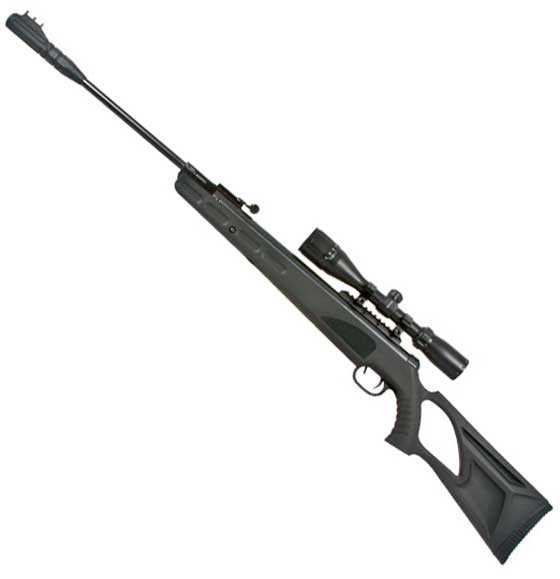 Umarex Octane gas-spring rifle combo.
Just a word
Befoere I get started with today's report, I want to say something about what happened this weekend. Friday's airsoft report got a lot of comments. Among them are several questions about the technology of the guns. And some admissions that people didn't think much of airsoft before they tried it, then they found their opinions changed drastically. That also happened to me, so I can relate to it.
But all you who don't care for the subject don't need to worry. This isn't going to become an airsoft blog. I will continue to report on it at a low level, but I know this is an airgun blog, and that's not going to change. I want to assure the readers for whom the subject of airsoft is not welcome that we are still going to talk about pellet guns and BBs guns for the most part. I will write a few reports on airsoft now and then, and I trust they won't upset you too much.
Okay, that's done. On to the topic of the day!
Today is our second look at the .22-caliber Octane combo from Umarex, and it's velocity day. Before I get to that, there are a couple adjustments I wanted to make to the rifle. Let's look at those now.
The first adjustment is the trigger. In the first report, I said the trigger is crisp but heavy. The adjustment screw adjusts only the length of the first-stage pull; so I adjusted it to be longer, and stage 2 decreased. Don't go too far or the rifle will not cock at all because this adjustment does affect the area of sear contact.
I did go too far and had to call Umarex USA, where I learned that the Octane is supposed to come with a warning tag telling you not to turn in the adjustment screw more than one full turn. I went way past that, so all I had to do was turn the screw back out until the head stood even with the trigger blade — and the trigger was back to working again. For even greater contact, turn the screw so it stands proud of the trigger blade.
Dismantling tip
The second thing I wanted to adjust is the tension on the action forks because the barrel pivot was too loose. To do that, I normally take the barreled action out of the stock. But with this rifle, you need to be aware that the pins in the trigger are not held in and will fall out of the trigger if the action is tipped sideways. I didn't know this, of course; and when the first pin fell out, it set me up for 45 minutes of work to get the trigger back together again. It seems that the trigger pins are held in place by the stock. Other airguns I've worked on have the same arrangement, and one solution is to put tape on one side of the trigger to hold the pins in place…and keep the trigger oriented straight up and down.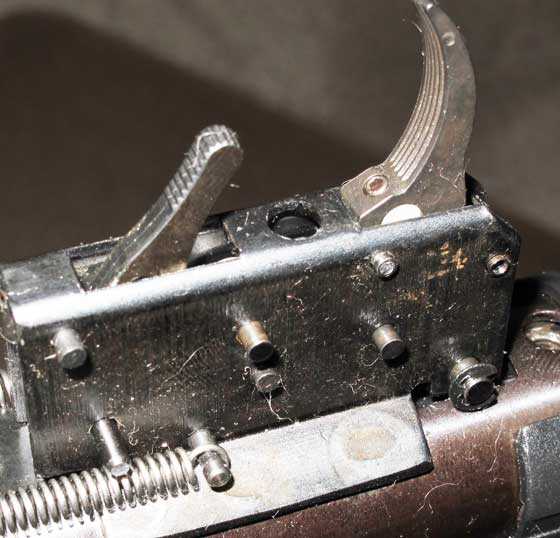 Each of the 6 free (not held by circlips or springs) trigger pins seen here is very loose in its hole and will fall out of the trigger if the gun is jostled or tipped to the side. They're held in place by the stock. What appears to be a pin at the far right is actually a rivet.
Better still — what you can do (VERY CAREFULLY!) is remove both forearm screws and just LOOSEN the rear screw behind the triggerguard. Then the front of the action can be tipped up clear of the stock far enough to tighten the barrel pivot bolt and nut. I would advise against taking the action completely out of the stock. If you do, know how loose the trigger pins are and treat the rifle accordingly. When the pins fall out, the internal trigger parts start moving around. They're fairly easy to align with their pin holes, except for the safety that takes a little fiddling since it's a 2-piece assembly with an internal pivot. My advice is to leave the gun in the stock.
One final tip. When you tighten the stock screws, don't tighten the rear stock screw (the one behind the triggerguard) too much or the trigger won't function. It was not tight when I first took the action out of the stock; and I found that if I tightened it too much, the trigger would not work. Umarex told me the screw shouldn't affect the trigger at all, but I'm just reporting on the behavior of my test rifle.
Now, let's look at the velocity of the Octane. I've selected 3 popular lead pellets and one lead-free pellet.
JSB Exact Jumbo
The first pellet I tested was the 15.9-grain JSB Exact Jumbo. This is a popular and very accurate pellet in many airguns, and I think it may be accurate in the Octane. This pellet averaged 762 f.p.s. in the Octane. The low was 748 f.p.s., and the high was 787 f.p.s.; so the spread was 39 f.p.s. At the average velocity, this pellet produced 20.51 foot-pounds of muzzle energy.
This pellet loaded easily, perhaps too easily. I think it might be a little undersized for the Octane's breech. That could affect the accuracy. We'll see.
RWS Hobby
The RWS Hobby pellet weighs 11.9 grains in .22 caliber and is very tight in the Octane's breech. It averaged 889 f.p.s. in the rifle with a low of 867 and a high of 902 f.p.s. So the spread was 35 f.p.s. At the average velocity, this pellet produces 20.89 foot-pounds of energy at the muzzle.
I don't know how Hobbys will do in the Octane, but I suspect they'll do well because of the tight fit in the bore. Of course, the Hobby is a wadcutter, so accuracy will fall off after about 25 yards.
Beeman Kodiak
The .22-caliber Beeman Kodiak dome weighs 21.14 grains, which makes it a very heavy pellet. In the Octane, Kodiaks averaged 682 f.p.s. with a range from 665 to 691 f.p.s. That's a total spread of 26 f.p.s. At the maximum velocity, the Kodiak produces 21.84 foot-pounds at the muzzle.
My guess is that the Kodiak pellet might also be a good one for the Octane. If so, that's great because it also produces the most energy of all the lead pellets tested.
RWS HyperMAX
Okay, the name of the game with pellet rifles these days is speed, and the RWS HyperMAX lead-free pellet at 9.9 grains is the way to get it. In the Octane, they averaged 1029 f.p.s. with a spread from 1022 to 1075 f.p.s. That's a spread of 53 f.p.s., so the rifle is probably still burning a lot of fuel. At the average velocity, the HyperMAX pellet produced 23.28 foot-pounds of energy at the muzzle.
The HyperMAX pellet fit the breech very loosely. That's probably where the extra velocity spread came from, as more dieseling was generated by less pellet resistance. I doubt this pellet will do very well in the Octane because of the loose fit.
Shooting behavior
The rifle recoils noticeably in both directions, but there's no vibration, whatsoever. Nearly all rifles with gas springs have a sharp buzz that hits you in the cheek, but the Octane doesn't. In fact, aside from the recoil, it's a very smooth-shooting spring rifle.
Trigger-pull
Remember that I had to adjust the trigger for a very definite stage-2 let-off. That affected the trigger-pull a lot. I was able to adjust it back to a release of 7 lbs., 14 oz. with very little creep. It's heavy, as I noted before, but I think it's crisp enough to do good work. We shall soon see!
The Octane IS NOT LOUD!
When I first tested the rifle it was very loud. And the sound persisted for longer than I felt the dieseling of a new airgun would last. But during this test the rifle suddenly became MUCH quieter. Obviously, it had been dieseling and I didn't know it.
I originally told Edith it was a 3.7 on the sound scale when I tested it, and she adjusted the loudness level on Pyramyd Air's product page to 4. But now she can hear that the Octane is clearly a 3. I apologize to everyone who was mislead by my earlier report. The Octane is a normal-sounding breakbarrel air rifle.
Observations thus far.
I said in Part 1 that the Octane holds very well in the hands. The weight is biased forward toward the muzzle, and the stock is slender when the off hand rests. Add the smooth shooting to this, and I think the Octane might surprise us in the accuracy test.
I plan on shooting the rifle at 10 meters with its open sights first. That should give us an idea of which pellets it likes. Then, I'll mount the scope and shoot those best pellets at 10 meters, again. That does 2 things. First, it confirms the pellets are as good as we think; and second, it allows me time to adjust the scope for the second accuracy test at 25 yards.