Posts Tagged 'JSB Exact Jumbo pellets'
by Tom Gaylord, a.k.a. B.B. Pelletier
Today's report is a guest blog from reader Paul Hudson. It It's his evaluation of the Crosman 622 repeater.
If you'd like to write a guest post for this blog, please email me.
Over to you, Paul.
The Crosman 622
by Paul Hudson
The Crosman 622 is a rarity — a slide-action CO2 repeater.
The Crosman 622 is a repeating slide-action CO2 pellet rifle. It was produced from 1972 to 1978 in .22 caliber only. It uses the familiar 12-gram Powerlets and has a rotary clip that holds six pellets.
There have been only a few other slide-action repeaters available in the recent past — the Gamo Extreme CO2 and the Shark roundball repeater made in Argentina are two examples. The Gamo uses an 88-gram cartridge, and the Shark is a bulk-fill gun.
This particular 622 belongs to my brother-in-law's friend. It had not been fired for many years and was in need of a resealing. The old factory lube had turned to hard wax, and several hours of cleaning was required to get everything in working order.
Due to its design, the 622 did not develop a reputation for durability. The valve body is made of two parts held together with a single screw and is prone to breakage. A second bolt or pin can be added to the bottom of the valve body to greatly strengthen the assembly. Another problem was the tendency for the gun to jam with certain pellets; this can happen if the muzzle is elevated when the slide is cycled. Some pellets (depending on their shape) can back out of the clip enough to prevent it from rotating. Keeping the gun pointed down will help prevent this. Possibly due to this problem, Crosman added a lever to the receiver of later 622s to aid removing stuck clips.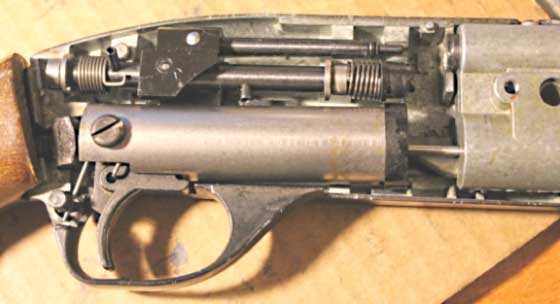 There are many parts in the 622′s receiver. The large, rectangular casting on the right is the valve body, and it's prone to breakage. The probe is near the top of the receiver and is in the rearmost operating position. In the middle is the rotating rod that advances the clip. The large cylinder on the bottom houses the striker.
The 622 is large enough not to feel like a toy. It's 40.5 inches long with a 13.5-inch length-of-pull, so it's adult-sized. The blued barrel is 23 inches long, and the gun weighs 6 lbs. without a scope. A square post front sight and a square notch rear sight come from the factory, and they're entirely suitable for the ranges at which the gun would be used. The painted receiver is made of two die-cast pieces and is grooved for mounting a scope. While the paint isn't the greatest finish, no complaints can be made about the blueing on the barrel and gas tube. It's very well done for a low-priced gun. Both the stock and forearm are made of varnished hardwood that has a very straight grain. The receiver is only about an inch thick, and the gun does not feel bulky; combined with the light weight, it's a perfect plinker and can be carried for hours.

The rear sight is a simple square notch and is adjustable for elevation and windage.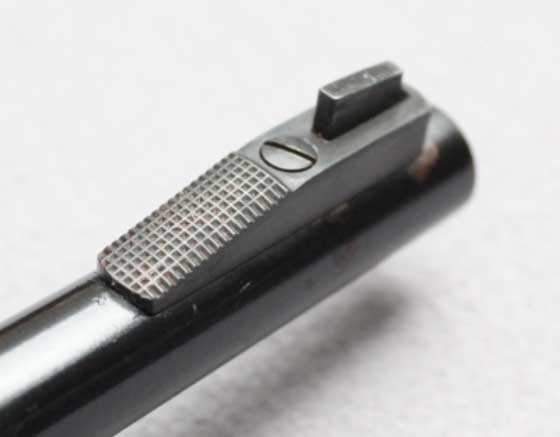 The front sight is a square post. The ramp is textured to prevent glare.
A manual safety is mounted behind the trigger; it's very similar to the unit on many other Crosman models. The single-stage trigger was a pleasant surprise. It isn't adjustable…but it's fairly smooth, mostly creep-free and breaks at a consistent 2 lbs., 2 oz. For an inexpensive airgun, it's quite good. Holding down the trigger while cycling the action lets the striker travel forward with the slide; it will not fire the gun.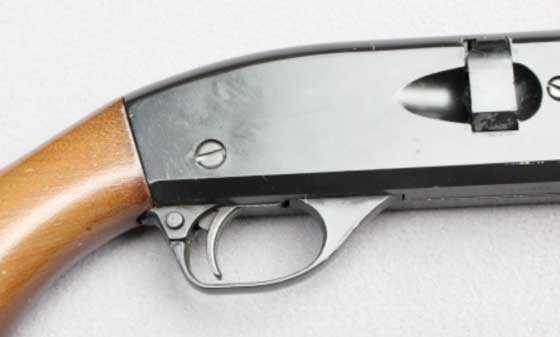 The trigger features Crosman's typical cross-bolt safety and is surprisingly good.
The rotary clip
The 622′s 6-shot rotary clip is easy to load and fits entirely within the receiver; it will not interfere with a scope or catch on anything during handling. Unfortunately, the clip accepts pellets with a max length of 0.275 inches. This prevents longer domed pellets and pointed pellets from being used. All wadcutters fit, and most cycle fine.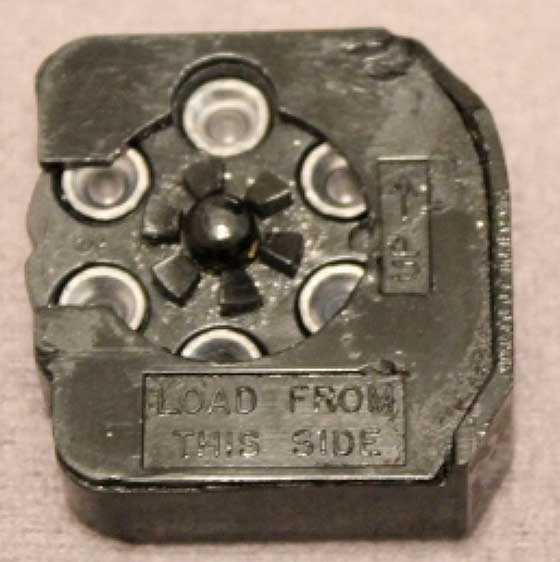 Rear view of the clip. Pellets load easily from this side.

The thin clip will not accept pellets over 0.275 inches long. The Baracuda Hunter is about the longest pellet that fits.
To charge the 622, the end cap of the lower tube is removed. A CO2 cylinder is dropped in nose-first (don't forget a drop of Pellgunoil on the tip), and the end cap is replaced. As the cap is tightened, a slight hiss will be heard as the cartridge is pierced. Further tightening should not be needed. Since the CO2 cylinder seats against a flexible seal, it should be removed after shooting. A single cylinder was good for 36 shots, or 6 full clips. A two-cylinder lower tube, similar to that of the Crosman 160, was available for a time; but this was an aftermarket part not supplied by Crosman.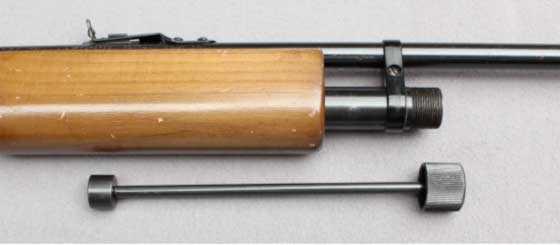 A single CO2 cartridge is used in the long gas tube.
Performance
The 622 was rated by Crosman at 450 fps; this gun exceeded that rating with all tested pellets. The temperature was around 90 degrees during shooting.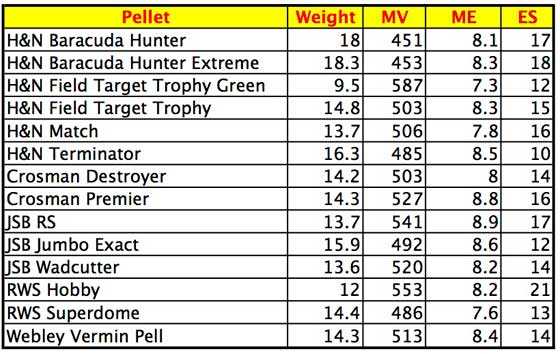 MV=muzzle velocity (fps), ME=muzzle energy (ft-lbs), ES=extreme spread (fps)
Getting the best accuracy from the 622 is a bit of a challenge. The forearm uses a single operating rod and can slightly rotate around the lower tube. This allows the gun to move upon firing if it's held by the forearm. For best accuracy, support the 622 just ahead of the receiver by holding the gas tube. This is really a minor point; the 622 is not a long-range target gun — it's a plinker, and one of the most entertaining ones at that.
10-meter groups with open sights
All pellets tested were more than accurate enough at 10 meters for plinking and informal shooting. Groups are 6 shots since that's the magazine capacity. Here are a few of the best performers: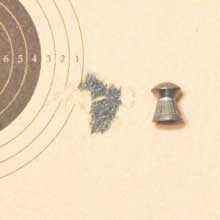 The RWS Superdomes gave a nice, round 0.31-inch group at 10 meters.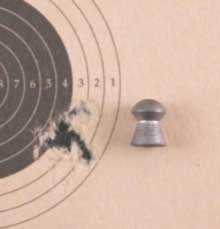 The 15.9-grain JSB Exact Jumbos made this 0.27-inch group at 10 meters.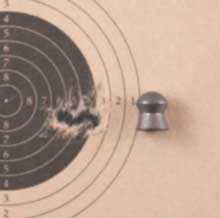 At 10 meters, the Beeman Field Target Specials produced the best group at 0.24 inches.
25-yard groups with a scope
The factory open sights just aren't precise enough to produce the best accuracy at 25 yards. I mounted a simple 4x Leapers scope for these groups. Most pellets gave groups in the inch to inch-and-a-half range. There were a few standouts, however: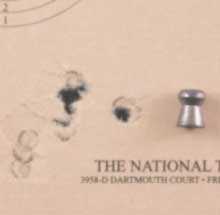 Six H&N Baracuda Hunters made this 0.84-inch group at 25 yards.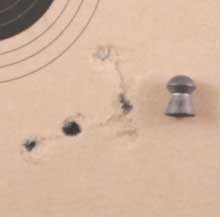 The 15.9-grain JSB Exact Jumbos also performed well at 25 yards with this 0.79-inch group.

The most accurate pellet at 25 yards was the Crosman Premier. Six pellets made this 0.57-inch group. There are three pellets in the lower left hole, two on the right, and one high and left.
Summary
While the 622 isn't the best engineered or most accurate airgun Crosman ever made, it's still an interesting piece. There have been only a few slide-action airguns produced; and for plinking, the rapid-firing provided by a slide-action really ups the fun factor.
Many 622s are still in circulation, and they regularly show up at airgun shows and on auction sites. Lack of attention from collectors has kept the price reasonable. One caveat is to make sure the gun includes the clip — they fetch about 25 dollars apiece. It's possible to load the rifle singly, but it's tedious.
by B.B. Pelletier
We have a lot of interest in non-lead or lead-free pellets. I heard from several readers on Part 2, which ran last week. That was when I used the Hatsan model 95 Combo breakbarrel to test both lead and non-lead .22-caliber pellets for accuracy at both 10 meters and 25 yards. I admit that was a scatterbrain test; but after seeing the results, I'm glad I did it. Here's why. If lead-free pellets do not perform in real-world airguns, they have no value. They shouldn't be a science experiment, requiring special guns and conditions. If they're going to succeed, they must work well in the kinds of guns that are used by many shooters.
That said, I'm dialing back my test parameters today and using a spring gun that I know is very accurate — my .177-caliber Beeman R8. It's probably best to start with a known good gun and then, if the green pellets do work, expand the test out into the more basic types of airguns.
This particular R8 works best with JSB Exact RS pellets. And I rediscovered that this rifle also shoots best when laid directly on a sandbag and is not held using the artillery hold. The advantage of shooting directly off a bag is that it gives the rifle a more stable platform.
I was going to shoot several green pellets for this test, but I decided to limit the test to just one pellet. If it was successful, I could always branch out from there. The pellet I selected for today's test is the H&N Baracuda Green, a 6.48-grain domed pellet (which is the same as the Beeman ECO Kodiak pellet). The equivalent pellet in lead weighs anywhere from 10.2-grains to 10.6-grains, depending on which H&N Baracuda you sample.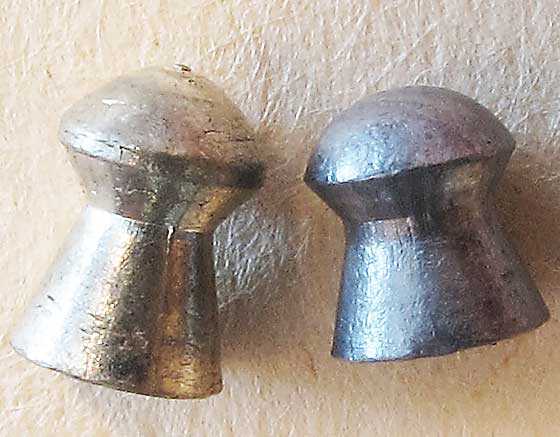 H&N Baracuda Green on the left and JSB Exact RS on the right. Notice how much shorter the heavier lead pellet is.
First, I shot a group of 10 JSB Exact RS domes at 25 yards. This group measures 0.502 inches between the two farthest centers. While it's not the best group this rifle has made at 25 yards, it's a good one, as can be seen in the photo.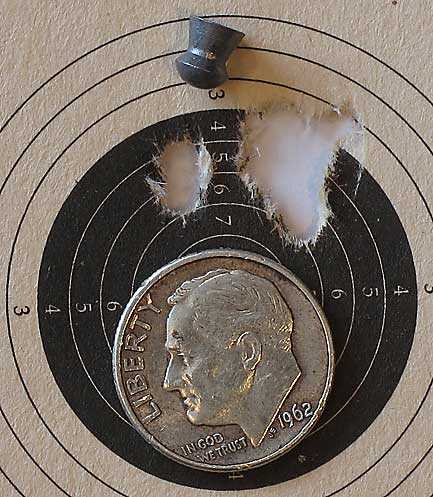 The first group of JSB Exact RS domes made this 0.502-inch group. Eight pellets in the larger hole on the right.
Following that group, I shot the first group of Baracuda Greens. I was prepared to season the bore by shooting as many pellets as necessary for the group to settle down; but as you'll see, there was no need. Ten shots gave a 0.442-inch group. That's right, the H&N Baracuda Green pellets beat the best lead pellet I know of for this rifle. I would have to say that's a positive result!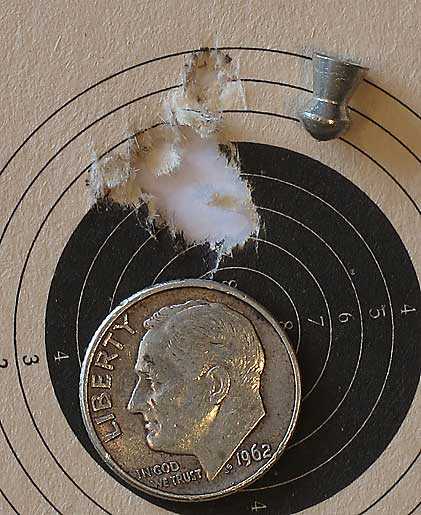 The first group of Baracuda Green pellets was surprisingly small. It measures 0.442 inches between centers.
After shooting this group, I fired a second 10-shot group of the Baracuda Greens to see if the first group was a fluke. Group number two measures 0.543 inches between centers. It's larger than the first group and also larger than the group of lead pellets I shot before that, but it's certainly in the same ballpark.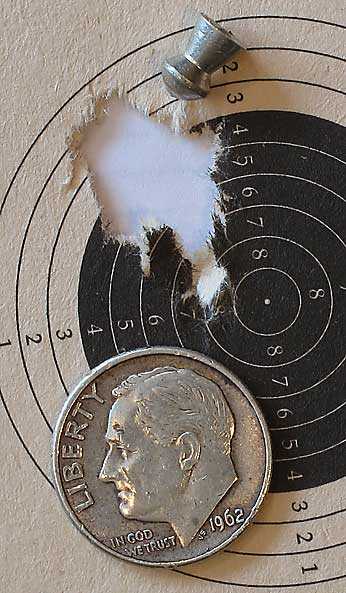 Group two of Baracuda Greens is a little larger, but it's still a fine group. This pellet is accurate in this rifle. Group measures 0.543 inches between centers.
Final group
To end this test, I fired a final group of the JSB Exact RS pellets. This time, the first shot did go to a different place than the following shots, so I guess some seasoning of the bore was required; but after that, the shots all went to the same place.
The second group of JSB Exact RS pellets measures 0.422 inches and is the smallest group of the test. But it's only 0.02 inches smaller than the best Baracuda Green group, and that's well within the margin of measurement error.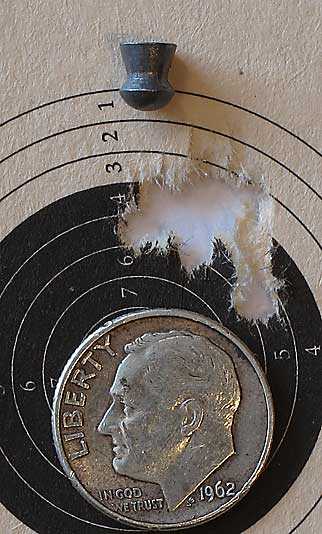 The smallest group of the test is this second group of JSB Exact RS pellets. It measures 0.422 inches between centers.
What can I say?
Obviously, H&N Baracuda Green pellets are very accurate in my Beeman R8. They may be equal to JSB Exact RS pellets, which have been the most accurate pellets for this rifle until now.
We have one good test under our belts. Next, I want to test these pellets in an accurate PCP. I happen to have a Benjamin Marauder in .177 caliber, so that's what I'll use.
The rest of you can help by testing the Baracuda Green pellets in other airguns and reporting the results. I want to stick with Baracuda Greens for a while before I branch out into other non-lead pellets. I'm glad I did today's test, and things are looking good for the greens.
You don't know how good we have it!
If you're a regular reader, you know that I built an AR-15 lower receiver to test the Crosman MAR177 AR-15 upper PCP conversion. After sending the upper back to Crosman, I was left with a lower and nothing to attach to it. So, I thought I'd buy an upper in .223 caliber to complete my rifle.
In my ignorance, I imagined that buying an upper was a simple process. Well, it's not! If you think airgunning has a lot of jargon and is confusing, you've never shopped in the confusing world of the AR! The websites abound with acronyms, slang and references to things I feel I should know but don't. Unless you're extremely careful, you can buy a partial upper and still need to spend a lot more money on parts that aren't necessarily compatible with what you've already purchased.
Ever hear the tale that all AR-15 parts interchange? Well, they don't, and the chat forums are full of complaints about it! Reading the customer reviews about certain products paints a nightmare tale of confusion, customer abandonment and outright lying by some of the major dealers.
What a snake-pit the AR market has become! I can see I will have to become very educated on the subject of the parts of the gun before I buy — or there's one other possibility. I could buy a a "completed" upper that has everything needed to fit on my lower and work. There's just one problem with that. Most (over 80 percent) of the .223-caliber (and yes, I am including those that are chambered for the 5.56mm in this number) complete uppers for sale today have 16-inch barrels, because buyers apparently want the M4 carbine look. But a 16-inch barrel has none of the things I want on my rifle. It's as if there are only gas spring super-magnums breakbarrels for sale, and I want a TX200 that nobody offers!
Then, there's the problem of supply. Buyers in this market are at the mercy of the manufacturers, whose websites are the most confusing places of all. It's a case of, "Place your order and shut up! We will get to you when we are good and ready!" I know they're experiencing a boom market of unparalleled proportions, but that's no excuse for the unhelpful fulfillment language they use on their sites.
When I see complaints about the Pyramyd Air website and then compare them to the trauma wards that sell (I guess?) AR-15 parts and assemblies, I thank my lucky stars I'm an airgunner. And, yes, I do plan to soldier on and see this thing through. Unfortunately, when I do get my upper, I may then be in the class of owners whose "half-minute of angle" upper prints a three-inch, five-shot group at 100 yards! Don't tell me there are good companies I can trust — I've seen complaints about all of them.
The bottom line is that if I wasn't working in airguns, there's a huge market of AR sales that needs a little honesty, education and Pyramyd Air-type retailing. Given the supply difficulties that exist, I'm not sure that a good dealer could make a go of it in this market, but it's obvious there would be no competition.
by B.B. Pelletier
This is a long-term test of non-lead pellets that began nearly a year ago. There's a lot of pressure these days to abandon lead for projectiles and move to some other substance that's not as toxic. The problem is that there isn't any material as good as lead. Ammunition companies have been working on this project for decades, and they've yet to come up with a substance that can take the place of lead.
I don't want to get into the discussion of the evils of lead in this report, but suffice to say that a lot of what's being said about it is untrue. However, that's not my concern here. I just want to discuss the feasibility of using non-lead projectiles in airguns and hold it to that.
So, I did a little test that I want to talk about today. I tested both lead pellets and lead-free pellets in the same gun at the same distances.
For this test, I used the .22-caliber Hatsan 95 combo breakbarrel that we recently found to be reasonably accurate. I shot the rifle at 10 meters and again at 25 yards; and doing that proved quite revealing. The open sights of the rifle were used for this test.
The best of the best
For this test, I wanted to use the best pellets. For the lead-free pellet, I chose the .22-caliber Beeman ECO FTS. For the lead pellet, I actually tested four different pellets, but settled on just one; and strangely enough, it was the same best pellet that was best in the last test I did with the Hatsan 95.
Before you yell, "Bias!" I know I should test other lead-free pellets in this rifle; but there aren't that many to test. I do have some others, but in .177 caliber. So, I'll have to test them next.
Start at 10 meters
I began this test at 10 meters and tried two lead pellets that I knew to be good in the Hatsan 95. The first of those was the heavyweight Beeman Kodiak. When I last v\tested the Hatsan with these pellets in Part 3 of the Hatsan test, 10 shots at 10 meters gave a group measuring 1.073 inches, thought 8 of those shots made a much smaller group that measured 0.529 inches between centers. This time, 10 Kodiaks went into a group measuring 0.834 inches. That's in between the 8- and 10-shot groups made the last time.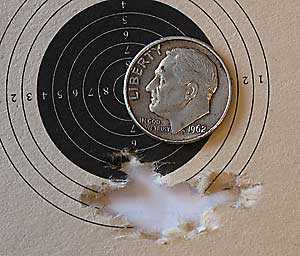 Ten Beeman Kodiak pellets made this 0.834-inch group at 10 meters. Shot with a Hatsan 95.
Next, I tried the best pellet from the last test with the Hatsan, which was the JSB Exact Jumbo that weighs 15.9 grains. Ten of those went into a group that measures 0.514 inches between centers. That compares favorably to a 0.648-inch group last time.

Ten 15.9-grain JSB Exact Jumbo domes made this 0.514-inch group at 10 meters. It's smaller, but in the same range as the last 10-meter group fired by the Hatsan 95, which was 0.648 inches.
The lead-free pellet
Next up was the Beeman ECO Field Target Special pellet, a 9.57-grain domed pellet that has no lead in it. Weighing less than 10 grains, this is extremely light for .22 caliber. So, the question is — Can it be accurate?
At 10 meters, this pellet turned in a 10-shot group that measures 0.704 inches between centers. That's smaller than the Kodiak group but larger than the JSB group. And it's a decent 10-meter group for an open-sighted air rifle of the power of the Hatsan 95.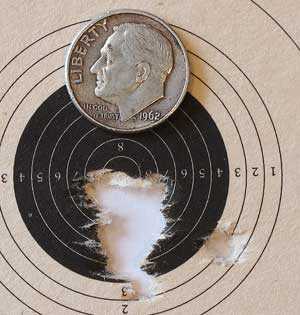 This is a great group of 10 Beeman ECO FTS pellets. But 10 meters doesn't tell much. We need to shoot farther to know if this pellet is accurate.
The real accuracy question
Here's the real question. Ten meters tells us very little about the real accuracy of any pellet. Almost anything can be accurate at 10 meters, but not for very much farther. Real accuracy is the ability to hold a group together at twice the distance and more. To see that, we needed to back up. That's what I did — backed up to 25 yards and shot again.
At this new distance, the lead-free pellet was again shot 10 times. The group it made this time measures 2.237 inches between centers. That's a huge group — even when using open sights.

This is the group made by the Beeman ECO FTS pellets at 25 yards. Here we see the true nature of this lead-free pellet. It doesn't stay together by flies apart as the distance increases.
As a control, a group is shot with the JSB Exact Jumbos. We know from the last test of the Hatsan 95 that this pellet grouped ten shots in 1.882 inches. This time, 10 went into a group that measured 1.728 inches between centers. Not only is that very consistent with that last test, it's also significantly tighter than the group made by the lead-free pellets.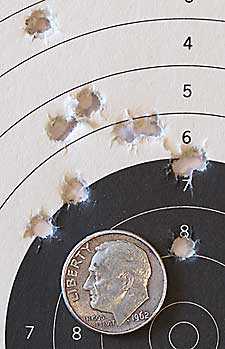 A 10-shot group measuring 1.728 inches was made by the JSB Exact domes at 25 yards.
Where does that leave us?
This test has many more cycles to run, but what it looks like at this point is lead-free pellets are not yet as accurate as lead pellets in the Hatsan 95. The first test done a year ago showed some surprising results, and there are many more tests yet to be conducted.
Here's my take on the lead-free pellet issue at this juncture. They're accurate enough for plinking, and in some guns they're even more accurate than that; but to-date, I've not seen a lead-free pellet that could do as well as a good lead pellet. Since they cost about the same as premium lead pellets, my advice for now is to continue to use lead if you can.
I believe the pellet makers are working hard to perfect lead-free pellets, because they seem to be in our future. This is a topic I will watch and continue to test as new pellets become available.
by B.B. Pelletier

Hatsan's new 125TH breakbarrel is a large, powerful spring-piston air rifle.
Today is the day we see the accuracy of the Hatsan 125TH air rifle I'm testing. I have a surprise for you, and it isn't what you expect. Just to review, the rifle comes with a scope that's best not used. It's very poor optically. And their mounts are very lightweight, so I didn't use them today, either. Instead, I mounted my favorite scope, a Hawke 4.5-14x42AO Tactical Sidewinder that I have raved about in other reports. It's the sharpest scope I have (don't own it yet, but I expect to), so no one can say the Hatsan rifle didn't get the best optics.
Hatsan has a scope base that gives you the choice of Weaver or 11mm rings, and the Hawke scope was already mounted in a set of BKL 30mm medium rings with double topstraps. With these butted against the Hatsan's scope-stop plate, there was no way the scope or rings were going to move under recoil — even the heavy thrust of the 125TH.
Surprise, surprise!
After the scope was mounted, I cleaned the bore. And that was when I got the surprise. Even a brand-new brass cleaning brush slipped through the bore with little resistance! I thought for a moment the rifle was a .22 and of course I was using a .177 brush. But no — the rifle I'm testing is a .177. It just has a very large bore. How large? The rifle I'm now testing has the largest bore of any .177 air rifle I've ever examined!
I looked through the bore to make sure it's rifled, and it is. But there are no pellets in my inventory that begin to be large enough to fit this bore — which is why I got the results that I did.
Note from Edith: I asked B.B. if this is so big that it might be .20 caliber. He took a .20-caliber pellet and tried to insert it, but it was too big. So, this is just an oversized .177.
Still a drooper
If you recall, this rifle is a drooper. I knew that, but there are ways to test droopers that don't compromise the scope. Pick a small aim point located as many inches above the intended impact point as necessary and let that be your aim point for every group. After adjusting things as much as possible, the groups were still landing three inches below the aim point at 25 yards. But if the groups you shoot are tight, you can always replace the rings with a set of droopers afterwards.
Beeman Kodiaks
The first pellets I tried were Beeman Kodiaks — more to keep them from breaking the sound barrier in my home than for any other reason. I knew from earlier testing that middleweight pellets will go supersonic too easily in this rifle, and every shot will crack like a rimfire!
After I got the sight adjusted, I proceeded to shoot the best group of the day. In fact it was the only complete 10-shot group I fired in this test, because all other pellets scattered so much in the first three shots that it wasn't worth my time to complete the group.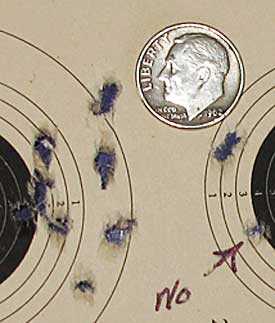 At 25 yards, 10 Kodiaks made this group that measures 1.336 inches between centers. The pellet at the low right isn't part of the group. This is similar in size to the best groups made with open sights.
The group is terrible, but it tells me something important that I haven't noticed until now. Notice that many of the holes are elongated rather than round? These pellets are wobbling as they fly downrange! Some look almost as though they were tumbling when they hit the target. There's no way they can possibly be accurate when they fly like that, and that's why I didn't complete any other groups. Not only were the pellets scattered, many of them also tumbled or wobbled like these. Nothing I shot could ever be accurate in this airgun. When I looked back at the earlier targets from previous tests, I noticed some elongated holes there, too.
The other pellets
At first, I tried to keep the velocity below the sound barrier, so I tried JSB Exact Jumbo 10.2-grain domes and 10.5-grain Crosman Premier heavies. Both wobbled in flight and scattered worst than the Kodiaks. I don't have the new JSB Exact Heavy 10.34-grain domes, but there's little reason to think they would have performed differently.
I did try a couple middleweight pellets — just to say I did. Some old Beeman Trophy pellets I had on hand cracked like a .22 long rifle, and they did make a couple round holes, but they also scattered widely and one of them did rip an elongated hole.
On to other, lighter pellets. The H&N Field Target was on the border of supersonic. Some were, others weren't. But I got more elongated holes with this pellet, as well.
Then I tried RWS Superdomes. I thought their thin skirts might blow out and hug the bore better than the other pellets. But, once again, I got all supersonics and elongated holes. Three shots opened to two inches, and I just stopped shooting.
That is as far as I am going to take the Hatsan 125TH. I've shot it with open sights, with the scope and mounts that come with it, and with the best scope available. I've checked the screws and cleaned the bore. I've tried a range of the best pellets. Nothing seems to help. This rifle I'm testing is simply not going to be more accurate than these tests have already demonstrated.
The bottom line
The Hatsan 125TH is a $200 magnum spring rifle. It has their best trigger, their shock absorber system and their Weaver/11mm scope base. Yet, it also has a barrel that's so overbore that it doesn't stabilize any pellet I tried. The trigger is too heavy and doesn't adjust very far. The rifle cocks hard but gets easier as it breaks in. In the end, though, the test rifle wasn't accurate. I could forgive everything else if I'd been able to shoot a good group with this air rifle.
by B.B. Pelletier
Announcement: Kit Palencar is this week's winner of Pyramyd Air's Big Shot of the Week on their facebook page. He'll receive a $50 Pyramyd Air gift card.
Kit Palencar is this week's Big Shot of the Week.
Part 1
Part 2
Part 3
Part 4
Part 5
Today, we'll complete the test of CB caps against an air rifle to show which is the better gun to use for close-in shooting. There will be a surprise in today's report, plus I'll summarize the entire test.
Today's shooting is all at 10 yards. This is probably where the test should have started rather than finished. Once again, here are the players.
Air rifle — A Talon SS with 24-inch optional .22-caliber barrel and a bloop tube silencer. The rifle is scoped with a Leapers 3-12×44 SWAT scope. It's shooting the .22-caliber JSB Exact Jumbo Heavy pellet.
The rimfire rifles are:
1. A Remington 521T target rifle chambered in .22 Long Rifle
2. A Stevens Armory 414 target rifle chambered in .22 Long Rifle
3. A Winchester Winder musket chambered in .22 Short
They're shooting:
Long cases
CCI CB Longs
Aguila Super Colibris
Short cases
CCI CB Shorts
RWS BB caps
RWS CB caps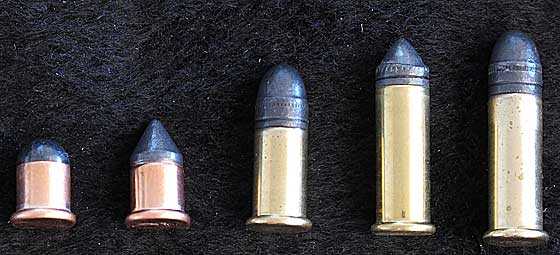 Left to right we have the RWS BB cap, RWS CB cap, CCI CB Short, Aguila Super Colibri and CCI CB Long.
Shooting indoors and the sound
I shot this final round indoors, so the relative discharge sounds could be closely monitored. There wasn't much difference between the air rifle and any of the rimfire rounds except for the two RWS cartridges. Both of them were shot in the Winder musket's 28-inch barrel and were slightly louder than all the others, with the BB caps being the loudest of all.
Performance
At 10 yards, the Talon SS shot all its pellets into a single hole that, until the tenth shot, was just 0.145 inches between centers. Shot 10, however, opened the group to 0.343 inches. You can see it when you look at the group. No excuses, though. I watched the last pellet drop and open the group, yet the hold on that shot was perfect, as it was for all the others.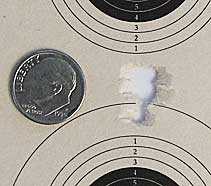 The last shot dropped lower, opening what was a fine 10-yard group from the Talon SS.
The Winder musket has proven to be the rimfire star of this test; and at 10 yards, it did what I thought was impossible. It beat the air rifle! Ten CCI CB Shorts tore into a group that measures just 0.258 inches between centers. So, the CB caps beat the air rifle. I wouldn't have believed this was possible if I hadn't seen it with my own eyes; but, clearly, the fact that the rimfires were shooting with peep sights against the air rifle's scope did not sway the test that much.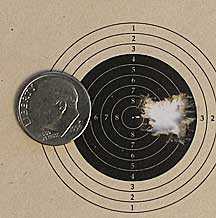 The Winder musket, shooting CCI CB caps, beat the Talon SS at 10 yards.
The Winder was a star at 10 yards. It grouped 10 CCI CB Shorts in 0.258 inches, 10 RWS CB caps in 0.409 inches and 10 RWS BB caps in 1.033 inches.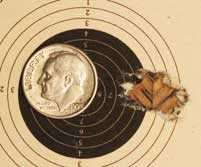 Even RWS CB caps did well in the Winder at 10 yards.
All of the rimfire rifles shot good groups with CB caps and BB caps at 10 yards. The Remington 521T grouped 10 CCI CB Longs in 0.666 inches and 10 Aguila Super Colibris in 1.119 inches. The Stevens Armory 414 grouped 10 CCI CB Longs in 0.778 inches and 10 Aguila Super Colibris in 1.083 inches.
There was another small surprise during this test. The Stevens Armory 414 out-shot the Remington 521T with Aguila Super Colibris and was nearly as good as the Remington with CCI CB Longs. That tells me that the Stevens is a good-shooting rifle, after all, but maybe it doesn't stabilize the slow-moving CB bullets well enough for accuracy at longer distances. I'll come back to that thought in a moment.
Something I didn't mention before
Blog reader Mike (I think) reminded me that CB caps have a pinch of gunpowder in the case, where BB caps are powered by the primer, alone. In this report, I've made it sound like the CB cap is also primer-powered with no powder, but that's not the case. I took apart a CCI Long cartridge to show you the powder, and I've put it next to a CCI Green Tag .22 Long Rifle for comparison.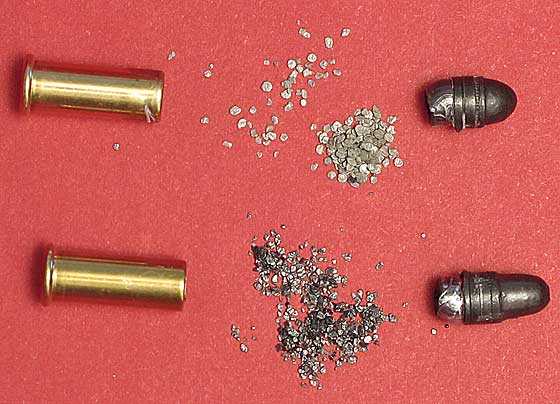 This goes in the "Don't try this at home" instructions. At the top is a CCI CB Long pulled apart. Below is a CCI Green Tag Long Rifle cartridge pulled apart.
What I didn't do in this test
I didn't bust my tail trying CB caps in every .22 I have. If I had, no doubt the results might have been a little different; but I doubt there would have been anything earth-shattering. Any reader who has access to a fine .22 rimfire target rifle is welcome to try his or her hand at this test and report the results. I would really love to hear what a Remington 40X or an Anschütz free rifle could do. Until I hear different, I'm thinking these results are fairly representative of what you will see from a .22.
The results
I have formed the following conclusions from the test results.
First, a CB cap in almost any .22 rimfire rifle in good condition can be accurate enough to dispatch pests at 10 yards or less. If you have a squirrel in the attic, a CB cap might be your best solution — especially if you don't have an air rifle ready to go.
The rifle does have to be sighted-in for CB caps. Though they will be off by only an inch or so at 10 yards, the targets are often small enough that it does matter. Having a scope that has mil-dots so you can easily shift aim points is the best way to compensate for this.
Beyond 10 yards, the CB cap accuracy starts falling off rapidly. The rifle and exact round you choose start mattering. This is not true for air rifles, because one air rifle can be good from 10 yards to 50 yards with just slight changes in the aim point.
At 25 yards, the CB caps become very chancy, and it really matters which rifle and which rounds are selected. In this test, I found that no CB cap/rifle combination was good enough to go all the way to 50 yards. Yet, the air rifle did so with ease and could go even farther.
I'm going to say the CB caps are not stabilized out to 50 yards, because that's what it looks like from the results. I just don't think those bullets have enough spin to keep them on track that far out.
CB caps are quiet, but not more than a quiet PCP. When you're in close confines, they'll sound louder than you think.
Some rifles are simply not suited to the use of CB caps. I eliminated the Ruger 10/22 from the test after experiencing difficulty loading the caps.

Stuffing those tiny CB caps into the Ruger 10/22′s deep breech is no picnic. I don't recommend it.
CB caps are expensive; but if you don't plan to shoot a lot of them, they're much cheaper than buying an entire air rifle. CB caps are ideal for older .22 rifles that may not have the strength needed for today's more powerful cartridges.
On the other hand, if you own a quality air rifle like the Talon SS I've used in this test, I wouldn't think of using CB caps in its place. The air rifle is so clearly ahead of the CB caps at all ranges — the results of the 10-yard test notwithstanding — that it simply makes no sense.
Was it worth the effort?
It absolutely was worth all the time spent gathering the data in this test, because now we have some solid performance data as a gauge. No, this may not be the last test anyone ever does, but it's the first of its type of which I am aware. From now on, when somebody gives you the CB cap excuse for not shooting an airgun, you have something to help you argue your point.
by B.B. Pelletier
Announcement: John "J." Stoll is this week's winner of Pyramyd Air's Big Shot of the Week on their facebook page. He'll receive a $50 Pyramyd Air gift card.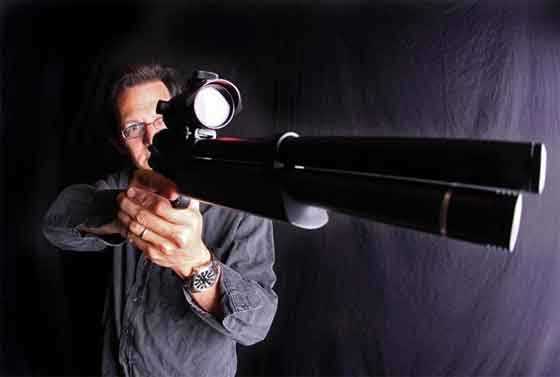 John "J." Stoll holds his Marauder pistol and 42mm BSA red dot.
Today I will show you what CB caps did at 25 yards. Please remember the thrust of this investigation is to see whether a CB cap can be substituted for a good (read that as a PCP) air rifle. The four things I am interested in are the cost of ammo, accuracy, power and the noise at discharge.
Thus far we have learned that the air rifle is more accurate than the best CB cap at 50 yards. The pellets for that rifle are considerably less expensive than a similar quantity of CB caps and the dischange sound of my Talon SS with its 24-inch optional .22-caliber barrel the way I have it set up (with a bloop tube silencer installed) is as quiet as the quietest CB cap tested. And when I say CB cap, know that I'm also including the RWS BB cap in the list of ammo being tested.
So at 50 yards, you'll want to choose an accurate precharged air rifle over a CB cap in any .22 rifle. But what about closer? What if the pests you want to shoot are no farther than 25 yards away? Today we will see how CB caps do at that distance, and of course as always, I will shoot the air rifle right with them, so we can keep track of things.
Airgun first
It was so easy to test the air rifle first, because if it is sighted-in at 50 yards, it's also very close at 25 yards. In fact, my rifle is sighted-in for 25 yards and I have simply tolerated it at 50 yards because the group was close enough to the aim point. The same .22-caliber JSB Exact Jumbo Heavy pellet was used as at 50 yards.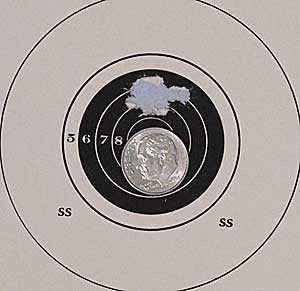 The Talon SS set the bar pretty high for the rest of the rifles. Ten JSB Exact Jumbo Heavy pellets went into this group measuring 0.436-inches between centers.
CCI CB Longs
Now it was the turn of the CCI CB Long CB caps. The first rifle to fire them was the Remington 521T that proved fairly accurate (for a CB cap) at 50 yards.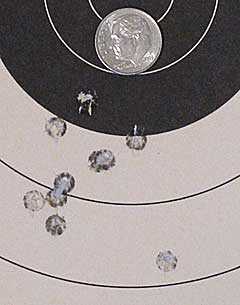 Ten CCI CB Longs went into this group measuring 1.83-inches at 25 yards. The Remington 521T did it.
After that, the Stevens 414 Armory stepped up to the plate. As you may recall, it did so poorly with both brands of CB caps at 50 yards that I fired a group of 9 Wolf Match Target rounds, which are regular .22 long rifle target rounds, just to see if the rifle was accurate at all. It was with that ammo, but not with the CB caps.
At 25 yards the 414 was a little better. Ten shots went into a group measuring 2.787 inches across. While that's not tack-driving accuracy, at least they were all on the paper this time.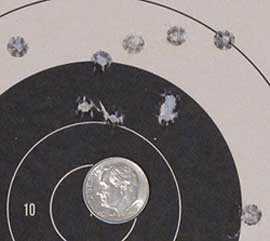 Not a killer group, but much better than the performance at 50 yards. Stevens 414 Armory shooting CCI CB Longs in this 2.787-inch group.
Aguila Super Colibri
The next round to be tested was the Super Colibri from Aguila. You may remember that we discovered that the Colibri rounds shoot way too slow for rifles and had to be eliminated from this test, so the Super Colibri is the only Aguila round being tested.
In the Remington 521T they performed adequately. Ten shots went into a group measuring 3.476 inches at 25 yards. While that might be good enough for plinking, no one would ever confuse it as an accurate round for pest elimination.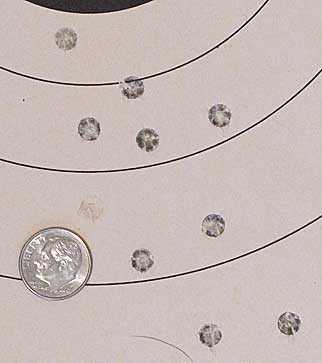 Not a stellar performance, but the best we did with Aguila Super Colibris at 25 yards. These ten shots made a 3.476-inch group.
Next up was the Stevens Armory 414, and while all ten shots did land on the target paper at 25 yards, they were spread out over 5-7/8-inches. Clearly the Stevens rifle does not like CB caps one bit. I won't even show the group, because there is nothing to see.
RWS BB and CB caps
At this point the RWS BB caps and CB caps were up, and only one rifle is shooting them — my Winchester Winder musket. I did that because it is chambered for .22 Shorts, so the shorter RWS cases won't cause as much trouble as they might in a rifle chambered for the .22 Long Rifle round.
The BB cap target I won't show because the group is too large, and one round landed off the target. It measured about seven inches in all, which makes this round infeasible for use at 25 yards in this rifle. After the test is completed I may go back and try the round in the Remington, just to see if I'm right about the chamber being too long, but right now I'm finished with it at 25 yards.
The RWS CB cap, on the other hand, turned in a 10-shot group that measured 1.792-inches across, making it the best CB cap group at this range thus far. This tells be that the performance of the BB cap in this rifle is probably better than I would see in the Remington, because this rifle just out-shot the Remington's best 25-yard group. So it is clear that the RWS CB cap is a cartridge to contend with, and also the Winder musket is no slouch in the accuracy department.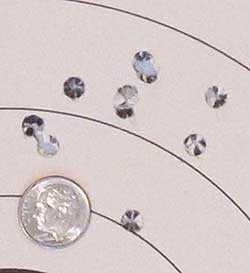 Best CB cap target at 25 yards to this point! The Winder musket can shoot and the RWS CB cap is not bad, either. Group measures 1.792-inchs across.
CCI CB Short
Only one cartridge remains — the CCI CB Short. We learned in the velocity test that it is equally powerful as the CB Long and has an identical bullet, so the only significant difference is the Short has a shorter case. It is ideal for rifles chambered for the .22 Short round.
You would think that would make this cartridge very similar to the CB Long, but that's not how it turned out! When I was done with the string and looked at the target for the first time, I was amazed! The Winder musket has iron target sights, so I couldn't see the group as it formed, and that was probably a good thing, because look at what it did.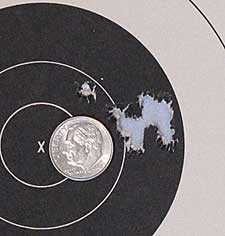 Does this group look a lot like the tight air rifle group at the beginning of the report? It does to me. Ten rounds went into 0.981 inches, with nine of them cutting a group that measures 0.604-inches! That's pretty amazing.
Obviously I have found a winner with the Winder musket and CCI CB Shorts. They are equally accurate as the air rifle and might be used to pick squirrels off the bird feeder, as long as it isn't too far away, and the rifle is sighted-in for the cartridge.
Sum up for 25 yards
At 25 yards, some CB caps will work, while others won't. It seems to rely a lot on the individual rifle at this range. Since I have only tried a couple rifles, I would think the possibilities are wide open for anyone who owns a .22 rimfire.
Let's remember that these bullets are being powered by priming compound, alone. And it is the priming step that is both the most critical in the production of rimfire ammunition, and also the one most prone to failures. I did have several failures to fire with the Stevens Armory 414, but when I shot .22 Long Rifles there was only a single failure and that one didn't work after three tries. Perhaps the Armory could use a tuneup, and maybe that is what is behind its poor showings.
The last group shown was the one that really stunned me. I would have bet big money before conducting this test that no CB cap in any rifle would every turn in that kind of performance. Well, that's why I'm doing this. Now we all know a lot more about what CB caps can and cannot do.
There is one more test to conduct at 10 meters. That's for those who just want to shoot squirrels in their attic. Then I will sum up all the important lessons this report has revealed.
Till then!
by B.B. Pelletier
Announcement: Andrew Rhee is this week's winner of Pyramyd Air's Big Shot of the Week on their facebook page. He'll receive a $50 Pyramyd Air gift card.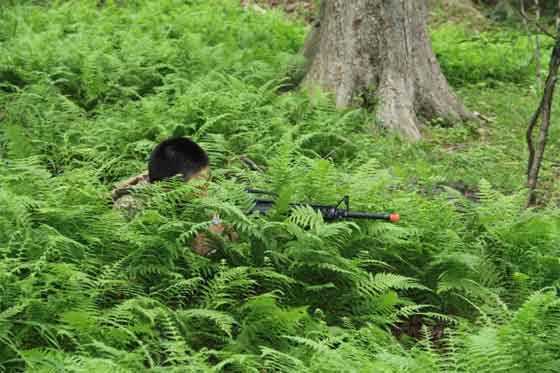 Andrew is hidden among the ferns with his KWA KM4 RIS airsoft rifle.
Today, I'll finish the accuracy test at 50 yards.
This report is about how .22-caliber CB caps stand up to an air rifle in four areas: cost of ammunition, power, accuracy and sound. To-date, we've learned that the air rifle I'm using is just about as powerful as the most powerful CB cap and that it's as quiet as the quietest CB cap that might be used. One specialty CB cap (the Aguila Colibri) is quieter, but so low powered that it wasn't used in this test. It's strictly for .22 handguns.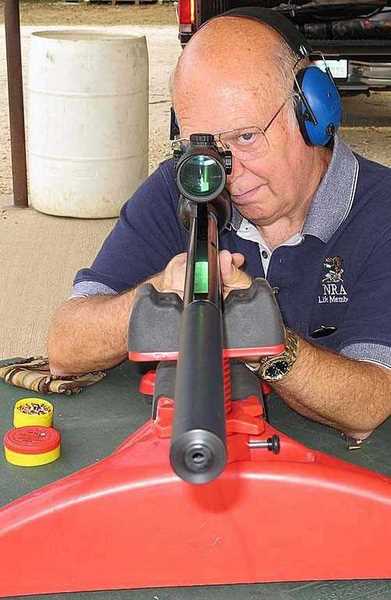 First, I tested the accuracy of the AirForce Talon SS, which is my control air rifle. It has to endure the same wind and lighting as the CB caps, so the results should not be skewed.
If you've been following this report, you know that I've been having trouble loading CB caps into the chamber of my Ruger 10/22 — one of three rifles I selected to test the accuracy of CB caps. I chose a 10/22 because I had one (always a good reason) and because I thought it represented what the average guy might use if he wanted to shoot a CB cap. However, that was before I discovered what a royal pain it is to load CB caps into a 10/22! Yes, it can be done and I actually did it many times, but it's so frustrating that I finally gave up and removed the 10/22 from this test.
Before making that decision, though, I even went to the bother of converting my rifle to the custom configuration with the custom stock and bull barrel from Butler Creek. Then, I rediscovered this nasty fact. So, I bounced that rifle as well before firing the first shot. But that left me with no scoped rifles in .22 rimfire. My Remington 521T has target aperture sights, as does the Winchester Winder musket. I wanted to keep things as even as possible between the firearms and the air rifle that wears a Leapers 3-12x44AO SWAT scope, but it was not to be.
The Winder musket
Another rifle whose accuracy I haven't yet reported in this test is the Winchester Winder musket. This is a Winchester Low Wall action chambered for .22 Short, and I selected it for two reasons. First, it was made as a target rifle, and as such should be pretty accurate. Second, because it's chambered for the .22 Short round, it's perfect for the CCI CB Short cartridge, as well as being better for the ultra-short RWS CB caps and BB caps. Shooting these rounds in a rifle chambered for long rifle ammunition is putting them at a decided disadvantage, because they have to traverse the length of the chamber before encountering the rifling. When doing that, it's possible the bullets could tip slightly before they engage the rifling.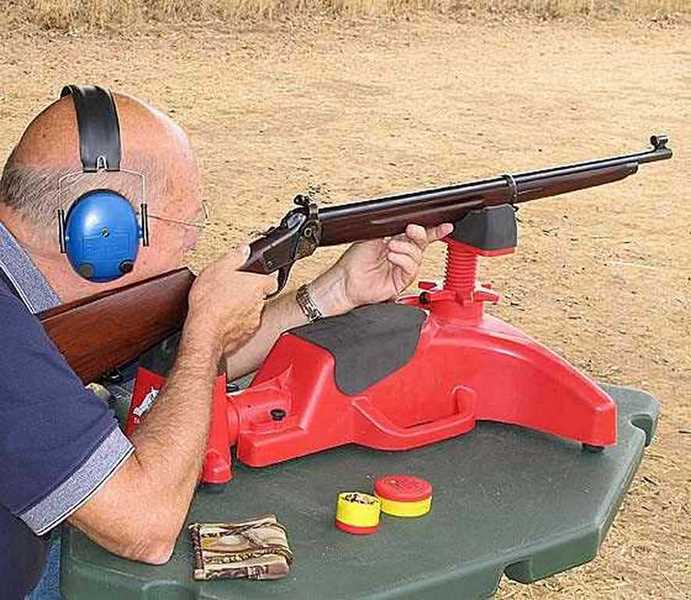 Though the Winder musket dates from before 1920, it's still a highly accurate target rifle, as this test showed.
The Winder's performance was pretty surprising. It out-shot both the Remington 521T target rifle AND the scoped Ruger 10/22. Not by just a little. With CCI CB Shorts, the Winder posted a 2.714-inch 10-shot group! While not in the same class as the air rifle, that's not bad. It was the tightest group made by any of the CB cap and BB cap ammunition in any rifle at 50 yards.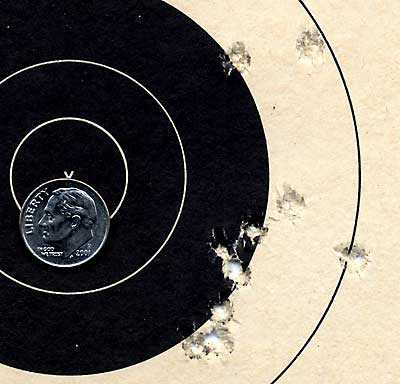 Not bad for just priming compound at 50 yards! This group of 10 CCI CB Short rounds from the Winder musket measures 2.714 inches across centers.
With RWS CB caps, the Winder put 10 into a group measuring about 3.577 inches. I have to say "about" because one round strayed off the target paper and I wrote a note on the target that it was an inch to the right. The Winder has no lock on the windage adjustment, and I guess I'd rubbed it against the rifle case when pulling it out at the range. That rolled the windage adjustment too far to the right, which put the group in the upper right corner of the target. When I started shooting, the shots were close enough and far enough on the paper that I thought I could get them all on. Since it takes me up to 15 minutes to complete one group, while waiting for the perfect time to shoot, I decided to go with this group as is.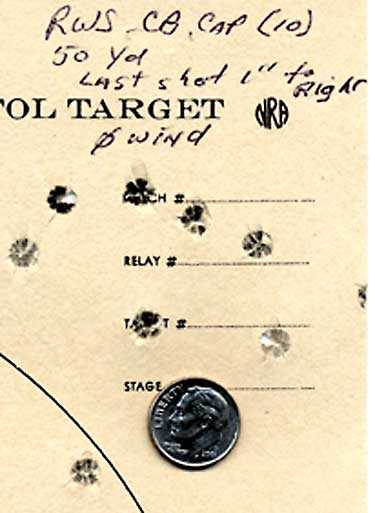 Nine of 10 RWS CB caps made it through this target from the Winder musket. Shot No. 9 just nicked the right edge of the paper. The tenth shot was about an inch to the right of the target paper. Actual group size was about 3.577 inches.
The RWS BB caps performed much differently than the CB caps in the Winder. Only 8 of 10 made it onto the paper, even though this group is well-centered on the target. Again, I have no idea how large the total group is, but the 8 shots I do have are spread out about 7.25 inches.
Adding the Stevens Armory 414 target rifle
I did add a third rifle to the firearm side since the 10/22 was removed. It's a Stevens Armory 414 target rifle that was popular before World War II. It's a single-shot lever-action that's based on the popular Stevens No. 44 action. Mine has an adjustable target tang sight and a very odd front aperture that looks like it should be lethal.

The four rifles used in this test (top to bottom): AirForce Talon SS, Winchester Winder musket, Stevens Armory 414 and Remington 521T.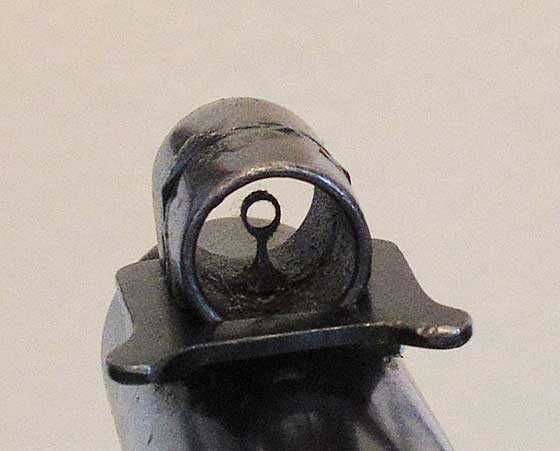 The front aperture on the Stevens Armory rifle is one of the smallest I've ever seen.
Now, it was time to shoot the new rifle at 50 yards with both the Aguila Super Colibri CB caps and the CCI CB Longs. This was done a week ago, and I saved the results for today's report.
The results
The results are really horrible! The Aguila Super Colibis managed to hit the 10.5″x12″ target paper 3 out of 10 times. For those on the metric system, the target paper measures 268mm by about 350mm! I have no way of knowing for certain what the group size actually is, but let's conservatively call it a 15-inch group! I'm not going to bother showing you the target paper with three holes.
Next, I tried CCI CB Longs and got somewhat better results, though they're still nothing spectacular. Ten shots made a group that measures just over 9 inches at 50 yards. At least all the shots were on the paper!
This got me wondering whether this particular rifle is accurate with anything, so I shot a group of 9 Wolf Match Target .22 long rifle cartridges. It would have been 10, but one cartridge failed to fire in three attempts. Rimfires! Naturally, that was the last of that brand of cartridge on hand. The group is small enough (0.978 inches) to indicate that the rifle can shoot, and I still have no idea what the best round for this rifle might be.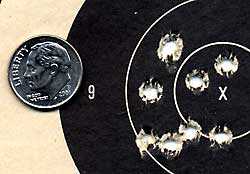 Nine Wolf Match Target rounds went into this group, which is under an inch; so, the rifle can shoot with the right ammunition.
Summary for CB caps against air rifles at 50 yards
The Talon SS air rifle with an optional 24-inch, .22-caliber barrel and bloop tube shot groups in the three-quarters to one-and-a-quarter-inch range at 50 yards. This rifle is a proven entity, and this level of performance is not unusual. Since it was shot on the same day as the CB caps, both were shot under the same conditions; so, we can cancel the wind and lighting as factors.
The best performance from the firearms was realized by the CCI CB Shorts shot in the Winder musket, and they made a 10-shot group that was just over 2.70 inches. The Ruger 10/22 that I eliminated because of loading difficulties turned in the second-best group, and the RWS CB caps in the Winder musket were close behind. After that, the group sizes increased very quickly. Most of the rest of the groups were too large to measure because several shots were off the paper and lost.
The bottom line for 50-yard shooting with CB caps is that they cannot keep pace with a good PCP air rifle. There's something else you have to consider. If you grab a .22 rimfire to shoot just one CB cap, the rifle will not be sighted-in for that round. I spent a lot of time getting my shots on target at 50 yards. When I switched back to standard .22 long rifle ammunition with the Stevens Armory 414, the sights had to be adjusted a lot in both directions.
With an air rifle, you'll always be on target, provided the rifle is sighted-in. So, just grab the gun, load it and take the shot. At distances as far as 50 yards, this makes all the difference in the world, because Mr. Rat is not going to sit still while you adjust your sights.
I must say that I was surprised by the tightest CB cap groups shot with both the Winder musket and the Remington 521T. I couldn't have predicted that level of accuracy for them at 50 yards.
Next time, we'll move in to 25 yards — and I already know the results are going to amaze you.