Posts Tagged 'JSB Match Diabolo Exact Jumbo Heavy pellets'
by Tom Gaylord, a.k.a. B.B. Pelletier
Today's report is a guest blog from reader /Dave. He's going to tell us about his recent experience with a fine precharged pneumatic (PCP) air rifle.
If you'd like to write a guest post for this blog, please email us.
Take it away, /Dave.
Most of you know me as /Dave. I used to be known here as Shooter, until someone was nice enough to recommend the movie of the same name to me. I immediately changed to /Dave because I'm simply not, and never will be, in that league. Please excuse the pictures, they are from my phone.
I have known a lot of people in my life who absolutely must have new when it comes to buying anything. Guns, cars, bicycles…doesn't matter — anything, really. As if used is somehow not as good, is damaged or is missing the right aura. To them, if it's not new, it just isn't right. For those people, I write the following report; as proof that used things are not all bad. This is one of my better experiences with used stuff.
A couple months ago, I bought a used Air Arms S410E bolt-action .22-caliber (FAC version) air rifle from the Yellow Forum classifieds. It showed great promise while I was shooting it and getting to know it in my basement's 9.50-yard range, but I longed to try it out at a longer range in a relaxed setting, like my backyard. My neighbors are mostly okay with me shooting outside. To make sure they aren't bothered, I wait to shoot until I have days off during the week when they're at work.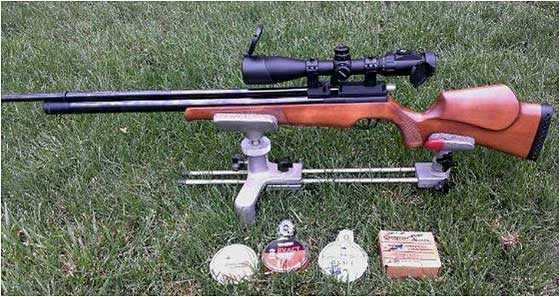 Dave's new/old Air Arms S410E air rifle.
I can get a measured 27 yards from the end of my muzzle on my kitchen countertop to the target near the back fence. A friend recently gave me a mechanical rifle rest that he wasn't using anymore, so I gave that a try. The countertop makes for a nice place to put the rest when you clamp a wide board to it. I usually shoot off a monopod while standing or sitting, so this was much more solid than what I'm used to.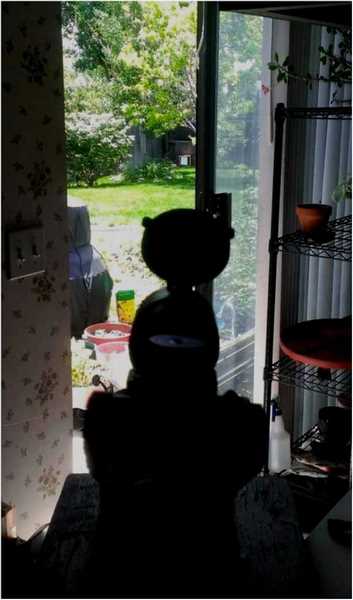 Shooting range from behind the rifle. Sshhh! Don't tell the wife.
Here's a look through the new scope I also got from the Yellow Forum classifieds (from a different guy). He bought it, never even took it out of the box and decided to sell it. It has a range-estimating reticle and mil-dots that I have yet to learn to use. So far, I just use the sidewheel focus knob. It seems close enough for government work. There are 36 colors for the reticle illumination! Haven't tried those out, either.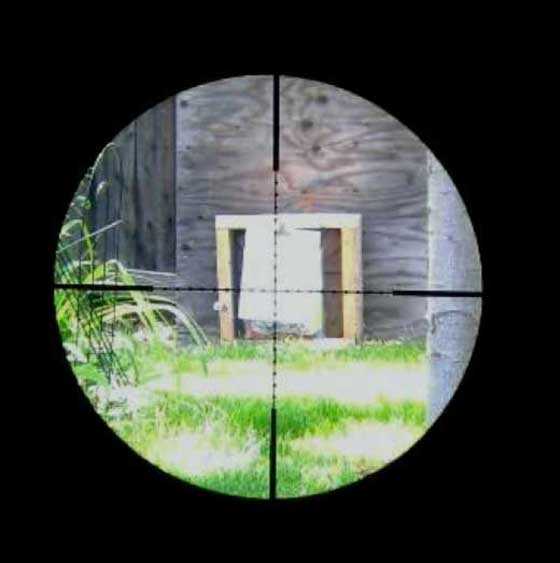 The view through new, secondhand scope (bought from Yellow but the box was still factory sealed) — UTG Accushot SWAT IE 3-12x44mm, IR, side focus, 30mm tube and set on about 7x. Looks out of focus on the picture, but it's really clear and in focus when looking through it with my eyes. Sidewheel set on about 26 yds, so it's not too far off on the factory markings after adjusting the diopter for my eyes.
My backstop is a piece of plywood behind an old crate, and inside — you guessed it — a pile of phone books still in their wrappers!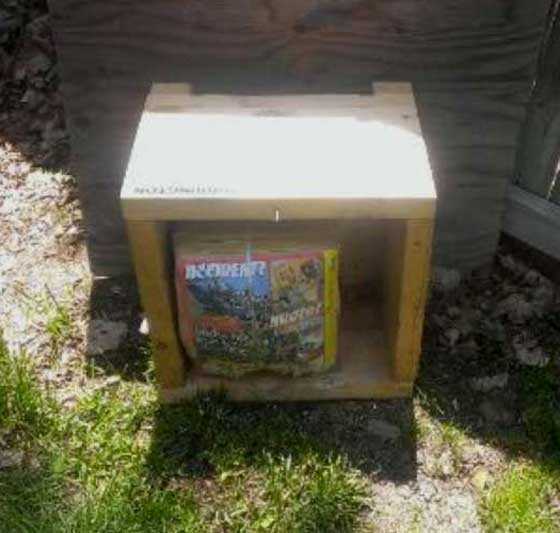 Backstop at 27 yards.
OK, on to business….
When I received my gun, I immediately pumped it up to its maximum fill of 200 bar (approximately 2900 psi) and started the chronograph testing. Blog reader Kevin Lentz accurately predicted that the sweet spot on the fill would be about 180-190 Bar. Above that, the valve is getting air locked, reducing the velocity of the pellets. I didn't save the results from my chronograph, a Competition Electronics ProChronoDigital, but I did figure the muzzle energy with each string's average using this Pyramyd Air's handy online calculator. With various pellets, it produces anywhere from 26 to 30+ foot-pounds. Lighter pellets generate less, and the heavier ones generate more energy, as is typical with a PCP airgun. This gun doesn't really start falling off the pressure curve (losing power and velocity) until around 110-120 bar (about 1600 psi), after 60 or more shots.
Pumping it back up to around 190 bar on the gauge takes somewhere around 150 strokes of my Benjamin hand pump. Sounds like a lot, huh? It's really only 2-1/4 to 2-1/2 pump strokes per shot. I'd call that pretty efficient in terms of energy transfer! While pumping the gun up, I noticed that the gauge on my pump and the gauge on the gun disagreed, so I go by the higher of the two readings just to be safe. That happens to be from the gauge on my pump. During the last couple of months since I received the gun, it hasn't leaked down any noticeable amount, so I think we're good there. Chalk one up for used equipment!
What about the accuracy? That's what airgunning is all about isn't it? OK, then, on to the shooting results.
At 27 yards on a mostly windless day and shooting off my mechanical rest, I think it does well. As I said, the mechanical rifle rest is a lot more solid than what I'm accustomed to. It doesn't adjust from side to side except by sliding the back end around, but it has a very fine elevation screw, allowing me to dial in the height very easily. It also has very thick felt v-pads on the front and rear to allow a non-marring, but freely sliding surface to support both the forearm and the butt of the rifle. While shooting my groups, I was also adjusting the scope a bit to get it closer to what I wanted. The clip on this gun holds 10 rounds, so it's easy to shoot groups of 10. I'll give both edge-to-edge and center-to-center group measurements for your comprehension. Generally speaking, I think that center-to-center is the standard.
My first group with .22-caliber JSB Exact Jumbo, 5.52mm head, 15.9-grain domed pellets measures about 5/8″ from edge-to-edge, giving me just over 3/8″ center-to-center. You might notice I don't use calipers. Although I own several, I just use a tape for my groups since that's usually what I have handy. This same pellet duplicated this group a couple of clips later and is the best pellet of the 4 types shot today at this distance.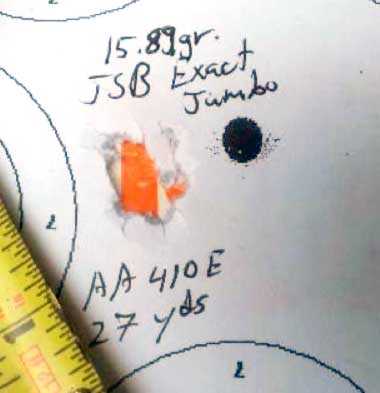 First group of the day, 10 rounds. It's also the 2nd best of the day!
My second group was with Air Arms Falcon pellets, 5.52mm head, 13.43-grains, domed pellets. These gave me a 10-shot group of 11/16″ edge-to-edge, or about 7/16″ center-to-center.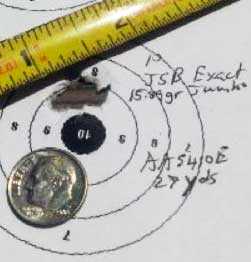 The second group was with JSB Exact 15.9-grain domes. It's pretty good!
The third group was with Crosman Premier .22, 5.50mm head, domed pellets. These are from the box, not the tin. These weren't terrible at 13/16″ edge-to-edge, or about 9/16″ center-to-center. I think I've found something other than my 2240 that will shoot these CP's with acceptable accuracy!
The fourth group was from the JSB Exact Jumbo Heavy, 5.50mm head, 18.1 grain, domed pellets. At 5/8″ edge-to-edge, or about 3/8″ center-to-center, these matched the 15.89-grain JSBs. Two good choices!
My fifth group was a repeat with the JSB Exact Jumbo .22, 5.52mm head, 15.89-grain, domed pellets from the first group. This was my best group of the day at 9/16″ edge-to-edge, or about 5/16″ center-to-center!
My sixth group was a repeat with the JSB Exact Jumbos from the first and fifth group. I just wanted to verify that I was sighted in at 27 yards. This group is in the upper left of the following picture. The group size is a bit larger due to the fact that I shot away my aim point.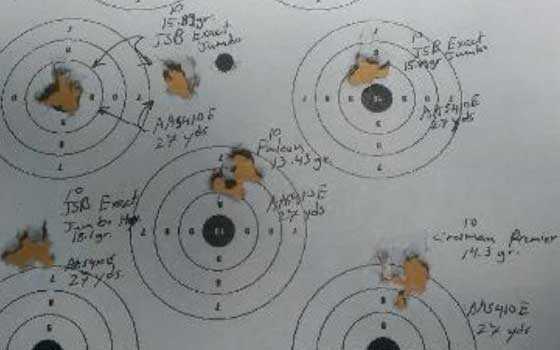 Six 10-shot groups on one fill. One-hundred fifty strokes of the Benjamin handpump to refill to 190 bar from about 110-120 bar. I think that the JSB Exact Jumbo 15.89-grain pellet is the winner of the day. Last group is upper left after scope adjustments.
As you can see, each of the six groups can be completely or almost completely covered by a dime. The largest can be covered with a nickel. All are pretty round, and these are consecutive group; so I'd say this rifle isn't too pellet picky. Cost for this set-up was less than $600 for the gun and 2 clips plus $100 for the scope. The Accushot scope mounts I already had laying around. All of the pellets that I used today were purchased from Pyramyd Air at one time or another. Can't beat their 4 for the price of 3 deal!
Am I happy with this gun? Absolutely! But, back to the original question: "Can you get a good, used gun?" Of course! This isn't my only used gun purchase. Nearly all of my higher end guns are used (I call them higher end but, in fact, they're more middle range), either acquired from the Yellow Forum classifieds or from Pyramyd Air's Reman/Refurb/Open Box or Used Gun section. Either I've had great luck or this is the norm for me, with the bad apples being the occasional exception.
One of the things that ups my success versus "oops, I shouldn't have done that" rate is research. In this case, I'd witnessed an S410 FAC sidelever in action. I know that Air Arms has a pretty much stellar reputation; and, from looking at going prices, I knew this one was a pretty good deal — even if it is a bolt-action and the stock isn't walnut. Not a screaming deal; but at arm's length, everyone walks away happy deal. I also buy new guns and other things, but I fully intend to keep saving money by careful shopping in the used, remanufactured and refurbished aisles! So can you. You'll need just a little patience and act quickly when you notice something!
by Tom Gaylord, a.k.a. B.B. Pelletier
AirForce Condor SS with Spin-Loc tank. The buttpad is shown flipped down.
Today, I'll report the velocities I got with the new AirForce Condor SS rifle with Spin-Loc tank, as well as the shot count per fill and some other interesting things. Yesterday, I spent some time informing you of how the baffled silencer system works in this rifle. Today, that becomes important to understand.
Before we begin, let me clear up some things. Blog reader RidgeRunner thought the reservoir of the Condor SS looked smaller in the photo than the old reservoirs on the other two rifles. It isn't. It is exactly the same size. The foam that surrounds the tank has changed, and that might give the illusion that new tank is shorter, but that's just an illusion.
Blog reader Bob from Oz asked for a diagram that shows the flow of air because he was confused by my textual description. That's where the photo of the silencer parts comes in. The end of the barrel, the true muzzle, is buried deep inside the frame of the rifle. The frame is tubular in front, and many people might think that it looks like a bull barrel, but it's actually a hollow tube that has an inside diameter of one inch. The baffles fit inside that hollow tube exactly as shown in the photo, except that they are touching each other when they're installed, so they're not spread out like they appear in the photo.
When the pellet and compressed air exits the muzzle of the barrel (deep inside the tubular frame of the gun), it passes through the first baffle and much of the air is stripped off. It passes through the open slot of the baffle and is deflected backwards by the wide flange of the next baffle. Then, it passes back through the holes in the front barrel bushing and into the open space between the barrel and frame behind the front bushing.
As the pellet passes through each baffle more of the compressed air gets stripped off and reflected backwards. This all happens in miliseconds and the air is still under pressure, so it eventually comes out the end cap of the rifle.
Why am I telling you this?
You have to understand how this works, or nothing I say will make much sense. The key to quietness is the volume of empty space inside the frame of the gun and the length of time it takes the compressed air to exit the gun. You don't notice anything, of course. You shoot and hear the report at the instant of firing. But there really is a small lag time, during which the compressed air expands and loses its energy. That energy is what makes the noise, so the greater the expansion, the less noise there is. And the less compressed air that's used with the shot, the lower the noise will be when everything else remains the same.
First encounter
I told you this because, when I began testing the Condor SS for velocity, I was surprised by the noise. I was testing inside my office, which is 12 by 15 feet, and the last time I heard the rifle was outdoors back in November of last year. I knew this gun I was testing was louder than what I'd heard back then. So, I went to AirForce yesterday and we conducted some tests to determine where the production Condor SS is sound-wise. I'll get to that after we look at the velocity, so let's do that right now.
Velocity
Like all the sporting precharged rifles AirForce makes, the Condor SS has adjustable power and interchangable barrels. There's no way I can test every possible combination of pellets, calibers and power settings, so I selected spots in the power spectrum that I'll report today. I will report each pellet at all the power settings and give you the shot count for each one.
Eun Jin domes
The first pellet I tested was the Eun Jin 28.4-grain dome. While there are heavier pellets that will generate greater power in .22 caliber, I believe this one will do well in the accuracy test, so it's a reasonable top-end pellet to test. On the maximum power setting, this pellet averaged 892 f.p.s. I shot it 20 times and the high (shot 3) was 912 f.p.s. The low (shot 20) was 814 f.p.s. Yes, that is a 98 f.p.s. spread; but out to about 35 yards, this pellet will hold zero for those 20 shots. If you plan on shooting at 50 yards and farther, stop at around 10 shots. Your average then climbs into the low 900s and the max spread is less than 30 f.p.s. At the average velocity for the 20 shots, this pellet generates 50.19 foot-pounds of energy at the muzzle.
The power band is more or less a straight declining number from start to finish. Starting at 3,000 psi, you finish at 2,200 psi. A Hill pump then takes about 100 strokes to fill the tank again. So, there are 5 pump strokes per shot on max power.
The rifle was very loud, so I told Edith to change the sound rating in the description to a 4 because this gun is louder than a Sheridan Blue Streak on 8 pumps. It's quieter than a Condor running at the same power, but still loud enough to notice. In fact, when I was testing the velocity in my office (with the door closed), Edith was in the living room and thought I was shooting a Quackenbush big bore because it was so loud.
Now, let's look at the performance of the same pellet at different power settings.
On power setting 10, there were 20 total shots at an average of about 878 f.p.s. (48.63 foot-pounds).
On power setting 6, there were 22 shots at an average 868 f.p.s. (47.52 foot-pounds).
On power setting 4, there were 23 shots at an average 858 f.p.s. (46.44 foot-pounds).
On power setting 2, there were 25 shots at an average 830 f.p.s. (43.45 foot-pounds)
The power spreads from the first shot to the last were closing up as the power was dialed down; but even at setting 2, there was still 80 f.p.s. variation, start to finish. The beginning and ending air pressure was always the same for each string. Even on the lowest power the rifle sounded just as loud.
Crosman Premiers
Then, I tried the Crosman Premier pellet that weighs 14.3 grains. The Condor was the first air rifle to get this pellet supersonic in .22 caliber. In the Condor SS, the average on high power was 1076 f.p.s. It ranged from a low of 1029 f.p.s. to a high of 1117 f.p.s., so, once again, a large spread. At the average velocity, this pellet generates 36.77 foot-pounds of energy at the muzzle. And there were the same 20 shots per fill, with the same starting and ending air pressures. There was no noticeable difference in the report between this pellet and the Eun Jin.
On power setting 10, there were 20 shots at an average of about 1067 f.p.s. (36.16 foot-pounds).
On power setting 6, there were 22 shots at an average 1062 f.p.s. (35.82 foot-pounds).
On power setting 4, there were 23 shots at an average 1033 f.p.s. (33.89 foot-pounds).
On power setting 2, there were 25 shots at an average 1010 f.p.s. (33.70 foot-pounds)
As with the heavy pellets, the power spreads were closing up as the power declined; but even at setting 2, they were still 60 f.p.s. from start to finish. The beginning and ending air pressure was always the same for each string. Even on the lowest power, the rifle sounded just as loud.
JSB Exact Heavys
Next, I tried the 18.1-grain JSB Exact Heavys. I expect this pellet to be matched well to the power of this new rifle. On maximum power, they averaged 1004 f.p.s., which generates 40.52 foot-pounds of muzzle energy. The high was 1059 f.p.s., and shot 20 was 962 f.p.s. I still got 20 shots per fill, and the muzzle report was identical to the others.
On power setting 10, there were 20 shots at an average of about 988 f.p.s. (39.24 foot-pounds).
On power setting 6, there were 22 shots at an average 981 f.p.s. (38.69 foot-pounds).
On power setting 4, there were 23 shots at an average 970 f.p.s. (37.82 foot-pounds).
On power setting 2, there were 25 shots at an average 966 f.p.s. (37.51 foot-pounds)
Notice that these pellets seemed to do very well on the lower power settings. That is important because the shot count increases with very little loss of power. The total velocity spread on setting 2 was 69 f.p.s. I think this may be the best pellet for this rifle, but accuracy testing will have to prove it.
Beeman Kodiaks
The last pellet I tested was the Beeman Kodiak that weighs 21.1 grains in .22 caliber. Many will select this pellet for a powerful rifle like the Condor SS. On the maximum power setting, these pellets averaged 970 f.p.s. The high was 1017 f.p.s. The low was 908 f.p.s. Like the other 3 pellets tested, a large velocity spread over the 20 shots; but as I pointed out before, out to 35 yards it won't make much difference. At the average velocity, this pellet generated 44.09 foot-pounds of energy at the muzzle.
On power setting 10, there were 20 shots at an average of about 965 f.p.s. (43.64 foot-pounds).
On power setting 6, there were 22 shots at an average 952 f.p.s. (42.47 foot-pounds).
On power setting 4, there were 23 shots at an average 936 f.p.s. (41.06 foot-pounds).
On power setting 2, there were 25 shots at an average 920 f.p.s. (39.67 foot-pounds)
Summary of power performance
The Condor SS I'm testing seems to work best at power setting between 4 and 10, with the lower setting being better. The shot count increases, and the velocity spread gets a little tighter, plus not much power is lost. Let's keep that in mind, and I'll get back to it in a moment.
Sound testing at AirForce
I took my rifle out to AirForce Airguns and tested it against a production gun, another gun that had a pre-production prototype barrel and a .22-caliber Benjamin Marauder. I had said in Part 1 of this report that the Condor SS set on maximum power was no louder than the Benjamin Marauder when I saw it shoot last November. The one I now have for testing certainly seems to be louder.
We shot outdoors but next to the steel building, so there was some sound reflection from the building walls. Clearly, my Condor SS is just as loud as the current production gun, and both are louder than the Benjamin Marauder dialed up to its maximum power. But here's the difference. The Benjamin Marauder shot Beeman Kodiaks between 801 f.p.s. and 828 f.p.s., and both Condor SS rifles shot the same pellet at an average 920 f.p.s. when set on power setting 2. So the Condor SS is putting out about 40 foot-pounds when dialed down low, and the Marauder is putting out around 30 foot-pounds with the same pellet when it's adjusted as high as it will go. That's a big difference.
So, why was the Condor SS I had heard back in November so much quieter than this one? Well, for starters, back then the baffles had smaller holes through them. Now, they're able to safely handle calibers .20 through .25; but back then, they were still experimenting with the hole size. Also, the barrel in my test rifle is 16mm diameter. The prototype rifle had used a 12mm diameter barrel; so AirForce installed a 12mm diameter barrel in their production rifle that we tested yesterday, and the sound went down a little. The 12mm barrels are being processed now for production.
Then, we installed a standard SS tank on the Condor SS that now had the 12mm barrel and dialed the power down to 838 f.p.s. with the Beeman Kodiak pellets. That was as low as we were able to go when the 3,000 psi fill was fresh. Now, the Condor SS was only a little louder than the Marauder that was shooting just a little slower. We shot them side by side several times to make sure. There's a difference you can discern when testing side by side, but outdoors it isn't that great.
Remember, this is shooting outside but close to a building, and the standard tank is being used instead of the High-Flo tank that comes with the rifle. You can buy a standard tank as an accessory, but they aren't going to sell one with the rifle instead of the High-Flo tank, so don't even ask!
As far as the Spin-Loc tanks are concerned, they're the new design. Pyramyd Air has opted to phase out the version with the old-syle quick-detach tank and stock only the versions with the Spin-Loc tank. The quick-detach tank that screws in is also available as an accessory in both the standard and High-Flo configurations.
Observations so far
Wow! This has to be one of the longest reports I've ever written. And the first part of it was yesterday, in Part 3. I hope this addresses your concerns about this rifle, and that you now clearly understand what you'll receive when you order a Condor SS. It's quiet for the power it generates, but it's not whisper quiet like I originally said.
There's still so much ground to cover with this test rifle. Accuracy testing comes next at 25 yards and then 50 yards. And after that, I'll install a standard tank and do today's test again. Stay tuned!
by Tom Gaylord, a.k.a. B.B. Pelletier
This comment came in last week from our new blog reader Jim H, and I wanted to address it right away. It's a good question for a new airgunner to ask, and it deserves a good answer.
"I'm new to the airgun side of things, so I have a lot of questions but here's one that is really bugging me. I have read all of the reviews here by Tom and also the blogs over at that "other airgun retailer" written by Jack Elliot. One message that has come through loud and clear is that each gun will tend to like specific pellets and only experience will tell the shooter which one is best. What is the best approach for testing various pellets? Do you pick a velocity that you want to shoot at and then try all the pellets that will get you to that velocity range or do you simply have favorite pellet brands and types that you've come to love over the years and that's what you go with? With the hundreds of pellets available out there, what is the 'short list' of pellets that a newbie needs to start with?"
Several of you started to answer Jim in the comments section, so my answer comes a little late; but from what I've read, I'm telling him things that are pretty different from what all of you told him. He actually asked 2 different questions: 1. What is the best way to test a pellet? and 2. What is a short list of pellets to choose to test airguns? I took my direction for this report from his request for a "short list" for a newbie.
This will not be a very technical report. I'm not going to discuss pellet head sizes or skirt thicknesses, except where it affects the pellets I name. I have a short list for most of the airguns I shoot, and it's not rigid. But it's caliber-specific, and there's also a small powerplant component to it.
Money is no object
I used to focus on the cost of pellets, but that was before discovering that hitting the target is far more important than saving money. If saving money is your principal goal, get a piggybank. I shoot for fun, and hitting the target is where the fun is. It costs no more to be accurate than it does to experiment by chasing the illusion of economy.
I must also say that I have more experience with pellets for rifles than for pistols. So, today we're just looking at pellets for rifles. Let's take a look at them.
.177-caliber rifles
For .177 rifles my short list is the following pellets:
Crosman Premier lites (brown box) springers and CO2
Crosman Premier heavies (brown box) pneumatics and CO2
JSB Exact RS (up to 12 foot-pounds)
JSB Exact Heavy 10.3-grains
H&N Baracuda and Baracuda Match
Beeman Kodiak and Kodiak Match
RWS Superdome
RWS Hobby
That is my short list. There are other pellets that are very accurate, but I find them to be more specific to certain guns. Please remember that this is not a popularity contest. If your favorite pellet didn't make my list, don't fret. I try other pellets all the time — these are just the ones I count on.
If you ask me why these pellets are on the list, it's because they're the ones that are the most reliably accurate. That's my only criteria because if you can't hit the target, nothing else matters.
.20-caliber rifles
The .20-caliber list is very short because there aren't as many reliable pellets made in that caliber. The most reliable one is the Crosman Premier.
Other than that, I would try anything JSB makes, and that's about it.
.22-caliber rifles
Crosman Premier
JSB Exact Jumbo 15.9-grain
JSB Exact Jumbo Heavy 18.1 grain (good in powerful PCPs)
RWS Superdome
RWS Hobby
H&N Baracuda and Baracuda Match
Beeman Kodiak
.25-caliber rifles
The quarter-inch caliber is another one with few good pellets. The two on my list have demonstrated they will deliver in all cases.
Benjamin domed (these have no name, but they are essentially a .25 caliber Premier)
JSB Exact King
Pellet shapes
I prefer domed pellets to all other shapes. They're more accurate at long range and penetrate well. Wadcutters are good for distances under 25 yards but not for farther than that.
Pointed pellets, hollowpoints and lead balls
I have no use for pointed pellets of any kind. I've never found them to be accurate, and the slight advantage they have in penetration isn't good if they can't hit the target. Hollowpoints are a subject that need a blog report of their own. Lead balls are specialized for certain airguns and are not for most air rifles.
Pellets and power
As power goes up, the pellets should generally get heavier. And PCPs tend to do best with heavier pellets. CO2 guns are a lot like PCPs when it comes to pellets, so I consider them to be the same.
Other selection criteria
There are other selection criteria, of course. I've found certain pellets to sometimes be surprisingly accurate in certain guns, and that's enough to keep me trying them in other guns — searching for more miracles. But the lists above are the tried-and-true performers that almost never let me down. That's why they made my list.
The second question
The other question Jim asked was how to test pellets. I do it by choosing the most accurate rifle I have and shooting 10-shot groups with each pellet in which I'm interested. Do it that way, and pellet testing is easy.
I usually don't express my opinions this strongly; but when it comes to picking a good pellet, I think it's too important to let it slide.
by Tom Gaylord, a.k.a. B.B. Pelletier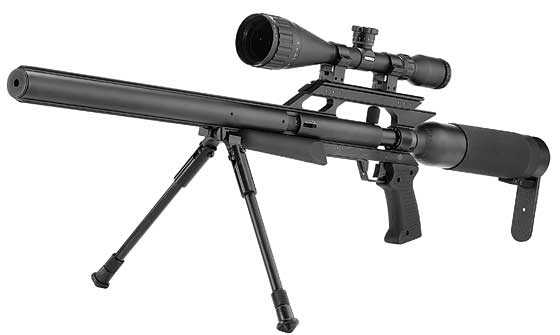 The new AirForce Condor SS has an improved trigger and safety. But the biggest news is that it's quiet!
Oh, boy, do I have a lot to tell you today! You're reading this while Mac and his wife (Elissa), Edith and I are attending the 2013 SHOT Show. I did the testing for this blog back in November of last year. See? I can keep a secret!
There are many new things coming from AirForce, and today they're showcasing them to the industry at the 2013 SHOT Show. Subscribers to Shotgun News got a sneak peak at them last week when the SHOT Show issue hit the newsstands with a full report.
There's a new trigger and safety that will appear on all the sporting rifles. Then, there's the new Condor SS and an updated Talon SS — both of which I will report for you today.
I was actually testing the new AirForce trigger and safety for them, to see if I could break it or make it malfunction. Then, at the end of my test, I visited AirForce for a day and got to see and hear the new Condor SS and Talon SS. And when I say hear, I do so only as in using a common phrase because you can't actually hear the discharge of either rifle!
How much better is the new trigger?
I'll never forget the day blog reader Kevin was visiting me and tried the trigger on my Wilson Combat 1911 CQB Light Rail pistol. He guessed it let off at one pound and simply refused to believe it was really three pounds. I got the trigger-pull gauge, and we tested it right there! Three pounds and an ounce or two, as I remember.
Well, that's what the new AirForce trigger is going to feel like to veteran AirForce owners. The trigger on my vintage Condor breaks at about the same 26 oz. as the trigger on the new gun, but what a difference it is! First of all, the new gun is a brand-new gun. My old Condor has an untold number of shots out the muzzle, all of which helped to smooth up the trigger parts. And I never took it apart, because I used to build these guns and I know they do not tolerate lubricants, dirt or modifications to parts.
The other thing the new trigger does is stop right after it releases. It's like a perfectly adjusted trigger stop, only there's no stop. It comes that way from the factory.
The new trigger cannot be exchanged for the old. The pins are in different places, and the parts are completely different. This was not done to make you buy a new rifle. It's just a fact that the new parts are all different and fit together differently.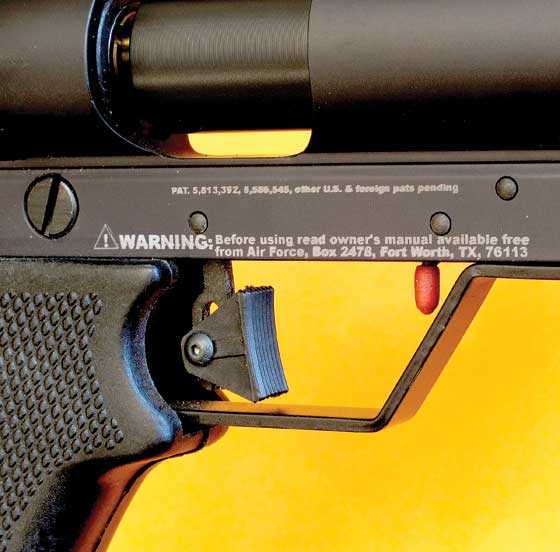 The old trigger and safety. The safety comes on automatically and is pushed forward to release.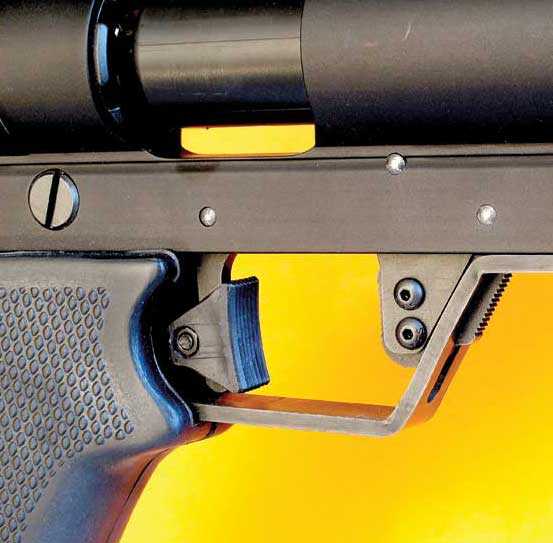 The new trigger doesn't look much different until you notice that the pins are in different places. This safety is a prototype, and the production safety will not have teeth on the end.
This new trigger and safety will become the standard of the AirForce sporting rifle line, so you'll find it on all three rifles — the Talon, Talon SS and Condor. And, of course, the new Condor SS will also have it when it comes to market.
All the new parts were designed on a CAD system that lets the designers play with different configurations without having to cut any metal. Only when they feel the design is right do they make the parts for testing.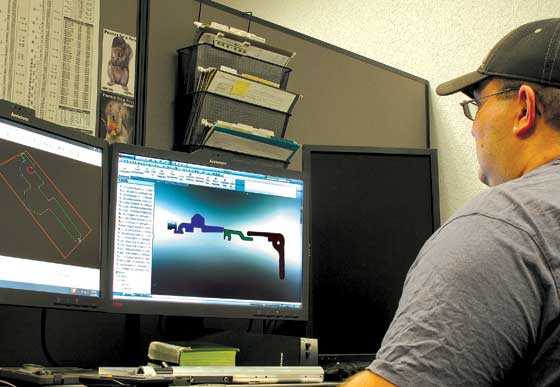 All the new trigger and safety parts were designed on a workstation. This allows incredible control over the final parts the machines make!
The new safety operates differently than the old one. It does not allow the rifle to be uncocked. There's an additional safety built in so the gun will not function until the bolt is almost closed — so no longer can you release the safety, pull the trigger and ride the bolt down slowly to uncock the gun. Once cocked, the trigger must be fired. To avoid exhausting any air, I found that if I unscrewed the air reservoir and held my hand behind the bolt cocking knob to catch it as the striker hit it I could avoid exhausting any air while uncocking the gun. This takes some practice, and you don't want to do it indoors the first time — don't ask!
The proof
Blah, blah, blah! Everyone knows I like AirForce guns, so what can I say about them that you haven't already heard? Those who agree with me don't need convincing, and everyone else believes I've sold out to the Dark Side. But — what if the new gun really shoots? What then?
So, I went to the range and shot it. And I did something that you haven't seen me do before — at least not with an air rifle. You all know what I mean by a "group." I mean 10 shots in succession, one after the other, and let the chips fall where they may. If 3-shot groups are like riding the bumper cars and 5-shot groups are like a drag race on city streets, then 10-shot groups are like Formula One racing.
I already knew the old Condor was an accurate air rifle, and I've shown that to you on several occasions. On this perfect, cold November day, I did something a little different. First, I shot 10 JSB 18.1-grain Jumbo Heavy pellets at 50 yards and got a group that measured 0.508 inches between centers. That's pretty darned good. In fact, that's a screamer in my book. And, in deference to people like my brother-in-law who thinks the shots must be centered in the bull to be good, I also centered them.

Ten JSB 18.1-grain Jumbo Heavies went into 0.506 inches at 50 yards. This group is a screamer!
Normally this is where I would load a different pellet and shoot another 50-yard group, but on this day I didn't do that. Instead, I walked out to the 100-yard berm and put up another target. Then, I shot another series of shots at that target. I'd elevated the scope by what amounted to several inches of elevation above the 50-yard zero, but the shots still fell below the bull. But they fell in a group that measured 1.003 inches between centers. Instead of 10 shots, there were 11 because I was so wrapped up in the shooting that I lost count of my shots.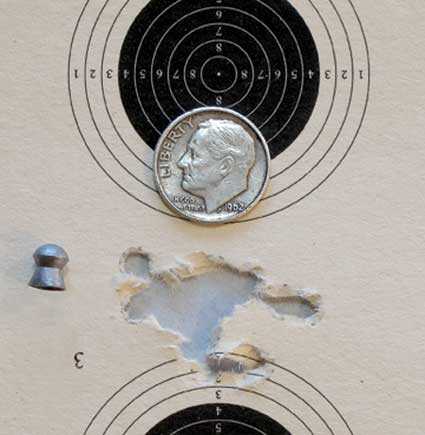 Eleven JSB 18.1-grain Jumbo Heavies went into 1.003 inches at 100 yards. I may never again shoot a group this good with an air rifle.
Did the new rifle shoot that well just because of the new trigger? Of course not. A Condor with the old trigger could shoot just as well. All the new trigger did was make it even easier to shoot that group.
Uniformity is king
What are your chances of getting a trigger just as good straight out of the box? They're excellent because one of the things the design of this new trigger does is make it easier to control dimensions and tolerances during manufacture. Each and every trigger should feel the same straight from the box. Even more important than how good the new trigger feels is the news about the uniformity.
On to the new quiet guns
I went to AirForce for a day to witness the new Condor SS and Talon SS upgrade perform. When I got there, we grabbed a Condor and immediately went outside where a chronograph was waiting. Why a chronograph? Because the new Condor SS is so quiet that it sounds like you're shooting a Diana 27 breakbarrel. No — it's not even that loud. All you hear is the click of the striker hitting the valve — and they're talking about how to make that even quieter!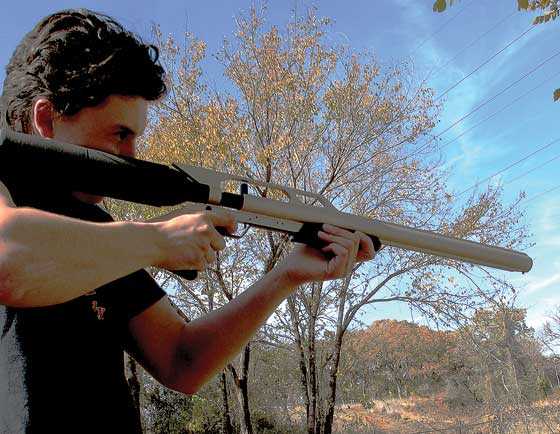 We shot the prototype Condor SS and the new Talon SS upgrade.
The new Condor SS has an 18-inch barrel, compared to the 24-inch barrel of the standard unsilenced Condor. It's a little slower, but not much. They get about 1,200 f.p.s. with .22-caliber 14.3-grain Crosman Premier pellets, where the unsilenced gun gets around 1,250.
Imagine a 55 foot-pound air rifle that's so quiet you have to watch your breathing. As I said about the Benjamin Marauder and thousands of shooters now know: When the rifle fires, it's the sound of a ballpoint pen falling onto a deep-pile carpet.
The technology
Like the current Talon SS, there's space ahead of the Lothar Walther barrel in the Condor SS. However, unlike the current guns, there's now something in that space. There are are 3 Delrin baffles designed to turn around the compressed air and direct it toward the rear of the gun. By the time it finally gets past the end cap, it has lost all its pressure and therefore makes no sound.
I'd love to show you those baffles, but they were still tweaking the design when I was there. All I can say is that the ones I saw looked a lot like large black diabolo pellets seen from the side. And they're separate and individual. There's also a spring that presses them tight so they don't rattle.
Here's some very good news for owners of the current Talon SS. These baffles will be sold separately so you can install them in your gun. Yes, I did get to hear a standard Talon SS with the new baffles, and it's quiet. But since it's impossible to be quieter than nothing, I can't really give you a rating. It sounds just like the new Condor SS.
I asked them to put a standard air tank on the new Condor SS to see what I would do. We saw Crosman Premiers going 970 f.p.s through the traps, which is 100-120 f.p.s. faster than the standard SS. The benefit of that is that, instead of about 20 good shots on one tank, you get up to 40 shots — and the longer barrel gives you performance in the 30-40 foot-pound region. They have no plans to build that gun (standard tank with an 18-inch barrel and new extended Condor SS frame), but any owner can just put a standard tank on a Condor SS and get it for themselves.
This report is just Part 1 of what I hope will be a complete series on the new Condor SS. That'll include the new trigger and safety, but I feel like I've already addressed that completely in this report. The gun will hit the market in 2013, hopefully sooner rather than later. As soon as it does, I'll be on top of it for you.
This report is about a single family of new airguns at the 2013 SHOT Show, but it doesn't really cover the show, so there will be several more SHOT reports coming.