Posts Tagged 'JSB Match Diabolo Exact Jumbo RS pellets'
by Tom Gaylord, a.k.a. B.B. Pelletier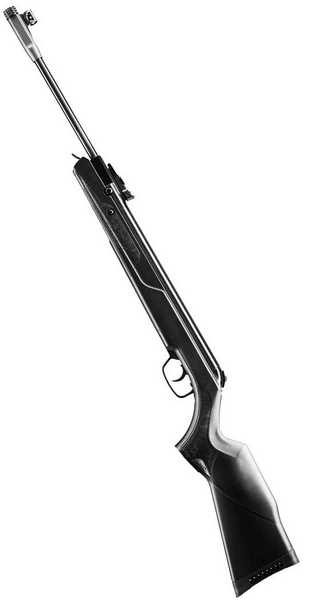 Walther's LGV Challenger is an exciting new sporting breakbarrel springer.
Wow! That's my assessment from today's test. Please read the explanation of how I arrived at that result.
Today, I shot the .22-caliber Walther LGV Challenger air rifle at 25 yards with open sights. You'll remember that it has fiberoptics front and rear, but they can be defeated by lighting the target brightly and sitting in a dark place to shoot. Fiberoptics are not good sights for precision shooting, but they're good for a fast snap shot when hunting. These can be used both ways, so they're wonderful.
I always become concerned when I shoot indoors at 25 yards — especially when using open sights. I have only a few inches of clearance through the garage door; and if a pellet goes astray, it could plow into the woodwork around the door. I needn't have worries with the LGV, however, because the only place those pellets went was to the target.
JSB Exact Jumbo Heavies
Reader Kevin asked me to try the rifle with 18.1-grain JSB Exact Jumbo Heavy pellets, so I did. I was concerned that a 12 foot-pound rifle wouldn't be able to handle a pellet so heavy, but that wasn't a problem. In fact, this pellet gave me the best 10-shot group of the test, measuring 0.78 inches between centers. That's just a hair over 3/4 of an inch!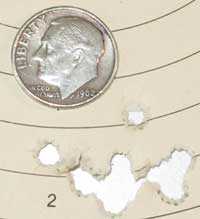 Ten JSB Exact 18.1-grain heavies made the best group at 25 yards. It measures 0.78 inches between centers. This is great for 10 shots at 25 yards with open sights.
Crosman Premiers
The first group was low on the target, so the rear sight was adjusted up for the next pellet, which was the 14.3-grain Crosman Premier. As you can see, I lucked into the perfect sight adjustment for this pellet and tore out the center of the bullseye. I realize this makes a lot of people feel better about the group, but I hope you readers realize that it's simply a matter of sight adjustment that determines where the pellets land. If the gun will shoot a tight group, then you can move that group anywhere you want. This one certainly does shoot very tight.
Ten Premiers landed in a group that measures 1.147 inches between centers. It's not as tight as the previous group, but we expect that to happen with different pellets. The irony is that because this group is centered on the bull, it'll look better to those who think the object is to the strike the center of the target regardless of anything else.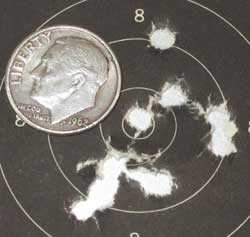 Ten Crosman Premiers made a 1.147-inch group. It happens to be centered on the bull but isn't as tight as the previous pellet.
Predator Big Boy
I did try a group of 10 Predator Big Boy pellets in the LGV; but at 26.2 grains they're clearly too heavy for this powerplant. They opened to 1.657 inches at 25 yards, which told me this isn't the right pellet for this rifle. I could also hear a very long lag between firing and the pellet hitting the trap, so the velocity must be in the high 300s or low 400s.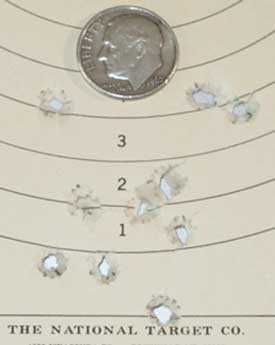 Ten Predator Big Boys made an open 1.657-inch group. This is obviously not the pellet for the LGV.
JSB Exact Jumbo Express
I finished the test with 10 JSB Exact Jumbo Express pellets that weigh 14.3 grains. I tried it because, in the 10-meter test, 13.4-grain JSB Exact RS domes didn't do as well as the others. But at 25 yards, this pellet certainly did very well. Ten pellets grouped in 0.786 inches, just a whisker larger than the group of 18.1-grain heavies…and really too close to call.
Ten JSB Exact Jumbo Express pellets made3 a 0.786-inch group at 25 yards. This is too close to the group made by the Jumbo heavies to call the difference.
The bottom line
So far, the LGV is living up to its name and even going beyond. I say beyond because this new LGV delivers 12 foot-pounds, where the target rifle by the same name was less than half that powerful.
This rifle is smooth, it holds well, the weight is distributed very well and the trigger is light enough for good work. When you cock the rifle, it's smoother than any breakbarrel I've ever tested…other than a few that were tuned to perfection. I had the chance to shoot another LGV while I was at Umarex last week, and it felt identical to the rifle I'm testing. Rick Eutsler, who usually tests airguns costing $200 and under, fired the rifle before he was ready on the first shot. He, too, was blown away by the feel of the gun.
I know these rifles are going to cost a lot, and I know that not everyone will be able to purchase one, but that doesn't detract from the fact that this is the best new breakbarrel to come along in the past half-century. I may not live in a mansion, but that doesn't prevent me from appreciating one when I see it.
by Tom Gaylord, a.k.a. B.B. Pelletier

Walther's LGV Challenger is an exciting new sporting breakbarrel springer.
Summary
I'll cut right to the chase — this Walther LGV Challenger is everything I hoped for. This is a classic air rifle, and we're privileged to see its inception. We were there!
Open sights
Today, I tested the rifle's accuracy from a rest at 10 meters using the open sights. This rifle is equipped with fiberoptic sights, and we all know that they're not precision aiming devices; but if you light the target brightly and shoot from a relatively dark space, the dots won't appear. You'll see a crisp, square post and sharp rear notch that you can use to the extent of your shooting skill.
Start of the test
Each time I break open this rifle, I'm reminded of why it's so special. The barrel feels like a bank vault — both on opening and again on closing. Cocking is relatively easy and every one of the four pellets I tested loaded easily, yet were tight in the breech. I even like the size and configuration of the stock that seems to be made for me.
JSB Exact RS
The first pellet I tested was the one that I thought might be the most accurate — the 13.4-grain JSB Exact RS dome. Remember, the rifle I'm testing is .22-caliber, so all the pellets will be heavier.
Since I was using open sights, I looked at the target after the first shot to make certain the pellet had struck the paper. It had, and in the bull, too. It was at 6 o'clock, on center with the 10-ring so I didn't adjust the sights. As I continued to shoot, I could see pellets dropping just below the bull — and the hole didn't appear to grow much from where I sat.
When I went downrange to change targets, I saw the first group — 10 JSB Exact RS pellets in 0.464 inches between centers. It's a good group that told me the rifle could shoot, but the verticality told me I needed to do better on estimating the bottom of the bull with the tip of the front post.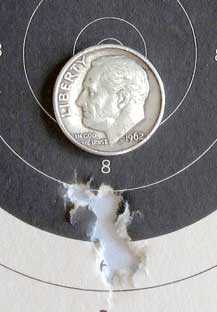 Ten JSB Exact RS went into this 0.464-inch group at 10 meters.
The rifle hangs perfectly dead in the hands when shooting. What that means is that I wasn't fighting it to find a good hold point or to control the balance. It just hung there, giving me confidence. My off hand was back under the forearm touching the triggerguard.
The trigger does have some creep in the second stage, and I would want to adjust as much of that out as I could; but for this test, I left it as it was. It was light and posed no difficulty to good shooting, as you'll see.
Crosman Premier
Next up was the 14.3-grain Crosman Premier domed pellet. They went to almost the same place as the JSB pellets on the target, which is a good sign that the rifle isn't picky about pellets. Of course, I could only see the shots that landed in the white below the bull; but when I went down to change targets, I saw they were all in the same place! I had a remarkable group that measures 0.285 inches between centers. Look how round it is! This is what you see when a rifle really likes a particular pellet.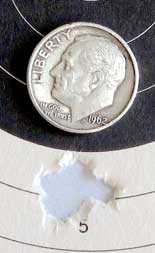 Ten Crosman Premier pellets made a 0.285-inch group at 10 meters. This is a great group — even for just 10 meters.
RWS Hobbys
The third pellet I tried was the RWS Hobby wadcutter. At just 11.9 grains, it goes the fastest of the lead pellets and is often among the most accurate pellets — at least at close range. Ten shots went into 0.408 inches.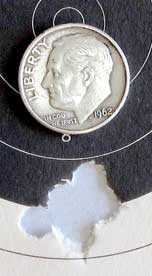 Ten RWS Hobbys made a 0.408-inch group at 10 meters. This group is rounded, which is a good sign.
RWS Superdomes
The last pellet I tried was the RWS Superdome, which weighs 14.5 grains. It made a 10-shot group that measures 0.378 inches between centers. The group is taller than it is wide; but this came at the end of the test, so I may have been tiring out. I know that each shot looked perfect to me when it went off, just as all shots in this test did.

Ten RWS Superdomes made a 0.378-inch group at 10 meters. This group is vertical, which shows the possibility of a sighting error.
Opinion so far
I gave you my opinion at the start of this report. I think the new LGV Challenger is a wonderful new spring-piston airgun. I certainly did not expect to see quality like this from a new air rifle. I thought those days were past, but it's now clear that fine spring-piston airguns can still be made when the maker wants to.
This rifle reminds me a lot of my Beeman R8. The trigger could stand to be improved, but not much more needs to be done. I think you're going to like the LGV if they all work as well as the one I'm testing.
Future plans
Next, I plan to test this rifle at 25 yards with a scope. I expect the great shooting to continue. Then, I have to find more things to test it with, so I can hold onto it until Umarex receives their first shipment of rifles to sell so they can give me a price for this one.
by Tom Gaylord, a.k.a. B.B. Pelletier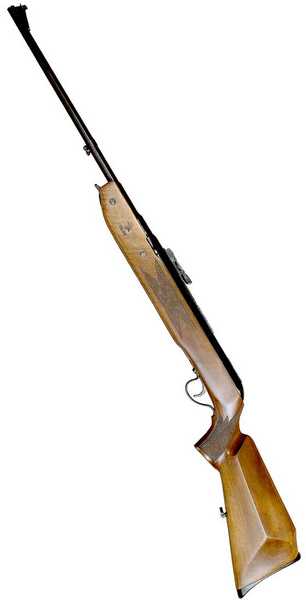 Falke 90 underlever rifle is a German spring-piston gun from the early 1950s.
Cometa Fusion .22 update
Before I begin, I want to update you on the Cometa Fusion Premier Star report that I'm doing. The fifth accuracy test failed because the scope moved — again! Kevin sent me a special base that people on the internet were having success with, but alas, it did not stay put on the rifle I'm testing.
The vertical scope stop pin on this base is 0.137 inches in diameter, and the stop pin hole on the rifle is 0.111 inches; so, the stop pin cannot enter the hole. As I've said many times in the past — no amount of clamping pressure, alone, is enough to hold a scope base from moving, except when BKL mounts of the correct size are used. Unfortunately, I don't have any of them with enough droop to compensate for this rifle.
I do, however, think this mount base will work because it does have the amount of droop that I need for the rifle. When I come home from the SHOT Show, my plan is to grind the base pin thinner so it will fit into the hole. If that doesn't work, I don't know what I can do that I haven't already tried. Remember, I'm doing this because I believe the rifle is accurate and would be a wonderful value if I can just get the scope to stay put.
On to the Falke
I started this report on the Falke 90 because I hadn't really shot it that much since getting it in 2010. Vince fixed it for me, and Mac did the accuracy test. I got the rifle back from Mac, but there wasn't anything to do that hadn't been done. So, this year I had the stock restored, and that was a huge project for Doug Phillips at DAMAGEDWOODSTOCKS. Then, I thought I would test the rifle as though I'd just bought it because, essentially, that's what happened!
I learned in Part 2 that the velocity and stability of the rifle were affected by the depth the pellet was seated into the loading tap. And the Falke's tap is a small one, compared to other taps I've used, so the seating depth is more variable in this rifle with most pellets. Most pellets fall into the tap and stop at different depths, and often they aren't in far enough to close the tap without damaging the pellet. That will become important in this test.
RWS Superpoint
The first pellet I tried is the one that I always shoot in Hakim rifles, which are very similar to this one. It's the 14.5-grain RWS Superpoint. I expected to get the same performance from this rifle as I got from more than a dozen Hakims over the years. Alas, that didn't happen. The tighter loading tap on the Falke meant I had to seat the pellets manually to clear the tap, and the results at 10 meters, rested, were not that good. Ten shots made a group that measures 1.124 inches between centers. As you can see, it's an open group with scattered hits that tend toward the vertical.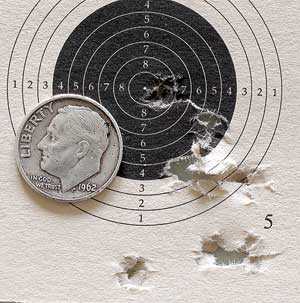 RWS Superpoints did not prove accurate in the Falke 90.
JSB Exact 15.9-grain
I won't even show a target for the JSB Exact 15.9-grain domes because the pellets went all over the place. I didn't even finish the group.
RWS Superdome
Next, I tried RWS Superdomes, but they weren't much better than Superpoints. They did give a smaller group, at 0.861 inches between centers, but that's only good by comparison. I'm looking for better accuracy from this Falke because I think it's there. Oh, yeah, also because Mac got much better accuracy in his test!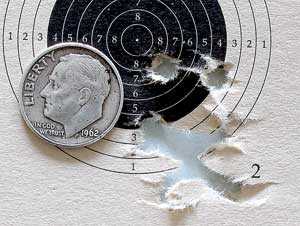 This is better but still not as good as I'm expecting. RWS Superdome pellets.
The iron sights are fighting me
At this point in the test, I had to admit the iron sights on the rifle were working against me. I simply could not adjust them high enough to get the pellets centered in the bull at 10 meters. I remember that Mac used a red dot sight he mounted to the rifle, and I may need to do the same to get the groups I'm looking for. That will have to be another test because this one was already taking a lot of time and I wasn't finished.
What did Mac do?
When Mac tested the rifle he found that the obsolete 5.6mm Eley Wasp pellet shot best. In fact, it wasn't close. He got a group with Superdomes like I did, though he shot from 15 yards rather than 11 (which is 10 meters). So, the next pellet I tried was the Eley Wasp.
Eley Wasps
Eley Wasps are much larger than other .22-caliber pellets, so imagine my surprise when the first one fell deep enough into the tap to not require seating. After that, though, I seated every pellet to the bottom of the tap. Perhaps this is why Mac was telling me to do this! I didn't appreciate it during the velocity test, when deep seating made the velocities more variable; but in the accuracy test, look what happened! Nine of the 10 pellets went into an almost single hole that measures 0.695 inches between centers. And the 10th shot is way low. It opens the group to 1.029 inches. Want to guess that this is the first shot that wasn't seated deeply? I don't know if it is, because I didn't look at the target before I completed it. I only saw this when I went downrange to retrieve the target for photography and measuring…but I think it is.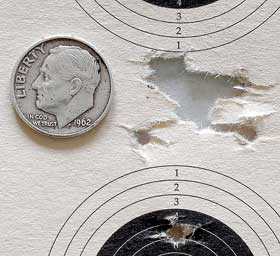 Nine in 0.695 inches, and one below opens it to 1.029 inches. I don't know, but I'm guessing the one I didn't seat deeply was the stray shot.
What have I learned so far?
The Falke is certainly a different air rifle, and it doesn't turn out to be what I thought it would be. I like the feel of Hakim rifles better than this one. They seem to shoot smoother, and their triggers are easier to adjust. Still, I don't think I've completely mastered the Falke 90 yet.
This reminds me very much of a .22-caliber BSF Bavaria S54 taploader I used to own. It had a huge diopter rear sight, yet couldn't hold a candle to a plain old Diana 27 for accuracy. Just because a rifle is a rare and vintage gun is no guarantee that it will also be a smooth and accurate shooter.
I do think that I need to try the Falke again, and this time with a dot sight mounted. And I'll deep-seat Eley Wasps from the start and not worry about whether or not there are other good pellets.
This is a learning experience — that's for sure!
by Tom Gaylord, a.k.a. B.B. Pelletier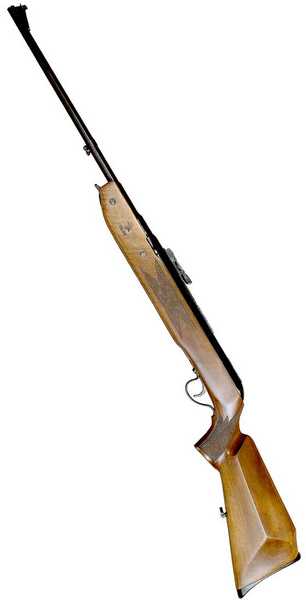 Falke 90 underlever rifle is a German spring-piston gun from the early 1950s.
This report is my test of the .22-caliber Falke 90 underlever air rifle I acquired a few years ago. When I got it, the rifle wasn't working, so blog reader Vince offered to fix it for me. After he finished, he took it to my friend Mac, who tested it. I've owned this rifle for several years and never really tested it myself, and I thought it was about time to do so.
I recently had the stock restored by Doug Phillips, who did a wonderful job. Now, I have a nice-looking underlever spring rifle as well as one that works well, so today we're going to look at its velocity. And we're going to do more than that because Mac told me some things about the gun that have shaped today's test. Why don't I share them with you now?
The Falke 90 is an underlever, which means there is a separate lever to cock the mainspring. In the Falke 90, it's hidden by the stock — very much like the BSA Airsporter and the Hakim, which are both related to the Falke. All three rifles are loaded through a tap that rotates open automatically when the lever is cocked. That provides a place to drop the pellet, nose-first. Then the tap is manually rotated closed, the pellet aligns with the breech (in front) and the air transfer port (behind the pellet). Let's talk about that tap for a bit.
Tap alignment
The tap opens by a mechanical projection on the cocking linkage that pushes the tap as it passes it during cocking. I think the remarkable thing is that it stays in adjustment over hundreds of thousands of shots and scores of years of use. My tap is still aligned perfectly, so I don't have to do anything except drop a pellet nose-first into it and then rotate it closed to align with the barrel.
There can be a problem with a tap, however. The pellet chamber in it can be so exact that pellets don't fall all the way in when they're just dropped in. This is what Mac pointed out to me about this rifle. My taploader experience has been with the Hakim rifle, which has a generous pellet chamber and seldom has a problem — unless the pellet skirt is bent. Then, the pellet won't fall into the tap's pellet chamber as far as it should; and when you rotate the tap closed, you'll catch and bend the pellet's skirt. But the pellet chamber on the Falke 90 tap is very small and may or may not accept the pellet as far as it needs to — to clear the receiver when the tap is rotated closed.
Mac told me to watch for that problem and to make sure each pellet made it into the pellet chamber as far as it needed for clearance. He advised me to use an instrument to push each pellet as far into the tap chamber as it would go — thus clearing the skirt when the tap rotated closed.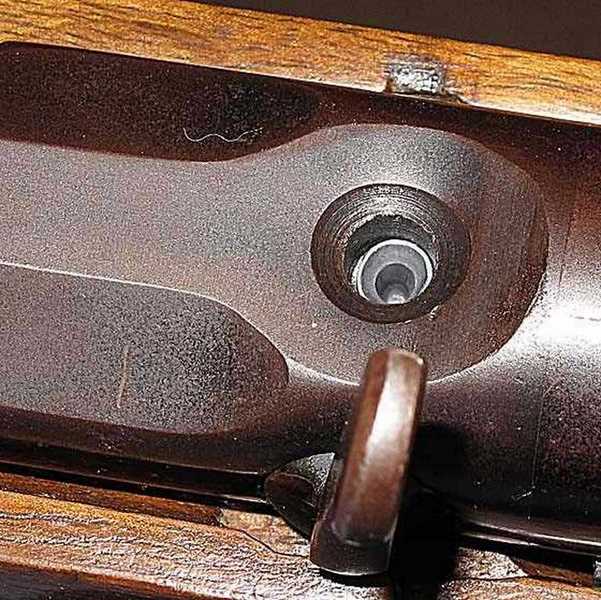 This pellet was dropped into the tap and failed to enter the pellet chamber far enough to clear the end of the pellet skirt when the tap is closed.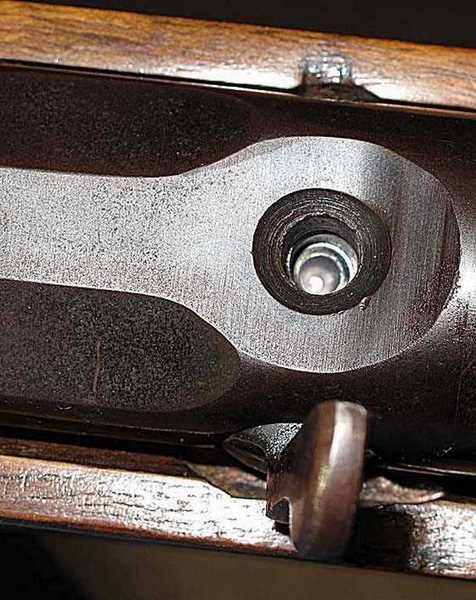 Here the pellet has been pushed into the tap as far as it will go. This pellet will easily clear the gun when the tap is closed.
This tap business got me wondering about the affect on velocity. Would a deep-seated pellet be better (faster and more consistent), or would a pellet that has just been dropped into the tap do better? I'm sure you can come to your conclusions quickly enough, so let's test a couple pellets and see what really happens.
RWS Superpoints
I began shooting RWS Superpoints when I got my first Hakim. They seemed like the perfect pellet for that rifle because they have thin skirts that will flare out from a smaller blast of air and also because they just dropped deeply into the Hakim tap. Other pellets were too small for the Hakim tap and failed to produce adequate velocity because much of the air compressed by the piston slipped past them in the barrel.
In the Falke 90, however, it's a different story. The pellet chamber in the loading tap is very small, and Superpoints do not usually drop in far enough to close the tap. Many of them need to be seated mechanically. So, I tested them two ways. First, as just dropped in but not pushed deep and second as pushed into the tap as deep as they would go.
Very few of the pellets fell into the tap deep enough by themselves to close the tap, so even in the first test there was some pushing that had to take place. Perhaps 6 pellets had to be pushed into the tap a little while 4 fell in deep enough on their own. This string of what I'm calling unseated pellets averaged 476 f.p.s. and ranged from 465 to 484 f.p.s. That is a spread of 19 f.p.s. At the average velocity, this pellet and loading method generated 7.3 foot-pounds of muzzle energy.
Next, I tried pushing the pellets into the tap as deep as they would go. Now, I bet you think they're going to go faster than the unseated pellets. Right? Well, they did one foot-per-second faster! Yes, the average for seated pellets was 477 f.p.s., and the spread went from 461 to 493 f.p.s. So the range was 32 f.p.s. And the average muzzle energy was 7.33 foot-pounds. Not much difference, is there?
JSB Exact RS pellets
The other pellet I tried was the lighter JSB Exact RS pellet, which in .22 caliber weighs 13.4 grains. This is a pure lead pellet, like the Superpoint, and it also has a thin skirt. But the Exact pellet is smaller than the Superpoint. These pellets fell into the tap far enough to close without any damage every time.
On the first test, where the pellet was just dropped in, the Exact RS averaged 453 f.p.s. The range went from 445 to 463, so a spread of 18 f.p.s. At the average velocity, this pellet generated 6.11 foot-pounds. And no mechanical seating was necessary.
On the second test, where the pellet was pushed into the tap as far as it would go, this pellet averaged 457 f.p.s., but the spread was much larger — ranging from a low of 448 to a high of 484 f.p.s. So, the velocity varied by 36 f.p.s. At the average velocity, this pellet produced 6.22 foot-pounds of energy at the muzzle.
What do these numbers tell us about the rifle?
For starters, I hope you realize that this was not a normal velocity test that produced standard numbers. The way the pellet fits the loading tap has a tremendous effect on the outcome. I believe that will probably carry over into the accuracy test, as well, so I wanted to try one more test. What would happen if I flared the skirts of every pellet before loading it into the tap, and then I pushed each pellet to the bottom of the tap? Wouldn't that give me the best sealing of the pellet to the bore? Mac thought it would. But only one way to know for sure. I had to test it. And I decided to test both pellets, as I could see no compelling reason to choose one over the other.
RWS Superpoints flared and deep-seated
Superpoints averaged 474 f.p.s. when their skirts were flared, and they were then seated as deep as they would go into the tap. That puts them in about the same place as the pellets that were just dropped into the tap and those that were intentionally seated deep. But here's where it gets interesting. The range went from a low of 464 f.p.s. to a high of 504 f.p.s. I'm not looking at the 40 foot per second velocity spread as much as I am the four pellets that topped 490 f.p.s. Clearly, flaring the skirts has an effect, but I must not have done it uniformly enough to make a difference.
JSB Exact RS pellets flared and deep-seated
The JSB Exact RS pellets are more flared to begin with. Even though their skirts are not quite as wide as those on the Superpoints, they lend themselves to flaring much better. These pellets averaged 487 f.p.s., which is a 20 f.p.s. increase over just seating the unflared pellets deeply. The range went from a low of 465 f.p.s. to a high of 501 f.p.s. Four pellets were at or above 500 f.p.s. Again, there must have been some inconsistency in the flaring, but the RS pellets did seem to respond better to the process.
Trigger-pull
Normally, I report on the trigger-pull in the velocity report, but I'm not going to do that today. The Falke 90 has an adjustable trigger that works on the sear contact area; and during the test, the trigger-pull went from being very light to not staying cocked. So I adjusted it heavy for safety's sake. A taploader is safe because, until the loading tap is aligned with the bore, the pellet will not move; so when the gun fired on its own several times, there was no problem. But if I were to adjust it to a light pull, I might then close the tap before the gun is on target — and that's dangerous if the gun then fires on its own! So, I'll adopt a procedure with this rifle of not closing the tap until the sights are on target.
I'm also having difficulty with the trigger because the trigger return spring isn't sufficient to push the trigger blade into lockup with the sear. When I cock the rifle, I also have to push the trigger blade forward to engage the safety. That may be because the new wood is a little tight in the trigger region. It's something I need to look at.
The rifle is shooting well thus far, with the exceptions noted. The next report will be accuracy, and for that Mac has set the bar very high.
by Tom Gaylord, a.k.a. B.B. Pelletier
Big and powerful — Hatsan's new model 25 breakbarrel spring-piston air pistol is different. And, it turns out it's quite accurate, as well!
Wonderful news for those who have been following the reports of the Hatsan model 25 Supercharger breakbarrel air pistol. It turns out to be accurate, which is why I reserve my final observations until I test a gun on the range.
This big pistol had a lot of strikes against it up to this point. It's very hard to cock, the trigger-pull is too long and creepy, the gun failed to achieve its rated velocity and the breech is tight. Today, you'll see how it did on the range, and I think most of my concerns are going by the wayside. This kind of turnaround doesn't happen that often, as readers of this blog know only too well. We often get a sense of how well or poorly a gun is going to do in the early stages of testing. And this one looked like it was headed downhill. But after you see the results on paper, I think you'll have to agree with me that the Hatsan Supercharger is an airgun to consider.
Sighting in
Let's get right to it. I elected to shoot at 10 meters because I had no idea what was in store for me, and I didn't want to shoot the furniture (again). There were only three customer reviews of this pistol when I was ready to test, and two of them had no useful information. Only one person commented on accuracy, and he said he could get 2-inch groups shooting offhand at 25 yards. Since he didn't mention how many shots were in those groups, I didn't give his report a lot of credibility, other than to hope that this test would turn out well.
I used a two-hand hold, with my forearms resting on a sandbag and both hands extended in front of the bag. So the hold was very steady. With a powerful pistol like this, the recoil is pretty violent. It can factor into where the pellet goes, so your hold has to be very consistent. If it is, you'll group as tight as the gun can — not unlike an M1911A1 Colt pistol that also bounces a lot when it fires. The secret, if there is one, is to always "bounce" the shot in the same way.
Holding the gun this way gained me two big advantages. First, the fiberoptic sights went black, giving me a precision dark sight picture instead of a vague glowing array of dots. And second, the heavy, creepy trigger didn't matter as much. The hold was so secure that I was able to wait out the very long pull — except for a couple times that I'll note.
JSB Exact 15.9-grain dome
I began with the JSB Exact 15.9-grain dome for no particular reason. The first pellet landed several inches above and to the right of the center of the 10-meter pistol bull, so I put 12 clicks of down elevation and left the windage alone. The next shot hit the upper right edge of the bull, so I shot two more to see whether the gun could group or not. When I saw that it could, I decided to complete the 10-shot group. Seven additional shots completed this first group, and I didn't bother looking until I went downrange to change the target. When I did, two things jumped out at me. First, nine of the 10 shots were in a tight cluster that told me this pistol wants to shoot. And second, I noticed that the amount the group had dropped from the first shot was about what I expected the 12 clicks to do. Perhaps, these sights are very precise and can be trusted? That's what I thought at this point.

This is the first target. Nine of the 10 JSB Exact domed pellets went into a tight group, and I can't explain the lower one. The 9 shots measure 0.663 inches between centers, while the entire group measures 1.411 inches. This looks encouraging!
Seeing how far 12 clicks had dropped the group the first time, I dialed in 6 more clicks of down and 3 clicks of left, hoping to center the next group. I shot the same pellet as before and didn't bother looking through the spotting scope for the entire 10 rounds. My fourth shot was a called flier that I saw land high in the white. When I went down to pull the target I was treated to a very tight group with 3 shots that had strayed. The called flier was the farthest away from the group and 2 lower shots were just from me not holding as well as I should have. This group, coupled with the first one, told me this pistol can shoot.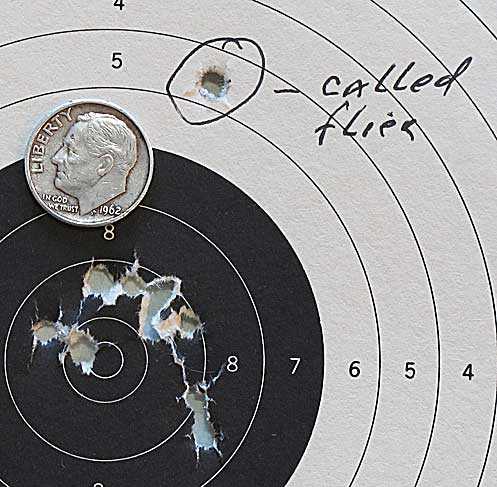 Another encouraging group. This one is larger than the first but not by much. The 9 that are together measure 0.978 inches between centers, while shot 10 opens it to 1.872 inches.
Second pellet
Now that I've established a baseline for the gun, I tried the lighter JSB Exact Jumbo RS pellet. Unlike the first pellet, I could see that this one was scattering all around the bull, even without looking through the spotting scope. And, sure enough, when I went t0o examine the target, the group was much larger. So, there's a clear difference between these two pellets — even though they're both domes and both made by JSB.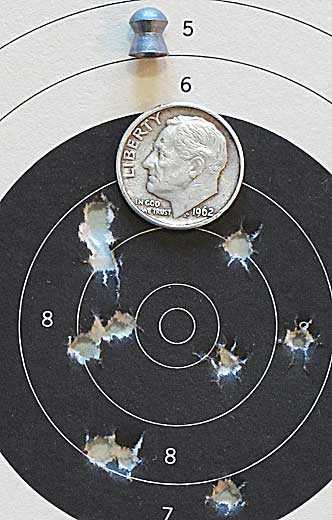 They're all in the bull, but not as good a group as the 15.9-grain domes. This is 10 JSB Exact RS pellets, and they measure 1.607 inches between centers.
After seeing this target, I wondered if this open group was just due to the difference in the pellets or was I wearing out from cocking this pistol so many times? After all, it does take 58 lbs. to cock it, and that, coupled with the general strain of concentration from shooting, can tire you out. One way to find out if it was the pellet or me was to shoot another group with the 15.9-grain Exact dome that had already done so well.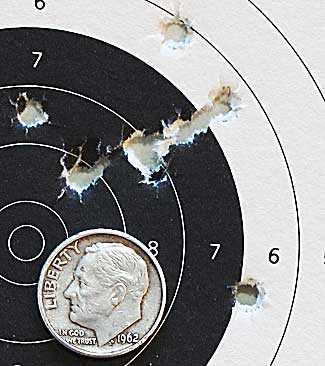 This last group of 15.9-grain domes shows that I'm getting tired, but also that this pellet does group better than the RS. The 2 highest shots in the white were both called fliers. The low right shot was not called.
And this final group does demonstrate that I am getting tired, but also that the 15.9-grain Exact pellet is better in this pistol than the Exact RS. It's so nice to have a decisive result like this because it doesn't leave any doubt. The group measures 1.435 inches, with 9 shots in 1.015 inches.
Final evaluation
If you want a powerful spring-piston air pistol, the Hatsan Supercharger is one I can recommend. In .22 caliber, it delivers over 7 foot-pounds of muzzle energy with an accurate pellet, which puts it right up there in the same power class as the Beeman P1 and the RWS Diana LP8. Don't think that it's anywhere near as refined as those two pistols; but in terms of power and accuracy, it does deliver.
When I started this report, I said that if this pistol could deliver on accuracy it would be a best buy. Even though it doesn't make its advertised power, it's still a powerhouse…and, indeed, it is a best buy at the price. However, if you get it, you're going to have to do your part to get the performance it offers.