Posts Tagged 'lead-free pellets'
by B.B. Pelletier
We have a lot of interest in non-lead or lead-free pellets. I heard from several readers on Part 2, which ran last week. That was when I used the Hatsan model 95 Combo breakbarrel to test both lead and non-lead .22-caliber pellets for accuracy at both 10 meters and 25 yards. I admit that was a scatterbrain test; but after seeing the results, I'm glad I did it. Here's why. If lead-free pellets do not perform in real-world airguns, they have no value. They shouldn't be a science experiment, requiring special guns and conditions. If they're going to succeed, they must work well in the kinds of guns that are used by many shooters.
That said, I'm dialing back my test parameters today and using a spring gun that I know is very accurate — my .177-caliber Beeman R8. It's probably best to start with a known good gun and then, if the green pellets do work, expand the test out into the more basic types of airguns.
This particular R8 works best with JSB Exact RS pellets. And I rediscovered that this rifle also shoots best when laid directly on a sandbag and is not held using the artillery hold. The advantage of shooting directly off a bag is that it gives the rifle a more stable platform.
I was going to shoot several green pellets for this test, but I decided to limit the test to just one pellet. If it was successful, I could always branch out from there. The pellet I selected for today's test is the H&N Baracuda Green, a 6.48-grain domed pellet (which is the same as the Beeman ECO Kodiak pellet). The equivalent pellet in lead weighs anywhere from 10.2-grains to 10.6-grains, depending on which H&N Baracuda you sample.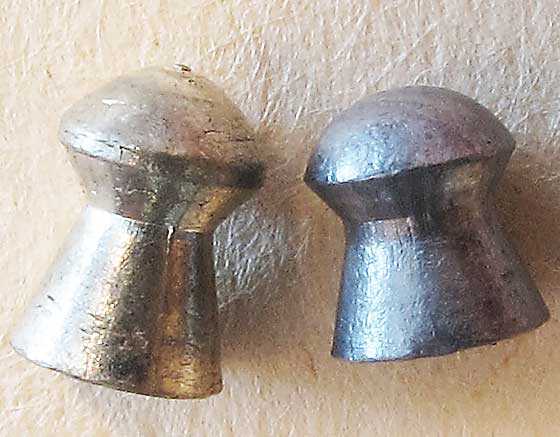 H&N Baracuda Green on the left and JSB Exact RS on the right. Notice how much shorter the heavier lead pellet is.
First, I shot a group of 10 JSB Exact RS domes at 25 yards. This group measures 0.502 inches between the two farthest centers. While it's not the best group this rifle has made at 25 yards, it's a good one, as can be seen in the photo.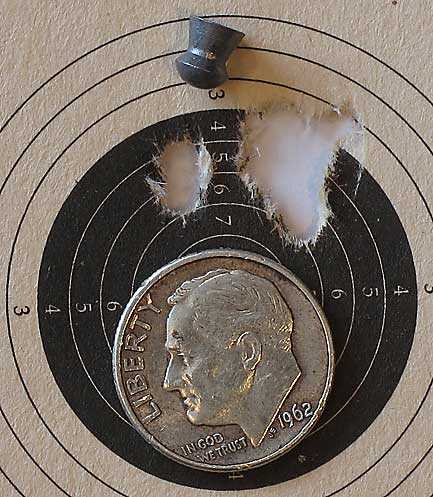 The first group of JSB Exact RS domes made this 0.502-inch group. Eight pellets in the larger hole on the right.
Following that group, I shot the first group of Baracuda Greens. I was prepared to season the bore by shooting as many pellets as necessary for the group to settle down; but as you'll see, there was no need. Ten shots gave a 0.442-inch group. That's right, the H&N Baracuda Green pellets beat the best lead pellet I know of for this rifle. I would have to say that's a positive result!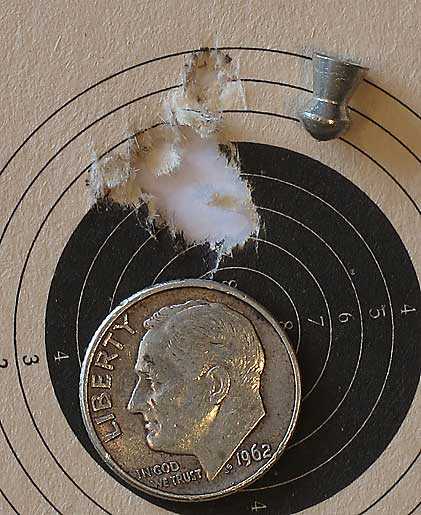 The first group of Baracuda Green pellets was surprisingly small. It measures 0.442 inches between centers.
After shooting this group, I fired a second 10-shot group of the Baracuda Greens to see if the first group was a fluke. Group number two measures 0.543 inches between centers. It's larger than the first group and also larger than the group of lead pellets I shot before that, but it's certainly in the same ballpark.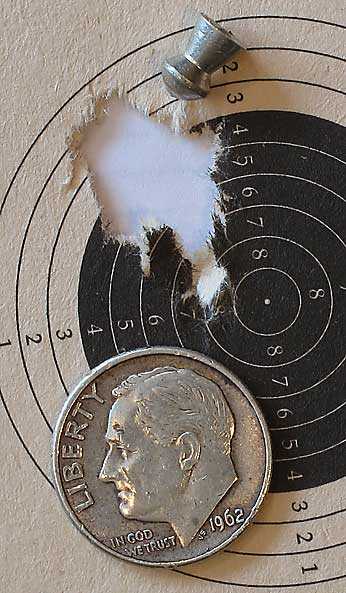 Group two of Baracuda Greens is a little larger, but it's still a fine group. This pellet is accurate in this rifle. Group measures 0.543 inches between centers.
Final group
To end this test, I fired a final group of the JSB Exact RS pellets. This time, the first shot did go to a different place than the following shots, so I guess some seasoning of the bore was required; but after that, the shots all went to the same place.
The second group of JSB Exact RS pellets measures 0.422 inches and is the smallest group of the test. But it's only 0.02 inches smaller than the best Baracuda Green group, and that's well within the margin of measurement error.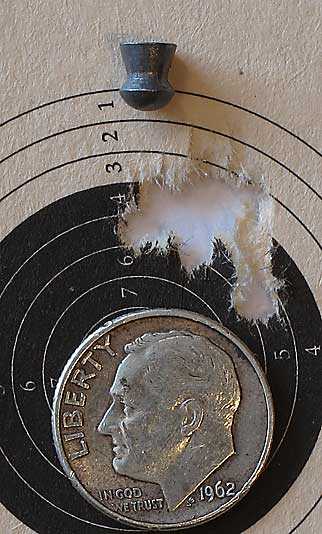 The smallest group of the test is this second group of JSB Exact RS pellets. It measures 0.422 inches between centers.
What can I say?
Obviously, H&N Baracuda Green pellets are very accurate in my Beeman R8. They may be equal to JSB Exact RS pellets, which have been the most accurate pellets for this rifle until now.
We have one good test under our belts. Next, I want to test these pellets in an accurate PCP. I happen to have a Benjamin Marauder in .177 caliber, so that's what I'll use.
The rest of you can help by testing the Baracuda Green pellets in other airguns and reporting the results. I want to stick with Baracuda Greens for a while before I branch out into other non-lead pellets. I'm glad I did today's test, and things are looking good for the greens.
You don't know how good we have it!
If you're a regular reader, you know that I built an AR-15 lower receiver to test the Crosman MAR177 AR-15 upper PCP conversion. After sending the upper back to Crosman, I was left with a lower and nothing to attach to it. So, I thought I'd buy an upper in .223 caliber to complete my rifle.
In my ignorance, I imagined that buying an upper was a simple process. Well, it's not! If you think airgunning has a lot of jargon and is confusing, you've never shopped in the confusing world of the AR! The websites abound with acronyms, slang and references to things I feel I should know but don't. Unless you're extremely careful, you can buy a partial upper and still need to spend a lot more money on parts that aren't necessarily compatible with what you've already purchased.
Ever hear the tale that all AR-15 parts interchange? Well, they don't, and the chat forums are full of complaints about it! Reading the customer reviews about certain products paints a nightmare tale of confusion, customer abandonment and outright lying by some of the major dealers.
What a snake-pit the AR market has become! I can see I will have to become very educated on the subject of the parts of the gun before I buy — or there's one other possibility. I could buy a a "completed" upper that has everything needed to fit on my lower and work. There's just one problem with that. Most (over 80 percent) of the .223-caliber (and yes, I am including those that are chambered for the 5.56mm in this number) complete uppers for sale today have 16-inch barrels, because buyers apparently want the M4 carbine look. But a 16-inch barrel has none of the things I want on my rifle. It's as if there are only gas spring super-magnums breakbarrels for sale, and I want a TX200 that nobody offers!
Then, there's the problem of supply. Buyers in this market are at the mercy of the manufacturers, whose websites are the most confusing places of all. It's a case of, "Place your order and shut up! We will get to you when we are good and ready!" I know they're experiencing a boom market of unparalleled proportions, but that's no excuse for the unhelpful fulfillment language they use on their sites.
When I see complaints about the Pyramyd Air website and then compare them to the trauma wards that sell (I guess?) AR-15 parts and assemblies, I thank my lucky stars I'm an airgunner. And, yes, I do plan to soldier on and see this thing through. Unfortunately, when I do get my upper, I may then be in the class of owners whose "half-minute of angle" upper prints a three-inch, five-shot group at 100 yards! Don't tell me there are good companies I can trust — I've seen complaints about all of them.
The bottom line is that if I wasn't working in airguns, there's a huge market of AR sales that needs a little honesty, education and Pyramyd Air-type retailing. Given the supply difficulties that exist, I'm not sure that a good dealer could make a go of it in this market, but it's obvious there would be no competition.
by B.B. Pelletier
This is a long-term test of non-lead pellets that began nearly a year ago. There's a lot of pressure these days to abandon lead for projectiles and move to some other substance that's not as toxic. The problem is that there isn't any material as good as lead. Ammunition companies have been working on this project for decades, and they've yet to come up with a substance that can take the place of lead.
I don't want to get into the discussion of the evils of lead in this report, but suffice to say that a lot of what's being said about it is untrue. However, that's not my concern here. I just want to discuss the feasibility of using non-lead projectiles in airguns and hold it to that.
So, I did a little test that I want to talk about today. I tested both lead pellets and lead-free pellets in the same gun at the same distances.
For this test, I used the .22-caliber Hatsan 95 combo breakbarrel that we recently found to be reasonably accurate. I shot the rifle at 10 meters and again at 25 yards; and doing that proved quite revealing. The open sights of the rifle were used for this test.
The best of the best
For this test, I wanted to use the best pellets. For the lead-free pellet, I chose the .22-caliber Beeman ECO FTS. For the lead pellet, I actually tested four different pellets, but settled on just one; and strangely enough, it was the same best pellet that was best in the last test I did with the Hatsan 95.
Before you yell, "Bias!" I know I should test other lead-free pellets in this rifle; but there aren't that many to test. I do have some others, but in .177 caliber. So, I'll have to test them next.
Start at 10 meters
I began this test at 10 meters and tried two lead pellets that I knew to be good in the Hatsan 95. The first of those was the heavyweight Beeman Kodiak. When I last v\tested the Hatsan with these pellets in Part 3 of the Hatsan test, 10 shots at 10 meters gave a group measuring 1.073 inches, thought 8 of those shots made a much smaller group that measured 0.529 inches between centers. This time, 10 Kodiaks went into a group measuring 0.834 inches. That's in between the 8- and 10-shot groups made the last time.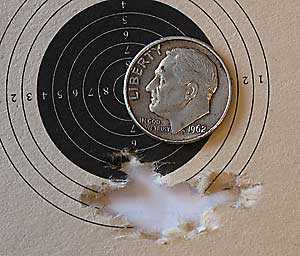 Ten Beeman Kodiak pellets made this 0.834-inch group at 10 meters. Shot with a Hatsan 95.
Next, I tried the best pellet from the last test with the Hatsan, which was the JSB Exact Jumbo that weighs 15.9 grains. Ten of those went into a group that measures 0.514 inches between centers. That compares favorably to a 0.648-inch group last time.

Ten 15.9-grain JSB Exact Jumbo domes made this 0.514-inch group at 10 meters. It's smaller, but in the same range as the last 10-meter group fired by the Hatsan 95, which was 0.648 inches.
The lead-free pellet
Next up was the Beeman ECO Field Target Special pellet, a 9.57-grain domed pellet that has no lead in it. Weighing less than 10 grains, this is extremely light for .22 caliber. So, the question is — Can it be accurate?
At 10 meters, this pellet turned in a 10-shot group that measures 0.704 inches between centers. That's smaller than the Kodiak group but larger than the JSB group. And it's a decent 10-meter group for an open-sighted air rifle of the power of the Hatsan 95.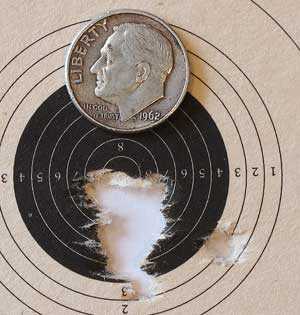 This is a great group of 10 Beeman ECO FTS pellets. But 10 meters doesn't tell much. We need to shoot farther to know if this pellet is accurate.
The real accuracy question
Here's the real question. Ten meters tells us very little about the real accuracy of any pellet. Almost anything can be accurate at 10 meters, but not for very much farther. Real accuracy is the ability to hold a group together at twice the distance and more. To see that, we needed to back up. That's what I did — backed up to 25 yards and shot again.
At this new distance, the lead-free pellet was again shot 10 times. The group it made this time measures 2.237 inches between centers. That's a huge group — even when using open sights.

This is the group made by the Beeman ECO FTS pellets at 25 yards. Here we see the true nature of this lead-free pellet. It doesn't stay together by flies apart as the distance increases.
As a control, a group is shot with the JSB Exact Jumbos. We know from the last test of the Hatsan 95 that this pellet grouped ten shots in 1.882 inches. This time, 10 went into a group that measured 1.728 inches between centers. Not only is that very consistent with that last test, it's also significantly tighter than the group made by the lead-free pellets.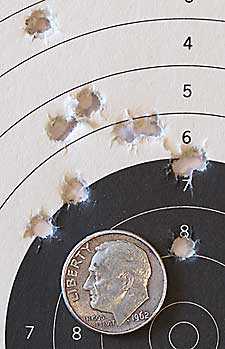 A 10-shot group measuring 1.728 inches was made by the JSB Exact domes at 25 yards.
Where does that leave us?
This test has many more cycles to run, but what it looks like at this point is lead-free pellets are not yet as accurate as lead pellets in the Hatsan 95. The first test done a year ago showed some surprising results, and there are many more tests yet to be conducted.
Here's my take on the lead-free pellet issue at this juncture. They're accurate enough for plinking, and in some guns they're even more accurate than that; but to-date, I've not seen a lead-free pellet that could do as well as a good lead pellet. Since they cost about the same as premium lead pellets, my advice for now is to continue to use lead if you can.
I believe the pellet makers are working hard to perfect lead-free pellets, because they seem to be in our future. This is a topic I will watch and continue to test as new pellets become available.
by B.B. Pelletier
Writing this blog is a humbling experience. Sometimes, when I think I know the answer and it's obvious, there's a surprise. Today I wasn't just surprised — I was bowled over!
I started this test way back in June when I tested the velocity of all the pellets in my Slavia 631. While testing, I felt the powerplant was running a bit off, so I opened the gun and in so doing I lost one or two very important springs. That moved the Slavia from being a testbed to the repair category. I had other plans for that rifle besides testing non-lead pellets, and I've since acquired the parts to fix it (I think). Now all I need is the time.
But I did want to get on with this test so I went to my gun closet and guess what I found? Nothing I have with a scope on it is sighted-in. Remember the cobbler's children walk around barefoot? That's the same way for me, as I'm always mounting a scope on something new for another test.
But, fortunately, I own a class of accurate air arms that do not need scopes. My 10-meter target rifles do fine with their aperture sights; and for a 25-yard indoor test, they're all that's needed.
The most accurate of all the rifles I have tested to date is the FWB 150 I just tested for you, so that was the gun that got the nod. It was sighted-in for 10 meters (11 yards) so it should have been close enough for 25 yards if a large enough target was used. I used the 10-meter pistol target, whose larger bull at 25 yards looks very similar to the 10-meter bull.
NOTE: This is not a continuation of my earlier test of non-lead target pellets. That's a series I started but have not yet finished.
To verify sight-in, I shot a 10-shot group of RWS Hobby pellets that went into an embarrassingly large group. However, on the tenth shot one of the stock screws fell out, reminding me to do as I say and not as I do.
After tightening all screws I decided to shoot just five shots since this isn't a test of ultimate accuracy. I reckoned we could see what we needed from five shots, and I could go through more different pellets that way.
After tightening the stock screws, I shot another five-shot group of Hobbys. While this group was much smaller, it pointed out that I needed to tighten up my shooting technique. I think you will understand why I say that when you examine the group.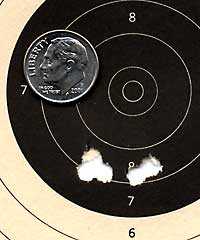 Two tight groups of Hobbys (one with three pellets and the other with two) at 25 yards. What can I say? I believe this is due to canting, for as you can plainly see, the pellets tried to group very tight, otherwise.
I figured I was canting the rifle to produce those two groups. With all other pellets, I used downrange cues to slant the rifle the same with every shot.
Surprise, surprise!
The first non-lead pellet I tested was the RWS HyperMAX. I hoped all would hit the target paper at 25 yards, but instead they produced a group that was not much larger than that of the Hobbys. This was not what I had expected. I've never seen HyperMAX pellets do so well before, and I must attribute their accuracy to the FWB 150 barrel. I also have to revise my thinking about non-lead pellets, because this is very acceptable performance!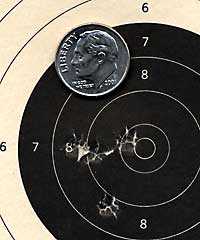 What a surprise! Five RWS HyperMAX pellets did very well at 25 yards from the FWB 150.
Following the HyperMAX, I shot five Skenco Type 2 Hyper-Velocity Field pellets that Pyramyd Air no longer carries. Only four of them connected with the target downrange and the group measured about 12 inches, but that's just a guess from the new mark I have in the drywall behind the target trap. This was the level of performance I had expected from all non-lead pellets, but in fairness to Skenco, these pellets fit the breech of the rifle very loosely and one even fell back out after loading. I wouldn't expect accuracy from a lead pellet with a fit like that.
I'm not showing a target for this pellet because it only has four holes, and they're so far apart that it would be meaningless. The 12-inch spread is no exaggeration.
Next, I loaded the golden Gamo Raptor PBA pellets that have never done well in any of my tests. These are the pellets Gamo touts for killing wild pigs on their TV ads. I've read the reports of others who have had good success with them, but I never have. Until now.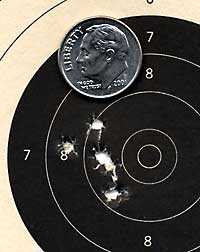 Five golden Gamo Raptor PBA pellets made this tight group at 25 yards.
That target was a real shocker for me because I've never seen Raptor pellets do well, and I've tested them a lot over the years. But the results are very hard to refute, and why would I want to? This is a test on non-lead pellets, after all. Raptors can shoot very well in the right airgun.
That result gave me a lot of confidence that the final pellet, also from Gamo, would group well too. This was the Gamo Platinum PBA pellet that resembles the golden PBA pellet but is actually even lighter.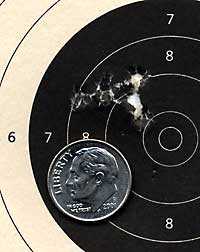 Five Gamo Platinum PBA pellets made the best group of the test.
I have much less experience with the Platinum PBA pellet, though after seeing these results I will try to include them in some future testing of other airguns. They really are an accurate pellet in my FWB 150.
Results
I wouldn't put too much faith in the individual group sizes in this test, because they're only five-shot groups. But the relationships of how accurate they can be should stand out clearly. It was just a chance accident that caused me to test with a target rifle, though I'm sure there are some readers who feel justified by these results. Clearly, lead-free pellets can be accurate in the right situations, and I have to revise my opinions of them.
I will continue to test them in other airguns, plus I'll look for other lead-free pellets to test in the FWB 150. That's why this is a Part 1 report. I'm sure there's more to follow.
It's also nice to have a reliable testbed rifle that I know I can leave alone for just such a purpose. I thought the 150 was just another pretty face, but now I know she can cook, as well! Life just keeps on getting better all the time.
by B.B. Pelletier
Announcement: Here's this week's winner of Pyramyd Air's Big Shot of the Week on their facebook page. He'll receive a $50 gift card.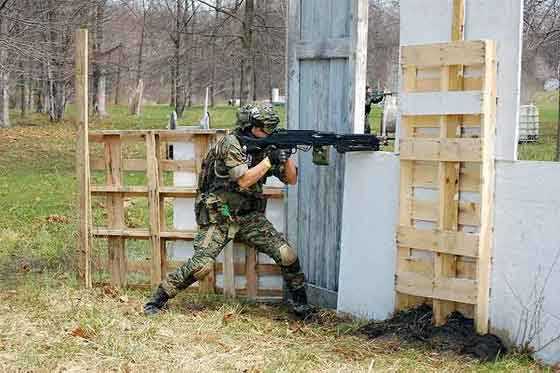 Choon Weng Chua submitted this photo from an airsoft skirmish. He's this week's Big Shot winner.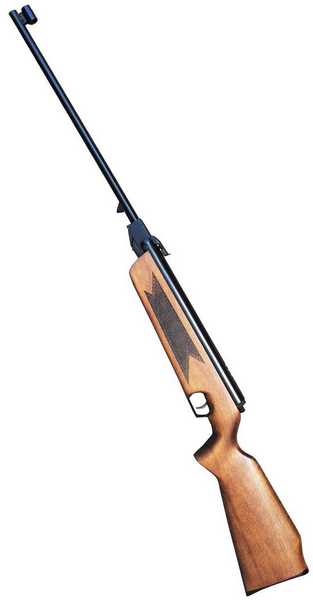 It's a little crude but also elegant. The Slavia 631 is the testbed for this report.
I reviewed the Slavia 631 breakbarrel air rifle one time back in March 2006. At that time, I wasn't reviewing airguns in the format you see today, so it got a quickie once-over and we moved on. Perhaps, if the rifle had been available here in the U.S., I might have done more with it, but since it wasn't being sold here, and still isn't, I didn't think there would be that much interest among the readers.
I also used the rifle for a testbed back in 2003 when I wrote an article about the performance of pellets versus round balls. That's an interesting article you may wish to review, and I find it a little interesting that here I go again, using the 631 to test the performance of non-lead pellets against lead pellets. Apparently, there's something about this rifle that makes me think of it as a standard airgun.
This test isn't really about the air rifle as much as it is about the pellets. We're just using the 631 because of its accuracy and mild manners.
The Slavia or CZ 631 and 630 are breakbarrel spring-piston rifles made in the Czech Republic. The 631 Lux model I have was purchased new about 12 years ago when they were still being imported into the U.S. It has a rather plain stock that's too blocky and square for my taste, but the barreled action is where the performance lives so I can put the looks aside. The 630 and 631 are the same rifle in different stocks, just like the Diana 48 and 52 sidelevers. The 631 is the dressier one.
The stock is a medium brown beech with a thin, non-reflective finish that's very topical. Mine has several scratches that cut through the thin top layer of wood. Because it's blocky, it doesn't fit me very well. I do like the slender forearm, but the pistol grip just doesn't fit right. There's impressed reverse checkering on the forearm but not the pistol grip, and the overall appearance is one of cheapness. The metal parts are not polished beyond tumbling and are finished with a thin black color that comes through as matte.
This is a low-to-moderate air rifle power-wise. I expect to see the lighter-weight pellets shooting in the low- to mid-600s somewhere. We're going to find that out in today's report.
One of the reasons I'm using this rifle is because a number of our readers own them. Canadians can still buy them, as can Europeans and almost anyone else except Americans. But I'm also writing about it because one of our readers suggested that I test the accuracy of non-lead pellets in this rifle. He felt the power was not so high that it would scatter the pellets, and also because the 631 is a very accurate air rifle in its own right. I agreed and here we are.
As I describe the rifle, bear in mind I'm describing the one I own. It's at least 12 years old and possibly more, and there may have been some changes to the design since mine was made. Generally, cosmetics change faster than fundamental design items, so my rifle is probably still a good representative of the type.
A couple features before I test velocity for you. First, is the barrel lock. Before you can open the barrel to cock the gun, you must push forward on the spring-loaded barrel lock that's located under the barrel just forward of the baseblock. It retracts the chisel detent and allows the barrel to flop open a little. From there, you can cock the rifle with 35 lbs. of effort. My rifle is in need of a tuneup, and I can feel some metal rubbing when I cock it. I think it would drop back to a 28-lb. cocking effort with proper lubrication. I did oil the piston seal for this test but not the rest of the powerplant.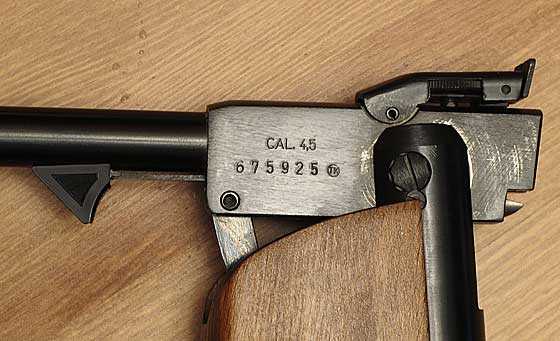 The barrel-lock latch (left) is pulled forward, retracting the chisel detent (right) and allowing the barrel to open.
Another feature is the automatic safety. It's a knurled knob located at the rear of the spring tube; and when the rifle's cocked, it pops out. You must press it back in before the rifle can be fired.
Although the safety is automatic, there's no anti-beartrap device and the rifle can be uncocked by taking the safety off and pulling the trigger while restraining the barrel.
The two-stage adjustable trigger is very light. I don't think too many owners will complain about the crisp l-lb. trigger-pull. Oh, and it has a metal blade! A screw in the plastic triggerguard adjusts the length of the stage-one pull, and it can be eliminated entirely.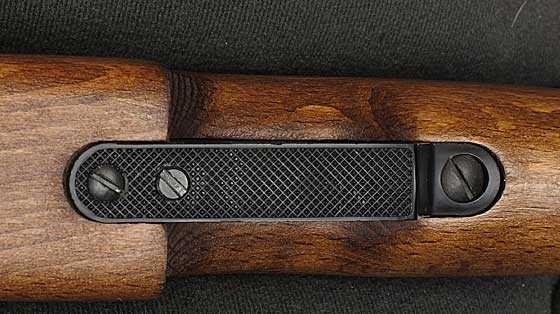 Trigger adjustment screw (second from left) controls the length of the first stage, only.
The sights are things of beauty! The all-metal front sight is a hooded post that appears as a sharply defined rectangle through the rear sight. The rear sight is a study in elegant design. It's all-metal, fully adjustable and yet simple and probably inexpensive to build. It ought to be a required study for any engineer wanting to design airguns.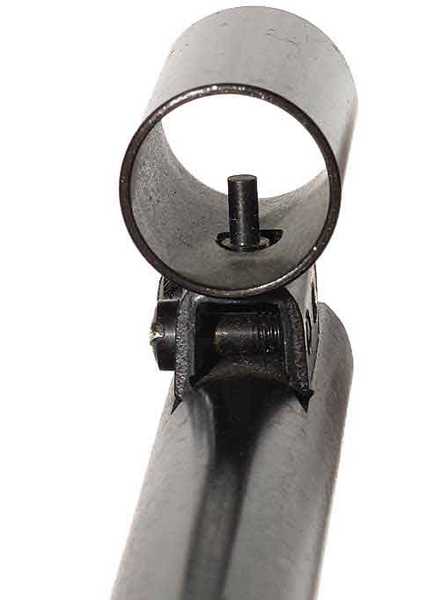 The front sight is hooded and looks a lot like the front sight of an SKS.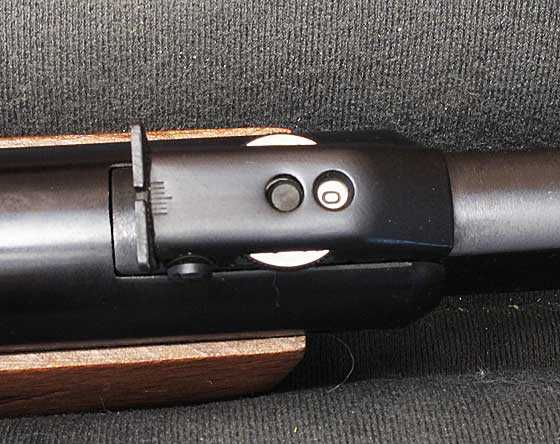 The rear sight is all metal and an elegant design. It shows what some thought can do.
The firing behavior of my rifle is very buzzy. It takes me back to the 1970s, when all spring rifles buzzed, and I guess it's the one thing I like least about the gun. But I've left it as it is all these years so I'd have something unaltered to reference.
The rifle does have dovetail cuts for a scope mount, but this is the very rifle that caused B-Square owner Dan Bechtel to enlist my aid in the 1990s to measure the width of as many airgun scope rails as possible. We found that 11mm airgun scope rails range from about 9.5mm separation to over 14mm! And, the Slavia 631 is the biggest one of them all. So, those "11mm" scope mounts you buy will probably not fit this rifle unless the package specifically names this model or the 14mm width. To my knowledge, only BKL now makes scope mounts specifically designed for this air rifle.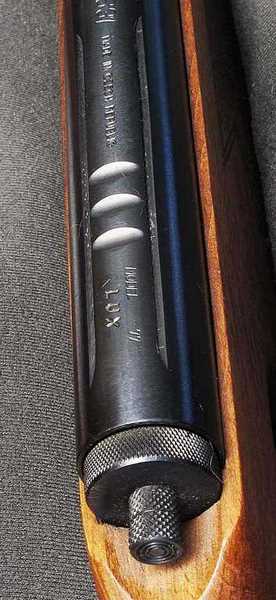 There they are. The widest set of "11mm" air rifle dovetails in existence. They measure just over 14mm, so they require purpose-built mounts. To keep the scope mount from moving, a half-round transverse pin in the bottom of the mount has to fit one of the grooves or you'll need BKL mounts. That knurled knob on the bottom is the automatic safety.
Pellets selected
Because this report is really about the accuracy and performance of lead versus non-lead pellets, I'm not going to spend a lot of time on the performance of the gun other than to document the accuracy with lead pellets of known quality. Today, I'll show the pellets that will be tested and chronograph each of them for you. In the next test, we'll finish with accuracy at 10 meters.
The pellets I've selected to test are the following:
Lead
Crosman Premier 7.9-grain
JSB Exact RS
Air Arms Falcon
Non-lead
Gamo Raptor
Skenco Hyper-Velocity Type 1
RWS HyperMAX
Crosman SSP
The lead pellets should show the relative accuracy of this rifle under the best conditions. What the non-lead pellets will do is what we're going to learn.
Velocity
Premier lites averaged 589 f.p.s. The range was 586 to 593 f.p.s. They generated an average 6.09 foot-pounds.
JSB Exact RS pellets averaged 593 f.p.s. with a range from 586 to 596 f.p.s. The average energy was 5.7 foot-pounds. These pellets fit the bore very loosely.
Air Arms Falcon pellets averaged 592 f.p.s. They ranged from 591 to 594 f.p.s. The muzzle energy was 5.68 foot-pounds. They fit the bore tighter than the JSB pellets, but not as snug as the Premier lites.
Gamo Raptor pellets fit the bore variably — from snug to so loose they fell out. They averaged 741 f.p.s., ranging from 727 to 754 f.p.s. The average energy was 6.59 foot-pounds.
Skenco Hyper Velocity Type 1 pellets averaged 719 f.p.s. The range went from 689 to 749 f.p.s. Their average energy was 6.2 foot-pounds.
RWS HyperMAX pellets averaged 743 f.p.s. They ranged from 639 to 750 f.p.s. The average muzzle energy was 6.38 foot-pounds.
Crosman SSP pellets averaged 738 f.p.s.. The range went from 658 to 750 f.p.s. The average muzzle energy was 4.84 foot-pounds.
So these are the pellets I'll be testing for accuracy, and we now know how well they perform in this rifle. I'll save my conclusions of the test for the finish, at the end of Part 2.
by B.B. Pelletier
I think this will be a super-big series, because the times seem to demand it. Lead has been demonized so much that the Junior Reserve Officer's Training Corps (JROTC), a high-school training component of the U.S. military, has now encouraging the use of lead-free pellets for all marksmanship training using airguns. So, the question is, are lead-free pellets accurate? Can they compete with lead pellets in a formal competition situation?
I have to say that, at this moment in time, no lead-free pellet that I'm aware of can possibly compete against top-quality lead pellets. I'm not the expert, of course, but I have tested enough of these pellets to know their limitations. However, if the world is going to go in that direction, what I know or feel doesn't matter.
I will, therefore, start testing lead-free pellets against the best lead target pellets available. I'll use several standardized test guns whose performance can be documented and used for comparison. Before getting to that subject, though, let's look at what JROTC typically uses for airguns.
There's no standard gun or guns for JROTC target practice. Like their non-military counterparts in other NRA-sanctioned matches, they use the old favorites like the Daisy Avanti 853, but they also use a wide range of other target guns. Among them are the Tech Force 79 target rifle, the Daisy 953, the Crosman Challenger 2000, the Daisy Avanti 888 and other Avanti rifles, and there are a few target rifles of the junior series from companies like FWB. I'm sure the new Crosman Challenger PCP and AirForce Edge are starting to show up at matches.
So, JROTC is about to enter a field (lead-free pellets) that hasn't been fully developed yet, and they're doing it haphazardly, in my opinion. I do understand that their funding is fractionalized and that team coaches control and run the individual programs to a great extent, but lead-free pellets just aren't ready to compete. At least, that's my opinion.
I believe JROTC will not be able to remain competitive when shooting against clubs that do not have this sanction. However, it's not clear to me at this time that they won't be able to switch to high-quality target pellets when they compete outside the JROTC world.
I understand that this may be decided on a state-by-state basis. There may be more that we haven't heard yet. And when it becomes obvious what's happening, they might also rethink their policy.
However, none of that is my concern here. This is the bow wave of a general trend that will inevitably change the face of airgun target shooting in the future. I'm not about to throw myself under the wheels of the movement in protest; I want to stand off to the side and measure it. I want to know which lead-free pellets do what in different types of powerplants so we can get an idea of where the technology is. When it advances, we'll be able to document it.
Some time ago, a reader asked me to test the Skenco Pointed Poly Match pellets. I agreed and have been planning this test for over a month. Now, however, I'm going to use this pellet test as the launch of a 10X larger test SERIES of all lead-free pellets that are touted as target pellets. If they have target in their name, they go on the list.

The Skenco Poly Match pellet will be the first pellet tested. I already see a problem with the shape. The pointed head will make scoring problematic, and such a pellet will not be permitted at the national level, where scoring is taken very seriously!
Here's where you readers come in. You folks will keep me informed of all the new lead-free target pellets as you discover them. If I'm able to get them, I'll test them. This is really an open-ended series.
I plan to use three rifles to test each pellet. I'll use my HW55F springer, a Daisy 953 single-stroke and a Crosman Challenger PCP. Even with just three guns, these tests will take a long time to complete, so please don't ask for this or that rifle that you might be interested in buying. Three guns of established performance should give us a good picture of performance.
And, there will be issues. Just yesterday, a reader named Ed asked about the Poly Match pellets. He said they were too long to load into his Daisy 953, so I tested one right on the spot. He was correct. I will show things like that as we do each test.
I have no stake in the outcome of this series. If a non-lead pellet is labeled as a target pellet, it will be tested…if I can get it. They'll all be compared to the very best lead target pellets for each type of gun. This will not be a fair test. It will be ruthless, because the lead-free pellets are trying to play in the big time. So, they have to perform!