Posts Tagged 'Marlin Ballard Union Hill No. 9 target rifle'
by Tom Gaylord, a.k.a. B.B. Pelletier
This report covers:
• Silly exercise
• What's the point?
• Airguns I like
• My one airgun
• Firearms
• See where this is going?
• My one firearm
• What this tells me
• How my life has changed
…what would it be? Not long ago, blog reader Kevin asked me this question and I promised to get back to him with an answer. Today, I'm keeping that promise, although I'm not at all positive that in a year my answer won't be different.
Kevin asked what airgun and what firearm I would keep. There were no other guidelines beyond the number one — of each. This isn't the first time he's asked a question like this. Earlier this year, he asked me what guns I enjoyed shooting, and I wrote a blog titled What would B.B. shoot?
Here is what he asked me this time.
"B.B.,
Some of us have gone through difficult financial times, some of us are going through difficult financial times and some of us will go through difficult financial times in the future.
For this reason I'm very interested to hear what the ONE airgun is that you would keep and the ONE firearm is that you would keep while you would endure a financial crisis.
This is not a "WHAT GUNS I KEPT AND WHY" this is a ONE airgun and ONE firearm question.
kevin"
Silly
This is such a silly exercise — don't you think? At least it is until you try to form an answer. Because to do that, you have to think about all the airguns and firearms you own, as well as the ones you have owned in the past — and I suppose you can throw in any you might like to own but never have. Once you have all of them in front of you, it's time to weed through the mass and see what comes out the other side.
What's the point?
There is no point to this. Nobody is ever going to be confronted with this decision in quite this way, so why bother thinking about it? Well, it does force you to think about things at a fundamental level — a sort of giant who-do-you-love-and-why game. And Edith and I did actually go through it — not once but twice.
Airgun first
Because I write about airguns, you probably think it's harder for me to pick a single airgun, but it's not. It's actually much easier. When all the facade of accuracy, power and performance is stripped away and I'm no longer thinking about survival on a desert island or how many pellets I can carry in a backpack, the choice of a single airgun becomes simple. I shoot airguns for fun, when all is said and done.
Shooting for fun means I don't have to justify an airgun based on its power, long-range accuracy, nostalgia, value or anything beyond how much fun I derive from shooting it. That narrows it down a lot, but not to a single gun. I suppose there are at least a dozen, but probably more like 25 nice airguns that I really enjoy shooting.
Airguns I like
For example, I like to shoot my Beeman R8. It isn't powerful, but at 25 yards I know I can put a pellet within a quarter-inch of the aim point every time. The trigger is light and crisp, and the Burris 4.5-14×32 scope is so clear and sharp that the rifle is a delight to shoot. But it's not my one airgun!
I also really like my Crosman Mark I target pistol that holds so well and has such a beautiful trigger. But it's not my one airgun, either.
My one airgun
The one airgun I would keep, after having to get rid of all others, is my little .22-caliber Diana model 27. It's not really powerful enough to hunt with, but that's not why I'm keeping it. I'm keeping it because it's simple and accurate, light and easy to cock. It's an all-day airgun that I just enjoy shooting very much.


The Diana model 27 — this one badged as a Hy-Score 807 — is my favorite airgun. It isn't powerful, but it's light, accurate and has a great trigger. That's all I need.
I've owned several Diana 27s over the years. The first one was a rust bucket that I bought for $18 in a pawnshop in Radcliff, Kentucky, while stationed at Ft. Knox in the late 1970s. It looked terrible. You needed a tetanus shot just to hold it! But it shot like a dream, cocked smoothly and was accurate. I fell in love with it and the love has endured.
The second .22-caliber Diana 27 I ever owned is the one shown in the above picture. I bought it from the late Richard Schmidt at the Winston-Salem airgun show (the forerunner of the Roanoke show) in 1993. I paid $110 for it, which was way too much; but for some reason, they all went for way too much back then — and they still do today.
I pulled that rifle apart and lube-tuned it for my Airgun Letter and learned how to assemble the squirrel-cage of parts that Diana calls a ball-bearing trigger. I later pulled the gun apart a second time and tuned it, again, for a different magazine article. Since then, it's never been apart. That was more than a decade ago.
Some time in the late 1990s, I wrote an article about how to adjust the ball-bearing trigger. Diana triggers can be adjusted very fine if you know what you're doing; and, oddly enough, all you need is the owner's manual to learn how. Or you can just read the blog I wrote about it.
Every time I chronograph this rifle, I'm reminded of just how weak it is (under 500 f.p.s.). But that doesn't matter. I don't shoot airguns for their power — that would be futile. I shoot them for fun, and the Diana 27 has more fun per pound than any other airgun I know of. When I worked on the Bronco project, the Diana 27 was my inspiration.
The third Diana 27 I owned was a Winchester model 427. It's now owned by one of our readers. Why did I sell it? Because I didn't need two perfect airguns.
Don't think that I don't love many of my airguns a lot, because I really do. My Air Arms TX200 Mark III gives me immense joy, and of course I love my Whiscombe JW75. But the last airgun I'll sell is the Diana 27.
Firearms
What was far more difficult was to choose from all my firearms. I have been quite blessed at this time of my life to own some of the finest firearms that exist. My Wilson Combat CQB is especially dear to me, not only because of what a wonderful shooter it is, but also because it was a very special gift from Edith. I have a Dillon press permanently set up to reload .45 ACP ammo, and I cast all my own bullets for the round. While the rest of the world pays inflated prices for ammunition, I'm set to reload tens of thousands of rounds at less than a nickel a round. I can't shoot .22 rimfire as cheaply as I can shoot this pistol. But it isn't the one firearm I would keep.
Speaking of gifts, the readers of this blog gave me a Single Action Army revolver that means the world to me. I remember coming home from the hospital several years ago and seeing that revolver for the first time. I wasn't strong enough to hold it up to shoot, and my eyes would need another year to regain their strength, but I got out to the range with that revolver just as soon as I could. Every time I look at it, I think of you blog readers.
I shoot that handgun several times a year, and it always makes me smile when I do. The gun has an authentic fire blue finish that Colt put on their guns during the 19th century, and mine looks brand new. It's a gorgeous handgun, but it's not the firearm I would keep.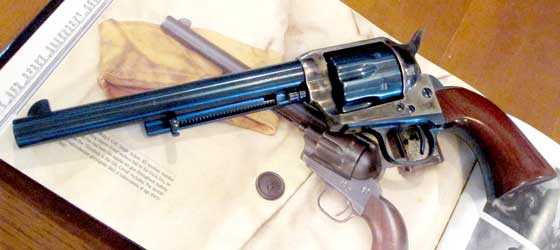 The single-action revolver I received from the readers of this blog is one of my favorite firearms. It shoots as nice as it looks.
I could go on and on with this thought process. Certainly, I would keep the Ballard. I certainly would not! While it's intriguing and a beautiful rifle, there's nothing practical about a Ballard built in 1876. The one firearm I keep has to be practical.


The Ballard rifle is beautiful and accurate, but it isn't the all-around firearm I need.
What about a nice .22 rimfire? I certainly own several of them, and lots of various kinds of ammo that would last me a long time — no? No. A .22 rimfire is not universal enough for me. Since I reload, I can turn almost any firearm into a .22 rimfire if I want to. What I need is a firearm that can be something more than a rimfire if the occasion calls.
See where this is going?
I am heading for a firearm that is as universal as it can be. Through reloading, it can be made to plink or pop squirrels, but it can also kill a grizzly bear if needed.
It has to be reliable, so complex is out and simple is in. That eliminates all semiautomatics.
It has to be accurate; but in my gun collection, there are no inaccurate arms. I just don't keep them. On the same note, I don't need my universal firearm to be suited for target use, so super-accurate guns with big scopes are also out. In fact, the scopes would eliminate the guns all by themselves.
My one firearm
The one firearm I would keep if all the others had to go would be my 1903A3 Springfield. It has a rugged bolt-action that has been proven over more than a century, and this one has adjustable peep sights that maximize the potential for accuracy. I've shot 5-shot groups under 2 inches at 100 yards, so the accuracy is all that I need.
When I reload, I have a choice of 5 lead bullets I can cast to produce everything from a .32 automatic up to a full-blown .30-06, if I need it. The cheapest rounds I make cost around 5 cents, and the most expensive costs under 50 cents. That's so much better than anything I can buy; but if I do buy, this caliber is certainly ubiquitous throughout most of the civilized world.
I have around a thousand empty cartridges; and with my reduced loads I'll get several hundred firings from each of them. And with reduced loads, I can use pistol powders and primers. So, ammunition will never be a problem.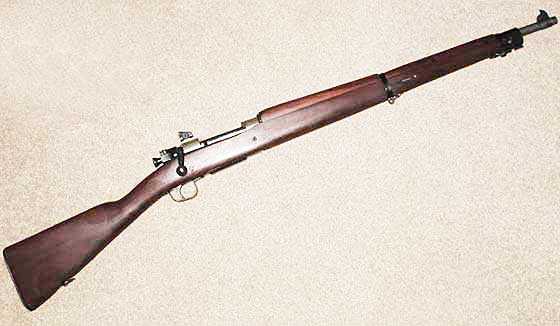 The O3A3 Springfield is a plain-jane rifle, but it's everything I need if I can only have one.
I got this rifle from my friend, Mac, but that's not why I'm keeping it. He sold it because it kicks pretty hard. But I discovered the secret. Soldiers wore field jackets and coats in the field, and the short pull of their rifles was compensated for by the thick clothing. When I shoot this rifle with powerful loads, I always wear a heavy jacket. The rest of the time a t-shirt is all I need. I can hit a pop can at 100 yards every time with my reloads, shooting from a prone or supported position.
What does this tell me?
Kevin forced me to look at my shooting from a very practical standpoint today. It wasn't sentimentality that helped me decide. And it wasn't value or beauty. It was utility.
I hope I never have to make a choice like this, because it would break my heart to say goodbye to many of my airguns and firearms. But now I know the two I would keep under any circumstance.
How the blog changed my life
Kevin's question prompted me to do more than just think about guns. This blog has had a major impact on my life. And from the comments many of you make, I believe it's also impacted your lives.
If you want to help me better understand my readers, I invite you to send me an email telling me the impact that this blog has had on your life. Pyramyd Air has created a special temporary email address for this. I'll be the only person to get these emails, and we're not going to generate any lists from the addresses.
My plan is to publish one or more blog reports with the more interesting comments. If you want, I will use your real name or blog handle; but you can be anonymous, too. I won't use your name or handle unless you give me written permission to do so.
This email address will be live for only a few weeks. We have tens of thousands of readers worldwide. Even if you've never commented on the blog, you can email me your message if you like. If you're reading this blog after July 2014, email submissions will no longer be forwarded to me, and you may get an auto-reply email stating that or your email might bounce back to you.
This could be interesting. I have no idea what will happen.
by Tom Gaylord, a.k.a. B.B. Pelletier
Today's blog is going to be fun for me, and I hope for all of you, as well. I'm going to talk about one of my favorite subject — the accurate gun. You have to be a shooter to know what I'm talking about because non-shooters assume that all guns are accurate. They assume that it's the skill of the shooter that makes guns work like they do.
That's like saying all violins are the same, and a master can make a student instrument sound like a Stradivarius. Or a NASCAR driver can make a minivan perform like a Ferarri. But it doesn't work that way. While expert handling can extract all the performance from anything, no matter what it is, there's also no way to get more than it has to offer, regardless of who wields the bow or sits behind the wheel. Or, in today's case, is on the trigger!
Accuracy is something that lives in the gun. And, in my experience, a really accurate gun isn't that common. Though I shot a lot starting in my late youth, it wasn't until I acquired a custom .458 Winchester Magnum in my twenties that I encountered my first really accurate gun. I bought…or more likely, traded…for the rifle at a local gun show when I was living in El Paso, Texas, in the early 1970s. It was a 1903 Springfield that had been rebarrelled to .458 Winchester Mag.; and it came with the reloading dies, a bullet mold, a batch of empty brass and even a recommended load. The seller/trader told me if I loaded it with his load, the rifle would be phenomenally accurate. I'd heard that before, but not as many times back then as I have today. In spite of my doubts, I did the deal.
I cast up some of the 558-grain lead bullets and loaded up the exact formula the seller had recommended, which I recall was 24 grains of 2400 powder and a greased but unsized bullet seated to a certain depth in the case. Then, I went to the range. Since this was a .458 Winchester Magnum, I was prepared to be kicked hard, but that load was so soft that it was very pleasing to shoot from the bench. When I checked the first 5-shot group at 100 yards and saw that it was only an inch across, I was thrilled!
That's when I began shooting 10-shot groups, because, try though I might, I could not get those big lead slugs to go anywhere but through the same hole. In fact, the accuracy of that rifle became downright boring after awhile. I would load up 40 rounds and shoot 4 groups that were all less than 2 inches across at 100 yards. Big whoop! There was no challenge.
I didn't know then that I would never again have a rifle so inherently accurate. I just assumed that was the way of things, so I eventually sold or traded that rifle…and have lamented the decision ever since.
Ballard
This is why I want so much for my Ballard rifle to shoot well — because I believe that it can! If that old put-together Springfield sporter could lob them all through the same little hole, there's no reason a purpose-built target rifle made in 1876, when American gunmaking was at its zenith, shouldn't do the same.

My Ballard rifle is beautiful. If only it shot like it looks!
So far, the Ballard has been a heartbreaker. She taunts and teases me with her looks and then puts 7 out of 10 bullets through the same hole, while scattering the other 3 wherever she pleases! Time after time, I thought I found the secret and was about to turn the Ballard into the thoroughbred she is, and just as many times I've been disappointed. When that happens, I get so discouraged that I have to abandon shooting the rifle altogether and do something else. There have even been times when I've thought of selling the rifle just to get it out of my sight. But, then, I look at her and realize that I have to keep trying.
My latest theory is that the rifle needs a shorter bullet because the twist rate is very slow. It's 1:20, where a normal .38-55 twist is 1:18. That would mean the 255-grain bullets I've been shooting are too long to stabilize. Please understand that I'm using smokeless powder in my reloads, and this rifle was designed for black powder. With black powder, you fill the case as full as it will go so there's no empty space between the powder and bullet. If there were space, the powder would develop a shockwave that would destroy the rifle!
But smokeless powder doesn't fill the case, and the pressure rises faster than black powder, so I have to keep the charges low. As a result, the gun cannot fire the bullet fast enough, even though it was designed to shoot that bullet. Because of that, it can't stabilize it properly. At least, that's my guess.
Another problem is that there's no leade ahead of the chamber. The rifling rises up at the end of the chamber and that's it. A bullet with a fat nose won't chamber properly, as the rifling will prevent the bullet from being seated.
What I need is a custom bullet for this rifle and to own the mold made for it. I'm working on that right now.
Springfield O3A3
I got an O3A3 Springfield from my buddy Mac a couple years ago. Most Springfield rifles are accurate in the general sense, but this one is special. It lays them in there better than it should. I can pull a sub-2-inch group at 100 yards when I do my part, and that's with the battle sights that came standard on the rifle.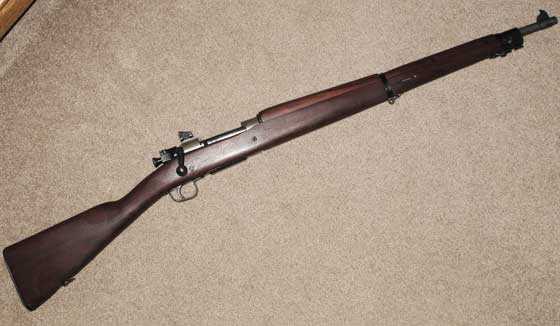 They made millions of them, but this one is special. It's more than accurate — it doesn't like to miss.
The O3A3 was the last incarnation of the famous 1903 Springfield bolt-action battle rifle. It was made during World War II to fill the need for rifles until Springfield could catch up with the Garand production. What made it an O3A3 were several minor design changes that substituted stamped and welded assemblies for machined parts. Oh, the hue and cry about that was great! Even in the 1960s, old soldiers still bemoaned the cheapening of the Springfield rifle!
But there was a funny side to it, as well. The cheaper rifles were also often more accurate! Instead of the antiquated Buffington peep sight that had been around since 1884, the O3A3 has a modern rear peep sight that adjusts for both windage and elevation. And mine has a 4-groove Remington barrel that's renowned for accuracy. Put the package together, and you have an American battle rifle that shoots like a target gun. The one I have does even better than most.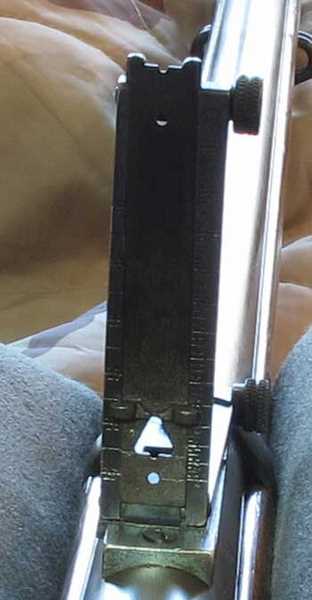 For 1884, the Buffington rear sight that combined a peep with an open notch was high-tech. It was used on all U.S. rifles through the M1903 Springfield, but it's dated today!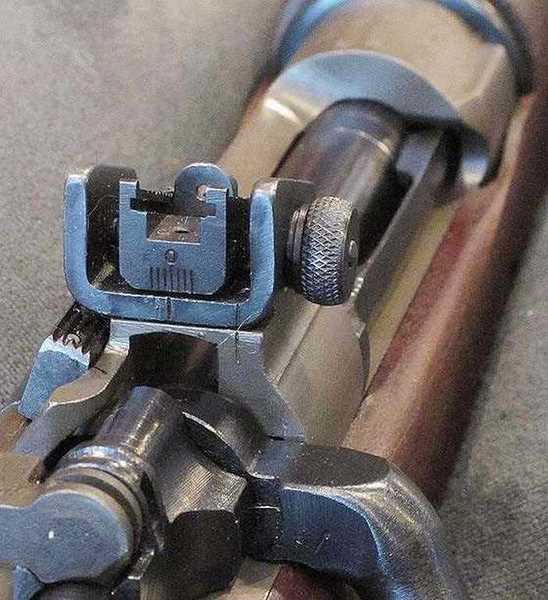 The O3A3 rear peep modernized the Springfield rifle during WWII. It made the rifle easier to shoot accurately.
It's a natural shooter! For some reason unknown to me, my O3A3 puts all its bullets where I want them — with iron sights! When Mac traded it to me, he apologized for the Social Security number that some former owner engraved on the receiver with an electric pen. It's barely visible, but its presence makes this 99-percent rifle a $600 shooter rather than an $1,100 collectible. But there's also an upside to that. I don't have to worry about the wear I'm causing by working the bolt because all the value has already been taken away.
I've owned six 1903-type Springfield rifles in my life. All of them were accurate, but this one is special. It goes beyond being accurate and crosses into a realm that's hard to define. Those readers who own accurate guns will understand what I'm saying.
Handguns, too!
I've owned super-accurate handguns, too. One of them is a revolver I got just recently in a trade. It's a gun I never would have considered before shooting 12 rounds offhand into pretty much one hole at 15 yards a few months ago. And the caliber — .32-20, which is also called .32 WCF — is a caliber I thought I would never own.
The gun is a Smith & Wesson Hand Ejector with target sights. It's from the 1930s and shows it's heritage proudly. It was carried for years in a handmade leather holster until the owner, my pal Otho, finally decided the gun had become too valuable to carry anymore. He no longer shoots handguns for medical reasons, so he was kind enough to let me try his pride and joy earlier this year. When he saw that I shot it well, too, he offered it to me.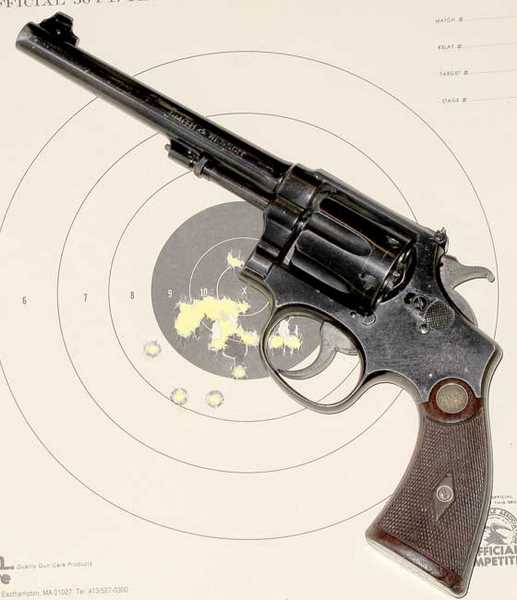 This 32-20 S&W Hand Ejector looks dated, but it shoots like the target pistol that it is.
Most revolvers have one chamber that's just a little out of line with the barrel and shoots just a little off. This one has six good chambers that you can't tell apart downrange. But that's understandable; because when it was made, Smith & Wesson used skilled craftsmen to fine-tune their revolvers — especially those with adjustable sights.
Summary
I own lots of accurate firearms and airguns, but today I've been discussing something more than that. The guns I've mentioned, with the exception of the Ballard, are beyond accurate. They have something that's hard to define and harder to give a name to. When I pick up one of them, I know where my shot will be going — every time! I don't know what to call this thing I'm talking about, but it does warm my heart to shoot one of these special guns.
by Tom Gaylord, a.k.a. B.B. Pelletier
I thought I'd provide some thoughts on how this blog has helped me become a better shooter. We just finished the Twist-rate test last week, and I wanted to share with you some things from that test that have impacted my shooting.
Swaged bullets
I've been using the output of the test to guide my own shooting with both firearms and airguns. I did test the swaged bullets in my muzzleloader already, but I discovered that there's a lot more to learn. I can't get the bullets I've swaged to group at 50 yards to save my life! I get maybe 1 out of 3 shots to land on paper. I think the problem is that I'm driving them too fast. I've been using the same load of black powder that I use for a patched ball, which seems like double the amount needed to get good results. When these bullets are fired in airguns, they're shot at between 400 and 650 f.p.s., and I've been launching them at 1,000 to 1,200 f.p.s. I think I'm blowing them apart!
I plan to load less than half the amount of black powder to see if I can get the velocity down around 650-800 f.p.s. The twist-rate test told me these short bullets don't need to be spun up as fast as I'm shooting them. At least, I think that's the case. More later when I actually have something to show you.
The AR-15
A friend talked me into buying some Accurate Arms 2230 powder for my AR-15, but when I tried it with the 69-grain and 77-grain bullets I normally shoot, it was lousy. The burn rate of this new powder is way faster than the Varget and Reloader 15 powders I've been using, and both given such good results. I figured the problem was  that I was trying to push a bullet that was too heavy with a powder that was too fast.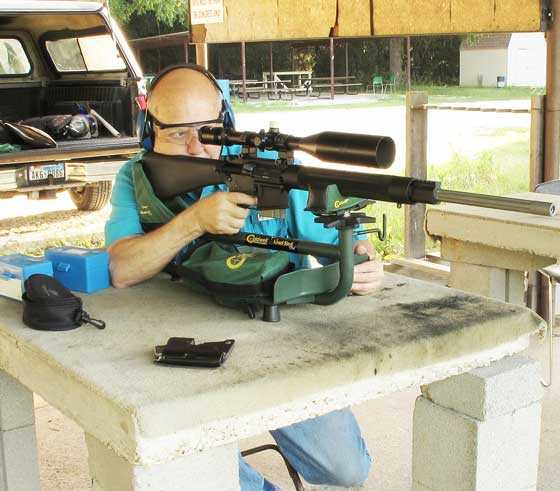 I still can't get over how accurate my AR-15 is with the right loads.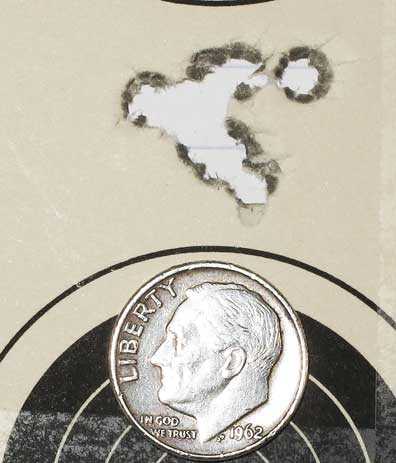 Ten shots into 0.54 inches at 100 yards is pretty good for an AR-15.
I loaded some lighter 55-grain bullets with the lowest charge of 2230 the book recommends. But the results were poor, again. Oh, they were twice as tight as before, when I shot the 77-grain bullets; but with 10 shots going into 1.808 inches, they still aren't worth the trouble. It may be that my 1:8″ twist is just too fast for lightweight bullets, but I still need to experiment some more.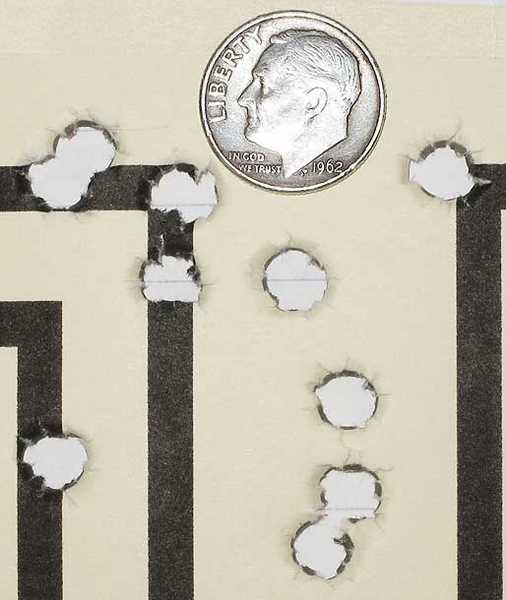 Ten rounds into 1.808 inches at 100 yards is terrible for a rifle that can do so much better.
Ballard
I updated you on the Ballard situation a few weeks ago. I told you that I discovered the Ballard's rifling has a twist rate of 1:20″, while Winchester rifles of the same caliber (.38/55) have twist rates of 1:18″. Given the slow speeds I shoot, the difference is significant. Bullet molds and cast bullets that are available today are all made for the Winchester, which is far more common than a vintage 1886 Ballard.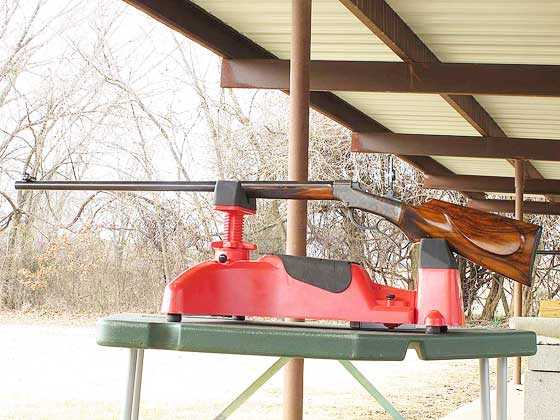 My vintage Ballard turns out to have a twist rate that's on the slow side for the bullets that are available.
What this means is that I've been trying to shoot with bullets that are too long and heavy for the twist rate of my rifle! It took the results of the twist-rate test to drive this fact home. The solution is not as straightforward as it sounds, however. You might think I could just have a custom mold made for a shorter bullet. That's possible, but I first need to think some things through. For example, would the rifle do better with a full charge of black powder and the bullets that I already have?
I got very discouraged when I learned that my rifle had a slow twist rate. I even considered selling it and buying a rifle that was more suited to what I want to do — which is shoot 10 shots into less than one inch at 100 yards with non-optical sights. But when I tried to list the rifle for sale, I found I could not let it go!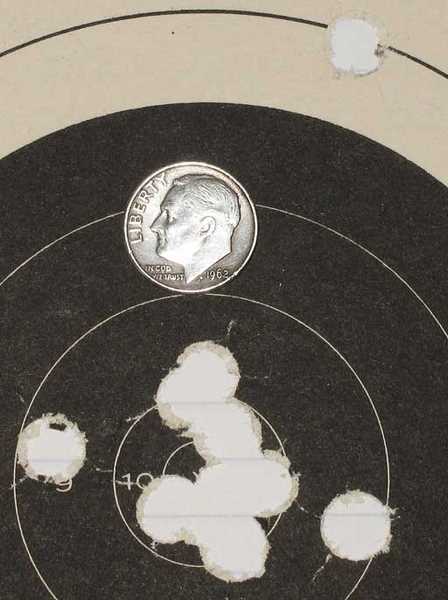 No matter what I do, I just cannot seem to get the Ballard to group much better than this at 100 yards. Ten went into 2.654 inches.
So it's back to the beginning with the Ballard. I have to figure out how to make this old beauty shoot in its current form because it is too valuable to modify. And everything I do from this point forward will be driven by the slow twist rate!
The next twist-rate test
We've finished the initial twist-rate test, but we aren't finished with the special barrels. Several of you have asked me to test the 1:12″ barrel with heavy pellets that are longer. I've decided to test it at 50 yards with the heaviest, longest pellets I can find. But besides that, I'll also test the JSB Exact Jumbo RS pellet in the 1:22″ barrel at 50 yards. The RS is 0.002″ longer but nearly a full grain lighter than the Premiers that were used in the first test, so we may see an accuracy improvement over the 2+ inch groups the Premiers gave. Being lighter, the RS will travel a little faster, which means it will also spin faster, and that may help the accuracy. We won't know until we try it.
This is good
I told you when I started the twist-rate test that we might find specific things to test in the future. These are those things, plus a few more. What a ripple effect this has had on all of my shooting!
by Tom Gaylord, a.k.a. B.B. Pelletier
The art of collecting airguns: Part 2
The art of collecting airguns: Part 6
The art of collecting airguns: Part 7

My Marlin Ballard was made in 1886 and still looks almost new.
Today is for blog readers Kevin, Robert of Arcade and for all airgunners who love more than just airguns. You love the shooting sports, and everything that goes with them.
This is an airgun blog and believe me, today's report actually does relate to them. This is the ongoing report of a Marlin Ballard rifle I acquired right after I got out of the hospital in 2010. As you can see in the photo above, the rifle is beautiful; but more than that, it touches the lives of all my friends — my late friend Mac, my shooting buddy Otho and Kevin, who often comments on this blog! In fact, Kevin is the one regular blog reader who has actually seen this rifle in person.
Kevin was so taken with this rifle when I originally reported on it that he sent me a gift of the book Ballard — The Great American Single Shot Rifle by John T. Dutcher. But he went way beyond just sending the book. He went to Mr. Dutcher personally with prints of the photos I showed in the first report and spent two hours with the author, examining the rifle through the photos. I was asked to take the rifle apart and photograph all the serial numbers plus various details inside the gun, which I did. From what he sees, Dutcher thinks this is a special-order, factory-made rifle, which is a specific category of Ballard made for high-volume retailers like John Lower of Denver.
I started shooting the rifle almost immediately after getting it, though I've always been very careful not to load it too heavy. As well-made as the Ballard action is, the metallurgy is not up to modern standards. So, it gets only reduced loads that develop low pressure and only lead bullets alloyed with a small amount of tin. The way I'm loading the gun, it should hold up for 100,000 rounds or more, only a few of which will be fired by me.
I wrote a couple reports on my early progress, which are in the links listed above. But I stalled out and stopped reporting on the rifle several years ago. Today, I will bring you up to speed with what's been happening; and, no, I haven't had a breakthrough in accuracy — yet.
I continued shooting the Ballard with commercial cast bullets, then I purchased a Lee mold and cast some bullets of my own. My bullets did as good as the commercial ones, even though they're not perfectly round. It's not uncommon for cast bullets to be out of round by a thousandth of an inch or sometimes more, but it would be better if they weren't.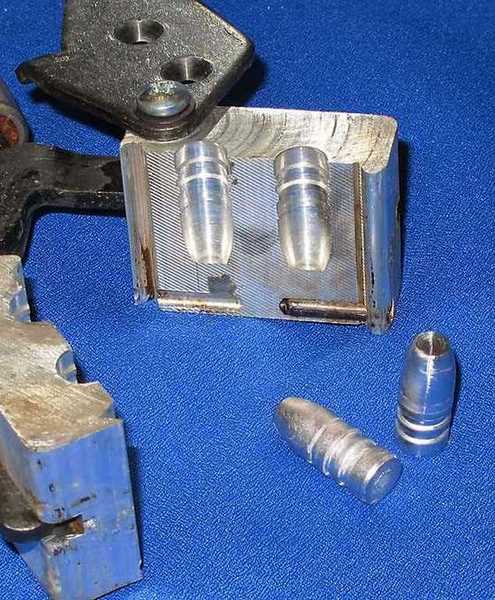 Lee bullet molds are inexpensive, but they do make fine bullets.
Schützen shooting
One thing I tried with the Ballard was loading it like a schuetzen rifle. Schützens are extremely accurate target rifles that held most of the world's records for groups out to 200 meters until recently. They're single-shot rifles whose cartridges are loaded one at a time at the range. A schützen shooter sets up his reloading equipment right on the rifle range. His powder measure is set to throw a single charge of powder. If he wants to shoot more than one rifle, he has a powder dropper for each of them, and only a single powder charge is used.
The bullets he has cast and kept in order as they fell from the mold. He doesn't worry about weighing the bullets because he uses a mold that is so perfect it never varies by more that one-tenth of a grain in weight, as long as he keeps the lead alloy the same. But to guard against any variation, he shoots the bullets as they dropped from the mold…so the alloy will not be that different. And you thought airgunners were anal! Schützen shooters make benchrest shooters look like weasles on caffeine.
They use a single cartridge case that gets fired and reloaded hundreds of times. They file a notch into the edge of the rim of the case, and that cartridge is always loaded into the chamber with the notch pointing straight up so there's never any variation. The case is never resized because it doesn't hold the bullet. It's just filled with powder and a wad and then loaded without a bullet. Because the brass isn't worked and is always fired in the same chamber, it lasts a very long time!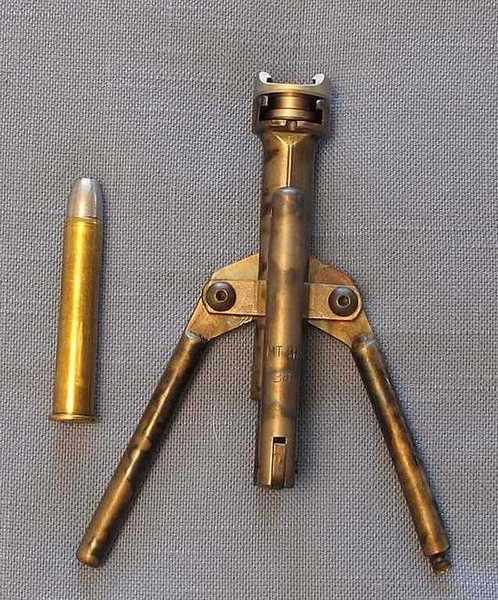 This simple tool is all you need to load cartridges at the range: A Pope capper-decapper.
The bullet gets loaded into the bore and positioned 1/16 of an inch ahead of the cartridge case, which is loaded after the bullet. A special mechanical bullet seater is used to do this because it's difficult to push a solid lead bullet into rifling. Airgunners know this because loading solid pellets into a barrel is a nightmare! Only AirForce Airguns designed their barrels to accept solid pellets, and even then, they're still hard to load.

This is a simple bullet seater. The bullet fits into the mock cartridge on the end of the seater. The seater is then pushed into the breech, and the bullet is pressed directly into the rifling. Higher grade seaters are mechanical with good leverage.
I tried loading my Ballard the schützen way, and I can report the following. Doing it this way, where you reload the cartridge after each shot, slows down your shooting to one shot every five minutes, or so. I suppose you could do it faster, but that's one of the real benefits of doing it this way. You don't have to be fast. I can shoot a 10-shot group in the same time another shooter arrives at the range, sets up, goes downrange to put up his targets, shoots several boxes of commercial ammo, retrieves his targets, knocks down, packs up and leaves. It takes us both about an hour; but at the end of it, my heart is beating 55 times a minute and I feel like I've been sitting on the veranda drinking a mint julep!
Schützen shooting is relaxing! I enjoy it very much, so I figuratively bit the bullet and bought a top-quality handmade bullet mold from Hoch so I could seat the bullets properly and do it right. That mold was not cheap, and it took about 6 months to be made to my specifications.
A breech-seated bullet has two different sizes to its body. The forward part is sized to ride on top of the rifling lands, and the rear part is exactly as wide as the grooves. When I measured my rifle, I found the lands measured 0.376 inches across (one side of the bore to the other) and the grooves were 0.384 inches across. Those two measurements were what I gave to the mold maker, along with the lead alloy I intended using (40 parts lead to 1 part tin). The mold he sent to me throws a bullet that measures exactly those dimensions, plus it's uniformly round. Those of you who worry about pellet head sizes know what I'm talking about!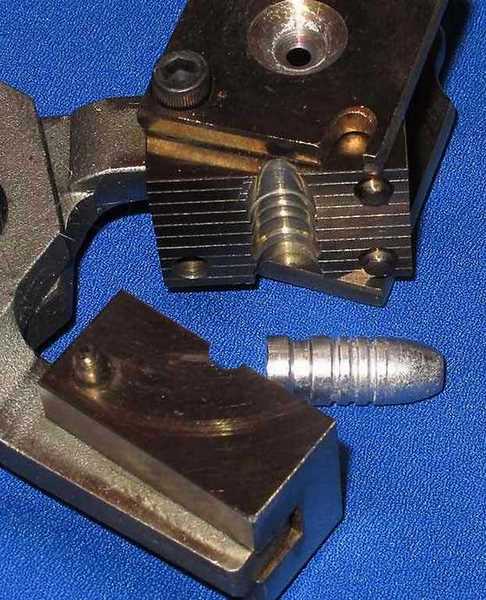 This custom bullet mold from Hoch is a nose-pour design, like Harry Pope used to make. This breech-seated bullet has two base bands that are 0.384″ wide and three nose bands that are 0.376″ wide. The nose bands are supposed to ride on top of the rifling — not be engraved. That makes the bullet easy to seat into the rifling.
Oh-oh!
But when I went to the range to try my new bullet — IT DIDN'T FIT! The nose was too fat and was being engraved by the rifling, which prevented me from seating the bullet in the barrel with anything short of a hammer. Obviously, I wasn't going to do that! I pouted instead. I lost interest in the rifle for several months. But I always come back, and this time I remembered what the black powder shooters say: Black powder is better than smokeless when accuracy is on the line.
The bullet from my Lee mold is a little too small for the barrel, but black powder upsets the base. So, I reckoned that might work. I loaded some cartridges with black powder and the Lee bullet and went back to the range. With black powder, I had to clean the bore after every shot, but working with the Nelson Lewis combination gun trained me to do that, so it wasn't a problem. Alas, these cartridges were no more accurate than the smokeless rounds I'd been shooting. I probably didn't spend enough time perfecting my loading technique and was getting frustrated. And a frustrated B.B. doesn't make good decisions.

Over the past 2 years, I've shot many targets like these with the Ballard. All have groups around 3 inches at 100 yards.
Over two years have passed since I acquired the rifle, and I was still stuck in the same place. I couldn't shoot even one of my new bullets from my expensive new mold, and the best I was able to do wasn't as good as I've done with other more mundane rifles shooting lead bullets. If I was a golfer, this would be where I wrap my expensive drivers around trees and take up drinking.
A strange encounter
Then something happened. Just a few months ago I was out at the range for another round of humiliation, and I happened to meet a real schützen shooter. I'd met him there before, but never when I had the Ballard with me. He was putzing around with one of his exotic thundersticks, and we got into a discussion of my frustrations. Well, maybe not a real discussion. Actually it was more like I went over and started sobbing on his shoulder about all my woes. But you get the picture.
He told me about another mold maker — the guy I should have gone to in the first place. Long story short, he sold me on trying another new mold. This one will be ready in 3 weeks, plus he told me all the schützen shooters go to this guy for their molds. I was straight on everything else. I was making my loads with the same equipment and in the same way he was. So, the mold must be the answer. Right? Please tell me I'm right because I've spent even more on this new mold than on the last one!
Oh, maybe I should also tell you this. I slugged the bore of the rifle again, to find those critical dimensions for the new mold. And this time I asked my shooting buddy Otho to check my measurements. I'd been two-thousandths off on the first mold, so it was engraving the rifling where it shouldn't. We not only confirmed that fact, we measured the slug with several different measurement devices this time.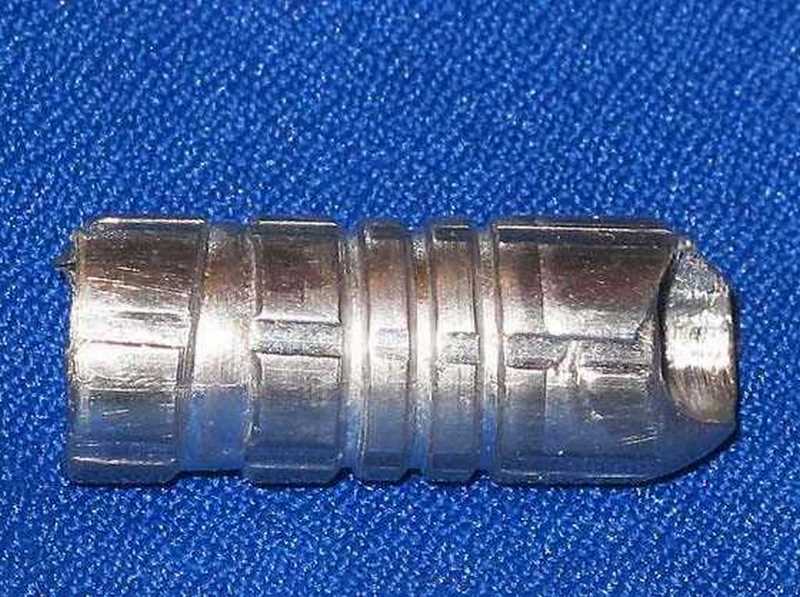 The internal dimensions of the bore are determined by upsetting a lead slug in it so it completely fills all space. Then drive it out and measure it. The grooves measure 0.385″ across and the lands measure 0.374″ across. Two people used different measuring devices to arrive at the same dimensions, so they should be correct.
The moral of the story
I like giving you guys good news. Who doesn't? But not everything turns out the way we want it to, and there can be a lot of value in reporting the failures, too. I don't mean so we can go spray-paint the names of the evil airgun manufacturers on overpasses, but so we can better understand this shooting thing we all do.
So, for Kevin and Robert and everyone who's interested in the rest of the story, that's what's been going on with my Ballard. I've had visions of showing you impossible half-inch 10-shot groups at 100 yards from this rifle, all the while realizing with bitter irony that my AR-15 — a rifle I've publicly criticized for over 40 years — can actually do it. I'm not there yet (with the Ballard). Maybe I never will be, but the pursuit of excellence is what keeps me going. And the days spent with air rifles like the Walther LGV are what keep me sane.
Big Shot of the Month
Pyramyd Air's Big Shot of the Month is Chris Ennis. He'll receive a $100 gift card. Congratulations! If you'd like a chance to be the next Big Shot, you can enter on Pyramyd Air's Facebook page.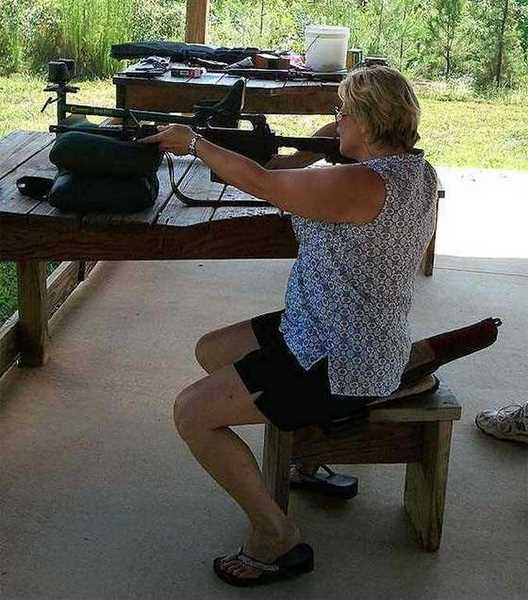 Chris Ennis is the Big Shot of the Month on Pyramyd Air's facebook page.

by B.B. Pelletier
Announcement: Dave Cole is this week's winner of Pyramyd Air's Big Shot of the Week on their airgun facebook page. He'll receive a $50 Pyramyd Air gift card. Congratulations!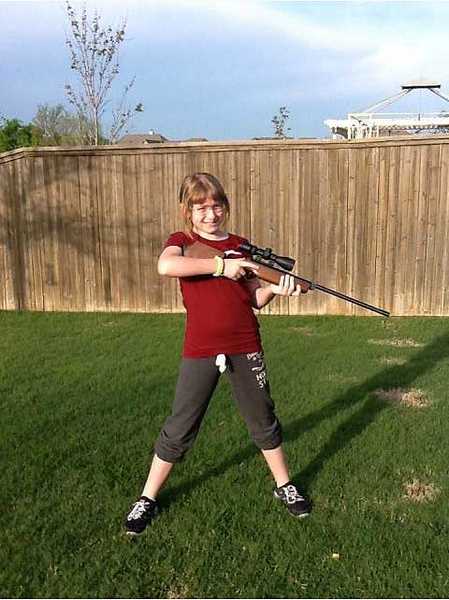 Dave Cole is this week's winner of Pyramyd Air's Big Shot of the Week contest on their airgun facebook page.

Nelson Lewis combination gun, made in Troy, NY, around 1850-1870. Rifle is .38 caliber; shotgun is 14 gauge.
Today, I'll show you the results of the last two outings with this unusual combination gun. Lessons have been learned.
Before we get to today's test report, I'd like to share a little more background on the gun's maker, Nelson Lewis of Troy, New York.
The big match
As readers of the internet, you're all aware that sometimes tempers flare and conversations become heated on the web. Would it surprise you to learn that this is nothing new? One hundred sixty-eight years ago there was a famous confrontation in the internet of that day — the newspaper — between Nelson Lewis and another noted gun maker, Morgan James of Utica, New York. Nelson Lewis had heard rumors that one or more of his fellow gun makers (presumably Morgan James, from the events that followed) had said he had not made the rifle he had used to beat a Mr. Williamson in a rifle match the September before. This was in the Feb. 18, 1854, edition of Spirit of the Times/A Chronicle of the Turf, Field Sports, Aquatics, Agriculture and the Stage, published in New York City. Lewis challenged whoever was spreading these rumors to put up or shut up.
Morgan James accepted the challenge, and the two men began a public correspondence in the newspaper that was not unlike what we see on the chat forums today.
Morgan James was also a famous rifle maker and a contemporary of Nelson Lewis. Like Lewis, he made long-range target rifles that were used by snipers in the Civil War. Many of James' long-range guns were so heavy they could only be shot from a bench rest that was included as part of their equipment. He was justifiably proud of the rifles he made, as well as his own marksmanship (as was Nelson Lewis); so when he read what Lewis accused him of, he attacked with a letter of his own to the editor of the cited publication.
To make a long story short, the two men exchanged challenges in the paper, and they finally agreed to shoot five each of their rifles against each other with each maker and one or more of his friends doing the shooting. One-hundred dollars was put up for each rifle in the contest, so each maker had five hundred dollars at stake.
Morgan James and his shooters won all five matches and Lewis paid him the money (I believe); but in the end, Lewis was a sore looser. He wrote a final letter to the editor, citing the fact that Morgan James' rifles were all heavier than his (15-18 pounds against 10-13 pounds) and of a larger caliber (.43 to .48 caliber compared to .36 to .38 caliber), plus James and his partner shot from a machine rest — but their rifles weren't clamped down, while Lewis and his shooters all shot from common shooting benches. And Morgan James had some sort of elaborate wind gauge on the range that was operated by a separate man who reported the wind to each shooter, so he didn't have to look at the flags. Lewis and his shooters used the common range flags that had always been used, and each shooter watched the one flag for himself.
From his report, Nelson Lewis seems to have been at a disadvantage, but why he didn't pin down the details of the contest beforehand with so much money at stake (approximately $13,500 in 2012 purchasing power) is a mystery. He certainly should have. He claimed he thought the match was to be with hunting rifles that could reasonably be carried afield, but the small calibers he chose are a real puzzle! Morgan James did nothing wrong except to try his best to win.
So things haven't changed, even though a century and a half has passed. Shooters still get hot under the collar and makers will do anything to defend their reputations. This is why I enjoy reading real history — because it shows that people don't change, even though their technology does.
Enough history. Let's go to the range.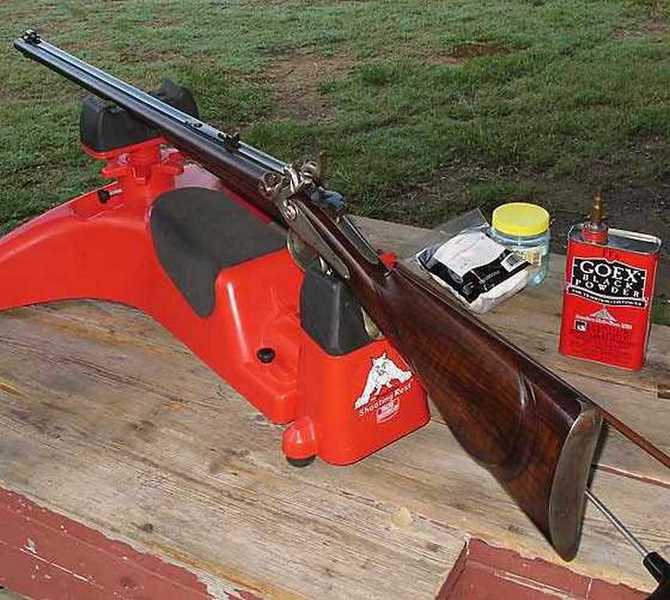 This time, the gun was ready for the range. The loading and cleaning procedures have been worked out.
Patch problem solved
The second time I took the Nelson Lewis gun to the range, I'd solved the patch problem. Instead of the too-thick patch material I had been using the first time out, I discovered that handkerchief linen from Ireland was both the correct thickness and also was tough enough to do the job in this rifle. I cut my patches by placing a nickel over the material and cutting around it. That gives me a patch of just the right size. And when the ball is seated, I can press it into the bore with my thumb — exactly as the old masters reported a century ago.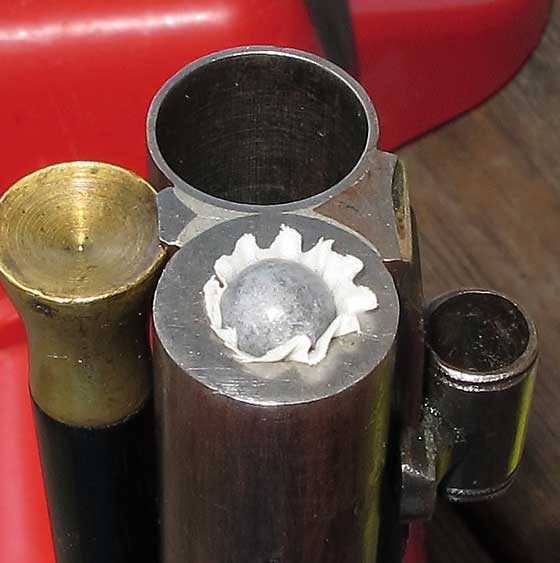 The thinner patches fit the balls perfectly, so they can be pressed into the muzzle with the thumb as the masters of old recommend.
The proof that this material works well is seen in the patches I recovered after shooting. They are textbook examples of what a good patch should look like.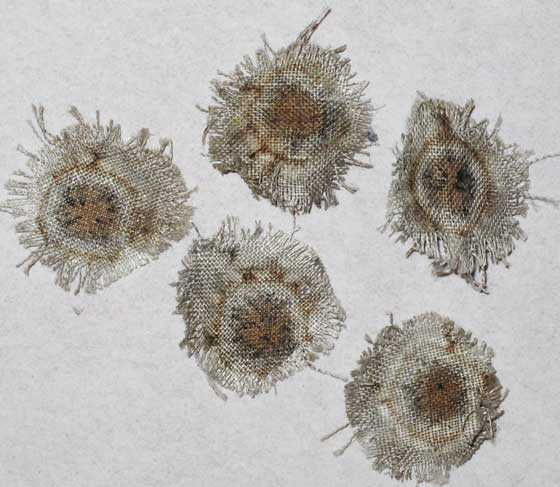 The fired patches look good. Irish handkerchief linen is strong, yet thin.
I also discovered that the powder charge could be increased a little with no detriment to accuracy. Now, the bullet gets downrange faster, which I can tell by listening to the sound of the ball striking the target at 50 yards. That may not be scientific, but it does work!
I also took the advice of Ned Roberts, who says to fill the powder measure to heaping, then wipe a straightedge across the top to level the powder. This gives a consistent amount of powder from shot to shot.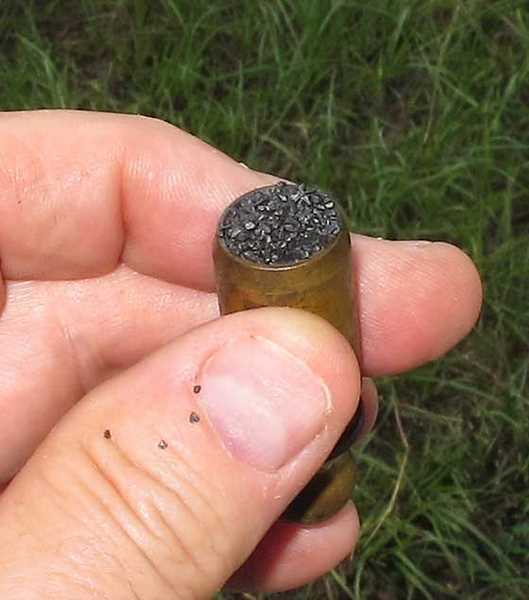 Fill the powder measure to heaping.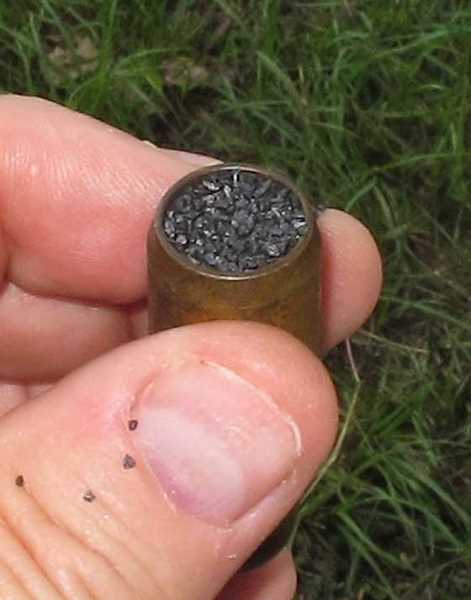 Then wipe a straightedge (like a knife blade) across the top of the measure to level the powder. This is called "stricken measure" in Ned Roberts' book.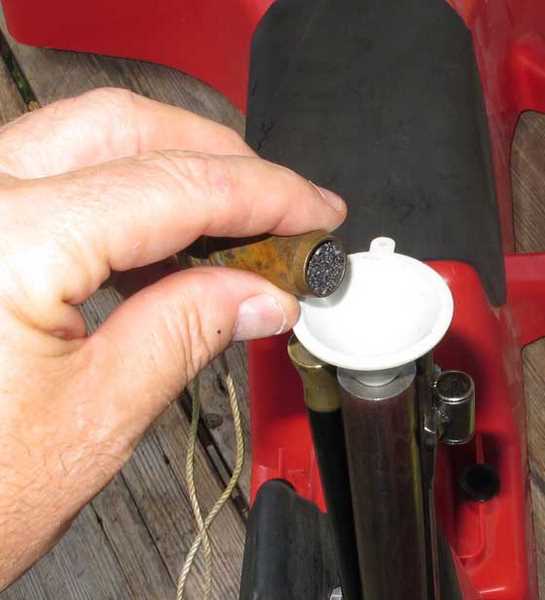 A tiny funnel Mac gave me is perfect for pouring the measured powder into the rifle barrel.
The new cleaning process
I clean the barrel after each shot. I did that the first time out, but I've added a few steps for a more thorough result. First, the bore is swabbed with a wet patch, followed by a brass brush, then another wet patch. These are followed by two dry patches that leave the bore sparkling clean and dry after every shot. It takes about three minutes to clean the bore this way, but that's nothing when you're shooting a muzzleloader.
The final thing I tried was patches lubricated both with grease and saliva. Grease is used for the patches of balls in hunting guns, where the ball will be in the barrel a long time. Saliva is supposed to give a slight edge in accuracy, but it dries out over time and also can promote rust in the bore — two good reasons why saliva is used only for target shooting.
I had high hopes that all these things would give me better groups than the first time out, but they didn't! Something was missing.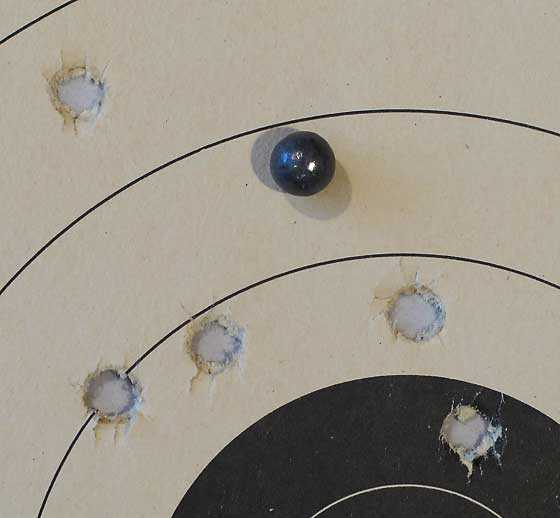 Group fired with greased patches on June 16. Fifty yards.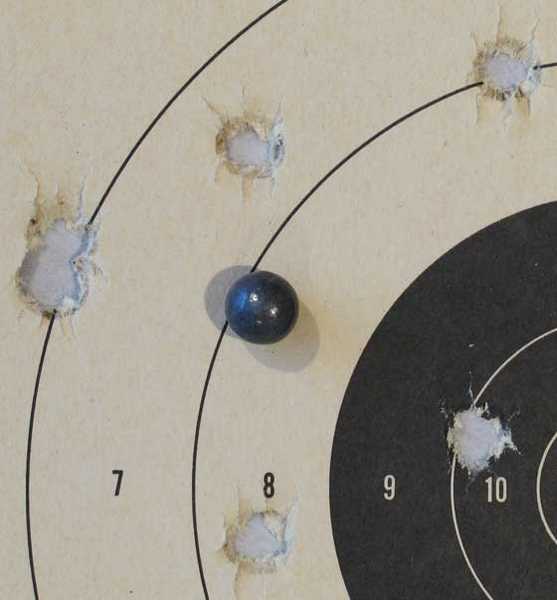 Group fired with saliva-wet patches on Jun 16. Also 50 yards. No improvement.
Mac suggested that since this is a combination gun, perhaps shooting it as often as once every five minutes was letting the rifle barrel heat up enough to warp against the cold shotgun barrel. If this is a meat gun, then shouldn't the first shot from a cold rifle be right on target? It was the best suggestion anyone had given me; so when I went to the range again this week, I did everything the same except that I waited 20-25 minutes between shots to give the gun plenty of time to cool off.
The first 4 shots went into the best group I'd seen to this point, but shot 5 went wild at 9 o'clock, ruining the group. I held as perfectly as I know how for all 5 shots, and I've held 5 shots in three-tenths of an inch with target sights at 50 yards this year with a .22 rimfire — so it's not me!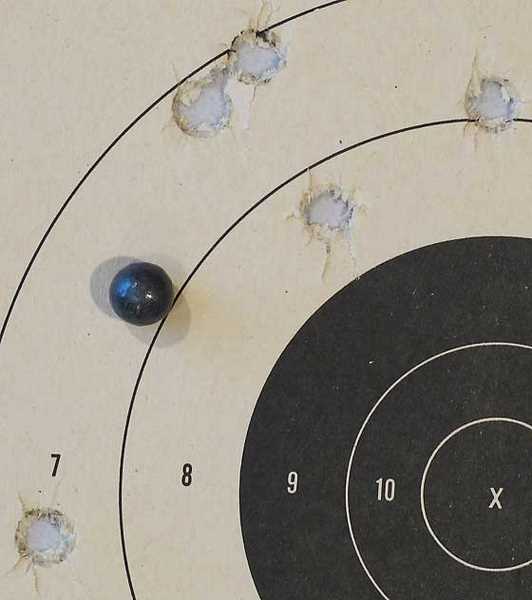 Group fired with saliva-wetted patches and waiting a minimum of 20 minutes between shots. Shot at 50 yards on July 12, 2012. Four close shots, but the fifth shot opened the group to the size of the others. So this is no real improvement.
I'm now thinking that the rifling twist in this gun (remember it has a gain twist) is too fast for round balls, and that the gun wants to shoot conical bullets. A patched picket bullet is what the rifle is supposed to shoot. I've avoided shooting the picket bullet that came with the rifle, because making them in the manual swaging dies is a lot of hard work. But now it seems I have to try something other than round balls. We'll see what happens next time!
Why am I doing this?
If you're a new reader of this blog, you must be wondering if I've lost my mind — reporting on a 150-year-old muzzle loading firearm in an airgun blog. Here's why I do it. Airguns don't hold a lot of secrets from me. I've been around them long enough to have gotten comfortable with them and their ways. I'm not saying that I know everything there is to know, but perhaps I have become too familiar with airguns to remember all those confusing steps that baffled me when I first encountered them.
This antique firearm, on the other hand, is as foreign to me as it is to you. I'm discovering how to shoot this gun successfully and letting you watch me while I do it, so maybe you can relate to the things that stump me. This old black powder gun puts you and me on equal footing as shooters. That's why I report on it — so you can watch me stumble around and get confused by the same things that are perhaps confusing to you.
I could just spout off a bunch of words that I read in some book and let you think I know what I'm talking about, but I prefer to do it this way. I know this approach bothers some people who wish I would just stick to airguns, but to my way of thinking, all shooting is interrelated. The more you know about all shooting subjects, the more you know about any specific subject. People who disregard black powder guns, for instance, lack a firm understanding of how pneumatics work because they're very similar. And a poor crown will harm the accuracy of a .223 as much as it will a .177 pellet rifle.
I try to limit these reports to a minimum, but I will continue to make them from time to time because I have to. They are in me, and they have to come out.
by B.B. Pelletier
Announcement: Adam Crowson is this week's winner of Pyramyd Air's Big Shot of the Week on their facebook page. He'll receive a $50 Pyramyd Air gift card. Congratulations!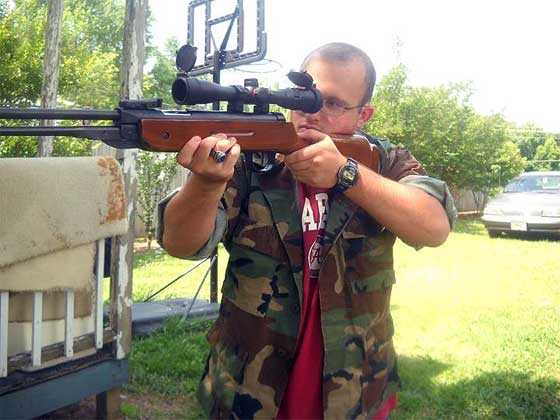 Adam Crowson is Pyramyd Air's Big Shot of the Week.

This Nelson Lewis combination gun was made in the mid-19th century. It's .38 caliber and 14 gauge.
A lot of readers have been waiting patiently for today's report. Although we're airgunners, we're shooters first, and many of us appreciate the similarities between pneumatic guns and those that use black powder. Today's subject gun was made about 150 years ago by a maker of some fame who made sniper rifles for use during the American Civil War. I've lived with this gun for several months now and have held it, admired it, considered it and wondered about it. And on Tuesday of last week, I took it to the range for its first outing.
On every TV show where old guns are shown, you're advised to seek the services of a gunsmith before firing any old gun. They're supposed to check the gun for safety. Last week, I discovered that I was the one performing that service on this piece.
While Mac was still visiting me several weeks ago, we pulled both locks out of the stock and examined them closely. They differ from each other only because one is for the right side and the other is for the left; but, in essence, they're the same lock. The inletting in the stock is so precise that the left lock has to be "buttoned" into position to get it back in! It fits into an undercut section of the stock and cannot be inserted straight into its slot. A bolt passes through the left lock, through the stock and into the right lock. When tightened, it pulls both locks together in a fit so tight that a razor blade cannot be inserted between the stock and either of the two lockplates.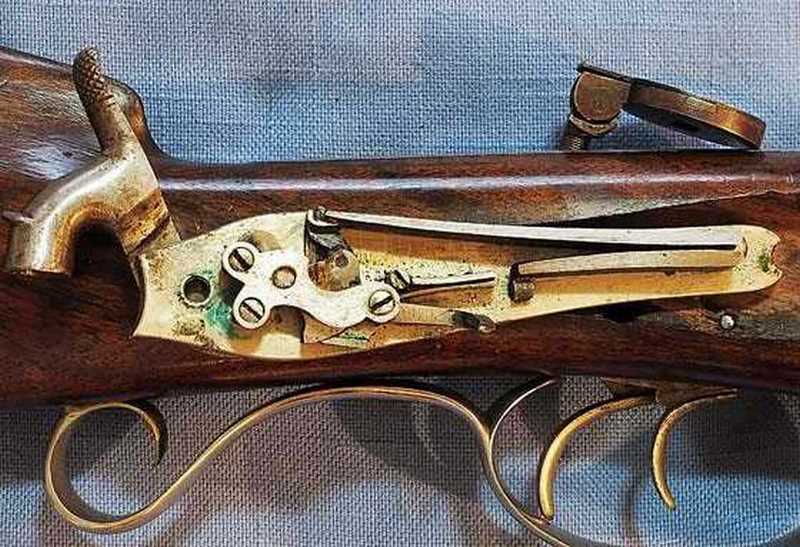 The locks are not complex, but they are made right and tight, which makes all the difference in the world. This is the right-hand shotgun lock.
The locks are back-action (meaning the hammer spring is located behind the tumbler, so the majority of the lock extends backward — rather than forward – from the hammer) and are remarkably simple in construction. Some file marks are still evident from the time each piece was fashioned by Lewis, who made all his own locks, triggers and barrels. For a short time, I was concerned about the gun having been "gunsmithed" because the rifle lock (operated by the rear trigger) fires with about 2 lbs. of pull and is glass-crisp. It feels too light for the gun, considering the hammer requires about 12 lbs. of effort to cock! But close examination under a 10x jeweler's loupe shows no evidence of any work other than Lewis' original job.
The rifle lock is on the left side of the gun, and the hammer on that side was a bit loose when I got it, so one of my gun buddies and I shimmed the square shaft on which the hammer rides with 0.0015″ shim stock. That took up all the play. Now there isn't a hint of movement.
I removed both nipples and was pleased to see what good condition they were in. Both have tiny flash holes at their bottoms, exactly like they're supposed to. Often, these holes will be enlarged from the hot gasses and cause greater pressure to flow back through the nipple and against the bottom of the hammer. They seem to be plated with platinum, which was a common touch on the finer guns of this period. The plating allows them to resist the erosive gasses of the gunpowder many times longer than plain steel. These are either original to the gun or are period replacements, and I would think at least the rifle nipple has to be a replacement.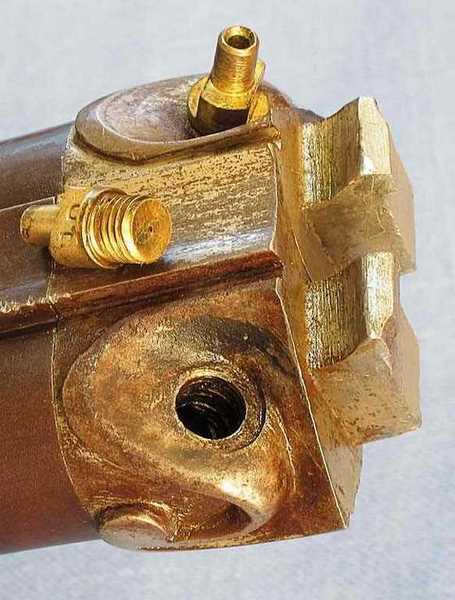 Here you see the bottom of the rifle barrel nipple. It's clearly in great condition despite its age. Notice that the breech plugs have been shaped into water drains, or "snails," as they're termed. They direct any water away from the nipples and also protect the barrel and lockplate from the erosive hot gasses that occur at firing. Much of the original nickel plating has been lost to these gasses.
I shined a powerful tactical flashlight down both nipple holes with the nipples removed to see down the barrels from the muzzle. Both were sparkling clean and shiny. The shotgun barrel, however, is not like any shotgun barrel of today. Instead of a mirror bore, this barrel still has tool marks, both horizontal and vertical, from when it was fashioned. You can see them in the photo of the muzzle in Part 1. I doubt there's any choke — I can't see evidence of one.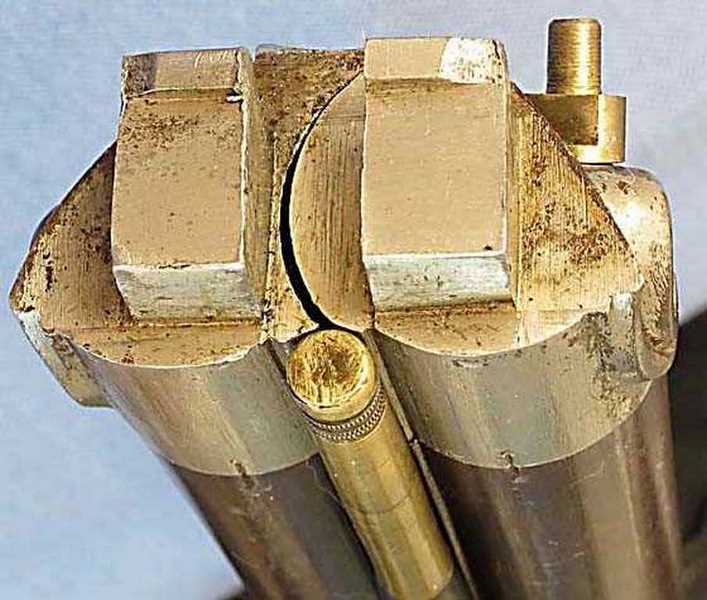 This photo is very revealing! Notice the graduated gap between the left and right breech plug? That's not sloppy work, it's intentional to provide clearance for when the plug shown right in this picture is unscrewed. Both nipples must be removed before the plugs come out. Notice the index marks that align the breech plugs with their barrels. They keep the nipples aligned with the hammers when the plugs are in place.
Then, I did some thinking about when this gun was made and what hunting was like at that time. This gun may have been made before the Civil War. Nelson Lewis made guns from 1843 into the 1880s at one location in Troy, New York. Internet research reveals that the building where he had his gun store and workshop is still standing on the corner of Congress and Church streets. Church Street is just an alley today, but Congress Street still exists, and his workshop has recently housed a small Greek sandwich shop.
It was a very different time
I can't prove exactly when this gun was made; but as a combination gun, it's very different from what we think of today. Let's use the Savage model 24 for comparison. The model 24 is a modern combination gun with a rifle barrel and a shotgun barrel — just like this Lewis gun. The 24 is superposed, where this Lewis gun is side-by-side, or a Cape gun as some would call it. But Nelson Lewis also made combination guns with superposed barrels. A Savage model 24 is a lightweight, handy gun that's useful for hunting all manner of game. The Lewis gun is also useful this way, but it's not light!
As I reported in Part 1, it weighs 9 lbs. It's decidedly muzzle-heavy and would not swing like a modern shotgun. But while thinking about the time period when it was used, it dawned on me that this gun may not have been designed to be used as a "handy" gun in the same terms we would think of today. It was handy because it fired both a single bullet and shot, of course, but I don't think it was made for shooting birds on the wing.
Hunters in America didn't always shoot birds on the wing back in 1850. They often shot them on the roost. In those days, game abounded and sportsmanship wasn't the same as it is today. In both England and the eastern U.S., there were men in small boats called punts, and they were shooting ducks by the hundreds on the water with a small cannon called a punt gun. Nobody thought anything of a lone hunter shooting a few ducks, geese and swans while they were on the ground or the water. Yes, I said swans. Why do you think they called it "swan shot"?
"Shooting flying" is the name given to the sport of wingshooting. The flintlock made it more feasible to shoot a flying bird than anything previous; and the percussion lock, with its instantaneous ignition, coupled with the general improvement in the power of gunpowder at about the same time (1830-1840), made shooting flying gain popularity. But a meat hunter, subsistence hunter or just a plain hunter, wasn't always interested in shooting as a sport. He was out to get food, plain and simple.
This Nelson Lewis combination gun is no more a subsistence gun than a Dodge Viper is a car for a soccer mom. Yes, it can do the job and yes, it seems to have all the necessary qualifications, but subsistence hunters can and do get along with a lot less. This is a fine sporting gun for the man who has the money to spend and wants something special. Just how special I will now discuss.
Nelson Lewis didn't make up many guns (if any) on speculation. They were nearly all made to order, because at the price a person had to pay, which was several months' wages for laborers, customers demanded exactly what they wanted. It's my belief that the customer who ordered this particular gun was reasonably well-to-do, and he was also a man with very specific tastes. I believe the gun, itself, shows us that.
I've now seen six or seven of these Nelson Lewis combination guns in various auctions and on websites, as well as in the book by Ned Roberts, The Muzzleloading Cap Lock Rifle. They're all similar in size, weight and caliber — with one exception. While more than half of the guns I've seen have the lollipop rear peep sight, mine is the only one so far that also has a hooded or globe front sight. That steel hood is there for just one purpose — to protect the thin post-and-bead "pinhead" target front sight — a sight that belongs on a target rifle.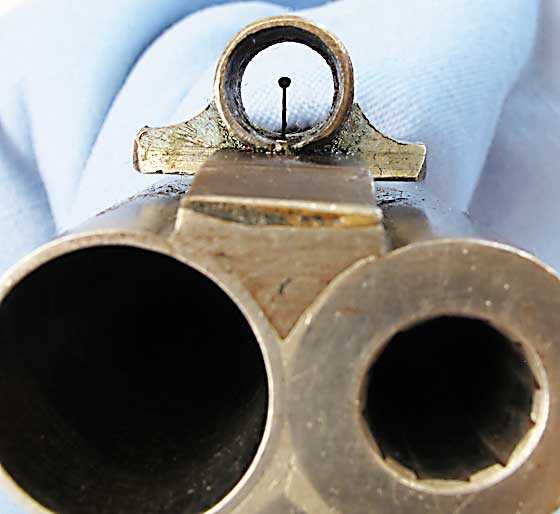 The tiny post-and-bead front sight was meant for the most precise aiming possible with iron sights in the Nelson Lewis combination gun's day. It seems out of place on a combination gun. Notice the beautiful condition of the rifle's bore at the muzzle!
Remember — this is a combination gun. A gun that is both a rifle and a shotgun. It's main purpose is for getting meat of all kinds. It's not a target rifle, because that would have just a single barrel, double-set triggers and probably a false muzzle for more careful loading of the bullet. It's not a shotgun, because that would be at least two pounds lighter and not muzzle-heavy. This is a meat gun — pure and simple.
So, why does it need target sights? Who puts a Lyman Super Targetspot scope on a Savage model 24? Yet, this Nelson Lewis combination gun from the mid-19th century has sights that belong on the finest target rifles of the day. Why? What about the gun requires such a precision sight, when it also has a traditional sporting rear sight mounted forward of the breech, between the barrels (see a picture of that sight in Part 1)?
These are all interesting topics to ponder, but they don't tell us anything about how the gun really works. For that, we've got to get real!
Let's shoot!
When I arrived at the 50-yard range last week, all these thoughts about the gun were rambling around inside my head. Did the owner want a meat gun that was also part target rifle? And, if so, how accurate would it be?
I was about to shoot a gun that was more than a little strange. And this could be the first time it's been fired in decades! So, as a continuance of my careful examination, the first thing I did was fire a cap on the nipple of the rifle barrel. There was a moment of panic when the caps from one manufacturer proved too small for the nipple; fortunately, the Remington No. 11 caps I had fit perfectly. I'd guessed that the No. 10 on the nipple meant the cap size, and it may well have been a size 10 of a century ago, but today a No. 11 cap fits.
After the cap fired successfully, I loaded a charge of powder into the barrel and tamped it down with a cloth wad. There was no bullet for this shot, as I was still testing the gun. That charge fired perfectly. After that, I did something I've never done before. I cleaned the bore with a damp cleaning patch, followed by two dry ones. According to many authors, this is the only way to do fine (accurate) shooting with black powder.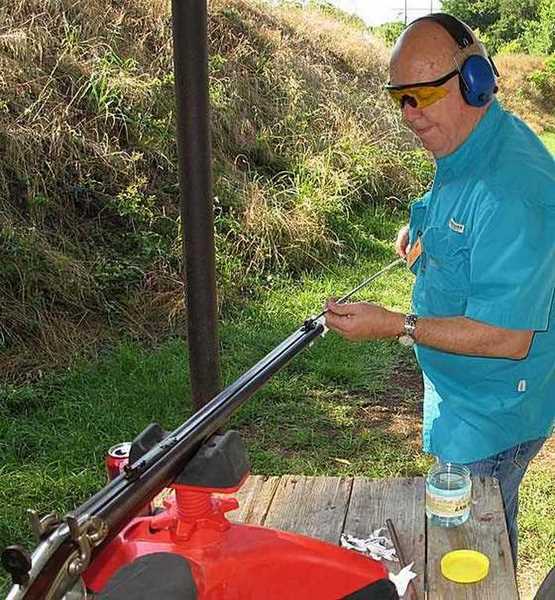 The bore was cleaned and dried after every shot. This practice was universal among target shooters in the 19th century.
Then it was time to load the first ball. For the record, I'm using fresh GOEX FFg powder. You may be wondering how I figured out the correct powder charge for this rifle. It was simple, really. I used an adjustable black powder measure and adjusted it to a little more powder than I use in my .32-caliber Thompson-Center rifle. How did I figure that powder charge? I guessed! Was I right? I seem to have been, because that rifle shot a nice tight 5-shot group at 50 yards its first time at the range.
Black powder works differently than smokeless. You don't have to weigh each charge. You measure black powder by volumeinstead of weight, and I have enough experience with black powder guns that I won't overload the gun. The problem may be that I load it too light, but that gets refined the more I shoot. I fill the powder measure to level full, and that's what goes into the gun. I discovered that I do need a funnel with a really tiny mouth to fit into the muzzle, but I improvised this day with a funnel made from paper.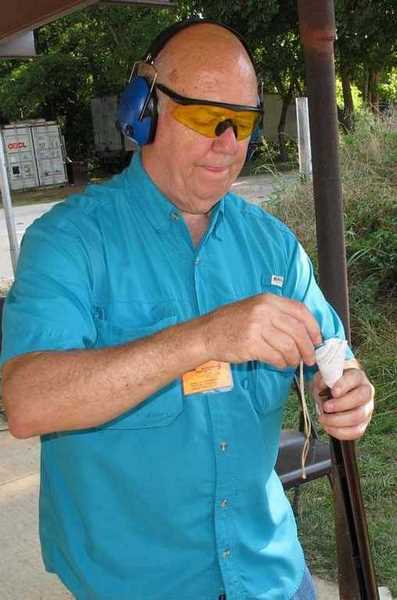 I used a paper funnel to drop the black powder down the bore of the rifle.
The first patch was laid over the muzzle, and a .375 swaged round ball was centered and pressed into the muzzle with my thumb. I could see this patch was going to be too large, and of course it was. When I started the ball down the barrel with the short starter, the patch closed over the top of the ball and then extended a quarter-inch above it as it was rammed down. That's way too much patch!

The ball is pressed into the muzzle in the center of a greased patch. This patch is way too big for this ball.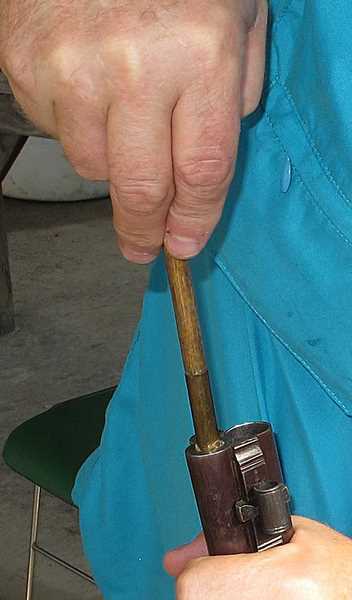 The short starter is used to start the ball down the bore. At this point, the patch material had bunched up around the ball and was fighting the loading effort.
This ball was difficult to ram down until the very end of its travel, at which point I was able to feel the ball settle against the powder charge. It's very important to always seat the ball on the powder with the same force, so this lessening of effort at the end of the ram was a providential thing. The last step in the loading process was to put a fresh percussion cap on the nipple. I then rested the gun in my rifle rest and settled in for the shot. Once I was comfortable, I pulled the hammer back to the full cock position, making the rifle ready to fire.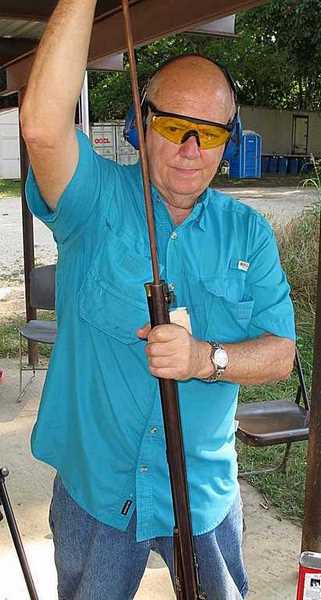 When ramming a ball down the bore it's very important that you purse your lips just right!
The trigger-pull was light and glass-crisp, as noted earlier. That first shot fired with authority. The report sounded sharp, as it should when properly loaded. The recoil was very light and not bothersome to my eye that was very close to the lollipop rear peep. Fortunately, this peep folds forward for storage, so if my shooting glasses contact it during recoil it will simply lay down. I have the same setup with my Ballard rifle that recoils harder, and I always push the rear sight forward a bit with every shot.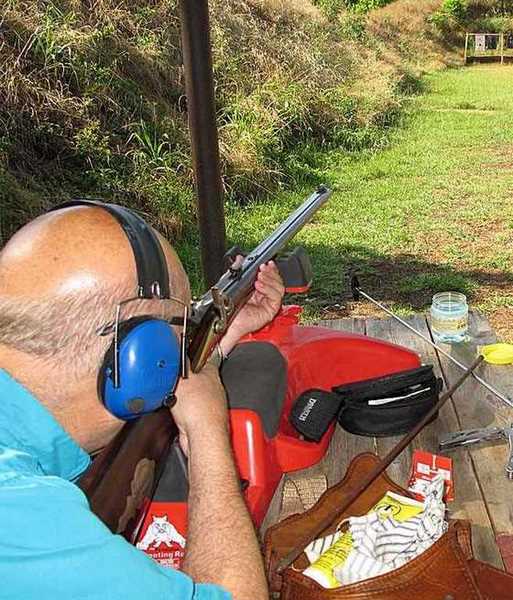 Getting set to touch one off.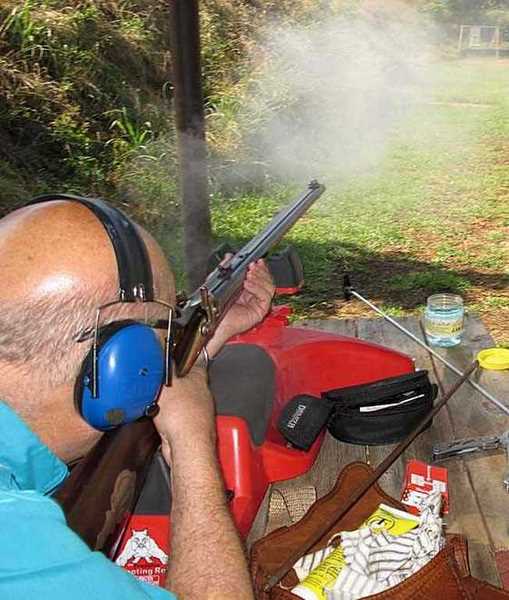 Crack! The shot is off.
I had envisioned the first shot going to the X-ring, but that's not what happened. Instead, the shot went wide at 10 o'clock in the 7 ring. Bummer! My thought was that the oversized patch was the culprit, but only more shooting would tell me for sure. Fortunately, I had a batch of smaller size patches with me as well, so I got them out for the next loading. But before that happened, the barrel needed to be cleaned.
The hammer was pulled back to half-cock, and a damp cleaning patch was run down the bore and back out with a satisfying hydraulic pop. This was followed by two dry cleaning patches, the second of which had very little dirt on it when it came out. Then, the rifle was loaded in exactly the same way as before, with the exception that the new smaller patch was used. This time, the ball started easier and rammed easier, though even this patch was still too large for the rifle. Now, before you point out the obvious and tell me that I could have cut the patches down, let me tell you that occurred to me on the range. But I didn't have any scissors, and a knife makes a poor patch cutter, unless you're cutting the patch right at the muzzle. I usually do cut off my patches at the muzzle with the patch knife that I had on the range this day, but that can leave scratches on the muzzle — which I don't mind on my Thompson-Center rifles but wouldn't think of doing to this vintage gun!
The second shot went to the 10 o'clock position at the edge of the black, cutting the nine ring. That was more like it! I then cleaned and loaded several more times until about the fifth shot. That patch also bunched up from being too large; again, I had a hard time ramming the ball. The shot went out to 7 o'clock in the 6-ring! This demonstrates the importance of a properly patched ball.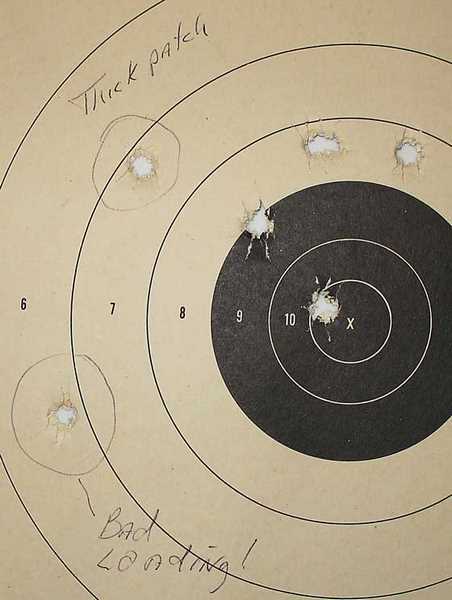 The first shot went high and left. Then I changed patches and they started landing in the center of the target, but high. Shot five was a thin patch that got bunched-up during loading and caused unnecessary pressure to ram it down. That shot went wide to the left and low. There are two balls in the same hole at the top center of the target.
I fired a total of seven shots in all, and two of them were fliers from patches that were too tight. The other five went into a group that measures 1.903 inches between the centers of the two shots farthest apart. Two of those shots are in the same hole and have to be examined closely to see that they're separate shots. Given the difficulties I had with the oversized patches, I think this first session went well. Of course, I'd hoped for better, but this was the first time and there was a lot to be learned.
Seven shots may not sound like a lot, but it took about 45 minutes with the loading, cleaning, picture-taking and lip-pursing. I did notice that I fell into a pattern as time went on; and by the fourth shot, I was loading them pretty much the same every time. Only that one shot (No. five with the patch that got stuck) got in the way of a perfect session.
Cleanup
When I returned home, I cleaned the rifle barrel by removing the barrels from the action and then removing the rifle barrel nipple. I stood the barrels in a shallow tub and poured boiling water down the muzzle of the rifled barrel. The water rushed out of the threaded nipple hole, carrying all the ash and soot with it. The boiling water left the barrels extremely hot, which made any residual water evaporate immediately. When the barrels cooled a bit (but were still very warm to the touch), I ran a clean patch with Ballistol through the bore. The outside of the breech and the nipple were both cleaned with a brass brush and assembled once the bore had been oiled. The barrel exteriors were wiped with a rag soaked in Ballistol.
Getting ready for next time
I ordered some Irish linen handkerchiefs off eBay to use as possible patch material. I thought they probably wouldn't arrive in time, so I cut down the smallest patches I used at the range this time by holding a nickel over them and trimming around the edges with sharp scissors and lightly oiled the patches with Ballistol. They're now roughly the same size as the two patches I found in the patch box when I got the rifle. I think the smaller amount of material will allow these patches to load more smoothly (as they are supposed to).
When the Irish linen handkerchiefs arrived, I have cut a strip of linen into nickel-sized patches that I've left dry (for the moment). I'll moisten them with saliva at the range. According to Ned Roberts (of .257 Roberts fame), that gives the absolute last bit of accuracy with a patched ball. That assumes the patches are of the right thickness, and this material seems very thin. We'll just have to wait and see. At any rate, I now have two different patches to try next time I'm out, and they're both sized correctly for the balls I'm shooting. A saliva-moistened patch is supposed to have a slight edge in accuracy over a greased or oiled patch. Since saliva can rust the barrel, this kind of patch is used only for target practice, where the gun will be fired and cleaned within minutes. For hunting, an oiled patch is better.
I have some specific goals for next time. One is to get a better-fitting patch so the ball doesn't have to be rammed so hard. It's essential for accuracy to always seat the bullet on the powder charge with the same pressure every time. You can do that best when you're pushing the ramrod down instead of ramming it. I now have patches of two different thicknesses to try, so we should see some results the next time out.
A second goal will be to weigh the powder charge I'm throwing and adjust it to what the vintage books say is the right load. Some of you may have noticed that in Part 1, I referred to the rifle as a .39 caliber, while in this report I'm calling it a .38. The ball I'm shooting is a Hornady swaged 0.375-inch round ball, and the patch does take up some space, so the caliber is just larger than .38. For that reason, I think it should more correctly be called a .38 caliber.
According to Roberts, a .38-caliber ball should use about a 35-40 grain charge, with 35 grains being closer to correct. I'll weigh the charge I was using the last time out and adjust the powder measure to throw the "right" charge, if necessary.
Why write about firearms?
I can't do too many of these firearms-only blogs; but since there's so much crossover between black powder and compressed-air guns, I feel that today's report contains several good lessons for all of us. Also, since I'm not that familiar with either this muzzleloading gun or with my Ballard, you get to watch over my shoulder as I try to learn something new. That's useful for any new airgunner who needs to do the same kinds of things I'm doing here to learn about his new airgun.
Have you noticed that I've not subscribed to any forums and asked other shooters what they think about this combination gun? That's because, in my research, I find that most people don't know very much about guns like this, so they make stuff up or they guess. The same holds true for airguns, doesn't it? Whenever I read a question from a new shooter about a gun he's just bought or hopes to buy, asking me what sort of modifications I think he should do to it, I shudder. I'm saying don't do anything at all until you have shot that gun enough to know it well. Then, you won't be tempted to make unnecessary changes that might not be reversible. That's the real lesson in today's report.
And, now, for something completely different…
In 1948, the  Johnson Indoor Target Gun sold for $15. That was a lot of money for an airgun in those days. What kind of powerplant did the Johnson have and what caliber was it? The answer will be in Monday's blog, but please feel free to leave your answer in the comments.
by B.B. Pelletier
Announcement: Chris Moreno is this week's winner of Pyramyd Air's Big Shot of the Week on their facebook page. He'll receive a $50 Pyramyd Air gift card. Congratulations!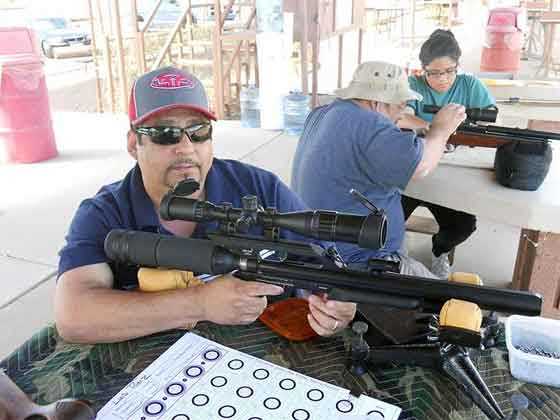 BSOTW winner Chris Moreno is shown with his first PCP.

This Nelson Lewis combination gun was made in the mid-19th century.
A little more than two years ago, I traveled to Maryland to see Mac and to help him drive back to Texas for the Malvern, Arkansas, airgun show. We visited a friend of ours who was loaning me some vintage photos to scan for articles. While there, we were admitted into his gun room, or as Mac and I refer to it — the Holy of Holies! This guy has collected odd and unusual guns all his life and, just like the Pawn Stars TV show, you never know what you're going to find. It was there that I found the airgun pogostick repeater that Vince is attempting to make operational.
But there was another gun in his collection that intrigued me, even though I didn't act on it right away. It was a combination gun made by Nelson Lewis, a well-known gun maker from Troy New York, who made muzzleloading guns from some time in the 1840s until at least the 1880s.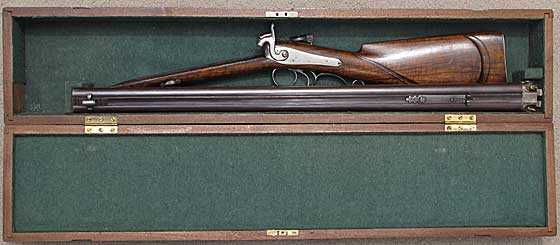 The gun came in its original oak case.
Lewis was a very prolific maker, and his guns still abound today. They're of fine workmanship but not the absolute top tier. As far as accuracy goes, an N. Lewis gun can hold its own at 40 rods (220 yards) with all but the very finest rifles; and as far as I'm concerned, there are only three in the top rung — Schalk, Warner and Pope. Nelson Lewis belongs on the next rung down with makers like Billinghurst, Perry, Brockway and others of equal fame. His guns are never finished as fine as those of Billinghurst, but they're equal in accuracy. They were among the first rifles selected for sniper duty in the American Civil War and made confirmed kills at ranges beyond 1,000 yards — surveyed distance.
The other kind of gun Lewis was noted for was the combination gun — with a rifle barrel on one side and a shotgun barrel on the other. That's the gun I saw in Maryland. What intrigued me wasn't the quality of the arm, though it's very fine, but the condition. This gun is still in its original box after 150+ years and is in NRA Antique fine condition. The patchbox contained two round patches of thin linen material, and Lewis was known for sending a sample of the proper patching material with his guns. I can't prove these patches are original to the gun, but they're appropriate to it.
When it was new a gun like this cost between $50 and 60, with engraving extra if you wanted it. For that you got the gun in a wooden case, a powder measure and a bullet swage. Lewis made this gun without the use of power tools. He had a local machinist make the parts requiring a lathe, and he made the barrels, locks and triggers. His son stocked the gun in finefigured walnut.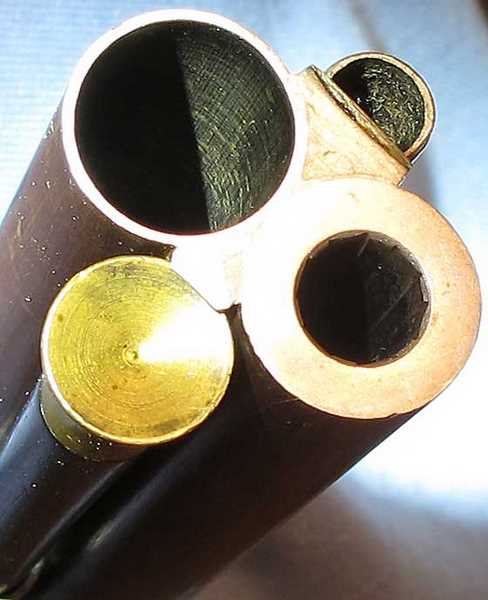 Look at the fine joining of the shotgun and rifle barrels.
Also packed with the gun are the original dies for swaging lead picket bullets for the rifle barrel. And there were two bullets in the box along with everything else.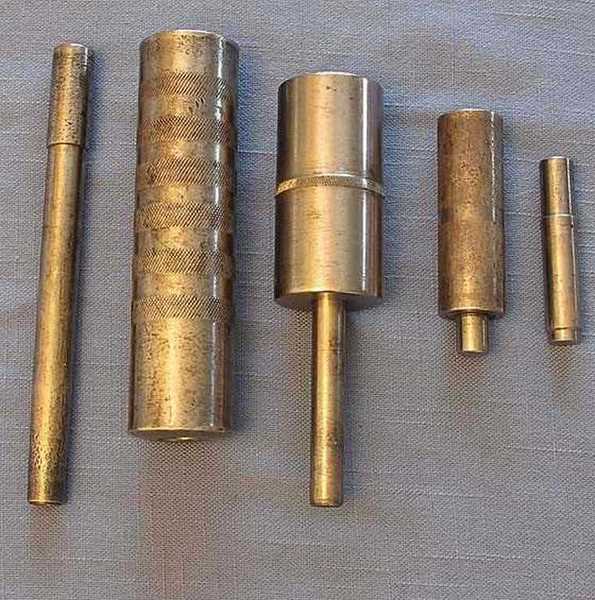 The swaging dies are also handmade by Lewis.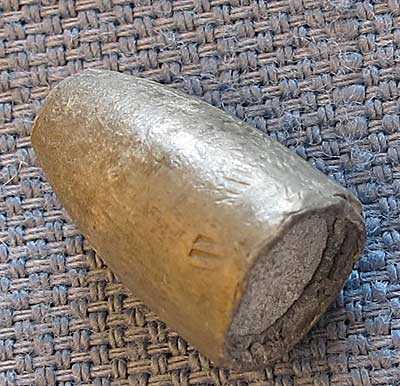 Picket bullet was the first elongated bullet that was popular. It lasted from about 1840 to 1880.
The box isn't a presentation type box. It's entirely functional, as though Mr. Lewis had shipped the gun yesterday and this is how it arrived. It's designed to hold the gun when it's broken down by removing one cross key and lifting the barreled action out of the stock. It has a patent breech with hooks that allow quick disassembly, so the gun can be transported safely to the hunting grounds.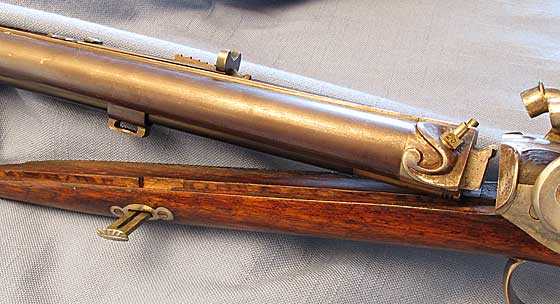 Drift out the one key, and the barreled action can be lifted out of the patent breech. Each barrel has a separate hook that locks into the breechplate.
The ramrod appears to be original to the gun, which is quite rare for two reasons. First, this gun was probably made in the 1860s or '70s. For anything wooden as thin as a hickory ramrod to have survived that long is remarkable. Second — a muzzleloading ramrod undergoes the most strenuous life you can imagine. Modern muzzleloaders almost always have fiberglass ramrods for this reason. Because this ramrod has lasted this long, we can surmise that this gun has been particularly well cared for.
The rifle barrel is .39 caliber and just under 28 inches long. We know that the six-grove rifling is cut with a gain twist because Nelson Lewis refused to cut any other kind of rifling. Because the picket bullet is a conical, it's heavier than a round ball, making the rifle appropriate for deer and even black bear hunting.
The shotgun barrel is 14 gauge and is probably without a choke, as they were not popular when this gun was made. Also, a blackpowder shotgun will throw a tighter pattern just by the nature of how it functions. What we have is a cylinder bore that's probably good out to 30-35 yards, depending on the game and shot size.
Sights
The gun has two different rear sights. On the tang is a lollipop peep sight that elevates by turning the disk on its threaded post. Halfway up the barrel is a sporting-type rear sight that can be used for a faster hunting situation. Sporting was the 19th century term for hunting.
The front sight has to be seen to be believed! The thin post is steel filed into the shape of a tiny post and bead. It's thin but strong, because the post is an I-beam with thickness front to rear. The sight is protected by a small steel globe.


Sporting (hunting) sight is adjustable for elevation. It is a semi-buckhorn.

Folding lollipop rear target sight adjusts for elevation by turning on its stem. Windage adjusts by loosening the screw and sliding the peephole sideways.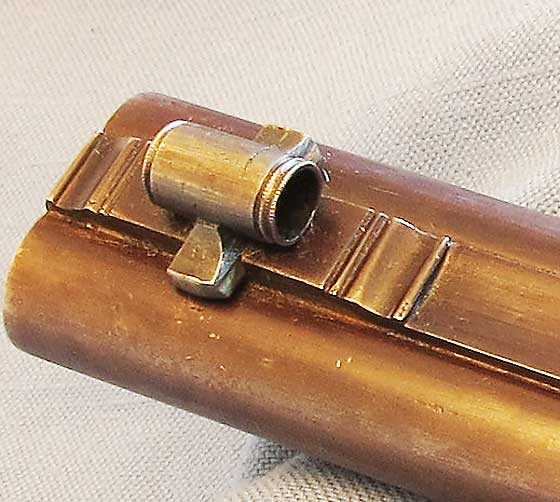 Front sight post and bead is protected by a small globe. Entire sight can be drifted to either side to correct for windage.
General characteristics
The gun is 44 inches long and weighs 9 lbs. Until I received it, I had never seen it together — but it fits together tightly with a cross key and a hooked or patent breech. Once the gun is together, you can't tell that it comes apart — it still fits that tightly.
The left barrel is the rifle barrel, and the right is the shotgun. There are no set triggers, but the rifle trigger (rear one) breaks at about 2 lbs. The rifle hammer is somewhat loose, indicating the rifle was used more than the shotgun.

Gun has a deep, crisp maker's mark, indicating it hasn't been refinished.
I found an oiled patch at the bottom of the shotgun barrel, which was considered the right way to store a gun in the 19th century. It had dried out and could have caused some rust if it had absorbed moisture from the air, so I removed it with the worm screw on the ramrod. The breech plugs are both removable, making both barrels accessible for cleaning. I plan to do that before long.
Both nipples appear new and would certainly have been replaced over a century and a half of use. If they were original, they would both show signs of pitting from the flame of thousands of percussion caps. One of them has the number 10 on it, so I'm guessing that's the correct cap size.
In the patch box on the right side of the butt, I found two cloth patches that appear to be the correct size. It will take a lot of experimentation before I discover the right bullet and load for this gun, to say nothing of the shotgun side; but initially I'll just be examining it for clues to its history!
This is an example of a fine hunting gun in very good condition from the 19th century. It shows lots of use, but the bores are clean and bright, and the action is tight and crisp, except for the hammer that was noted. It's a wonderful window on the past that's been preserved exactly as it was in its heyday.
Over the next few months, I'm going to get more familiar with this gun, in preparation to shooting it.
Ballard update
Some of you may be wondering what has become of my Ballard rifle. Well, my great idea of the special Hudson bullet didn't turn out as well as I'd hoped. Apparently, I spec'ed the bore diameter a thousandth too large for the mold-maker, and the bullets are too difficult to push into the rifling. I have a bullet seater that's supposed to work — and does with my smaller Lyman bullets that only go to 0.381 inches — but they don't fill the bore all the way.
I'm going to try a couple different things to fix this. First, I'm going to shoot the rifle with loaded ammunition, using a 0.379-inch bullet so it'll chamber and loading the cartridge with black powder to obturate the bullet. I'll have to wipe the bore after every shot, but that was the way most shooters did it when this rifle was new.
If I get the accuracy I hope for (10 shots in a half-inch at 100 yards and 10 in two inches at 200 yards), I may invest in another hand-made Hudson bullet mold. But the rifle will really have to shine before I'm going to do that.
I've also found a place that will fit double-set triggers to my gun without modifying the original parts in any way. The current 7-lb. trigger-pull is one aspect that is keeping me from shooting my best.
I should have an update on shooting the Ballard sometime soon.