Posts Tagged 'MTM Shooting Table'
by B.B. Pelletier
Happy New year! I thought I'd review the best products I got to test last year. Some will be new, but others have been around a long time — I just got around to testing them.
Benjamin Marauder pistol
Back in January, when I was pouting about missing the SHOT Show, I had the opportunity to test the Benjamin Marauder PCP pistol. Actually, the test began in 2010 and extended into 2011, but it was such a good test that the pistol has to make it into this report.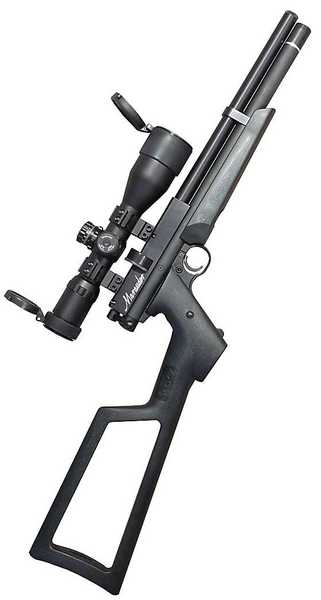 Benjamin's Marauder pistol, known as the "M-rod," is a winner!
I even did an extra accuracy test because for the first one I mounted an old Leapers 6×32 scope that didn't seem to give the pistol a chance to perform up to its capability. When I substituted a CenterPoint 3-12x44AO compact scope in the last test, the pistol showed what it can do.
The Marauder pistol is a .22 caliber with all the accuracy you could hope for. The power is great for this size airgun, and I strongly recommend attaching the standard shoulder stock extension that comes with the gun.
Beretta 92FS
The next great product of 2011 was the Beretta model 92FS air pistol with wood grips. I completed the test on this one in March. I was so impressed that I thought for a long time that Edith and I needed to get the firearm to go with it. In the end, we returned it because you just can't keep them all; but while I had it, I thought it was a wonderful air pistol.
Hawke Sport Optics 4.5-14x42AO Tactical Sidewinder rifle scope
This one is not an airgun, but I would be remiss if I didn't tell you about the finest rifle scope I've ever tested — the Hawke Sport Optics 4.5-14x42AO Tactical Sidewinder rifle scope. I've owned several Leupolds and looked through other premium scopes, but this Hawke has them all beat.
What's so good about this scope? The clarity. It's even clearer than my Unertl 6x that used to be a standard for target shooters. At 14x, it's clearer than other scopes are at 32x. You have to see it to understand how that could be possible, but it is.
It's very costly, though with the clarity it surpasses others of greater price. It's the best I've ever seen.
Crosman Silhouette pistol
The Crosman Silhouette PCP air pistol is another pistol that made my list. I'd tested it the year before, but this one had some improvements, the most notable of which was the trigger.
The power is great, in the high 400s with medium-weight .177 pellets, but the number of shots on a fill reached 75, which is even more phenomenal. Crosman really did their homework on this pistol — refusing to let it alone after the initial offering. The result is that they launched an even better model in 2011 that will have airgunners talking for a long time.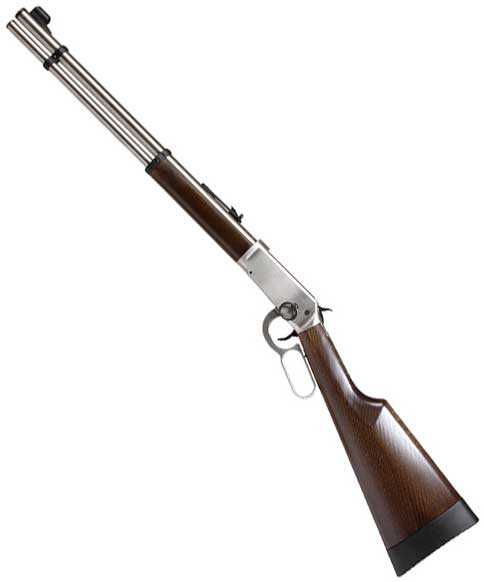 Looking very Western, the Walther Lever Action rifle was one of the best airguns from 2011.
Walther Lever Action rifle
Walther already had a good lever-action air rifle, but last year they modernized it to accept the 88-gram CO2 cartridges, and the new Walther Lever Action Rifle is even better than before! I liked it so much that I did a special 4-part review on the gun and showed you accuracy you didn't expect to see from this kind of airgun.
This rifle is pricy, but you get what you pay for. It's slick, accurate and reliable. If you want a good lever-action pellet rifle it's the only game in town. (My test featured the nickel version, but Pyramyd Air no longer sells it…but the blued version is still available.)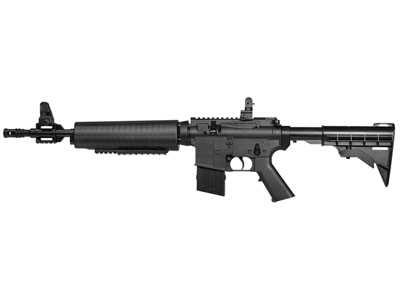 Crosman's new M4-177 multi-pump rocks!
Crosman M4-177 air rifle
I would be remiss if I didn't rave about the new Crosman M4-177 multi-pump air rifle. I liked mine so much I bought it! Does that tell you anything?
The gun is realistic, accurate and well-made. I bought one of the early guns that were mismarked, but Crosman begins shipping guns with the correct marking this month. I don't know if Pyramyd Air has any of the mismarked ones left. However, don't let that stop you — this is an airgun we can all enjoy.
MTM Predator Shooting table and Predator shooting rest
I use both the MTM Predator shooting table and the Predator shooting rest for almost all of my tests, if that tells you anything. But they've just been added to the Pyramyd Air product list and are now available to all of you. So, I included them in the 2011 list, even though I've had mine for several years. Both products let you make a firing line wherever you are, and that's a necessity for someone who shoots a lot. I take mine to the rifle range and use the table in preference to the concrete tables on the range.
Dan Wesson BB revolver
We ended the year on a high note with the Dan Wesson BB revolver. When I reported on this novel new revolver, I said I was impressed by the realism they packed into the design. Twenty years ago, you just couldn't get this level of realism in an airgun.
The one thing I failed to note in my report is the quirky way the safety works. Of course, a safety on a revolver is about as common as a unicorn horn; but if you have one, it ought to work right. This one doesn't. You can put it on when the hammer is down and the action will be locked; but if the hammer is cocked, the safety does nothing at all. That's dangerous, because there are new shooters who haven't been properly trained and will test every safety in an unsafe way. This one will fire if they do.
Still, the gun is powerful, gets lots of shots and is quite accurate for a BB pistol. It's also all metal. I don't know what more you could ask for.
Summary
I reviewed many other airguns in 2011, including a host of vintage models that I won't report in this list. These are the ones that stood out and caught my interest. You may have others, and now it's your turn to comment.
by B.B. Pelletier
Several of you have asked to see how I shoot; and with Christmas coming soon, I thought it was time to show you. There are several things I use that you may want to see under your tree this year. If you don't celebrate Christmas, they're still valid things for every shooter's wish list.
MTM portable shooting bench
Edith and I campaigned to get Pyramyd Air to carry the MTM shooting table, because several readers said they would like to own one. It's inexpensive and light (14 lbs., 9 oz.) and most of all — portable! I have different shooting ranges in many places, including a couple right here in the house. No matter where I go, indoors or out, this bench is what I use. Even at my rifle range, where the benches are made of concrete and are completely immobile, I choose to use this one and I'll tell you why: Because I can put it anywhere I want!
Is it a bench or a table? Well, in shooting terminology, it's always called a shooting bench, even though you don't sit on it. But MTM chose to call theirs a table, so that's what I will call it from this point on.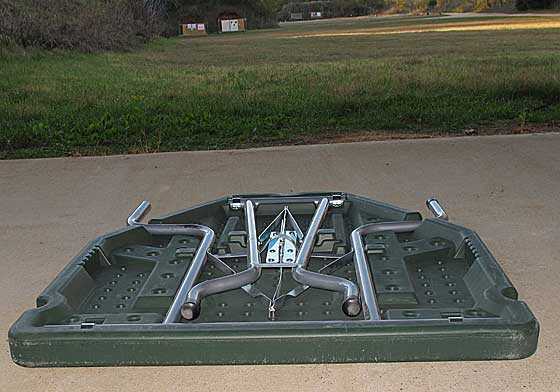 The MTM shooting table when it's collapsed. It's a small 14 lb., 9 oz. package that fits flat in the bed of a pickup truck, or stands on the floor of the rear passenger compartment of a mid-sized sedan.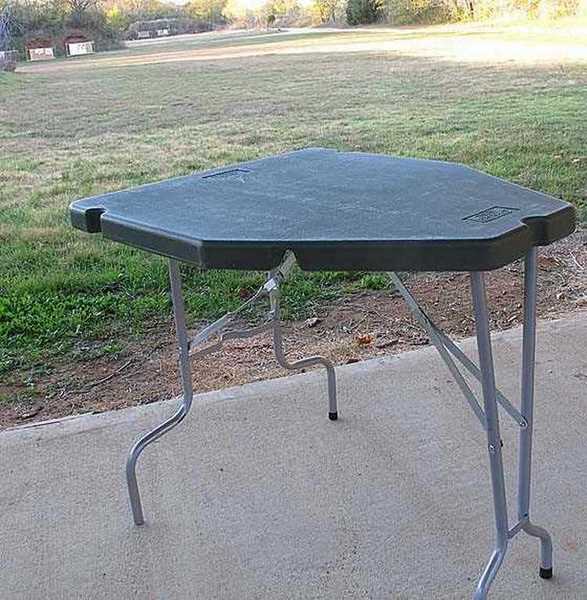 The legs unfold in seconds and the table stands ready to shoot. With this table, you can make a range anywhere — indoors or out.
As long as I have this table, I can make use of almost any space as a range when I want to. If I show up at my club and find all the benches taken, I set this one up on one side of the line and, presto — there's room for one more.
The table is very light, and the legs fold flat underneath the top for transportation. I did have to tighten all the nuts that hold the hardware together, but I probably set up this table about five times a week and have been doing so for going on two years, so a little maintenance is normal.
I don't just use the table for benchrest shooting. When I want to shoot pistols it serves as a handy table for guns, ammo and any accessories I need.
If you want something to criticize, the table is a little wobbly. It isn't steady enough to hold a spotting scope; but when I'm in position behind a rifle, I push against it and nothing moves. Also, I have to slant the table to the left to fit behind it, where a good shooting bench has a top designed with a cutout at the back to allow you to sit next to it. This one won't support your weight sitting on it, so consider that before ordering. But the good points far outweigh the bad, and this is one of the essential pieces of equipment in my shooting kit.
I've had several shooters ask me where they could get a table like this, because at the range you have to use what they have. On our 100-yard range, the benches are all oriented wrong, because the 100-yard berm is angled off to the left and the benches were installed for the 200-yard range. Since most of them are cemented in place, the shooters can't do much about it, but I can. And now anyone can, because Pyramyd Air now carries this shooting table.
MTM Predator shooting rest
Several of you spotted the MTM Predator shooting rest in my older reports and asked me about it. The truth is that I was ambivalent about this rest until I tried two more expensive ones, including a Caldwell Lead Sled. This one does everything they do except retard the movement of the rifle. If you need a rest to absorb recoil, this isn't the one to choose; but if all you need is something to hold the rifle in place as you shoot, I can't think of anything better. All the super-tight groups you've seen me shoot were shot from this rest or off a sandbag.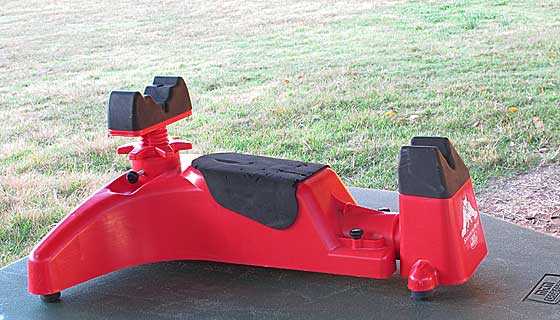 The MTM Predator shooting rest works for both rifles and pistols. It's lightweight and quick to set up and adjust. Here it's shown with the tail piece collapsed.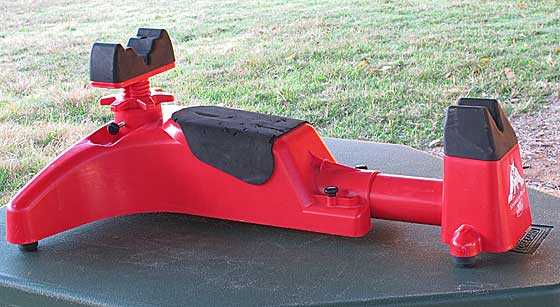 And here the tail piece is extended. It extends in seconds to accommodate rifles and carbines of different lengths. Or remove it altogether and the rest is for pistols.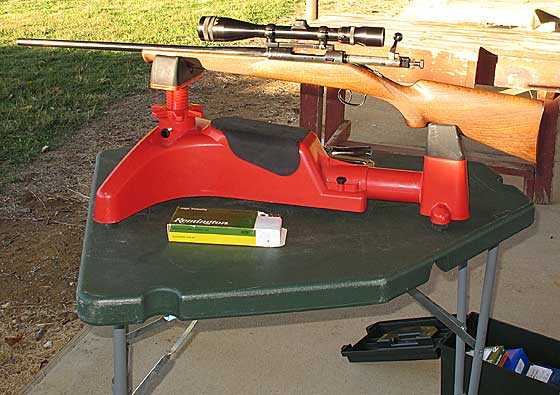 A Savage 1920 bolt-action rifle lays in the rest. As you see, the butt is free to move and must be held against your shoulder. Slide the gun forward and back to lower or raise the sights on the target.
Some rifle rests hold the rifle entirely, with the butt held in a socket that takes all the recoil. I've used these rests and don't care for them, because they push me to the side and make sighting more difficult. That's probably why I like this MTM rest so much. With this rest, the butt of the rifle rests against your shoulder and you absorb all the recoil. And you have more control over the rifle.
Also, most high-end rifle rests have some lateral movement adjustment built in, so you can move the gun from side to side. The MTM rest doesn't have this. If you need to move to the side, you simply slide the rest on the shooting bench. It's so lightweight that it's no problem to move — even when there's a rifle on it.
If you've never used a rifle rest before, the main feature you'll like is the elevation adjustment. Turning the adjustment wheel allows the rest to move either up or down in very small increments that equate to about one-thousandth of an inch. Combine the adjustment wheel with moving the rifle fore and aft, and you have very fine control over the elevation. And it's repeatable! Shot after shot will be targeted on the same aim point once the rest is properly adjusted.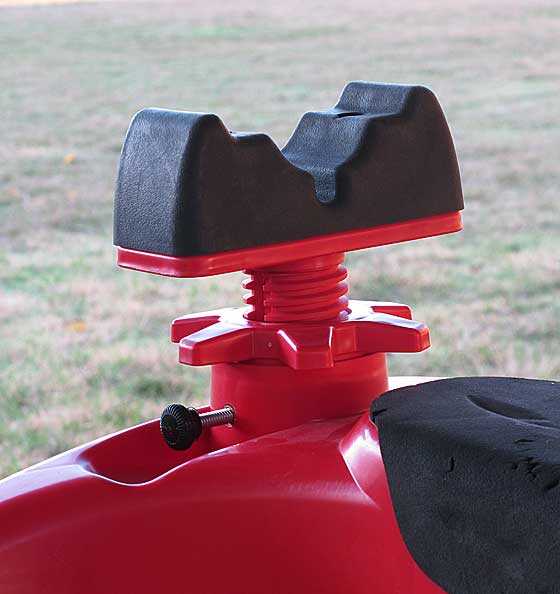 Turn the thumbwheel for vertical adjustment. The weight of the rifle will cause it to lower as you turn. The black thumbscrew is to lock the elevation adjustment.
New airgunners take note
A word to the new airgunners is required. If you shoot spring-piston airguns, you cannot shoot directly off a rest like this one and expect to be accurate. You need to lay the rifle on the flat of your hand and rest the hand on something to support the weight. The Shooter's Ridge Monkey Bag Gun Rest would be ideal.
A stapler!
Pyramyd Air doesn't sell these, but I carry one all the time and have worn one out over the past 40 years. You need the stapler to fasten your targets to the backers at the range. If you don't want to walk an extra 200 yards and anger the other shooters, put extra staples in your pocket the moment you get to the range so you can load the stapler when it runs out — because it always happens when you're downrange (think about it)! Forget the fancy electric staplers, because they don't work as well on heavy wood and rubber backers as a manual model. Unless you have arthritis, use a manual stapler.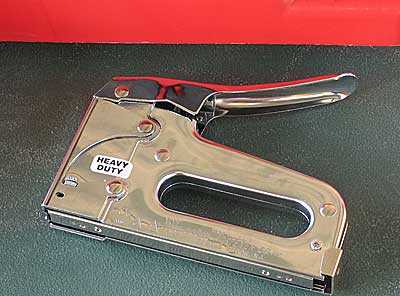 A stout stapler is a must. Forget the electric ones and just use one like this.
Binoculars
Believe it or not, there are times when a small pair of binoculars comes in very handy at the range. A month ago a buddy of mine bagged a large bobcat on our range because he was able to identify it under the trees while shooting with iron sights. In some countries like Germany, it's considered extremely bad form to use a scope sight in place of binoculars. Think about it — under that scope there's a firearm!
Well, that's about it. These are the essentials I always take to every range. Of course, I carry insect repellant and hand warmers, depending on the season, but these four items are with me all the time. Other than my spotting scope, this is how I shoot.