Posts Tagged 'multi-pump pneumatic'
by Tom Gaylord, a.k.a. B.B. Pelletier
Part 1
Part 2
Part 3
Part 4
Part 5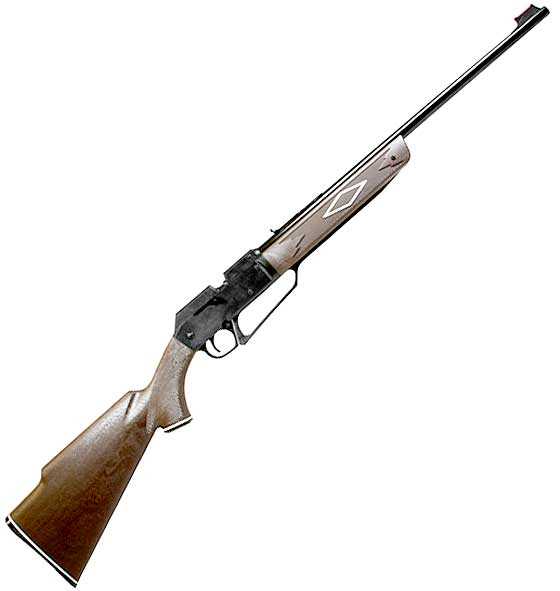 The Daisy 880 multi-pump is a classic.
This report addresses:
• Mounting the scope.
• Sighting in.
• Accuracy testing.
• Loading problems.
• Summary.
Today, we'll look at the accuracy of the Daisy 880S at 25 yards. As you may recall, Daisy sent this rifle to me to test after I had problems with the velocity of my old Daisy 880, and also with a brand-new one that Pyramyd Air supplied. We tested the velocity of this rifle in Part 4, and it was right where it should be, so we moved on to accuracy 10 meters. That was in Part 5. I showed you the targets Daisy sent, and then targets I shot. I managed to do a little better than Daisy, but on the whole my best targets were comparable to what they sent.
The rifle they sent is an 880S that has a 4X15 scope and rings included. I thought it was identical to the 880, but a sharp reader pointed out the 880S rifle doesn't have fiberoptic sights. If you want plain sights, this is the model to get. And the first step for today's test was to mount the scope.
Mounting the scope
I've had other scopes that were difficult to mount, but this one ranks right there with the worst of them! The small, thin clamping jaws gave me fits when I tried to attach them to the scope rail. It took me 15 minutes of repeated tries to get the scope to clamp to the rifle, and even then the scope was pointed off to the right. I remounted it and had the same problem. Up to this point the scope, was still clamped tight in the rings, which may have been the problem.
I loosened the scope tube in the rings and found that it really helped with positioning. Finally, after about 25 minutes, I managed to get the scope mounted reasonably straight. Loosening the rings was the key. However, even at its best, the scope was still pointed to the right.
Sight-in
I looked back at the velocity data for this rifle from Part 4 and decided that 6 pumps per shot would be best. That's a compromise between velocity and the time it takes to pump the rifle. When you shoot 10-shot groups, each group takes 60 pumps to complete. I was going to be shooting pellets that were mostly lighter than those used in the velocity test, so the rifle would probably be shooting just over 600 f.p.s.
Beeman H&N Match
I sighted-in with Beeman H&N Match pellets. No particular reason for this. From the 10-meter test, I knew that only RWS Hobbys were accurate enough (of those pellets that were used in the 10-meter test) for shooting at 25 yards, and they would be included — but I was almost out of them.
As most of you know, I sight in most airguns at close range, then back up to the target distance I want to shoot when I'm on paper. The first shot from 12 feet landed low and about 3 inches to the left. That's how far to the right the scope was pointed. If it was off that far at 12 feet, it would be several feet off the target at 75 feet (25 yards). I cranked in a lot of right adjustment; and by the third shot, the pellet hit below the bull at 6 o'clock.
Then, I cranked in a bunch of up elevation. The scope that comes with the rifle doesn't have click detents, so it was several turns of the adjustment screw. I knew I should now be on target, so I backed up to 25 yards before shooting again. Time to shoot the first target.
The first shot hit the target in the bull but very high up. That was okay, though, because in an accuracy test we don't care about hitting the center of the target — only in how close the pellets group. When the second shot went to the same place, I stopped checking the target with the spotting scope and just finished the first 10-shot group.
The first 10 shots landed in a group that measures 1.958 inches between centers. That's not what I was hoping for. I tried my hardest to shoot well; I shot off a rest and with a scope. This was the best I could do with this pellet.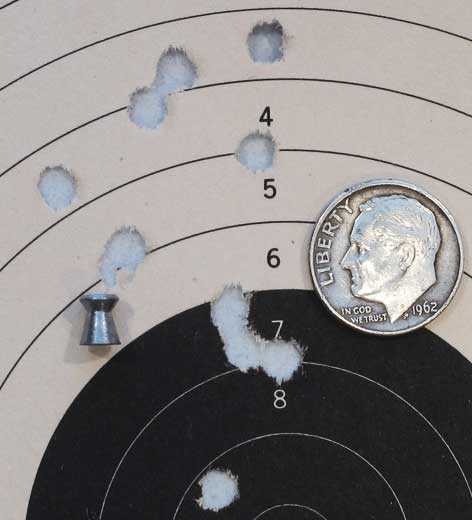 Ten Beeman H&N Match pellets went into 1.958 inches between centers at 25 yards.
RWS Hobby
Next up were the RWS Hobbys. These were by far the most accurate pellets at 10 meters, so they earned a spot in this test. Nine of them went into 1.154 inches at 25 yards, but the tenth shot opened the group up to 2.216 inches. It certainly wasn't a called flier; but given where the other 9 landed, I think Hobbys showed fair accuracy, overall.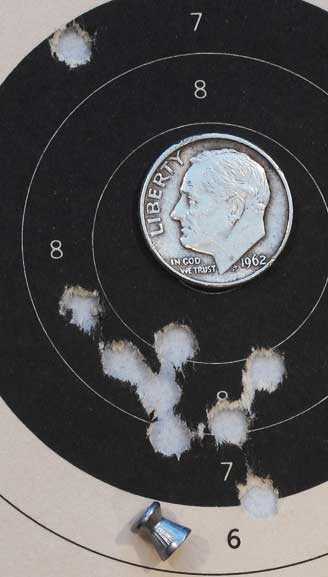 Ten RWS Hobbys made this 2.216-inch group at 25 yards, but 9 of them went into 1.154 inches, which is fairly good.
So far, the groups were only average or worse. Since I was pumping 6 times for each shot, this test wasn't going to continue much longer, but I felt the rifle deserved at least one more chance. This time it would be with a domed pellet of known quality — the Falcon from Air Arms.
Air Arms Falcons
The Falcon pellet has shown real promise in some airguns I've tested. I hoped that it would also shine in the 880. Since it was the only domed pellet I tried, and since 25 yards is about the maximum distance at which accuracy can be expected with wadcutter pellets, I hoped to see a real star.
Ten Falcons went into 1.482 inches at 25 yards. The group is reasonably round with no fliers, which tells me the Falcon is very stable in the 880. The group is actually the best of this test, though not as good as I'd hoped based on what people had said about their 880 rifles. But, I was shooting 10-shot groups, and they really point out the accuracy potential of an airgun in a way that 5-shot groups often can't.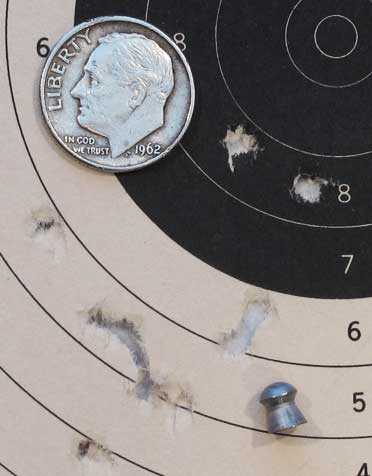 The Falcon group was the smallest of the session at 1.482 inches between centers. Of course, the holes are harder to see because this is a domed pellet.
Loading problems
I had two loading accidents with the Falcons that didn't occur with any other pellets. Two pellets fell back through the BB loading port and disappeared. They didn't tie up the gun, but it was disconcerting. Daisy warns about this possibility in the manual, and it happened to me twice in a row. If it happened just once, I'd say, "Shame on me." But two times in a row is the rifle's fault.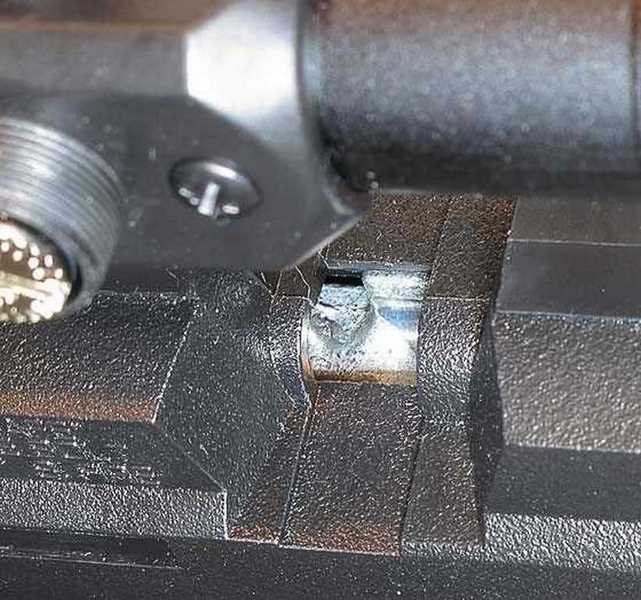 The BB feed hole at the back of the 880′s breech is so large that it swallowed 2 Falcon pellets.
Summary
No one can say this rifle didn't get a fair test! It turns out to be an okay plinker that's easy to pump and reasonably accurate at close range. I would not choose the scoped model, nor would I mount a scope on any 880 unless my eyes demanded it. A dot sight might be best for those who can't use the open sights.
The loading of pellets is a real problem area. It isn't easy under any circumstances, and it's all too easy to lose a pellet in the action because of the large BB feeding hole. Perhaps the 880 is a better BB gun than a pellet rifle for this shortcoming.
Given all the problems I had, I would have to put the 880 lower on the list of inexpensive multi-pumps than some other brands and models. I think it's a fine gun for those who appreciate it for what it is, but it's not a diamond in the rough. Taken for what it is, the 880 will satisfy a purpose and will be a good plinker and informal target rifle.
by Tom Gaylord, a.k.a. B.B. Pelletier
Airgun lubrication — spring guns: Part 1
Airgun lubrication — spring guns: Part 2
Airgun lubrication — gas guns
This report addresses:
• What is a pneumatic?
• No. 1 lubrication need.
• A short pneumatic history.
• Which oil to use?
• Other lubrication.
• Wipe down.
This report was written for blog reader Joe, who asked for it specifically; but I know that many of our newer readers also found the information useful. Today, we'll look at pneumatic guns. There are 3 very different types of pneumatic airguns — precharged, single-stroke and multi-pump — but I think they're similar enough to cover all of them in the same report.
What is a pneumatic?
Pneumatic airguns store compressed air for one or more shots. Single-strokes get just one shot per fill and so do most multi-pumps, though there are some that do get multiple shots. Precharged pneumatics (we shorten the name to PCP) get many shots per fill.
Big bores, which are always PCPs, get the fewest number of shots per fill, but the smallbores (.177, .20, .22 and .25) get many. How many depends on the output power of the gun and the amount of compressed air that's available (i.e., the capacity of the air reservoir).
No. 1 lubrication need
The most important reason to lubricate a pneumatic of any kind is to seal the gun. This is similar to gas (CO2) guns; but since pneumatics use air — which is thinner than CO2, their lubrication is extremely important. The seals in the guns are all sized to their jobs. In the case of o-rings, they sit in channels that assist in their sealing role; but without the right lubrication, all would be lost.
A short pneumatic history
Pneumatics are the oldest type of airgun, and their technology has evolved over more than five centuries. The first pneumatic guns used leather seals in all places to seal the reservoir as well as sealing the firing valve.
As time advanced, airgun makers learned how to lap (polish until smooth) valve faces of animal horn that is much better and less porous than leather. These valve faces would be hand-lapped to match the exact surface of the metal (brass or bronze) valve seats to which they were fitted. When the lapping job was finished, these valves would hold air much longer than leather. Leather was still used to seal the junction around the threads of the reservoir, so the guns still leaked down — but the amount of leakage was reduced by a significant amount.
[Note: Airgun designer John Bowkett determined decades ago that precisely machined stainless steel valve faces and valve seats work best of all, providing there's enough lubrication and the machining is correct. The contact surface of this type of valve is extremely fine and narrow; but if it's perfect, this valve will be very controllable. The downside is that valves made this way are still extremely labor intensive.]
Leather seals and horn/brass valves were still being used in big bore PCP airguns up through the 1920s. Smallbore PCPs didn't come into being until 1980, when Daystate converted one of their tranquilizer dart guns into a .22-caliber sporting rifle they called the Huntsman. Daystate was the first company to build a modern PCP; and when they did, synthetic materials were both available and far better suited for pneumatic valves. At the same time, o-rings in properly cut channels provided the remainder of the sealing solution in place of leather — and the modern PCP was born.
Synthetic seals are less porous than animal horn and last far longer. They're not as hard as stainless steel, so the mating surfaces of the valve do not have to be machined as precisely (they have a little give to accommodate slight imperfections in the valve seats). Synthetics make the modern PCP possible. And lubrication is what keeps PCPs sealed almost forever.
Leather seals in other pneumatics
Leather has been used for the peripheral seals in multi-pump pneumatics up to as recently as the 1950s. Just like the leather seals of old, the problem has always been how to keep the leather seals lubricated so they remain soft, pliable and doing their job. Oil was used originally in these airguns in the late 1890s. But times change and today we have better lubricants. Petroleum jelly will stay on the job many times longer than straight oil, so even the leather seals in your vintage multi-pumps can be lubricated for a long time.
Which oil to use?
That brings us to the big question of the day: Which oil to use? In this instance, there isn't just one answer. For PCPs, the right oil needs to have a very high flashpoint so it isn't prone to explode when subjected to high pressure.
I know of two instances in which petroleum-based oil or grease has caused an explosion in a PCP. One was a vintage PCP reservoir that was pressurized to around 800 psi. The interior walls of the reservoir were coated with grease to trap any dirt particles that might get in during filling. This is a common practice with such airguns; but this time the person who greased the reservoir used petroleum grease instead of organic-based (animal) grease. The reservoir blew apart at the soldered seam! Fortunately, no one was hurt.
The other instance was one I got from a news story, and the person involved was, unfortunately, killed when his modern PCP reservoir exploded. The article said he had apparently introduced regular household oil into the reservoir.
On the other hand, I've safely oiled PCP tanks hundreds of times with a couple drops of Silicone Chamber Oil through the air intake port. I put several drops into the fill port before the gun is filled. When the air blows in, the oil is atomized and gets on all the sealing surfaces inside the reservoir and valves.
The oil to use in a PCP is silicone chamber oil. For single-strokes and multi-pumps, the answer is different. For either of these types of pneumatics I use Crosman Pellgunoil. Neither of these types of pneumatics are pressurized nearly as high as a PCP, and Pellgunoil always does the trick.
Can other oils be used instead of Pellgunoil? Certainly. I've used Gamo Air Gun Oil in my single-strokes and multi-pumps for many years. I use it exactly as I do Pellgunoil for single-strokes and multi-pumps, but I do not use it in any PCP guns.
The thing about multi-pumps and single strokes is to keep their pump cups sealed and working well. These are the flexible pump heads that force air into the guns, either one time or several. They tend to get hard over time and lose their ability to seal, but keeping them oiled and in use frequently will prolong their service lives. Not using a pneumatic airgun is what really hurts it.
Other lubrication
For normal lubrication of moving parts, both Pellgunoil and Gamo Air Gun oil work fine. So do most gun oils, like Remoil. What you do not want to use is silicone chamber oil for this purpose because it doesn't have enough surface tension to lubricate properly. Your parts will rub against each other and wear.
Wipe down
As always you can use the lubricating oils to wipe down your gun's metal and wooden parts, but Ballistol neutralizes acidic fingerprints and lasts on the surface of metal far longer than plain oil. So, it gets my recommendation for this job. It also gets the nod for the insides of all airgun barrels.
Summary
Airgun lubrication is important, for the reasons mentioned in this 5-part report. Sealing is the biggest role lubrication performs, in all cases. We've looked at some very specific examples of products that should be used for the reasons stated. If you decide to substitute, you do so at your own risk.
by Tom Gaylord, a.k.a. B.B. Pelletier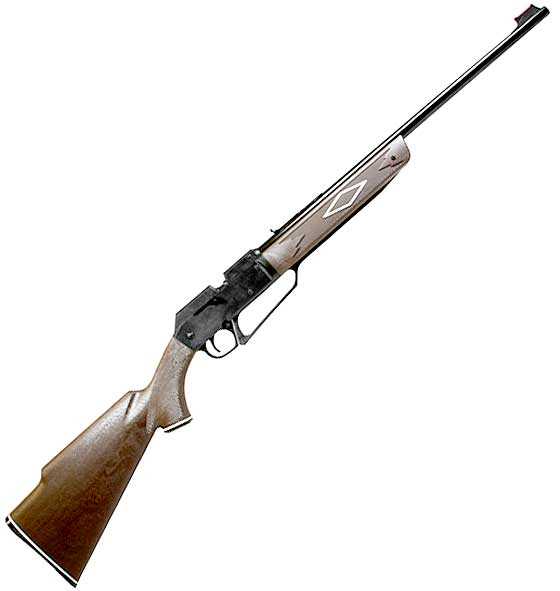 The Daisy 880 multi-pump is a classic.
This report addresses:
• Examining test targets sent from Daisy with this rifle.
• Accuracy with 3 different pellets.
• Accuracy with BBs.
Today, we'll look at the accuracy of the brand-new Daisy 880 that Daisy sent for this test. Before we begin, I'll show the test targets Daisy sent with the rifle. Then, I'll shoot the rifle at 10 meters with 3 different pellets. Finally, I'll move up to 5 meters and shoot steel BBs.
Daisy targets
When Daisy sent me the rifle, they included the results of their testing. So, I have 2 targets for the rifle. They did not indicate which target was shot with BBs; but since they used a 10-meter target for the one test and a 5-meter target for the other, I'll assume the first was shot with pellets and the second with BBs.
The target they shot with BBs was enlarged before they copied it, so it looks larger than its actual size. The black bull is supposed to measure 18.415mm across, but the target they sent measures 25.07mm from side to side. So, it's approximately 137 percent the size it should be. I'm telling you that because I can't put a dime next to that target and make any sense out of it.
They also shot just 5 shots per target, where I normally shoot 10. So, my groups should be 40 percent larger than theirs. They did give me the center-to-center measurements for each group, however, so we'll be able to make some comparisons.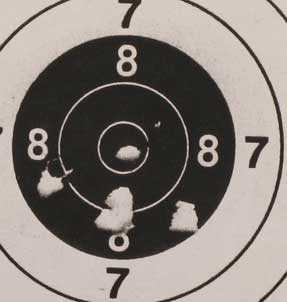 Daisy shot 5 BBs into 0.65 inches at 5 meters with the test 880. Remember, this target appears larger than it really is.
They also sent a 10-meter target they shot with pellets. They didn't indicate which pellets were used for this test, but I would think they would use Daisy Precision Max pellets — that only makes sense. This 5-shot group measures 0.60 inches between centers.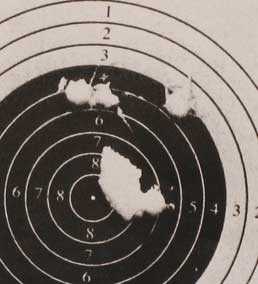 Daisy shot 5 pellets into 0.60 inches at 10 meters with the test 880.
There was no indication of how many pumps were used for either target. I will therefore use my best judgement when I shoot my own groups.
Pellets first
I shot the 880 rested at 10 meters using 3 different pellets. The first was the 7.9-grain Crosman Premier dome that was used for the velocity test. I used 6 pumps for each shot with pellets. The rifle was rested in a sandbag rest.
Sight-in took 2 shots because the rifle was shooting low for a 6 o'clock hold. It was also shooting a little to the right, but I didn't bother correcting that on the first group. Ten Premiers went into 1.037 inches. While not bad, I hope to find another pellet that does better.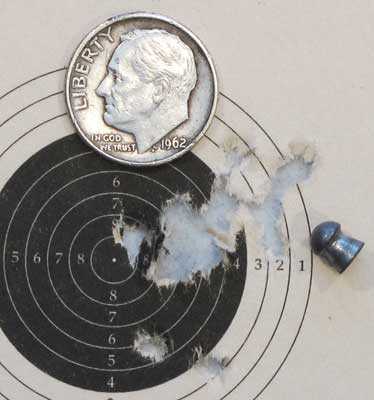 Ten Crosman Premier lite pellets went into 1.037 inches at 10 meters. Not a very great group, but there's the silver dime several of you obsessed over.
Daisy wadcutters
After the first group, I adjusted the rear sight down one notch and over to the left. Next, I tried some old Daisy Superior Match Grade wadcutter pellets. How close they are to the current pellets Daisy sells, I have no idea. Ten of them went into 0.713 inches, which is better than the Premiers and, accounting for my 5 additional shots, also better than what Daisy got.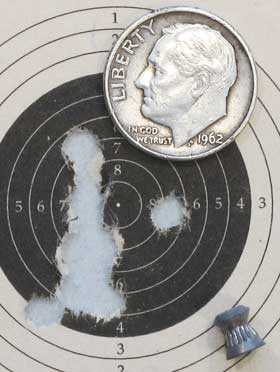 Ten Daisy Superior Match Grade wadcutters made this 0.713-inch group at 10 meters.
RWS Hobby pellets
I felt the rifle had redeemed itself with the Daisy pellets, but I wanted to try just one additional pellet. This next one was an RWS Hobby. When you see what it did, I think you'll agree with me this was a fortunate choice.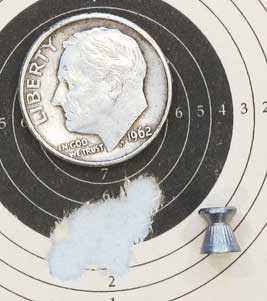 Ten Hobbys made this 0.458-inch group at 10 meters. Now THIS is a group!
So, the 880 I'm testing can definitely shoot. Both Daisy and I got good results from the rifle with pellets. Let's see what it can do with steel BBs.
Daisy with BBs
I moved the shooting table up to 5 meters from the target and started shooting with Daisy Premium Grade BBs. At this distance I used 3 pumps for each shot. They were hitting the target right where the top of the front sight was, so I decided to hold for the center of the bull instead of at 6 o'clock. They did hit a little to the left, but it was nothing to be concerned about. Ten BBs went into 0.624 inches.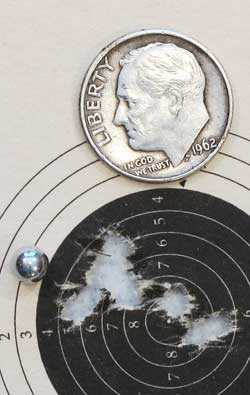 Ten Daisy BBs went into this 0.624-inch group at 5 meters.
If you check my other BB-gun targets (other than those made by the 499), you'll see that this gun really groups tight with BBs. I'm surprised it did so well.
Summary
This Daisy 880 can certainly shoot! Next, I'll mount the scope and back up to 25 yards.
by Tom Gaylord, a.k.a. B.B. Pelletier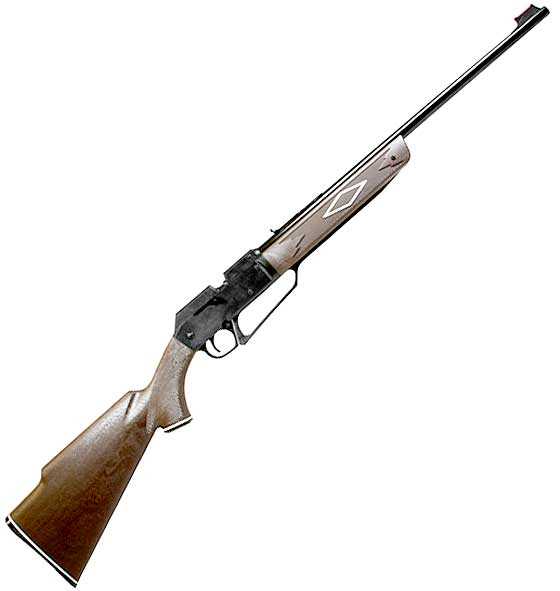 The Daisy 880 multi-pump is a classic.
This report addresses:
• Examining a new Daisy 880S sent from Daisy for this report.
• Examining the test data Daisy sent with the rifle for pellets and BBs.
• Running the same velocity test as I did for the first two 880s tested.
• Testing this new rifle with RWS Hobby pellets.
• Testing the new rifle with BBs.
This test is unprecedented. In Parts 1 and 2, I tested my own Daisy 880; and when it failed to achieve the velocities several readers felt it should, I ordered and tested a second brand-new 880 supplied by Pyramyd Air. That rifle also failed to live up to the velocity claims. When there was a question about whether all 880s are Freimarked (the letter "F" inside a pentagram is marked on the outside of a gun to indicate it develops no more than 7.5 joules of energy at the muzzle) for the German airgun market, I asked Joe Murfin, vice president of marketing at Daisy, to clarify this for us. He assured me that all 880s and their related variants are Freimarked, but that the mid-500 f.p.s. velocities I had gotten from both airguns was on the low side.
Joe had his Quality Assurance Manager inspect an 880 and send it to me for independent testing. This will be the third 880 I've tested in this series. Regardless of the outcome, it will be the last one. I tested both previous rifles with 7.9-grain Crosman Premier pellets, and I'll also test this rifle in the same way. Naturally, Daisy didn't test it with Crosman pellets, but they were kind enough to include a test sheet that unfortunately doesn't specify which pellet they used. I will, therefore, test the rifle with Premiers, so we can compare it to the previous tests. Then, I'll test with lightweight lead pellets. I'll also test it with Daisy Premium Grade BBs, and we can compare my results with the velocities they got with what I must presume are also BBs.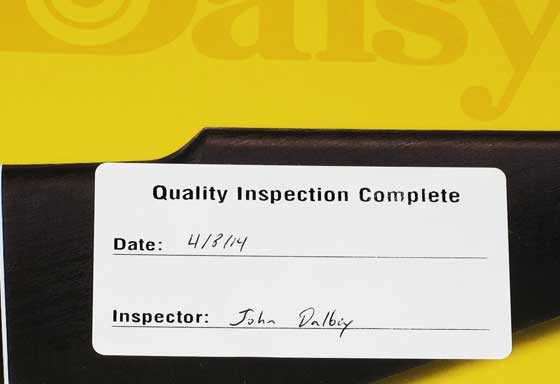 The Daisy 880S I'm testing today came with this inspection sticker on the outside of the box.
The rifle they sent is actually an 880S model that comes with a 4X15 scope. After velocity testing and 10-meter accuracy testing with open sights, I'll mount the scope and finish shooting at 25 yards. They sent test targets that I'll show when we get to accuracy testing.
Test data submitted
Inside the box was a sheet with two velocity test strips. There is no indication of what pellets or BBs were used to create these test numbers, but I'll assume the higher velocities were achieved with Daisy Premium Grade BBs, and the lower velocities were obtained with lightweight lead pellets. I have Daisy BBs, so I can test them in the rifle; but lacking knowledge of exactly which pellet was used, I used an RWS Hobby wadcutter. At 7 grains, it's about as light as lead pellets get.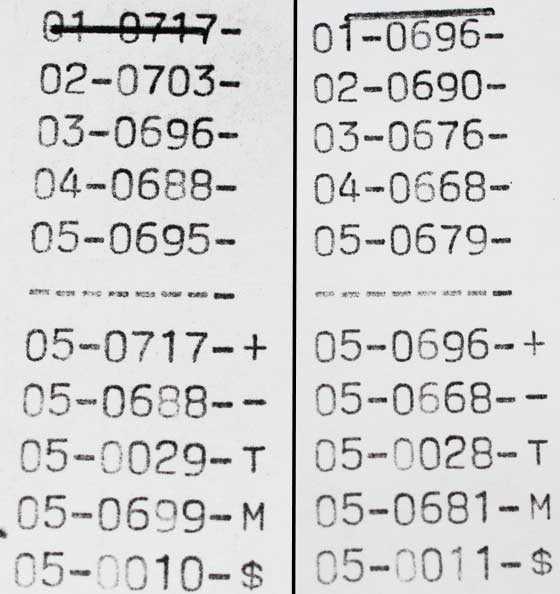 The two tapes Daisy sent with the rifle. On the left is what I presume to be the velocity with BBs and on the right I presume is the velocity with lead pellets.
To put numbers on this, Daisy got an average of 699 f.p.s. with steel BBs (with a 29 f.p.s. spread) and 681 f.p.s. with lead pellets (with a spread of 28 f.p.s.). We will keep that in mind as I test the rifle.
My velocity tests
I tested the 2 other rifles with 7.9-grain Crosman Premier domes, so it seems only reasonable to continue that test with this rifle.
Pumps   Velocity
2            381
3            457
4            510
5            547
6            576
7            603
8            609
9            622
10          656
If you compare this test to the two rifles that went before, you'll see that this rifle is considerably more powerful. Also, there was no tapering off of the velocity as the pump strokes increased, the way there was with the last new rifle I tested. True, the amount of velocity increase wasn't as great as the pump strokes increased, but it always went up.
Next, I tested the rifle with 10 shots on 10 pumps each. In other words — as fast as the rifle could go. Again, this was with Crosman Premier lite pellets. A few early shots went slower; but then the power ramped up, and the rifle gave me what seemed to be its best. The average velocity with the Premier lite pellet was 645 f.p.s. with a spread from 624 to 660 f.p.s. — a total of 36 f.p.s. That works out to 7.3 foot-pounds of muzzle energy.
We can't compare the velocity of this pellet against what Daisy has provided, because we don't know the weight of the pellet they used. So, a second test was needed. This time, I used the RWS Hobby pellet that, at 7 grains, is about as light as .177-caliber lead pellets get. It should give numbers higher than the Premier.
Indeed it did! The average velocity with Hobbys was 680 f.p.s. The spread went from a low of 671 to a high of 686 f.p.s., so just 15 f.p.s. And notice how close my numbers are to the Daisy tape on the right. I'm getting essentially the same results Daisy got.
On to BBs
With what I presume were BBs, Daisy got an average velocity of 699 f.p.s. and a spread of 29 f.p.s. I assume this is also with 10 pumps per shot.
I got an average of 676 f.p.s. with a spread that went from a low of 669 f.p.s. to a high of 680 f.p.s., so the total variation was only 11 f.p.s. The average seemed a bit slow in light of the Daisy numbers, so I oiled the felt washer behind the pump head with Crosman Pellgunoil. After that, I got 3 shots at 712, 710 and 708 f.p.s., respectively. I didn't bother rerunning the test, as it seemed the rifle was performing up to snuff with the oil. That's another reminder of just how important oil is to a multi-pump's operation.
Evaluation thus far
Here we are on Part 4, and it normally takes only 2 parts to finish the velocity test of a gun. This has been an interesting exercise, and I know I've learned from doing it.
Next up will be the accuracy test with both pellets and BBs. I'll test BBs at 15 feet and pellets at 10 meters — both using open sights. Following that, I'll mount the scope that came with this rifle and back up to 25 yards for a final pellet test.
My thanks to Daisy and to Joe Murfin for providing the test rifle for today's report. The results indicate this rifle is representative of the gun many of you have received. And, it represents the rifle everyone can expect to receive when they order a Daisy 880.
by Tom Gaylord, a.k.a. B.B. Pelletier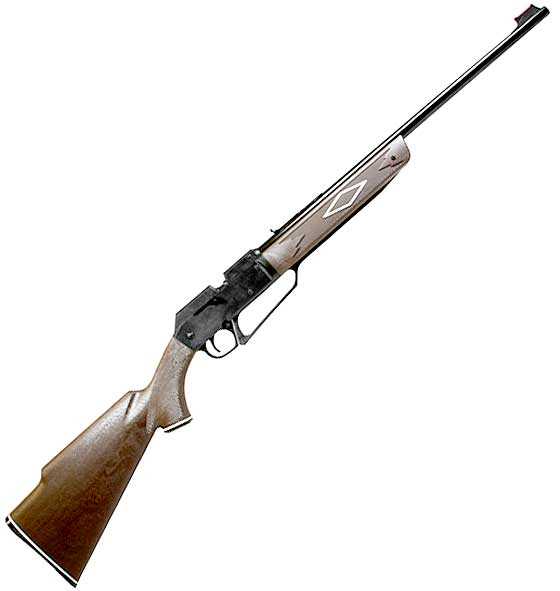 The Daisy 880 multi-pump is a classic.
I was going to shoot my old Daisy 880 at 10 meters with both pellets and BBs, and then again at 25 yards with just pellets, but I figured — what the heck? I have the brand new Daisy 880 on hand, and I've already stated that the accuracy might fall off at 25 yards with my old 880 because of the velocity variance — so why not switch over to the new rifle now?
So, I opened the box and took out the rifle. According to the box, this rifle is made in China, but I can't tell any difference between it and my older rifle, except the lettering on the metal and plastic parts has a slightly different font. Even the front sight is the identical red fiberoptic sight that's on my old 880.
Start the test
This time, I thought I would test the rifle exactly as it came from the box, so I didn't oil it. But I did open the manual and read how Daisy recommends oiling it, when it needs it. Because some of our blog readers have insisted that Daisy only recommends oiling with 30-weight non-detergent oil, I photographed the section in the owner's manual that comes with the new gun. It's shown below.


This is straight out of the manual that came with the new gun. Clearly, Daisy recommends a range of motor oil viscosities.
So, I started shooting without doing anything to the gun. I tested exactly the same way I tested my old 880 before — starting with 7.9-grain Crosman Premier domes.
Pumps Velocity
2           396
3           481
4           538
5           530,   473,   438 —   oil!  –  450,   457,   449
The plan was to shoot the rifle with Premier lites up to 10 pumps. But on pump five, something strange happened. The rifle did not shoot faster — in fact it slowed down. Thinking I'd made a mistake while counting the pump strokes, I did it again, and that shot was even slower than the last. I did it one more time, and once more the gun shot even slower. In fact, it shot slower than it had on just three pumps!
At this point, I assumed the rifle was suffering from a lack of oil on the pump head; and since 20-weight Crosman Pellgunoil is exactly in the middle of Daisy's recommended range of oil viscosities, I used it to oil the pump head. Then, I shot three more shots with five pump strokes each. As you can see, they did increase in velocity; but by the third shot, they were coming back down again.
I decided to start the test all over. The gun was not oiled, again.
Pumps Velocity
2          267
3          351
4          431
5          466
6          474
7          512
8          502,   474,   502
9          529
10        545
This time, the rifle's velocity tapered off at 8 pump strokes. I shot two more shots on 8 pumps and then completed the test so you could see the results. The new rifle was clearly not performing up to snuff.
Next, I decided to try a string of shots on five pump strokes to see what would happen. I got this.
Pumps Velocity
5          428
5          432
5          425
Oiled gun with 30-weight non-detergent oil and retested with 5 pumps:
5          450
5          462
5          475
5          490
5          487
Okay — 30-weight non-detergent oil
When the velocity in the string above was lower than it had been before, I wondered if all the hype about 30-weight oil might have some merit. I stopped in the middle of the test and oiled the gun with 30-weight non-detergent oil. You can see what happened after that.
I decided to rerun the whole test, now that the rifle seemed to be performing better. This is the rifle oiled with 30-weight oil.
Pumps Velocity
2          354
3          427
4          491
5          496
6          488
7          485
8          490
9          512
10        513
Observation
The BRAND NEW Daisy 880 I'm testing is clearly not performing as well as several of our readers have reported. And, just as clearly, it has very little to do with the viscosity of the oil used to lube the pump head. The only slight advantage 30-weight oil seems to have over 20-weight oil (Pellgunoil) in this new test rifle is that it does hold up for a couple additional shots. I think it's obvious that this brand new test gun doesn't live up to the advertised level of performance.
I am returning this rifle to Pyramyd Air. I will think about what I want to do next. I could rebuild my old gun, but I would be doing it with Chinese-made parts that might not work as well as the parts that are in the rifle now. Or I could just continue testing with my old rifle, since it is the best 880 I have.
One thing I AM NOT going to do is to keep chasing after 880s until I get a good one. This evaluation is supposed to resemble what a customer would experience, and I think it may have done just that.
One last comment
I couldn't have done any of this testing without a chronograph. I would have been flying blind if I had no way of timing each of the shots that were taken. And I probably would have enjoyed my new rifle exactly as it was. My point is this: If you can't chronograph the shots, be happy with what you have but stay out of velocity discussions. I think most Daisy 880 owners probably don't chronograph their guns, and they're happier for it.
by Tom Gaylord, a.k.a. B.B. Pelletier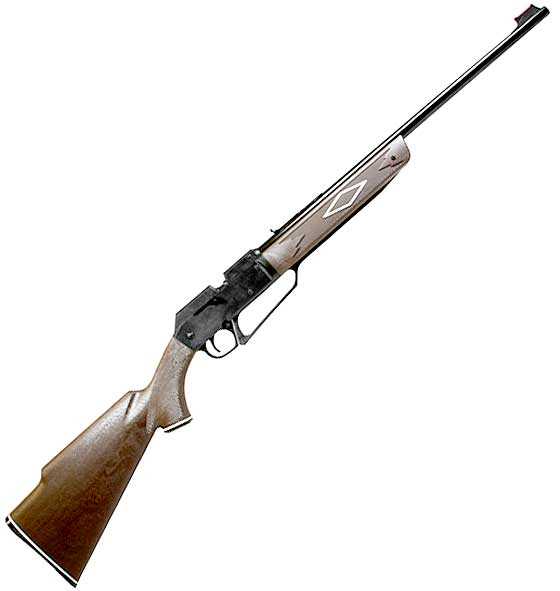 The Daisy 880 multi-pump is a classic.
Today, we'll look at the velocity of the Daisy 880 multi-pump pneumatic. The test didn't go as I expected it to, so stick around and learn something new with me.
Oil the pump head
Before I started the test, I oiled the 880′s pump head with several drops of Crosman Pellgunoil. I do that whenever I want to get the maximum performance from a multi-pump pneumatic, because the oil seals the pump head, allowing it to build more pressure.
First test — velocity per pump stroke
This is a test I recommend to all multi-pump owners. You test the velocity of your gun with differing pump strokes — from the lowest number recommended in the manual, which is 2 in this case, to the highest number, which is 10. [Note: In part 1, I stated that the minimum number of pumps was 3. It's actually 2, and the Pyramyd Air website has been corrected to reflect that.] For this test, I also did 11 and 12 pump strokes to see if the gun had even more velocity.  The results were revealing. I'll discuss them in a moment.
The pellet I used was the 7.9-grain Crosman Premier dome. Any pellet will do, but it helps if you always pick the same one in case you ever want to compare one gun to another.
Stroke    Velocity
2                332
3                448
4                499
5                530
6                562
7                574
8                595
9                601
10*           616
11*            617
12*           607
* No air remaining in the gun after this shot.
For those who may be new to multi-pumps, notice that as the number of pump strokes increases, the amount of the velocity increase grows smaller. If you were pumping the gun, you would have noticed that after the fourth pump stroke (from 5 strokes on) the pump handle jumped out when I pulled it for the next stroke. Compressed air is remains in front of the pump head and does not enter the gun's reservoir. As the pressure inside the reservoir builds, it holds the inlet valve closed a little harder each time; so, more compressed air fails to enter the reservoir. This phenomenon is common to all multi-pumps, and many of the more expensive ones have (or used to have) adjustable pump heads that minimize this; but the 880 doesn't have any adjustment.
Note that there's no air remaining in the gun after a shot was fired on 10 pumps. That means the gun is able to exhaust all the compressed air. From the velocity chart, we learn there's no value in pumping the gun more than 10 times.
Consistency
This is where I learned a couple big lessons about the 880 — or at least about my 880. Normally, a multi-pump is very consistent. The same number of pump strokes will give nearly the same velocity every time, as long as the same pellets are used. I'm used to seeing a velocity variation of about 5-8 f.p.s. over a 10-shot string. But not this time!
The 880 gave an average of 469 f.p.s. for 10 shots with 5 pump strokes. If you look at the string before, however, you'll see that this velocity is well below what I got with 5 pump strokes (530 f.p.s.) and the very same pellet. Even stranger is the fact that, on this test, the velocity spread went from a low of 441 f.p.s. to a high of 502 f.p.s. That's a variation of 61 f.p.s. over 10 shots. And not one of those 10 shots went as fast as the same pellet did on 5 pump strokes in the previous test!
The Daisy 880 varies greatly in velocity from test to test. You may think this is because my 880 is an older one. I can't argue that. If you want to run the same test with a more modern 880 and submit your results, I'd be glad to see them, but please back up any claims you make with chronograph results.
RWS Hobby pellets
Next, I tested the rifle with RWS Hobby pellets fired on 10 pumps. These pellets averaged 600 f.p.s.; but, once again, the spread was very large. The low was 559 f.p.s. while the high was 643 f.p.s. That's a variation of 86 f.p.s.
How fast will it shoot?
I tried a string of Crosman Super Sonic pellets on 10 pumps. They averaged 690 f.p.s. Again, the spread was very large — from 648 to 722 f.p.s. That's 74 f.p.s. I only did this to see how fast the gun could shoot. The owner's manual online says the maximum is 715 f.p.s with pellets, and we saw just a little more. So, that claim is right on.
Daisy BBs
Finally, I tried the rifle with Daisy Premium Grade BBs. On 5 pumps, they averaged 578 f.p.s. with a low of 565 and a high of 586 f.p.s. On 10 pumps, they averaged 644 f.p.s., with a low of 632 and a high of 657 f.p.s. So the gun is much slower than advertised (750 f.p.s.) with BBs, but the velocity spread is a lot less than it is with pellets.
Impressions
I was surprised by the large velocity variation I saw with the 880. This is not just the largest variation I've ever seen with a multi-pump, it's many times larger than the next largest variation. Multi-pumps are very consistent, in my experience.
Will this large variation have any affect on accuracy? Probably not at 10 meters, but it almost certainly will at 25 yards. I plan to shoot the rifle at both distances, so we shall see.
by Tom Gaylord, a.k.a. B.B. Pelletier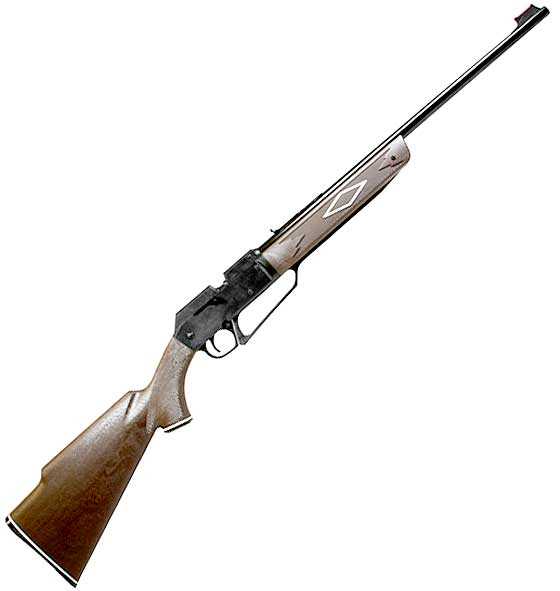 The Daisy 880 multi-pump is a classic.
Blog reader Rob asked for this review. I have reviewed the Daisy 880 before, but that was back in the days when I wrote The Airgun Letter. I doubt many of you will have seen that report. I've reported on the Daisy 22X, as well, but that was long ago and those reports may be difficult to locate. The 22X and 177X are derivatives of the 880 powerplant.
The 880 is a multi-pump pneumatic that has a short pump stroke. As a result, it's relatively easy to pump up to the maximum 10 pump strokes. The useful range of pumps lies between 3 and 10 strokes.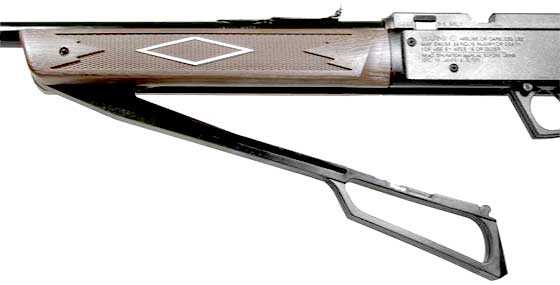 The 880 pump handle is short and also has good leverage to reduce the pump effort as much as possible.
The 880 shoots both steel BBs and lead pellets through its rifled steel barrel. At 10 pumps, Daisy rates the rifle at 715 f.p.s. with lead pellets and 750 f.p.s. with steel BBs. Naturally, I'll test both for you.
The 880 is one of a very few airguns that comes up in conversation whenever airgunners are remembering their favorite guns. It's lightweight, easy to operate and inexpensive, so there are a lot of them out there. But the attraction goes a lot farther than just a rare bargain. There's something about the 880 that inspires fierce owner loyalty.
The rifle I'm testing for you is about 13-14 years old, but it probably has fewer than 500 shots on the clock. After testing it initially, I never really went back and used it much. That's not a comment on the quality — I just never had the time to go back. But I do note that I kept it all these years, and that says something. Every year or so, I get a question about the 880 that makes me drag it out of the closet for a closer look. And this time, I plan to look at it intently, as Rob requested.
My rifle is old, but the specs haven't changed much since it was built. I have the same red fiberoptic front sight that they still put on the gun and a non-fiberoptic rear one. The weight of 3.1 lbs. is still the same. And the basic functions of a single-shot pellet feed (loaded manually into the bolt trough) or a 50-shot BB magazine, with its feed to a magnetic bolt tip when the gun is cocked.
Speaking of cocking the rifle, you must do it to pump the gun. The design is such that if the gun isn't cocked, the pump strokes will not pressurize the reservoir. This means the 880 and all associated models cannot be stored with a pump of air in the reservoir. Theoretically, this can be bad for the seals — exposing them to the dirt in the air — but neither my 880 nor my 22X have ever shown signs of a problem. So, this system works, too.
When you pull the pump handle all the way forward, the pump head is exposed in the slot beneath the forearm. This is where you periodically oil the head to maintain compression. The felt washer behind the pump head evenly spreads the oil around the compression chamber walls.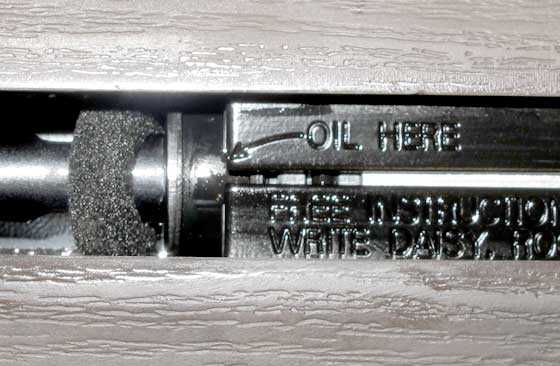 This is where you oil the 880′s pump head. The felt washer to the left keeps the oil spread on the compression chamber walls.
Things people like about the 880
Accuracy is the No. 1 thing owners have to say in praise of the 880. They way most of them talk, I'm expecting something really impressive. The second thing they like is that it also shoots BBs. That's a turn-off for me, but Daisy sells a lot of these rifles, so I'm not the normal customer.
Those who like the BB aspect also like the fact the rifle is a repeater with BBs. So, Daisy listened to their customers when the 880 was designed.
Things people dislike about the 880
A lot of owners criticize the plastic, saying they think that it might break with use. It might break, I suppose; but when you look at customer reviews for the 880, parts breakage isn't one of the big things mentioned. I think this is more a question of perception rather than a real problem. One writer thought the 880 should be made in a higher-quality version for adults; but when Daisy did that (it was called the 22X), it didn't sell well. It's obsolete, while the 880 continues to sell very well. Perception and reality are not the same.
They also criticize the single-stage trigger. Yes, it's heavy and creepy. But no more than the triggers on similar air rifles made with the same level of performance. If you want good triggers, you need to buy the kind of airguns that have them.
Pellets can be difficult to load in the 880. The reason seems to be the hole at the rear of the pellet trough that allows BBs to pass through. It can catch the skirt of a lead pellet and make it hang up.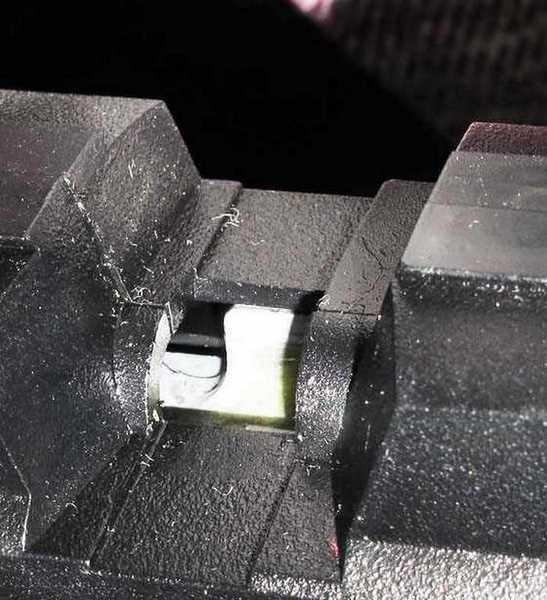 The hole at the rear of the pellet loading trough is where the BBs pass through. It can catch pellet skirts, making them difficult to load.
In general
The rifle is mostly plastic on the outside. That carries through to the inside, as well. To stay in this price range, a lot of economies need to be addressed, and molded plastic parts are one of the solutions. That doesn't mean the plastic is weak or inferior in any way. I'm pretty sure these guns last a long time.
On the other hand, the steel barrel is a very thin tube. It's an insert that's housed inside a plastic sheath that's covered by a thin sheetmetal cover.

Here you can see the sheetmetal jacket over the plastic sheath that houses the actual barrel. The muzzle of the real barrel is the silver crown you see, deep inside the false muzzle shown here.
Overall
We have a real classic pellet rifle to test. There are millions of 880s in circulation, and I expect to hear from a lot of their owners as this report progresses.