Posts Tagged 'open sights'
by Tom Gaylord, a.k.a. B.B. Pelletier
This is a subject that is dear to a lot of experienced shooters and a turnoff to younger shooters. Peep sights are a blessing to those who have discovered how easy they are to use, but they are avoided by shooters who aren't familiar with them. The common misconception is that a peep sight is somehow more complex than a traditional open notch rear sight, but the truth is that the peep sight is actually simpler and faster to use than the open notch.
With an open notch sight, you have to align the rear notch with the front post. There can be several different variations of how it works, such as post and bead or squared-off front post, but the process of using them is the same for all of them. The rear element and front element must be aligned, then held against the target in a certain location (i.e., 6 o'clock hold or center hold).
With a peep sight, you don't do that. You just look through the rear hole and align the front sight element only against the target. Your eye uses the peephole to adjust your vision by forcing your pupil to adjust for the best depth of vision. It's an unconscious and automatic response to looking through the small peephole; and, if you allow your eye to do its job instead of fighting it, your brain will help you obtain a more precise sight picture than with open sights.
There are shooters with remarkable vision who can sight with open notch sights extremely well. But if you don't have great vision, and by that I mean if your vision is average or worse, the peep sight should work better for you. But that's only for those who don't fight the rear sight and just look through it.
Peephole sizes
Today, I want to address something that I've seen discussed a lot on the internet, and that's the size of the peephole. I see that many people feel the hole must be large or they cannot use it. Indeed, I've seen several peeps that have been drilled out by their owners. The fact is that there are good reasons for both large and small peep holes.
Large peepholes
Large holes allow more light to pass through; and, when used, they acquire the target faster. They're used on American military arms like the M16, the Krag, the 03-A3 Springfield, the M1 Carbine, the Garand and many others. They're also found on slug guns used for deer in brushy forest hunting situations where speed is more important than precision.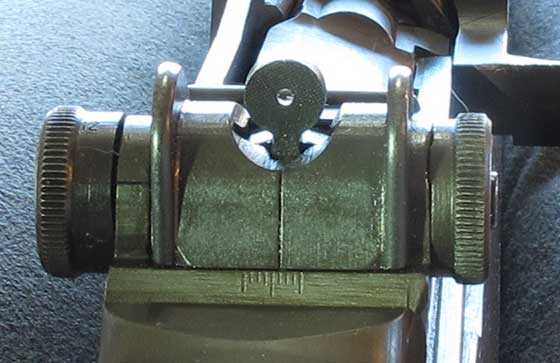 The M1 Garand peep is about average size for a battle sight.

The 03-A3 sight adjusted for windage as well as elevation. Not all of them did. I can shoot MOA with this sight.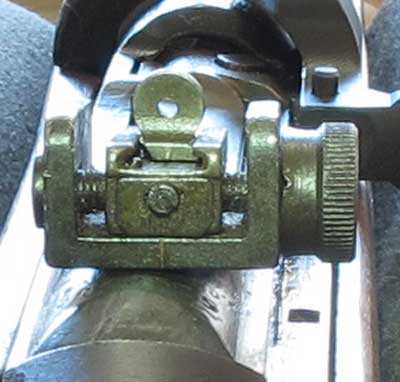 The M1 Carbine peep was a rough and ready sight. The rifle wasn't that accurate, so the sight didn't need to be precision.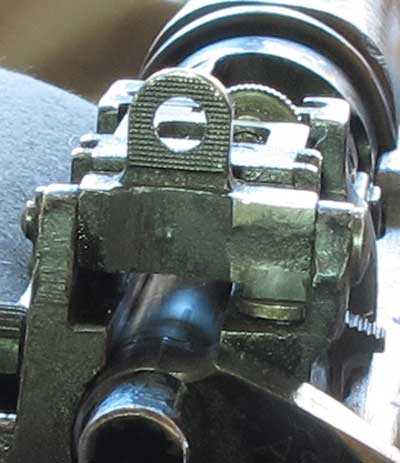 The battle sight in this No. 4 Enfield is huge. When the sight standard flips up there is a hole less than half this size. It adjusts only for elevation.
Can such large holes be precise? Yes, they can. I have shown you at least one one-inch five-shot group shot with my 03-A3 Springfield at 100 yards. But the norm would be a larger group. Even the Garand would shoot about a two-inch group at 100 yards on most days. Your goal with a large peep is minute-of-bad-guy.
One secret I've learned about using a large peep hole with greater precision is to hold the sight away from my eye. The farther back I place my sighting eye, the more precision I get from a large hole. I didn't invent that idea; I learned it while shooting the Buffington peep sight on my Trapdoor Springfield that was made in 1875 (the rifle, only — the sight didn't come about until 1884). The Buffington sight puts the rear peep hole about 14 inches from the sighting eye, and the hole is not that large. You would look at it and imagine that you could never use such a sight, but the truth is that when there's enough daylight that peep gives precision that rivals the finest tang target sights found on target single-shot rifles. The reason is because of how far the hole is from your eye.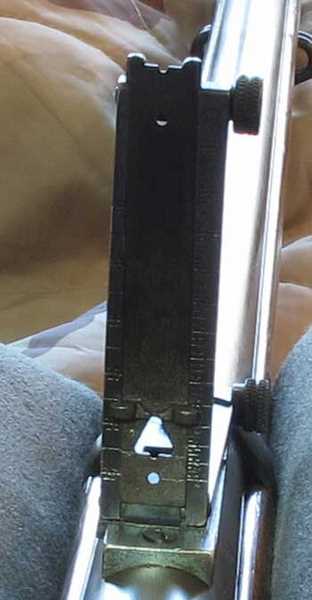 Col. Buffington designed this rear sight that combines a peep (several, actually) and a notch. It can be used for long-range precision fire. A great many buffalo fell to this sight on this rifle.
Small peepholes
A small peephole passes less light and forces you to hold your sighting eye closer to the hole to see the sight picture. Many sights with small holes also have some kind of flexible shade to shield the sighting eye from light that's not coming through the peep hole, thus sharpening the sight picture noticeably.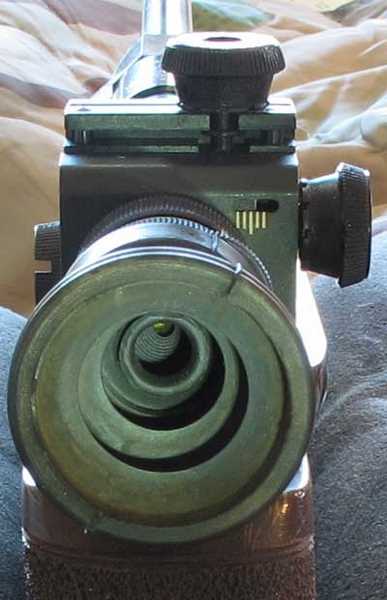 The precision FWB peep sight has a large rubber light shade to keep the sighting eye in the dark.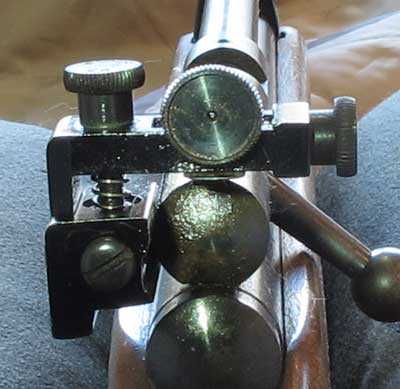 Crosman mounted their version of a Mossberg S331 peep sight on the 160 target rifle. This sight, alone, is worth at least $75 today. Notice how small the hole is. That's what's needed for precision.
Small peepholes take longer to use but provide a more precise sight picture. Use them when fractions of an inch are important, such as when target shooting or when hunting game at longer ranges such as 400 to 600 yards.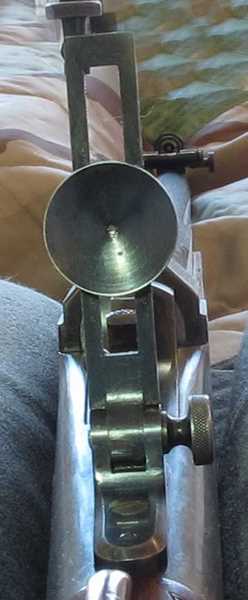 This is Ballard's mid-range peep sight mounted on the tang of my Ballard rifle. My eye is so close to the hole that I push the sight forward when the rifle recoils.
The secret to using a small peephole is to get as close to the hole as you can. Do this even with recoiling rifles. My Ballard, for example, is in caliber .38-55 and kicks about like a 30-30, yet I put my eye less than an inch from the peephole. I have to because it's so small that I couldn't use it if I was much farther back. When the rifle fires, my forehead always folds the sight forward as the recoil brings the gun back. That's how I know I'm using the sight to its best ability. Of course, if the sight doesn't move when you hit it, you don't want to do this!
When my FWB 300S target air rifle comes back in recoil (the action moves in the stock to cancel the feeling of recoil) the rubber eyepiece always pushes against my eye. That's how I know I'm sighting correctly . It works okay on that rifle, but my HW55CM comes back a little too aggressively, and I'm more cautious about holding that sight close to my eye.
Use BOTH eyes!
It is of paramount importance to keep BOTH eyes open when using a peep sight. If you close the non-sighting eye, the peephole will also close up. It'll do so variably, depending on how much you're squinting to close the other eye, and the result is you no longer have a round hole to look through. I told you about the man who was shooting the M1 Garand a couple weeks ago and was closing his off eye. He was getting 12-inch groups at 100 yards from a rifle that was probably capable of groups one-sixth that size.
If you want to see how this works, take a piece of card stock and poke a hole in it. Look through the hole with both eyes open (one eye looking through the hole and the other eye just open). Then, as you're looking through the hole, close your non-sighting eye and watch what happens. The hole seems to close up! That's what you are doing when you close your non-sighting eye while using a peep sight.
Peep sights are an advancement over open sights. They don't work for everyone, because those with severe eye problems often have trouble using them. But the majority of people can use a peep sight and obtain better accuracy with less time spent if they don't fight the sight. They've been used on all American military battle rifles since 1884; and though the move is now toward optical sights, a peep will probably remain as the backup sight for some time.
If you've never tried a peep sight, you owe it to yourself to give it a try. Use this report as a primer for learning how to use the sight and see if it doesn't give you greater accuracy with less work.
by B.B. Pelletier
A couple weeks back, we talked about straightening bent airgun barrels to improve accuracy. We want to do that so we can hit targets with the sights that were installed. There is, however, another reason for bending barrels. Some guns have sights that do not coincide with where their barrels are pointing, even when they're not bent. For this situation, we also need a fix.
Many guns have replacement rear sights. I own a BSF S70 breakbarrel rifle that has a Williams peep sight that was either installed by Air Rifle Headquarters (the original company in Grantsville, West Virginia) or was a sight they sold for owners to mount. ARH did inform the customers of the necessity for the rear sight to have a complimentary taller front sight installed, and on my rifle that didn't happen. I think this was an owner-installed sight that they probably hated ever since.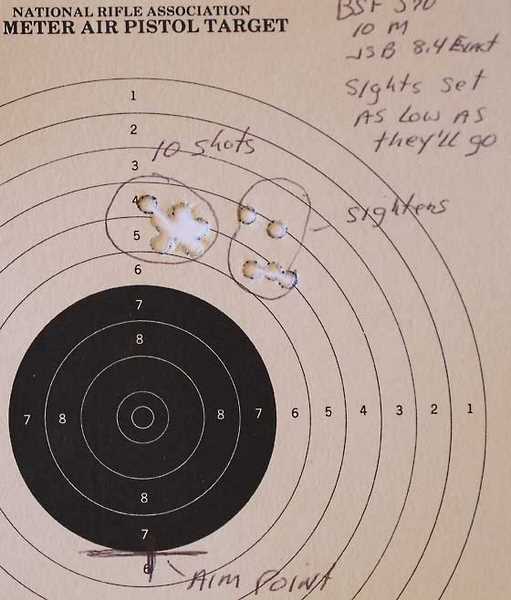 This is the problem I'm faced with.

The special Williams peep sight is low and fits the rifle well. It looks good, and I want to keep it.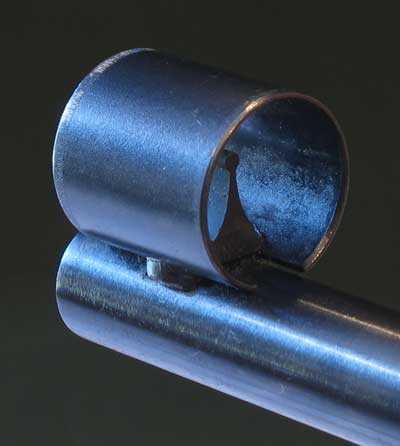 I like the vintage look of the original front sight. Bending the barrel is the only solution!
In either case, the rear sight cannot be adjusted low enough for the rifle to strike the target at 10 meters. Since 10 meters is such a common shooting distance for an air rifle, this is not handy. The other possibility would be to raise the front sight higher, but I don't want to do that. I happen to like the look of the front sight that's there and want to leave it as installed. My only option is to bend the barrel.
Several blog readers, including Kevin Lentz, commented on having bent many airgun barrels and how easy it is to do. My buddy Mac has also bent a number of airgun barrels to get them on target.
While a barrel may be bent in any direction, up is by far the most common direction you'll have to go since the majority of breakbarrel rifles shoot a little low. The second most common direction is down, which is what I need to do to fix the kind of problem I have.
I was in my reading room a few days after that; and from the pile of literature lying on the sink, I picked up the 2000 Edition of The Gun Digest and stumbled across an article by Todd G. Lofgren titled, Sighting In Single-Actions. The author describes, shows and tests the results of bending the barrels of numerous Colt Single Action Army revolvers to get them to shoot to the point of aim at 25 yards. He knew that the traditional way of doing this is to either file down or add to the front sight for height and to bend it (the front sight blade) in the direction opposite of where he wanted the bullet to go, but that didn't appeal to him. He built a jig and used a 12-1/2 ton hydraulic press to actually bend the barrel in the direction the bullet needed to go.
He fixed guns that were off in all ways, but by far the most common directions were to the left and low. And then he shot three groups at 25 yards to prove the guns now shot to their point of aim. Before bending each barrel, the extractor housing was removed; and in every case, it was installed after the bend without a problem, thus proving that the bend itself was only a very small distance.
Lofgren commented that the first-generation Colt barrels are easier to bend than the barrels of guns made today. That means their metal is softer and more ductile, and lends itself to slight deformation better than barrels made from harder steel. That bodes well for airguns, because they're also still being made of soft steel that should deform easily.
Lofgren also happened to favor the short 4-3/4 inch barrels, and all of the guns shown in his pictures have barrels of that length. Compared to that, bending a 12-inch or longer air rifle barrel made from thinner steel stock should be a piece of cake!
While he uses a hydraulic press to bend his barrels, I think that bending an air rifle barrel that's sitting between two blocks 12 inches apart will be easy enough to do with a common screw like the kind found on a C-clamp. If the jig is constructed correctly, it should be possible to control the amount of pressure very precisely, which is desirable for collectors who don't want to ruin their fine guns.
What about guns with fixed barrels?
It should be possible to bend guns that have fixed barrels, as well, provided the barrels are solid. This process will not work on barrels inside jackets or shrouds, which lets out many airguns of modern design.
Don't over-think this!
Some readers might think this operation through and wonder if bending the barrel in the direction you want the pellet to move is correct. If you bend the barrel, you also move the front sight — and we know that the front sight is supposed to be moved in the opposite direction that you want to pellet to move. But Lofgren cautions his readers not to over-think this and just bend the barrel as they want the strike of the round to move. It'll work out perfectly that way.
This fixes bent barrels, too
The initial reason for bending barrels was to straighten them after they're bent from an accident or from their manufacture — not because they weren't hitting where the sights are aiming. But one bend is the same as the other. It'll work for both problems — I guess. At any rate, seeing a man bending the barrels of collectible first-generation Colt revolvers and getting the results he was after has given me the courage to try the same thing on this air rifle.
The next step is to damage a spring-piston barrel and then try to bend it straight again. If I can do that, then bending the S70 barrel shouldn't prove too difficult. In the process, I hope to construct a simple low-cost barrel-bending fixture that will serve all my future needs. It should be a fun experiment!
by B.B. Pelletier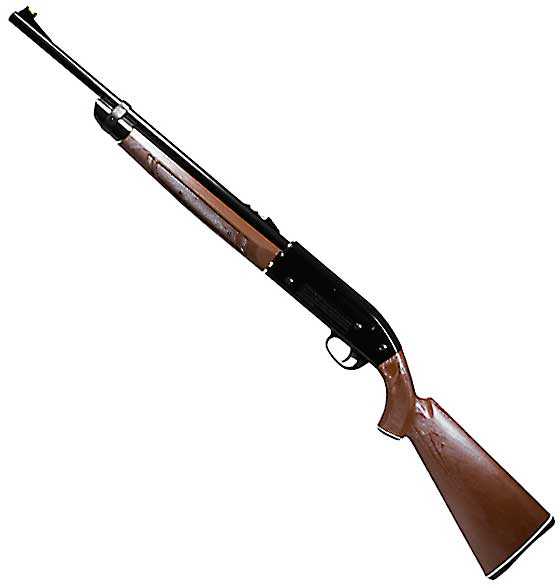 Crosman's 2100B is a full-sized multi-pump that delivers power and accuracy with a few economic concessions.
Yesterday, I told you that today's test was coming; but because I needed to mount a scope for this test, I was prompted to also test the UTG 3/8″ dovetail-to-Weaver/Picatinny rail adapter. There was some interest in this adapter; so I'll continue to test it with other airguns so we get a good look at the performance. Today, I want to do Part 4 on the Crosman 2100B multi-pump that I promised back in March.
I reread Part 3 of this report to see which pellet(s) did well at 10 meters. From what I see, only 7.9-grain Crosman Premiers did well in that test, so I added a couple pellets I had not tried before to today's test.
The scope I used is an Osprey 2.5-10×42 that has its parallax fixed at 100 yards. It's a firearm scope, pure and simple. At full magnification, the target was fuzzy, so I set it to about 5.5x for this test. It has a duplex reticle with mil-dots on the vertical reticle, which is about medium thickness. The optics are very clear, and I think the gun got all the help it needed from this scope.
For the 10-meter test, I pumped the rifle 5 times for every shot. Today, I'll be shooting 25 yards. Now that it has a scope mounted, pumping is more difficult because I cannot hold the gun at the optimum place, which is on top of the receiver. The scope is in the way, and don't you dare try to pump the rifle while holding onto the scope! Your hand has to hold the gun farther back, which winds up being the pistol grip of the stock. That isn't the best leverage to pump the rifle, but fortunately the 2100B has a short, easy pump stroke.
For today's 25-yard test, I pumped the rifle 6 times for every shot. My thought was to shoot the rifle 5 shots with each pellet and see if it was accurate enough with that pellet to warrant the work of shooting the second 5 shots. This would also tell me whether the shots were walking because the bore needed to be seasoned with each new pellet. As it turned out, though, all three pellets were worth the effort to shoot a full 10-shot group, so that's what you'll see.
Crosman Premier lites
The first pellet I tried was the 7.9-grain Crosman Premier dome. The first 5 shots seemed to group okay — about what I expected from the earlier results at 10 meters — so I just kept on shooting and finished the 10-shot group. Ten shots landed in a group measuring 0.809 inches between centers. The group is a little wider than it is tall, but you'll notice that 9 of the 10 shots are actually in a group that is fairly round.

Ten Crosman Premier lites didn't do bad at 25 yards. Nine of them made a nice, round group. Total group measures 0.809 inches between centers.
This was better accuracy than I expected, based on the results of the 10-meter test. The group size there was 10 Premiers in a 0.539-inch group; and, at over twice the distance, the group only opened another three-tenths of an inch. I think that demonstrates how much greater accuracy is provided by a good optical sight.
The pace of shooting is slower
One thing about shooting a multi-pump is that everything slows down. It takes a while to make each shot ready, which is similar in concept to shooting a muzzleloading rifle that has to be loaded separately with powder and ball. That slower pace forces the shooter to concentrate more on what he's doing — or at least that's how it affects me. That's why I like single-shot rifles so much — for what they bring out in me.
RWS Superdomes
The second pellet I tried was the RWS Superdome. This 8.3-grain domed pellet is one I don't try too often — for no particular reason. It's made from pure lead and has a relatively thin skirt that takes the rifling very well. I really didn't know what to expect from it, but it's different enough than a Premier lite that I wanted to see how it might do.
Ten Superdomes made a rather open group that measures exactly the same as the group of Premiers — 0.809 inches between centers. It looks like a larger group, and there's undoubtedly some error in the measurement of both groups, but I cannot discern any difference between them with the dial calipers.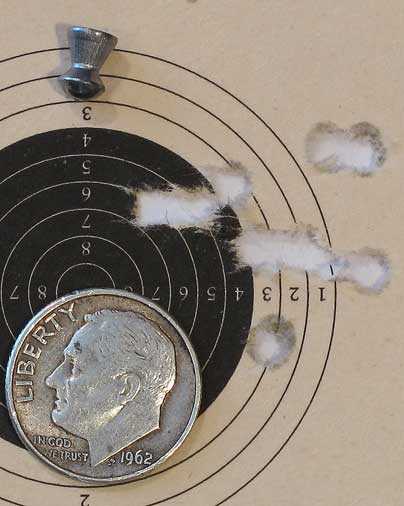 Ten RWS Superdomes made this open group at 25 yards. It seems to measure the same 0.809 inches between centers as the Premier group, above, but there is always measurement error.
H&N Baracuda Greens
The last pellet I tried was an afterthought, based on the success of the other day. H&N Baracuda Greens made such a great initial showing that I thought I would include them in this test, just for fun. Boy, am I glad I did!
I was unable to see the pellets that landed inside the black bulls because of the parallax setting of the scope, so it wasn't until I walked downrange to retrieve the target that I saw what the Baracuda Greens had done. Ten went into a group that measures 0.48 inches between centers! Not only is this the best group of this test, it actually outshot the M4-177 I tested at the end of 2011. That's Crosman's other hot, low-cost multi-pump, so don't get it confused with the MAR177 PCP. That kind of performance says a lot about this air rifle and the accuracy that it offers for very little money.

In light of the first two groups, this 0.48-inch group of 10 H&N Baracuda Greens seems amazing. These non-lead pellets are making a name for themselves!
This will be the last time I look at the 2100B, but it's been an interesting test. After Part 3, I didn't think the gun had much more to show us — but this final accuracy test changes everything.
We've looked at a fine multi-pump air rifle in addition to the UTG scope ring adapters that let you use Weaver rings on an 11mm airgun dovetail. They proved very easy to install and worked exactly as advertised in this test.
And the Baracuda Green gets another pat on the back. This is a pellet worth considering when you search for the best ammo.
All things considered, I would say this was a fine end to the test of a really great and also inexpensive air rifle!
by B.B. Pelletier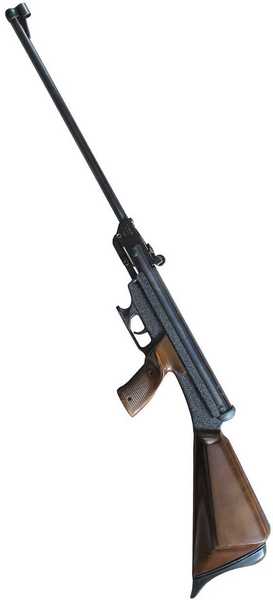 El Gamo 68 is a futuristic breakbarrel from the past.
Today, I'll take the El Gamo 68 to the next level of accuracy testing. I mounted a scope and went back to 25 yards to see what this gun can do.
Blog reader Mike sent me a trigger shoe he wasn't using, and I installed it on the rifle's thin blade. It made all the difference in the world. I don't think I could have endured the 80+ shots that went into today's test without it! Thanks, Mike!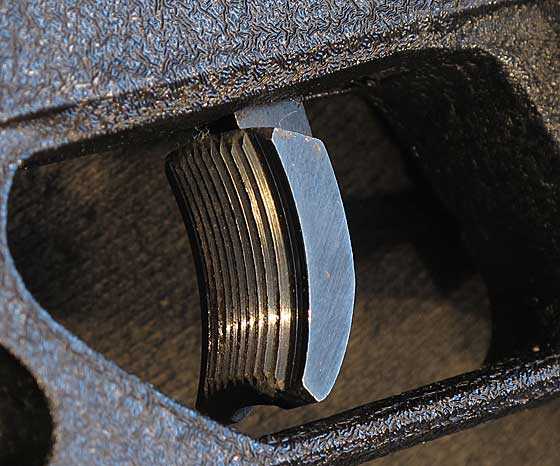 The trigger shoe made the heavy pull pleasant.
Scope
I mentioned mounting a scope on the rifle before I checked it out. The 11mm scope dovetails are cut into the top of the spring tube and are very short by today's standards. I was able to mount only a Leapers Bug Buster scope using 2-piece BKL mounts. The Bug Buster is a very compact scope, whose size compliments the 68 — and the eye relief worked out fine, so this was a happy coincidence.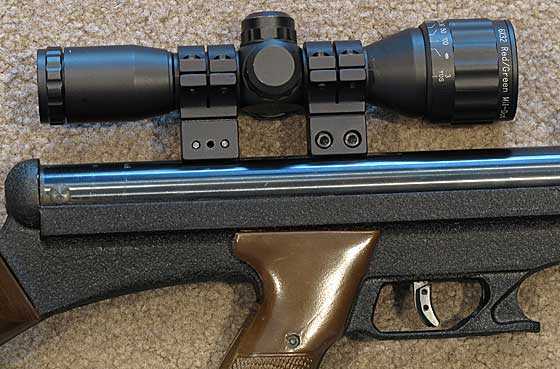 A Leapers Bug Buster scope fit the small 68 very well.
The test
I used this test not only to see how accurate the 68 is at 25 yards, but also to see if there's a difference between seating pellets flush and seating them deep with an Air Venturi Pellet Pen's PellSet. Each pellet shot one 10-shot group seated each way. Let's see how it went.
H&N Finale Match Pistol pellets
I first shot a 10-shot group of H&N Finale Match Pistol pellets seated flush with the breech. The group measured 0.963 inches between centers.
Then, I shot another 10-shot group with the same pellets seated deep. It measured 1.232 inches between centers. Clearly, the flush-seated pellets were best.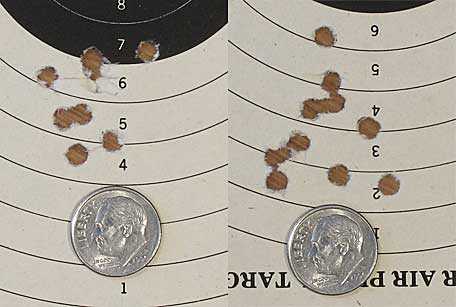 Flush pellets on the left, deep-seated on the right. The flush pellets are more accurate.
Air Arms Falcon
Next, I tried the Air Arms Falcon dome. Ten pellets seated flush gave a group measuring 1.163 inches between centers. Ten seated deep printed into 1.28 inches. This is too close to call.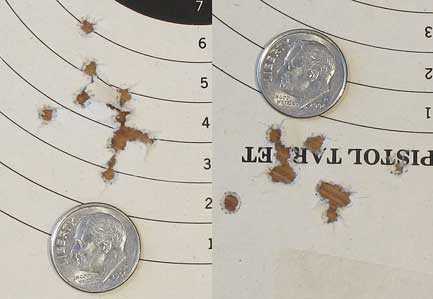 Flush pellets on the left, deep-seated on the right. Too close to call.
RWS Hobby
The last pellet I tested was the RWS Hobby pellet. And here we had a reversal of the first test with the H&N target pellets –because the deep-seated pellets out-grouped the flush-seated ones. Flush-seated pellets grouped in 1.311 inches at 25 yards. Deep-seated pellets grouped in 0.888 inches, which was the best group of the test, though the initial sight-in group of Hobbys did group even better. But all the controls of the test weren't in place when I shot that first group, so I can't count it.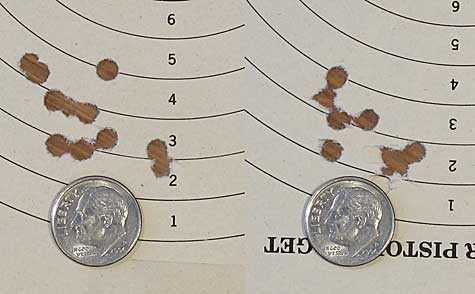 Flush pellets on the left, deep-seated on the right. This time, the deep-seated pellets performed best.
Bottom line
The results didn't turn out as good as I expected. The 68 is accurate, but it's not a 10-meter rifle in disguise. Having the trigger shoe makes the heavy trigger-pull comfortable, but a lighter pull would be much better.
As for the seating exercise, it seems to work with some pellets but not with others. And, of course, I haven't yet experimented with different seating depths.
The next step with the 68 will be to disassemble the rifle and see what I can do to slick it up a bit.
by B.B. Pelletier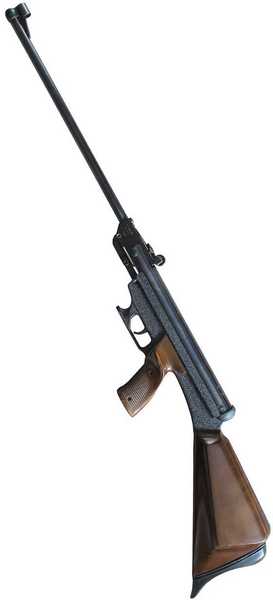 El Gamo 68 is a futuristic breakbarrel from the past.
As I said in Part 2, Mac and I simply couldn't resist shooting the El Gamo 68 that I got from reader David Enoch at the Arkansas airgun show this year. And from the numerous reader responses, I see that we're not alone in our admiration of this futuristic-looking breakbarrel from the past. Many owners have .22-caliber guns, which really surprises me, because I thought most European manufacturers, and especially El Gamo, produced mainly .177 airguns in the 1960s and '70s, when this was new.
Unfortunately, I've been unable to locate a trigger shoe for the rifle. I probably got rid of one when I sold or traded a Webley Tempest years ago, though now I wish I still had it. If anyone sees an old Beeman trigger shoe for sale anywhere, please let me know, because this rifle really needs one.
The "test"
It really didn't begin as a test of this rifle. Mac was helping me test some new models you'll be reading about later this month and asked if he could shoot the 68 when he finished with them. The test range was 10 meters indoors, and he produced a nice 5-shot group that can almost be covered by a dime in the center of the bullseye. It was so enticing that I decided to have a turn — which of course means a contest. Mac is a better rifle shot than I am, and we both know it. So when my 5-shot group came up noticeably smaller than his, he thought we should never speak of it again. And, Mac, after today…I probably won't! I'll add here that the next day he beat me by one point in a silhouette match at a friend's place. That sounds close until you learn that my rifle was scoped and he was using peep sights!

Mac put 5 Hobbys into this 0.576-inch group at 10 meters.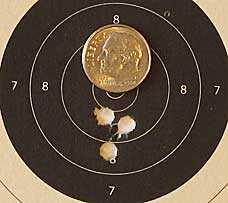 I put 5 Hobbys into this 0.381-inch group at the same 10 meters. Yes, I know it looks like only three pellets hit. Mac already pointed that out.
But I digress. The fact is that we were shooting the 68 with the classic RWS Hobby pellet, and I have no idea how accurate the rifle really is. I just know that it shoots Hobbys well.
25 yards
Well, Mac finally had to return home, leaving me with the 68 and much more to "test." Much, much more, I hope!
Yesterday, I shot the rifle at 25 yards indoors and, once again, with Hobby pellets. Yes, I shot off a rest and used the artillery hold; but with this model, it's a little more difficult to let the rifle float in your hands. The trigger has a stiff 8-lb. release, and the pistol grip forces the shooter to grip hard to squeeze that hard trigger blade. Other than that, the artillery hold was the usual one, but I mention the difference so you'll know what went on.
The first shot went high and well-centered with the bull, so I settled in and fired 9 more just like it. The resulting group isn't a thing of beauty, but it is what it is.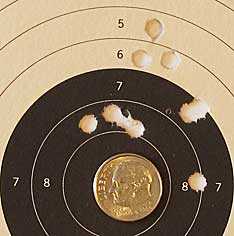 Ten Hobbys made this 1.617-inch group at 25 yards.
But wait!
Last week I "discovered" that seating pellets with the new Air Venturi PellSet seemed to improve the accuracy of the Air Venturi Bronco I was testing. I took a lot of heat for mentioning that, because the test did not have the controls you usually see in this blog, but what the heck! I have a tough old hide, so go ahead and flog me!
I thought, why not try the PellSet with the 68 and really get the crowd in an uproar? I listened to several of you who advised me to start by seating the pellets as shallow as possible, so I adjusted the PellSet to do just that. Then, I shot a second 10-shot group at 25 yards and, lo and behold, it was smaller. I'll probably never hear the end of this!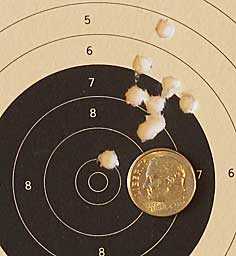 Ten Hobbys just barely seated into the breech made this 1.436-inch group at 25 yards. Eight of those shots made the much smaller 0.665-inch group!
Now, to me, it looks like the intentionally seated pellets really do want to group better in this particular rifle. But what do I know? This was not a real test of seating pellets because there weren't enough groups fired, plus there's a lot more I want to test than just the single depth.
In fact, this wasn't much of an accuracy test for the 68. Think of it as more of a "getting to know the rifle" session, because I plan to mount a scope and return with a genuine accuracy test in the next report.
But it sure was nice just to play with this little rifle once more! As a matter of fact, I think I'm going to find reasons to do more of this.