by Tom Gaylord, a.k.a. B.B. Pelletier
Today's report is a guest blog from duskwight, our blog reader in Moscow. It's a report of a test to determine if changing the power of a variable scope affects the potential for accuracy
If you'd like to write a guest post for this blog, please email me.
Over to you, duskwight.
How scope power affects accuracy
by duskwight
Hello, my airgunning friends! This is a report of a small test I performed recently to see if changing the power of a rifle scope affects the accuracy potential in any way. I guess the thing I'm testing is if you need to see the target as large as possible for aiming precision, or if you can be just as accurate when it appears smaller, because the crosshairs of your scope will still be in the same place.
B.B. tested this for me last week and reported it in the most recent test of the TX200. He shot two 10-shot groups at 50 yards with the scope set on 4x and 2 more with it set on 16x. In the first set of targets, he admitted that he wasn't holding the rifle as good as he could and the 16x group was smaller than the one shot on 4x. But in the second set of targets, when he said he tried his best, the 4x group was smaller than the 16x group.
B.B.'s test was shot outdoors with a recoiling spring rifle. I decided to shoot mine indoors with a modified Gamo CF-X spring rifle I built.  I call my rifle the Shillelagh, and I've taken a picture so you can see what it looks like.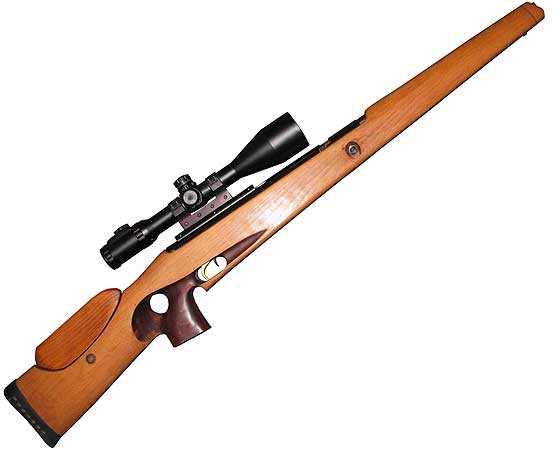 My Shillelagh (Gamo CF-X) was used for this test.
The scope is a Leapers 4-16X56 variable. As you can see, I mounted it with a one-piece mount. I'm shooting JSB Exact pellets with 4.52mm heads. The average velocity is 265 m.p.s. or 869 f.p.s.
I'm shooting indoors, so wind isn't a factor. The air is dry and the temperature is 20 degrees C, or 68 F. I am shooting off a soft rest like B.B. used with the TX200. The distance is 50 meters, and my targets are made of 2 black circles, the inner one 1/2″ in diameter and the outer one 1-1/2″ in diameter. I'm measuring the groups from the outsides of the pellet holes farthest apart, and my groups each contain 10 shots.
I decided to select the power settings 6 and 12 magnifications for this test. I shot 2 groups on each magnification. In one set of targets, I concentrated on the hold very much; and on the other set, I went faster, with less concentration. Let's take a look at the results.
Extreme concentration
The first group that was fired on 6x with extreme concentration measured 0.906″ across the outside of the group at the widest point. If we use a nominal .177 inches for the pellet diameter, that group would then measure 0.7295″ between centers.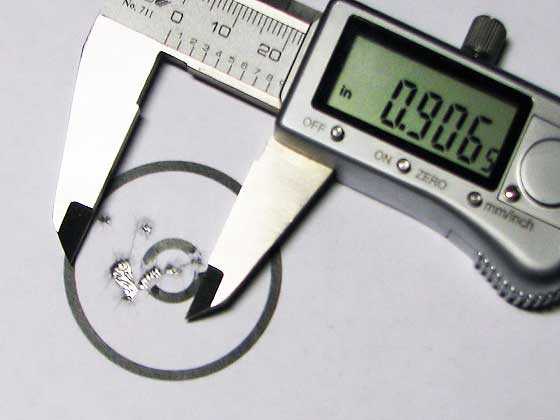 This 10-shot group came with the scope set at 6xr and using extreme concentration. The outside measurement in 0.9065″; and using 0.177″ as the pellet diameter, the center-to-center measurement is 0.7295″. Nice to know my Shillelagh can shoot!
The first group shot with the scope set at 12x and using extreme concentration measured 1.4455″ across and 1.2685″ between centers. That's quite a bit larger than the 6x group!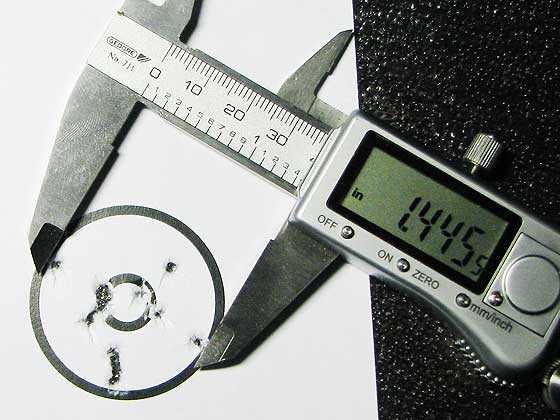 This 10-shot group was made with the scope set at 12x and using extreme concentration. The outside measurement in 1.4455″ across; and, using 0.177″ as the pellet diameter, the center-to-center measurement is 1.2685″. Quite a difference from the 6x group.
More relaxed shooting
Now, it was time to shoot groups from a more relaxed rest. I tried just as hard, but things went faster this time. The first group was shot at 6x and measured 1.003″s across the outside. The C-T-C measurement is 0.826″. Also not too shabby!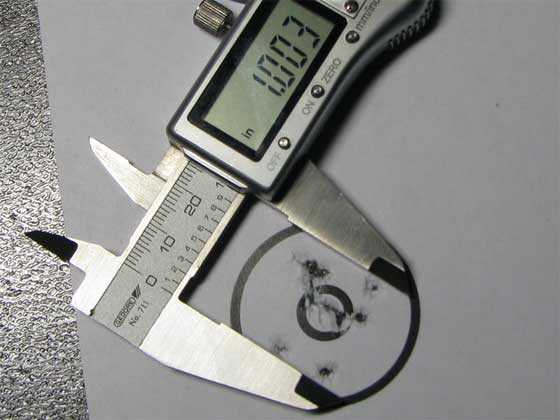 Here are 10 shots with the scope set at 6x with a more relaxed shooting style. The outside measurement is 1.003″ across, and the C-T-C measurement is 0.826″.
Next, I shot another 10-shot group in the more relaxed style with the scope set on 12x. This group measured 1.7325″ across, which gives us a measurement of 1.5555″ between centers. This is the largest group of the test and more than double the size of the first group shot on 6x.

Ten shots with the scope set at 12x with a more relaxed shooting style measured 1.7325″ across, and the C-T-C measurement is 1.5555″. This is the largest group of the test.
Summary
It's clear to me that lower magnification isn't any hinderance to accuracy, as long as you can see the target clearly. In fact, I think lower magnification is the way to go.
Editor's note
I made a huge mistake when I edited this text for duskwight. I assumed that his Shillelagh is his recoiless rifle project, when in fact, it's a highly modified Gamo CF-X. The rifle seen in this test is that Gamo CF-X. I apologize for the confusion this has caused. — B.B.
Some of our newer readers probably don't know the story of how duskwight built a recoiless spring rifle from scratch. Like you he was a reader of this blog and he was also an airgunner before finding this blog. He knew about the famous Whiscombe rifles, but they were hard to come by — even when John Whiscombe was still making them. Adding the extra difficulty of getting one all the way to Russia made him think about building his own rifle. When he first told us his plans, I thought it would never happen; and he shared all his struggles with unreliable machine shops and companies that could not meet his specifications. It seemed as though it wasn't meant to be.
But he persisted, and finally, he had a working prototype. It took years of effort…and I don't want to know how much money. But he did it. Then he sat down and whittled out a stock from a raw wood blank.
This Gamo CF-X, which he calls the Shillelagh, is just one example of his expertise building custom airguns. I think the accuracy he got with it is quite stunning!
Duskwight is Russia's airgun answer to New Zealander Bert Munro, who took a 1920 Indian motorcycle and modified it into a 200 m.p.h. streamliner in the 1960s! People like this are in extremely short supply, and it's our honor to know this one!
by Tom Gaylord, a.k.a. B.B. Pelletier
This is an ongoing series about scope questions and issues. Blog reader David Enoch asked for it originally, but many other readers have jumped in since it began. Today, I'm going to give you some scope tips I've learned over the years.
Tom's scope tips
1. Get good glass!
You can't hit what you can't see! The quality of the glass in the lenses; the coatings on the glass; and the perfection with which the optics were ground, finished and handled during production are all more important than superfluous features like illuminated reticles and mil dots.
I look for clarity in a scope long before I consider anything else. I've been known to select a 4x scope over a 4-16x just for this reason.
If you have a chance to test a scope before buying, test it by trying to focus at close range and read fine print. Look out at the edges of the image. Are they as sharp? Point the scope into a dark area and see if it highlights what's there or just muddies the image.
2. Don't shop for a scope by the brand name.
Brand names mean nothing these days. Even Leupold, which does make some superior optics such as the Vari-X III models, also makes mediocre scopes…like the Vari-X II line. The same holds true for Leapers, Hawke and most others. I've seen Nikon, Burris and even Nightforce scopes that weren't very clear. The fact that a scope company can make superior scopes has no bearing on what they put into your scope.
Shop for scopes by the model and look only at reports for that exact model. You may get a sense that some makers put a lot of quality in certain scopes, and if you do, use that information. For example, I've told you several times that the Hawke 4.5-14X42 Tactical Sidewinder is a super scope. It stands head and shoulders above many other models and brands in the same price range. I know it's not cheap, but it's worth the price.
I have also touted several Leapers scopes in my reports. Leapers has been working to improve their scopes for the past 15 years, and it really shows. The top line of Leapers scopes is the Accushot Premium series, branded as UTG Accushot scopes. The UTG 8-32X56 Accushot rifle scope is an example of a scope that delivers about twice as much value as the price indicates. Yes, it's also not cheap, but it has all the desirable features.
What should you look for? Look for glass lenses. Look for etched-glass reticles that will automatically have the fine (but visible) crosshairs you need. Look for single coatings of magnesium fluorite or emerald on the lenses. Both will enhance light transmission, where multi-coated optics are always a compromise. Look for 30mm scope tubes whose lenses are larger and also transmit more light. And look for lockable reticle adjustments that don't need tools to adjust.
3. Don't adjust any scope above 3/4 elevation or more than 3/4 to the right.
This has become my mantra because I see it crop up every time there's a problem with "scope shift." Scope shift seems to be almost non-existent, except when shooters adjust the scope too far up or too far to the right that the erector tube return-spring is relaxed. No scope in the world can hold its zero at that point.
The problem is universal, and the diagnosis is simple. Simply adjust the scope knobs down and to the left a lot, then shoot a group at least 25 yards away (farther is better). Sure, it won't be in the right place; but if it's tight and you can shoot repeatedly without any wandering, you know the problem is not with the scope. It's with the mount. You need to align the scope's axis with the barrel axis, and the problem will be solved. Either shim the scope or use an adjustable mount…you can stop criticizing the scope and get on with the fix.
4. Pick the power carefully.
Just like you don't buy scopes by their brands, don't buy them by their power, either. An excellent 4x scope can often outshoot a mediocre 16x scope. And it's certainly easier on your eyes.
This is one reason I have so many vintage scopes. They don't have the power of the modern scopes, but their optics are so clear that it doesn't matter. This goes back to my first tip: Get good glass!
5. Consider a sidewheel objective adjustment.
It takes only a few minutes shooting field target to make this lesson clear. Instead of reaching out an arm's length to turn an objective bell that's probably very stiff to turn, a sidewheel objective adjustment puts the controls at your fingertips. I'd say that it's the difference between power brakes and manual brakes on a car, but very few who are under 40 know what manual brakes are anymore. You young guys will just have to trust me on this.
6. Think about where the scope will be going.
If you don't consider where the scope has to be mounted, it may not even fit on the gun you have or are about to buy. The same holds for scope mounts. Will they fit on the gun? Where's the scope stop located, if you need one?
The biggest mistake shooters make on this account is that they try to mount a short scope on a rifle whose scope stop puts the eyepiece too far from the eye when the rifle is held naturally. This happens a lot with UTG Bug Buster scopes on springers like Gamos and Hatsans. You're better off mounting a scope with a long eye relief, such as the CenterPoint Power Class 1TL 3-9×42 AO scope, on rifles like this, unless the scope tube is long enough to reach back.
7. Consider target turrets.
This may put some shooters off, but a scope with target turrets is so much easier to work with than one that cannot show you how much elevation and right adjustment has been applied. Target turrets usually cost more because they're found on better scopes, but they pay you back when you're setting up a gun or swapping the scope to a different gun.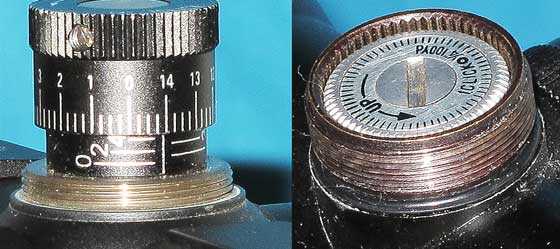 Which adjustment gives the most information about the scope's current state? The coin-operated knob on the right or the target turret on the left?
8. Get adjustable parallax!
Parallax does matter to airgunners because we always shoot so close to the target. Parallax changes dramatically between 25 and 50 yards, but almost not at all between 100 and 150 yards. Firearm scope users seldom need parallax correction (what some call focusing) like airgunners do.
Yes, you can change the distance for which a scope is adjusted when it has fixed parallax; but after you do, it's still fixed. It's only good (focused) at that distance.
9. Shop for a good dealer
The dealer is the bottom line. One dealer will stand behind everything he sells and another will not. I will pay a premium to do business with good dealers. Yes, I'm talking about Pyramyd Air, but it doesn't stop with them. There are many good dealers out there, and I make it my business to find out who they are before doing business with them.
Optics can have problems from the factory. More than other items, they're products that do need to be returned sometimes. Having a dealer support you when that happens means a lot.
Summary
If you were to talk to me in person about scopes, these are some of the things I would tell you. And I would jump up and down about the third tip. That's the one that hits me every time I'm called in to solve a scope problem. If the scope has target turrets, I can spot this problem from 10 feet away. I can also do it just by listening to the shooter converse with his buddy on the range…"I need more elevation, but I've got the scope dialed up as far as it will go!" That's a problem just waiting to be discovered.
by Tom Gaylord, a.k.a. B.B. Pelletier
Part 1
Part 2
Part 3
Part 4
Part 5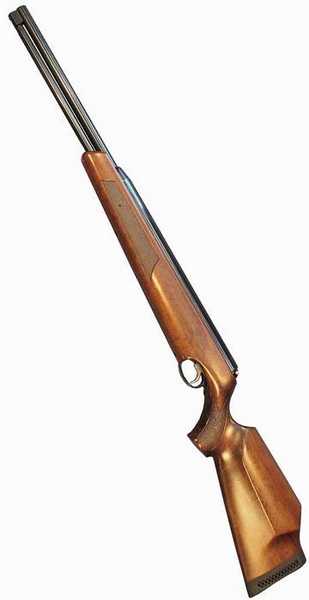 BB's TX200 Mark III.
This is my second trip to the rifle range to shoot the TX200 Mark III at 50 yards. Last time, I shot only heavy pellets; today, I'll shoot the hopefully more-accurate lightweight pellets, plus one JSB medium-weight pellet that several blog readers have had success with.
I also shot the rifle laying across the sandbag, instead of in the long groove down the center. Several readers said that was the best way to rest the rifle directly on the bag.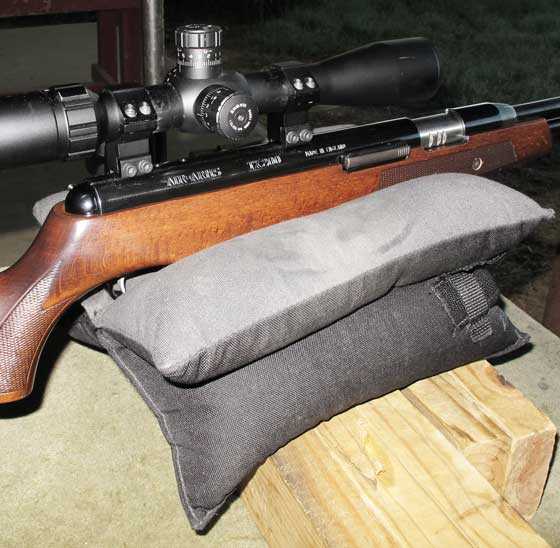 When I tested the rifle last time with heavy pellets, this is how it laid on the sandbag.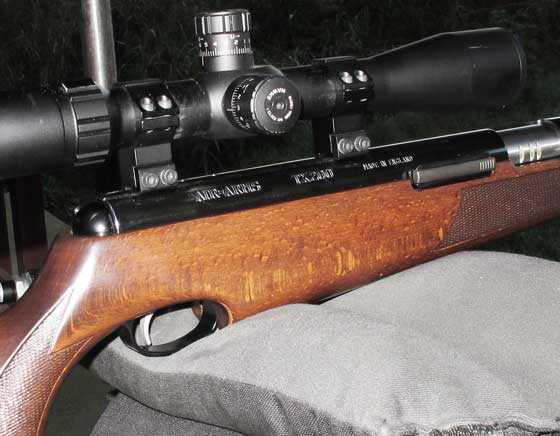 For most of today's test, the rifle laid sideways on the bag.
The day was perfect for shooting pellet guns at long range. There wasn't a breath of air during the entire session.
Crosman Premiers
The first pellet I tested was the Crosman Premier lite — a 7.9-grain dome that some say is the most accurate pellet of all in the TX200. The group landed about 2-1/2 inches above the aim point because the rifle was still sighted for heavy pellets. But it was centered perfectly, and 10 pellets made a group measuring 1.077 inches between centers. That's not a bad group, but I've seen TX200s do better at 50 yards.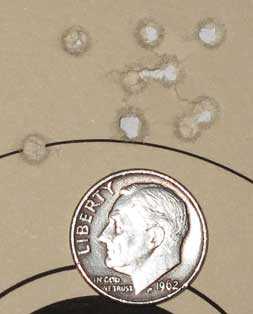 The first group was 10 Crosman Premier lites. It measures 1.077 inches between centers.
That was a good start. The group was only slightly larger than the smallest group fired in the session before, which was 1.042 inches.
Following the first group, I adjusted the scope down several clicks. I wanted to keep the shots on or near the bull at which I was aiming.
JSB Exact 8.4-grain dome
Next up was the JSB Exact 8.4-grain dome, a pellet that several readers said was the most accurate one in their TX200s. Alas, that wasn't the case in my rifle. When the first 5 pellets landed in a very vertical 2.40 inches, I stopped shooting. There's no way the last 5 shots can improve things. Clearly, this isn't the pellet for my rifle!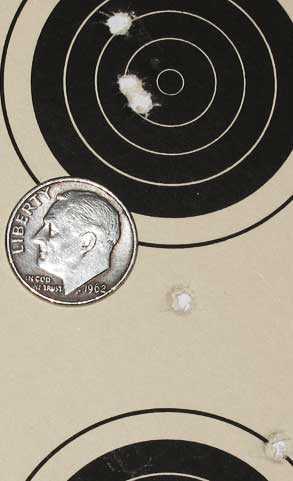 Five JSB Exact 8.4-grain domes landed in 2.4-inches between centers. This is not the pellet for this rifle.
JSB Exact RS
The next pellet I tried was one I had high hopes for — the 7.3-grain JSB Exact RS dome. It does so well in so many spring rifles; but, once again, the TX200 Mark III is not one of them. Ten pellets made a group that measured 1.957 inches. It's a vertical group, as well.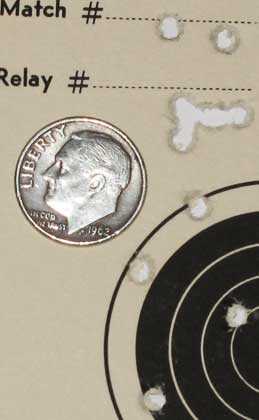 Ten JSB Exact RS domes made this 1.957-inch group. Another non-starter for my TX200.
Air Arms Falcon
About this time I was suspecting that the rifle does not like lightweight JSB domes. The next pellet up was the Air Arms Falcon, another lightweight domed pellet that's also made by JSB. While Falcons are great in many air rifles, the first 5 landed in an open group measuring 1.658 inches, and I stopped right there. It looked like this pellet wasn't for my TX, either.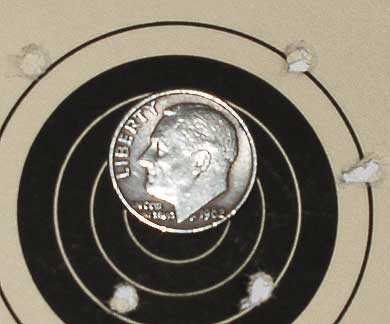 Five Air Arms Falcons spread out to 1.658 inches, so I stopped. No sense finishing the group.
What was happening?
Three out of 4 pellets I brought to the test were not good. Had I made a mistake with the Premier lites, as well? Was that good first group just a random event? I decided to shoot another one to see. This time, though, I laid the rifle the long way in the bag to see if there was any discernible difference.
Ten pellets went into a group measuring 1.241 inches this time. That is much closer to the first group than any of the other 3 pellets tried on this day, though it's still larger. Maybe, laying the rifle lengthways made the difference? I don't think so.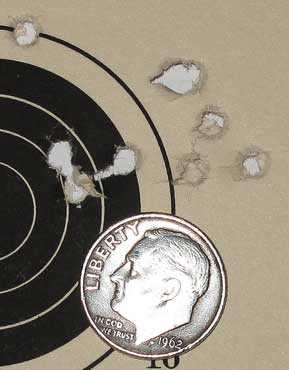 Ten Premier lites went into 1.241 inches when the rifle was laid lengthways on the bag.
I decided to shoot another group with the rifle laid lengthways, again, just for comparison. This time I hit the jackpot and all 10 pellets went into 0.658-inches.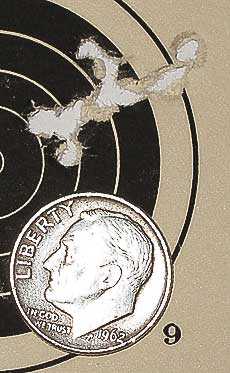 Now, that's a group! Ten Premier lites in 0.658 inches. The rifle was laid lengthways, once again. This is what I was expecting to see from my TX.
Lessons learned
The TX 200 Mark III is capable of phenomenal accuracy at 50 yards, even when rested on a sandbag. From the limited testing I did I can't say laying it crossways or lengthways is better. It works well both ways.
My rifle seems to shoot best with 7.9-grain Crosman Premier lite pellets. It does not seem to like any light pellets made by JSB.
This is not the end of our testing. Pyramyd Air has sent me a new TX200 Mark III that I promised you I would test right out of the box. Some of you have been concerned that my rifle is too well broken-in, and you think it may not reflect what you will get if you buy one. So, we shall see!
As a final note, I'd like to point out that I got several groups that were okay with the Premier lites and one group that's exceptional. That's the way it goes with any airgun — I don't care which one you're talking about. All the talk about half-inch groups at 50 yards has to be taken with this firmly in mind. You're going to shoot larger groups most of the time.
That being said, Premier lites seem to be the most accurate and also the most forgiving pellet we've tested in my TX200. They may not always shoot into a super-tight group, but they'll always shoot where you want them to. That's what's important.
by Tom Gaylord, a.k.a. B.B. Pelletier
Yesterday, I shot the TX200 Mark III at 25 yards and discovered that it can shoot accurately when rested directly on a sandbag. Today, I'll take the rifle to the range and shoot it again at 50 yards.
I decided to continue shooting with the rifle rested directly on the bag because it seems to work well, and also because I haven't settled down yet. The bag-rested results should be a fair representation of what the rifle can do.
The day was dead calm throughout the test. Conditions were perfect for the rifle to do its best. But the results were most interesting and not what I expected.
H&N Baracuda Match
You will recall that, yesterday, I got the rifle sighted-in with the point of impact hitting about quarter-inch high and a half-inch to the left of the aim point. I left the scope setting where it was, so you could see what happened out at 50 yards. I'm shooting with the same H&N Baracuda Match pellets that were used yesterday.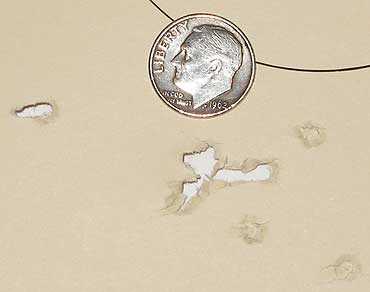 Ten H&N Baracuda Match pellets didn't do very well at 50 yards. Yes, there's the one pellet off to the left, but there are 3 more to the right of the main group. Group measures 2.2 inches between centers, with 9 pellets going into 1.199 inches.
The new point of impact (center of the group) is about 2-1/2 inches low and 1 inch to the left. This pellet dropped 2-3/4 inches, going from 25 yards out to 50 yards. The group is pretty large, measuring 2.2 inches between centers. It was shot 2 that strayed over to the left. The other 9 pellets are in 1.199 inches, or about one inch less. That's still on the large side.
JSB Exact Heavy
Next up were JSB Exact Heavy pellets. They weigh 10.3 grains and are often the most accurate pellets in premium airguns. They certainly were this day, as the first 10 turned in a group measuring 1.042 inches. It was the best group of the day.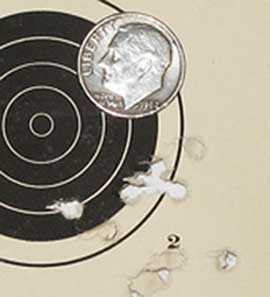 Ten JSB Exact Heavys made this 1.042-inch group.
The other 2 groups I shot with the JSB Exact Heavy pellets were larger. One measured 1.289 inches, and the other measured 1.66 inches. I did adjust the scope between groups, but I was careful never to hit the aim point of the target bull.
 The second group of JSB Exacts measures 1.289 inches between centers.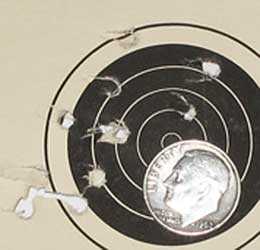 The third group of JSB Exacts measures 1.66 inches between centers.
Crosman Premier Heavy
Seeing that I'd given the JSB Heavys a fair chance, I then shot a group of 10.5-grain Crosman Premier Heavys. They made a 10-shot group measuring 1.365 inches between centers. Since its size is about in the middle of the 3 JSB groups, I think it's safe to say this pellet is about as accurate as the JSB Exact Heavy. I'm not making any claims, though, because I don't think I've done the TX200 Mark III justice in this test.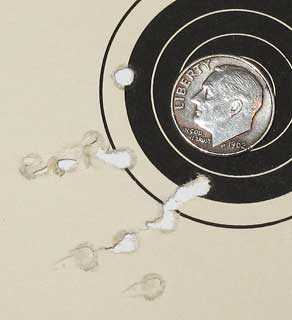 Ten Crosman Premier Heavys made this 1.365-inch group at 50 yards. That puts them on par with the JSBs.
The bottom line is that I'm not satisfied with these test results. I've seen this rifle do better, and I believe it still can — I just need to change something. I've never before shot a spring rifle directly off a sandbag at 50 yards, but I don't think that's the problem. I think I was using the wrong pellets.
Some observations
Remember at the beginning that I told you how far the group dropped when I went out to 50 yards with the 25-yard zero? I also shot the TX200 at 100 yards on this day. I didn't shoot an entire group, just 3 JSB Exact Heavy pellets. I used the 50-yard zero after adjusting the scope at the range. The 3 pellets went into about 6 inches, but what's really interesting is the fact that they struck the target more than 2 FEET below the aim point. Don't let anyone kid you that shooting at 100 yards is simply double shooting at 50 yards. The transition out to 100 yards is very dramatic! I did this just as an aside to see what would happen. Well, I saw all right!
I also think by shooting only heavy pellets on this day that I hindered the TX200′s chances to shine. I want to rerun this 50-yard test with some lighter pellets that are known to be accurate. Someone asked me about that already, and I think it needs to be tested.
Finally, blog reader Tunnel Engineer asked me to try resting the TX on the sandbag close to the triggerguard and again out at the cocking slot. He wanted me to compare group sizes and point of impact with the 2 balance points. But the bag I use is very long and runs all the way from the triggerguard to the cocking slot, so I don't see how I can do that.
by Tom Gaylord, a.k.a. B.B. Pelletier
Today's lesson is about sighting-in a rifle scope. I know that scope mounting and sighting-in seems daunting, but it isn't as hard as you might imagine. In the last report, I sighted-in at 10 feet. Because I got lucky, it took just 2 shots to sight-in the rifle; and when I finished, I told you I was ready to try the rifle at 25 yards. I said, based on the results of my 10-foot sight-in, it should be on paper at that distance (actually it would be on target at any distance between 20-35 yards, given the TX 200′s velocity), but it probably wouldn't be exactly where I wanted it. Today, we'll find out if that prediction is correct.
Let's get to it
So, I set up the bench and started shooting at 25 yards. I chose H&N Baracuda Match pellets because they were the pellets I used at 10 feet. If you forget what happened during the 10-foot sight-in, you really should read that report first to appreciate what's happened here. A quick summary would be that I guesstimated how high above the bore the center of the scope is, and shot at a dot the same distance above the desired point of impact. Aiming at the upper dot, I was trying to get the pellet as close as possible to the dot beneath, which meant the scope would be shooting to exactly the point of aim (offset by the scope and barrel centers) when all trajectory was removed from the equation.

The two dots are separated by approximately the same distance as the center of the barrel and the center of the scope. Aim at the top dot and hit the bottom dot. This is the first shot. After I adjusted the scope, the second shot went through the bottom dot.
Shooting at 25 yards
The first shot at 25 yards landed slightly above and to the left of the bullseye. I then shot 4 more that moved over to the right just a little. I took the center of the larger 4-shot group as the place where the scope was really sighted, and I adjusted from there. In all it took me far less than 10 minutes to sight-in this scope, even though I spread the reports over a period of 2 weeks.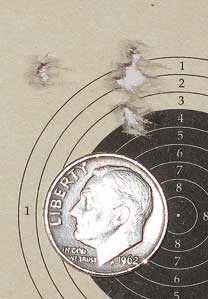 The first 5 shots at 25 yards landed high and to the left, with the very first shot landing farthest to the left. I took the center of the main group of 4 to be the point of impact. From there, I adjusted the scope down and to the right.
Bear in mind that I do not want to hit the dot at the exact center of the bullseye, if possible. That's my aim point; and if I destroy it, I have to guess where to hold the crosshairs.
First group
Now that the rifle is sighted-in, I shot the first 10-shot group at 25 yards with the stock rested on my open palm, next to the triggerguard. I got a fairly good 9-shot group, but I managed to throw one shot to the left. Nine went into 0.376 inches, but that one stray shot opened the group to 0.605 inches. I was moving around too much in the artillery hold, and I could see it through the scope.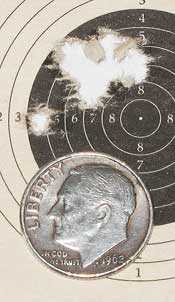 Nine shots in 0.376 inches isn't bad for 25 yards, but a stray shot blew the group out to 0.605 inches.
Second group
Stability seemed to be my problem, so I slid my off hand out to where I could feel the cocking slot on my palm. The rifle seemed to rest steadier, but the group doesn't reflect that. Ten pellets went into 0.714 inches, which is horrible for a TX200. Obviously, this wasn't the right hold for the rifle. And just as obviously — I was having a bad day.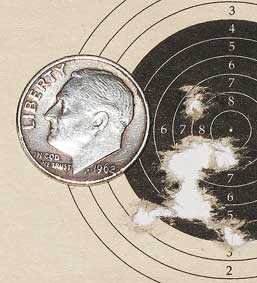 Ten shots in 0.714 inches at 25 yards is hardly something to be proud of for a TX200. It's more of an outstanding group from a Chinese breakbarrel.
Sometimes, a disaster (okay, maybe just a small setback) contains the seeds of discovery! Since I couldn't hold the rifle steady enough to shoot a good group on this day, could I rest it directly on the sandbag and do better? We've been interested in the fact that some spring guns don't seem to need the artillery hold. I already told you the TX200 is one of them. Perhaps, this was the day to find out.
For the next group, I rested the rifle in the long vee-groove in the top of my sandbag. The bag is so long that the rifle rests there without needing a rear bag for support. It was dead-steady when I sighted this time.
The results tell the story! This time, all the shots went to the same place. The group is very round and tight, at 0.336 inches. This is clear proof that the TX200 can be bag-rested when shot, and also that the rifle is incredibly accurate. I've shot even better groups with it in the past; but whenever I do things right, I always get good groups with this rifle.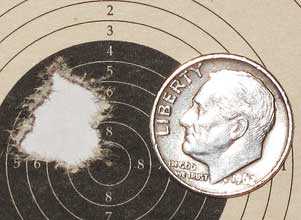 Shooting with the rifle rested directly on the sandbag produced the best group of the day. Ten shots went into 0.336 inches, and the group is relatively round, to boot.
Notice that in today's test only a single type of pellet was used. That kept things simple and allowed me to look at other things without worrying about which pellet to choose.
So, we've learned 2 things. The first is that it's easy to mount a scope on an air rifle and to sight it in. It doesn't take a lot of time, nor do you need any fancy equipment. Of course, if your rifle has a drooping barrel problem there will be more to do, but these are the basics.
Second, we've learned that the TX200 can shoot as well or better when rested directly on a sandbag as it can with an artillery hold. That's certainly true if you're shaking when holding the gun.
Tomorrow is the 50-yard test, followed by a full test of a brand-new TX200 Mark III, I hope. There are some other things that can be explored with this rifle as our testbed. All in all, we have a lot of things left to do with this air rifle!
by Tom Gaylord, a.k.a. B.B. Pelletier
Parallax
Parallax is an optical term describing how the point of view affects what the viewer sees. The driver of a car may see his speedometer needle at 60 m.p.h, while a passenger to his right may see it hovering just above 57 m.p.h. In the UK, the passenger is on the driver's left and the speedo needle will appear to be over the 63 mp.h. mark. The needle hasn't moved in either case, but the observer's viewpoint has moved.
And so it is with a scope. You look through it and see the crosshairs exactly in the center of the bullseye; but if you move your head on the stock, the crosshairs will also appear to move slightly. So, where you hold your head relative to the scope determines where the scope appears to be "looking."
Many scopes today have a parallax adjustment. Some scope manufacturers call this an adjustable objective, or simply AO; but that just stems from the fact that it is the objective bell that's turned to correct for parallax. On other scopes, this adjustment is a knob on the left side of the adjustment turret.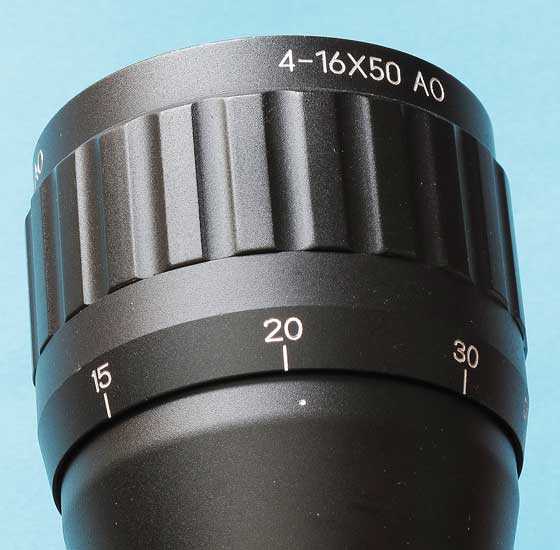 The adjustable objective is an objective bell that turns to remove as much parallax as possible. The scale on the bell indicates the yards to the target that have been focused.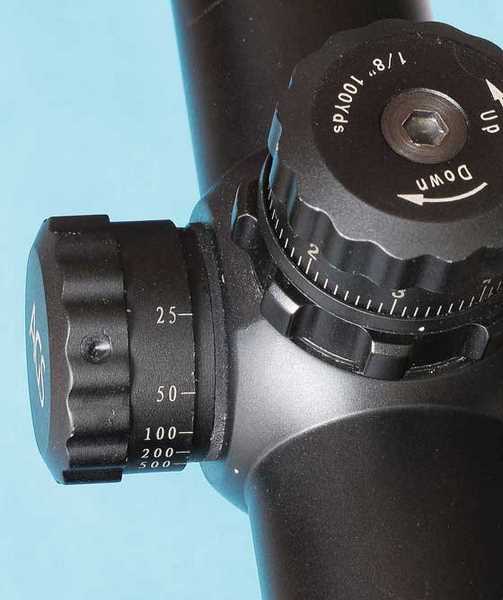 On scopes with a sidewheel parallax adjustment, a knob on the left side of the turret adjusts for parallax. This is much easier to reach than the objective bell when holding a rifle.
The parallax adjustment adjusts the scope lenses so the least amount of parallax exists at that distance (the distance to the target). To the shooter, it looks like the scope is focusing on the target. But here's the important point: No amount of parallax correction is ever enough. There will always be some parallax in the scope, no matter how well it's been adjusted. Where you hold your head on the stock is very important, whether or not your scope has a parallax adjustment.
Range of scope adjustability
Every modern scope comes with vertical and horizontal adjustments, so the crosshairs may be adjusted to the point of pellet impact. Open sights often have these same adjustments. But there's one big difference between an open sight's adjustments and those of a scope. As an open sight is adjusted, the sight is moved mechanically. Usually just the rear sight moves, but sometimes the front sight moves, as well.
When a modern scope is adjusted, you cannot detect any movement. It's inside the scope but can't be seen from the outside.
What gets moved isn't the scope tube, but a smaller tube inside the outer tube. This inner tube is called the erector tube, and it contains the reticle and other things. The wires or lines of most reticles do not move when adjustments are made. Instead, the entire erector tube moves, carrying the reticle lines with it. Since the lines are fixed, they always appear to be centered when you look through the scope.
There are some scopes that do have moving reticle lines. These are older technology scopes and are often from Germany or Russia. But these are so infrequently encountered on the modern market that they aren't worth discussing.
I've mentioned the term modern in relation to the scope of today. Fifty years ago, there were scopes that did not contain erector tubes. Instead, these scopes were adjusted from the outside, so their entire tubes moved whenever adjustment were made. The adjustments were in the scope rings.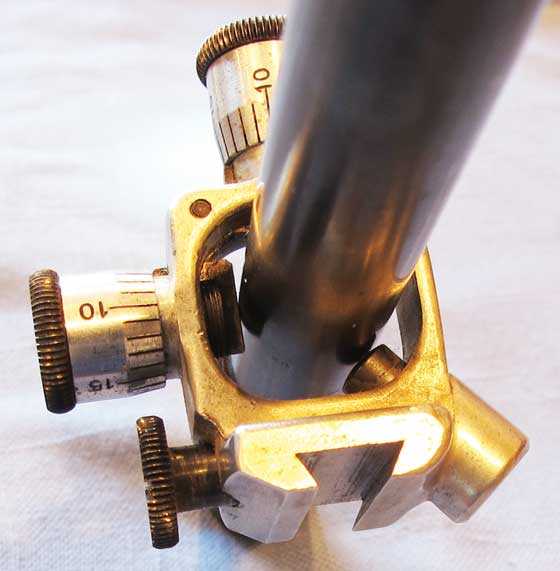 This vintage Unertl scope is held in spring-loaded rings that adjust the whole scope like the erector tube in a modern scope. The spring is inside the button at the 4 o'clock position and works for both the vertical and horizontal adjustments.
The section of the modern scope that contains the adjustment knobs is called the turret.
By looking at vintage adjustable scope rings, we can see how the erector tubes inside modern scopes move when they're adjusted. And this is what is important. The adjustments work against a coiled steel return spring that pushes the scope back when the adjustment screws are backed off.
When the scope is adjusted higher or to the right, the erector tube springs expand and lose their tension. At some point, which differs from scope to scope, these springs relax. That's when the scope no longer holds a zero and won't adjust in that direction anymore.
This scope's elevation knob is adjusted as high as it will go. The erector tube spring is fully relaxed, and the scope will be free to shift. It would be better not to adjust this scope above the horizontal No. 3 line.
Quality scopes have more adjustment range than cheaper scopes, but all scopes have difficulty adjusting out to their upper and right limits. As a general rule, I tell shooters they should never adjust beyond the three-quarter point in the high or right directions.
People sometimes ask if there's a problem when adjusting the other way (down or to the left), and I tell them there isn't. All you do when you adjust all the way down or to the left is compress a coil spring until it's coil-bound. That doesn't damage the scope, nor does it affect accuracy in any way.
Scope sights are wonderful tools that can enhance your shooting experience. They're not magic, however. They operate by rules, just like anything else. Learn how they work, and they'll do their part to make your shooting more successful.
by Tom Gaylord, a.k.a. B.B. Pelletier
This article was originally written for the upcoming Pyramyd Air catalog. But there were so many new rifles and pistols that we didn't have room for this. I felt it was important enough to get it out, so I'm publishing it on the blog.
You'd like to have a scope; but when you check into the subject, it gets very confusing, very fast. In this 2-part blog, we'll explore the basics of scopes.
A telescopic sight, or scope, is a type of sight that magnifies the target, usually making aiming easier. It may have a fixed amount of magnification or the magnification may vary within a range, allowing the shooter to select what he wants.
Inside the scope are lines called reticles. One runs up and down and the other runs side to side. They intersect in the center of the field of view. They are the aim point that's put on the spot where you want the pellet to go. They adjust in both directions, but you never see them move. They are held inside a tube inside the scope; and when they're adjusted, the entire tube moves so they always appear centered.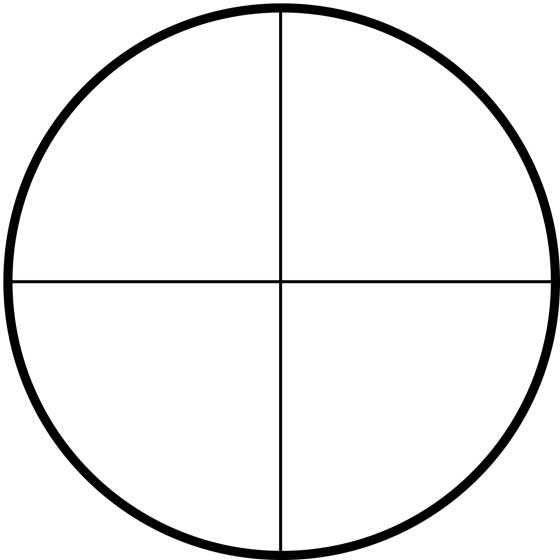 Crosshairs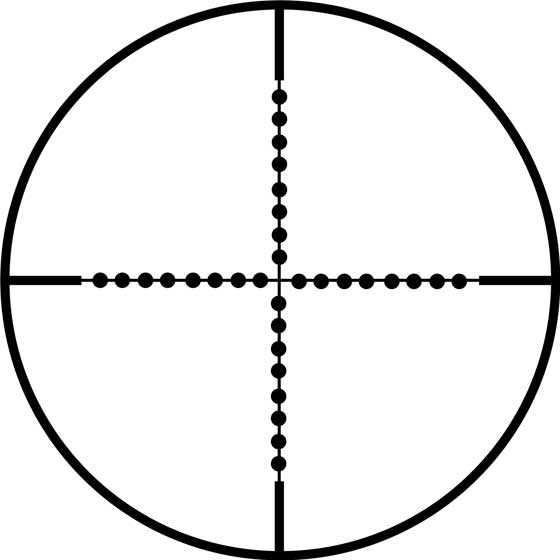 Mil-dot reticle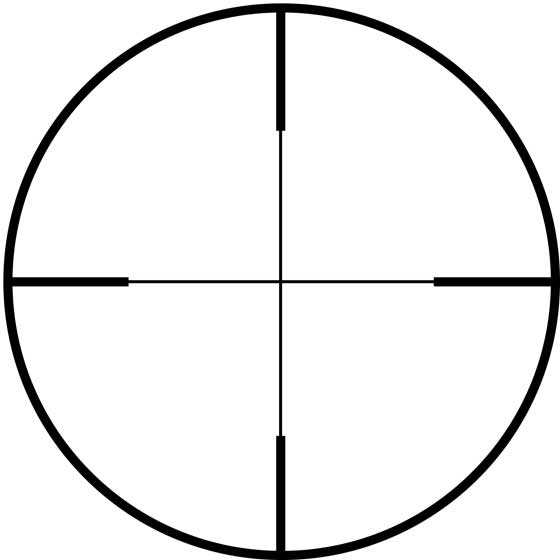 Duplex reticle
If your rifle is sighted-in, the pellet should land fairly close to where the intersection of the reticles was when it fired. How close it lands depends on several things—how accurate the rifle is, how well it was held when it fired, how good a pellet you use, the weather conditions (especially the wind) and so on.
The rifle is always moving!
The first thing that surprises someone who looks through a scope for the first time is that the rifle is always moving. In the movies, the camera sometimes looks through scopes that never move; but in real life, they're never still. The rifle is also moving when you sight with open sights; but since the target isn't magnified, you cannot see the movement.
Just because there's a scope on your rifle doesn't mean it will be more accurate. You have to find ways to slow the movement and to eliminate or minimize it as much as possible. Once you learn to do this and to follow through after every shot, you'll be rewarded with better groups and more accurate shots.
More magnification may not help
You would think that because a scope magnifies the target it automatically makes it easier to see and hit. Sometimes it does, but other times it does the opposite. When the magnification is too great and the target area is dark, you may not be able to find the target in the scope. When you hunt in the deep woods, for instance, a 4x scope will do a lot better than a 16x scope. You may be able to see the veins on each leaf through the 16x scope, but which leaf are you looking at?
Greater magnification also can make the image seen through the scope darker, and it may even appear as though it's in fog. On every scope that has adjustable power, the amount of light that gets through the scope decreases as the power increases. This effect is offset by superior quality lenses and by special lens coatings, but the budget brand scopes don't have these things.
Magnification — use what you need
Why do airgunners need so much magnification? Well, most of them don't need it, but one group does. The field target shooter uses his scope to help determine the range to the target, so he can know where his pellet will be in its trajectory when it arrives on target. The difference of a yard or two can make the difference between a hit or a miss.
A field target shooter wants to see the smallest object he can possibly see at the farthest distance on the course, which is 55 yards. He'd like to be able to see a blade of grass so clearly at 55 yards that when he adjusts the parallax he can see the image come into sharp focus. If that blade of grass is standing next to the target he wants to shoot, he's just determined the range to the target.
It takes a lot of power to see a blade of grass clearly at 55 yards in a dark forest setting. So, field target shooters use scopes of 32x, 40x and even 60x to resolve things this small. These scopes aren't too useful for most shooting; but for the rangefinding task, they excel.
Most airgunners will do very well with 9x, 12x and even 16x. Scopes of that power will be smaller and lighter, and that translates to less fatigue while hunting. A squirrel hunter in the deep woods can get by with even less power. Maybe 6x is all he needs. Benchrest target shooters, on the other hand, have a stable platform and can spend some time finding the target in the limited field of view that a powerful scope gives. For them. the most important thing is being able to bisect the target as precisely as possible, so every shot is aimed at the same place. Understanding what magnification you need and matching it to your sport is one of the things that increases satisfaction when shooting airguns.
Understanding scope adjustments
Most shooters know there are both vertical and horizontal adjustments available on a scope. They're called elevation and windage adjustments. Here are some facts about adjustments that you may not know.
First of all, no scope adjusts exactly by a quarter minute of angle or an eighth minute of angle. When they say these things, scope manufacturers are only making approximations. The scope adjustments depend on the thread count of the adjustment screws, and the manufacturer will round this up or down to give an approximate distance the crosshairs move. This is given in minutes of angle, and the most common understanding is at a 100-yard distance, where a minute of angle is very close to one inch. So, a scope with ¼ MOA adjustment clicks is supposed to move the point of aim by a quarter-inch at 100 yards. It sounds great until you understand that everything is an approximation. The real distance that the crosshairs move with one click of adjustment may be 0.311 inches, but no scope manufacturer is going to put that on the box. So, they write that the scope has quarter-minute clicks, and you work it out when you sight in — unless you're anal, which is where some shooters get into trouble.
These shooters arrive at the range with their scoped rifle and a notebook to record all the scope adjustments. Man — that is a heartbreak in progress! What will happen, if they stick to it long enough, is that they'll discover that their scope actually adjusts by 7/19 of an inch per click. Most of them see the futility of trying to do it by the book and default back to adjusting the scope until their rounds strike the paper where they want them to…or as close as their scope can come.
Stiction
Now, let's talk about stiction, which is the scope's unwillingness to move after being adjusted until it is hit with a large amount of vibration. Said plainly, the scope tends to stay where it was before the adjustment until the gun is fired several times and it finally "settles in" to the new adjustment. Put an eager-beaver shooter on that scope and have him try to sight it in, and you have the recipe for disaster. He'll keep adjusting the knobs, all the while the scope is lagging behind each adjustment by two or three shots. The result will be a scope that wildly changes its point of impact as the frustrated shooter fails to comprehend that he's causing the problem.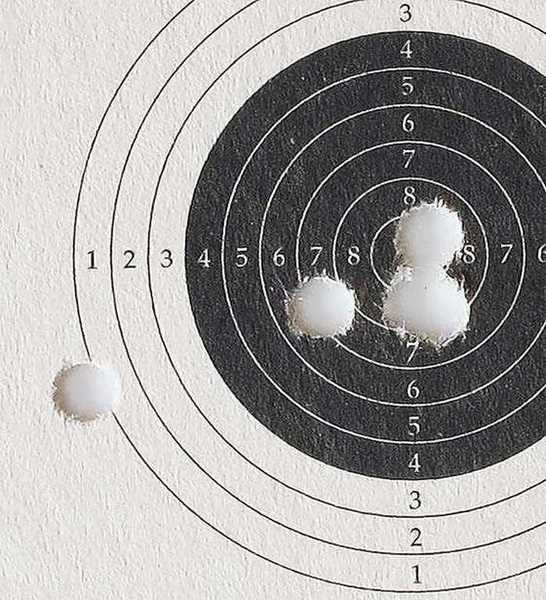 When a scope is adjusted, sometimes it takes several shots for the adjustments to be fully realized. This is called "stiction," which is the resistance of the scope's parts to movement after they're adjusted. In this case, the first shot was to the left and low, where the scope had been before adjustment. Shot 2 moved to the right and up, and shots 3 through 5 are in a tight cluster in the new point of impact.
Not all scopes suffer from stiction. Of those that do, all won't suffer by the same amount. Each scope must be taken as a unique entity, and the shooter has to have patience when adjusting it. This is the one time where three-shot groups are valid because they give the scope time to move to the new setting. But if the shooter doesn't realize what's happening, it can look like the scope is no longer able to hold a group because a three-shot group from a scope with a lot of stiction will look like a wild pattern. All you have to do is to continue shooting the gun, and things will settle down, again. But some shooters don't have the patience for this.
Look for part 2 tomorrow.