by Tom Gaylord, a.k.a. B.B. Pelletier
We're back to the BSA Scorpion 1200 SE. When we last tested it, we looked at the velocity and discovered this is a 30 foot-pound air rifle. So, its primary purpose is hunting. I thought that meant I should test some heavy .22-caliber pellets, but I also included a middleweight.
This test was done at 50 yards. I never shot the Scorpion indoors at 25 yards because it's so loud. I went straight from mounting a scope to shooting at 50 yards. As it turned out, that cost me several more shots than normal to get on paper.
I scoped the rifle with the UTG 6-24X56 AP scope with illuminated reticle.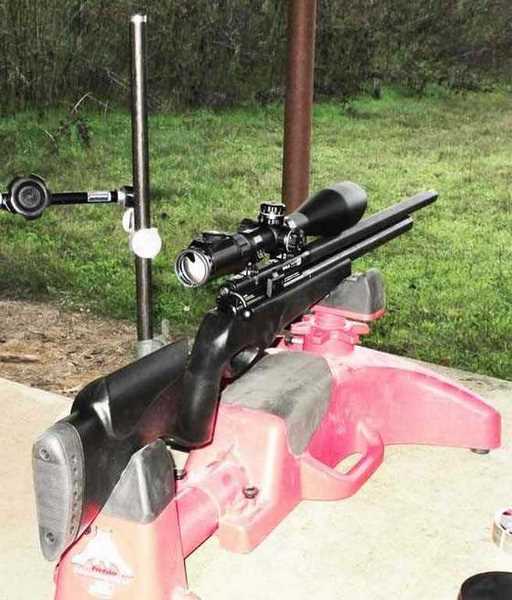 The rifle is scoped with the UTG 6-24X56 AO. It compliments the range of this rifle well.
I knew the scope would be right for the Scorpion because BSA PCPs are very accurate. I wanted a lot of power in the scope to compliment the long-range capability. This scope gave me what I was looking for.
Beeman Kodiak
The first pellet I tried was the 21-grain Beeman Kodiak. The first group wasn't good because the wind kicked up just as I fired a couple of the shots. Sure enough, the 10 holes had a horizontal spread. They measure 1.006 inches between centers, which isn't bad, but I felt this pellet deserved a second chance.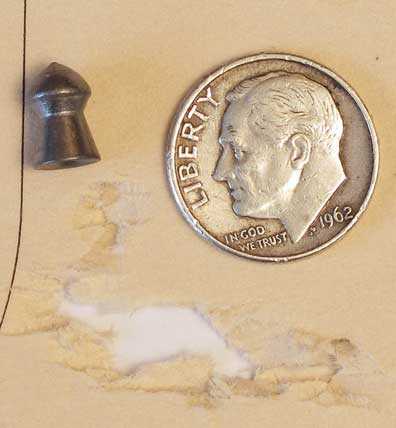 The first group of Beeman Kodiaks measures 1.006 inches between the 2 farthest centers.
The second group of 10 Kodiaks measures 0.926 inches between centers. Although that isn't that much smaller than the first group, this group is rounder; and I feel it's representative of what Kodiaks will do in this rifle.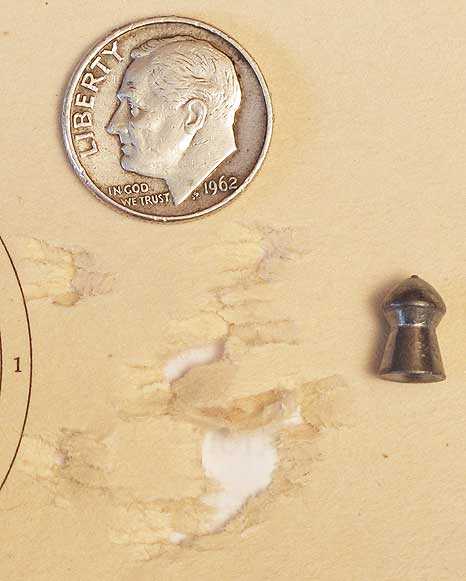 The second group of Beeman Kodiaks measures 0.926 inches between the 2 farthest centers. It is much rounder than the first group.
Eun Jin dome
I said during the velocity testing that the 28.4-grain Eun Jin dome would probably be good if you were seeking the maximum knockdown power at long range. They developed an additional foot-pound of muzzle energy. They've never been the most accurate pellets, but in some PCP rifles they do deliver credible accuracy.
Not in the Scorpion 1200 SE, though. The Eun Jin gave a large groups with a pronounced vertical spread. It measures 1.488 inches between centers and was the largest group of the test. I don't recommend this pellet in the Scorpion 1200 SE.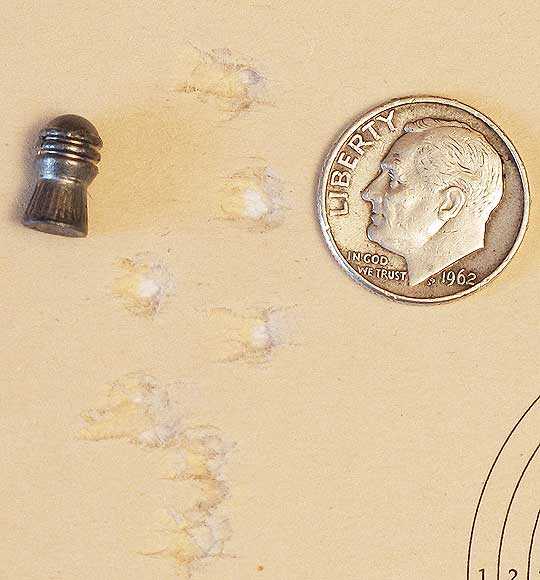 Ten Eun Jin domes went into 1.488 inches at 50 yards. The group is very vertical.
JSB Exact Jumbo Heavy, 18.1 grains
Next, I tried the JSB Exact Jumbo Heavy domed pellet. This one is between the medium-weight JSB Jumbo and the heavier Beeman Kodiak, so it gives better velocity with some good power retention. If it shoots at least as well as the Kodiak, it would be worth choosing.
But it doesn't just shoot better — it shoots WAY better than the Kodiak in the Scorpion 1200 SE. Ten pellets made a group that measures 0.792 inches between centers. The group is very round, as you can see, so we know this pellet is a keeper!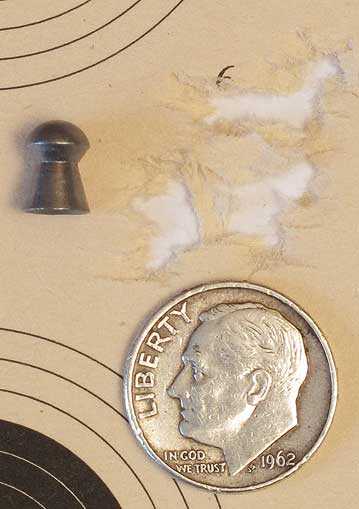 Ten JSB Exact Jumbo Heavys went into this 0.792-inch group at 50 yards. This is the best group of the test, and this pellet is the clear choice for this rifle.
JSB Exact Jumbo 15.9 grains
The last pellet I tried was the 15.9-grain JSB Exact Jumbo. Sometimes this pellet is the best in a PCP rifle, so it had to be tried. This time, however, was not one of those times. Ten pellets made a 1.332-inch group that was not as tight as the Kodiaks or the 18.1-grain Exact Jumbo Heavys. And no wind caused the horizontal spread of these pellets.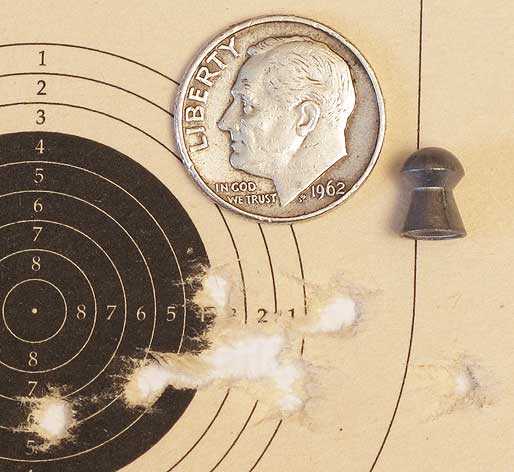 Ten 15.9-grain JSB Exact Jumbos went into this 1.322-inch group at 50 yards. It's very horizontal. Nothing seen here makes me want to use this pellet in the Scorpion 1200 SE.
Conclusions
The BSA Scorpion 1200 SE certainly has the power and accuracy needed to be a good hunting rifle. I like the way the stock balances in my hands when shooting, as it's heavy at the muzzle. I don't care for the fact that it needs 232 bar of fill pressure because that drains even a carbon fiber tank quicker than a 200 bar fill. It does, however, get a reasonable number of powerful shots per fill (25).
The 10-shot magazine is flawlessly reliable. There was never a misfeed in the entire test. And the magazine is below the top of the receiver, so it never interferes with the scope. The trigger is light enough, but I don't care for the stage 2 creep that I found impossible to adjust out.
I would recommend this rifle to all who like its looks and features.
by Tom Gaylord, a.k.a. B.B. Pelletier
It's been some time since I did Part 3 of the Evanix Rainstorm 3D bullpup rifle. Just to remind you of where we left off, I found the gun difficult to shoot with the UTG 3-9X32 Bug Buster rifle scope because of the medium-height scope rings. I removed that scope and mounted the UTG 3-9X40 True Hunter rifle scope that comes bundled with high 2-piece Weaver rings. They were better, but even they seemed a bit too low because of the bullpup configuation. This is the same scope I used in the test of the Hatsan AT P1 PCP pistol.
Today's test was done at 50 yards on an outdoor rifle range. The weather was perfect, without a hint of breeze. I didn't sight-in the scope before going to the range, so I sighted-in at 50 yards. Luckily, the scope wasn't that far off, and I was on target in 3 shots.
The 25-yard test that was done in Part 3 showed that only 2 pellets were worth trying at 50 yards. I shot just them and nothing else.
I also want to remind you that the rifle likes to be filled to 2,900 psi according to my tank's gauge. It has more than 10 shots on a fill, but it does go through air pretty quick. So, just for continuity, I refilled after every group.
JSB Exact 15.9-grain domes
I sighted-in with the best pellet from the earlier test, which was the 15.9-grain JSB Exact Jumbo Heavy. Since the third shot landed where I wanted, I continued to shoot and made an 8-shot group for starters. That group measured 0.961 inches between centers. I noted that the bullpup-style stock made the rifle difficult to hold steady on target, so this group was as steady as I was able to hold. I was fighting the trigger, which breaks at 6 lbs., 10 oz. It's hard to hold on target with a trigger this heavy. Also this rifle is tall and narrow, so it wobbles from side to side when you hold it. I didn't see a way around that at first, but then I figured it out.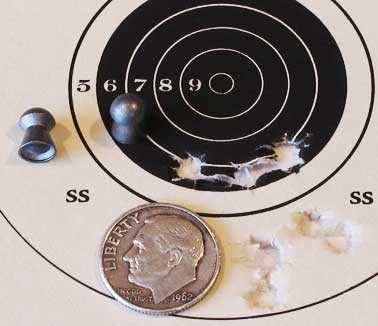 Eight JSB Exact 15.9-grain domes landed in 0.961 inches at 50 yards. The shots are a little low, so I adjusted the reticle up a couple clicks after shooting this group.
Next, I shot a 10-shot group with the same JSB Exact Jumbo Heavy pellets. The rifle's circular magazine holds 11 pellets, but I loaded it with only 10 to keep things consistent with most of my other 50-yard tests.
The scope had been adjusted higher for this group, so the shots landed higher on the bull. Ten pellets made a 1.501-inch group. I must comment that during this group I saw the crosshairs move around on the bull a lot more than I would like. That heavy trigger caused it. In the group that resulted, I see 2 separate points of impact that are one above the other. That isn't what I would expect a sideways wobble to produce, but something was wrong with my hold. I had to solve that first.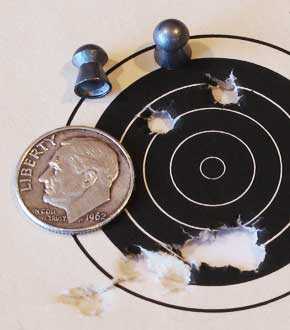 This is the first full 10-shot target that was fired at 50 yards with the Rainstorm bullpup. It measures 1.501 inches. Eight pellets went into 0.941 inches.
Toward the end of the first full group, I found a way to stabilize the rifle pretty well. I was shooting off a sandbag rest that helped with stability, and I found that if I gripped the frame tight (where the forearm would be on a conventional rifle) the wobble stopped. That made me more confident that the group I would be getting was what the rifle could actually do.
Following that group, I shot a second group of 10 JSB Exact Jumbo Heavies that measured 1.406 inches between centers. This one is fairly well centered on the bull and doesn't have the 2 separate points of impact like the first group. I think the improved hold was responsible, although I can't see why a sideways wobble would do what I'd seen before. Maybe the wobble was greater than I thought?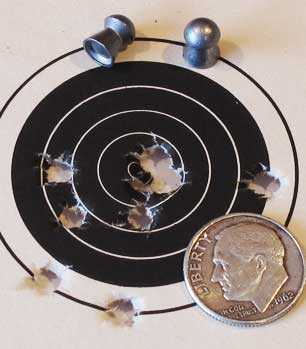 The second full group was a little smaller than the first — at 1.406 inches between centers. I felt the rifle was held well for this group. This is as good as this pellet can do (in general) in this rifle with me on the trigger.
Beeman Kodiaks
Next, it was time to try 10 Beeman Kodiak, which was the second-best pellet at 25 yards. It didn't do as well. The first few shots scattered all over the place, landing far to the left of the aim point and also a bit lower. When all 10 shots were finished, I had a 2.32-inch group that looks more like a shotgun pattern than a group from a rifle. However, I must note that 9 of those shots did land in a 1.331-inch group. But the one lower shot that opened the group wasn't the last one. It was the third shot. Based on that, I would scratch Kodiaks for this rifle and stick with the JSB Exact Jumbo Heavies.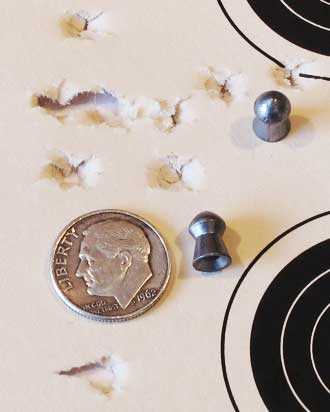 Beeman Kodiaks went all over the target. Ten made this 2.32-inch group, although 9 of them passed through 1.331 inches.
Overall impressions
I've come to the end of my test of this air rifle. It's been an interesting journey, and I've learned some things from it. First, when you scope a bullpup, get the highest scope rings you can. Ring risers might be a good idea. Second, the idea that bullpup actions have poor triggers is apparently true. And finally, when the cross-section of your rifle is as flat as a flounder, it will be harder to hold steady.
The Evanix Rainstorm 3D bullpup rifle is definitely a different beast! It holds different and shoots different than a conventional PCP. If you're looking for the bullpup styling, then either this or the Evanix Max bullpup is the airgun you want. It will produce acceptable accuracy out to 50 yards when you do your part. Just remember that the trigger is stiff and creepy, and the rifle needs a firm hold.
by Tom Gaylord, a.k.a. B.B. Pelletier
Benjamin Marauder .177 caliber: Part 1
Benjamin Marauder .177 caliber: Part 2
Secrets of loading the Benjamin Marauder magazine
Benjamin Marauder .177 caliber: Part 3
Benjamin Marauder .177 caliber: Part 4
Benjamin Marauder .177 caliber: Part 5
Benjamin Marauder .177 caliber: Part 6
Fixing a Marauder magazine
Benjamin Marauder .177 caliber: Part 7
Benjamin Marauder .25 caliber: Part 1
Benjamin Marauder .25 caliber: Part 2
Benjamin Marauder .25 caliber: Part 3
Wow! More than one month has passed since the last part of this report. I've been to the Roanoke airgun show and also out to the rifle range at least 3 times trying to get the data for today's report, but what a quest it has been! It all boiled down to false confidence in my ability to get the job done. I'm used to certain rifles cooperating with me every step of the way, and this time I got called by the fates who expose pride for what it is.
I'm not going to bore you with all the details, but I will point out the most recent example of my stupidity because it's a lesson for us all. When I went to the range last week, I thought I was ready to complete my 50-yard test of the .25-caliber Benjamin Marauder. I'd swapped the scope mounts from a previous test because they were too high. The new mounts were lower, and I didn't have to hold my head as high on the comb. I knew this would help with the accuracy. But then I went to the Roanoke airgun show, and forgot that I'd made this change.
What's most important about the change, though, are that the new mounts were vintage B-Square adjustable mounts. And the rear ring was jacked up higher than the front. I always liked that setup because it gets the drooper problem taken care of on the first shot — even if there isn't one! But not if you forget that you did it!
And that's why this report didn't happen last week. I had the Marauder at the range with the TX200 Mark III, on which I reported last weekWhen I shot the Marauder, there wasn't a pellet hole on the paper. And I'm not just talking about the target paper, either. I mean the 2-foot x 4-foot backer paper that I use whenever I have a rifle that's not known to be sighted-in.
Naturally, I was disappointed. This was a Marauder after all, and I expected it to go right to the point of aim. After shooting just two 8-round magazines, I took the rifle off the line and put it away. I needed to look into the situation deeper and figure out what was wrong.
What was wrong, was that I had forgotten about the new scope mounts. When I looked at the scope back in my office, I immediately saw that the rear was higher than the front. Then I vaguely remembered something about changing the mounts before going to the Roanoke airgun show, so I reread the last report and discovered what had happened. The gun had not been sighted-in with the new mounts. It was obvious that the scope was set up for a rifle with severe barrel droop, and this rifle doesn't have that.
I even went back to the rifle range last Friday and looked at the backer board where my target and backer paper had been stapled. Sure enough, above where the top of the paper had been there was a hole in the backer board. It had the appearance of a nice rifle group. And some of the holes in the group appeared to be .25 caliber.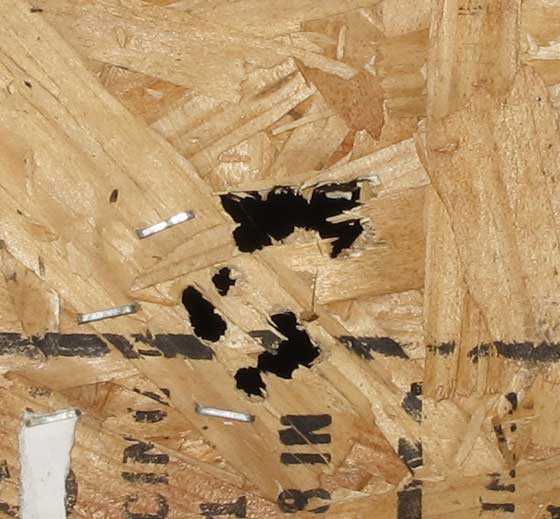 This group in the backer board is just above where my target paper was stapled. I believe it's the impact point of the 25-caliber Marauder from last week's test!
Suspecting what happened, I started shooting at an aim point much lower than my anticipated target. Sure enough, my pellet was hitting the paper about 16 inches high and 6 inches to the left. That's a problem I can deal with! All I had to do was adjust the scope down and to the right, and I was on target. It took me less than 10 minutes to get my groups landing where I wanted at 50 yards. Now, it was time to test the rifle.
The first group was shot with H&N Baracuda pellets. In the past, these were the most accurate .25-caliber pellets on the market, but they have since been replaced by several others, including one huge surprise that emerged in this test! The group measured 1.021 inches between centers. It's a good group for any rifle at 50 yards, but I did think the Marauder might be capable of better.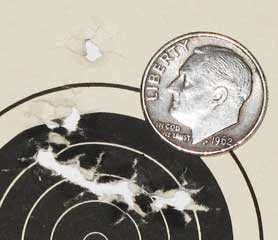 Eight H&N Baracuda pellets went into a 1.021-inch group at 50 yards.
I should mention that I was firing two magazines of eight shots each in this test. So the groups that you see have 8 pellets and not 10 in them. I recharged the rifle with air after every 16 shots because the reservoir pressure had dropped to around 2,100 psi by that point. That was as low as I felt it could go and still be accurate.
JSB Exact King
The next pellet I tried was the JSB Exact King, a .25-caliber pellet that's shown a lot of promise in recent testing. The first group I shot measured 1.447 inches between centers. That's not very good for a PCP rifle at 50 yards. Interestingly, however, 7 of those 8 shots went onto 0.719 inches, and that is good. I hoped that the one flyer was an anomaly, and that a retest of the same pellet would do better.

Eight JSB Exact Kings went into 1.447 inches. That's not very good, but 7 of the pellets went into 0.719 inches, which is promising.
The second group of JSP Exact Kings when into 1.094 inches. That's a lot better, but it still wasn't what I'd hoped for, so I left the Kings to try other pellets.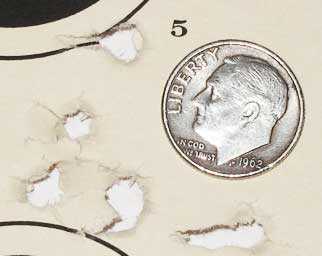 Eight JSB Exact Kings went into 1.094 inches. It's better than the first group, but still not thrilling. At this point, the .25 Marauder looks like a 1-inch rifle at 50 yards.
Benjamin domes
Another stunning pellet in .25 caliber is the Benjamin dome. It has no model name, but you could think of it as a Premier pellet because it looks similar to the other pellets in the Premier line. The first group of 8 pellets measured 1.226 inches between centers, which was again larger than I was looking for.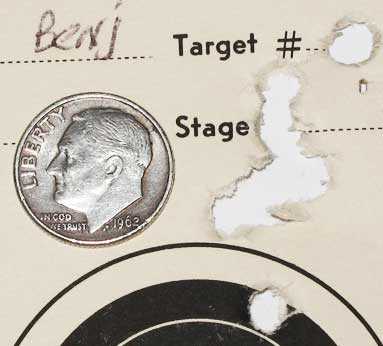 Eight Benjamin domes went into 1.226 inches at 50 yards. It's larger than I would like.
The second group of Benjamin domes measures 1.06 inches. While that's better, I still thought the rifle could do more.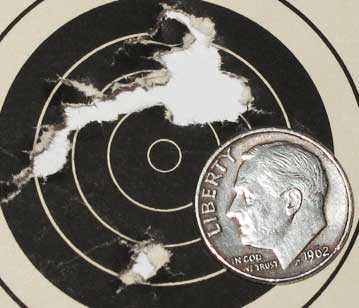 The second group of Benjamin domes was better, with 8 in 1.06 inches. It's good, but somehow not good enough.
Predator Polymag
The last pellet I tried was the .25 caliber Predator Polymag. It showed well in the 25-yard test and earned its place in this test. There really aren't a lot of options when it comes to accurate .25-caliber pellets, and I think we've included all of them in this test. Yes, there are other brands out there, but do they perform? In my experience, they don't.
The Predator is a hollowpoint pellet that has a red plastic tip in the center of the nose. Normally, hollowpoints fall off in accuracy at around 25 yards, but this pellet doesn't. That tip seems to do its job.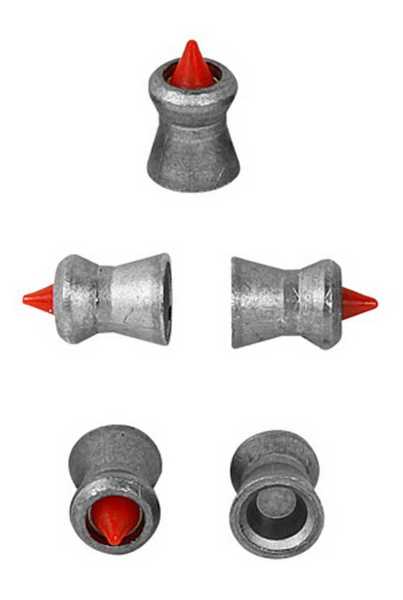 The Predator Polymag pellet is a hollowpoint with a plastic tip in the center, and it really works at long range!
The first group of Predators measures 1.121 inches between centers. Once again, that's okay for 50 yards, but it's nothing to scream about. But the second group measures 0.808 inches between centers. That's what I was looking for! While the Marauder can't be expected to shoot that well every time, this group proves that it has the potential. And it does it with a pellet that is acknowledged to be a great hunting pellet!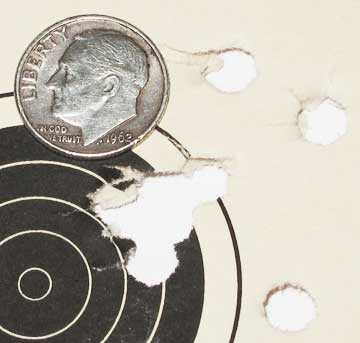 The first 8 Predator Polymags went into 1.121 inches at 50 yards. That's not bad, but not what I was hoping for.

Now, that's a group! The second group of 8 Predators measures 0.808 inches. This is the accuracy I was looking for from the Marauder.
Observations
No .25-caliber airgun has ever been as accurate as the best .22 or .177 guns. What we see from this test is a range of results that represents what the .25-caliber Benjamin Marauder can do at 50 yards. I think these groups show what this gun can do very well. Sure, if you shoot more there will be some smaller groups. But there will also be many more groups that are larger than those shown here. I think we can safely say the Marauder in .25 caliber is capable of putting 8 shots into one inch at 50 yards when you do your part.
The .25-caliber rifle uses a lot of air! I was getting just 16 good shots in this test on a 3,000 psi fill. Compare that to the 32 good shots I got in the test of the .177-caliber rifle filled to the same pressure.
From a handling standpoint, there isn't a nickel's worth of difference between the .177- and .25-caliber rifles. The trigger can be adjusted to operate virtually the same, and the stocks feel the same. The one small difference is the .25-caliber gun does move back slightly with each shot. I didn't feel that with the .177, but I definitely felt it in this test.
If you want a .25-caliber hunting air rifle, I think the Marauder is a good candidate for your short list. It's powerful, accurate, quiet and reliable. How much more can you ask?
by Tom Gaylord, a.k.a. B.B. Pelletier
Today's report comes from a question asked by blog reader Richard, who is perplexed by his Benjamin Marauder air rifle. He said he wondered what pressure he was supposed to fill his gun to, and then at what pressure he was supposed to stop shooting.
As the days passed after asking his question, Richard eventually figured it out on his own and now knows what to do, but today's report is for all those who haven't figured it out yet, as well as for those who have held off buying a precharged airgun because they feel there's so much they don't understand.
More power!
At the Roanoke airgun show last weekend, I talked to a shooter who claimed he pumped and pumped his old Sheridan until it cracked like a .22. Now, I know that's impossible and I'll tell you why.
Firearms and airguns are NOT alike!
People think that firearms and pneumatic airguns are alike. The more pressure inside them when they fire, the faster the bullet or pellet goes. That may be true for a firearm (within reason), but never for a pneumatic. You see, a pneumatic airgun has something that a firearm doesn't have — a valve.
The pressure generated by exploding gunpowder gets directly behind the bullet and pushes it. More pressure equals higher velocity — within reason. There's nothing in the way of the expanding gas to prevent it from pushing on the bullet.
In a pneumatic gun, however, there's a valve. That valve has to open before any of the pressurized air can get behind the pellet. If the air pressure is too high for the valve to open, it doesn't matter how much pressure there is — the pellet is going nowhere. That's the difference between a firearm and a pneumatic airgun. So, pumping or pressurizing a pneumatic rifle beyond its design limit doesn't increase the velocity — it slows it down and eventually stops it altogether.
Therefore, Richard was asking how he was supposed to know the max fill pressure of his gun so it would operate correctly. He wondered that because of conflicting information from Crosman, my blog and probably from other sources on the internet. The fact that the Marauder lets you adjust the maximum fill pressure just made this more confusing for him, and I can see why.
He asked me how he was supposed to figure out the max fill pressure and at what pressure he should stop shooting — the starting and ending fill pressures. There are several ways to find this out. The easiest way is to use a chronograph. To do this, you fill to a given pressure — say 3,000 psi — and start shooting through the chronograph. If the velocity of the pellets continues to rise as shots are fired, the valve isn't opening all the way; and you know that 3,000 psi is too high for a starting fill pressure.
As you continue to shoot, the velocity will stabilize at some point. When it does, you know that the valve is now opening all the way on each shot. Of course, you will have shot several shots past this point before you recognize it, but usually it will be a very little pressure above what remains in the gun when you notice it. So, fill the reservoir again and watch the needle on your fill gauge. When it stops rising fast (if you're using a scuba tank) and starts rising more slowly, you've opened the inlet valve of the gun's reservoir and are now adding air to the reservoir. Add just a few hundred pounds of air by watching the gauge on your tank, then shut off  the valve and note the pressure at which you stopped. Maybe it will be 2,600 psi. If the gun fires as fast as it did before, you know that the max fill pressure for your gun is at least 2,600 psi or maybe a bit more. Refine this by iterating the process.
The following graphic shows the relationship between pressure and velocity as I have described it here.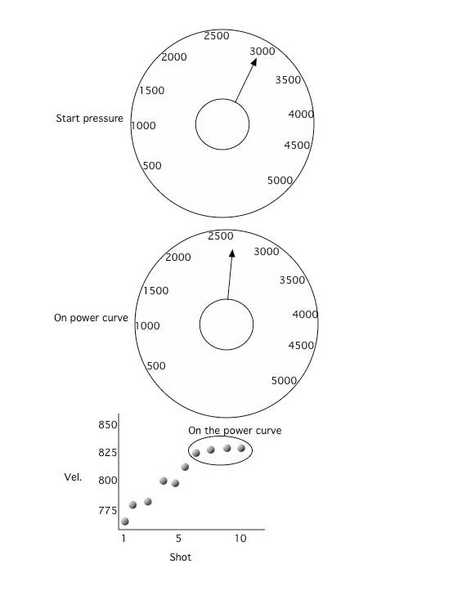 What if you don't own a chronograph? This may be Richard's dilemma. Is there any way he can figure out the max fill pressure and where to stop shooting?
Of course there is. Airgunners a hundred years ago didn't have chronographs, yet they did fine by watching what their guns would do. If they wanted to know how powerful their guns were, they shot them at an anvil and looked at the lead splat. If they wanted to know when to stop shooting, they watched the guns and when stopped when they could see the bullets coming out of the barrel. They filled their guns until they couldn't pump anymore, so max fill pressure was taken care of.
But Richard shoots a gun that's much faster than a 100-year-old pneumatic. His pellets don't make splats — they disintegrate! And he fills his rifle to a much higher pressure from either a scuba tank that gives him very little feedback or a triple-stage hand pump that doesn't have much more feedback.
How does he know when to stop filling and when to refill the gun? Simple, he watches his target and sees where his pellets land.
Let's take an example and have Richard fill to 3,000 psi, then shoot at a bullseye 35 yards away. If the pellets are climbing while he aims at the same aim point every time — making a vertical group, Richard knows the velocity isn't stable. He doesn't know what the numbers are — just that they aren't stable.
Then, when the rifle starts grouping all the shots together, he knows the velocity has stabilized. Like before, by the time he notices this, he will have shot past the optimum starting fill pressure; but he can always fill to a few hundred psi more than the gun has in it at the point he notices, and eventually he'll find the optimum fill pressure. The graphic below illustrates this.
Finding the stopping pressure is just the reverse of this. Shoot until the pellets start wandering on the target, again (usually dropping down, again, but sometimes just wandering to one side or the other). Then, you can start filling the gun, and the ending pressure will be a few hundred psi above where the gun begins to accept pressure. From now on, you'll know approximately how many shots or magazines you can get from a fill; or, if there's a gauge on your airgun, you'll know when it's dropped off the power curve.
You don't know until you know. You know?
You can read about this all day long and never understand it. This is something you must experience firsthand — as in shoot a PCP and watch it happen. The first time you see it, you'll understand…and forevermore you'll wonder why others have so much trouble understanding how precharged airguns work.
by Tom Gaylord, a.k.a. B.B. Pelletier
We're back to the BSA Scorpion 1200 SE. My hand has finally healed, and I can now work the Hill hand pump, but I stopped part of the way through the first fill and made the necessary changes to the carbon fiber tank hose, to attach BSA's proprietary fill probe. I gave up because I just got tired of pumping! Those who encouraged me to do this from the beginning have won me over, I guess.
This PCP rifle takes a fill to 232 bar, which is 3,365 psi. We've looked at fill pressures for pneumatics a lot over the past month, and today we'll see what this BSA rifle manages to do with its fill. The advertised number of shots is 25 per fill.
Because of the power potential of this rifle, I switched my backstop to the tough one blog reader Jim Contos made for me. If you want to read about this fine homemade quiet pellet trap that's strong enough to stop the most powerful smallbore air rifle, here's the link.
Familiarization with the magazine
After 10 minutes of trying (and failing) to load the 10-round spring-loaded magazine, I was prepared to blast BSA for creating a magazine that's impossible to load. What we had, instead, was a B.B. who refused to learn new ways. The magazine loads easily once you do it the right way! I took a photo of the correct hold, so you won't have the problems I did. Hold it like this and realize that BSA has designed this mag so the last pellet loaded holds the spring-tensioned drum in place until you're ready to load the next pellet, and everything will be fine.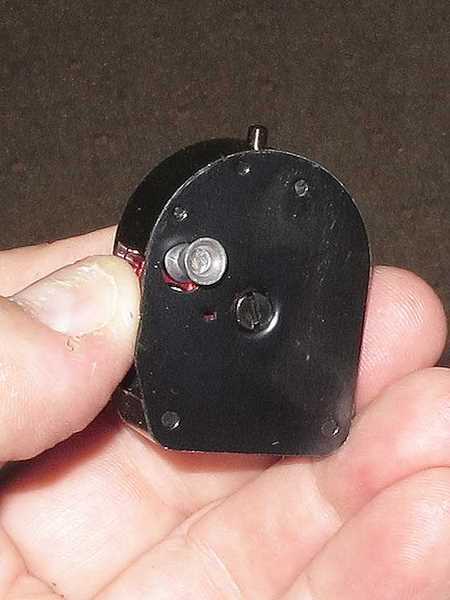 I'm holding both sides of the spring-loaded drum, making it easy to advance to the next pellet chamber. Once a pellet is loaded, it holds the drum in place until you advance it.
The magazine accepted all 3 of the pellets used in this test without a problem. They're among the heaviest and longest .22-caliber pellets on the market, so I think you'll be satisfied no matter what you try to shoot.
Pellet 1 — JSB Exact Heavy and the shot count
The 18.1-grain JSB Exact Jumbo Heavy pellet averaged 883 f.p.s. in the rifle. The velocity ranged from 875 to 888 f.p.s. over 25 shots. And 25 shots proved to be the limit, exactly as advertised. After shot 25, the next 5 pellets went this fast.
Shot….Velocity
26………876
27………870
28………866
29………866
30………860
Clearly, the rifle has just fallen off the power curve but in slow motion. So there are actually 30 safe shots on a fill, and that equates to 3 full magazines. I'm so glad BSA publishes accurate figures for these things, as many other airgun companies seem to have no clue what's right!
At the average velocity, this pellet produced 31.34 foot-pounds of muzzle energy. And I bet this pellet is also accurate, though that has to wait until I get out to the range, because this rifle is too loud for shooting inside the house. I took a risk by chronographing it for today's report, but that's as far as I'm willing to go.
Pellet 2 — H&N Baracuda
The second pellet I tested was the 21.3-grain H&N Baracuda Match. These are longer pellets that sometimes have difficulty feeding through rotary magazines like the BSA's, but there was no problem today! They averaged 815 f.p.s. and ranged from 811 to 819 f.p.s. At the average velocity, they produced 31.42 foot-pounds of energy at the muzzle.
The Baracuda is another pellet that should prove very accurate in this rifle. They should be the best pellet at 50 yards, but that remains to be seen.
Pellet 3 — Eun Jin
The third and final pellet I tested was the 28.4-grain Eun Jin dome. This is a very long pellet and may be the longest that will work safely in the BSA magazine. But they did fit perfectly and had no hangups once I learned how to load the magazine correctly.
Eun Jins averaged 718 f.p.s in the test rifle. They ranged from a low of 713 to a high of 726 f.p.s. At the average velocity, they produced 32.52 foot-pounds of energy at the muzzle. In other rifles, these pellets have never been the most accurate at 50 yards, but they have often been accurate enough to use as hunting pellets. However, as close as H&N Baracudas are in power, I would choose the most accurate of the 2 pellets after we test them at distance.
The velocity remained very tight throughout the entire fill with all 3 pellets that were tested. That means BSA has balanced their valve to work with exactly the amount of air they recommend using. And the fact that they got exactly the number of powerful shots they advertised was a welcome bit of news. Also, 25 shots is a good number for a rifle in this power class.
Adjusting the trigger
I mentioned in the first report that I would be adjusting the trigger in this report. To do that, the action is removed from the stock. The sear is a direct-contact type, so care must be exercised to not get the engagement surfaces too small, or the trigger will be in danger of jumping off from a bump.
The owner's manual is a single sheet of paper printed on both sides, but the instructions for adjusting the trigger are good and thorough.

The screw on the left adjusts the trigger-pull weight of the second stage. The nut and screw in the center adjusts the sear contact area and then locks in place. That adjustment affects the length of the second-stage pull. The screw under the trigger blade on the right adjusts the first stage and should not be touched, according to the manual.
I adjusted the trigger as light as it would go and set the sear as close as it would go and still be safe. The trigger still has significant creep in stage two, but it's light and breaks at 2 lbs., 4 oz. I can work with it set this way.
50 yards next
Because of the rifle's power, I'm going to skip the 25-yard test and go straight to 50 yards. If I'm successful, we should see accuracy that will override shooting at 25 yards, anyway. If I discover that's the wrong way to do the test, I'll change at the range and shoot at 25 yards first.
by Tom Gaylord, a.k.a. B.B. Pelletier
Benjamin Marauder .177 caliber: Part 1
Part 2
Secrets of loading the Benjamin Marauder magazine
Part 3
Part 4
Part 5
Part 6
Fixing a Marauder magazine
Part 7
Benjamin Marauder .25 caliber: Part 1
Benjamin Marauder .25 caliber: Part 2
I told you this report was going to be a different kind of test, and today I'll prove it. I shot the .25-caliber Benjamin Marauder off a rest at 25 yards, but the purpose was not to learn if the rifle is accurate — I already knew it is. And 25 yards is hardly long enough to show the accuracy potential of this powerful PCP.
No, I told you that I would be searching for the most accurate pellets in this rifle. You see, unlike .177- and .22-caliber guns, the big .25 doesn't have that many accurate pellets. Going into this test, I only knew of 3 — the H&N Baracuda (also branded as the Beeman Kodiak), the Benjamin dome and the JSB Exact King. Other .25-caliber pellets I've tested were not accurate enough to be considered. Today's test is to establish that the 3 good pellets are still good in this test rifle and to see if there's another good pellet or 2 out there.
The rifle is now scoped with the UTG 6-24X56 AO scope with illuminated reticle, which I'm also testing for you. I won't get into that evaluation in this report, but I will use this test to report on that scope. This scope has high rings that come packaged with it.
Testing pellets rapidly
Time is a commodity in short supply around here. It takes a long time to test something, then pictures have to be taken and it takes even more time to write it up. Normally, I shoot 10-shot groups for accuracy, but I told you I was going to do things differently today, and this is where it starts. Instead of shooting 10-shot groups (or 8-shot groups because the .25 Marauder circular magazine only holds 8 pellets), I decided to shoot 4-shot groups. The results of those groups would tell me which pellets were worth testing more closely. But testing more closely won't be at 25 yards. It will be out at 50 yards.
H&N Baracuda
Since I'd just mounted the scope, I had to sight-in the rifle, and for that I loaded a full magazine with 8 H&N Baracudas. Sight-in took just 2 shots, so the first group for the record was 6 shots instead of 4. As predicted, it was a tight 0.376 inches at 25 yards. Of course, some of that is due to the lesser number of shots, so bear that in mind. Also, bear in mind that a group of .25-caliber pellets will look much larger than the same size group of .177-caliber pellets.

Six H&N Baracudas went into 0.376 inches at 25 yards. This pellet is on the list for 50 yards.
JSB Exact King and Benjamin dome
Next, I shot 4 each of the JSB Exact Kings and Benjamin domes. Both performed exactly as expected. The 4 Benjamin domes went into 0.196 inches. Of course, I would expect this group size to double with 10 pellets, but it's still the kind of accuracy I was looking for.

Four Benjamin domes went into 0.196 inches at 25 yards. They made the list, as well.
I shot the first 3 JSB Exact Kings into a very tight 0.11-inch group, but the fourth shot was a called pull to the left. It opened the group to 0.383 inches; but since I know that I pulled the shot, it doesn't phase me. This pellet also made the cut for more testing.

Three JSB Exact Kings went into 0.11 inches at 25 yards. That's the larger hole on the right. A pulled fourth shot that was called opened the group to 0.383 inches, but that doesn't bother me. This one is a keeper, as well.
Predator Polymags
The only other pellet that showed promise in this test was the Predator Polymag. Four of them went into 0.274 inches at 25 yards. That's good enough to earn a chance to shoot at 50 yards in my book.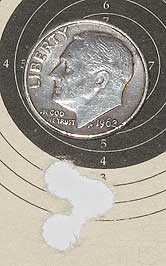 Four Predator Polymag pellets went into 0.274 inches at 25 yards. That was enough to make the cut.
The other pellets
As I said before, the .25-caliber pellet is not as uniformly accurate as the .177 and .22. Until this test, only the first 3 pellets I shot had shown any promise. Now, we have a fourth. To show you what some other pellets look like in comparison, here are 3 more that didn't make the cut.
RWS Superdome
The results of 4 RWS Superdome pellets tell the story of the .25 caliber very well. Four went into a group that measured 1.378 inches between centers. You can clearly see there's no need to shoot 10 pellets, when just 4 make a showing like this.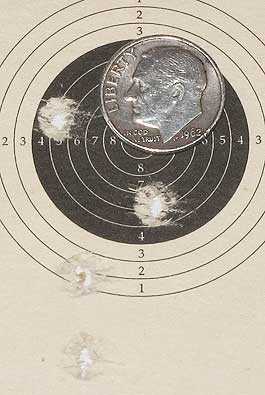 Four RWS Superdomes made this 1.378-inch group at 25 yards. It was the largest group of the test.
Diana Magnum
Next, I tried the pellet that was the best .25-caliber pellet for many years in the 1990s. Until the H&N Baracuda came out in .25 caliber, the 20-grain Diana Magnum was the pellet people chose for accuracy. Certain individual guns may have done better with other pellets, but the Diana Magnum was considered the best all-around .25-caliber pellet of its day.
Not surprisingly, Diana Magnums turned in the smallest group of the three pellets that were not selected to go on to longer-range testing. Four went into 0.588 inches at 25 yards.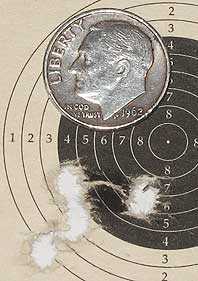 Four Diana Magnums made this 0.588-inch group at 25 yards. Fifteen years ago, this was the best pellet we had in .25 caliber.
Beeman Ram Jet
Another pellet that has left the stage is the .25-caliber Beeman Ram Jet. It was supposed to be a domed pellet that also performed like a wadcutter, but accuracy was never this pellet's strong suit. Four of them made a 0.769-inch group at 25 yards.

Four Beeman Ram Jets made a 0.769-inch group at 25 yards. This pellet was also never in the running.
Summary
I hope from these results that it's clear why I went with 4-shot groups instead of 10-shot groups. I never planned on testing the .25-caliber Marauder at 25 yards, except to prepare for the 50-yard test, which will be next. I think you can see the clear differences between the pellets that were selected and those that missed the cut. More than any other caliber, the big .25 is an all-or-nothing caliber. And there aren't that many pellets to choose from.
Trigger
One more thing I want to report today is how the trigger now performs. I adjusted it before this test and got it exactly where I want it. I won't say that it's better than the trigger on my .177 Marauder, but it's just as good. The Marauder trigger is something Crosman can be proud of, for it surpasses most PCP adjustable triggers I've tested. This one now has a positive stop at stage 2, followed by a very light, crisp break. It allowed me to hold very precisely and know when I pulled my shots, which only happened once during this session. This trigger will certainly do!
Next, I plan to shoot the rifle at 50 yards with these 4 pellets. That should give us a good idea of the long-range capability of the rifle. If the results suggest it's capable, I may attempt a 100-yard test, as well. I need for the shooting conditions to be perfect to do it; but if they are, we may see the real potential of the big Marauder.
by Tom Gaylord, a.k.a. B.B. Pelletier
It's taken me awhile to get back to this pistol because I injured my hand, so I couldn't fill the Hatsan AT P1 PCP air pistol from the hand pump for a couple of weeks, but last Friday I was at it again — probably for the last time. You may remember that I discovered that the AT P1 likes a fill pressure of 3,200 psi — which is sort of ironic in light of several recent reports I've done. This time, I used the Hill pump to fill the gun to that pressure to see if there are 10 good shots on a fill. That was the problem before — the circular clip holds 10 pellets, but the gun didn't seem to want to shoot more than 7 of them on a single fill of air.
I decided that instead of wasting time with a lot of different pellets, I would concentrate on the one good pellet that I knew gave the best accuracy. That's the Beeman Kodiak. First, I filled the gun to 3,200 psi, then loaded the clip and inserted it into the gun. Someone asked me how I held the gun to shoot it, given that it's scoped with a Leapers UTG 3-9X40 AO rifle scope. The eyepiece has to be held within 2-3 inches of the eye in order to see the image. There's a way to hold the gun that uses the scope as one of the handles, and that's what I did. I photographed it for you, so you can see it as I describe the hold.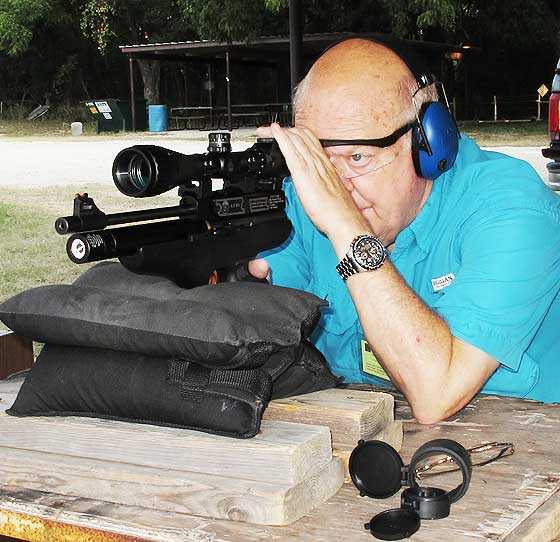 This is how I held the pistol on the bag. My hand is holding the back of the scope and positioning it close to my sighting eye.
I hold the back of the scope at the eyepiece and let my hand separate the rear of the scope from my sighting eye by the required distance. My hand is pressed against my safety glasses to maintain the separation. The weight of the pistol rests directly on the bag, so all my other hand does is keep the pistol steady. With this hold, I can squeeze the trigger without moving the gun.
This hold is one I learned while shooting the LD Mark I pistol from Tim McMurray. That's a Crosman Mark I Target pistol that Tim converts to add a longer bafrrel, a CO2 tank hanging down from the grip and a rifle scope mounted on top — just like this one. With the LD, I rested the external tank on my chest and held the scope like you see here. That gave me near-rifle accuracy.
The result is a steady hold — especially when you consider I'm shooting only 25 yards. I don't recommend holding a recoiling firearm pistol this way, but you can get away with it on a PCP.
First target
All targets were shot at 25 yards. The first target looked very good until the final shot. I could see that the pistol was grouping low and to the left, but all I was interested in was the size of the group. It could always be moved later with a simple scope adjustment. The group that formed looked very encouraging until the last shot, as I said. I could clearly see that one go high and into the center of the bull, ironically enough. But when I walked downrange to examine the target more closely, it wasn't as good as it had seemed. A line of four shots appears to the right of the main group, and they're strung vertically up to the center of the bull. The last one is the highest one. I never saw the other 3 shots in the string, so they could have been any of the preceding 9 shots. All I could see through the scope was the large group that formed at 7 o'clock on the edge of the bull.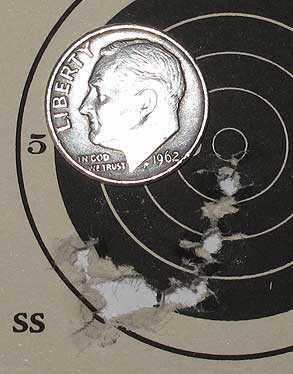 Ten Beeman Kodiak pellets went into this 0.699-inch group at 25 yards.
I guess this first target took the wind from my sails. It was no better than any of the previous targets shot with this pistol. My idea that a higher fill pressure would keep 10 shots in a tighter group was bogus. But I still had time on the range, so I thought something else was in order. I adjusted the scope higher and to the right just a little, to correct for where the Beeman Kodiaks had grouped. Then, I loaded the gun with 10 JSB Exact Monster pellets. The Monster pellet weighs 25.4 grains, making it even heavier than the .22-caliber Beeman Kodiak. And it's a JSB. I wondered if this might be the pellet that turns things around for the AT-P1 pistol.
Target 2
Alas, it wasn't. It turned things around, all right, but not for the better. The pellets were all over the place! In the end, 10 of them printed a group measuring 1.933 inches at 25 yards. It's more of a full-choke shotgun pattern than a group shot from a rifled barrel!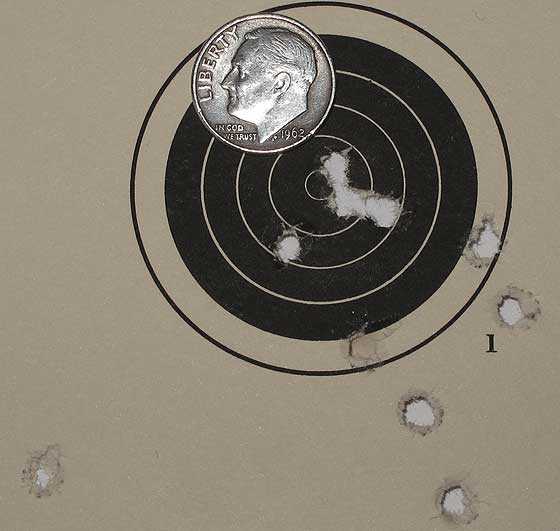 Ten JSB Exact Monster pellets went into this 1.933-inch group at 25 yards. Obviously, not the right pellet for this pistol.
Final target
Now, I was really downhearted. I switched back to the Kodiaks and give them one final try. The gun was, again, filled to 3,200 psi, and 10 more pellets went downrange. This time, the results were not as good as the first time. Ten pellets made a group that measured 1.211 inches between centers. It was higher on the target and also centered better, which proves my earlier statement that the group can always be moved by adjusting the scope, but things were not getting better.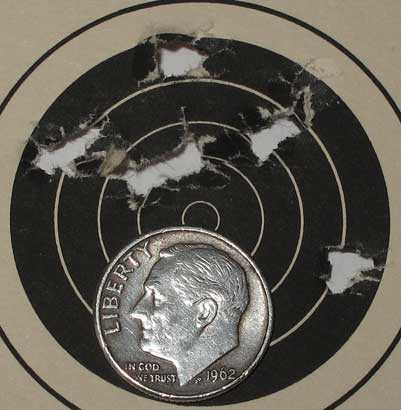 Ten Beeman Kodiak pellets went into this 1.211-inch group at 25 yards. Though they are positioned better on the bull, this group is almost twice the size of the first one.
Outcome and final evaluation
I put a lot of time and energy into testing the Hatsan AT-P1 pistol. The reward was not worth the effort, in my opinion. While I agree that Hatsan does know how to make a fine precharged air rifle, the AT-P1 pistol is not as refined as the rifles they make. It's too large and too coarse for what it delivers. I wanted it to succeed because there aren't that many nice PCP pistols to choose from, but the test results do not live up to the hope.
I think that if you're interested in an airgun like thi,s you should look at the AT-P2 pistol, which comes with a shoulder stock. That way, you won't have to learn how to hold the gun like I did here. As long as you know how few shots you're going to get on a fill of air (7) — and you manage that, you'll be fine.