Posts Tagged 'pellet guns'
by Tom Gaylord, a.k.a. B.B. Pelletier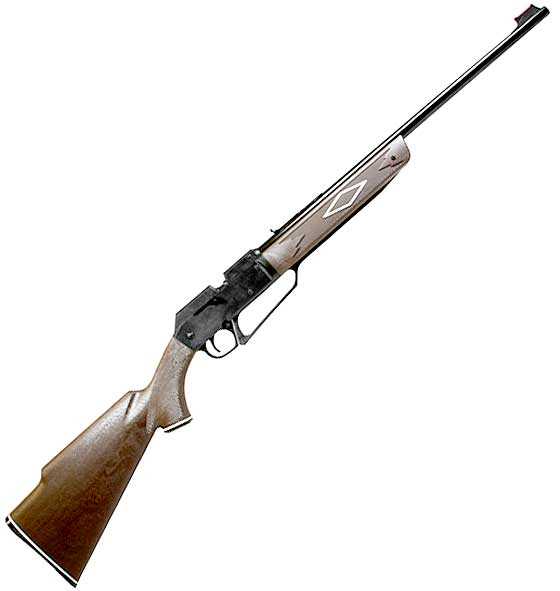 The Daisy 880 multi-pump is a classic.
Blog reader Rob asked for this review. I have reviewed the Daisy 880 before, but that was back in the days when I wrote The Airgun Letter. I doubt many of you will have seen that report. I've reported on the Daisy 22X, as well, but that was long ago and those reports may be difficult to locate. The 22X and 177X are derivatives of the 880 powerplant.
The 880 is a multi-pump pneumatic that has a short pump stroke. As a result, it's relatively easy to pump up to the maximum 10 pump strokes. The useful range of pumps lies between 3 and 10 strokes.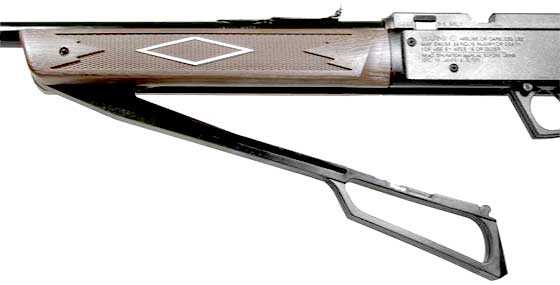 The 880 pump handle is short and also has good leverage to reduce the pump effort as much as possible.
The 880 shoots both steel BBs and lead pellets through its rifled steel barrel. At 10 pumps, Daisy rates the rifle at 715 f.p.s. with lead pellets and 750 f.p.s. with steel BBs. Naturally, I'll test both for you.
The 880 is one of a very few airguns that comes up in conversation whenever airgunners are remembering their favorite guns. It's lightweight, easy to operate and inexpensive, so there are a lot of them out there. But the attraction goes a lot farther than just a rare bargain. There's something about the 880 that inspires fierce owner loyalty.
The rifle I'm testing for you is about 13-14 years old, but it probably has fewer than 500 shots on the clock. After testing it initially, I never really went back and used it much. That's not a comment on the quality — I just never had the time to go back. But I do note that I kept it all these years, and that says something. Every year or so, I get a question about the 880 that makes me drag it out of the closet for a closer look. And this time, I plan to look at it intently, as Rob requested.
My rifle is old, but the specs haven't changed much since it was built. I have the same red fiberoptic front sight that they still put on the gun and a non-fiberoptic rear one. The weight of 3.1 lbs. is still the same. And the basic functions of a single-shot pellet feed (loaded manually into the bolt trough) or a 50-shot BB magazine, with its feed to a magnetic bolt tip when the gun is cocked.
Speaking of cocking the rifle, you must do it to pump the gun. The design is such that if the gun isn't cocked, the pump strokes will not pressurize the reservoir. This means the 880 and all associated models cannot be stored with a pump of air in the reservoir. Theoretically, this can be bad for the seals — exposing them to the dirt in the air — but neither my 880 nor my 22X have ever shown signs of a problem. So, this system works, too.
When you pull the pump handle all the way forward, the pump head is exposed in the slot beneath the forearm. This is where you periodically oil the head to maintain compression. The felt washer behind the pump head evenly spreads the oil around the compression chamber walls.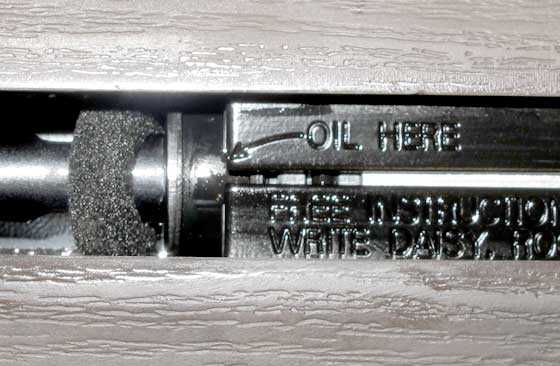 This is where you oil the 880′s pump head. The felt washer to the left keeps the oil spread on the compression chamber walls.
Things people like about the 880
Accuracy is the No. 1 thing owners have to say in praise of the 880. They way most of them talk, I'm expecting something really impressive. The second thing they like is that it also shoots BBs. That's a turn-off for me, but Daisy sells a lot of these rifles, so I'm not the normal customer.
Those who like the BB aspect also like the fact the rifle is a repeater with BBs. So, Daisy listened to their customers when the 880 was designed.
Things people dislike about the 880
A lot of owners criticize the plastic, saying they think that it might break with use. It might break, I suppose; but when you look at customer reviews for the 880, parts breakage isn't one of the big things mentioned. I think this is more a question of perception rather than a real problem. One writer thought the 880 should be made in a higher-quality version for adults; but when Daisy did that (it was called the 22X), it didn't sell well. It's obsolete, while the 880 continues to sell very well. Perception and reality are not the same.
They also criticize the single-stage trigger. Yes, it's heavy and creepy. But no more than the triggers on similar air rifles made with the same level of performance. If you want good triggers, you need to buy the kind of airguns that have them.
Pellets can be difficult to load in the 880. The reason seems to be the hole at the rear of the pellet trough that allows BBs to pass through. It can catch the skirt of a lead pellet and make it hang up.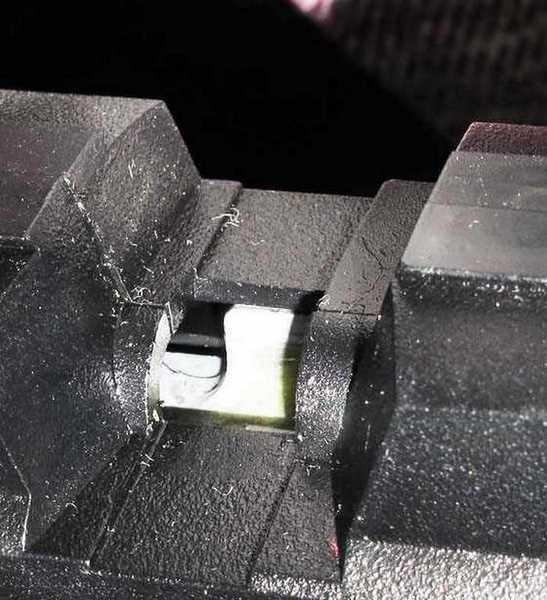 The hole at the rear of the pellet loading trough is where the BBs pass through. It can catch pellet skirts, making them difficult to load.
In general
The rifle is mostly plastic on the outside. That carries through to the inside, as well. To stay in this price range, a lot of economies need to be addressed, and molded plastic parts are one of the solutions. That doesn't mean the plastic is weak or inferior in any way. I'm pretty sure these guns last a long time.
On the other hand, the steel barrel is a very thin tube. It's an insert that's housed inside a plastic sheath that's covered by a thin sheetmetal cover.

Here you can see the sheetmetal jacket over the plastic sheath that houses the actual barrel. The muzzle of the real barrel is the silver crown you see, deep inside the false muzzle shown here.
Overall
We have a real classic pellet rifle to test. There are millions of 880s in circulation, and I expect to hear from a lot of their owners as this report progresses.
by Tom Gaylord, a.k.a. B.B. Pelletier

The $100 PCP is built on a Crosman 2100B chassis.
This test was very interesting! It began last week at my outdoor rifle range. Blog reader GunFun1 asked me to try shooting steel BBs in this gun because it was originally built to handle them (when it was in its Crosman 2100B form). I didn't want to do it because this rifle launches the first couple shots at over 900 f.p.s., and steel BBs rebound like crazy (You'll shoot your eye out), but I did relent. Last week, I took this rifle to my outdoor range and stuck a 12-inch Shoot-N-C target on the plywood target backer. I then paced off 10 meters and fired 10 BBs at this target.
I thought the BBs would probably miss the target altogether. I said as much to GunFun1 in my comments a few weeks ago. But they didn't!
I was wrong about this. Shooting offhand with open sights, I put 10 Daisy Premium Grade steel BBs into 1.56 inches. It was actually 11 BBs. I must have miscounted during shooting. I was astounded! This isn't just good — it's great! You don't shoot BB guns at 10 meters when you're shooting groups!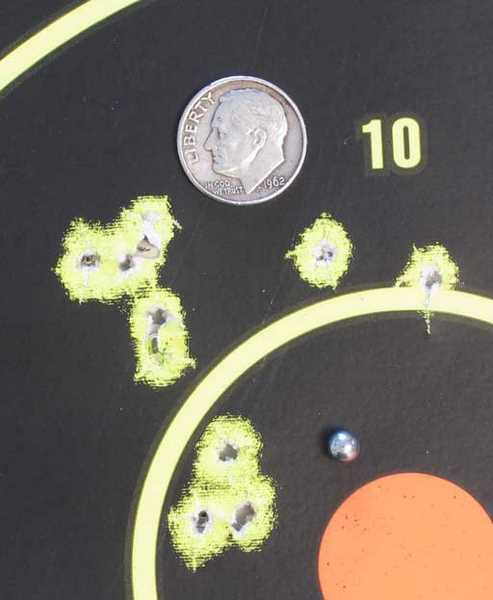 There are actually 11 Daisy BBs in this 1.56-inch group. Shot offhand with open sights at 10 meters.
Incidentally, all 10 BBs apparently went through the plywood target backer. Of course, there are other bullet holes there, so the wood isn't always present or at its thickest; still, it shows those BBs are moving!
That got me wondering just how accurate this rifle could be. I decided to shoot from 25 yards with open sights, only. I'll come back and shoot with an optical sight of some kind, but this test is just open sights.
I filled the gun to 2,000 psi for every 10 shots, including for the BBs shown above. After 10 shots, the gun's pressure has dropped to 1,000 psi.
Crosman Premier lite
The first group of 10 shots was shot with Crosman Premier lites. Based on the 10-meter results for the last test, and also from where the BBs went, I adjusted the rear sight to the right just a little. After the first shot, I looked through the spotting scope to affirm it hit the target. It did, was high above the bullseye and fairly well-centered left and right. So, I left the sights where they were and fired a second shot. When I looked through the spotting scope, I saw it had gone through the same hole as the first! Wow! That was starting out well!
The first 4 shots all went into the same hole. Then shot 5 went higher for some reason.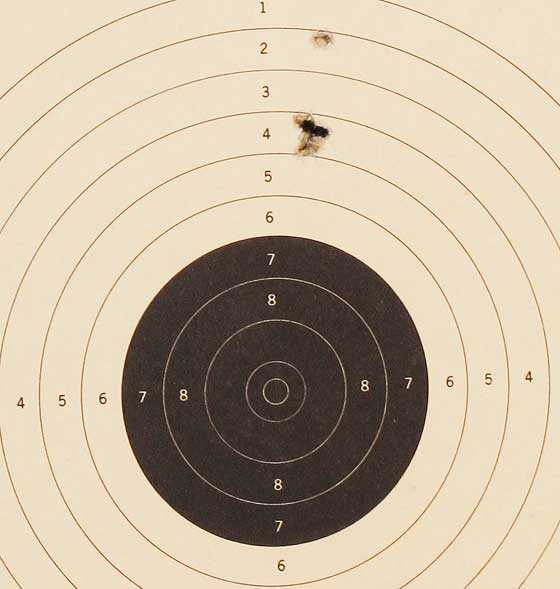 The first 4 shots are in 0.179 inches. Shot 5 opened it up to 0.838 inches.
After taking the picture of the first 5 shots, I shot the remaining 5 shots. That was informative because all the shots spread out to the left. Having the first 5 shots on record allowed me to see that the second 5 were the ones that actually spread out. The 10-shot group measures 1.358 inches between centers.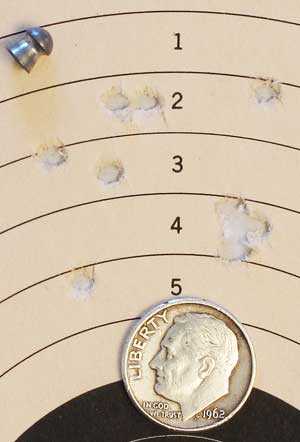 Ten Crosman Premier lites went into 1.358 inches at 25 yards. That's rested and using open sights. See how the last 5 went to the left and opened up?
RWS Hobbys
Next up were RWS Hobby pellets. They did quite well at 10 meters, but 25 yards is about the maximum distance at which wadcutter pellets hold their accuracy.
I adjusted the rear sight down one notch before shooting this group. Once more, I photographed the target after 5 shots.

The first 5 RWS Hobbys looked pretty good. Shot 1 was a 10!

So Hobbys held together fairly well at 25 yards. Ten went into a group measuring 1.144 inches between centers.
Air Arms Falcons
The last pellet I tested was the Air Arms Falcon pellet. This time, the first 5 pellets didn't seem to do that well. And when we see the final 10-shot group, it isn't that much larger.

The first 5 Falcon pellets didn't do so well.

This is one of those rare instances where 10 shots are not much larger than 5. Ten Air Arms Falcons went into 1.912 inches.
Conclusions so far
This experiment is turning out much better than I had hoped. Not only have we demonstrated that it's possible to make a precharged pneumatic rifle that can retail for under $100, we're now showing that it can really perform! Of course, the production gun will get many more shots on a fill than the 10 I'm getting, but I do think the maximum fill pressure should be held to 2,000 psi. That will make it easier to build an affordable hand pump, which Dennis Quackenbush is thinking about right now.
The discharge noise of this rifle is quite loud. I was going to recommend not putting a shroud on the gun, but I'm going to change my mind on that point. The customers for this gun will be suburban shooters who need a quieter air rifle, so some sound dampening is necessary.
The trigger on the rifle is heavy, and I would leave it the way it is. I would also leave the bolt-action exactly the way it is on the 2100B. The same goes for the sights. These are refinements people can pay for on higher-priced PCPs. We want to hold the cost of this gun to less than $100 retail.
I do plan on returning to test this rifle at least one more time with an optical sight. That will show the maximum accuracy potential, although I believe we've already seen a good indication of it in this test.
The $100 PCP will never replace the higher-priced PCPs that are already selling. It isn't supposed to. It's supposed to provide that entry-level step for those who are curious about precharged airguns and don't want to spend a fortune to find out. I think it's a very feasible goal and, quite possibly, a profitable one, as well.
by Tom Gaylord, a.k.a. B.B. Pelletier

The PCP built on a Crosman 2100B chassis.
Today, we'll start looking at the accuracy of the $100 PCP. This is the test that has concerned me most since we began this experiment. I knew that a Crosman barrel could be very accurate because of the success of the Benjamin Discovery. But the $100 PCP is a job we threw together quickly just to test the concept. And when I say "we," I mean Dennis Quackenbush, of course. It isn't fully developed. Will it shoot well or fail miserably? Today, we'll find out.
Loose barrel
Since this is a lash-up job, there's nothing connecting the barrel to the reservoir. This is a real free-floated barrel, but that's not a good thing in this case.
I discussed this with Dennis, who advised me to attach the barrel to the reservoir tube with JB Weld. I was concerned that if I didn't get the barrel fairly straight, problems would crop up when I scope the rifle. The open sights are mounted to the top of the barrel, so they'll stay aligned at all times; but the scope base is on top of the receiver. The barrel is separate from that, and that could present a problem.


The barrel isn't attached to anything and flexes to the left …


… and to the right. This had to be addressed before testing.
Thankfully, I'm a highly skilled craftsman, as long-time readers of this blog know all too well. My solution was to install a precision shim between the barrel and reservoir to maintain separation, and then to attach the 2 parts with several strips of linear adhesive material.
In other words, I put a piece of cardboard between the barrel and reservoir tube and then wrapped both with Gorilla tape.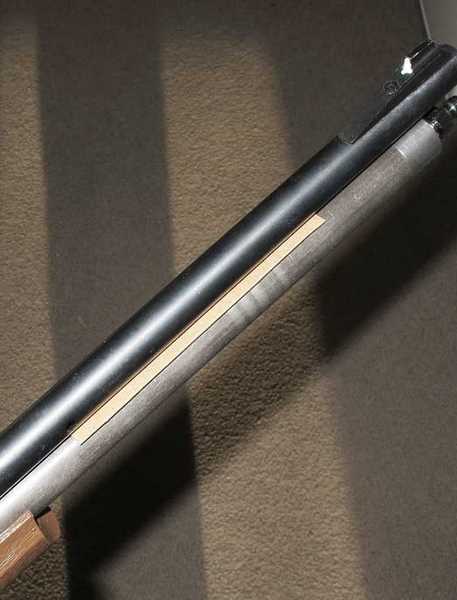 A precision shim of technical cardboard was slipped between the barrel and reservoir tube.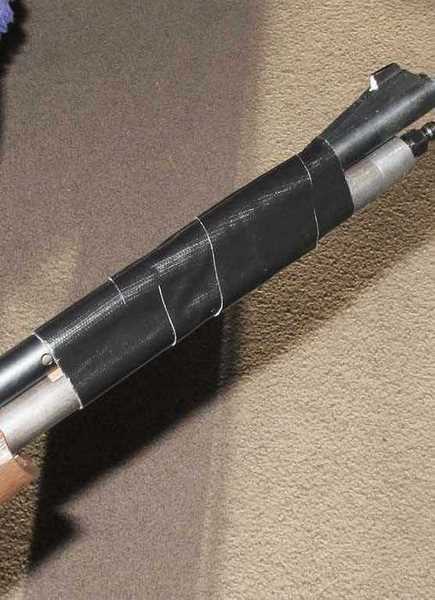 Then the barrel was taped to the reservoir with Gorilla tape.
Naturally, I don't expect the blog readers to be capable of skilled work like this. I'm just showing it to you so your repair center will have the information when they do a similar job for you!
Test time
Now, it was time to test the rifle. I shot only pellets, of course, and I decided to start at 10 meters with the open sights that came on the rifle. If I was testing a Crosman 2100B, that's how I'd start.
First fill
Right away, I messed up and over-filled the gun on the very first fill. I'm not used to the needle on the gauge stopping at the 2,000 psi mark, so I went over and filled to about 2,300 psi. Thankfully, Dennis over-built this rifle, but I didn't want to test that aspect! Nevertheless, the rifle was filled without incident, so I fired the first 10 shots.
Premier lites
Crosman Premier lites were the first pellets I shot because this is a Crosman rifle, after all. I've found that pellets and airguns made by the same manufacturer often do well together.
The first pellet landed to the right of the bull and about right for elevation. I left it alone and fired shot No. 2. Since the pellets were in the white, I could see them without a spotting scope (this was only 10 meters); and they were landing close to each other. I settled in and completed the first 5 shots.
I was so concerned that the pellets might walk as the pressure dropped in the reservoir that I photographed the first group after just 5 shots. Then, I photographed it again after all 10 shots were fired.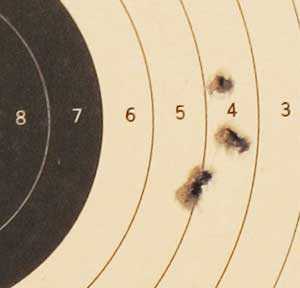 The first 5 shots looked promising. I hoped the group wouldn't open up too much when all 10 shots had been fired.
After photographing the first 5 shots I returned to the bench and shot the other 5. When I went downrange to change the target I was surprised to see that the final 5 shots hadn't enlarged the group at all! This is not a common occurrence, and it made me think that I should re-shoot the Premiers with a correct 2,000 psi fill, just to be sure. But I decided to wait until the end of the test to do it.
The first 10-shot group of Premiers measures 0.726 inches between centers. As noted, that size was reached in the first 5 shots.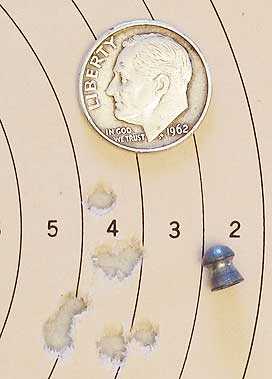 Ten Crosman Premier lites went into 0.726 inches at 10 meters. Not bad for a start!
RWS Hobbys
After the first group, I adjusted the rear sight to the left, to get the pellets striking inside the bull. Then, I fired the second group with RWS Hobby pellets. After confirming the first pellet did hit in the black, I didn't look at the target again until going downrange to change it. What I saw was both thrilling and astounding. With open sights, the $100 PCP had put 10 Hobbys into a group that measures 0.534 inches between centers. This isn't just a good group — it's a great group when you consider that open sporting sights were used. Granted, I'm only shooting 10 meters here and the group will be larger when the distance increases to 25 yards, but will it be that much larger? I'll be using a scope, after all. And maybe I haven't even found the best pellet yet.

Ten RWS Hobbys went into 0.534 inches at 10 meters. This is amazing!
After this group, I adjusted the rear sight up one step. Since the next pellet is a heavy one, that would probably keep it is the same place.
H&N Baracuda Match
Although this rifle is producing only 12 foot-pounds of energy, I thought the H&N Baracuda Match pellets might work well. So, I gave them a shot. Ten went into a 0.855-inch group. That's not terrible; but in light of the others, it's not as good, either.

Ten H&N Baracuda Match pellets made a 0.855-inch group.
Air Arms Falcon pellets
Next up were the Falcon pellets from Air Arms. Ten of them went into 0.683 inches. Since this is a domed pellet, it may group better at long range than the Hobby.

Ten Air Arms Falcon domes made a 0.683-inch group.
Premier lites
I then shot a final group of Crosman Premier lites — this time with the rifle filled to just 2,000 psi. Ten pellets went into 0.615 inches, making the second-best group of the day, with Hobbys being the best.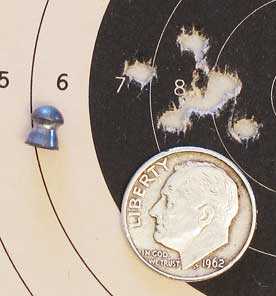 Ten Crosman Premier lites went into 0.615 inches at 10 meters.
Overall performance
The rifle's pressure dropped about 800 psi for the 10 shots in each group. So the valve is far from optimum at this point. And the reservoir could stand to be a lot larger.
The trigger is the 2100B trigger. While it does have a long pull, I didn't find that it caused me any problems. I think it should stay as it is.
The rifle cracks much louder than a Benjamin 392 on 8 pumps. Crosman could shroud the barrel, but I'm going to recommend they don't. I want to keep the price of the gun down below $100. Let the people who buy them figure out how to quiet their guns. They're going to anyway.
The verdict?
I'm going to address these next comments to Ed Schultz at Crosman. The $100 PCP tests out the way we both thought it would. You can see the shortcuts I took to stabilize the barrel for today's test. I would want more than 10 good shots from a rifle like this. I would want at least 20 good, accurate shots of 7.9-grain Premiers going at 850 f.p.s., give or take.
I'm going to continue to test the rifle at greater distances, so there are more reports to come. But there's no longer any doubt that this is a viable airgun.
by Tom Gaylord, a.k.a. B.B. Pelletier

The PCP built on a Crosman 2100B chassis.
Today is Media Day at the range, and I will be shooting many of the new airguns that will be coming out this year, plus a lot of firearms — I hope. Tomorrow the 2014 SHOT Show starts, and there's a special first-day report all set for you.
Let's look at the performance of the $100 PCP that big bore airgun maker Dennis Quackenbush created on a Crosman 2100B chassis. I read some comments about the gun in Part 1. Before we get started, I need to address one of them. Some of you say you want a PCP that operates on 100 psi, so you can run it on your shop compressor. Gentlemen — such an airgun doesn't exist and cannot exist as you envision it. That is simply not enough pressure to push a pellet to the kind of velocities we want. You can shoot t-shirts into the grandstands with that kind of pressure or perhaps run a pneumatic tube delivery system, but not a pellet gun.
I know that the airguns of old used lower pressure than we use today. They got amazing power from 500 to 800 psi. But they weren't shooting smallbore caliber pellets. They were shooting .40 to .70 caliber round lead balls and they got them up to 450-600 f.p.s. They did that because the area of the projectile is much larger than a .177 pellet, and also because they used very long barrels (30-36 inches).
You can shoot tennis balls with shop air, but not pellets. I did report on a .25-caliber pellet rifle that worked with 800 psi air, but that's a lot different than 125 psi air. You can't pressurize air to 800 psi with a shop compressor. So, we're going to have to confine our research to what is physically possible. I'm not trying to shut you down for thinking outside the box, but this is a very real physical constraint.
On with the test
Today, we're looking at the velocity of this rifle with air for both pellets and BBs. Pellets are our principal concern, but I'll test BBs, as well, since they can be used in this airgun.
Dennis told me what the performance curve looked like, but I'm going to approach this as if I know nothing about this gun. Where do I begin? Well, I may not know much about this particular PCP, but I've used enough other PCPs that I'm not completely in the dark. I filled the reservoir to 800 psi, as indicated on the gauge of my carbon fiber tank and then started loading Crosman Premier lite pellets and firing through the chronograph.
800 psi
1…..539
2…..509
3…..474
4…..441
5…..409
5…..361
Stop
Okay, the velocity dropped with every shot, so the valve is not on the power curve, yet. It wants to see more air pressure.
1,000 psi
1…..654
2…..634
3…..582
4…..556
5…..525
7…..483
8…..453
9…..417
10…384
11…345
Stop
Look at the velocity increase from just an additional 200 psi of pressure! That's an indication that we're quite far from the power curve. It took 5 shots before the rifle was shooting as slow as in the first string, so that extra 200 psi really added shots.
A word about the next part of the test is appropriate. The gauge on my tank doesn't show even divisions of pressure as closely as I would like. Instead of adding another 200 psi, I found myself guessing that I added another 300 psi. If I had a more accurate gauge, I could do this with greater control; but it's all going to turn out in the end. You'll see.
1,300 psi
1…..722
2…..695
3…..659
4…..did not record (DNR)
5…..593
6…..550
7…..516
8…..488
9…..DNR
10…423
11…DNR
12…DNR
13…309
Stop
This was interesting because there wasn't such a big increase over 1,000 psi as there had been when going from 800 to 1000, despite adding 300 psi rather than 200 psi. It took just 3 shots for the velocity to become equal to the 1,000 psi string (compare shot 3 from this string to the first shot of the previous string). The extra air pressure isn't doing as much as it did before.
1,500 psi
1…..791
2…..765
3…..751
4…..DNR
5…..706
6…..677
7…..645
8…..605
9…..570
10…542
11…500
12…466
13…428
14…DNR
15…357
Stop
1,800 psi
1…..808
2…..796
3…..786
4…..763
5…..753
6…..721
7…..699
8…..661
9…..625
10…600
11…566
12…524
13…DNR
14…442
15…405
16…366
Stop
Okay, look at the first 5 shots in this string. See how little velocity they lose compared to the first shots in previous strings? That's significant. It means the valve is beginning to operate more efficiently at this pressure level. Dennis told me that when he reached 1,800 psi, the rifle stabilized for him, as well. What we don't know and cannot know for sure is what pressure either Dennis or I actually used because neither of us has a calibrated pressure gauge. We're just guessing based on the inexpensive small gauges that come with all pressure tanks. But, whatever the exact numbers are, they're pretty much in the same ballpark.
We have a PCP that operates at 1,800 psi — or so. But when I say "operate," it isn't really operating the way we want a PCP to operate. We want to see a nice string of shots that are fairly consistent — some a little higher and some a little lower, but a nice string where the velocity is stable. We don't have that yet. What we have is a rifle that wants to operate at this fill pressure but probably needs a number of tweaks to get where we want it to be.
There's one more thing to do. Dennis and I talked about this, and he said if there's a weakness in this rifle, it's at the threads where the air reservoir is threaded to the brass valve. While the reservoir is way overbuilt, those threads are a place where not too much more strain can be applied. Dennis feels that it will be safe to 2,000 psi but not much higher. I agreed with him on that, so I did one last test at 2,000 psi.
2,000 psi
1…..853
2…..833
3…..823
4…..825
5…..820
6…..809
7…..799
8…..780
9…..762
10…746
11…717
12…687
13…654
14…624
15…588
16…550
17…513
18…472
19…434
20…397
21…DNR
22…298
Stop
Okay, adding 200 extra psi increased velocity significantly, plus it also gave us a greater number of consistent shots. I would call the first 7 shots fairly consistent, and the velocity doesn't really start to plummet until after shot 9. What this tells me is that the valve return spring is way off. It's probably too heavy. And Dennis has already criticized the valve itself. It's a poppet shape (looks like a top hat) instead of a valve with angled sides that mate with an angled valve seat.
Add to that an enlargement of the valve port (through which the air flows) that might help lower the operating pressure, and the new valve would handle the pressure better than this stock one that got pressed into service for which it wasn't designed.
What about BBs?
Okay, I can't end without giving you some BB velocities. Since the rifle works so well at an indicated 2,000 psi, I decided to skip all the early stuff and go straight to the string we're all interested in.
For this test, I used Daisy Premium Grade BBs that I know from measurement are both the largest and also the most consistent steel BBs on the American market. Since steel BBs run 0.171 to 0.173 inches in diameter, they're considerably smaller than .177-caliber lead pellets, no matter what their packages say. BBs are NOT 4.5mm!
2000 psi
1…..910
2…..900
3…..891
4…..871
5…..DNR
6…..856
7…..DNR
8…..DNR
9…..809
10….786
11….763
12….DNR
13….698
14….DNR
15….DNR
16….599
17….577
18….533
19….484
20….441
21….408
22….340
Stop
Like the pellets with a 2,000 psi fill, the first several shots with BBs are close to each other and after, perhaps, shot 6 or 7, the spread opens up. Of course, you have to realize that steel BBs going over 800 f.p.s. are extremely dangerous. Lead pellets start to disintegrate at velocities above 600 f.p.s.; and at 800 f.p.s., they almost vaporize when they hit a hard target such as metal. But BBs not only hold together, they absorb the energy of the impact and bounce back at nearly the same velocity. Believe me — you don't want to be hit by one!
What have we learned?
So far, we know this rifle works but is not a fully functional precharged pneumatic because it does not shoot a string of shots at a steady velocity. However, that doesn't stop us from proceeding with accuracy testing.
What's been proven by this test is that the idea of a $100 precharged pneumatic rifle is completely plausible. The needed changes have been pointed out; but as we proceed further, no doubt, other things will be revealed. That's the way of product development.
Remember this is a testbed — not a production rifle. Also remember the rifle that it was built from. We should expect accuracy to be similar to the Crosman 2100B, which is fully acceptable at this price point. And I'm going to select a string of shots whose velocities are relatively close to each other, so I probably won't be shooting 10-shot groups.
I'll need to do some things to the gun before starting the accuracy test, but I'll tell you about those things in the next report.
by B.B. Pelletier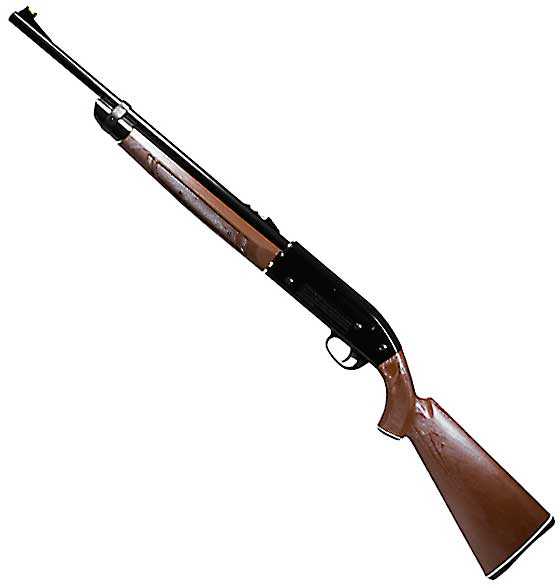 Crosman's 2100B is a full-sized multi-pump that delivers power and accuracy with a few economic concessions.
Yesterday, I told you that today's test was coming; but because I needed to mount a scope for this test, I was prompted to also test the UTG 3/8″ dovetail-to-Weaver/Picatinny rail adapter. There was some interest in this adapter; so I'll continue to test it with other airguns so we get a good look at the performance. Today, I want to do Part 4 on the Crosman 2100B multi-pump that I promised back in March.
I reread Part 3 of this report to see which pellet(s) did well at 10 meters. From what I see, only 7.9-grain Crosman Premiers did well in that test, so I added a couple pellets I had not tried before to today's test.
The scope I used is an Osprey 2.5-10×42 that has its parallax fixed at 100 yards. It's a firearm scope, pure and simple. At full magnification, the target was fuzzy, so I set it to about 5.5x for this test. It has a duplex reticle with mil-dots on the vertical reticle, which is about medium thickness. The optics are very clear, and I think the gun got all the help it needed from this scope.
For the 10-meter test, I pumped the rifle 5 times for every shot. Today, I'll be shooting 25 yards. Now that it has a scope mounted, pumping is more difficult because I cannot hold the gun at the optimum place, which is on top of the receiver. The scope is in the way, and don't you dare try to pump the rifle while holding onto the scope! Your hand has to hold the gun farther back, which winds up being the pistol grip of the stock. That isn't the best leverage to pump the rifle, but fortunately the 2100B has a short, easy pump stroke.
For today's 25-yard test, I pumped the rifle 6 times for every shot. My thought was to shoot the rifle 5 shots with each pellet and see if it was accurate enough with that pellet to warrant the work of shooting the second 5 shots. This would also tell me whether the shots were walking because the bore needed to be seasoned with each new pellet. As it turned out, though, all three pellets were worth the effort to shoot a full 10-shot group, so that's what you'll see.
Crosman Premier lites
The first pellet I tried was the 7.9-grain Crosman Premier dome. The first 5 shots seemed to group okay — about what I expected from the earlier results at 10 meters — so I just kept on shooting and finished the 10-shot group. Ten shots landed in a group measuring 0.809 inches between centers. The group is a little wider than it is tall, but you'll notice that 9 of the 10 shots are actually in a group that is fairly round.

Ten Crosman Premier lites didn't do bad at 25 yards. Nine of them made a nice, round group. Total group measures 0.809 inches between centers.
This was better accuracy than I expected, based on the results of the 10-meter test. The group size there was 10 Premiers in a 0.539-inch group; and, at over twice the distance, the group only opened another three-tenths of an inch. I think that demonstrates how much greater accuracy is provided by a good optical sight.
The pace of shooting is slower
One thing about shooting a multi-pump is that everything slows down. It takes a while to make each shot ready, which is similar in concept to shooting a muzzleloading rifle that has to be loaded separately with powder and ball. That slower pace forces the shooter to concentrate more on what he's doing — or at least that's how it affects me. That's why I like single-shot rifles so much — for what they bring out in me.
RWS Superdomes
The second pellet I tried was the RWS Superdome. This 8.3-grain domed pellet is one I don't try too often — for no particular reason. It's made from pure lead and has a relatively thin skirt that takes the rifling very well. I really didn't know what to expect from it, but it's different enough than a Premier lite that I wanted to see how it might do.
Ten Superdomes made a rather open group that measures exactly the same as the group of Premiers — 0.809 inches between centers. It looks like a larger group, and there's undoubtedly some error in the measurement of both groups, but I cannot discern any difference between them with the dial calipers.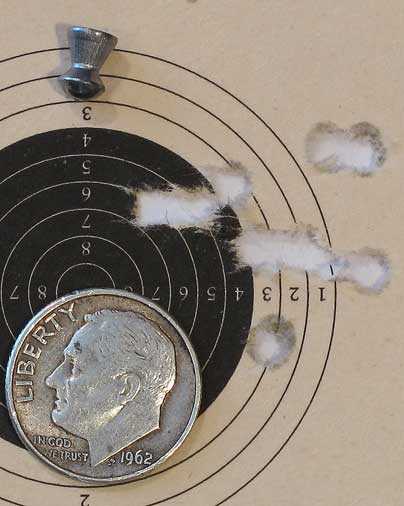 Ten RWS Superdomes made this open group at 25 yards. It seems to measure the same 0.809 inches between centers as the Premier group, above, but there is always measurement error.
H&N Baracuda Greens
The last pellet I tried was an afterthought, based on the success of the other day. H&N Baracuda Greens made such a great initial showing that I thought I would include them in this test, just for fun. Boy, am I glad I did!
I was unable to see the pellets that landed inside the black bulls because of the parallax setting of the scope, so it wasn't until I walked downrange to retrieve the target that I saw what the Baracuda Greens had done. Ten went into a group that measures 0.48 inches between centers! Not only is this the best group of this test, it actually outshot the M4-177 I tested at the end of 2011. That's Crosman's other hot, low-cost multi-pump, so don't get it confused with the MAR177 PCP. That kind of performance says a lot about this air rifle and the accuracy that it offers for very little money.

In light of the first two groups, this 0.48-inch group of 10 H&N Baracuda Greens seems amazing. These non-lead pellets are making a name for themselves!
This will be the last time I look at the 2100B, but it's been an interesting test. After Part 3, I didn't think the gun had much more to show us — but this final accuracy test changes everything.
We've looked at a fine multi-pump air rifle in addition to the UTG scope ring adapters that let you use Weaver rings on an 11mm airgun dovetail. They proved very easy to install and worked exactly as advertised in this test.
And the Baracuda Green gets another pat on the back. This is a pellet worth considering when you search for the best ammo.
All things considered, I would say this was a fine end to the test of a really great and also inexpensive air rifle!
by B.B. Pelletier
Test data and photos by Earl "Mac" McDonald
Nobody played!
First of all, we got no answers on last Friday's question at the bottom of the blog. The answer is: it's a catapult gun, and it shoots steel BBs. It was offered by the same company that built the Johnson semiautomatic rifle that was used as an alternative by the Marines in World War II, but at the price of $15 in 1948, it never stood a chance.
Today, we'll shoot the Quackenbush .25 pistol for velocity and accuracy. There was a surprising amount of interest in this pistol, though much of the talk took place on Pyramyd Air's social network sites. But even here, many readers know about this airgun. Just as a reminder, this isn't a fire-breathing PCP. It's a CO2 gun that uses the same stock valve as a Crosman 2240.
This pistol bloops them out at less than 400 f.p.s. because it's a .25 and shooting pellets far heavier than the valve was designed to handle. Mac says he loves watching them arc out through the scope and drop through the aim point at the last instant. When the sun is behind you, it can be quite a show.
Velocity
We'll start with the velocity first. A couple of readers guessed that this pistol would shoot under 400 f.p.s. and they were right. The fastest average velocity Mac recorded came from Diana Magnum pellets — an obsolete brand that used to be the best .25 caliber pellet on the market. Until now, Mac has found that it shot best in this pistol. Although Diana Magnums came in both 20- and 21-grain weights (they varied over time), Mac says these weigh an average 19.90 grains, so these are the lighter ones.
Because this is a CO2 gun, Mac had to allow for cooling — so he waited 15 seconds between each shot. That allows the gun to warm up. He also replaced the CO2 cartridge after 24 shots, even though he says the gun gets up to 40 shots per cartridge. That gave every pellet the best chance to perform.
Mac recorded an average 378 f.p.s. with this pellet. The total spread was 7 f.p.s., which is pretty tight for such an inexpensive airgun . At the average velocity, this pellet generates an average 6.32 foot-pounds of energy at the muzzle. Because this is a gas gun, it's probably going to get more energy from heavier pellets.
Next up was the Beeman H&N Match wadcutter pellet. Weighing 21.6 grains, they averaged 370 f.p.s., with just a three foot-second spread. The muzzle energy was 6.57 foot-pounds.
Mac upped the ante with one of the two new .25-caliber pellets. The Benjamin dome weighs 27.8 grains, so it's a heavier pellet in this caliber. It averaged 323 f.p.s. with a 7 f.p.s. total spread. The muzzle energy was 6.44 foot-pounds, so less than you would predict; but because it's a Benjamin pellet, there's antimony in the alloy, and that may slow it down just a little.
I told Mac that this pellet and the next one are the two most accurate .25-caliber pellets on the market. I expected both of them to beat the Diana Magnum in his pistol.
The final pellet he tried was the new JSB Exact Kings that weigh 25.4 grains. This is the other very accurate pellet that Mac tested. It averaged 346 f.p.s. and generated an average 6.75 foot-pounds. The total velocity spread was 9 f.p.s.
Okay, now the velocity testing is out of the way, and what do we have? The pistol averages under 400 f.p.s. but over 6 foot-pounds of energy. So, it isn't a weak air pistol. Slow, perhaps, but not weak. So, how does it shoot?
Accuracy testing
Mac shot the pistol at 25 yards. I asked him to shoot 10-shot groups instead of the five he used to shoot with this gun. That made a difference in the group sizes, of course. But another dynamic emerged during testing that I think you'll find very interesting. I'll explain it as we go.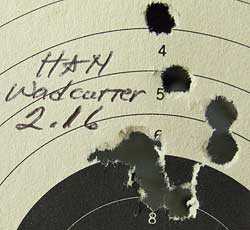 Ten shots at 25 yards. Believe it or not, the first four shots are all strung apart from the main group, where the last six shots went. Group measures 2.16 inches between centers.
Do you see the dynamic? The group forms around the final shots. Mac did "season" the bore between targets with two shots from each new pellet; but, even so, the pellets walked into the group at the end of each 10-shot string. I suggested to Mac that this might be due to seasoning the barrel, but he thought it was because the gun cooling down as it was shot.
The heavy JSB Exact Kings were next up. Mac found them to also string vertically for the first three shots, then bunch together at the end, just like before.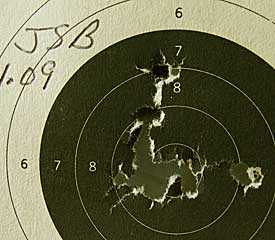 Ten JSB Exact King domed pellets made this 1.09-inch group at 25 yards. The first three shots are vertical, then the final seven are bunched together below. There's one straggler out to the right, but this is a much better group than the wadcutters produced.
Thus far we have seen an interesting dynamic of the pellets moving to a place, then grouping tightly. So how do the formerly most accurate Diana Magnums react? They're next.

The Diana Magnum pellets didn't act like the first two pellets. They all landed at the same height on target, without an vertical stringing. Group size was 1.09 inches between centers.
The Diana Magnums don't seem to follow the same pattern as the first two pellets. I don't know why that would be, but that's what the target shows. As with all other pellets, Mac seasoned the bore with two shots before this group was fired. Let's go to the final pellet and see what happens.

The Benjamin domes gave the smallest group of ten shots at 25 yards. Group measures 0.85 inches between centers. Again, we see a vertical orientation to the group; though, this time, Mac didn't indicate that the final shots were all bunched together in the large hole.
The results
There you have it. That's what this Quackenbush .25 can do.
In my opinion, Mac should pick just one pellet — the Benjamin dome — and shoot nothing else in this gun. I think the tighter groups at the end are due to seasoning the bore; because in my other testing, I'm starting to see very similar results. But even if that isn't what's happening here, the Benjamin dome is still the accuracy champ.
Is the Quackenbush conversion a good thing for a Crosman 2240? If you want a .25-caliber air pistol and you don't want to get into high-pressure air, then I guess it is. You must accept the low velocity, while realizing that this pistol is still a good deal more powerful than a Beeman P1. And because it's launching very heavy pellets, it retains more of that energy longer downrange, so things keep getting better the farther the target is from the muzzle — within reason.
This much is certain — people love tinkering with their Crosman airguns, and Dennis Quackenbush has provided the means to do that for over a decade and a half. This may not be the only game in town, but it's certainly one of the very best.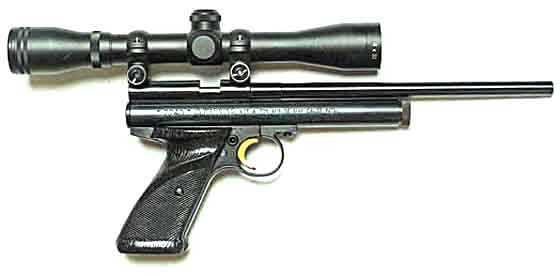 The Quackenbush .25-caliber conversion is a neat way to customize your Crosman 2240.
by B.B. Pelletier
Test data and photos by Earl "Mac" McDonald
Back in the 1990s, Dennis Quackenbush made a nice part of his living by modifying single-shot pistols from Crosman. In those days, there weren't as many places to buy aftermarket parts, and Crosman didn't have a custom shop. In fact, when Dennis and I were seated with Crosman's CEO at an NRA Airgun Breakfast at the 2001 NRA Annual Meetings and Exhibits in Kansas City, Missouri, we introduced ourselves and he asked both of us what we did. Dennis told him that he made his living modifying Crosman single-shot pistols. "You sell them (the SSP 250) for $39 and I modify them for $125. I can't keep up with all the work!"
To say the man was stunned is an understatement. I don't think he believed Dennis, because he restated what Dennis had said, "You mean people pay you $125 to modify a gun that sells for $39?" You could hear the disbelief in his voice.
That man didn't remain at the reins much longer. And his replacement, Ken D'Arcy, instituted the Crosman Custom Shop a few years after he stepped in. But that did not diminish the number of aftermarket places that modify Crosman airguns and make parts for owners to install. If anything, the number of places increased, though I would not say that it was in response to the Crosman Custom Shop starting up. But it was and still is a direct result of the openness of the Crosman Corporation toward their customers, by providing parts and information that support their guns.
For several years, one of the most popular modifications Dennis made was a steel breech for the Crosman 2240 single-shot pistol. Not only is it stronger and more rigid, it also allows for the installation of a scope — something that most home tinkerers will want to do. And Dennis switched the bolt handle to the left side for right-handed shooters, because they want to continue to hold onto the pistol while they load it. People who don't shoot these pistols don't understand that desire, but it only take 15 minutes with one and you understand completely. That one change may have been his greatest contribution, because it showed everyone what a little thought can do to enhance the operation of an inexpensive airgun!
Many of the handguns Dennis built on Crosman frames are righteous thumpers, with power levels far beyond anything Crosman ever envisioned. Dennis has made several guns on this 2240 frame that achieved 100 foot-pounds of energy at the muzzle, and I've personally witnessed one that produced 300 foot-pounds. So, like the modern AR, there's no limit to what you can do with one of these flexible air pistols.
But in this report, we're going to look at something a little closer to the original gun. It's a .25-caliber pistol that has the steel receiver from Dennis and a 10.5-inch barrel that he rifled. In terms of power, it's been left pretty close to original; so it gets a decent number of shots. Because of the large caliber, they don't go very fast.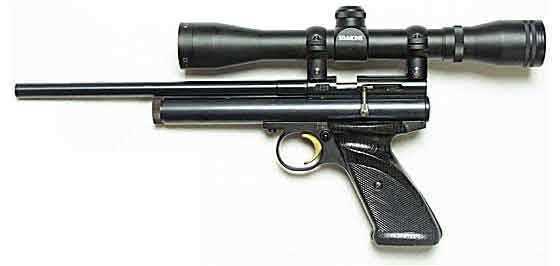 The Quackenbush .25-caliber pistol is built on a 2240 frame. It has a steel receiver, and the bolt is on the left side for easier loading.
There are no open sights, as Dennis envisioned owners would want to scope the gun. The receiver has an 11mm dovetail cut into the top. Since the frame is from a 2240, it readily accepts an add-on carbine stock that so many shooters seem to prefer. Certainly, when you put a heavy rifle scope on the pistol, the stock is the best way to go!
Mac reports that the pull length with the carbine stock is 16.3 inches, but the angle of the grip makes it feel shorter. He says it fits him well, and he usually likes a rifle with a pull length of 13 inches. I looked at the pictures he sent and see that the scope hangs back behind the receiver on this gun. That may be why the long pull doesn't feel so bad. Also, the gun is very light, at only 48 oz. in the scoped pistol configuration, so there's not a lot of weight hanging out front. The shoulder stock adds another 13 oz.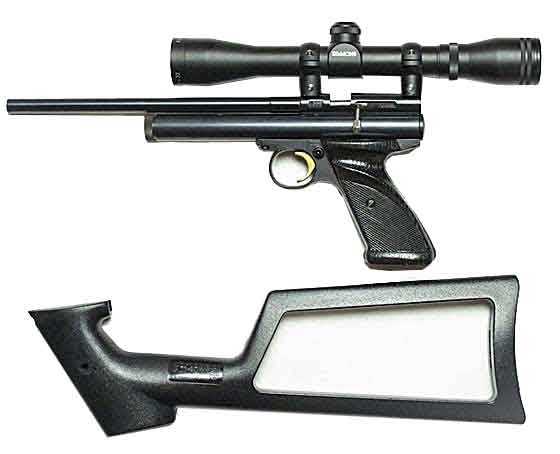 The optional shoulder stock is something nearly all pistol owners have.
Dennis didn't number all of the guns that he made, but partway through the production he began to put his own serial numbers on them. His last gun carried the number 850. Mac's pistol is numbered 509.
Though Dennis no longer makes complete guns, according to his website he still does make the parts for them so owners can modify their own guns. The velocity of the .25-caliber pistol is approximately the same as the 2240 that it was modified from when shooting a 14.7-grain .22-caliber pellet.
The features of this modification are:
Steel barrel, receiver and bolt
The barrel is threaded into the receiver
The transfer port is in the breech instead of the barrel
The new steel bolt is larger than the pellet
The bolt contacts the pellet's skirt — no probe is used
The pistol is 14 inches long without the shoulder stock, and 26 inches in the carbine configuration. The trigger-pull is a repeatable 43 oz., though some may find the trigger blade a bit too thin for comfort. The scope you see here is a cheap Simmons that Mac thinks was probably a rimfire scope at one time. It has a one-inch tube and fixed 4x magnification. The 32mm objective lens has a fixed parallax that Mac adjusted to 25 yards by turning the lens locking ring.
While many .25-caliber single-shots produce lots of muzzle energy, this isn't one of them. Those guns are modified into PCPs, where this one is still a CO2 gun. It gives you a taste of a larger caliber without all the extra fuss and noise that a magnum blaster would have.
Mac tells me this pistol is quite accurate, and he loves the way it lobs them in. Next time, we'll combine Parts 2 and 3 for a good look at the performance of this vintage Quackenbush airgun.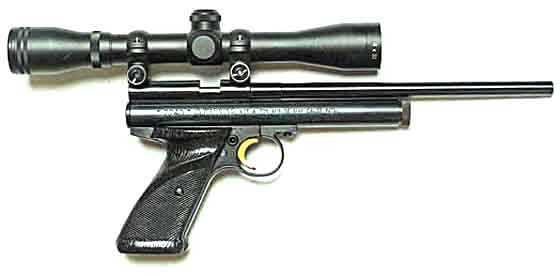 With the longer barrel and no open sights, this pistol looks slicker than the 2240 it was modified from.